24 of the Best New British TV Shows Premiering in November 2023 (US)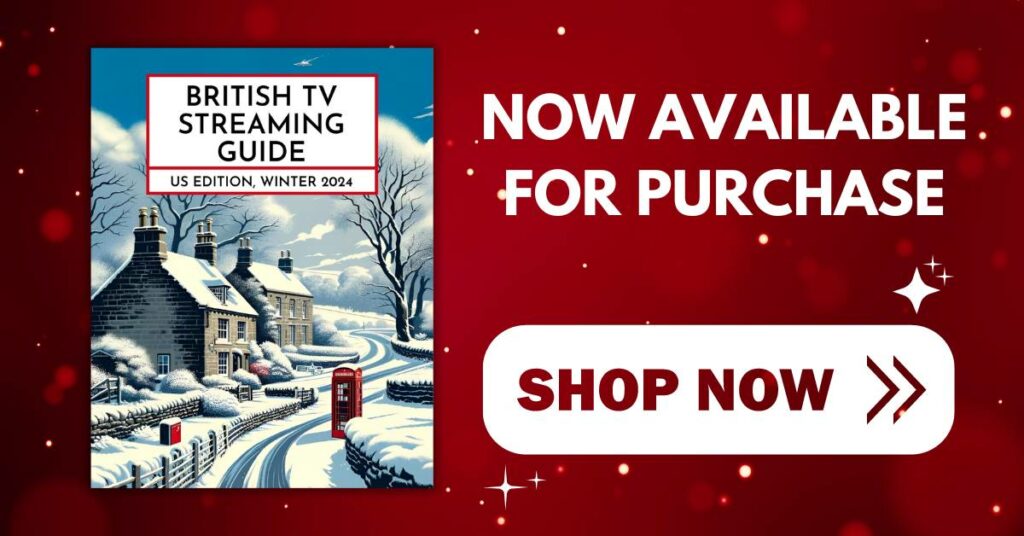 The British TV Streaming Guide: US Edition, Winter 2024 is now available. Get yours HERE.
In some cases, we earn commissions from affiliate links in our posts.
Last Updated on December 2, 2023 by Stefanie Hutson
Though 5 or 6 services are responsible for bringing the majority of new British TV releases to the US, there are more than 20 different major streaming services featuring British TV, and keeping up with what's brand new can get a bit confusing if you don't live and breathe television.
For that reason, we try to make it a little easier each month by taking a look at which brand new shows are premiering across the major US streaming services. By that we mean only those shows which (a) had their original UK premiere within the last year or so, and (b) are showing in the US for the first time on a streaming service.
Prefer to see the comprehensive monthly premiere lists for Acorn TV and BritBox (the two services with the most consistent British TV releases)? Check them out below:
The 24 Best New British TV Shows Premiering in November 2023 (US Services)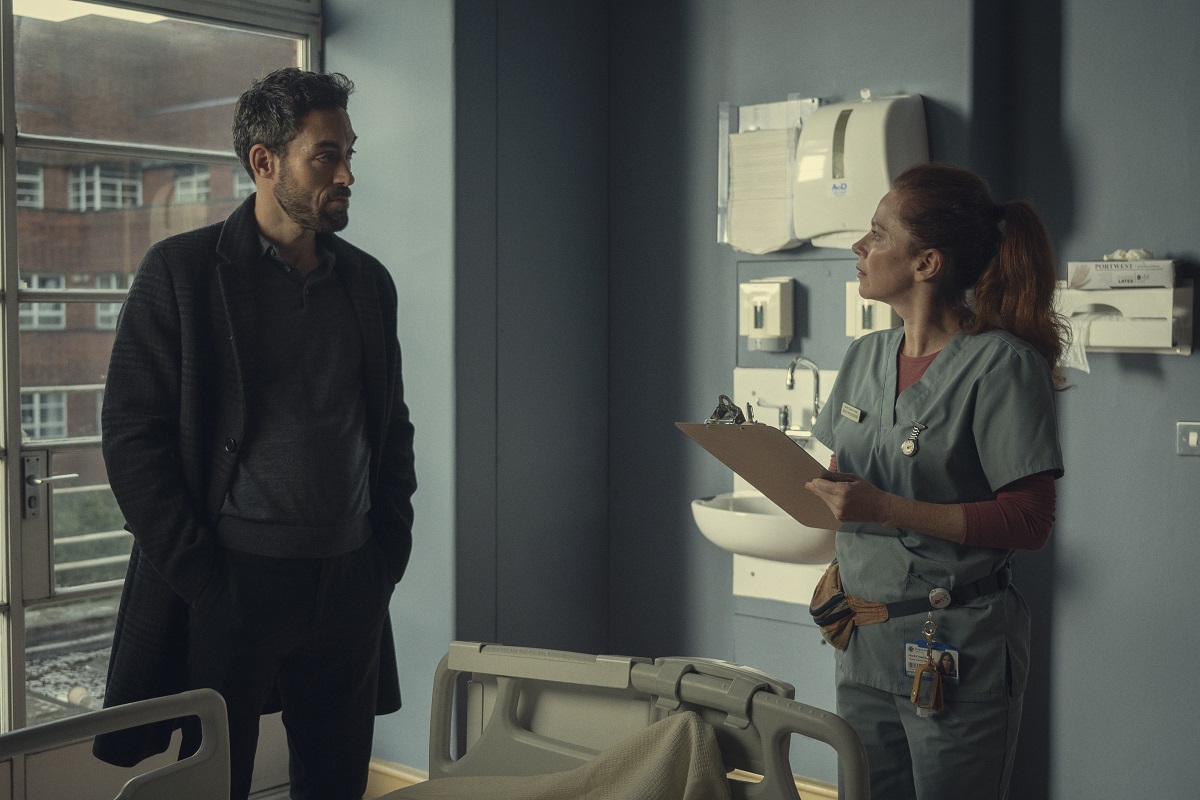 Locked In (2023)
When a kind nurse (Anna Friel, Marcella) tries to figure out what's behind a coma patient's injuries, she gets much, much more than she bargained for. This horror/mystery film also stars Finn Cole (Peaky Blinders), Famke Janssen (X-Men), Rose Williams (Sanditon), and Alex Hassell (Everything Now).
Premiered November 1st on Netflix.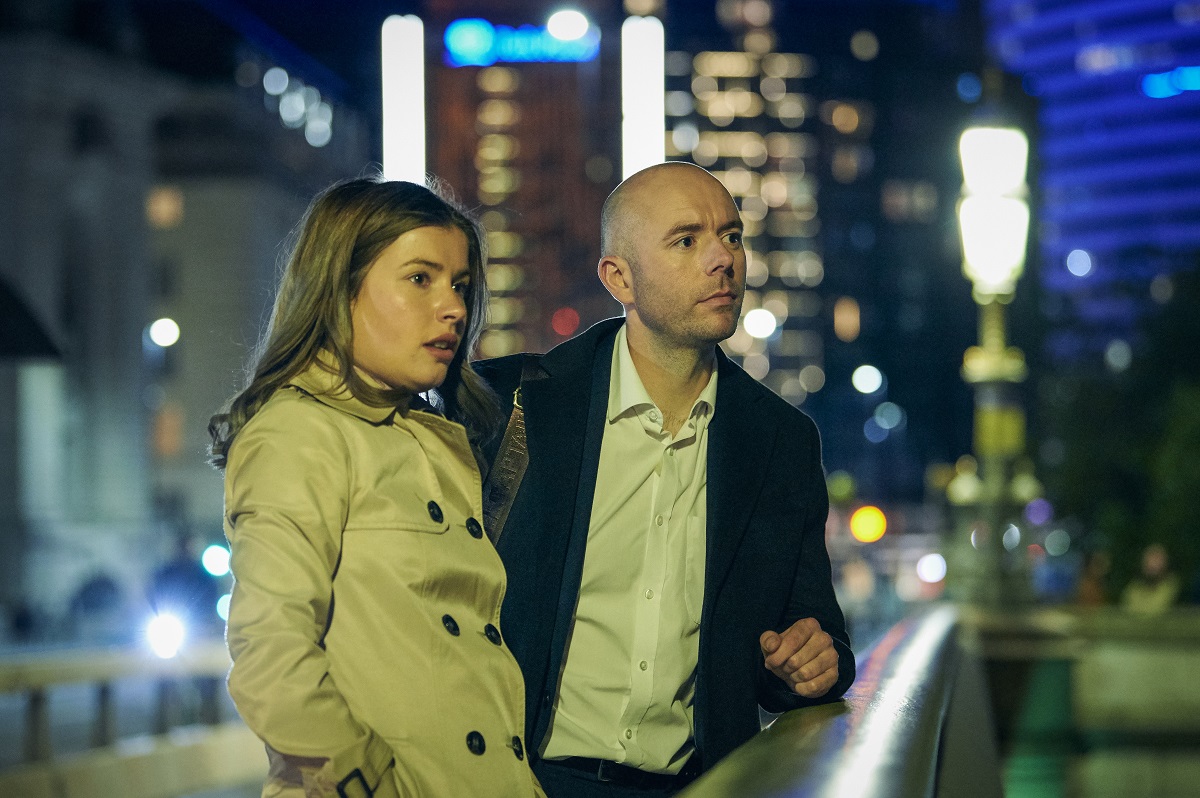 This England (2022)
Inspired by Boris Johnson's eventful early months as Prime Minister, this series looks at life in the UK as the 2020 COVID-19 pandemic began. Kenneth Branagh (Wallander, Murder on the Orient Express) plays Johnson as stories of real people are woven together with scenes from inside the halls of power. As experts and scientists raced to come up with answers to difficult questions, regular people's lives were disrupted by chaos and fear.
Binge premiere of six 60-minute episodes.
Premiered November 1st on BritBox. Watch it HERE.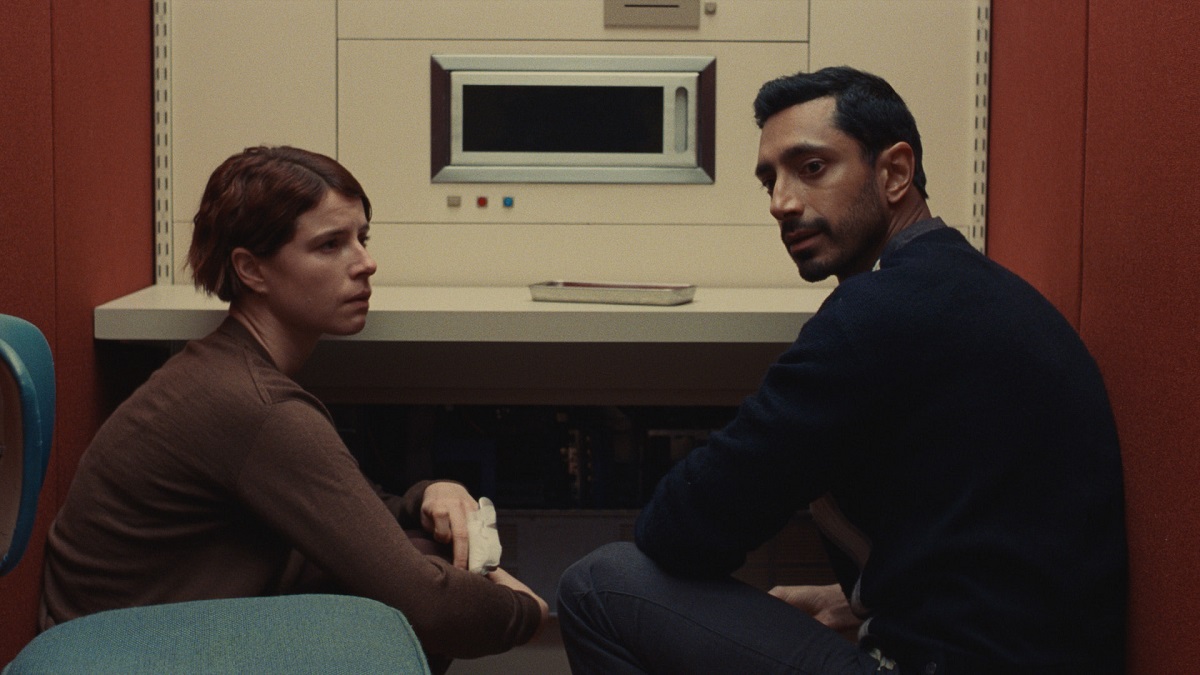 Fingernails (2023)
This sci-fi romance follows Anna (Jessie Buckley, The Lost Daughter) and Ryan (Jeremy Allen White, The Bear), a perfectly matched couple, aside from one minor detail. Despite being matched by a controversial, cutting-edge technology, Anna isn't convinced. When she takes a job at a love testing institute and meets Amir (Riz Ahmed, Sound of Metal), her doubts only grow.
Premiered November 3rd on Apple TV+.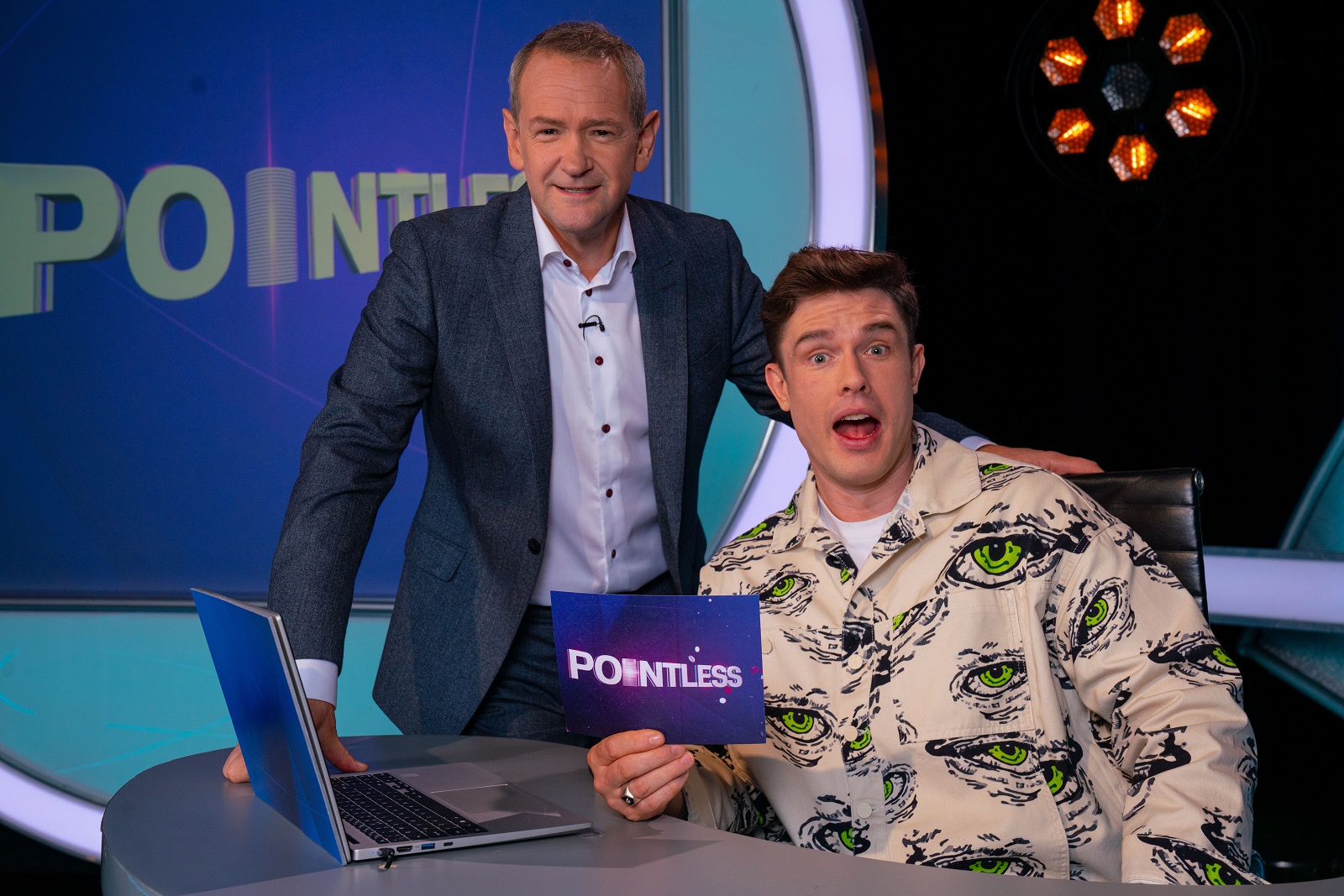 Pointless: Season 29
Alexander Armstrong hosts this hilarious panel series with help from Thursday Murder Club author Richard Osman. In each episode, four teams of two contestants each try to find correct but obscure answers to general knowledge questions, with the winning team eligible to compete for a cash prize. The goal is to get the answers right, but to choose the answers given by the smallest number of previously surveyed people.
RELATED: The Best British Game & Panel Shows
Premiered November 3rd on BritBox. Watch it HERE.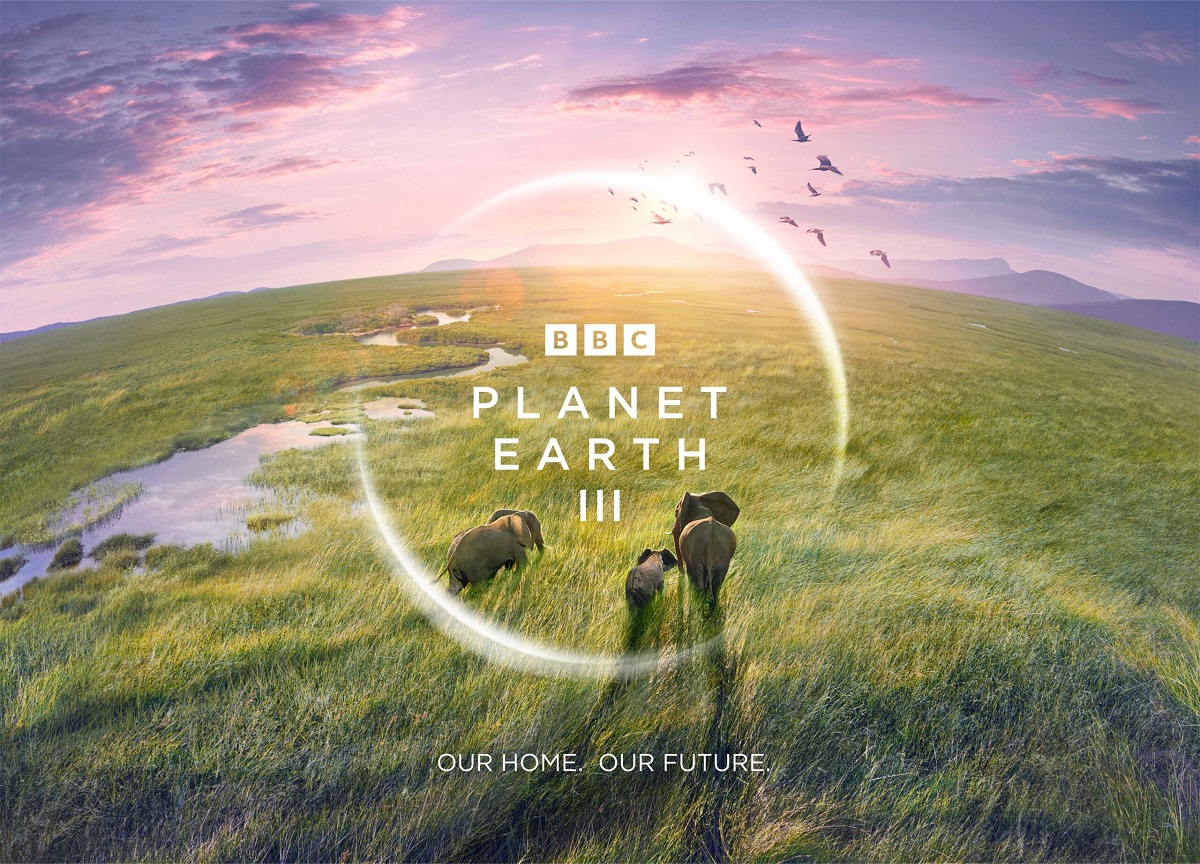 Planet Earth III (2023)
Sir David Attenborough returns for another landmark series about the wonders of our planet. Over the course of eight episodes, the series documents never-before-seen animal behaviours and highlights the increasing challenges the natural world faces as human populations continue to grow and consume more and more. The series also introduces some of the up and coming wildlife heroes who've dedicated their lives to turning things around.
Premieres November 4th on AMC+ and BBC America.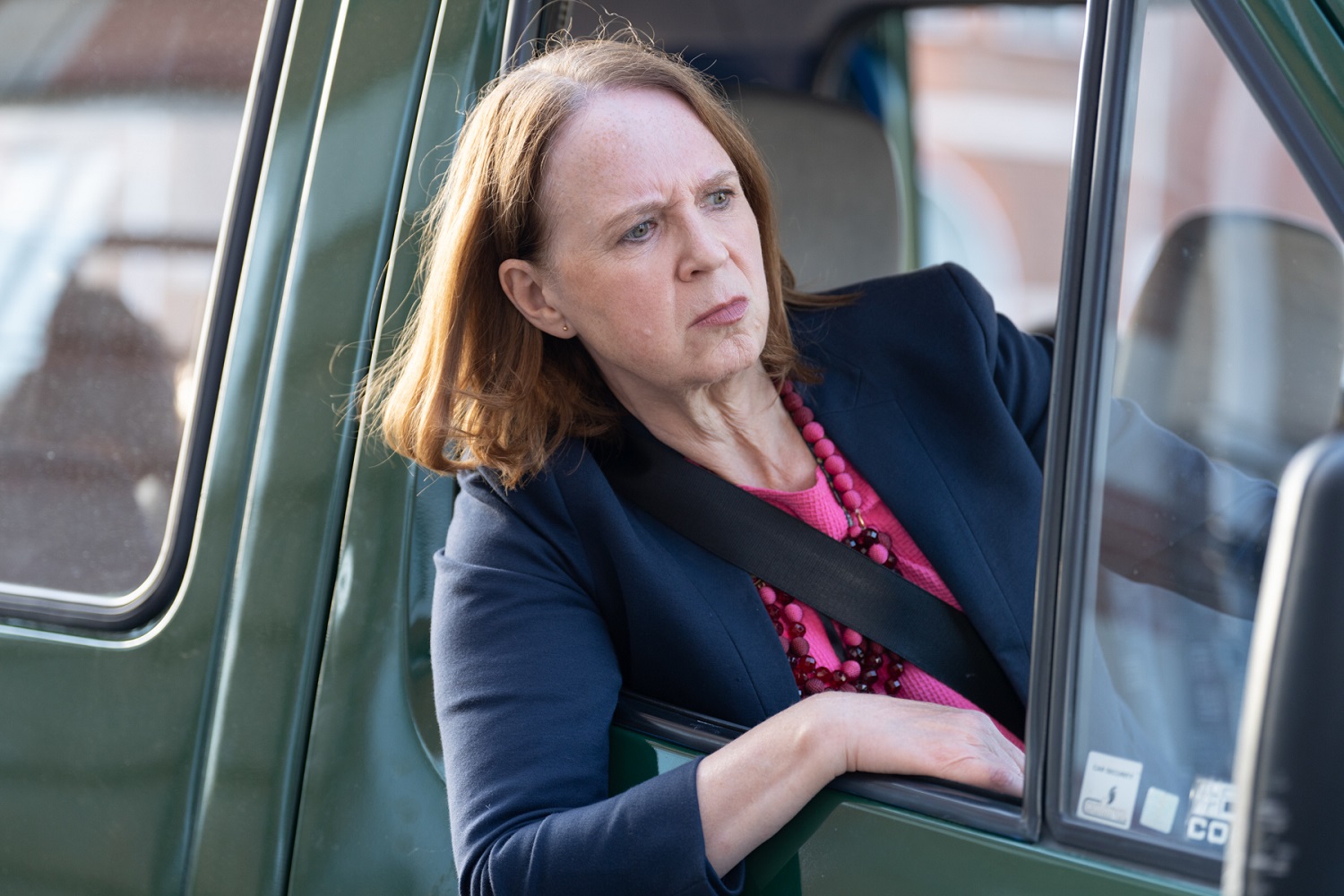 Bad Education (Reboot)
On November 7th, BritBox will be adding the new Bad Education reboot, along with all the previous episodes and the reunion special. The show was recently renewed for a brand new season that saw former characters Stephen Carmichael (Layton Williams, The Bad Education Movie) and Mitchell Harper (Charlie Wernham, The Bad Education Movie) returning to Abbey Grove to teach class K.
In the first three seasons, the series follows Alfie Wicker (Jack Whitehall), a teacher who is in many ways less mature than the kids he's instructing. He teachers a class full of struggling students, and while he's not the best teacher around, he cares about their success.
A film version saw the case reuniting as Alfie took his students on a final school trip after they finished their GCSEs. Ten years later, a reunion special was created, seeing Whitehall's original Class K returning for a career day and reunion that doesn't quite go as planned.
RELATED: British TV Shows About Schools & Teachers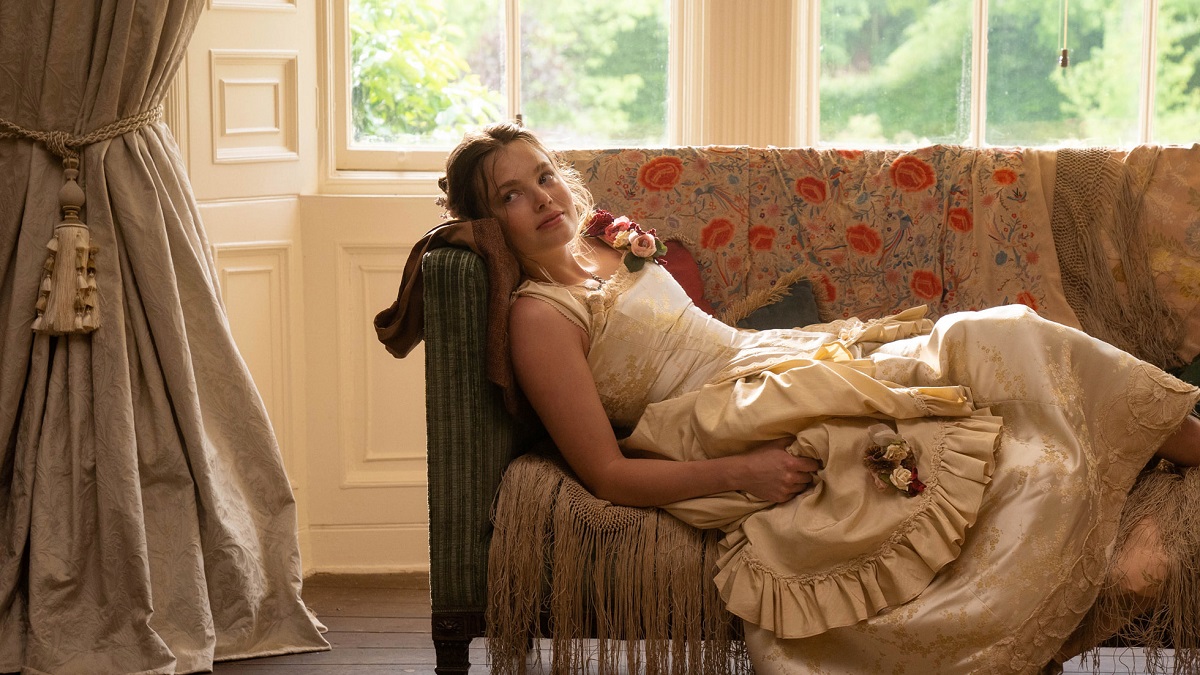 The Buccaneers (2023)
Inspired by Edith Wharton's unfinished novel The Buccaneers, this period drama follows a group of "new money" American ladies who head to London in search of husbands and titles. With their brash American mannerisms, they'll come up against just as many issues as they make a new home in the land of the stiff upper lip.
Cast members include Kristine Frøseth (The First Lady), Alisha Boe (13 Reasons Why), Josie Totah (Saved by the Bell), Aubri Ibrag (Dive Club), Imogen Waterhouse (The Outpost), Mia Threapleton (Dangerous Liaisons), and Christina Hendricks (Mad Men).
Premieres November 8th on Apple TV+. Three episodes will premiere that day, followed by new episodes on Wednesdays through December 13th.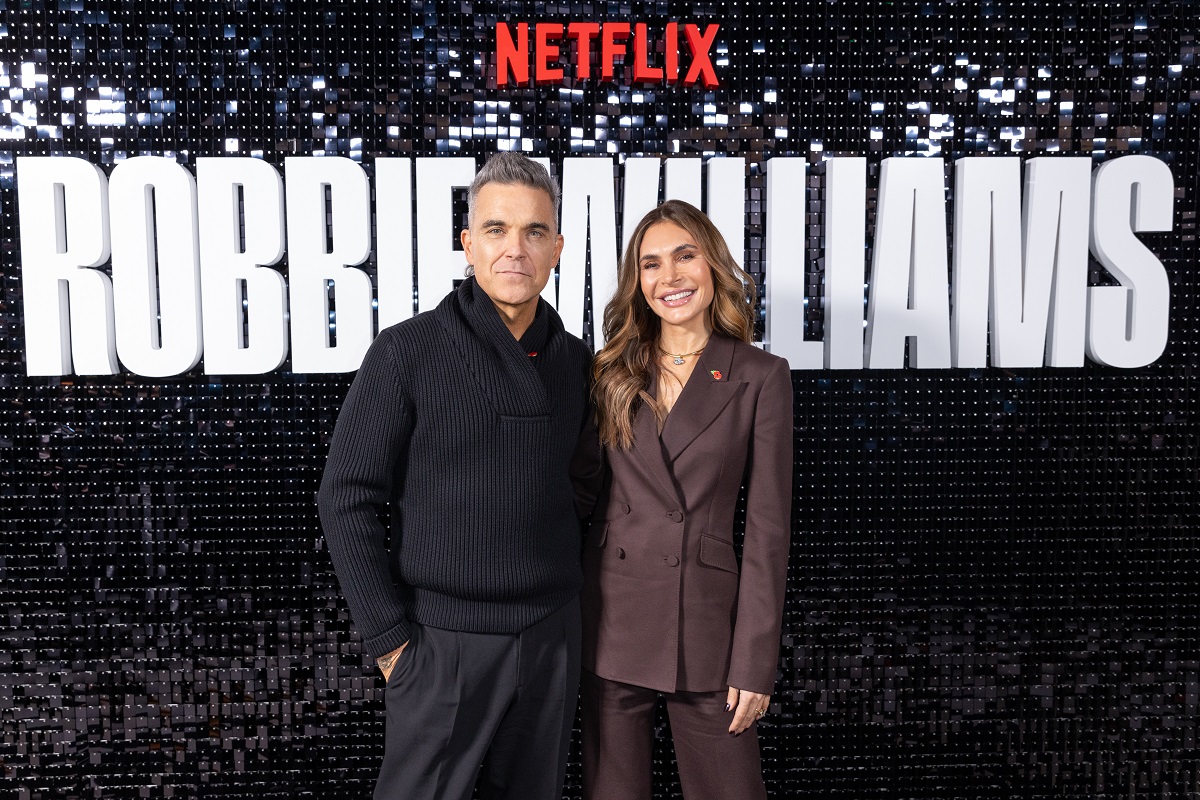 Robbie Williams (2023)
This docuseries sees British recording artist Robbie Williams taking a look back on his record-breaking musical career and wild life in the spotlight.
Premieres November 8th on Netflix.
Back in 1978, science historian James Burke presented a much-loved BBC series that explored how different scientific achievements were built successively upon one another to give us the technologies we've come to know and love. His clear and enthusiastic presentation style inspired generations of young scientists.
Burke is still with us, and he'll be returning to present this new edition of the series.
Premieres November 9th on Curiosity Stream.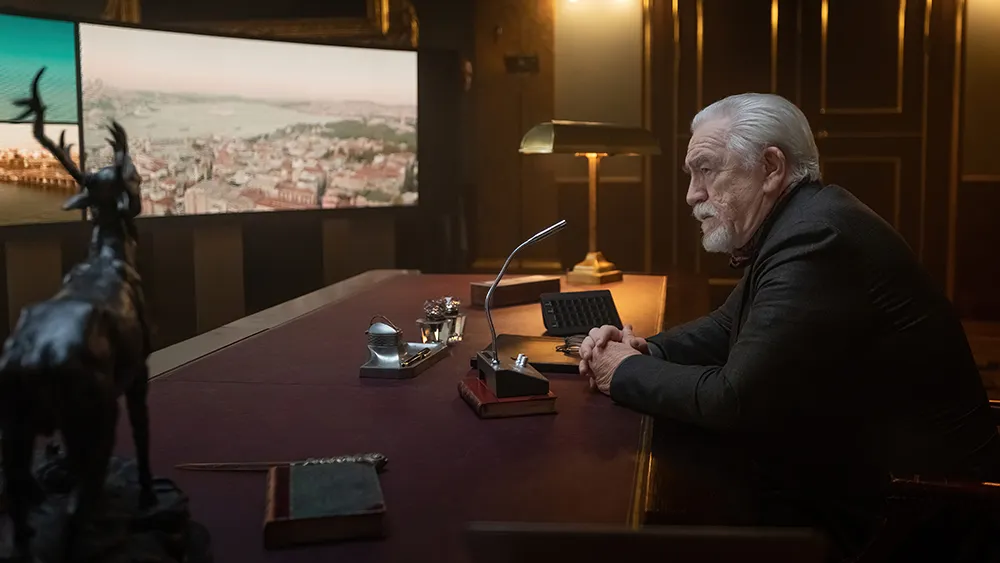 007: Road to a Million
Brian Cox (Succession) hosts this fast-paced competition series in which nine pairs of everyday people compete for a £1,000,000 prize by participating in a series of challenges to find questions hidden around the world. The Bond-inspired challenges are designed to test their physical strength, agility, and mental reserves.
From a remote location, Cox will set the questions and dictate what each pair must do to continue on to the next step. Their journeys will take them to far-flung places like the Scottish Highlands and the remote Chilean desert to more populated areas like the busy streets of Venice and the balmy Caribbean coastline of Jamaica.
Premieres November 10th on Amazon Prime Video.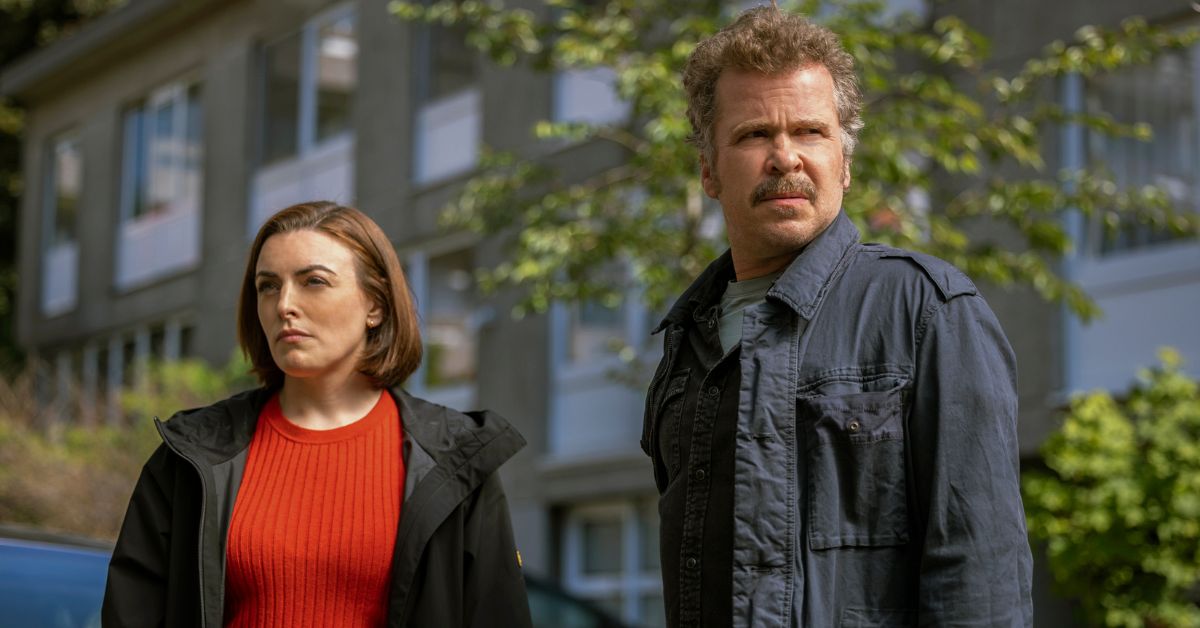 Hidden Assets, Season 2
One year after the events of the first season, there's a new boss along with plenty of old enemies. DS Claire Wallace (Nora-Jane Noone, The Ipcress File) finds herself butting heads with Belgian CI Christian de Jong (Wouter Hendrickx, Blackout) as Ireland's Criminal Assets Bureau is pulled back into the investigation in Antwerp.
The episodes will air on Acorn TV as follows:
November 13th – Episodes 1 & 2
November 20th – Episode 3
November 27th – Episode 4
David Holmes: The Boy Who Lived
When the Harry Potter films began, a teenage gymnast from Essex was selected to act as Daniel Radcliffe's stunt double. Over the course of ten years on the set, the two became firm friends. Unfortunately, a tragic accident during the filming of the penultimate movie left David paralyzed. Today, he makes the most of what life has dealt him.
Daniel Radcliffe serves as the executive producer of this documentary.
Premieres November 15th on Max (formerly HBO Max).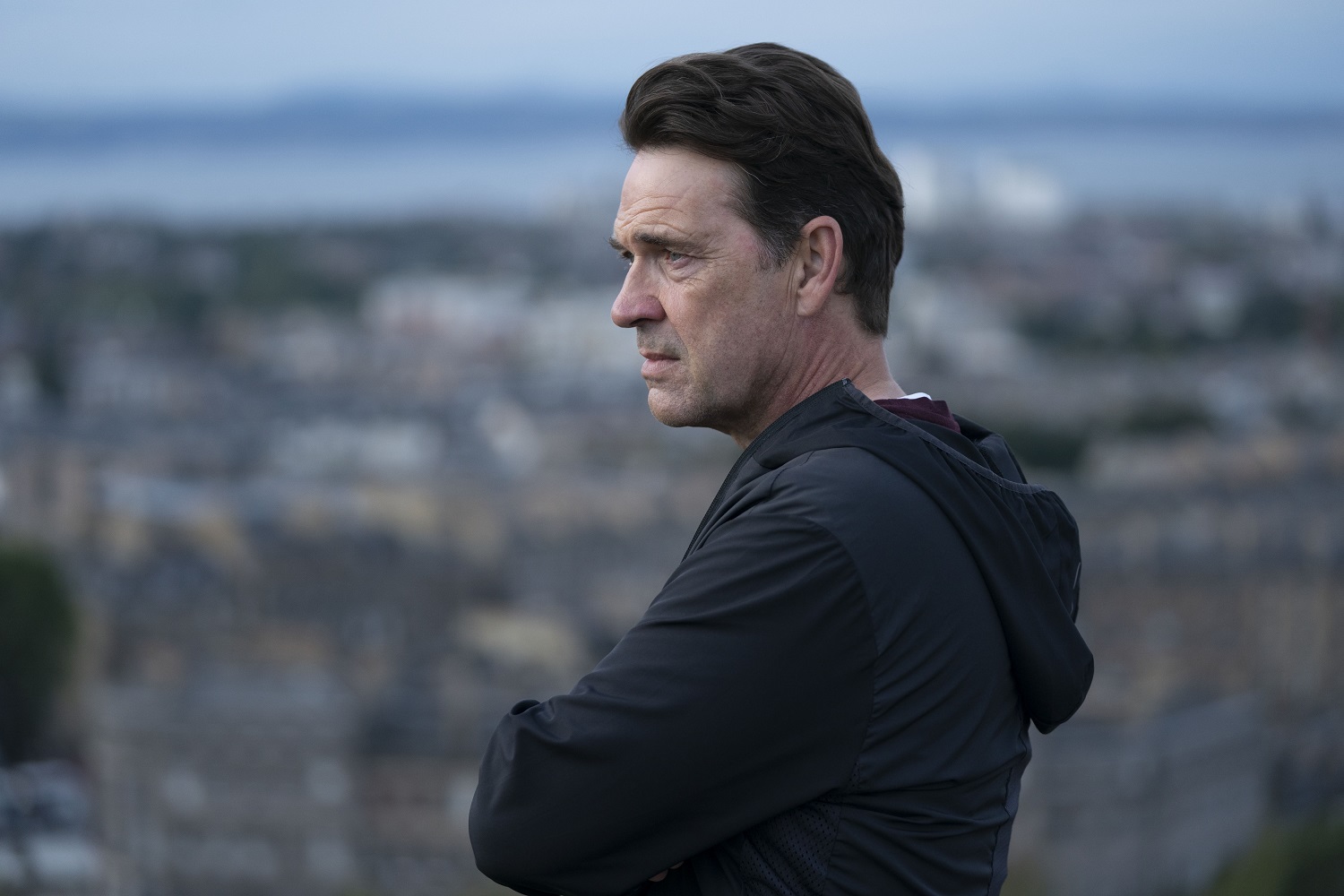 Irvine Welsh's Crime, Season 2
Dougray Scott (My Week With Marilyn) returns to his role as DI Ray Lennox. After a mental breakdown, he's quickly thrown back into a stressful investigation after a colleague is attacked. The new season will also feature John Simm (Grace), Ken Stott (Rebus), and Joanna Vanderham (The Paradise).
Haven't seen season 1? Check it out HERE.
RELATED: The Best Scottish Crime Dramas
Premieres November 15th on BritBox.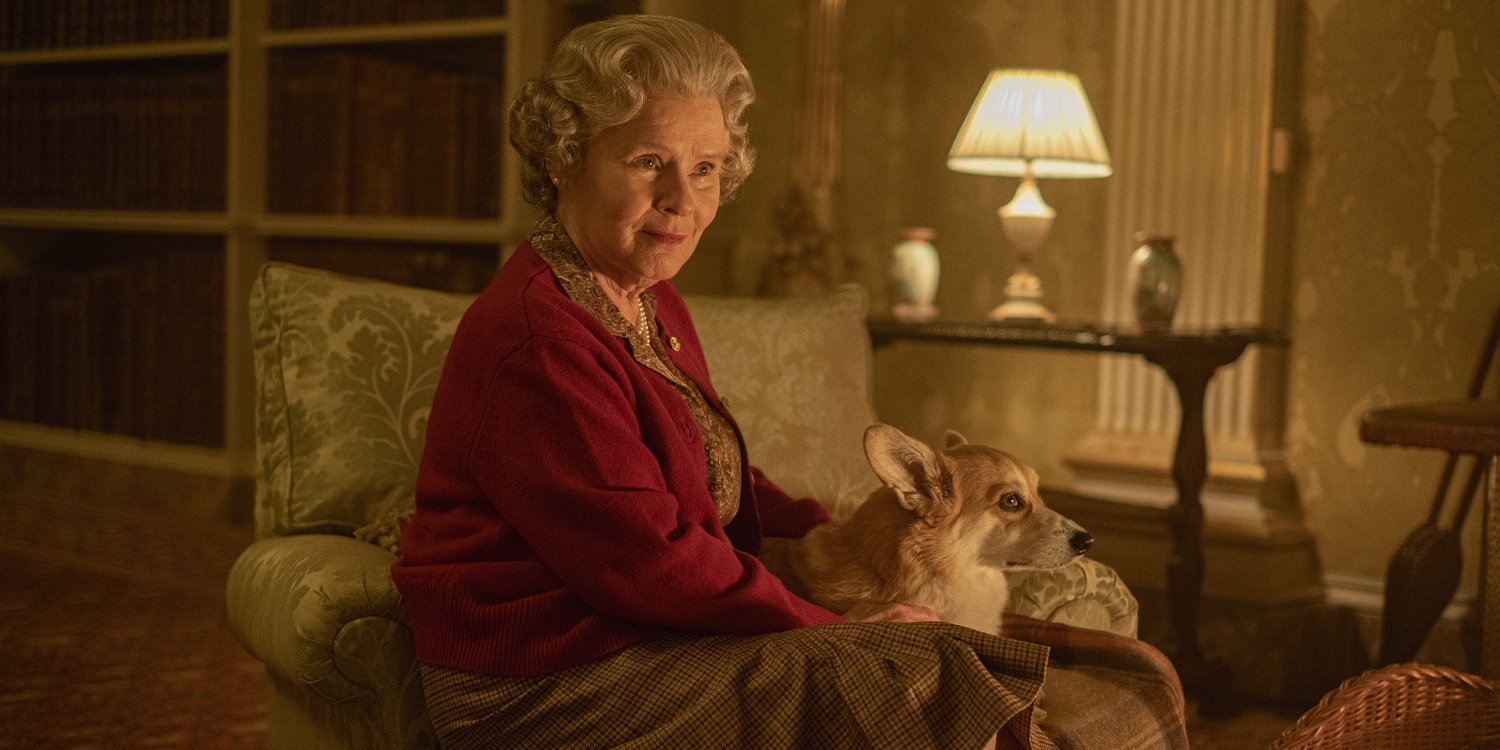 The Crown: Season 6, Part 1
This "true life inspired" historical drama sees Queen Elizabeth II (Imelda Staunton, Flesh & Blood) looking back on her legacy as Diana (Elizabeth Debicki, The Night Manager) nears the end of her life.
Other cast members include Jonathan Pryce (Game of Thrones) as Prince Philip, Dominic West (The Affair) as Prince Charles, Olivia Williams (The Sixth Sense) as Camilla Parker Bowles, Ed McVey as Prince William, Meg Bellamy as Catherine Middleton, Lesley Manville (Magpie Murders) as Princess Margaret, Khalid Abdalla (The Kite Runner) as Dodi Fayed, Bertie Carvel (Dalgliesh) as Tony Blair, Marcia Warren (Vicious) as The Queen Mother, James Murray (McDonald & Dodds) as Prince Andrew, Sam Woolf (The Witcher) as Prince Edward, Luther Ford as Prince Harry, and Richard Rycroft (Game of Thrones) as George Carey, the Archbishop of Canterbury.
Premieres November 16th on Netflix.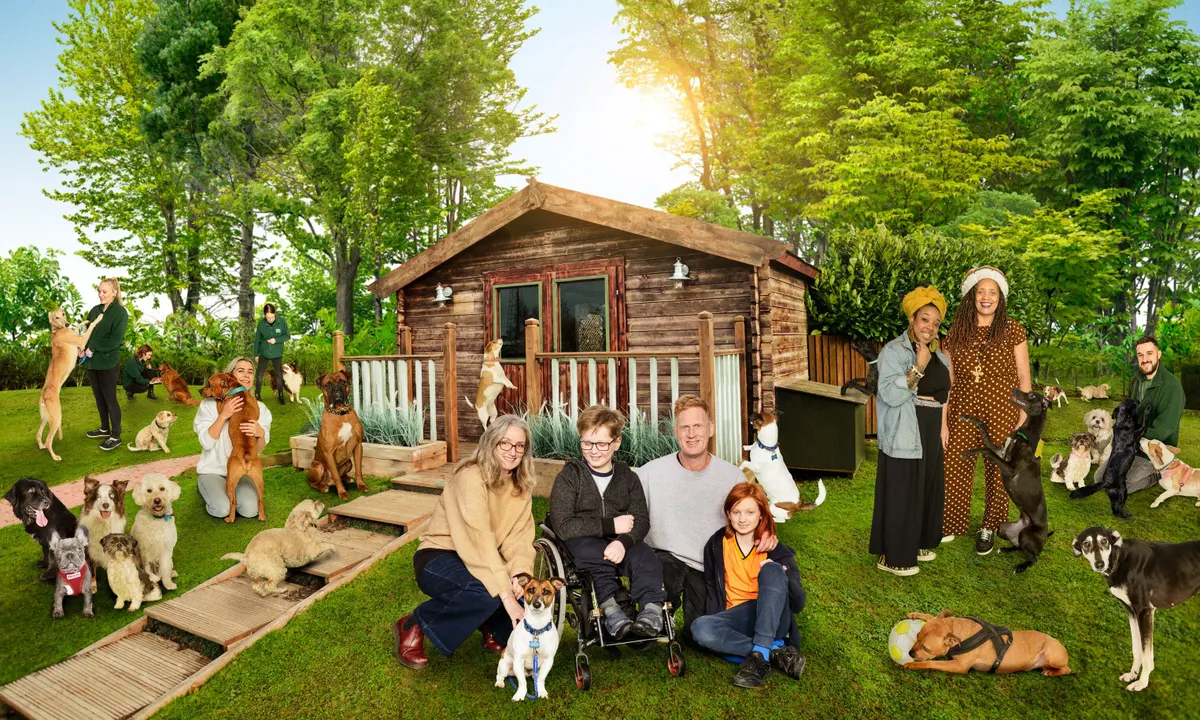 The Dog House: UK, Christmas Special
This docuseries returns for a fur-filled Christmas special. Just like the regular episodes, the series follows the staff at the Wood Green Animal Shelter in Godmanchester, Cambridgeshire as they aim to match dogs with their human forever homes.
Premieres October 19th on Netflix.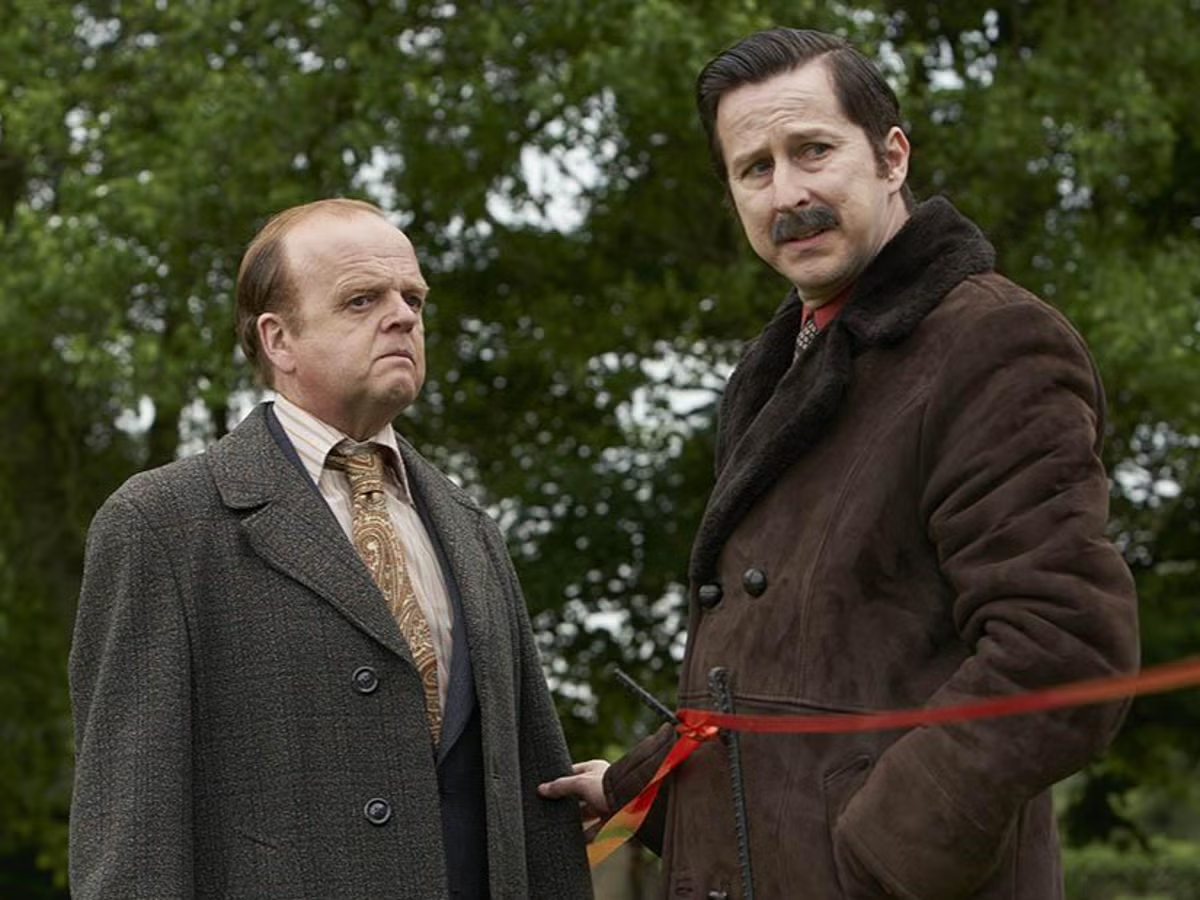 The Long Shadow (2023)
This true crime drama takes a look back at the lengthy hunt for serial killer Peter Sutcliffe, better known as the "Yorkshire Ripper". Convicted of murdering 13 women between 1975 and 1980 (and attempting to murder seven others), he would go on to live to the age of 74, dying in 2020 due to diabetes-related complications.
Cast members include Toby Jones (Detectorists), Jack Deam (Father Brown), Lee Ingleby (George Gently), David Morrissey (Britannia), Chloe Harris (The Ipcress File), Steven Waddington (Jamestown), Stephen Tompkinson (DCI Banks), and Liz White (Life on Mars).
Premieres November 16th on Sundance Now, with new episodes airing weekly on Thursdays through December 28th.
RELATED: The Best British True Crime TV Shows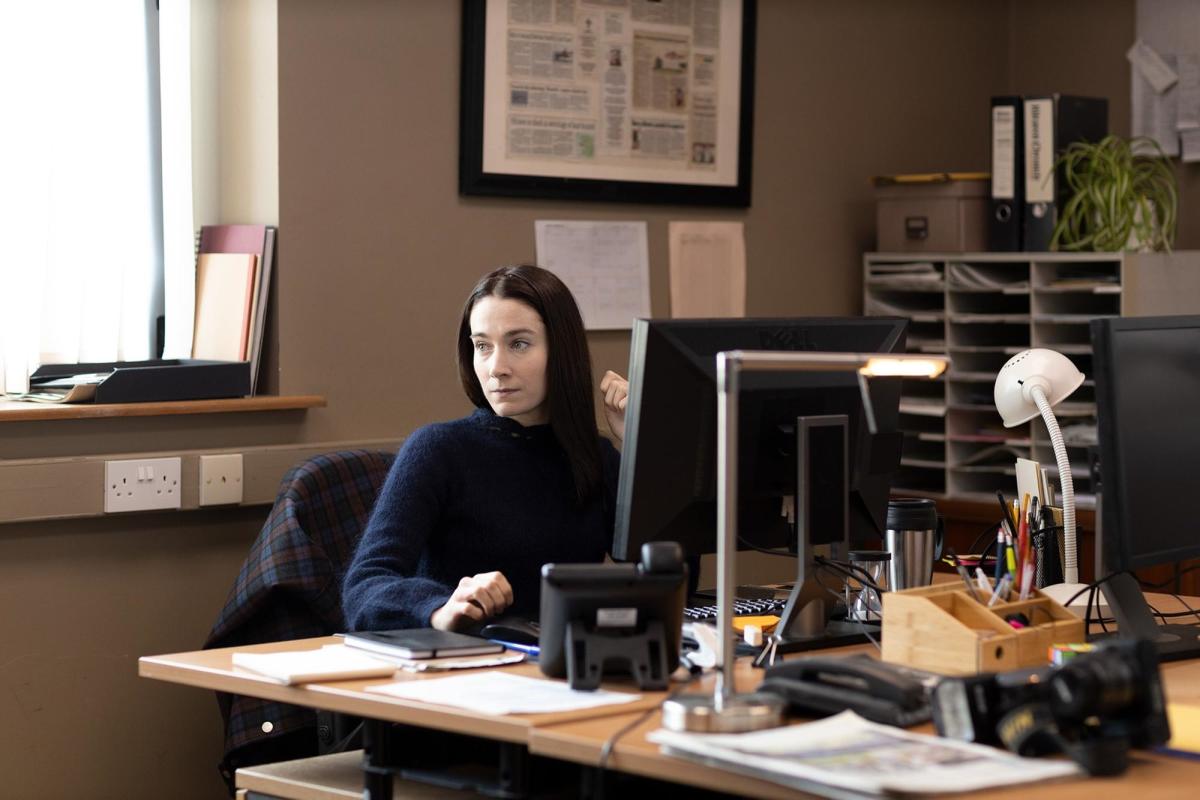 Obituary (2023)
This dark dramedy follows Elvira Clancy (Siobhán Cullen, The Long Call), a young woman who finds her job as an obituary writer leaves her wanting more. When the newspaper falls on hard times and they switch her to a lower paying per-obituary arrangement, she gets quite annoyed with it all.
One day, she "accidentally" kills a particularly unpleasant local character, only to find the action has awakened an unknown bloodlust within. She begins killing off more and more of the town's unpleasant inhabitants, making their deaths look like accidents and then writing their obituaries.
It's all quite lovely until the newspaper hires an attractive new crime correspondent…
Premieres November 21st on Hulu.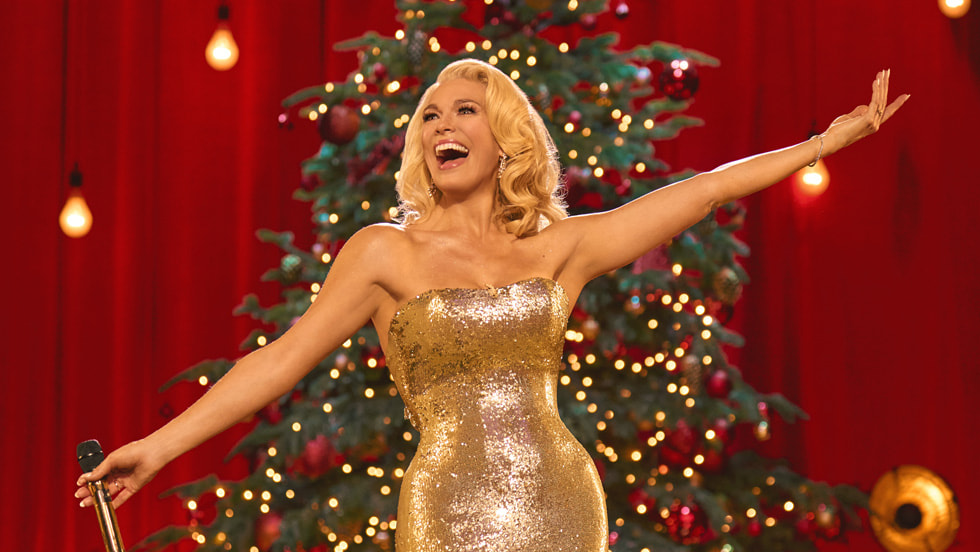 Hannah Waddingham: Home for Christmas
Ted Lasso star Hannah Waddingham hosts this Christmas-themed musical event in which she performs festive classics and welcomes a variety of famous and interesting special guests. The special was pre-recorded live in front of an audience at the London Coliseum.
Premieres November 22nd on Apple TV+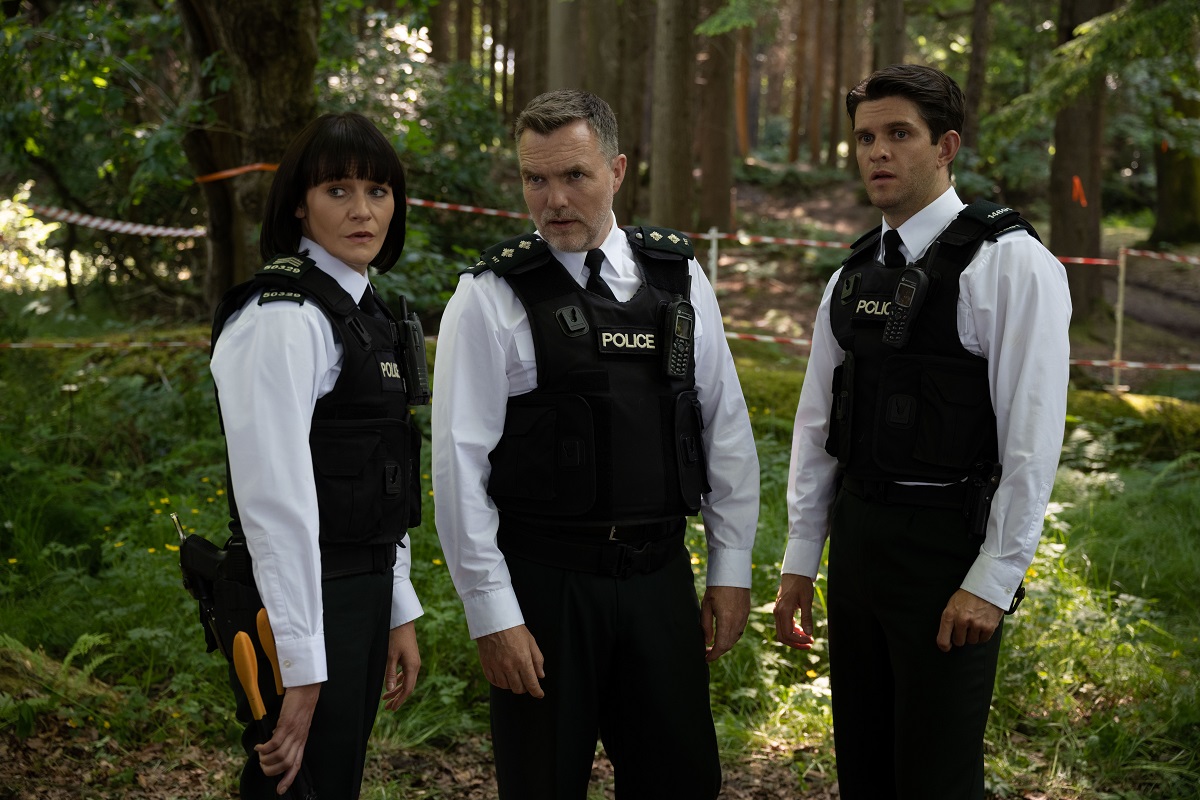 Hope Street, Season 3A
This Northern Ireland-based crime drama/soap opera returns for another season exploring the trials and tribulations of the Port Devine police department. Alongside the drama of everyday life, we're treated to the stunning scenery of coastal Northern Ireland.
Eight 45-minute episodes will premiere on the 22nd. Another seven episodes will arrive in 2024.
Premieres November 22nd on BritBox.
RELATED: The Best Irish Mysteries & Crime Dramas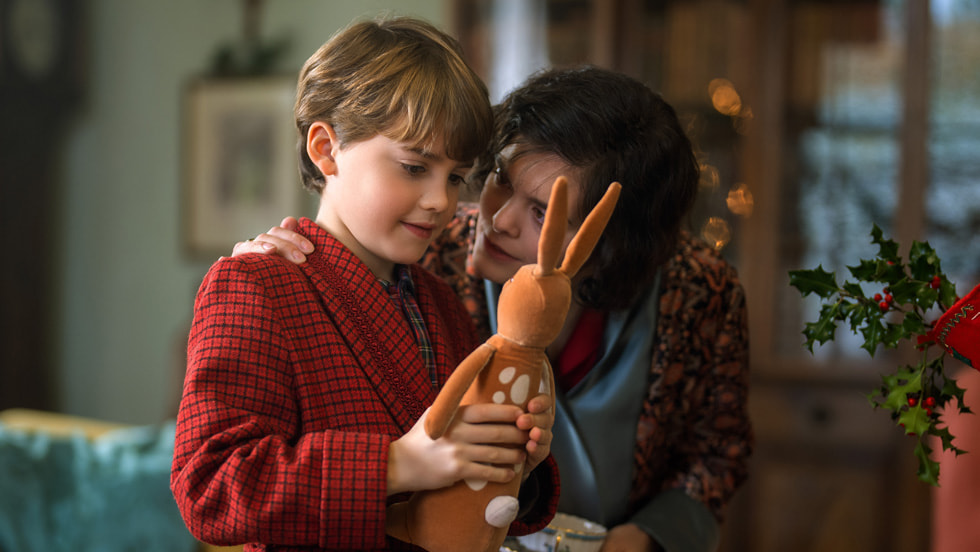 The Velveteen Rabbit (2023)
Based on Margery Williams' much-loved classic children's tale, this family-friendly special follows 7-year-old William as he receives a special toy for Christmas, only to discover he's made a lifelong friend.
Phoenix LaRoche (The Royal Nanny) stars as William.
Premieres November 22nd on Apple TV+.
Doctor Who: The Star Beast
The very best Doctor ever (David Tennant, of course) returns in this, the first of three specials celebrating Doctor Who's 60th anniversary. Along with Donna Temple-Noble (Catherine Tate), he'll come face to face with a terrifying new villain, the Toymaker (played by American Neil Patrick Harris).
Other cast members include include Miriam Margolyes ("Harry Potter" films) as the voice of the Meep, and Ruth Madeley (The Rook) as Shirley Anne Bingham, with Jacqueline King returning as Sylvia Noble, Karl Collins as Shaun Temple, Jemma Redgrave as Kate Lethbridge-Stewart, and Yasmin Finney (Heartstopper) as Rose Temple-Noble. The late Bernard Cribbins will also make a final appearance as Wilfred Mott.
Premieres November 25th on Disney+.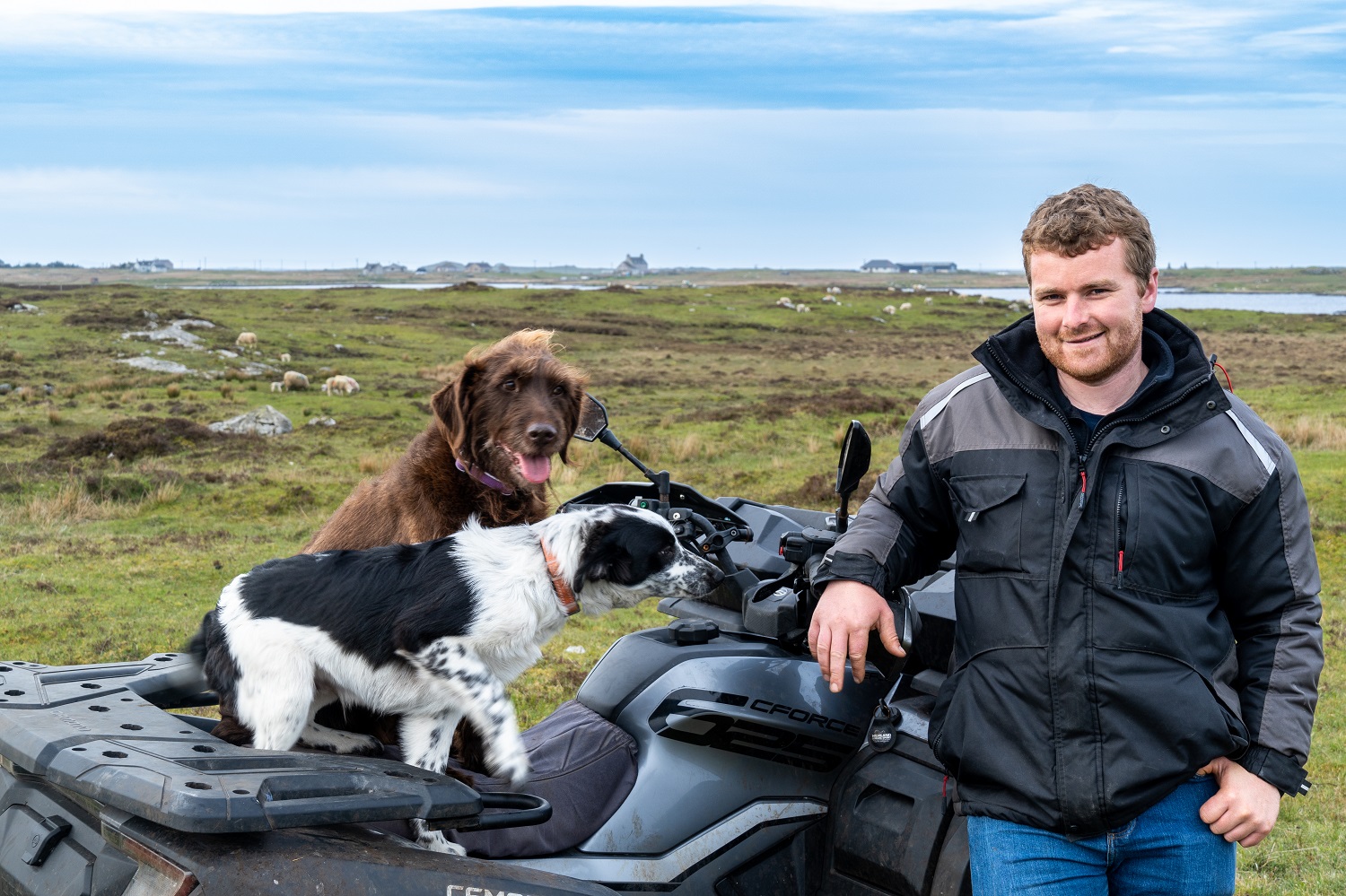 This Farming Life, Season 6B
Farming isn't always an easy way of life, but it's an important one. This series offers viewers a look inside what it takes to run a modern British farm, mixing intimate personal stories with the daily dramas of lives lived at the mercy of nature and the seasons. Catch up on earlier seasons HERE.
RELATED: 11 Great British TV Shows That Celebrate Nature
Premieres November 27th on BritBox.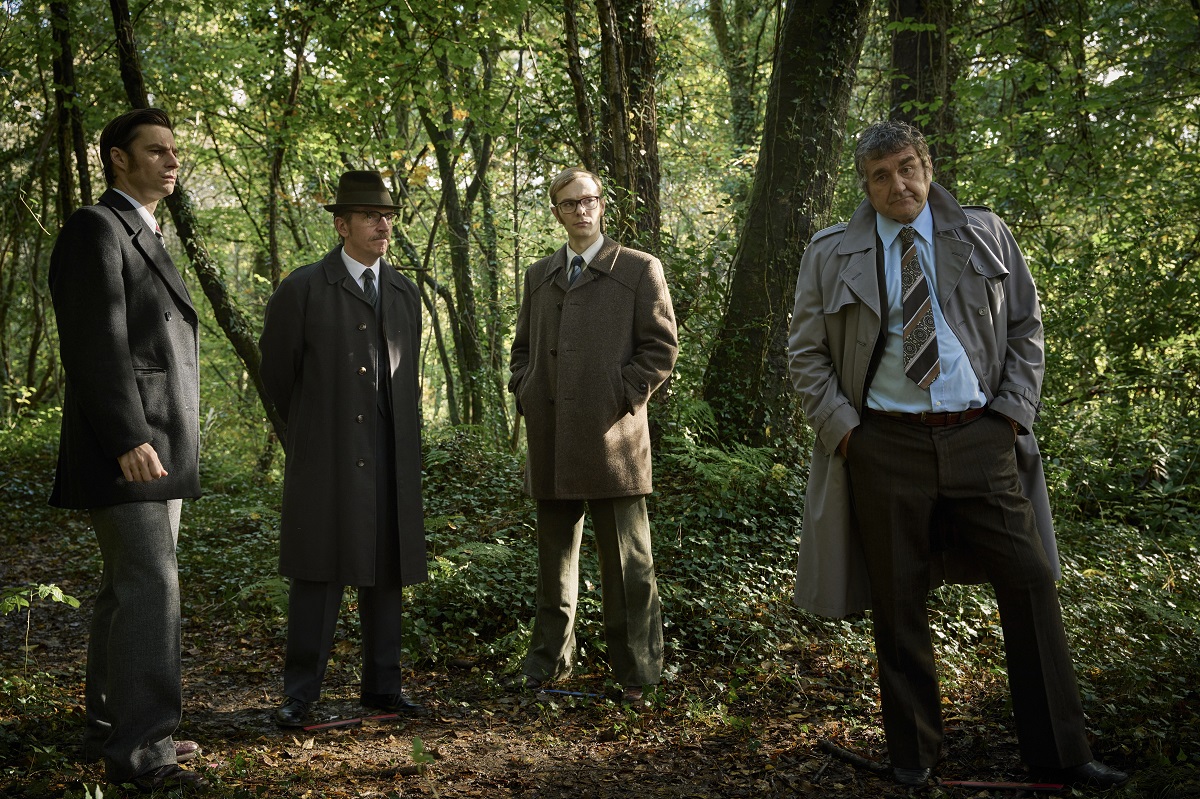 Steeltown Murders
In 2002 Port Talbot, DCI Paul Bethell jumps at the opportunity to lead the re-opened investigation into two sexually motivated murder cases from the 1970s. The narrative then unfolds along two distinct timelines.
In one, we revisit the tragic events of '73, witnessing the grief that engulfed a small Welsh community. In the other, we observe young Paul as a determined junior officer.
The all-star cast includes Scott Arthur (Good Omens), Sion Alun Davies (Hidden), Philip Glenister (Life on Mars), and Steffan Rhodri (House of the Dragon).
Premieres November 27th on Acorn TV (binge premiere).
RELATED: 10 of the Best Welsh Shows You Can Stream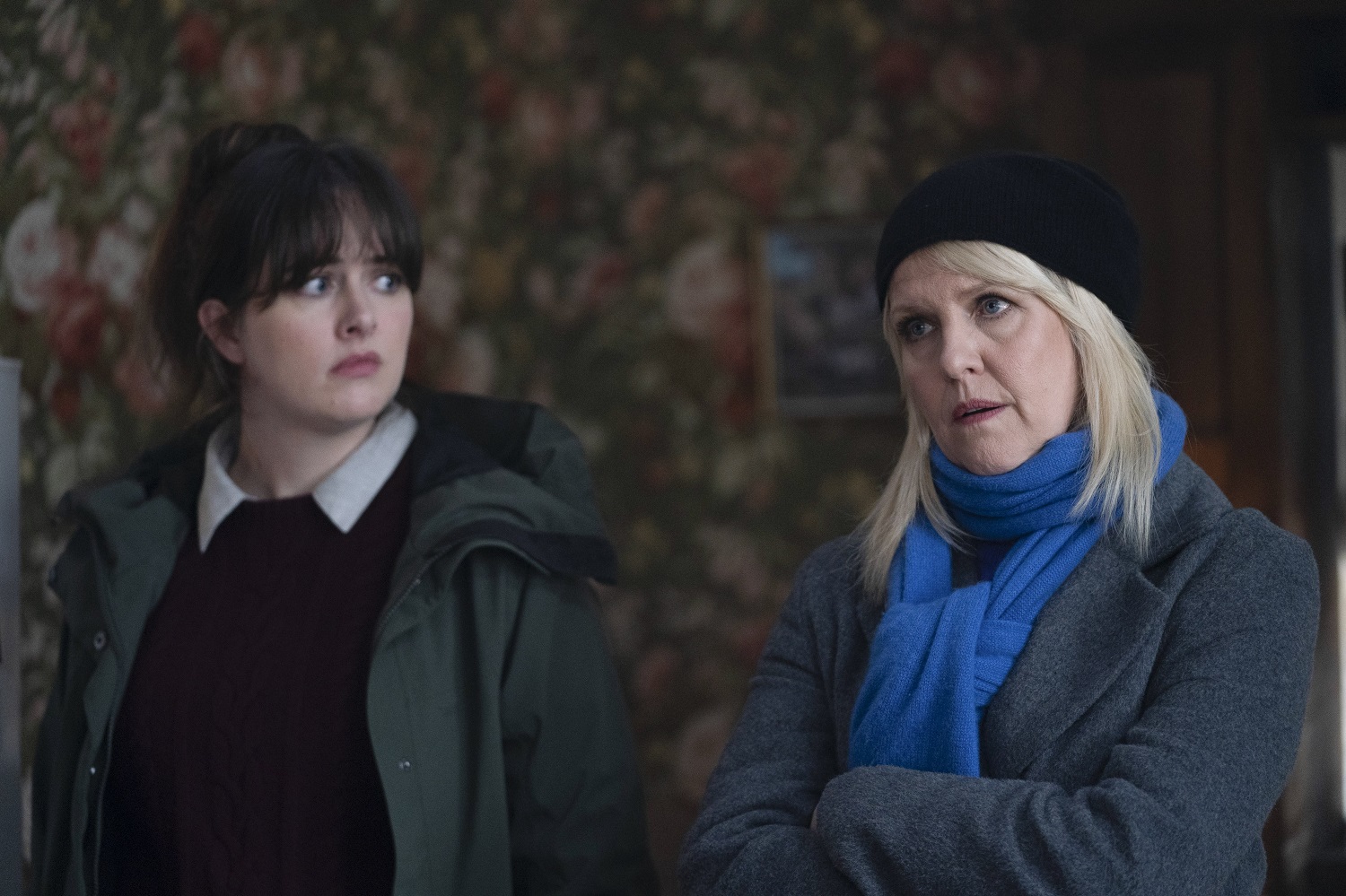 Shetland, Season 8
After seven much-loved seasons of Shetland, Douglas Henshall has left the role of Jimmy Perez. In the new season, Agatha Raisin star Ashley Jensen will play DI Ruth Calder, a native Shetlander who returns to the isles after a couple decades spent working in London. Though her journey back home begins as a quick trip to find a witness, it challenges both her and Tosh's views of island life. Catch up on previous seasons HERE.
Premieres November 29th on BritBox.
RELATED: The Best Shows Like Shetland
Not Enough For You? Here Are a Few More Ideas…
If these aren't enough to keep you busy, these lists should give you more ideas…