17+ of the Best British TV Mysteries Set in Quaint English Villages
In some cases, we earn commissions from affiliate links in our posts.
Last Updated on August 30, 2023 by Stefanie Hutson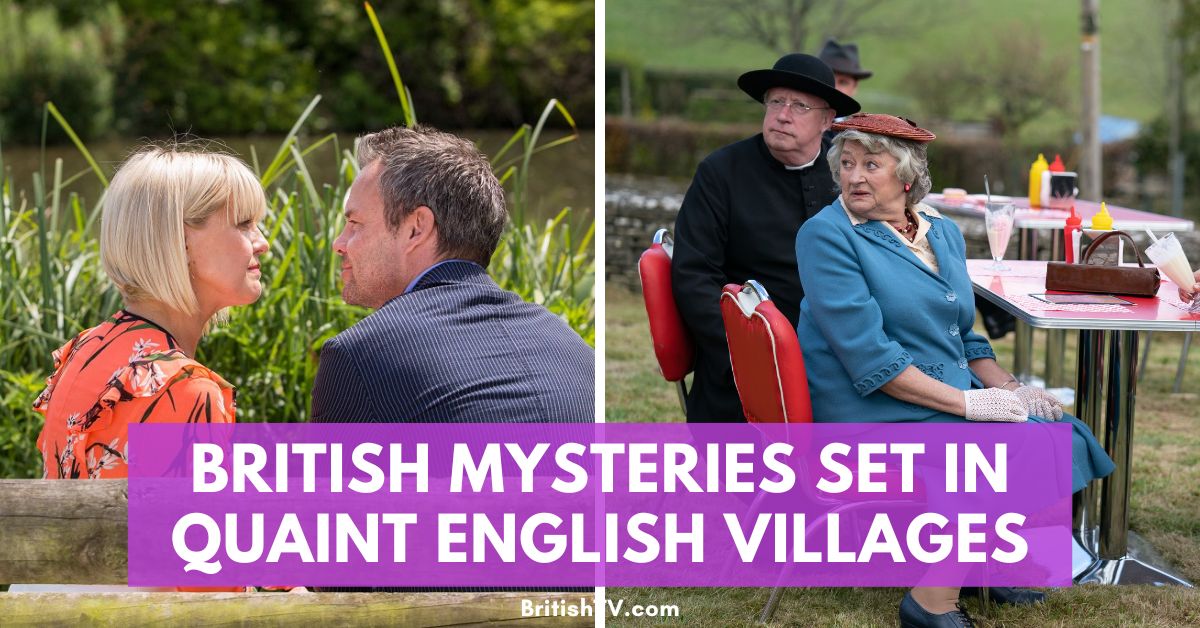 British TV comes in many forms. From gritty police procedurals set in places like Manchester and London to genteel period dramas set in grand country estates, there's a bit of something for everyone.
All the same, there's nothing more distinctly British than an English village murder mystery. Filled with village fetes, cream teas, curious spinsters, and clever vicars, they're a unique and wonderful form of escapism.
17+ of the Best British TV Mysteries Set in Quaint English Villages
The shows below are in no particular order. There are so many wonderful shows we couldn't begin to rank them.
Please note that a few of the shows below are only available on DVD, and in some cases, you'll need a region-free DVD player to view them because they're UK releases.
Agatha Raisin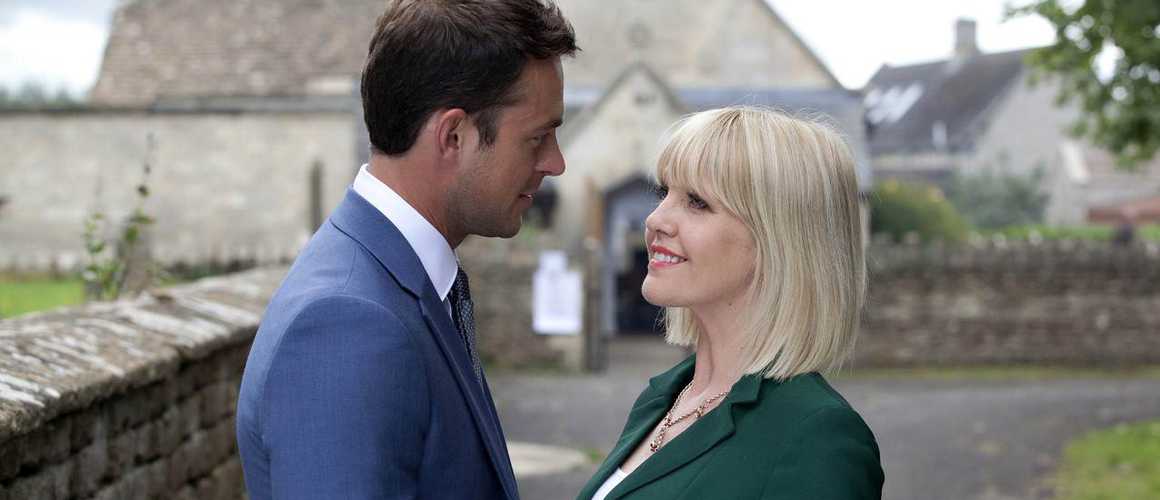 Based on the Agatha Raisin novels by M.C. Beaton, this series follows a PR executive who retires early to go live in the lovely (fictional) Cotswold village of Carsely. In real life, the Wiltshire village of Biddestone was used as the primary filming location for Carsely.
There are more than 30 books in the series, with only a fraction of them adapted over the four seasons it ran (still no word on whether we'll see season 5 of Agatha Raisin).
If you like your mysteries light with a bit of silly humour, give this one a try. Watch it HERE.
The Danedyke Mystery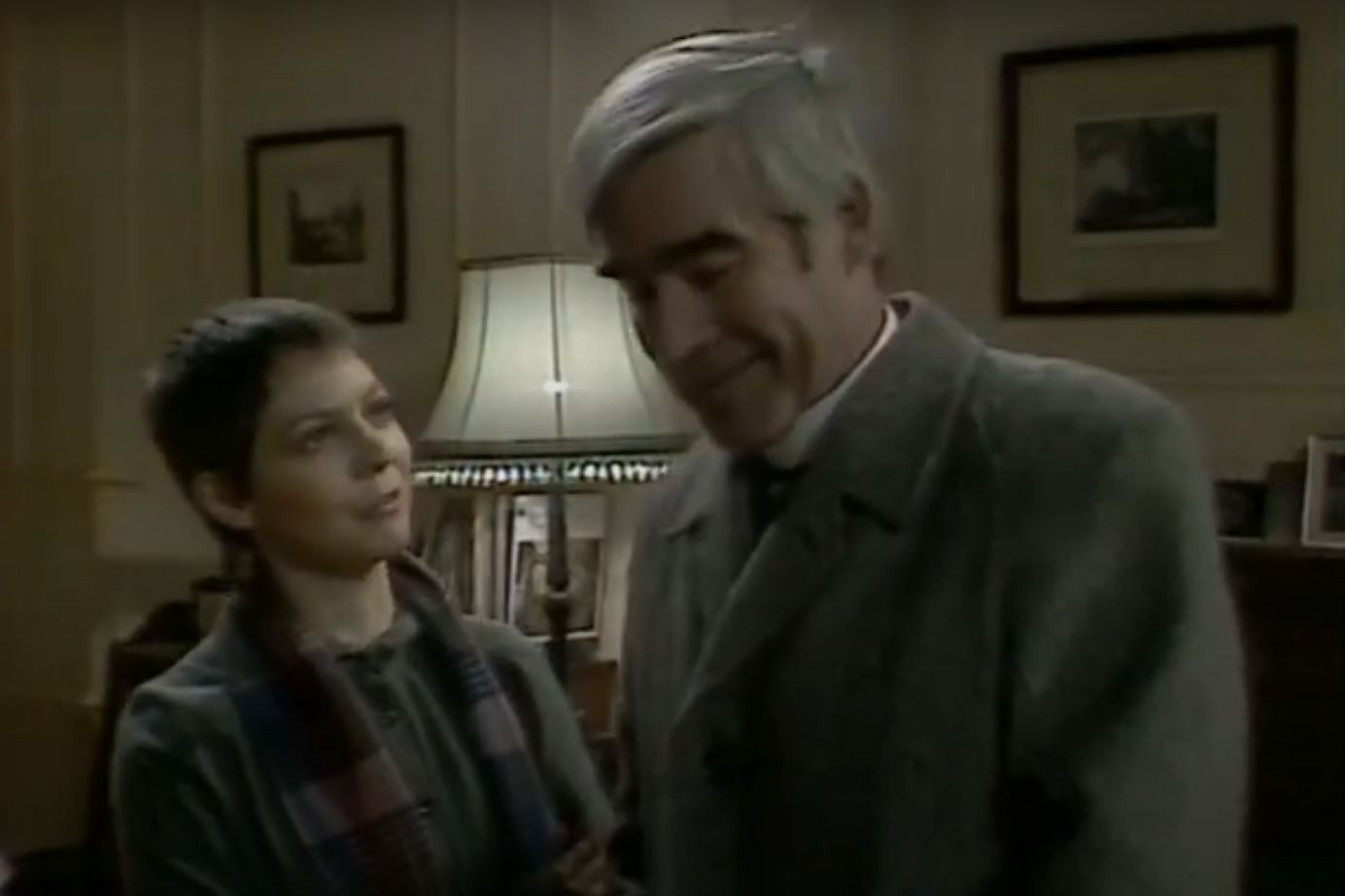 This 1979 thriller/mystery was based on Stephen Chance's Reverend Septimus Treloar books, and it was originally intended for children (clearly, a very different sort of children from the ones we know in 2023 – it's a bit too sedate for most kids raised on a diet of TikTok and constant distraction). The series followed a former Chief Inspector who quit working for the police to become a vicar.
The action begins when his organist was attacked by a "ghost" while practicing the organ at night. Lasting for just one season of 6 episodes, the series starred Michael Craig as Reverend Septimus Treloar – but it's Angela Horton many modern British TV fans will know. The character of Angela was played by Tessa Peake-Jones of Grantchester fame.
This one's not available to stream or even purchase on DVD, though (not strictly legal) episodes can be found with a bit of internet detective work.
Father Brown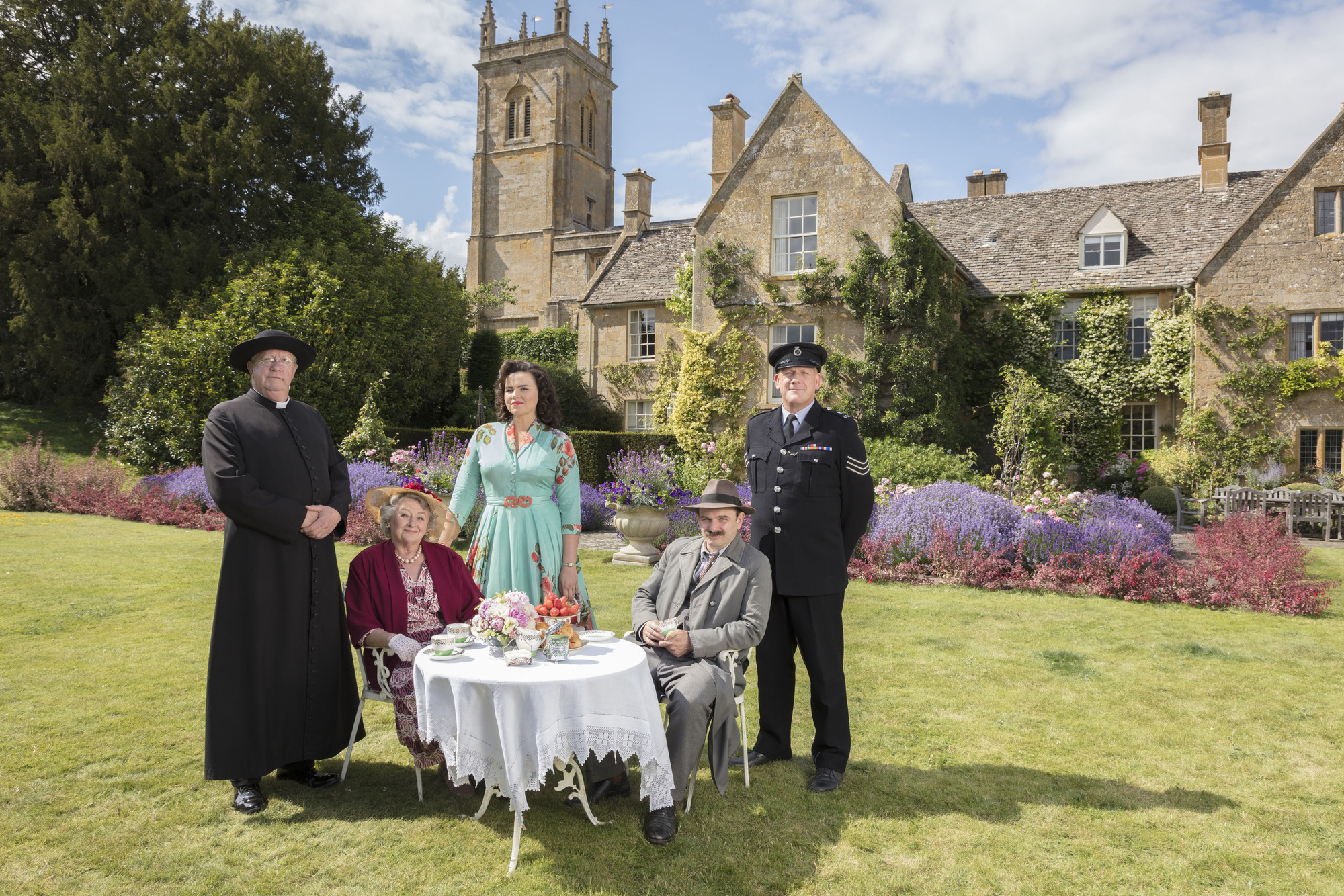 There are two different TV adaptations of GK Chesterton's Father Brown stories, but if you're after a cozy mystery with pretty village scenes, we recommend sticking with the modern version – the "classic" version is good, but it's a bit darker at times.
Set in the early 1950s, the modern adaptation stars Mark Williams as the titular crime-solving priest. The action takes place in the fictional Cotswolds village of Kembleford, and Father Brown is often assisted by a variety of colourful village residents – including parish secretaries Bridgette McCarthy and Isabel Devine, housekeepers Susie Jasinski and Brenda Palmer, Lady Felicia, driver Sid, and Felicia's niece Bunty.
RELATED: British TV Shows Set in Churches
Grantchester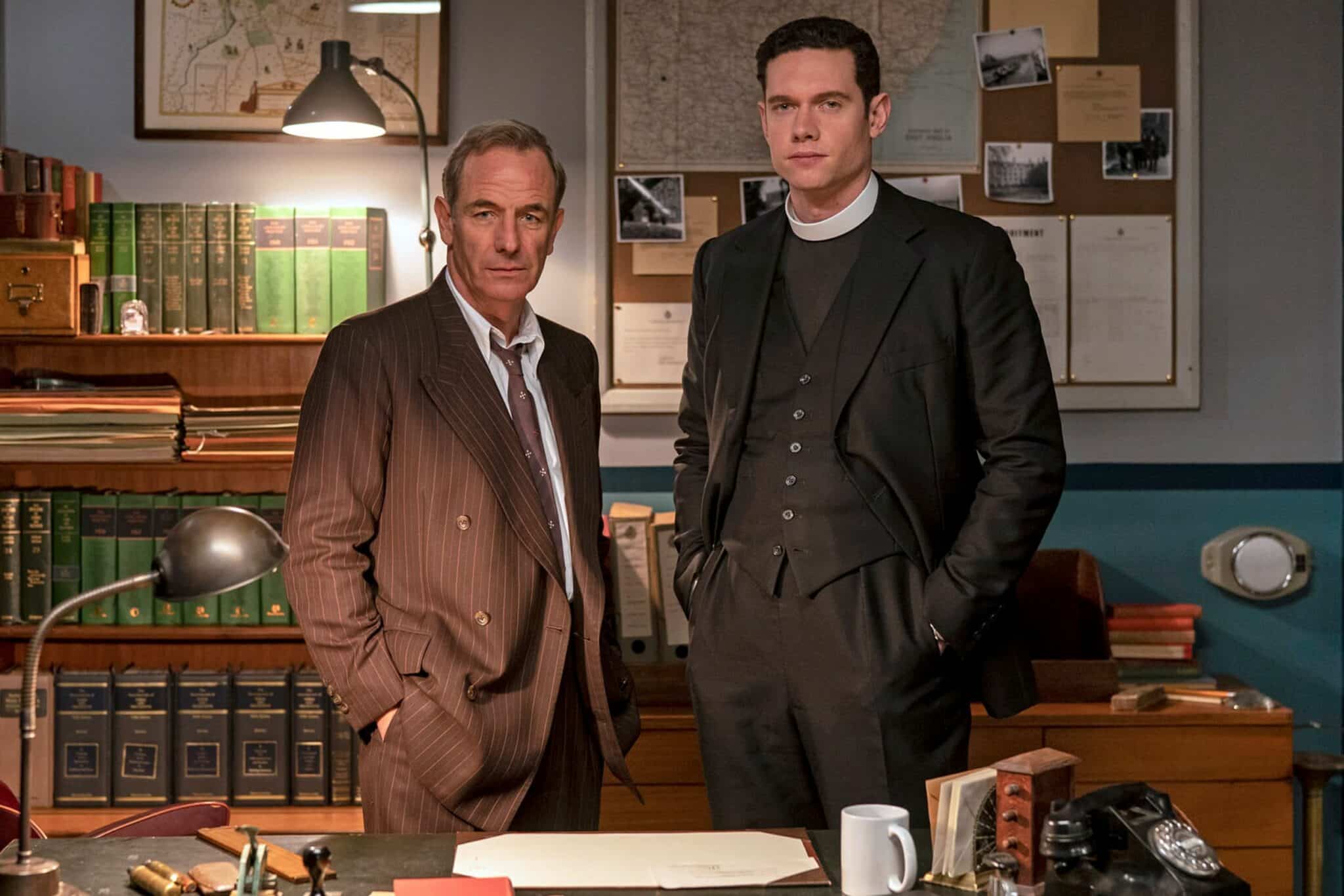 Though not as light and cheery as many of the mysteries on this list, Grantchester still qualifies, as it's a mystery/crime drama set in the real Cambridgeshire village of Grantchester.
The 1950s-based series follows a vicar who helps a local detective solve puzzling homicides. Initially, the vicar is Sidney Chambers, played by James Norton. He left the series after the first few seasons, though, and the new vicar is called Will Davenport (played by Tom Brittney). They assist detective Geordie Keating, played by Robson Green.
While the description might sound very similar to Father Brown, the execution is anything but. While Father Brown leans into the cosy factor, Grantchester mixes moments of nostalgia and lightness with some incredibly heavy topics – spirituality, sex and love, and perhaps most notably, the way the church and society handled homosexuality at that time.
Rosemary & Thyme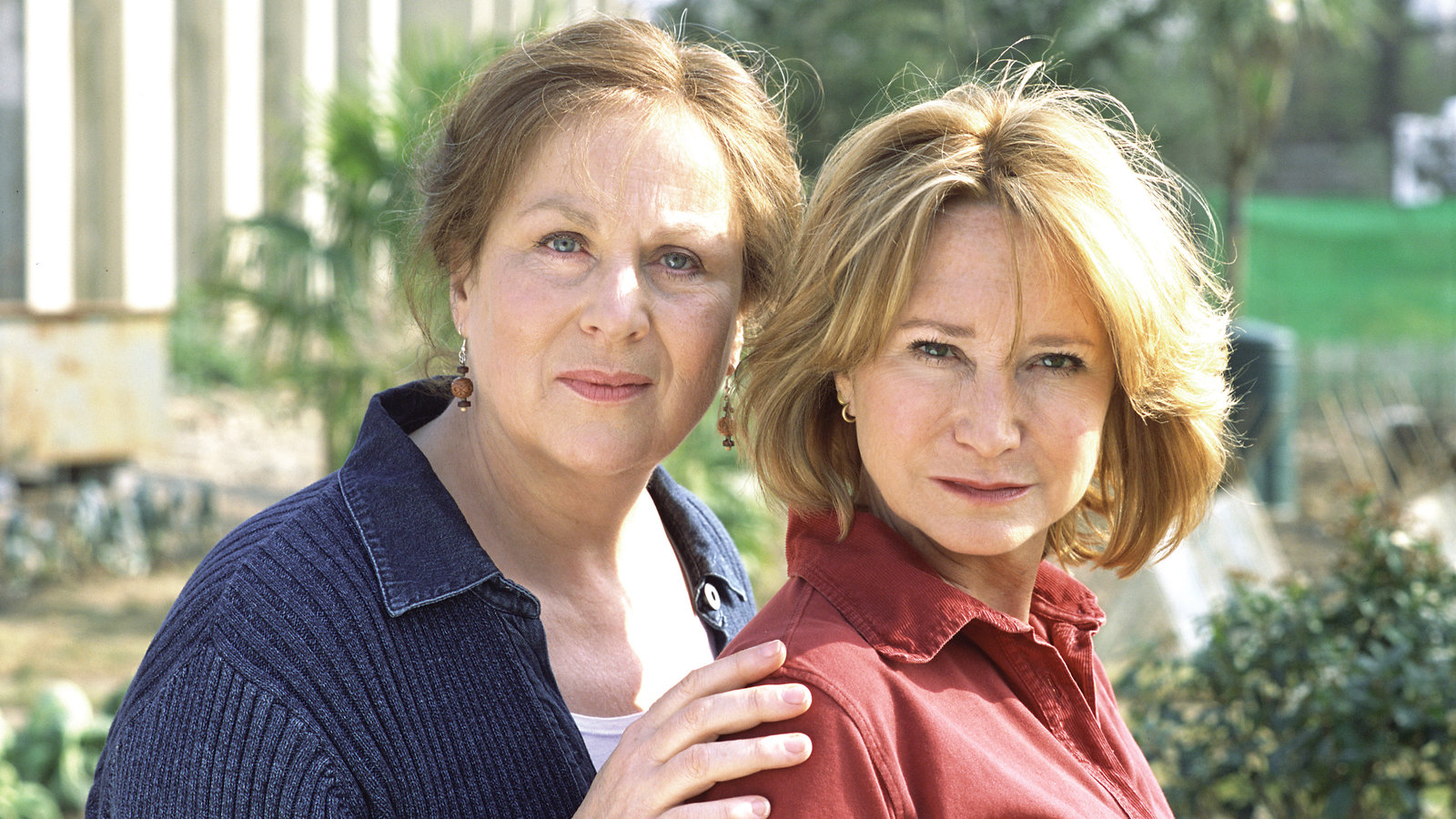 Though Rosemary & Thyme is more about garden locations than villages, many of the episodes are set in rural places throughout England. The series follows two middle-aged women who run a gardening business that encounters far more than its fair share of murder.
Laura is a former police officer and keen amateur gardener, while Rosemary has a doctorate in plant pathology that leaves her well-equipped to handle the toughest horticultural conundrums. After each facing setbacks in their lives, they come together in a way that helps them both personally and professionally.
Fun fact: Creator Brian Eastman came up with Rosemary & Thyme as a way to entertain his wife.
RELATED: 9 of the Most Delightfully Absurd British Mysteries
Sister Boniface Mysteries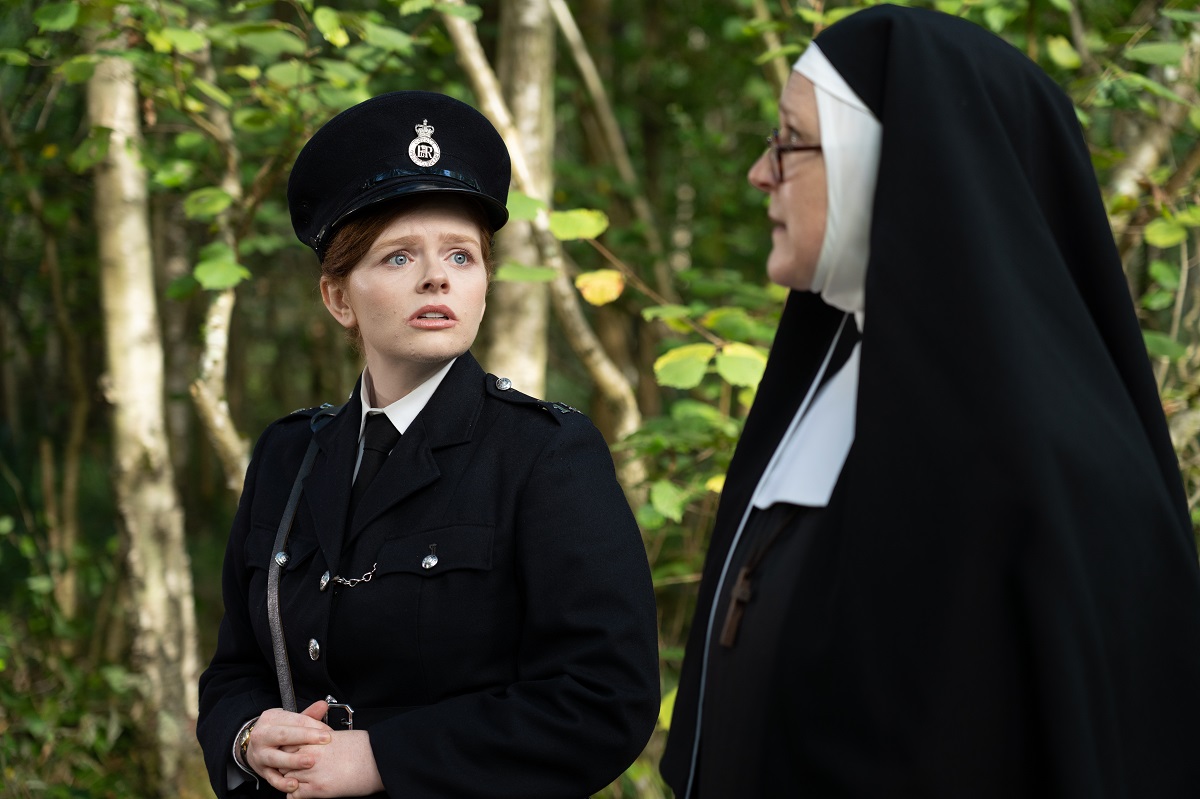 This Father Brown spinoff sees Lorna Watson reprising her role as Sister Boniface, a nun with a talent for forensics. Set roughly a decade after the Father Brown timeline, Sister Boniface is living at St. Vincent's Convent in the town of Great Slaughter in the Cotswolds.
Along with her religious activities, Sister Boniface participates in winemaking with the other nuns, and she occasionally serves as a scientific advisor to the police – because unlike most nuns, she has a PhD in forensic science.
Watch Sister Boniface Mysteries HERE.
Campion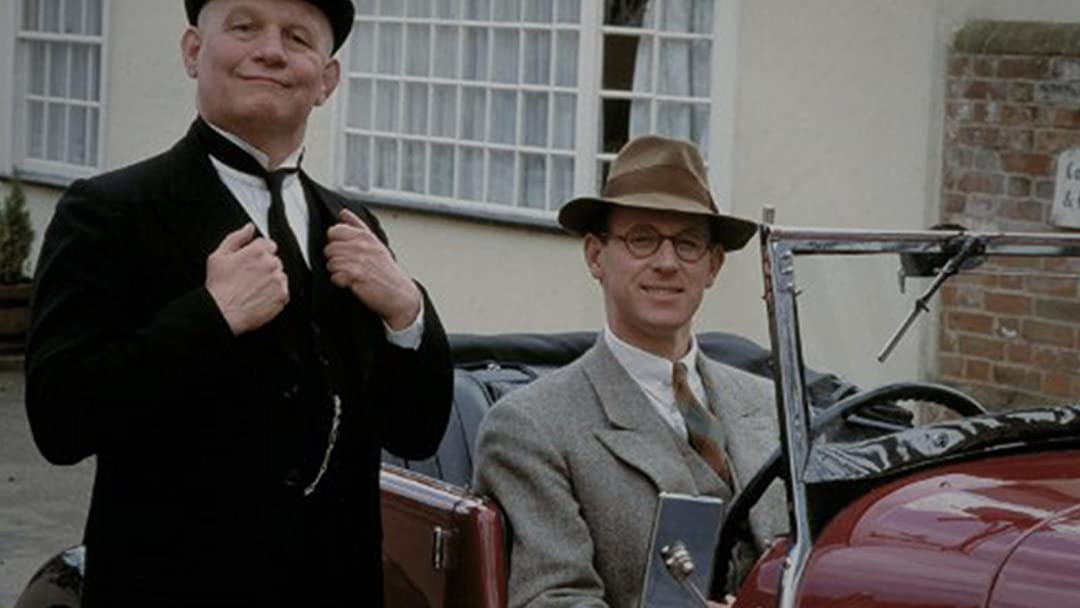 This 1989 mystery may feel a bit dated in terms of the video, but the mysteries are as fun as ever. Based on Margery Allingham's Albert Campion novels, the stories are set in a variety of locations, with many taking places on country estates.
Campion (Peter Davison) himself is a man who was born into an aristocratic family, but who dabbles in a bit of crime-solving alongside his manservant, Magersfontein Lugg (Brian Glover).
Miss Marple & Agatha Christie's Marple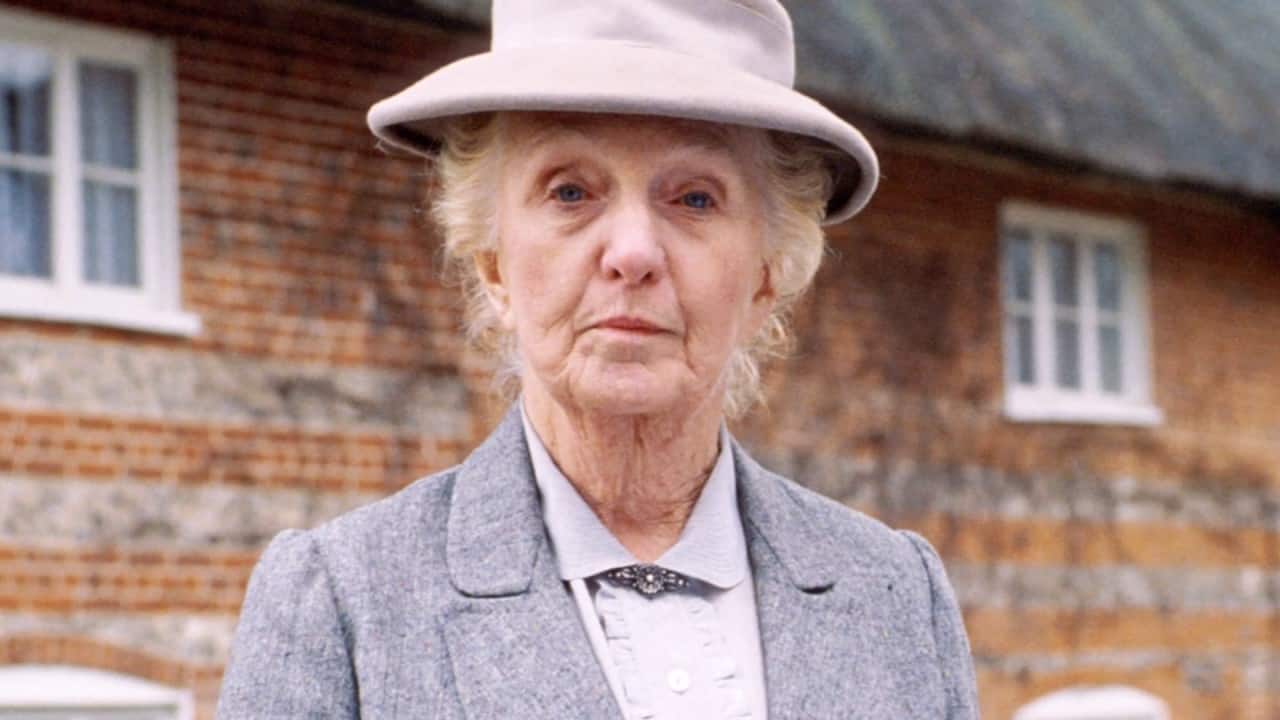 In the small village of St. Mary Mead, a clever spinster solves crimes that leave police baffled. It's been nearly 100 years since Agatha Christie first created Miss Marple, but she remains one of the best-loved characters in British mysteries.
Neil Dudgeon even picked her as his detective partner of choice, should Midsomer Murders ever go a bit mad and do a crossover. Based on friends of Christie's step grandmother/aunt, she once said that character was "the sort of old lady who would have been rather like some of my step grandmother's Ealing cronies – old ladies whom I have met in so many villages where I have gone to stay as a girl".
There have been a number of films and TV adaptations featuring Miss Marple, but we'll focus on the two big ones here:
It's been 10 years since the most recent TV adaptation, so we wouldn't be surprised to see a new one before too long. We think Dame Penelope Keith or Felicity Kendal would make a lovely 2020s Miss Marple.
RELATED: Where to Stream Agatha Christie Adaptations
Murder Most English: A Flaxborough Chronicle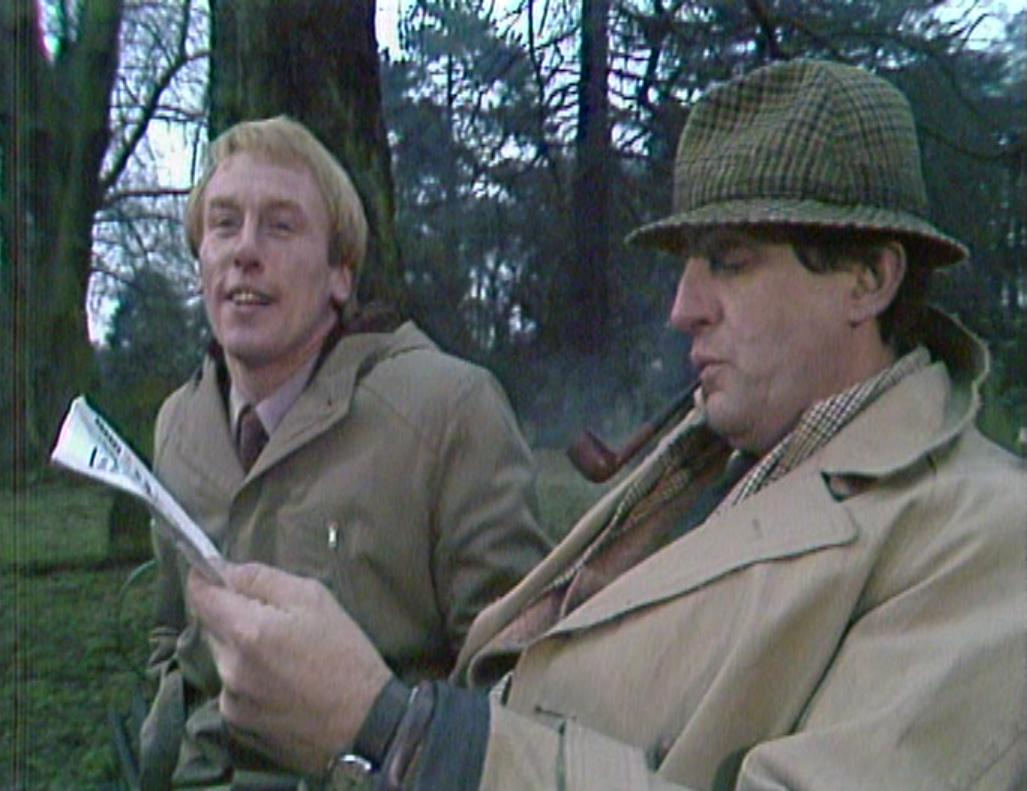 This 1977 production may be too dated for some, but we know you die-hard British mystery fans browse lists like this in hopes of finding rare gems you may not have seen. Given the international nature of TV these days, very few shows fail to cross the pond – but if you're willing to give older shows a chance, there's much to enjoy.
In this BBC adaptation of Colin Watson's Flaxborough novels, Anton Rodgers starred as DI Purbright, with Christopher Timothy playing the role of DS Sydney Love. The series adapted four of the novels:
Sadly, no legal streaming services offer this classic – but you can usually pick up a used DVD set pretty cheaply.
If you watch, be sure to keep an eye out for a then-thirtysomething Stephanie Cole (Doc Martin) in the role of Sister Horton in part two of "Hopjoy Was Here". Peter Sallis (Last of the Summer Wine, Wallace & Gromit) also appears in both parts of "Coffin Scarcely Used".
Lovejoy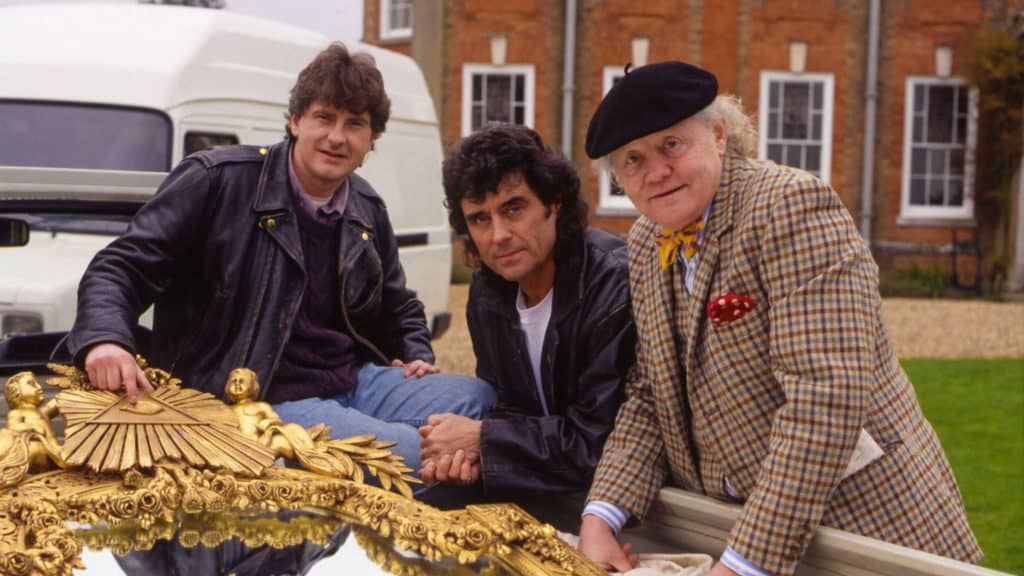 This unique series mixes comedy, drama, and a bit of mystery – all set within the world of antiques. Lead character Lovejoy (Ian McShane) is a "divvy", a person exceptionally talented at spotting the differences between valuable antiques and forgeries.
Set in East Anglia, he's accompanied by a colourful cast of characters including assistant Eric Catchpole (Chris Jury), friend Tinker (Dudley Sutton), friend Lady Jane Felsham (Phyllis Logan), and nemesis Charlie Gimbert (Malcolm Tierney).
Beyond Paradise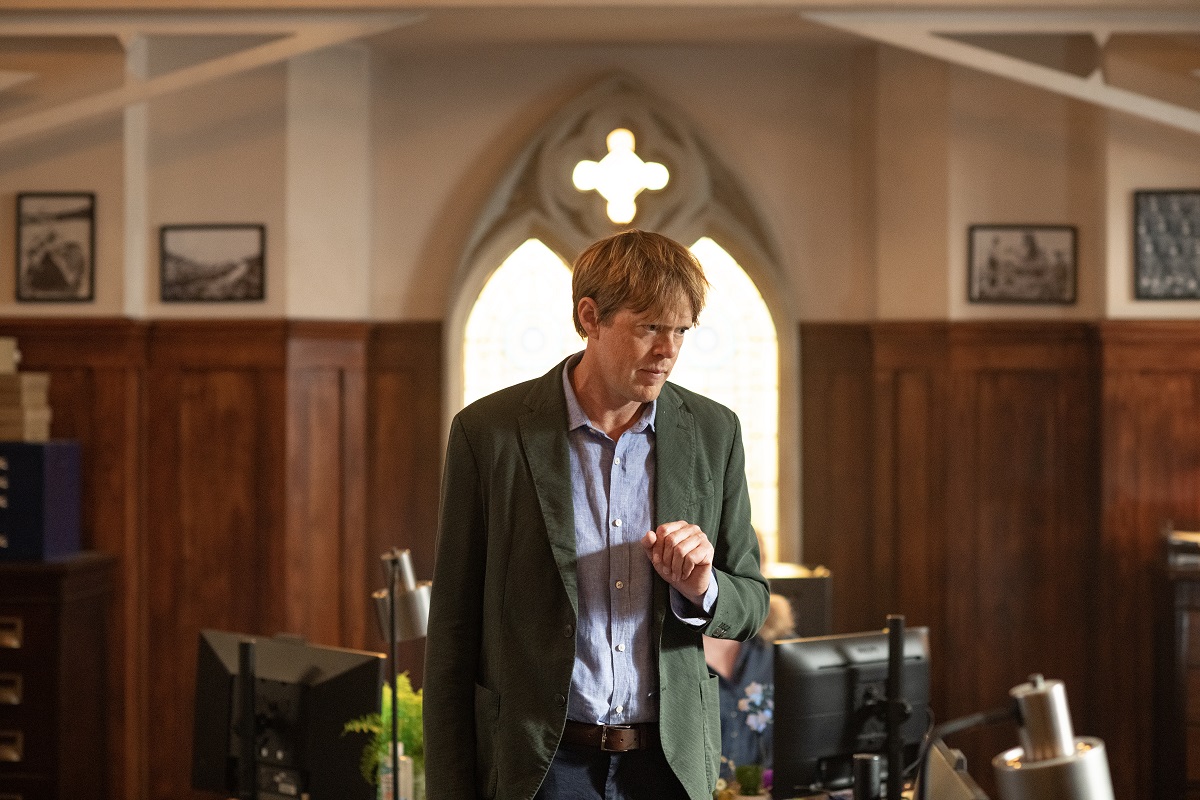 This Death in Paradise spin-off sees DI Humphrey Goodman back in England with his fiancee Martha. They've left the city in favour of a quieter life along the Devon coast – but as it always happens in these sort of shows, they find the country life isn't nearly as peaceful as they'd expected.
This one has more of a seaside village than a traditional countryside feel, but it's no less delightful for it. The series has been officially renewed for a second season, expected in late 2023 or 2024.
Pie in the Sky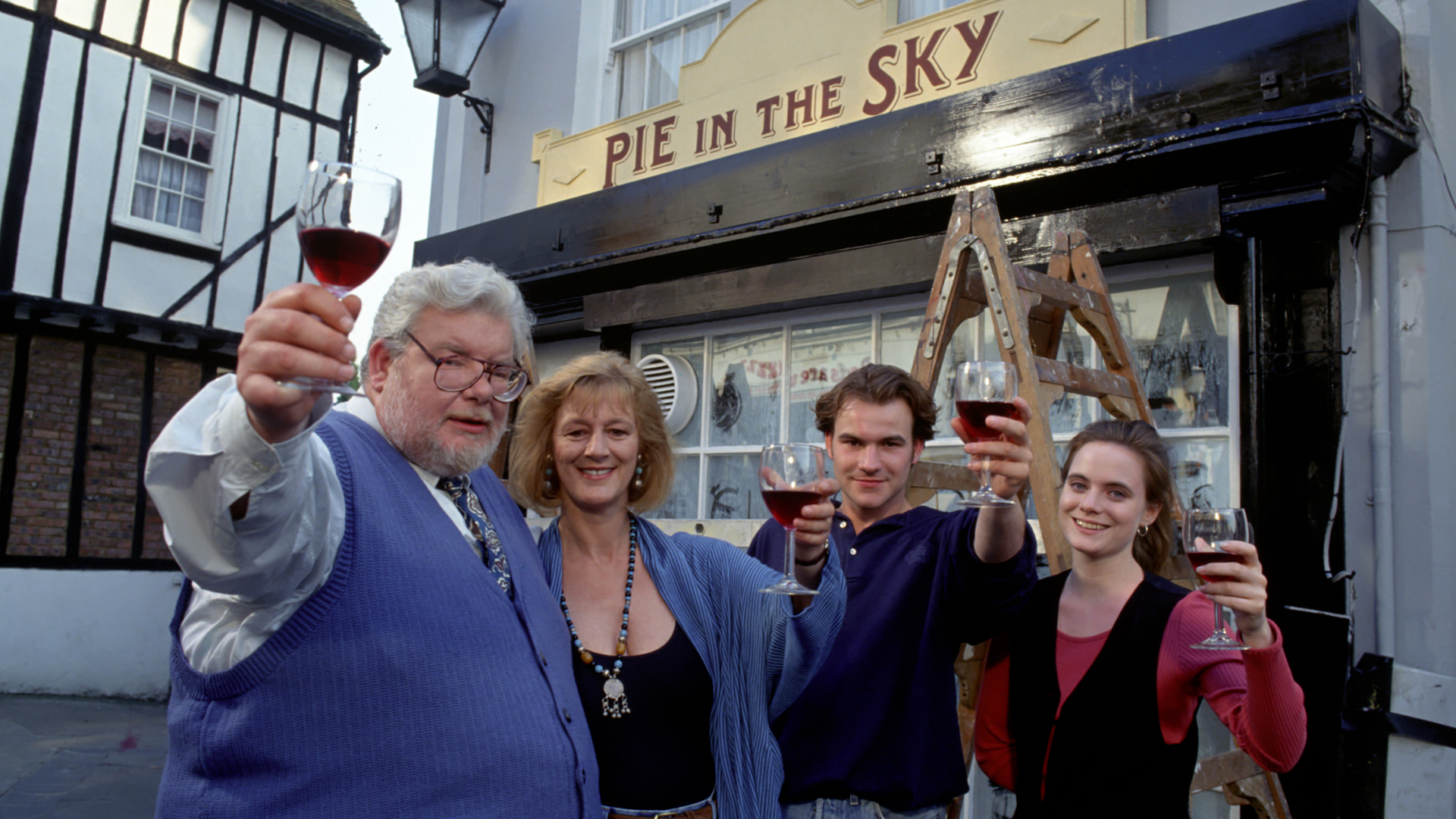 This delightful 1990s series comes from the days when cozies were less gruesome, but not quite as silly as they are now. The series follows DI Crabbe (Richard Griffiths), a man who retires from the police force after an injury and sets out to fulfill his lifelong dream of owning a restaurant.
Unfortunately, Crabbe's former boss has other ideas, and he's continually dragging Crabbe back to help out on tough cases.
Travelling Man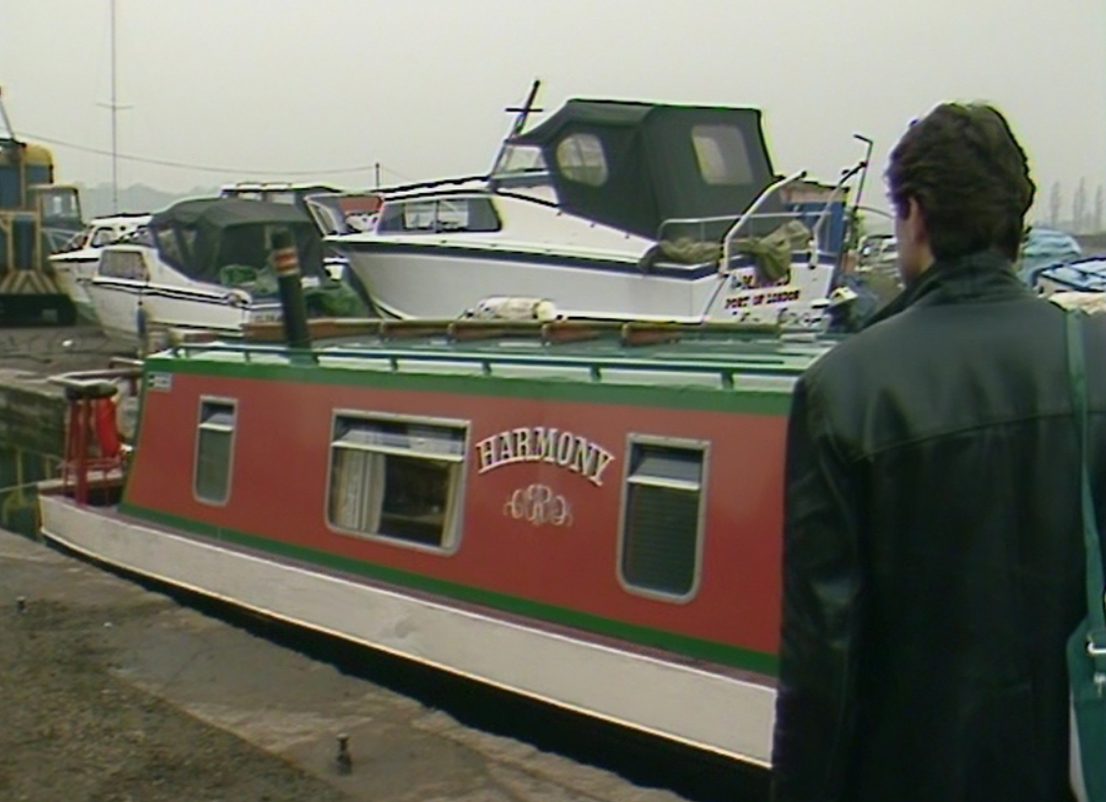 This 1980s classic follows Lomax (Leigh Lawson), a man who's been released from prison to find his wife has left the country and she's suing him for divorce. His son Steve is missing so he sets off on his old narrowboat to find him.
Along the way, we get plenty of great countryside scenery…and all sorts of unsavoury characters are pursuing him because they believe he's hidden a huge stash of money somewhere.
Sadly, this one's only available on DVD.
Wilde Alliance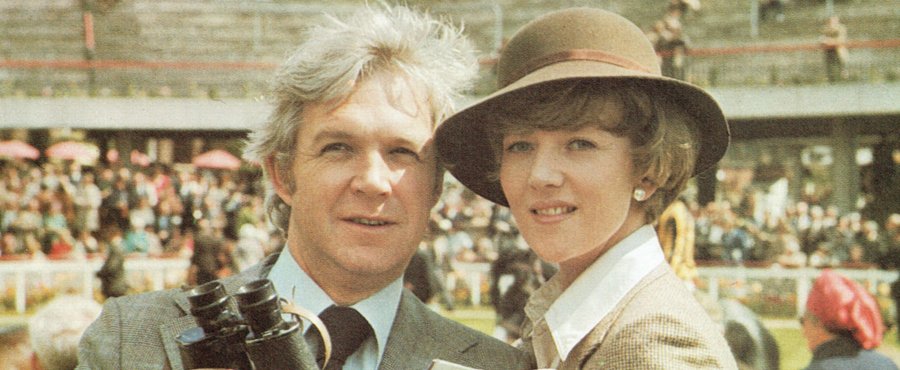 Though Wilde Alliance is technically set in York (and that's a small city rather than a village), many episodes take them to countryside locations, and even their home in York feels a bit village-y in terms of the streets and shops and their local community.
Notably, one episode was written by John Bowen, the man who would go on to write Hetty Wainthropp Investigates.
Sadly, no one is streaming this one – but you can pick it up on DVD HERE if you have a region-free DVD player to watch it (they're inexpensive and well worth it for serious British TV fans).
Midsomer Murders
One of the UK's most iconic village-based mysteries, Midsomer Murders follows two different Barnabys (John Nettles first, then Neil Dudgeon later) as they investigate quirky and unusual murders throughout one rural county's villages, hamlets, and towns.
The series has been running since the late 1990s, and it continues to provide some of the most amusing murders set amidst the best countryside scenery.
RELATED: 20+ Things You Might Not Know About Midsomer Murders
Queens of Mystery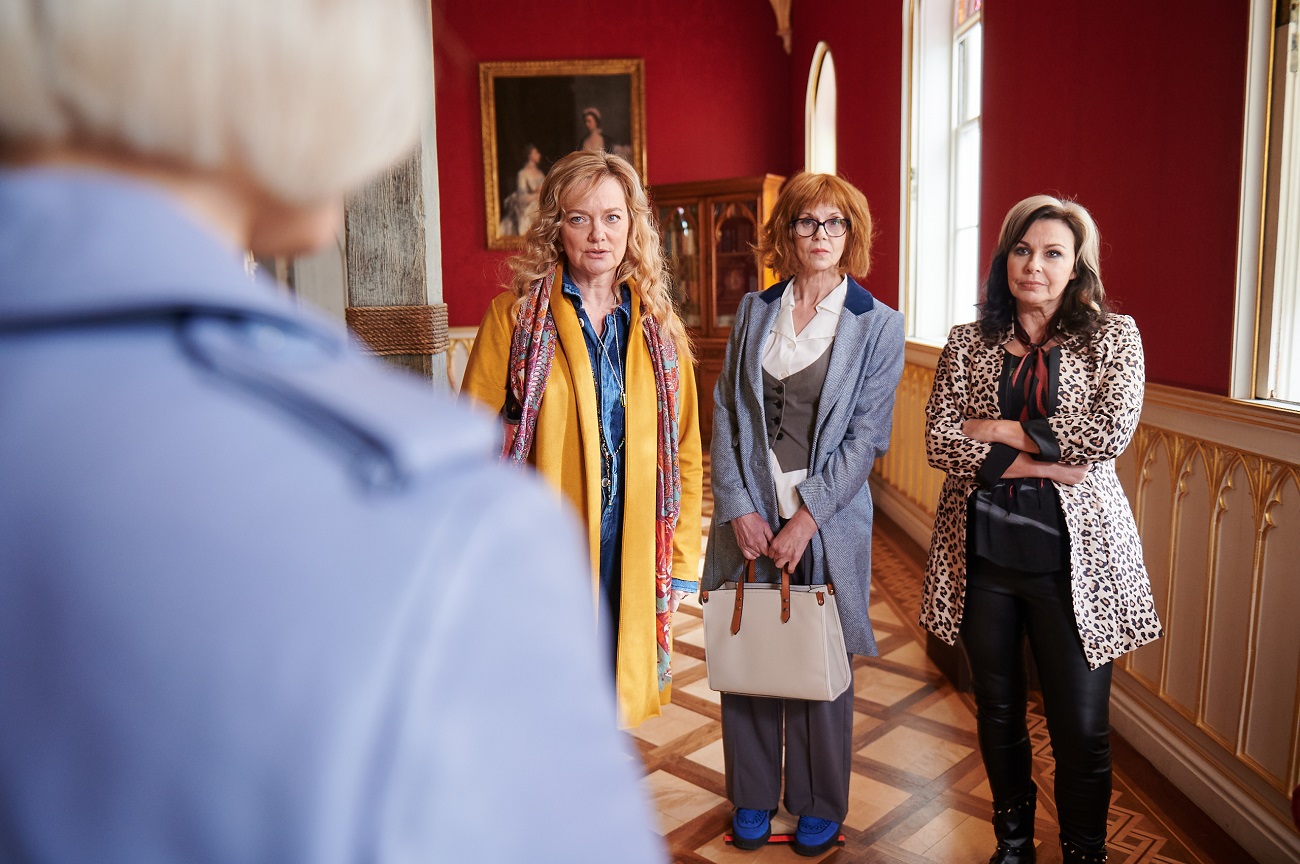 This light and fun Acorn TV Original is set in the fictional village of Wildemarsh, England, where a young detective works at the local constabulary near her three crime-writing aunts. Olivia Vinall (season 1) and Florence Hall (season 2) portray Maddie, while Julie Graham, Sarah Woodward, and Siobhan Redmond play her aunts.
The show features colourful scenery and outfits alongside gorgeous village settings. While it can be a little silly at times, it's a great palate cleanser in between the more dark and serious shows.
Honourable Mentions
The shows in this section are a little further from the "English village" setting, with many of them set in large towns or even small cities – but they share a similar feel to the shows above.
Shakespeare & Hathaway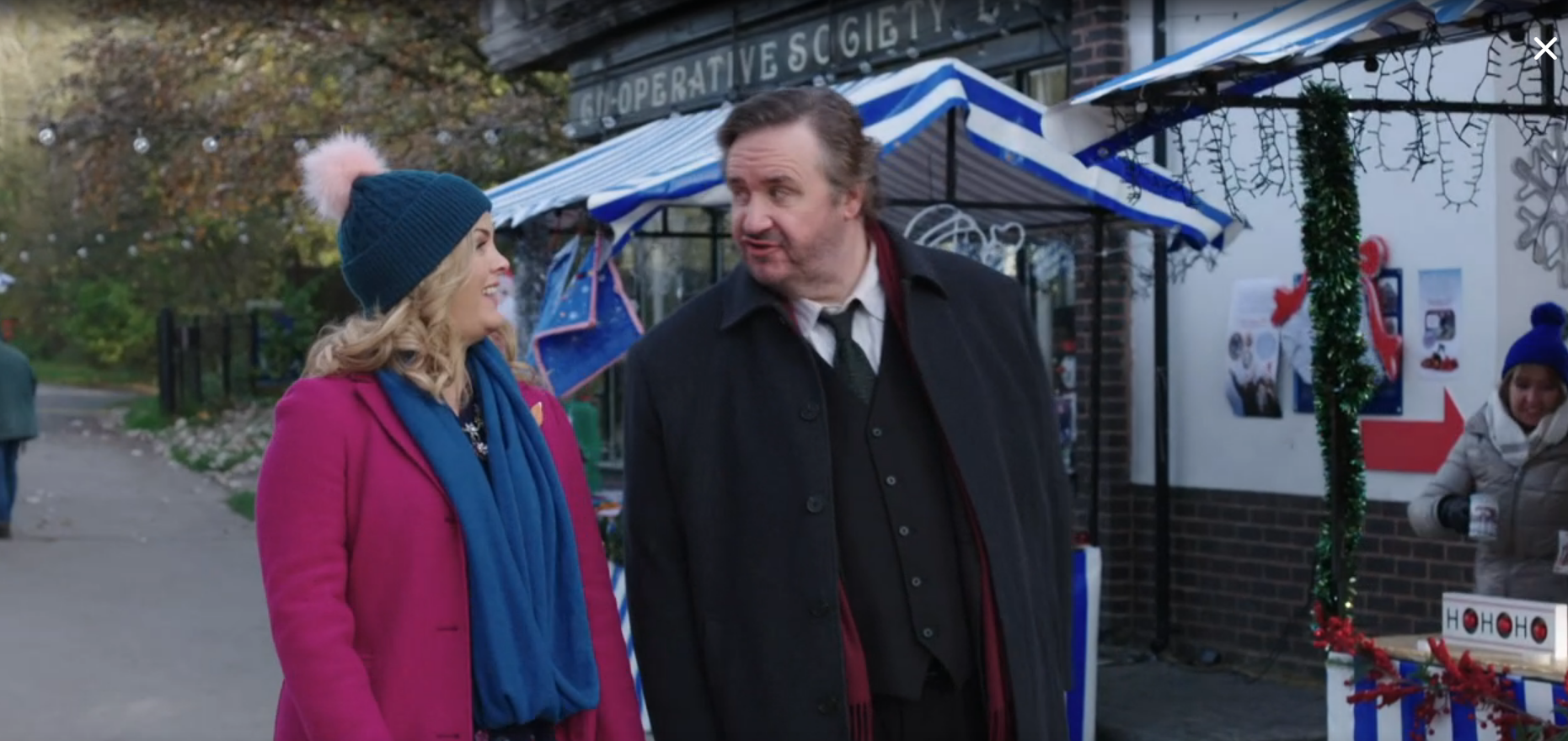 Shakespeare & Hathaway is a delightfully quirky series about about a PI who teams up with a former hairdresser to help keep his detective business afloat. Along with a mostly out-of-work actor, they tackle a surprising number of murders with ties to Shakespeare.
Strictly speaking, Stratford-upon-Avon is a fairly large town, not a village – so it doesn't REALLY qualify for this list. With a population of roughly 30,000 and a bustling tourist trade, it just doesn't have that "village feel" – but that's not to say it isn't lovely and quaint in its own way. Watching it on television adds to the village feel, since the producers have been careful to showcase many of the best and most scenic bits of the town.
Watch Shakespeare & Hathaway HERE.
Hamish Macbeth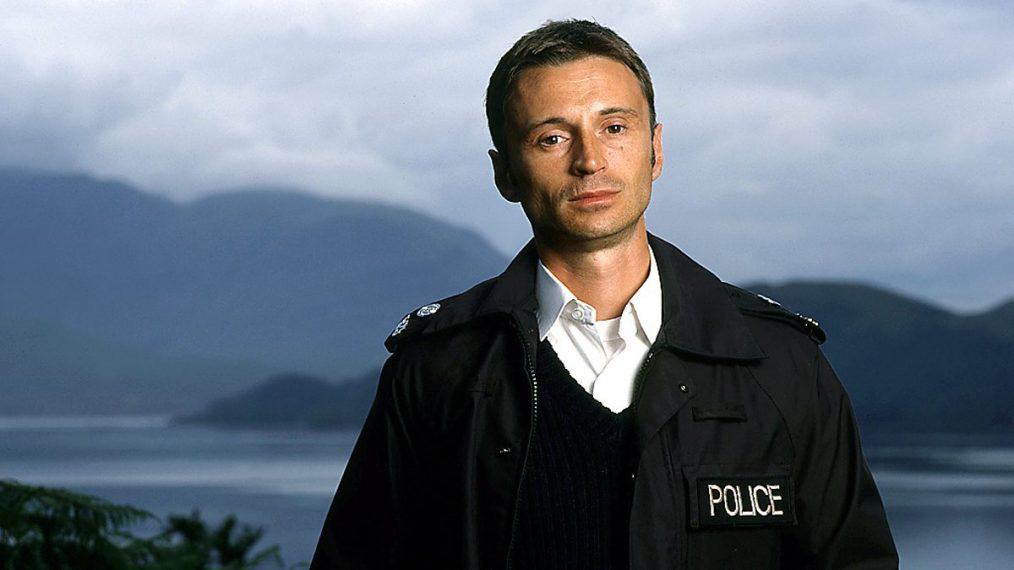 Though Hamish Macbeth is loads of fun and packed with gorgeous village scenery, it would be incorrect to call it an "English village-based mystery"…because it's set in Scotland.
The series is based on MC Beaton's Hamish Macbeth novels, and it follows Hamish Macbeth, a village constable who's far too clever for his job – but far too unambitious to let anything move him from his cushy village post.
McDonald & Dodds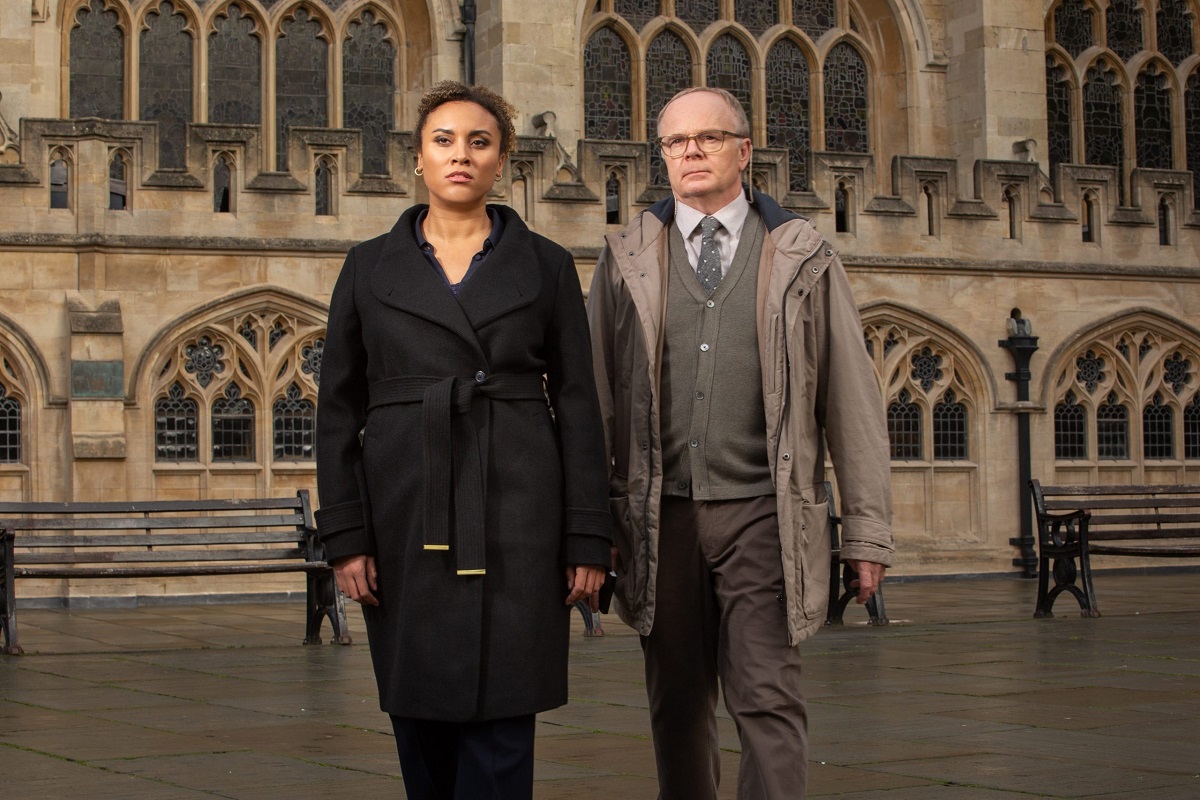 Technically, McDonald & Dodds is set in Bath, and Bath is a city. However, many of the mysteries take the lead characters outside the city to nearby villages, and all the crimes are a bit softer and quirkier than more typical urban mysteries.
The series follows the eccentric, middle-aged DS Dodds (Jason Watkins) and assertive London transfer DCI McDonald (Tala Gouveia) as they investigate a variety of homicides in Bath and the surrounding area.
Endeavour / Inspector Morse / Lewis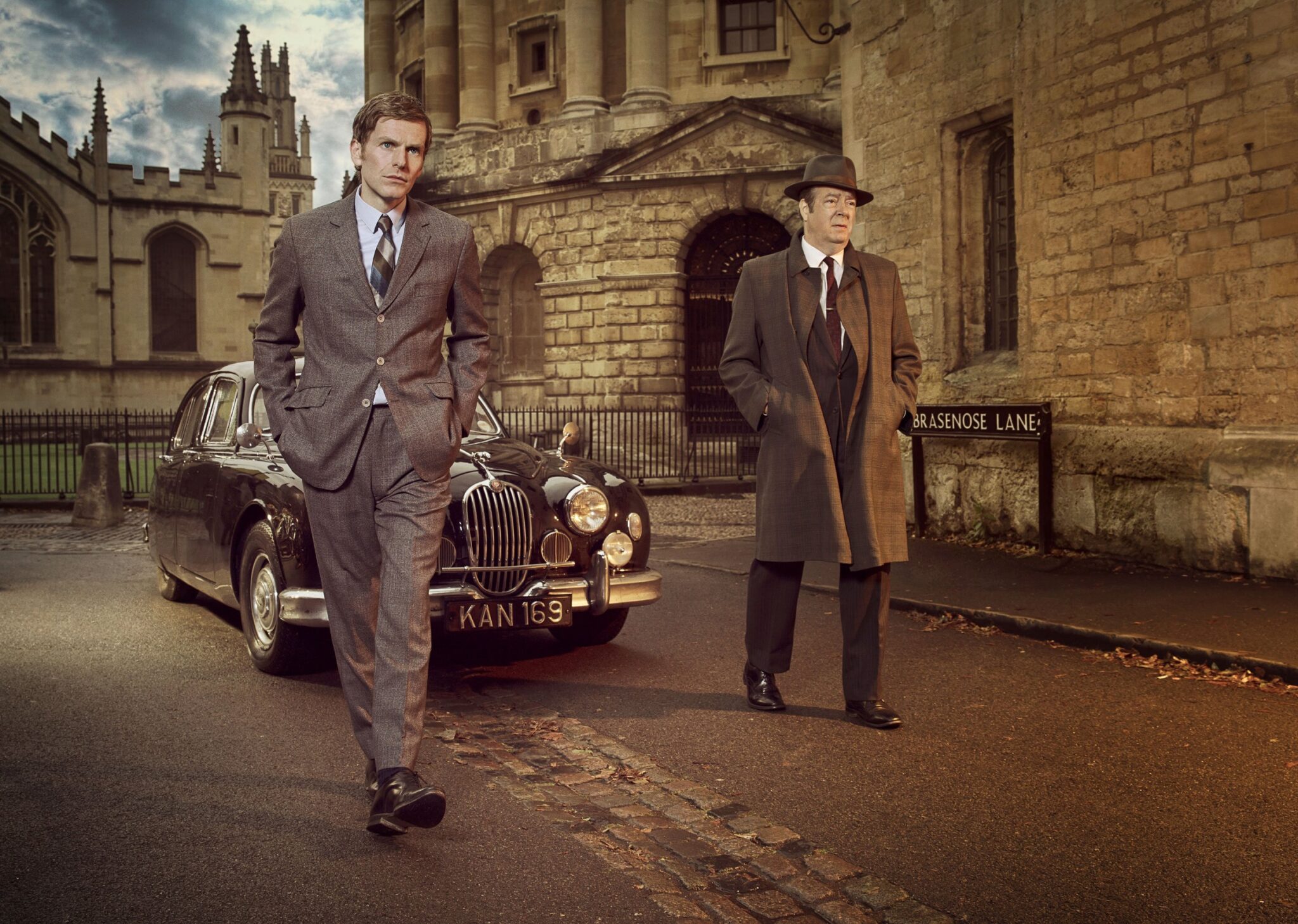 Based on the novels of Colin Dexter, Inspector Morse and Endeavour follow the police career of Endeavour Morse. The original series, Inspector Morse, began in the 1980s and starred John Thaw as Morse towards the end of his career. Later, Lewis was made as a spin-off that followed Morse's partner.
In more recent years, Endeavour was created as a 1960s and 70s-based prequel that took a look at Morse's young life and early career, showing us how he becamse the complicated man in the original series.
Technically, Oxford is a city and the shows don't really fit this list. However, we include them for a couple of reasons. First, many of the mysteries take them outside the city to the surrounding villages and countryside. Many are also set within the Oxford University community, giving them a similar close-knit feel like what you get with many village-based mysteries.
These three shows are some of the most popular and critically-acclaimed mysteries in British TV history, so if you haven't watched them yet, it's well worth giving them a try.
Watch them: Endeavour | Inspector Morse | Lewis
Gil Mayo Mysteries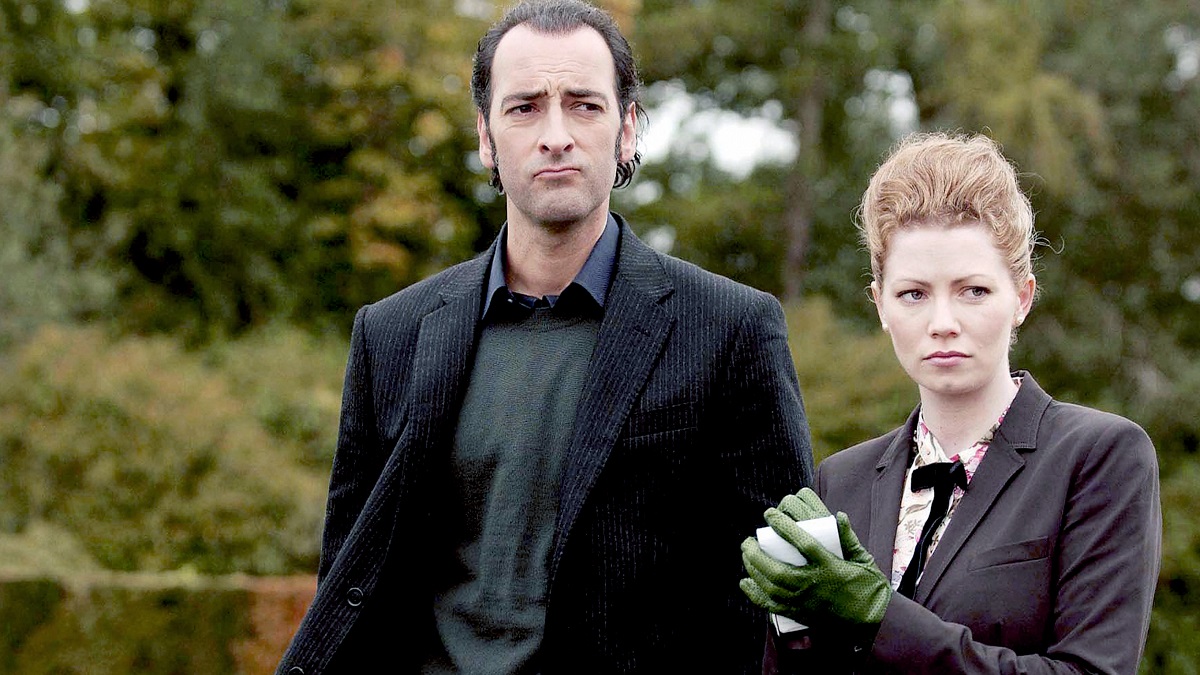 Filmed in Leamington Spa, this light detective series is based on the Gil Mayo book series by Marjorie Eccles. It follows a wisecracking detective who has recently separated from his partner and struggles to raise his daughter on his own while working in a challenging career.
The series is full of fun, quirky characters and though it only lasted for a season, it's still well worth watching (or reading) if you get the chance.
Save it to Pinterest!