11 Great British Comedy Panel & Game Shows Streaming Now
In some cases, we earn commissions from affiliate links in our posts.
Last Updated on October 17, 2020 by Stefanie Hutson

11 Great British Comedy Panel & Game Shows Streaming Now
Comedy panel shows are a British institution and those of us in the United States don't have a clean-cut equivalent. Even when these shows are remade for American audiences, they don't quite work. I guess it takes a British sense of humor to make them great.
If you're not familiar with comedy panel shows, they essentially consist of British comedians, actors, and public figures playing a game. Sometimes, these games are derived from well-known British game shows (like Countdown), but other times they are invented for comedians and actors to play them, (like Taskmaster).
And perhaps one of the best bits about comedy panel shows is seeing familiar faces in different shows – there are only so many British comedians to go 'round, you know.
Some consider the British version of What's My Line? (1951 to 1963) to be the first U.K. panel show. Other early comedy panel shows include Call My Bluff, Give Us a Clue, and Whose Line Is It Anyway? The format for modern comedy panel shows began with Have I Got News for You in 1990.
While there are many great comedy panel shows, not all are available to American audiences. And we'd love to have more exported to us. But for now, here is a list of the best comedy panel shows you can stream today.
Good luck picking a favourite… it's not easy.
Comedy Panel Shows
QI – Quite Interesting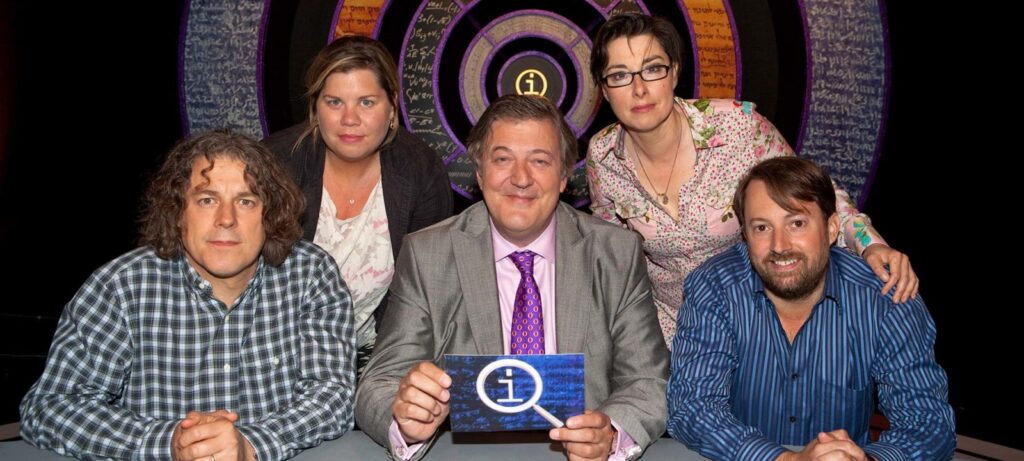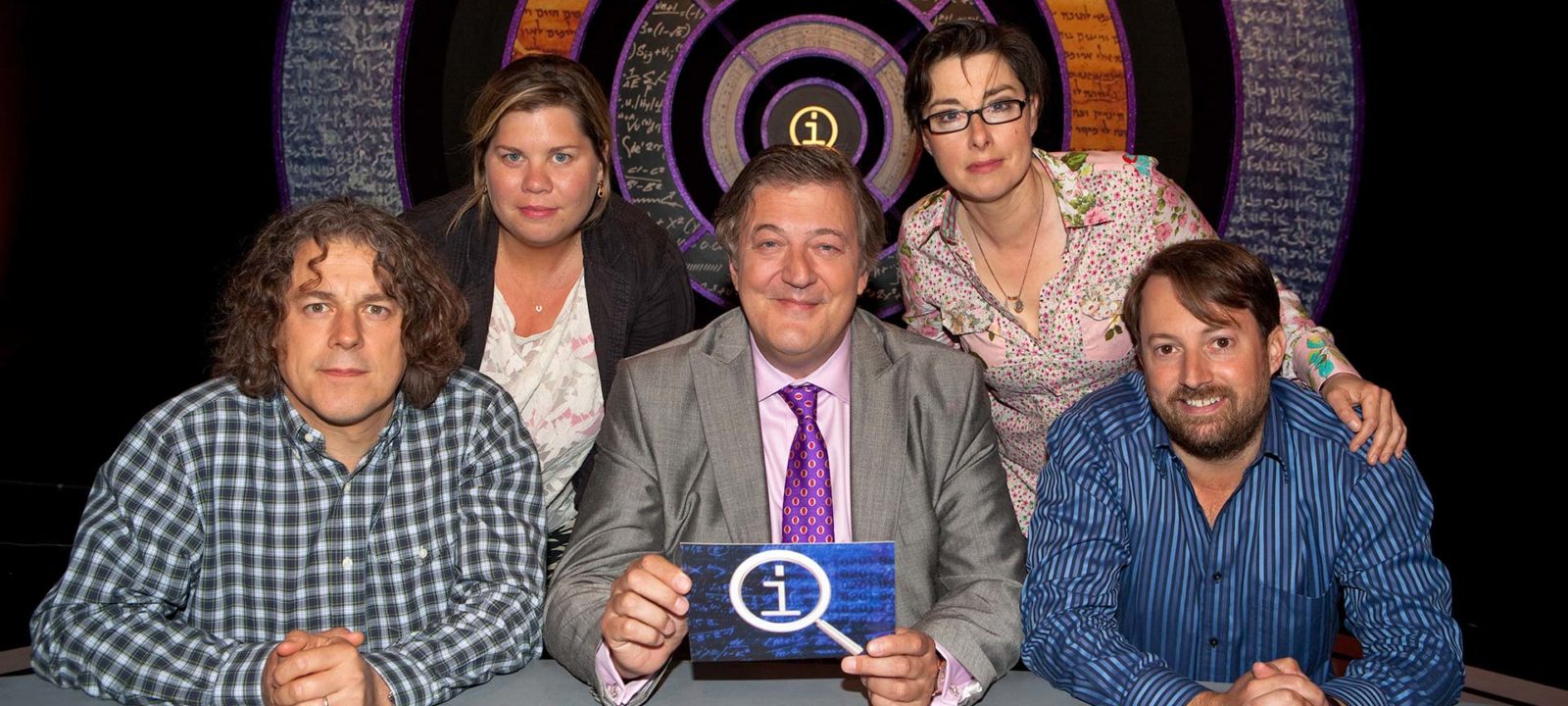 QI began in 2003 and continues to air today. It features three rotating guests and one permanent guest (Alan Davies). Guests are tested on their knowledge of absurd topics and little known facts that almost no one would know. Guests are not just rewarded for being right, but for giving interesting answers.
Each season follows a different letter in the alphabet. It was originally hosted by Stephen Fry (first 180 episodes, A – M) until Sandi Toksvig replaced him. The show is currently up to the letter R.
Seasons H (9) – K (12) are available for free with ads on Tubi.
Seasons J (11) – R (19) are available on BritBox.
Would I Lie to You?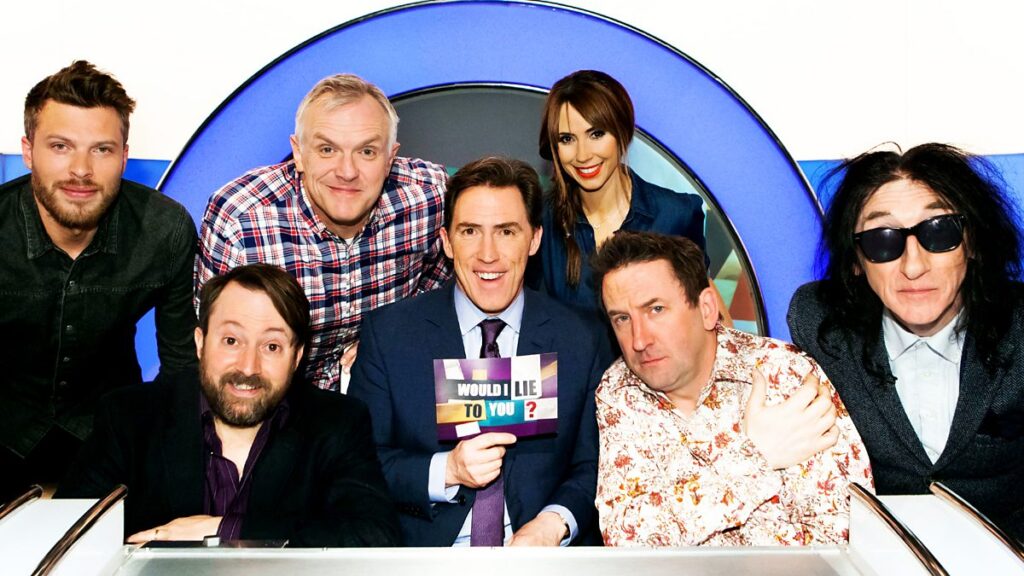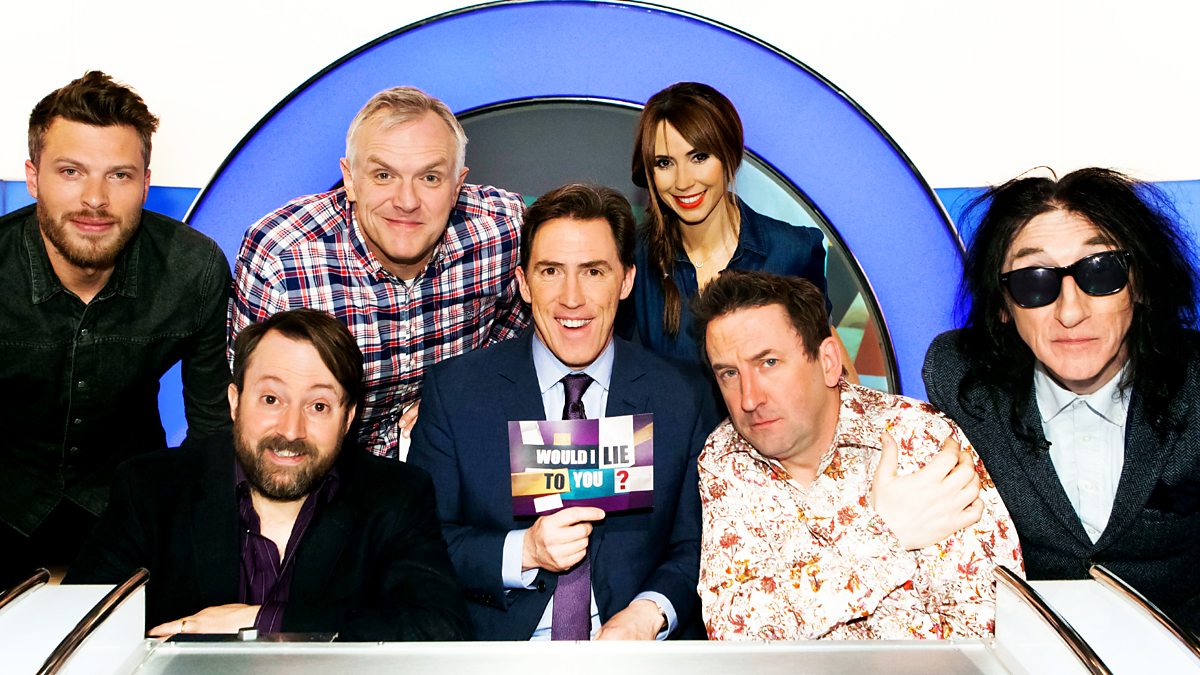 Rob Brydon hosts this hilarious game of lies. Two teams of three (with team captains David Mitchell and Lee Mack) tell seemingly-false (or actually false) stories and the other team must guess whether it's true or a big fat lie.
The only drawback? The episodes aren't quite long enough. Sometimes, a contestant might only speak once, but they'll probably be back on the show again eventually.
Season 3 is streaming on Amazon Prime.
Seasons 8 – 13 are streaming on BritBox.
Taskmaster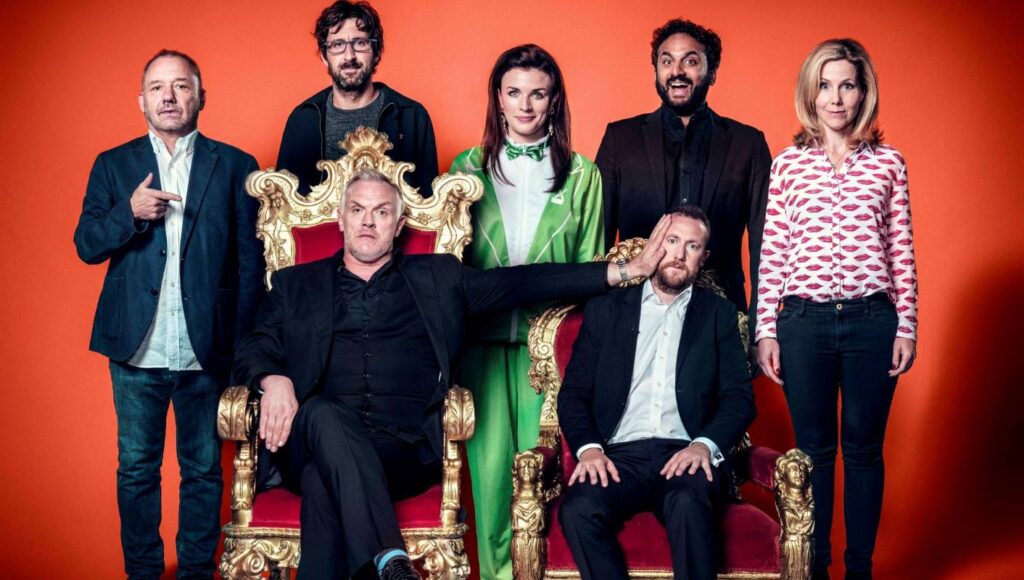 Taskmaster is devised by Alex Horne and hosted by Greg Davies (A.K.A. "The Taskmaster"). This show pits five contestants against each other as they complete ridiculous (and seemingly impossible) tasks. Each season boasts a new set of hilarious contestants… but the sharp, tempestuous humor of Greg Davies as the devious Taskmaster cannot be beat. Taskmaster has been nominated for an Emmy and has won a BAFTA and Broadcast award.
To our delight, the first seven seasons of Taskmaster are available for free on YouTube. They were uploaded by the official channel and we hope they keep going! Season 10 is on its way to Channel 4 in the UK, so hopefully we'll get it in the Americas soon after. You can watch season 8 on the free CW Seed app.
8 Out of 10 Cats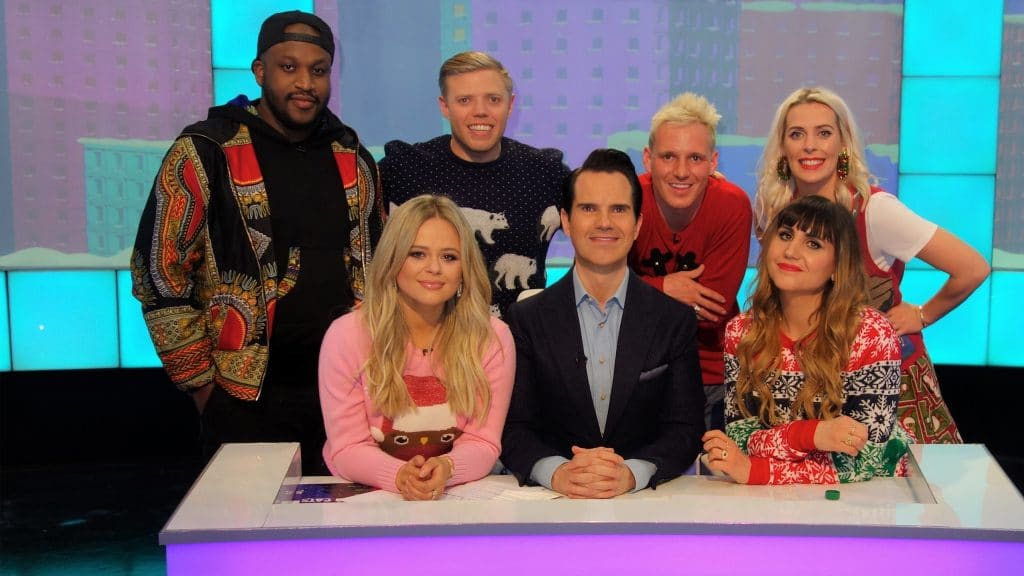 8 Out of 10 Cats is a comedy game show about the public opinion of odd topics. They poll people ahead of time and then quiz their panelists, making it a bit like chatty Family Feud. Comedian and presenter Jimmy Carr hosts. The humor can be a little raunchy bit at least you'll be laughing.
8 Out of 10 Cats is streaming on BritBox.
8 Out of 10 Cats Does Countdown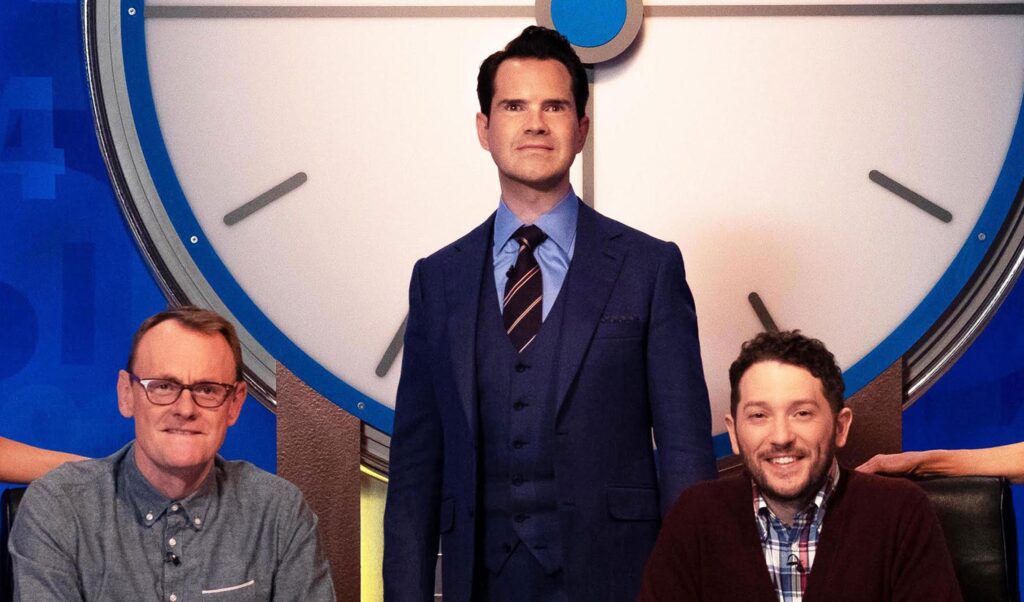 Also hosted by Jimmy Carr, this comedy panel game show turns the regular Countdown upside down. With silly antics, a few raunchy jokes, and ultra-competitive comedians… 8 Out of 10 Cats Does Countdown has far surpassed the popularity of 8 Out of 10 Cats. Countdown is a classic British game show that alternates between mathematics (use random numbers to reach a goal) and anagrams (reorganize random letters to make the longest word).
Sean Lock and Jon Richardson are regular guests. Rachel Riley assists along with lexicographer Susie Dent who are both on the normal version of Countdown.

Seasons 16, 17, and 18 are streaming on BritBox.
As Yet Untitled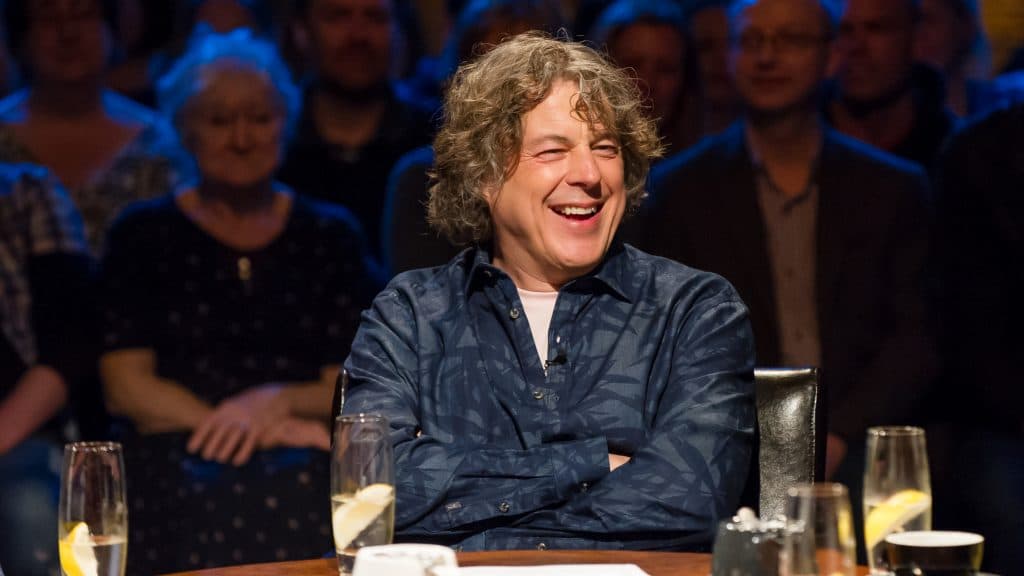 There's only one goal in this game: find the best title for each episode. To get there, a panel of celebrity guests tell funny and interesting stories from their lives. From Ardal O'Hanlon's bath in a random stranger's house to Noel Fielding's day as a stand-in shopkeeper, these stories are sure to having you rolling with laughter.
Grab a cup of tea or a pint of beer… This show is perfect for pretending to socialize without having to leave the house.
The first three seasons of As Yet Untitled are streaming on BritBox. (We hope they'll pick up the final two seasons as well).
Mock the Week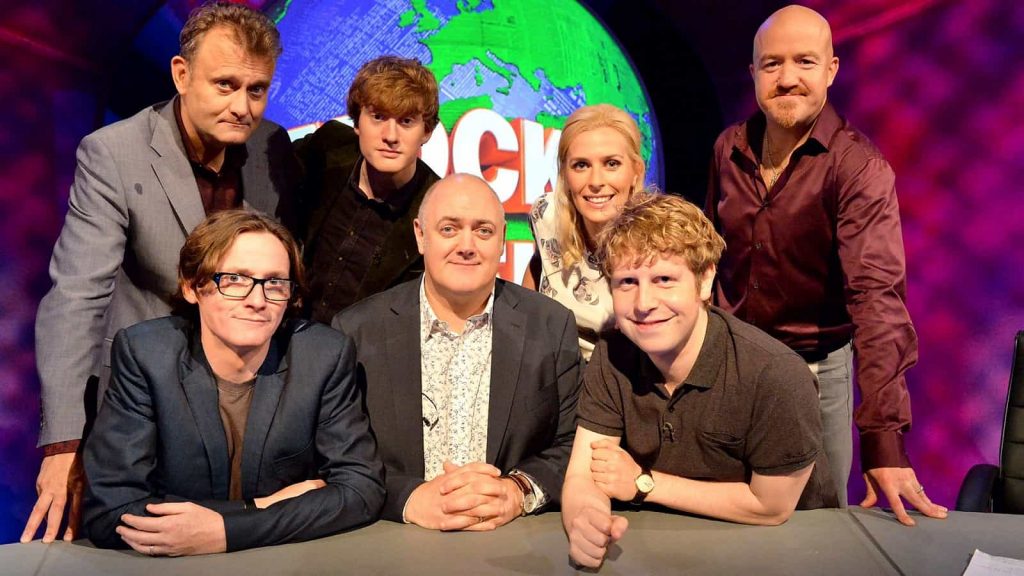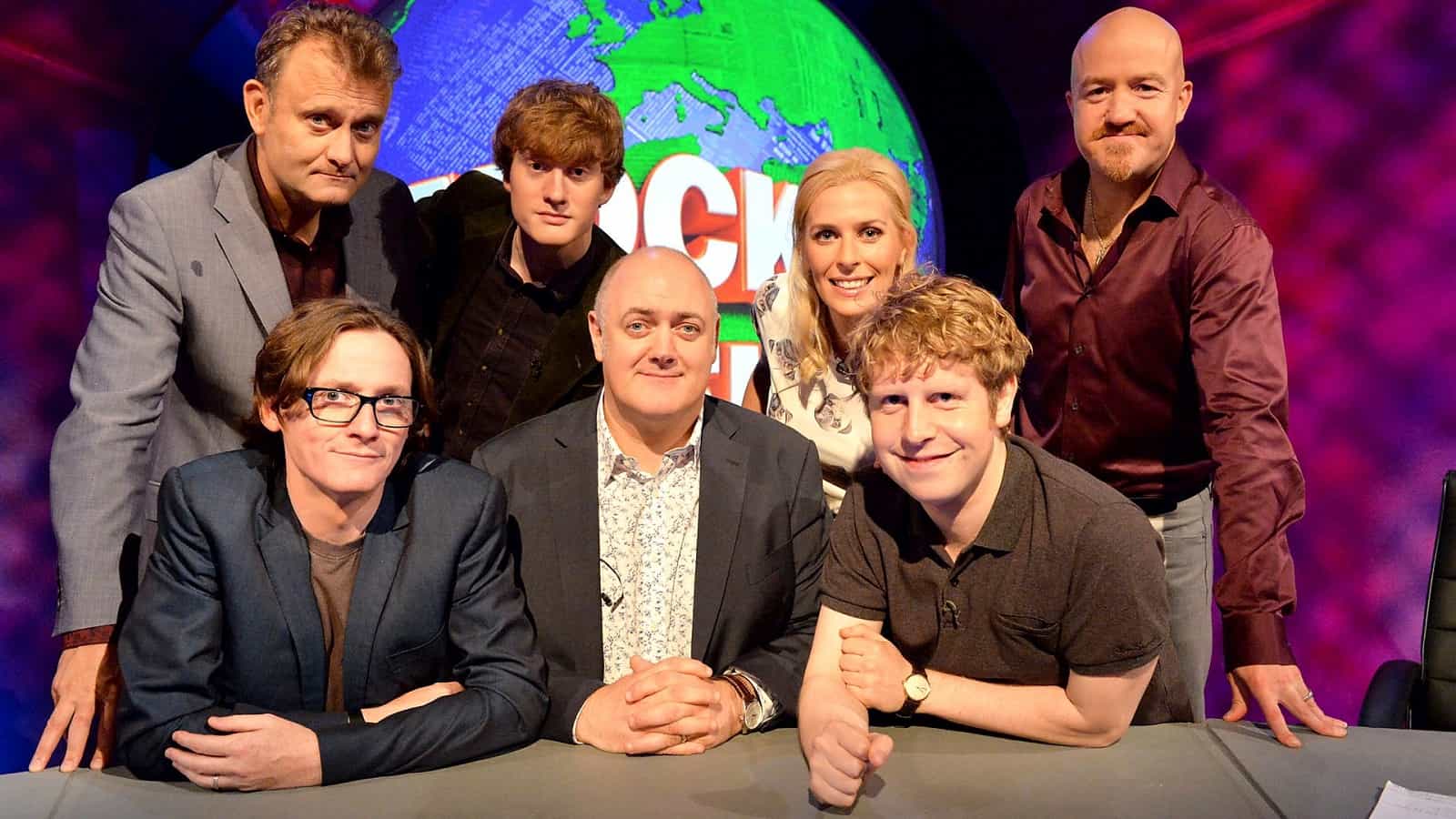 In this topical show, a group of six panelists mock recent news. It requires a sharp wit to keep up with these astute comedians. Like Alan Davies in QI, Hugh Dennis has been on every episode of Mock the Week. The scoring system may not make sense, but that's okay – who wins or loses isn't the point – the point is to humour us! They start with the Picture of the Week, the Wheel of News, a general Q & A, and then they finish with a topic round where they each step under the spotlight and come up with unlikely scenarios.
Seasons 17 and 18 are streaming on BritBox. (BritBox should also get season 19 sometime soon).
Whose Line Is It Anyway?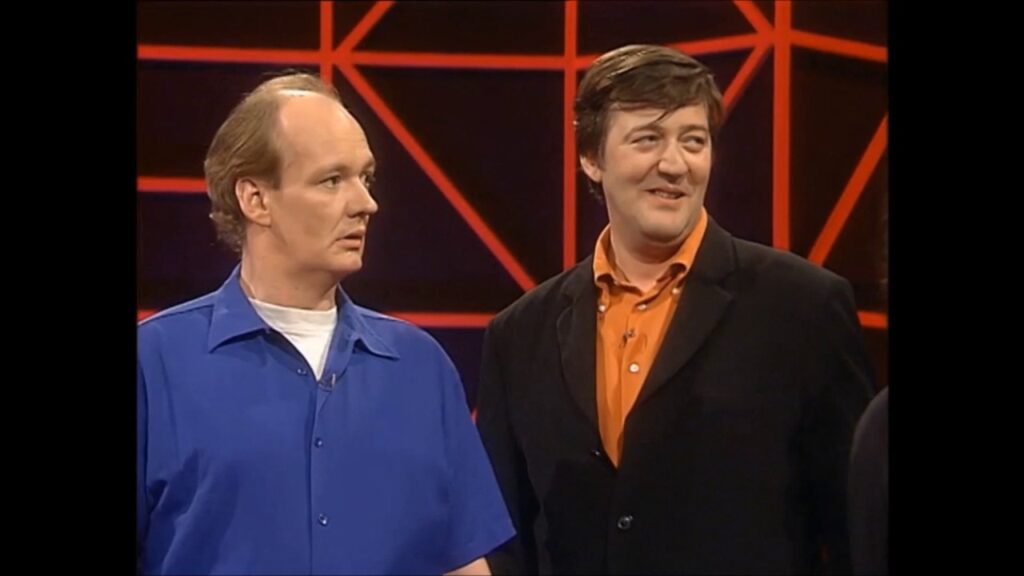 This comedy improvisation show stars Clive Anderson, Ryan Stiles, Colin Mochie, Josie Lawrence, and Greg Proops. It ran from 1988 to 1999. Season two includes appearances by Sandi Toksvig, Jonathan Pryce, and Tony Slattery. Season nine features Stephen Fry.
Seasons 2 and 9 are streaming for free with ads on Tubi.
Insert Name Here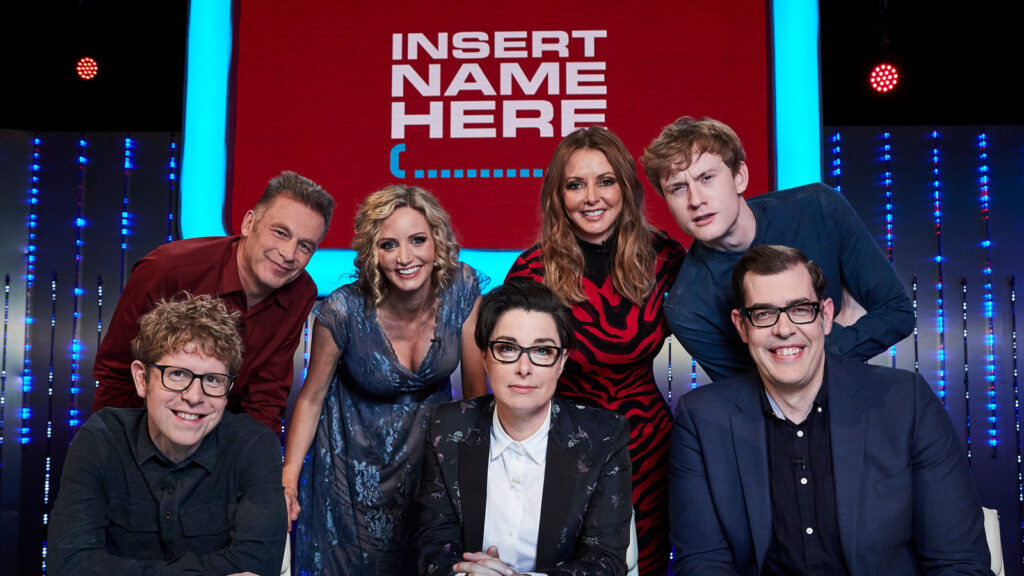 This panel show focuses on people who only have one thing in common: their name. Features historical and cultural topics with a silly twist. Sue Perkins hosts while Josh Widdecombe and Richard Osman are team captains for the four guest panelists per episode.
Seasons 2 and 3 are streaming on BritBox.
Other Game Shows
Pointless & Pointless Celebrities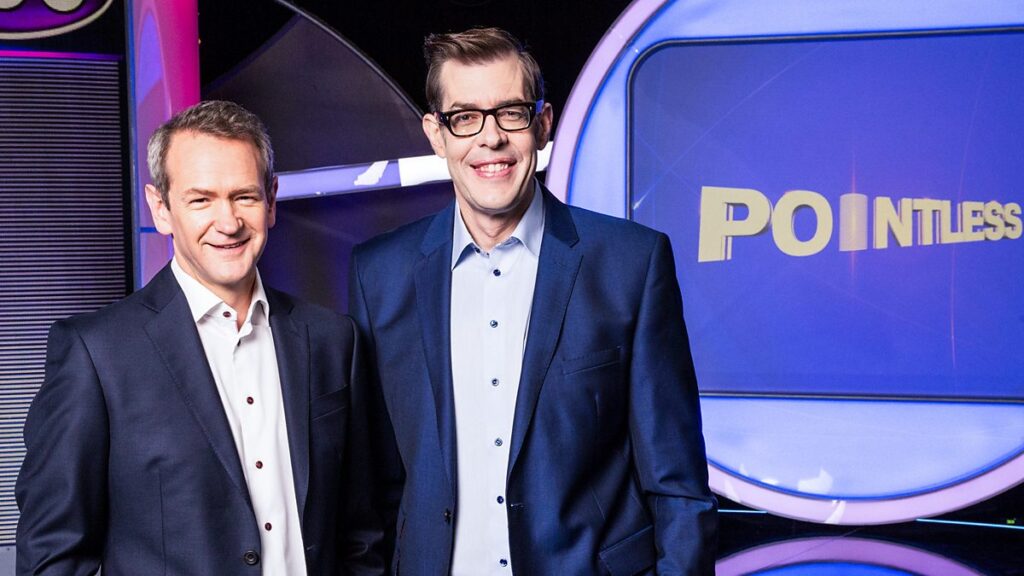 Four teams of two compete to score the least amount of points. At the end of each round, the pair with the highest score gets eliminated. In this trivia game, a team member answers the question they think will score the least amount of points. Points are determined by how many people (out of 100) knew the answer. The more obscure, the lower the points.
Season 23 of Pointless is streaming on BritBox.
Seasons 7 and 8 of Pointless Celebrities are streaming on Amazon Prime.
Total Wipe0ut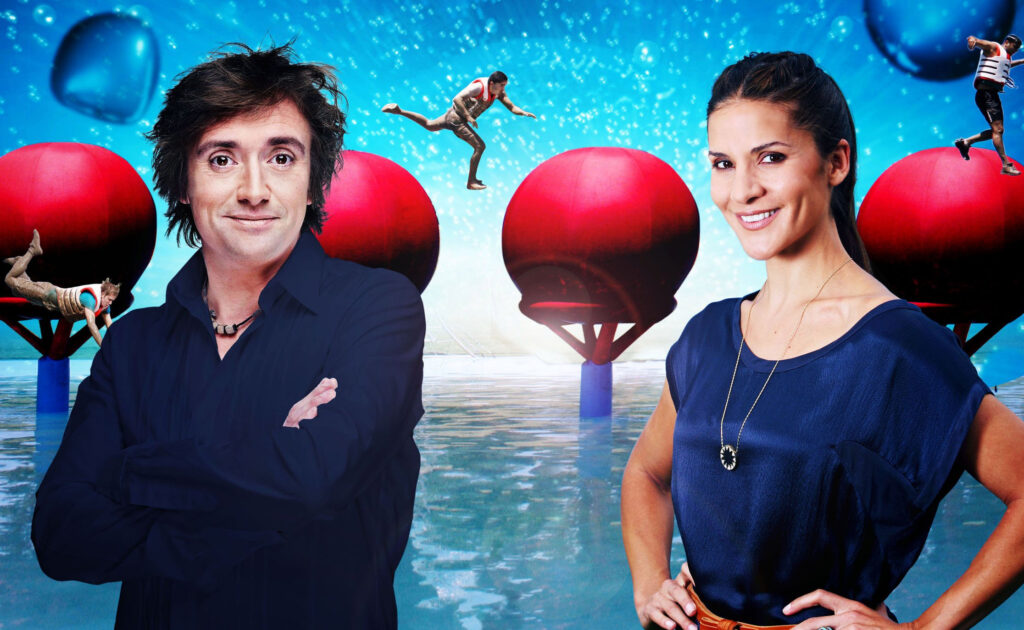 This slapstick obstacle course is hosted by Richard Hammond (commentator) and Amanda Byram. It features contestants who must get as far as they can through the hilarious obstacles. Although it can be a bit one-note, this show is fun to have on in the background.
Total Wipeout is available for free on Pluto channel 305. Pluto offers a regular television experience, so you might need to wait for it to come on.
What are your favourite British Comedy Panel & Game Shows?
Let us know in the comments and join our Facebook group to chat with us!
Save it to Pinterest!