18 British TV Shows like Shetland
In some cases, we earn commissions from affiliate links in our posts.
Last Updated on December 9, 2022 by David F.

Editor's Note: This post has been updated since it was originally written, so it may contain entries the original author wouldn't have added.
Is there are show that compares to Shetland? I'm not sure. Shetland is the perfect balance of all the best elements: bleak atmosphere, breathtaking windswept landscapes, a determined detective, and grisly crimes. To top it off, there's also a wonderful soundtrack.
Shetland is based on books by Ann Cleeves, so if you haven't read them yet, be sure to add them to that ever-growing stack of books you plan to read.
Shetland stars Douglas Henshall as DI Jimmy Perez, Erin Armstrong as his daughter Cassie Perez, Alison O'Donnell as DS Alison "Tosh" McIntosh, Stephen Robertson as DC Sandy Wilson, and Mark Bonnar as Duncan Hunter.
If you haven't already had the pleasure of watching Shetland, you can check it out HERE on BritBox. Keep in mind that if you subscribe through Amazon, they've incorrectly combined seasons 1 and 2, making it seem as though they're missing season 2. They're not.
British TV Shows like Shetland
Some of the shows below are more like Shetland than others, but they're all highly-rated and well worth giving them a try. Happy watching!
The Long Call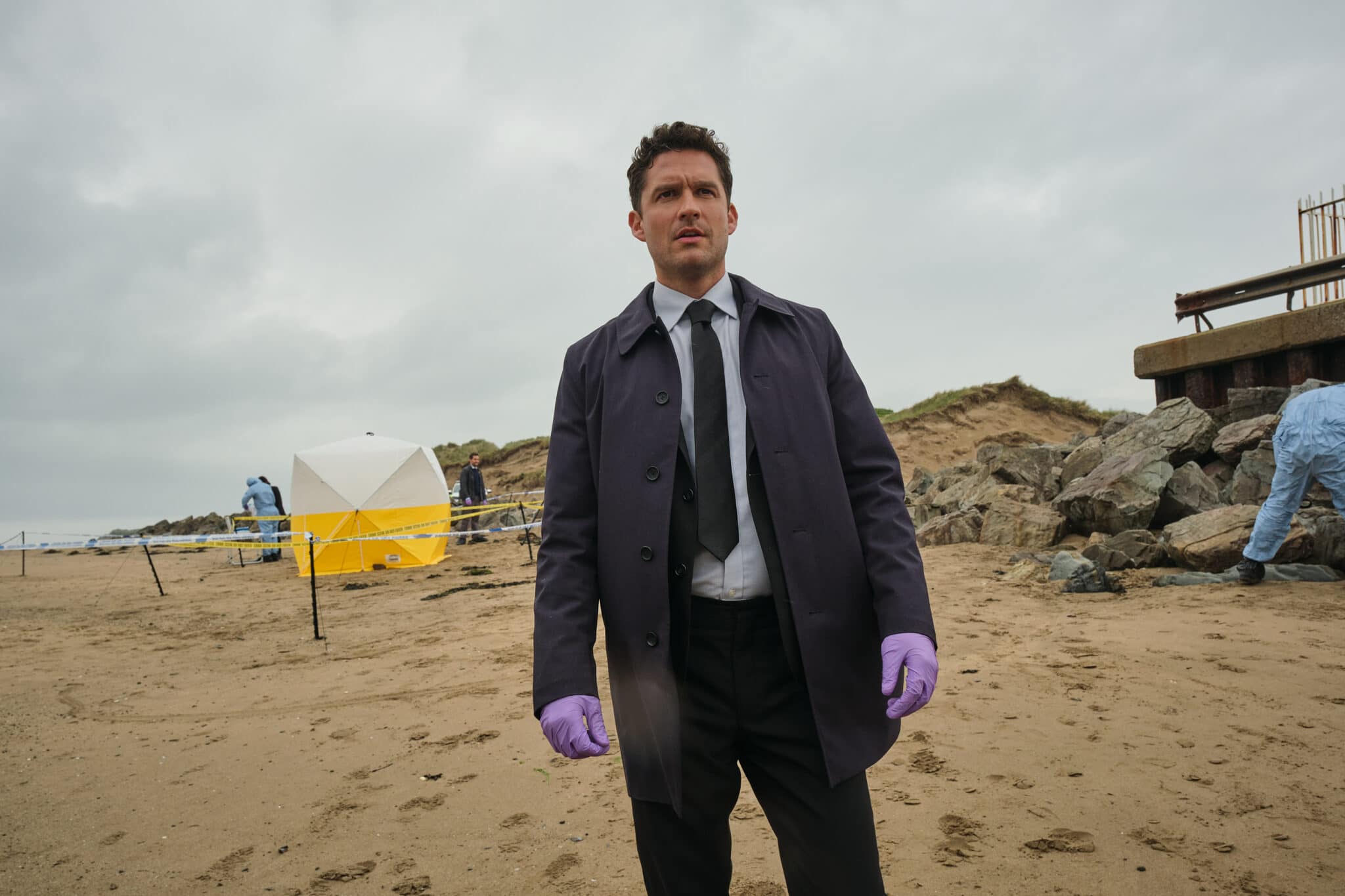 The most recent entry on this list, The Long Call is yet another series of Ann Cleeves mystery novels to be adapted for TV. Though it seems to have the most strongly mixed reviews of her three TV-adapted series, we do recommend giving it a try to see if it's your cup of tea.
The Long Call follows Detective Matthew Venn, a troubled gay detective who's recently returned to live in North Devon with his husband Jonathan. Unlike the more brash, confident detectives, Venn is a man scarred by religious extremism, with hefty doses of anger and self-doubt.
You can watch The Long Call HERE on BritBox.
What makes this show like Shetland?
Dark and moody, set by the coast, source material by the same author.
Broadchurch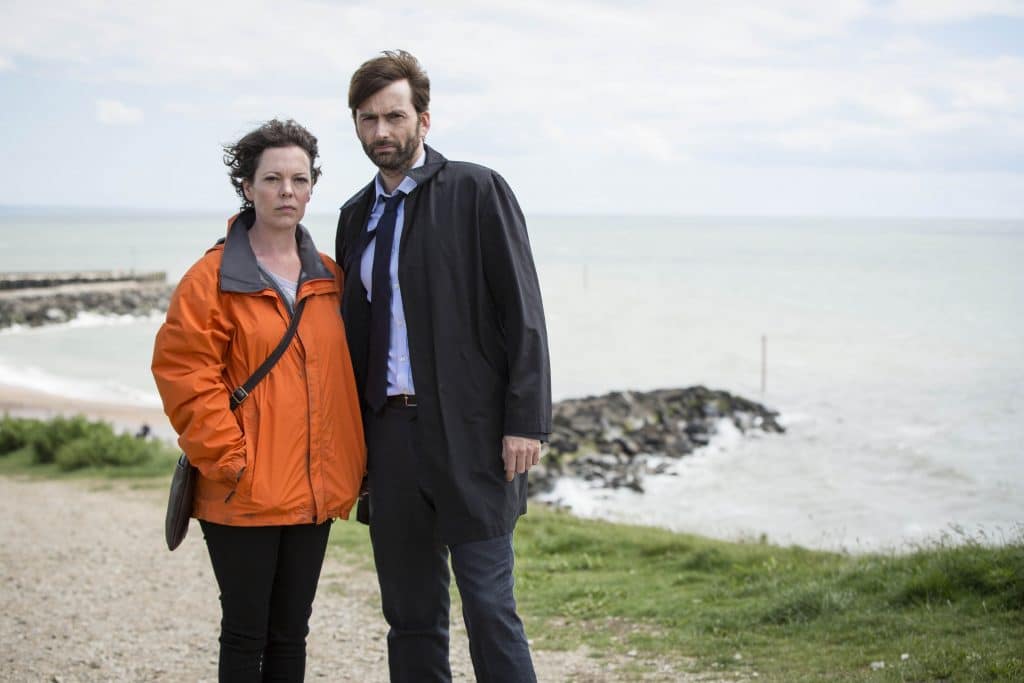 Broadchurch doesn't have a bleak atmosphere. Rather, the gorgeous Dorset scenery contrasts with the horrific death of a young boy. Follow detectives Alec Hardy (David Tennant) and Ellie Miller (Olivia Colman) as they uncover the secrets of their small town.
With the popularity of Broadchurch, it's possible you've already seen it… but if you're a fan of Shetland and you haven't watched Broadchurch yet, now you have a great excuse to get started. There are three seasons in total and it's streaming on Netflix or available to purchase through Amazon.
How is Broadchurch like Shetland?
Great storytelling. Compelling characters. Gorgeous scenery.
DCI Banks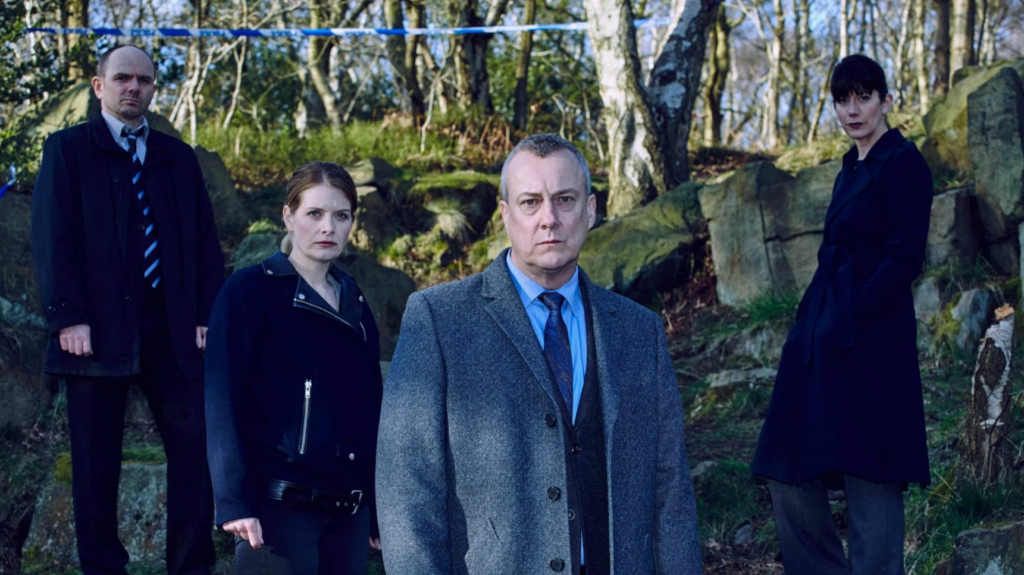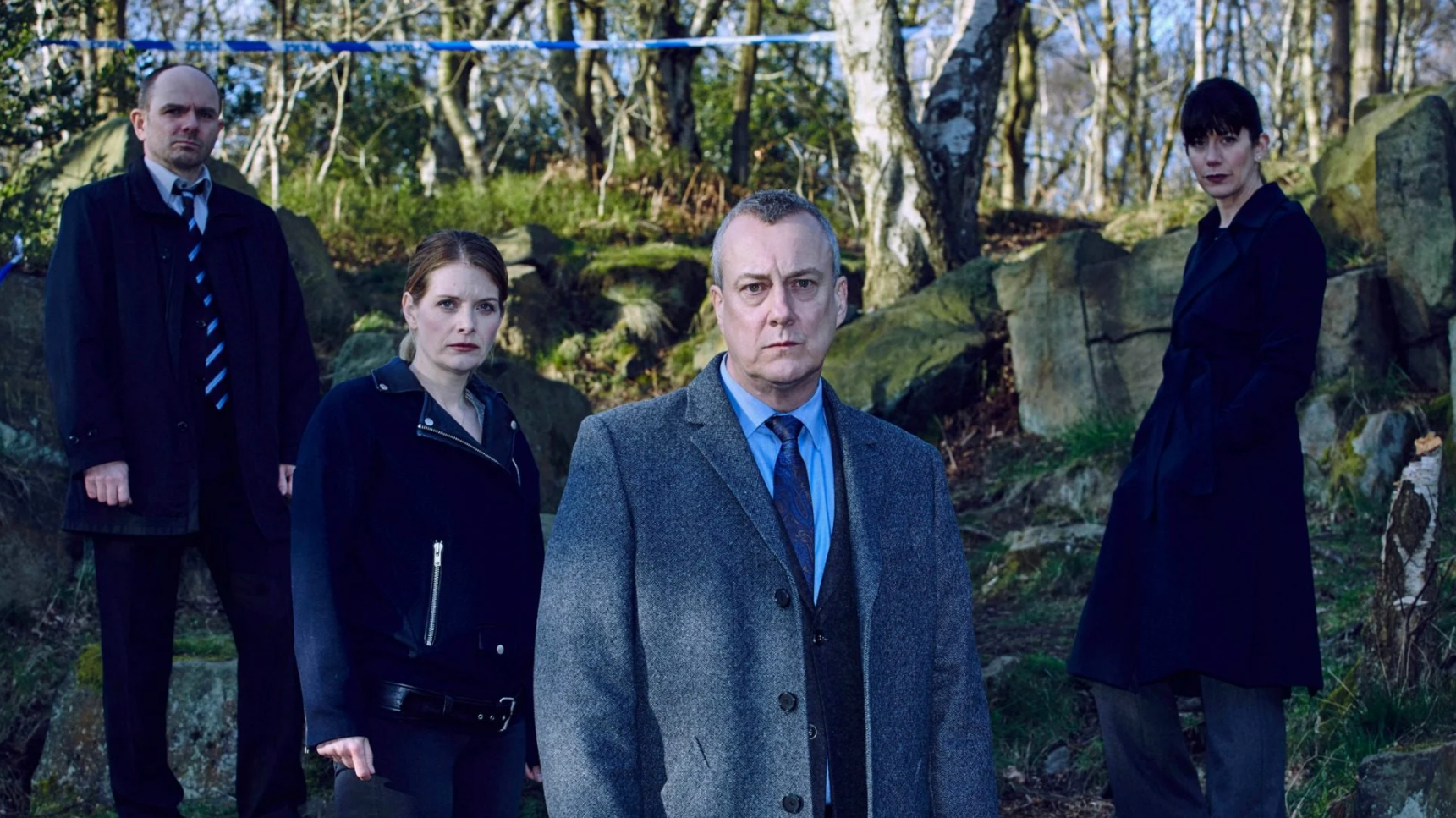 DCI Banks follows the life of Alan Banks, played by Stephen Tompkinson. Banks is persistent and stubborn. The show has a raw, bleak atmosphere that fans of Shetland may enjoy. DCI Banks is an intelligent and dramatic production with lots of twists. It also stars Caroline Catz and Andrea Lowe. It ended after five seasons and is included with Amazon Prime.
Why do we file DCI Banks under "shows like Shetland"?
Intelligent crime drama. Grisly murders. Bleak atmosphere.
Hinterland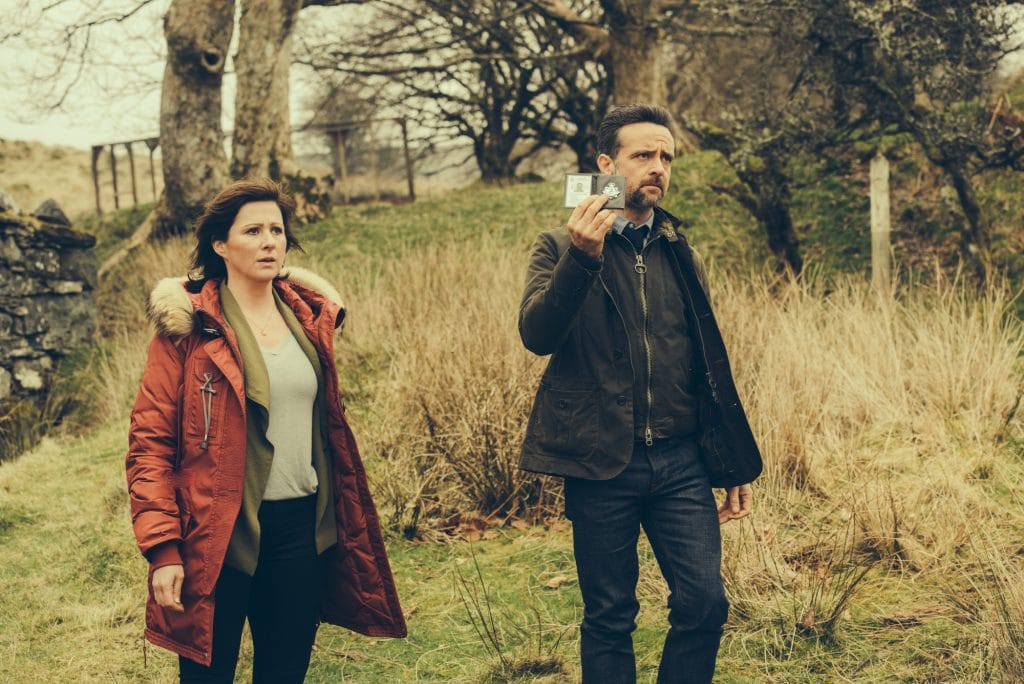 Hinterland has an even bleaker atmosphere than Shetland, but the scenery is just as gorgeous. Rather than the islands of Scotland, Hinterland takes place in desolate Wales. Some may find the scenery depressing, but it reflects DI Tom Mathias's state of mind.
Like all the detectives discussed so far, he is persistent and dedicated. Richard Harrington does a wonderful job portraying Mathias's damaged soul. Although the episodes are mostly standalone 90 minute stories, there are story lines woven through the three seasons. It's available on Netflix.
How does Hinterland compare to Shetland?
This show is like Shetland in a lot of ways. Stunning scenery. Bleak atmosphere. Understated, simmering drama.
In Plain Sight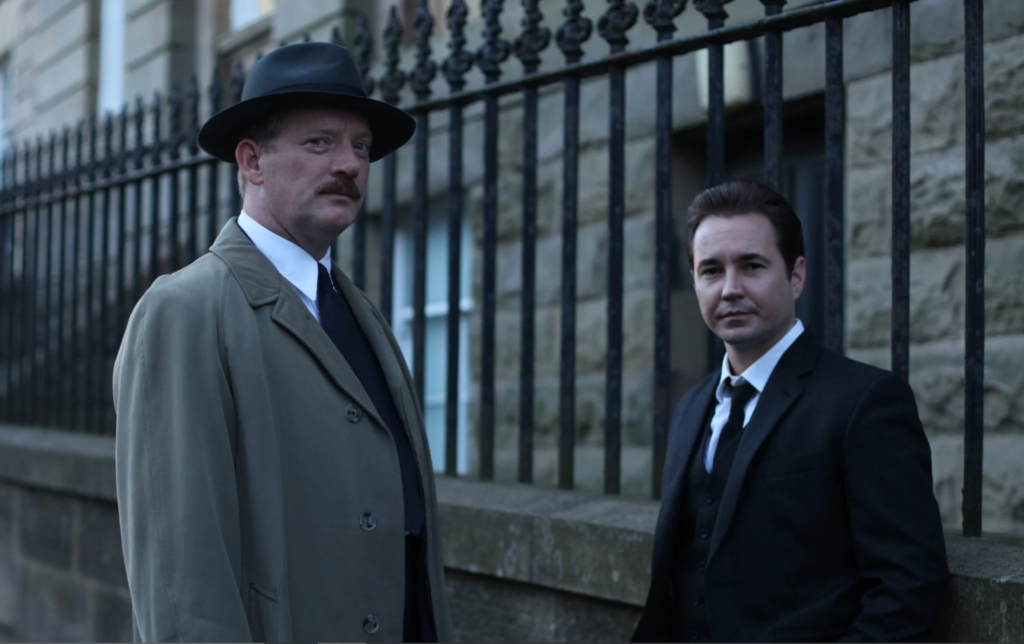 This three-episode miniseries also stars Douglas Henshall as Lanarkshire's Detective William Muncie. It's about the struggle to catch Scotland's first serial killer. The lines between good and evil are clear and you'll be rooting for the good guys from the first moment you see Peter Manuel's smug face. (Martin Compston plays Manuel – he must be a great actor). In Plain Sight is based on true events and is streaming on BritBox.
Why is this show like Shetland?
Douglas Henshall plays a detective. Set in Scotland. Good cinematography.
Loch Ness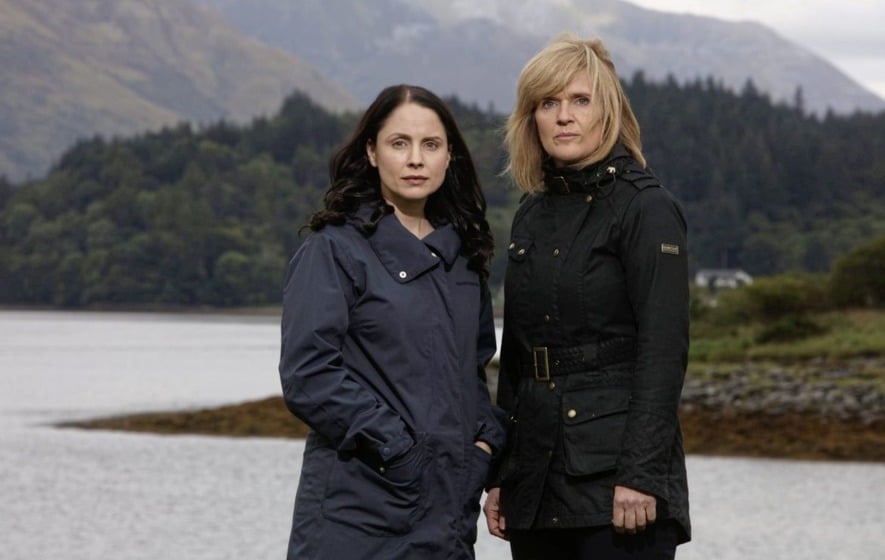 This six-episode miniseries is also called "The Loch." It stars Laura Fraser, Siobhan Finneran, John Sessions, and more. Loch Ness follows the story of Annie Redford, a detective working on her first murder case – a serial killer, no less. It's set against the gorgeous backdrop of Loch Ness in Scotland. Stream it on Acorn.
How does Loch Ness compare to Shetland?
Gorgeous Scottish scenery. Eerie, haunting atmosphere. Features great actors.
Luther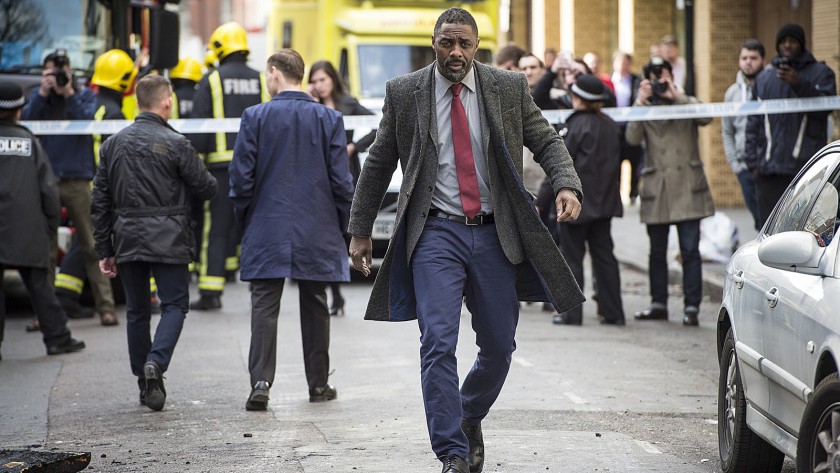 Like Shetland, Luther is a popular show with a bleak atmosphere. But instead of natural landscapes, it's set in urban London. Luther follows the cases of DCI John Luther played by Idris Elba. Ruth Wilson also stars. If you thought DI Jimmy Perez from Shetland had demons, wait until you meet Luther. Streaming on Amazon Prime.
Trivia: Shetland native Steven Robertson (who plays DC Sandy Wilson in Shetland) is in two episodes of Luther's second season.
How does Luther compare to Shetland?
Noir aesthetic. Dark. Troubled detective. Grisly crimes.
Manhunt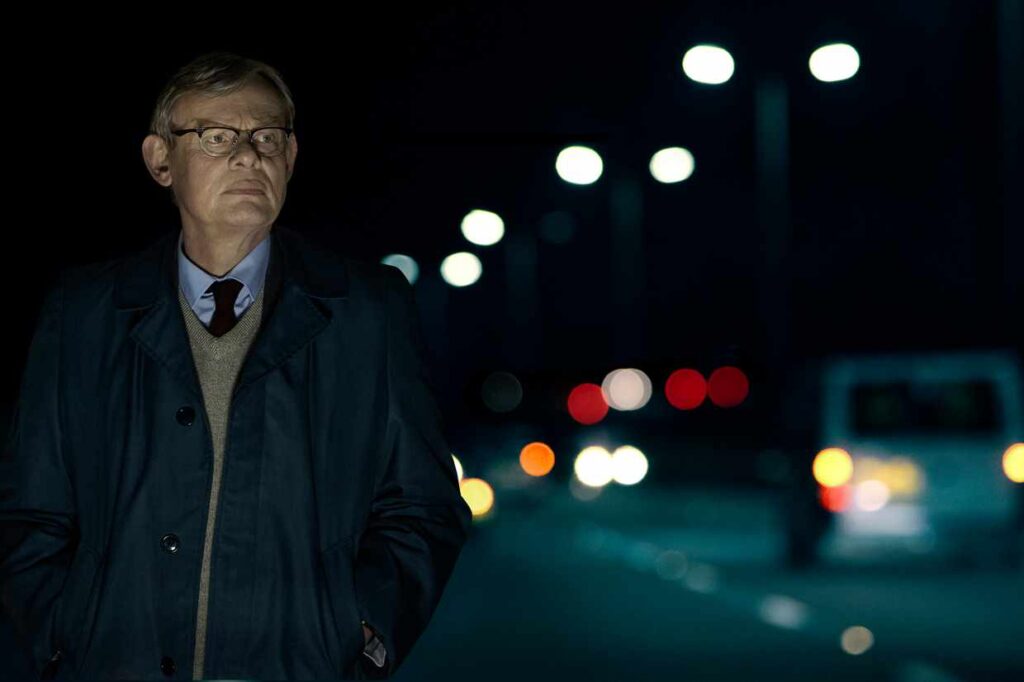 Manhunt, starring Martin Clunes, was the highest rated new drama on ITV since Broadchurch. It is only three episodes long, but well worth the watch for fans of Shetland. It's based on the true story of London Metropolitan police detective Colin Sutton as he works to track down a serial killer. Manhunt is streaming on Acorn.
Why do we recommend Manhunt for fans of Shetland?
Understated, realistic drama. Gritty. Somber.
Marcella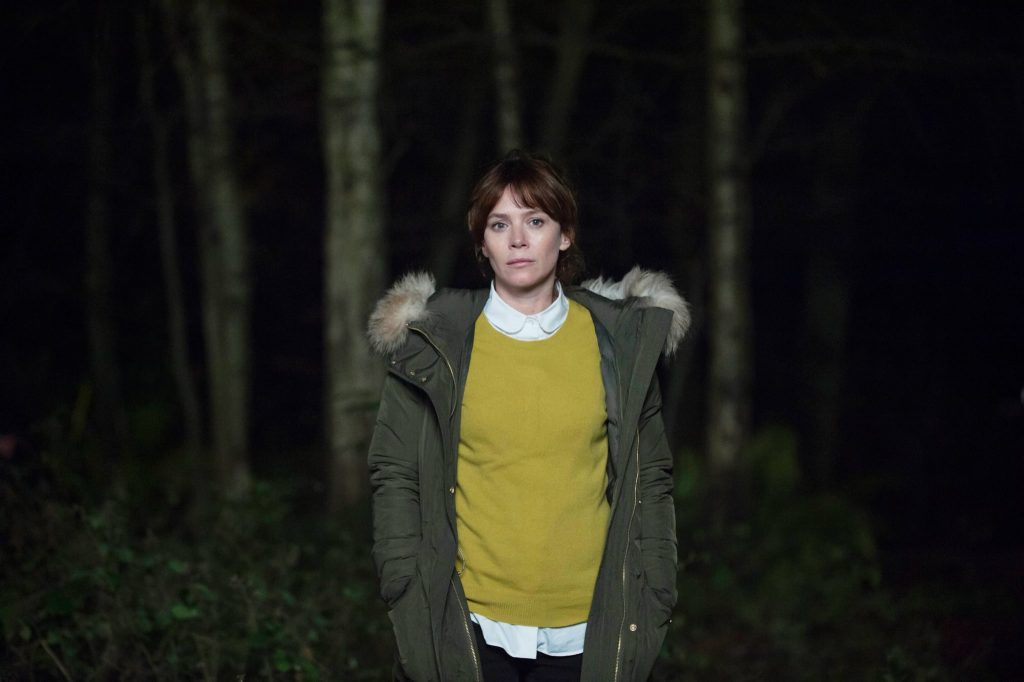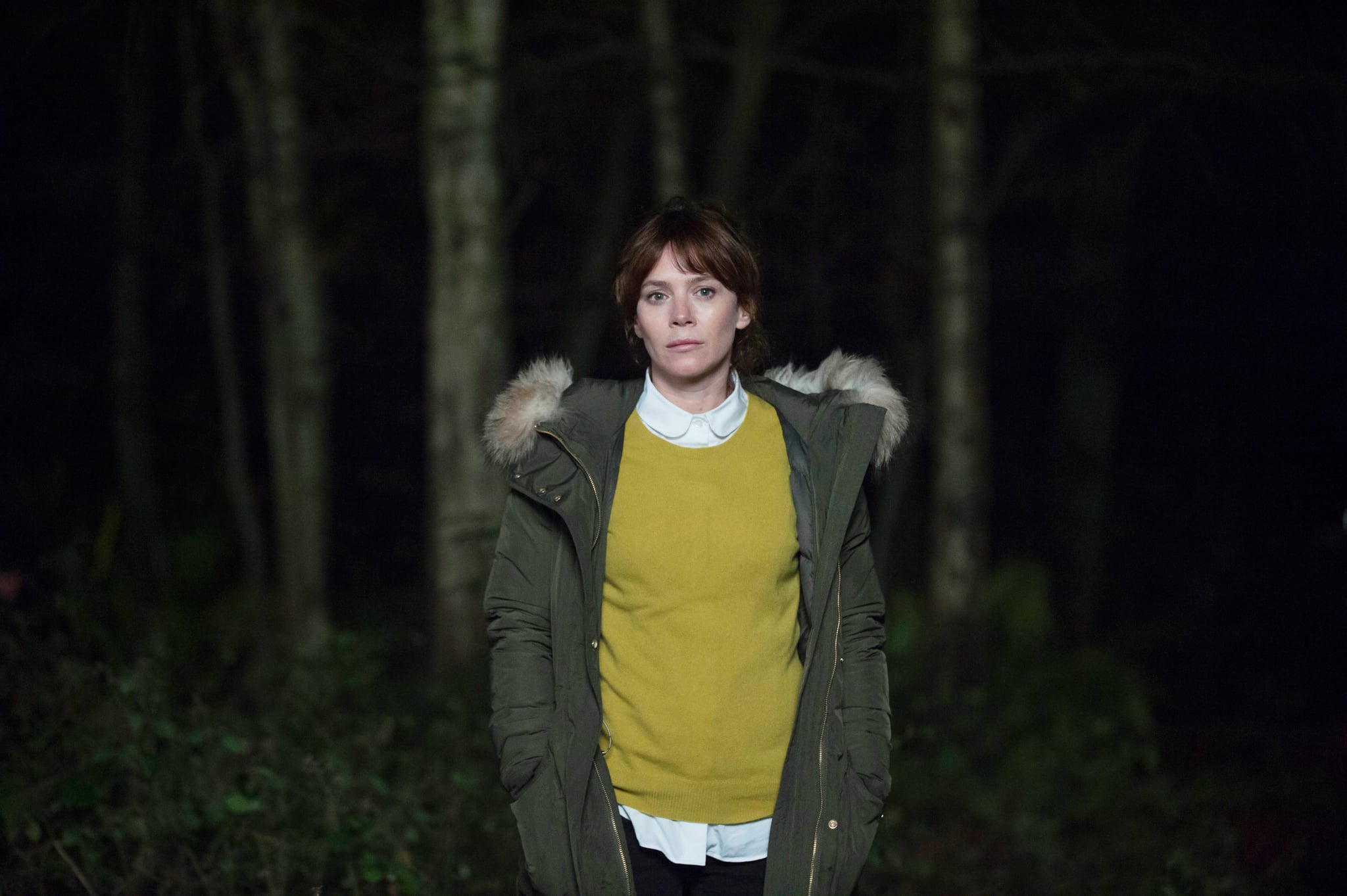 Anna Friel plays Marcella Backland, an investigator in the Metropolitan Police who quits her job to spend more time with her family. But it doesn't matter – her husband leaves anyway. So, she returns to the murder squad where she must investigate a crime that feels close-to-home.
In tone, Marcella is a blend between Broadchurch and Nordic noir genre. It also stars Ray Panthaki as DI Rav Sangha, Jack Doolan as DC Mark Travis, and Jamie Bamber as DCI Tim Williamson. Marcella is streaming on Netflix.
How is Marcella like Shetland?
Bleak atmosphere. High quality, intelligent crime drama. Complex characters.
The Tunnel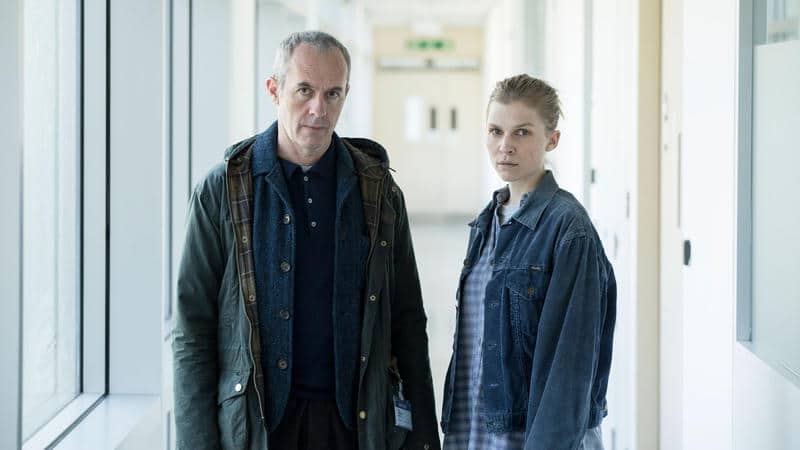 The Tunnel is a British-French show based on The Bridge, a Swedish-Danish show. It begins in the underwater channel tunnel (also called the Chunnel) between England and France. A body is found on the border and an English detective (played by Stephen Dillane) is required to work with a French detective (played by Clémence Poésy).
The detectives don't just differ in culture, but in every other respect. Their professional relationship is refreshing, compelling, and brings the show to life. All three seasons are streaming on Amazon Prime.
How does The Tunnel compare to Shetland?
Noir aesthetic. Compelling characters. High quality, intelligent crime drama.
Unforgotten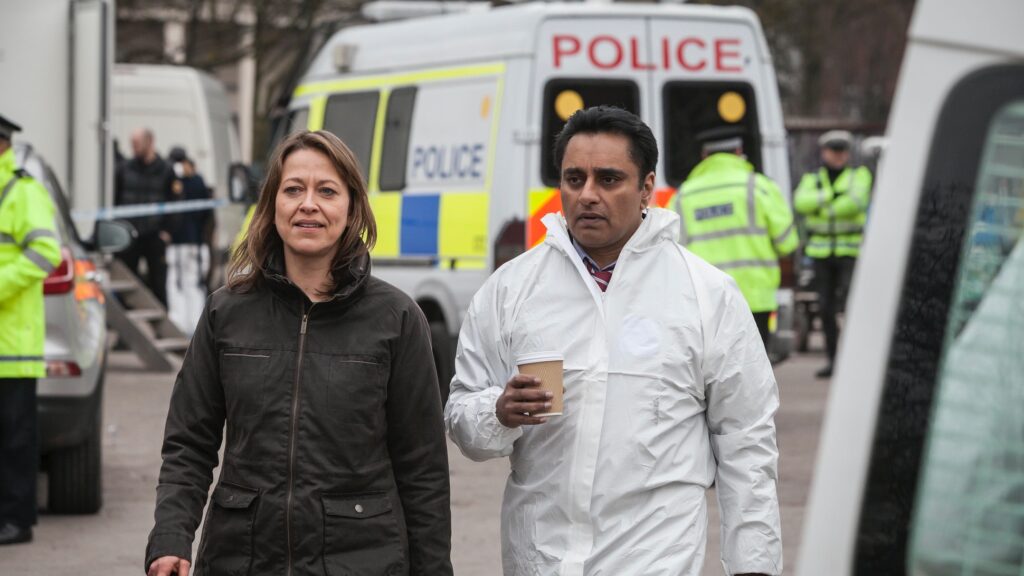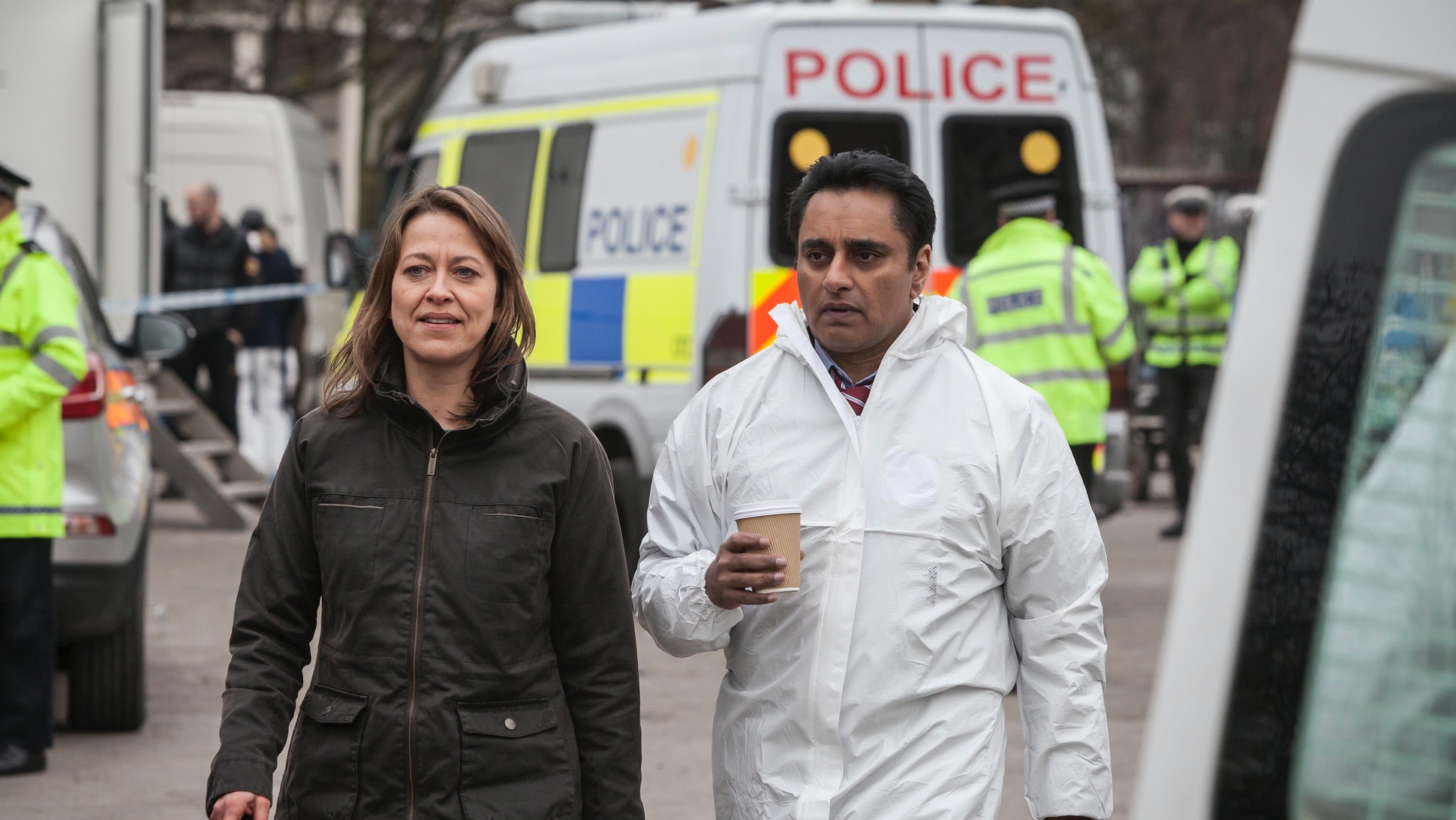 Season one of Unforgotten uncovers the story of a skeleton found in the cellar of a house. Nicola Walker and Sanjeev Bhaskar star as detectives using every ounce of grit they have to find the truth. It also features realistic, modern forensic science. Watch as detectives uncover long-buried secrets. Three seasons of Unforgotten are streaming on Amazon Prime.
Why is this show like Shetland?
High quality, intelligent detective drama. Compelling characters. Good cinematography.
Vera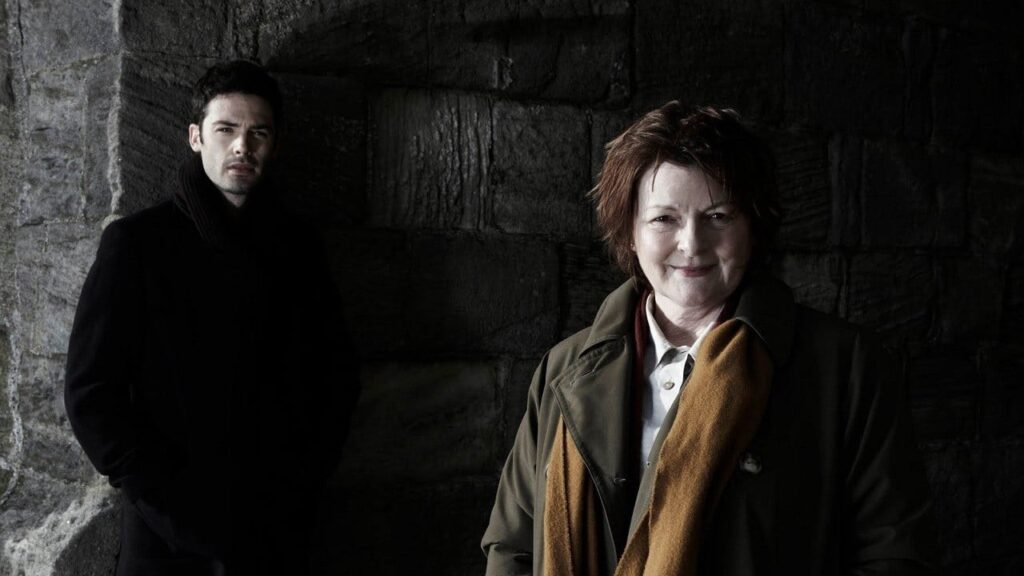 Like Shetland, the Vera series is also based on novels by Ann Cleeves. Vera has a similar atmosphere and gorgeous, windswept landscapes. Vera Stanhope is a lonely character but full of spunk and determination. Deep down, she cares and always does whatever it takes to catch the criminal. Fans of Shetland will fall in love with Vera and the Northumberland setting. Brenda Blethyn stars. Ten seasons are streaming between BritBox and Acorn.
How does Vera compare to Shetland?
Too many to list. Bleak atmosphere. Gorgeous scenery. Intelligent mysteries. Tenacious detective. It's a must-watch for fans of Shetland.
Whitstable Pearl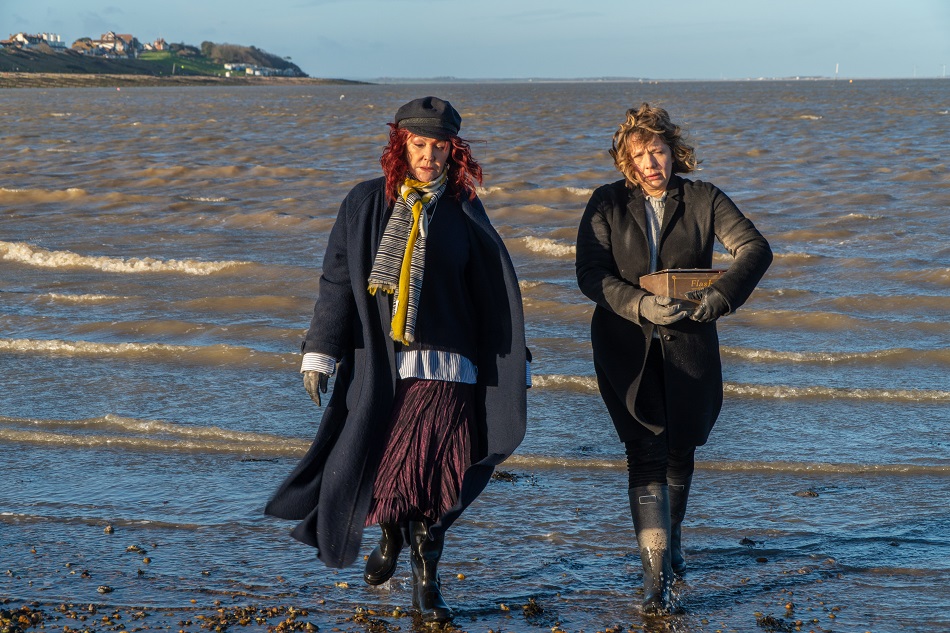 Whitstable Pearl follows the adventures of Pearl Nolan, a middle-aged single mum who runs an oyster bar in Whitstable, Kent. Her son is getting ready to head off to university, so she's at a stage where she can finally start thinking about herself again.
In her twenties, her police career had been cut short by an unexpected pregnancy. She's raised her son alongside her own mother, a quirky older woman who is said to have lost her husband to the sea. Now, she's ready to open a detective agency to get back to her real passion – investigation.
At the same time, you've got the newly-arrived DCI Mike McGuire working for the Kent police. He's left London to escape his own challenging past, and he's not the easiest man to get along with. As one might expect, he alternates between believing in what Pearl has to say and getting irritated at her interference.
You can watch Whitstable Pearl HERE on Acorn TV.
What Makes Whitstable Pearl like Shetland?
Focus on human relationships, small seaside community, bleak atmosphere.
Whitechapel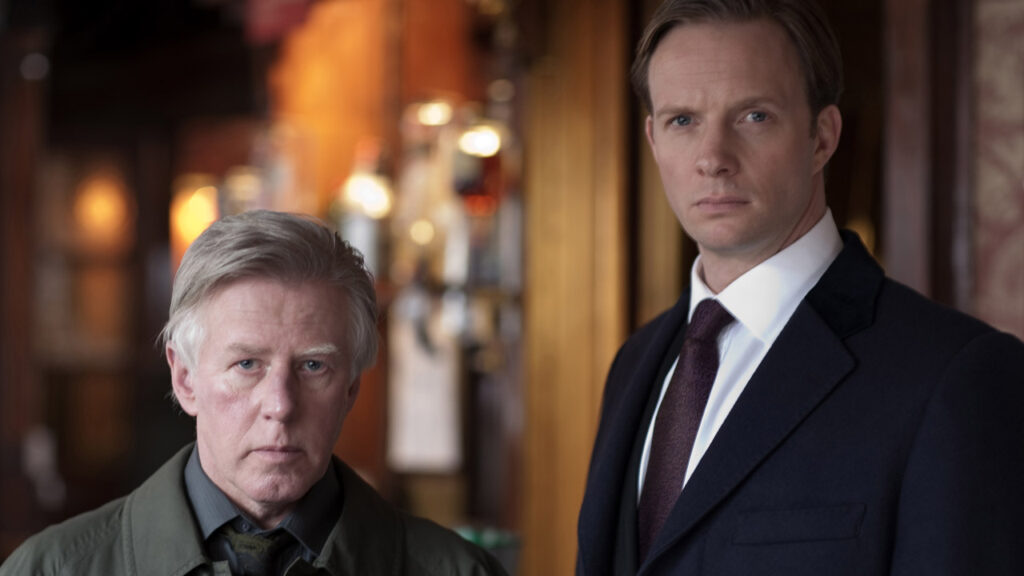 Whitechapel is perhaps the least similar show on our list, but it has a dark noir atmosphere that borders on horror. It also features compelling characters.
Rupert Penry-Jones plays ambitious DI Joseph Chandler. Although most cases might involve interviewing people and going door to door, this case is different – they must turn to history for answers as the 1888 murders of Jack the Ripper are reenacted. Watch as they try to get one step ahead and catch the killer. It also stars Steve Pemberton and Phil Davis. All three seasons are streaming on Amazon Prime.
How does Whitechapel compare to Shetland?
Noir aesthetic. Compelling characters. Great cast. Eerie, spooky.
More Shows with Douglas Henshall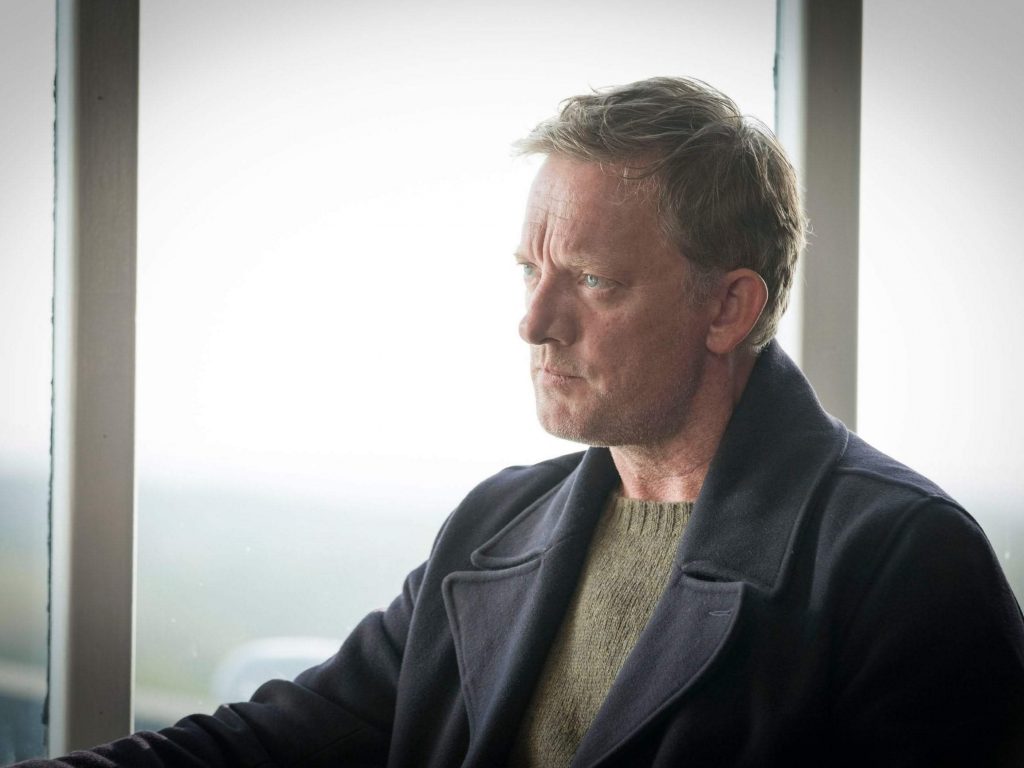 Douglas Henshall is an accomplished actor from Glasgow, Scotland. If you want to follow his career, be sure to watch Primeval, Dorian Gray, South Riding, and Outlander.
Of Henshall's filmography, Shetland fans might enjoy these four miniseries the best:
Black Work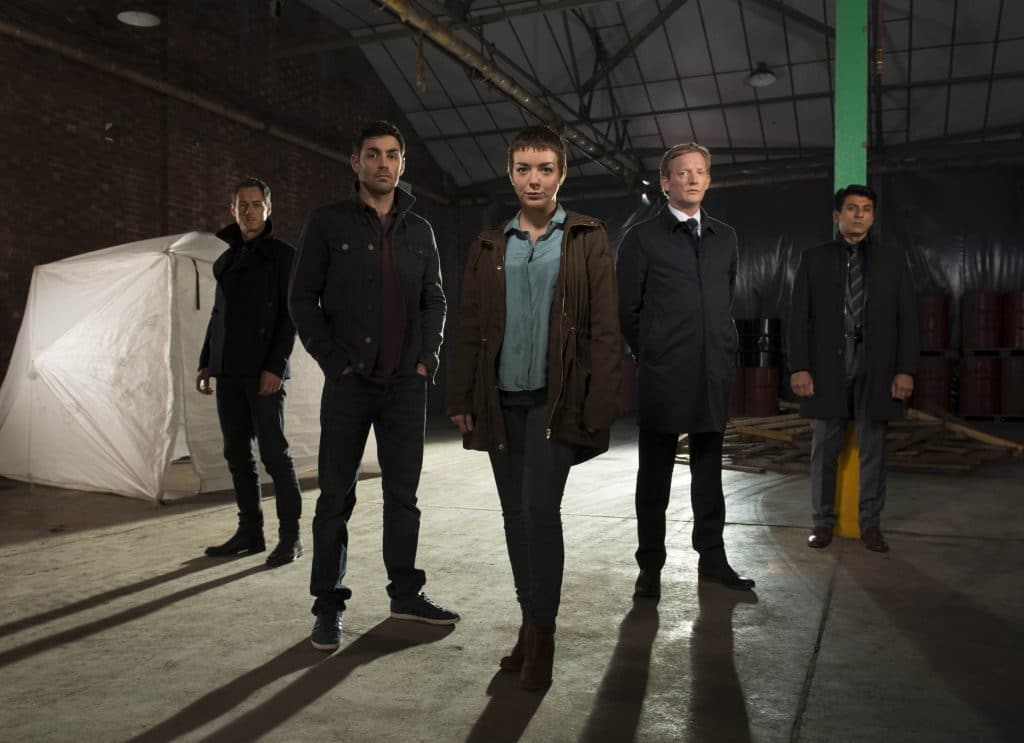 Black Work is a three-part miniseries starring Sheridan Smith as PC Jo Gillespie, Matthew McNulty as DC Jack Clark, Douglas Henshall as DCS Will Hepburn, and even Kenny Doughty as DS Ryan Gillespie (he plays the second DS in Vera). Shetland fans will love it for Henshall's capable performance and the dark, gritty nature of the series.
With the news of her husband's death, Jo also learns he was working undercover for three years. Suspicious and skeptical, she seeks to uncover the truth. Black Work is streaming on Acorn.
Collision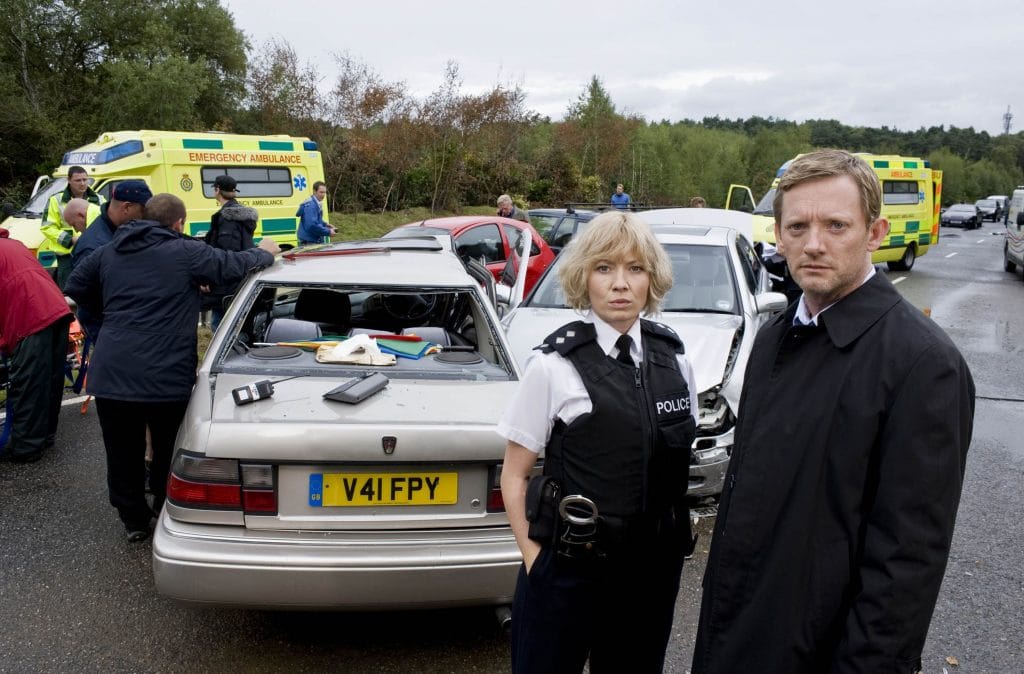 Douglas Henshall stars as DI John Tolin. The story follows him as he investigates a substantial multi-car collision and the ten people affected by the life-altering event.
Even if it doesn't sound like your cup of tea, you may want to watch it for the astounding cast. Henshall is just the tip of the iceberg (or tip of the cast-berg?). Collision is a five-part miniseries streaming on Masterpiece through Amazon.
The Secret of Crickley Hall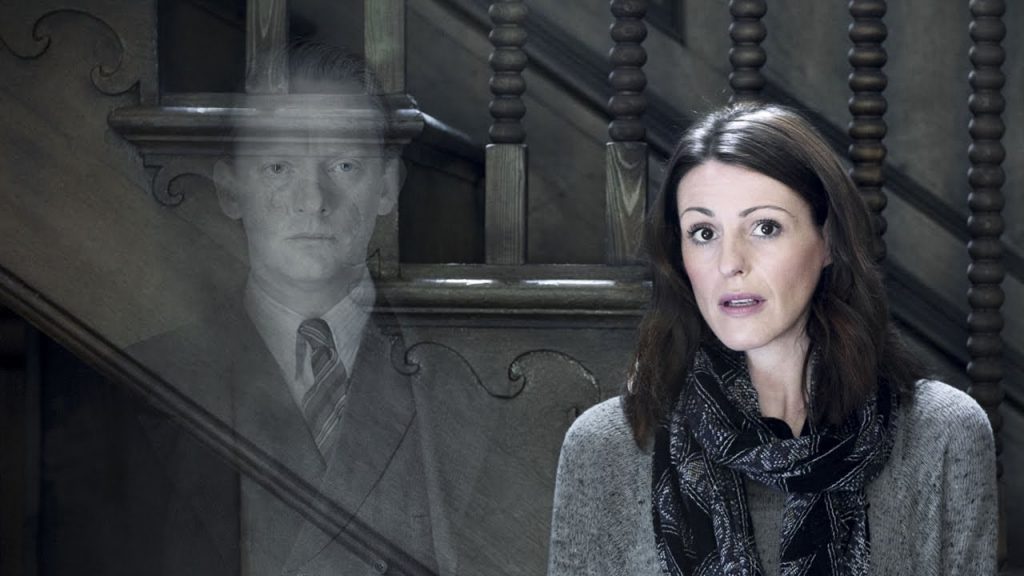 If you like a ghost story, this one's for you. In this miniseries, Henshall plays a very different character. While this story features ghosts, it isn't quite a horror flick.
Rather, it's a family-centric supernatural mystery about two cases: a missing boy from the present and a horrific flood in the past. The supernatural allows timelines to converge, revealing the truth.
It stars Suranne Jones, Tom Ellis, Maisie Williams, Olivia Cooke, Pixie Davis, and more. The Secret of Crickley Hall is a three-part miniseries streaming on Amazon Prime.
The Silence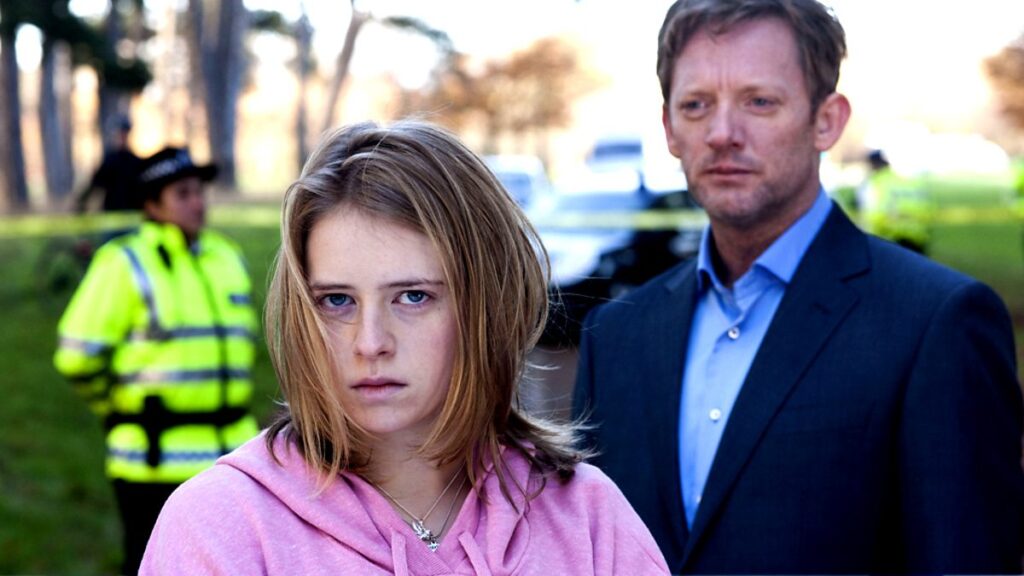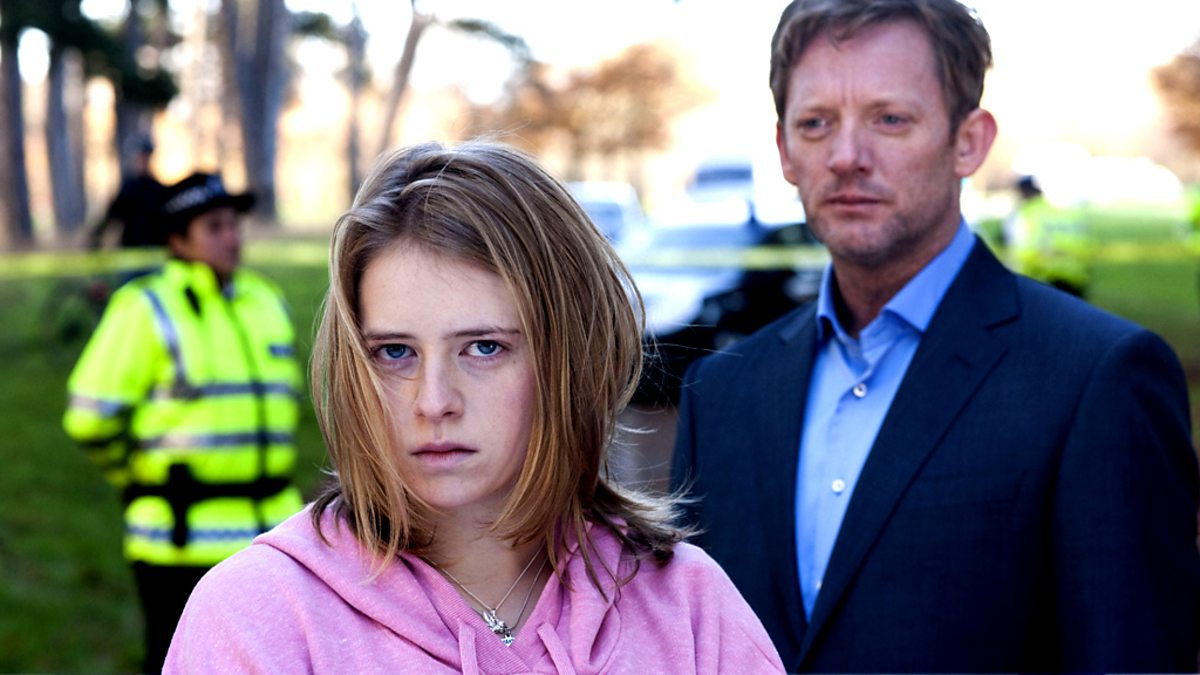 The Silence is a four-part miniseries about a deaf teenager torn between two worlds after getting a cochlear implant. In a turn of events, she witnesses the murder of a police officer, revealing a web of police corruption. Entering the hearing world is overwhelming enough. Being a witness to a murder might throw her over the edge. Douglas Henshall plays her uncle, Jim Edwards, a police detective trying to balance his investigation with his niece's safety.
The Silence stars Genevieve Barr, Douglas Henshall, Hugh Bonneville, Gina McKee, and Dervla Kirwan. It's streaming on Amazon Prime.
International Shows Like Shetland
Shetland has a specific aesthetic and atmosphere: the beautiful yet bleak landscape, grisly crimes, and simmering suspense. This atmosphere is in a lot of "Nordic Noir" or "Scandinavian Noir" shows that are popular now.
So, if you love how Shetland feels, there are a lot of shows from the Nordic region which you may enjoy, too. I put together a longer list of shows like this here.
These two highly-acclaimed shows are worth watching if you don't mind reading subtitles:
The Bridge (Bron | Broen)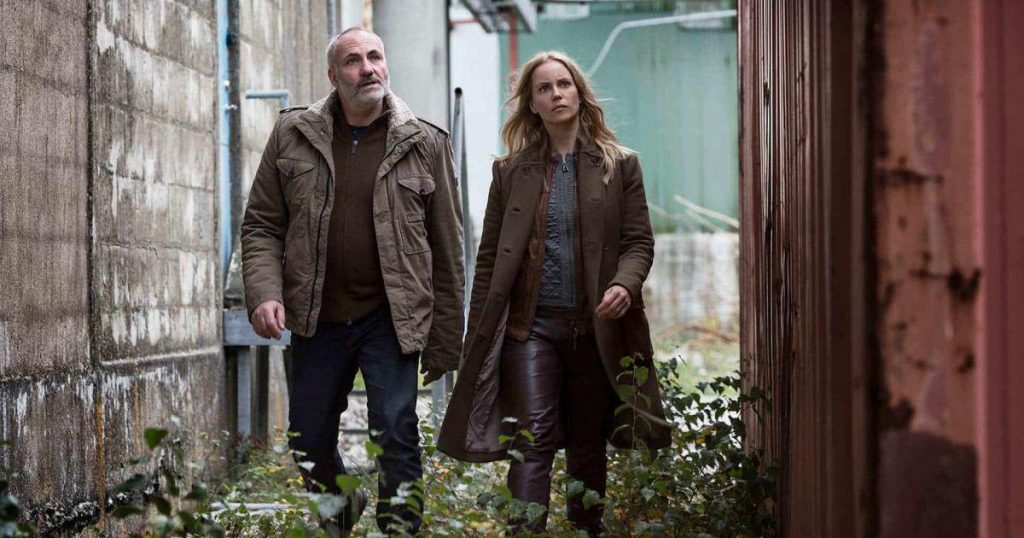 If you enjoyed The Tunnel (or you prefer to watch the original first), this show is the first incarnation of several remakes. It was re-adapted for the screen for UK-France, US-Mexico, Estonia-Russia, Malaysia-Singapore, and Germany-Austria.
And for good reason. It's a great show. It's a Nordic noir crime drama spanning 38 episodes. Three seasons (of four) are available to purchase on Amazon. Danish and Swedish with English subtitles.
Trapped (Ófærð)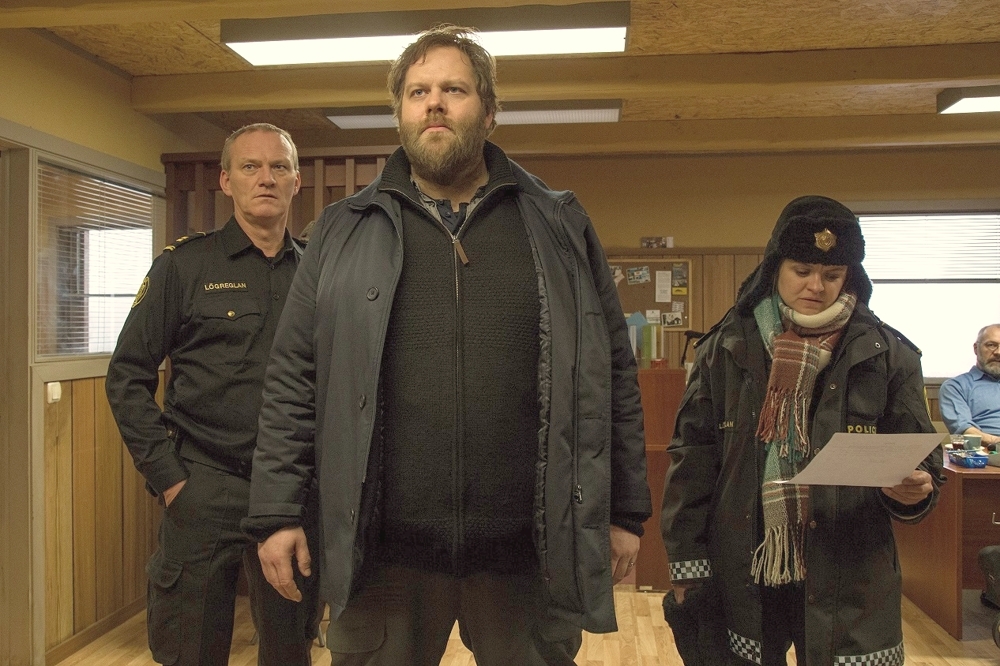 If you're looking for something a little colder than the windswept Shetland landscape, Trapped might be just what you need. It takes place in a small Icelandic town in a fjord. As a ferry approaches, a body is found on board. But the body is missing a few things to help identify it… namely, a head and limbs.
Along with The Bridge, the BBC listed Trapped as one of the best shows to watch in 2018. Two seasons of Trapped are streaming on Amazon Prime. Icelandic with English Subtitles.
What other shows would you recommend to fans of Shetland?
Have any other recommendations for shows similar to Shetland? Share them below. We'd love to hear from you!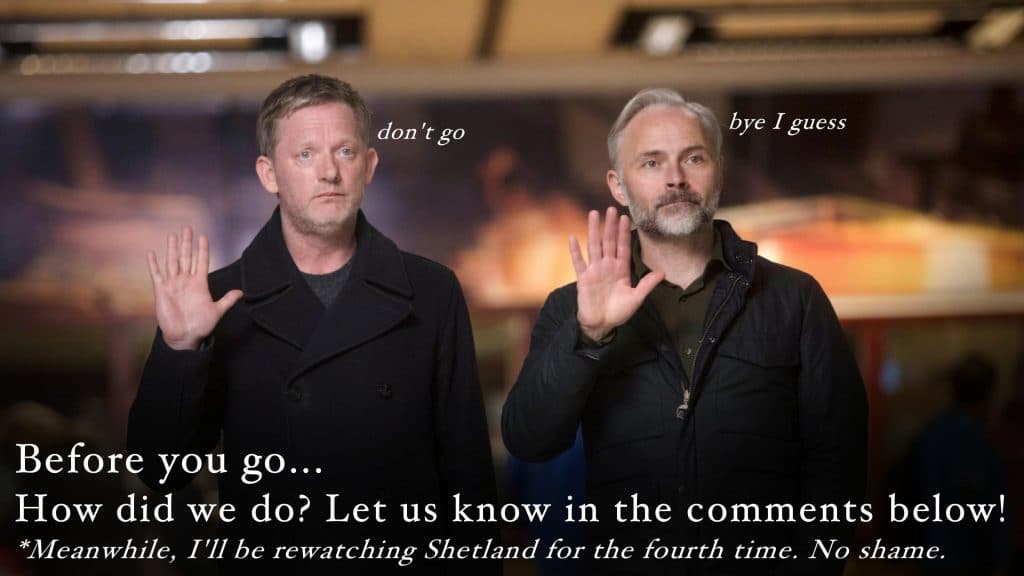 Save it to Pinterest!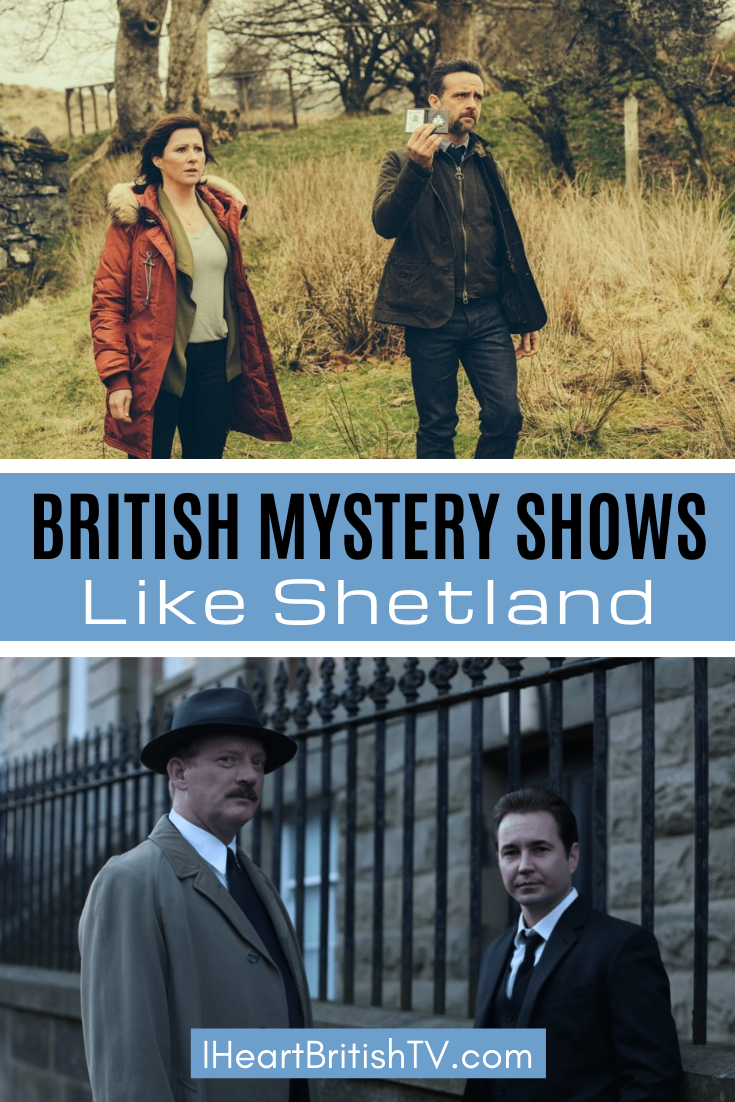 British Television shows to watch if you like Shetland web story