What is Acorn TV? What You Need to Know About This Streaming Service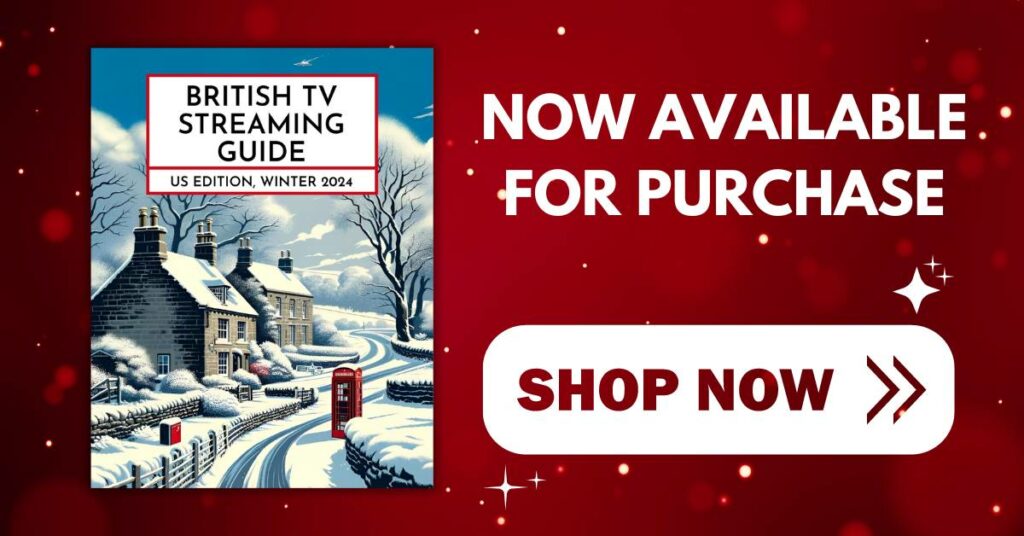 The British TV Streaming Guide: US Edition, Winter 2024 is now available. Get yours HERE.
In some cases, we earn commissions from affiliate links in our posts.
Last Updated on December 13, 2022 by Stefanie Hutson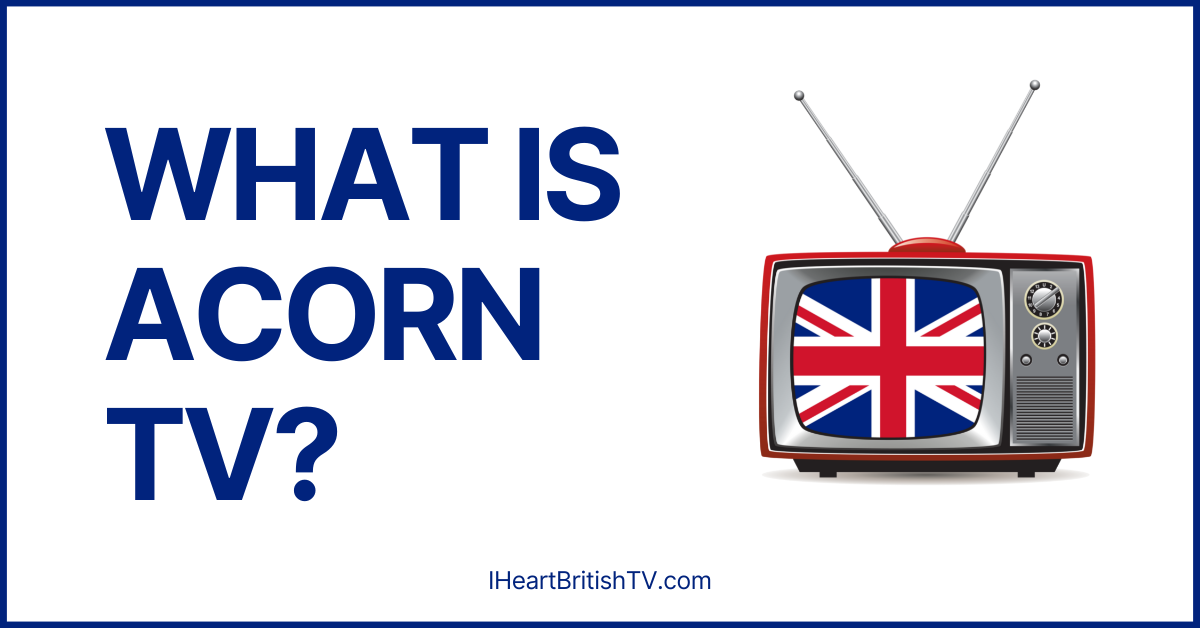 If you're a fan of British TV and you spend much time on Facebook (or elsewhere on the internet), you've probably heard people mention something called Acorn TV. Of course, if you're more accustomed to old school cable television and watching British TV shows on PBS or DVDs, you might be wondering, "What is Acorn TV?"
**Please note that all prices and shows mentioned are accurate as of December 2022. Though we make every effort to update content regularly, please note that things can change at any moment.
What is Acorn TV?
Acorn TV is a commercial-free streaming service that focuses on shows and films "from Britain and beyond". In addition to streaming shows made by other production companies, they offer a number of Acorn TV Originals like Dalgliesh, Signora Volpe, and Agatha Raisin.
Acorn TV is sort of like a "niche" version of Netflix. You watch their shows on demand instead of waiting for them to air at a specific time of day – but unlike Netflix, they focus exclusively on content from the UK, Europe, and the Commonwealth. You're not going to find your favourite American TV shows on Acorn TV.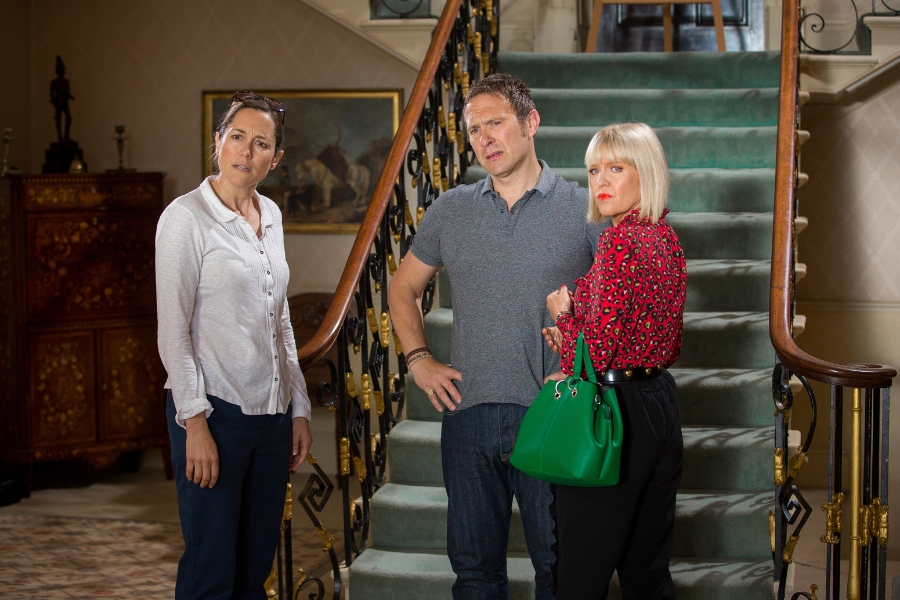 Like most other streaming services, Acorn TV does not require a contract. Your subscription automatically bills monthly and you can cancel at any time. If you prefer, an annual subscription is also an option.
Acorn TV launched as a streaming service back in 2011, but they've been introducing fans like us to great content a lot longer than that. Acorn Media has distributed entertainment from the United Kingdom to US audiences since 1994. They started with video tapes.
Today, Acorn Media still sells DVDs, gifts, clothing, and more through their catalog and website. Acorn Media, Acorn TV, and even Agatha Christie Ltd. are all owned (wholly or in part) by RLJ Entertainment. In 2018, AMC Networks acquired RLJ Entertainment and is now their parent company.
How does Acorn TV work?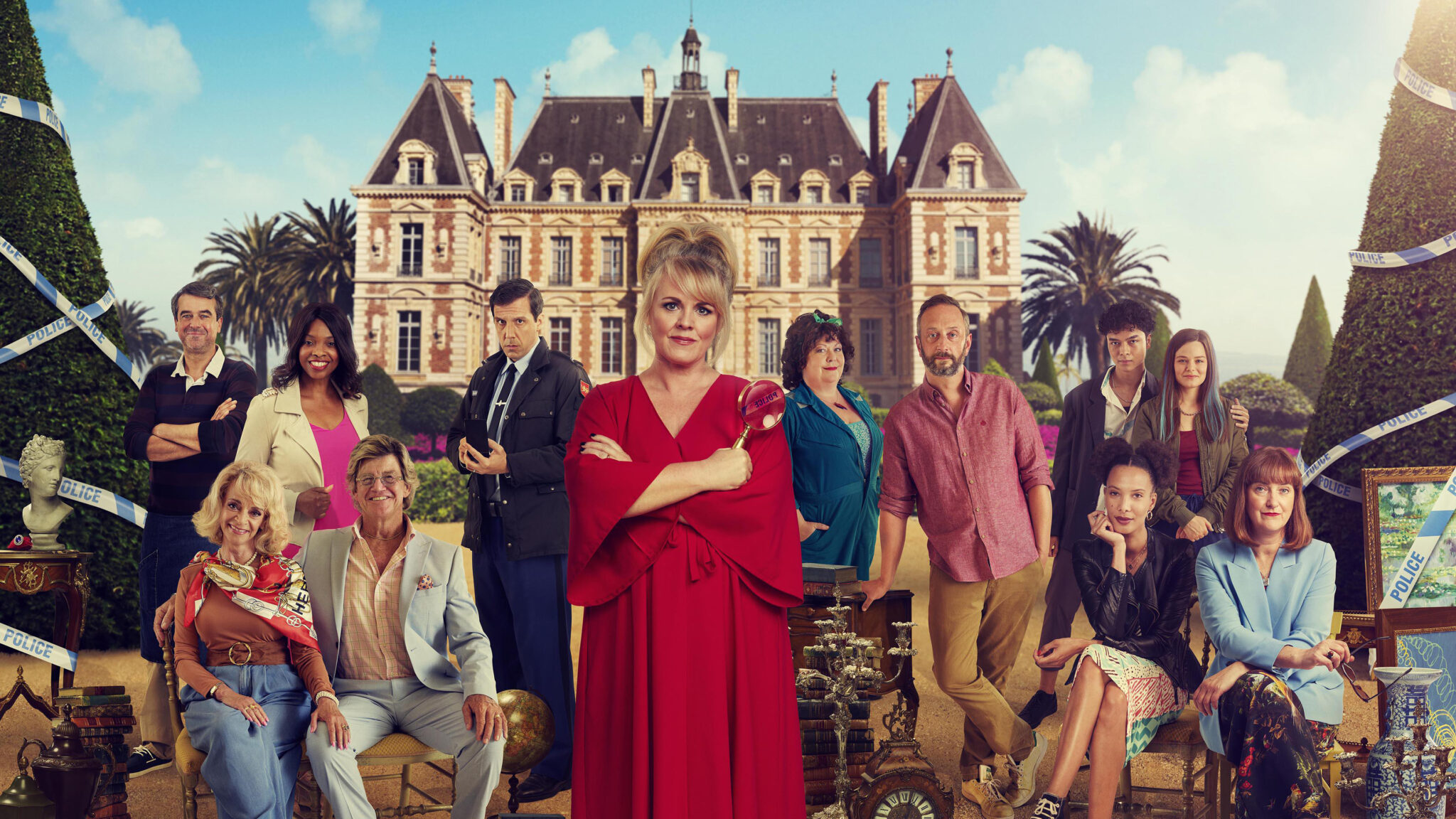 Because Acorn TV is a streaming service, this requires a fast enough internet connection and a compatible device such as a smart television, laptop, tablet, or smartphone. Even if your television isn't super smart, there are a couple ways to watch Acorn on a larger TV screen than your small computer screen.
Acorn TV Requirements: What You Need to Stream
Internet Requirements
To stream standard definition video on one screen at a time, the general rule of thumb is that you need download speeds of 3 Mbps. For HD videos, at least 5 Mbps and you need 25 Mbps for Ultra HD (4K) videos.

Most modern "high-speed internet" plans will be sufficient to stream TV shows using services like Acorn TV – but keep in mind that some lower high-speed plans (especially in rural locations) may not work all that well, especially if you have more than one person in the house using the internet at a time.

If you're on a metered plan (common in rural areas) or a cellular data plan through your phone provider, you should also be mindful of your monthly data caps. Some plans are unlimited, while others have very specific limits above which you either incur extra charges or see your speeds slowed dramatically.
Streaming uses about 1 GB of data per hour for standard definition or 3 GB of data per hour for HD shows. So, if you watch one hour a night for a month, that is about 90 GB per month. It's easy to use a lot of data when streaming.
Our advice? If you're new to streaming and you're not sure about these things, talk to your internet provider to find out whether you have any limitations that could affect your ability to stream television. Remember, too, that Acorn TV and other services offer free trial periods – so if you're afraid your service isn't fast enough, you can always try it and see.
Compatible Devices
Devices compatible for streaming include internet-connected laptops, smart phones, tablets, and televisions. The Acorn TV list of supported devices is HERE.

If you don't have a smart TV but your eyes are tired of watching on a small screen, your television might be compatible with a Roku, Fire TV stick, or a Chromecast. These allow your TV to connect to the internet via an HDMI port and get streaming channels like Acorn.

We have a guide for getting set up with a Roku HERE. They're easy to use and their lowest-priced model (Roku Express) is around $30 for a one-time purchase. There are Roku models which are compatible with almost any TV (smart or not) and almost any internet (wired or wireless).

You can also connect your laptop/computer to a television with an HDMI cable if it has an HDMI port. This simply allows your computer screen to become a large computer monitor. It will also output audio to the TV's speakers.


An Acorn TV Account: How Do I Subscribe to Acorn TV?
With Acorn TV, you can subscribe directly to their service on their website or app – or you can subscribe through a third-party as an add-on channel.
To subscribe directly with Acorn TV, you can just go to their website and create an account. From there, you can add their app to your device (like a Roku) or simply go to their website and log in to watch.
You can also subscribe to Acorn TV as an add-on to your account with another service like Amazon Prime Video. That means your subscription will bill monthly through Amazon, and you need to watch through Amazon's website or Prime Video app. When/if you decide to cancel, you would cancel NOT through Acorn TV's site but through Amazon's site.
Some people find the quality of the streaming experience is better through one platform or another, so if you have any trouble with jerky, uneven streaming, it's worth trying to subscribe via different means.
Regardless of HOW you subscribe, the content is the same. Third-party services occasionally have a very slight delay when new titles are added or old titles are removed, but it's usually no more than 24 hours.

Which British TV shows are available on Acorn TV?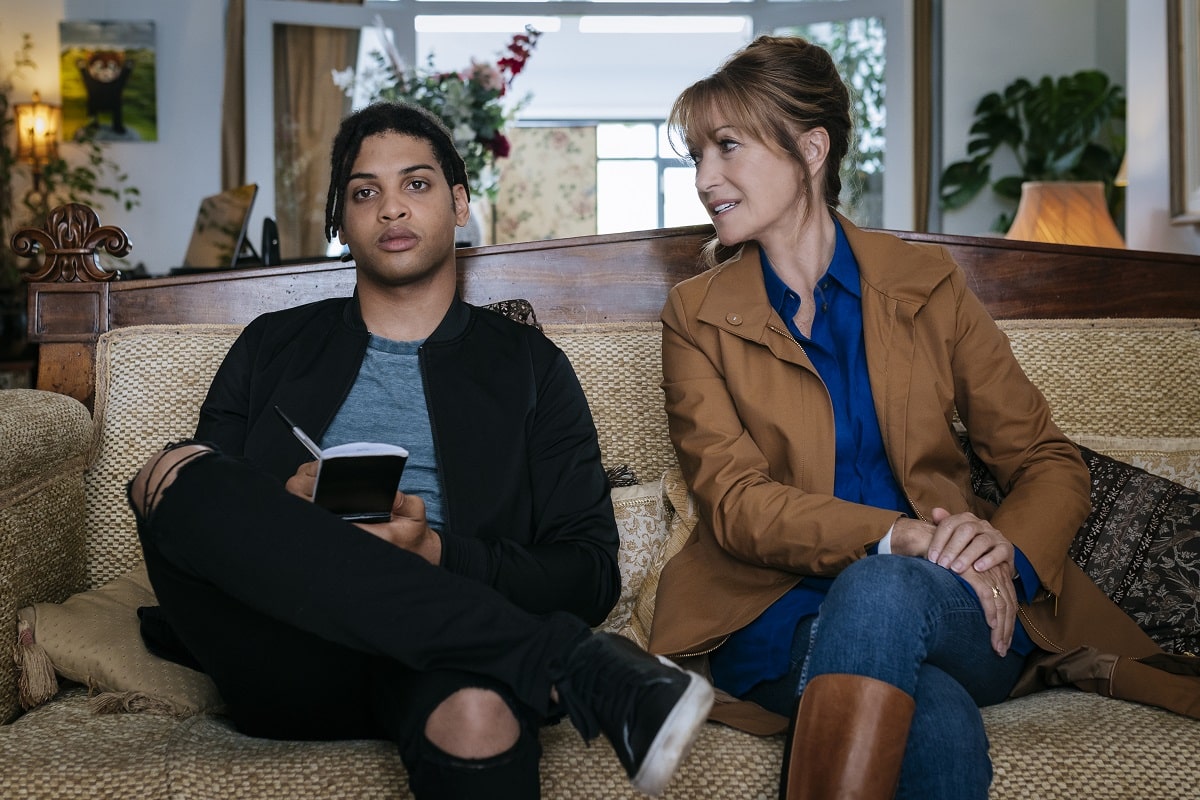 While Acorn TV's offerings are constantly changing, the one thing you can be sure of is that they always have a supply of hundreds of shows from the UK, Ireland, Europe, Australia, New Zealand, Canada, and Europe. In a typical month, they'll add anywhere between 5-15 new shows and films while removing another 5-10 (though some months will see more or fewer titles added/removed).
Acorn TV offers a mix of shows in the following categories: Mystery/Crime Drama, Drama, Comedy, and Lifestyle/Documentary. Some shows are non-English, and some are period dramas (meaning they're set in a different time period than when they filmed).
Need recommendations? Try checking out some of our posts:
Does Acorn TV offer a free trial?
Yes, they offer a free 7-day trial but you need a payment method on your account. This is a great way to figure out if you like the service before committing to a full month.
If you decide to subscribe via Amazon instead of direct, they also have a free trial over there – and it's entirely separate from the trial on Acorn TV's own site (meaning you could actually get more than one free trial). The same goes for many of the other services that act as third-party distributors of Acorn TV's streaming service.
Fun fact: With the addition of season 23 of Midsomer Murders (which began airing on Acorn TV in December 2022), the total episode count comes to 136. If you wanted to binge the entire series, it would take more than a week – and that's without stopping to eat, sleep, work, or use the lavatory. So – if you want to binge that one in its entirety, the free trial won't be enough.
How much does Acorn cost?
As of December 2022, Acorn TV is $6.99 USD per month or $69.99/year. When you first sign up, you are not billed until after the 7-day free-trial period. So, your renewal comes 5 weeks after the day you sign up and then renews monthly until you cancel.
Can I sign someone else up for Acorn TV as a gift?
Absolutely! We think Acorn TV makes a great gift for the British TV fan in your life. You can visit the Acorn TV Store HERE to create gift memberships. A gifted membership lasts a year and does not start until it is redeemed. Gift memberships do not have a recurring charge; they simply end after one year.
Why isn't the full season of a show available?
Acorn TV sometimes releases episodes of new shows weekly, so if the show you're watching seems incomplete, that may be why. When new content is added, it's nearly always on Mondays – but there have been a few exceptions over the years.
Is it hard to cancel Acorn TV?
Not at all. You can cancel at any time, and there's no need to call anyone. You just need to log into your account on the Acorn TV website, go to My Acorn TV, Manage Account, and select Cancel Membership. When you're ready to reactivate, you can login using your same account credentials and revive your membership.
If you signed up through a third-party, you will cancel through that service. For example, Amazon has a Manage My Subscriptions section in your account page and Roku has much the same. When you're ready to sign back up, you just need to re-subscribe.