What's a Roku & How Can it Help You Watch More British TV?
In some cases, we earn commissions from affiliate links in our posts.
Last Updated on October 9, 2018 by Stefanie Hutson
As someone who has grown up with technology, I sometimes forget that it's not always easy for people who didn't. Lately, I've gotten quite a few questions from people who want to watch more British TV, but when people start saying things like Roku and Acorn and Britbox, they feel a little overwhelmed. So – today I want to get back to basics and talk about the Roku.
What's a Roku?
You probably already know that a TV by itself is pretty much worthless. It's just a display device, and you need to plug something in to get actual content. In the past, that was usually an antenna, a cable box, a VCR, or a DVD player. The Roku is just one more thing you can plug into your TV to get content. The difference is that the Roku connects to your internet and downloads content that way.
What do I need to use a Roku?
Not much:
A television
An internet plan with your local provider
The actual Roku
An HDMI cable if you wish to connect through your TV's HDMI port for better image quality (more on this in a bit)
Are there alternatives to the Roku?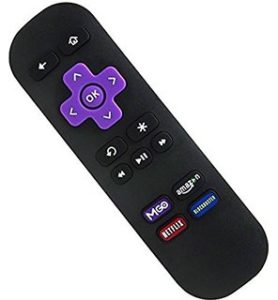 Yes. However, if you don't already own a competing device (like the Amazon Fire TV or Google Chromecast), I would strongly recommend choosing the Roku. The reason for this is because the Roku seems to be the most popular of these kinds of devices, and they get channels a little faster.
To learn more about how Amazon Channels work and how they can simplify your memberships (and make them easier to cancel), click here.
If vision impairment is an issue, you'll also be delighted to know that the Roku remote is very simple, with large print. The Fire TV remote is also simple, but it's much harder to read.
Which Roku should I order?
Do you have wireless internet in your home? If not, you'll need a model with an "ethernet port", which will allow you to run an "ethernet cable" between your modem and your Roku (click here to get a cable if you need one). Given the fact that most internet service providers automatically set you up for wifi (wireless internet) now, this is an unlikely scenario. Some people still prefer to run the wire between their Roku and router/modem, though, because the wired connection is slightly faster and it can minimize problems with the broadcast. Most people have no trouble with connecting wirelessly, though, and it makes for a tidier house.
If you want to buy a Roku that works both wirelessly and with the wire, I recommend the Roku Ultra or the Roku Premiere+ (both under $100 at most retailers as of October 2017). What's the difference between those two? Well, there are a few differences, but if you're reading this tutorial, the only one that will probably matter to you is the remote finder. If you lose your remote control, you can press a button on the Roku Ultra and it will make your remote beep. The Roku Premiere+ doesn't have that feature.
If you just want a basic Roku and you don't care about remote control finders or having a port to plug in an ethernet cable, you'll probably be perfectly happy with the Roku Express. As of October 2017, it will run you somewhere around $25-30 depending on where you buy it, and it gives you access to all the same shows and channels that you would get with the more expensive models.
The only other reason you might be inclined to pay more is that some models come with a "night listening mode" where you can plug headphones into the Roku remote and listen in silence. If you want that, the cheapest model would be the Roku Premiere.
What if my TV doesn't have an HDMI port?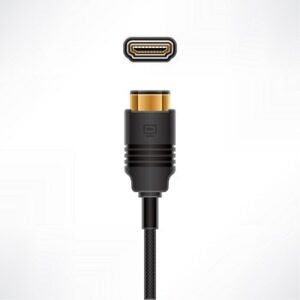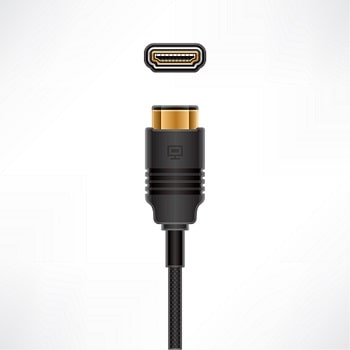 If you have an older television, you might be worried that there's no HDMI port (see picture to the left to know what that looks like). Although most current Roku models will NOT work with a TV that lacks HDMI ports, don't worry – there is one model you can get. The Roku Express+ has an AV out slot that will let you plug into your TV with the red/white/yellow ends. You can get it here. It's no longer part of their current lineup, but you can still find them online.
I have my Roku, now what?
Roku setup is pretty simple, and they have a great tutorial here. The device has a guided setup process when you turn it on, so don't worry if some of what's in the instructions sounds difficult – 99% of the time, it goes very smoothly.
How do I watch things?
The Roku is only useful if you add channels. Here's their official guide to adding channels (both during setup and later). Bear in mind that many channels require external subscriptions, or have only limited content for free users. Many require you to create an account with the company that owns the channel, then when you visit their channel on Roku it will help you log into that account so they're properly connected.
Here are the channels I would recommend for lovers of British television:
Now what?
Once you've completed the device and channel setup, there's nothing left to do but watch and enjoy (and maybe brag a little about completing the setup all by yourself).
Is anything in this guide unclear? Are you getting stuck at any point in the process? Let us know and we'll do our best to clarify. Happy watching!