The 31 Best British Period Dramas of the Last Decade (2010 – 2020)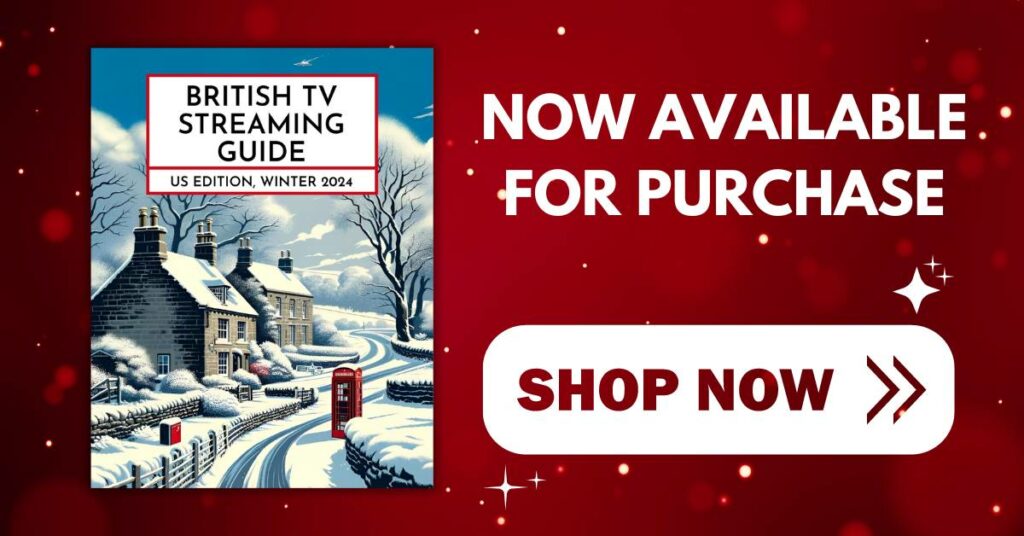 The British TV Streaming Guide: US Edition, Winter 2024 is now available. Get yours HERE.
In some cases, we earn commissions from affiliate links in our posts.
Last Updated on August 17, 2021 by Stefanie Hutson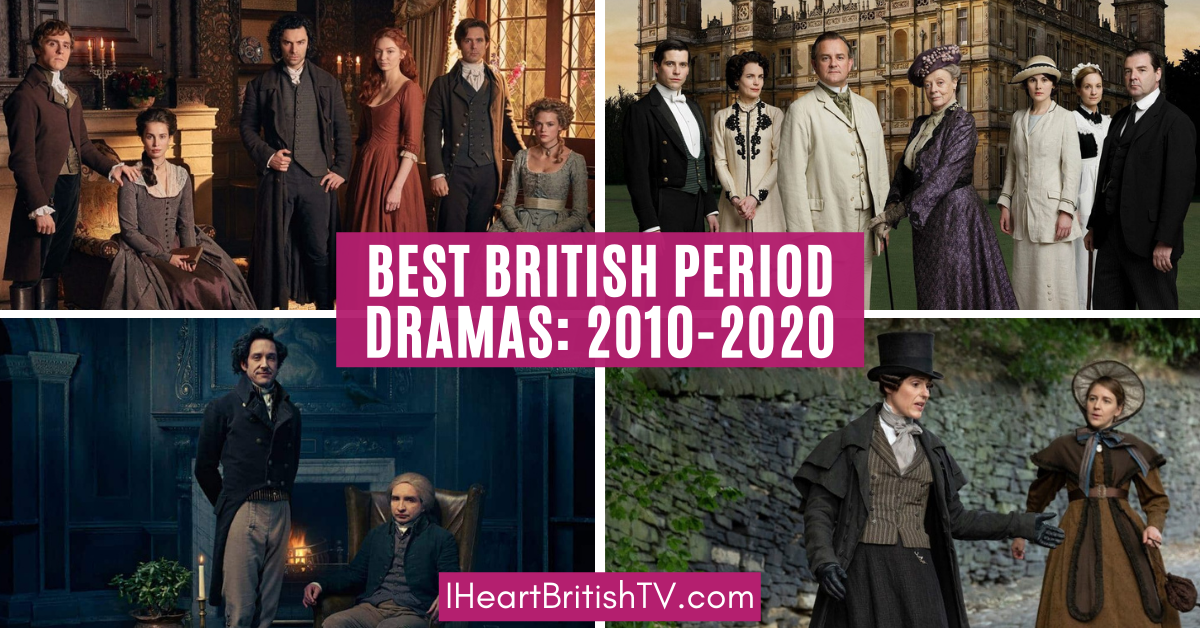 British period dramas captivate audiences around the world for their ability to take us back in time. Beyond time travel, they're often dramatic, romantic, and full of social standards which seem almost foreign to us now.
Some of these shows slip into the mystery genre, but most still have prominent romantic storylines, gorgeous cinematography, and plenty of drama. Hopefully we'll mention a few you missed, giving you something new to watch!
For a decade that started with Downton Abbey and ended with the new All Creatures Great & Small, there's a lot to be said for the quantity and quality of period dramas from the last decade.
So many amazing period dramas were made in the last decade… I had a hard time only highlighting the best ten, twenty, or even thirty. There are also a few honorable mentions.
Our list is in chronological order based on when each production is set. We've determined which productions are the "best" based on their overall popularity and their IMDb rating.
Want to explore period dramas based on time period? Check out some of our other lists here:
The White Queen, The White Princess, & The Spanish Princess (2013 – 2020)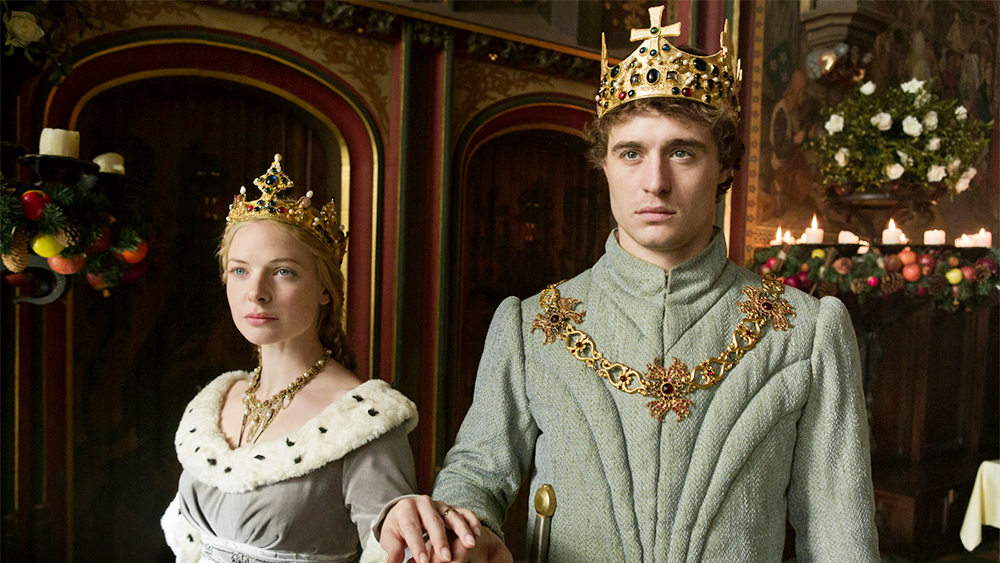 Because these three productions are connected, we're grouping them as one. They're all based on books by Phillipa Gregory. For this reason, we recommend you watch them in order. There are so many characters played by different actors in later seasons, it can get a little difficult to remember who's who. (Think of it a bit like The Crown where different actors play older versions of the same characters – for example, Margaret Beaufort is played by Amanda Hale, then Michelle Fairley, and finally Harriet Walter).
The White Queen (2013) follows three women as they fight for the crown. The story begins in 1464 during a feud between the House of York and the House of Lancaster over who will rule the country. Edward IV, heir to the House of York, is coronated. But when Edward falls in love with commoner Elizabeth Woodville, she finds Margaret Beaufort and Anne Neville to be her adversaries.
Starring Max Irons, Aneurin Barnard, Rebecca Ferguson, Amanda Hale, Faye Marsay, James Frain, Janet McTeer, and Rupert Graves. The White Queen is streaming HERE on Starz.
The White Princess (2017) follows Elizabeth 'Lizzie' of York (the daughter of Elizabeth Woodville and Edward IV). Margaret Beaufort finally gets her way and her son is crowned king, but in order to maintain his seat on the throne, he must marry a York to keep his commoners from rebelling. Lizzie begrudgingly marries Henry VII after having a passionate affair with her uncle, King Richard III. Lizzie goes on to become the mother of Arthur and Henry VIII.
Jodie Comer stars as Elizabeth 'Lizzie' of York. Also starring Jacob Collins-Levy, Rebecca Benson, Michelle Fairley, and more. The White Princess is streaming HERE on Starz.
The Spanish Princess (2019 – 2020) revolves around Catherine of Aragon as she sails to her betrothed, Arthur Prince of Wales, heir to the throne. Although she's like a fish out of water, Catherine insists on being treated like a queen and fights to become one after Arthur tragically dies.
Charlotte Hope stars as Catherine of Aragon. Also starring Laura Carmichael, Ruairi O'Connor, Olly Rix, Andrew Buchan, Harriet Walter, and more. The Spanish Princess is streaming HERE on Starz.
Wolf Hall (2015)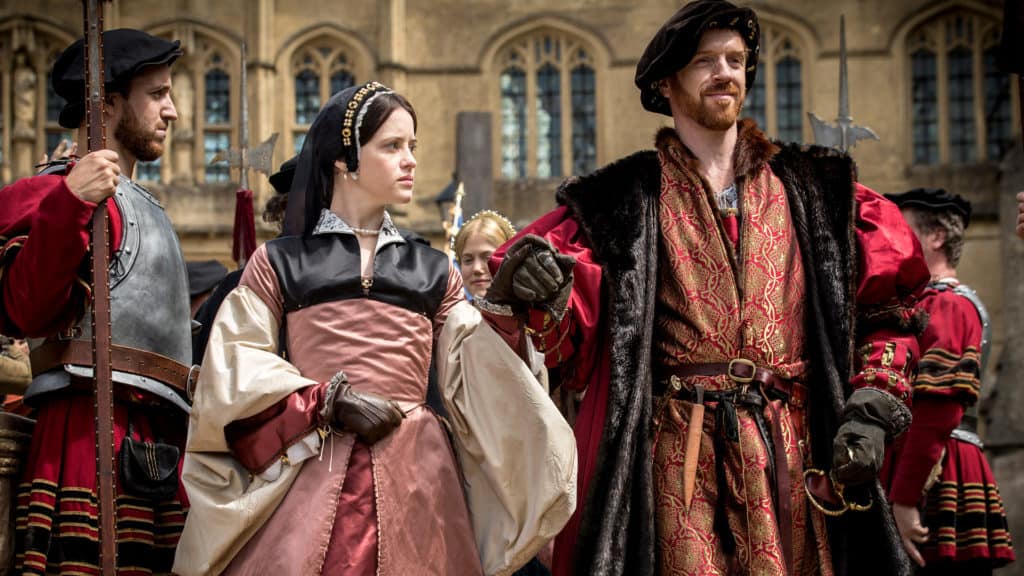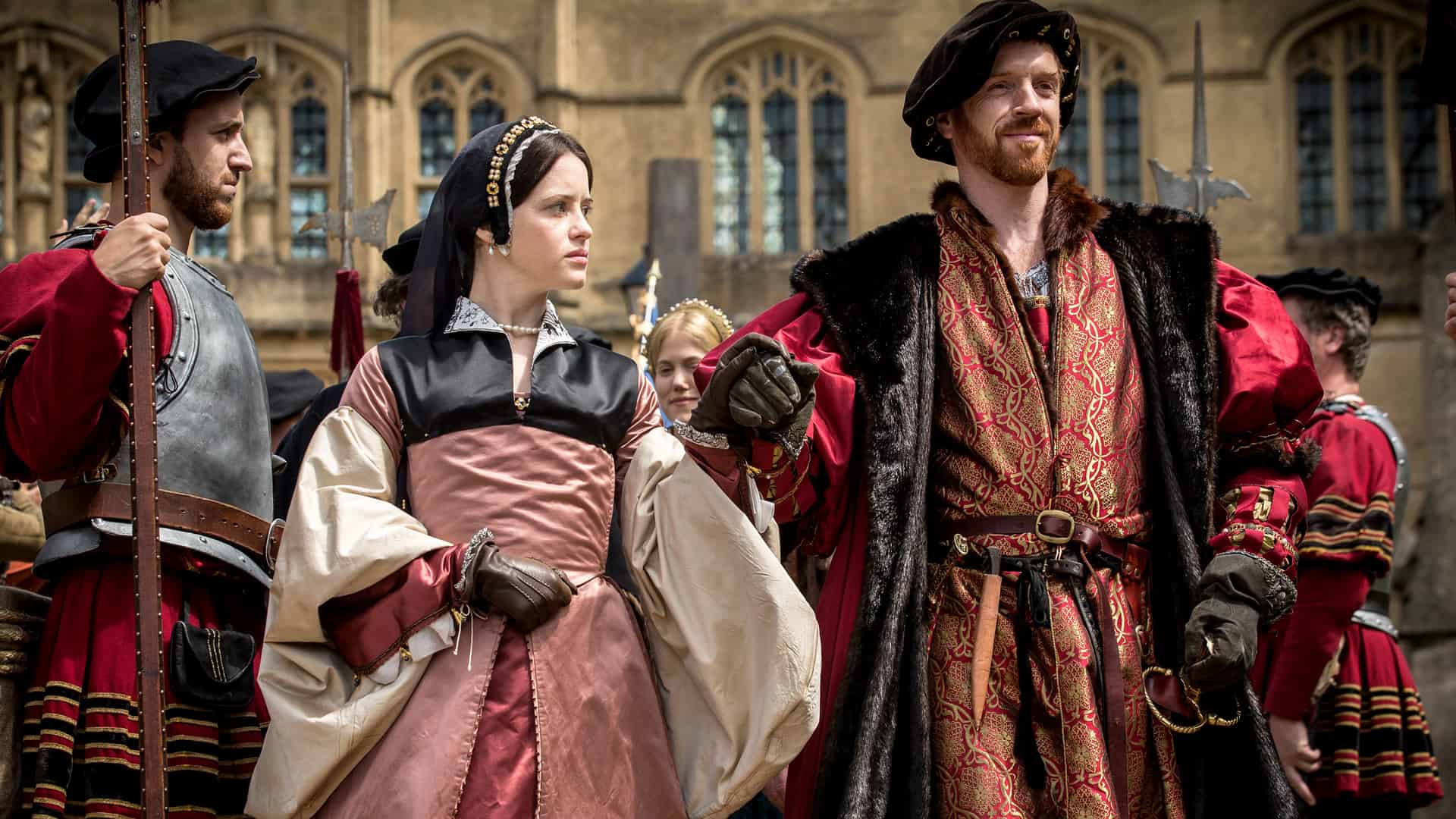 If you didn't get enough Henry VIII from The Spanish Princess, take a small step forward to his relationship with Anne Boleyn in Wolf Hall. Wolf Hall is based on the books by Hilary Mantel. This six-part series is understated, beautifully filmed, and features incredible performances by the actors.
Starring Damian Lewis, Claire Foy, Mark Rylance, Thomas Brodie Sangster, Tom Holland, Anton Lesser, Kate Phillips, Jonathan Pryce, and more.
After six years, a second season has been confirmed and will be based on Mantel's third book, The Mirror and the Light. There is no news on whether the same cast members can return or not, nor when it will begin production.
Wolf Hall is streaming on PBC Masterpiece through Amazon Prime.
Outlander (2014 to present)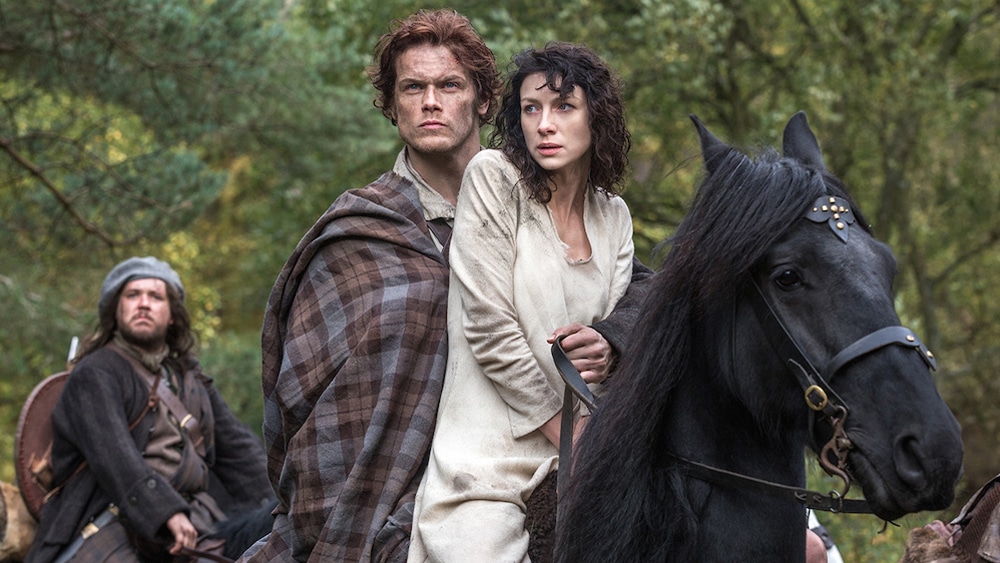 Outlander is part historical drama, part fantasy. It begins in 1945 in post-war England when a stone circle mysteriously transports Claire Randall, a married WWII nurse, to 1743 where she's thrown into the Jacobite rebellions and into the arms of Jamie Fraser. Fans of action, romance, and historical dramas will enjoy Outlander. It's based on a series of books by Diana Gabaldon.
It stars Caitriona Balfe, Sam Heughan, Tobias Menzies, and countless veteran Scottish actors, like Graham McTavish, Richard Rankin, and more. Even Douglas Henshall is in four episodes.
Outlander is streaming on Starz.
Poldark (2015)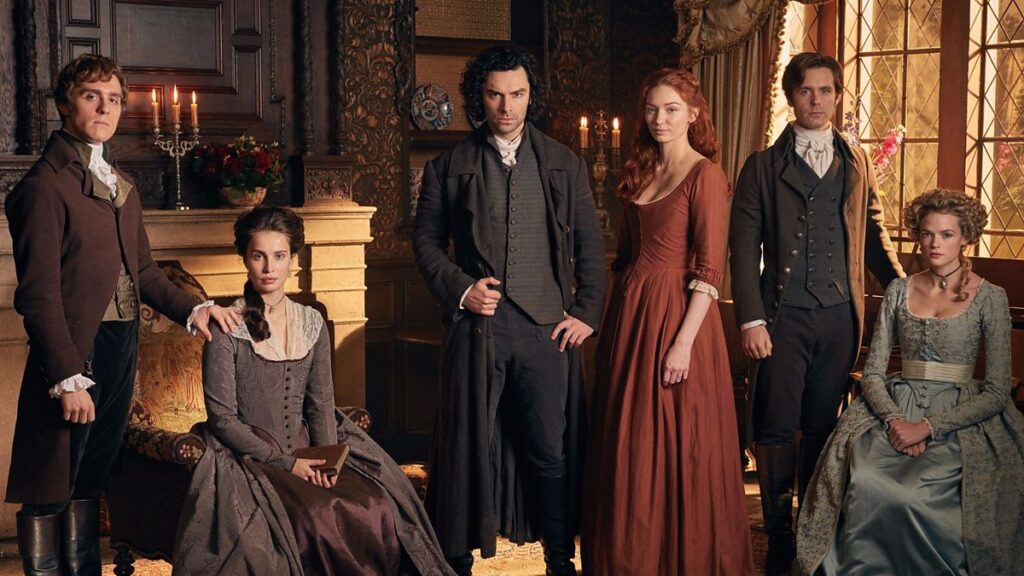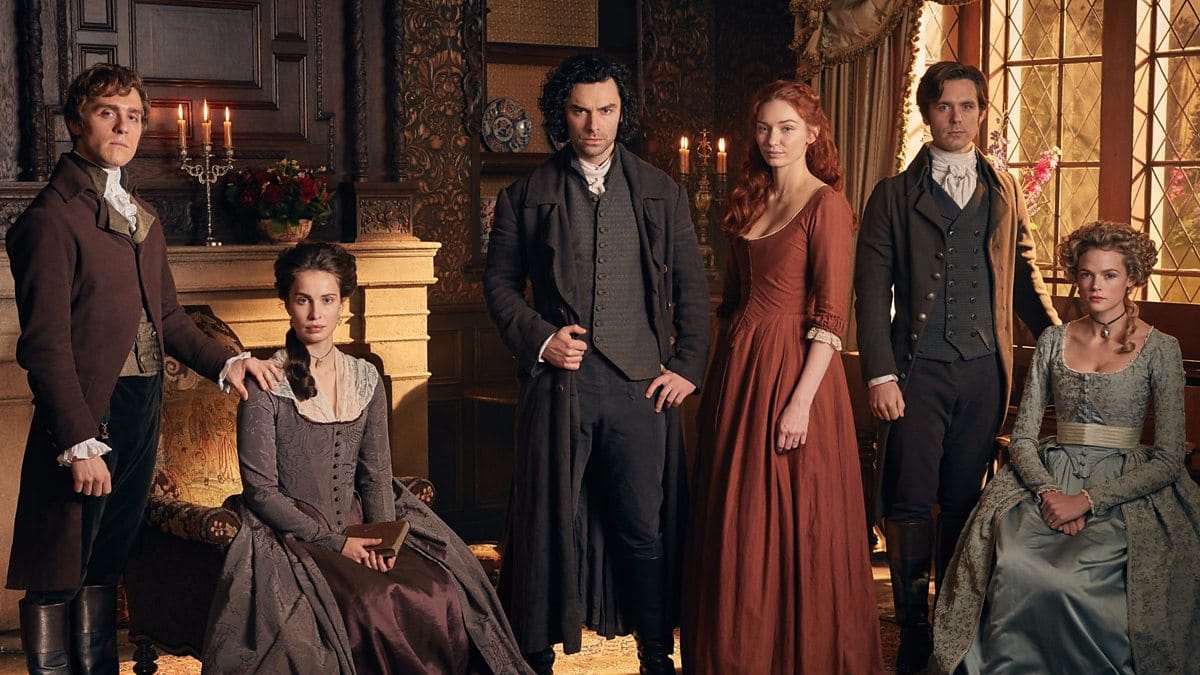 Poldark was a popular show with a massive following when it aired from 2015 – 2019. It begins when Ross Poldark comes home to Cornwall from fighting for the British in the American War of Independence. And life will never be the same. His father is dead, his family's mine is closed, and the love of his life is engaged to his cousin. It couldn't get much worse and the only way to go is up. Follow Poldark as he tries to establish a new life.
It stars Aidan Turner, Eleanor Tomlinson, Heida Reed, Phil Davis, and more.
Stream all five seasons on Amazon Prime.
Jonathan Strange & Mr Norrell (2015)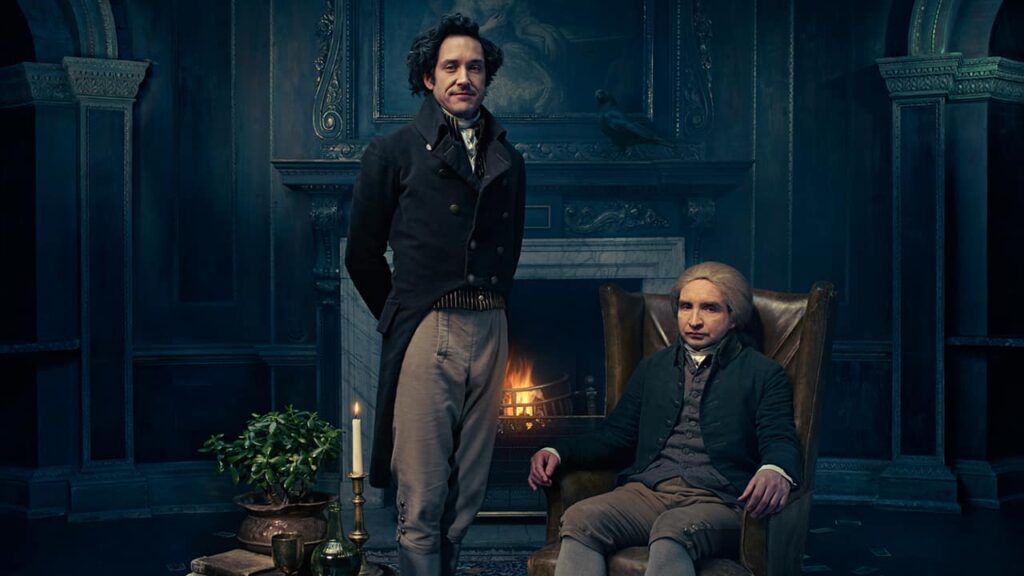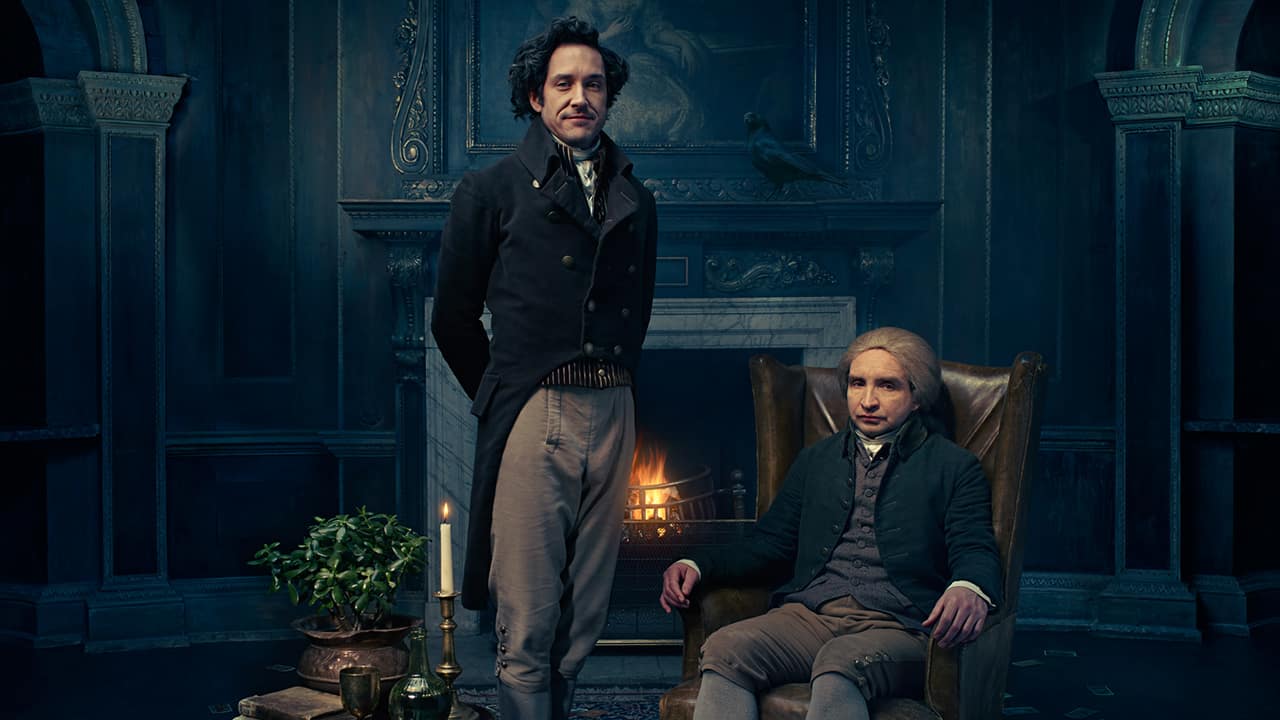 This miniseries in on our Underrated & Oft-Overlooked British TV Shows to Binge list for a reason. It is a well-done production which stays fairly true to the book by Susanna Clarke. It also claimed the biggest budget for a BBC drama the year it was produced.
Jonathan Strange & Mr Norrell is an epic tale of alternate-history fiction, richly interwoven with true historical events. It stars Bertie Carvel as Jonathan Strange, a young man struggling to find purpose in his life, and Eddie Marsan as Mr Norrell, a stuffy scholar who believes magic should only exist in books because that's the way it's always been – ever since magic left England. But a vagrant "magician" (played by Paul Kaye) claims magic will return.
Along with Carvel and Marsan, this miniseries stars Marc Warren, Charlotte Riley, Enzo Cilenti, Edward Hogg, and more.
Jonathan Strange & Mr Norrell is available to purchase on Amazon.
War & Peace (2016)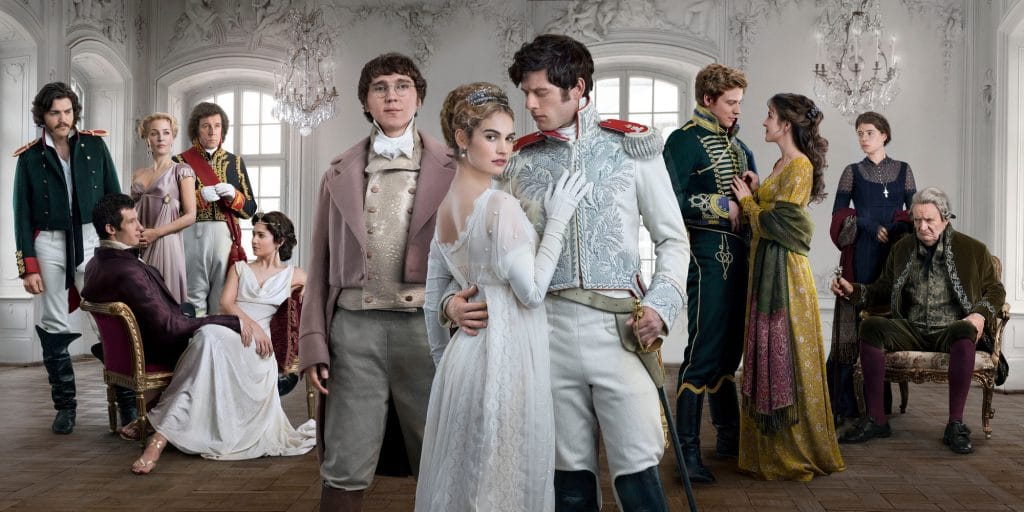 War & Peace takes place in imperial Russia and follows the ebb and flow of five aristocratic families. In particular, it shows how the lives of three people are affected by Russia's wars with Napoleon.
This six-part adaption of Tolstoy's classic novel also stars James Norton, Paul Dano, Lily James, Tom Burke, Jim Broadbent, Rebecca Front, and Tuppence Middleton.
You can own War & Peace on Amazon.
Emma (2020)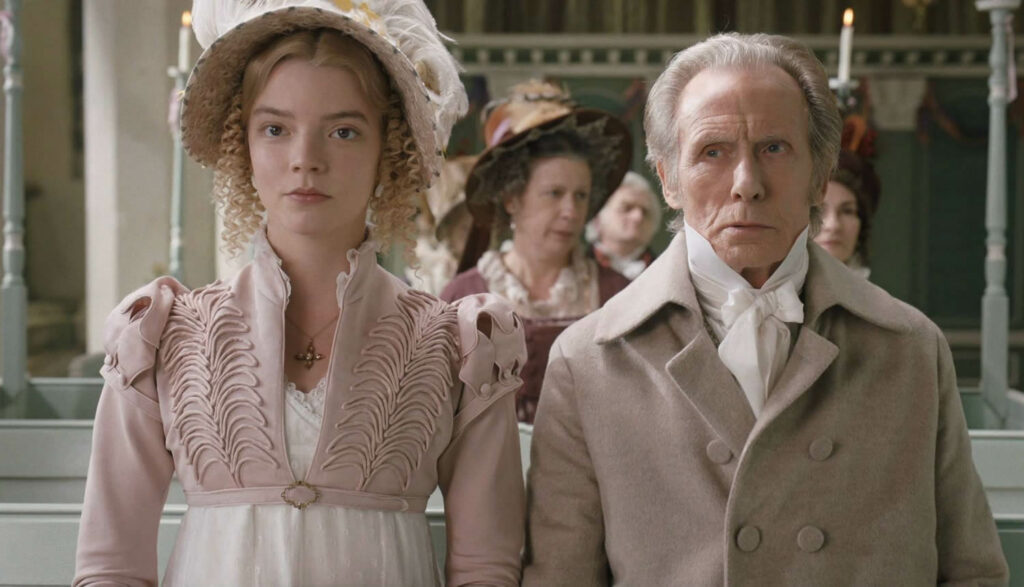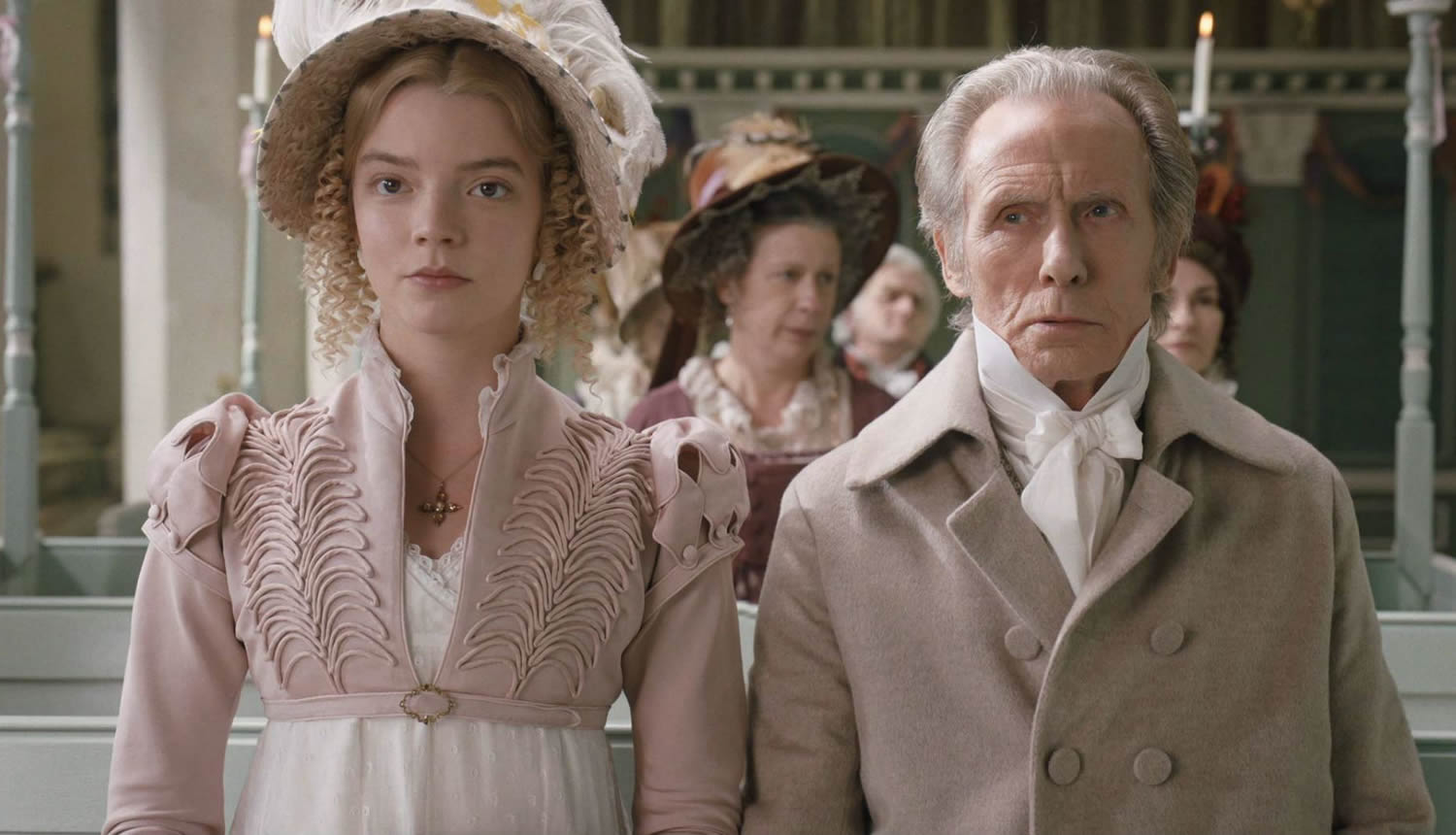 This fun, vibrant movie is the latest adaptation of Jane Austen's classic novel. Emma Woodhouse is Austen's only wealthy, upper-class heroine; in this version, Anya Taylor-Joy brings Emma to life. Emma is quick-witted, sharp, and loves to meddle. Emma has many flaws, perhaps even some hubris, but like all of us, she's allowed to change and develop as a person, and that's what keeps us coming back, adaptation after adaptation.
In this new version, Johnny Flynn plays Mr Knightley alongside familiar faces such as Bill Nighy, Miranda Hart, Josh O'Connor, Gemma Whelan, Tanya Reynolds, Mia Goth, Rupert Graves, and more.
Emma is streaming on HBO Max or available to own/rent on Amazon.
Gentleman Jack (2019)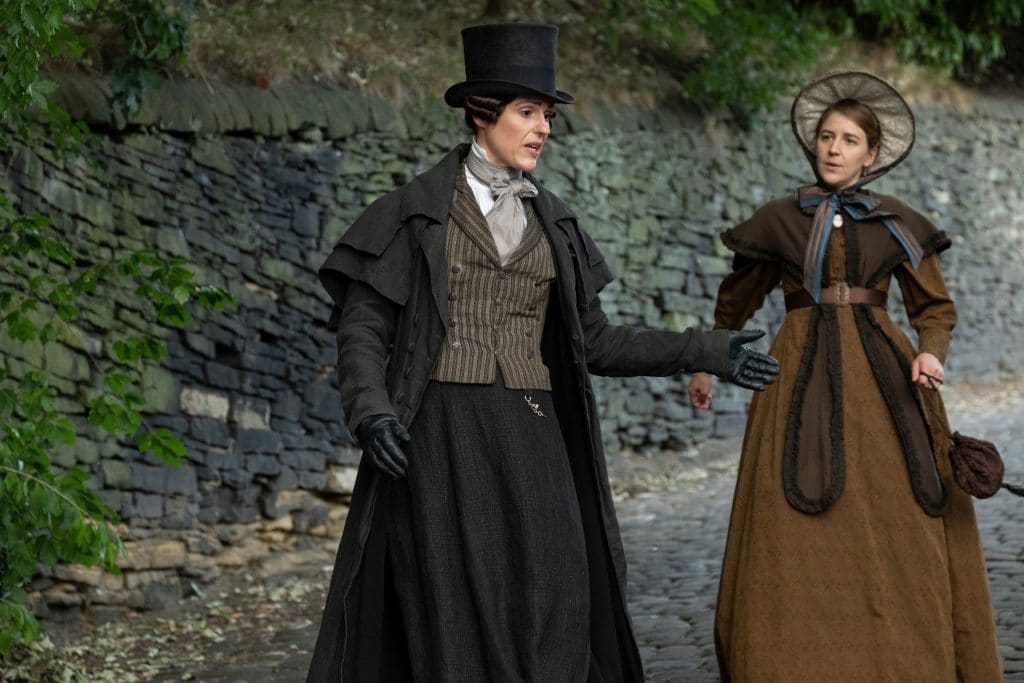 Gentleman Jack follows the story of 19th century landowner Anne Lister played by Suranne Jones. She intends to save her ancestral home, Shibden Hall, in West Yorkshire and marry a woman. This miniseries is based on the true diaries of Anne Lister.
Also starring Sophie Rundle, Gemma Whelan, Gemma Jones, Joe Armstrong, Peter Davison, Stephanie Cole, Jodhi May, Shaun Dooley, Katherine Kelly, Timothy West, and more.
Gentleman Jack is streaming on HBO. You can also buy it on Amazon. A second season is in the works.
Victoria (2016)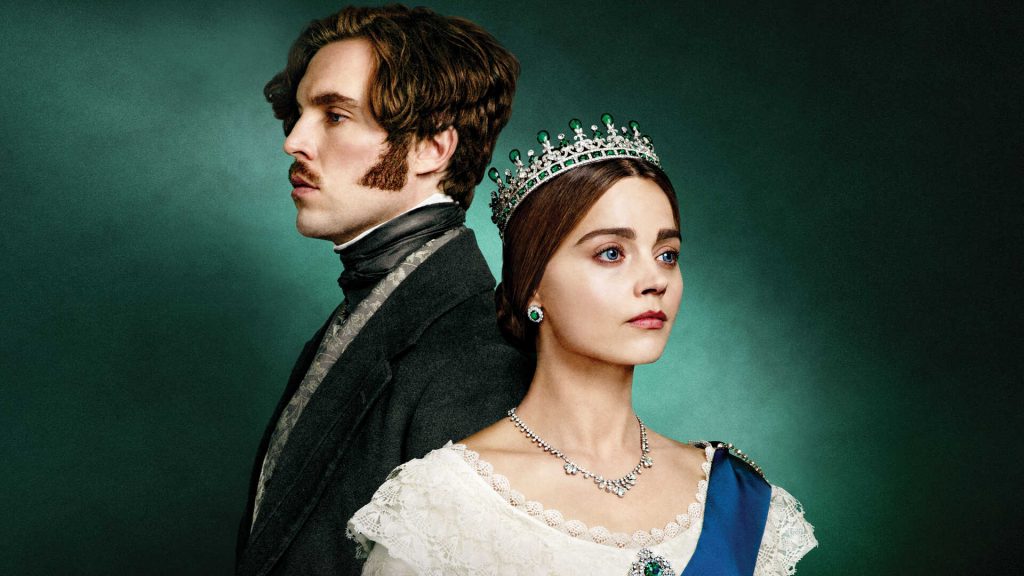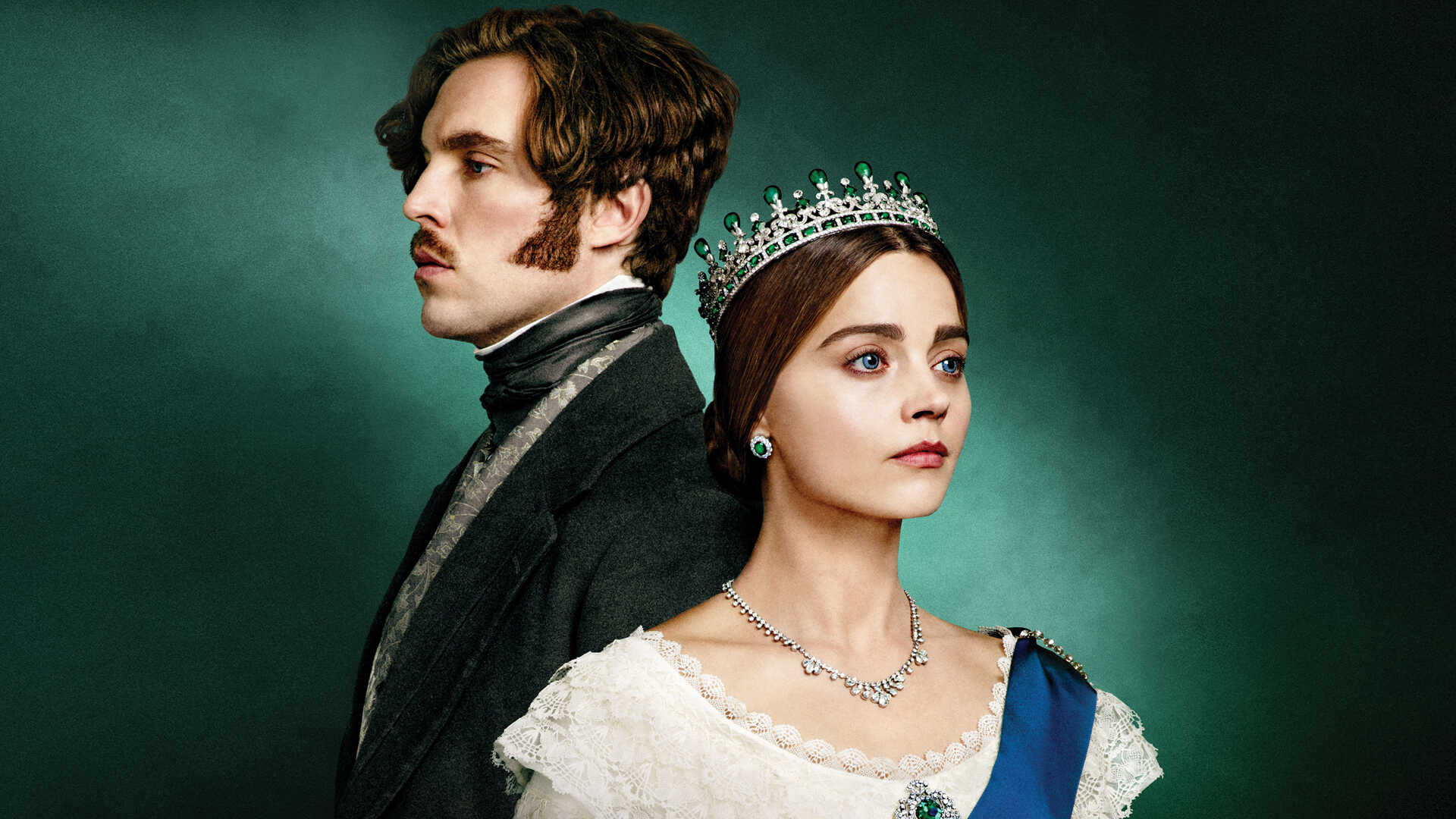 Victoria's reign begins in 1837 when she is just eighteen. This series follows her early life and her marriage to Albert. It's a beautifully filmed adaptation of her life. It focuses on her ascension to the throne and how she manages it.
It stars Jenna Coleman, Rufus Sewell, Tom Hughes, and more.
Stream Victoria on Amazon Prime.
Vanity Fair (2018)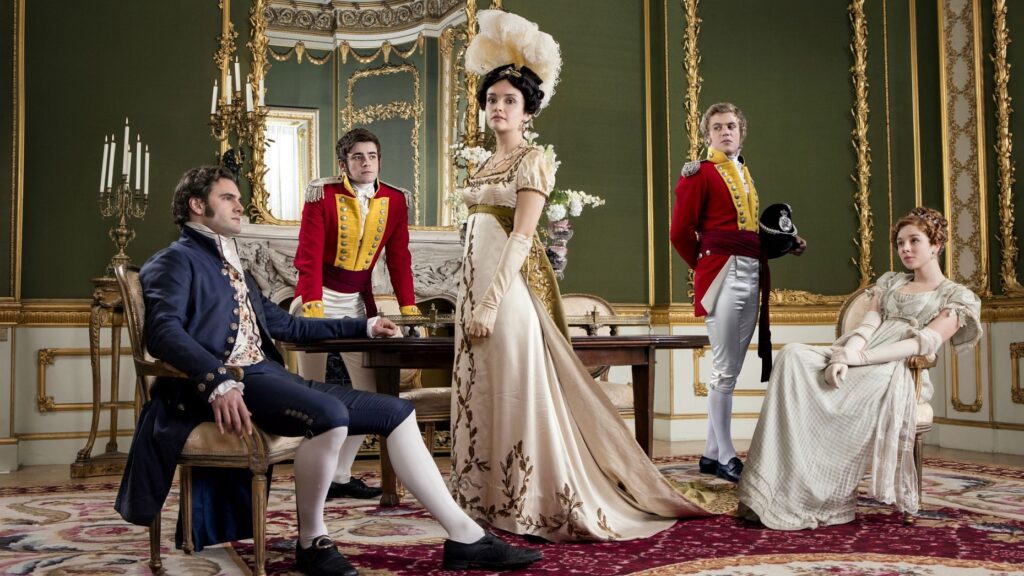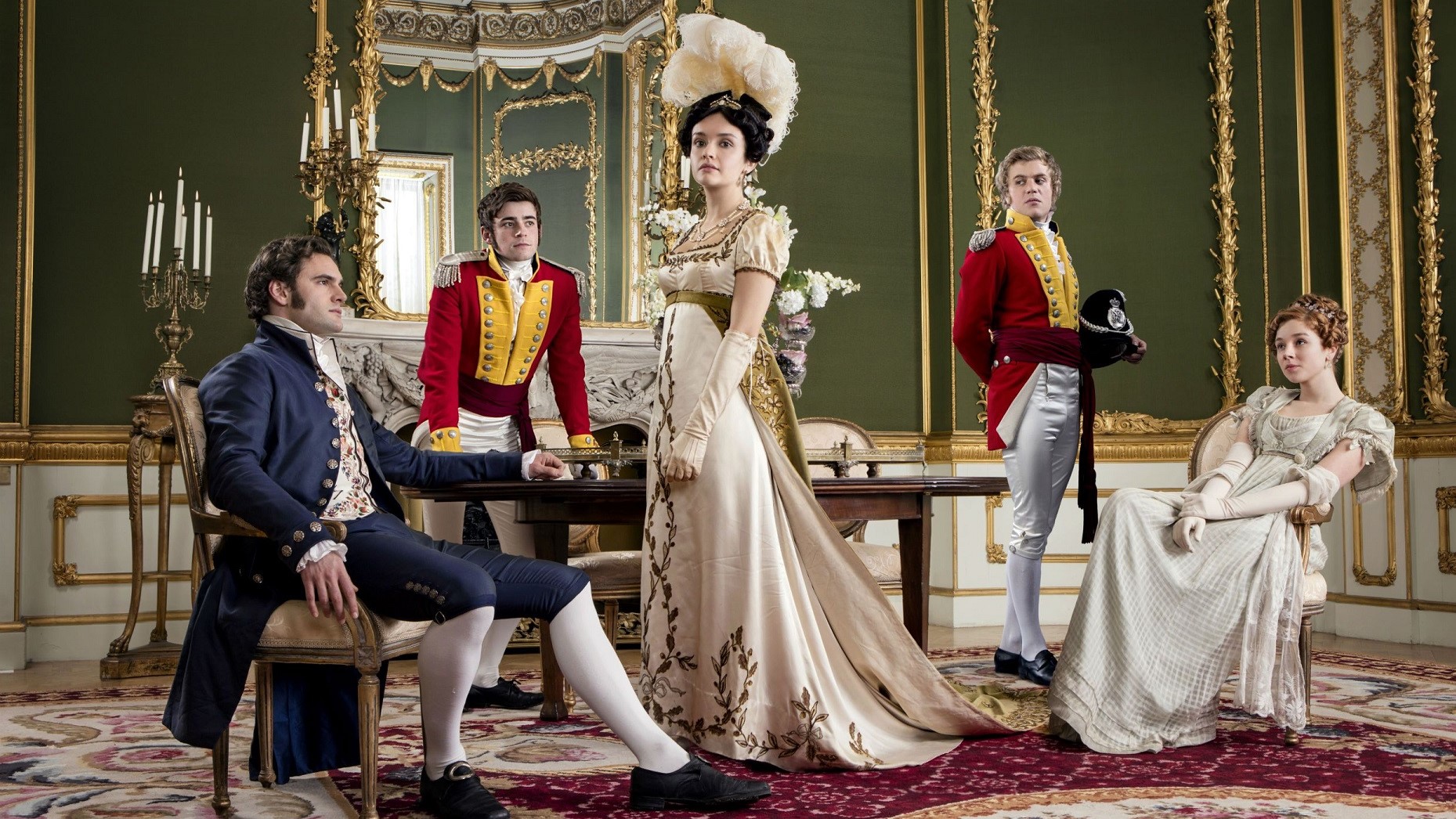 Olivia Cooke stars in this seven-part miniseries adaption of the novel by William Thackeray about an ambitious young woman determined to climb the social ladder. This fun romp through the classes is an emotional story with many characters to both love and hate. Whether you like the story's protagonist or not, there is no denying Becky Sharpe is sharp as a tack and willing to do whatever it takes to get what she wants. You have to admire her ambition.
Also starring Tom Bateman, Johnny Flynn, Charlie Rowe, Martin Clunes, and more.
Vanity Fair is streaming on Amazon Prime.
Jane Eyre (2011)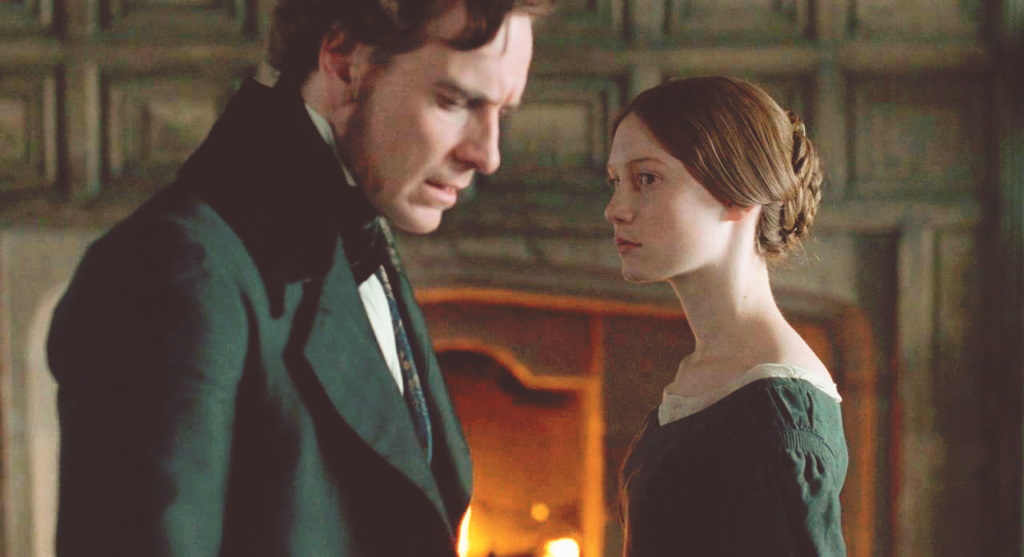 Jane Eyre is a story about overcoming hidden secrets. Jane is an orphaned governess who finds employment with the mysterious Mr. Rochester. Based on Charlotte Brontë's classic novel of secrets and romance.
Starring Michael Fassbender, Mia Wasikowska, Jamie Bell, Judi Dench, Sally Hawkins, and more.
Jane Eyre is streaming on Cinemax and available to own / rent on Amazon.
Honorable Mention: To Walk Invisible: The Bronte Sisters streaming on Amazon is a compelling look at the lives of the literary trio.
Far From the Madding Crowd (2015)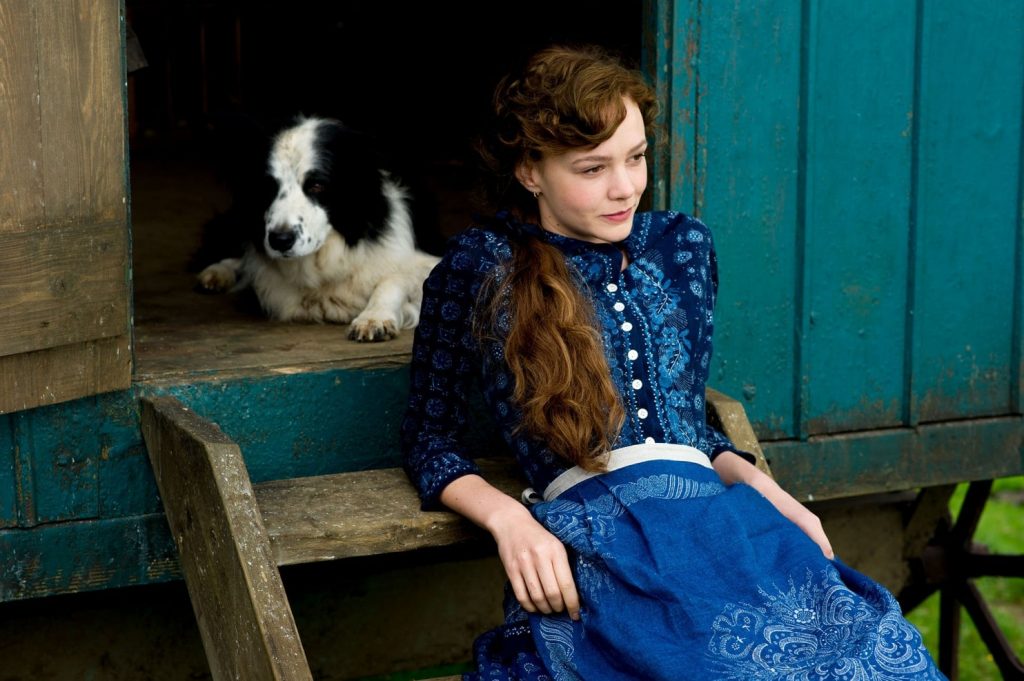 Based on Thomas Hardy's classic novel, this period drama has gorgeous cinematography and a great cast. The story follows destitute shepherd Gabriel Oak, Bathsheba Everdene who inherits a farm, her bachelor neighbor William Boldwood, farm-hand Fanny Robin who has gone missing, and the mysterious soldier Sargent Francis Troy.
This epic tale of passion, love, and nature stars Carey Mulligan, Matthias Schoenaerts, Tom Sturridge, Juno Temple, and Michael Sheen.
Rent or own Far From the Madding Crowd on Amazon.
Miss Scarlet & The Duke (2020)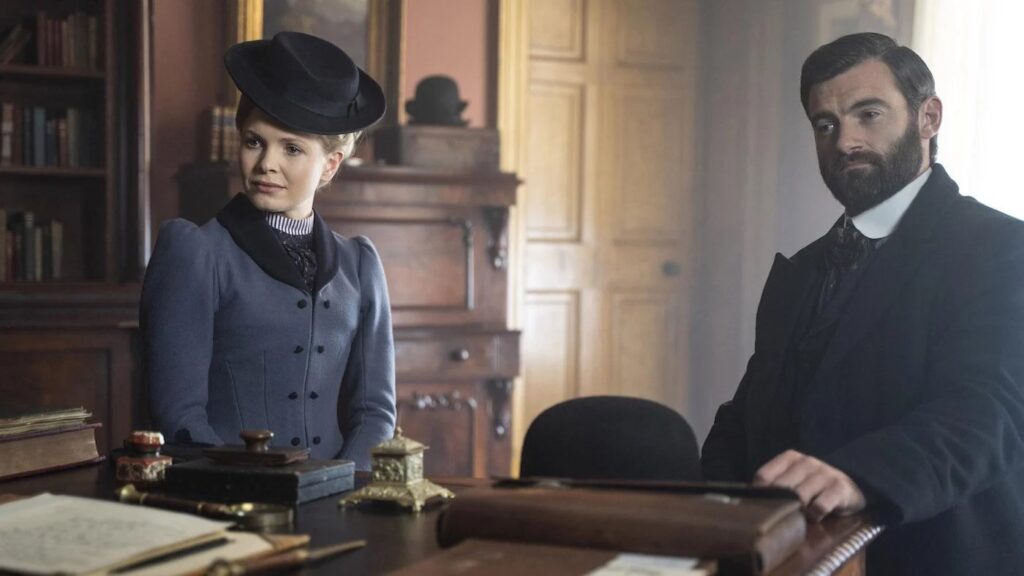 Eliza Scarlet's life is in turmoil after the death of her father, a private investigator. She's losing her home and has no means of income. Her only sellable skill? Investigation. That is, if anyone will believe she is a detective. Being a female detective in Victorian England isn't the easiest gig, but she holds her own.
She spends most of her time trying to squeeze her way onto the cases of DI William Wellington, known as "The Duke" to his friends. William has been a constant in her life since childhood and was a good friend to her father, so he feels obligated to help her, although begrudgingly.
Miss Scarlet & The Duke stars Kate Phillips, Stuart Martin, and Kevin Doyle. It's rated 7.5/10 on IMDb and was recently renewed for second season, so there's more to come.
Watch Miss Scarlet & The Duke HERE
The English Game (2020)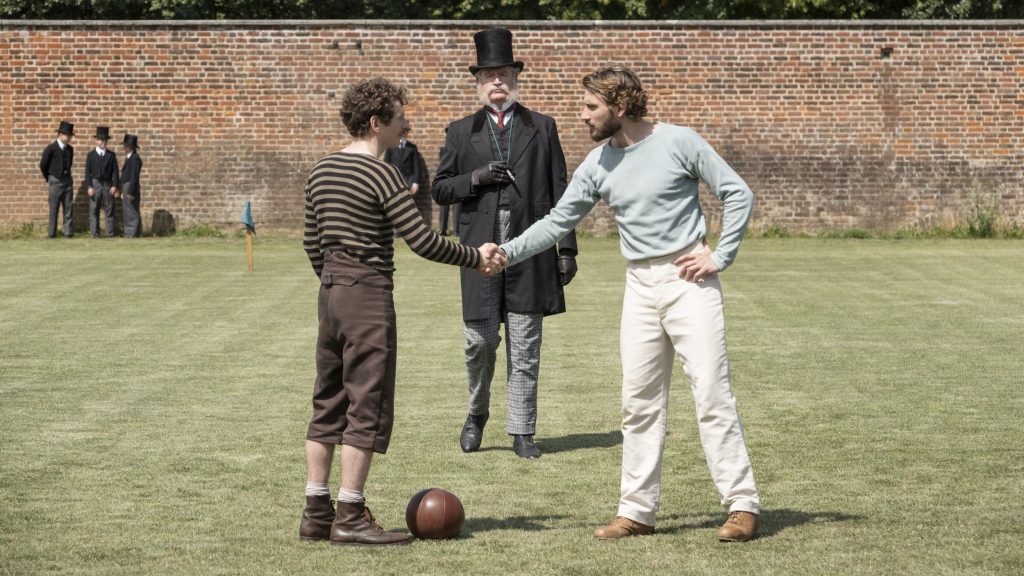 The English Game is another period drama by Julian Fellowes, creator of Downton Abbey. If you're not a sports fan, don't worry. It's primarily a historical drama about social class contentions and the birth of an elitist sport eventually claimed by the whole world. There are many wonderful characters whose stories are compelling. There's romance, drama, and a little football (soccer), too. Fans of period dramas like Downton Abbey will enjoy this also.
Starring Kevin Guthrie, Edward Holcroft, and Charlotte Hope.
The English Game is a 6-part miniseries streaming on Netflix.
Mr. Selfridge (2013)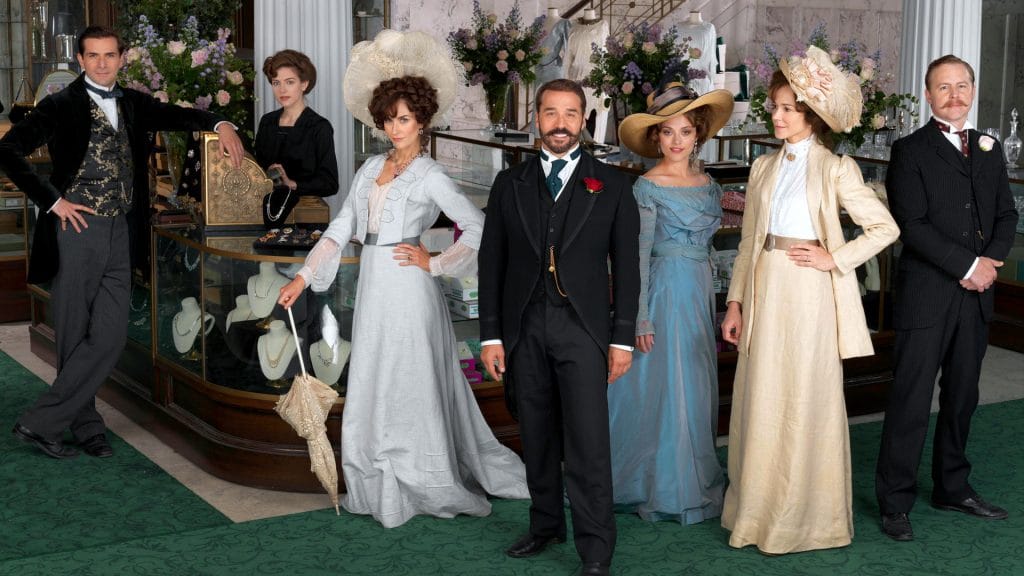 Mr. Selfridge begins in 1908. This popular show tells the story of entrepreneur Harry Gordon Selfridge and the department store he built on Oxford Street in London.
Starring Jeremy Piven, Katherine Kelly, Amanda Abbington, Ron Cook, and Tom Goodman-Hill.
Stream Mr. Selfridge on PBS Masterpiece via Amazon.
Howards End (2017)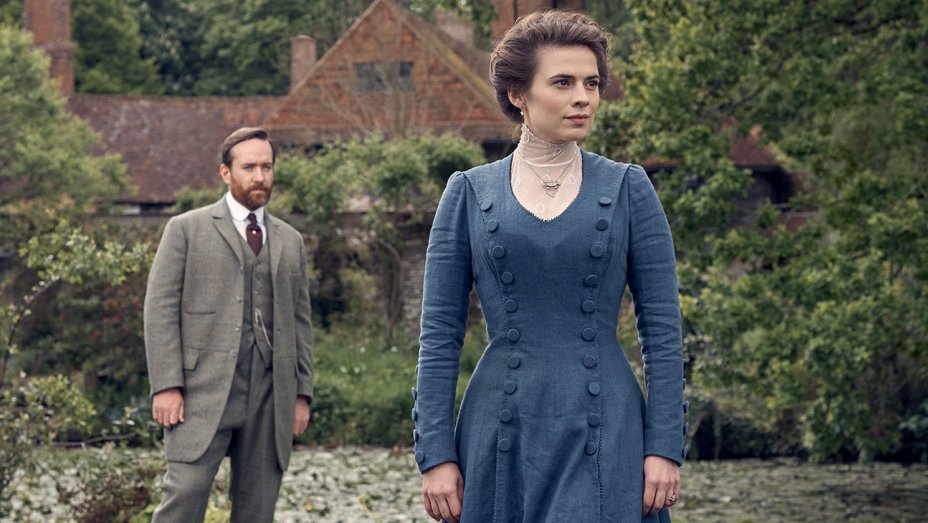 The story of Howards End revolves around three families: the Wilcoxes, the Schlegel siblings, and the Basts. Margaret Schlegel befriends the Wilcox matriarch who promises her the family house, Howards End. But when Mrs. Wilcox dies, her will is nowhere to be found.
Like many of the miniseries listed so far, this story delves into social divides and is based on a classic novel. It also has some gorgeous cinematography. It stars Haley Atwell and Matthew Macfayden.
Howards End is streaming on Amazon Prime.
Downton Abbey (2010)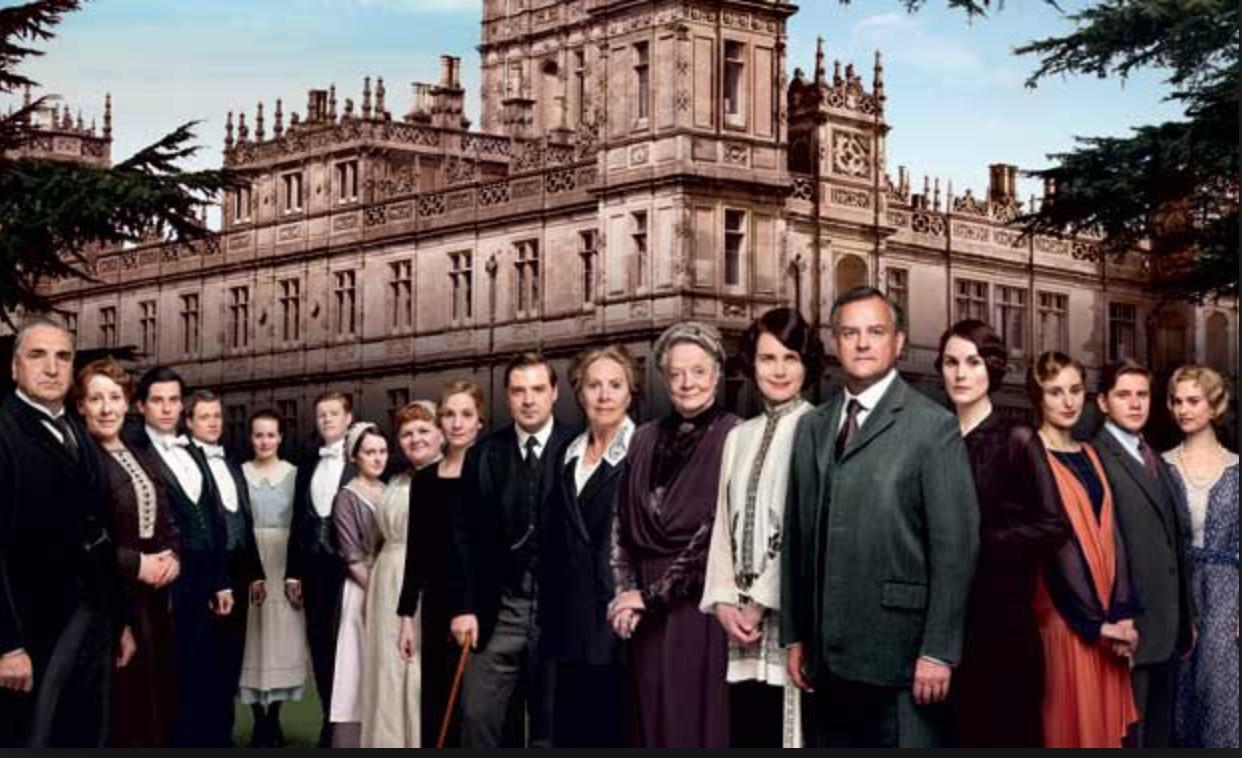 Downton Abbey begins in 1912 with the sinking of the Titanic. This tragedy is just a taste of what is to come: WWI. Downton Abbey is an epic saga following both the upper-class Crawley family and their servants. It's set in a luxurious Edwardian mansion in Yorkshire.
Continue the story with the movie, released in 2019 – now streaming on HBO and available to rent/own on Amazon. A sequel will be in cinemas Christmas 2021.
Honorable Mention: the 2010 version of Upstairs, Downstairs. Fans of the original Upstairs, Downstairs, The Forsyte Saga, and Downton Abbey will enjoy the star-studded update with Keeley Hawes, Ed Stoppard, and Dame Eileen Atkins. Streaming on BritBox.
War Horse (2011)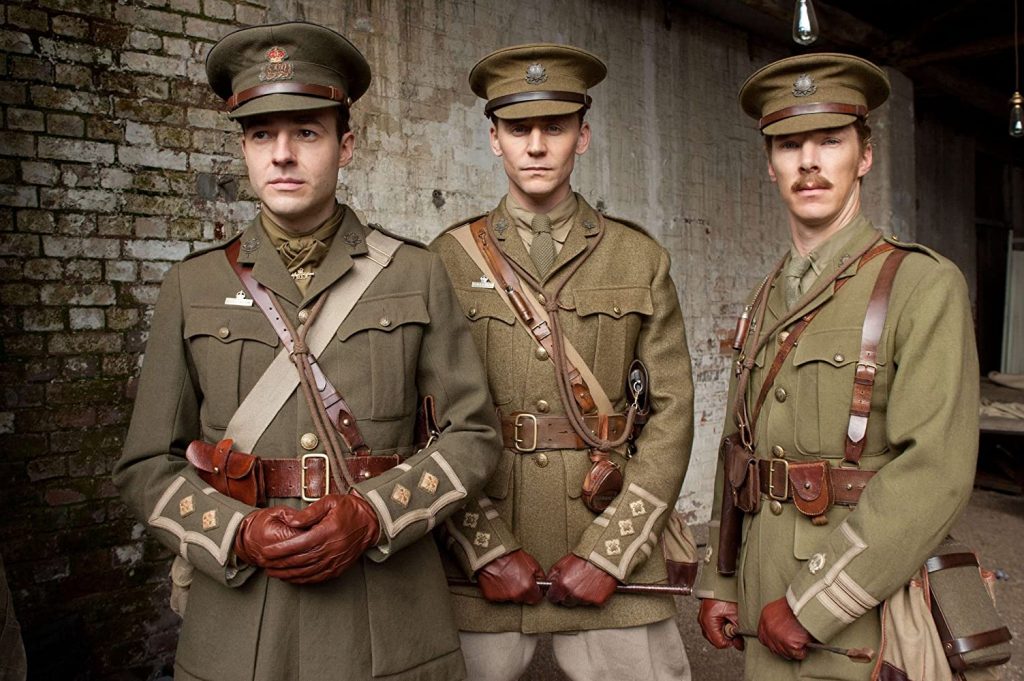 This epic tale from director Stephen Spielberg stars a ton of British heavyweights, including Benedict Cumberbatch, Tom Hiddleston, Emily Watson, David Thewlis, and many more.
The story follows Albert and his horse Joey as they are separated at the start of the Great War when horses were drafted into the cavalry. Albert does everything he can to find his best friend again and keep him from harm. War Horse is based on a novel by Michael Morpurgo.
War Horse is available to rent or own on Amazon.
Want more WWI stories? We have a list of WWI Movies & Shows HERE.
Testament of Youth (2014)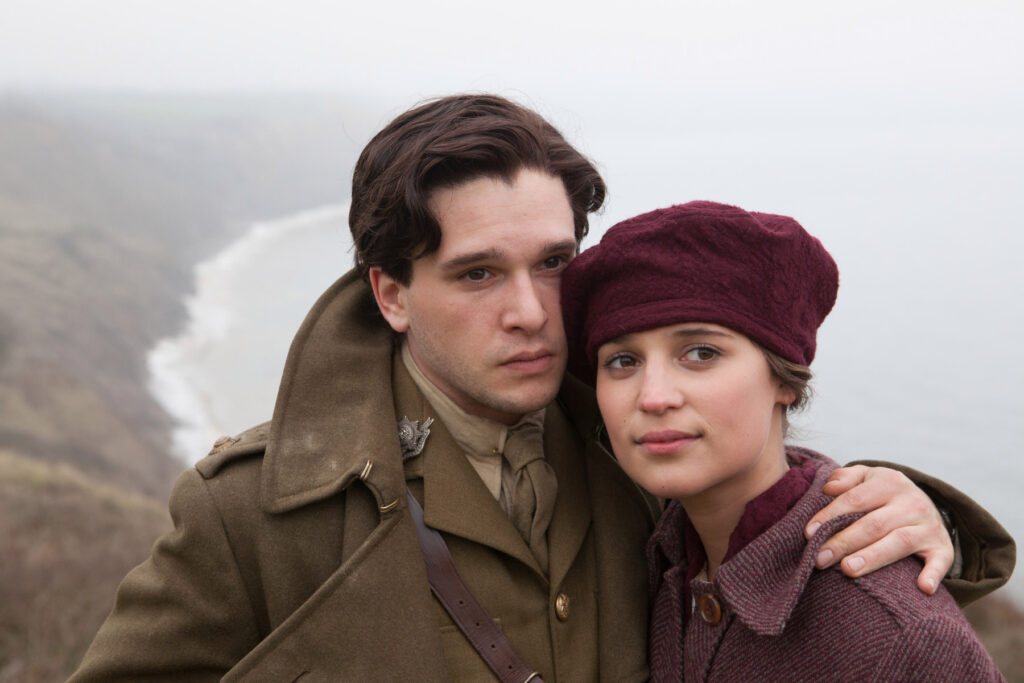 If you enjoy romance, Testament of Youth is based on the memoirs of Vera Brittain—an English Voluntary Aid Detachment nurse and pacifist. This coming-of-age story deals with young love, the senseless brutality of war, and struggling to find hope under the weight of war.
You'll find more familiar faces in Testament of Youth, too. It stars Swedish actress Alicia Vikander along with Kit Harington, Colin Morgan, Taron Egerton, Dominic West, Emily Watson, Miranda Richardson, and more.
It's available to buy or rent through Amazon.
Peaky Blinders (2013)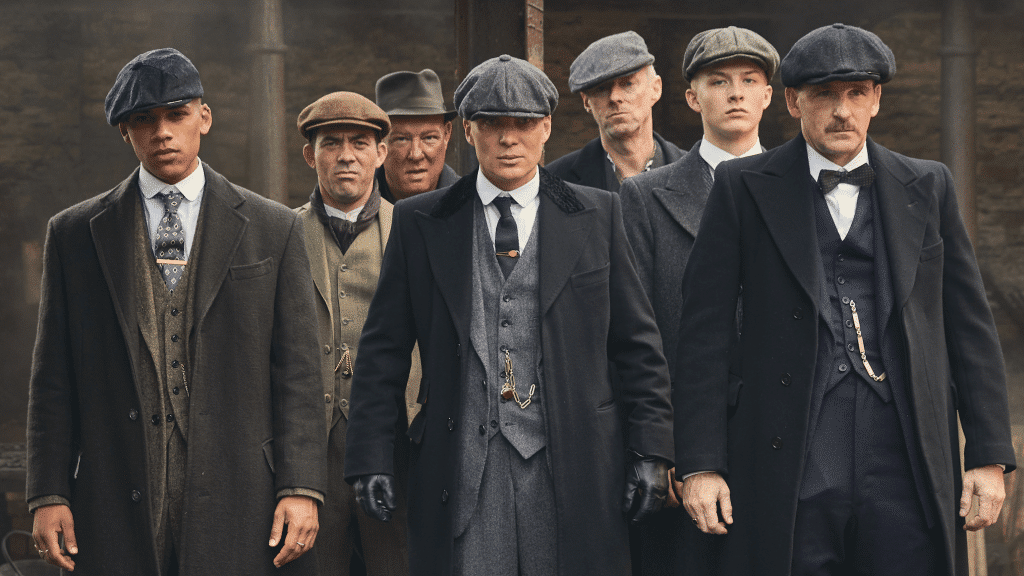 WWI is over and the world will never be the same. Set in industrial Birmingham, Peaky Blinders follows Thomas Shelby, a crime boss hell-bent on success. The characters are complex and the women are powerful. It's also a unique look at a historical criminal underworld not often featured on screen.
It stars Cillian Murphy, Paul Anderson, Helen McCrory, Sophie Rundle, and many more wonderful actors.
Peaky Blinders is streaming on Netflix.
And Then There Were None (2015)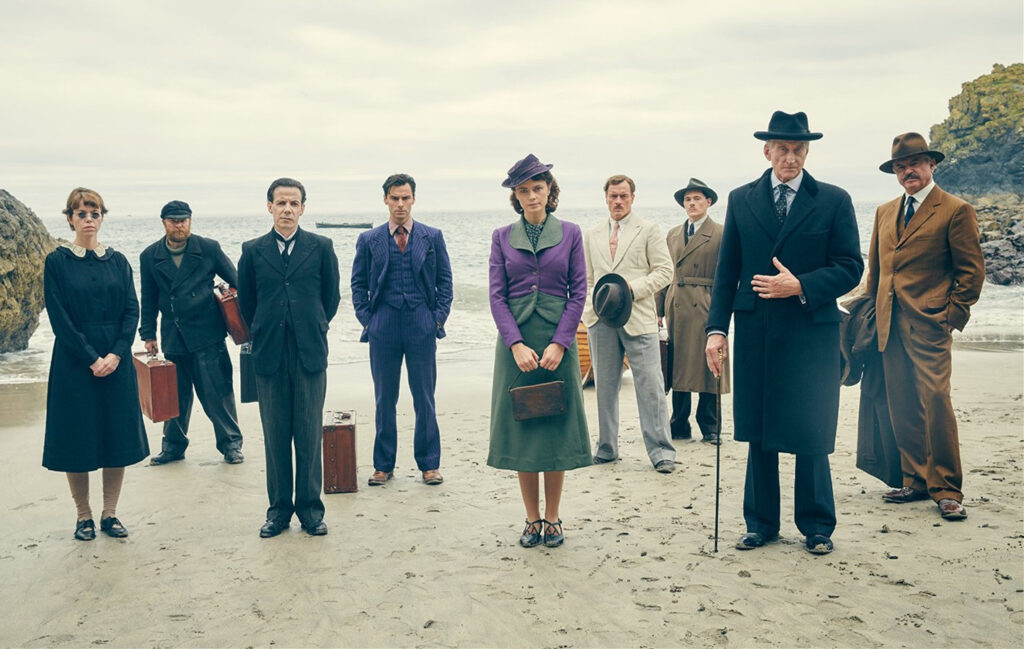 This Agatha Christie tale is a little different and is one of (if not the most) best-selling crime novel of all time. There's no Marple or Poirot to provide hope. It's bleaker and more mature. The sense of mystery and dread is beautifully conveyed through the cinematography and setting.
The story takes place on a small island off the coast of Devon where eight people, all strangers, are invited to stay in a manor. Not sold yet? The cast is beyond star-studded. You'll see Douglas Booth, Charles Dance, Maeve Dermody, Burn Gorman, Anna Maxwell Martin, Sam Neill, Miranda Richardson, Toby Stephens, Noah Taylor, and Aidan Turner.
And Then There Were None is available to stream on Acorn, alternatively you can purchase it on Amazon.
The King's Speech (2010)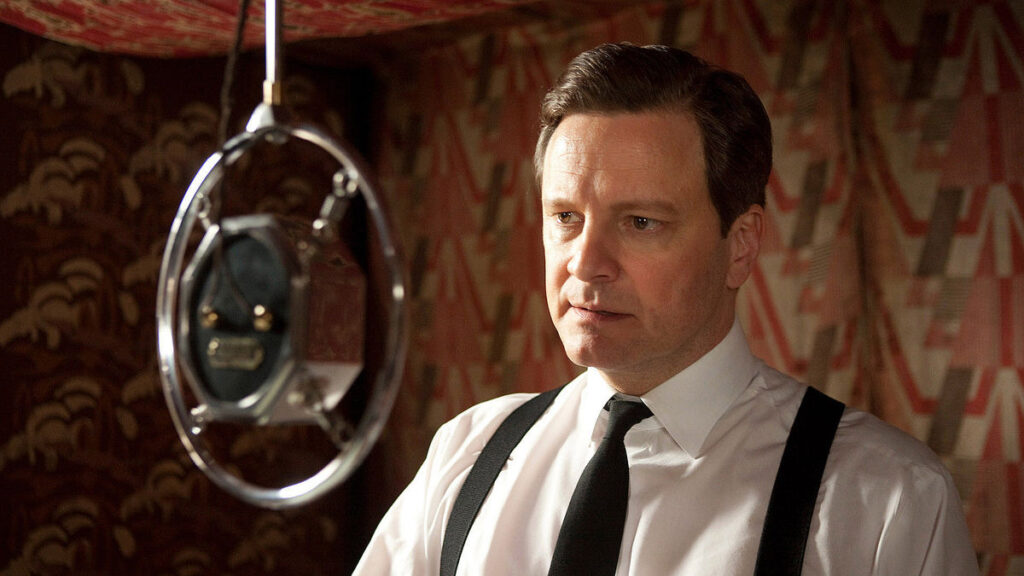 Just over ten years ago, it seemed like The King's Speech was all anyone could talk about. This moving, spectacular film ended up with 12 nominations at the Academy Awards and ended up winning four: Best Picture, Best Director (Tom Hooper), Best Original Screenplay (David Seidler), and Best Actor (Colin Firth). In total, it was nominated for 185 awards and won 70.
This film follows King George VI's struggle with speech. "Bertie," as he was known to his family and friends, developed a stuttering condition in childhood without much improvement throughout his adult life despite seeing many doctors. Out of options, he begins a reluctant relationship with Lionel Logue, an Australian speech and language therapist who insists on working in his home office and being treated as an equal.
Starring Colin Firth, Geoffrey Rush, Helena Bonham Carter, Guy Pearce, Timothy Spall, Derek Jacobi, Jennifer Ehle, and Michael Gambon.
The King's Speech is available to rent or own on Amazon.
All Creatures Great & Small (2020)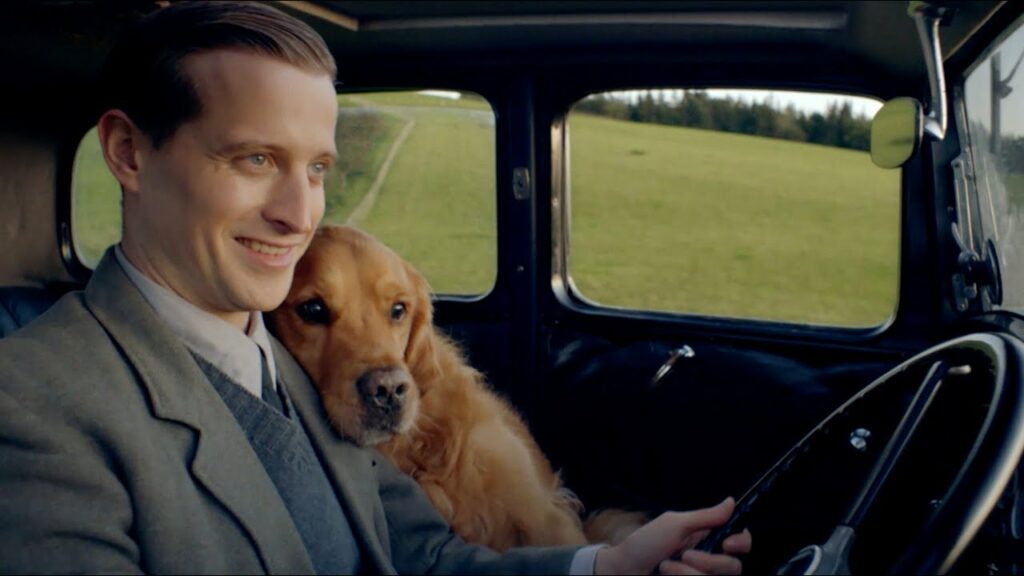 All Creatures Great & Small follows the lives of young veterinarian James Herriot, his boss Siegfried Farnon, Siegfried's brother Tristan, their housekeeper Mrs. Audrey Hall, and Helen Alderson, a local farmer's daughter.
What's different to the original show? This reinterpretation of the classic show features Mrs. Hall as a more prominent character and also brings in some romance for the leading men. This new adaptation is gorgeously filmed, with sweeping Yorkshire landscapes of green fields and adorable animals. It's quaint, comforting, and a joy to watch.
Both versions draw inspiration from James Harriot's memoirs. James Harriot was the pen-name of real-life vet James Alfred "Alf" Wight who lived from 1916 to 1995.
All Creatures Great & Small stars newcomer Nicholas Ralph along with Samuel West, Anna Madeley, Callum Woodhouse, Matthew Lewis, Rachel Shenton, and Dame Diana Rigg.
Stream All Creatures Great & Small on PBS Masterpiece.
The Imitation Game (2014)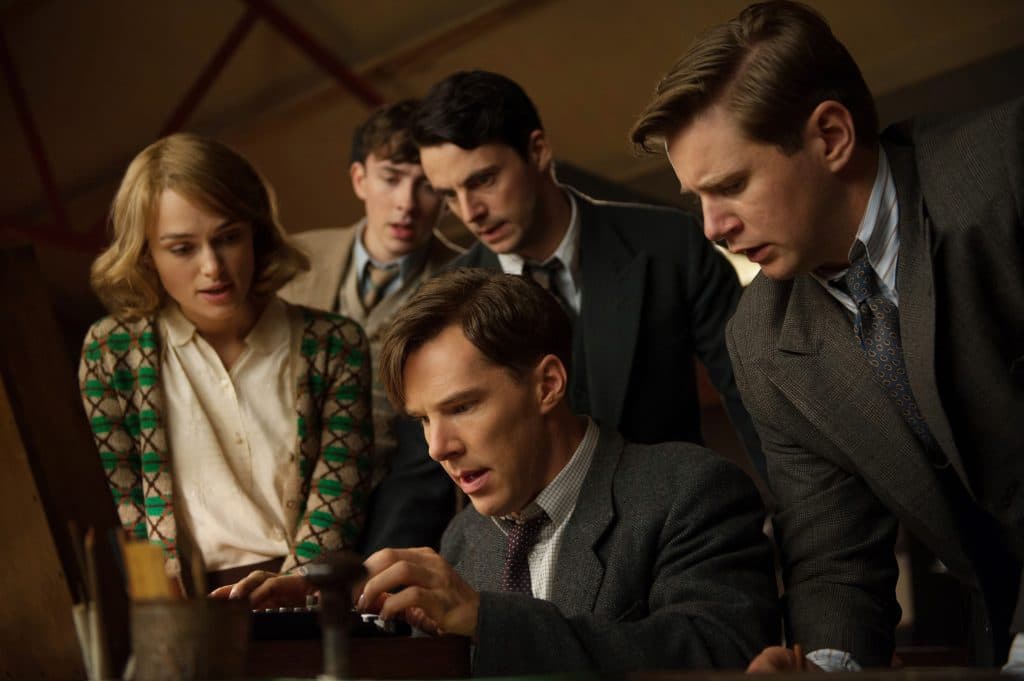 The Imitation Game follows Alan Turing and Britain's top-secret Government Code and Cypher School at Bletchley Park as they try to crack the German Enigma code.
It stars Benedict Cumberbatch as Alan Turing, along with Keira Knightley, Matthew Goode, Rory Kinnear, Charles Dance, Mark Strong, Tom Goodman-Hill, and other excellent actors.
The Imitation Game is available to rent or purchase on Amazon.
The Guernsey Literary and Potato Peel Pie Society (2018)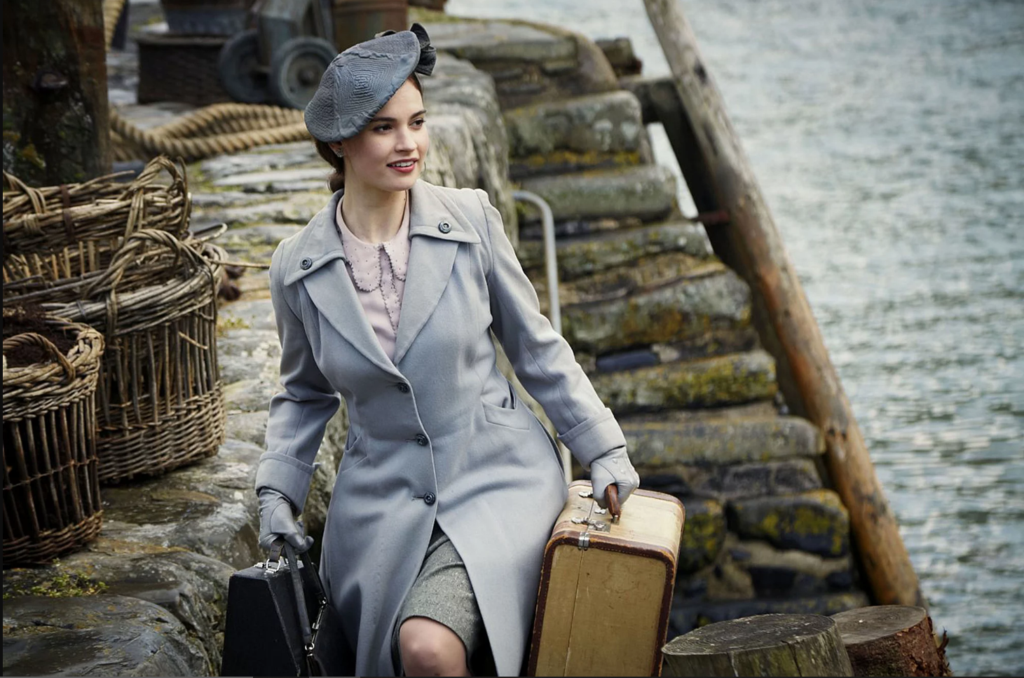 Guernsey is a channel island that was occupied by Germans during the war. This film takes place at the very end of WWII and recounts the history of the society's formation and why it has such an odd name. The story is primarily a romance. It is based on the novel by Mary Ann Shaffer and Annie Barrows.
It stars Lily James, Michiel Huisman, Jessica Brown, Katherine Parkinson, Penelope Wilton, and Matthew Goode.
It's currently streaming on Netflix.
The Crown (2016)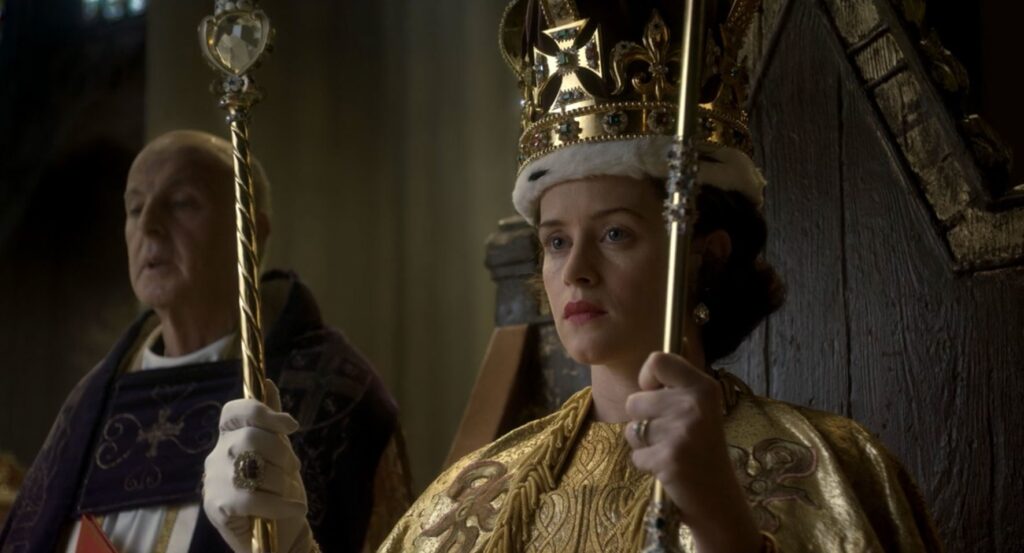 The Crown follows some of Queen Elizabeth's youth and her marriage in 1947, but primarily focuses on her ascension to the throne. The first season covers events up to 1955. Season two covers 1956 – 1964. With high production values and gorgeous cinematography, this show ended up being quite the phenomenon, much like Downton Abbey.
Initially starring Claire Foy, Matt Smith, Vanessa Kirby, Jared Harris, and many more.
And then for seasons three and four, in order to age the characters, the cast was changed to: Olivia Colman (HRH Queen Elizabeth), Tobias Menzies (Prince Phillip), Helena Bonham Carter (Princess Margaret), Josh O'Connor (Prince Charles), Emma Corrin (Lady Diana), and Gillian Anderson (Margaret Thatcher).
The final two seasons, five and six, will star Imelda Staunton (Queen Elizabeth), Jonathan Pryce (Phillip), Lesley Manville (Margaret), Dominic West (Charles), and Elizabeth Debicki (Diana). Filming for season five begins in July 2021.
The Crown is streaming on Netflix.
Call the Midwife (2012)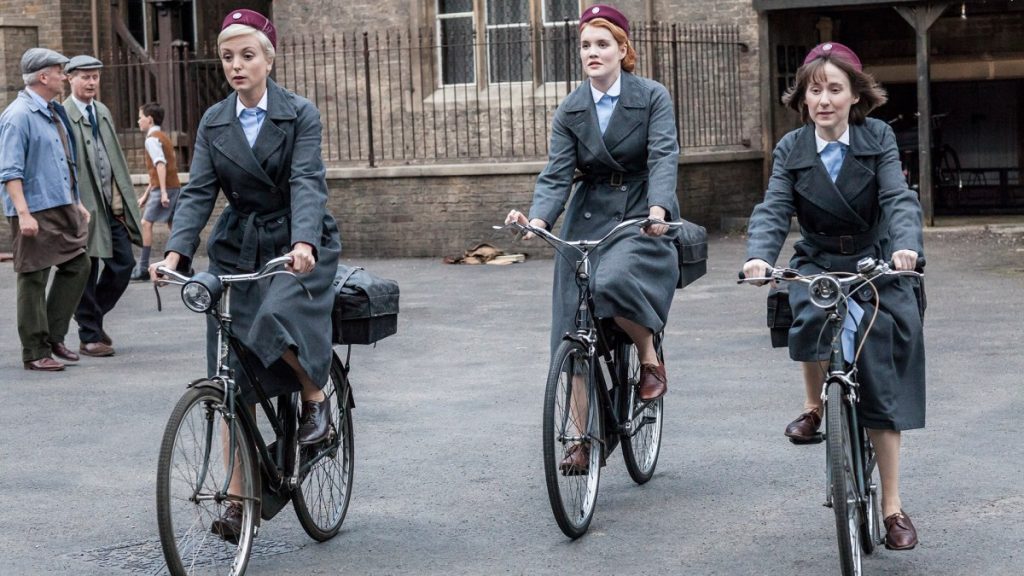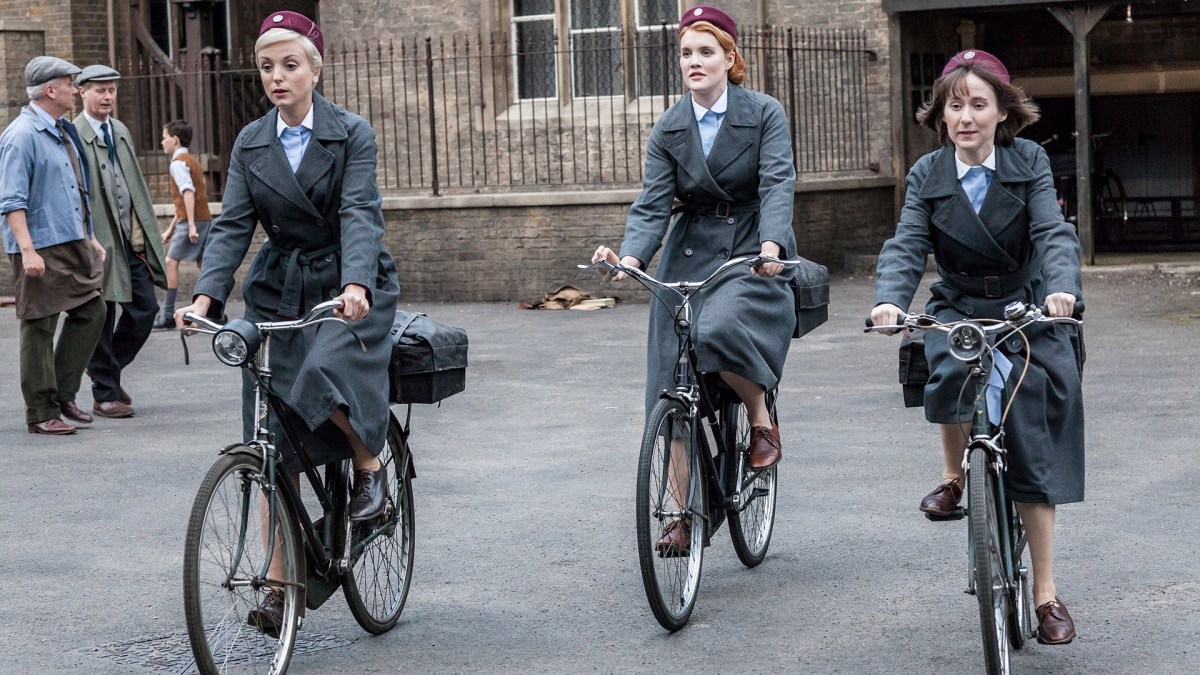 Call the Midwife follows a group of midwives from the 1950s onwards. It deals with community, family life, and social difficulties. Seasons 1 – 3 take place in the 1950s and the show currently has 10 seasons. This emotional show shows us all walks of life from the perspective of midwives in an ever-changing post-war country.
Starring Vanessa Redgrave (narration), Jessica Raine, Judy Parfitt, Jenny Agutter, Helen George, Miranda Hart, and more.
Call the Midwife is streaming on Netflix for now or can be purchased on Amazon.
The Durrells (2016)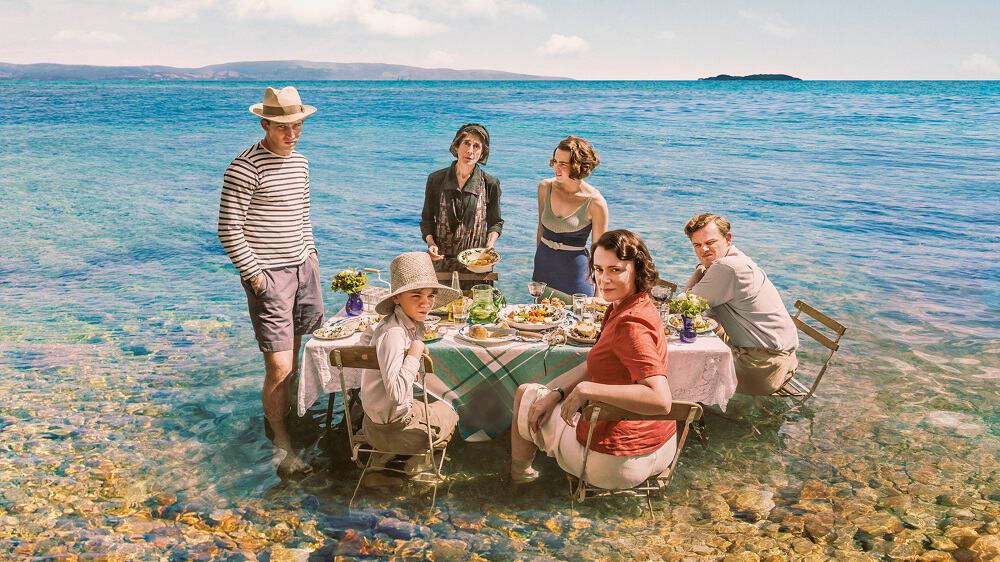 The Durrell family heads to Corfu looking for a new start. There, they get up to all sorts of shenanigans. The youngest boy Gerald, is keenly interested in the native critters, his brother Leslie doesn't know what to do with himself, their sister Margo is a boy-crazy teenager, and the oldest son Lawrence is an exasperated writer. Keeley Hawes stars as their mother; she's doing her best to keep the kids in line and live her own life. Based a true story and the memoirs of Gerald Durrell.
This show boasts gorgeous scenery, quirky characters, and heartfelt story lines. Also starring Josh O'Connor, Milo Parker, Daisy Waterstone, and Callum Woodhouse.
Stream The Durrells in Corfu on Amazon Prime.
Grantchester (2014)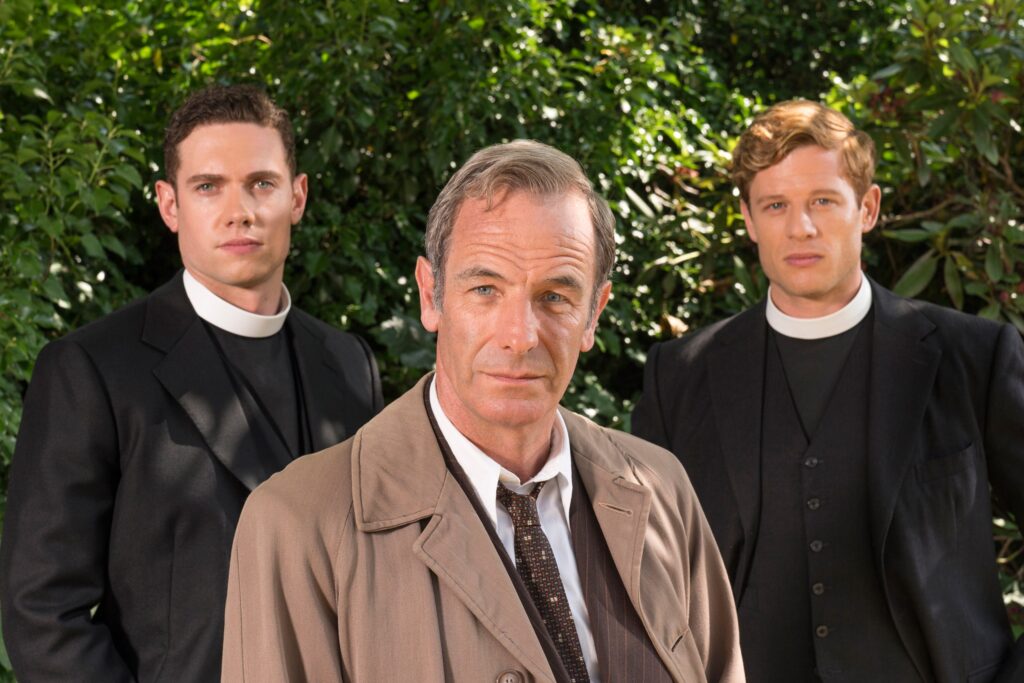 In the beginning of Grantchester, James Norton plays a young jazz-loving vicar in a complicated relationship with a woman he can't have. He and a veteran cop (Robson Greene) work to solve the crimes of their community. If you like will-they-won't-they romances and mysteries, this one's for you. This show is based on the series of mystery books by James Runcie.
Then, in season four, Tom Brittney takes over as the new vicar, Will Davenport – a modern breath of fresh air who rides a motorcycle and wears a leather jacket.
Five seasons of Grantchester are streaming on Amazon Prime.
Mrs. Wilson (2018)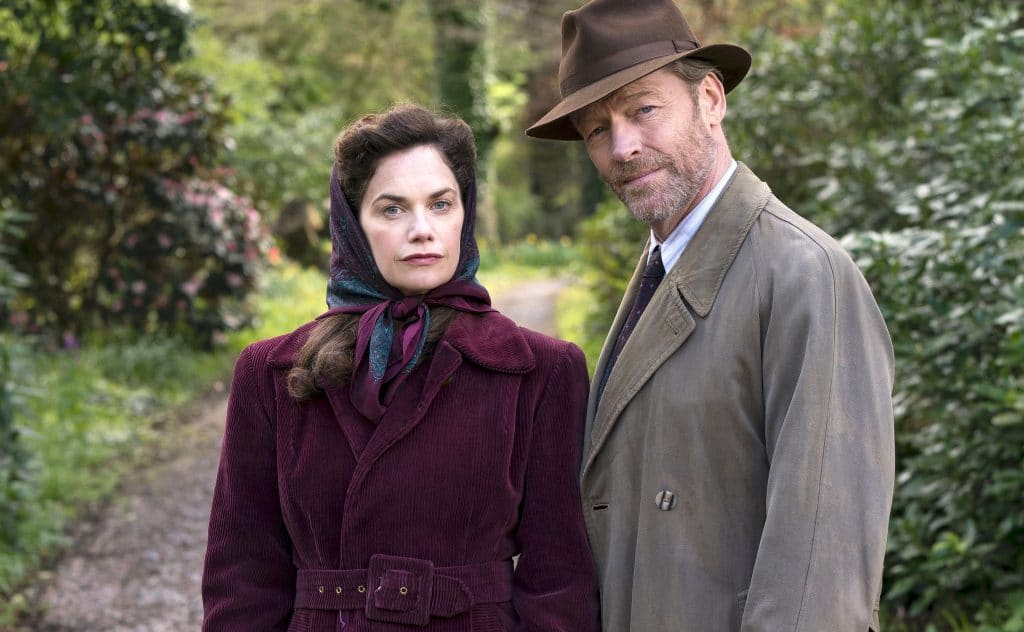 Mrs. Wilson is based on the true story of a woman whose husband passes away in 1963 and, in the aftermath of his death, finds out her husband has another family she didn't know about.
It's a compelling tale that keeps peeling back layers of secrets. This miniseries was beloved by so many because of one unique circumstance: Ruth Wilson plays her own grandmother.
This three-part miniseries also stars Iain Glen, Keeley Hawes, Fiona Shaw, and Patrick Kennedy.
Stream Mrs. Wilson on PBS Masterpiece via Amazon.
Endeavour (2012)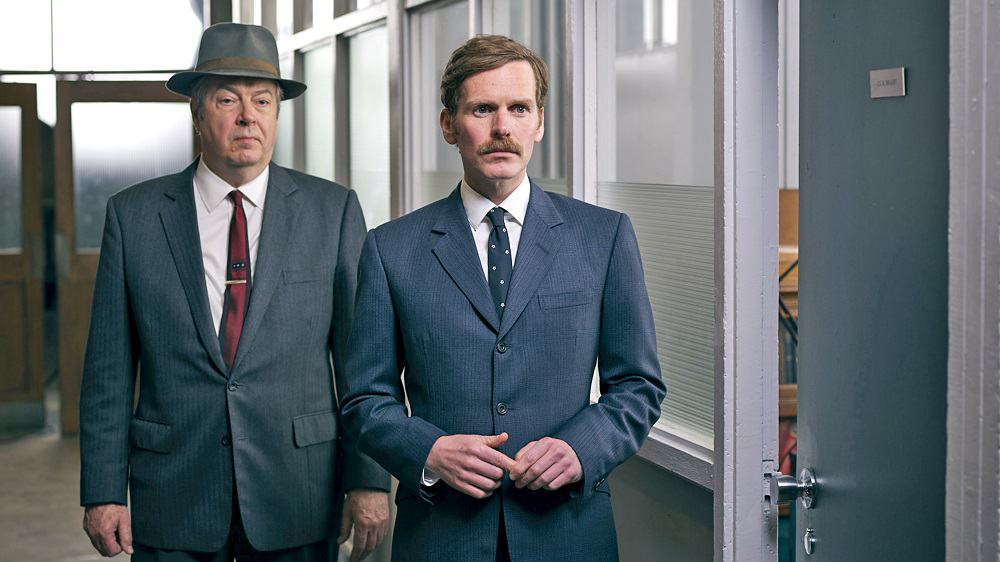 Endeavour begins in the early 60s and carries through to the 70s. It stars Shaun Evans as young Endeavour Morse. Although this is a prequel to the Inspector Morse series starring John Thaw, you can start with Endeavour if you haven't seen Morse. Roger Allam plays Fred Thursday, Morse's partner. They have a great relationship as colleagues and friends, even if it ebbs and flows a little.
This show features mysteries, drama, romance, and great production values – it's no wonder fans flock to it in droves.
There are currently 7 seasons, with an 8th on the way.
Stream Endeavour on Amazon Prime.
What is your favourite British period drama from 2010-2020?
Let us know in the comments!
Need more? Check out our other lists:
Save it to Pinterest!