28 WWII Movies and TV Shows + Where To Watch Them
In some cases, we earn commissions from affiliate links in our posts.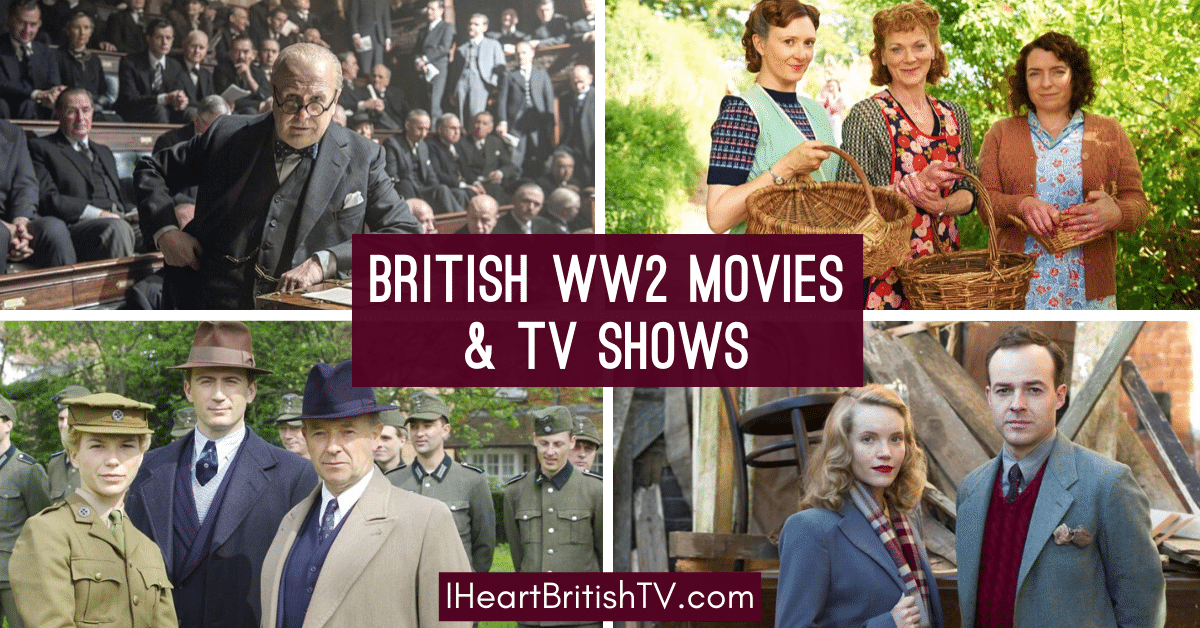 WWII Movies and TV Shows + Where To Watch Them
Some called WWI "the war to end all wars" but just 21 years later, another world war broke out. Of course, those who couldn't fight on the front lines needed to help in other ways: from joining the Women's Land Army and growing victory gardens to working at Bletchley Park on the German's enigma cypher. WWII made life different and difficult, but the Brits were able to keep calm and carry on in the face of extreme adversity and hardship.
Want to check out WWI movies and shows first? We've got a post just like this one for WWI.
We curated a list of movies and shows about WWII from the past twenty years that focus as much on the war as life on the home front. Check it out below.
But first, a little trivia…
Where does "Keep Calm and Carry On" come from?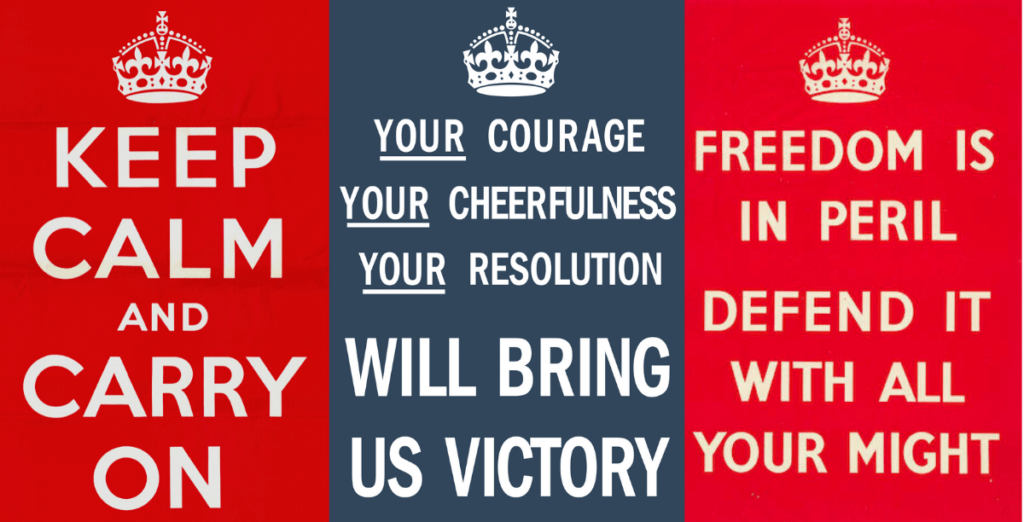 The "Keep Calm and Carry On" poster was designed by the Ministry of Information in the summer of 1939 to inspire people to get through the looming war. This poster was also accompanied by "Freedom is in Peril / Defend it with all Your Might" and "Your Courage / Your Cheerfulness / Your Resolution / Will Bring us Victory." The resurgence of the "Keep Calm and Carry On" poster began twenty years ago when Stuart and Mary Manley, owners of Barter Books Ltd. in Northumberland, found the poster in a box of second-hand books they bought at auction. They framed the poster and hung it by the cash register. There, people were so interested in it that they began to reproduce it and sell copies.
The catchy poster reminds us to calmly face adversity with a stiff upper lip.
Can it get more British than that?
WWII Movies
Atonement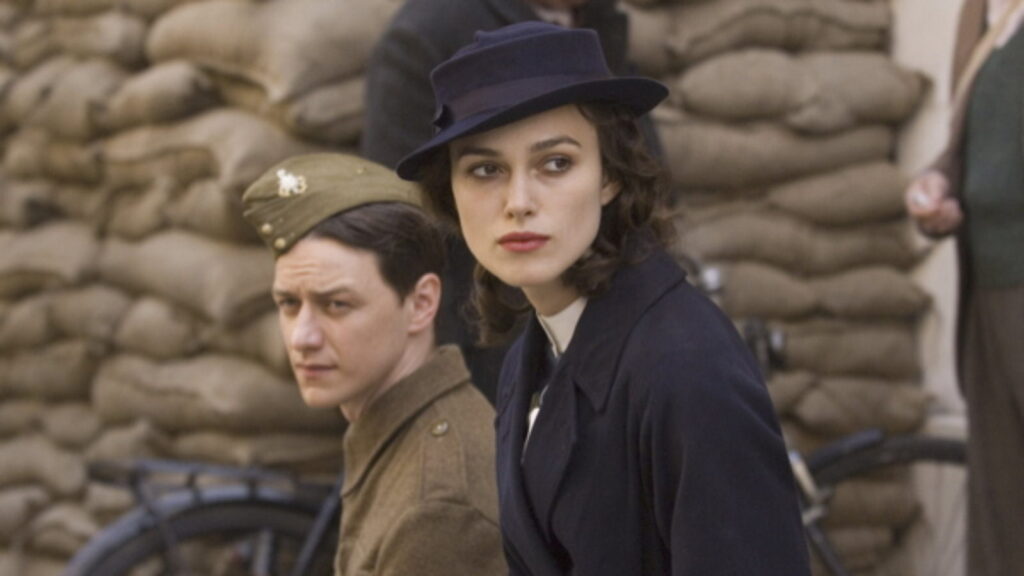 Based on the novel by Ian McEwan, this movie is a must-see. When a thirteen-year-old girl accuses her older sister's lover of a crime he didn't commit, the interwoven lives of several characters are affected. This film demonstrates how one small event can change the course of history.
It was nominated for 7 Academy Awards, including best picture.
Even if the synopsis doesn't sound quite like your cup of tea, Atonement is worth watching for the outstanding cast. You'll see James McAvoy, Kiera Knightley, Brenda Blethyn, Saoirse Ronan, Juno Temple, Alfie Allen, Patrick Kennedy, Daniel Mays, Tobias Menzies, Gina McKee, Romola Garai, Vanessa Redgrave, Benedict Cumberbatch, and more.
Atonement is streaming on Starz and is available for rent or purchase on Amazon.
Dunkirk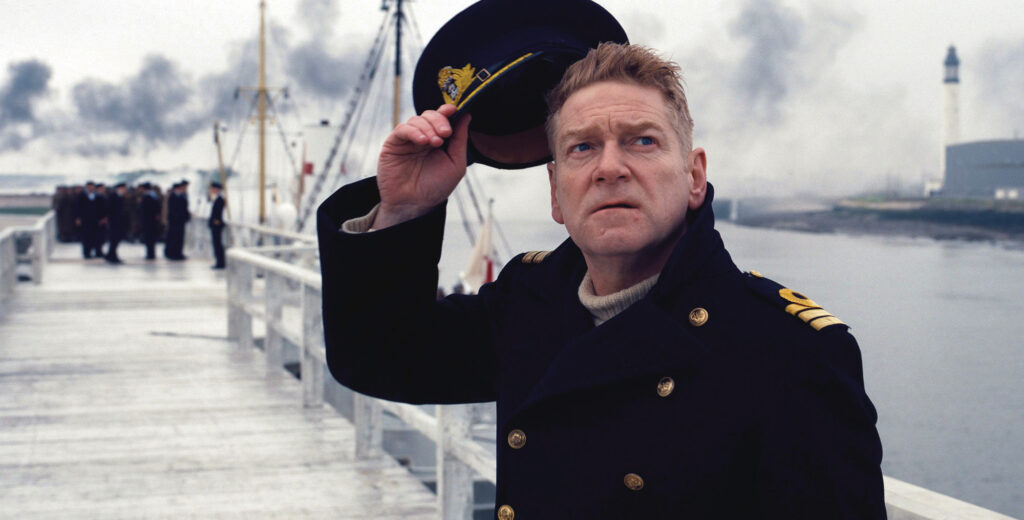 This authentic story follows allied soldiers, surrounded by German soldiers, during the battle of Dunkirk. It's an understated movie by renowned director Christopher Nolan that leans towards realism.
Dunkirk balances wonderful lesser known actors with plenty of familiar faces. Along with newcomer Fionn Whitehead, it stars Damien Bonnard, Aneurin Barnard, Tom Hardy, Harry Styles, Kenneth Branagh, James D'Arcy, Lee Armstrong, Cillian Murphy, Bill Milner, and more.
Dunkirk is available to rent or purchase on Amazon.
Darkest Hour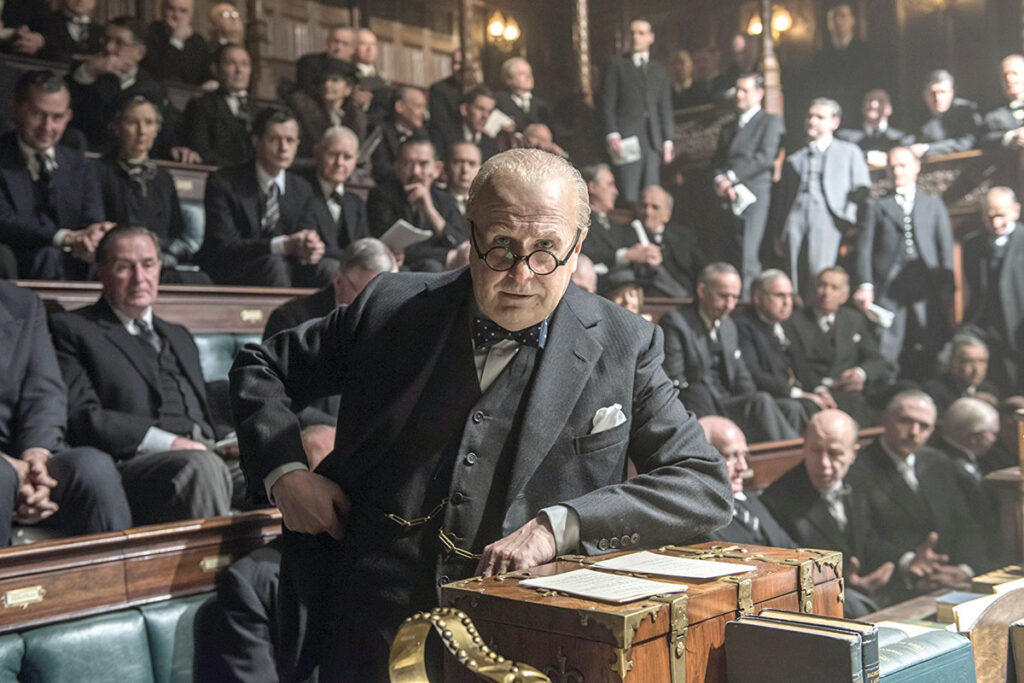 Darkest Hour begins on the eve of war. The story follows Winston Churchill as he must navigate the treacherous waters of politics, from negotiating a peace treaty with Nazi Germany, to being undermined by his own party. We know he changes the course of world history, but with this film—you'll watch him do it. And none other than the legendary Gary Oldman stars as Churchill.
Darkest Hour was nominated for six Academy Awards.
It also stars Kristin Scott Thomas, Lily James, Stephen Dillane, Joe Armstrong, and more.
It was directed by Joe Wright, the director of Atonement.
You can also rent or purchase it on Amazon.
The Imitation Game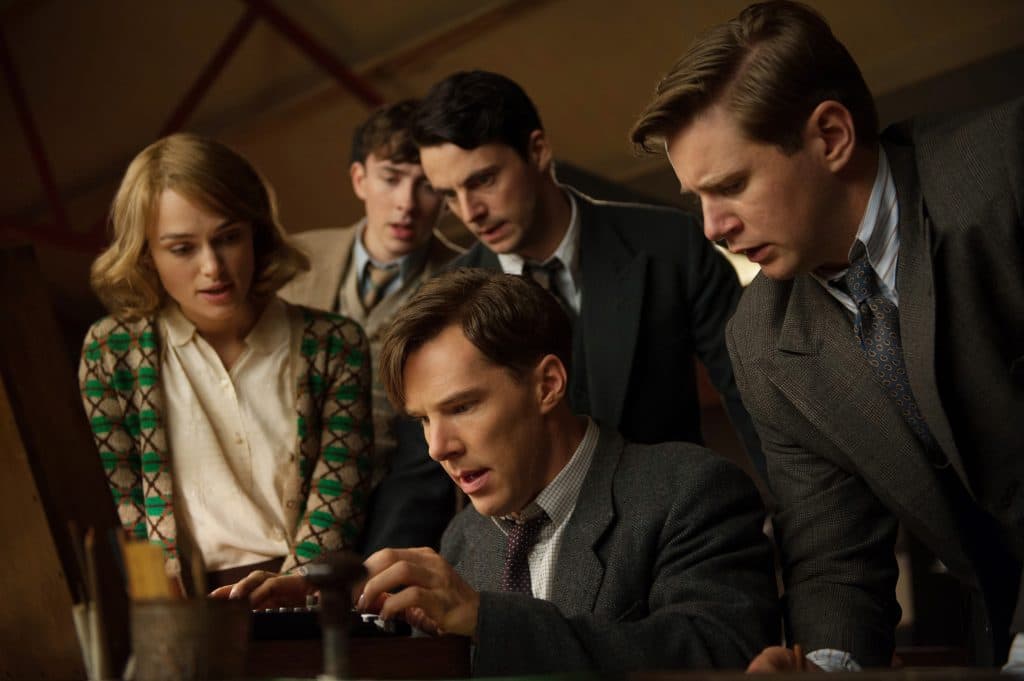 The Imitation Game follows Alan Turing and Britain's top-secret Government Code and Cypher School at Bletchley Park as they try to crack the German Enigma code. It stars Benedict Cumberbatch as Alan Turing, along with Keira Knightley, Matthew Goode, Rory Kinnear, Charles Dance, Mark Strong, Tom Goodman-Hill, and other excellent actors.
The Imitation Game is available to rent or purchase on Amazon.
Their Finest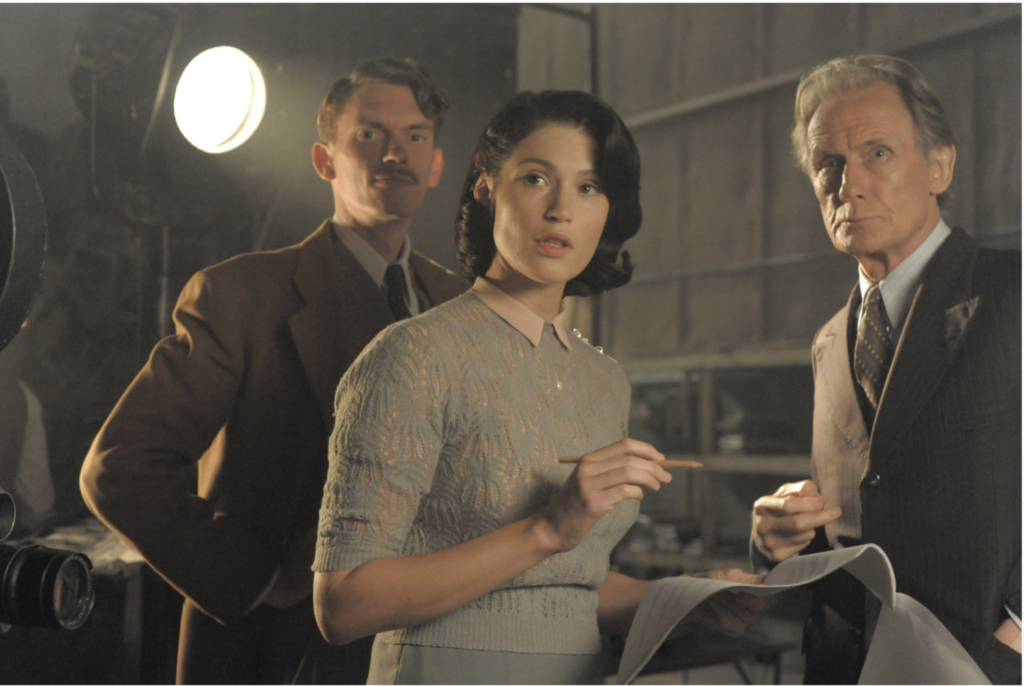 If you'd rather watch something more lighthearted, check out Their Finest starring Gemma Arterton, Sam Claflin, and Bill Nighy. Gemma Arterton plays a secretary-turned scriptwriter for propaganda films to inspire the nation. It's available to rent or purchase on Amazon.
Guernica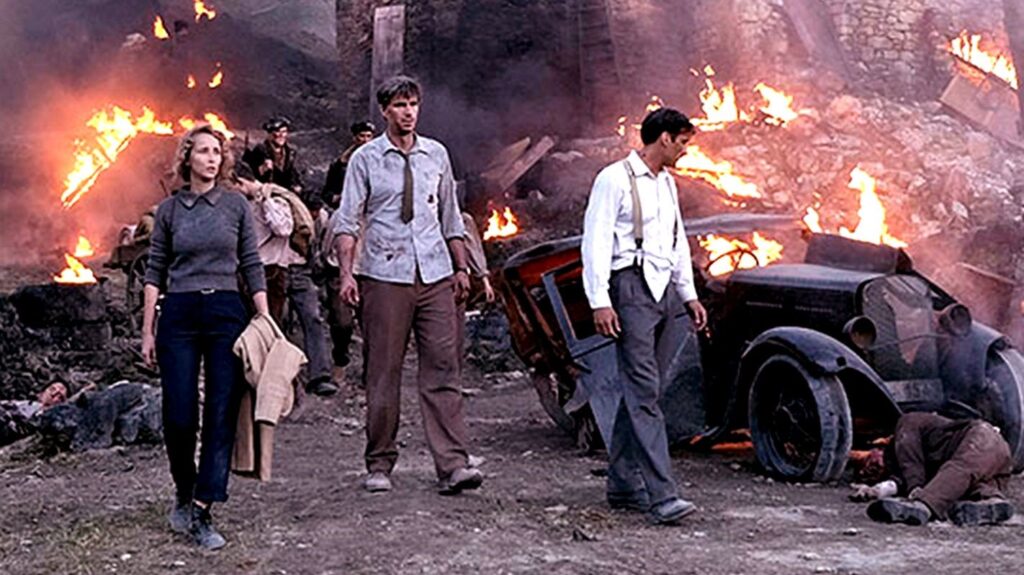 There are many interpretations claiming when WWII actually started. For many, the war began on April 26th, 1937 when the sleepy market city of Guernica, Spain was senselessly and brutally bombed (as part of the Spanish Civil War) by German pilots with the support of Mussolini's Italy.
This film stars British actor James D'Arcy as an American correspondent and María Valverde as a censor for the Republic. It's primarily a love story set against the Bombing of Guernica on the eve of WWII. It also stars British actor Jack Davenport.
Guernica is available for rent or purchase on Amazon.
Sisters of War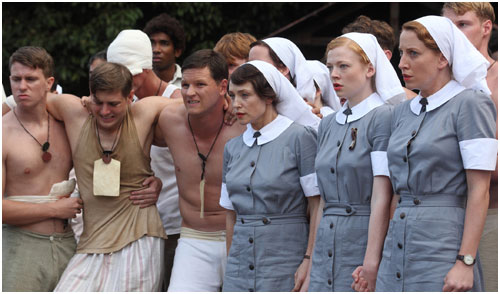 This Australian movie follows the lives of two Australian women, an army nurse and a Catholic nun stranded on a Pacific island near New Guinea. Big-budget movies don't always focus on littler-known aspects of war, so we're recommending this based on its different perspective of WWII events. It stars Claire van der Boom and Sarah Snook.
Sisters of War is streaming on Acorn.
Murder on the Home Front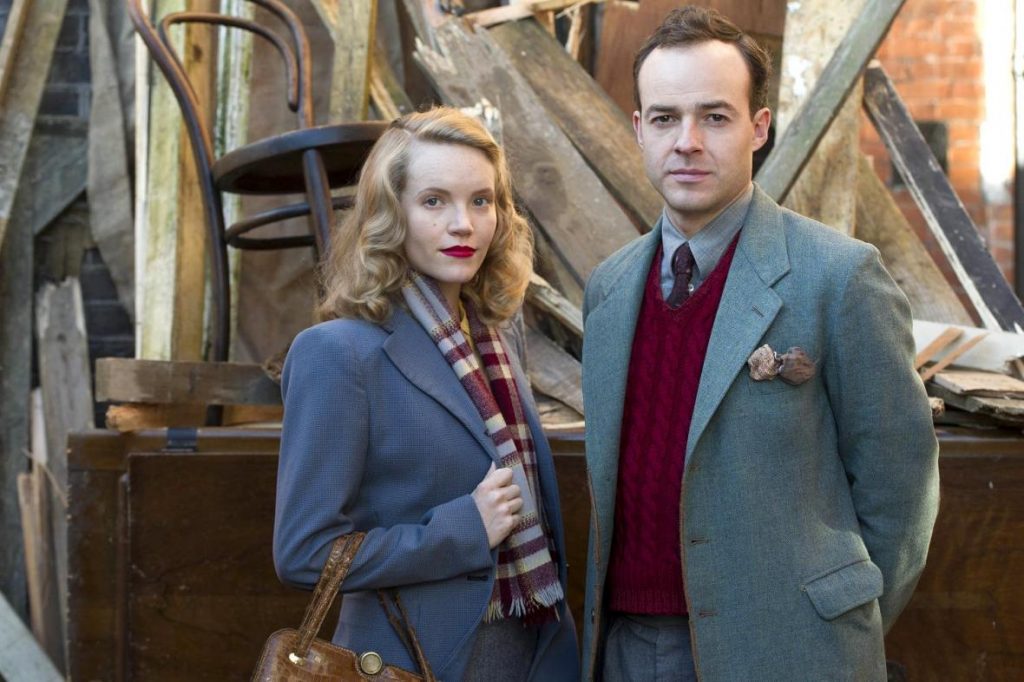 Looking for a quirky mystery? Murder on the Home Front stars Patrick Kennedy as an eccentric pathologist. As the Blitz rages on, murders still need solving. It's full of suspense and fun characters. We wish it had been picked up for a whole series, but unfortunately, it's a one-off movie.
You can stream it on PBS Masterpiece through Amazon.
The Gathering Storm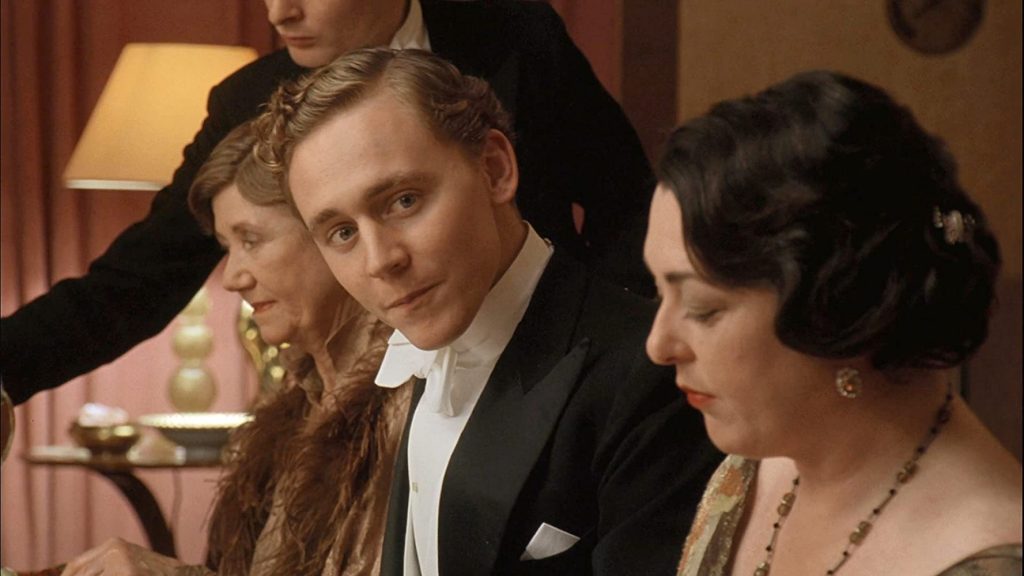 If Darkest Hour doesn't fill you up, The Gathering Storm is another great film featuring Winston Churchill. The Gathering Storm stars Albert Finney as Churchill. Vanessa Redgrave as his wife, Clemmie, and Tom Hiddleston as his son, Randolph. It also stars Jim Broadbent as Desmond Morton, along with Lena Heady, Linus Roache, Tom Wilkinson, Hugh Bonneville, and Derek Jacobi. It covers the years prior to WWII but is well worth watching.
The Gathering Storm is streaming on Amazon Prime.
Into The Storm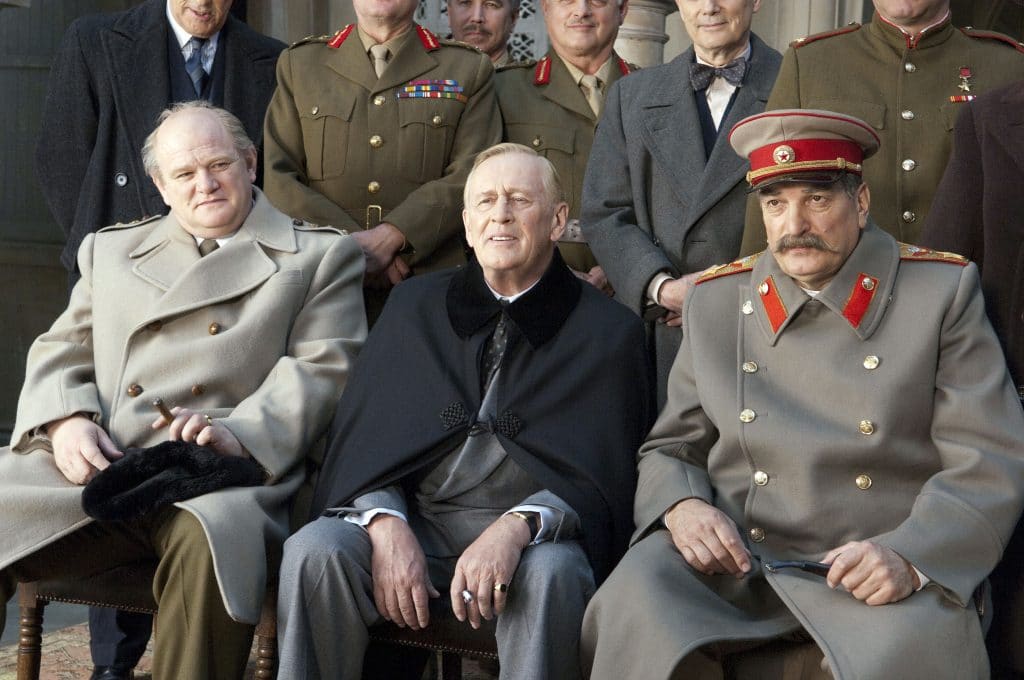 Into The Storm is the follow-up film to The Gathering Storm. It covers the five-year span of 1940 – 45 and stars Brendan Gleeson as Churchill, Iain Glen, James D'Arcy, Clive Mantle, Adrian Scarborough, Jack Shepherd, and Donald Sumpter, among others.
Like The Gathering Storm, Into The Storm is also streaming on Amazon Prime.
Suite Française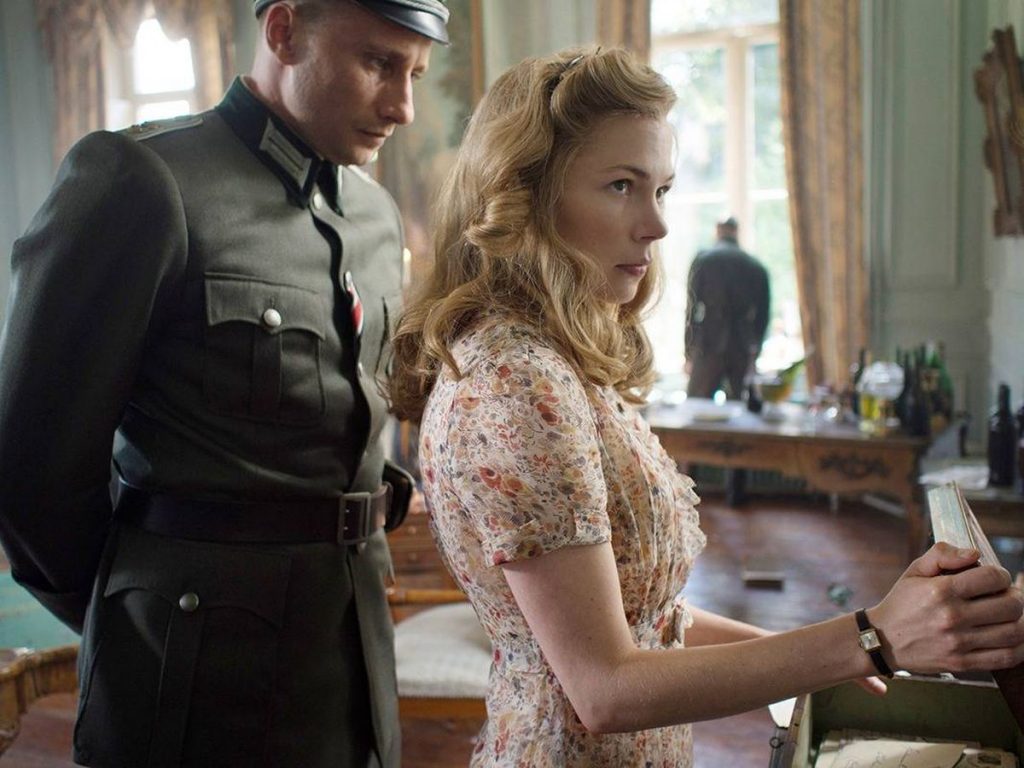 If forbidden romance is your cup of tea, do not miss this gorgeous film. Suite Française stars Michelle Williams, Kristin Scott Thomas, Margo Robbie, Ruth Wilson, and Matthias Schoenaerts. The story takes place in France and follows how the lives of French villagers are disrupted when German soldiers occupy their town.
It's streaming on Netflix. The DVD is available on Amazon.
Another Mother's Son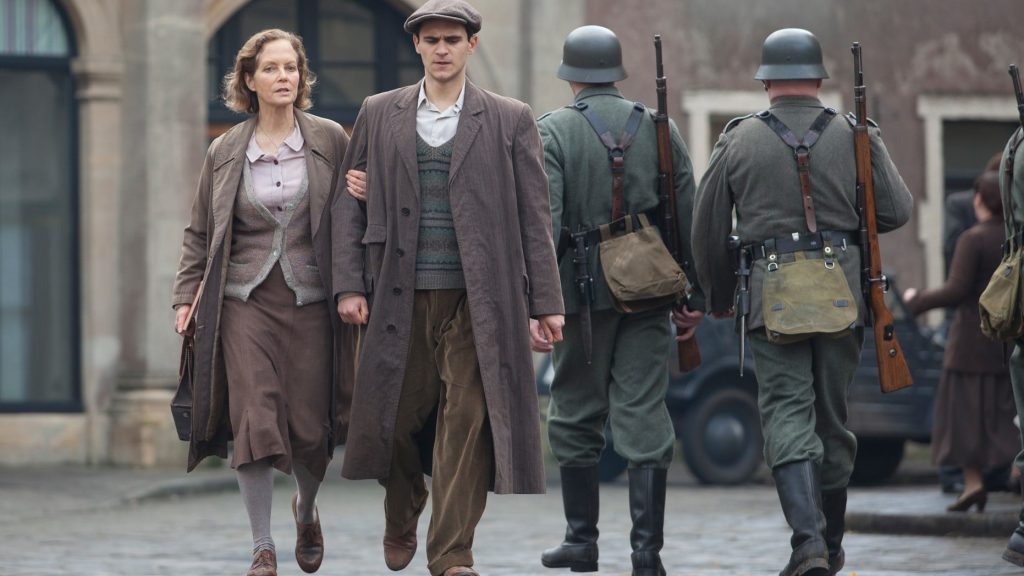 Another Mother's Son takes place on the channel island of Jersey in 1942 during the German occupation. After escaping a slave labor camp, a local woman harbors the Russian fugitive, feeling obligated to treat him like a son. It stars Jenny Seagrove, John Hannah, Amanda Abbington, Sophie Skelton, and Julian Kostov.
Another Mother's Son is streaming on Amazon Prime.
The Guernsey Literary and Potato Peel Pie Society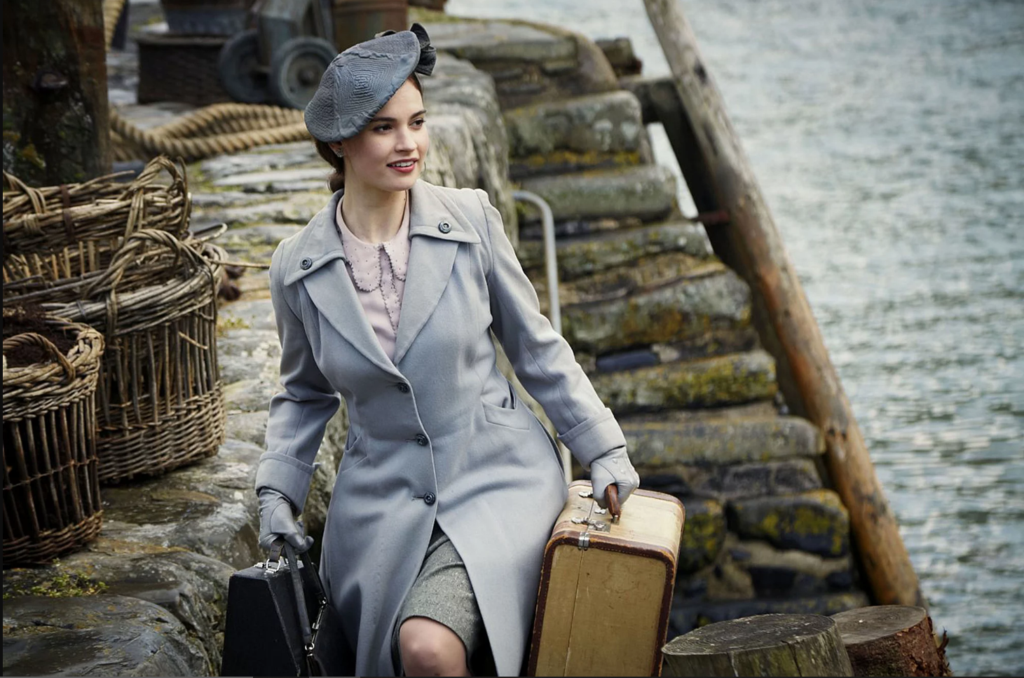 This film takes place at the very end of WWII and recounts the history of the society's formation. Guernsey is a channel island that was occupied by Germans during the war. The story is primarily a romance based on the novel of the same name by Mary Ann Shaffer. It stars Lily James, Michiel Huisman, Jessica Brown, Katherine Parkinson, Penelope Wilton, and Matthew Goode.
It's currently streaming on Netflix.
WWII TV Shows
Restless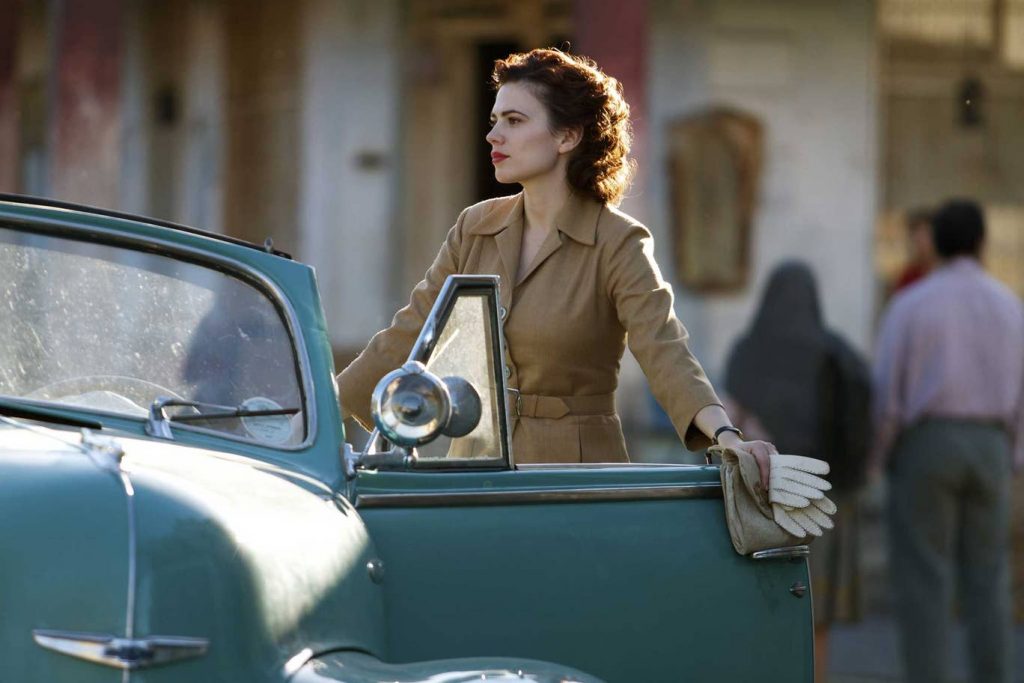 A three-hour film in two episodes, Restless is based on the best-selling novel by William Boyd. It follows the story of a young woman who discovers her mother is spy a for the British Secret Service. Ruth and Sally Gilmartin are played by Michelle Dockery and Charlotte Rampling.
It stars Hayley Atwell, Rufus Sewell, James Norton, and more.
You can watch it on Acorn.
Land Girls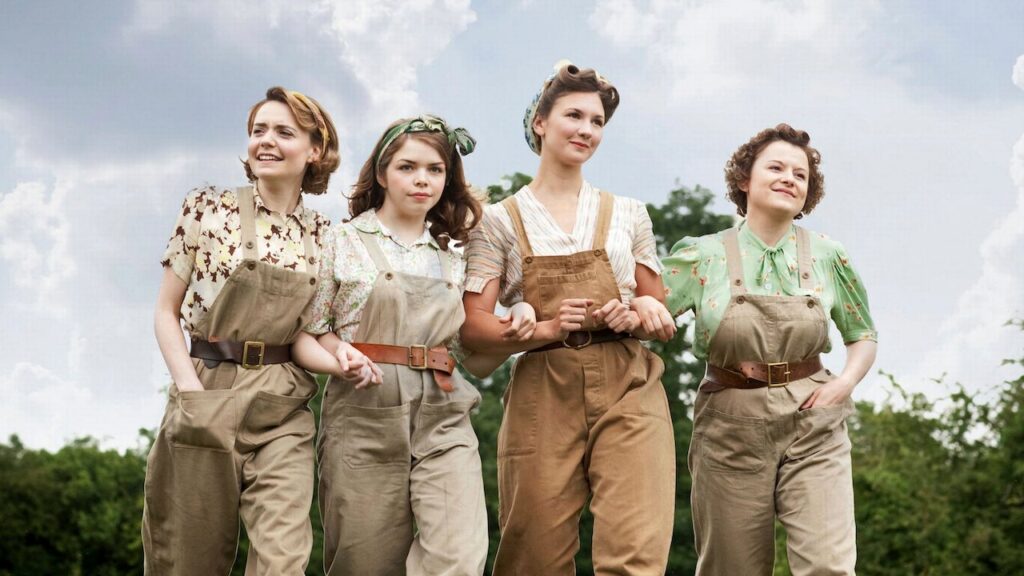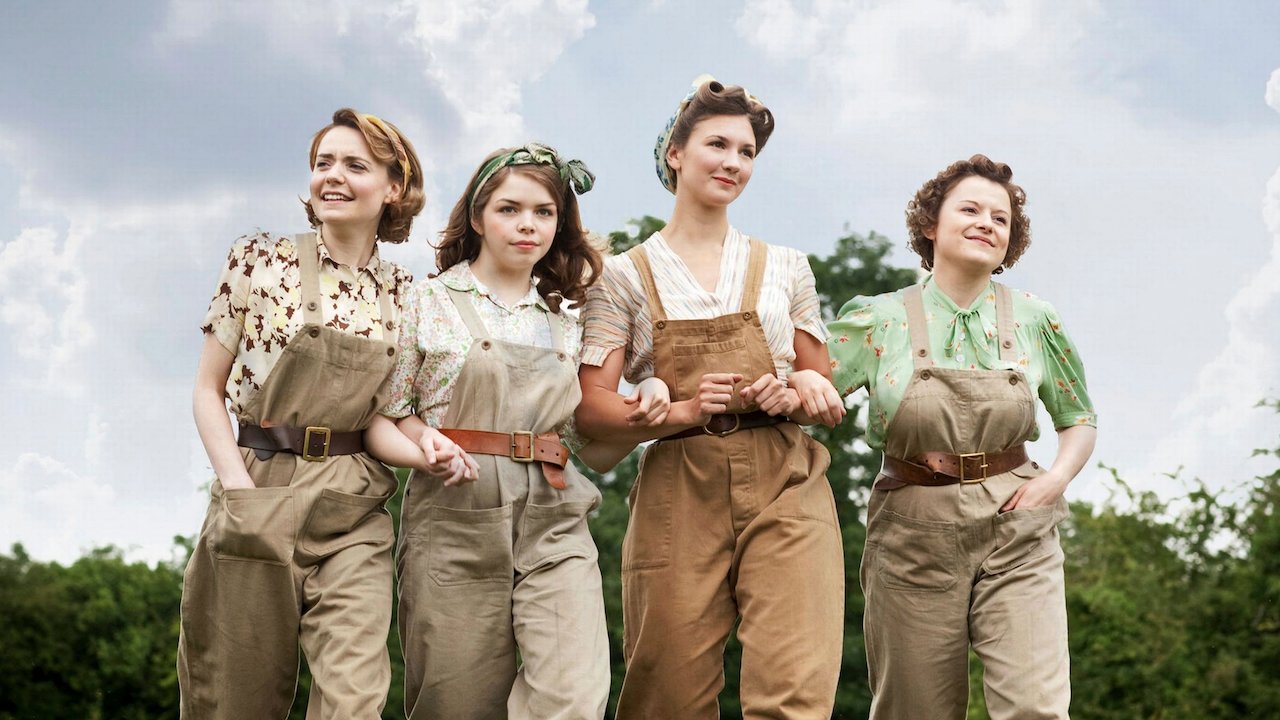 Land Girls follows the lives of four young women in the Women's Land Army. The story revolves around love, adapting to difficult circumstances, and preserving during a harrowing war on the home front.
This poignant drama with lovable characters stars Jo Woodcock, Sophie Ward, Becci Gemmell, Nathaniel Parker, Nicholas Shaw, Susan Cookson, and more.
Land Girls is streaming on Netflix and Acorn.
Foyle's War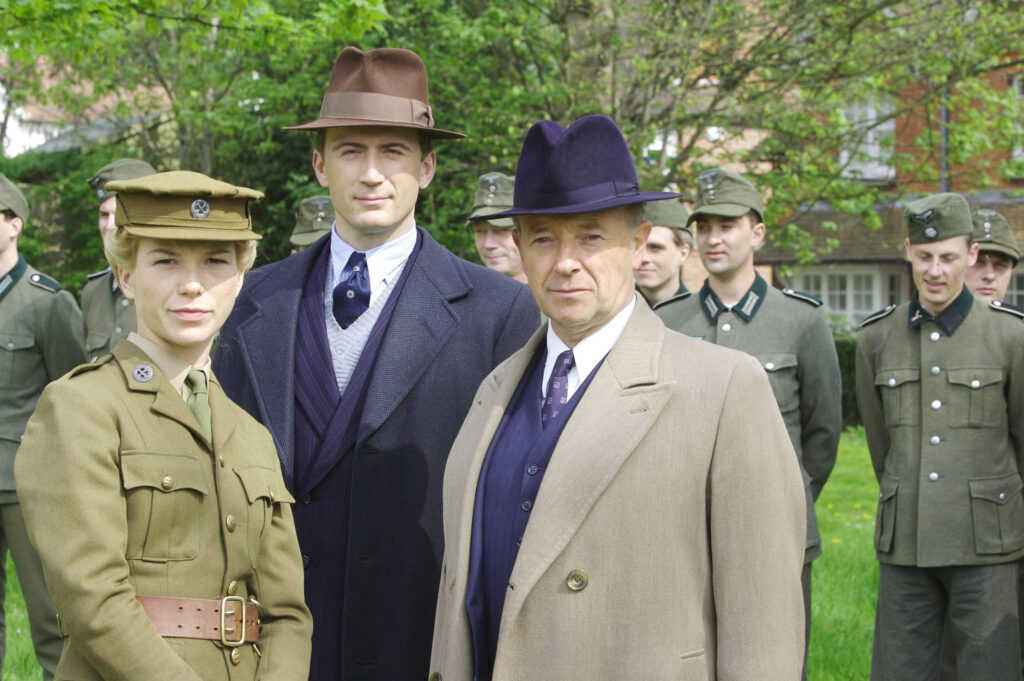 This beloved long-running show stars Michael Kitchen as Christopher Foyle, a detective working cases on the home front. David Tennant is even in episode three of season one. It takes place in the gorgeous southern English countryside. So, if you want to watch a great detective show that has plenty of episodes and features the aesthetic of WWII Britain, Foyle's War is for you.
Nine seasons are available on Acorn or you can buy it on Amazon.
Goodnight Sweetheart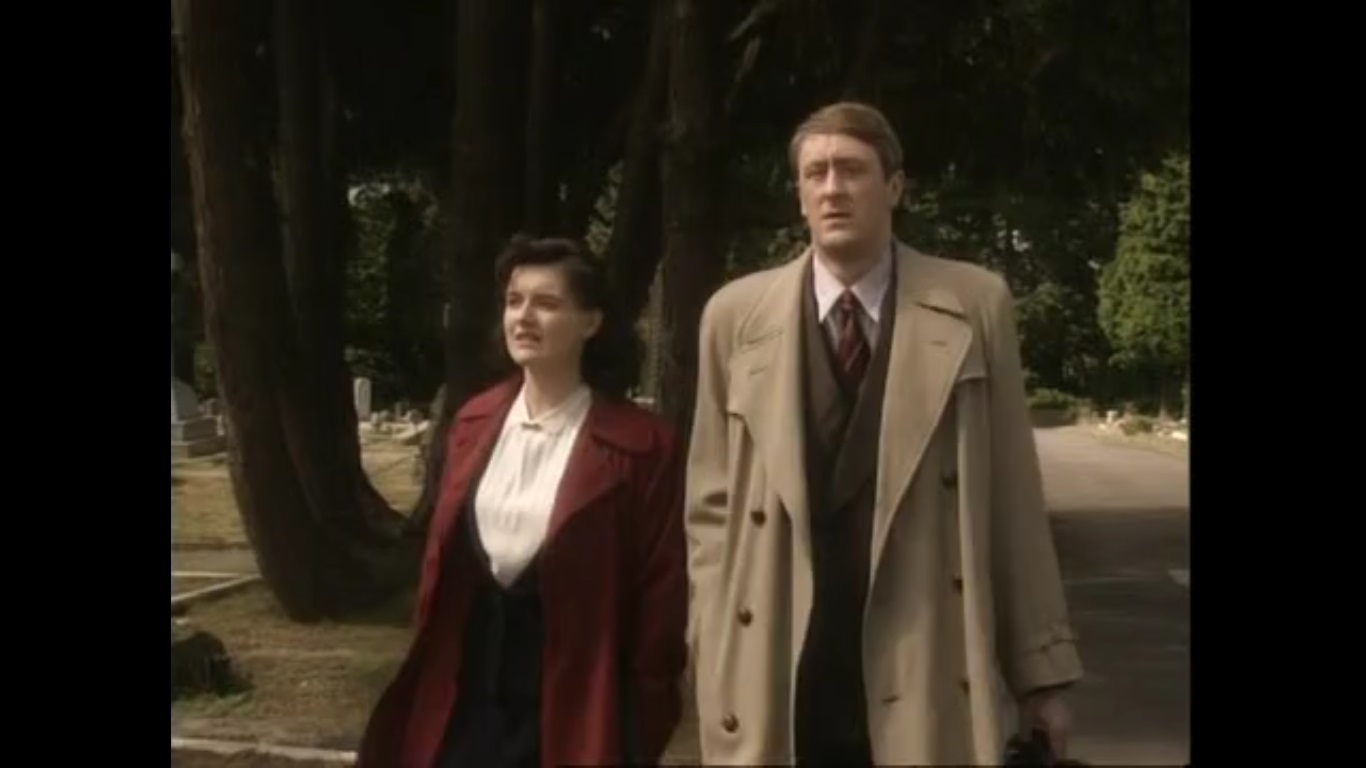 There aren't a lot of time travel comedies about World War 2, but that's precisely what this is. Young Gary Sparrow is going nowhere in life until one day, he accidentally stumbles through a portal back to 1940s London. Intrigued by the prospect of a new and exciting life in wartime London, he soon begins going back and forth between the 1990s and the 1940s.
The series stars Nicholas Lyndhurst, and his two love interests are played by Michelle Holmes and Dervla Kirwan (of Ballykissangel). Unfortunately, there's a cast change for both women after Series 3, but they continue to play the same characters. Victor McGuire plays Ron Wheatcroft, Gary's mostly loyal best friend.
Unfortunately, this one was recently removed from Acorn TV. You can, however, get it on DVD (you'll need a region-free DVD player to watch it):
The Halcyon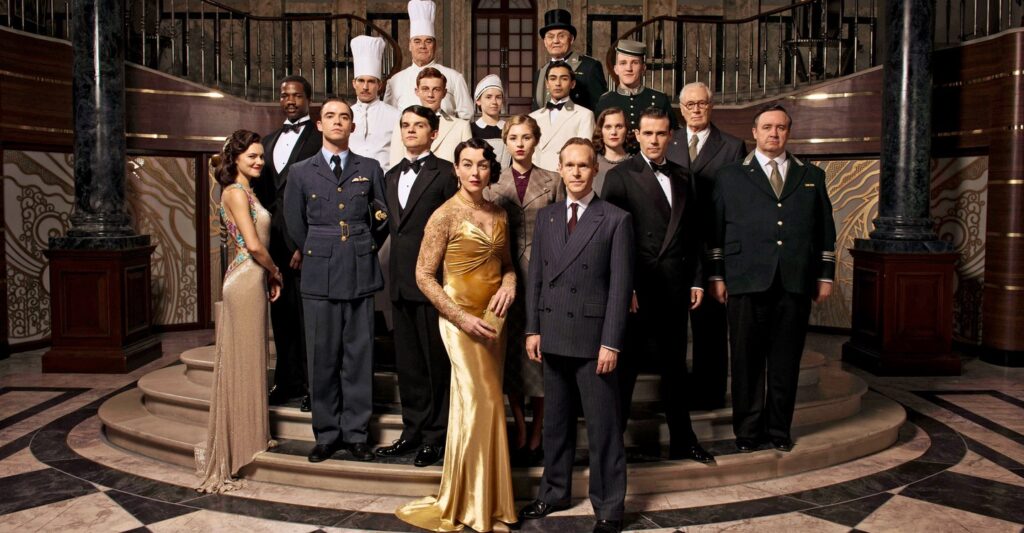 Although The Halcyon only ran for one season, it's still a welcome addition to our list. It takes place in a swanky hotel in downtown London amid the Blitz. Like Downton Abbey, it focuses on diverse social classes.
The Halcyon stars Annabelle Apison, Mark Benton, Jamie Blackley, Edward Bluemel, Alex Boxall, Hermione Corfield, Liz White, and more.
It's available for purchase on Amazon.
World on Fire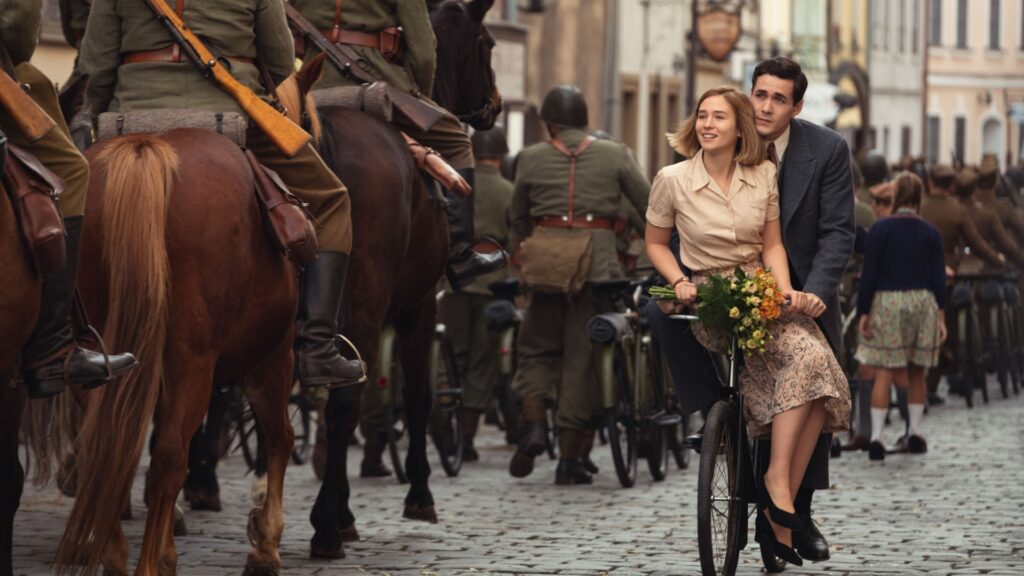 World on Fire tells the story of ordinary people shaken by the war. The first season takes place during the first year of WWII. The excellent cast includes Sean Bean, Lesley Manville, Helen Hunt, Julia Brown, Jonah Hauer-King, Zofia Wichlacz, and Arthur Darvill.
World of Fire is currently available on PBS Masterpiece through Amazon.
Home Fires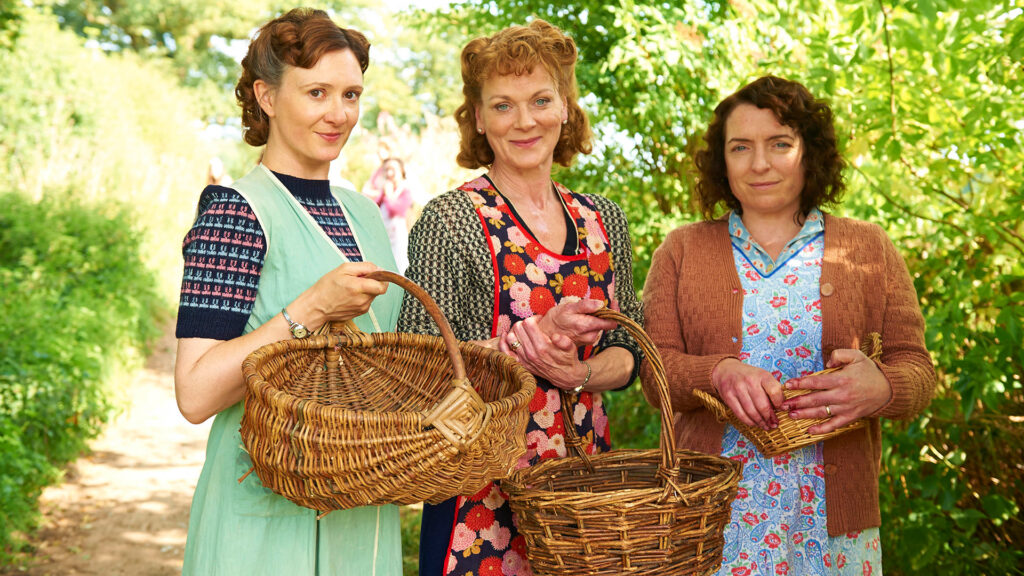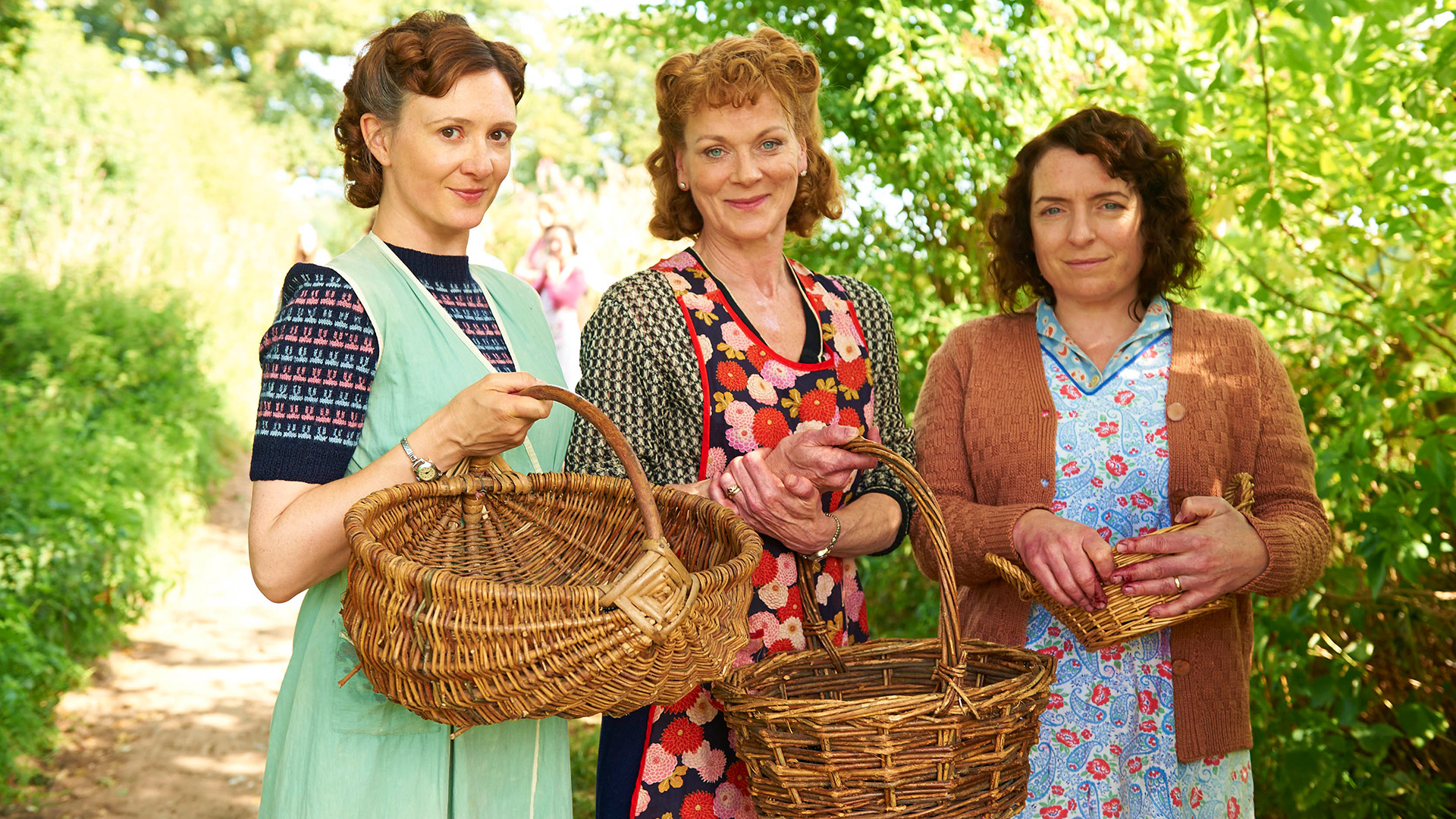 This short-lived and much-loved drama was never renewed for a third season, but it was a great show with so many characters to love and hate. It emphasizes the strength and importance of women during the war. Although it ends on a massive cliff-hanger, we recommend it.
Home Fires stars Samantha Bond, Francesca Annis, Claire Calbraith, Ruth Gemmell, Claire Rushbrook, and many more talented actors.
Home Fires is streaming on Amazon Prime.
My Mother and Other Strangers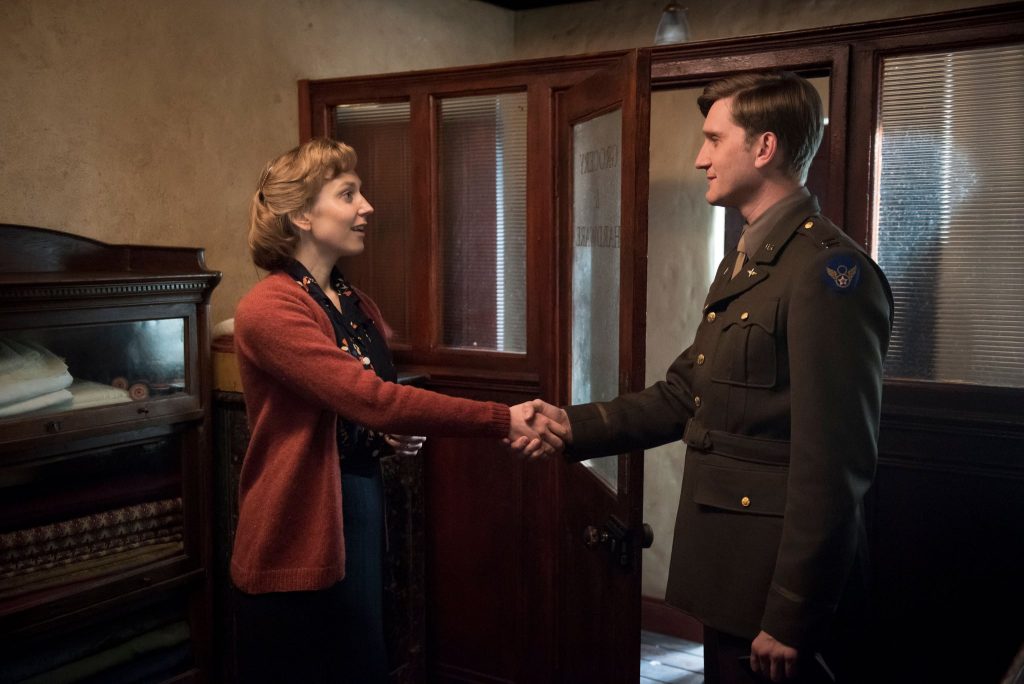 This romance of the mind revolves around an Englishwoman displaced in Ireland who finds emotional solace in a man who is also displaced—an American solder stationed in the same town. If you enjoy romantic tension, characters who yearn for connection, and struggles that go deeper than war, this is for you. It's a short five-episode series, but worth watching if you enjoy family dramas with beautiful atmosphere.
It stars Hattie Morahan, Owen McDonnell, Michael Nevin, Ciaran Hinds, Isaac Heslip, Eileen O'Higgins, and Aaron Staton.
My Mother and Other Strangers is streaming on Amazon Prime.
Close to the Enemy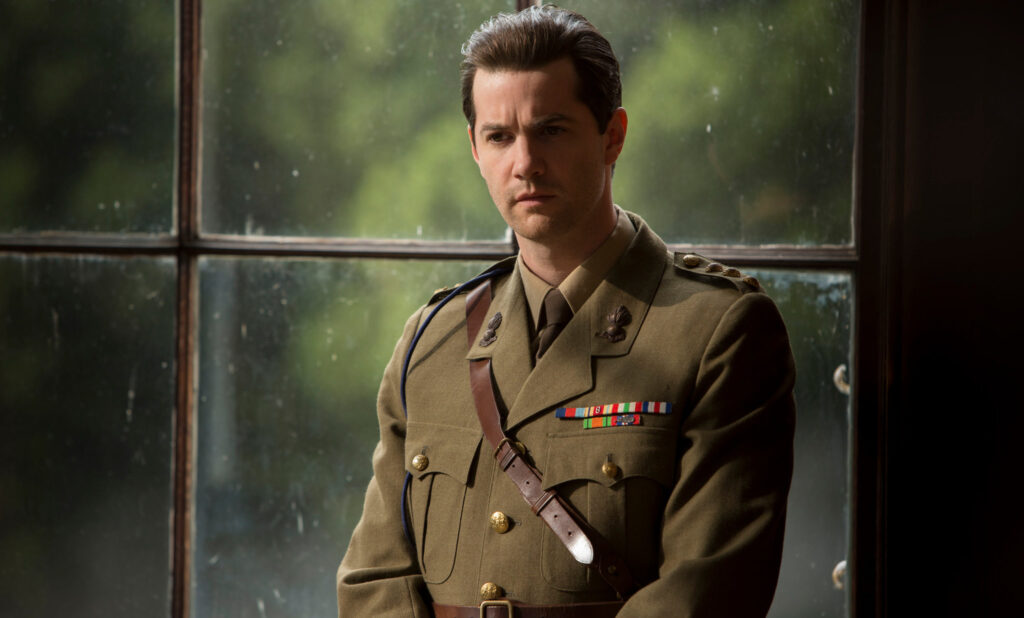 Close to the Enemy is a eight-episode mini-series that follows a British intelligence officer who must convince a captured German scientist to work for the British government. It stars Jim Sturgess as the intelligence officer, along with August Diehl, Lucy Ward, Alfie Allen, Charity Wakefield, Phoebe Fox, Charlotte Riley, Julian Bleach, Robert Glenister, and others.
It's available on Acorn.
Fleming: The Man Who Would Be Bond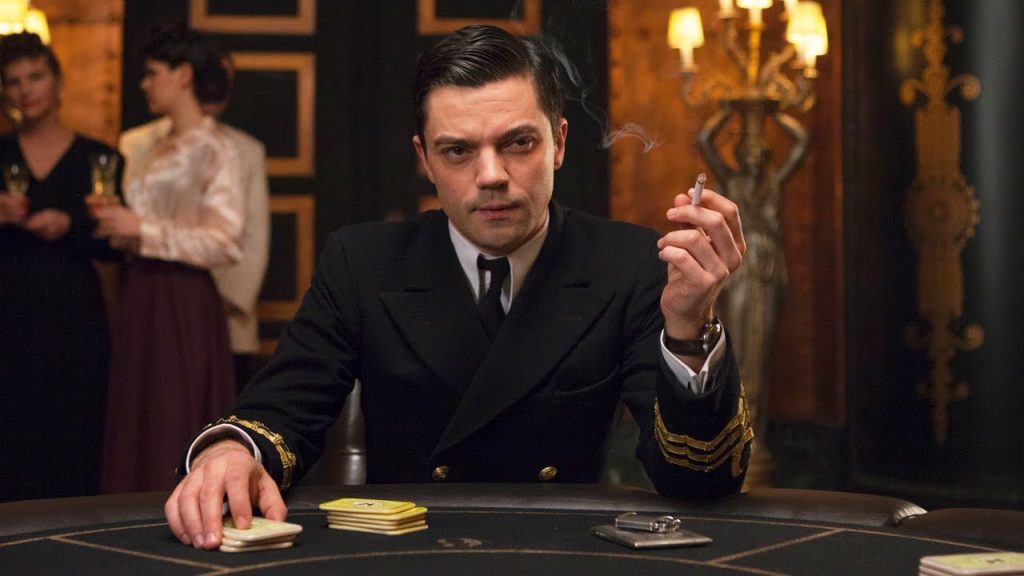 Dominic Cooper stars as famed James Bond writer Ian Fleming in his early years during WWII. It's a thrilling four-part mini-series also starring Lara Pulver, Rupert Evans, Anna Chancellor, Samuel West, Lesley Manville, Pop Torrens, and Camilla Rutherford.
Fleming is streaming on Hoopla and can be purchased on Amazon.
Spies of Warsaw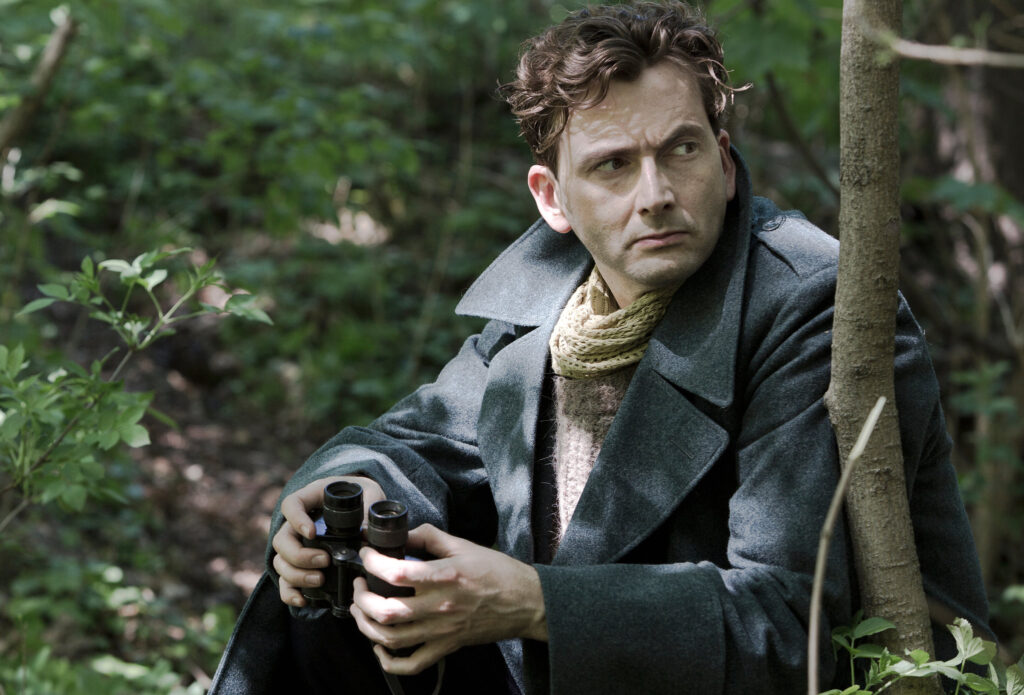 This thrilling adaption of Alan Furst's novel is set in Poland, Paris, and Berlin leading up to WWII. David Tennant plays military attaché for the French embassy navigating the dark corners of Warsaw. This story deals with diplomatic complexities, abductions, and betrayal. Watch it here.
Colditz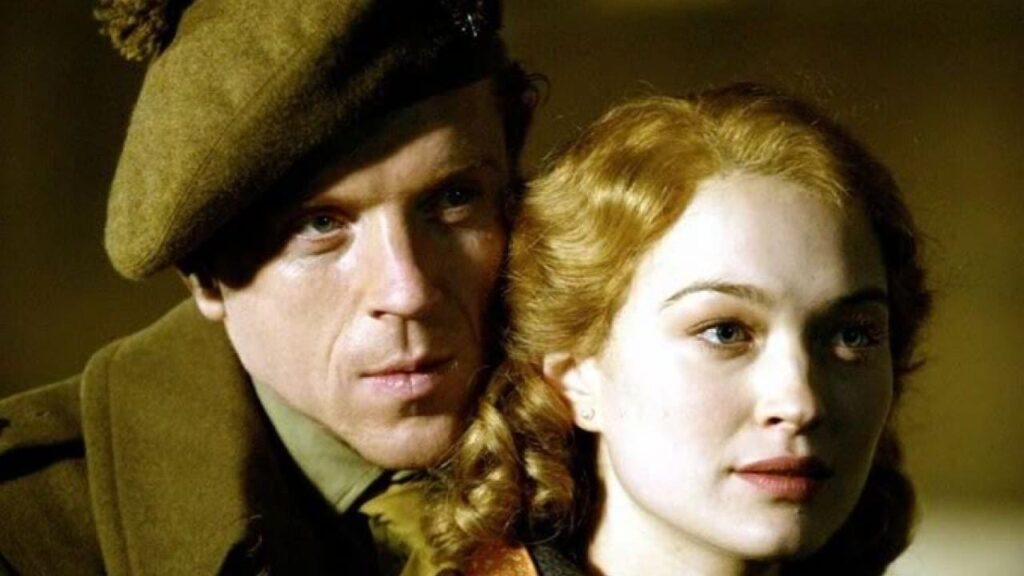 This two-part mini-series revolves around a prisoner of war in Colditz Castle. While imprisoned, he encourages others to plan their escape. This story of perseverance and betrayal stars Damian Lewis, Sophia Myles, Tom Hardy, Laurence Fox, Eve Myles, Guy Henry, and other talented actors.
It's four hours in total but isn't currently available to stream.
We recommend buying the DVD through Amazon.
Island at War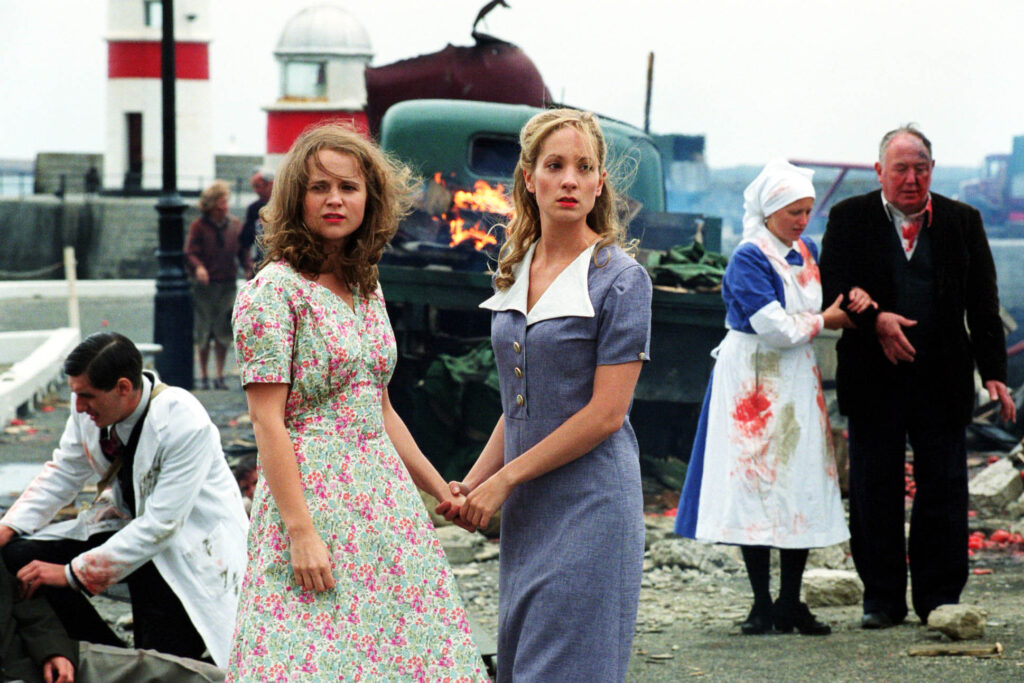 The Channel Islands, British Crown dependencies, were occupied by the Germans during WWII, so they are featured in many British WWII programs, like The Guernsey Literary and Potato Peel Pie Society and Another Mother's Son, mentioned above.
Island at War, set on a fictional Channel Island, follows the stories of various families during the occupation. These families have diverse social standings and different feelings about the occupation.
Island at War stars Owen Teale, Julia Ford, Clare Holman, Sean Gallagher, James Wilby, Joanne Froggatt, Laurence Fox, and even a young Sam Heughan.
The six episode series is available on Amazon Prime.
The Cazalets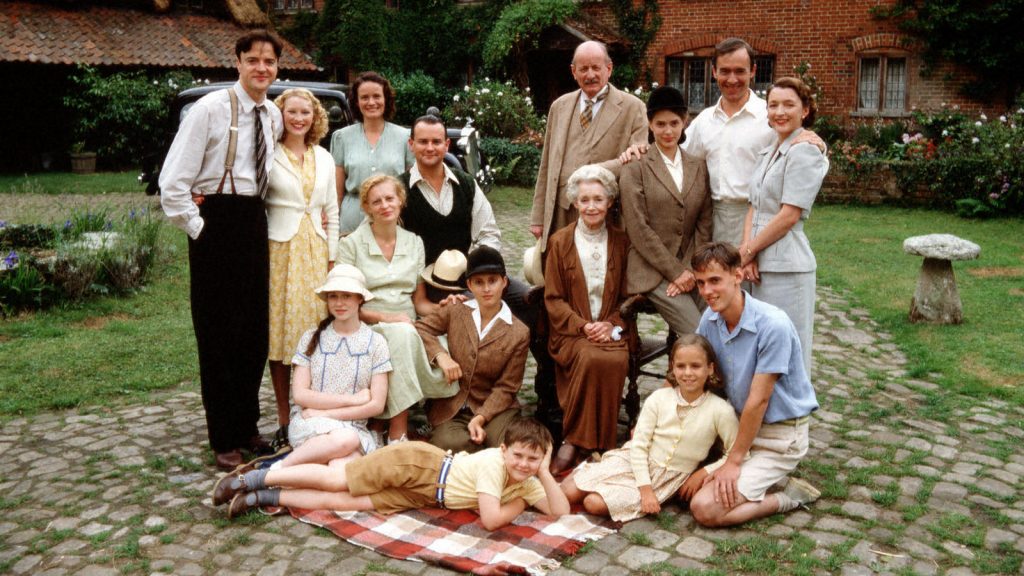 Although the Cazalets isn't streaming, we're recommending it for those who don't mind finding the DVDs and for those who love to see familiar faces, such as Hugh Bonneville, Stephen Dillane, Lesley Manville, Joanna Page, Anna Chancellor, Penny Downie, John McArdle, Patsy Rowlands, Paul Rhys, and more.
This six-episode mini- series follows the lives of a large family between their Sussex estate and London from 1937 to 1947.
You can buy the DVDs on Amazon.
Band of Brothers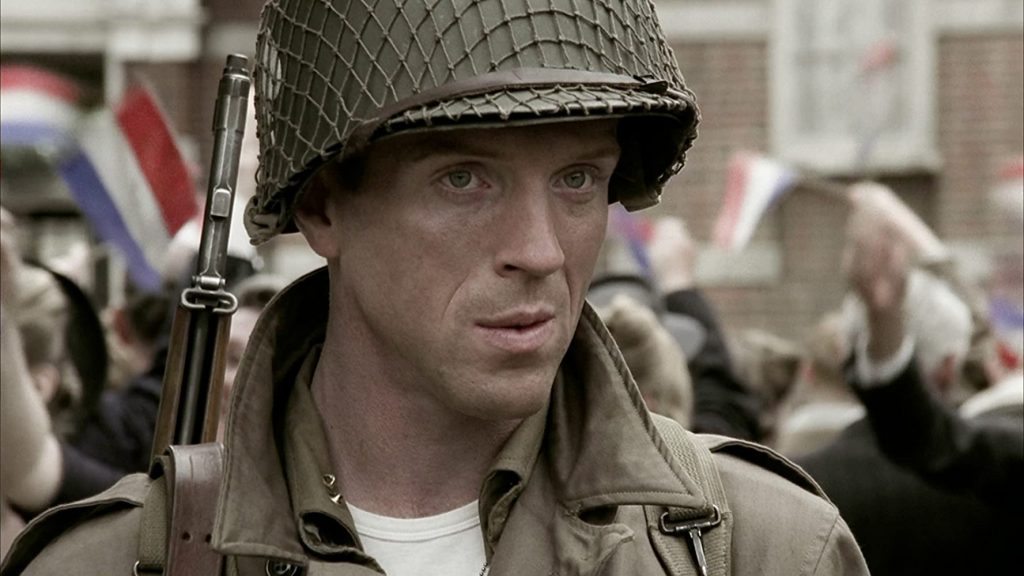 Of course, this list is not complete without HBO's incredible ten-episode mini-series Band of Brothers. Even if you've already seen it, it's probably time for a re-watch to catch some of those familiar faces you might not have recognized before.* Band of Brothers, now almost twenty years old, is an unmissable production and is one of the highest rated shows on IMDb with a score of 9.4/10.
*At the very least, you'll see: Damian Lewis, Michael Fassbender, Marc Warren, Tom Hardy, Stephen Graham, Simon Pegg, Dominic Cooper, James McAvoy, Andrew Scott, Luke Roberts, and more.
Band of Brothers is streaming on Amazon Prime.
What's Your Favourite World War II Movie or Show?
What do you think about our list? Did we forget something obvious?
Let us know in the comments below. We'd love to hear from you!
Save to Pinterest!