WWI Movies and Shows + Where To Watch Them
In some cases, we earn commissions from affiliate links in our posts.
Last Updated on April 14, 2020 by Stefanie Hutson

British WWI Movies and TV Shows
The Great War forever altered the course of humanity, of what we judge wars against, and how we view not only desolation but also hope. Perhaps the most famous story from WWI is the one depicted in this Sainsbury's ad where soldiers stopped fighting on Christmas Eve in 1914 to play football (soccer), sing, and have a chat. It was also depicted in an episode of Doctor Who.
The desolation of WWI wasn't just societal and physical; it was emotional, too. The dread and weight of war permeated everyday life, despite moments of peace and hope.
WWI films go beyond preserving important dates and military actions—rather, they depict the emotional toll and devastation of war in an accessible format for all to experience.
We've curated a short list of some of the best WWI movies and shows, particularly those that are currently available on streaming services. While we love All Quiet on the Western Front and other classics, this list focuses on modern productions after 1999.
But first, a little trivia…
Why Poppies for WWI?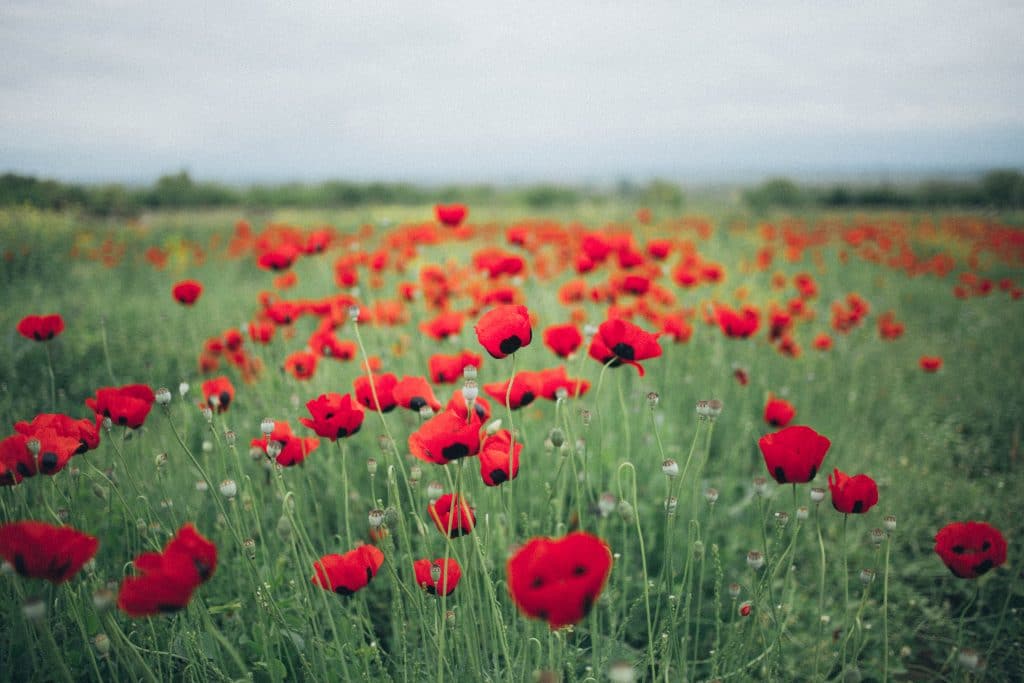 While they aren't as common in the States as a symbol for veterans, you may have seen poppies in British shows and wondered about their significance. Poppies became a symbol of WWI after John McCrae's stunning poem "In Flanders Fields."
Sound familiar? If you've seen Our Girl on BritBox or other British military films, you may have heard it recited without knowing the title. It is a gorgeous and aptly somber poem in only fifteen short lines.
British Movies about WWI
1917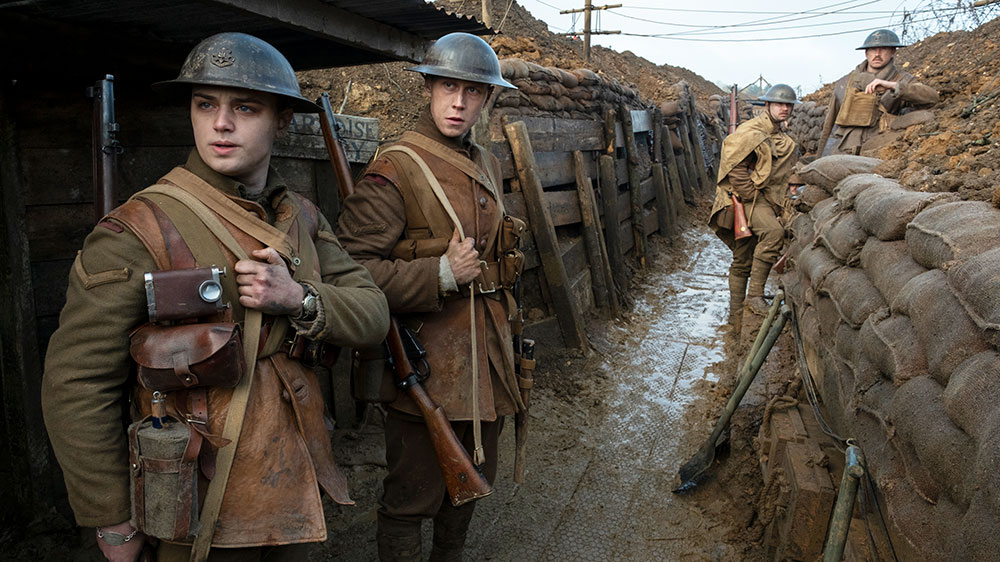 1917 is the newest film on our list. It is the highly-rated story of two British soldiers who must navigate enemy territory to deliver a message that could prevent a deadly attack. 1917 is directed by Sam Mendes, known for directing Bond films Skyfall, Spectre, Road to Perdition, along with producing The Hollow Crown, Penny Dreadful, and Brittania, among others.
1917 stars Dean-Charles Chapman and George MacKay, but you'll also see the familiar faces of Colin Firth, Andrew Scott, Daniel Mays, Mark Strong, Richard Madden, and even Benedict Cumberbatch.
It's available to buy or rent through Amazon.
Testament of Youth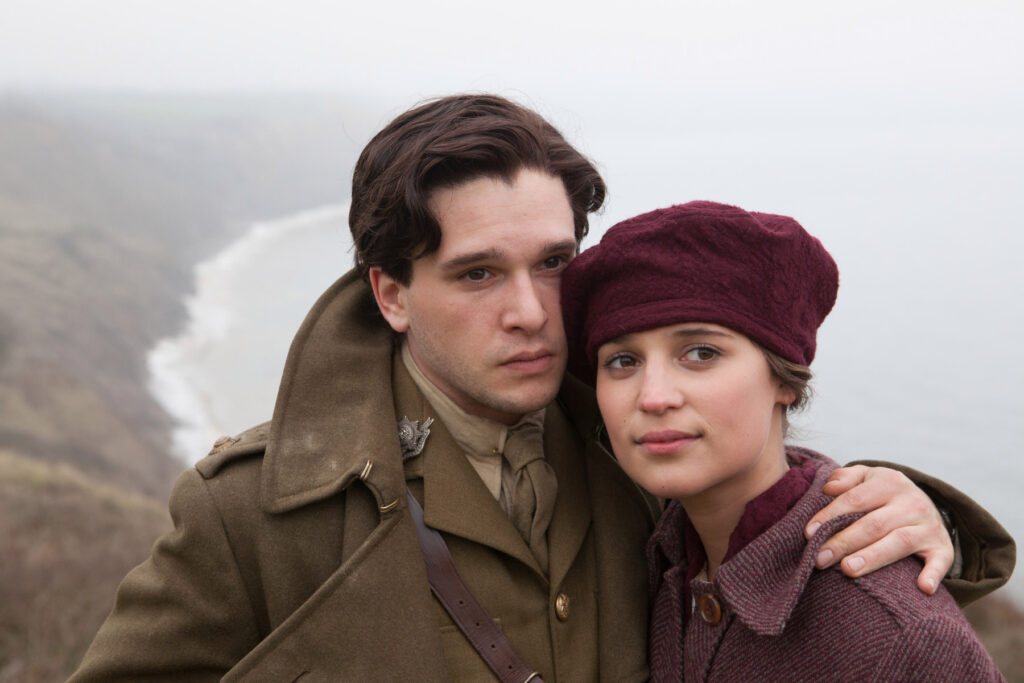 If you enjoy romance, Testament of Youth is based on the memoirs of Vera Brittain—an English Voluntary Aid Detachment nurse and pacifist. This coming-of-age story deals with young love, the senseless brutality of war, and struggling to find hope under the weight of war.
You'll find more familiar faces in Testament of Youth, too. It stars Swedish actress Alicia Vikander along with Kit Harington, Colin Morgan, Taron Egerton, Dominic West, Emily Watson, Miranda Richardson, and more.
It's available to buy or rent through Amazon.
My Boy Jack

My Boy Jack is the story of Rudyard Kipling and his wife's search for their son who went missing in WWI. This film is based on the stage play by David Haig and shares its name with Kipling's poem 'My Boy Jack.'
It stars Daniel Radcliffe as Jack and David Haig as Kipling, along with the familiar faces of Carey Mulligan, Richard Dormer, and Bill Milner.
It's streaming on BritBox.
Tolkien
This film covers author J.R.R. Tolkien's formative years, including schooling, young love, and WWI. The battle scenes offer a gorgeous yet dreadful and offer an artistic representation of how they inspired Tolkien's writings. This film is understated and far too short, if we're being honest. They should have made a whole series so they were able to dig deeper into his life, but this will suffice. It is still a great film to watch if you love Tolkien, Lord of the Rings, The Hobbit, and WWI history.
Tolkien is played by Nicholas Hoult. It also stars Lily Collins, Craig Roberts, Pam Ferris, Colm Meaney, and the legendary Derek Jacobi.
It's streaming on HBO and available for rent or purchase through Amazon.
War Horse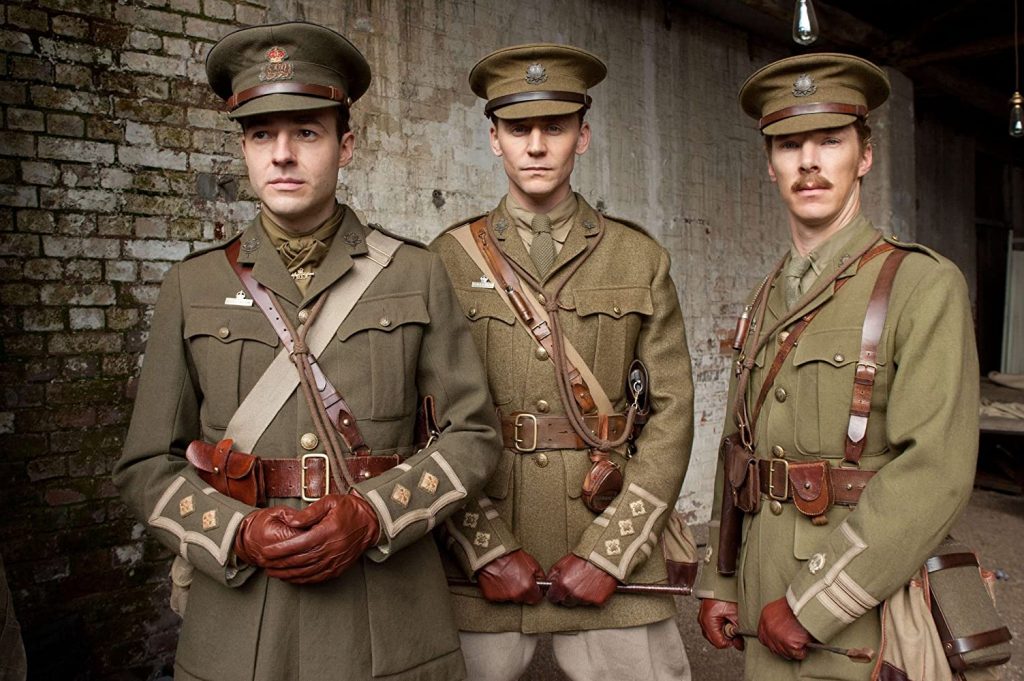 Like 1917, War Horse is a big-budget Hollywood movie made by a famed filmmaker—this time, Steven Spielberg. This film follows the story of a beloved horse sold to the cavalry. Although the horse's owner Albert is too young to enlist, he embarks to France in search of his horse.
The epic tale stars Jeremy Irvine as Albert, Tom Hiddleston, Benedict Cumberbatch, Emily Watson, David Thewlis, Peter Mullan, Eddie Marsan, Patrick Kennedy, Pip Torrens, and Liam Cunningham.
If you're sensitive to suspense and the suffering of animals, this could be an incredibly difficult film to watch, but if you can tolerate it, it's a great film. Streaming on Netflix.
Journey's End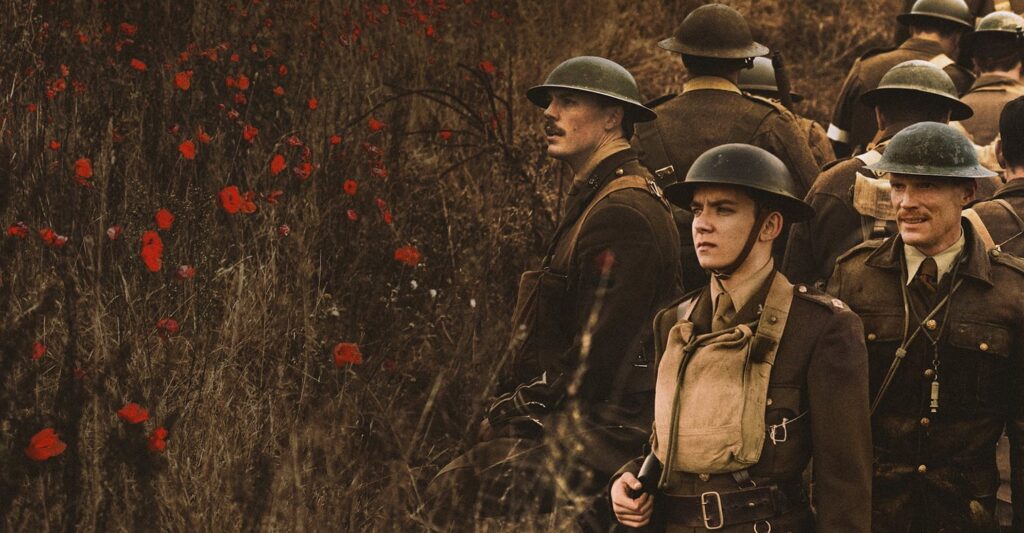 It's 1918 and Officer Stanhope's mental health is disintegrating. He's struggling to lead a group of British soldiers. This true story stars Sam Claflin as Officer Stanhope, along with Paul Bettany, Tom Sturridge, Stephen Graham, Asa Butterfield, and Toby Jones.
It's streaming on Amazon, Hoopla, and Vudu free with ads.
The Red Baron
Although primarily a German production, this film also stars Lena Heady and Joseph Fiennes. It follows the story of WWI fighter pilot Manfred Von Richthofen, also known as the Red Baron. It does a wonderful job portraying the beginnings of air warfare. While it's a loosely based biopic, it is still a good movie if you're interested in stepping outside of the British scope while still seeing a couple familiar faces.
It's in English and available on IMDb for free with ads and Hoopla without ads.
The Trench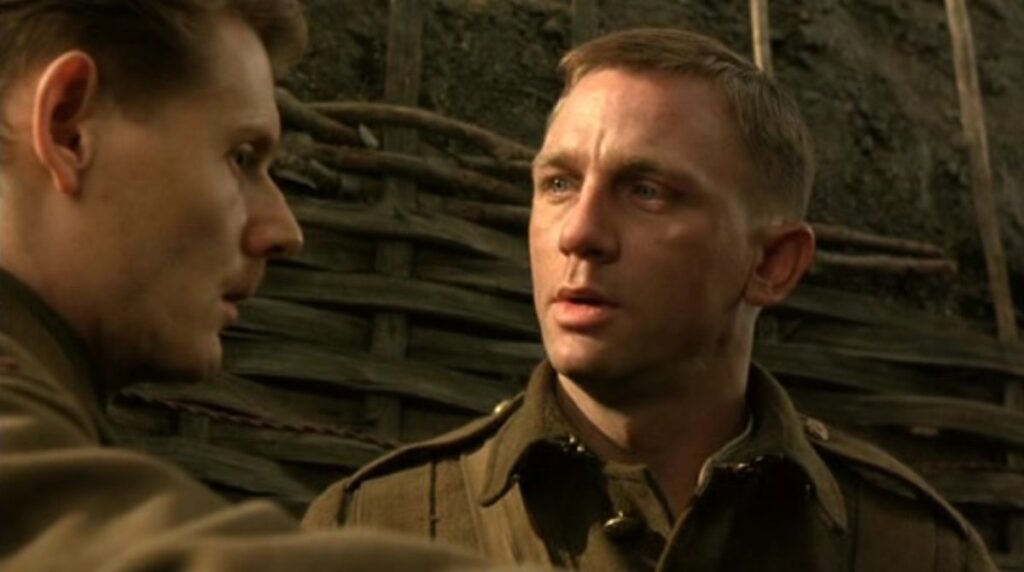 The Trench covers the last days before the battle of the Somme. It shows not only the condition of the trenches but also the condition of the minds of the soldiers leading up to the epic 1916 battle. It stars Daniel Craig, Paul Nicholls, Julian Rhind-Tutt, James D'Arcy, Danny Dyer, Cillian Murphy, Ben Wishaw, and more.
Released in 1999, it's the oldest production on our list, so these familiar faces will be quite young.
You can watch it on Acorn.
British TV Shows about WWI
Birdsong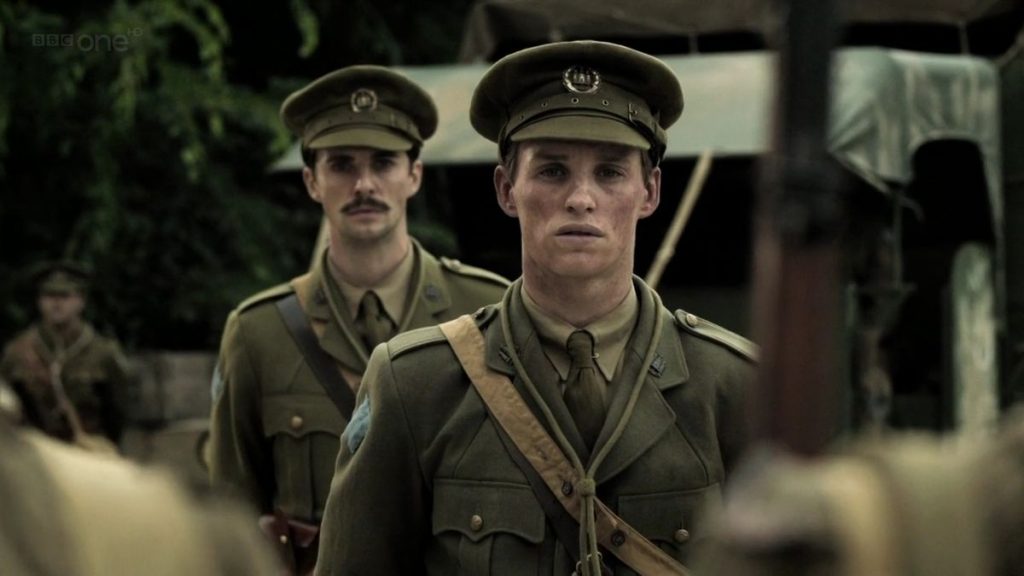 While navigating the trenches of WWI, a British soldier (played by Eddie Redmayne) recollects the memories of his affair with a French woman (Clémence Poésy). It also stars Matthew Goode, Richard Madden, Joseph Mawle, and Rory Keenan.
It's in two parts and totals 165 minutes. Although the Amazon streaming link says it's currently unavailable, we hope it will be made available soon. It used to be.
In the meantime, check your local library or consider buying the DVD.
37 Days
This mini-series, totaling three hours, covers the weeks before the outbreak of WWI. It stars Ian McDiarmid, Nicholas Farrell, Tim Piggott-Smith, Sinéad Cusack, Bill Paterson. Although it doesn't appear to be streaming anywhere, you can get it on DVD from Amazon if you're interested in pre-war events.
The Crimson Field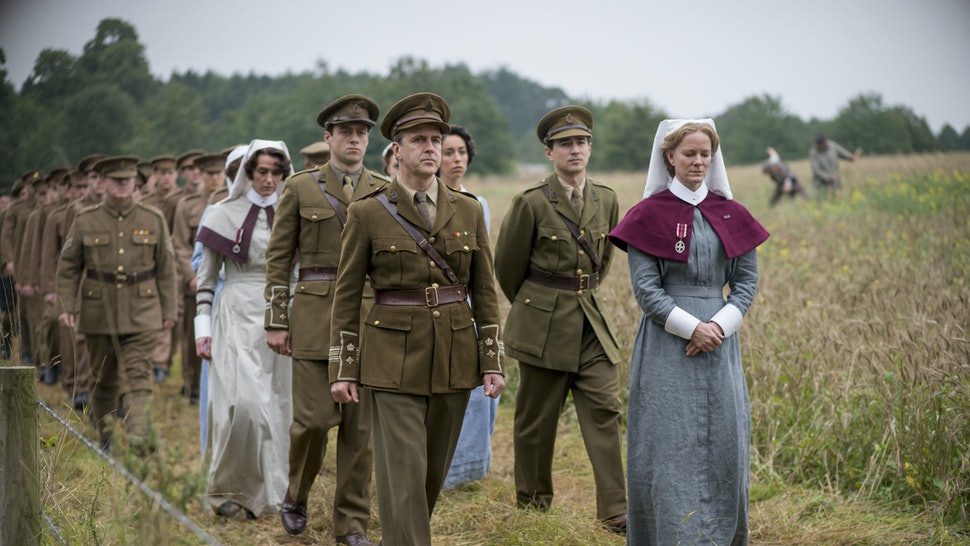 This Crimson Field tells the story of nurses and doctors stationed at a field hospital in France. This story delves into the struggles between classes, genders, military hierarchies, and other social divides. If you're a Downton Abbey fan, this is a great companion show. Even though it only lasted a season, it is worth watching.
The Crimson Field stars Hermione Norris, Oona Chaplin, Richard Rankin, Kevin Doyle, Suranne Jones, Karl Davies, and many more.
You can see it on PBS through Amazon.
The Passing Bells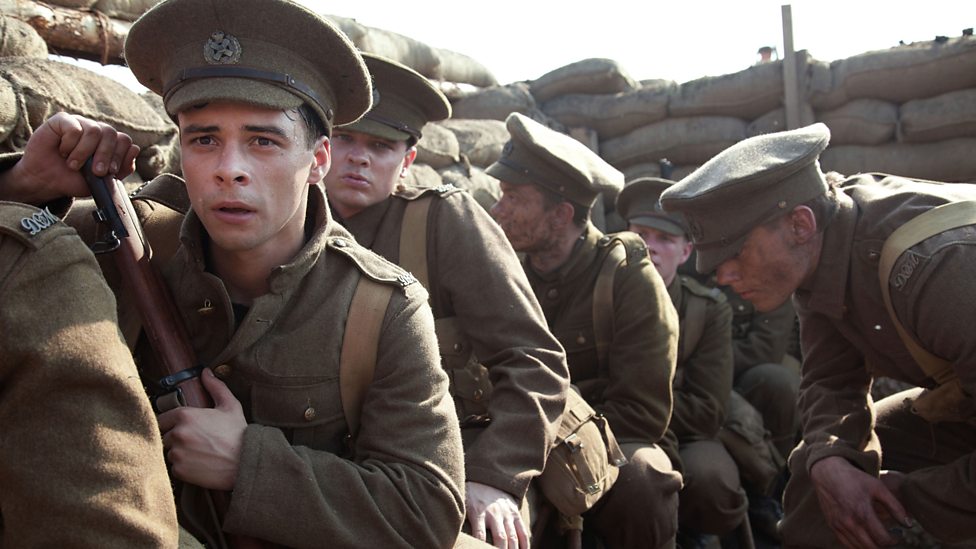 The Passing Bells is the story of the whole war through the perspective of two young soldiers. It delves into love, loss, and the mercilessness of war. Patrick Gibson, Jack Lowden, Ben McGregor, and Adam Long star in this mini-series. All five-episodes are streaming on BritBox, Amazon, and Hoopla.
Parade's End
At its heart, Parade's End is a love story set during a tumultuous era. It stars Australian actress Adelaide Clemens as a young suffragette, Benedict Cumberbatch as a conservative aristocrat, and Rebecca Hall as his abusive wife. Their personal lives are complicated and overshadowed by politics and war.
Also starring Roger Allam, Miranda Richardson, Rufus Sewell and more.
It's a co-production between BBC and HBO with excellent production quality with stunning scenery and cinematography. It's also written by none other than Tom Stoppard.
It's included with Amazon Prime. If you have HBO, you'll also find it there.
Downton Abbey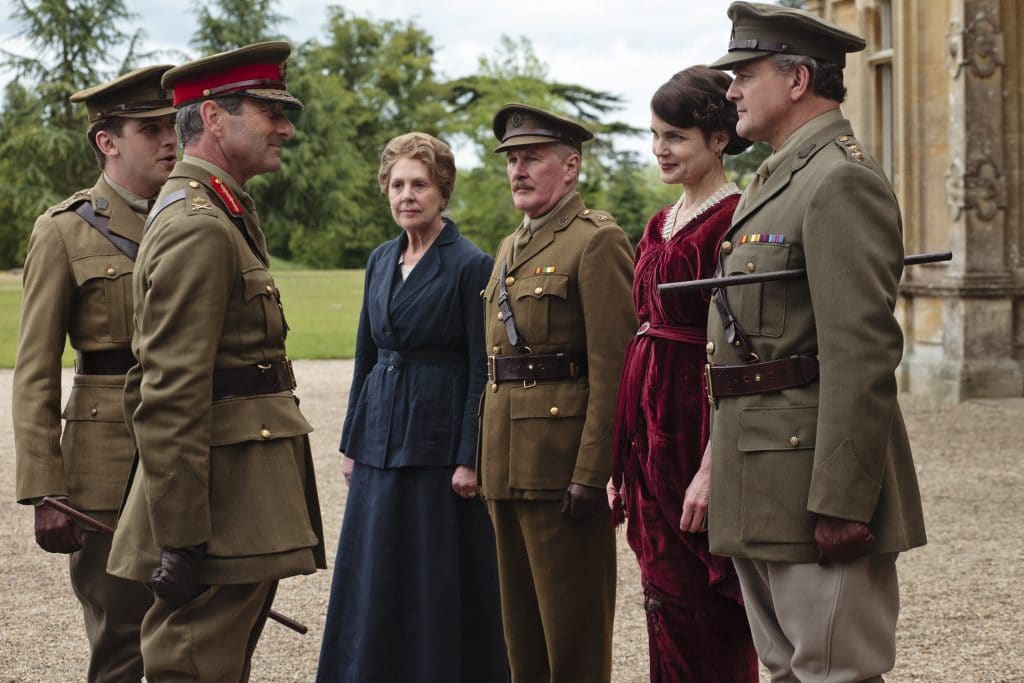 Although Downton Abbey covers years before and after WWI, we couldn't leave it off this list. Julian Fellowes' successful drama is set on a fictional Yorkshire country estate and details the lives of not only the upper class but also the lives of the lower classes and the estate's staff. It's an emotional roller coaster that can take a little while to pick up speed, but it's well worth the time. After the run of the original series, they released a feature-length film with a theatrical release and are planning a sequel.
Downton Abbey stars Hugh Bonneville, Maggie Smith, Michelle Dockery, Elizabeth McGovern, Jim Carter, Kevin Doyle, Brendan Coyle, Joanne Froggatt, Dan Stephens, Matthew Goode, and so many more. I'd list everyone, but I'm afraid my fingers would fall off from all the typing.
The Downton Abbey series is streaming on Amazon Prime.
The 2019 movie is set in 1927, so it takes place in the inter-war era.
It's available on Amazon to rent or purchase.
Anzac Girls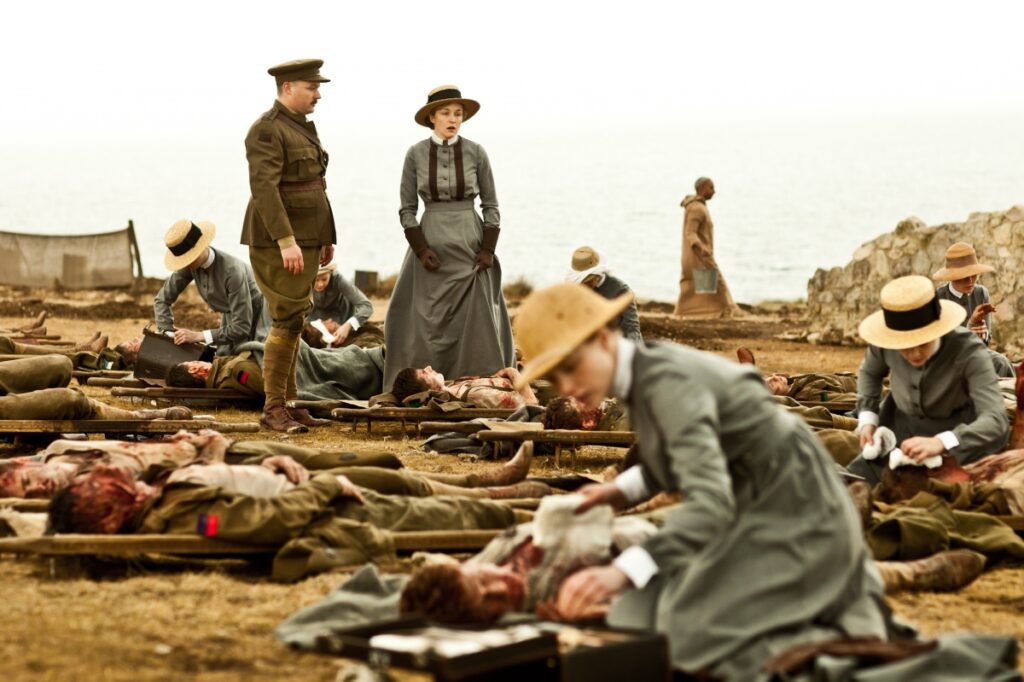 If you're looking for something unique, Anzac Girls follows the true stories of nurses from Australia and New Zealand. Their stories take place at Gallipoli and the Western Front.
It stars Georgia Flood, Antonia Prebble, Laura Brent.
It's a mini-series with all six episodes available on Acorn and Amazon Prime.
A Few Notable WWI Documentaries Streaming Right Now
While we wanted to focus on dramatic productions, we'd also like to mention a few documentaries available on popular streaming services for a deeper look into the true stories of WWI.
Our World War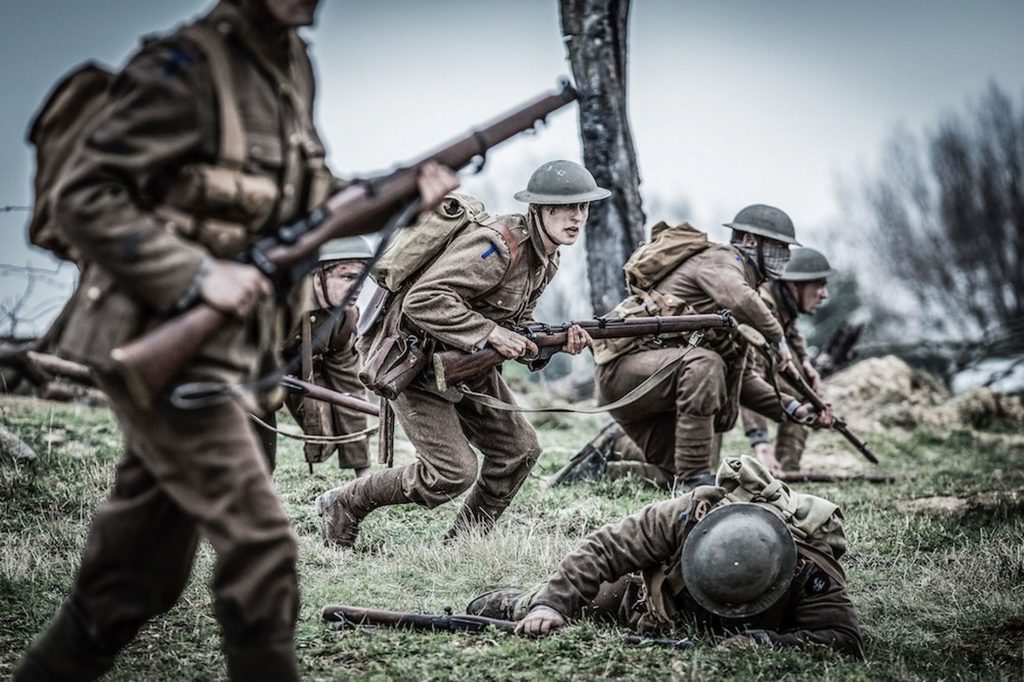 This docudrama shows the intense reality of the modern warfare of WWI. It focuses on the true stories of three soldiers. While it is dramatized, it should be considered more of a documentary for how it focuses on facts and recreates the horrific realities of war.
It also features first-person point-of-view camera work, so we don't recommend it for those who are sensitive to handheld cameras or ultra-realistic films. This bold film-making style is accompanied by modern music to create a stronger sense of imposing dread. It truly puts you down in the action with the soldiers, so if you want ultra-realism, this is the show for you.
All three episodes are streaming on BritBox.
Women of World War One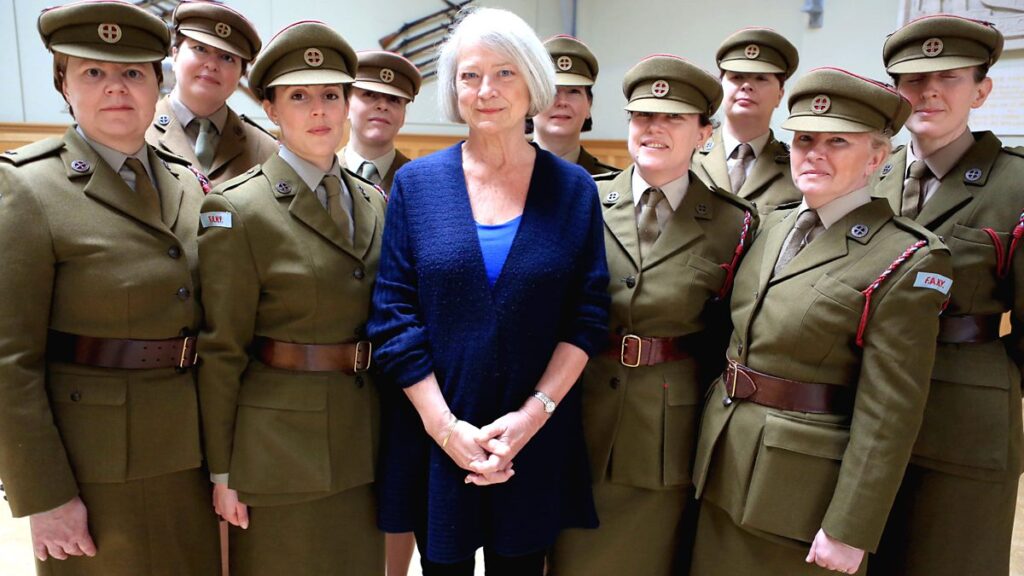 While they weren't allowed to fight on the front lines, women were critical to WWI. War reporter Kate Adie delves deep into the impact of women during WWI. Adie discusses the first women's police force, women's football, and female surgeons operating on men. It's streaming on BritBox.
The First World War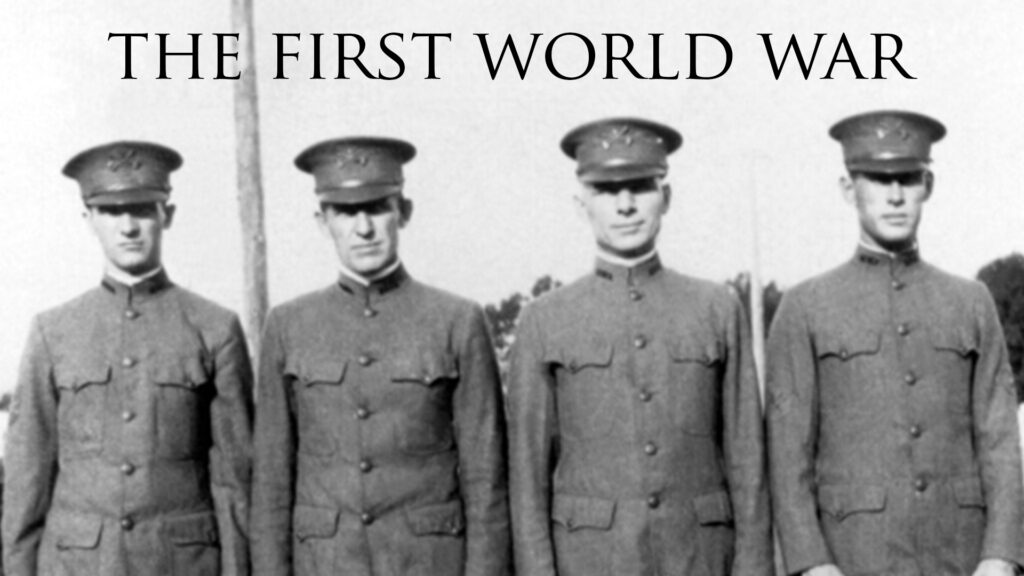 Finally, if you want to see the comprehensive history of WWI, this ten-episode documentary should be on your to-watch list. It is easily the best, most complete documentary on WWI available to date.
You can stream it on Amazon Prime.
What's Your Favourite World War I TV Show or Movie?
What do you think about our list? Did we forget something obvious?
Let us know in the comments below. We'd love to hear from you!
Share it on Pinterest!