15 Great British Period Dramas Set in the 1950s
In some cases, we earn commissions from affiliate links in our posts.
Last Updated on November 8, 2020 by Liberty White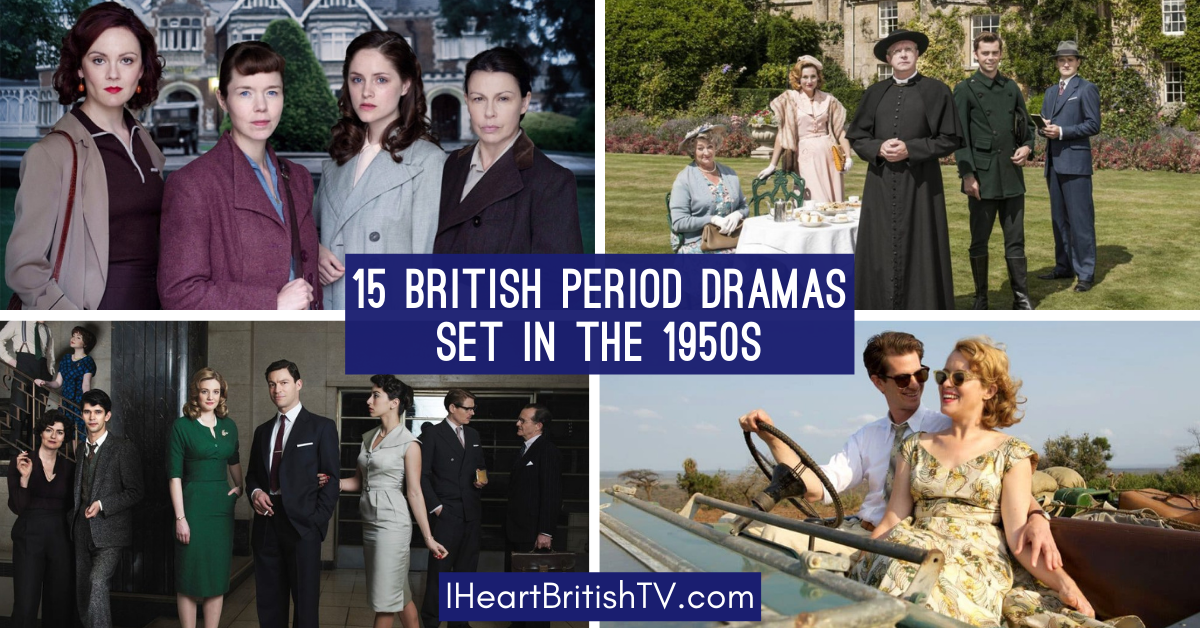 15 Great British Period Dramas Set in the 1950s
The 1950s see post-war economic growth. Queen Elizabeth II is coronated in 1953 – it's broadcast live across the kingdom, making home television sets mainstream. Rationing ends in the summer of '54. Rock and Roll is born from Rhythm and Blues. And with 33 and 45 rpm records coming out, records were cheaper and easier to use, making it possible for teenagers to listen to their own music on a portable record player. For all these reasons and more, the 1950s are a fascinating time to recreate… so, here are 15 modern British period dramas set in the 1950s.
The Stone of Destiny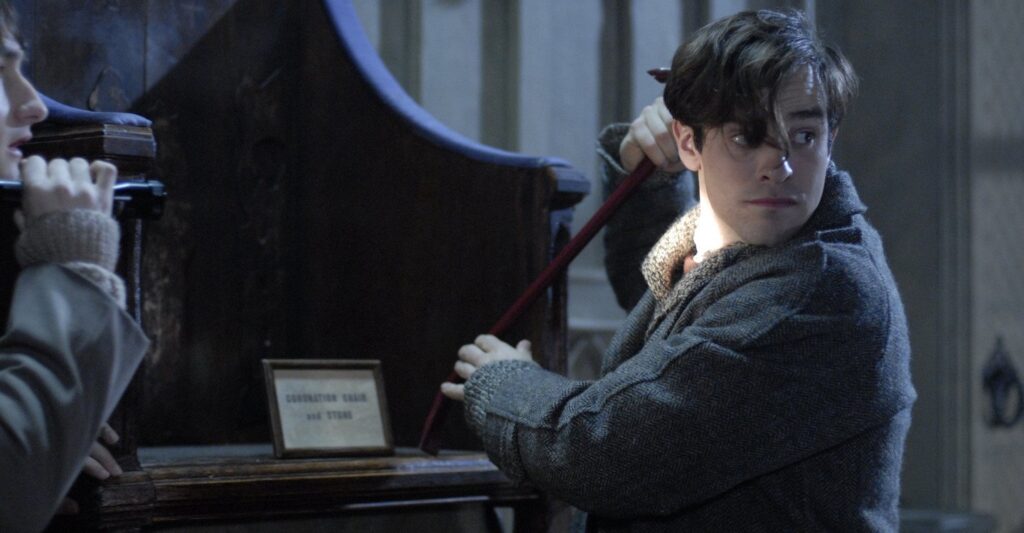 This movie is based on the true story of Scottish Folk Hero Ian Hamilton's theft of the Stone of Destiny from Westminster Abbey where it sat since 1296. This movie is underrated and tends to fly under the radar; it's a fun way to spend 96 minutes. Amazon aptly calls it a "contemporary Robin Hood" story.
Starring Charlie Cox, Kate Mara, Robert Carlyle, and Billy Boyd.
The Stone of Destiny is streaming on Amazon Prime.
The Bletchley Circle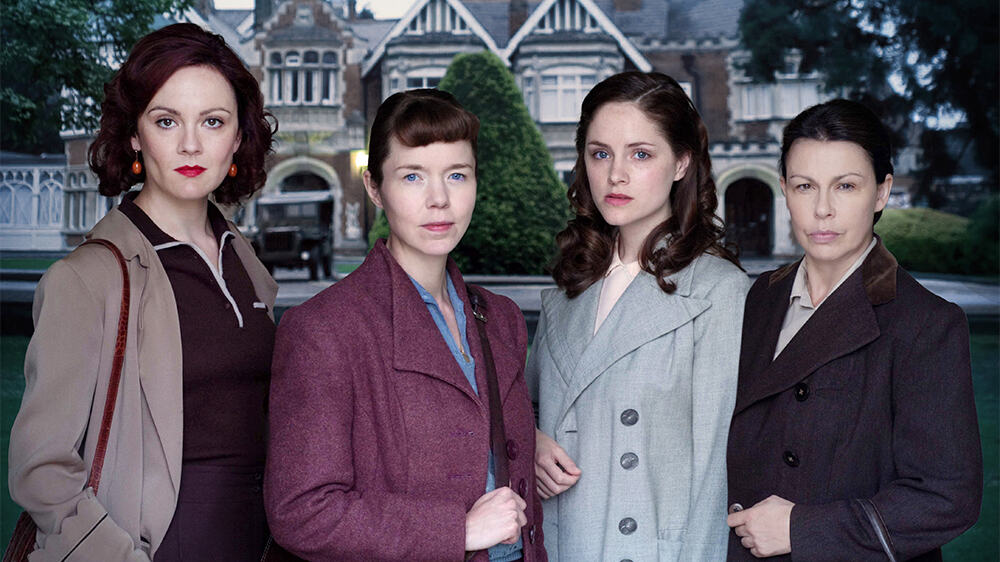 It's 1952 and four women who used to work at Bletchley Park during the war (where the German enigma cypher was broken) band together to investigate a series of similar murders.
Starring Anna Maxwell Martin, Rachael Stirling, Sophie Rundle, and Julie Graham.
The Scapegoat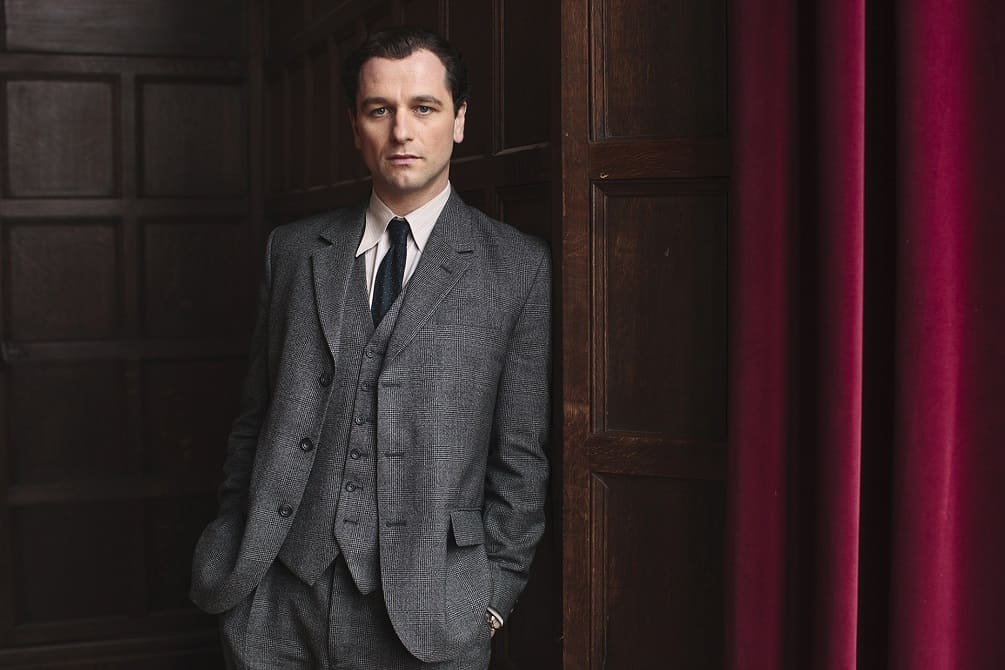 This eerie psychological movie stars Matthew Rhys as a man who switches places with his doppelgänger. Describing any further might give too much away. It's a brooding movie with an interesting plot.
Also starring Anton Lesser, Eileen Atkins, Jodhi May, Sheridan Smith, and Andrew Scott.
Father Brown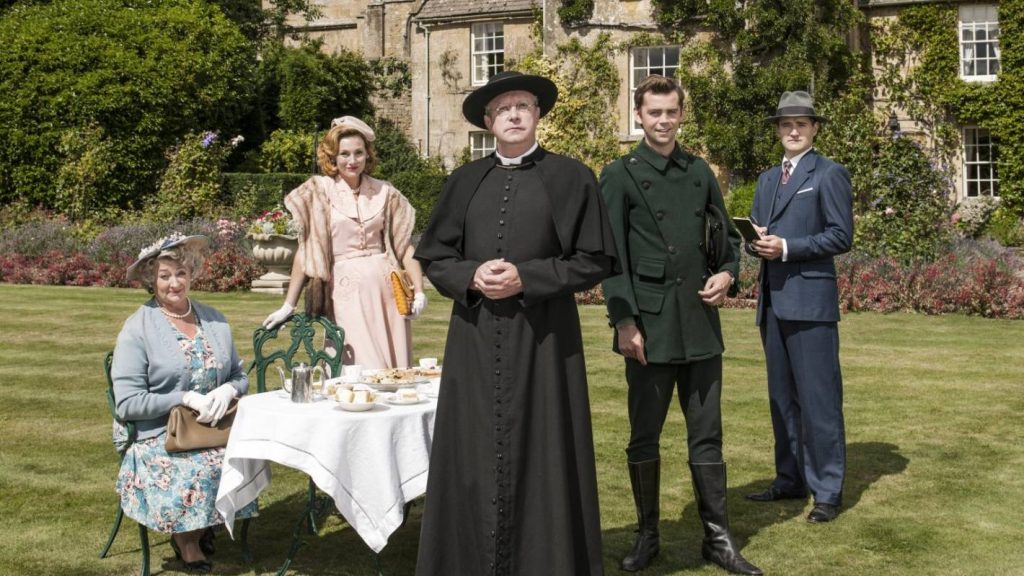 Father Brown stars Mark Williams as a witty Roman Catholic priest who solves crimes in his parish. Episodes are an hour long and follow different mysteries. Father Brown is loosely based on short stories by G. K. Chesterton. It's a lighter mystery series with humor and wit. It's also set in a gorgeous Cotswold village.
Father Brown is streaming on BritBox.
The Crown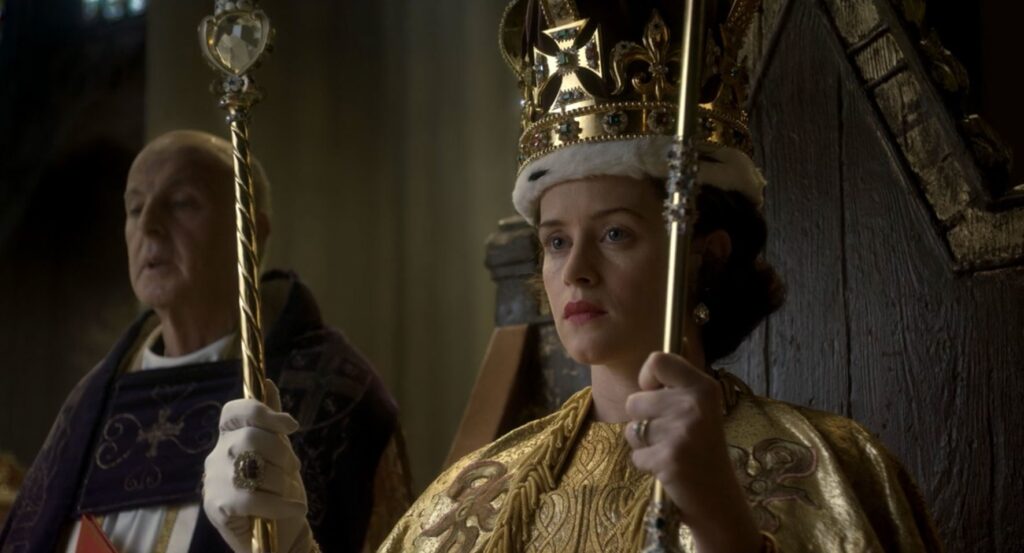 The Crown follows some of Queen Elizabeth's youth and her marriage in 1947, but primarily focuses on her ascension to the throne. The first season covers events up to 1955. Season two covers 1956 – 1964. This show has a high production value and gorgeous cinematography.
Starring Claire Foy, Matt Smith, Vanessa Kirby, Jared Harris, and many more.
The Crown is streaming on Netflix.
Miss Marple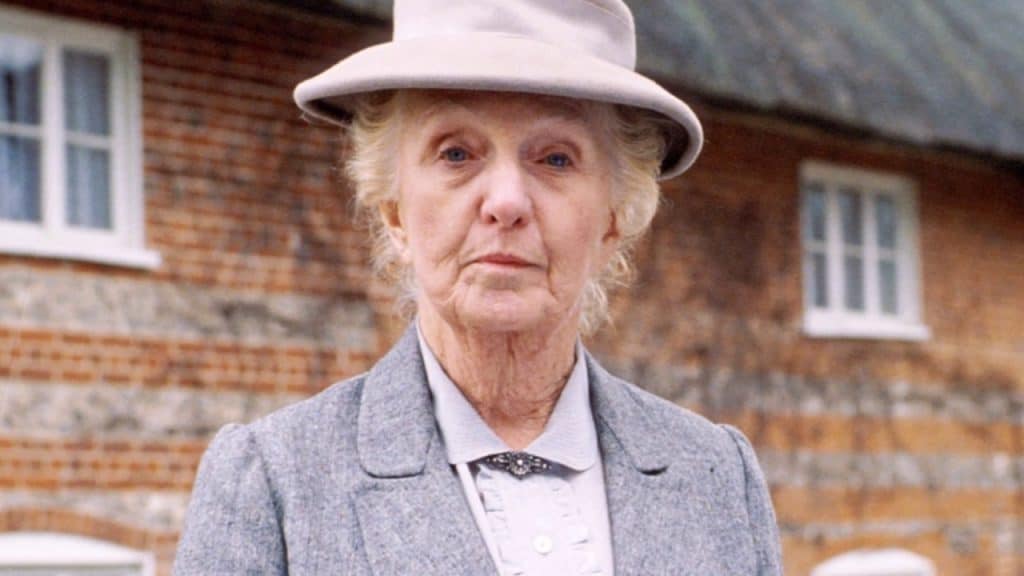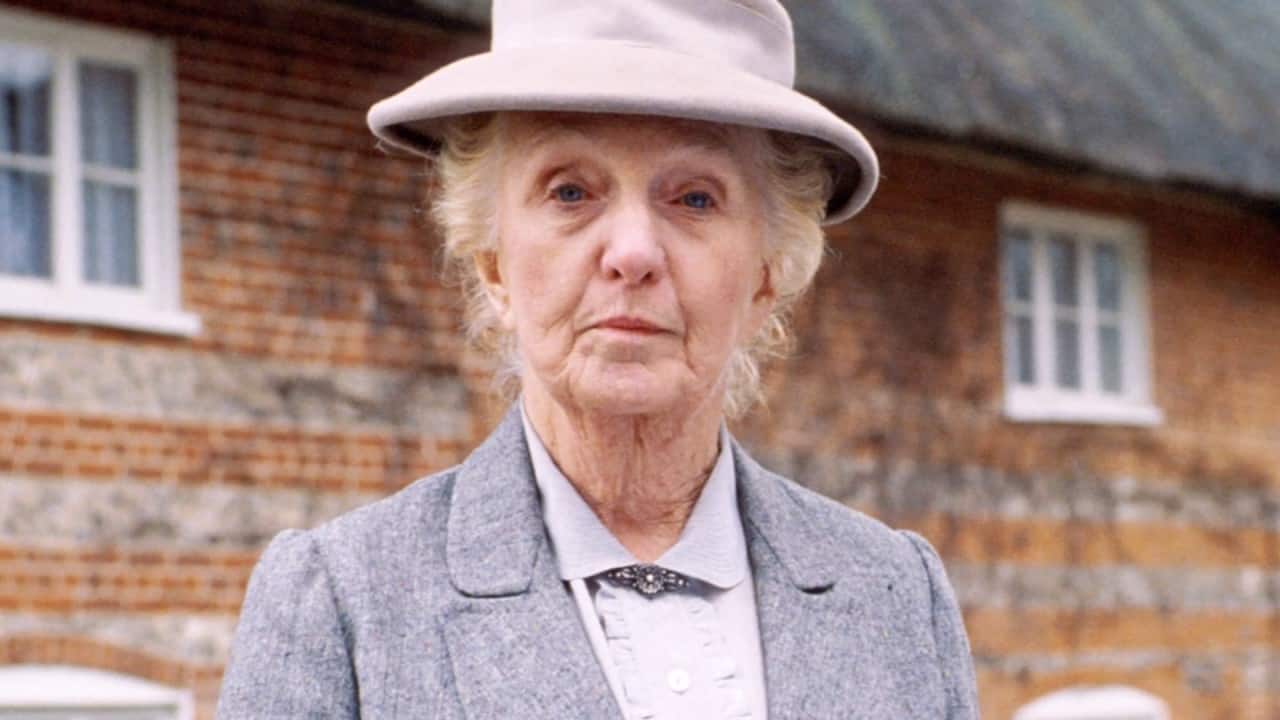 This adaptation of Miss Marple was set in the 1950s, apparently for stylistic reasons. All twelve original Miss Marple stories were adapted. If you're in the mood for a simmering Agatha Christie mystery, Miss Marple fits the bill.
Starring Joan Hickson as Miss Marple.
Miss Marple is streaming on BritBox.
In Plain Sight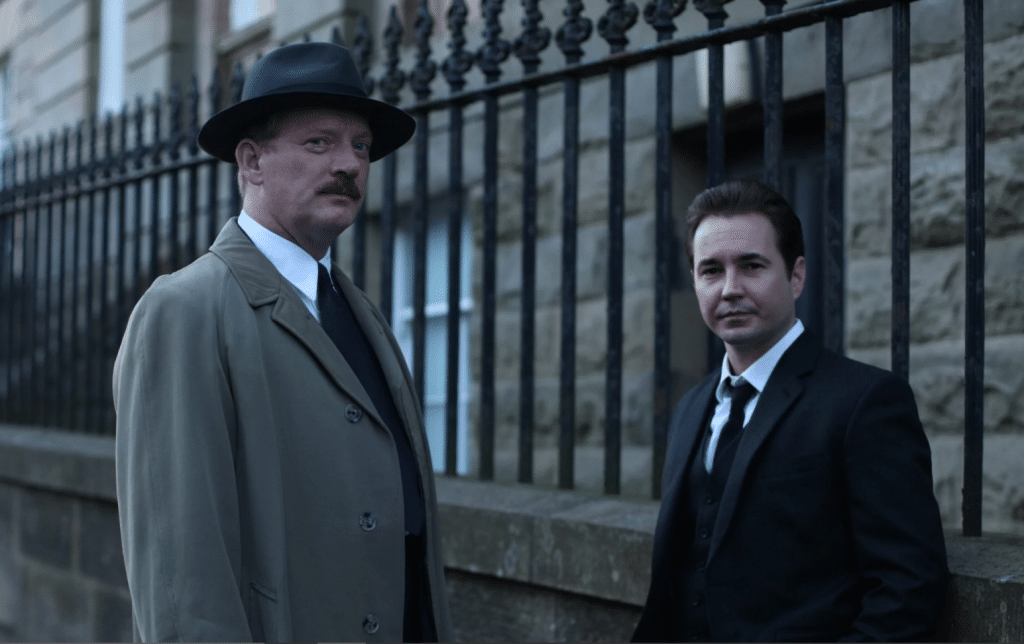 This three-episode miniseries also stars Douglas Henshall as Lanarkshire's Detective William Muncie. It's about the struggle to catch Scotland's first serial killer. The lines between good and evil are clear and you'll be rooting for the good guys from the first moment you see Peter Manuel's smug face. (Martin Compston plays Manuel – he must be a great actor).
In Plain Sight is based on true events and is streaming on BritBox.
The Hour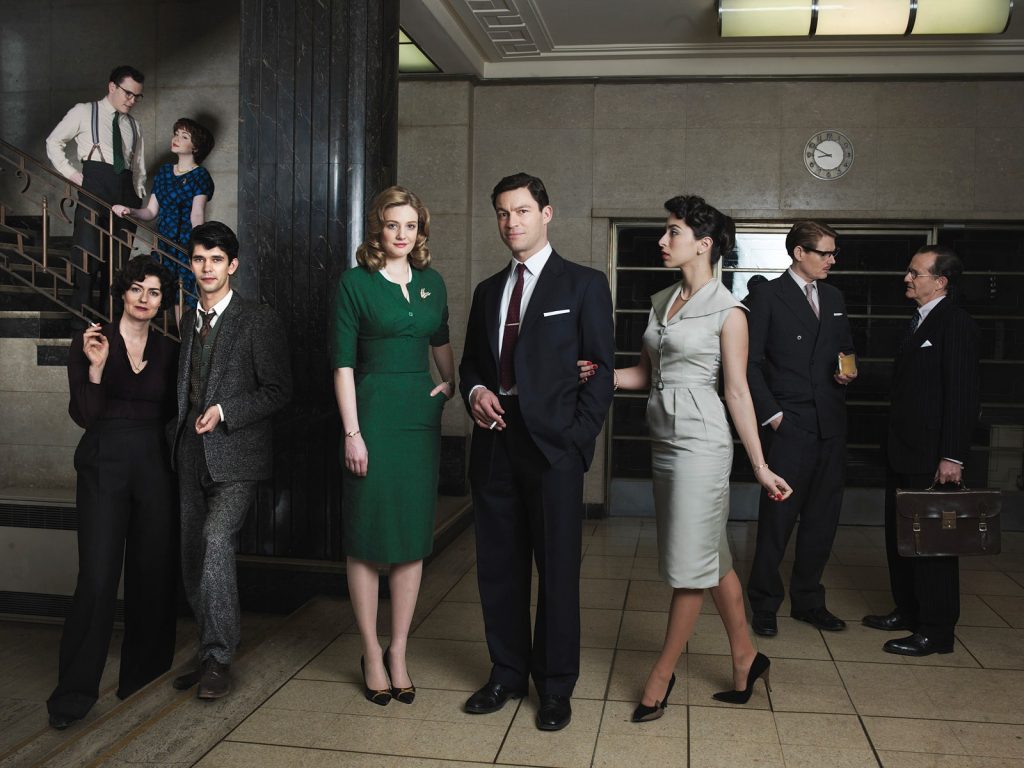 The Hour follows the launch of a current events news program in the mid 1950s. It's important to keep up with events when the world is changing so rapidly. Features politics, a love triangle, and lots of drama.
Starring Dominic West, Romola Garai, Ben Wishaw, Oona Chaplin, Anna Chancellor, Peter Capaldi, Anton Lesser, Julian Rhind-Tutt, Burn Gorman, Tom Burke, and many more.
The Hour is streaming on Acorn.
WPC 56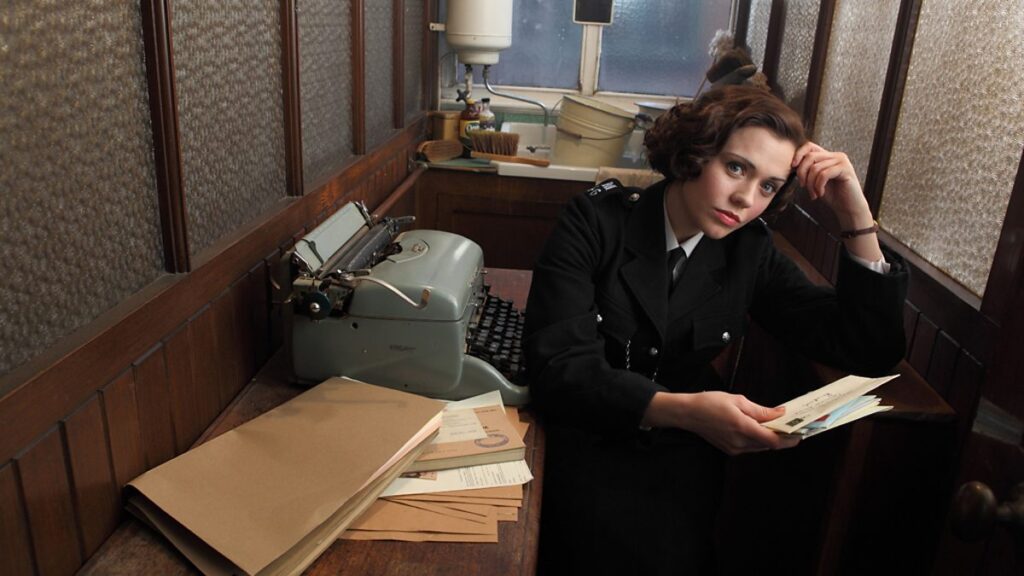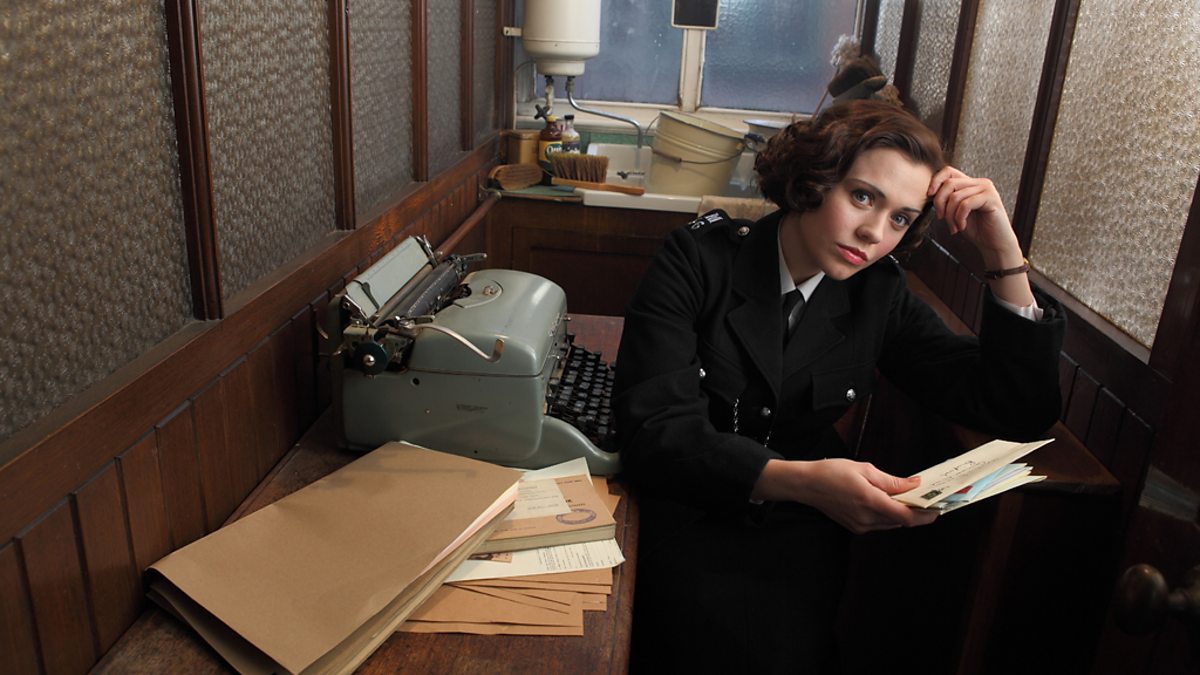 It's 1956 and Gina Dawson is the first Woman Police Constable in the Brinford Constabulary. She has to tackle hazing, sexism, criminals, and more – not to mention her broom cupboard of a closet. Despite it all, she stays plucky and ready to keep her career on track. Starring Jennie Jacques.
WPC 56 is streaming on BritBox and Amazon Prime.
Call the Midwife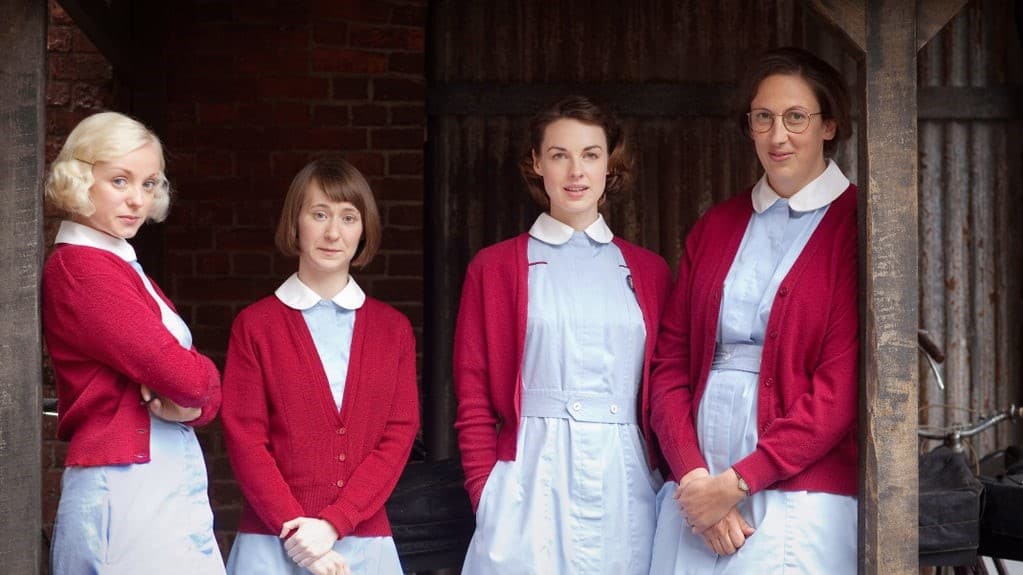 Call the Midwife follows a group of midwives from the 1950s onwards. It deals with community, family life, and social difficulties. Seasons 1 – 3 take place in the 1950s.
Starring Vanessa Redgrave (voice), Jessica Raine, Judy Parfitt, Jenny Agutter, Helen George, Miranda Hart, and more.
Call the Midwife is streaming on Netflix for now or can be purchased on Amazon.
United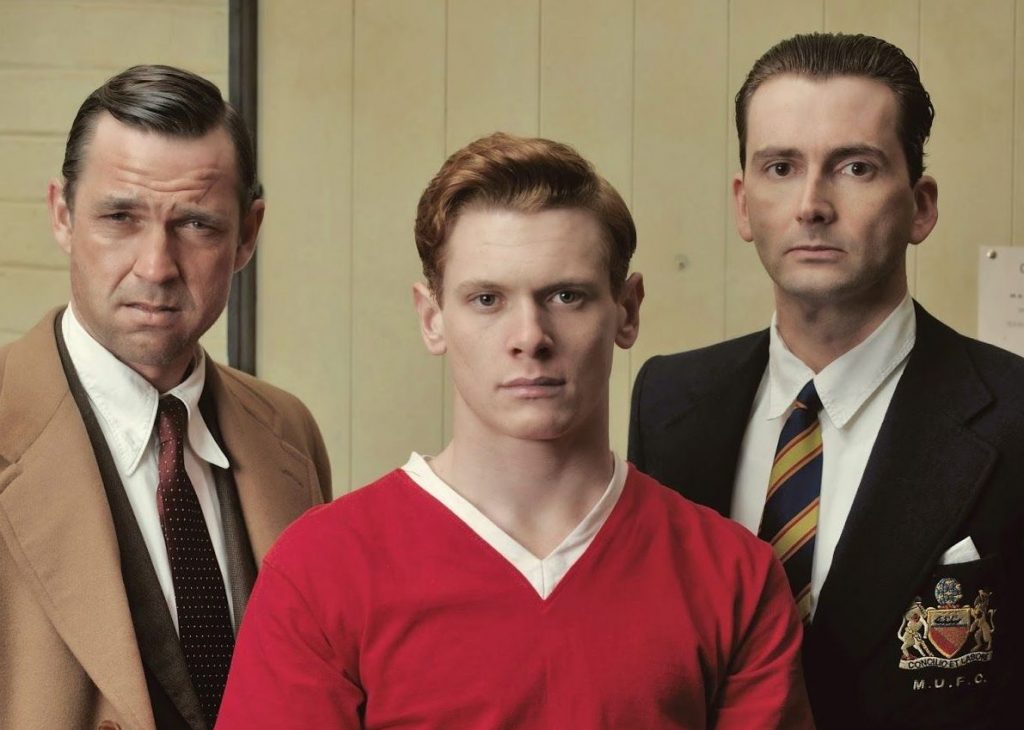 United is a true underdog story of tragedy and perseverance. When British European Airways Flight 609 crashed on its third attempt to take off from a slush-covered runway on February 6th, 1958. In the aftermath, many young players had to quickly rise to their new roles. United is the story of their perseverance in the face of devastation.
The events were adapted to screen by Broadchurch writer Chris Chibnall. Starring David Tennant, Sam Claflin, Jack O'Connell, Kate Ashfield, Dougray Scott, and Dean Andrews.
It's streaming on Acorn and Amazon.
Breathe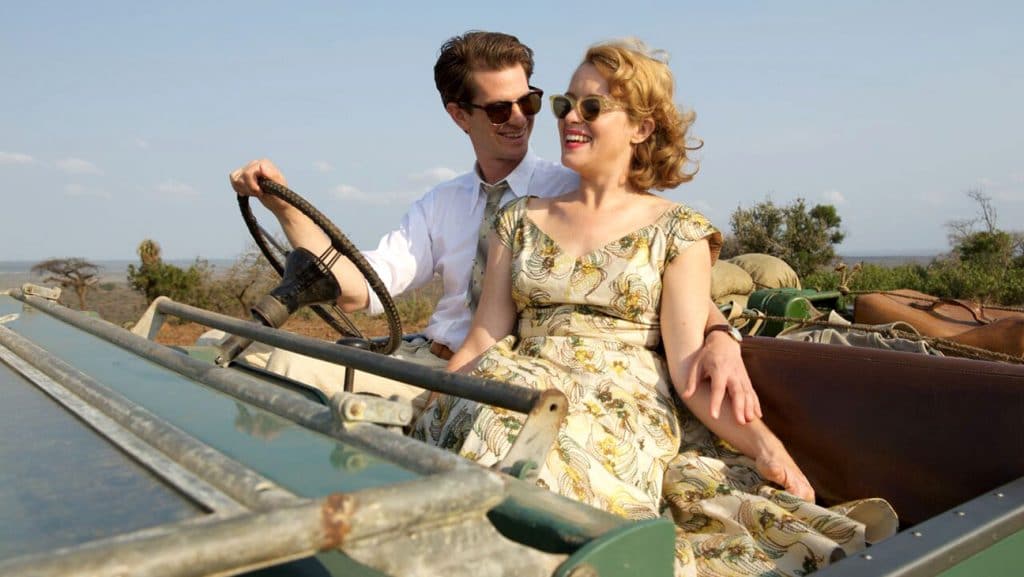 Breathe is based on a true story. It's directed by Andy Serkis and stars Andrew Garfield and Claire Foy as Robin and Diana Cavendish. After Robin contracts polio, his wife, her brothers, and an inventor fight to save his life.
It also stars Tom Hollander, Hugh Bonneville, Miranda Raison, and Dame Diana Rigg.
This period drama starts in 1958. You can stream it on Amazon Prime.
The Bookshop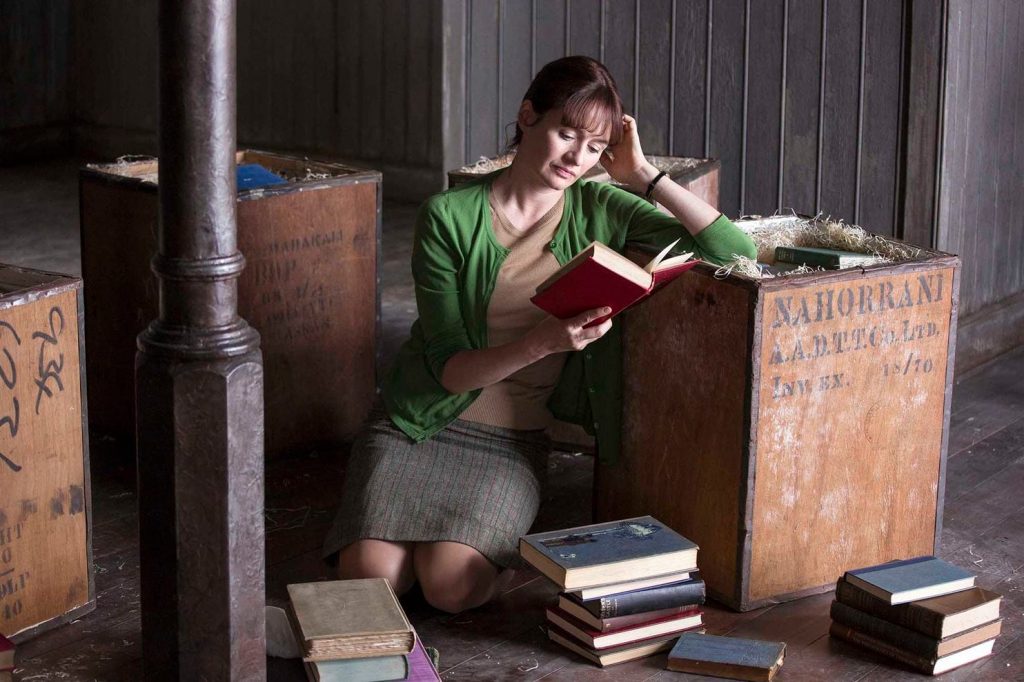 Emily Mortimer stars as a free-spirited widow who finally realizes her dream of opening a bookshop. One reviewer aptly calls this film, "Subtle yet deeply affecting," which couldn't be more poignant.
Mortimer's character is antagonized by a local upper-class woman who wishes to see the bookstore turned into a local arts center.
The Bookshop also stars Bill Nighy and Patricia Clarkson.
Stream The Bookshop on Amazon Prime.
Quirke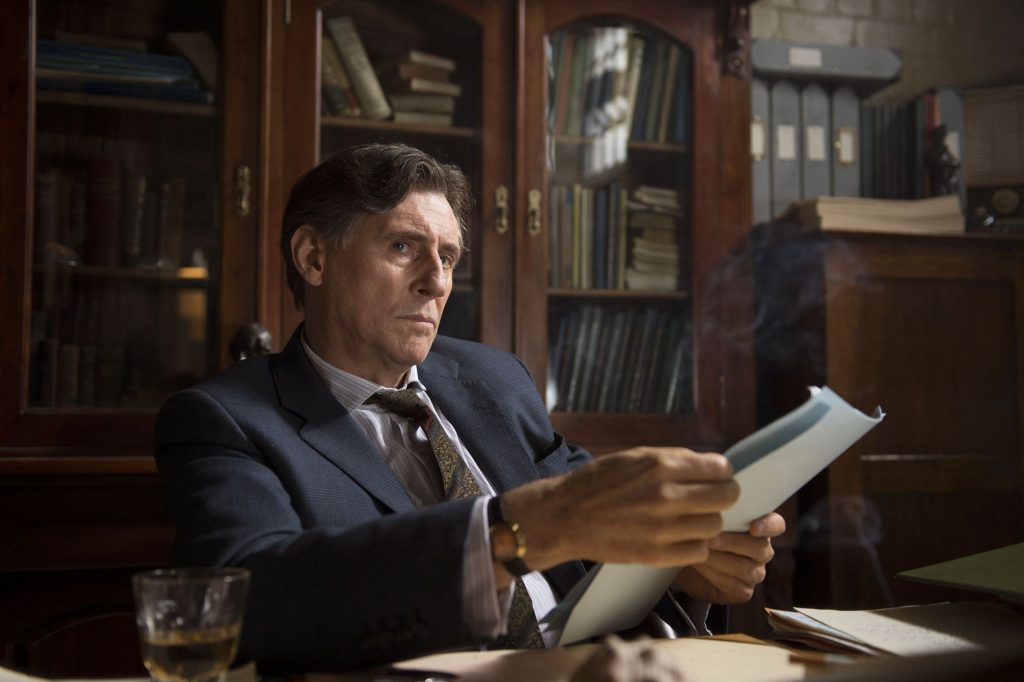 Dr. Quirke is the chief pathologist in the Dublin city morgue. This dark, Irish noir thriller is a three-part miniseries about a twisting mystery involving Quirke's own family, local politics, death, and conspiracy.
Starring Gabriel Byrne, Geraldine Somerville, Nick Dunning, Brian Gleeson, and Michael Gambon.
Quirke is streaming on BritBox.
What are your favourite British Period Dramas set in the 1950s?
Let us know in the comments below or reach out to us and fellow fans in our Facebook group.
Save this British TV list to Pinterest!