The 10 Best British Cooking Shows & Where to Watch Them
In some cases, we earn commissions from affiliate links in our posts.
Last Updated on October 27, 2021 by Stefanie Hutson
Editor's Note: This post has been updated since it was originally published, and some content may deviate from the original author's intent.
At least seventy British cooking shows are streaming in the U.S., and that can be a little overwhelming.
Where do you start? Which ones are the best?
Some shows teach you new recipes and skills, others take you on a grand tour, and some pit cooks against one another in fun competitions. We're including a little bit of everything here to give you a taste of the best cooking shows Britain has to offer – especially ones that focus on British food and culture.
Want to try British recipes? You may notice some of your favourite TV chefs use metric weight measurements. This can be frustrating if you're used to Imperial and Cup measurements.
Having a set of scales that switches back and forth from ounces to grams is also a great investment if you cook a lot of British recipes since they usually measure by weight. I personally have these Escali scales; they're reliable and come in several different colours.
Here are two websites you might like to bookmark to make things easier when using British recipes:
The 10 Best British Cooking Shows (aka Cookery Programmes)
This top ten list is based on IMDb ratings, popularity, and availability.
Feel free to drop your favourites in the comments.
The Great British Baking Show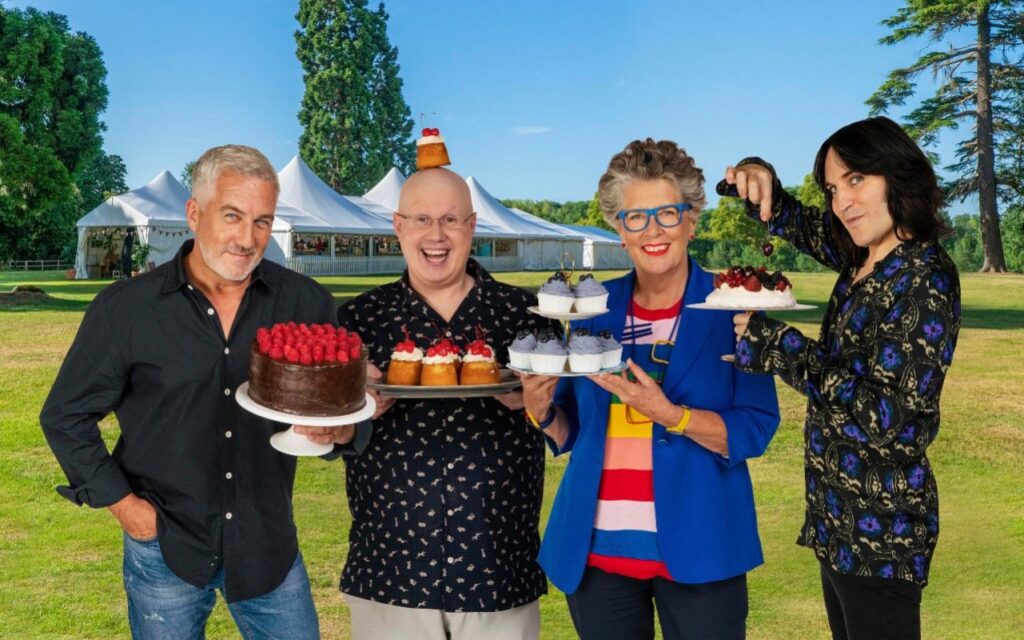 Does The Great British Baking Show need an introduction?
But, on the off-chance it does…
The Great British Bake Off, as it's known in the UK, began with Paul Hollywood and Mary Berry judging, Sue Perkins and Mel Giedroyc presenting, and Rupert Penry-Jones narrating. After the BBC sold it to Channel 4, Prue Leith replaced Mary Berry, Sandi Toksvig and Noel Fielding replaced Mel and Sue, and Rupert no longer narrates. But, it's still worth watching. (Even if it isn't as relaxing without Rupert Penry-Jones narrating it). Matt Lucas then went on to replace Sandi Toksvig.
The Great British Baking Show is beloved in the US for how it contrasts to American baking competitions: it isn't as stressful to watch. Instead, the quaint, understated British competition show could even be called relaxing at times.
Stream The Great British Baking Show on Netflix.
Great British Menu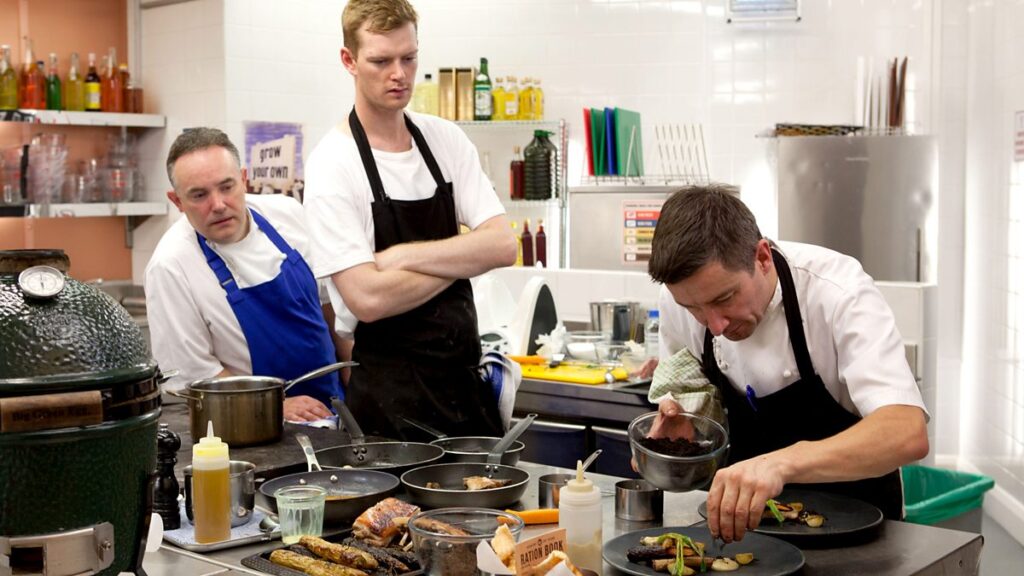 In this long-running competition show, some of Britain's best chefs cook with Britain's best produce. Chefs compete in themed rounds highlighting the many flavours of Britain. Fans of British food and culture will enjoy this popular show. The episode themes follow the landscape, starting in Scotland.
Great British Menu is streaming on Amazon Prime.
Gordon Ramsay's Ultimate Cookery Course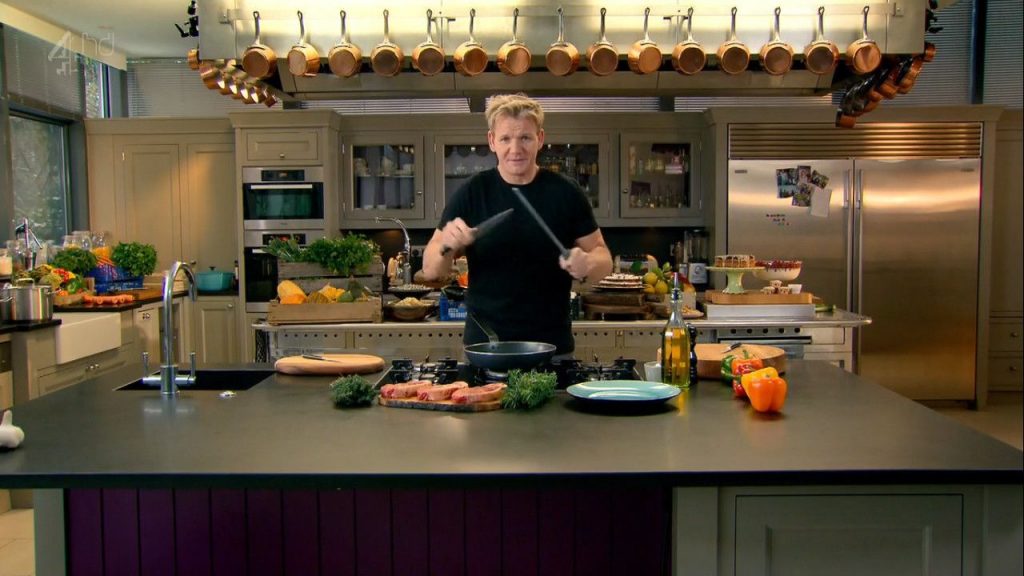 If you want to see Gordon Ramsay's take on home cooking, check out this show. Each episode follows a different theme: Getting Started, Cooking with Chili / Spice, Food on a Budget, Real Fast Food, Baking, Slow Cooking, and more. It truly acts like a cooking course. You might want to move the TV to the kitchen. Even more experienced chefs might learn something new from this helpful show. You can get the companion book to this series here.
You could easily call his restaurants and television shows the "Gordon Ramsay empire." He currently has around eighteen restaurants. In total, his restaurants have been awarded 16 Michelin stars. His most recent book is Quick and Delicious: 100 Recipes to Cook in 30 Minutes or Less.
Gordon Ramsay's Ultimate Cookery Course is free with ads on Tubi.
The Hairy Bikers' Food Tour of Britain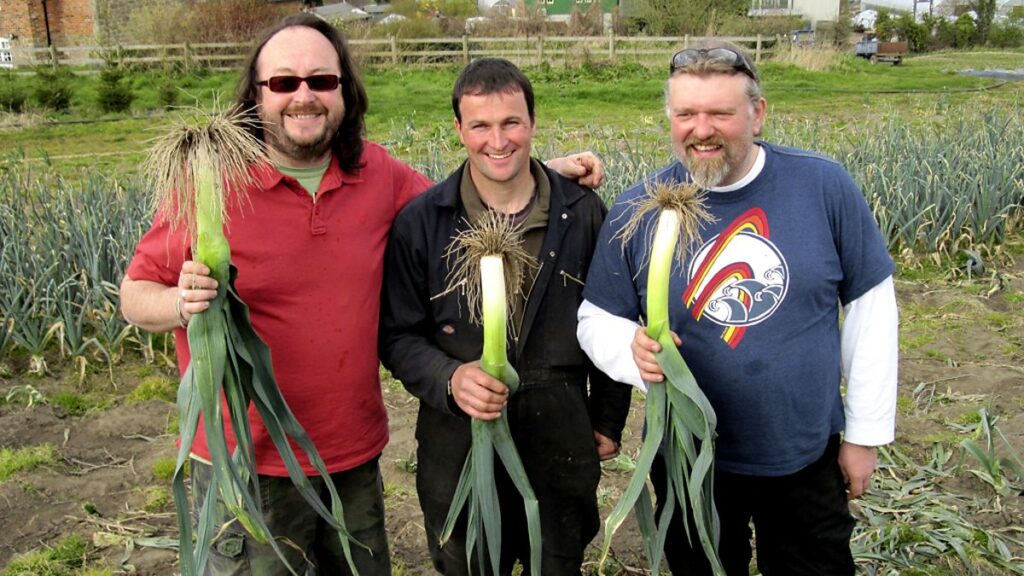 In this series, Dave and Si ride their bikes around Britain. They start in Suffolk then head to Northern Ireland's lake district Fermanagh, along with Cheshire, Shropshire, Lincolnshire, Kent, and many more.
Hairy Bikers Dave Myers and Si King are television chefs who often combine cooking instruction and travelogue formats. They have been cooking together for over twenty years and have many bestselling books. Their website hairybikers.com offers recipes, news, and more. If you're mostly interested in British food, check out their book The Hairy Bikers' British Classics.
The Hairy Bikers' – The Food Tour of Britain is streaming for free with ads on Tubi.
Jamie's Quick & Easy Food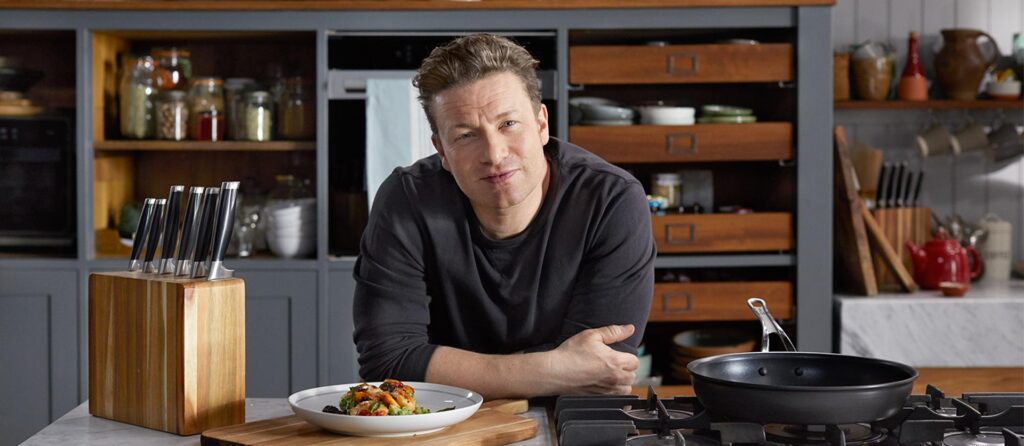 It looks easy because it is. In this series, Oliver continues focusing on simple recipes that nearly anyone can make without feeling overwhelmed. It's a great way to experiment with ingredients you might find a little intimidating, like scallops, steak, puff pastry, lamb, gnocchi, and more.
Oliver has starred in over thirty different cooking shows or specials. Currently, his most popular book on Amazon is 5 Ingredients: Quick & Easy Food. And that's saying something. As of February 2019, Jamie Oliver is the second-best-selling British author after J.K. Rowling.
Jamie's Quick & Easy Food is streaming on Hulu.
Mary Berry's Absolute Favourites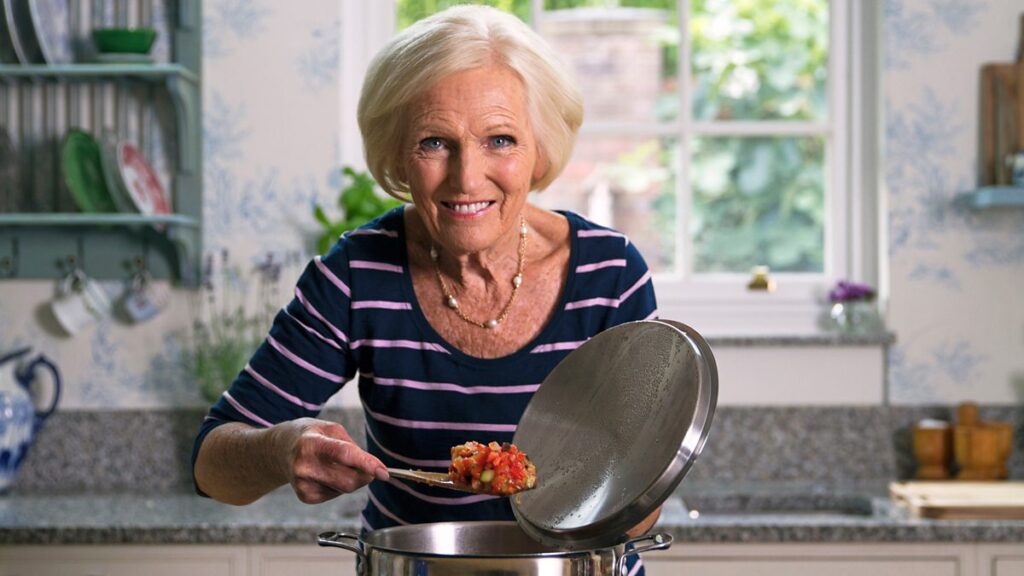 In this series, Mary Berry shows you how to make her absolute favourite recipes. It features quaint, delicate music and great shots of food, just like The Great British Baking Show.
Dame Mary Berry became food editor of Housewife magazine in 1966 and was food editor of Ideal Home magazine from 1970 to 1973. Mary Berry's first cookbook came out in 1970 and she has since published more than 70 books, including an autobiography. Her most popular cook book is Mary Berry's Baking Bible with over 250 recipes.
Mary Berry's Absolute Favourites is streaming for free with ads on Tubi.
My Greatest Dishes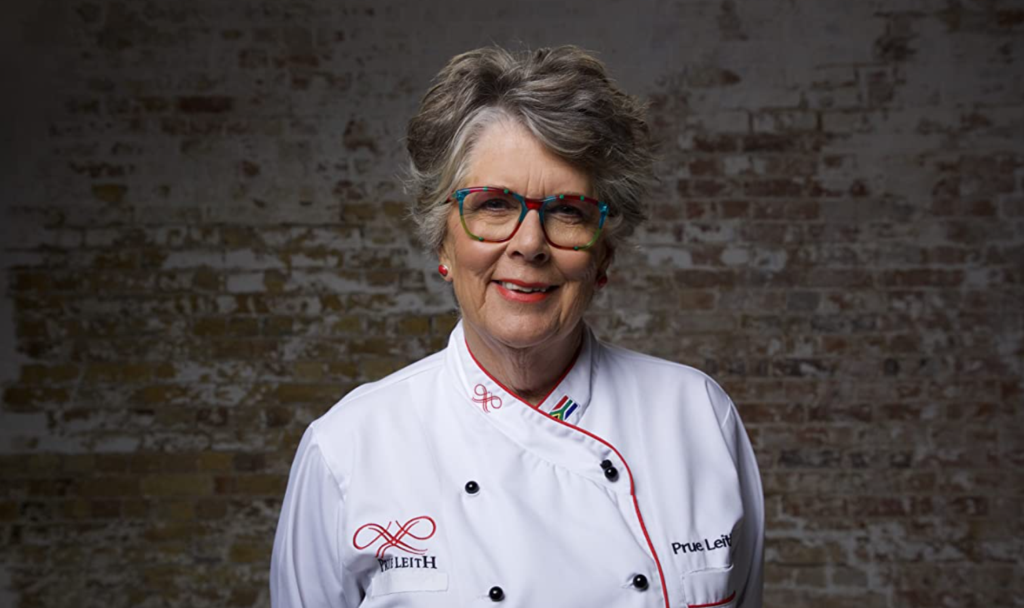 This is a celebration of great chefs and their food journeys. My Greatest Dishes is narrated by British actor Sean Pertwee. Each of the twenty episodes follows a different chef as they walk you through their signature dishes. You might recognise Great British Baking Show host Prue Leith in episode two. This show also covers Tom Kerridge, Richard Bainbridge, Angela Hartnett, and more.
My Greatest Dishes is streaming on Amazon Prime.
Niegllissima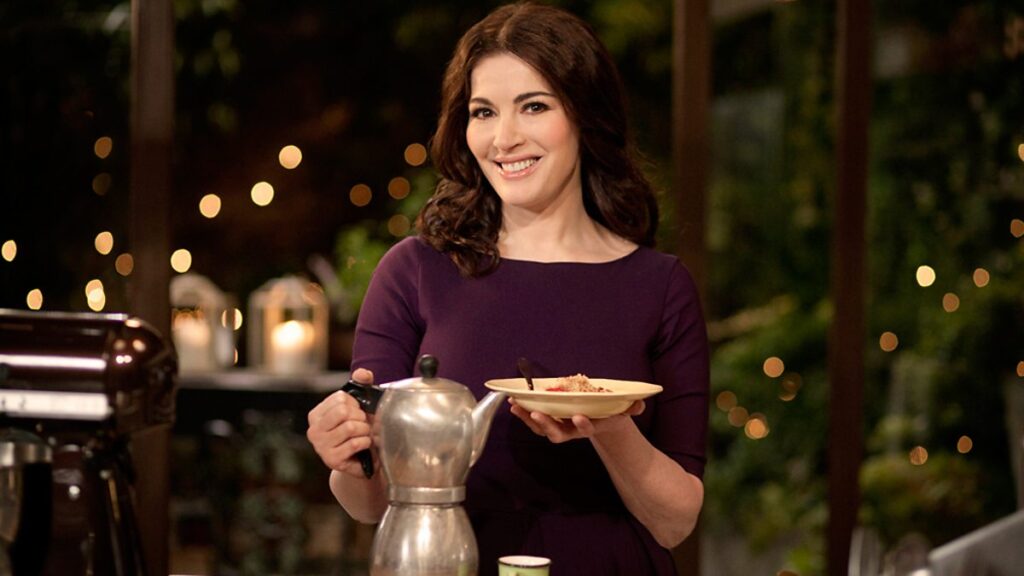 Nigella Lawson is a popular TV chef and food writer in the UK. She started her career as a journalist and worked as a freelance writer. She published her first cookbook in 1998 and her first television show, Nigella Bites, ran from 1999 to 2001. She is now a successful food writer and television chef. Nigellissima focuses on Italian-inspired cooking. You can get the companion cookbook here.
Stream Nigellissima on BritBox.
Nigel Slater: Eating Together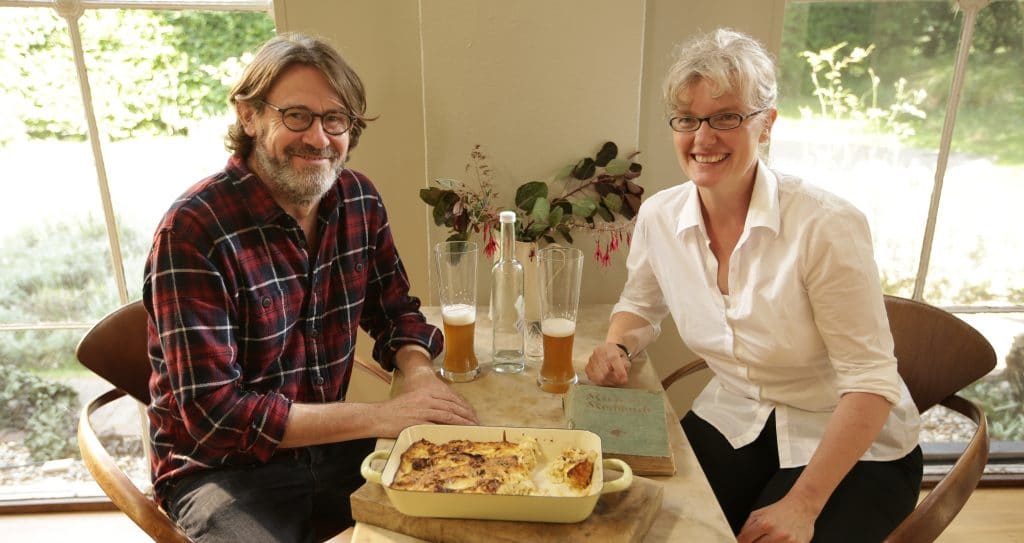 In this tour of British home cooking, food writer and chef Nigel Slater goes from home to home looking for different versions of recipes. Nigel Slater introduces the show with the line, "The journey will take me around the world – the beauty is, I won't even need a passport." He shows how Britain truly is a melting pot of people, cultures, and flavours.
Fun fact: The movie Toast starring Helena Bonham Carter and Freddie Highmore is an adaptation of Nigel Slater's autobiography of the same name.
Nigel Slater Eating Together is streaming for free with ads on Tubi.
Britain's Best Bakery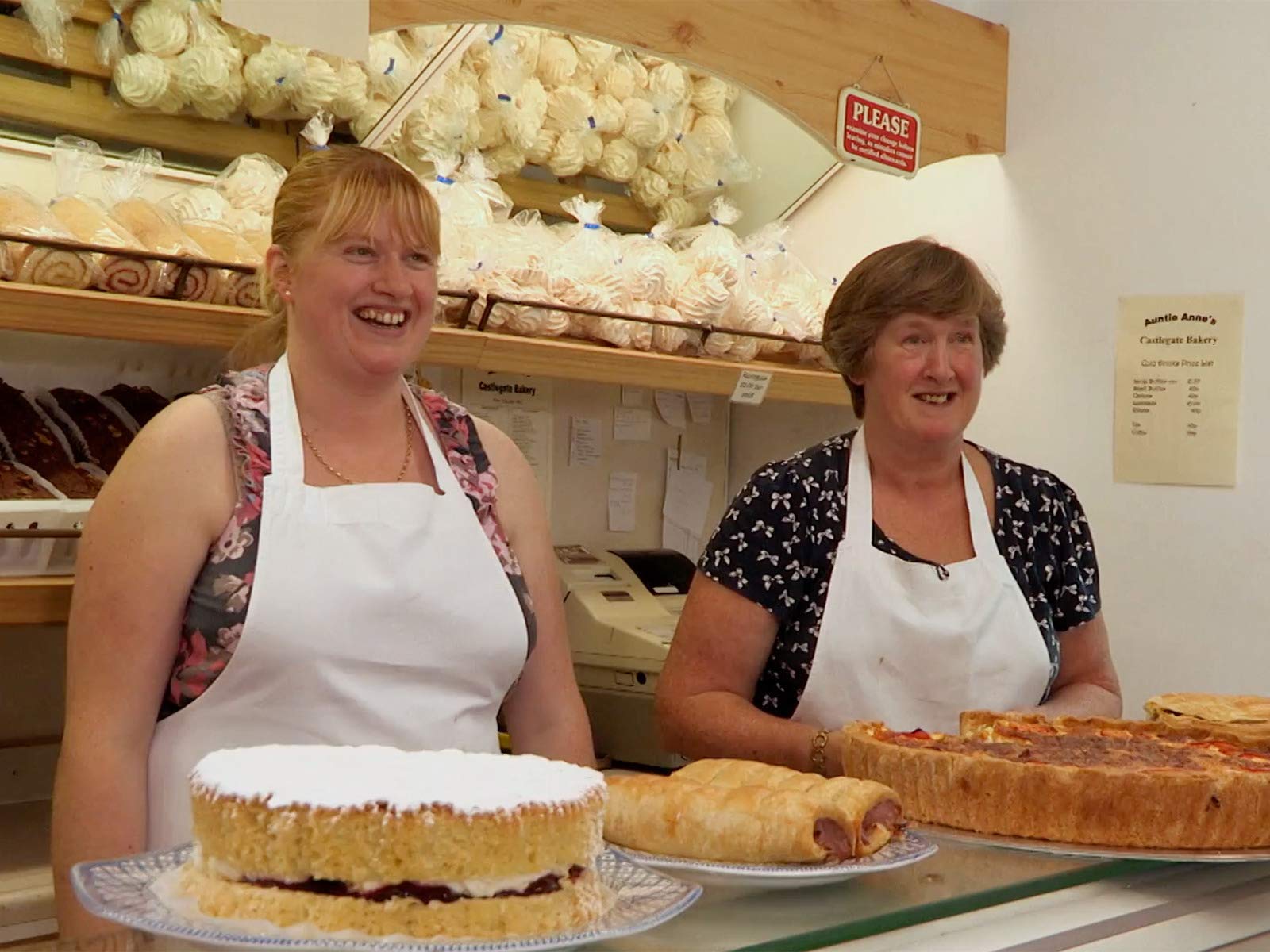 If you get tired of all the celebrity chefs, Britain's Best Bakery offers a fun alternative. Real bakeries from all over the UK compete in a series of challenges to test their skills, and you often see small, traditional village bakers competing against highly-trained former patisserie chefs. Along the way, you get a glimpse of what life and people are like all over the country.
What is Your Favourite British Cooking Show?
Let us know in the comments below!
Save it to Pinterest!