21 Great British Period Dramas Set in the Edwardian Era
In some cases, we earn commissions from affiliate links in our posts.
Last Updated on April 28, 2021 by Liberty White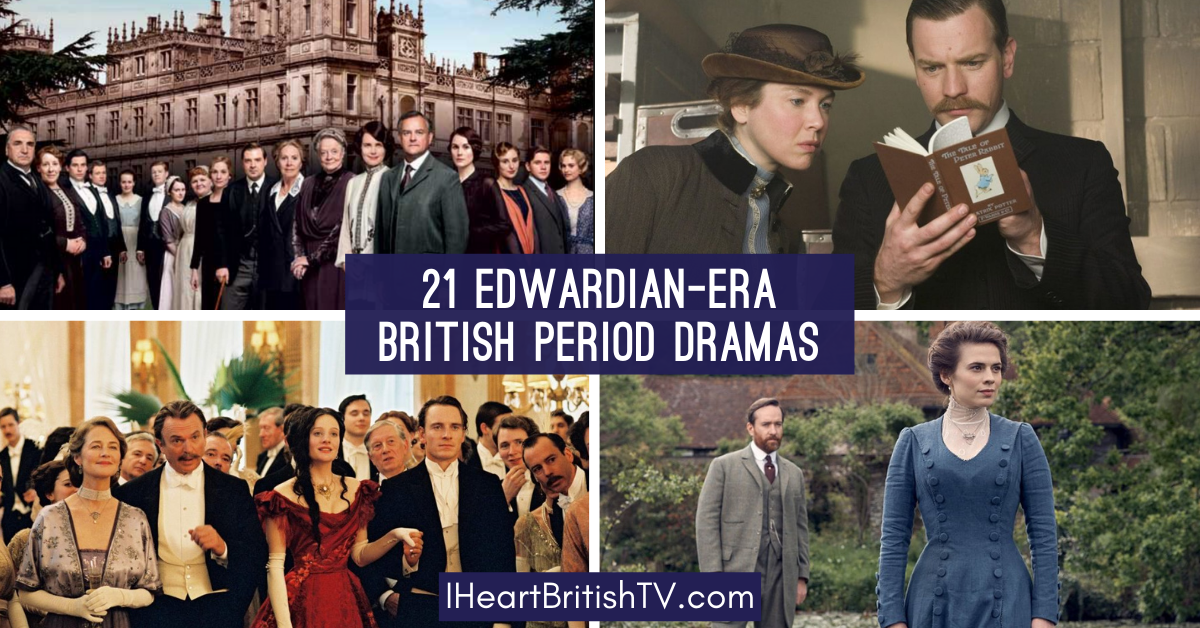 Compared to Queen Victoria's long 63-year-and-seven-month reign, the Edwardian era is the mere blink of an eye. The Edwardian Era lasted just nine years, from 1901 to 1910 (although some extend this to the beginning of the First World War). It was also the last period in British history to be named after a monarch.
A BAFTA award-winning mini series about Edward VII from 1975 is available on DVD, but you'll need a region-free DVD player to watch it.
Due to the historical importance of the First World War, several of these stories start in the Edwardian Era and conclude during or after the war.
21 Great British Period Dramas Set in the Edwardian Era
Like our Victorian era list, I attempted to organize this list chronologically based on when the productions are set. So, you can watch them in historical order if you wish.
The Go-Between
Okay, you caught me. The Go-Between takes place in 1900, not 1901… but the Victorian Era list is ever-so long and the feel of this story fits well with the Edwardian list, so I'm being rebellious and including it here.
It follows the journal of a 13-year-old during the summer of 1900. It's based on the book by L. P. Hartley.
Starring Joanna Vanderham, Jim Broadbent, Jack Hollington, Vanessa Redgrave, Lesley Manville, and Stephen Campbell Moore.
Watch The Go-Between on Amazon Prime.
There's an older version from 1970 also streaming on Prime.
Where Angels Fear to Tread
A recent widow travels to Italy and falls in love with a penniless man. It's based on a E. M. Forster novel.
Starring Rupert Graves, Helen Mirren, Helena Bonham Carter.
Rent or own Where Angels Fear to Tread on Amazon.
The Secret Garden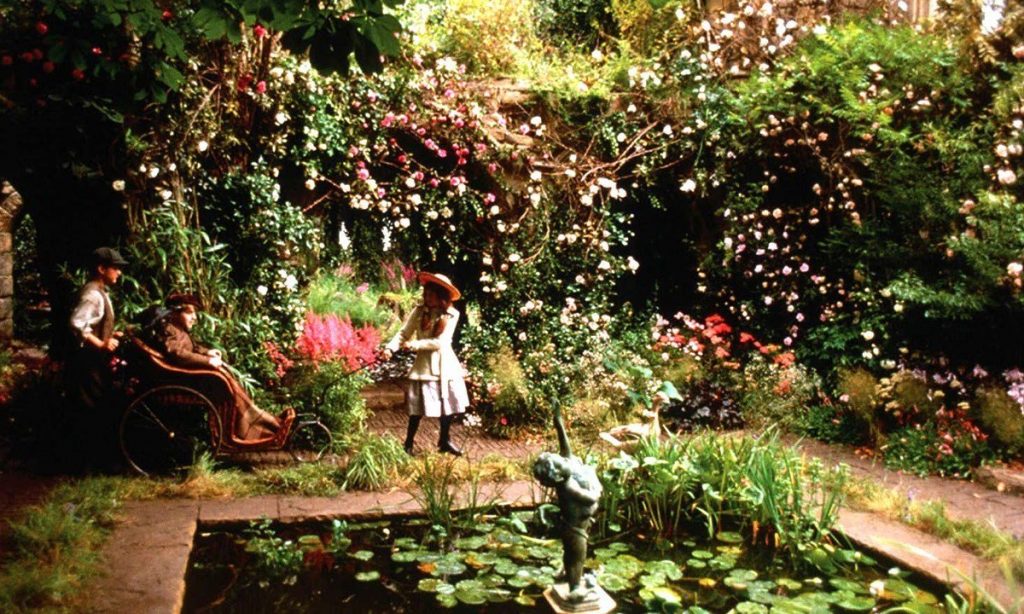 The Secret Garden follows the story of a young orphan girl who goes to live at her uncle's manor.
The 1993 version stars Kate Maberly, Heydon Prowse, Andrew Knott, and Maggie Smith.
Streaming on IMDb TV via Amazon (as of autumn 2020). A newer version was released in 2020 (watch it HERE), but unlike the book and earlier adaptations, it takes place in the 1940s.
Miss Potter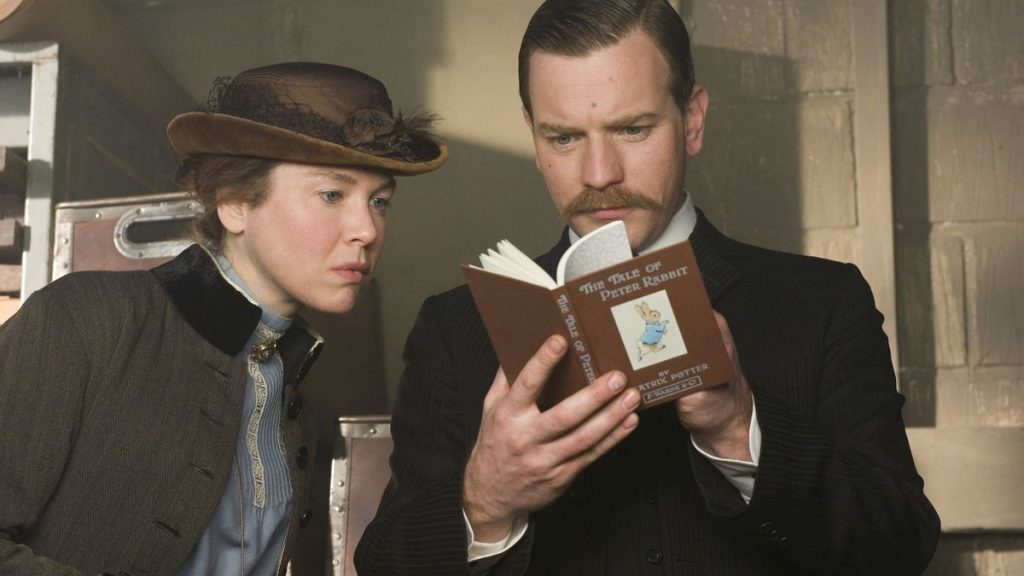 Miss Potter follows the perseverance of Beatrix Potter, famous for The Tales of Peter Rabbit.
Starring Renee Zellweger, Ewan McGregor, and Emily Watson.
You can own Miss Potter on Amazon.
Finding Neverland
Finding Neverland follows the origin story of Peter Pan and its writer, J. M. Barrie. It stars Johnny Depp and Kate Winslet.
Finding Neverland is streaming on Showtime or available to rent/own on Amazon.
Angel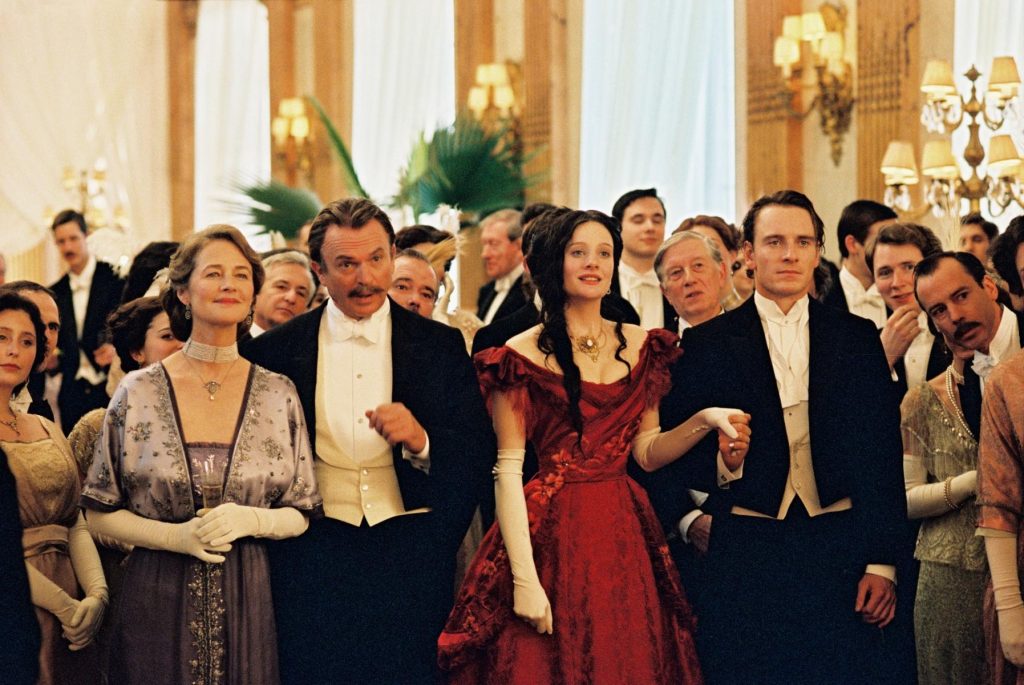 Angelica Deverell wants to live in the fanciest house in her neighborhood, so she turns her fantasies into a sensationalist novel and becomes a published writer.
This enticing melodrama stars Romola Garai, Michael Fassbender, Sam Neill, and Charlotte Rampling.
Unfortunately, it is not streaming right now, but the DVD is available on Amazon.
Lost City of Z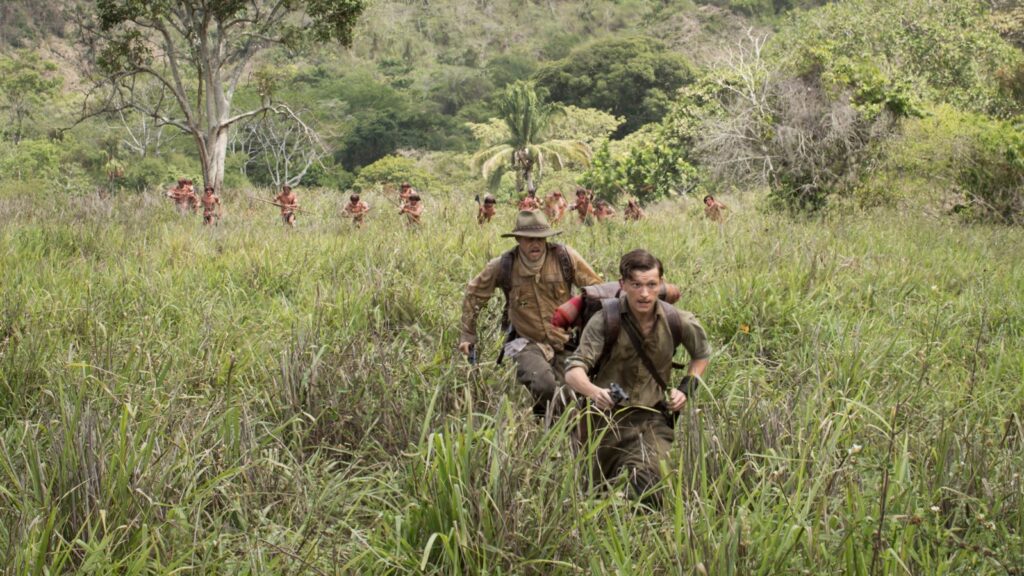 This story begins in 1905 and concludes shortly after the end of the Edwardian era in the 1920s. It's based on the true adventures of Percy Fawcett who discovers evidence of an advanced civilization in South America. Based on real events.
Starring Charlie Hunnam as Percy Fawcett, Tom Holland, Robert Pattinson, and Sienna Miller.
Stream The Lost City of Z on Amazon Prime.
Arthur & George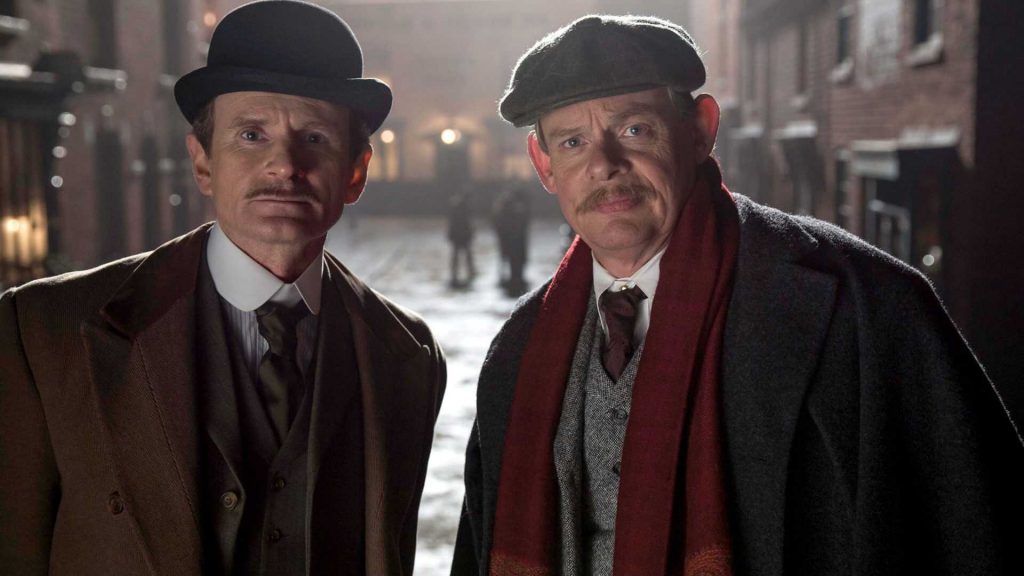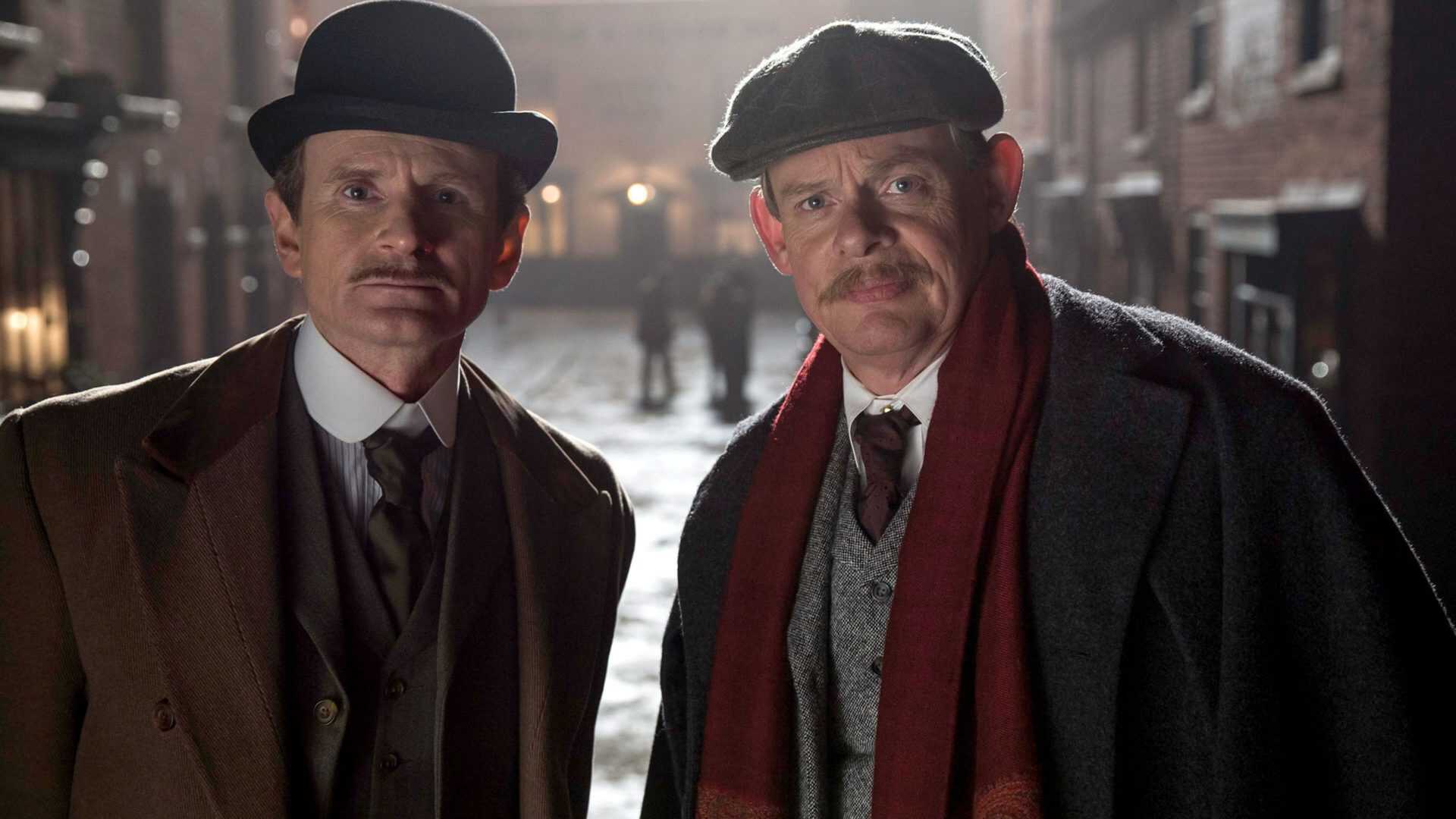 Arthur Conan Doyle, renowned for his Sherlock Holmes detective novels, investigates a man convicted of animal mutilation. It is a three-part miniseries based on a book of the same name by Julian Barnes which is based on the Great Wyrley Outrages (a series of a series of horse, cow, and sheep mutilations).
It stars Martin Clunes as Arthur Conan Doyle.
Streaming on PBS Masterpiece via Amazon.
The Railway Children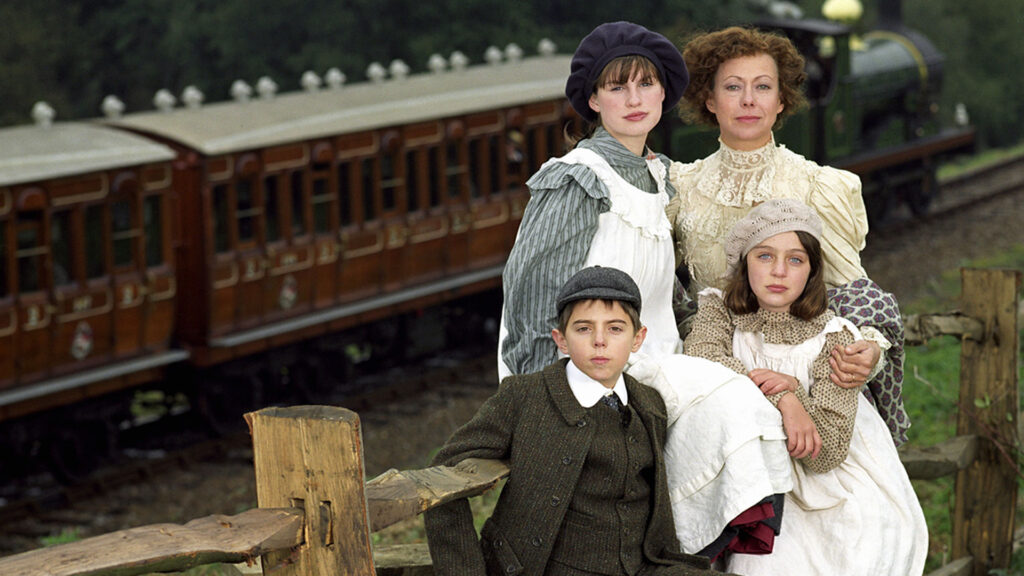 The Railway Children follows the lives of three kids who move to a cottage near a railway line in Yorkshire. It's a heartwarming, family-friendly escape filled with intriguing characters. It's based on the novel by Edith Nesbit.
You'll see Richard Attenborough, Sophie Thompson, JJ Feild, Michael Kitchen, and more.
Stream The Railway Children on Amazon Prime.
Mr. Selfridge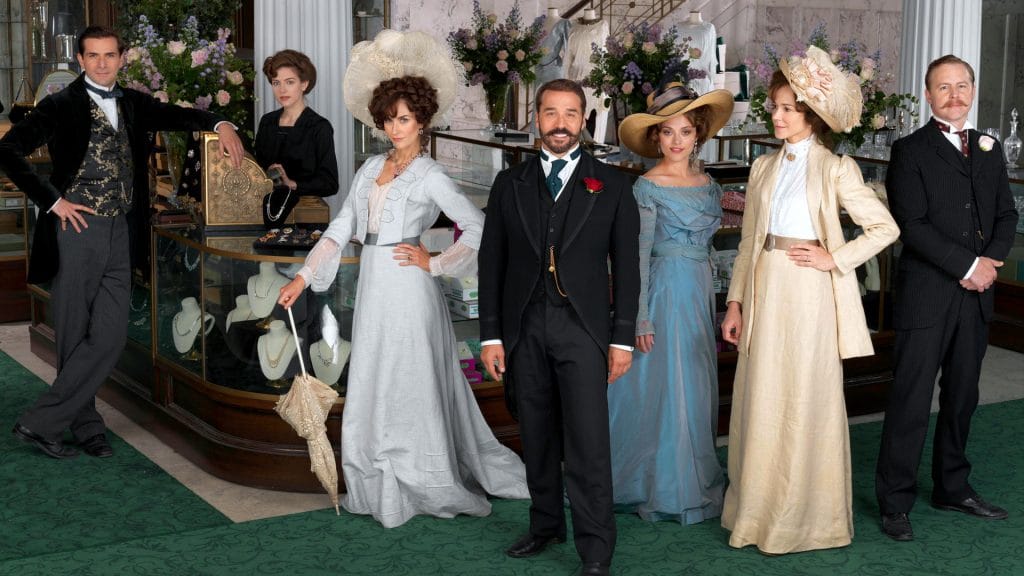 Mr. Selfridge begins in 1908 and tells the story of entrepreneur Harry Gordon Selfridge and the department store he built on Oxford Street in London. Fans of The Paradise from our Victorian period dramas list will enjoy this series.
Starring Jeremy Piven, Katherine Kelly, Amanda Abbington, Ron Cook, and Tom Goodman-Hill.
Stream Mr. Selfridge on PBS Masterpiece via Amazon.
The Lost Prince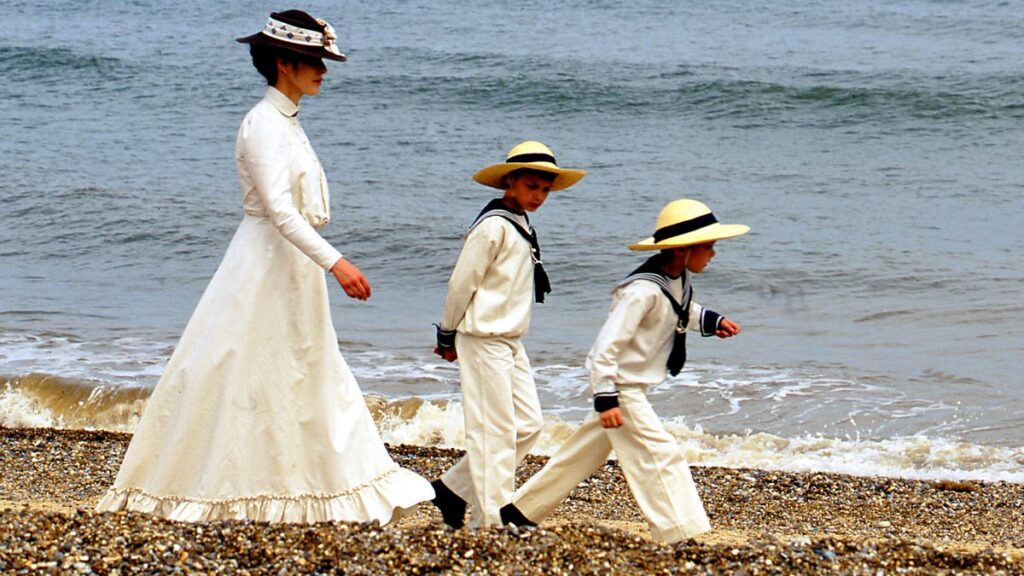 The Lost Prince tells the story of Prince John, the son of George V and Queen Mary, who was kept from public life because of his epilepsy and learning disabilities.
Starring Matthew James Thomas, Miranda Richardson, Tom Hollander, and Bill Nighy.
Available to stream on Hoopla or on DVD from Amazon – Just be sure you get a region that will work in your DVD player (NTSC for American DVD players, PAL for European ones) or invest in a region-free DVD player.
Howards End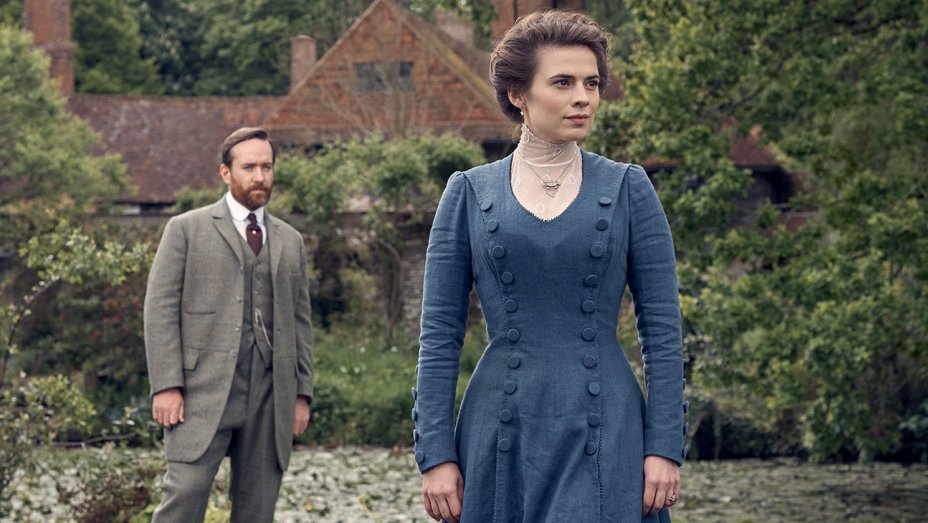 The story of Howards End revolves around three families: the Wilcoxes, the Schlegel siblings, and the Basts. Margaret Schlegel befriends the Wilcox matriarch who promises her the family house, Howards End. But when Mrs. Wilcox dies, her will is nowhere to be found. Based on the book by E. M. Forster.
It stars Haley Atwell and Matthew Macfayden.
Howards End is streaming on Amazon Prime.
The Wings of the Dove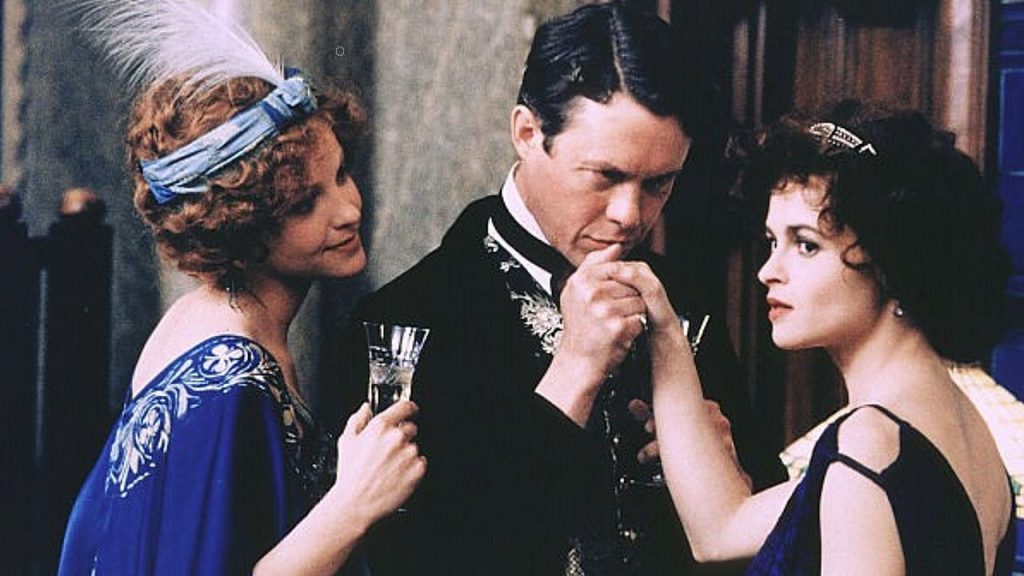 Kate, played by Helena Bonham Carter, is a young high-society woman who falls in love with a common journalist. Based on the book by Henry James.
This tale of forbidden love also stars Alison Elliott, Linus Roache, Alex Jennings, Michael Gambon, Charlotte Rampling, and Elizabeth McGovern.
Streaming on Cinemax or available to rent/own on Amazon.
Edwardian Era Ends, Pre-War Era Begins
Edward VII died on the sixth of May in 1910. There is a short period after his reign before the Great War broke out in 1914, but for the love of British TV, we'll keep going…
An Inspector Calls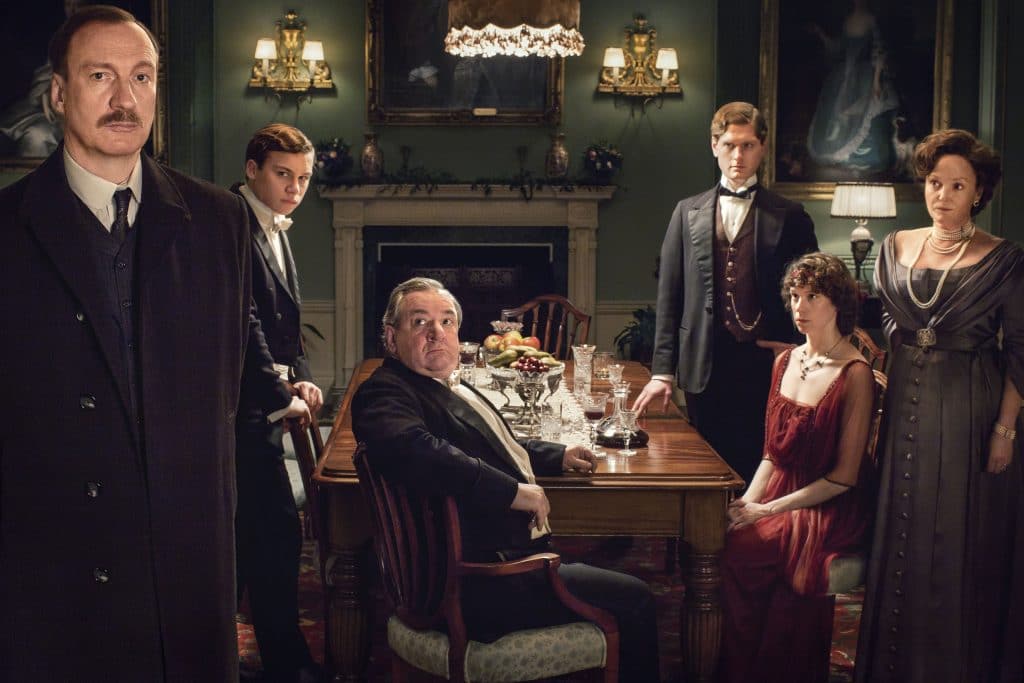 An Inspector Calls stars David Thewlis as Inspector Goole. He interrogates a family after the suicide of a young woman. Based on the play by J. B. Priestley.
Also starring Sophie Rundle, Chloe Pirrie, Finn Cole, Miranda Richardson, Ken Stott, and Kyle Soller.
An Inspector Calls is streaming on Amazon Prime.
Summer in February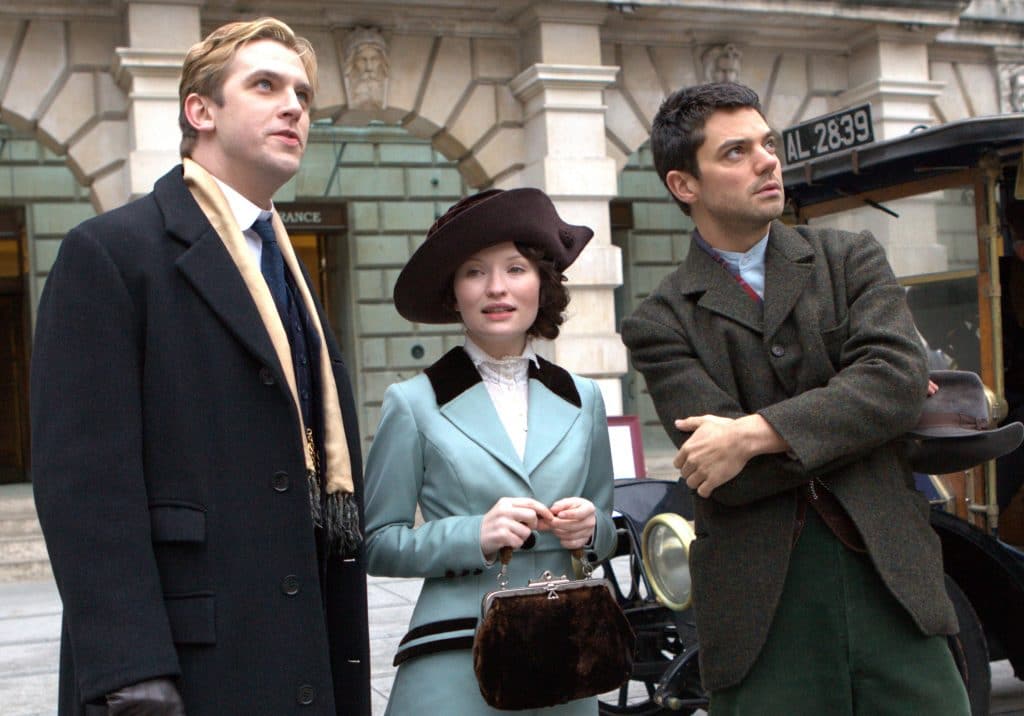 A love triangle creates contention in the Edwardian artists' colony in Cornwall (The Newlyn School). Gorgeous coastal scenery. Based on the true story of painter Sir Alfred Munnings and his best friend Gilbert.
Starring Dominic Cooper, Emily Browning, and Dan Stevens.
Streaming for free on IMDb TV via Amazon.
Suffragette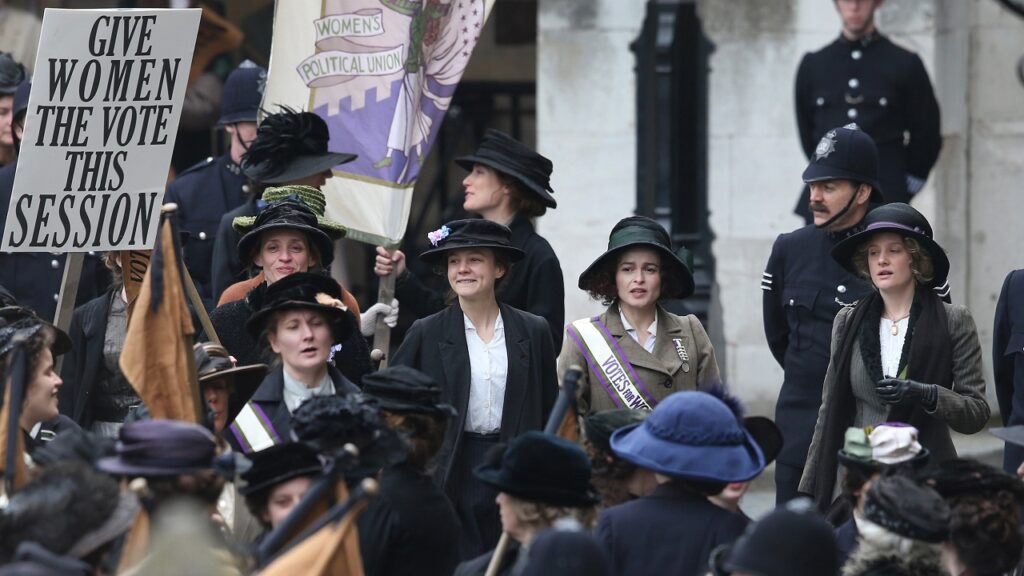 It's 1912, London. Women are fighting of their right to vote. When they find peaceful protests are not effective, they turn to more radical tactics.
Starring a fabulous cast of talented women: Carey Mulligan, Anne-Marie Duff, Romola Garai, Helena Bonham Carter, and Meryl Streep.
Streaming on Netflix or available to rent/own on Amazon.
Downton Abbey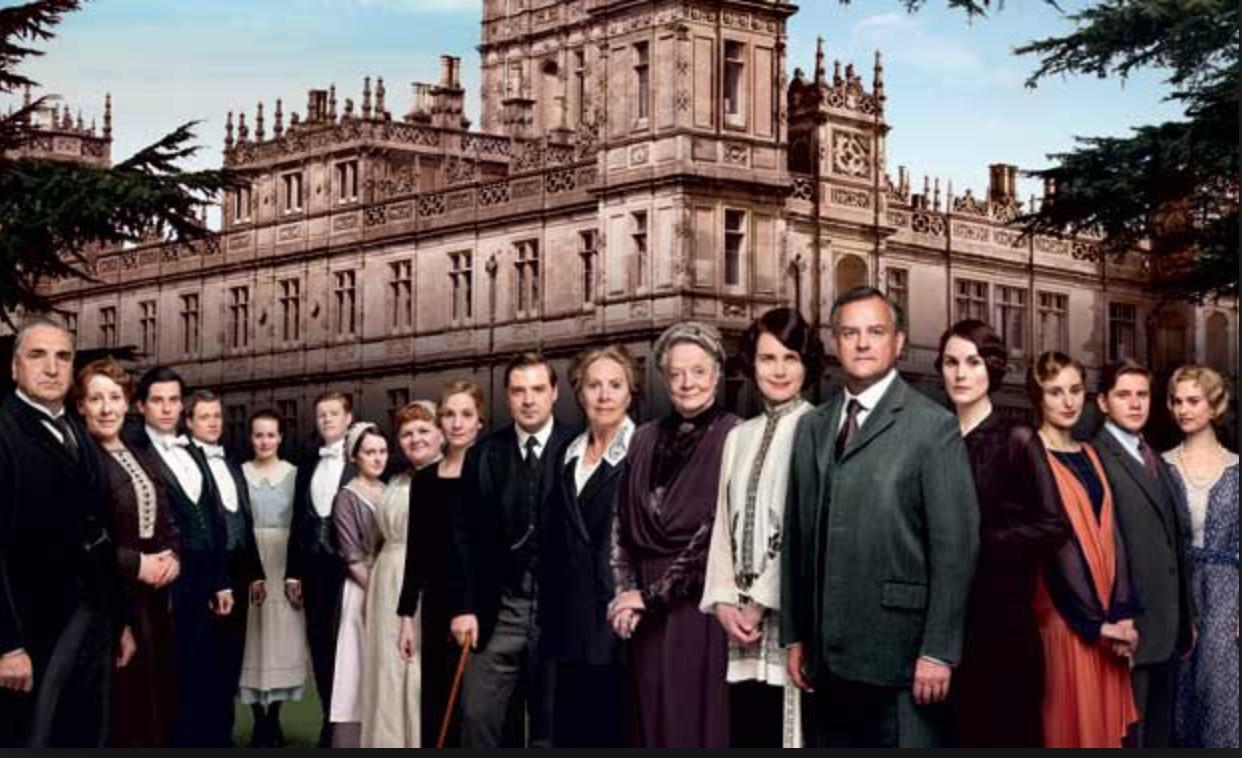 Downton Abbey begins in 1912 with the sinking of the Titanic. This tragedy is just a taste of what is to come: WWI. Downton Abbey is an epic saga following both the upper-class Crawley family and their servants. It's set in a luxurious Edwardian mansion in Yorkshire.
Continue the story with the movie, released in 2019 – now streaming on HBO and available to rent/own on Amazon.
Maurice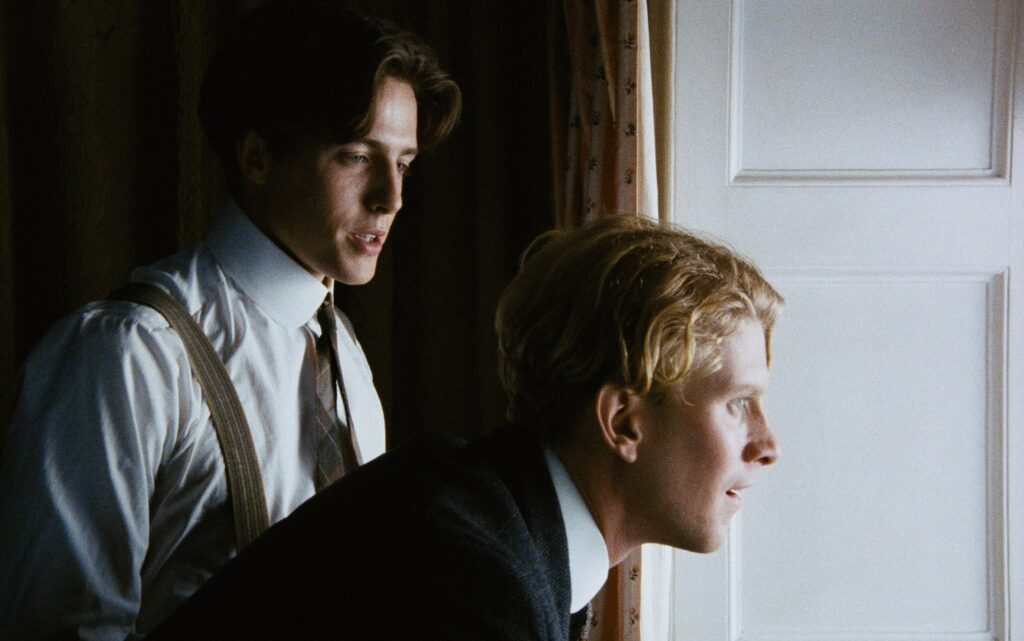 Maruice is an LGBTQ+ drama based on a novel of the same name by E. M. Forster. It deals with accepting sexuality despite the criticism and condemnation of Edwardian society.
Starring Hugh Grant, Rupert Graves, Ben Kingsley, and James Wilby.
Own or rent Maurice on Amazon.
Parade's End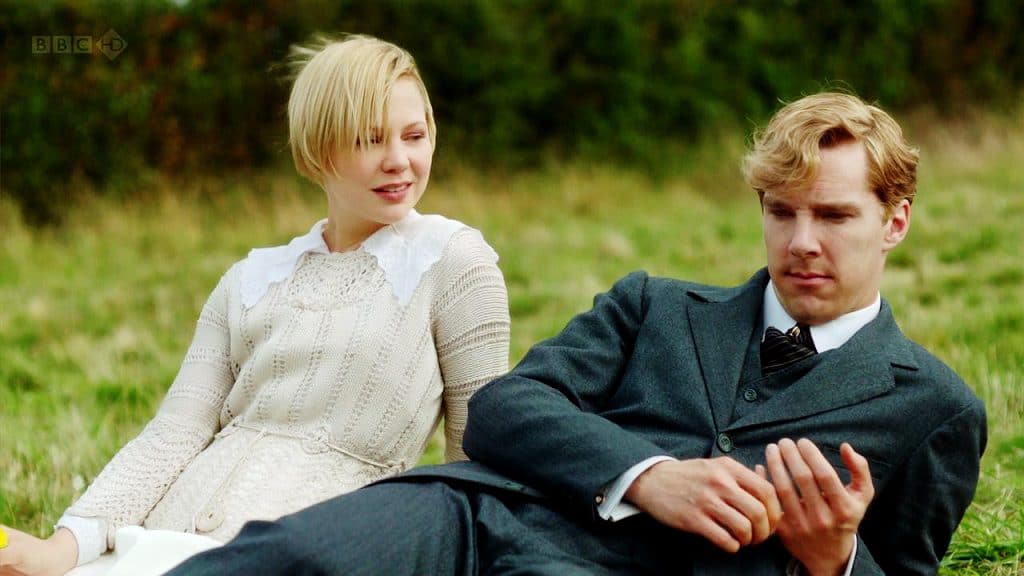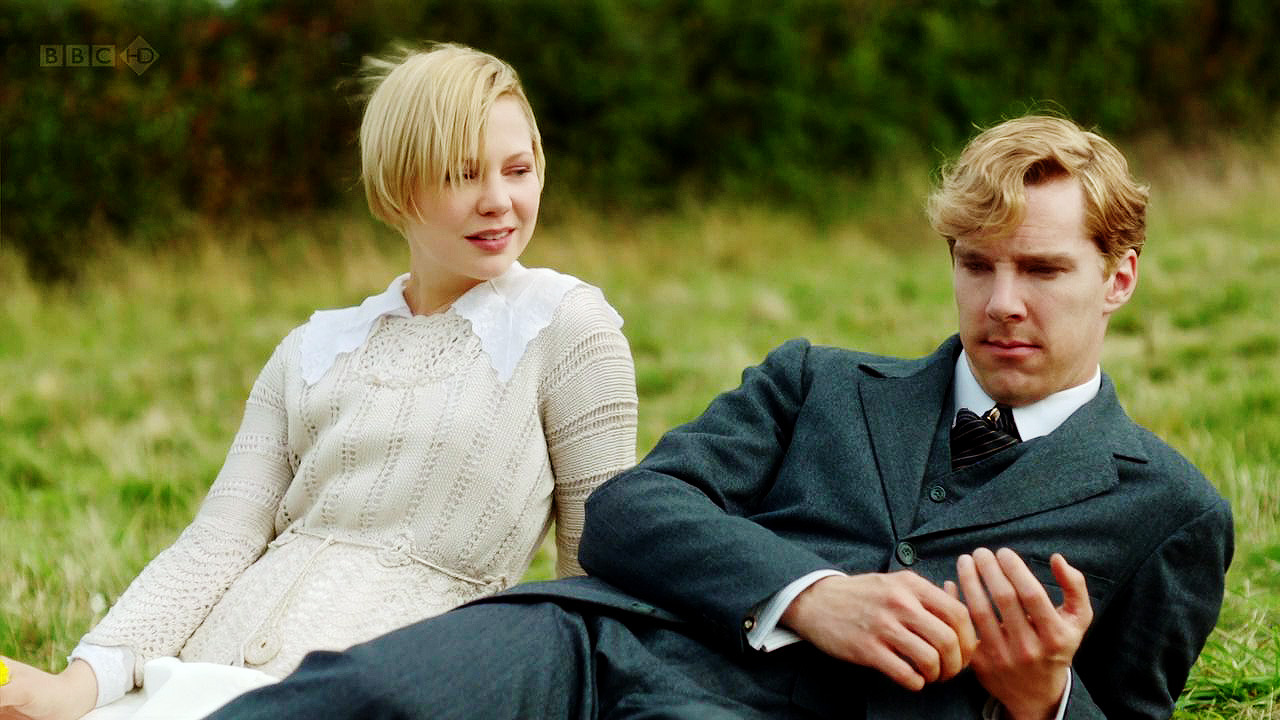 At its heart, Parade's End is a love story set during a tumultuous era. It takes place before, during, and after WWI. It stars Australian actress Adelaide Clemens as a young suffragette, Benedict Cumberbatch as a conservative aristocrat, and Rebecca Hall as his abusive wife. Their personal lives are complicated and overshadowed by politics and war. Written by none other than Tom Stoppard.
Also starring Roger Allam, Miranda Richardson, Rufus Sewell and more.
It's included with Amazon Prime. If you have HBO, you'll also find it there.
Tolkien
This film covers author J.R.R. Tolkien's formative years, including schooling, young love, and WWI. This film is understated and far too short; they should have made a whole series so they were able to dig deeper into his life, but this will suffice. It is still a great film to watch if you love Tolkien, Lord of the Rings, The Hobbit, and Edwardian/WWI history.
Tolkien is played by Nicholas Hoult. It also stars Lily Collins, Craig Roberts, Pam Ferris, Colm Meaney, and the legendary Derek Jacobi.
It's streaming on HBO and available for rent or purchase through Amazon.
Shackleton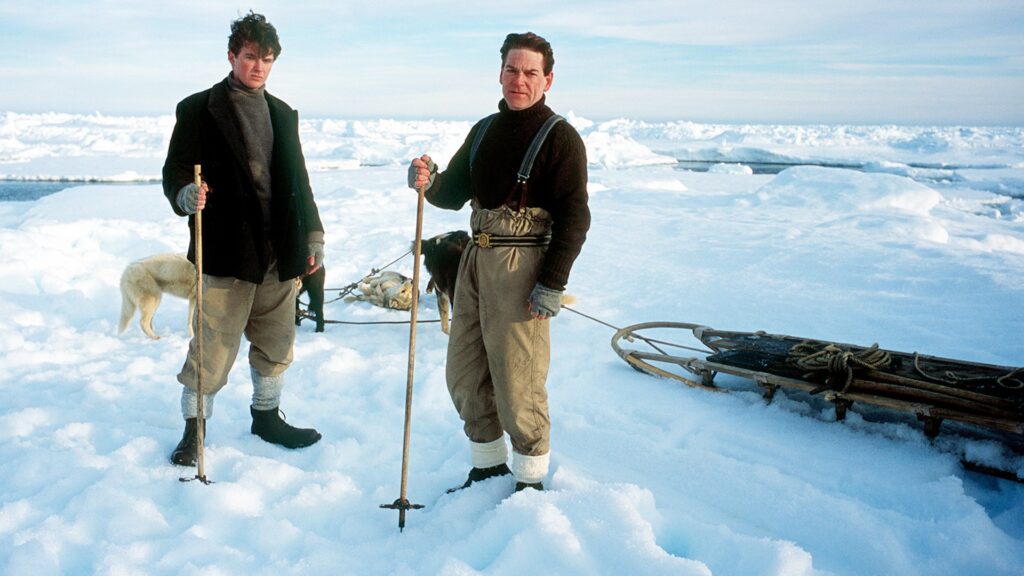 This two-episode miniseries stars Kenneth Branagh as explorer Ernest Shackleton. Based on the 1914 Endurance expedition to the South Pole where his ship is crushed in pack ice.
It's not currently streaming, but you can get the NTSC (Americas) format DVD on Amazon.
What are your favourite Edwardian Era Period Dramas?
Let us know in the comments below or join our Facebook group and chat with us!
Ready for more historical British period dramas?
If you're going in historical order, check out my list of WWI Movies & TV Shows.
Save it to Pinterest!