(2023) The Best British TV Shows on PBS Masterpiece Channel
In some cases, we earn commissions from affiliate links in our posts.
Last Updated on May 23, 2023 by Stefanie Hutson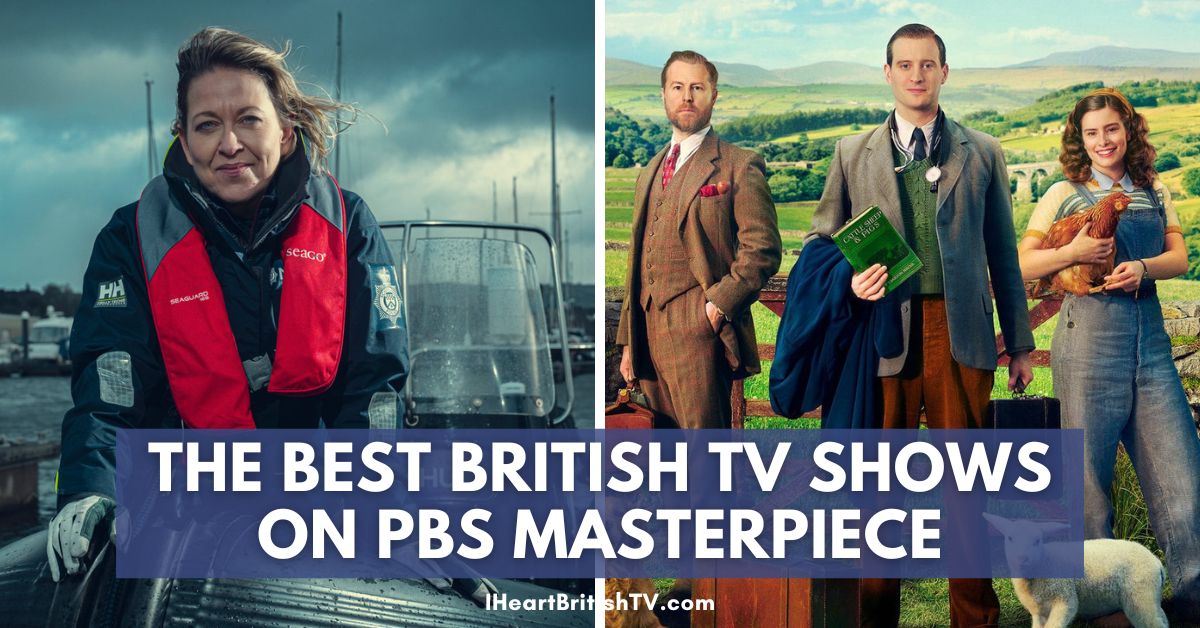 While Acorn TV and BritBox usually get the bulk of the British TV channel attention, PBS Masterpiece has quietly been building a fantastic channel that's well worth your time and attention – especially if you enjoy mysteries and dramas. They don't have as many individual titles as some of the other services, but they make up for it in having a lot of big-name, recent dramas.
You can get PBS Masterpiece HERE.
What is PBS Masterpiece?
First off, let's clarify exactly what we're talking about here. There's the long-running Masterpiece series that showcases British mysteries, but this is something slightly different. PBS Masterpiece is a channel you can subscribe to through Amazon, much like you might subscribe to BritBox or Acorn. You'll need an Amazon Prime or Prime Video subscription as a prerequisite, but that's not all bad news.
In addition to the British TV shows below, your PBS Masterpiece subscription also includes a rotating selection of "Walter Presents" shows. Those are non-English dramas primarily hailing from mainland Europe and Scandinavia. Many of the shows on our "Best French Mysteries & Crime Dramas" list are included with a PBS Masterpiece membership.
PBS Masterpiece should also not be confused with PBS Passport. PBS Passport is a form of online access you can get through the PBS website and Roku app in exchange for a small monthly donation. Passport is tailored to your local market, and some are definitely better than others.
The Best British TV Shows on PBS Masterpiece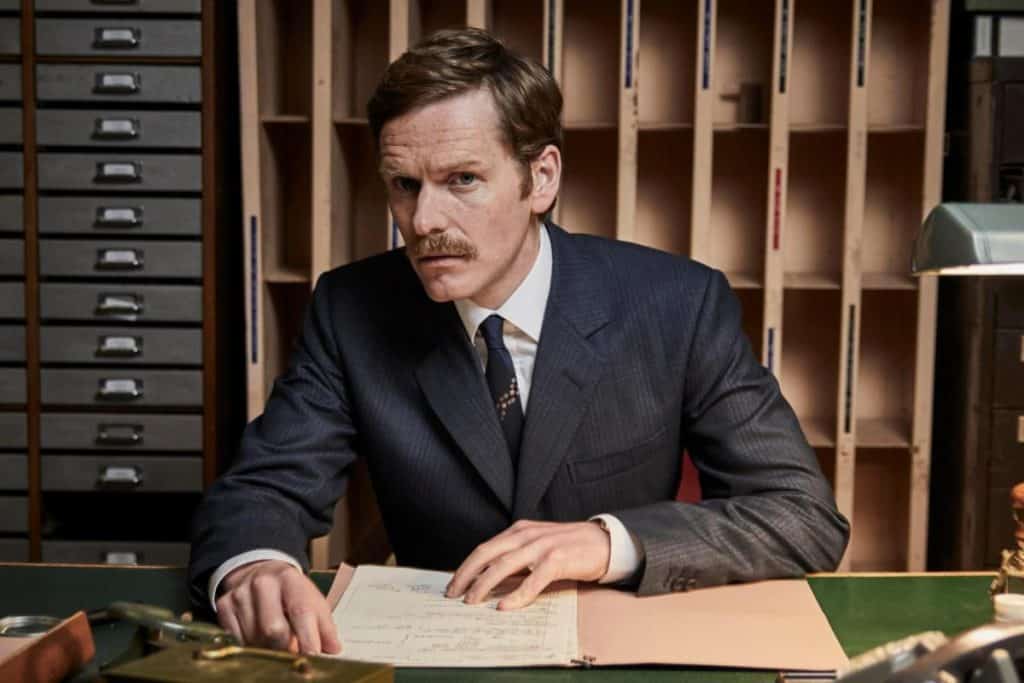 Endeavour – Endeavour is the youngest, hippest entry into the Morse TV trio (the other two being Inspector Morse and Lewis, of course). Endeavour takes us to 1960s Oxford, where Endeavour Morse is a young detective just starting out. While most British mystery fans will be well-acquainted with this one, it's worth noting that PBS Masterpiece is the place to be if you want the latest season quickly.
Though it's certainly not a requirement to enjoy the show, Endeavour is best watched after Inspector Morse, as it's really interesting to watch him develop the traits we recognize from the earlier series. Watch it HERE
RELATED: Endeavour & Inspector Morse FAQ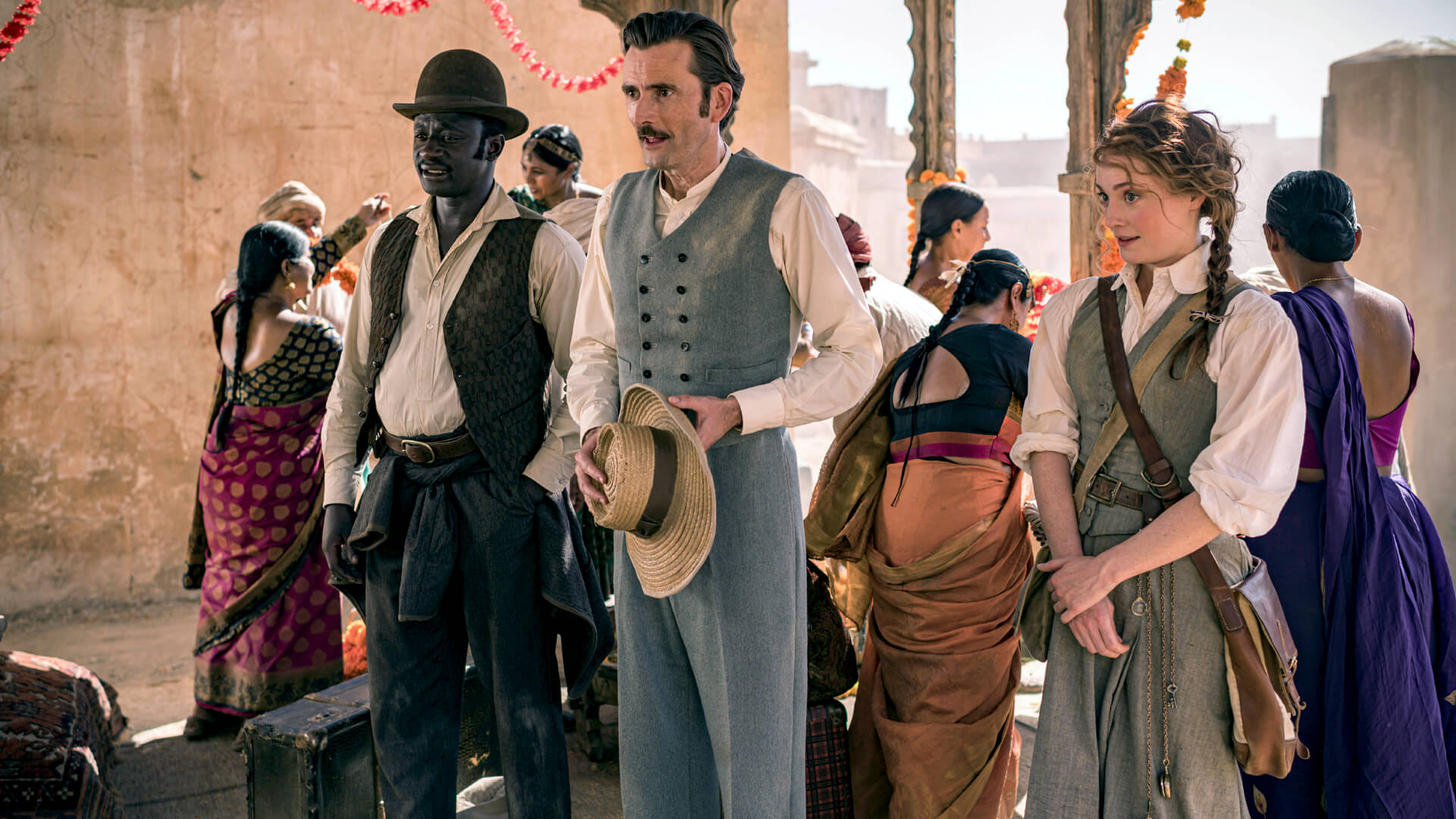 Around the World in 80 Days – 2022 – David Tennant (Doctor Who, Broadchurch) stars in this adaptation of the classic Jules Verne novel in which the wealthy Phileas Fogg wagers he can circumnavigate the globe in a mere 80 days. The series has been renewed for a second season. Watch it HERE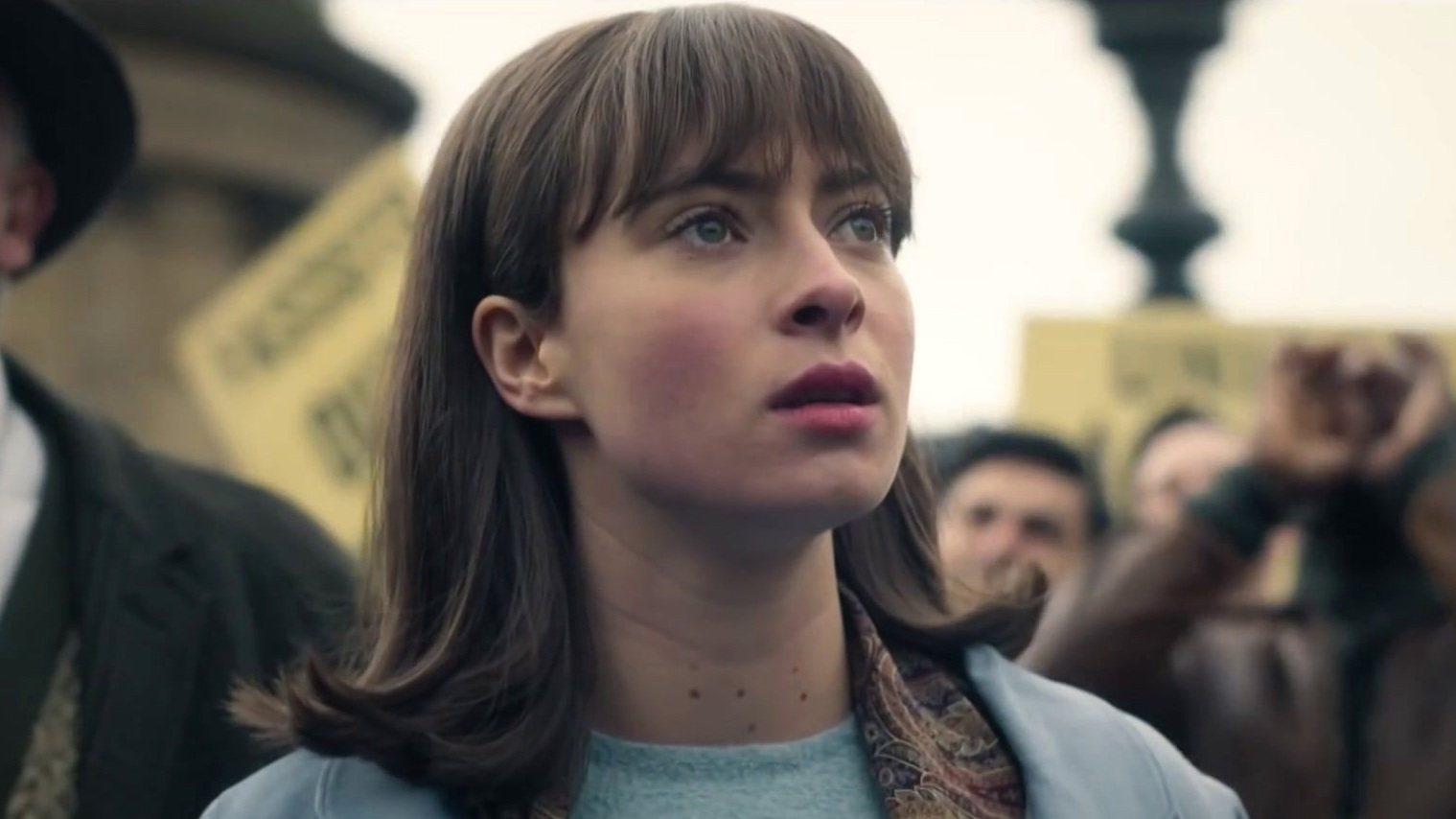 Ridley Road – 2022 – Set in 1962, this period drama follows the post-WWII rise of a Nazi-inspired movement in England, along with the Jewish anti-fascist group that opposed them. Watch it HERE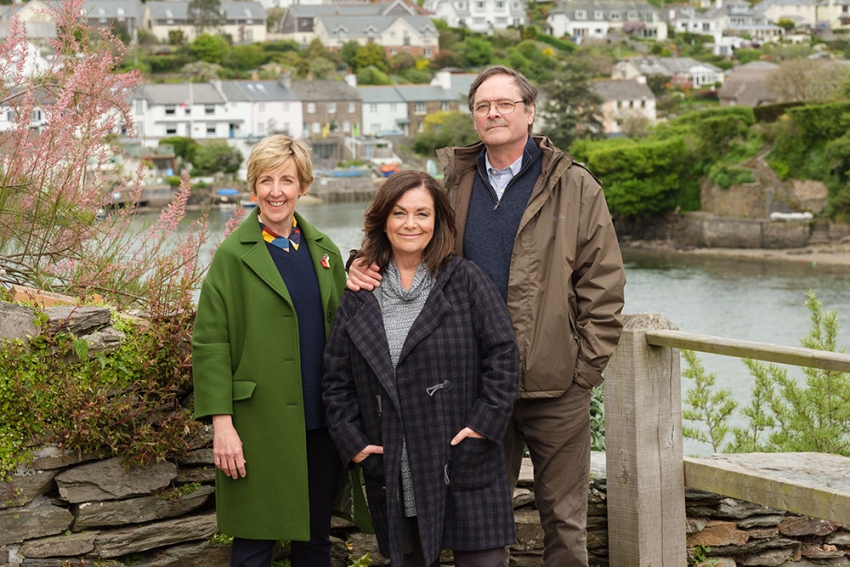 The Trouble with Maggie Cole – 2020 – Dawn French brings us this new comedy-drama about the dangers of gossip. She plays Maggie Connors, a seaside village busybody who likes to ignore the saying that "those who live in glass houses shouldn't throw stones". Watch it HERE
RELATED: A Look at Actress Dawn French's Novels
The Trick – 2022 – Jason Watkins (McDonald & Dodds) stars in this conpiracy thriller based on the 2009 Climategate scandal. It follows a professor and his team as they find themselves involved in the first "fake news" attack. Watch it HERE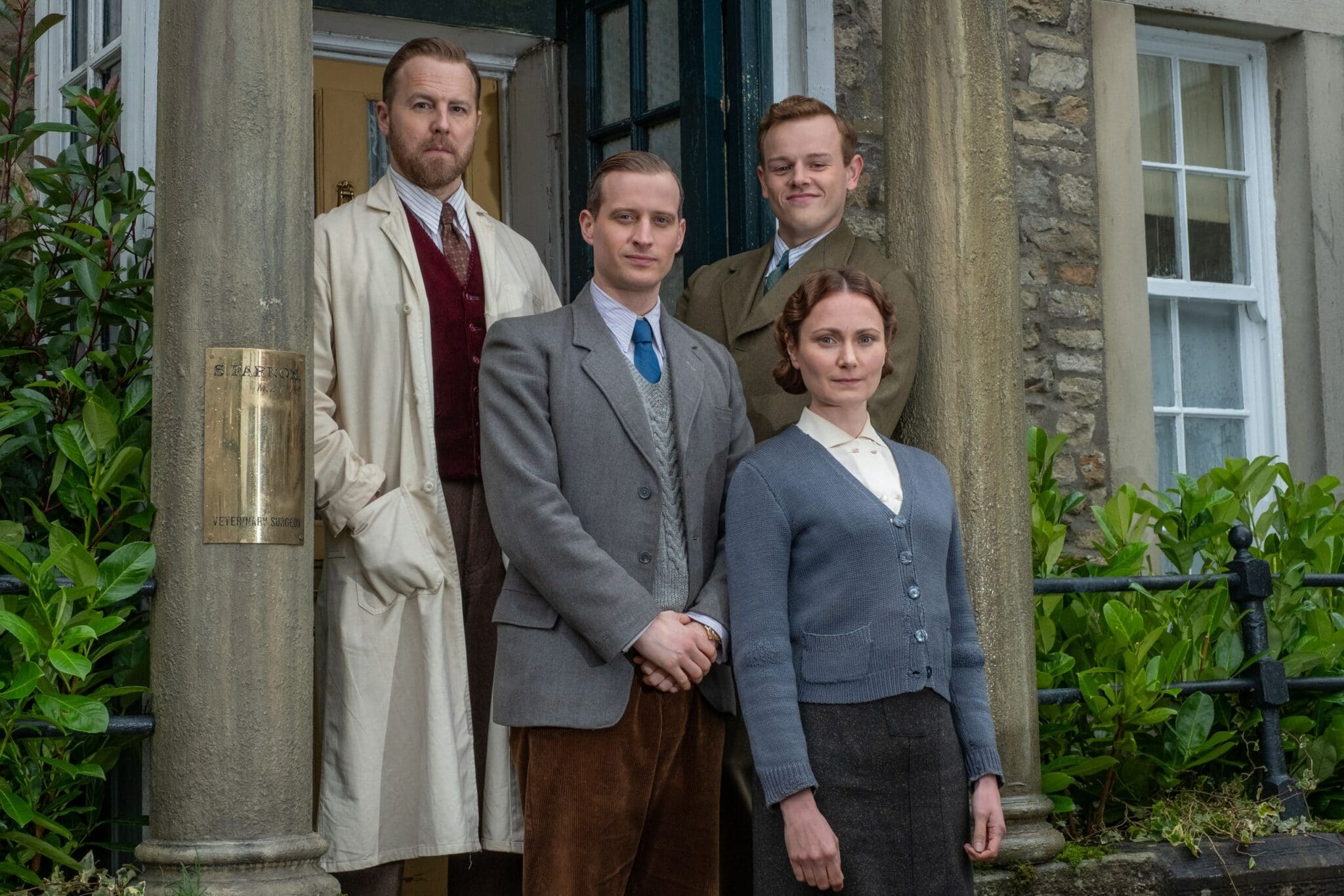 All Creatures Great and Small – 2020 – This remake of the much-loved classic 1930s-based Yorkshire veterinary series is based on the books by James Herriot. Newcomer Nicholas Ralph plays James Herriot, while Samuel West (Mr. Selfridge) plays Siegfried Farnon. Though Dame Diana Rigg played Mrs. Pumphrey in Series 1, her recent death has led producers to put Patricia Hodge (Miranda) in the role for Series 2. Watch it HERE
Prefer to watch the classic version? You can find it HERE on BritBox.
RELATED: 12 Things You Might Not Know About All Creatures Great & Small
Excalibur: Behind the Movie – 2020 – The 1981 film Excalibur is still considered by some to be one of the finest adaptations of the Arthurian legend. It also launched the careers of several well-known Irish and British actors including Ciarán Hinds, Liam Neeson, Sir Patrick Stewart, Helen Mirren, and Gabriel Byrne. This documentary takes a look back at the masterpiece. Watch it HERE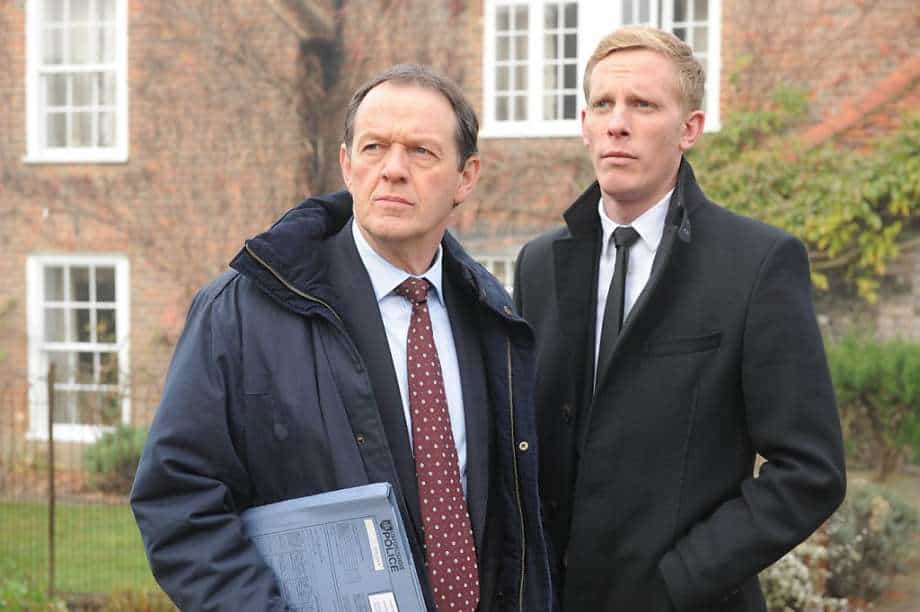 Inspector Lewis (or just Lewis) – Inspector Lewis was a lovely parting gift after the departure of Inspector Morse. In Lewis, Kevin Whately returns to play Morse's former sidekick once more – except this time, he's the DI and his sidekick is DS James Hathaway. The show is no longer in production, but if you haven't seen it yet, it's a must-watch. Watch it HERE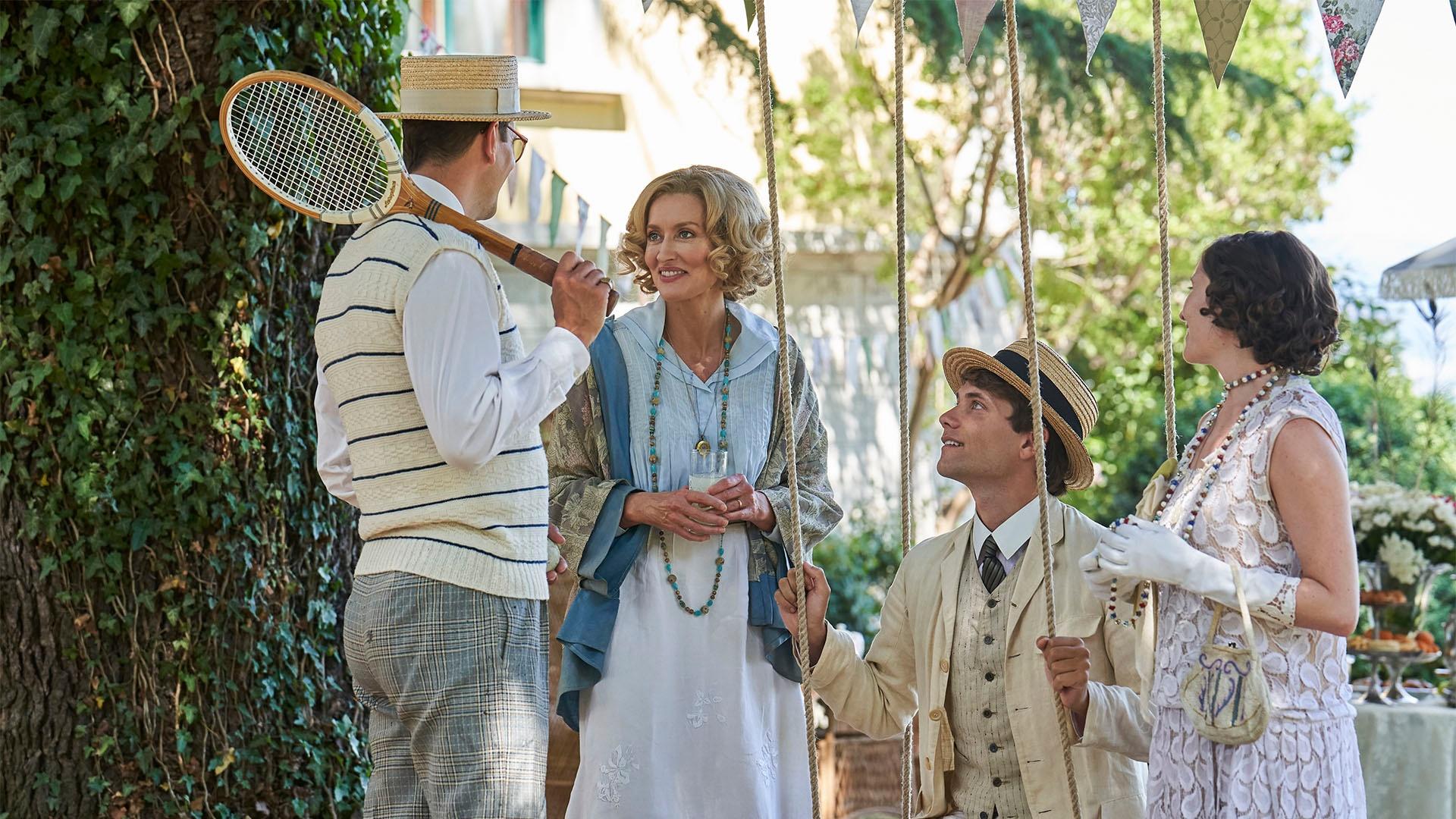 Hotel Portofino – 2022 – Set in the 1920s, this period drama follows the British Ainsworth family as they attempt to operate their upscale hotel along the Italian coastline. Despite only being open for a short time, troubles are already mounting. Watch it HERE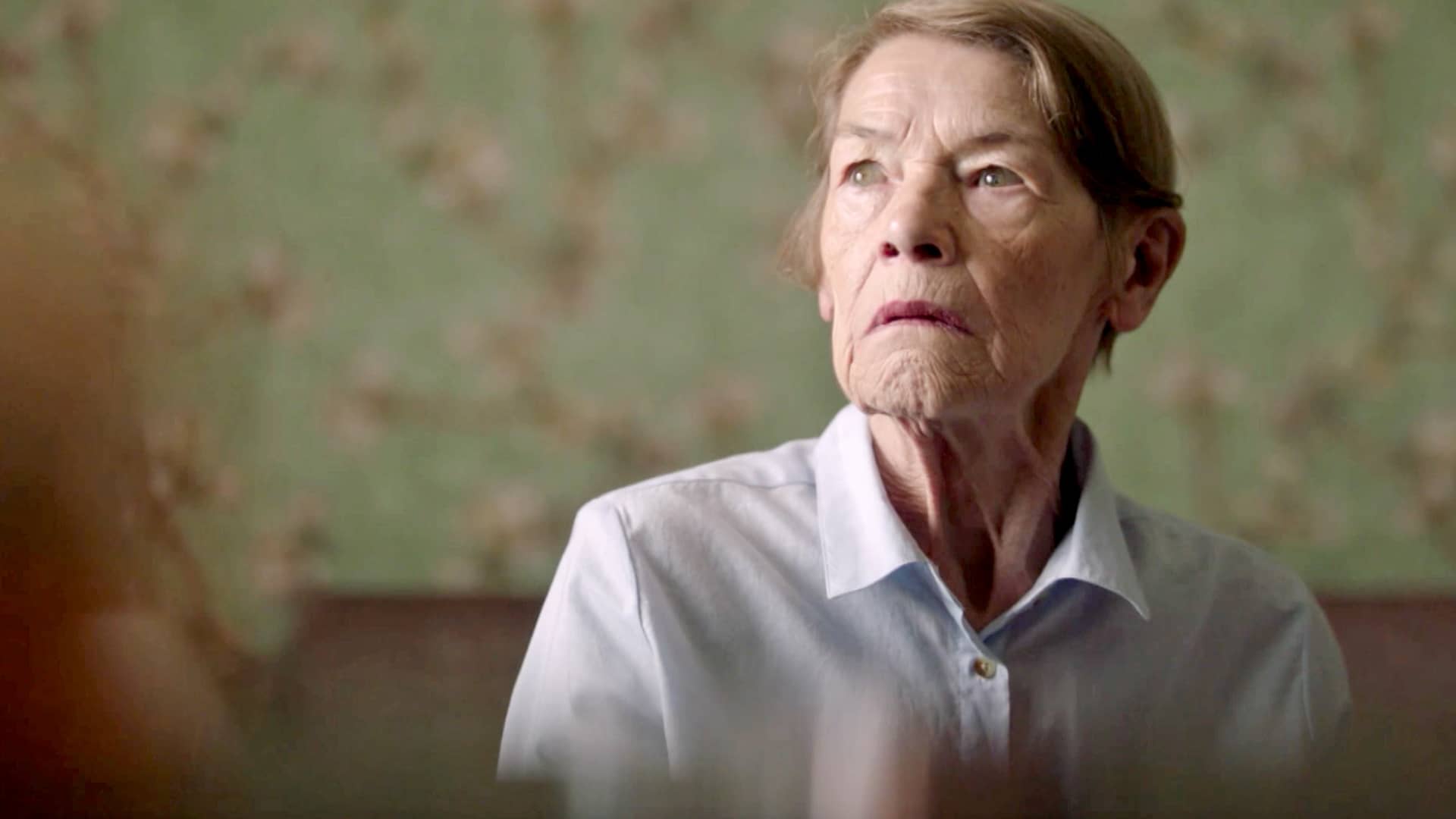 Elizabeth is Missing – 2019 – Glenda Jackson stars as a woman trying to solve two mysteries while suffering from dementia. Her only friend has gone missing, and she's not sure what information she can trust. Watch it HERE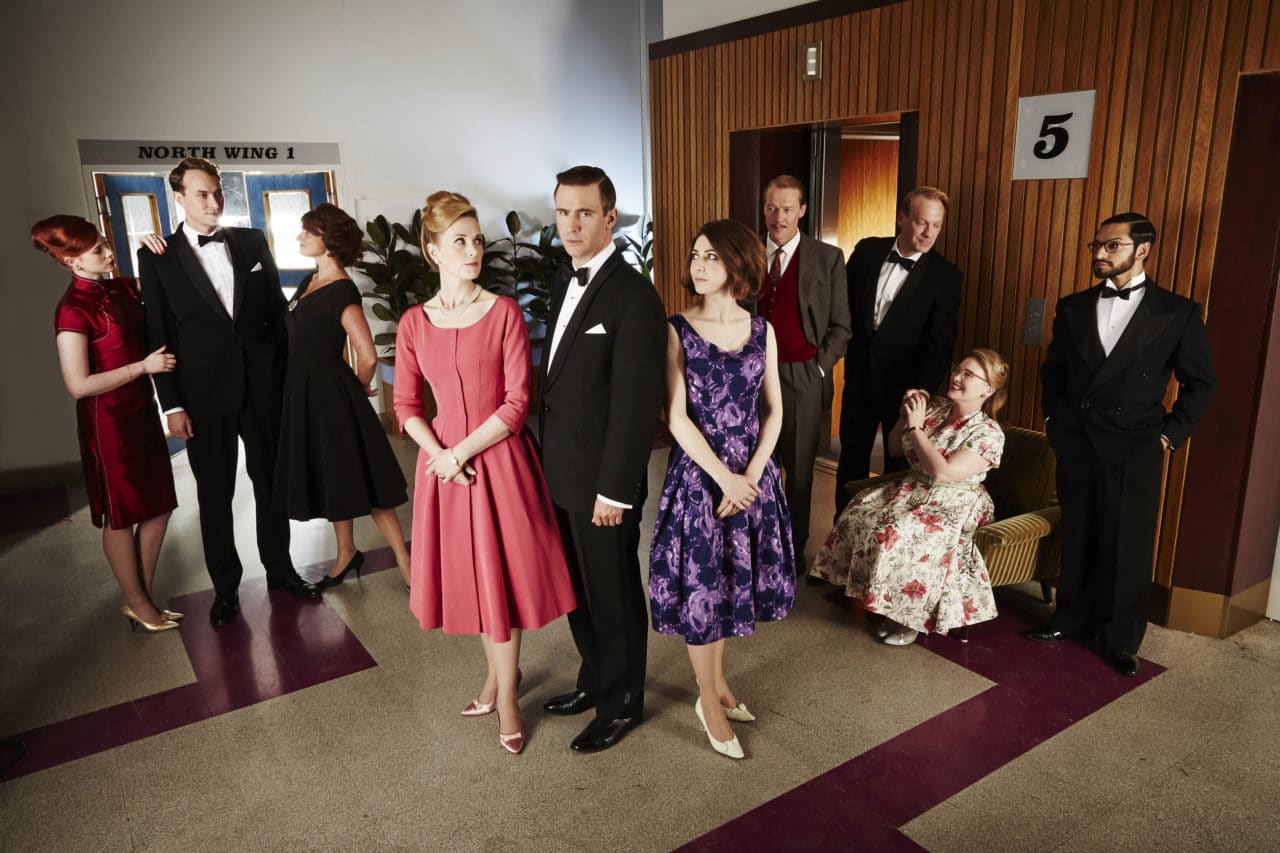 Breathless – 2013 – Set in early 1960s England, this series looks at the lives of hospital staff who take great risks to help troubled young women by performing illegal off-site abortions in their spare time. Watch it HERE
RELATED: British TV Shows Set in the 1960s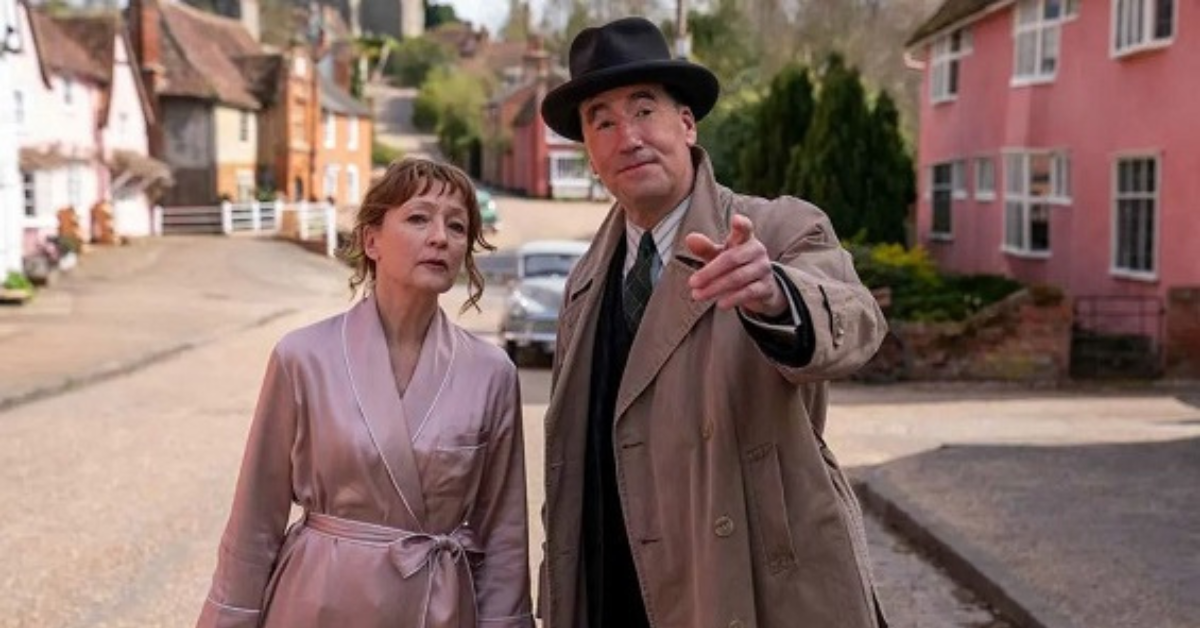 Magpie Murders – 2022 – Based on a novel by Foyle's War creator Anthony Horowitz, this mystery follows an editor who's given the unfinished manuscript of one of authors, no dead. The mystery that follows will change her life. Watch it HERE.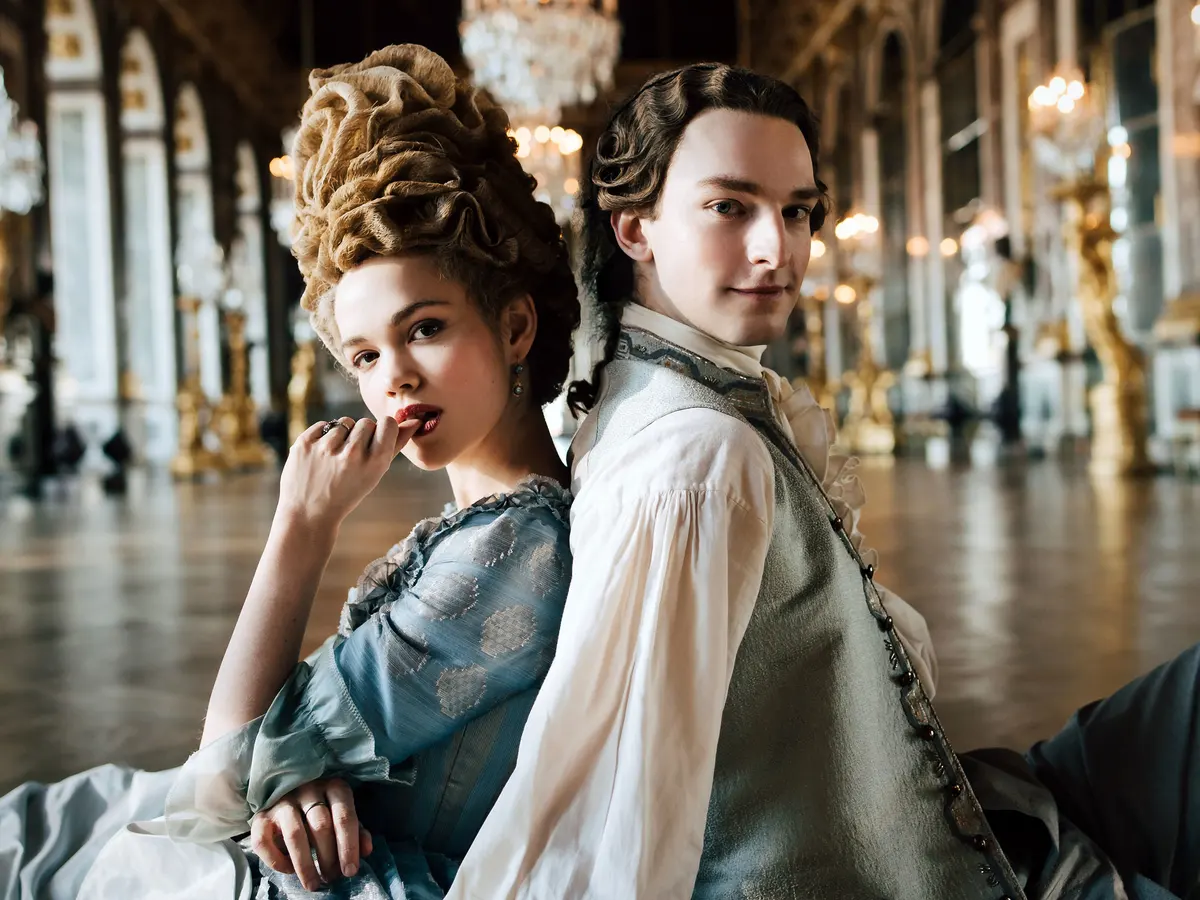 Marie Antoinette – 2022 – This period drama follows a young Marie Antoinette as she leaves Austria to marry the Daupin and adapt to royal life. Watch it HERE.
What to Do When Someone Dies – 2011 – Anna Friel (Marcella) plays schoolteacher Ellie Manning, a woman trying to have a baby with her husband Greg (Marc Warren, Jonathan Strange & Mr. Norrell). One night, he doesn't return home from work. Ellie is horrified to learn he has been killed in a terrible car accident, and he wasn't alone – there was a woman in the passenger seat. A tormented Ellie begins to question: who is the mystery woman and was Greg having a secret affair? Watch it HERE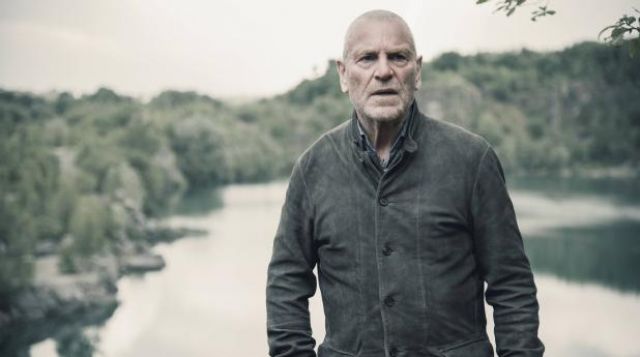 Baptiste – 2019 – This spinoff from the series The Missing sees Tchéky Karyo returning as Julien Baptiste, a clever detective who agrees to help the Dutch police look for a missing sex worker in Amsterdam. Tom Hollander (Rev) and Jessica Raine (Call the Midwife) also appear. Watch it HERE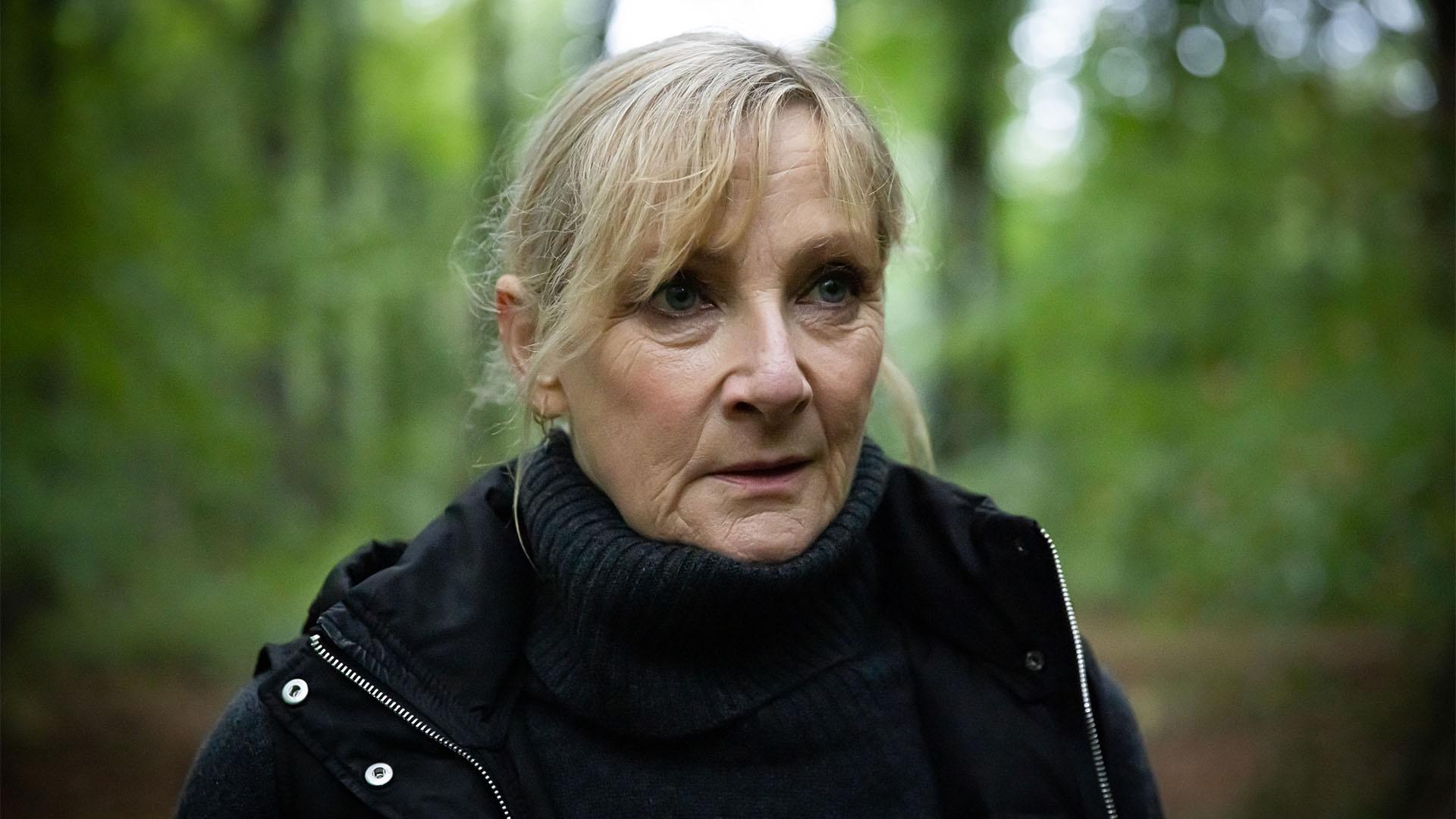 Before We Die – 2022 – Based on a Swedish series of the same name, this series follows Bristol detective Hannah Laing (Lesley Sharp) as she investigates the murder of her lover. Watch it HERE
The Chaperone – 2018 – With a screenplay by Julian Fellowes (Downton Abbey), this period drama focuses on Norma Carlisle, a middle-aged woman charged with chaperoning the teenage Louise Brooks, not yet a flapper icon and sex symbol. Watch it HERE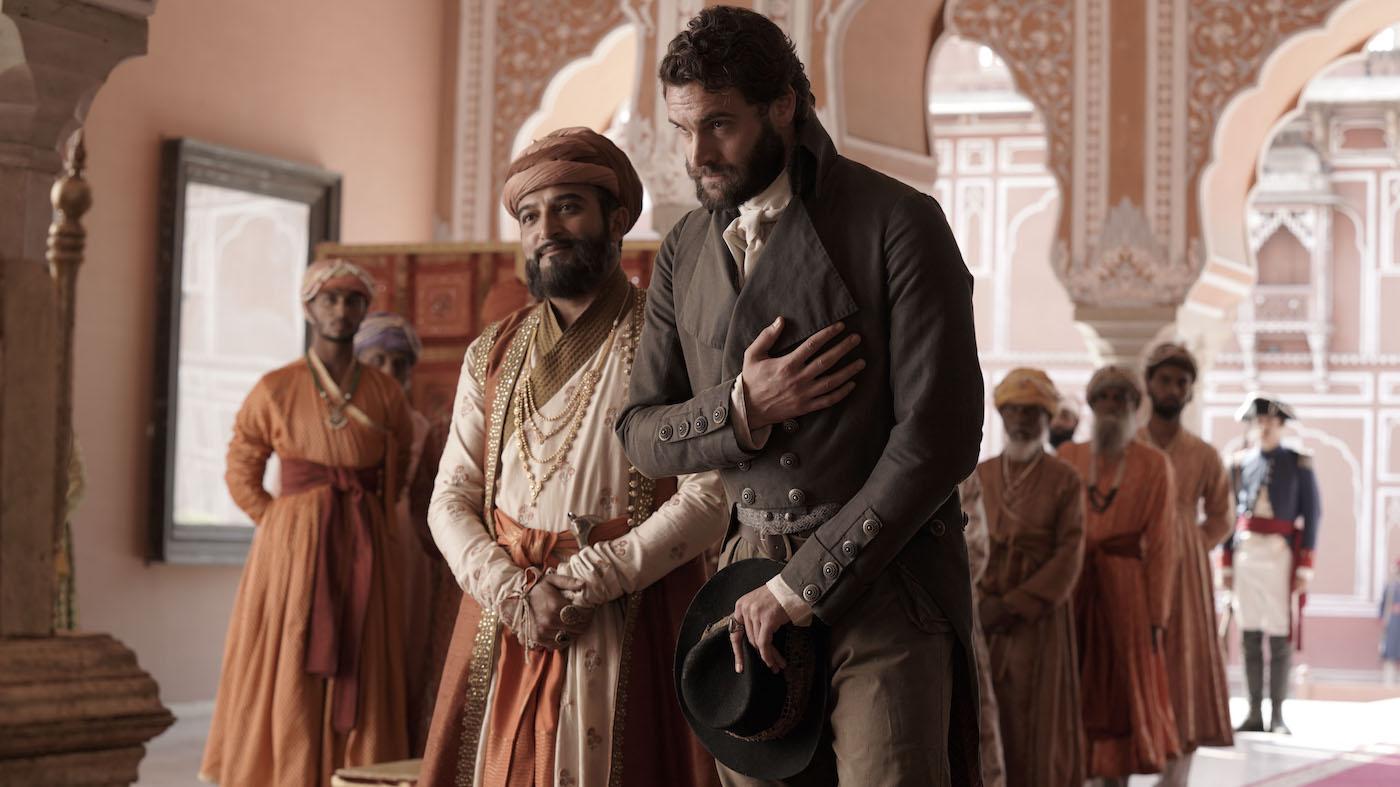 Beecham House – 2019 – Set in 1795, this period drama depicts the lives of a former East India Company soldier who's determined to create a safe home in Delhi for his family. Critics have dubbed it "The Dehli Downton". Tom Bateman (Vanity Fair) and Lesley Nicol (Downton Abbey) star. Watch it HERE
The Child in Time – 2018 – Benedict Cumberbatch (Sherlock) stars in this film about a man struggling to find purpose after the disappearance of his daughter. It's based on a novel by Ian McEwan. Watch it HERE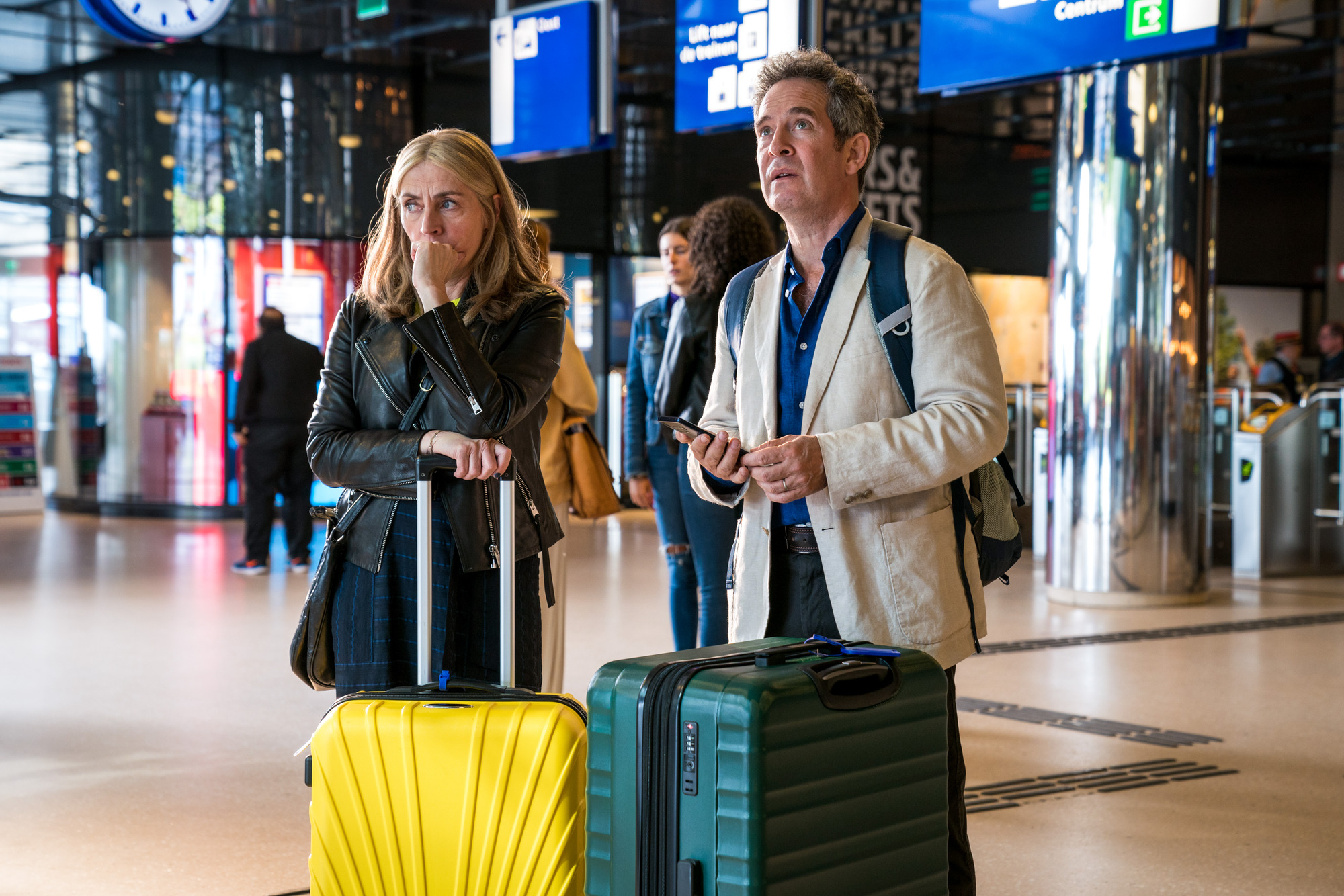 Us – 2020 – This four-part dramedy is based on English author David Nicholls' novel by the same name, and it sees a man trying to win back his wife's love over the course of a dream holiday in Europe. Tom Hollander (Rev) and Saskia Reeves (Close My Eyes) star. Watch it HERE
The Windsors: A Royal Family – 2018 – This four-part documentary offers an in-depth look at Britain's current royal family, including interviews with friends, aides, and family members. Watch it HERE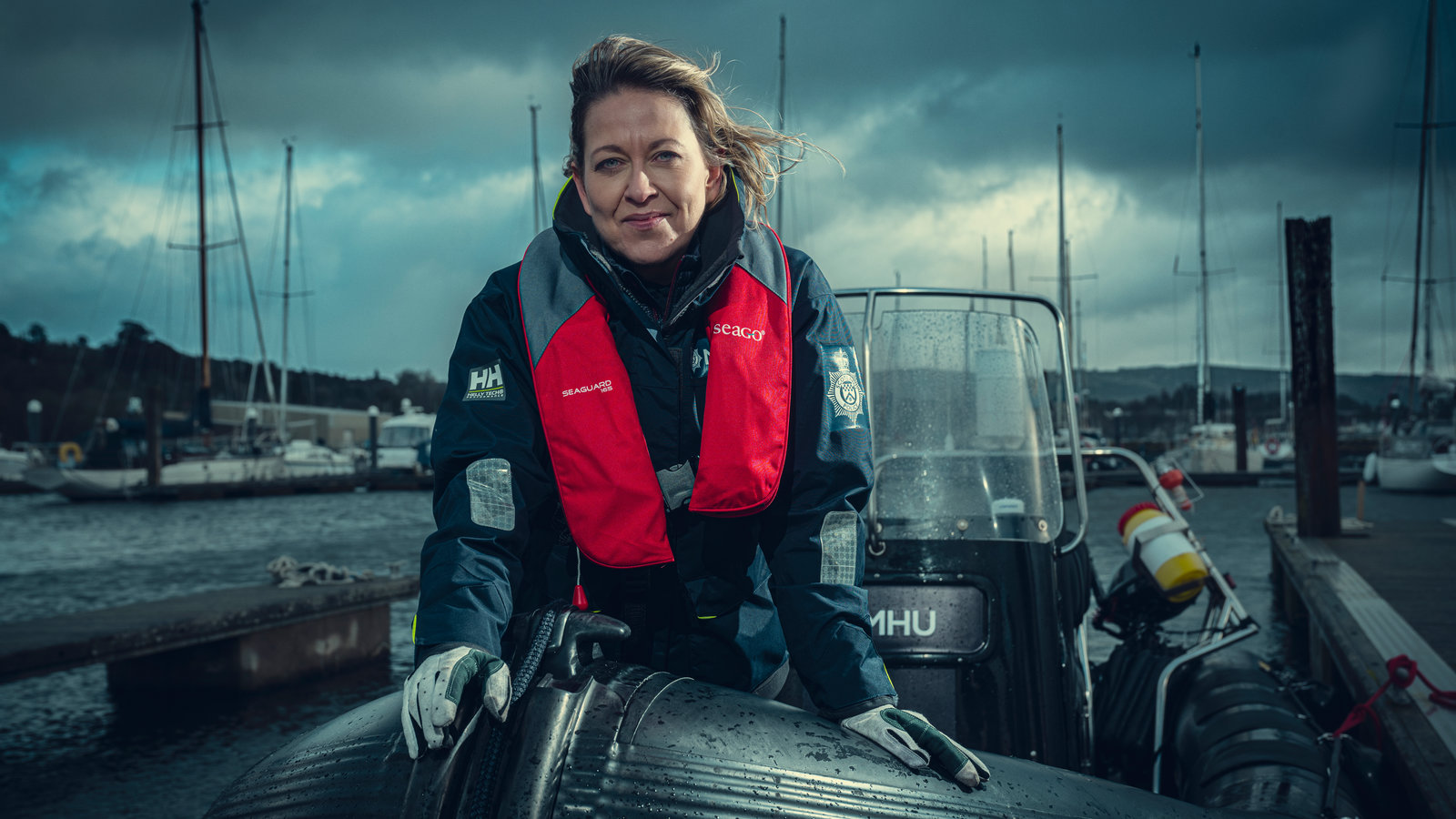 Annika – 2021 – Based on the BBC Radio 4 drama Annika Strandhed, the series stars Nicola Walker (Unforgotten) as DI Annika Strandhed. Newly transferred to the Glasgow Marine Homicide Unit, she brings a teenage daughter and a boatload of investigative skills. Watch it HERE
Wuthering Heights – 2009 – Charlotte Riley (Press) and Andrew Lincoln (The Walking Dead) star in this two-part adaptation of Emily Brontë's classic novel. Watch it HERE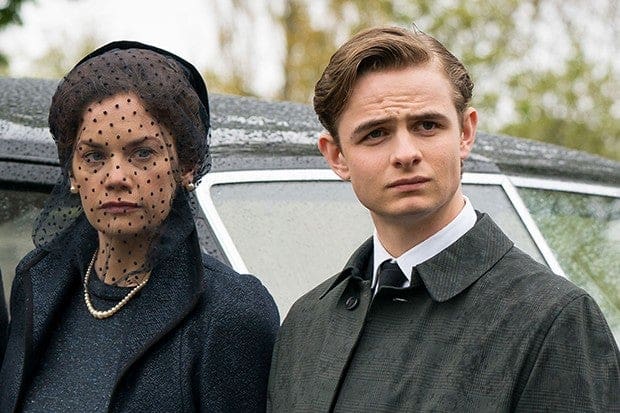 Mrs. Wilson – Mrs. Wilson is fascinating because it's not just a true story, it's a true story about the grandmother of Ruth Wilson, the actress playing the title role. Alison Wilson was widowed in 1963, only to realize her husband had been leading a secret life. Iain Glen (Jack Taylor) plays her departed husband, a foreign intelligence officer with more than one "Mrs. Wilson" in his life. Miniseries. Watch it HERE
Churchill's Secret – 2016 – Set during the summer of 1953, this film sees Michael Gambon portraying Winston Churchill as he recovered from a life-threatening stroke. Watch it HERE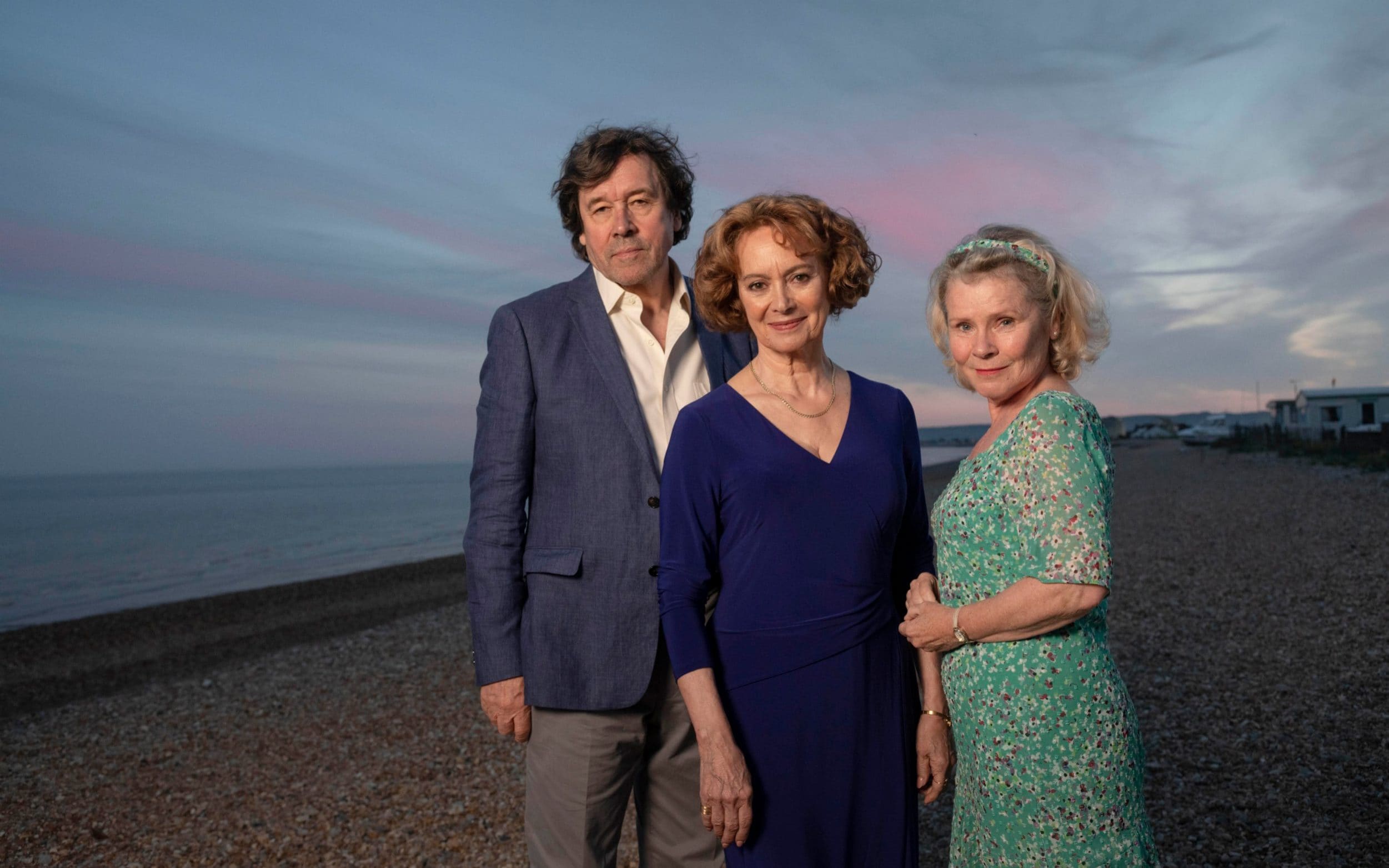 Flesh & Blood – 2020 – When a widow finds unexpected romance with a retired surgeon, her family's reactions are mixed. A web of lies and secrets brings chaos and eventually, murder. This one's full of crazy relatives, dark secrets, and for good measure, a nosy neighbor played by Imelda Staunton. Watch it HERE
Far From the Madding Crowd – 1998 – This television movie is an adaptation of Thomas Hardy's novel of the same name, this time starring Paloma Baeza (A Touch of Frost) and Nathaniel Parker (Inspector Lynley Mysteries). Set against the backdrop of rural southwest England during Victorian times, it follows the life of Bathsheba Everdene and the people she knows in her small farming community. Watch it HERE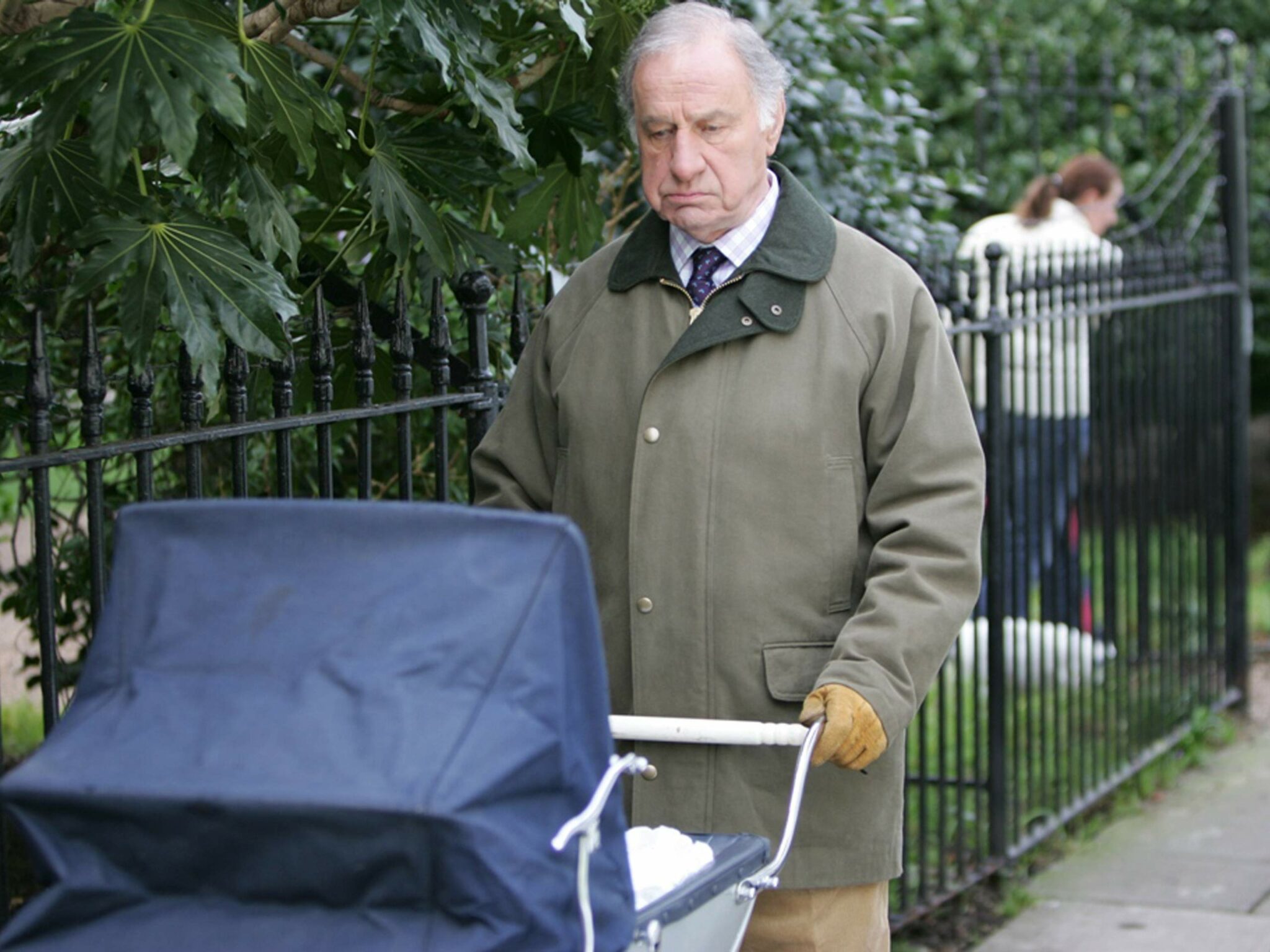 As Time Goes By: Reunion Specials – 2005 – This much-loved British comedy returns for two final episodes in which Jean Hardcastle is very much hoping for grandchildren. If you already watched the regular seasons on BritBox, you'll definitely want to check these out. Watch it HERE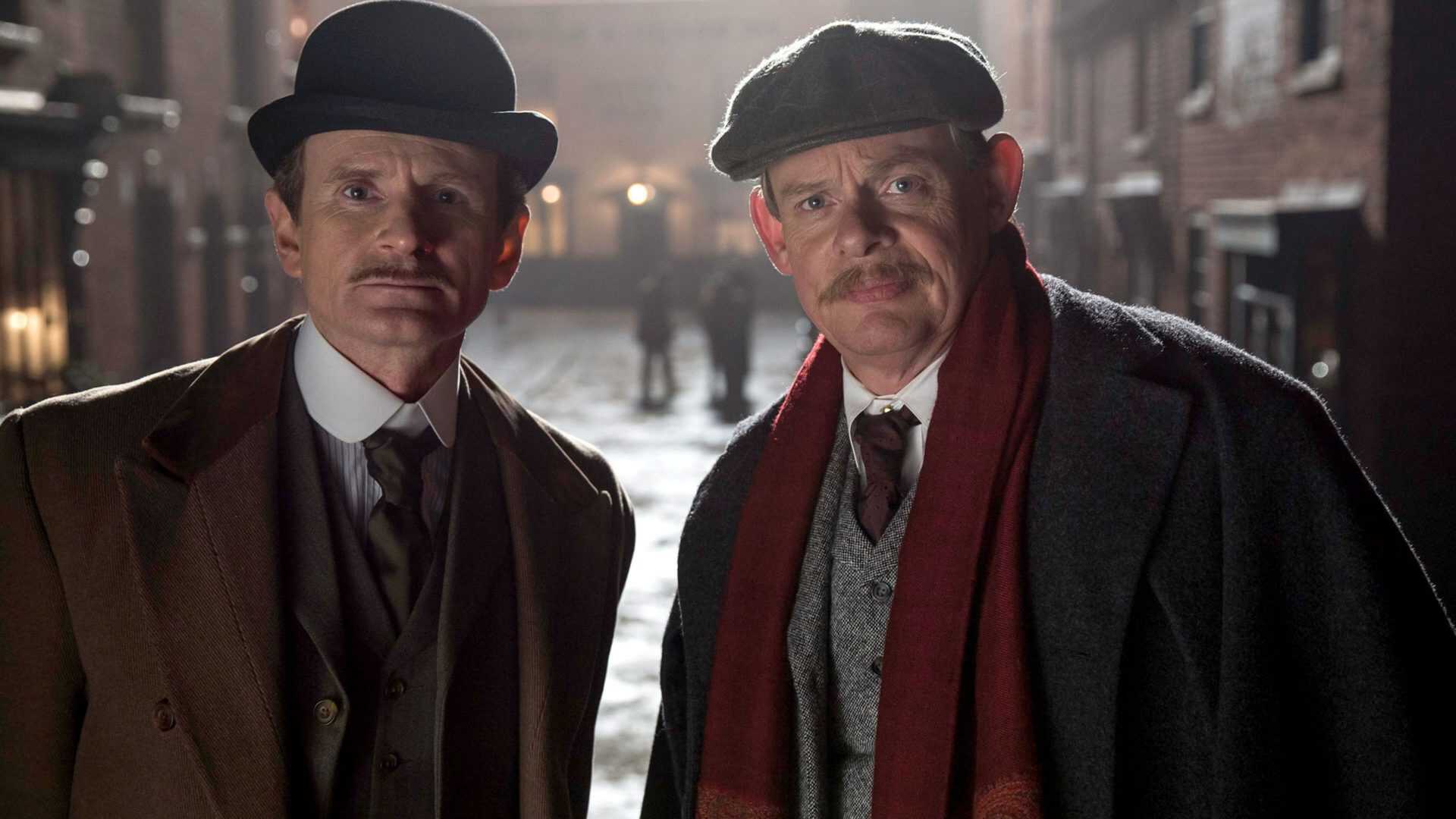 Arthur and George – 2015 – Martin Clunes (Doc Martin) stars as Sir Arthur Conan Doyle. When he finds himself outraged at an injustice against an Anglo-Indian solicitor, he uses his own fictional detective's methods to get justice for the man. Watch it HERE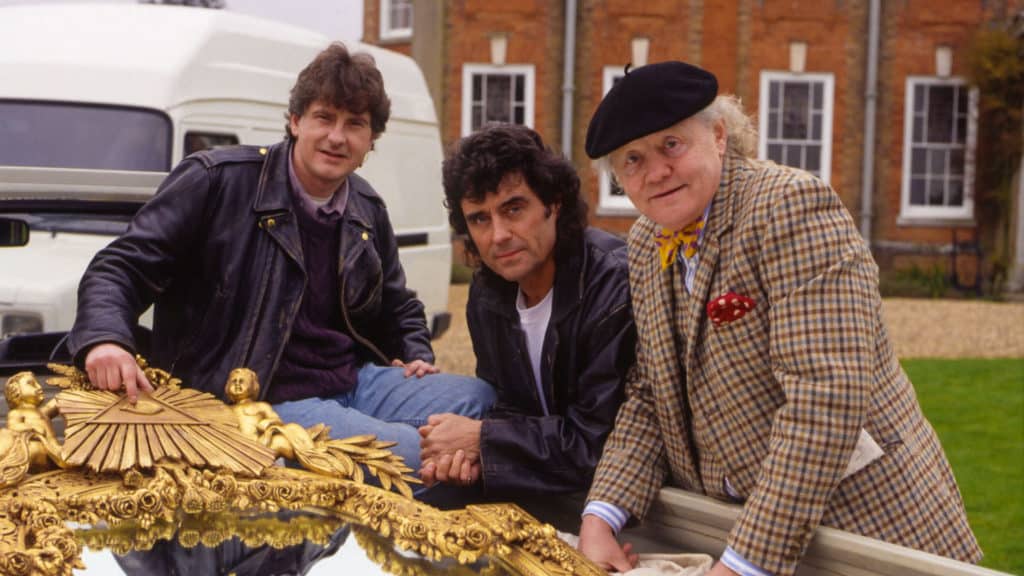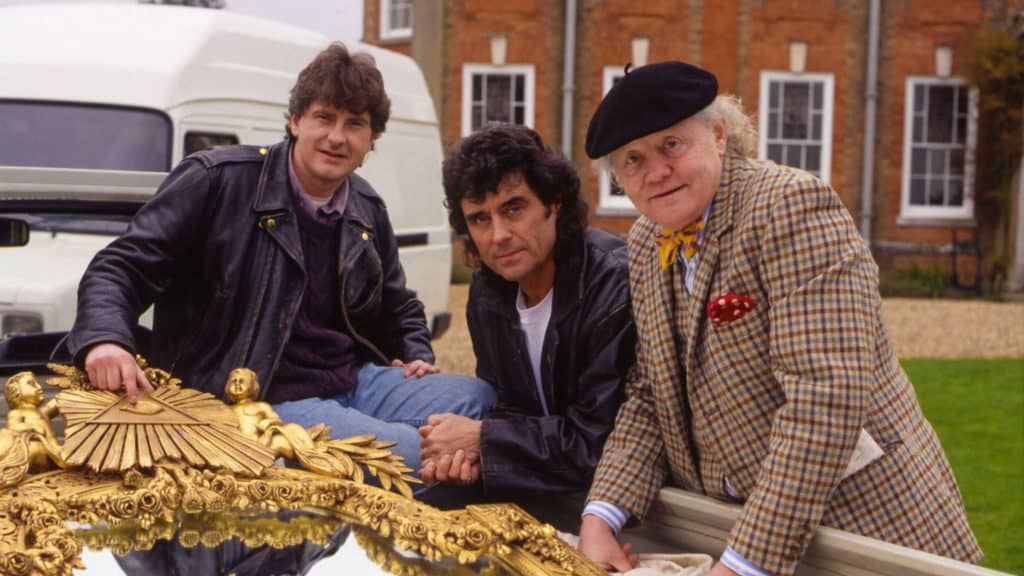 Lovejoy – Though it's a bit dated now, Lovejoy is a fun little series about a man with a unique talent for discerning the value of antiques – a "divvy". Lovejoy's life is chaotic and driven by no real long-term plans, but it's enjoyable. Along with a few friends and an occasional enemy, the series moves nicely between adventure, mystery, drama, and comedy over the course of 6 seasons. Ian McShane stars. Watch it HERE
A Room with a View – 2007 – Elaine Cassidy (No Offence) stars alongside Rafe Spall (Desperate Romantics) in this story about a young Englishwoman in 1912 who finds love on a trip to Italy. Watch it HERE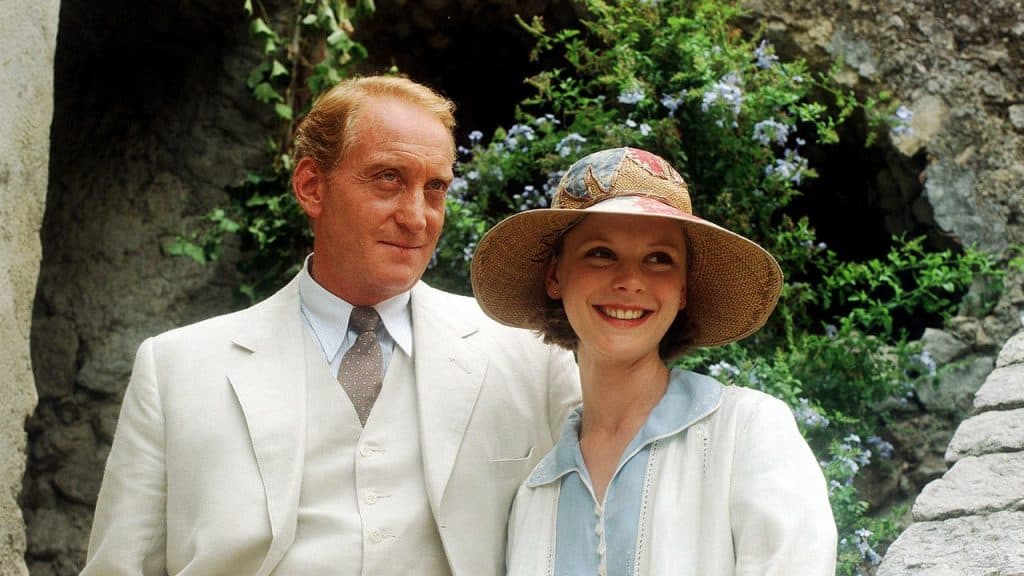 Rebecca – Emilia Fox and Charles Dance star as the new Mr. and Mrs. Maxim de Winter in this 1997 adaptation of Daphne du Maurier's classic gothic suspense novel. Diana Rigg plays Mrs. Danvers, the housekeeper still loyal to her dead mistress, Rebecca. Watch it HERE
Deep Water – 2019 – Anna Friel (Marcella) stars in this miniseries about three mothers struggling with challenging moral and ethical problems. Watch it HERE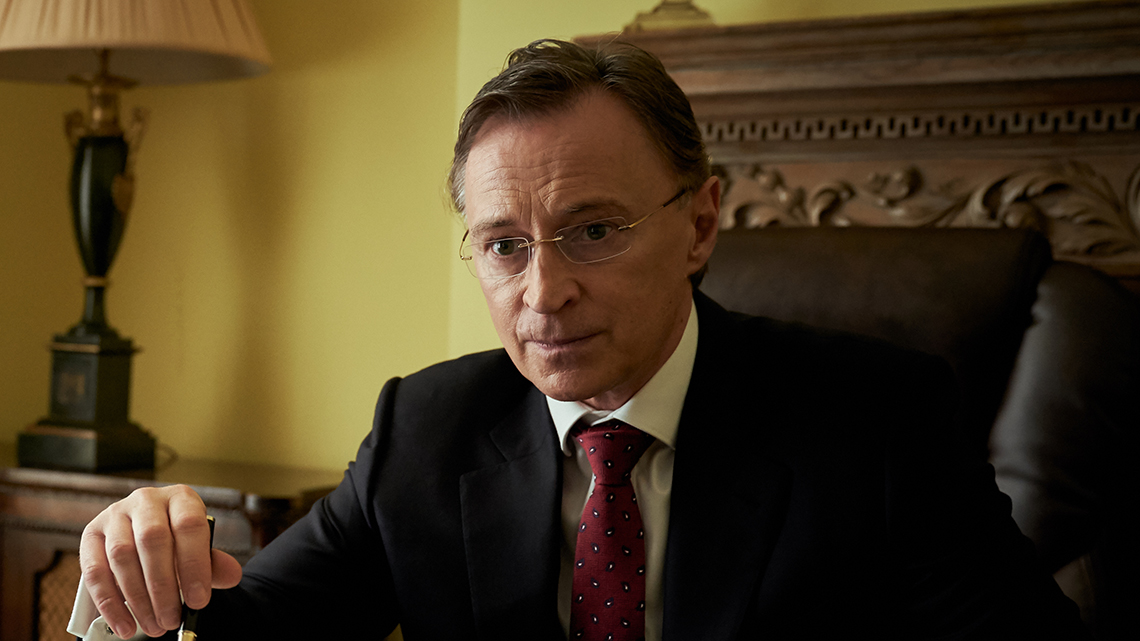 Cobra – 2020 – This political drama sees Robert Carlyle (Hamish MacBeth) playing the role of British Prime Minister Robert Sutherland as he deals with a national emergency and the impossible decisions that go along with such a situation. Victoria Hamilton (The Crown) plays his Chief of Staff. Watch it HERE
The Crimson Field – 2014 to 2015 – At a busy WWI field hospital in France, a young nurse named Kitty tries to escape her past. A number of British TV favourites appear in this short-lived series, including Kevin Doyle (Downton Abbey), Suranne Jones (Gentleman Jack), and Hermione Norris (Kingdom). Watch it HERE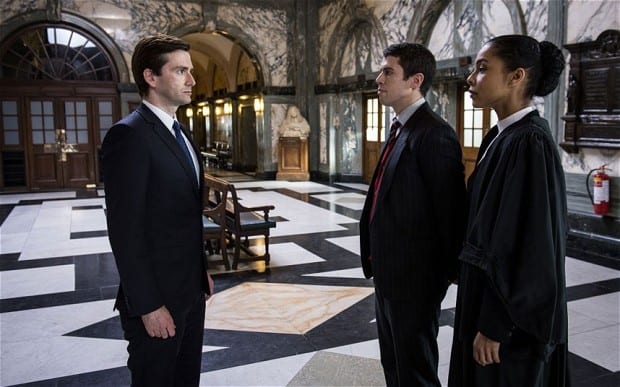 The Escape Artist – David Tennant stars in this three-episode series about a junior barrister whose specialty is getting clients out of very tough spots. Unfortunately, this means his hands aren't entirely clean when those clients re-offend.
Sophie Okonedo (Mayday) stars as his courtroom rival, Maggie Gardner. Watch it HERE
Death Comes to Pemberley – 2014 – Three episodes pay homage to Jane Austen's Pride and Prejudice, bringing us into the home of Elizabeth and Darcy after six years of marriage. As they prepare for their annual ball, tragedy brings the festivities to a halt. Watch it HERE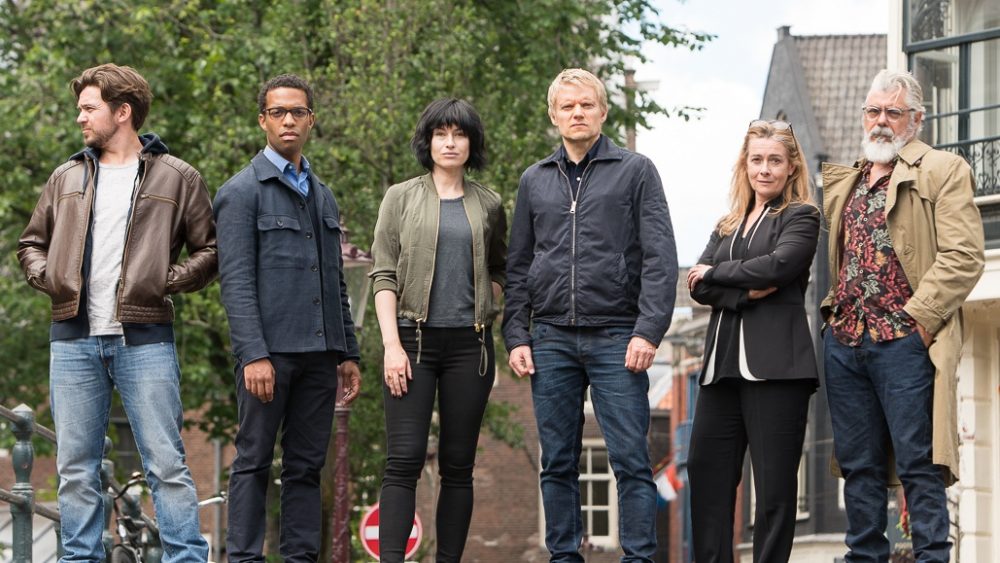 Van der Valk – 2020 – This reboot of the 1970s series will see Marc Warren (Beecham House) as Commissaris Piet Van der Valk. Set in modern Amsterdam, it's a major departure from the original Nick Freeling novels. Watch it HERE
Van der Valk – 1972 to 1992 – Based on the novels of Nicolas Freeling, this series features Barry Foster as Piet Van der Valk, a Dutch policeman with an unorthodox approach to his investigations. Watch it HERE.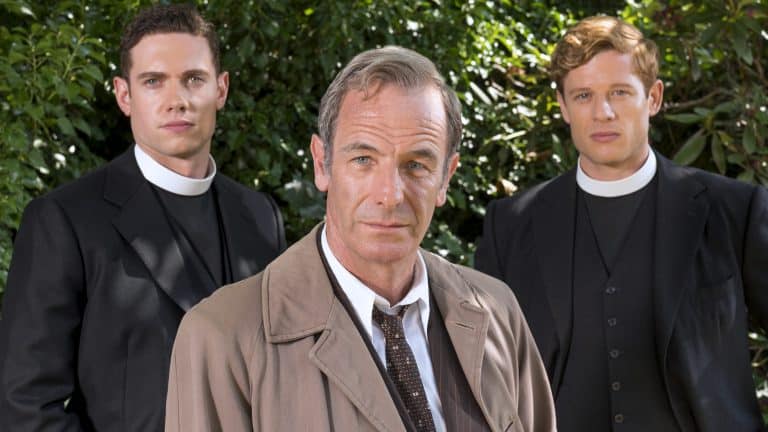 Grantchester – In the village of Grantchester, a clever vicar assists a local police detective with his investigations. James Norton stars as vicar Sidney Chambers, and Robson Green plays DI Geordie Keating.
Sadly, as most British mystery fans will know, James Norton isn't able to stay on forever. Later in the series, Tom Brittany takes over for him in the role of Reverend Will Davenport, a former inner-city chaplain.
The Great Fire – 2015 – This four-part series is a dramatisation of 1666's Great Fire of London. The fire went on for four days, leaving nearly 90% of the city's population homeless. Watch it HERE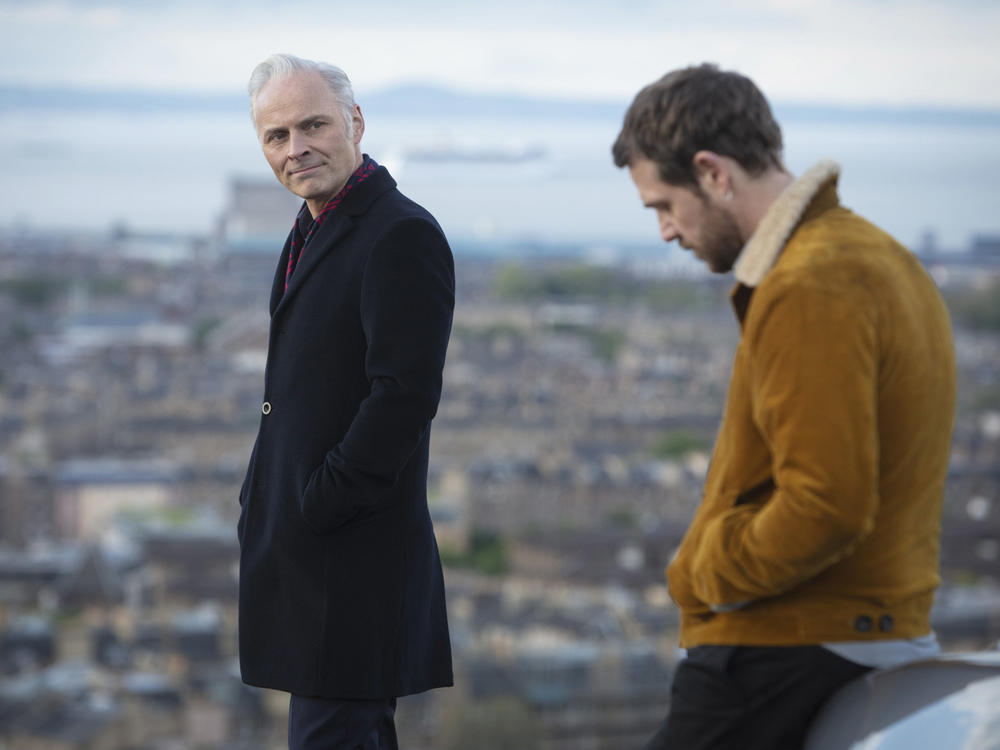 Guilt – 2019 – After two Scottish brothers cover up a hit and run accident, their lives begin to implode. Mark Bonnar (Catastrophe) and Jamie Sives (Game of Thrones) star. Watch it HERE
Great Performances: Macbeth – 2010 – Sir Patrick Stewart stars in this acclaimed adaptation of Shakespeare's "Scottish Play". Watch it HERE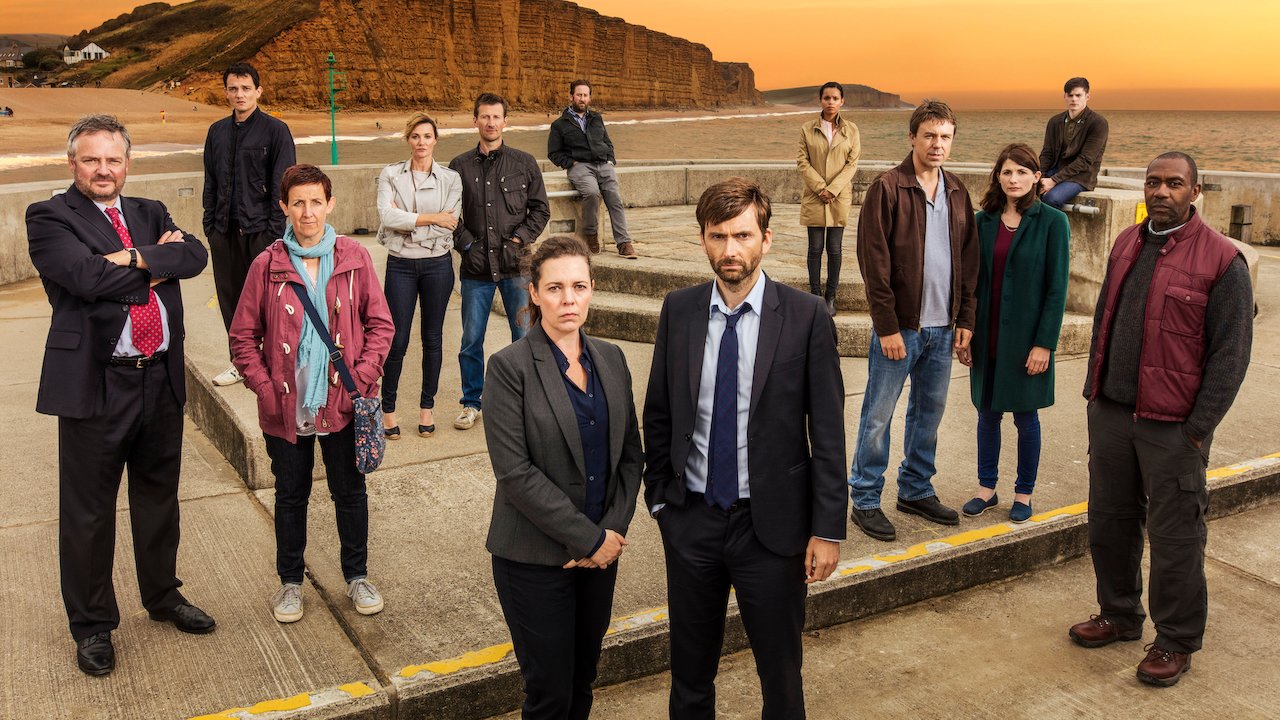 Broadchurch – 2013 to 2017 – When an 11-year-old boy is murdered in a quiet coastal community, town secrets are exposed. David Tennant (Deadwater Fell) and Olivia Colman (Rev) star. Watch it HERE
Henry and Anne: The Lovers Who Changed History – 2014 – Historian Dr. Suzannah Lipscomb tells the story of the love affair between Henry VIII and Anne Boleyn. Watch it HERE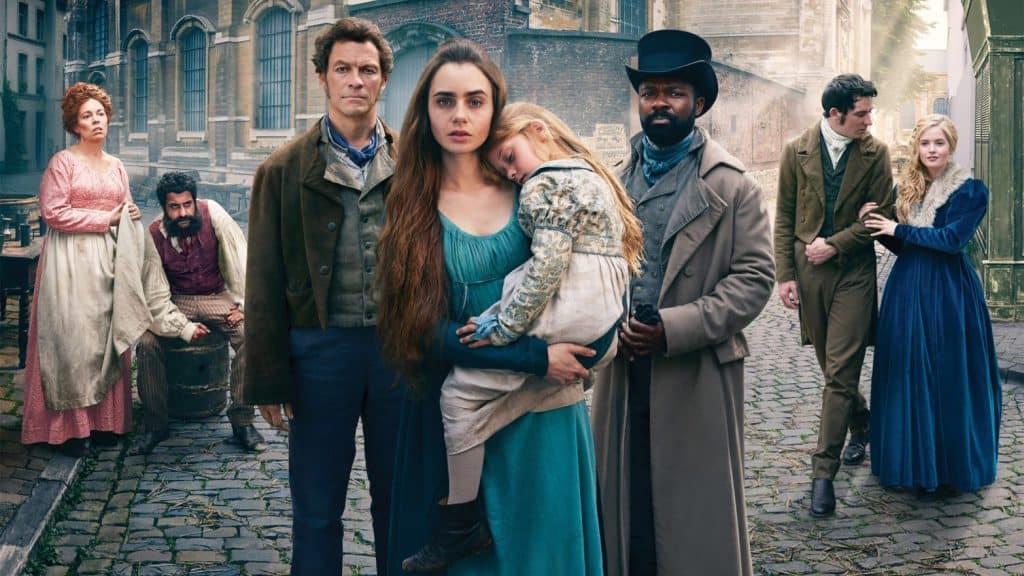 Les Misérables – Victor Hugo's epic tale of love and poverty in war-torn France returns to the screen in this 2018 adaptation starring Olivia Colman, Dominic West, and Lily Collins. The 6-episode miniseries takes a deeper dive into some characters who have traditionally gotten a bit less screentime (like Fantine), making the progression slower and more grueling – but also much more dramatic.
No expense was spared in this production, and it shows. It's well worth a watch. Watch it HERE
Henry IX: Lost King – 2017 – Many have called Henry Frederick, Prince of Wales the best king England never had. Though bright and promising, he died at the age of 18 from typhoid fever. This documentary looks at the achievements in his short life, along with what might of been, had he lived. Watch it HERE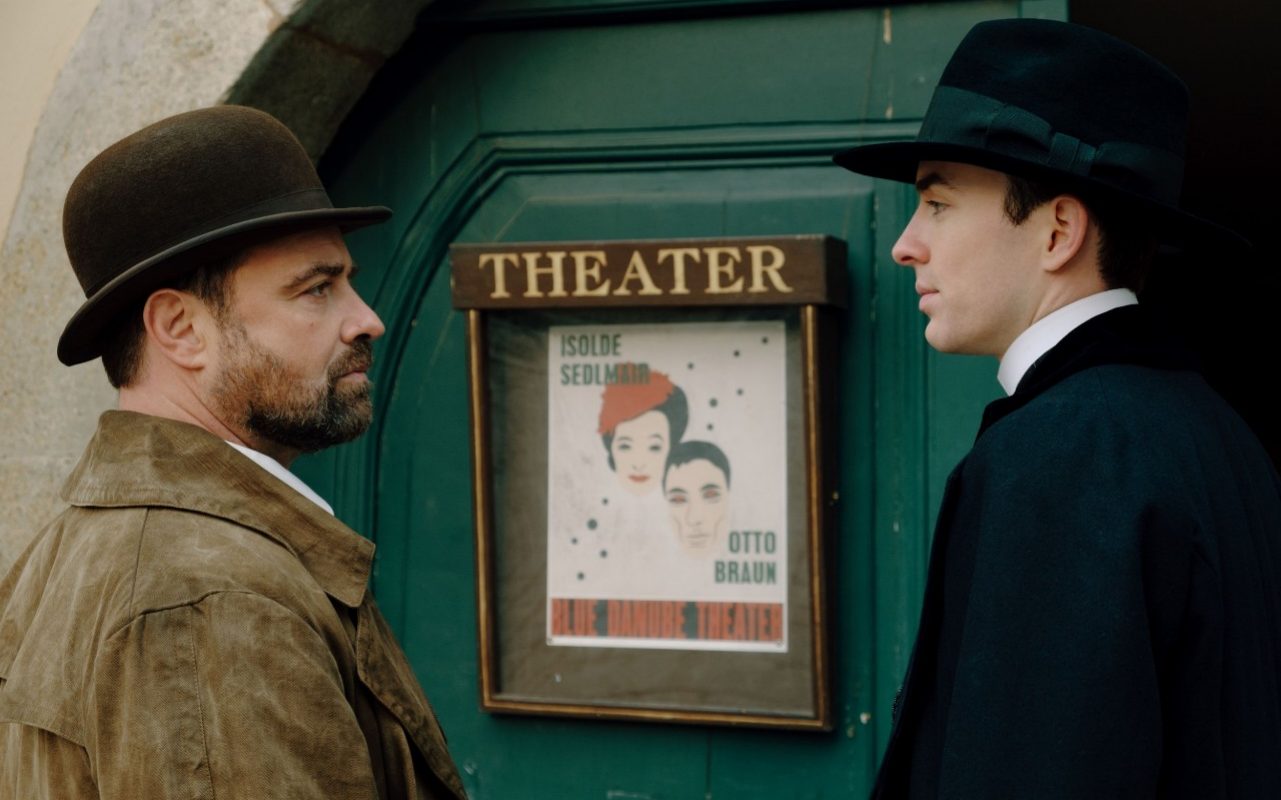 Vienna Blood – 2019 – Set in 1900s Vienna, this three-part drama follows brilliant English doctor Max Liebermann as he studies under Sigmund Freud. When Liebermann encounters Austrian detective Oskar Rheinhardt, they forge a partnership to take on some of Vienna's most deadly and disturbing cases. Watch it HERE
The Widower – 2015 – Reece Shearsmith (Inside No. 9) and Sheridan Smith (Gavin & Stacey) star in this miniseries about Malcolm Webster, a man who worked as a nurse and also happened to be a serial killer. Watch it HERE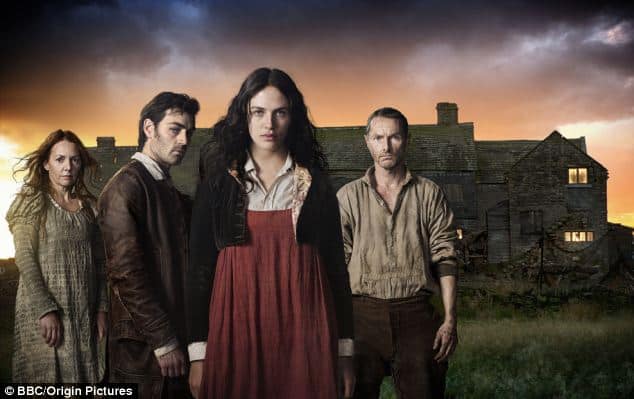 Jamaica Inn – 2014 – Jessica Brown Findlay (Downton Abbey) stars in this adaptation of Daphne du Maurier's classic novel about a young woman who moves in with a Cornish aunt and uncle, only to quickly discover unsavoury activities in her new home. Watch it HERE
Indian Summers – 2015 – This drama dives into live in a social club during the final years of British colonial rule of India. Watch it HERE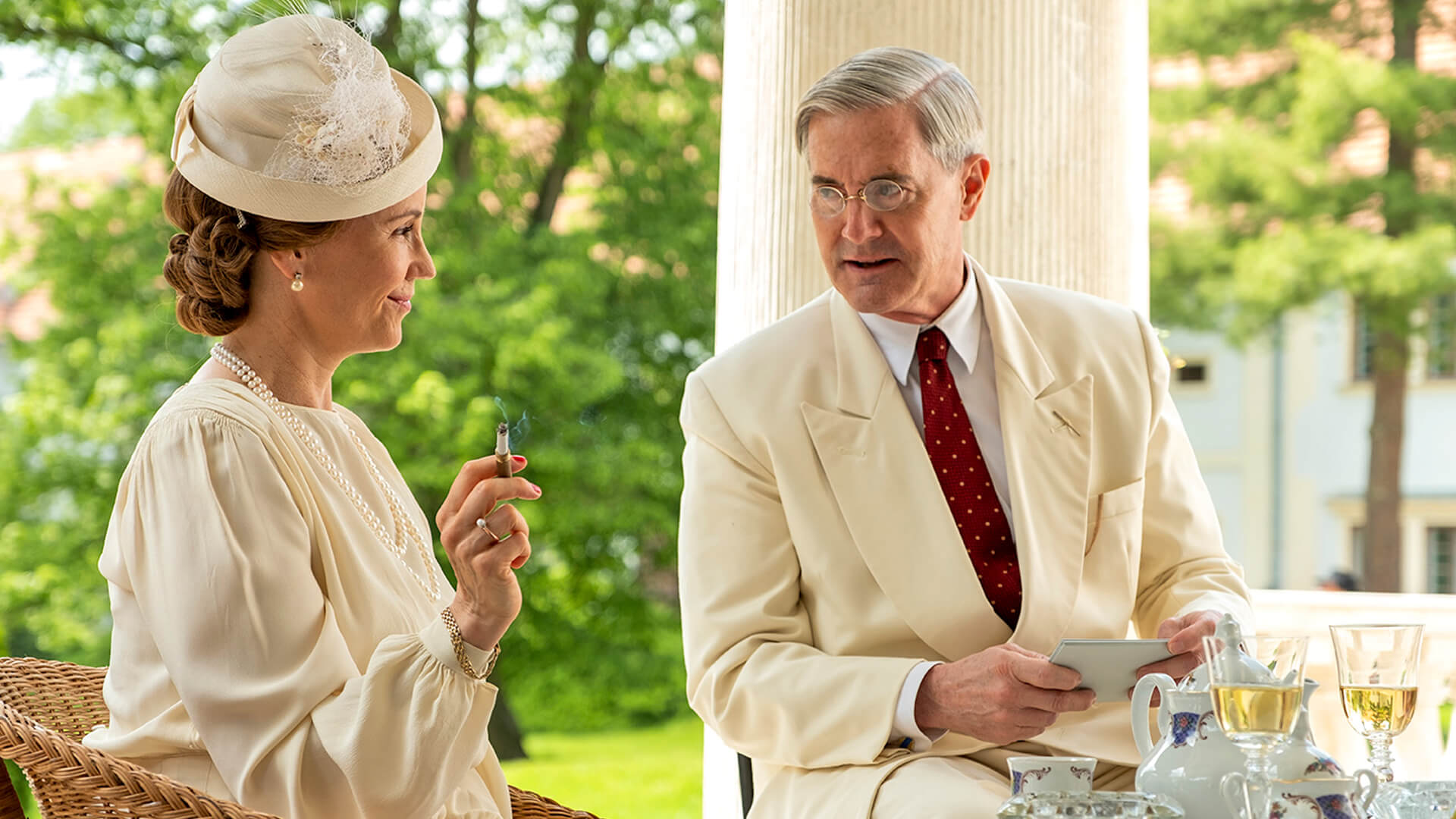 Atlantic Crossing – Norway – 2020 – Set in Norway and the US during WWII, this miniseries tells the story of Norway's Crown Princess Martha as she rose to international prominence. Though not British, it does include portrayals of some of the King George VI and Queen Elizabeth. Watch it HERE
Dancing on the Edge – 2013 – In early 1930s London, a black jazz group is coming up in the world. Unfortunately, tragedy strikes before they can fully appreciate their success. This six-episode series features a mixture of British high society and the much uglier underbelly of racism and poverty in London at the time. Watch it HERE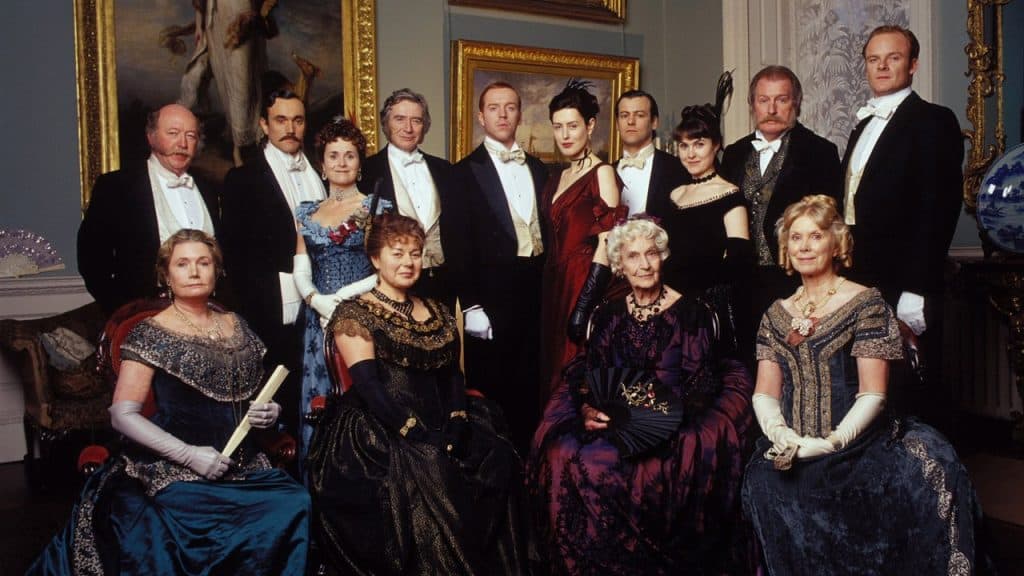 The Forsyte Saga – This 2002 adaptation of John Galsworthy's novel follows the life of an English family over 34 years stretching from Victorian England to World War 1. Miniseries. Watch it HERE
Inside the Court of Henry VIII – 2015 – This documentary takes a look at why things were so terribly chaotic and brutal inside the court of Henry VIII. Watch it HERE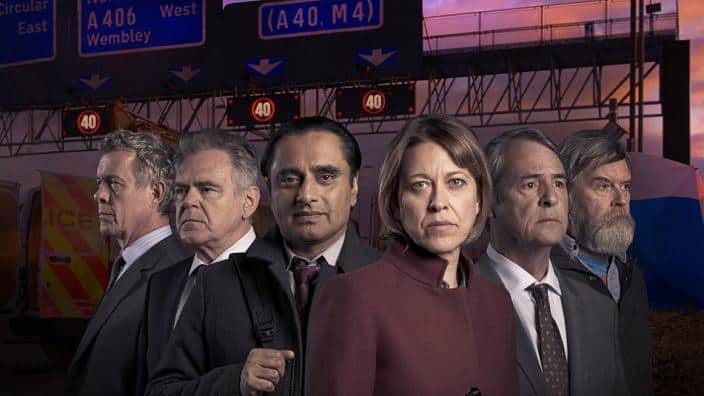 Unforgotten – Cassie and Sunny use modern technology to get to the bottom of very cold cases. This recent crime drama is based in London and stars Nicola Walker and Sanjeev Bhaskar as Cassie and Sunny.
Each series focuses on a new case, with connections unfolding over the course of several episodes. Watch it HERE
The Jewel in the Crown – 1984 – This award-winning television serial is set during the final days of the British Raj in India during and after World War II. The series is based on Paul Scott's Raj Quartet novels. Watch it HERE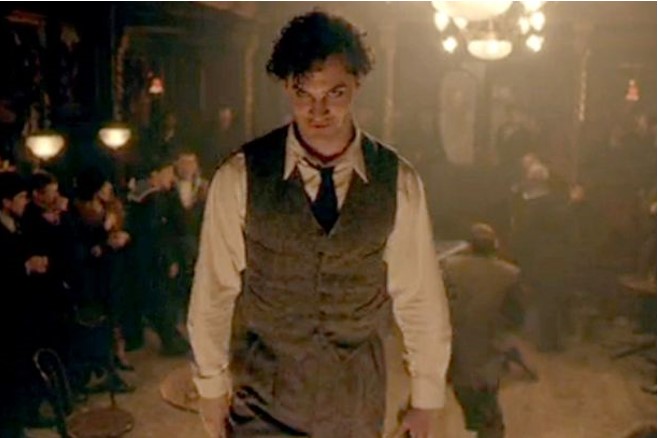 Jekyll & Hyde – 2015 – Set in 1930s London, this variation of the classic story sees Robert Jekyll living in London, a sensitive young man trying to find his way independent of his foster family. Unfortunately, be begins to feel the influence of a powerful darkness that's outside his control – and he realises his parents had been trying to protect him all along. Young Robert has inherited his grandfather's curse, and he's soon drawn into Hyde's dark and unsavoury world. Tom Bateman stars as Dr. Robert Jekyll. Watch it HERE
The Long Song – 2018 – Based on Andrea Levy's 2010 novel about the end of slavery in Jamaica, this miniseries sees Tamara Lawrance playing a slave and Hayley Atwell playing the plantation owner. Watch it HERE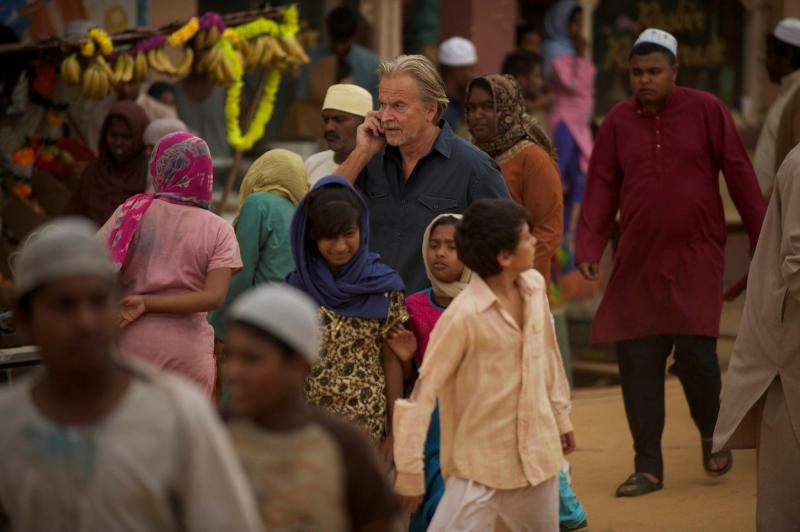 Kidnap & Ransom – 2011 – This three-part miniseries follows Trevor Eve (Shoestring) as a skilled British hostage negotiator who travels around the world to work on high-profile cases. Watch it HERE
Dark Angel – 2017 – Downton Abbey's Joanne Froggatt plays the Victorian poisoner Mary Ann Cotton, a woman who murdered a number of her husbands and children. Watch it HERE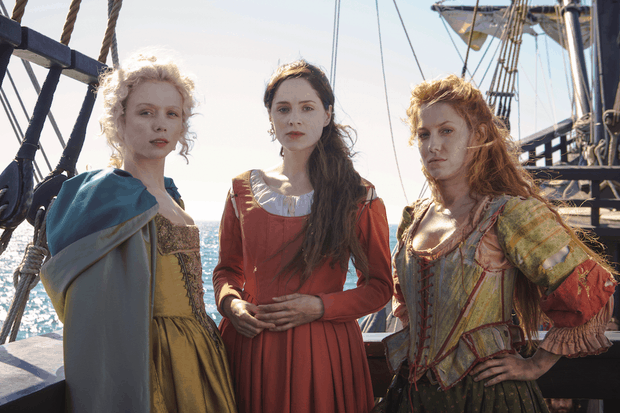 Jamestown – This series goes 400 years back in time to follow a group of English settlers in 1619 Virginia. When it opens, it's a little more than a decade since a group of men settled Virginia, and a group of woman is arriving to marry the men who settled the area and paid their way over.
There are three seasons, with the third and final one airing in 2018. Interestingly, most of the filming was done in Vértesacsa, Hungary. Watch it HERE
Margaret: The Rebel Princess – 2019 – A controversial figure in her time, Princess Margaret was a reflection of many of the societal changes going on during her time. This series takes a look at her life and influence. Watch it HERE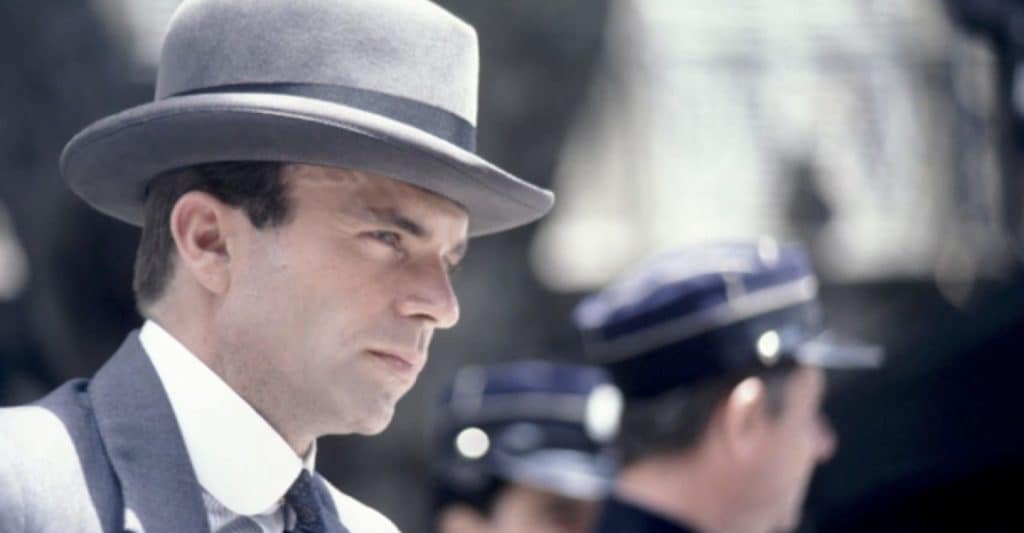 Reilly, Ace of Spies – Acorn TV fans will recognize this series as one that's been on the service for a while now – but if you don't have Acorn TV and you want to watch it, PBS Masterpiece is another option.
In this series, we get a glimpse at the life of Sidney Reilly, the spy who inspired James Bond. Watch it HERE
The Mayor of Casterbridge – 2003 – Ciarán Hinds (Above Suspicion) and James Purefoy (Rome) star in this adaptation of Thomas Hardy's novel of the same name. It tells the story of a drunken farmer who auctions off his family, only to realise the horror of what he's done and change his life. Watch it HERE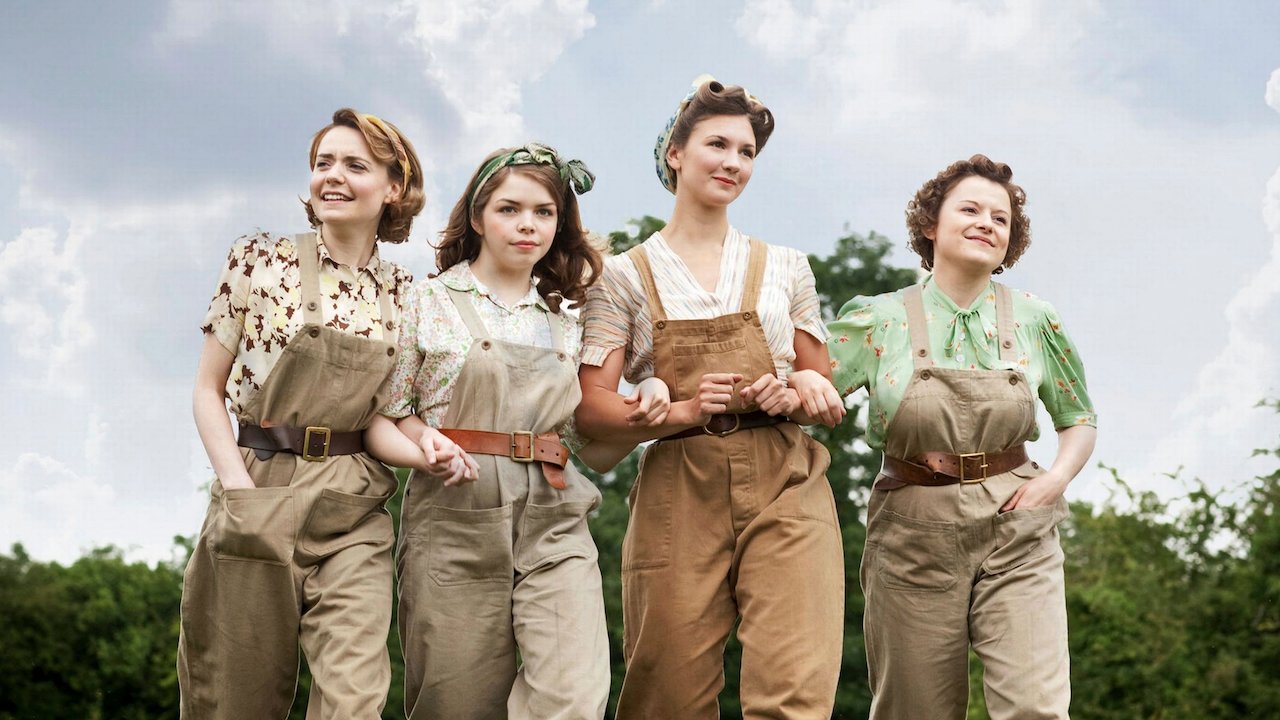 Land Girls – 2009 to 2011 – This engrossing period drama follows four women in the Women's Land Army during WW2. Watch it HERE
Nicholas and Alexandra: The Letters – 2019 – Dr. Suzannah Lipscomb presents this two-part docudrama about the love story between Tsar Nicholas II and his wife Alexandra. Watch it HERE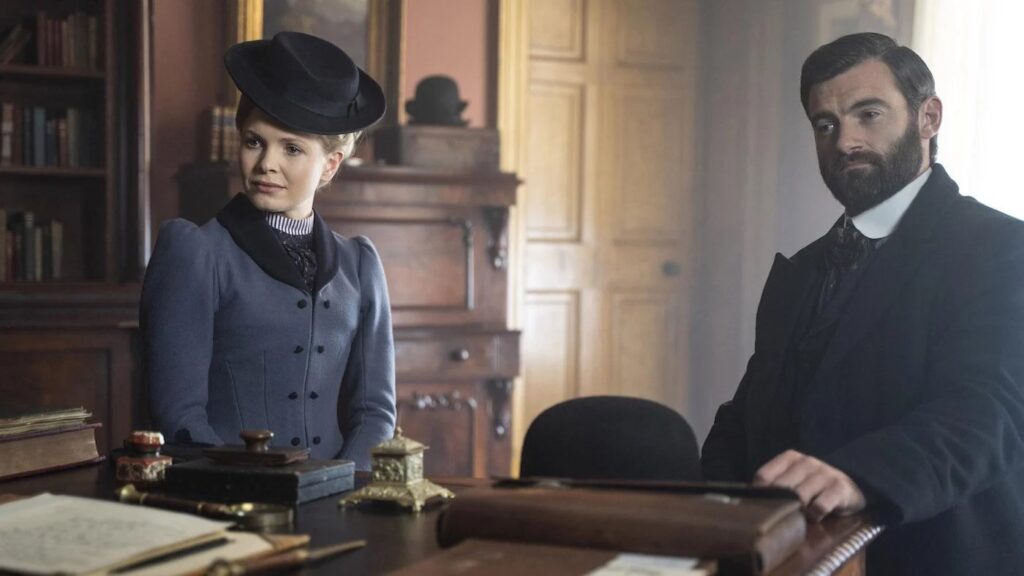 Miss Scarlet and the Duke – 2020 – When Eliza Scarlet is left destitute after her father's death, she can either get married or take over his detective agency. Because she's living in the 1880s and it's deemed inappropriate for a woman to take part in the trade, she gets a partner – Scotland Yard's Detective Inspector William Wellington, "The Duke". Watch it HERE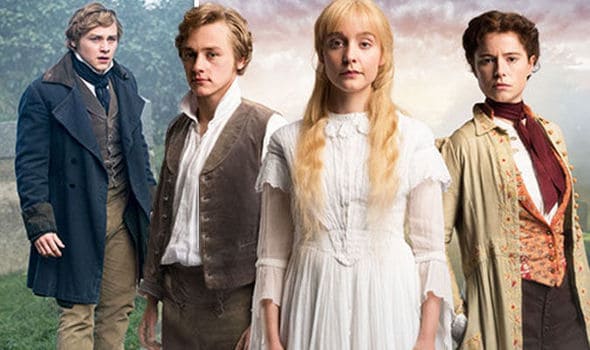 The Woman in White – This 2018 BBC miniseries adaptation of Wilkie Collins' famous book of the same name includes Jessie Buckley, Ben Hardy, and Olivia Vinall, among other talented cast members. Acorn TV fans may recognize Vinall from her recent starring role in Queens of Mystery.
This classic gothic tale begins when a man meets a mysterious woman in white before heading to Limmeridge House to tutor his nieces. He's told its a woman who escaped from an asylum, but already, a mystery has begun to unfold around him… Watch it HERE
Mansfield Park – 2007 – Billie Piper (Doctor Who) stars in this television movie adaptation of Jane Austen's third novel. It's about a young woman sent to live with wealthier relatives, who later falls in love with her sensitive cousin. Watch it HERE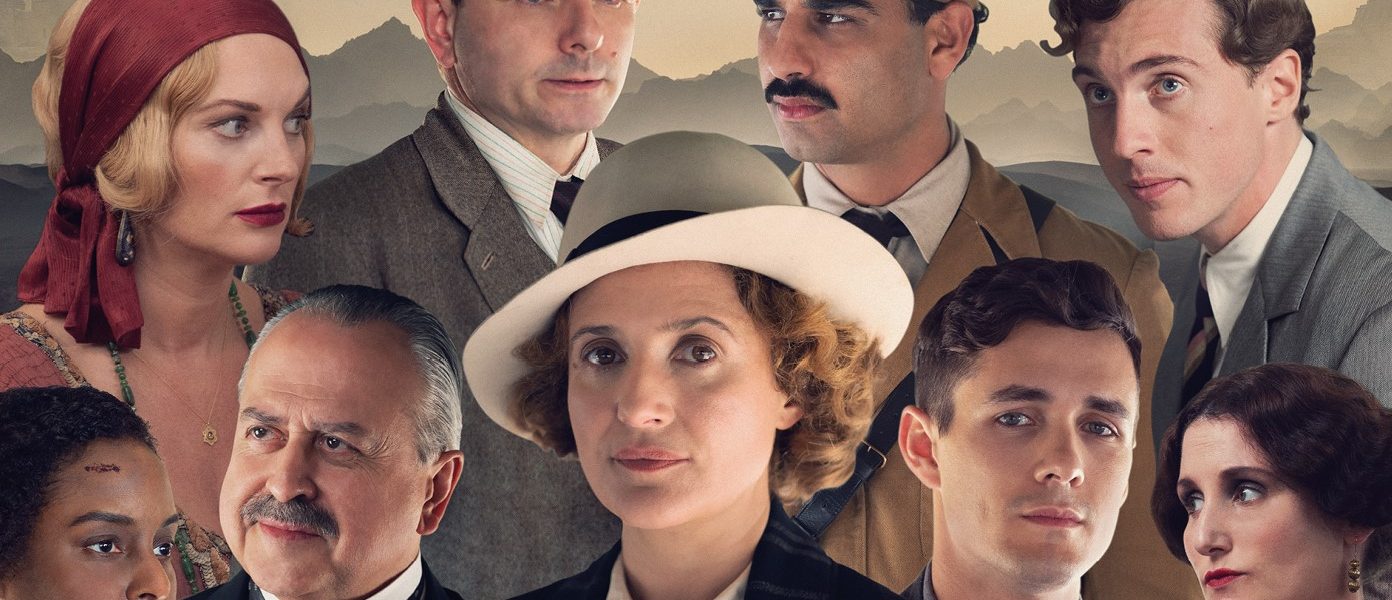 Though not TV series, these three films all relate to the life of Agatha Christie, and they make for a lovely weekend binge series.
Agatha and the Curse of Ishtar – 2021 – Agatha Christie enthusiasts will know she famously disappeared for eleven days during 1926. This film picks up in 1928, with Agatha having travelled to Baghdad seeking peace. Watch it HERE
Agatha and the Midnight Murders – 2021 – Set in London in 1940, this film sees Agatha Christie dealing with the war and killing off her most famous creation. Helen Baxendale (Cold Feet) stars as Ms. Christie. Watch it HERE
Agatha and the Truth of Murder – 2018 – This film imagines what might have happened during Agatha Christie's famed disappearance in 1926. With her personal life in upheaval, the film sees her solving a real-life murder. Watch it HERE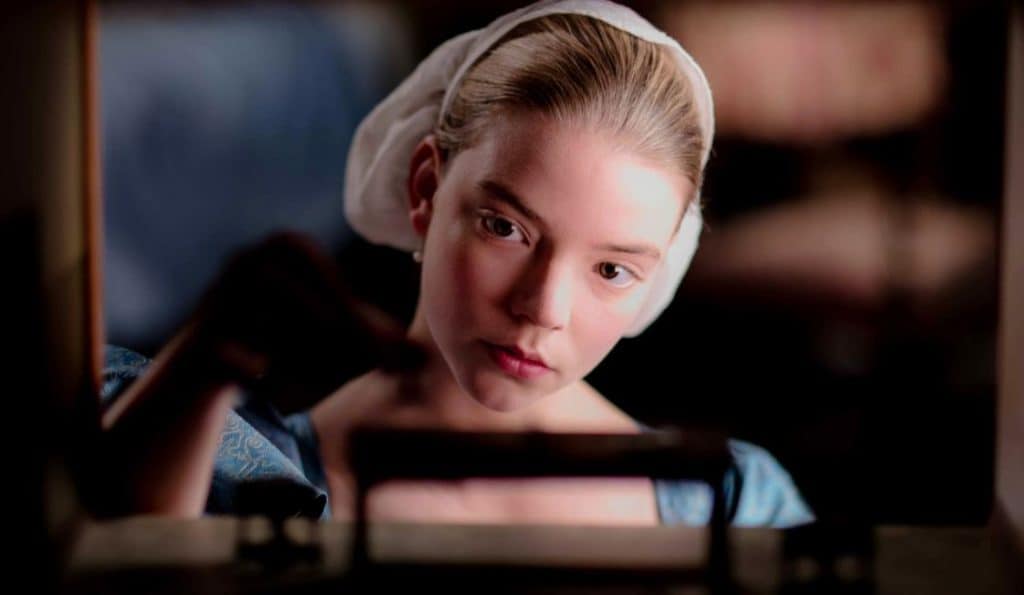 The Miniaturist – This 2017 BBC miniseries is an adaptation of Jessie Burton's novel by the same name. In 17th century Amsterdam, a woman moves in with her new husband and his sister. Oddly, the husband gives her a mysterious dollhouse to occupy her time. Watch it HERE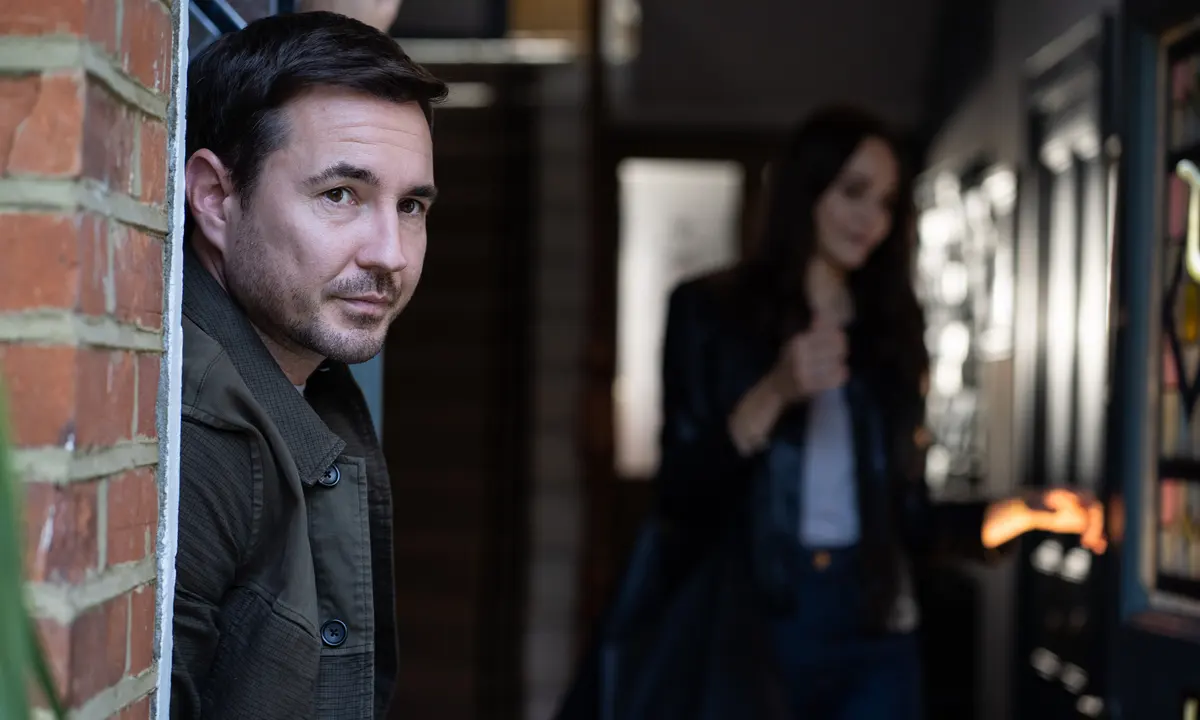 Our House – 2023 – Based on Louise Candlish's best-selling psychological thriller, this miniseries follows Fi Lawson (Tuppence Middleton, Dickensian), a woman who comes home one day to find strangers moving themselves into her house. At the same time, she discovers her husband, Bram (Martin Compston, Line of Duty), has gone missing. Though that seems about as bad as things can get, it's only the beginning of the terror that will unfold. Watch it HERE.
Pollyanna – 2003 – Pam Ferris (Rosemary & Thyme), Kenneth Cranham, and Tom Ellis (Miranda) are among the stars of this television movie based on the Pollyanna novels of American author Eleanor H. Porter. Georgina Terry (William and Mary) stars as Pollyanna. Watch it HERE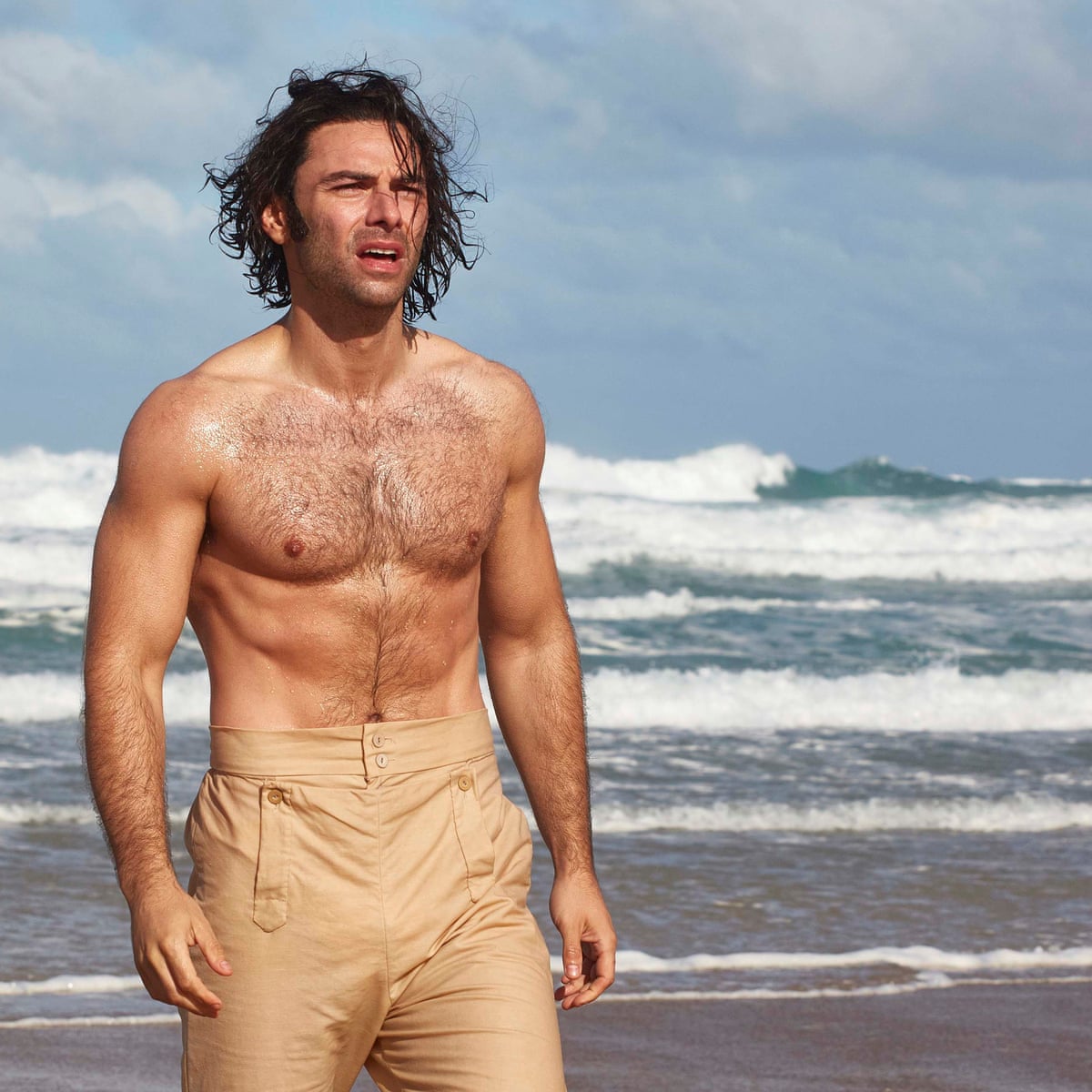 Poldark – 2015 to 2019 – Ross Poldark returns home to Cornwall after fighting in the American Revolution, only to find his fortune in ruins and the woman he loves promised to another man. Aidan Turner stars in this adaptation of the classic story. Watch it HERE.
Poldark Revealed – 2016 – This programme goes on set to get a look at what makes Poldark such an enduring favourite. Watch it HERE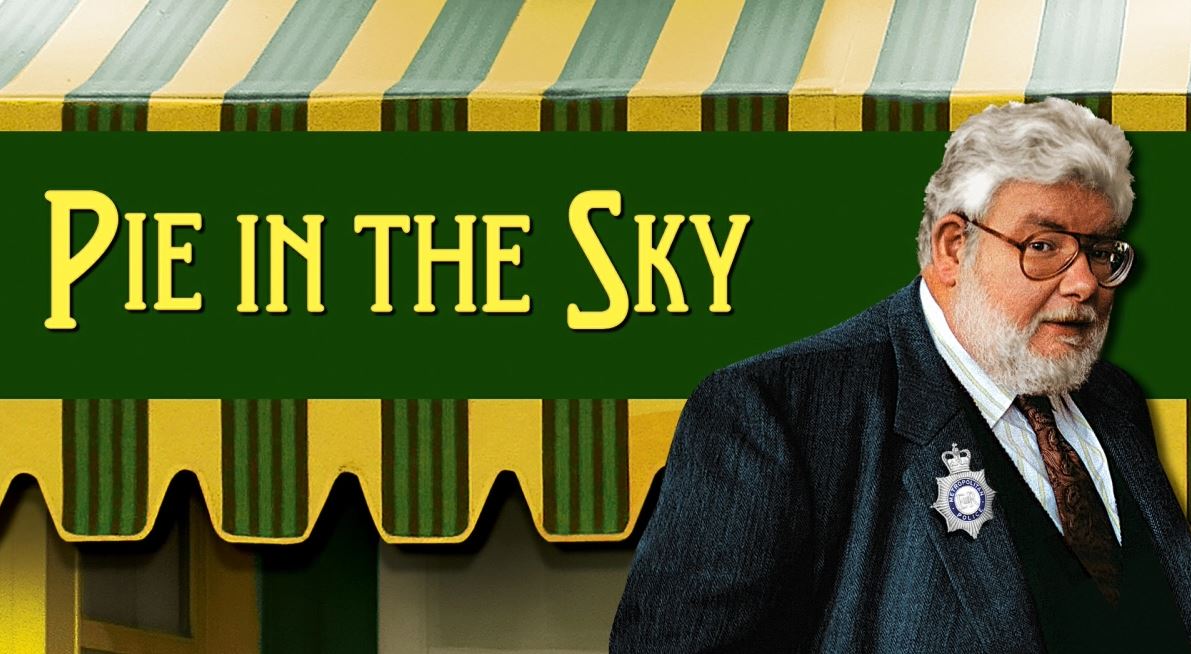 Pie in the Sky – 1994 to 1997 – When DI Crabbe leaves the police force to open a restaurant, they continue to pull him back in for part-time crime-solving. Though a bit dated in terms of video quality, this classic British almost-cosy mystery is a must-watch for anyone who enjoys a lighter, gentler mystery. Watch it HERE
Prince Charles at 70 – 2019 – This documentary takes a look at Prince Charles' ongoing charity work and his likely future role as monarch of the United Kingdom. Watch it HERE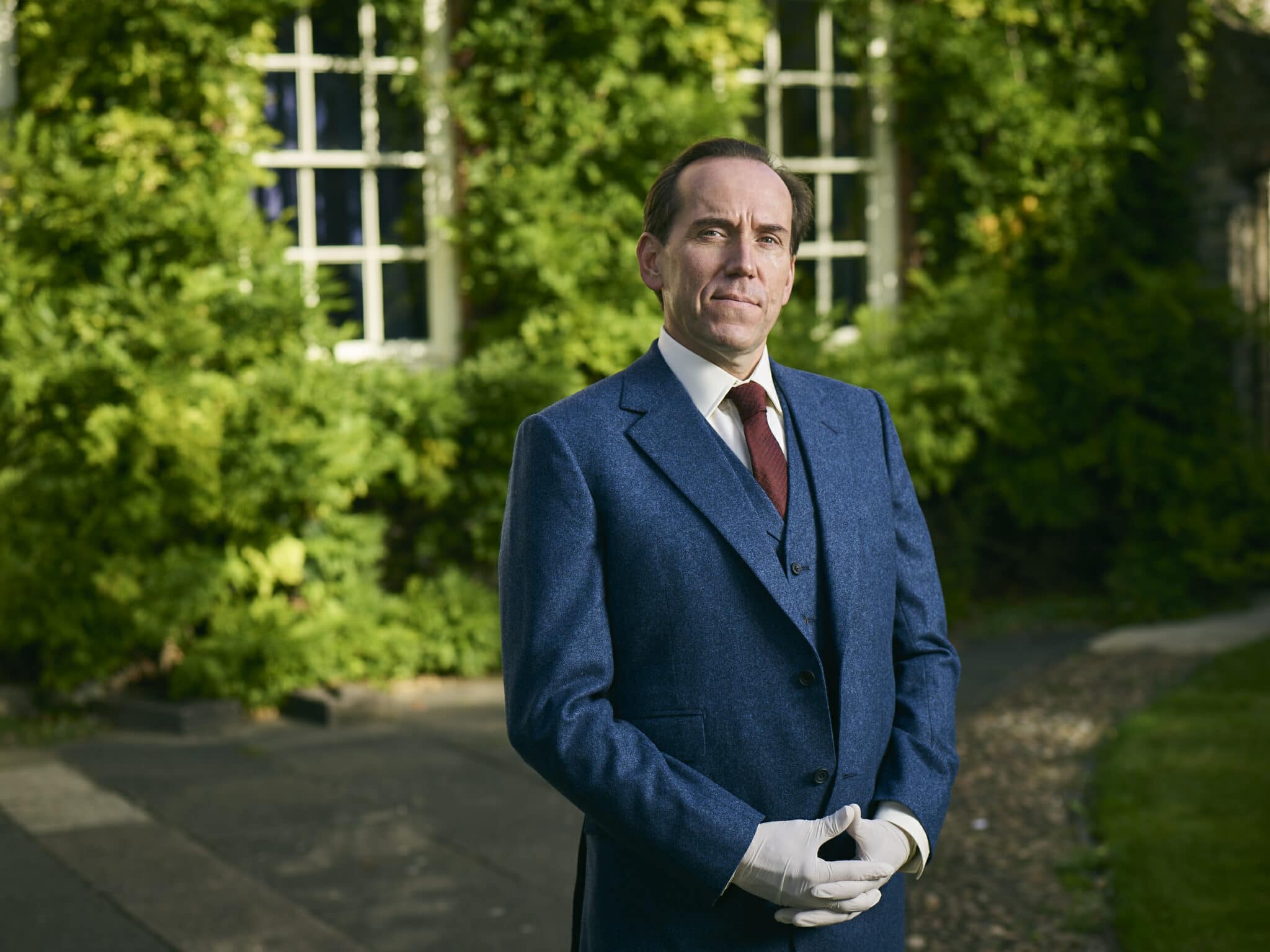 Professor T – 2021 – Ben Miller stars in this British adaptation of the Belgian series of the same name. In it, he plays an eccentric Cambridge criminology professor who consults with the police on challenging cases. In real life, actor Ben Miller pursued a PhD in solid state physics at Cambridge while also working on the beginnings of his career in entertainment. Watch it HERE
Queen and Country – 2012 – Trevor McDonald walks us through some of the British monarchy's greatest traditions and institutions. Watch it HERE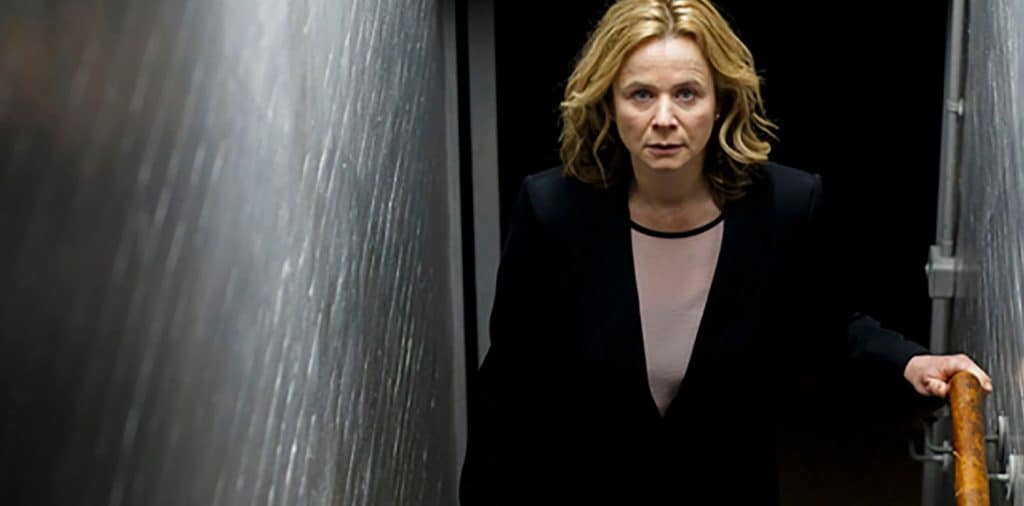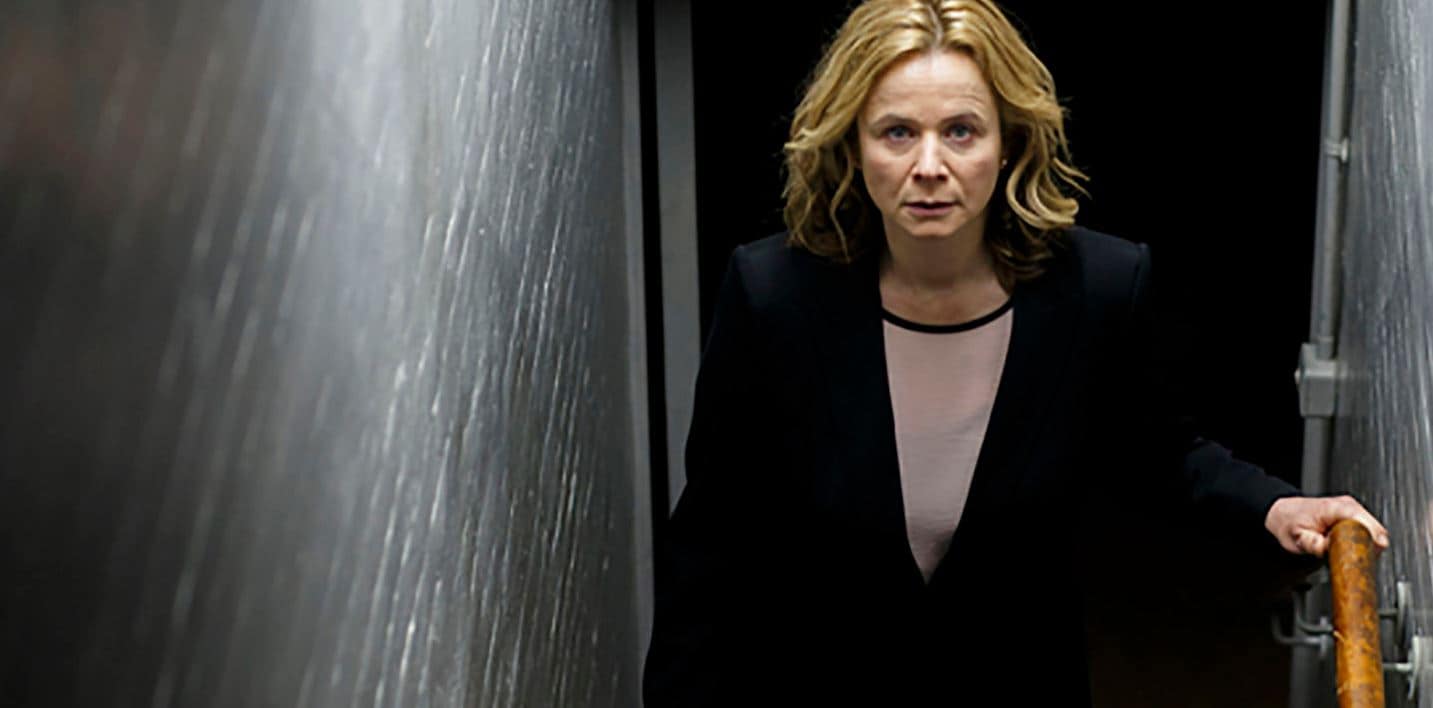 Apple Tree Yard – This 2017 miniseries is based on Louise Doughty's novel by the same name, and it's a suspenseful combination of sex and murder. When a woman gets an intriguing proposition, it excites her – until she realizes it may not be quite what it seemed. Emily Watson and Ben Chaplin star. Watch it HERE
Prince Philip: The Plot to Make a King – 2016 – This one-episode special tells the story of what went on behind the scenes when Queen Elizabeth II fell in love with Prince Philip. Royal courtiers felt Philip was rough, poorly educated, and unlikely to make a good or faithful husband. Many disapproved of his German roots and ambitious family. The film takes a look at maneuvers for the marriage that took place as early as 1939-40, when the future queen was just 13. Watch it HERE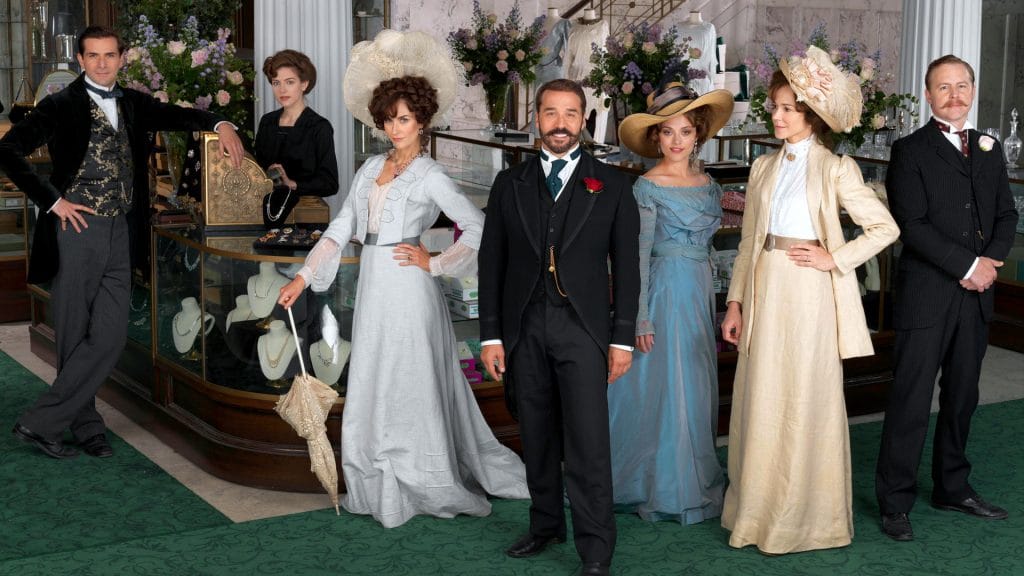 Mr. Selfridge – 2013 to 2016 – Jeremy Piven (Entourage) stars as the American Harry Gordon Selfridge, a man who revolutionised British retail. Watch it HERE
Queen Elizabeth's Secret Agents – 2018 – This docuseries takes a look at the incredible father-and-son team that kept Queen Elizabeth I safe during her reign. Watch it HERE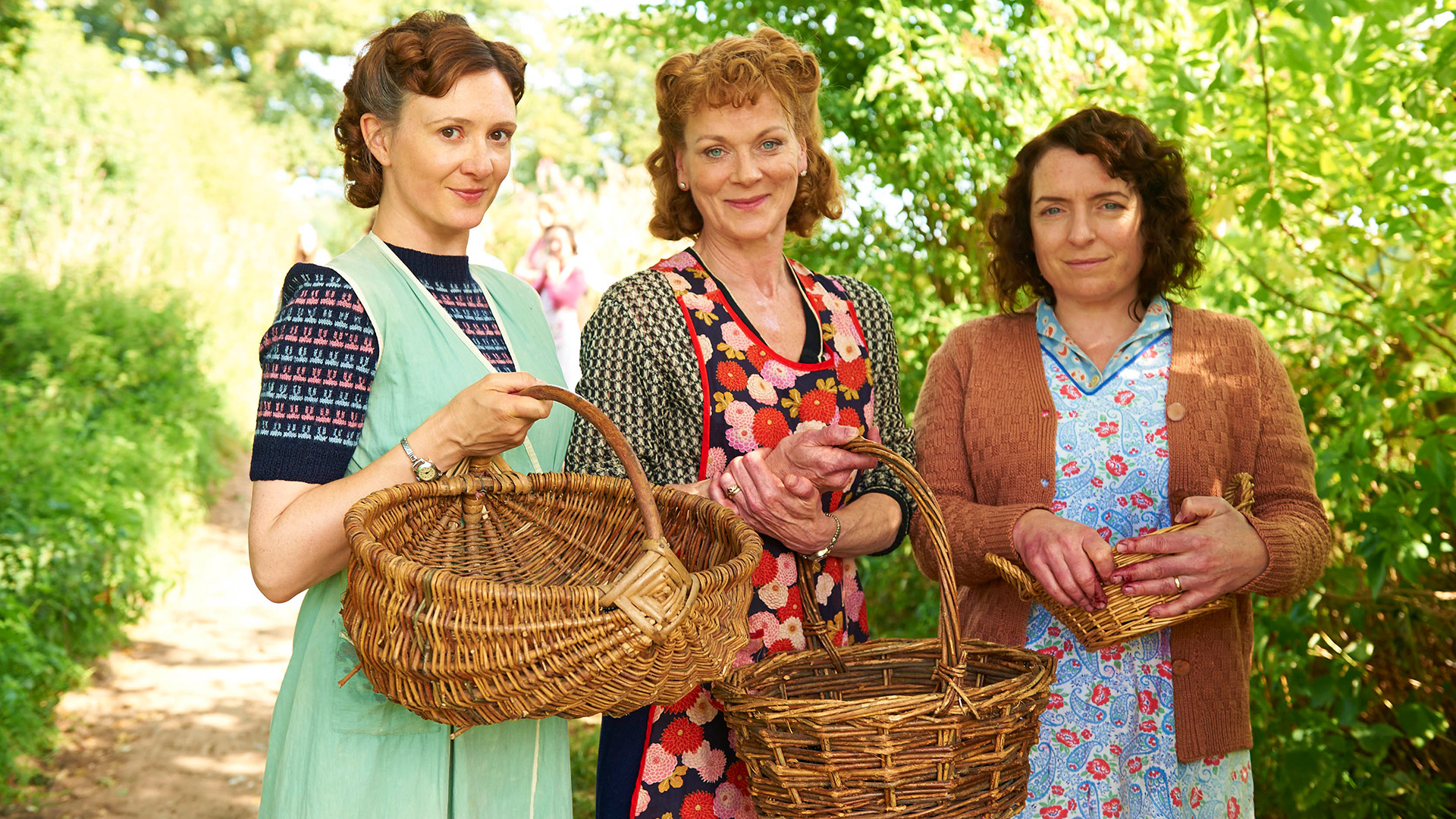 Home Fires – 2015 to 2017 – In WWII-era Britain, a group of women get by in a small village. Watch it HERE
The Queen at War – 2020 – This documentary takes a look at how Queen Elizabeth II served her country during WWII, and how the war shaped her. Watch it HERE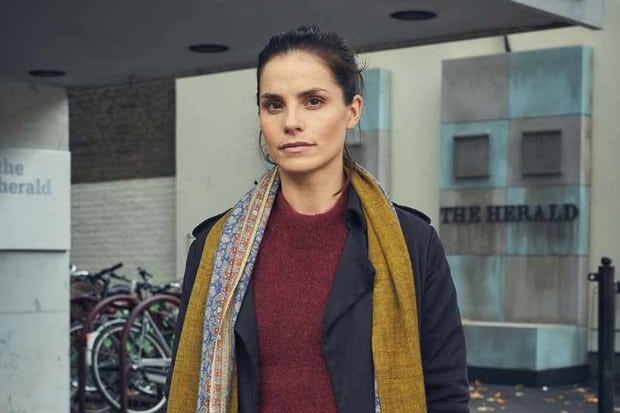 Press – 2019 – This series follows the rivalry between two major newspapers, taking a hard look at some of the awful things they do to get a scoop. David Suchet (Poirot) appears. Sadly, it was not renewed for a second season. Watch it HERE
Royal Wives at War – 2016 – This documentary uses dramatised monologues to give us a closer look at the 1936 abdication crisis through the eyes of the two women most deeply involved – Elizabeth the Queen Mother and American Wallis Simpson. Watch it HERE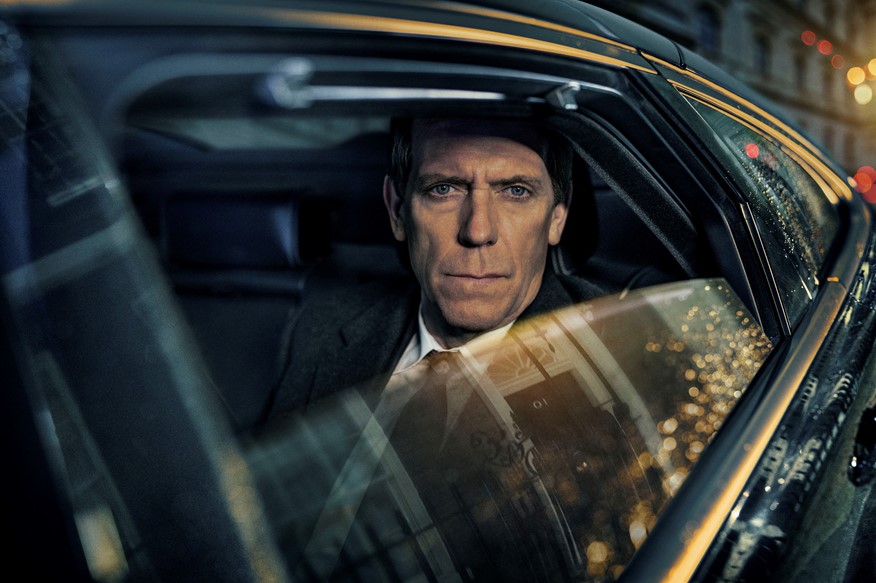 Roadkill – 2020 – Hugh Laurie (House) and Helen McCrory (Peaky Blinders) star in this four-part political thriller about a charismatic politician whose personal life is in shambles thanks to the enemies he's made. Now, he's in a race against time to do the things he wants to do before the problems of his past bring him down. Laurie stars as politician Peter Laurence. Watch it HERE
Spying on the Royals – 2018 – In the late 1930s, King Edward VIII and his American lover were considered a significant security risk to the country. This documentary looks at the controversial espionage operation that kept tabs on the pair. Watch it HERE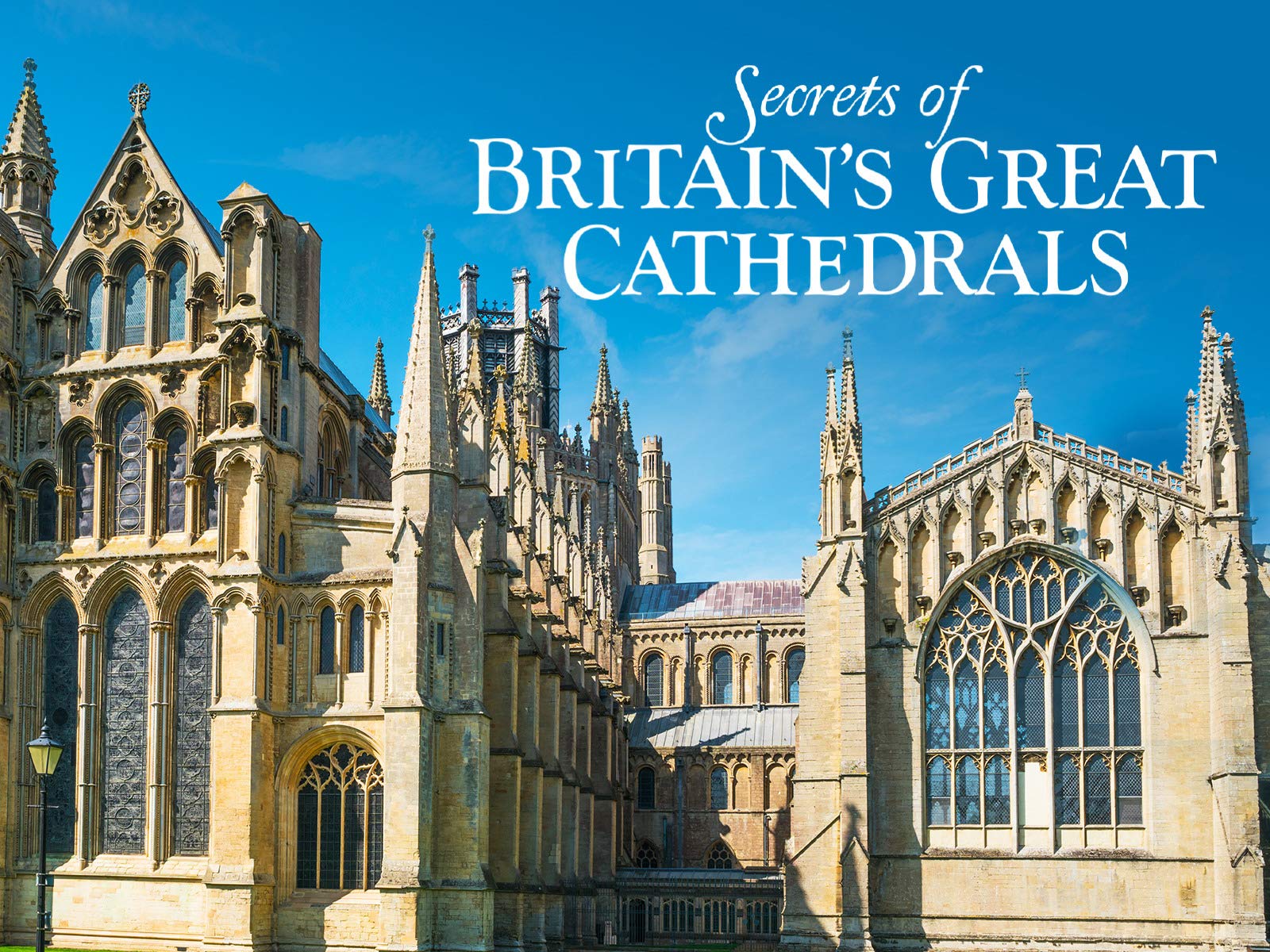 Secrets of Britain – 2014 – This series takes a look at the secrets behind some of Britain's most notable landmarks and institutions. It covers the Tower of London, Selfridges, Scotland Yard, the London Underground, Her Majesty's Secret Service, and Westminster. Watch it HERE
Secrets of Britain's Great Cathedrals – 2019 – Though many travel shows visit the great cathedrals, few of them offer as much detail as this eight-part series. It covers York Minster, Canterbury Cathedral, St. Paul's Cathedral, Westminster Abbey, Salisbury Cathedral, Wells Cathedral, Bath Abbey, Gloucester Cathedral, Durham Cathedral, Lincoln Cathedral, Worcester Cathedral, Tewkesbury Abbey, St. David's, Brecon, St. Asaph, Bangor Cathedral, Ely Cathedral, Peterborough Cathedral, and King's College Cambridge. Watch it HERE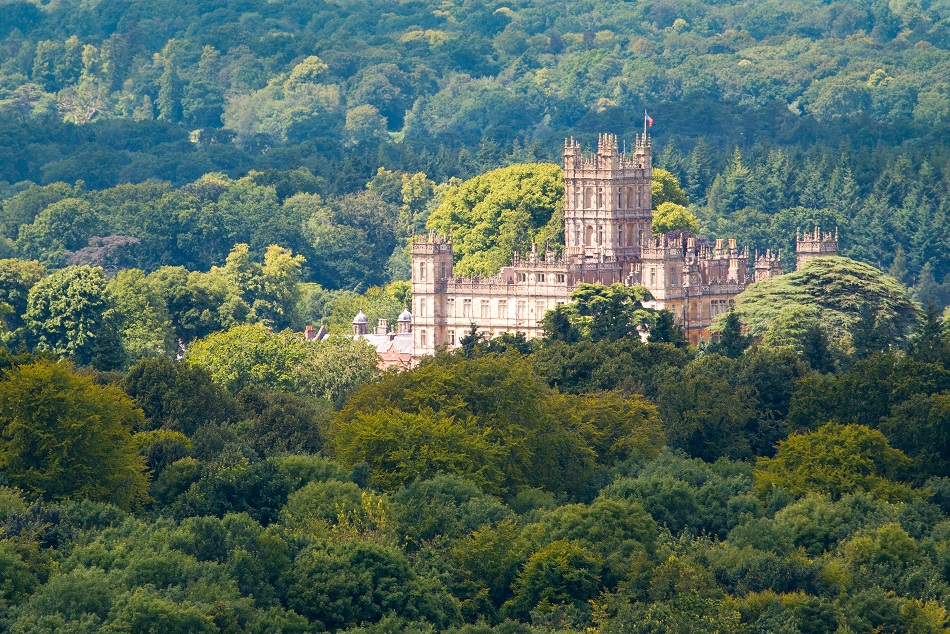 Secrets of Highclere Castle – 2013 – This hour-long documentary takes a look at the stately home made famous by Downton Abbey. Watch it HERE
Secrets of Iconic British Estates – 2013 – This lovely British tour series takes us to Hampton Court, Althorp, and Chatsworth. Watch it HERE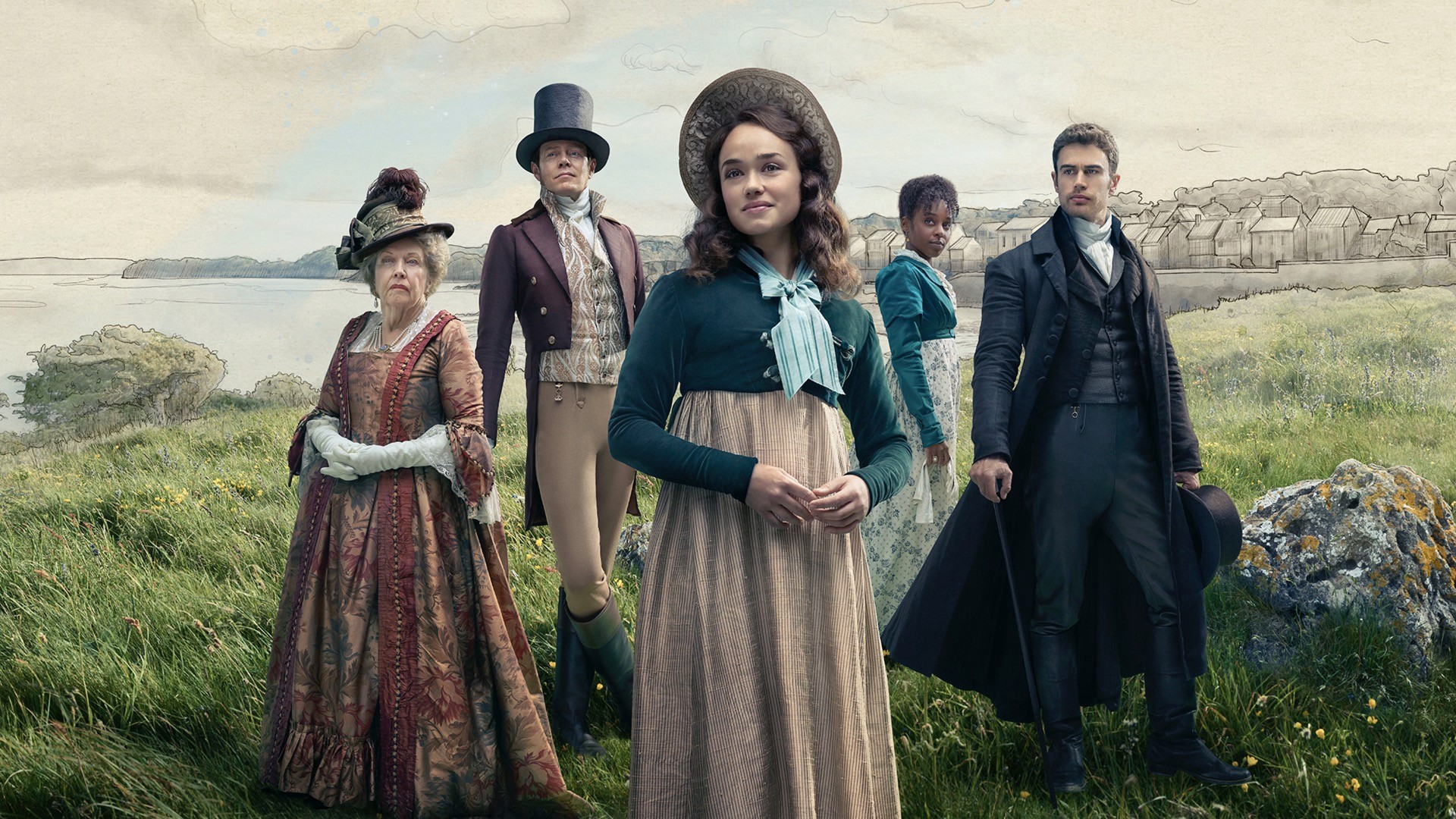 Sanditon – 2019 – Prior to her early death at the age of 41, Jane Austen began a new and different sort of work. It was the story of Sanditon, a fledgling seaside resort town along the southern coast of England. It was never finished. In this miniseries, screenwriter Andrew Davies (Mr. Selfridge, Pride & Prejudice) finishes her final masterpiece. Rose Williams (Curfew) stars as Charlotte Heywood, and Theo James plays the outrageous Sidney Parker. Anne Reid (Last Tango in Halifax) and Kris Marshall (Death in Paradise) also appear. Watch it HERE
Rumpole of the Bailey – 1978 to 1992 – Leo McKern starred as Horace Rumpole, a defense barrister who often took on underdog clients. Watch it HERE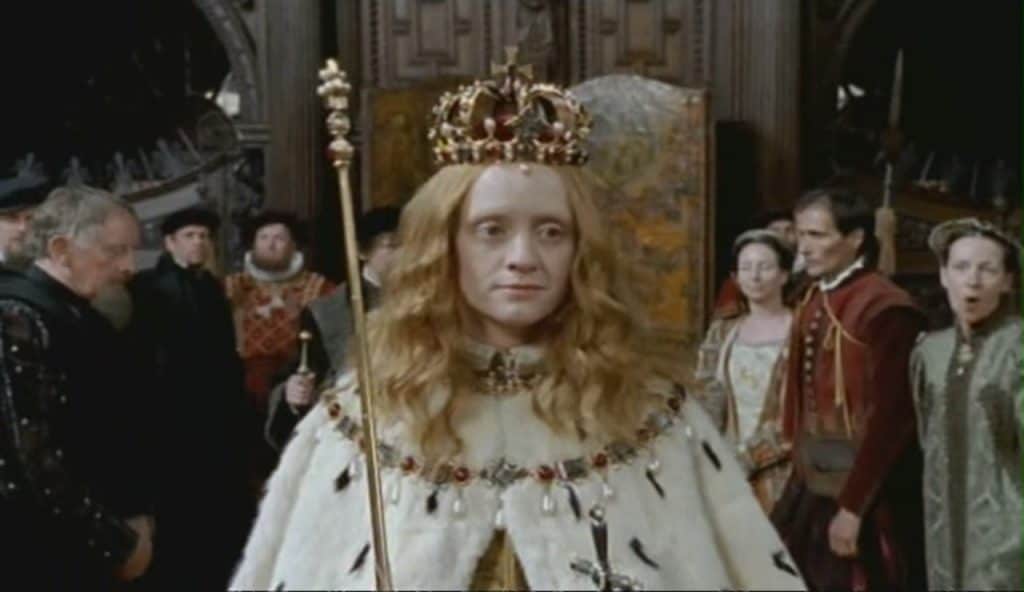 Elizabeth I: The Virgin Queen – Anne-Marie Duff stars in this fascinating two-part (possibly four part, depending upon where you watch it) series about Queen Elizabeth I, the enigmatic and long-reigning queen who never took a husband.
Tom Hardy stars as her dear friend and possible lover Robert Dudley, 1st Earl of Leicester, and Emilia Fox takes on the role of Dudley's wife. Watch it HERE
The Sinking of the Laconia – 2015 – This miniseries is a dramatic retelling of the 1942 German U-boat attack on the British RMS Laconia and its 2000 passengers. Watch it HERE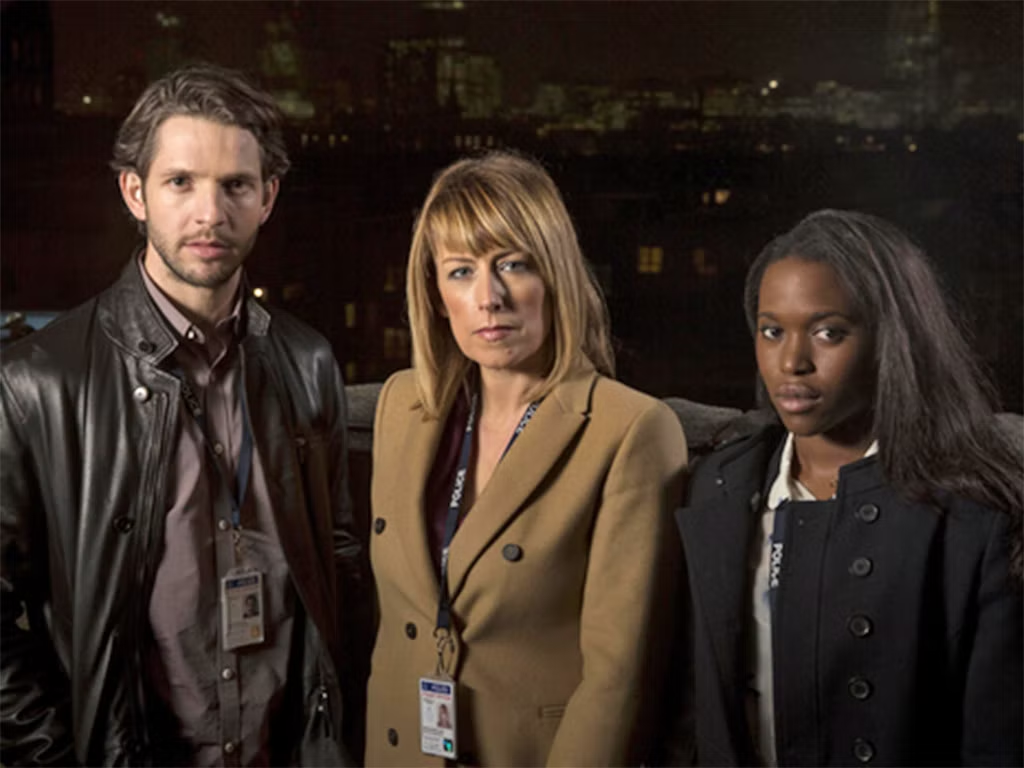 Suspects – 2014 to 2016 – Three Greater London detectives investigate serious crimes in this gritty – and heavily improvised – series. Watch it HERE.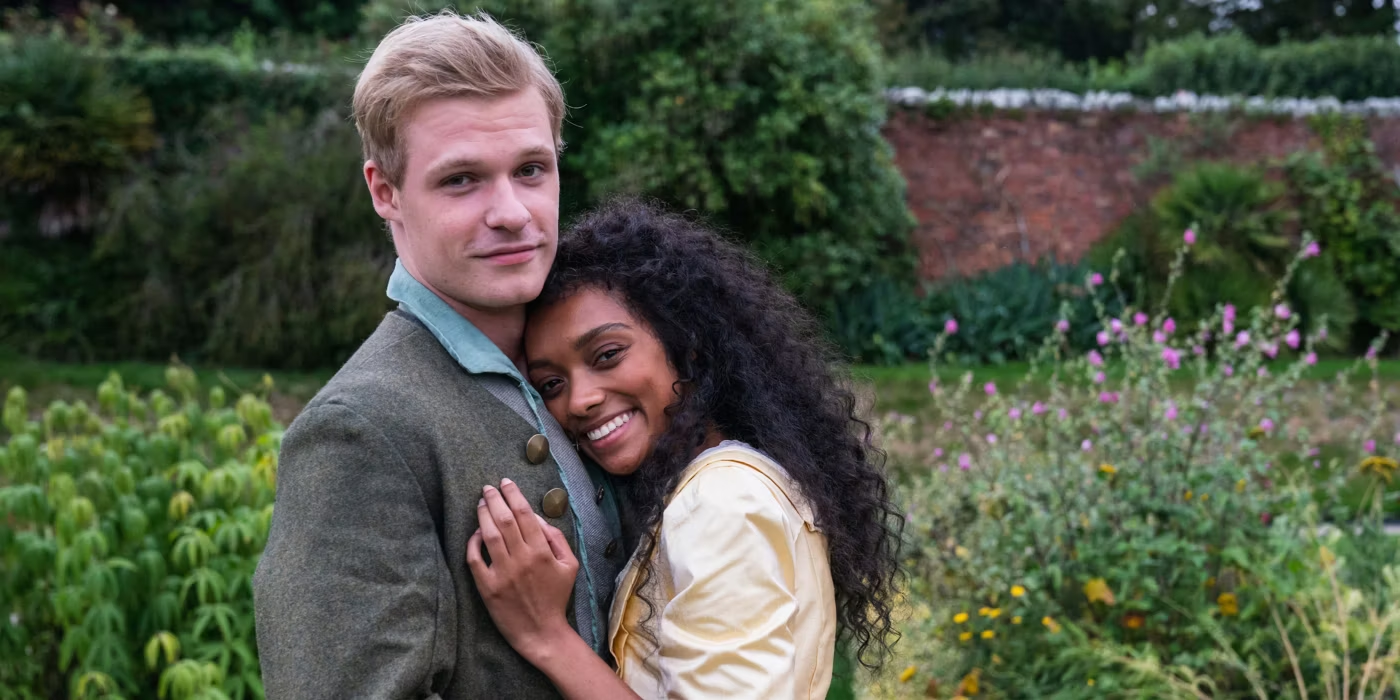 Tom Jones – 2022 – This four-part television miniseries reimagines Henry Fielding's classic 1749 novel with Hannah Waddingham as Lady Bellaston, Solly McLeod as Tom, and Sophie Wilde as Sophia (and the delightful Janine Duvitski as Mrs. Wilkins). Watch it HERE.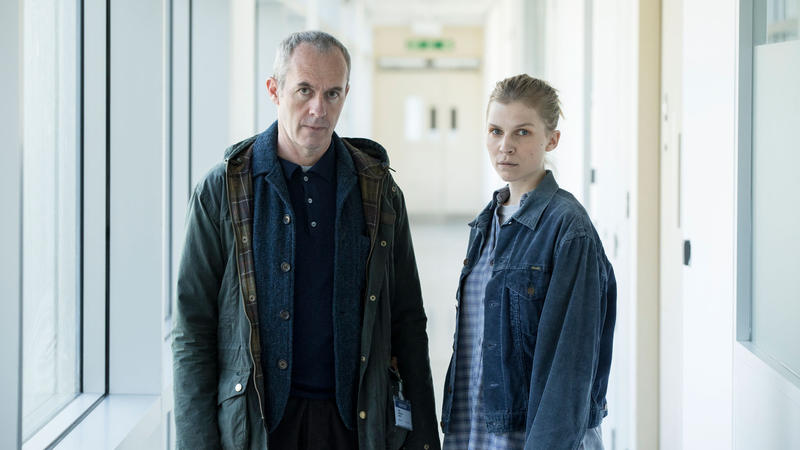 The Tunnel – 2013 to 2017 – Based on the Swedish series The Bridge, this British and French co-production begins when a body is found at the midpoint of the Channel Tunnel, placing it in both jurisdictions. Watch it HERE.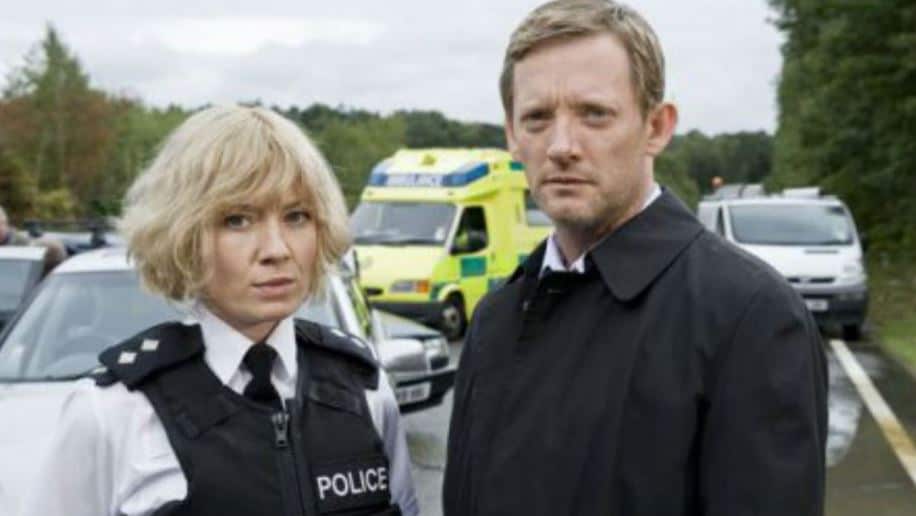 Collision – After a multi-car accident, a group of relative strangers see their secrets unfold around that single event that ties them together.
This short series was written by Anthony Horowitz of Midsomer Murders fame, and Shetland fans will immediately notice Douglas Henshall as DI John Tolin. Watch it HERE
Three Sovereigns for Sarah – 1986 – Vanessa Redgrave (Mrs. Dalloway) stars in this historic drama about the Salem witch trials. Watch it HERE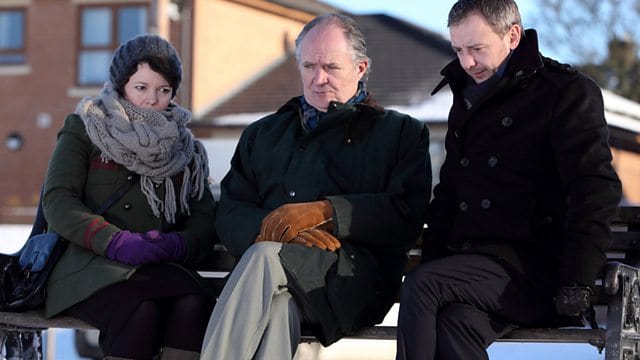 Exile – Life on Mars fans will enjoy John Simm's performance in this psychological thriller about a man who returns home to his aging father and caregiver sister. Previously, he had left home after being beaten by his father for looking through his files – files that hide a sinister secret. Now that his father is suffering from Alzheimer's, his son is able to revisit the mystery from all those years earlier. Watch it HERE
What the Durrells Did Next – 2019 – Hosted by Durrells star Keeley Hawes, this special takes a look at what happened to the real-life Durrell family after they left Corfu. Watch it HERE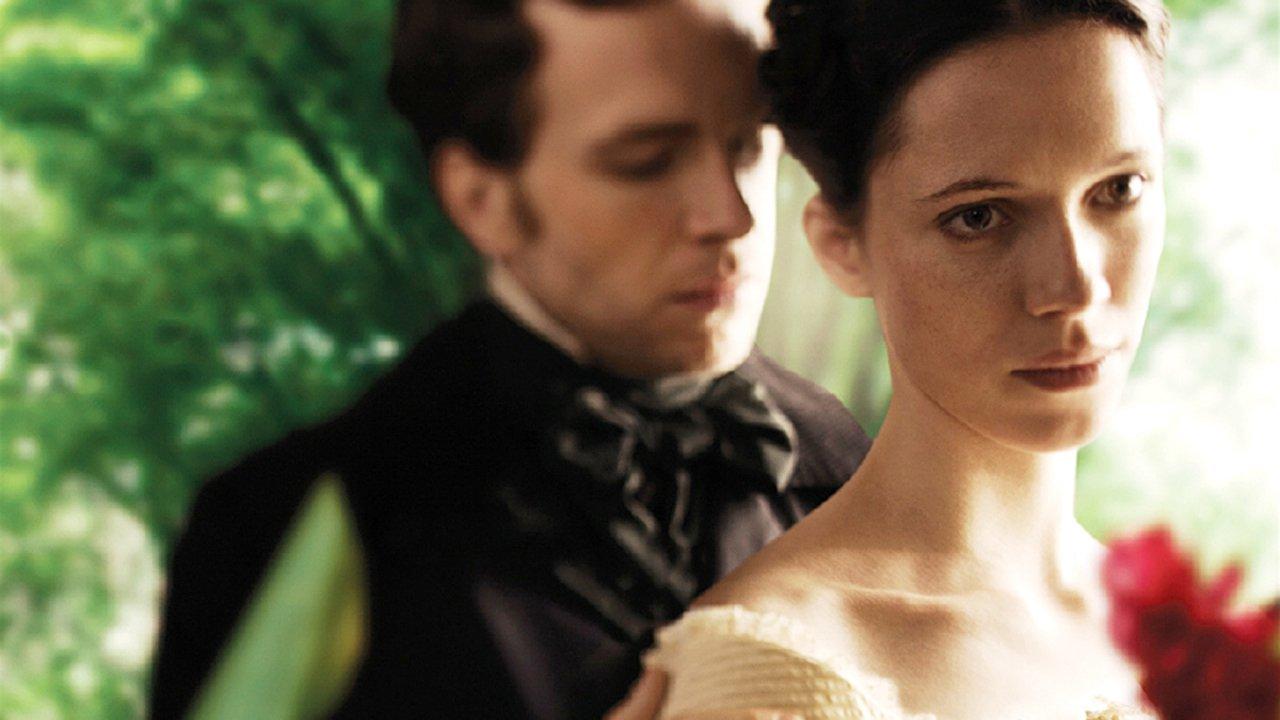 Wide Sargasso Sea – 2006 – This prequel to Jane Eyre tells the story of the first Mrs. Rochester and how she ended up in the attic at Thornfield Hall. Rebecca Hall (Parade's End) and Rafe Spall (The Big Short) star. Watch it HERE.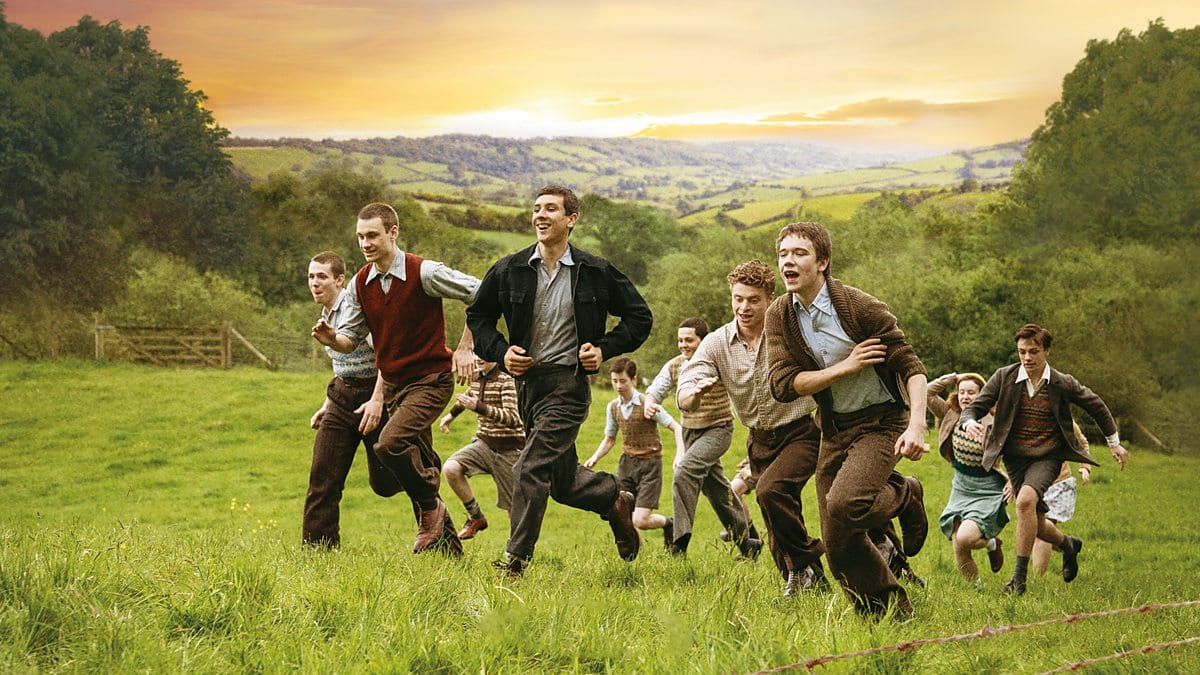 The Windermere Children – 2020 – This movie tells the true story of child survivors of the Holocaust and their rehabilitation in the Lake District in England. Watch it HERE
The Windermere Children: In Their Own Words – 2020 – This documentary talks with some of the children whose new, post-Holocaust lives began along the shore of Lake Windermere in England. Watch it HERE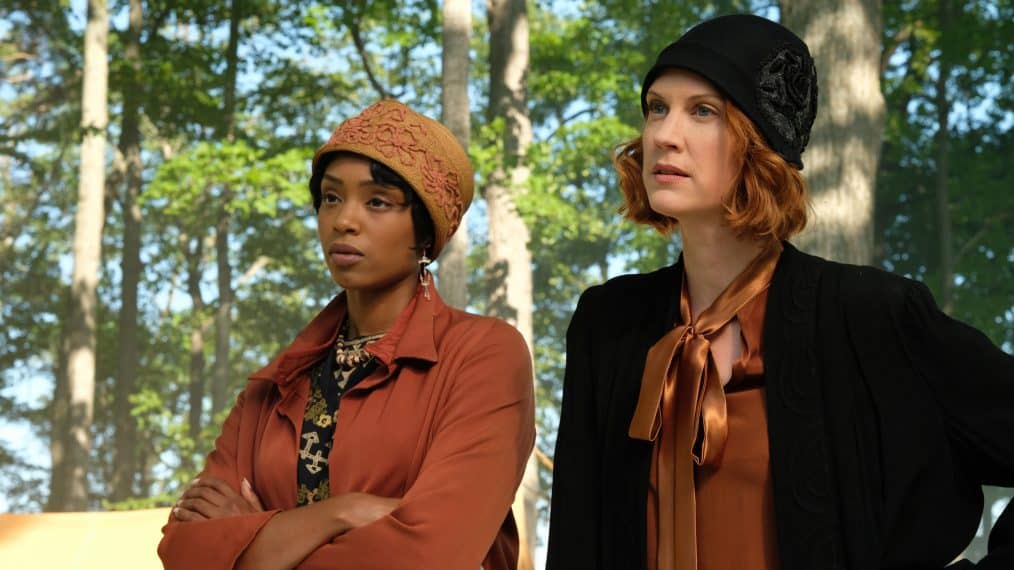 Frankie Drake Mysteries – Though this one's a Canadian series, we're throwing it in because hey, it's in the Commonwealth, it's in English, and it's a mystery likely to appeal to British TV fans. Set in 1920s Toronto, Frankie Drake is a great series for anyone who loved Miss Fisher's Murder Mysteries.
Frankie Drake is a female detective whose Drake Detective Agency takes on the cases police don't want. Along with her trusty partner Trudy, they get into all manner of trouble. Watch it HERE
Lucy Worsley Shows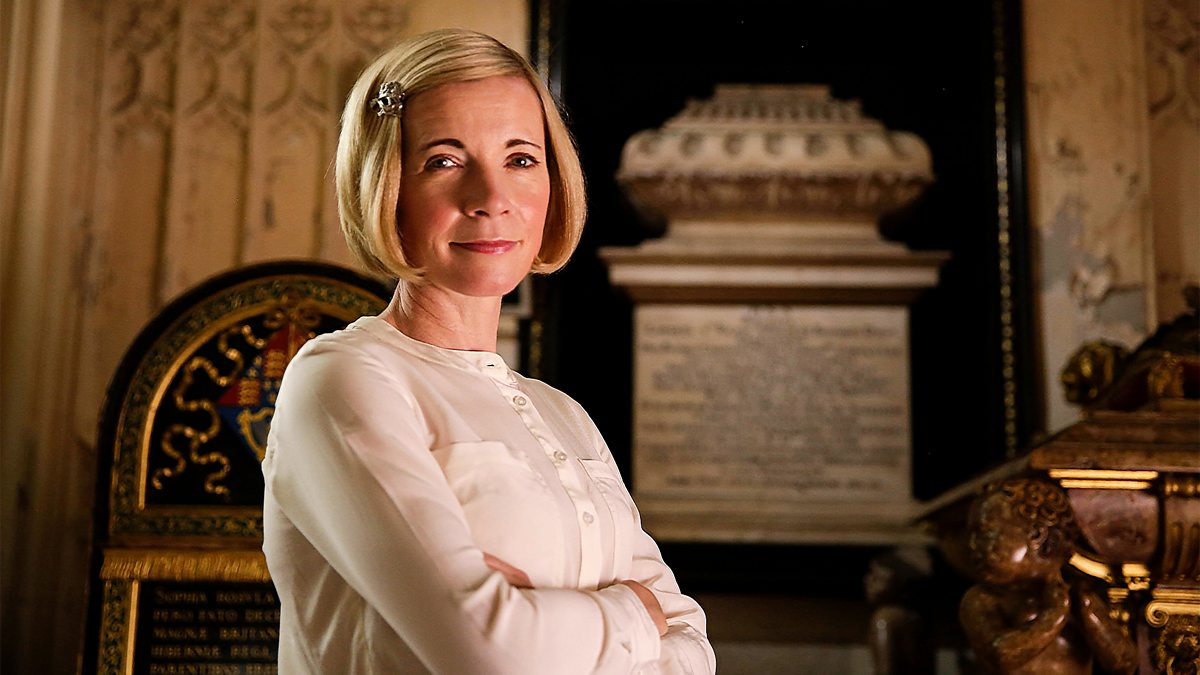 Lucy Worsley Investigates – 2022 – Historican Lucy Worsley takes a look at new evidence related to some of the most fascinating bits of British history. Watch it HERE
Lucy Worsley's 12 Days of Tudor Christmas – 2019 – Lucy Worsley takes us on a fun and educational stroll through Tudor Christmas festivities. Watch it HERE
Tales from the Royal Bedchamber – 2014 – Historian Dr. Lucy Worsley examines our lengthy fascination with what goes on inside the royal bedchambers. Watch it HERE
Tales from the Royal Wardrobe – 2015 – Historian Dr. Lucy Worsley takes a look at the phenomenon of watching royal attire, offering evidence that it's not just a modern behaviour. Watch it HERE.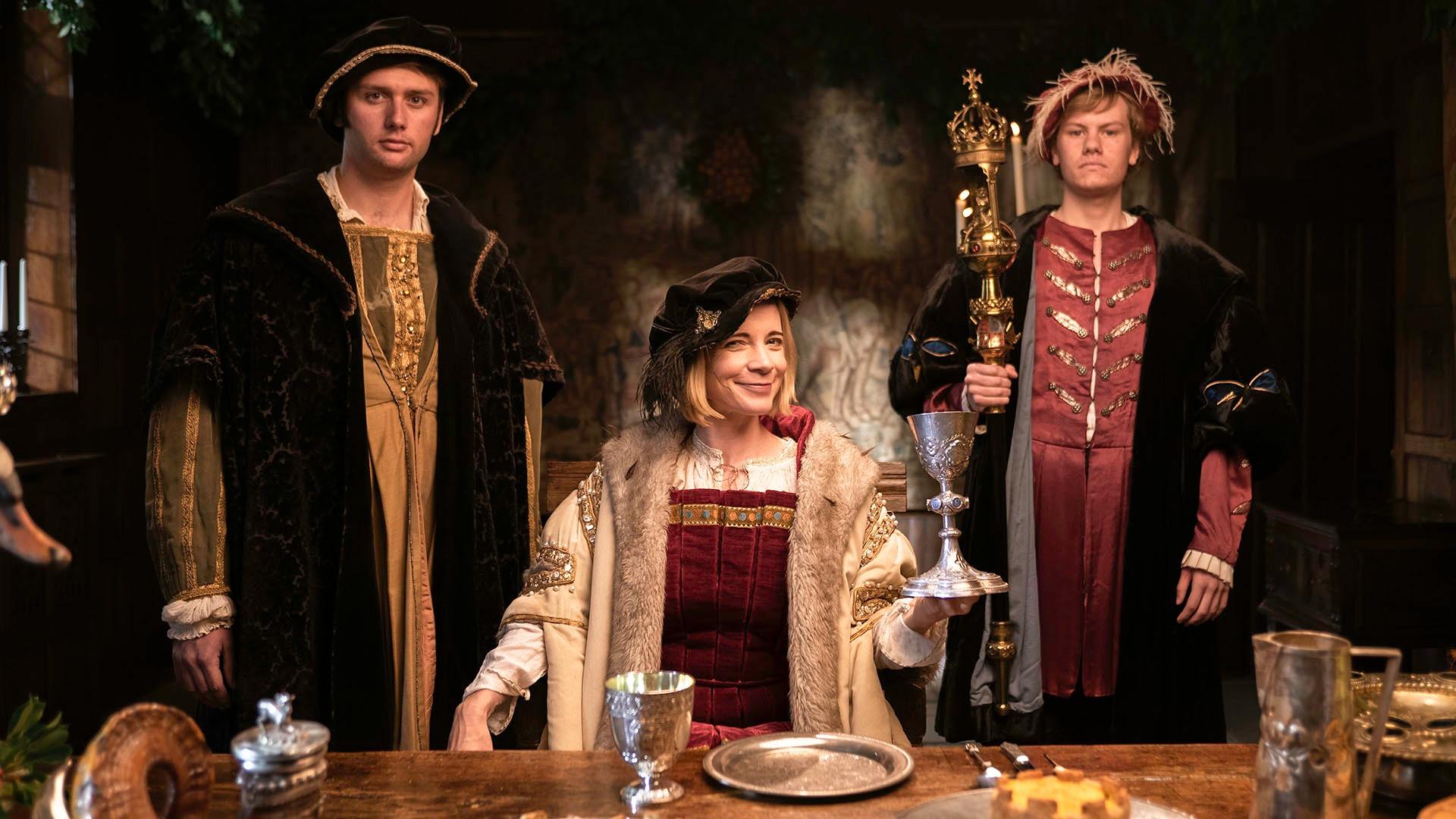 Lucy Worsley's Royal Myths and Secrets – 2020 – This three-part series sees historian Lucy Worsley travelling across Europe in search of places central to royal history. Watch it HERE
Secrets of the Six Wives – 2017 – Historian Dr. Lucy Worsley hosts this series about the most dramatic moments in the lives of Henry VIII and his many wives. Watch it HERE
Victoria and Albert: The Wedding – 2019 – Historian Lucy Worsley re-stages the wedding of Queen Victoria and Prince Albert, using historic documents, diary entries, and archives to pull together all the necessary details. More than just a re-enactment, she also talks about how the wedding changed history and created new traditions. Watch it HERE
Save it on Pinterest