13 Interesting Things You Might Not Know About Good Omens
In some cases, we earn commissions from affiliate links in our posts.

Good Omens Trivia: 13 Things You Might Not Know
If you haven't seen Good Omens yet, head on over and watch it on Amazon Prime. You have plenty of time to get caught up before the July 28th (2023) premiere date for season 2.
This series follows a fastidious angel called Aziraphale (Michael Sheen) and a nonchalant demon named Crowley (David Tennant). Good Omens follows the unlikely friendship of Aziraphale and Crowley as they attempt to save Earth from an ever-looming apocalypse brought about by the Antichrist. Here's the catch: they can't find the Antichrist and they can't stop the apocalypse until they do.
It also stars Jon Hamm, Jack Whitehall, Brian Cox, Derek Jacobi, Adria Arjona, Frances McDormand, Miranda Richardson, Michael McKean, Anna Maxwell Martin, Daniel Mays, Sian Brooke, Nina Sosanya, and many more.
Good Omens is based upon the 1990 novel by Terry Pratchett and Neil Gaiman; the full title of the book is Good Omens: The Nice and Accurate Prophecies of Agnes Nutter, Witch.
Michael Sheen and David Tennant will also voice their characters for the full-cast audiobook of Good Omens.. Rebecca Front narrates the book and the cast also includes Arthur Darvill and Pixie Davis. You can order it HERE on Amazon.
Sir Terry Pratchett is best known for his book series Discworld. He passed away in 2015 at the age of 66, but not before writing more than 70 books and selling more than 85 million books worldwide (in 37 languages, no less). At the turn of the recent century, Pratchett was Britain's second most-read author after J. K. Rowling. He raised money and awareness for Alzheimer's disease of which he was diagnosed eight years before his death. Pratchett's family supports the Research Institute for the Care of Older People; donations to this charity can be made here: www.rice.org.uk/support-us/
Neil Gaiman is best known for Coraline, American Gods, The Sandman, and Stardust. He has also written two episodes of Doctor Who for Matt Smith's Doctor: "The Doctor's Wife" (S6, E4) and "Nightmare in Silver" (S7, E12). Amazon Studios has also greenlit an adaptation of Gaiman's book Anansi Boys. Although the Anansi Boys book is a spin-off of his 2005 American Gods novel, the six-episode miniseries will not be a spin-off of the Starz American Gods series starring Ian McShane. Many of Gaiman's books have well-made BBC radio dramatizations with wonderful casts.
Good Omens was almost a movie directed by Terry Gilliam
Director Terry Gilliam tried to adapt this as a movie several times between 2002 and 2006. Gilliam is best known for being a member of Monty Python's Flying Circus, and for directing The Imaginarium of Doctor Parnassus, The Fisher King, The Brothers Grimm, and more.
After raising fifty million dollars for the Good Omens project, he struggled to find a Hollywood studio that would agree to a movie about the apocalypse after the 9/11 attacks.
Another fun fact: Terry Gilliam was J. K. Rowling's first choice to direct Harry Potter and the Philosopher's Stone, but it didn't work out as the production company's demands and his directing style were not compatible. What would have his Potter films looked like? A bit more bold and more similar to Alfonso Cuarón's Prisoner of Azkaban than the first two Christopher Columbus films which Gilliam called "pedestrian." But we can only wonder about what could have been.
Robin Williams almost played Aziraphale and Johnny Depp was almost Crowley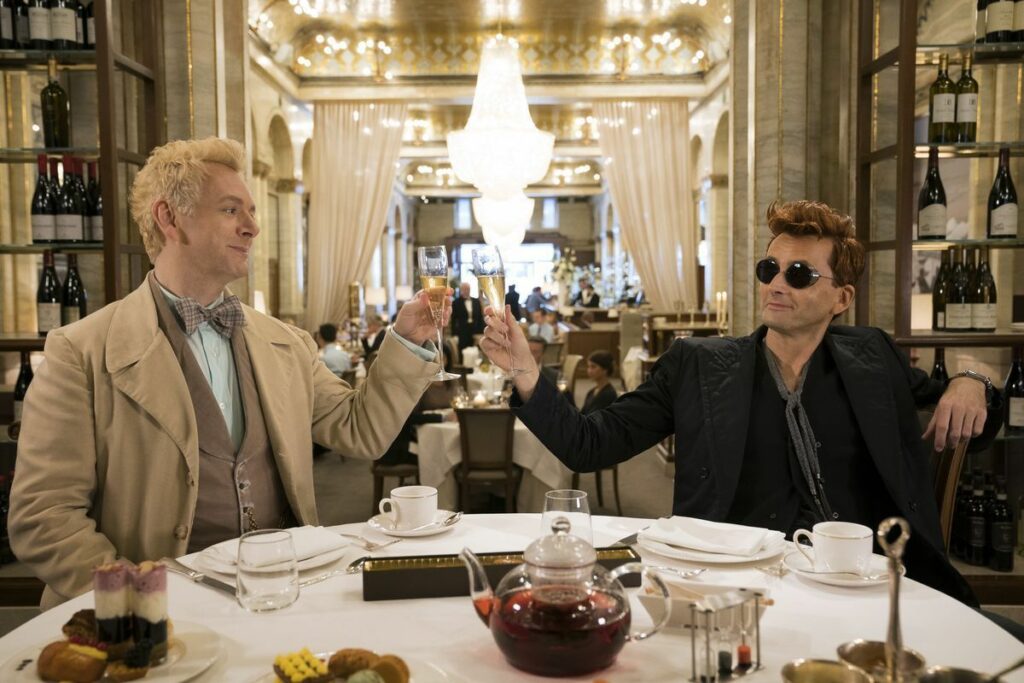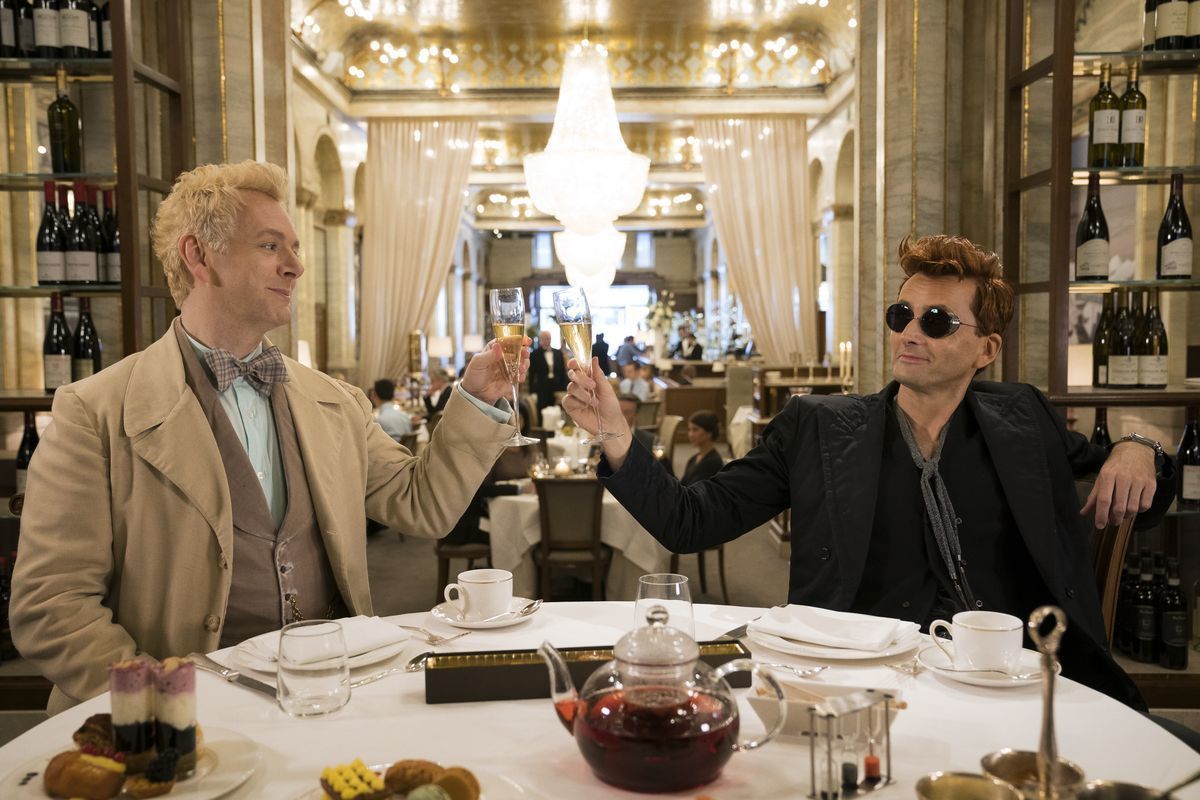 Robin Williams and Johnny Depp almost played Aziraphale and Crowley in Gilliam's aforementioned movie version. In 2002, Gilliam had Robin Williams ready to play Aziraphale alongside Johnny Depp as Crowley. But the movie was never accepted by a Hollywood studio.
Co-author Terry Pratchett requested Neil Gaiman write the screen adaptation
Terry Pratchett's last request to his Good Omens co-author Neil Gaiman was for Gaiman to write the screen adaptation. Attempts made in the past to adapt the book to the screen apparently lacked the same humour and spirit as the original novel. Neil Gaiman stayed true to his word and created a wonderful television adaptation that honors the book and Terry Pratchett's memory.
Michael Sheen is a huge fan of the Good Omens book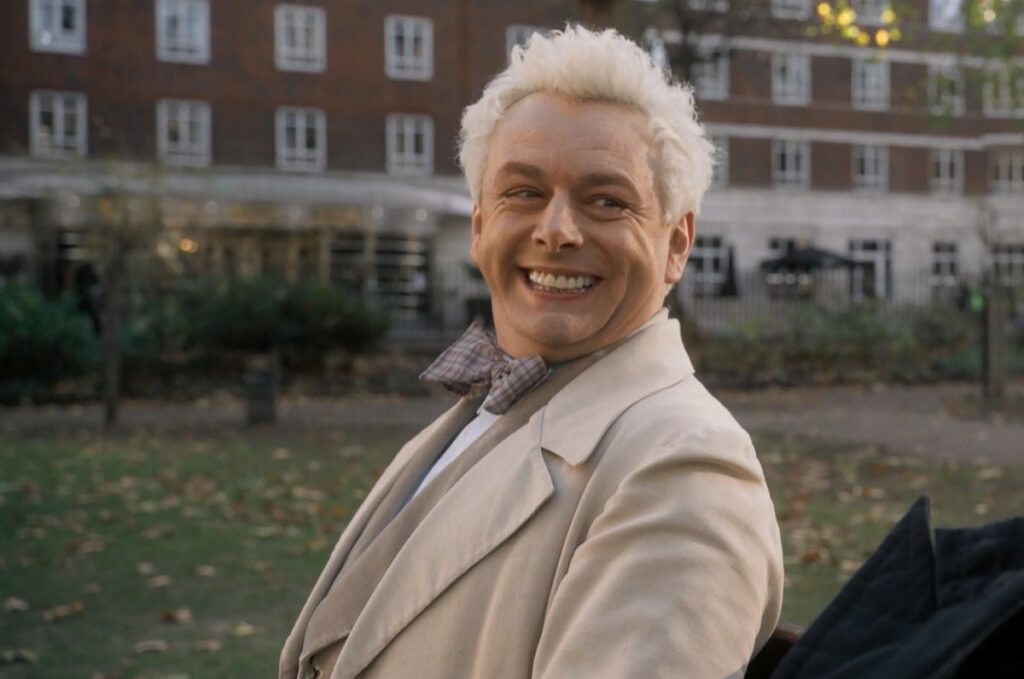 Michael Sheen said, "I first read Good Omens as a teenager and it's been one of my favorite stories ever since." His math might be a little off, though: he was 21 when the book came out. That's okay… those early-adult years tend to blend together. We appreciate his good taste, anyway.
Crowley is named after notorious occultist Aleister Crowley
At one point, Aleister Crowley was called "the most evil man alive." Crowley led rituals where he tried to summon the Antichrist which he named Moonchild. The book character goes by Anthony J. Crowley, but the J doesn't stand for anything; it's just meant to differentiate him from the notorious A. Crowley. If you're a writer trying to come up with a name that has dark, demonic connotations… Crowley is it.
Doctor Who Easter eggs are everywhere in Good Omens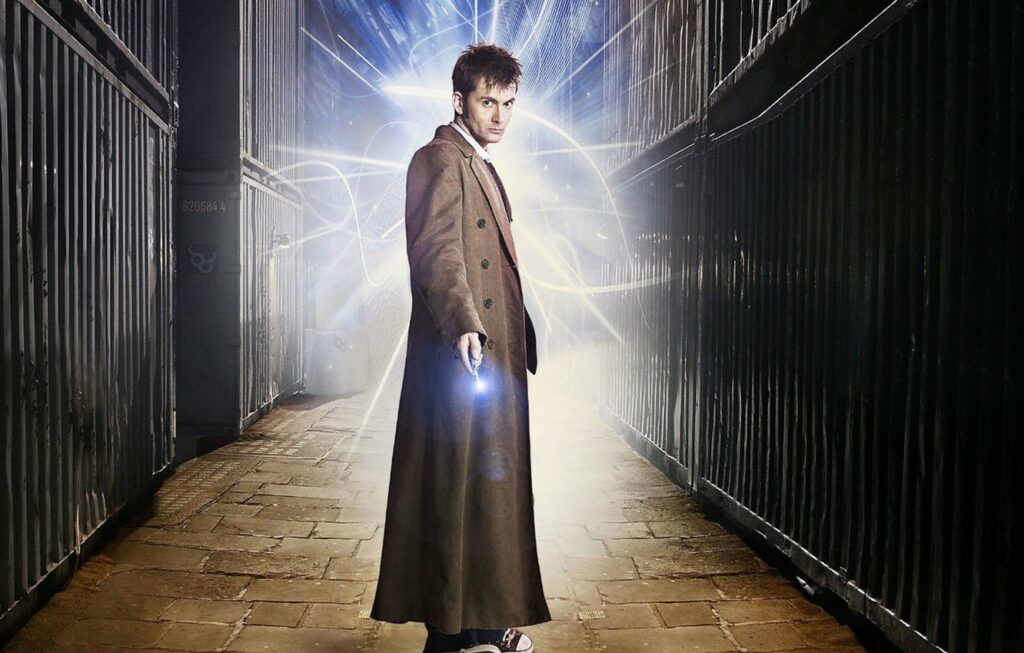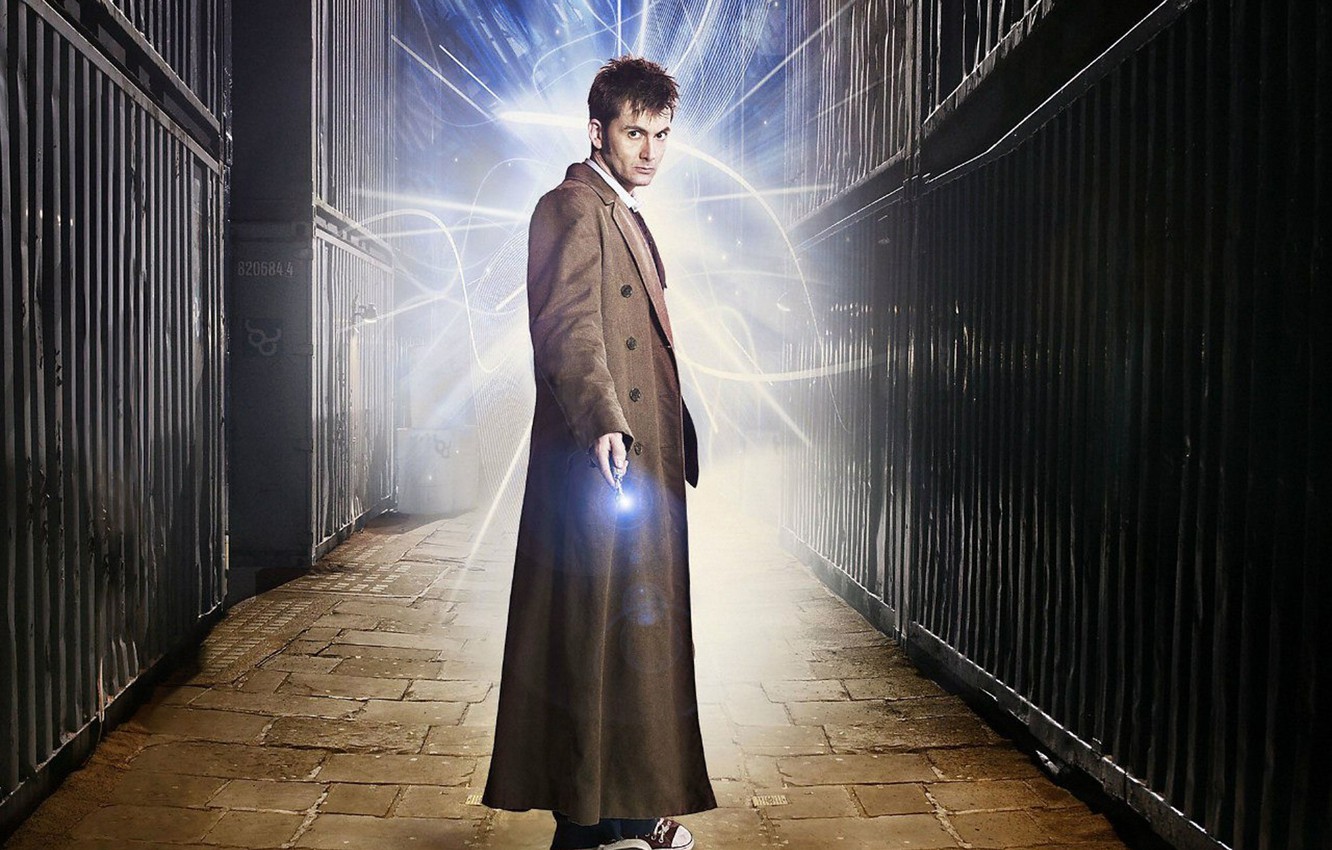 David Tennant who plays Crowley is best known for his time as The Doctor on the long running sci-fi series Doctor Who. Observant fans might notice Mr. Young's license plate number: "510RAT" looks like TARDIS backwards. The Tardis is the name of The Doctor's spaceship and the primary "character" in one the episodes of Doctor Who Neil Gaiman wrote called "The Doctor's Wife." If you look even harder, the Doctor Who Easter eggs are all over the place.
Want to see more shows and movies starring David Tennant? Check out our article: "David Tennant Movies & TV Shows"
Most songs in Good Omens are by Queen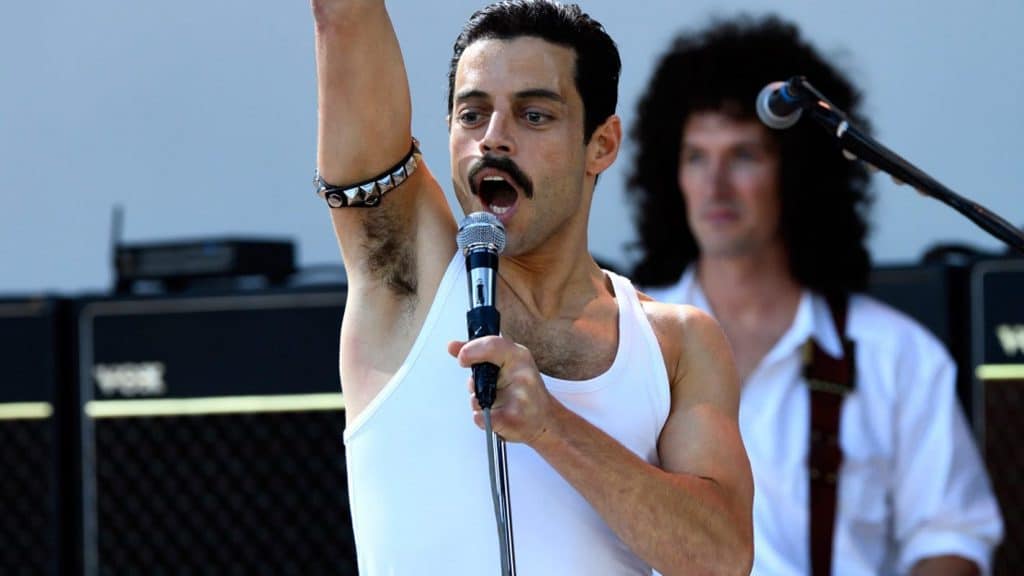 This is a running joke in the book. Every cassette tape left in Crowley's car for a fortnight magically turns into "The Best of Queen." So, even the show's musical choices are honoring the original book.
"Bohemian Rhapsody" is used the most, particularly in the first episode. Good Omens almost didn't get the rights to play Queen songs, particularly "Bohemian Rhapsody" due to their biopic Bohemian Rhapsody releasing.
"If the timeline for the release of Bohemian Rhapsody had been right alongside ours, I completely get why it would've been strange for Queen to have 'Bohemian Rhapsody' flying around with us as well as with them," Good Omens director Douglas Mackinnon said. But when Bryan Singer was fired as director of Bohemian Rhapsody, the band wasn't sure the biopic would be a success, so they went ahead and allowed Good Omens to use so much of their music. That's lucky!
Crowley's signature car is different in the book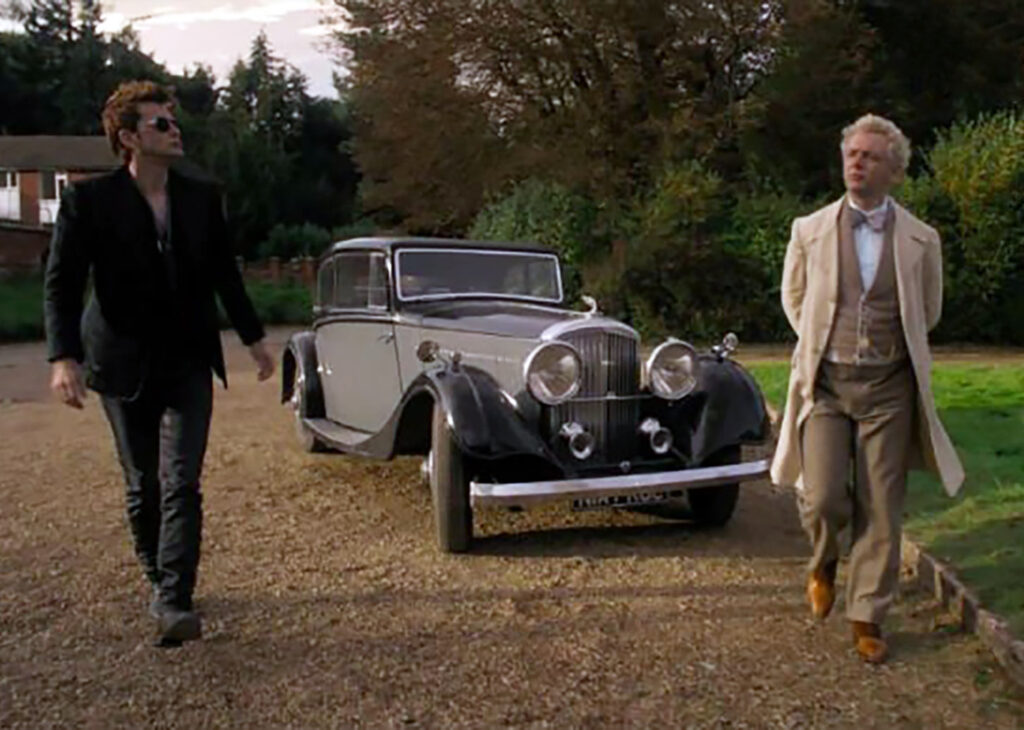 The Bentley used for the series is a 1934 model, but it's a 1929 in the book. Gaiman mentioned at a comic convention that they did not research cars while writing the book. The 1929 model in the book did not have the ominous look that Gaiman and Pratchett thought Crowley's car would have. So, for the Amazon series, Gaiman fixed their blunder and went with the slightly later 1934 model.
Neil Gaiman has a cameo in episode four
In "Saturday Morning Funtime," Gaiman is sitting in the theater with Crowley right before before Hastur (Ned Dennehy) threatens him. Gaiman said, "Look out for a scene in a small movie theatre where Crowley is watching a cartoon about bunnies. Not only will you see me passed out dead drunk in the audience, but all of the voices of the bunnies are me."
Keep an eye out for him when you're re-watching ahead of the Season 2 release.
Good Omens has been adapted as a radio drama
BBC radio created a radio adaptation of Good Omens in 2014 starring Mark Heap, Peter Serafinowicz, Phil Davis, Louise Brealey, Colin Morgan, and Mark Benton among others. Neil Gaiman and Terry Pratchett have cameos as a pair of traffic cops (who go by "Neil" and "Terry" – very subtle).
You can buy the Good Omens radio dramatisation on Amazon HERE.
Terry Pratchett has a touching posthumous cameo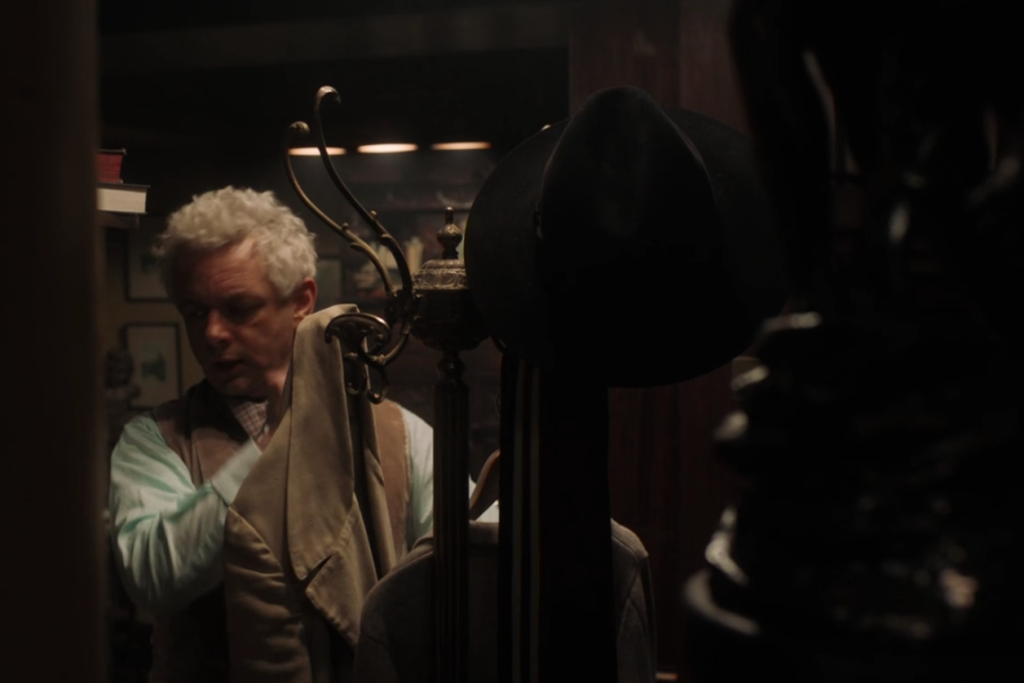 A keen viewer might wonder, "Why does Aziraphale have a black coat and hat on his coat stand?" After all, he's an angel. He's always adorned in white…
But the hat and scarf on Aziraphale's coat stand in his bookshop doesn't belong to him. It belongs to the late Sir Terry Pratchett. This delicate cameo pays tribute to Terry Pratchett's memory in a fitting way. Look for it during your rewatch!
Terry Pratchett's famous Death character from Discworld shows up
Death, who shows up in Good Omens as one of the Four Horsemen, is also a prominent character in Pratchett's Discworld series. Another fun fact: Legendary actor Brian Cox voices Death.
When Terry Pratchett passed away in 2015, it was announced on his Twitter account as though Death was talking: "ALAS, SIR TERRY," the Tweet began, "WE MUST WALK TOGETHER." The following Tweet read, "Terry took Death's arm and followed him through the doors and on to the black desert under the endless night." The tweets were posted by Pratchett's assistant Rob Wilkins.
Benedict Cumberbatch is the Voice of Satan
Finally, this may be obvious to some… but Benedict Cumberbatch was the Voice of Satan in Good Omens. Just like Cumberbatch's portrayal of Smaug the dragon in The Hobbit series, his voice perfectly fits the ginormous, terrifying character.