45 British Comedies on Netflix US (+11 from the Commonwealth)
In some cases, we earn commissions from affiliate links in our posts.
Last Updated on May 25, 2020 by Stefanie Hutson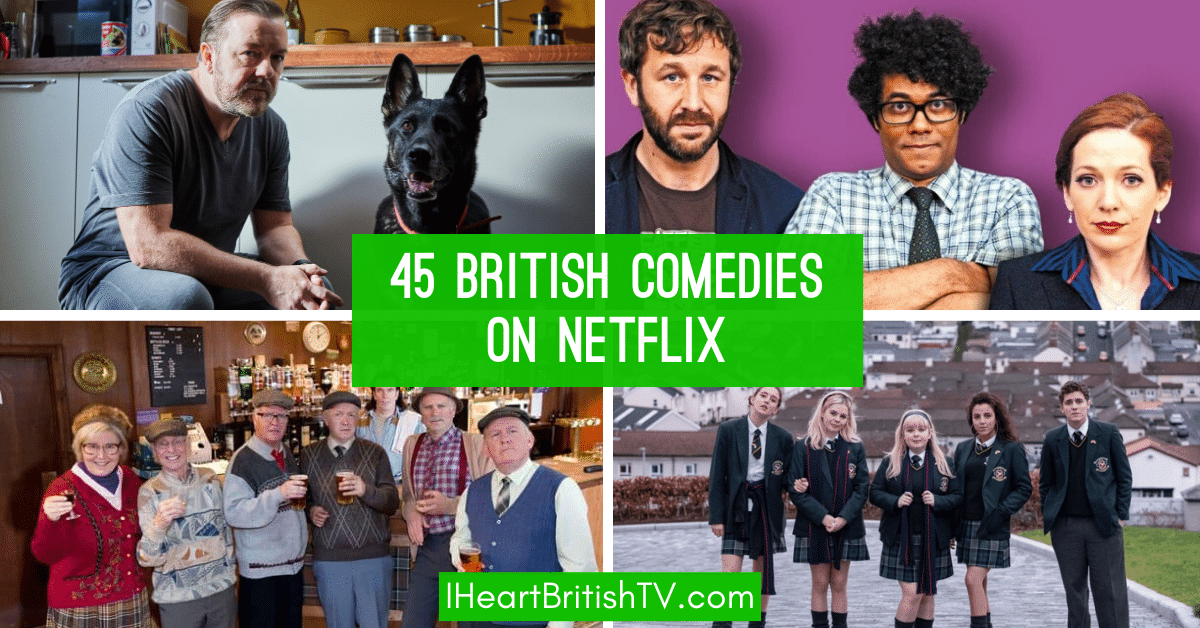 Netflix isn't always the first place many of us go when we're looking for a new British comedy to watch (that's usually Acorn TV or BritBox), but they have a surprising number of good ones. Though they've lost a number of British comedies in recent years, they've also been bringing – and even producing – plenty of new ones. After Life and Derry Girls are both relatively new additions, and they still have classics like Still Game and The IT Crowd.
Netflix has also added a TON of Monty Python recently – so if that's your thing, you're in luck! We've also added a number of Commonwealth comedies to the end of the list, for those who like to venture outside the British Isles now and then.
Have we missed any? Let us know in the comments! We'll do our best to keep this list updated, but it's always possible you'll find a show that's no longer available, or one we've missed.
British Comedies on Netflix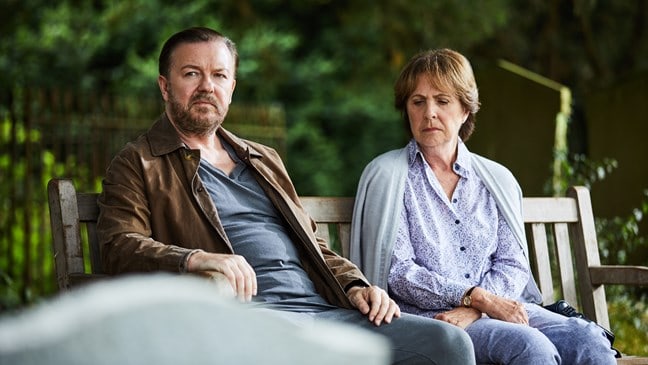 After Life – After losing his wife to cancer, a suicidal widower struggles to come to terms with his new life. Starring Ricky Gervais (in a series that will surprise many, especially those who aren't normally fans of Gervais). Series 2 of After Life added in Spring 2020.
Sick Note – When an aimless young man is misdiagnosed with cancer, his life starts to get exciting.
Cuckoo – When a British woman brings an American hippie back home as her husband, it sets off turmoil in her polite and proper family.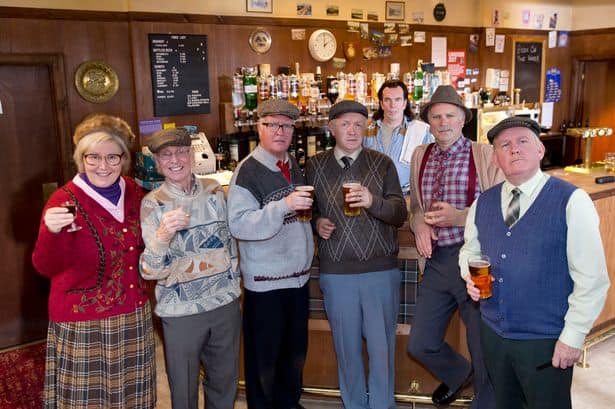 Still Game – This zany Scottish comedy follows a group of three old men living in a Glasgow high-rise.
Crazyhead – 20-somethings work on becoming adults while also battling demons in this comedy.
Bad Education – In a fictional Hertfordshire school, teacher Alfie Wickers fails miserably at educating his students. See also: The Bad Education Movie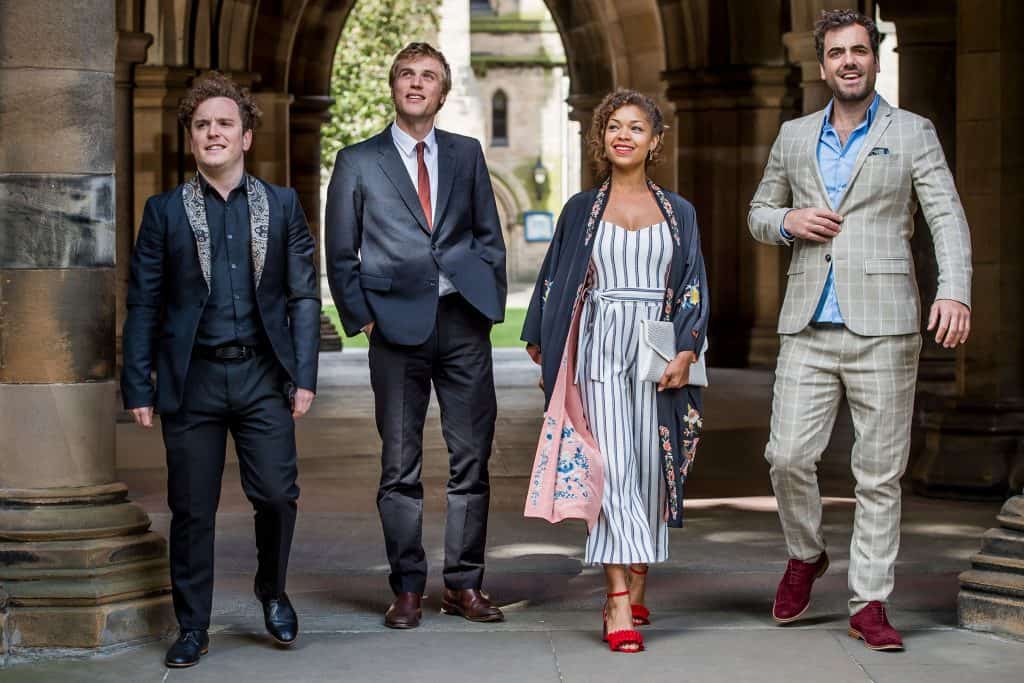 Scrotal Recall (aka Lovesick) – After finding out he has an STD, a young man must attempt to contact former lovers. The series is set in the West End of Glasgow.
Limmy's Show – A Scottish sketch comedy show that explores a wide variety of topics.
Borderline – A comedy about an inept team of border patrol agents at a fictitious airport.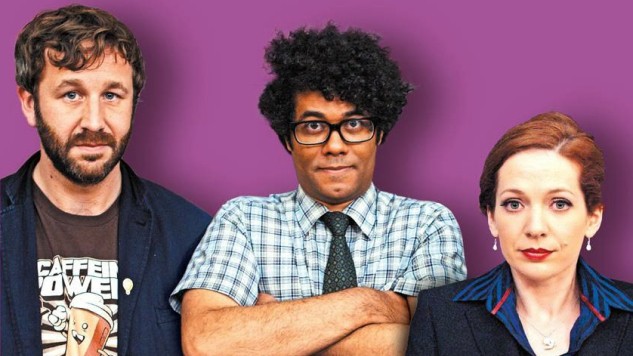 The IT Crowd – Banished to the basement, two nerds and their clueless leader service the IT needs of a strange and generic corporation.
Chewin' the Fat – Scottish sketch comedy mostly filmed in Glasgow.
People Just Do Nothing – A mockumentary about some very bad wannabe MCs from West London.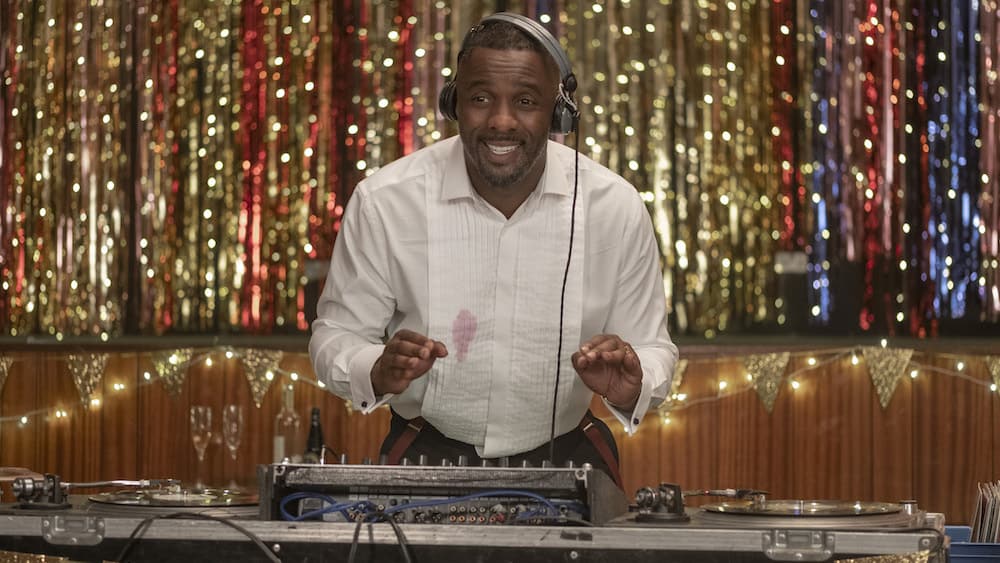 Turn Up Charlie – His career and finances in shambles, a middle-aged wannabe DJ takes a job as nanny for a wealthy couple's dreadful child. Starring Idris Elba and Piper Perabo. Though not particularly well-received, it's a light, fun watch, especially if you're an Idris Elba fan.
Hoff the Record – A David Hasselhoff mockumentary wherein he attempts to make a comeback in the UK.
Toast of London – A classically trained British actor struggles with both his personal and professional lives.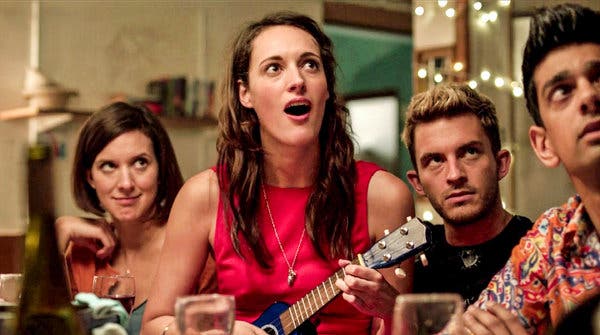 Crashing – A group of young people live as property guardians in an unused hospital in London. Phoebe Waller-Bridge (Fleabag) stars, but we think Adrian Scarborough's performance stands out even more…
Extras – Ricky Gervais stars as an actor reduced to working as an extra, forever making himself look bad as he attempts to get ahead.
W1A – Mockumentary-style show about the new head of values at the BBC.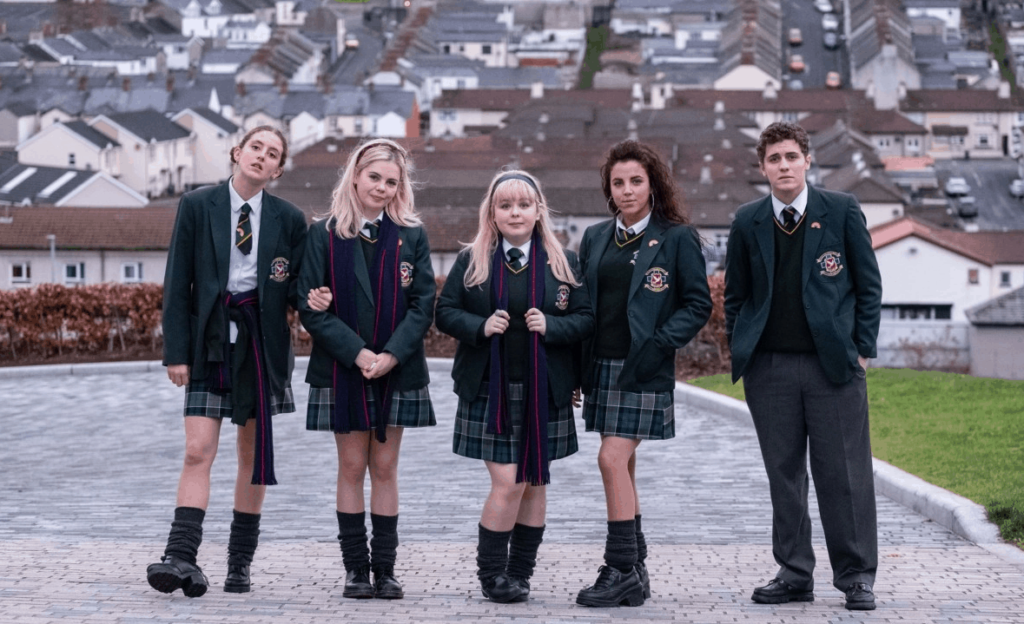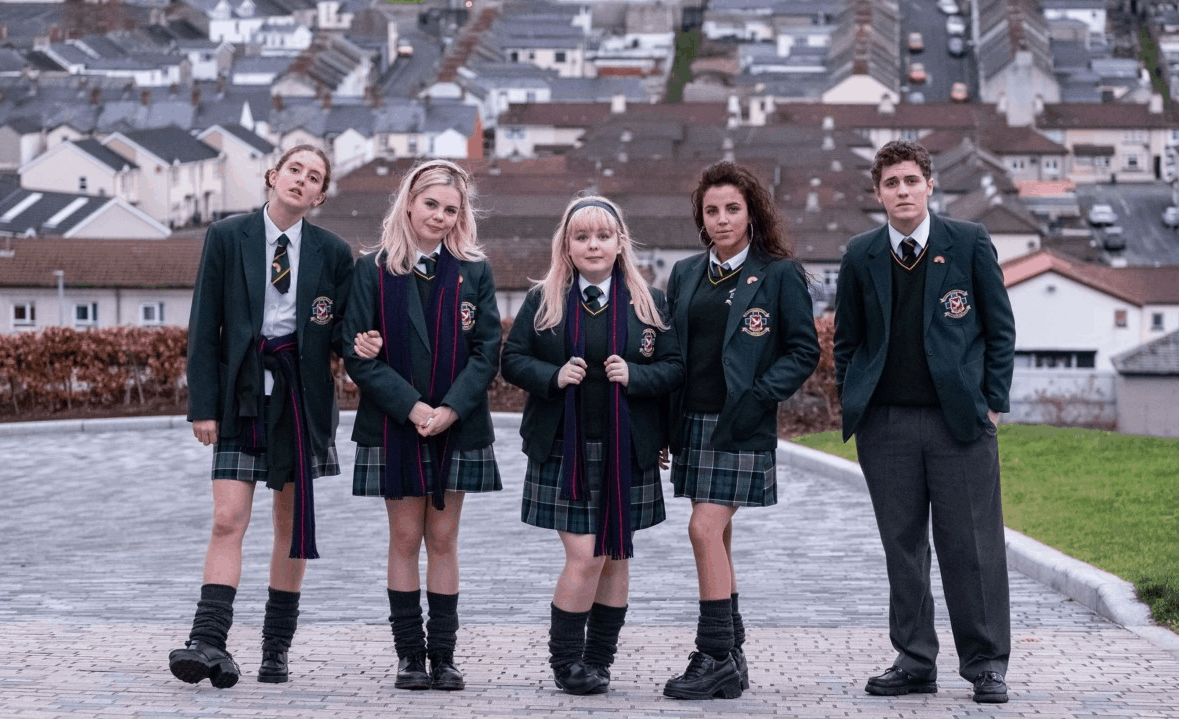 Derry Girls – This Northern Irish sitcom takes place in 1990s Derry, where a group of young women grow up during the Troubles. Though this one's not technically "British" in that it's not from the island of Great Britain, Northern Ireland is part of the UK and it's also part of the British Isles – and the show was made for British network Channel 4.
>>>Not sure about the difference between England, Scotland, Great Britain, Ireland, the British Isles, and so on? We put together an article HERE to help.
The Worst Witch – A young adult comedy about a bumbling young witch who accidentally stumbles into witching school.
Man Like Mobeen – In Small Heath, Birmingham, Mobeen tries to be a good Muslim and make sure his sister grows up on the straight and narrow, despite his past as a drug dealer.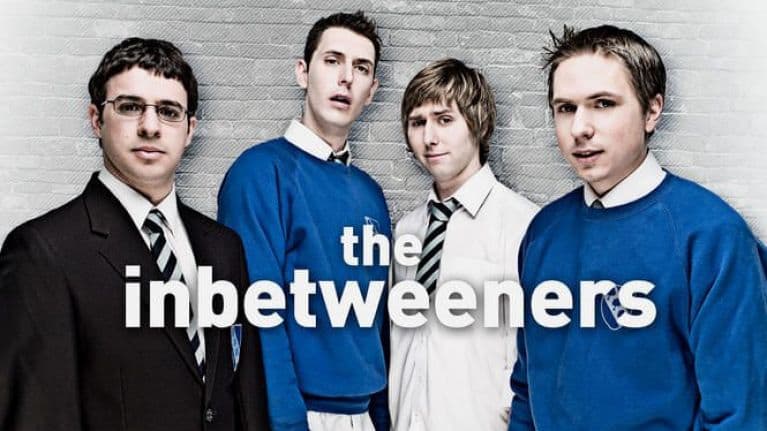 The Inbetweeners – A comedy that follows four friends as they navigate their final years of school and entrance into adulthood.
Man Down – Dan is a child trapped in a man's body, and he's not loving adulthood.
Meet the Adebanjos – In South London, a Nigerian father tries to teach traditional African values to his modern British family – with entertianing results.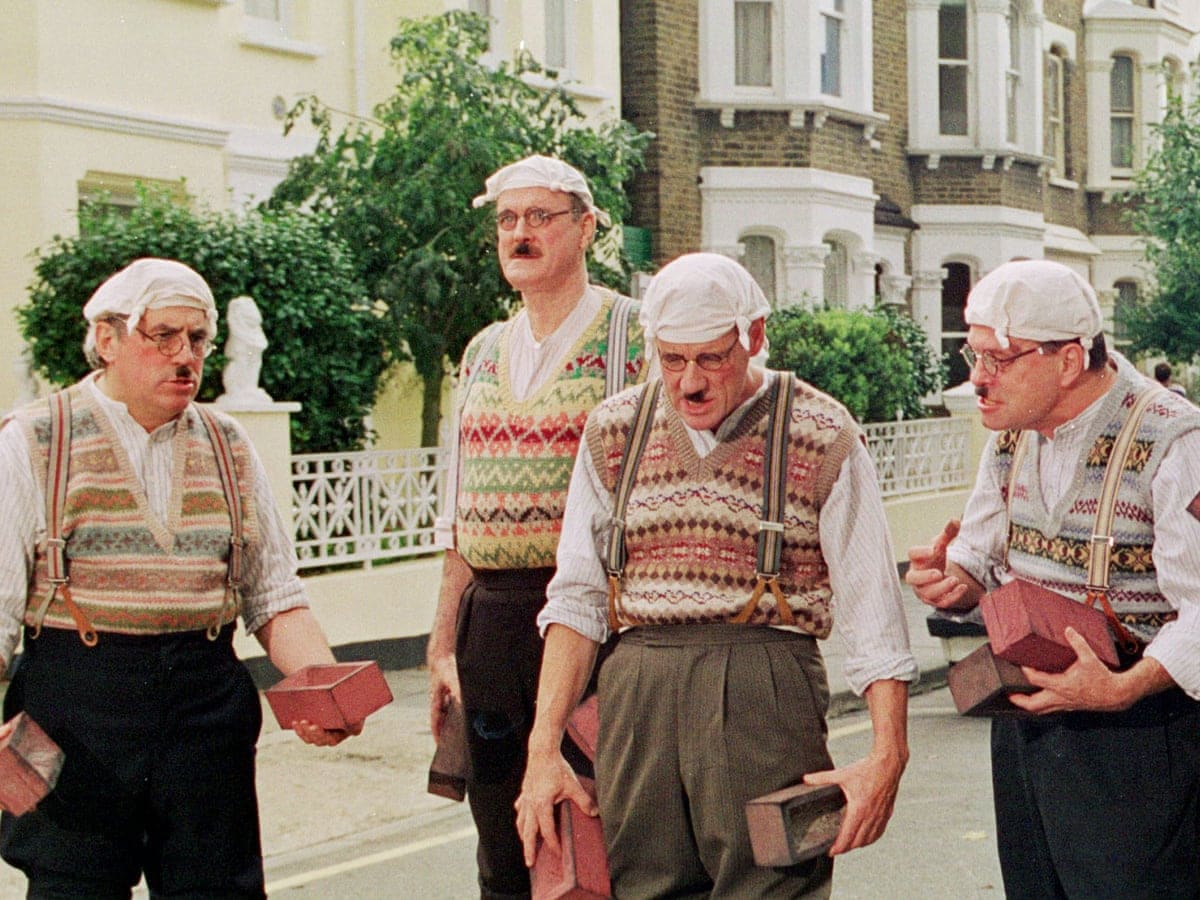 Monty Python's Flying Circus – The classic British sketch comedy is now streaming on Netflix. See also: The Very Best of Monty Python's Flying Circus.
Monty Python Before the Flying Circus – This documentary takes a look at how six talented men became the groundbreaking troupe, Monty Python.
Monty Python's Personal Best – Members of the Monty Python troupe select their favorite sketches.
Monty Python's Life of Brian – More Monty Python fun revolving around a man who deals with a particularly nasty case of mistaken identity.
Monty Python and the Holy Grail – King Arthur and his knights seek the Holy Grail, but they're not very well-suited to the task.
Monty Python's Almost the Truth – Though this is technically a documentary, it made sense to include it here alongside the other Monty Python titles.
Monty Python Live at the Hollywood Bowl – Clips and animations feature in this live-to-tape performance of Monty Python's greatest hits.
Monty Python's Fliegender Zircus – This collection of sketches was created for German television. A must-watch for serious Monty Python fans.
Monty Python: The Meaning of Live – After a lengthy hiatus, the Monty Python crew reunited for this live performance.
Monty Python Live (Mostly): One Down, Five to Go – Live from London in a sold-out final show, the remaining members of Monty Python reunited to reprise their old roles.
Monty Python Best Bits – This series compiles clips + opinions from prominent comedians, many of whom considered Monty Python to be influential on their careers.
Monty Python Conquers America – This documentary takes a look at how Monty Python shaped a number of American comedians.
Monty Python Live at Aspen – The men of Monty Python reunite to discuss the making of their iconic show.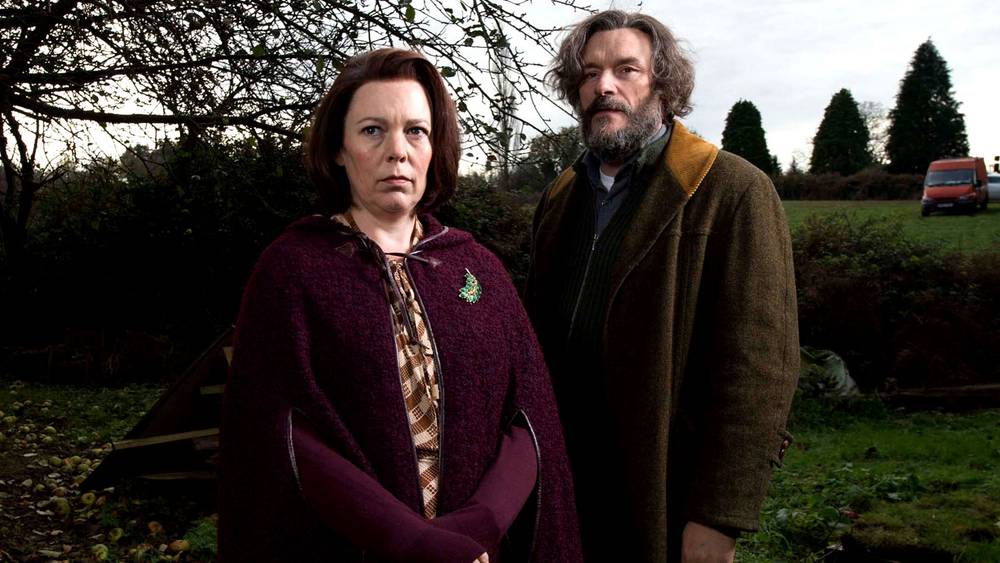 Flowers – Olivia Colman and Julian Barratt star in this dark comedy about a very troubled English family.
The Windsors – This mockumentary parodies the current British royal family.
Loaded – After four friends sell their startup for $300 million, life gets a bit more difficult. This series is based on the popular Israeli series Mesudarim (which is often described as an Israeli version of Silicon Valley meets Entourage).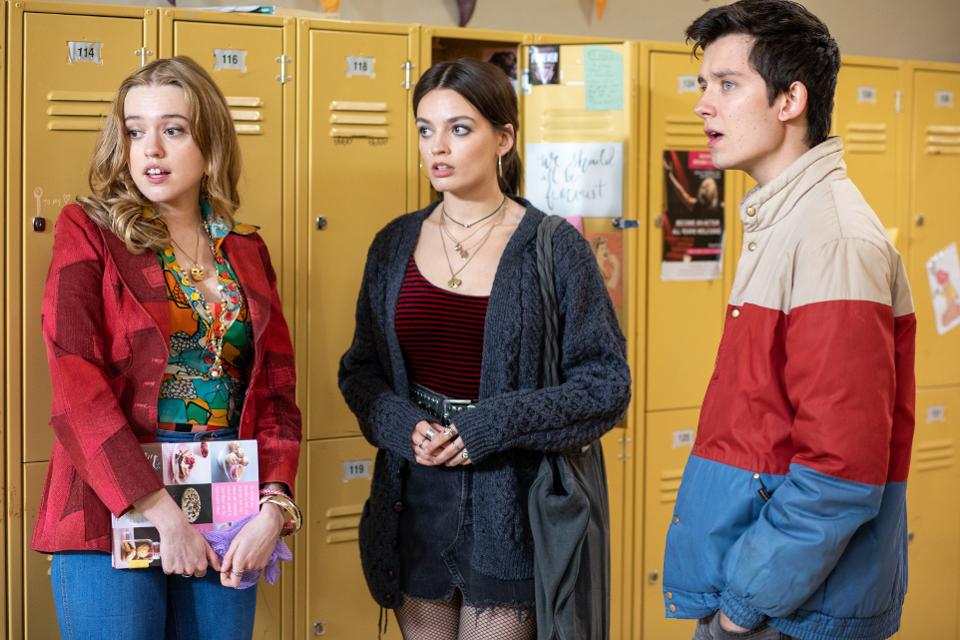 Sex Education – Though technically British, there's something VERY American-feeling about this series. It's a series about a socially awkward teen whose mother is a sex therapist. Series 2 has been confirmed.
Burnistoun – A Scottish sketch comedy set in a fictional town near Glasgow.
Derek – Rick Gervais stars in this comedy about a good-hearted but slow nursing home care assistant.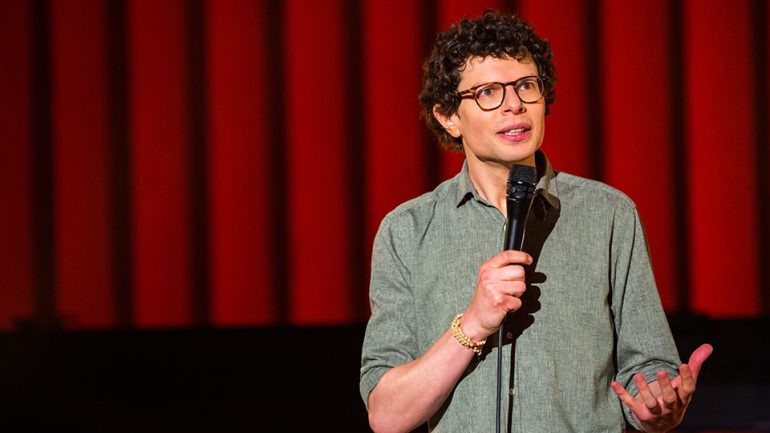 Simon Amstell: Set Free – If you enjoyed Grandma's House, you might like this standup set from comedian Simon Amstell (star and co-writer of the British comedy). He's an introspective comic, and this set dives into love, ego, intimacy, and ayahuasca.
James Acaster: Repertoire – This collection features four performances from quirky comedian James Acaster.
Commonwealth Comedies
While these aren't technically British, they're non-US and in English, and a lot of them appeal to folks who enjoy British television. If you've gone through all the British options, you may want to consider some of these.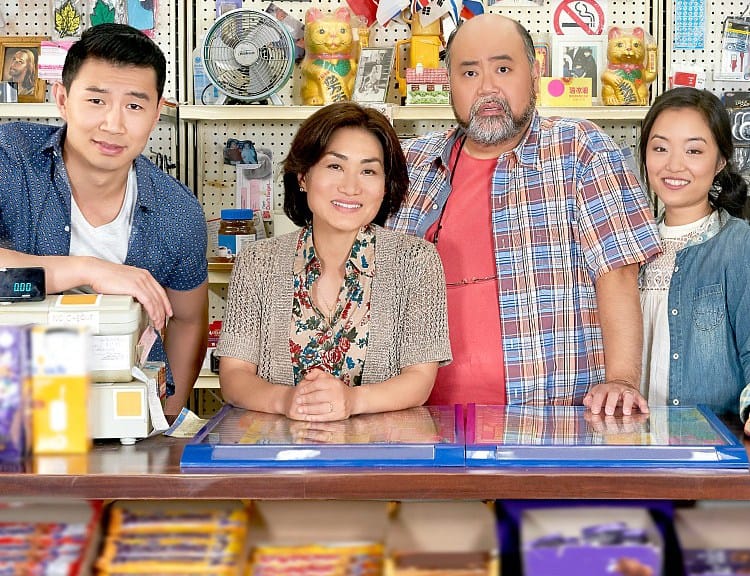 Kim's Convenience – Canada – This sitcom focuses on a Korean family that runs a small convenience store in Toronto.
Trailer Park Boys – Canada – This trailer park comedy follows a group of men in constant pursuit of a big score and an easier life. See also: The Movie, The Animated Series, Countdown to Liquor Day, Out of the Park: USA, Out of the Park: Europe, Say Goodnight to the Bad Guys, and Live in F**kin Dublin.
Mr. Young – Canada – After graduating at 14, a gifted young man returns to his high school as a teacher.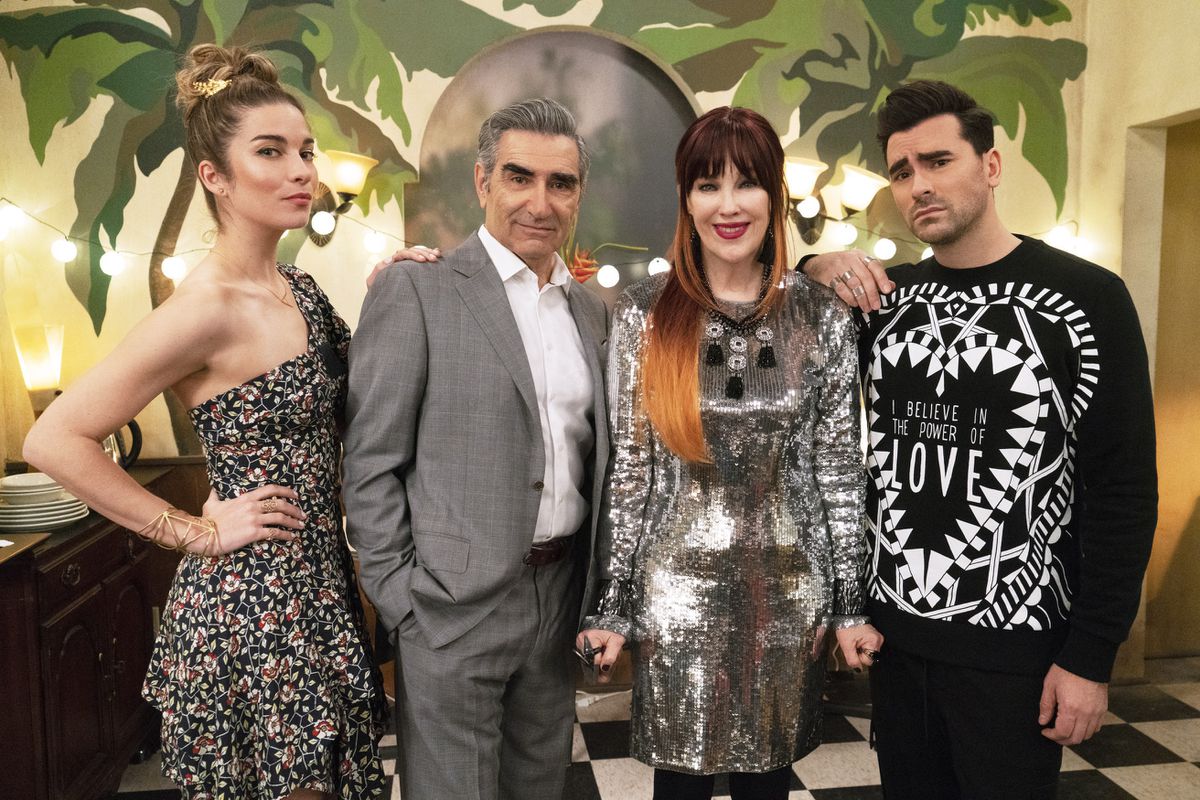 Schitt's Creek – Canada – After a wealthy family loses everything, they attempt to rebuild in the small town they once bought their son as a birthday gag gift.
Some Assembly Required – Canada – A teenager takes over control of a toy company.
Pacific Heat – Australia – This animated series features an unintelligent covert squad that handles crime on Australia's Gold Coast.
Sisters – Australia – A young woman suddenly finds out she has two sisters and more than 100 brothers.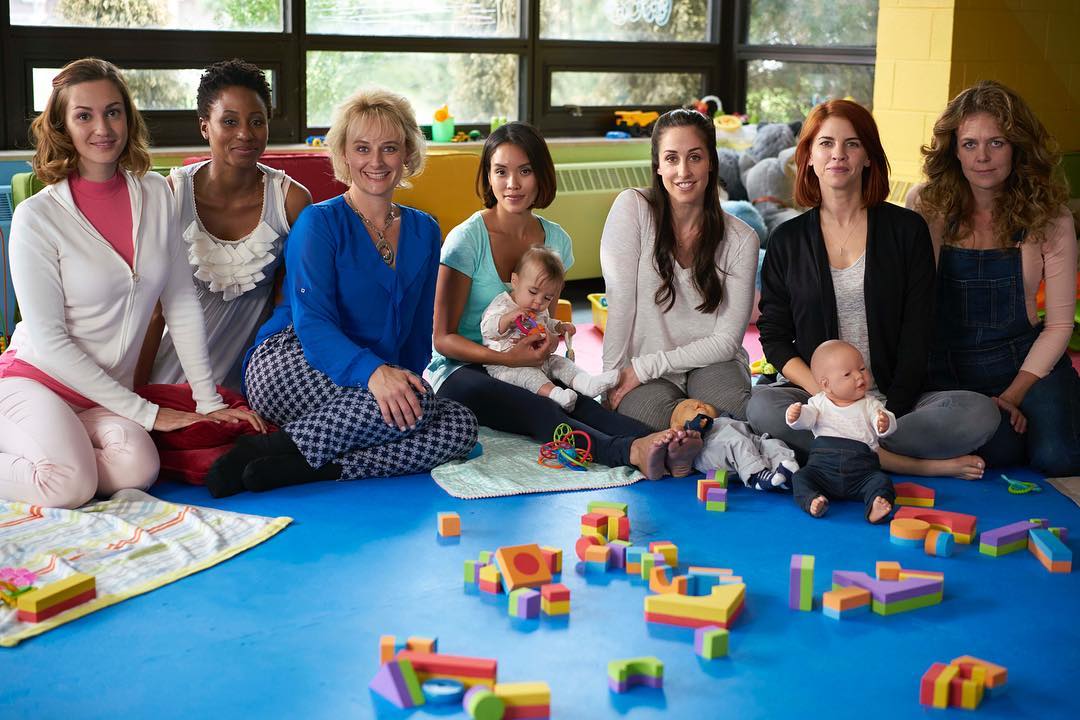 Workin' Moms – Canada – When their lengthy maternity leaves are over, a group of well-off mothers return to work.
The Letdown – Australia – A new mum meets strange friends in a new parents support group.
Kath & Kim – Australia – A quirky mother and daughter pair lead an interesting life in the suburbs of Melbourne.
Da Kath & Kim Code – Australia – While this isn't quite a TV show, it's a movie based on the Kath & Kim series. Netflix also has Kath & Kimderella.
Need more British Comedies?
Looking for more British comedies? Check out our list of British Shows on Amazon Prime Video. Or, view our full list of British TV shows on Netflix to find some non-comedy British TV options.
Share it to Pinterest!