17 of the Most Popular British TV "Gateway" Shows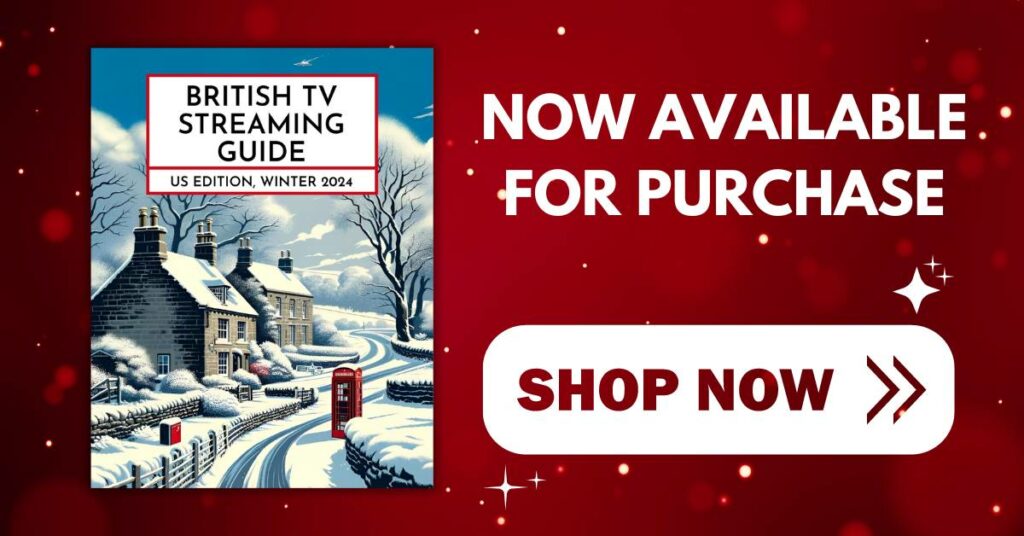 The British TV Streaming Guide: US Edition, Winter 2024 is now available. Get yours HERE.
In some cases, we earn commissions from affiliate links in our posts.
Last Updated on August 12, 2021 by Stefanie Hutson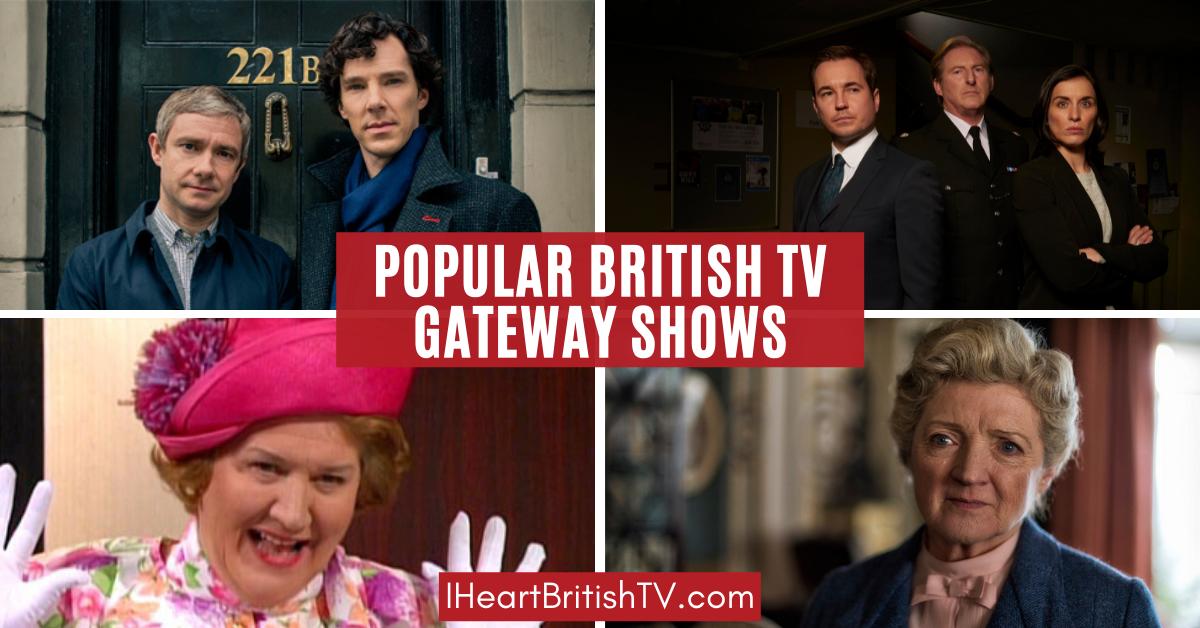 If you're a British TV fan who wasn't born in the UK, chances are good you can remember one special show that opened your eyes to the wonders of British TV – a bit like the concept of a "gateway drug".
Let grandma watch a few Miss Marples, and before too long she'll be binge-watching Midsomer Murders and Vera, subscribing to half a dozen streaming services, and investing in a region-free DVD player to gain access to rare titles only available on UK-released DVDs.
Over the years, we've gotten loads of messages and emails from people who tell us about their British TV addictions – and often, the show that started it for them.
In this post, we'll take a look at some of the most frequently mentioned gateway shows. While they're often popular shows, they're not always THE most popular shows. They're the ones that showed up in places where they could be easily discovered by people who are new to the world of British TV.
The Most Popular British TV "Gateway" Shows
The list below is in no particular order. Some shows are more popular gateway shows for older British TV fans (like Keeping Up Appearances), while others – like Fleabag or Sherlock – have brought new generations of fans into the fold.
Downton Abbey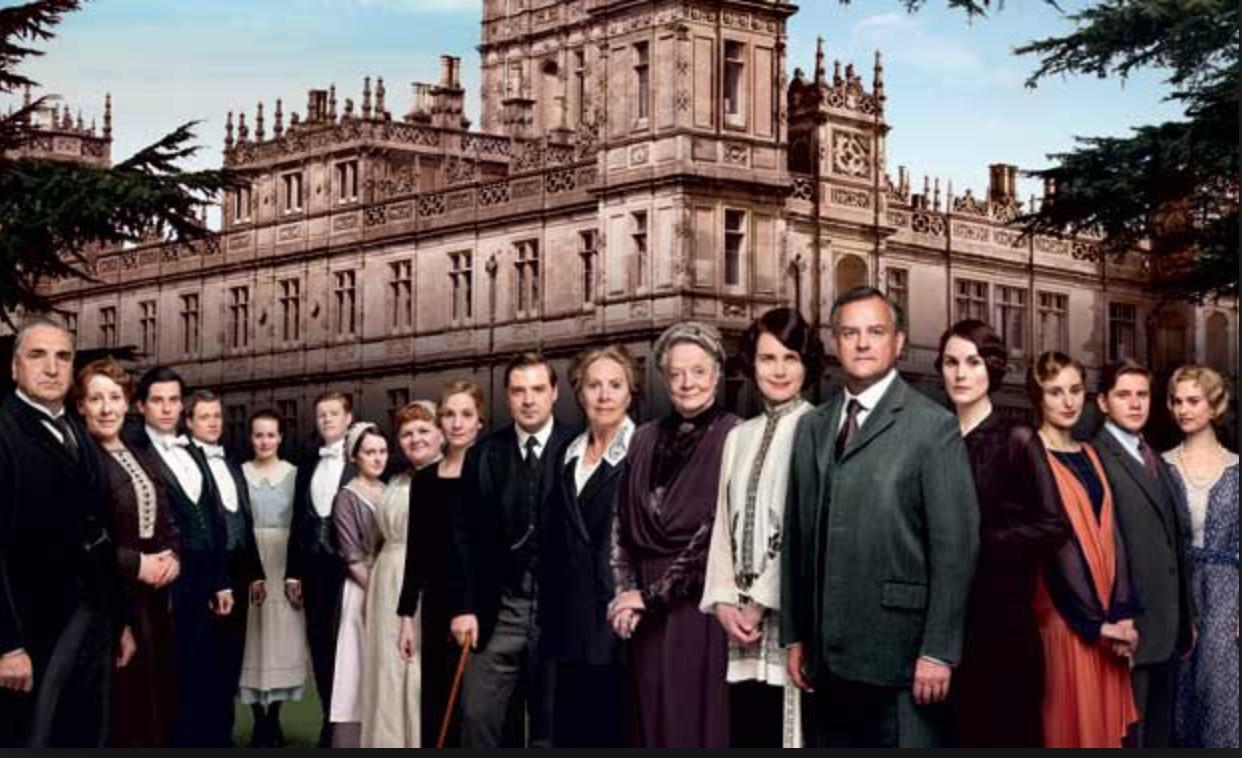 It's hard to say what made Downton Abbey so much more popular, successful, and well-loved than other British period dramas. There are others with similarly great costumes and music and locations. Many even had some of the same cast members.
My hunch is that much of it comes down to Julian Fellowes' storytelling prowess – and a magical concoction of just the right people in just the right roles. His scripts manage to make you feel something for virtually every character who spends more than a few moments on screen. They all have strengths and weaknesses and desires, and the actors do a great job of getting that across on screen.
Whatever it is, Downton Abbey is one of the most successful British period dramas of all time, and that popularity led many to give it a try, even if it's not "their kind of show". And now…they're hooked.
If you or your loved ones have been affected by Downton-induced British TV addiction, you might appreciate this list of 17 Shows Like Downton Abbey.
Sherlock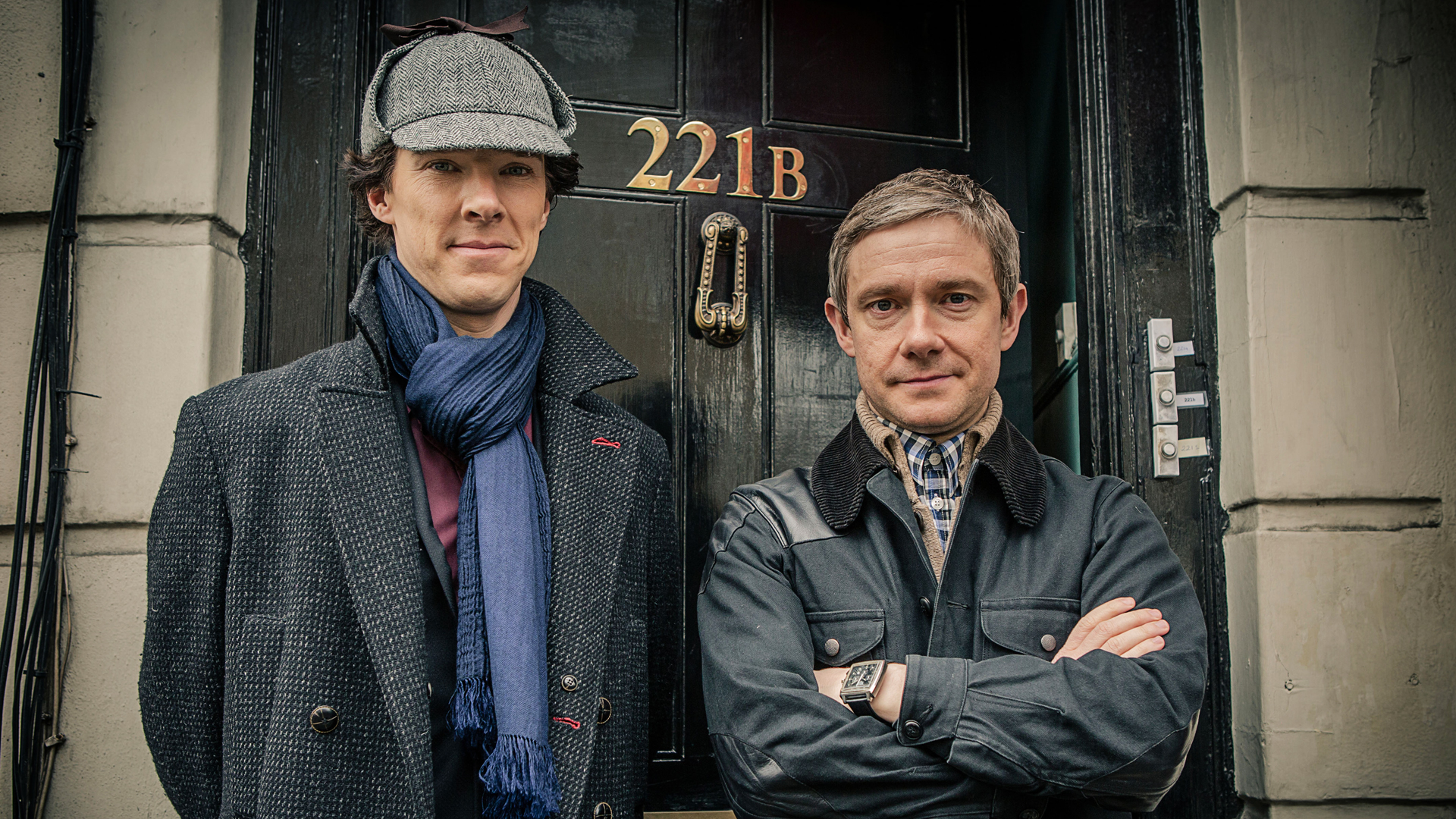 The only thing we hate about Sherlock is the fact that they stopped after a mere 4 seasons. This fun, updated retelling of the Sherlock Holmes stories saw Benedict Cumberbatch in the lead role, with Martin Freeman playing Watson.
Though it was removed from Netflix in mid-2021, it spent a number of years on the service, and that gave it enormous exposure to US audiences. The 90-minute episodes allowed for depth not usually found in American TV mysteries – leading fans to seek out more of the same.
We're hoping it will pop up on BritBox or a similar service in the near future (no official word on where it will be next), but for now you can always purchase it to stream HERE.
Want more Sherlock Holmes? Check out contributor Liberty White's Complete Guide to Sherlock Holmes Adaptations.
The Crown
This enormously popular Netflix drama offers a highly-dramatised, occasionally questionable version of the life of Queen Elizabeth II. Though it speculates a LOT about things none of us could ever really know, there's no denying it makes for compelling viewing. The series has increased interest in both British TV and the British royal family, and many were surprised when Queen Elizabeth's grandson Harry signed a deal with Netflix after the way the show treated his family members.
The series begins with Claire Foy playing a young Elizabeth, followed by Olivia Colman in middle age. For the shows upcoming (and final) seasons, Imelda Staunton will portray the Queen.
Doctor Who
Doctor Who is one of the most popular British TV shows of all time, and it's been distributed around the world for decades – so it should come as no surprise that many consider it the show that began their British TV addiction.
On the whole, non-British British TV fans seem to prefer mysteries and period dramas, but this sci-fi drama transcends its genre with great acting, interesting villains, and positive themes that resonate with a wide variety of viewers.
Are you a fan? Check out some of our other posts on Doctor Who:
You can watch the classic Doctor Who episodes HERE on BritBox, or head over to HBO Max to catch the complete modern collection.
Keeping Up Appearances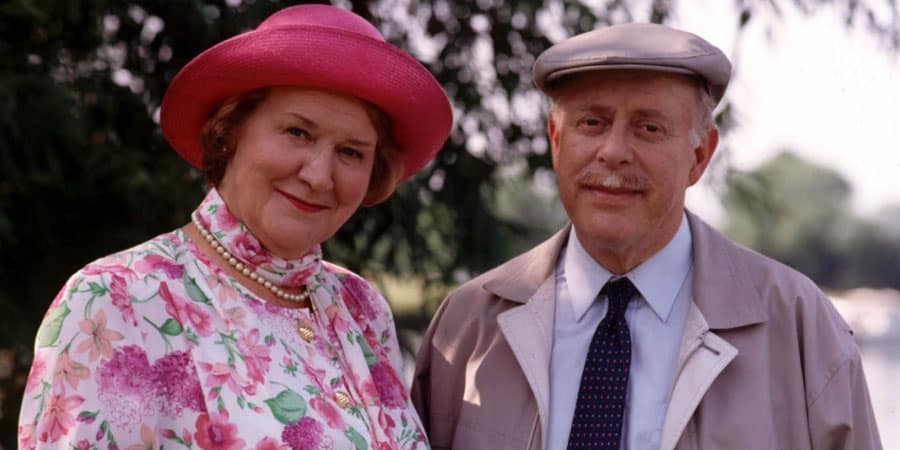 This delightful 1990s comedy follows Hyacinth Bucket (that's BOUQUET!) as she attempts to better her social standing and prove her innate superiority to the unwashed masses. Hilariously, her efforts are continually hampered by her lower-class extended family.
This sitcom has been in near-constant rotation on PBS stations around the US ever since it originally aired. Today, you can watch it on BritBox.
Love Keeping Up Appearances? Check out some of our other posts on the series:
Game of Thrones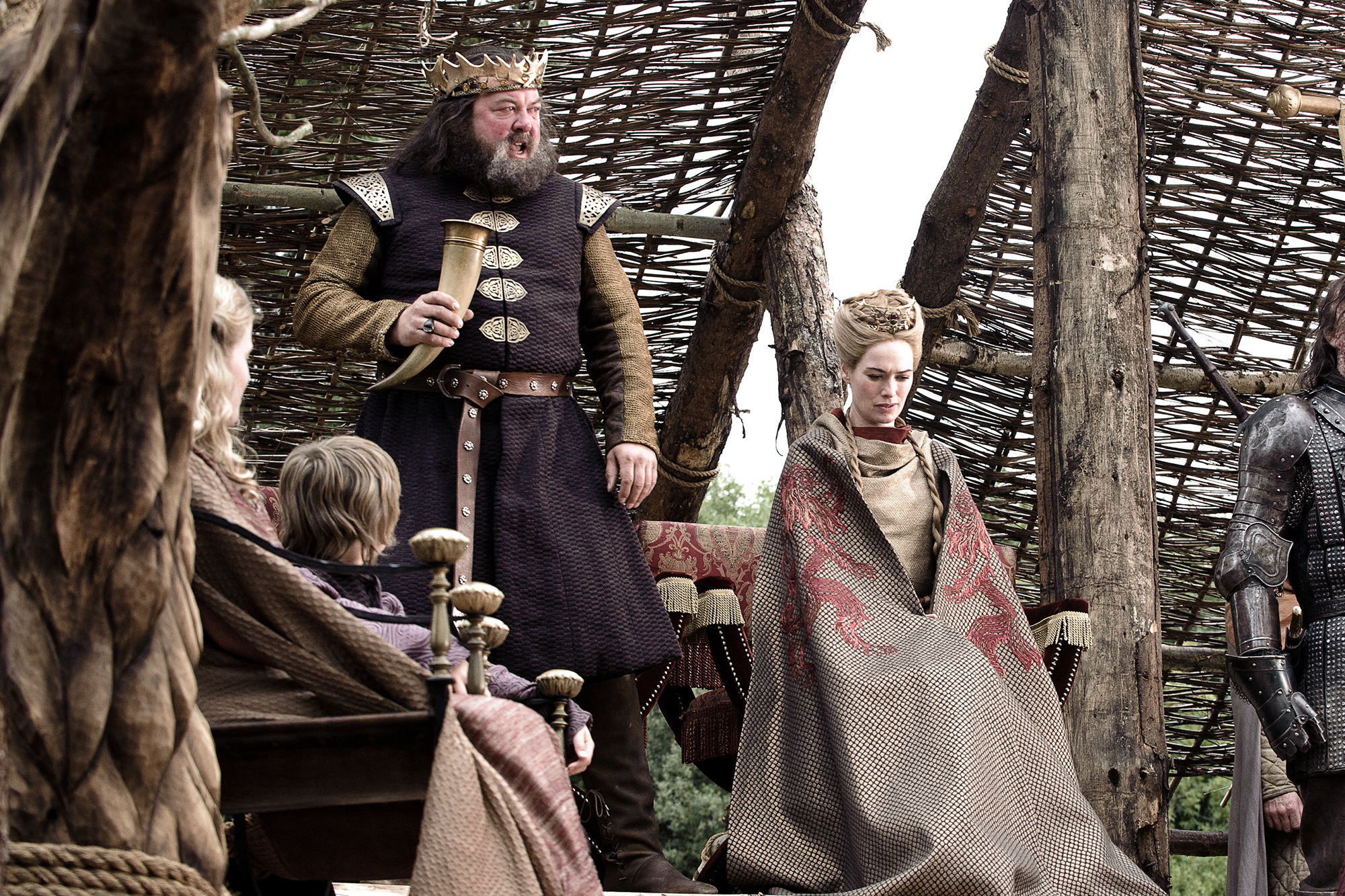 Game of Thrones is not technically a British TV show – but it was filmed partially in the UK with a cast that seemed to include at least 50% of the UK's available acting talent. The epic fantasy drama followed the fantasy novels of George R.R. Martin, telling the stories of those trying to keep or ascend to the Iron Throne.
It's full of magic and dragons and death, with wonderful costumes and rich, complex storylines. It's not for everyone, but for many, it was the gateway to seeking out similar shows, or shows featuring the actors they first saw in this series.
Want to check it out? You can watch it free with HBO Max, or purchase it HERE.
Looking for similar programmes? In this post, we look at 13 British TV Shows like Game of Thrones.
Peaky Blinders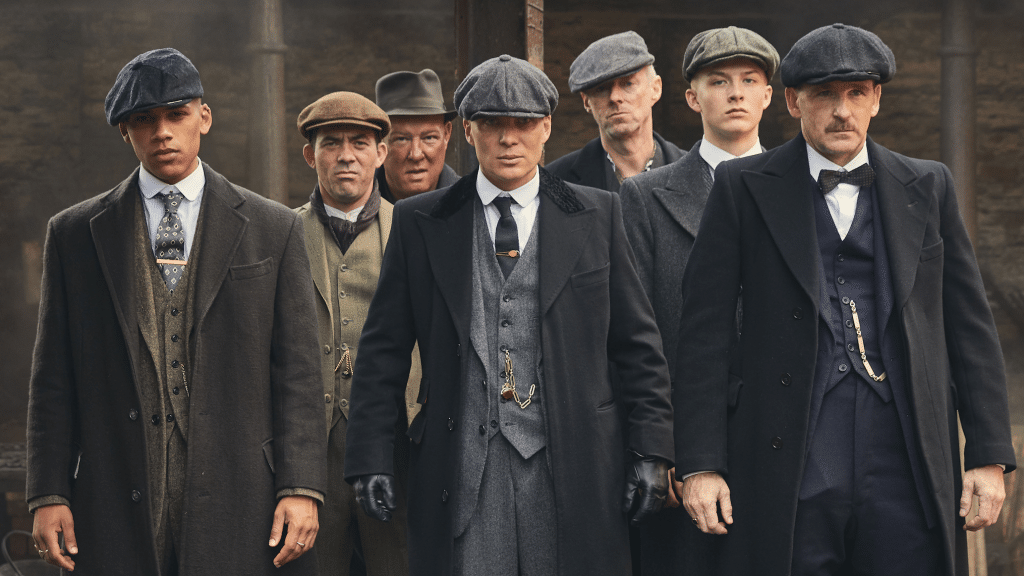 While many British period dramas are more romantic and popular with women, Peaky Blinders has a unique mix of qualities that has given it wide appeal with both genders. There's organised crime, history, romance, and action – all delivered by a talented ensemble cast made up of some of the UK's best acting talent.
The series follows the exploits of the Birmingham-based Shelby crime family in the time period between WWI and WW2. It's roughly what you'd expect if you married The Sopranos with a British period drama. In the US, you can watch it on Netflix.
Line of Duty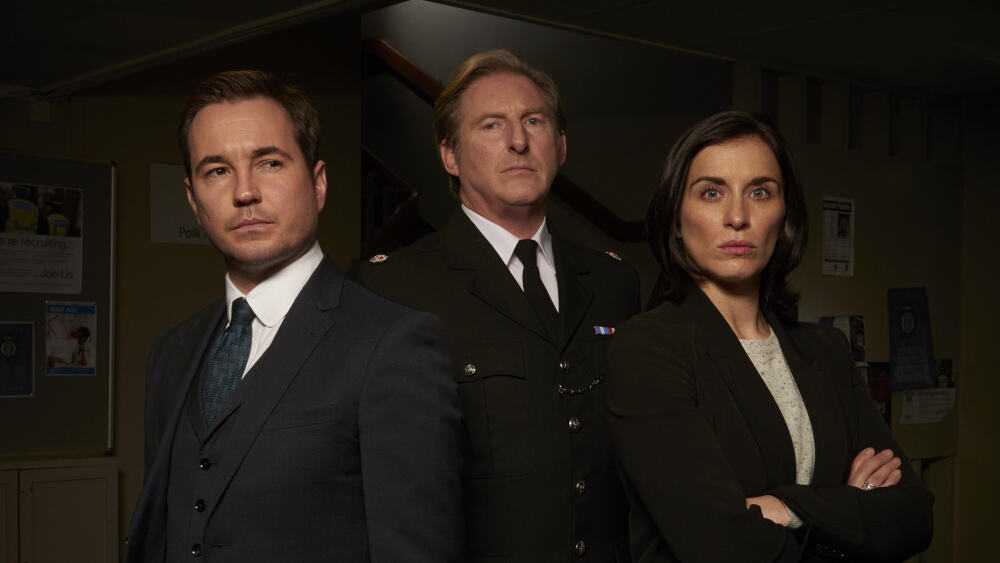 Line of Duty is another show that's brought a lot of husbands and boyfriends over to British TV fandom. That's not to say the ladies don't like it – because a LOT of them do – but it's the kind of fast-paced, action-packed show that appeals to men who might turn their noses up at the quiet delights of Midsomer Murders or Downton Abbey.
The series follows the exploits of a group of officers who work to uncover corruption within the police (what you might call "Internal Affairs" in the US). Instead of looking for cops who issued a few questionable speeding citations, though, they're dealing with super deadly, completely insane conspiracies and cover-ups. It's intense. And a bit gruesome. It's definitely not for everyone.
If you haven't already watched this one, you can find it on Hulu and AMC+ for the earlier seasons. You'll need BritBox to watch Series 6, and Acorn TV or Hulu for Series 5.
Miss Marple (& Agatha Christie's Marple)
When we talk about Miss Marple, we're really talking about two separate shows with three different actresses (there are other portrayals, but these are the big TV productions).
Agatha Christie's Marple – This ITV series ran from 2004 to 2013, and it starred Geraldine McEwan in Series 1-3, followed by Julia McKenzie from Series 4 onwards. Stream it HERE on BritBox
Miss Marple – From 1984 to 1992, Joan Hickson starred as Miss Jane Marple in this BBC series. Stream it HERE on BritBox
Both versions are delightful, and both have run endlessly on most PBS stations – meaning they've helped an awful lot of people discover great British TV over the years. There's nothing quite like the gentle mysteries of Agatha Christie, wonderfully executed by some of England's most talented older actresses and set against the backdrop of the lovely English countryside.
If you like it, click here to read more: Where to Stream Other Agatha Christie Adaptations.
Agatha Christie's Poirot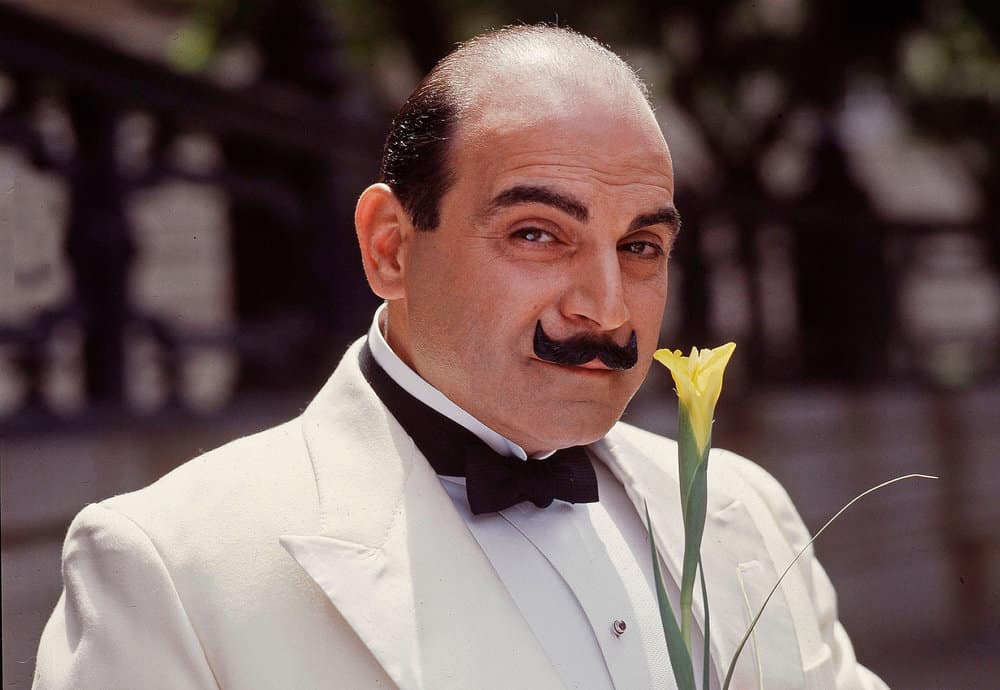 Between 1989 and 2013, David Suchet gave us what many still consider to be the definitive portrayal of Agatha Christie's Hercule Poirot. The series ran for 13 seasons, and like the Marple shows, it's been in near-constant rotation on PBS stations ever since it began.
Between the beautiful filming locations, the puzzling mysteries, and the fine selection of British writing and acting talent, many still consider it to be one of the best British TV shows of all time – and for some, seeing anyone else in the role of Poirot is just difficult.
You can watch this one HERE on BritBox. If you like it, click here to read more: Where to Stream Other Agatha Christie Adaptations.
Midsomer Murders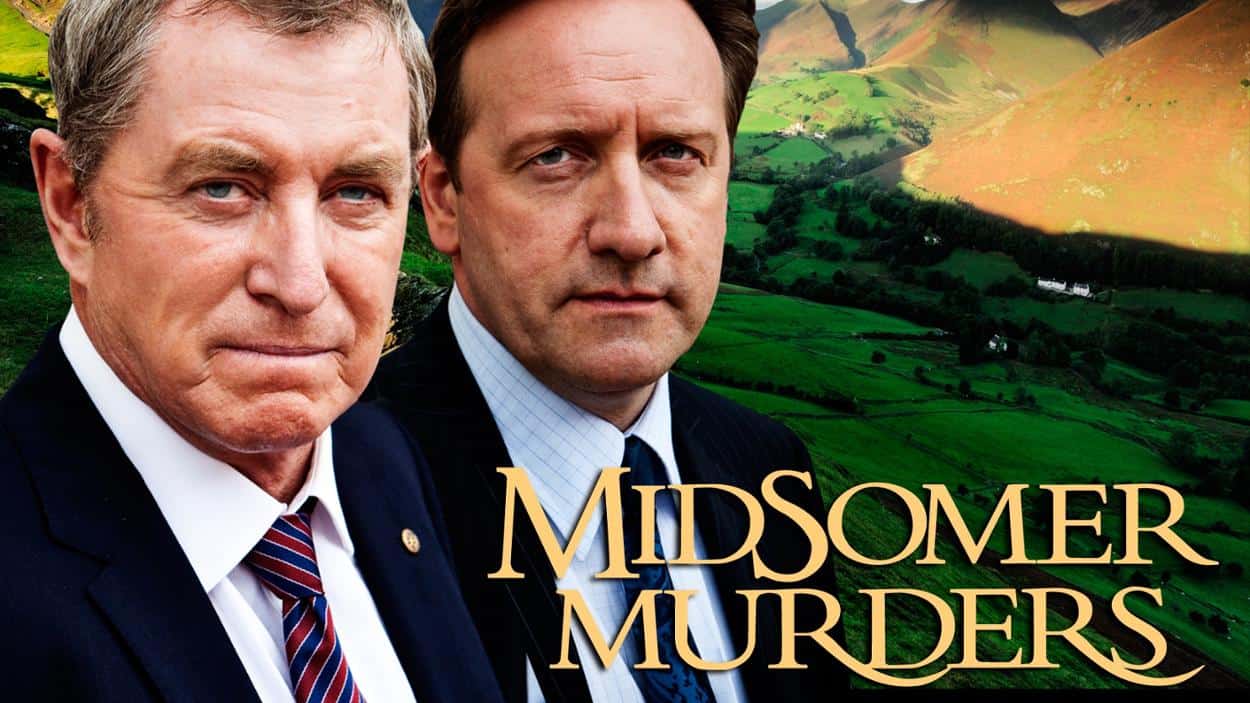 Midsomer Murders is, when you think about it, completely ridiculous. In a lovely rural part of England, people are murdering each other non-stop, using the strangest of methods. We've got deaths by cheese, flying wine bottles, deadly tumble dryers, and even an elaborate murder involving truffle oil and a wild boar.
Oh, and it's nearly always sunny. In England.
Still, it's one of the UK's most popular and long-running shows for a reason. The scenery is lovely, the villages feel cosy (in spite of the high body counts), and when the murders are as ridiculous as they are, you don't really feel they pose a threat.
When people talk about their "comfort shows", Midsomer Murders is always pretty high on the list. Some people dive into a romance novel or Hallmark movie, but we Anglophiles and British TV fans prefer to relax with something that reliably offers an average of 2.6 deaths per episode.
Early seasons are available all over the place (including free services like Tubi and IMDb TV), but if you want to watch everything currently available, you'll need Acorn TV.
Pride & Prejudice (1995)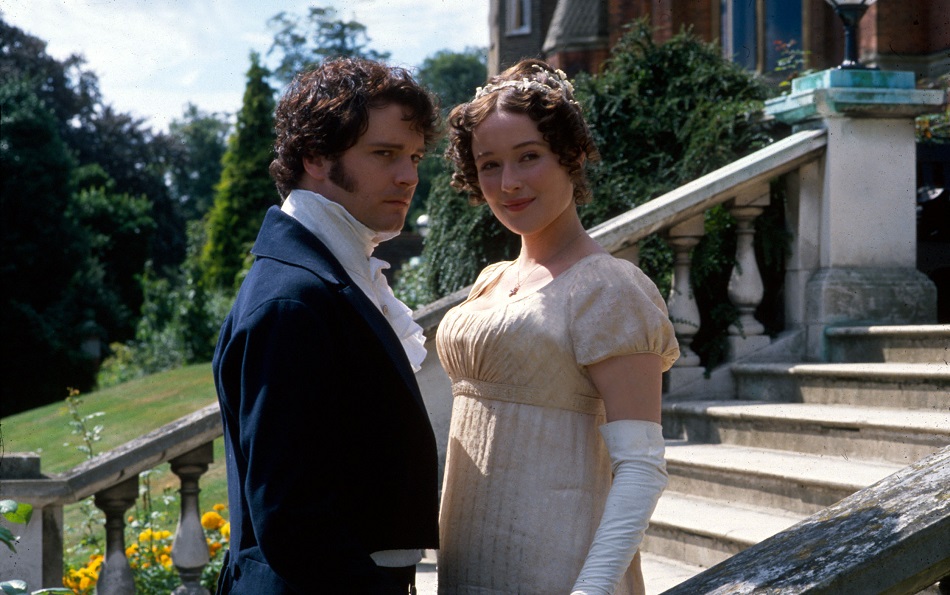 Few period dramas have offered such rich, faithful adaptations as the 1995 Pride & Prejudice miniseries. And, thanks to the infamous Colin Firth lake scene, few have drawn as many people over to the dark side of British TV addiction.
Rather than a rushed feature-length film, this adaptation takes places over six 55-minute episodes. While they could have opted to modernise it in an attempt to distinguish it from past adaptations, they held true to the original book, shifting the focus a bit but retaining a great deal of the original dialogue.
Every time there's an unnecessarily modern, inaccurate, over-sexed adaptation of a classic, this is one of the productions many go back to for comfort viewing.
These days, the best place to watch it is BritBox, where you can view a restored version.
The Office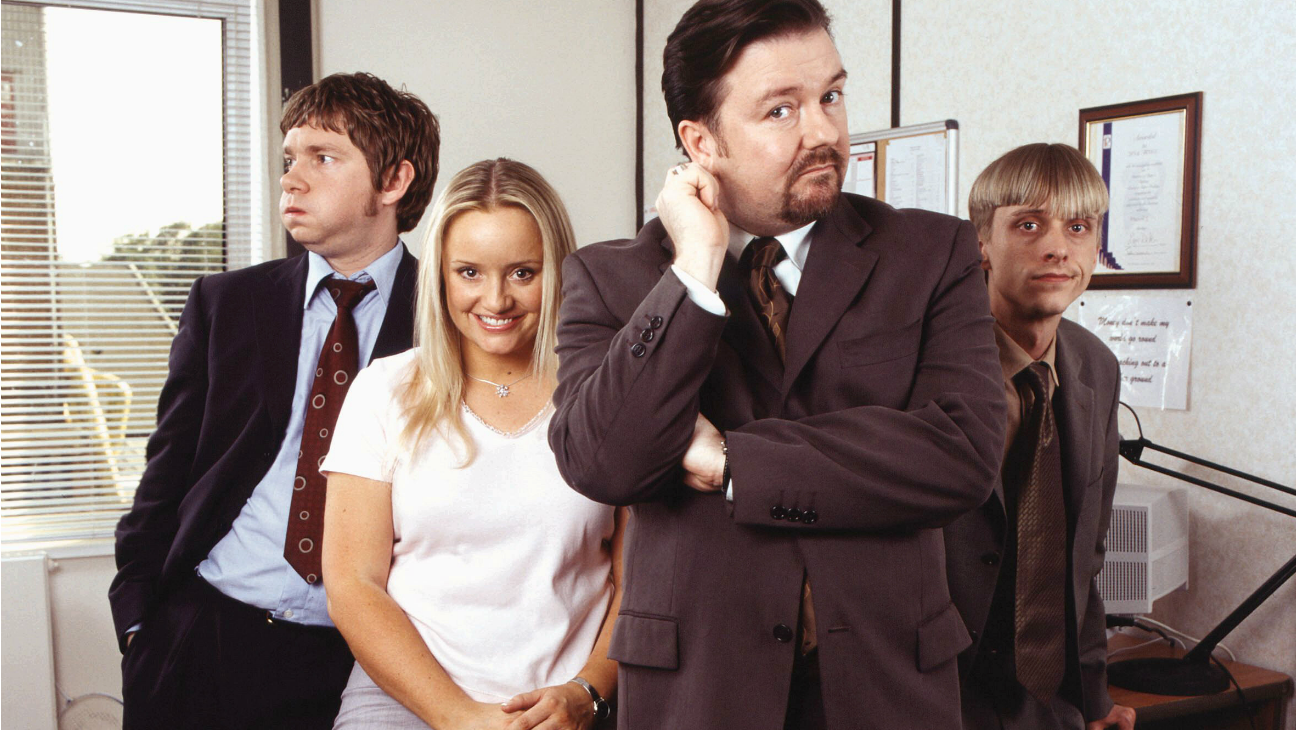 In the US, the Steve Carell The Office was one of the biggest sitcom hits of the early 2000s. That led a lot of people to check out the original Ricky Gervais version.
Some people hated it, but those who appreciated it ran out of episodes pretty quickly. The UK version has just 14, after all. Once they ran out of episodes (and perhaps re-watched a few times), many of those people sought out other British TV shows and got hooked.
Whether you're watching the US or UK version, both shows use a mockumentary format to follow the employees of a fictional paper company. In the US, you can watch the UK original on HERE on Prime Video. It's also on BritBox.
Broadchurch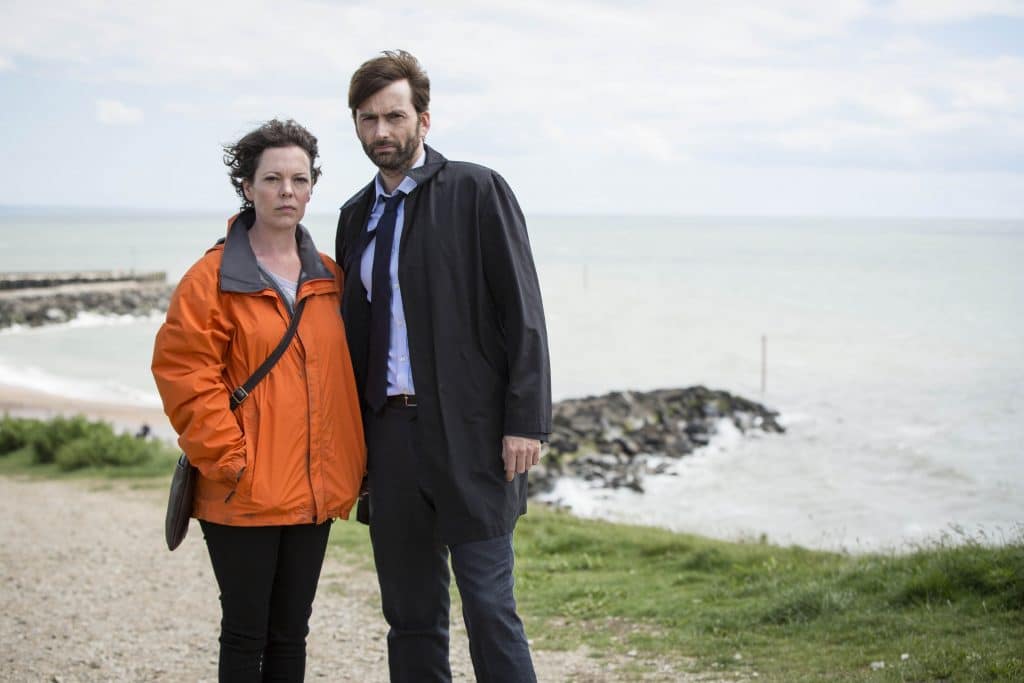 I'm still not entirely sure what set Broadchurch apart from all the other British mysteries (in terms of attracting new fans to British TV), but I suspect it has something to do with the fact that (a) David Tennant stars, and many non-Brits followed him after Doctor Who, and (b) Broadchurch has been on Netflix for quite a while, exposing it to a broader audience than what you might find on specialised streaming services.
The scenery doesn't hurt, either.
The first season of Broadchurch follows the events surrounding the death of an 11-year-old boy in a small coastal village. Everyone's sad, everyone's suspicious, and DI Alec Hardy and DS Ellie Miller (Olivia Colman) are determined to get to the bottom of it.
The second and third seasons continue in the same community, wrapping up the original case while also exploring new ones.
Fleabag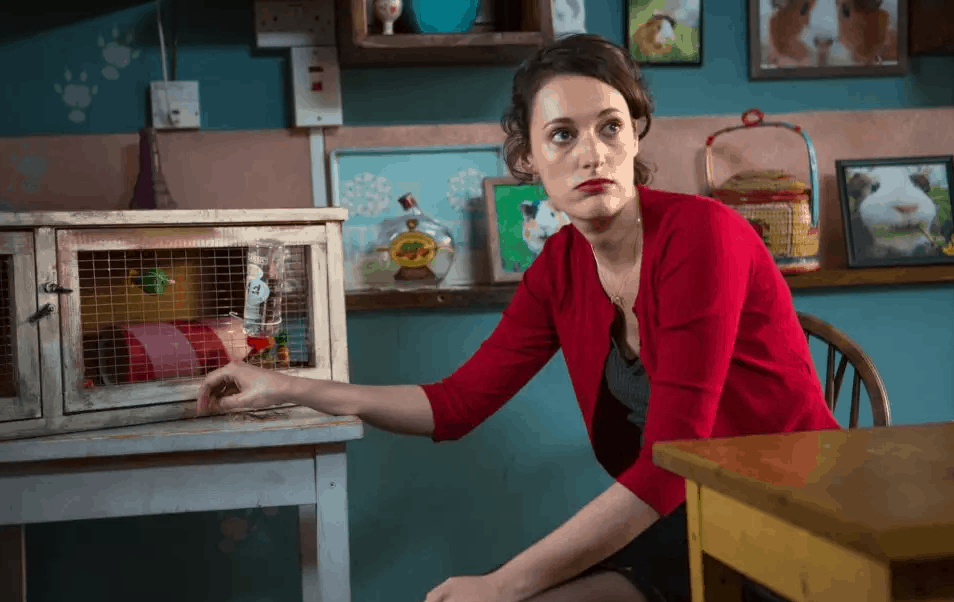 Though not terribly popular with those who don't appreciate a lot of vulgarity, Fleabag is a groundbreaking British comedy that helped bring British TV to the attention of a lot of younger folks. It follows an insecure, out of control young woman as she struggles with her business, her identity, and the loss of a close friend.
Fair warning: the show uses a lot of explicit sex talk and cursing for shock value. If that bothers you, definitely pass on this one. You can watch it HERE on Prime Video – though it's probably best to wait until there are no kids in the room.
Monty Python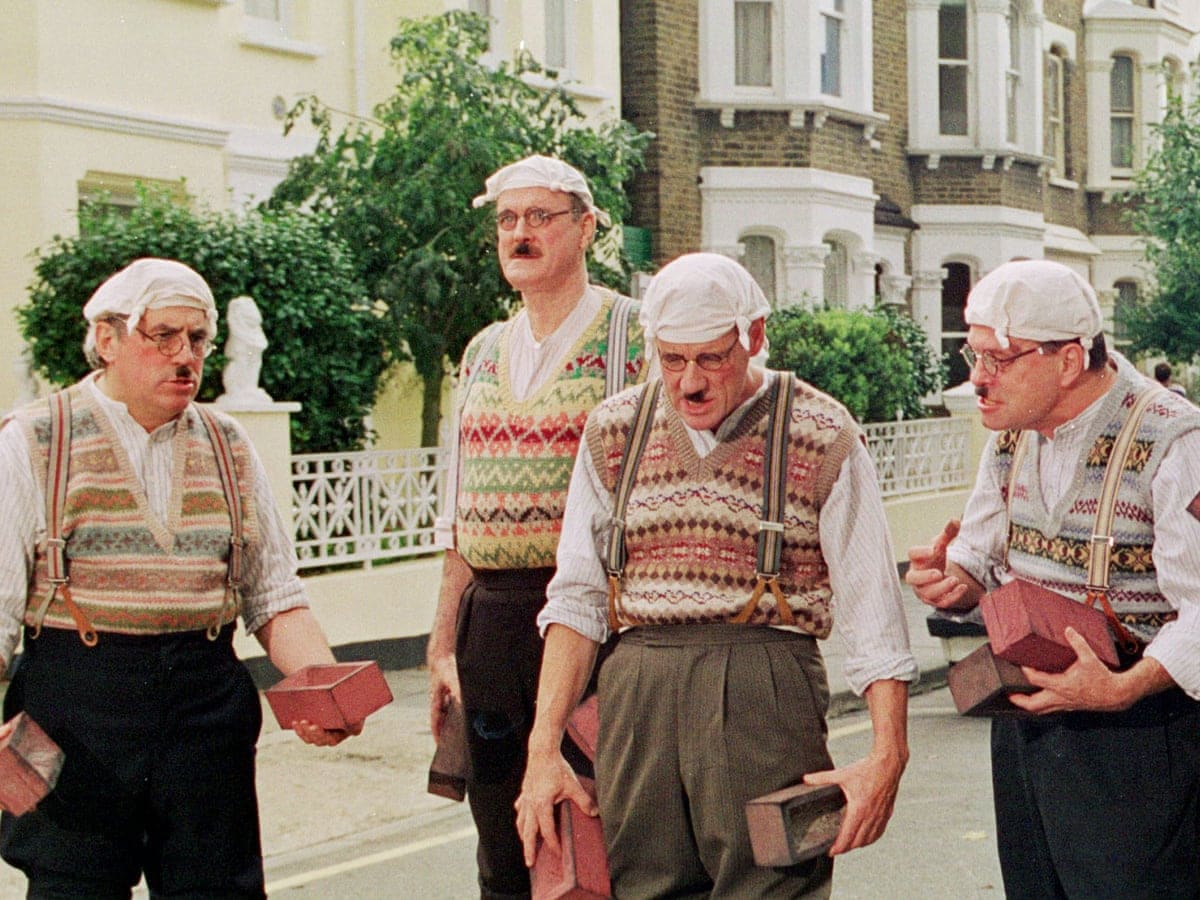 First off: Yes, we know "Monty Python" isn't a British TV show. Still, it's easiest to bundle all the various Monty Python productions into one big ball of British TV influence. Whether it was Monty Python & the Flying Circus, Life of Brian, Monty Python & the Holy Grail, The Meaning of Life, or one of the many live performances and other sketches, these guys have turned many, many people into British comedy fans.
Monty Python isn't for everyone. It's zany and surreal and very, very clever at times – but for many, it's just a bit too much. And that's okay. British TV has something for everyone.
Without Monty Python, we wouldn't have many of the fine comedians we have today. Sacha Baron Cohen, Jim Carrey, and Simon Pegg can all be counted among the numerous comedians who cite them as influences.
In the US, you can find quite a few Monty Python titles on Netflix.
Fawlty Towers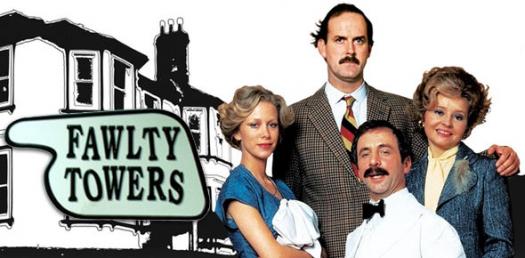 The British Film Institute ranked Fawlty Towers as the number one British comedy of all time (on their list of 100 Greatest British Television Programmes), and a panel of Radio Times experts similarly labeled it as the "greatest ever British TV sitcom".
The series stars John Cleese and Prunella Scales as a married couple who run a hotel in the seaside town of Torquay…terribly. Cleese was inspired after a trip to Gleneagles Hotel in Devon, where he felt the owner didn't want the guests to be there.
These days, some platforms put warning labels on it – but it continues to delight and amuse British TV fans of all ages. You can watch it HERE on BritBox.
What Show was the Gateway to Your British TV Addiction?
For me personally, it was Cadfael. I was a kid in the 1990s, and I would try to stay up late so I could watch it on PBS on a tiny 8-inch, black and white television screen built into a stereo my parents had in the kitchen. I had probably seen a few British TV shows before that, but for some reason, that was the one that really cemented the addiction.
Let us know your British TV gateway show in the comments!
Save it to Pinterest!