12 Fun & Funny Doctor Who T-Shirts for British TV Fans
In some cases, we earn commissions from affiliate links in our posts.
Last Updated on May 19, 2019 by Stefanie Hutson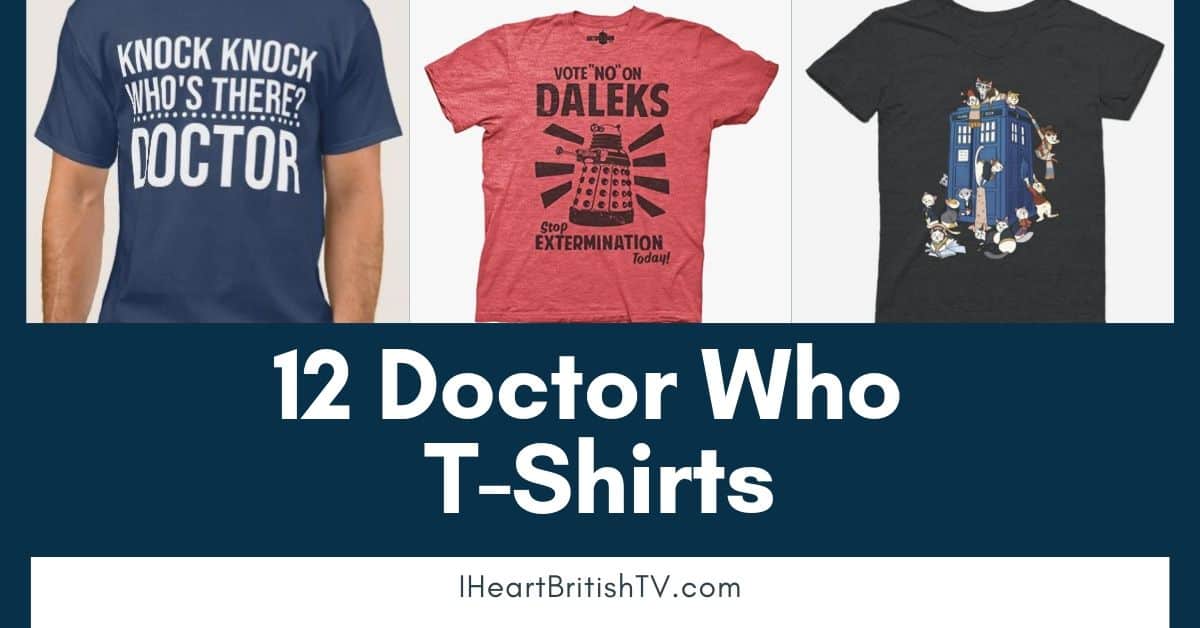 T-shirts can be a great way to express your personality, but they're also a great way to connect with your kind of people out in the wild. That's especially true in an area where your interests aren't completely mainstream. A Doctor Who t-shirt in the US or Canada is sure to draw comments from fellow fans. Granted, if you're anything like me, you'll find that painfully awkward at least 80% of the time – but hey, you never know when you'll meet someone really cool because of a t-shirt you were wearing.
To that end, we've scoured the web looking for some of the best Doctor Who t-shirts to wear – either openly in public, or in the privacy of your own home. Most are available in male and female styles, and some offer premium tri-blend options, which are usually a bit softer and cut slightly narrower. We've provided links to external sites (sites we don't own) for all shirts below. Simple click on the t-shirt itself or the link at the end of the description, and it will take you to the appropriate store.
The Best Doctor Who T-Shirts
Bad Wolf T-Shirt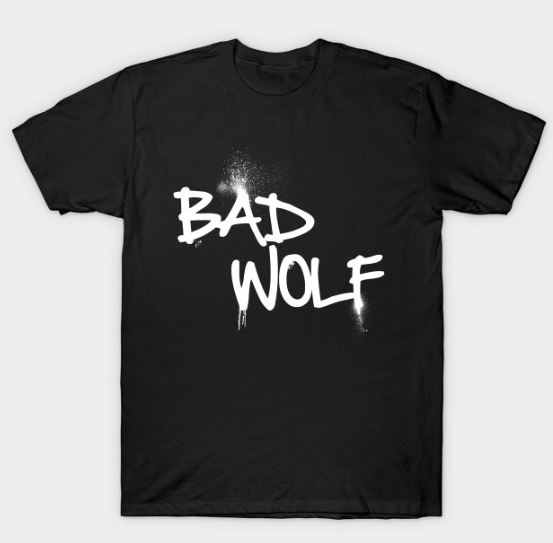 For that gritty, London-based Doctor Who feeling, try this simple and understated number. It's nothing more than "Bad Wolf" in a spraypaint font – and it's all but guaranteed that non-Doctor Who fans won't know what it's about. Get it HERE.
I'm the Doctor T-Shirt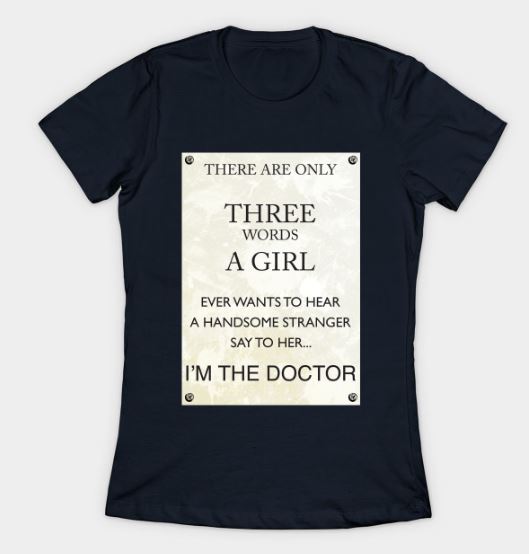 Alright, so this one is primarily aimed at the ladies. It reads: "There are only three words a girl ever wants to hear a handsome stranger say to her…I'm the Doctor." While I might personally take issues with the "only three words" bit, I can certainly agree they're three very good words to hear from a stranger, handsome or otherwise. Who wouldn't want to go for a spin in the Tardis? Get it HERE.
Vintage Gallifrey T-Shirt
If you love those vintage California or Hawaii t-shirts they used to make, you'll love this vintage-styled Gallifrey t-shirt. I trust I won't need to explain the relevance and appeal of this shirt to any Doctor Who fans. Get it HERE.
R2D2 Dalek T-Shirt
Want to know how to drive a Doctor Who fan mad? This t-shirt seems like a pretty good start. It showcases the image of a Dalek with the caption: "OMG It's R2D2! I loved him in Star Trek". I still can't decide whether to laugh or cringe. Get it HERE.
The Incredibly Clever Doctor Who T-Shirt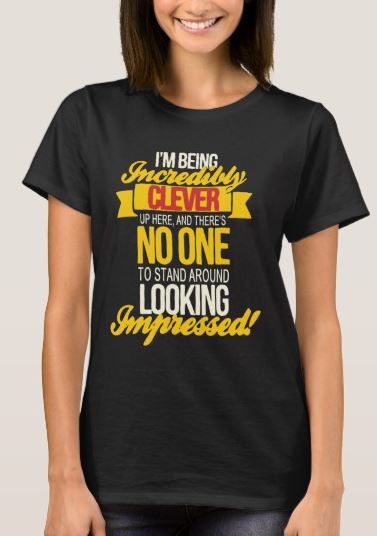 Back in 2011, we saw Matt Smith deliver a great line in "The Impossible Astronaut": "I'm being incredibly clever up here, and there's no one to stand around looking impressed!" Even if Matt Smith isn't your favorite Doctor, you've got to admit it's a good line – and another one of those things only serious Doctor Who fans are likely to recognize. Get it Here.
Doctor Mew T-Shirt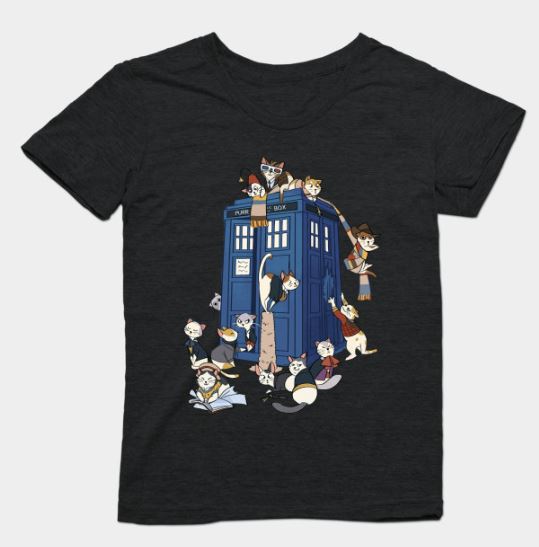 There's an astonishing level of crossover between Doctor Who fans and cat people, so it's no surprise someone's created a "Doctor Mew" t-shirt. It features a Tardis overrun by cats, each of them wearing bits of costume from previous Doctors. Get it HERE.
Abbey Road Doctor Who T-Shirt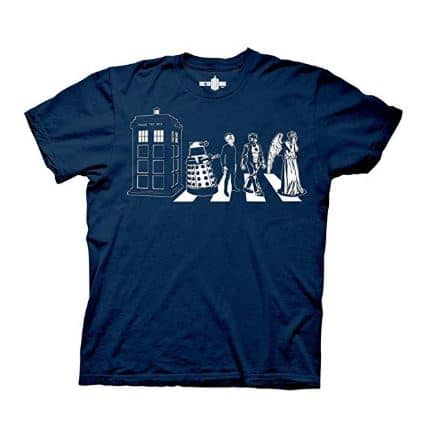 This Whovian take on the classic Abbey Road Beatles album cover features a Tardis and a quartet of everyone's favourite Doctor Who bad guys. It kind of looks like the beginning to the most hair-raising episode ever. Get it HERE.
I'm the Doctor, Not a Companion T-Shirt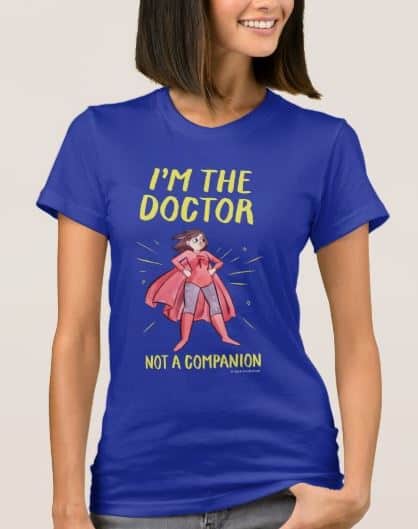 Whether you love or hate Jodie Whittaker and the general idea of a female Doctor, I think we can all agree on the importance of "being the Doctor" in our own lives. The illustration on this one is a bit goofy, but it's a great reminder to be the hero in your own story. Get it HERE.
Vote "NO" on Daleks T-Shirt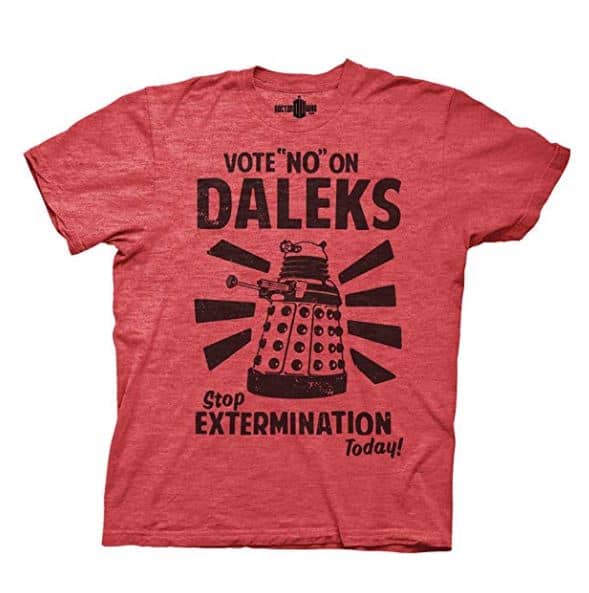 Finally, a campaign promise we can all get behind! In a world full of ugly, divisive politics, I think we can all approve of this message: Vote "NO" on Daleks, Stop Extermination Today!" Get it HERE.
Time-y Wimey Stuff T-Shirt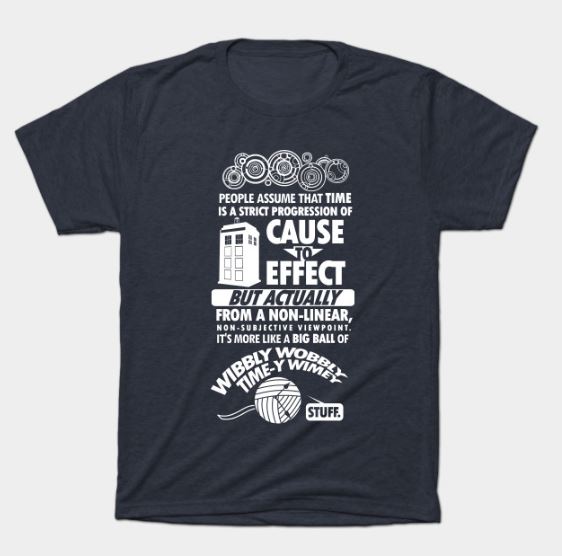 It's one of the most recognizable lines in Doctor Who history: "People assume that time is a strict progression of cause to effect, but actually — from a non-linear, non-subjective viewpoint — it's more like a big ball of wibbly-wobbly, timey-wimey…stuff." David Tennant delivered it perfectly – and why wouldn't you want that on a t-shirt? Get it HERE.
Knock Knock, Who's There? Doctor T-Shirt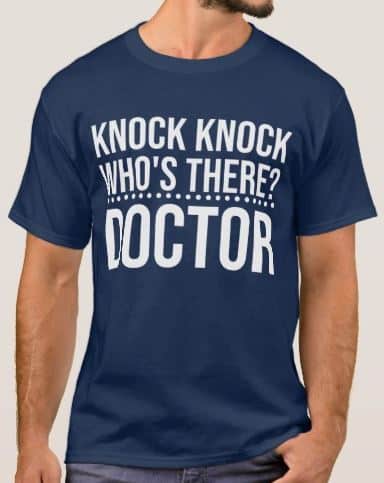 I love that this t-shirt doesn't fully explain the joke – so it won't necessarily be 100% obvious to a non-Whovian. Get it HERE.
Don't Blink Doctor Who T-Shirt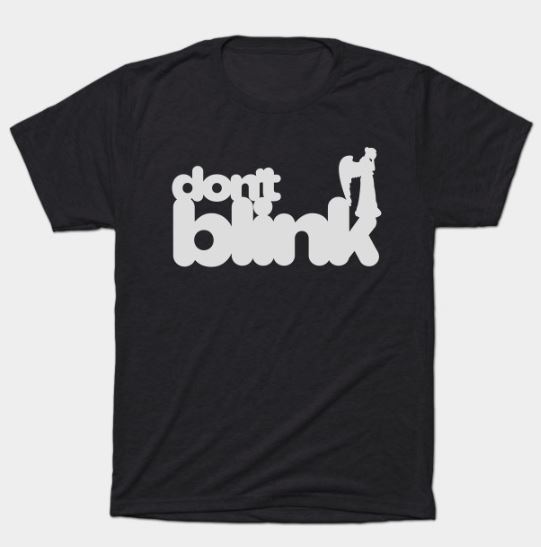 The Weeping Angels might be my very favourite enemies in Doctor Who, so of course I couldn't make this list without including at least one "Don't Blink" reference. I like the simplicity of this particular shirt – it's much less flowery than some of the others out there. Get it HERE.
What's Your Favourite Doctor Who T-Shirt?
Although I'd happily wear any of these Doctor Who t-shirts, I think my personal favourite is probably the Doctor Mew shirt – I'm a sucker for cats. What's your favourite? Let us know in the comments!