13 British TV Shows like Game of Thrones
In some cases, we earn commissions from affiliate links in our posts.
Last Updated on November 22, 2020 by Liberty White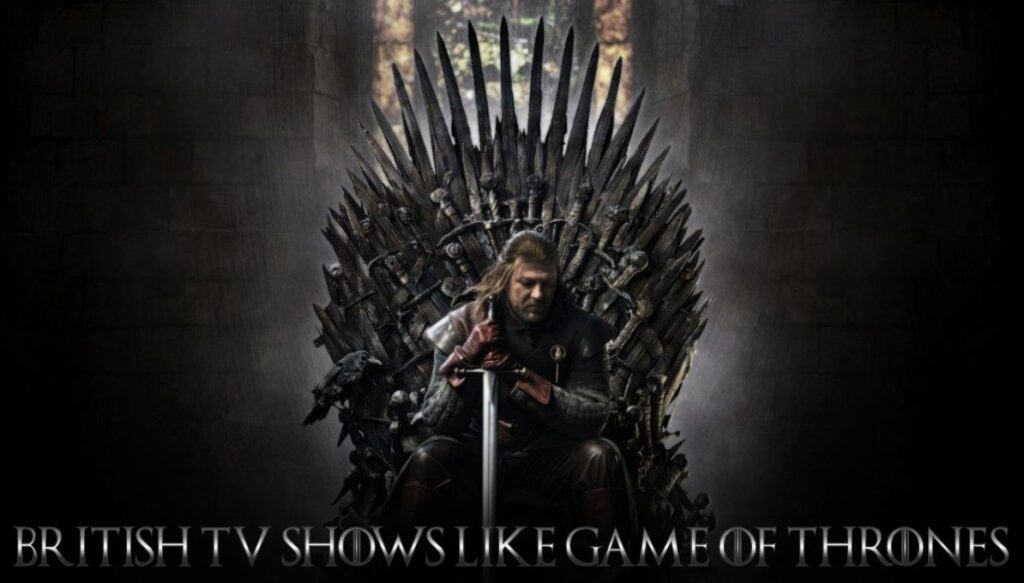 One big pointy chair made of a thousand swords. It doesn't even look comfortable… and yet it was the seat of envy and power. The fight for who would sit on the Iron Throne didn't just generate buzz, it was a worldwide phenomenon. As the seasons progressed, it felt like no one in Westeros was safe. Game of Thrones had us all sitting on the edge of our seats eager to see which of our favorite characters would die next.
Created from the A Song of Ice and Fire series by George R. R. Martin, Game of Thrones was the most licensed show in HBO history, with over a hundred licences globally. It was filmed in no less than ten countries across the globe [Forbes].
Needless to say, there are a lot of people who want more. And a prequel, House of Dragons, is in the works… but I'm talking about filling the void now.
Of course, we could just re-watch Game of Thrones for the fourth time, but let's check out a few shows that may help us feel a little less empty inside.
Can they compare? Not really. Can they fill the void? Definitely.
British TV Shows like Game of Thrones
Not all of these are truly British productions, but bear with me. Game of Thrones is made by HBO, after all. I have good justifications and I think you'll agree. Even the shows that aren't British productions often have key British cast members or involve British history in some way.
Black Sails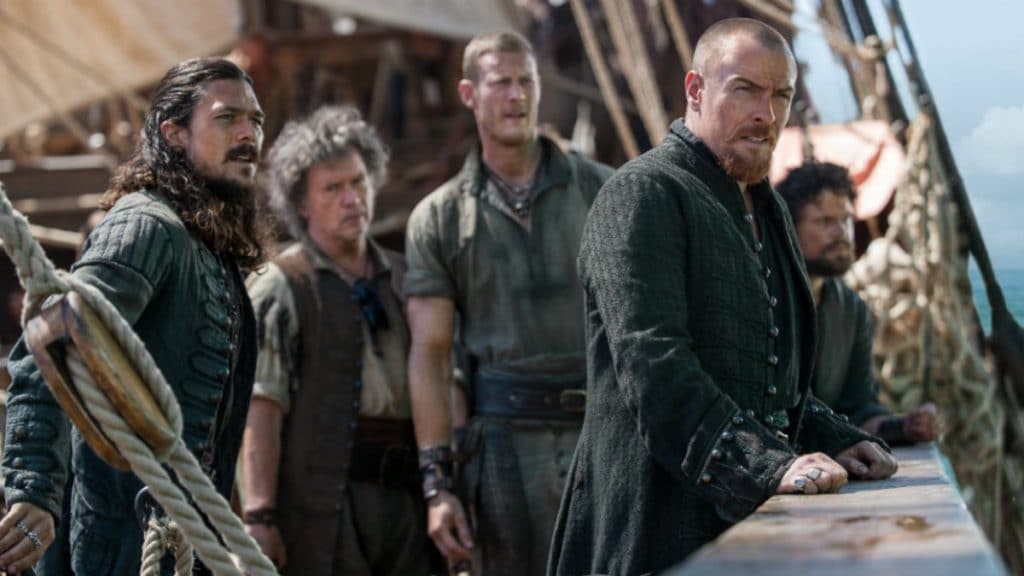 This isn't your typical family friendly Disney-produced Pirates of the Caribbean flick. (For me, Black Sails is right up there with Game of Thrones. It's one of my all-time favorite shows). It came full circle and ended after four seasons. It's full of suspense, action, gorgeous scenery, and many flawed characters with secrets.
Although there aren't any dragons, Black Sails compares in many ways to Game of Thrones. The acting is wonderful. (It stars Toby Stephens, Tom Hopper, Luke Roberts, Hannah New, and Harriet Walter along with many wonderful Australian actors). It's gritty. Both the journeys and politics are tumultuous. There is plenty of sex in the first two seasons, but it drops off in the last two when the story really kicks off. And did I mention the scenery is gorgeous? They filmed it in South Africa, not the Caribbean.
Black Sails is described as a prequel to Robert Louis Stevenson's classic Treasure Island, so the names of fictional characters are floating around with the names of real pirates from history, though their stories are quite different. If you want to read about the true history of the golden age of piracy, check out this book.
If you can't get enough Black Sails, be sure to follow it up with AMC's show Turn: Washington's Spies (Netflix). The piracy and free Nassau in the Caribbean partly inspired the American revolution, so the shows work well as companions. Turn: Washington's Spies also comes full circle and ends after four seasons.
Black Sails is streaming on Starz.
How does Black Sails compare to Game of Thrones?
Gritty action. Flawed characters. Historical-themed fantasy. Also has amazing opening credits.
Britannia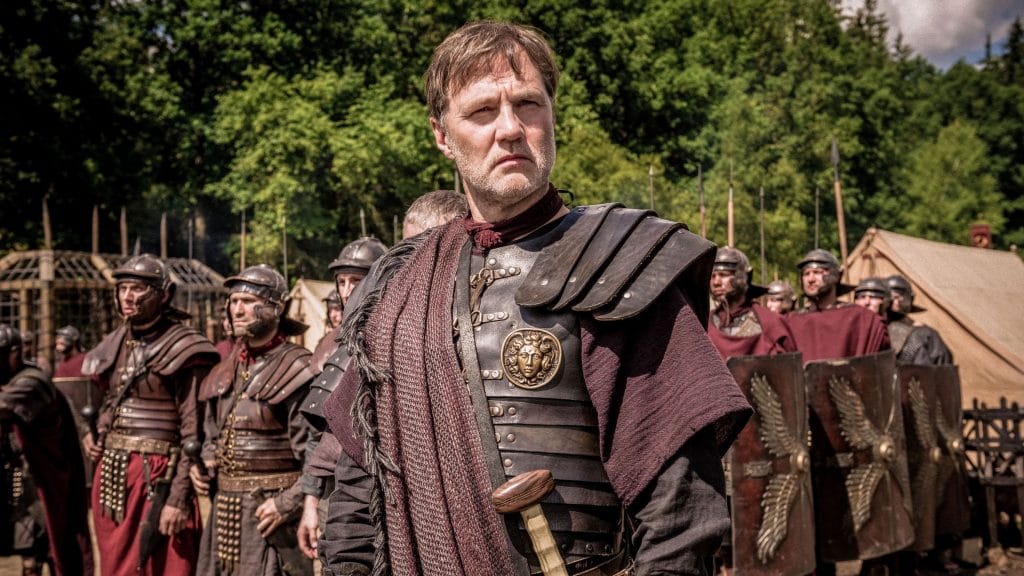 Britannia takes place in Britain during the Roman invasion led by Aulus Plautius (David Morrissey). It's 43 A.D. and cultural divides run deep. Between different tribes, druids, and Romans, there is plenty of contention and suspense. Because not a lot is known about the British tribes, there's plenty of artistic liberty in the show which helps bring Britannia to life.
The best part of the Britannia is following the story of a young girl (Eleanor Worthington Cox) and her reluctant companion (played by famed Danish actor Nikolaj Lie Kaas) as they journey to find her father and beyond. Britannia also stars Kelly Reilly and Mackenzie Crook.
Although Sky made two seasons (with season three in the works), only the first season was picked up by Amazon (so far). You can watch it here.
Why is Brittania a great show for Game of Thrones fans?
Gritty drama. Mystical. Historical-themed fantasy.
The Hollow Crown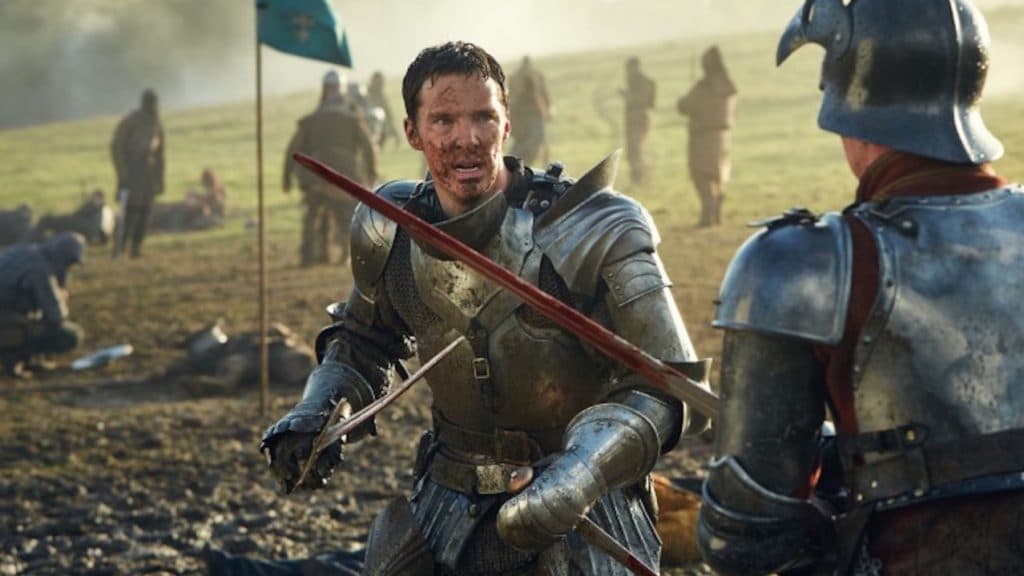 The Hollow Crown is an epic must-see journey through Shakespeare's histories with high production value and some of the best actors Britain has to offer. It stars Ben Whishaw, Jeremy Irons, Tom Hiddleston, Benedict Cumberbatch, Hugh Bonneville, Judi Dench, Sophie Okonedo, Tom Sturridge and countless more.
Although some shy away from Shakespeare due to the Elizabethan language, let me assure you: it is much easier to understand when performed by veteran actors. And The Hollow Crown is impeccably performed. They're also adapted well and stick close to Shakespeare's original script.
If you don't cry towards the end of Henry IV Part II, do you even have a soul? I cry every time I watch it. Every time. For that reason, it's my favorite Shakespeare play. The Hollow Crown does an amazing job building up Hal's character development becoming Henry the Fifth. Jeremy Irons and Tom Hiddleston are flawless as on-screen father and son, too.
Two seasons are available to purchase on Amazon.
How is The Hollow Crown like Game of Thrones?
As British as it gets. Great stories with compelling characters. It's Shakespeare, after all. He's the father of modern English literature for a reason.
The Last Kingdom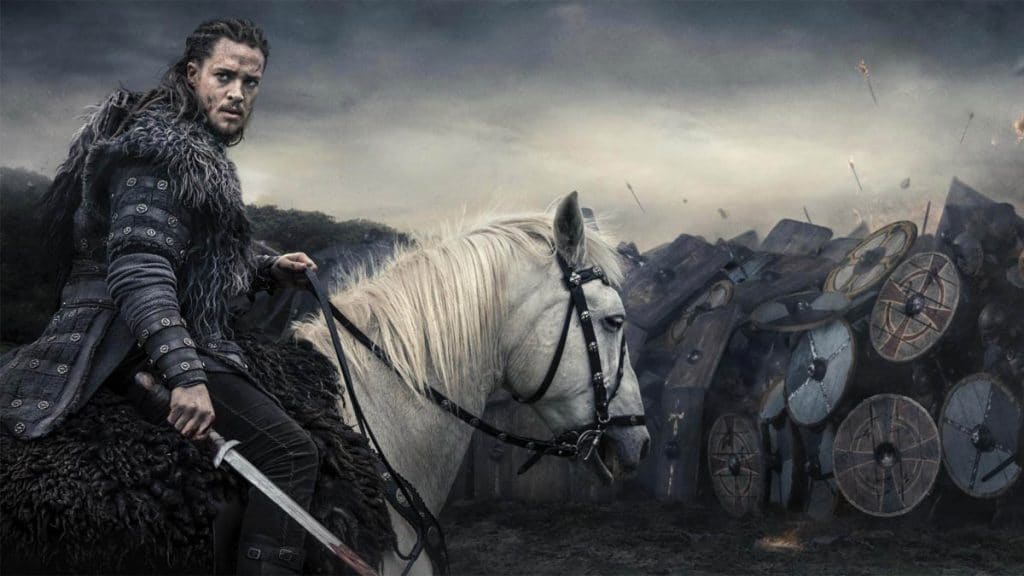 Uhtred was born a Saxon boy, baptized, and promised an inheritance. Then, he was swept away by Vikings and raised as a Dane. Now, he's fighting for his ancestral birthright. This Netflix original series begins in 872 A.D. when England was different kingdoms and being invaded by Danish vikings. Wessex is The Last Kingdom, commanded by King Alfred who refuses to surrender to the Danes. And the story is as much about King Alfred as it is Uhtred.
The Last Kingdom stars Alexander Dreymon as Uhtred, but there are plenty of Brits: Ian Hart, Eliza Butterworth, Millie Brady, Mark Rowley, and more. The cast boasts many talented European actors.
This series is well worth watching and is perhaps the most similar title on our list to Game of Thrones for its battles, power struggles, and political climate. While The Last Kingdom is closer to real history than Westeros, it's based on The Saxon Stories by Bernard Cornwall; there are twelve books and a thirteenth on the way.
The Last Kingdom is streaming on Netflix.
Why is The Last Kingdom great for fans seeking shows like Game of Thrones?
Battles. Swords. Political turmoil with power struggles. Gore. Follows a boy coming of age as a warrior.
Medici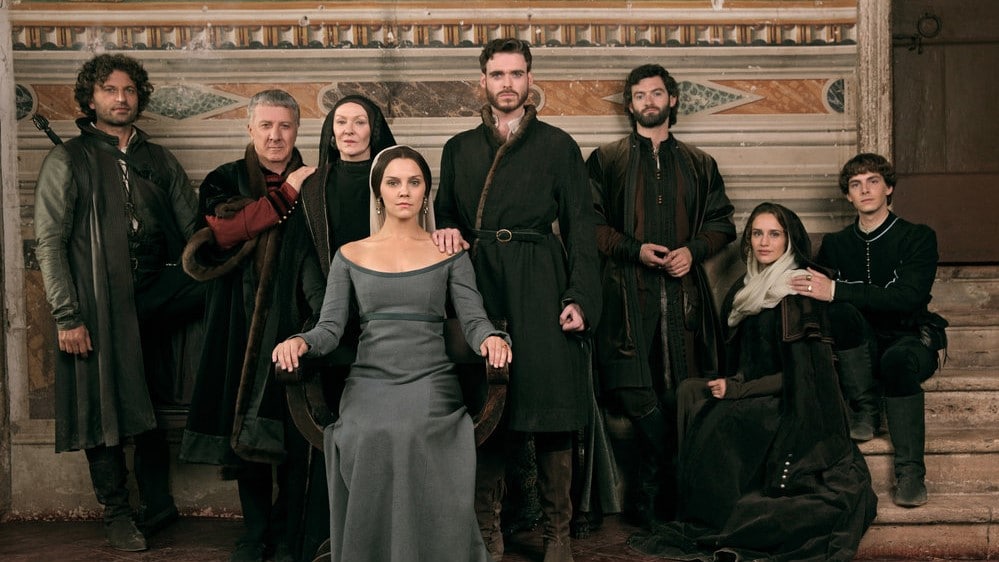 If Richard Madden and Sean Bean aren't enough to get you on board… Keep reading.
Medici is a political family drama set in Florence, Italy. When Cosimo de Medici's father dies, he's given the reins to a banking dynasty and all the responsibilities that come along with it.
The cast changes through different generations of the Medici family. It takes a few episodes to get going, but once it gets into the groove of things, it takes off and doesn't stop.
Along with Madden and Bean, Medici stars Daniel Sharman, Annabel Sholey, Sarah Parish, Stuart Martin, Bradley James, and Brian Cox.
You can stream Medici on Netflix.
How is Medici like Game of Thrones?
Political-themed history. Family drama. Richard Madden and Sean Bean.
The Musketeers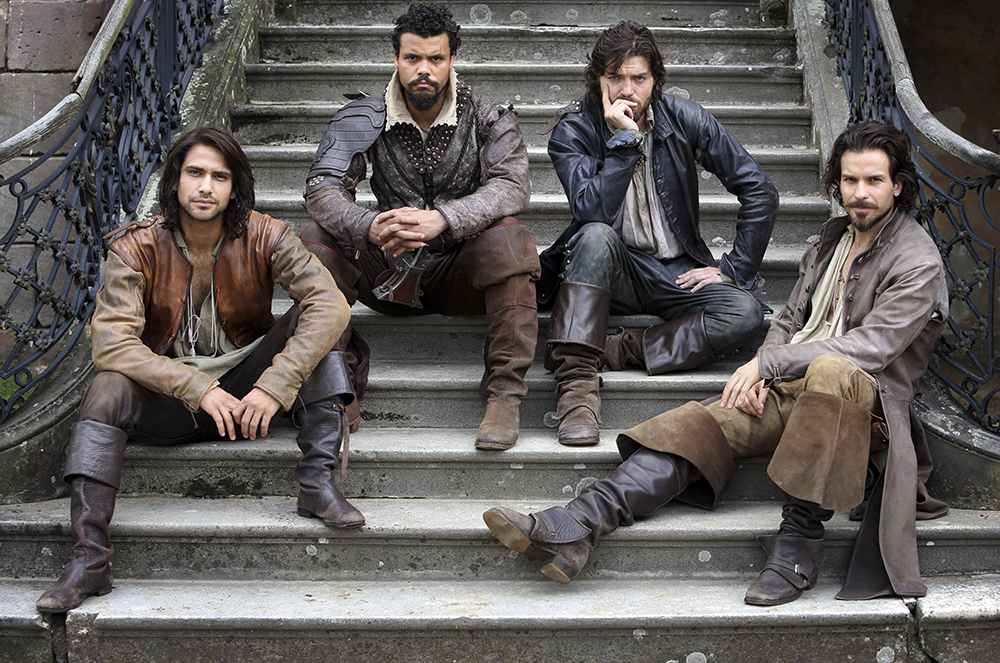 The Musketeers isn't as gritty as Game of Thrones, of course, but it holds up if you like historical action, sword fighting, and the fun, sarcastic taunting of Athos, Porthos and Aramis. If you're not familiar with The Three Musketeers, they're essentially highly trained bodyguards who protect the King, so it also deals with political conspiracy.
Although it takes place in 17th century Paris, it is a BBC production so it stars a lot of British actors. To start, Tom Burke plays Athos and Luke Pasqualino is d'Artagnan.
The Musketeers is streaming on Hulu and available to purchase on Amazon.
How does The Musketeers compare to Game of Thrones?
Action. More humor. Historical-themed fiction. Based on a big book.
Outlander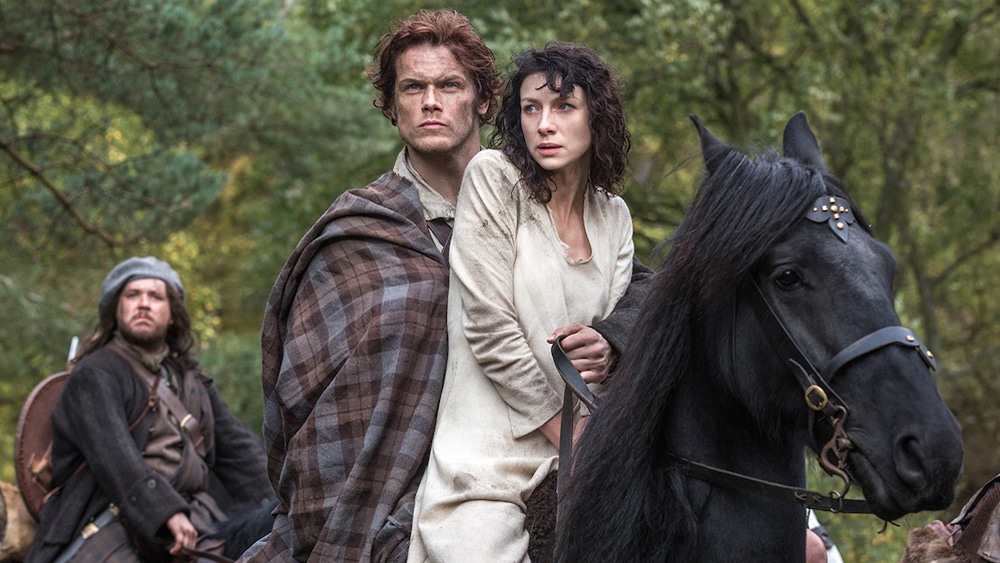 Outlander is part historical drama, part fantasy. It begins in 1945 in post-war England when a stone circle mysteriously transports Claire Randall, a married WWII nurse, to 1743 where she's thrown into the Jacobite rebellions and into the arms of Jamie Fraser. Fans of action, romance, and historical dramas will enjoy Outlander. It's based on a series of books by Diana Gabaldon.
It stars Caitriona Balfe, Sam Heughan, Tobias Menzies, and countless veteran Scottish actors, like Graham McTavish, Richard Rankin, and more. Even Douglas Henshall is in four episodes.
Outlander is streaming on Starz.
Why do we suggest Outlander for Game of Thrones fans?
Historical-themed fiction. Swords. Action. Gore. Romance.
Peaky Blinders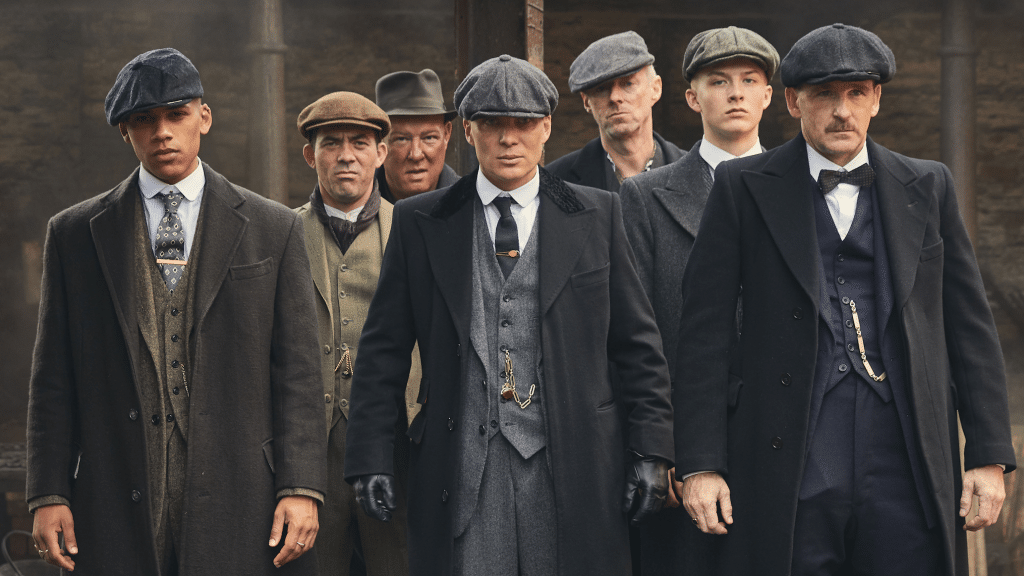 WWI is over and the world will never be the same. Set in industrial Birmingham, Peaky Blinders follows Thomas Shelby, a crime boss hell-bent on success. The characters are complex and the women are powerful. It's also a unique look at a historical criminal underworld not often featured on screen.
Peaky Blinders has a tendency to fly under the radar, but it's a high quality production that excels in all categories: acting, directing, cinematography, music and more. The production quality is on par with the premium networks.
This show may not seem like it belongs on this list. But trust us: Peaky Blinders shares many of the best elements with Game of Thrones… it's just set in interwar Britain. And there are no dragons, sorry.
It stars Cillian Murphy, Paul Anderson, Helen McCrory, Sophie Rundle, and many more wonderful actors.
Peaky Blinders is streaming on Netflix.
How is Peaky Blinders similar to Game of Thrones?
High quality production. Historical fiction. Addicting. Action. Drama.
Robin Hood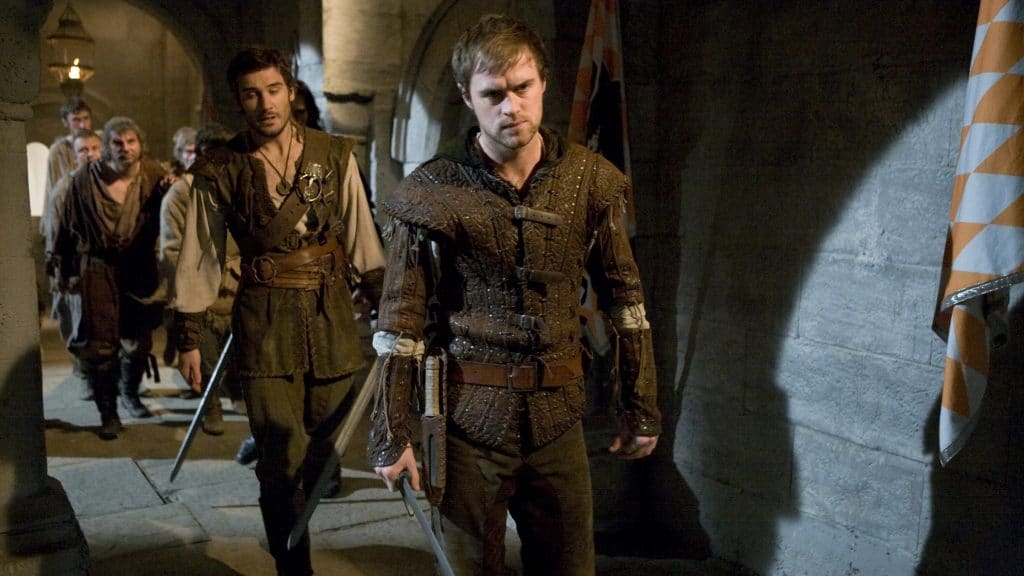 Let's say you want your kids (or grandkids) to grow up to be fans of Game of Thrones, but you don't want them watching it until they're old enough…
Start them with Robin Hood. (If they ask "what are taxes?" after watching Robin Hood, break it to them gently before seizing 30% of their ice cream).
The characters develop well over three seasons and by the end, you'll be loving characters you used to hate and hating ones you used to love. It balances humor and action well and is worth watching if you stick with it.
Robin Hood may be rated TV-PG, but has plenty of fighting, romance, and action. Instead of gore and sex, it has a vibrant and often sarcastic sense of humor running through it that keeps the show feeling fresh.
This televised Robin Hood aired from 2006 to 2009. It stars the (slightly younger) faces of Jonas Armstrong, Richard Armitage, Lucy Griffiths, Joe Armstrong, Lara Pulver, Joanne Froggatt, and more.
If you like this version of Robin Hood but want a little more fantasy, check out Merlin.
Robin Hood is streaming on Amazon Prime.
How is Robin Hood like Game of Thrones?
Action. Medieval setting. Swords. Power struggles.
Rome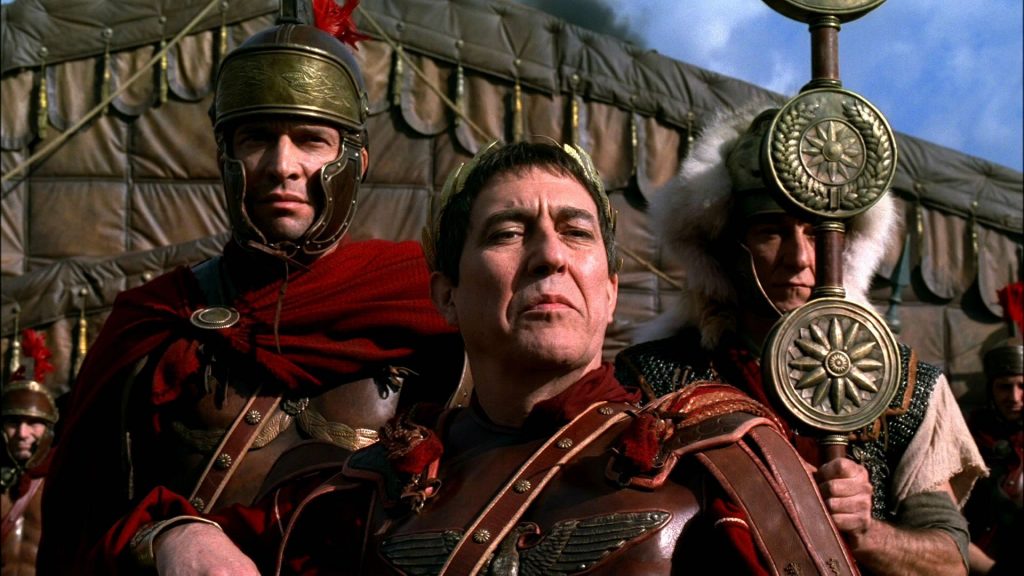 Rome stars Ciarán Hinds as Julius Caesar. It follows both the political heavyweights and the lower classes in Rome through its transition from republic to autocratic empire.
The story primarily follows two soldiers played by Steven McKidd and Ray Stevenson. Because it started airing fifteen years ago, it may have flown under your radar. But it still holds up and is well deserving of the 8.7/10 IMDb rating.
Like Game of Thrones, Rome is an HBO production with nudity, gore, violence, and sex. But the politics, complex characters, and weaving story line take center stage.
You'll see many familiar British actors, too, like Tobias Menzies, James Purefoy, Ian McNeice, Lindsay Duncan, and more.
Rome is streaming on HBO.
Why Game of Thrones fans will like Rome:
History. Nudity, gore. HBO production. Politics.
The Tudors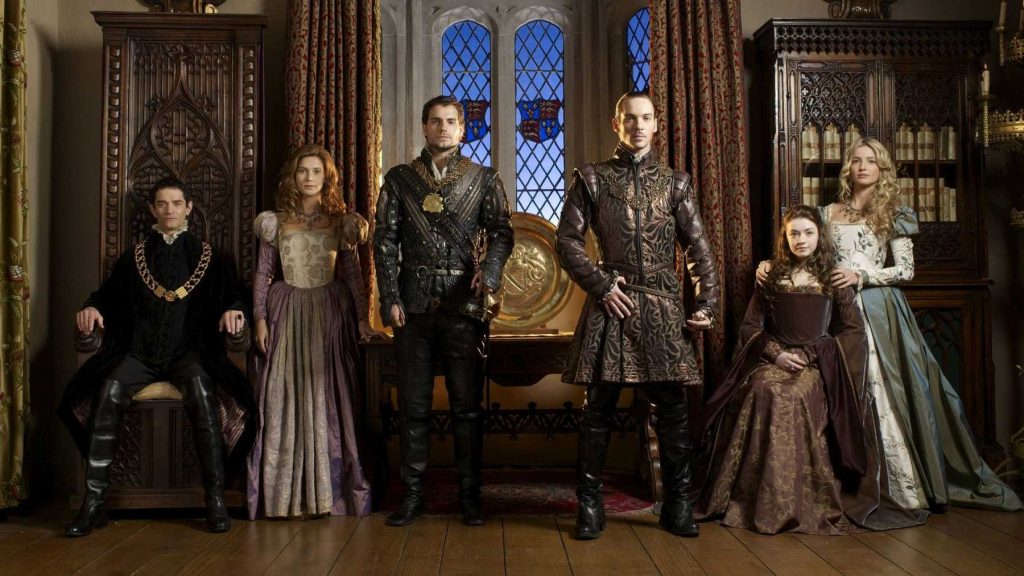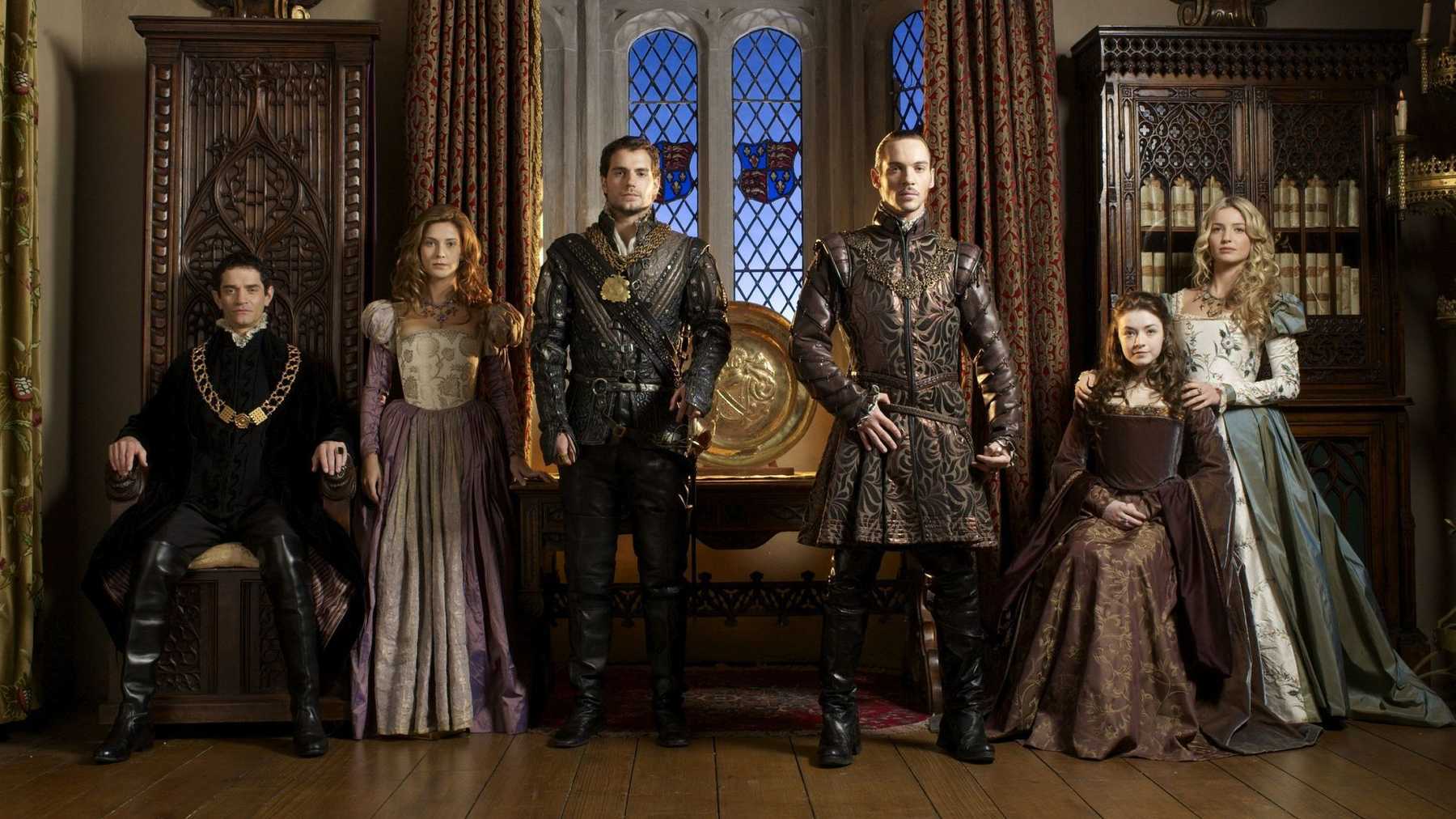 Jonathan Rhys Meyers plays the infamous Henry the Eighth in Showtime's The Tudors. It follows Henry the Eighth's exploits beginning in the earlier years of his reign. While he's best known for his romantic life, this show also focuses on his political relationship with the Roman Catholic Church.
Along with Jonathan Rhys Meyers, The Tudors is full of great actors such as Henry Cavill, Natalie Dormer, James Frain, Nick Dunning, Anthony Brophy, Sarah Bogler, and Maria Doyle Kennedy.
If you love The Tudors, be sure to check out Showtime's other historical political drama: The Borgias starring Jeremy Irons and Holliday Grainger.
The Tudors is streaming on Showtime.
How does The Tudors compare to Game of Thrones?
Historical-themed drama. Political. Complex characters.
Vikings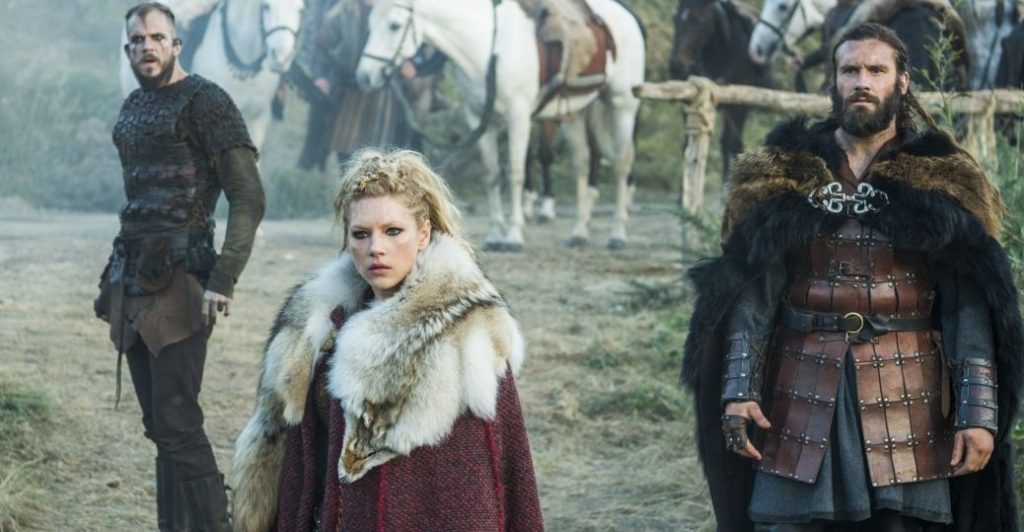 If you enjoy The Last Kingdom, check out Vikings (and vice versa). While Vikings is a History Channel production, it is fully a fully dramatized series about the lives of Vikings in Kattegat in 793 A.D. It begins with the story of Ragnar Lothbrok and the birth of the Viking age.
While there aren't a ton of British actors and it isn't a British production, it's a great show and fans of Game of Thrones will want to add it to their to-watch list. It does star Linus Roache as King Ecbert and George Blagden as Athelstan.
Keen eyes will recognize Swedish actor Gustaf Skarsgård whose brothers Alexander, Bill, and Valter are also wonderful actors (they are all children of Stellan Skarsgård).
Vikings is streaming on Amazon Prime.
How is Vikings similar to Game of Thrones?
Swords. Action. Adventure. Cold weather. Historical-themed drama.
The Witcher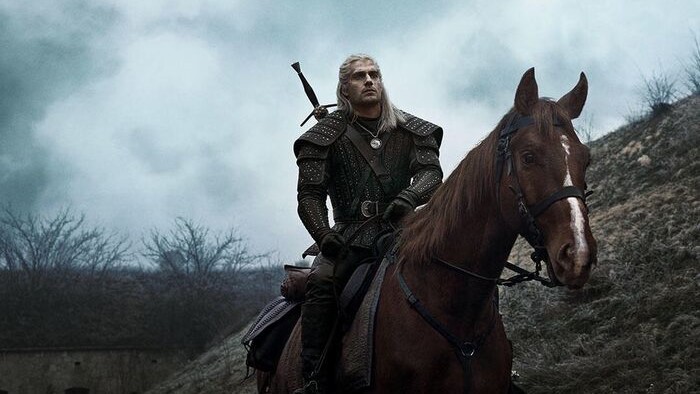 Witchers are no longer human: they are mutated specifically to be monster hunting sell-swords, and they are stigmatized as a lower class. Witchers are taken in as children and subjected to alchemical treatments and grueling training processes.
Geralt of Rivea is the best witcher in the land, and he is still treated poorly. He is friendless apart from his horse, Roach, who must listen to tales about his journeys. It's safe to say Geralt is an introvert just trying to make ends meet.
Season one of Netflix's The Witcher was hyped as the 'next Game of Thrones,' placing an unfair burden on the show. Even still, it held its own. The Witcher is its own world, own series of books that inspired video games, and it doesn't have as many characters as Game of Thrones. The Witcher also has a unique tone and bleakness to the cinematography that continues to set it apart.
The first season takes place in two completely different timelines, but there is neither a clear indication of this nor an ah-ha moment for the audience to realize it. That being said, it's still a wonderful production that should only improve with the seasons. The first season did a good job setting up the characters and the alternate world.
The second season (due out in 2021) will take place in the present timeline. They're also bringing on Kristofer Hivju (Tormund in Game of Thrones) for season two, so there's even more for Thrones fans to look forward to in the coming season(s).
The Witcher stars Henry Cavill, Freya Allan, Anya Chalotra, Joey Batey, Jodhi May, and more.
You can watch The Witcher on Netflix.
How is The Witcher like Game of Thrones?
Supernatural creatures. Swords. Action. Medieval-esque setting in a fantasy world.
What are your favourite shows like Game of Thrones?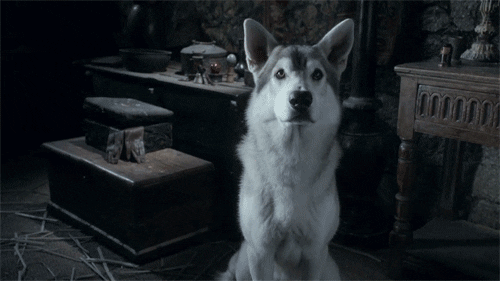 Join our official Facebook group and recommend a few! We'd love to hear from you.
Save it to Pinterest!