The Complete Guide to Sherlock Holmes Adaptations
In some cases, we earn commissions from affiliate links in our posts.
Last Updated on December 20, 2021 by Liberty White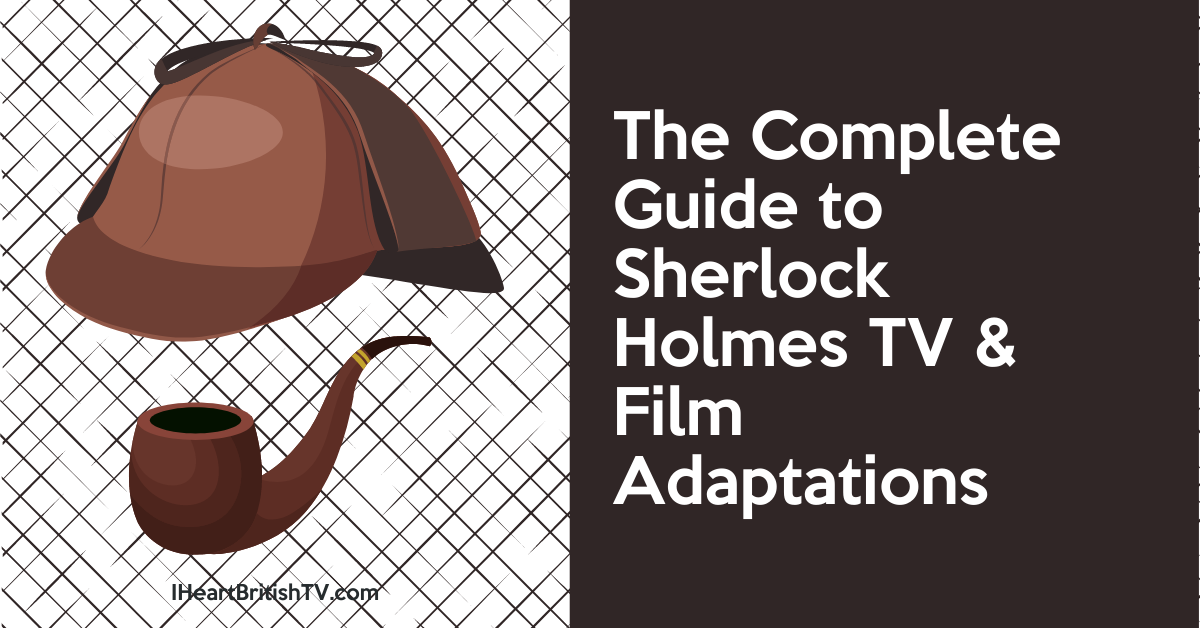 Sherlock Holmes has been a household name for over a century, making him the most famous and enduring detective of all time. Even more, some estimate Sherlock to be the most prolific screen character of all time [Redmond].
But he wasn't the first detective of his kind. Sir Arthur Conan Doyle's Sherlock Holmes was originally inspired by Edgar Allan Poe's fictional detective C. Auguste Dupin from The Murders in the Rouge Morgue (1841) and other tales. Like Holmes, Dupin has a strong knowledge of criminal psychology and deductive reasoning.
Sir Arthur Conan Doyle wrote 56 short stories and four novels featuring Sherlock Holmes, giving filmmakers ample source material to adapt over and over through the past century. If you like audiobooks and want to read the originals, Stephen Fry narrates all of Conan Doyle's Sherlock Holmes works in nearly 72 hours, including introductions.
The Complete Guide to Sherlock Holmes Adaptations
The earliest Sherlock Holmes film was less than a minute and just one reel long – it dates all the way back to 1900. "A Study in Scarlet" (1914) and "The Valley of Fear" (1916) were made but are now considered elusive lost films; their whereabouts remain a mystery.
From 1921 to 1923, Stoll pictures produced 47 two-reel films starring Eille Norwood as Sherlock. Clive Brook played Sherlock in three films from 1929 to 1932. Raymond Massey, in his first screen performance, played Sherlock in The Speckled Band, 1931. Arthur Wontner played Sherlock five times, from 1931 to 1937.
One of the earliest actors to play Sherlock Holmes that many are still familiar with today was Basil Rathbone. And many of us know and love Rathbone as our first Sherlock. It's hard to get through life without seeing Rathbone as Sherlock at least once… considering he reprised the role fourteen times.
As for adaptations, there are a few filmed in foreign language we left off this list; most notably, there is a Russian one streaming on Amazon Prime US from 2013 with a 6.3/10 on IMDb, so if you're interested in Russian television, you might want to check it out as well.
From the beginnings to 2020, here is our complete guide to Sherlock Holmes adaptations:
Sherlock Holmes (William Gillette, 1916)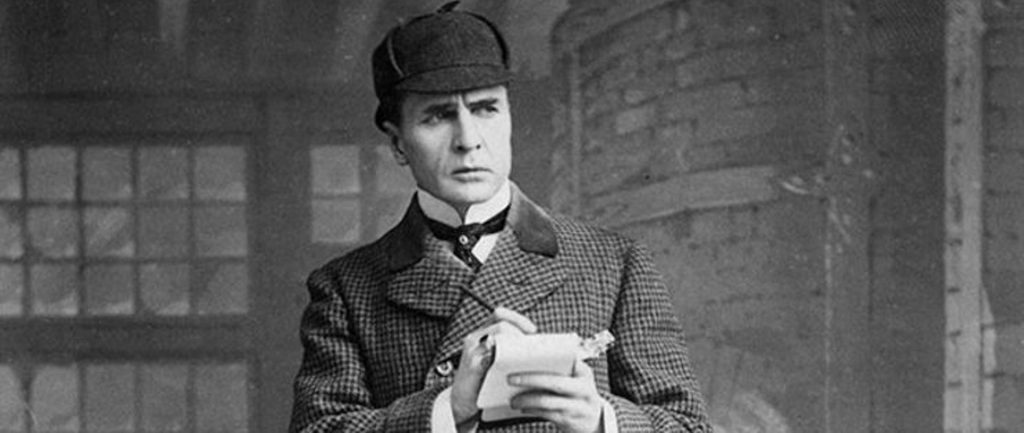 This silent film was lost for 98 years until it was found in 2014. It stars William Gillette as Sherlock. In creating this film, they collaborated with Conan Doyle via telegram. Edward Fielding plays Dr. Watson and Ernest Maupain plays Moriarty. It is 1hr and 56 minutes long.
Gillette is also remembered for being the first to give Sherlock his trademark curved pipe.
Rent or own this piece of Sherlock history on Amazon.
Sherlock Holmes (John Barrymore, 1922)

John Barrymore stars as Sherlock Holmes in this silent film alongside Roland Young as Dr. Watson. It was considered lost until it was rediscovered in the 1970s. Rather than directly adapting one of Conan Doyle's stories, it is based on William Gillette's play in which a prince is accused of a crime. For UK audiences, this film was retitled to "Moriarty," so that gives you some idea of what Sherlock is up against.
This silent Sherlock Holmes film from 1922 is available on DVD.
The Sleeping Cardinal / Final Hour (Arthur Wontner, 1931)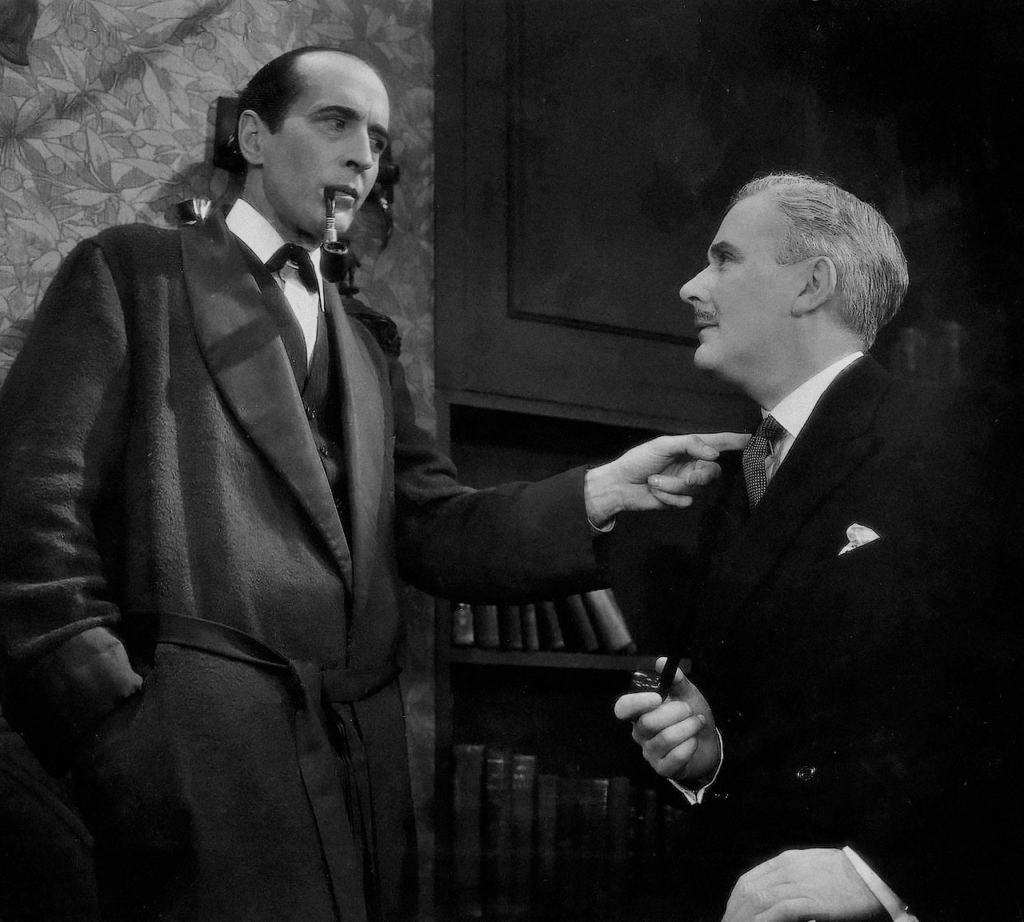 In a five-film series, Arthur Wontner stars as Sherlock Holmes. The series begins with The Sleeping Cardinal also known as Sherlock Holmes' Fatal Hour; it is based on two of Conan Doyle's stories: "The Adventure of the Empty House" and "The Final Problem."
The four other films are:
The Missing Rembrandt (considered a lost film)
The Adventure of Charles Augustus Milverton
The Sign of Four: Sherlock Holmes' Greatest Case
Silver Blaze
You can get started watching The Sleeping Cardinal (A.K.A. Sherlock Holmes' Final Hour) on Amazon Prime Video in the US.
Sherlock Holmes (Clive Brook, 1932)
This American movie stars Clive Brook as Holmes and Reginald Owen as Watson. It begins after Moriarty is apprehended. Holmes, having retired to his fiance's farm, is compelled to return to the city when the judge of Moriarty's case goes missing. Also starring Miriam Jordan and Ernest Torrence. This film is based on the play by William Gillette.
The film's full title is: "Conan Doyle's Master Detective Sherlock Holmes" and is 68 minutes long.
A Study in Scarlet (Reginald Owen, 1933)
This 71 minute film may be titled the same as Conan Doyle's first introduction to Sherlock Holmes, but it's an original screenplay by Robert Florey. Reginald Owen is one of the few actors to have played both Holmes and Watson. He played Watson the year before alongside Clive Brook. Also starring Anna May Wong, June Clyde, Alan Dinehart, and John Warburton.
Basil Rathbone as Sherlock Holmes (1939 – 46)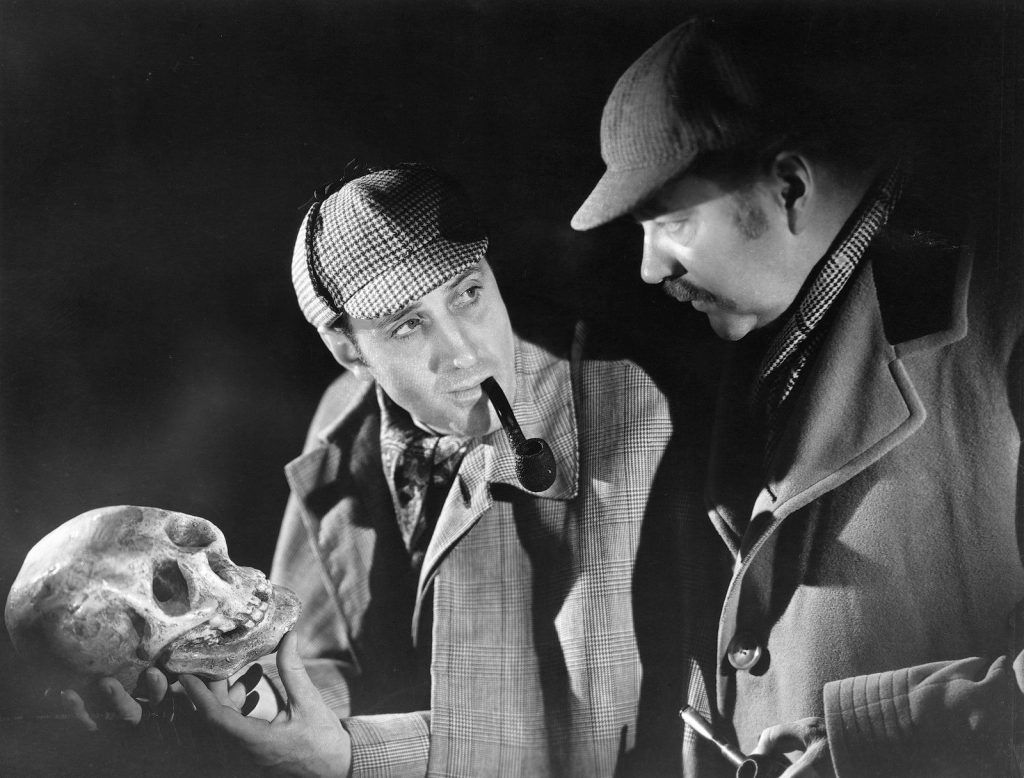 The first two films released in 1939 were produced by 20th Century Fox and given big budgets; like the original stories, they were also set in the Victorian period. However, Universal Pictures acquired the rights and updated the stories to a contemporary setting – the World War II era. Even still, the Basil Rathbone collection is an unmissable series of adaptations. Nigel Bruce plays Dr. Watson.
In the 1970s, four of the fourteen film collection lost its copyright; as such, people were free to distribute and remaster them. These are the films you'll find marked as remastered in color: The Secret Weapon, The Woman in Green, Terror by Night, and Dressed to Kill.
Here is a guide (in order by release date) of the Rathbone & Bruce collection:
The Hound of the Baskervilles
The Adventures of Sherlock Holmes
Sherlock Holmes and the Voice of Terror
Sherlock Holmes and the Secret Weapon
Sherlock Holmes in Washington
Sherlock Holmes Faces Death
The Spider Woman
The Secret Claw
The Pearl of Death
The House of Fear
The Woman in Green
Pursuit to Algiers
Terror by Night
Dressed to Kill
Own the complete fourteen-film series on DVD or Blu-Ray from Amazon (NTSC).
Sherlock Holmes (Alan Wheatley, 1951)
The first-ever television series adaptation of Sherlock Holmes starred Alan Wheatley. It aired on the BBC in 1951 and had six episodes. Raymond Francis played Dr. Watson. Because it aired live, it appears there is no way to watch it today. Therefore, like many of the earlier adaptations, it is considered lost.
Sherlock Holmes (Ronald Howard, 1954)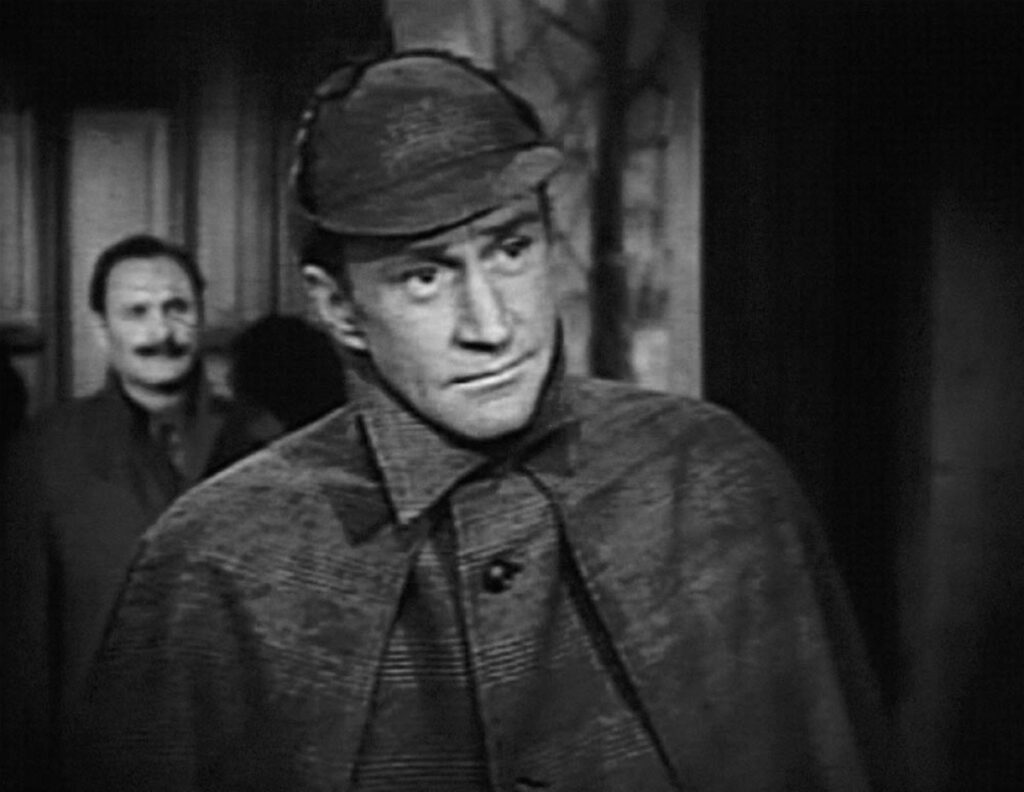 Ronald Howard's portrayal of Holmes is more casual and laid back than Rathbone's. This also stars Howard Marion-Crawford as Dr. Watson who keenly wanted to portray Watson as a worthy partner of Holmes, rather than the "buffoon" of Nigel Bruce's Watson (Bunson). It consists of 39 half-hour episodes. It's a good balance of mystery, Sherlock's quirkiness, and a little humor.
Fun game: Archie Duncan stars in many episodes as Inspector Lestrade… but keep an eye out. He plays several other characters as well. See how many times you can spot him!
Fun fact: Nicole Milinaire, an associate producer, was one of the earliest women to be a senior producer for a television show.
Currently available to watch for free with ads on Tubi.
Or you can own the DVD collection on Amazon (NTSC).
The Hound of the Baskervilles (Peter Cushing, 1959)
This is a Hammer production starring Peter Cushing, Andre Marell, and Christopher Lee. It was the first Sherlock Holmes adaptation to be filmed in color. Cushing prepared for his role thoroughly; he regularly changed the script and even brought his own costumes modeled after the illustrations that often accompanied many of the Holmes stories in The Stand magazine where they were published. This film was originally slated to be the first in a series of Hammer productions, but the typical Hammer audience didn't care for the lack of monsters, so no more Holmes stories were adapted. Peter Cushing and Christopher Lee both went on to play Holmes in other productions.
You can own this version on DVD from Amazon.
The Speckled Band and Sherlock Holmes (Douglas Wilmer, 1964)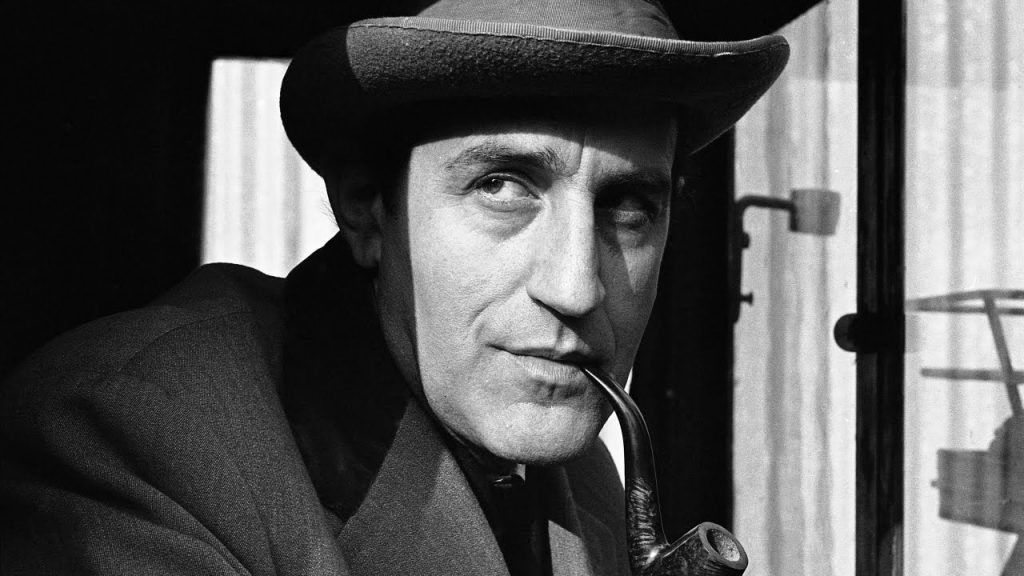 Douglas Wilmer plays Sherlock alongside Nigel Stock as Dr. Watson.
The first episode The Speckled Band is available as a stand-alone on Amazon Prime Video US.
You can own the whole series on DVD, but it's a touch pricy.
Note: Of the original 13 episodes in this series, no source material exists for "The Abbey Grange" or "The Bruce-Partington Plans," so they are regrettably not included here.
Sir Arthur Conan Doyle's Sherlock Holmes (Peter Cushing, 1968)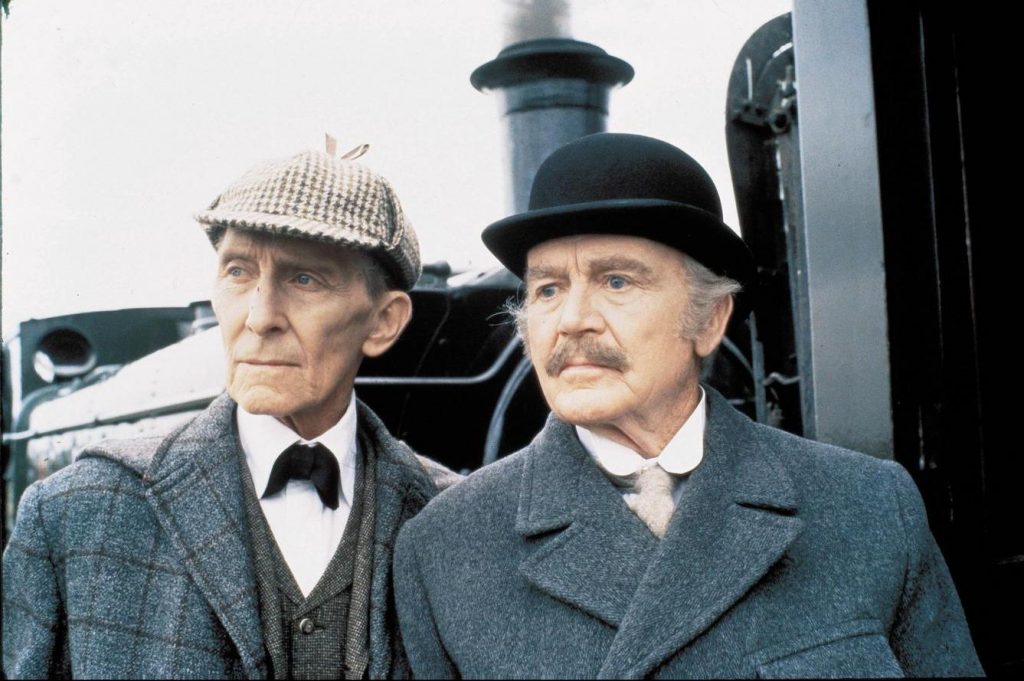 This is technically a continuation of the series with Douglas Wilmer. Nigel Stock reprises his role as Dr. Watson in this season as well, but Peter Cushing stars as Sherlock. Like the previous series, many episodes are missing; though, you can find the remaining ones available to enjoy.
Own the DVD set starring Peter Cushing (NTSC).
The Private Life of Sherlock Holmes (Robert Stephens, 1970)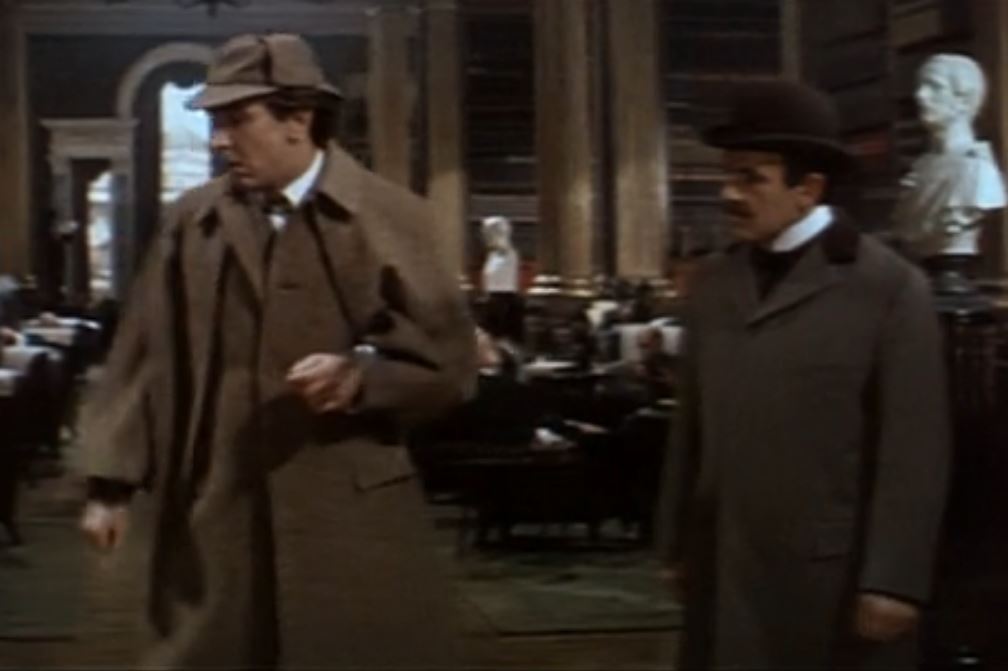 Robert Stephens and Colin Blakeley star as Sherlock and Watson in this feature film with Christopher Lee as Mycroft. After a famed ballerina tries to seduce Sherlock, he escapes to solve a mystery at Loch Ness.
It's available to stream on Amazon Prime Video in the US.
The Seven-Per-Cent Solution (Nicol Williamson, 1976)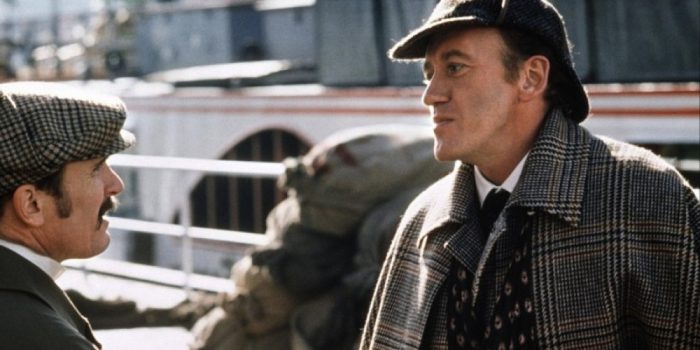 This Oscar-nominated film doesn't adapt one of Conan Doyle's stories, rather, it deals with Holmes as a cocaine addict. Watson becomes convinced Holmes is delusional and introduces him to Dr. Sigmund Freud. This film stars Nicol Williamson as Holmes, Robert Duvall as Watson, along with Laurence Olivier as Moriarty and Vanessa Redgrave.
Murder by Decree (Christopher Plummer, 1979)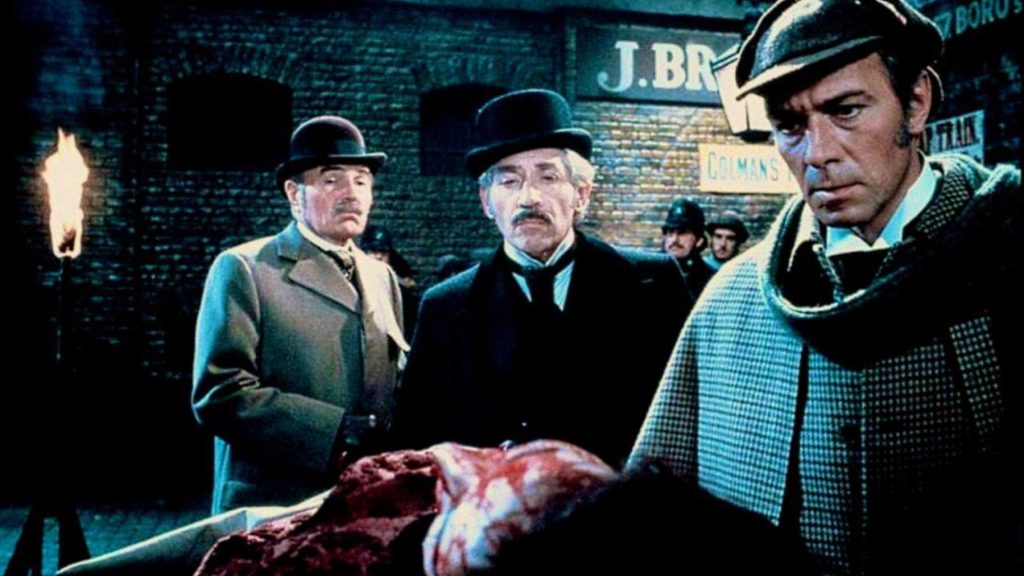 This Sherlock Holmes story places the famous detective into the real investigation of Jack the Ripper in 1888. It stars Christopher Plummer as Sherlock Holmes, James Mason as Dr. Watson, along with Donald Sutherland and Frank Finlay.
Available to own or rent on Amazon.
Young Sherlock: The Mystery of the Manor House (Guy Henry, 1982)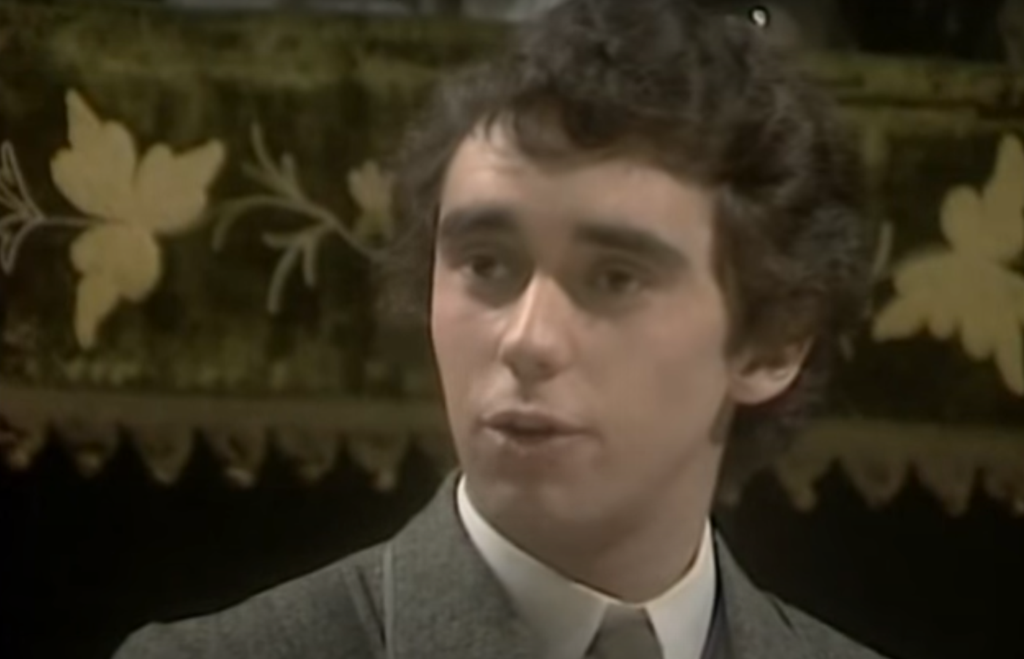 This nine-episode miniseries sees Sherlock develop from a 17-year-old schoolboy to an accomplished detective. In 1871, a typhoid epidemic forces Sherlock to return home where mystery is abundant and he must put develop his powers of deduction and get to work. Then, a priceless diamond is at risk of vanishing unless Sherlock can uncover a conspiracy against Queen Victoria.
Own Young Sherlock on DVD (NTSC).
The Hound of the Baskervilles (Tom Baker, 1982)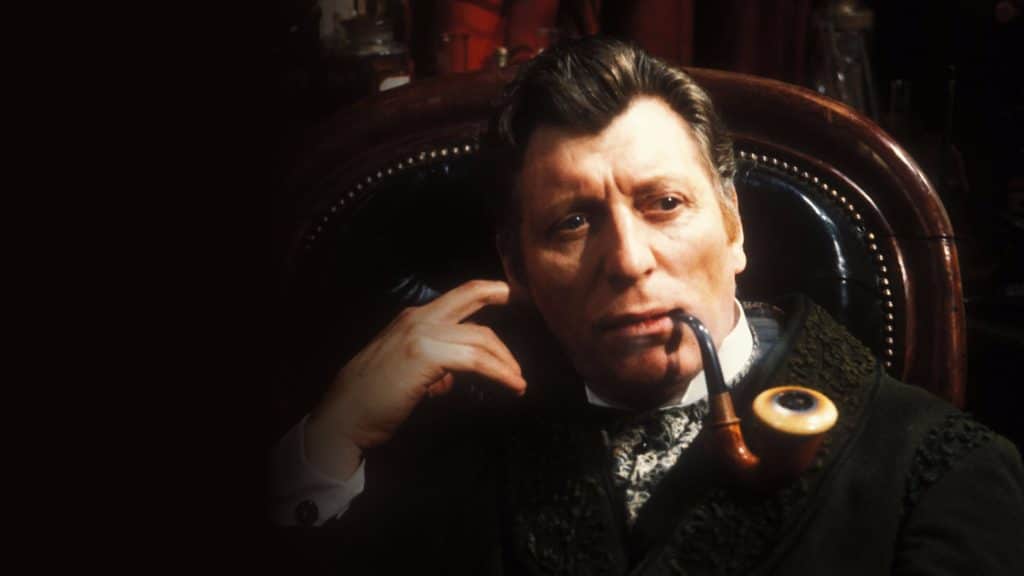 Tom Baker stars as Sherlock in this classic tale filmed on location on Dartmoor with Terence Rigby as Dr. Watson. It's rated 7.1/10 on IMDb, so even if you're intensely familiar with the plot, it's worth a watch for the cast alone.
The Sign of Four & The Hound of the Baskervilles (Ian Richardson, 1983)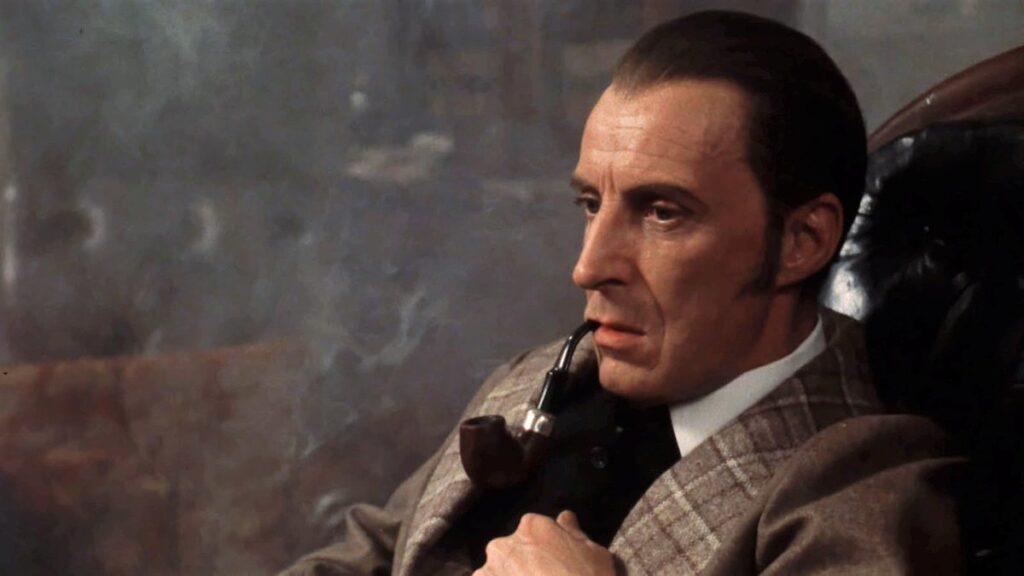 Ian Richardson stars in two lower-budget films of Conan Doyle's classic stories. Reviewers call these adaptations good but not outstanding. Of course, for any hardcore fan of Sherlock Holmes, they're worth watching and are easily accessible since they are available digitally.
Both are currently available to stream on Amazon Prime Video US:
The Sign of Four*
The Hound of the Baskervilles
*Some reviewers note there is a racist portrayal of a "small accomplice" in this version; so we're adding this as a warning that older productions like this one may contain casual historical racism.
The Adventures of Sherlock Holmes (Jeremy Brett, 1984 – 94)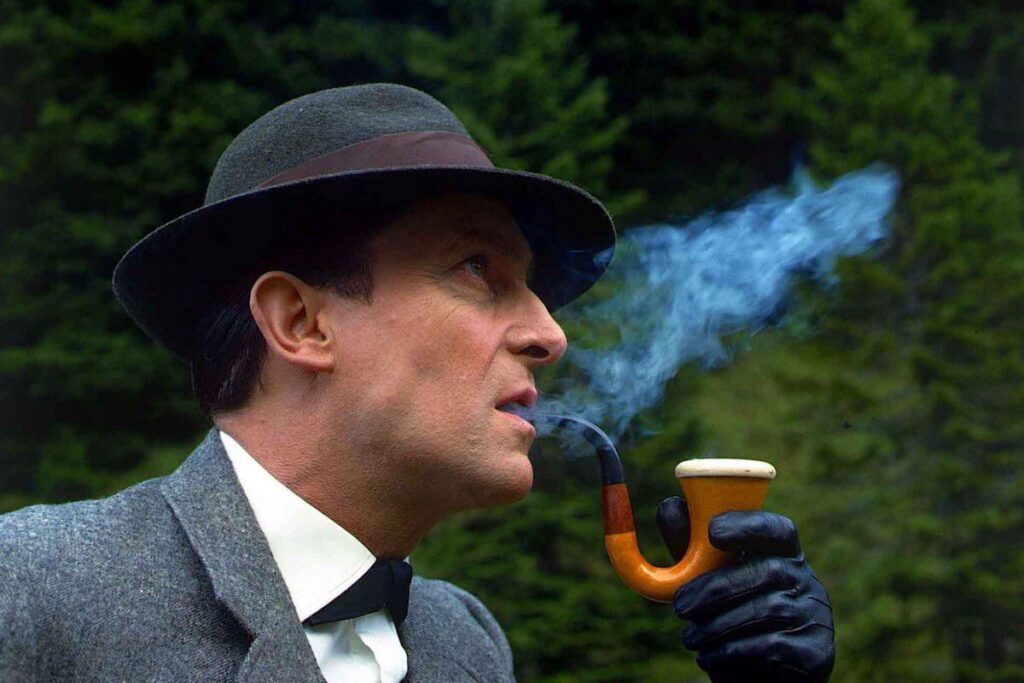 While some actors to play Sherlock are lost to time (mostly because their films are literally lost), there are a few names which remain in the minds of many: Basil Rathbone, Benedict Cumberbatch, and Jeremy Brett.
Brett starred in seven seasons of The Adventures of Sherlock Holmes alongside David Burke and Edward Hardwicke as Watson and Rosalie Williams as Mrs. Hudson.
Some even claim Jeremy Brett is the definitive Sherlock. No doubt, this is likely due to 42 of Conan Doyle's original stories being adapted (of 60 in total).
Seven seasons are streaming on BritBox now.
Young Sherlock Holmes (Nicholas Rowe, 1985)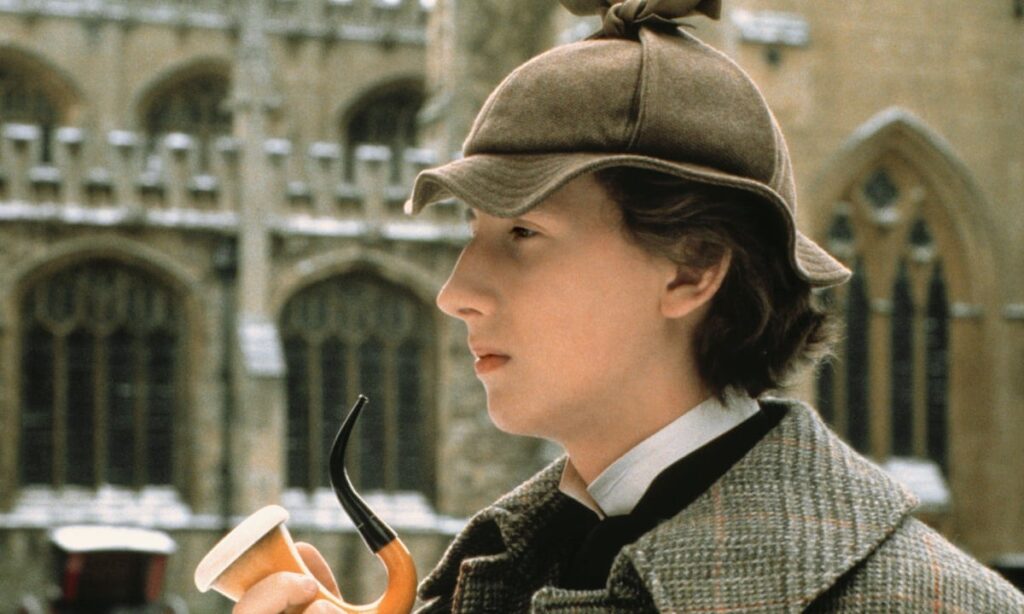 In this film, Sherlock meets Watson at boarding school. They work to uncover a conspiracy to murder British businessmen. Starring Nicholas Rowe, Alan Cox, and Sophie Ward. Written by Chris Columbus (of the Harry Potter films). Stephen Spielberg was one of the executive producers.
Fun fact: This was the first theatrical film to have a fully CGI character; it took four months to create.
There are plenty of fun Easter Eggs to look for, including familiar faces if you watch older versions of Sherlock Holmes adaptations beforehand.
Watch Young Sherlock Holmes on Amazon Prime Video US.
The Return of Sherlock Holmes (Michael Pennington, 1987)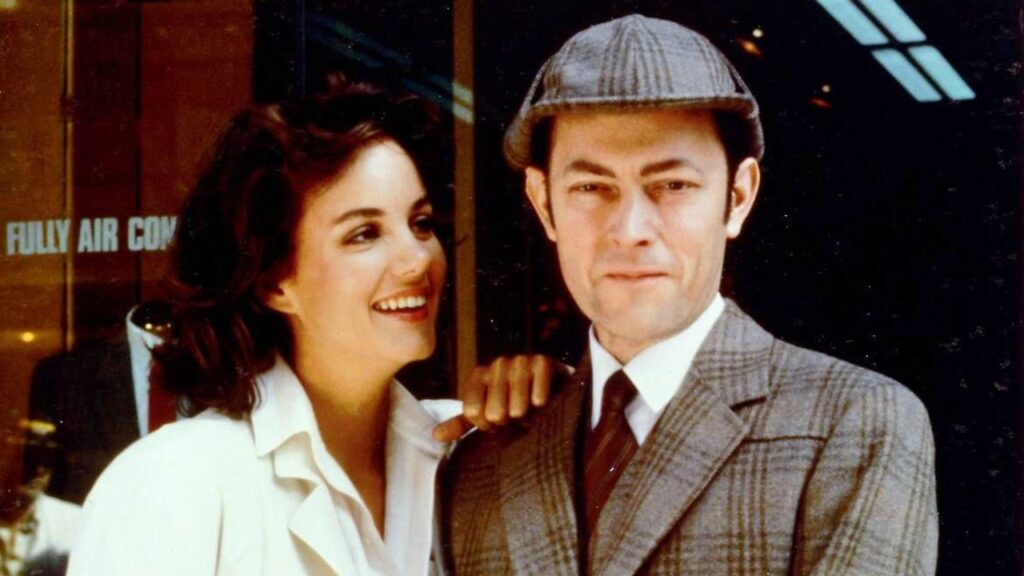 It's 1987. Jane Watson, a descendant of Dr. John Watson, brings a cryogenically frozen Sherlock back to life. Not only must he deal with an entire world of modern technology, but he must also solve a mystery. It intertwines comedy and history. Starring Michael Pennington as Sherlock and Margaret Colin as Jane Watson.
The DVD is available on Amazon (NTSC).
The Crucifer of Blood (Charlton Heston, 1991)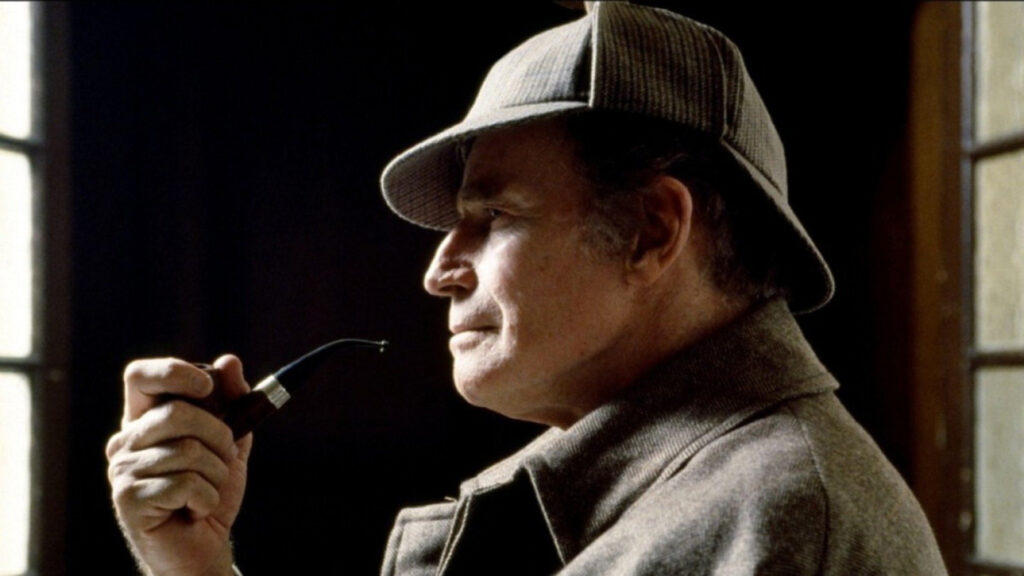 Charlton Heston stars as Sherlock Holmes in this film adapted from The Sign of the Four but with a new twist. Richard Johnson plays Watson. Reviews are somewhat mixed, but if you're a hardcore fan of Sherlock Holmes and/or of Charlton Heston, you will want to see it.
The Crucifer of Blood is available to own digitally or on DVD (NTSC).
Sherlock Holmes The Golden Years (Christopher Lee, 1991)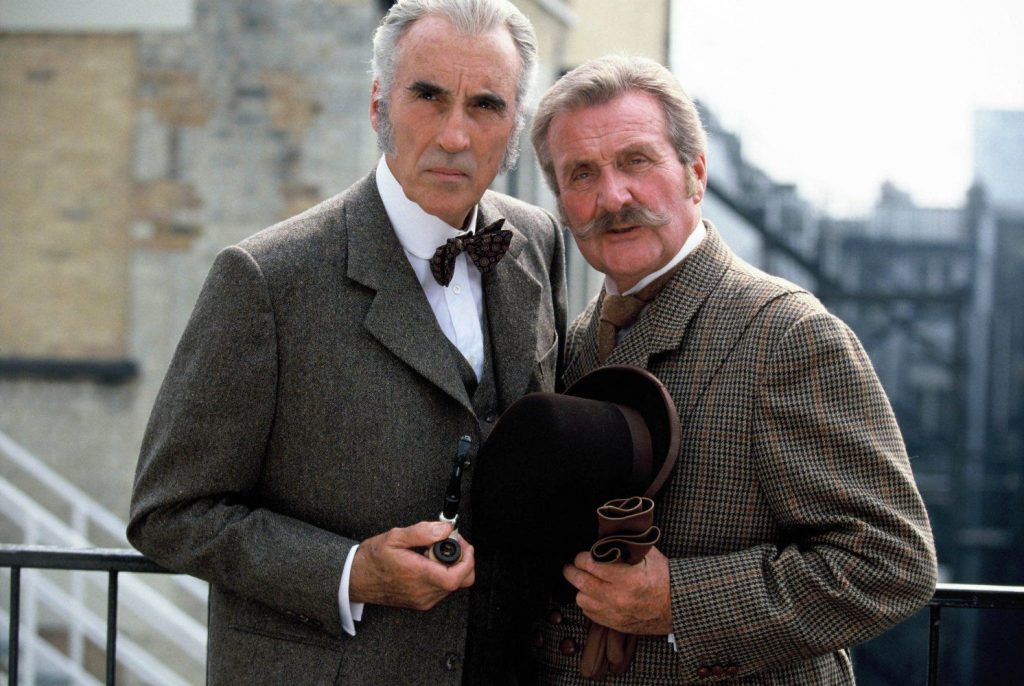 Two TV films were made under the banner Sherlock Holmes The Golden Years starring Christopher Lee as Sherlock and Patrick Macnee as Watson.
Both are currently available to stream on Amazon Prime Video US:
Hallmark Movie Series (Matt Frewer, 2000)
From 2000 to 2002, Matt Frewer starred in four adaptations made for the Hallmark Home Entertainment company. Technically Canadian productions, they are available on DVD from Amazon (NTSC) – full runtime is 6hrs.
The Hound of the Baskervilles
The Sign of Four
The Case of the Whitechapel Vampire
The Royal Scandal
OTHER CANADIAN PRODUCTIONS

Another popular Canadian adaptation of Sherlock Holmes is, well, not exactly Sherlock Holmes… but Shirley Holmes. The Adventures of Shirley Holmes ran for four seasons, from 1996 to 1999. Unfortunately, it does not appear to be streaming anywhere or available to purchase. If you see DVDs for sale or see a legal streaming option, please leave us a comment.

The Canadian film Sherlock Holmes and the Shadow Watchers released in 2011 but was poorly reviewed.
The Hound of the Baskervilles (Richard Roxburgh, 2002)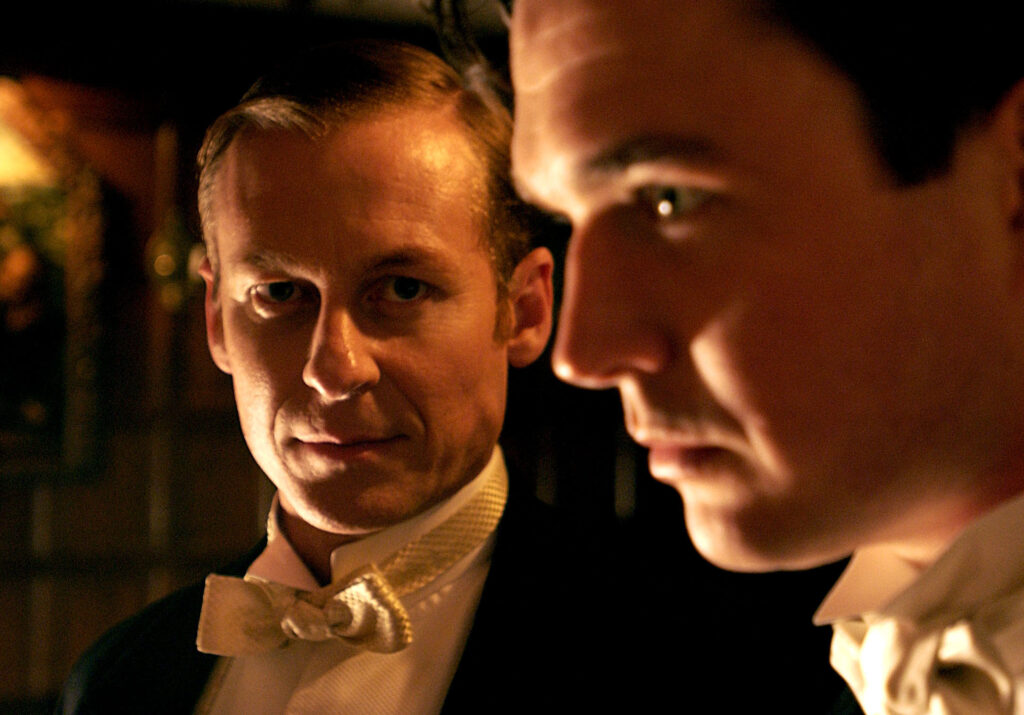 Australian actor Richard Roxburgh, known more recently for "Rake," stars as Sherlock in this adaptation of The Hound of the Baskervilles. Ian Hart plays Watson. Cast also includes John Nettles.
Available on DVD from Amazon (NTSC).
Sherlock: A Case of Evil (James D'Arcy, 2002)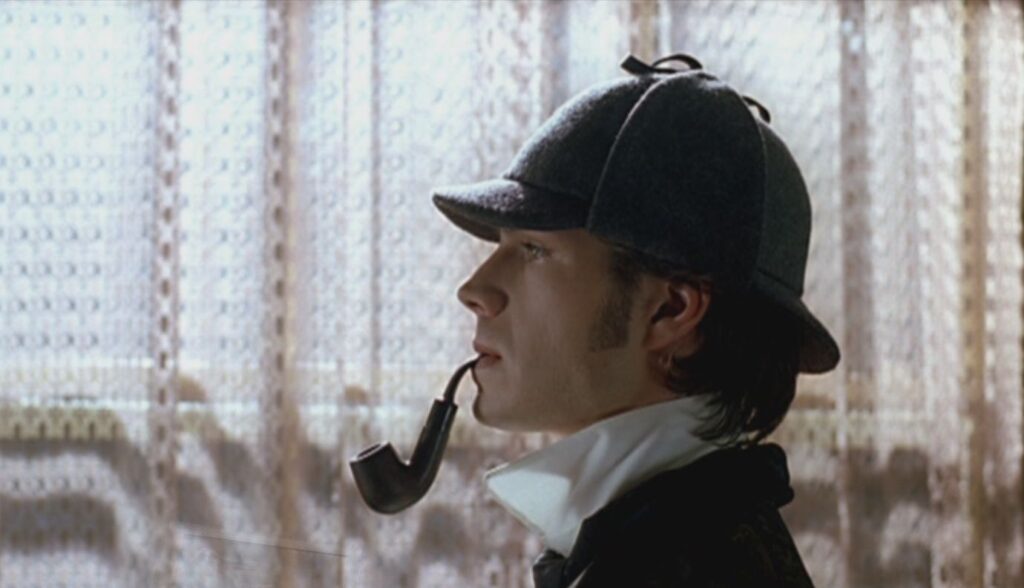 Professor Moriarty is blackmailing a beautiful actress when Sherlock catches up to him, chasing him to his apparent death. But when a series of killings sparks his interest, he suspects Moriarty may not be dead after all.
Also starring Gabrielle Anwar, Vincent D'Onofrio, Richard E. Grant, and Roger Morlidge.
Available to rent or own on Amazon.
Sherlock Holmes and the Case of the Silk Stocking (Rupert Everett, 2004)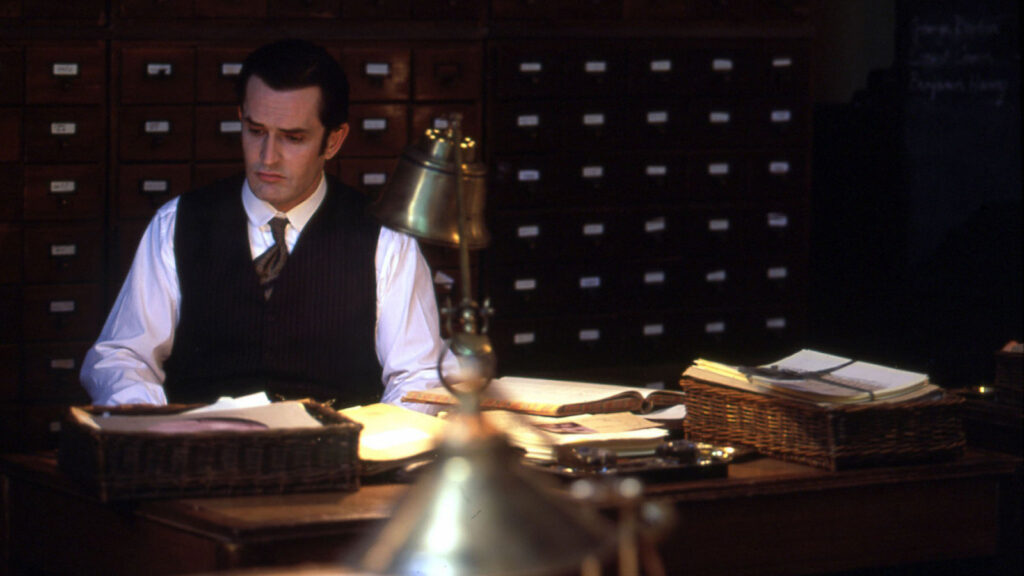 The murder of an impoverished shop girl is linked to the body of a debutante. Sherlock Holmes must weave his way through London's underbelly and Edwardian high life to solve the case.
Also starring Ian Hart as Watson, Jonathan Hyde, Michael Fassbender, Helen McCrory, and Neil Dudgeon.
Stream it on BritBox and Hoopla.
Available on DVD from Amazon (NTSC).
Sherlock Holmes and the Baker Street Irregulars (Jonathan Pryce, 2007)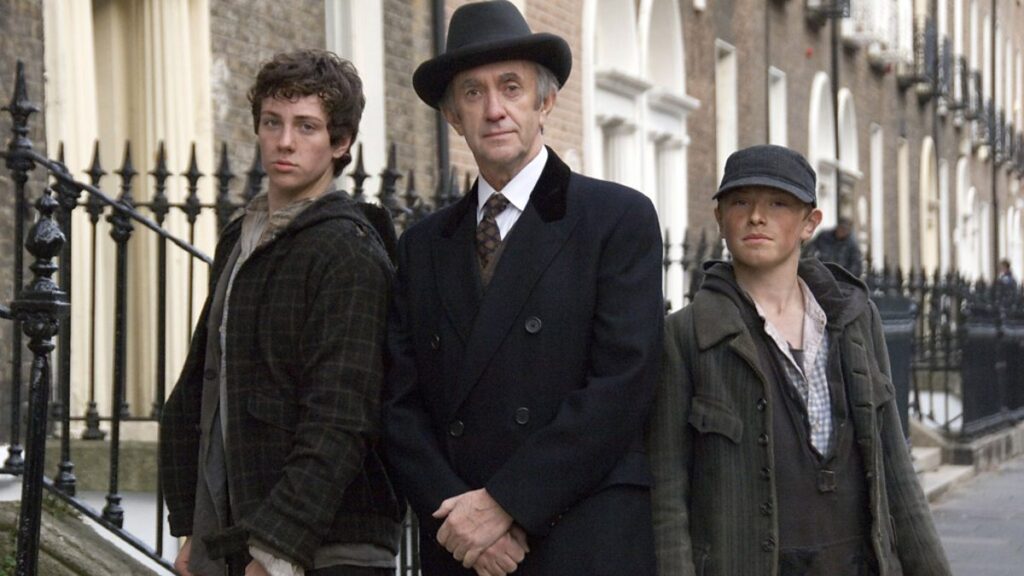 A group of street kids rescue Sherlock Holmes who is suspected of murder, then rescue their friends while spoiling a robbery plot. It's a tough job, but these rough Victorian street kids can get just about any job done. Starring Jonathan Pryce as Sherlock Holmes. Also starring Bill Patterson, Anna Chancellor, and Michael Maloney.
It's available on DVD (NTSC).
Sherlock Holmes (Robert Downey Jr., 2009)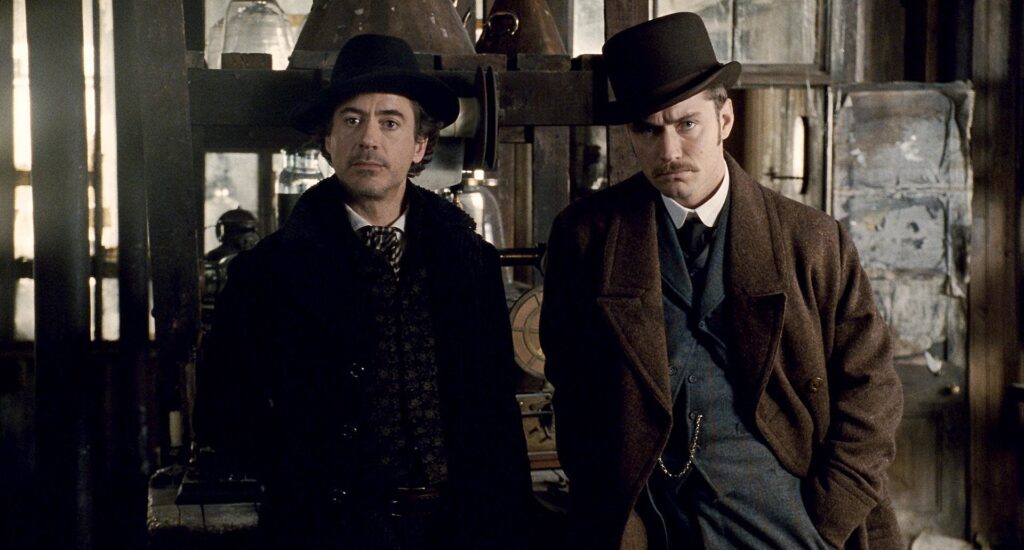 This fun, big-budget adaptation was directed by Guy Ritchie. It stars Robert Downey Jr. as Sherlock and Jude Law as Watson. In this adaption, Sherlock is as keen of a fighter as a detective. It sounds silly and far-fetched, but if you don't mind a little action (and the fact that Downey Jr is American), it's actually a fun time.
A sequel released in 2011 and features Stephen Fry as Mycroft. A third film is in the works.
Rent or own Sherlock Holmes (2009) on Amazon.
Rent or own Sherlock Holmes: A Game of Shadows (2011) on Amazon; this sequel is also available on HBO.
Sherlock (Benedict Cumberbatch, 2010)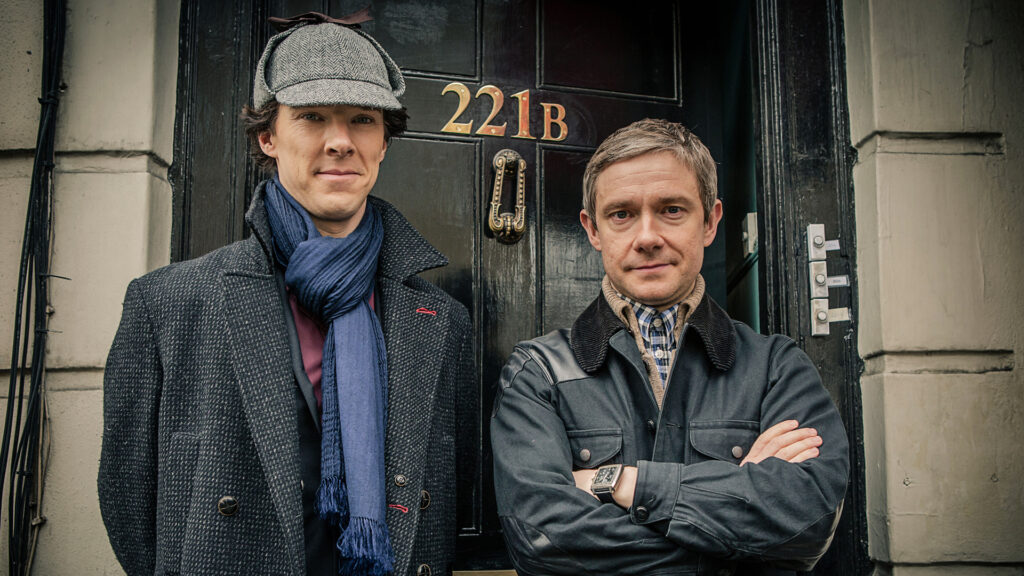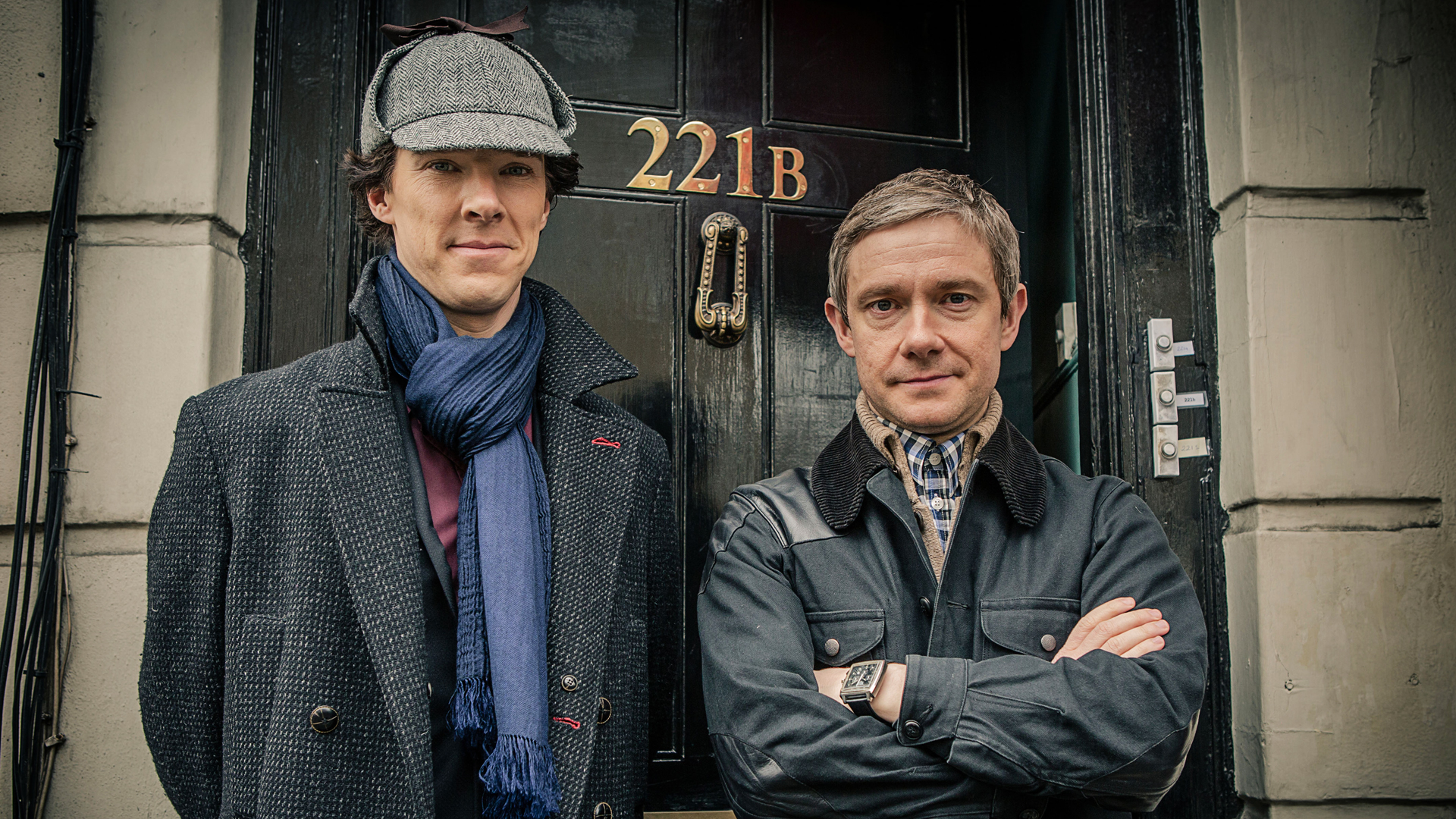 This adaptation started out unassuming and with a fairly low budget… but it quickly became breakout roles for both Benedict Cumberbatch and Martin Freeman. It swelled into massive popularity and everyone (tried) to hold their breath after the end of season two. Eventually, four seasons were made and fans still hope for more.
Sherlock is rated an outstanding 9.1/10 on IMDb.
This modern adaptation brought Conan Doyle's stories into a contemporary setting and honored them while creating new twists. It also stars Rupert Graves, Andrew Scott, Amanda Abbington, Louise Brealey, Mark Gatiss (also one of the writers), Jonathan Aris, and Una Stubbs.
The Complete Series set is available on Blu-Ray and DVD (NTSC).
Stream Sherlock on Netflix US.
Elementary (Jonny Lee Miller, 2012)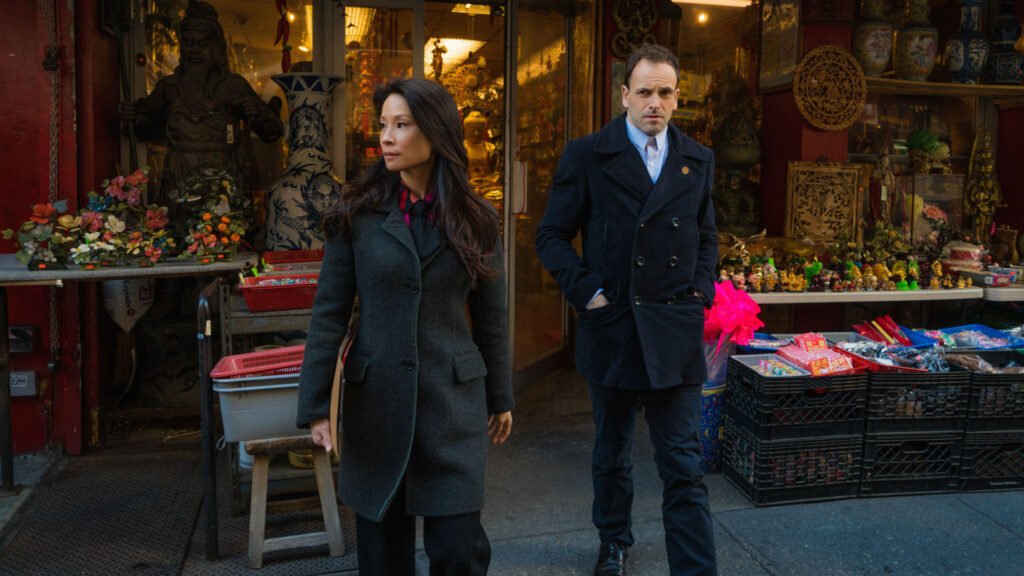 This CBS adaption is set in modern-day New York City. It stars British actor Jonny Lee Miller as a recovering addict and consulting detective. Lucy Liu plays Dr. Watson, his sponsor and partner. Cases are mostly procedural, but you will run into Lestrade, Irene Adler, Moriarty, and Mycroft.
Also staring Rhys Ifans, Sean Pertwee, James Frain, Natalie Dormer, Aidan Quinn, and Roger Rees.
It finished after seven seasons (154 episodes), which is pretty great for a CBS show. It's rated 7.9/10 on IMDb.
Streaming on Hulu.
The complete series DVD set is available on Amazon.
Mr. Holmes (Ian McKellen, 2015)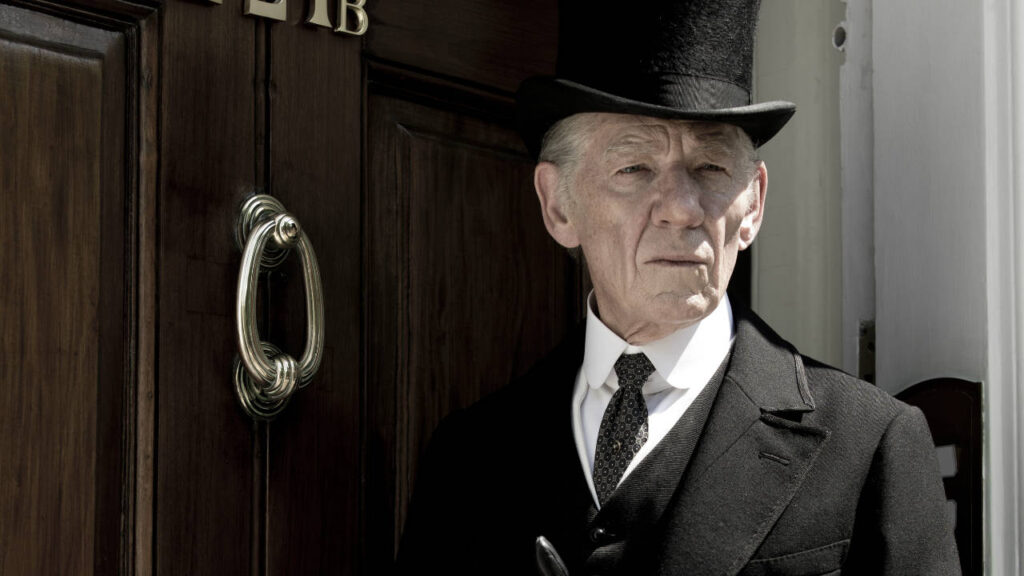 This quaint story is a must-see for fans of Sherlock Holmes. It stars Ian McKellen as 93-year-old Sherlock. His last case is a mystery that has haunted him for fifty years. It's a thought-provoking re-imagining of a classic character. It's almost a raw experience: watching such a powerful, intelligent character struggle with aging.
It also stars Laura Linney and Milo Parker.
Enola Holmes (Henry Cavill, 2020)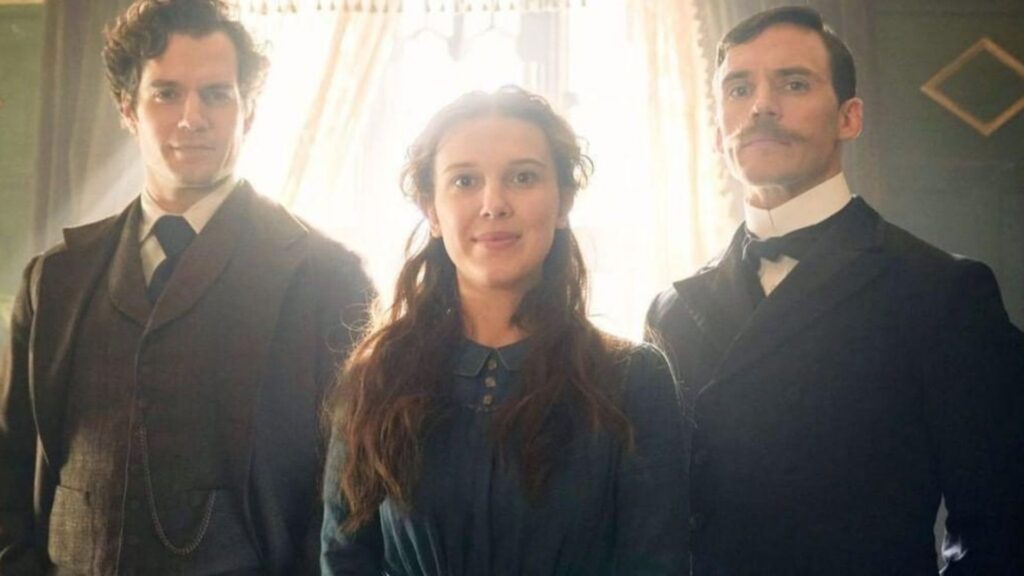 While Sherlock isn't the star of the show, we're including it due to its popularity. Enola Holmes is based on a series of books by Nancy Springer, which give Sherlock and Mycroft a little sister: Enola. And she holds her own.
In this made-for-Netflix film, Enola's mother goes missing on her sixteenth birthday, leaving a trail of clues. In her search for her mother, Enola stumbles onto more mystery while trying to escape the grasp of big-brother Mycroft who wants to send her to a school that will turn her into a proper lady – ugh, the horror!
This is a fun movie with a little mystery, suspense, and the possibly for more. After all, there are currently six books in the Enola Holmes series, so it would be a shame if they didn't continue to make more movies, too. We certainly hope they continue.
Watch Enola Holmes on Netflix.
Animated Sherlock Holmes Adaptations
Sherlock Holmes's reach, being one of the most popular characters of all time, stretches far beyond live-action productions. Here, we take a look at a few animated adaptations:
Peter O'Toole, 1980s Sherlock Holmes Animated Films
In these animated made-for-kids movies, Peter O'Toole lends his voice to Sherlock Holmes. They're a great way to introduce little kids to Sherlock Holmes without worrying about real-looking dead bodies and bloody murder weapons.
The Great Mouse Detective (1986)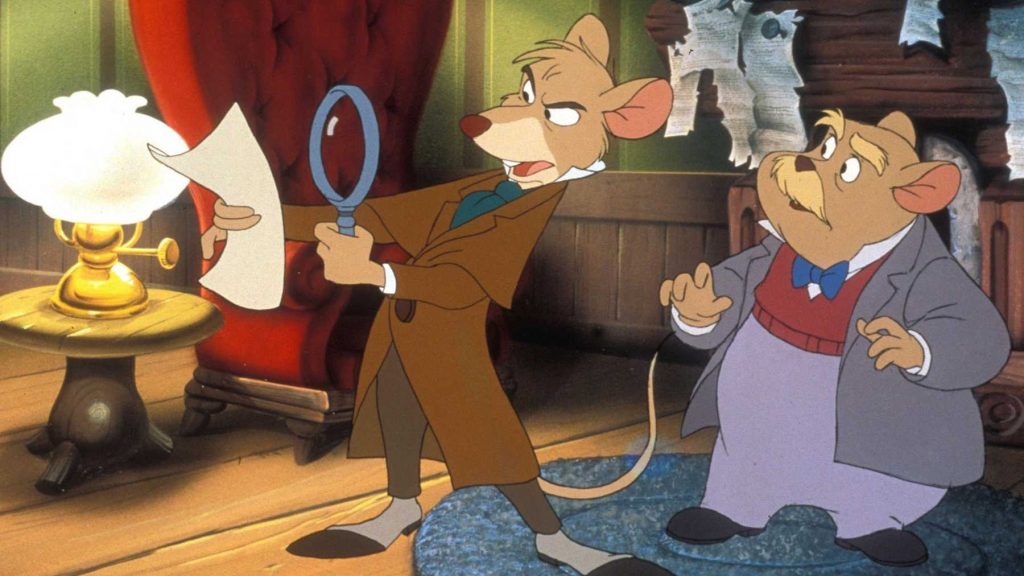 Basil is on the case! He is the "rodent Sherlock Holmes" and lives in his little mouse house on Baker Street. When a toymaker is kidnapped, Basil sniffs out a connection to his nemesis: Professor Ratigan.
This adorable Disney film (and Basil Rathbone's Sherlock) were my introduction to Sherlock Holmes, so it has a special place in my heart. They even used archived audio of Basil Rathbone as the voice of Sherlock Holmes.
Vincent Price voices Professor Ratigan with Barrie Ingam as Basil of Baker Street.
The Great Mouse Detective is streaming on Disney+.
Available to rent or own on Amazon.
Sherlock Holmes in the 22nd Century (1999)
In this animated series, the 22nd century is crime-free… until some scientist accidentally clones Moriarty! Of course, no one can defeat him except Sherlock Holmes, so they bring him back, too. And Sherlock needs his Watson; therefore, they program a robot to have Watson's personality. Each episode is inspired by a work of Conan Doyle. This fun, animated show features mysteries with a sci-fi twist.
Sherlock Holmes in the 22nd Century is streaming on Tubi for free with ads.
Comedic Sherlock Holmes Adaptations
Not even Sherlock Holmes is safe from spoofing…
Comedy Playhouse (John Cleese, 1973)
In 1973, John Cleese played Holmes in a thirty-minute episode of Comedy Playhouse: "Elementary My Dear Watson." Afterward, he went on to star in Fawlty Towers. And then he played Holmes again in 1977… sort of.
The Adventure of Sherlock Holmes' Smarter Brother (1975)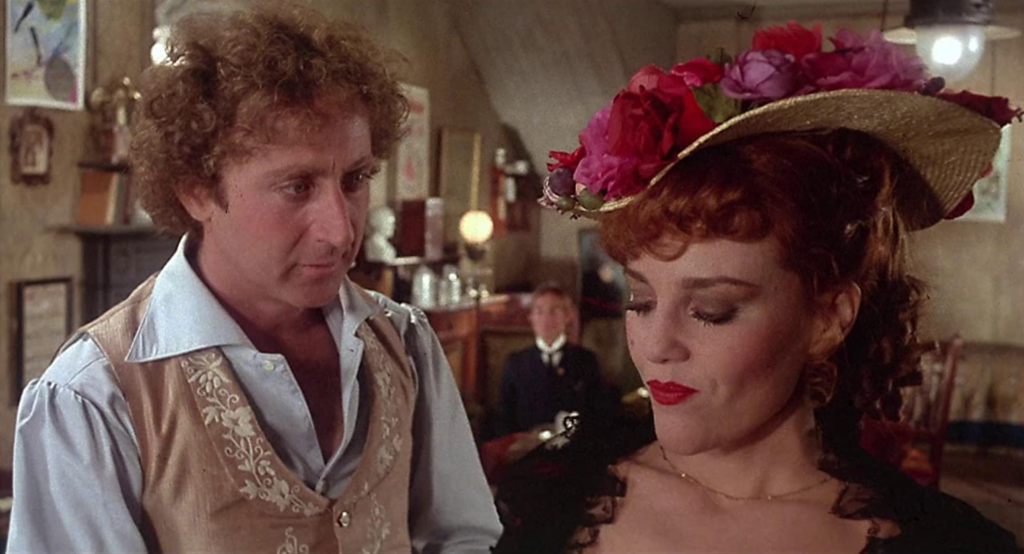 Watch out, Sherlock… there's competition! Douglas Wilmer plays Sherlock Holmes, but Gene Wilder plays Sherlock's younger brother Sigerson as he tries to steal all the glory. Available on DVD and Blu-Ray from Amazon HERE.
The Strange Case of the End of Civilization as We Know It (John Cleese, 1977)
This low-budget spoof stars John Cleese as Sherlock Holmes's grandson in the present day as he attempts to apprehend Moriarty's last descendant. It is just 56 minutes but is technically Cleese's second appearance as a Holmes.
The Hound of the Baskervilles (Peter Cook, 1978)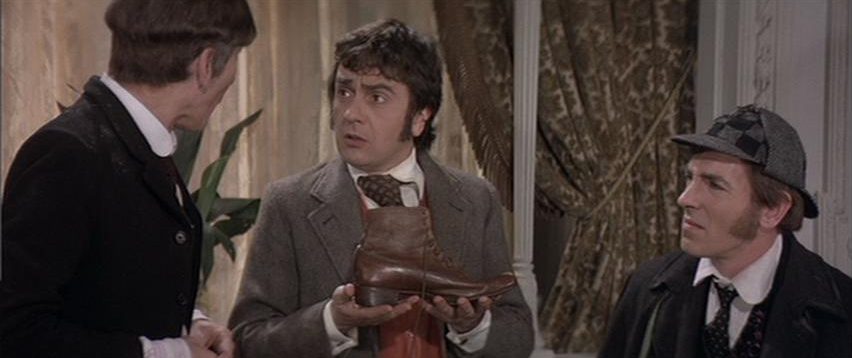 This comedy features Peter Cook and Dudley Moore. Sherlock begins to suspect everyone, even himself. It's available on DVD from Amazon. It may only be rated 4.6/10 on IMDb, but that's pretty good compared to Holmes & Watson (2018).
Without a Clue (Michael Caine, 1988)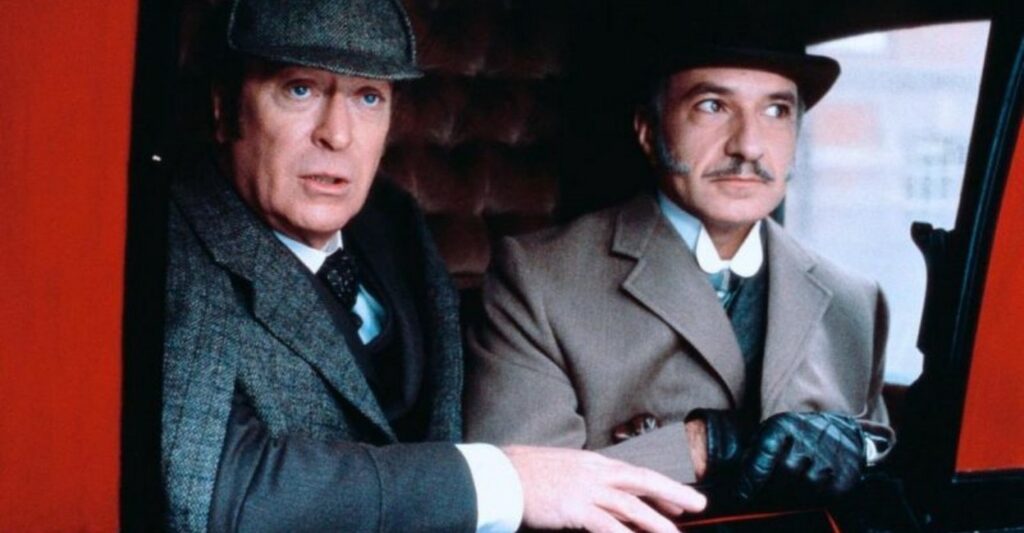 This clever comedy posits that Sherlock Holmes is a fictional invention of Doctor Watson (Ben Kingsley) and that Watson is the true detective genius. Therefore, Watson must hire someone to be Sherlock. Together, they must go up against Moriarty (Paul Freeman). Peter Cook also makes an appearance. It's available on DVD via Amazon.
Sherlock Holmes (Ben Syder, 2010)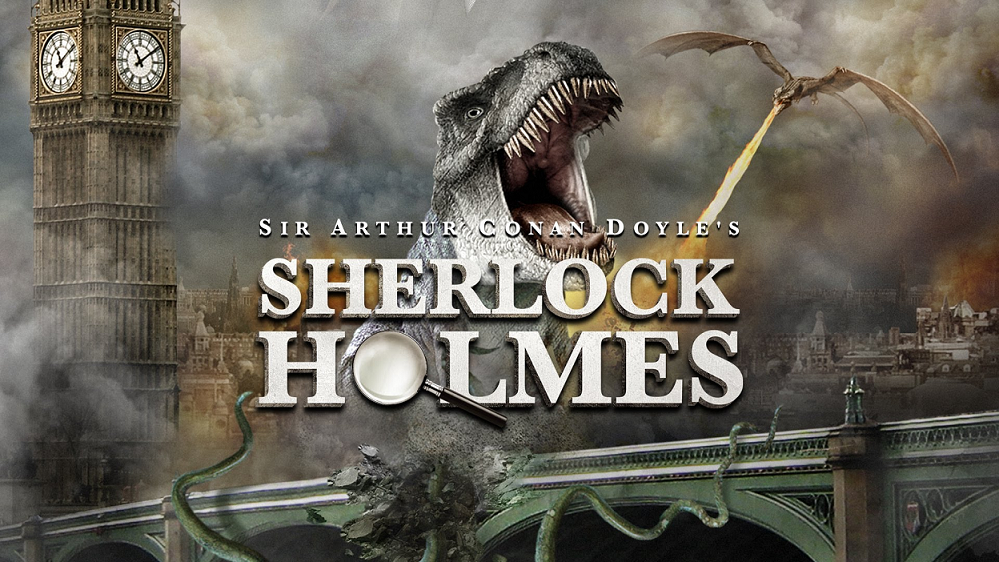 This isn't technically a comedy, but there are prehistoric monsters everywhere and it's only rated 3.6/10 on IMDb; so, if "it's so bad, it's good" is your flavor of comedic enjoyment, you might check it out. At least if you have Prime, you don't have to pay extra. Watch it on Amazon Prime Video US.
Holmes & Watson (Will Farrell, 2018)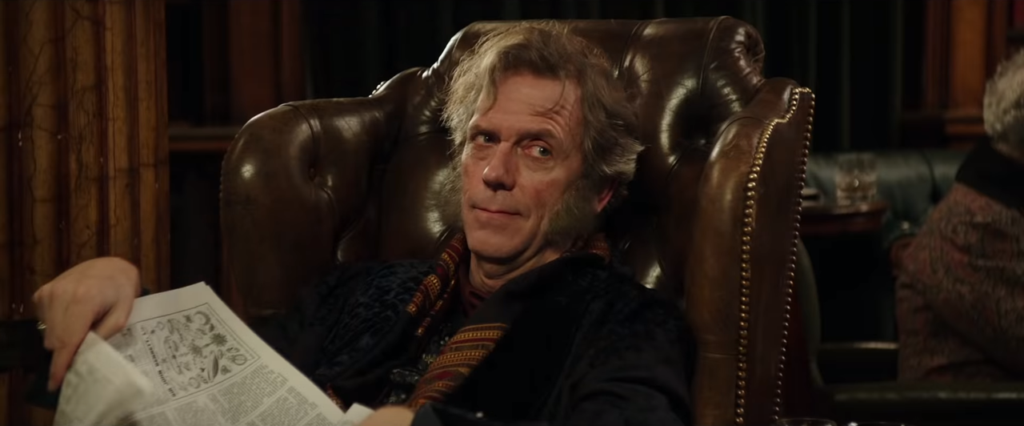 This spoof stars Will Ferrell , John C. Reilly , Rebecca Hall, Rob Brydon, Steve Coogan, Kelley Macdonald, and Ralph Fiennes. It features a cameo by Hugh Laurie. If you like spoofs by Will Farrell and John C. Reilly, you might want to see it, but be advised: it's only rated 3.8/10 on IMDb.
Streaming on Starz and available to rent/own on Amazon.
Related Productions about Sherlock Holmes & Sir Arthur Conan Doyle
Next, we're including two productions about Sir Arthur Conan Doyle because they will interest fans of Sherlock Holmes and they have cast members many of our readers will enjoy seeing again:
The Strange Case of Sherlock Holmes & Arthur Conan Doyle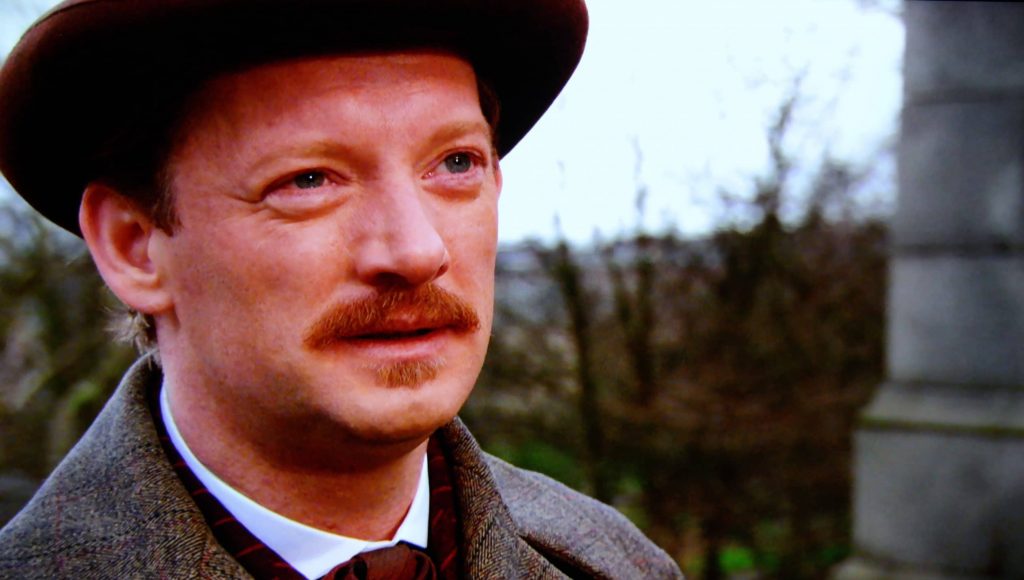 This is a psychological drama starring Douglas Henshall as Arthur Conan Doyle. It stars slow, but has an interesting twist at the end that brings the story together. It's sentimental and features a narrator at the beginning and end.
It focuses on the time in Doyle's life when he kills off Sherlock Holmes and agrees to work with a biographer.
This 93 minute film also stars Emily Blunt, Brian Cox, Tim McInnerny, Sinéad Cusack, and Saskia Reeves.
Streaming for free with ads on IMDb TV via Amazon Prime.
Arthur & George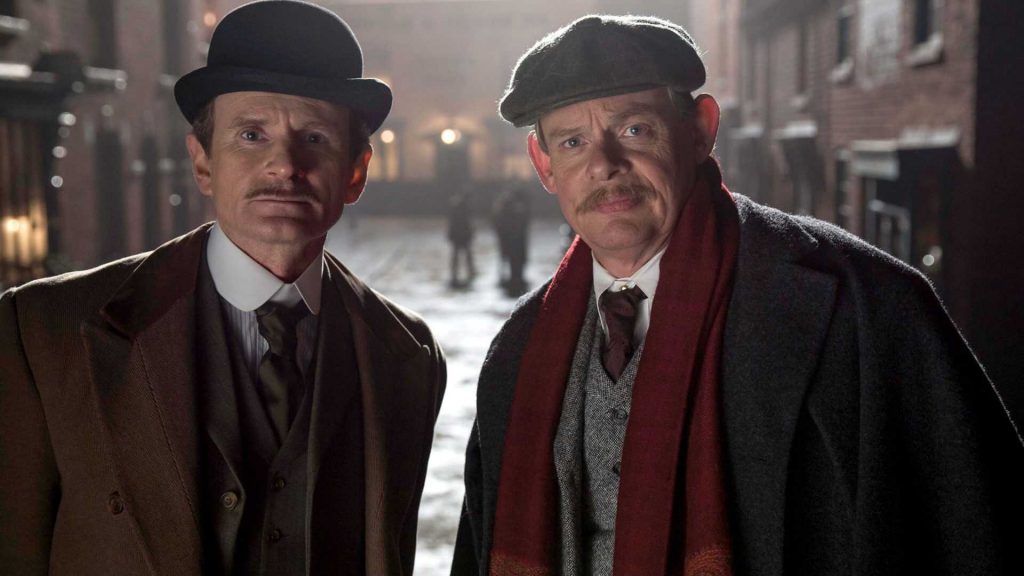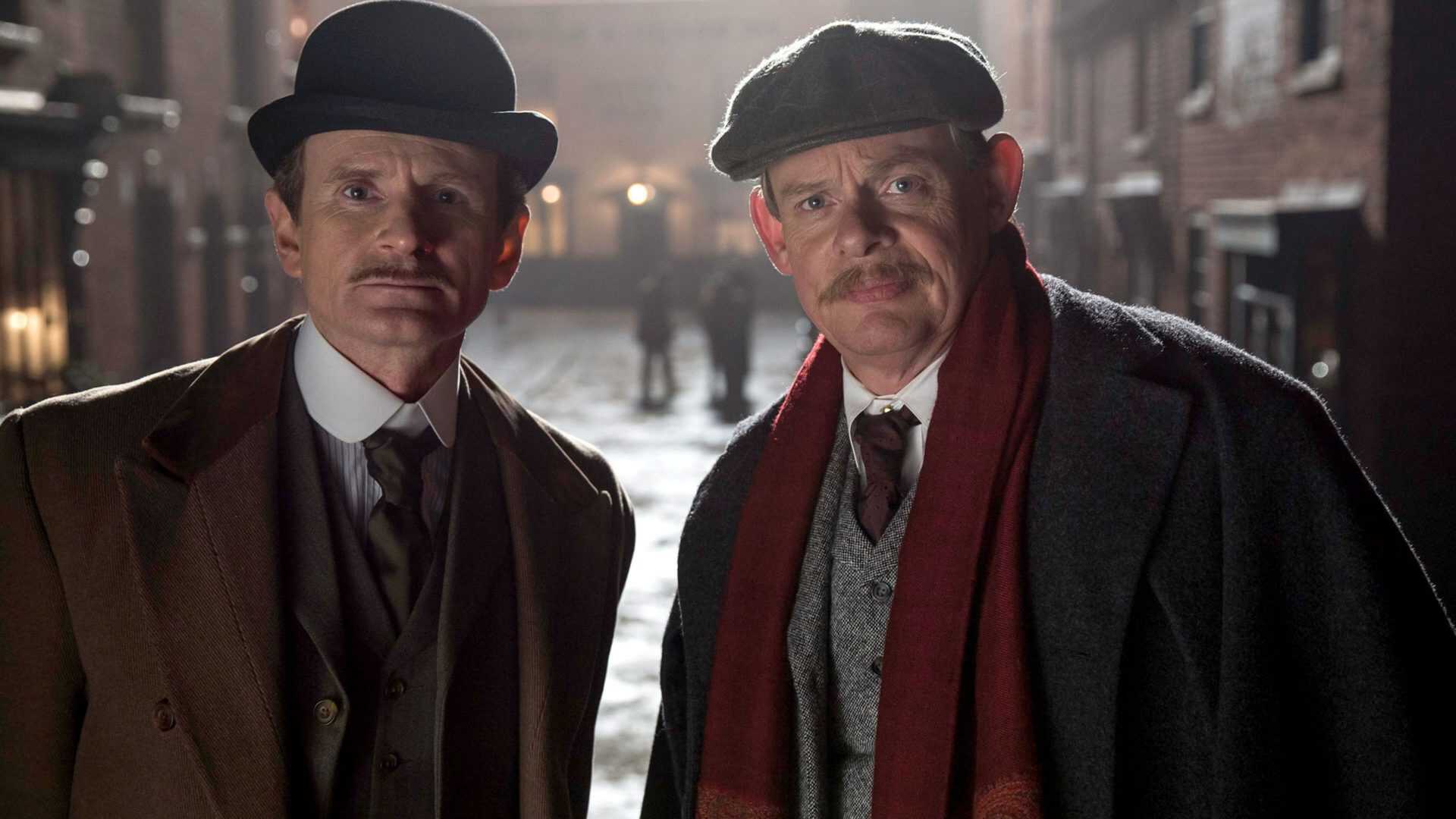 Arthur Conan Doyle investigates a man convicted of animal mutilation. It is a three-part miniseries based on a book of the same name by Julian Barnes which is based on the Great Wyrley Outrages (a series of a series of horse, cow, and sheep mutilations).
It stars Martin Clunes as Arthur Conan Doyle.
Streaming on PBS Masterpiece via Amazon.
What's Your Favourite Sherlock Holmes Adaptation?
Let us know in the comments or join our Facebook group. We'd love to hear from you!
Save it to Pinterest!