Midsomer Murders, Season 21 Review: Robots, Beehives, and Creepy Little Dolls…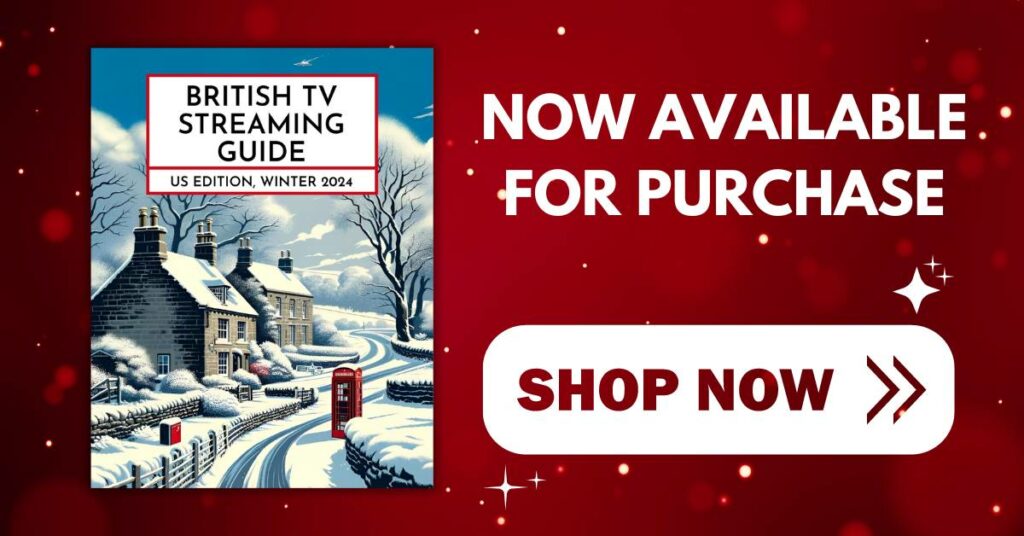 The British TV Streaming Guide: US Edition, Winter 2024 is now available. Get yours HERE.
In some cases, we earn commissions from affiliate links in our posts.
Last Updated on November 30, 2019 by Stefanie Hutson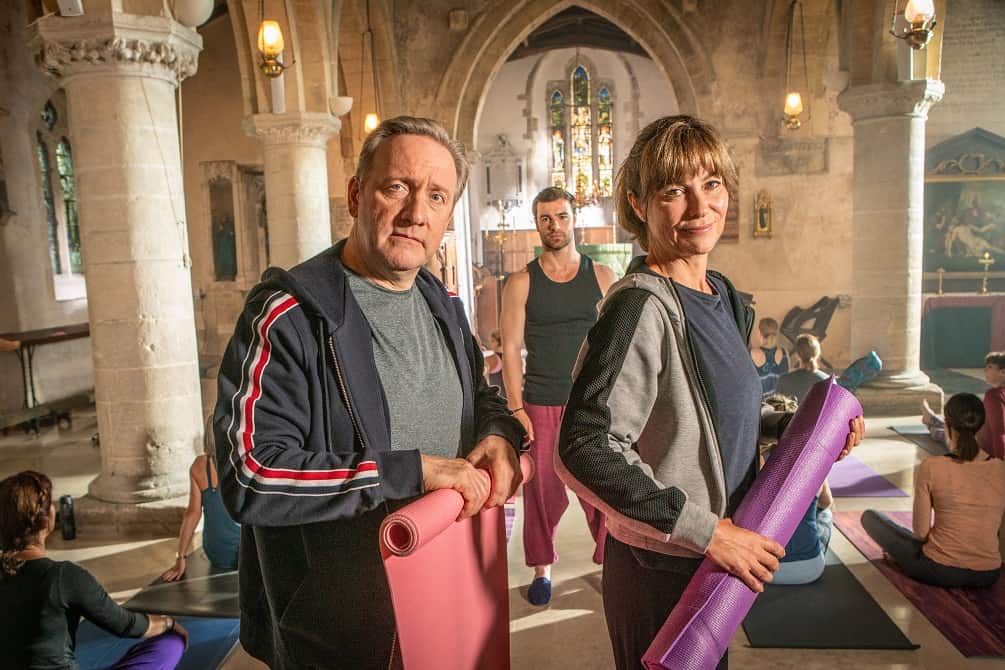 Series 21 of Midsomer Murders premieres soon, and the folks at Acorn TV were nice enough to send over a DVD screener so we could check it out while traveling in a rural area with dodgy wifi. I have to say – the 21st series doesn't disappoint. Granted, I do wish there were MORE episodes, but I'd be saying that even if there were 20+ episodes per series. Wouldn't we all?
If you've been watching Midsomer Murders on Netflix, you might be worried about where to catch the next episode. The bad news is that you're not going to find it on Netflix – but the good news is that you CAN watch it on Acorn TV, and you'll find a number of seasons that weren't on Netflix to begin with…along with tons of other fantastic British TV shows.
If you don't already subscribe to Acorn TV, you can sign up on their website HERE. If you have a smart TV that isn't compatible with their app (like a Samsung) or you prefer to subscribe through Amazon Video, you can sign up HERE instead. Either way you do it, you get a free 7-day trial, and both offer easy online cancellation if you decide it's not for you.
Midsomer Murders: Season 21 Review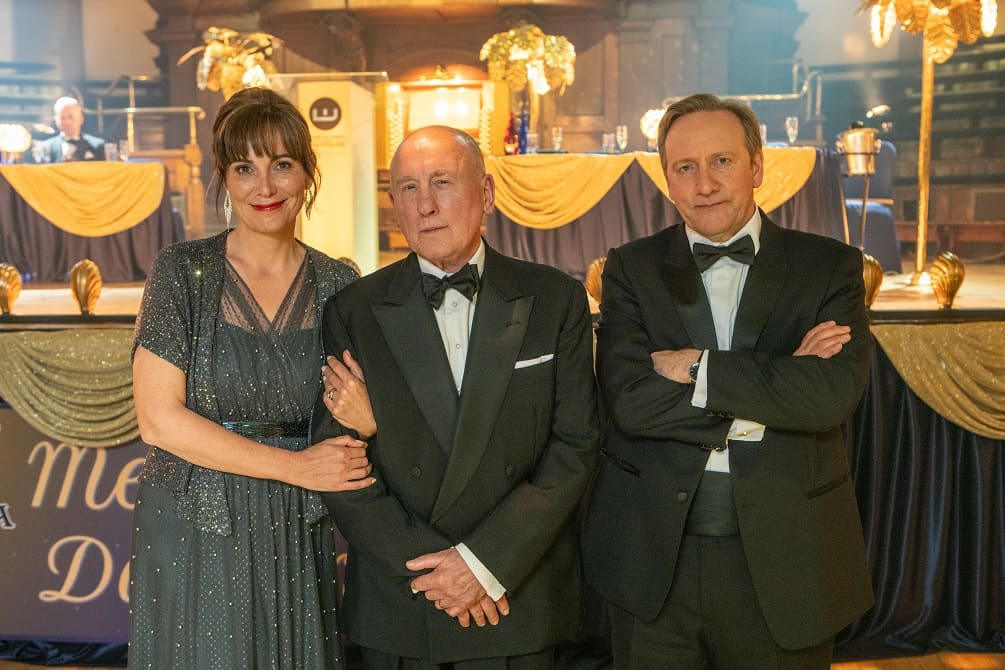 Our philosophy about reviews is that it's less about saying whether something is good or bad, and more about helping people figure out if they're likely to enjoy a programme or episode. Even the "worst" show is right for somebody.
For those who've never given Midsomer Murders a try, you should. Midsomer Murders is the quintessential British mystery, full of village gossip, eccentric residents, long-held grudges, and all manner of amusing sexual deviants.
It's essentially, but not technically, a cosy mystery. Murder and sex are regular elements, but they're never terribly graphic. It's all rather light-hearted – this isn't Wallander or Luther. While the setting varies from episode to episode, the murders typically take place in small villages and market towns around Southern England. The only real departure from the textbook definition of a cosy is that the murders are solved by actual police investigators (Barnabys 1 and 2, along with their sidekicks).
If you enjoy shows like Agatha Raisin, Queens of Mystery, and Agatha Christie's Marple, you'll probably enjoy Midsomer Murders.
What's Series 21 of Midsomer Murders About?
Let's talk episodes. Series 21 has 4 episodes, each roughly an hour and a half. It's a shorter season than what we've been getting, but it's hard to complain about new Midsomer Murders episodes. We'll take what we can get.
Episode 1: The Point of Balance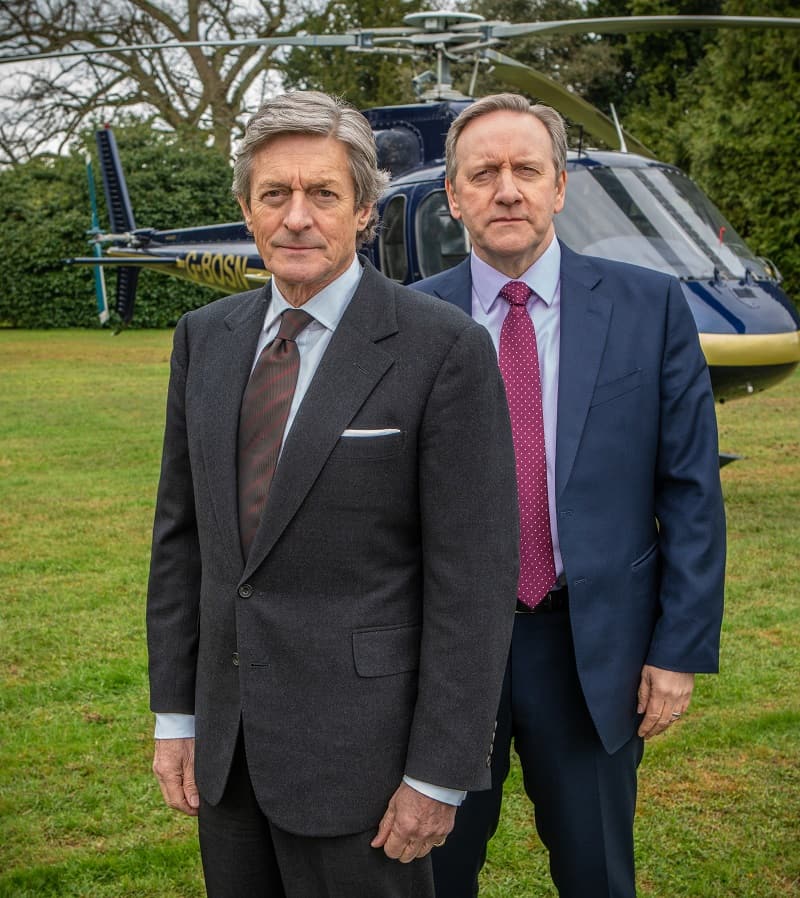 This episode takes place in the world of competitive dance – and robotics. It begins when a former ballroom dance champion is found dead just after the opening gala for the Paramount Dance Extravaganza, and suspicions immediately fall on rival dancers and jealous partners. Before too long, though, we find ourselves in a high-tech robotics lab.
I won't give away too many details, but I will say this was our least favourite of the bunch, largely because it just didn't have that classic small community, village-y feel. When I watch Midsomer Murders, I'm looking for village fetes, market days, country lanes, classic British eccentrics, and a fair dose of behind-closed-doors perversion. A high-tech, sterile robotics lab just breaks the spell. In any other series, it would have been fine; it just didn't have that classic Midsomer feel.
On a brighter note, though, this episode featured a guest appearance from BAFTA-nominee Nigel Havers (Chariots of Fire, Coronation Street).
Another note: on the more personal side of things, this episode gives us a bit more time in the Barnaby home than we often get. John's estranged father shows up, and his wife gives him a good deal of prodding in hopes that he'll play nice.
Episode 2: The Miniature Murders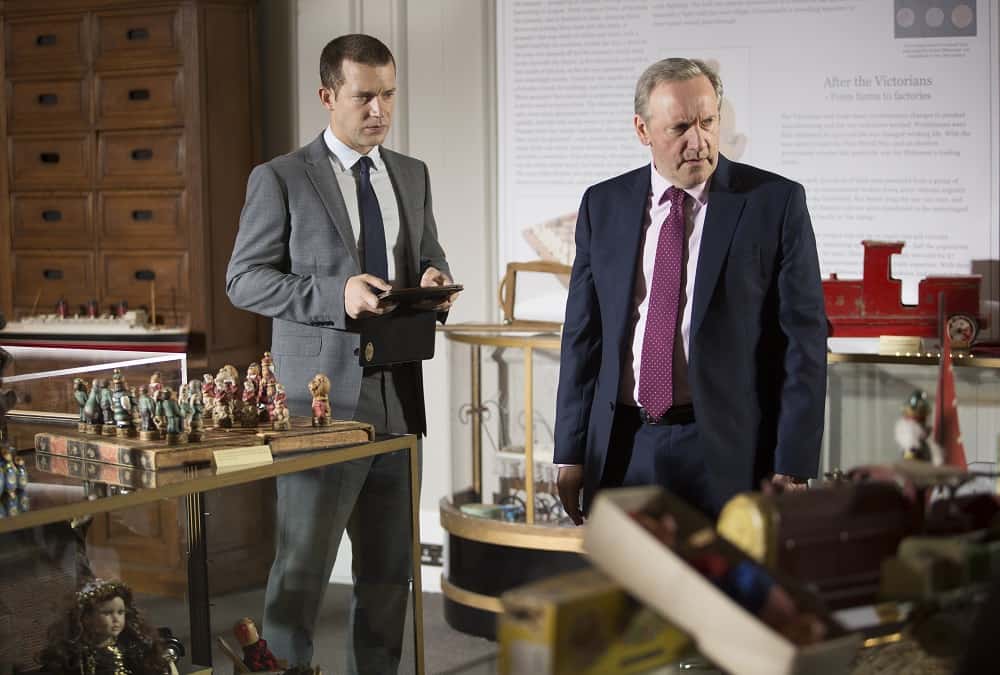 Right from the beginning, you can tell this one brings us back to classic Midsomer Murders territory. It opens with a scene full of creepy dolls and clowns, with a music box playing in the background. For me, it was just like going home (my mother repairs antique dolls, and the creepiness of the family home is legendary – THIS was filmed in the basement).
The murders begin when an estate agent is shot in front of the unveiling of a new dollhouse collection at the Midsomer Museum of the Family. Something a lot of Americans may not realise is that Brits seem to have a much greater dislike for estate agents than Americans. Making fun of them is virtually a national pastime, and the one in this episode is no exception. We soon find out that he had no shortage of local enemies.
The intro to this episode is particularly creative, and as the credits roll, we're treated to a tour of a well-appointed doll house. I particularly liked how the theme song had been adjusted to include music box sounds to fit the theme.
Joanna Page (Gavin & Stacey, Love Actually) makes an appearance in this episode.
Episode 3: The Sting of Death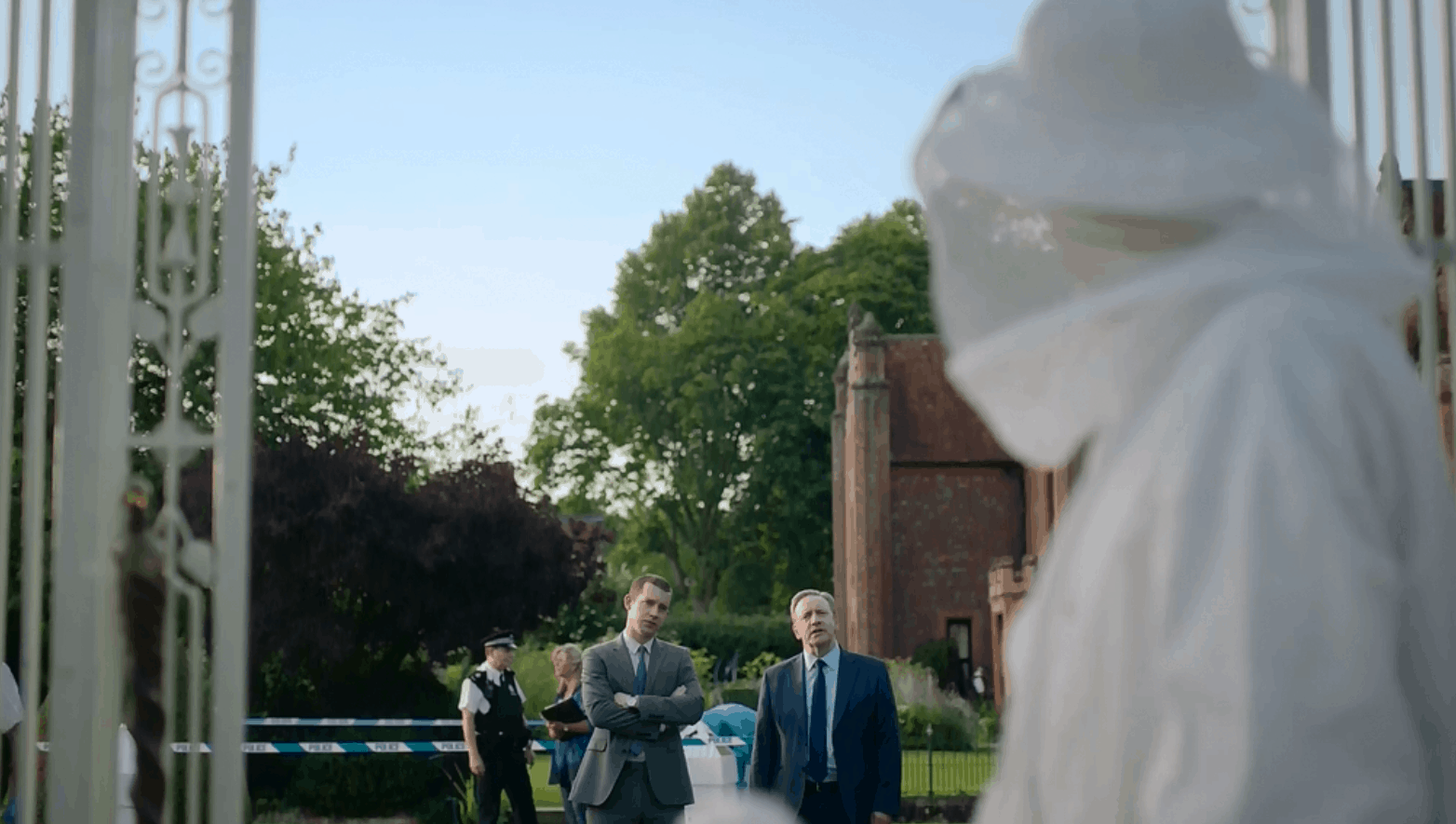 The Sting of Death opens when a beehive has been vandalised and the owner has sustained a serious blow to the head. Though no murder has taken place (yet), a number of potentially deadly bees have escaped, and the entire village of Granville Norton is "abuzz" with the news. In what was probably the goofiest part of the episodes, the villagers all seem to have instantly tapped into a swarm-tracking app to help them report sightings and keep track of where the bees are so they can avoid them.
Still, that little bit aside, it was a fun dive into the occasionally New Age-y world of modern British villages – the one of yoga lessons and beekeeping and local honey and alternative medicine. It had all the classic things we love about Midsomer – beautiful scenery, old grudges, dark secrets, and strange murders. Oh, and DCI Barnaby gives yoga a try.
This episode is also loaded with fun guest appearances: Ben Starr (Dickensian, Jamestown), Nina Toussaint-White (Bodyguard), and Griff Rhys Jones (best known for the Smith & Jones comedy shows, but I quite like his travel shows like Griff's Great Britain and A Great Welsh Adventure).
Episode 4: With Waited Breath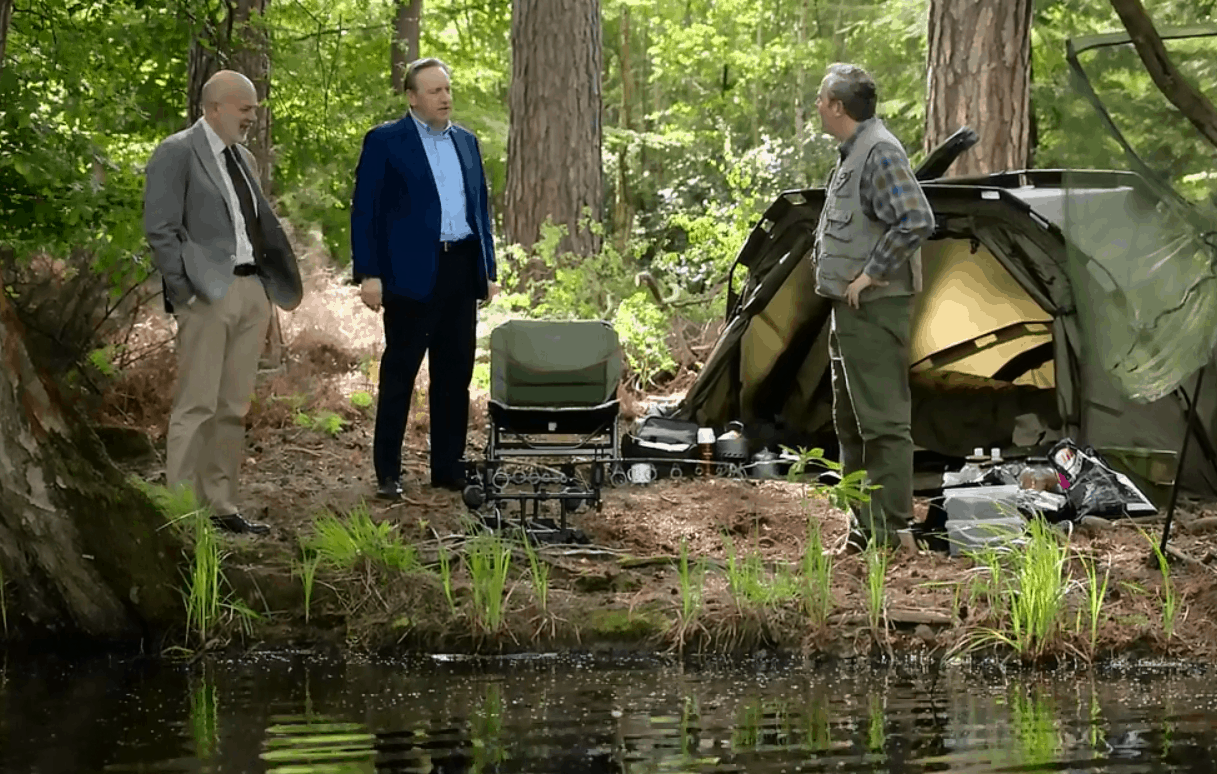 Though some episodes take a few minutes to get going, this one begins with a splash – and a lake monster. As someone who got engaged at the Loch Ness Centre & Exhibition, I'm always in favour of more lake monsters.
The episode revolves around two sets of villagers in Solomon Gorge: the ones participating in a competition to catch the giant fish/lake monster, and the ones involved with one of those extreme obstacle course mud run events. Both are scheduled for the same weekend, and apparently, the village isn't big enough for the both of them. Since we're in Midsomer, it doesn't take long before somebody ends up dead.
It's another "classic Midsomer feel" episode full of eccentric villagers, beamed-ceiling pubs, and unusual competitions. Granted, there's a whole lot more gadgetry than in the older episodes. We've got outdoorspeople with handheld smartphone gimbal stabilisers and fisherman wading into the water wearing tablets around their necks. That's definitely not something we saw in DCI Tom Barnaby's day.
Guest stars include Vincent Franklin (Doc Martin, Gentleman Jack), Miles Jupp (The Durrells in Corfu), and Nicola Stephenson (The Worst Witch).
Season 21 Premieres 1st of December, 2019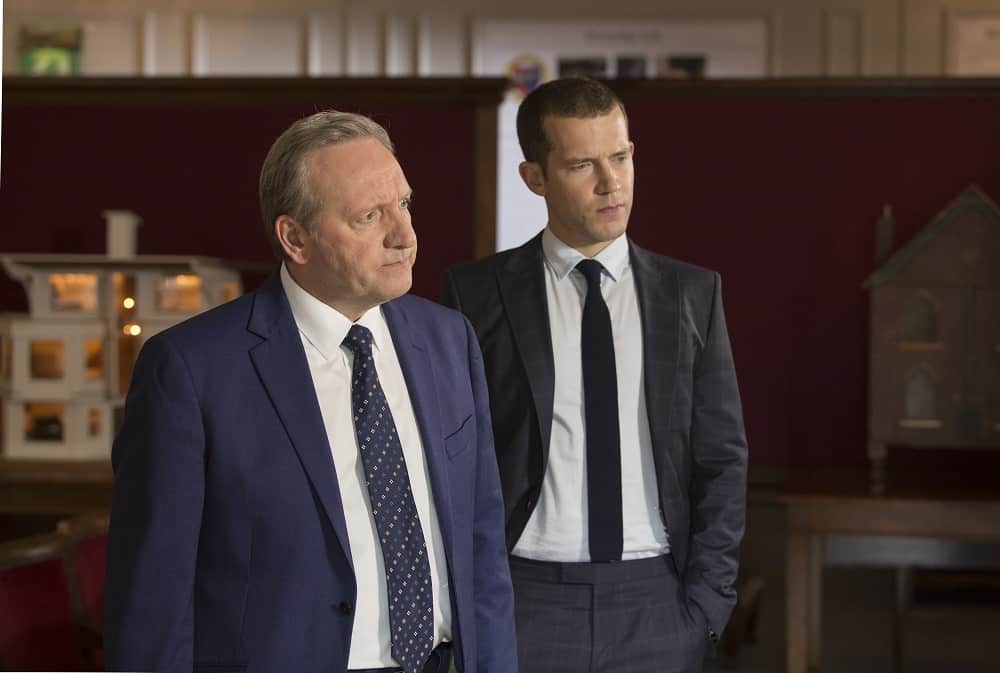 Overall, it's a solid season, and we thoroughly enjoyed seeing Neil Dudgeon out for another set of adventures. While the first episode seemed to be lacking that "Midsomer feel", the following three episodes were some of Dudgeon's best. I think most Midsomer fans will enjoy them.
I'm definitely ready for a new sidekick, though. Hendrix is a great actor, but DS Jamie Winter is sort of a bland character, both in this season and the others before it. It might be down to the writing, but he lacks much in the way of quirks or personality, and there doesn't seem to be a lot of chemistry between the two leads. It's definitely definitely not a pairing on the level of Barnaby + Troy.
You can check out the trailer for the new season below. They've packed a lot into 30 seconds:
Will you be tuning in? We hope you'll come back and share your thoughts in the comments!
For more Midsomer Murders, check out some of our other posts: