A Guide to the Modern Doctor Who Doctors
In some cases, we earn commissions from affiliate links in our posts.
Last Updated on April 10, 2021 by Stefanie Hutson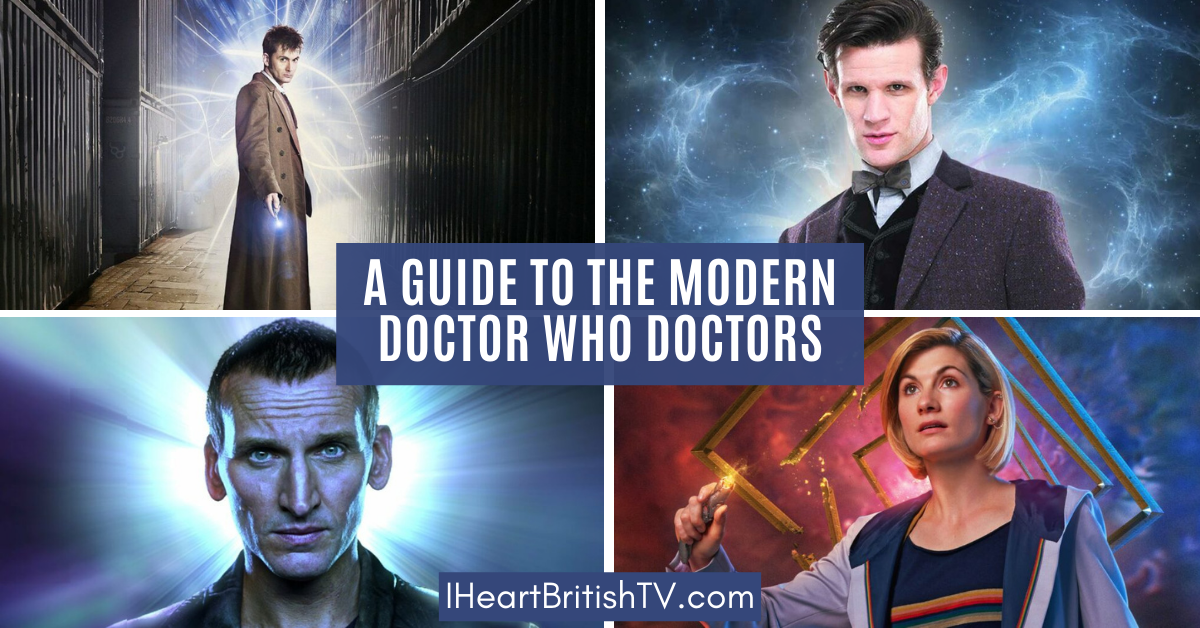 Doctor Who first began in 1963 and aired until 1989. Apart from the American-produced film released in 1996, the show remained on hiatus until 2005. Now, many fans differentiate these as "Classic Who" and "New Who" (or "The Reboot," "Modern Who," and "Revived Era").
Where do you start? While it's very possible to start at the beginning in 1963, many fans recommend starting with Season 1, Episode 1 of the 2005 show. This 2005 continuation begins with the 9th incarnation of The Doctor (Christopher Eccleston) with Russell T. Davies as the showrunner and primary writer. It gave new life to the series and helped Doctor Who continue to live on as a sci-fi phenomenon.
Currently, the 2005 series is streaming exclusively on HBO Max in the U.S., but you can own seasons and single episodes digitally on Amazon or get the DVDs; sets are sold as single seasons or as sets for each doctor. *The digital seasons are often sold separate from the digital Christmas/New Year's Specials, so I recommend using Wikipedia as an episode guide if you are watching them in order.
A Guide to the Modern Doctor Who Doctors
Doctor Who follows an alien who travels across space and time, often with human companions. One day, The Doctor took a TARDIS (a time machine + space ship combo) and flew away to travel the universe, often taking companions along, too. The Doctor is a Time Lord from another planet called Gallifrey.
Rather than dying, Time Lords regenerate. This allows for many actors to play the role of The Doctor and for the show to continue for decades. Since the revived era, five actors have played The Doctor and a sixth is expected.
9 – Christopher Eccleston (Season 1)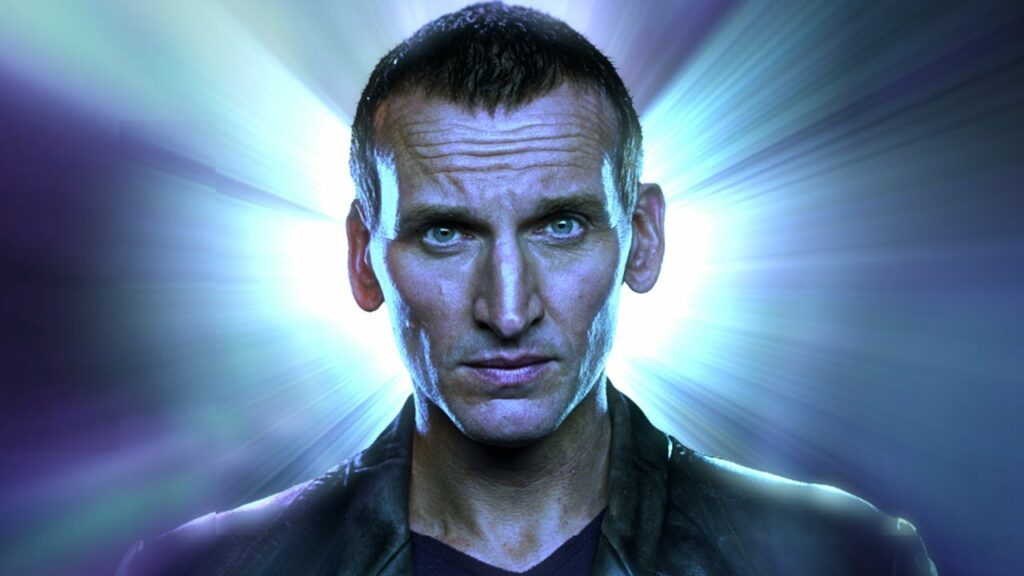 Christopher Eccleston lead the 2005 revived series as the ninth Doctor accompanied by his travelling companion Rose Tyler (Billie Piper). This revived series begins with a cold open, dropping viewers right in the middle of the action without explanation – much like a companion might experience when meeting The Doctor.
His incarnation of The Doctor was sensible, fun, and caring. He takes on a more modern style than previous incarnations, wearing a modern leather jacket. While he only starred as The Doctor for one season, we slowly learn more about who he is and what happened to him since the Classic Who series ended. He isn't the same Doctor – he's seen war. And what happened during those missing years is built up through Russell T. Davies era (seasons 1 – 4).
Christopher Eccleston left the role and The Doctor regenerated into David Tennant in The Christmas Invasion which aired on 25th December 2005. And you know what? He was fantastic!
Own season one of Doctor Who on Amazon HERE.
Christopher Eccleston is an Emmy-award-winning English actor originally from Salford. In 1994, he appeared in Danny Boyle's film Shallow Grave alongside Ewan McGregor. Then, he appeared in a breakout role in Our Friends in the North in 1996 with Mark Strong, Gina McKee, and Daniel Craig. He even appeared in another Boyle film 28 Days Later in 2002.
Since Doctor Who, Christopher Eccleston has gone on to star in Lennon Naked as John Lennon, Thor: The Dark World as the villainous dark elf Malekith, The Leftovers, The A Word (with Morven Christie and Lee Ingleby), and Safe House, among others.
His next role will be in the mini-series Close to Me about a woman who falls and loses a year's worth of memories. The release date is not yet announced.
Although he never reprised his role as The Doctor in any television specials, he did step back into The Doctor's shoes for the Big Finish audio series; four boxsets are expected to release between May 2021 and February 2022.
10 – David Tennant (Seasons 2 – 4)
David Tennant first starred as The Doctor in "The Christmas Invasion" on 25th December 2005. Billie Piper continues her role as companion Rose Tyler.
Tennant's Doctor is exuberant, quirky, and fun. He brings a lot of energy and excitement to the role – possibly because he was already a huge Doctor Who fan. He's partial to a suit and tie, classic Chuck Taylor Converse shoes, and a long coat.
The relationships he has with his companions are often accompanied by emotional suspense, giving the show a well-rounded balance of adventure, action, drama, and even romance. During his time as The Doctor, he is accompanied by Captain Jack (John Barrowman), Martha (Freema Agyeman), Donna (Catherine Tate), Wilfred (Bernard Cribbins) and others. River Song (Alex Kingston) also first appears during Tennant's run in a two-part story written by Steven Moffat.
When Tennant regenerated into Matt Smith, lead showrunner Russell T. Davies handed the show over to Steven Moffat.
Purchase Seasons 2 – 4 of Doctor Who on Amazon HERE.
Own The Complete David Tennant Collection on DVD and Blu-Ray HERE.
David Tennant is an Emmy-award-winning Scottish actor. He began acting when he was just 16 but knew he wanted to be an actor from the age of three when he became a fan of Doctor Who. When he studied at the Royal Scottish Academy of Music and Drama between the ages of 17 and 20, he was one of their youngest students.
Before Doctor Who, he starred in Cassanova, Secret Smile, and an episode each in The Bill and Foyle's War. He also appeared as Barty Crouch Jr. in Harry Potter and the Goblet of Fire.
Since Doctor Who, David Tennant has starred in Good Omens (with Michael Sheen), The Escape Artist, Broadchurch (with Olivia Colman), Bad Samaritan (with Robert Sheehan), What We Did on Our Holiday (with Rosamund Pike, Ben Miller, and Billy Connolly), and many more. His next role will be Phileas Fogg in Around the World in 80 Days.
David Tennant reprised his role as The Doctor in the 50th Anniversary Special and the Big Finish audiobook series. He will also voice The Doctor for the upcoming video game Doctor Who: The Edge of Reality for PlayStation VR, Xbox, Oculus, Nintendo Switch, and PC (Steam) due out in 2021.
Want more David Tennant? Check out our other post: David Tennant Movies & TV Shows + Where to Watch Them.
11 – Matt Smith (Seasons 5 – 7)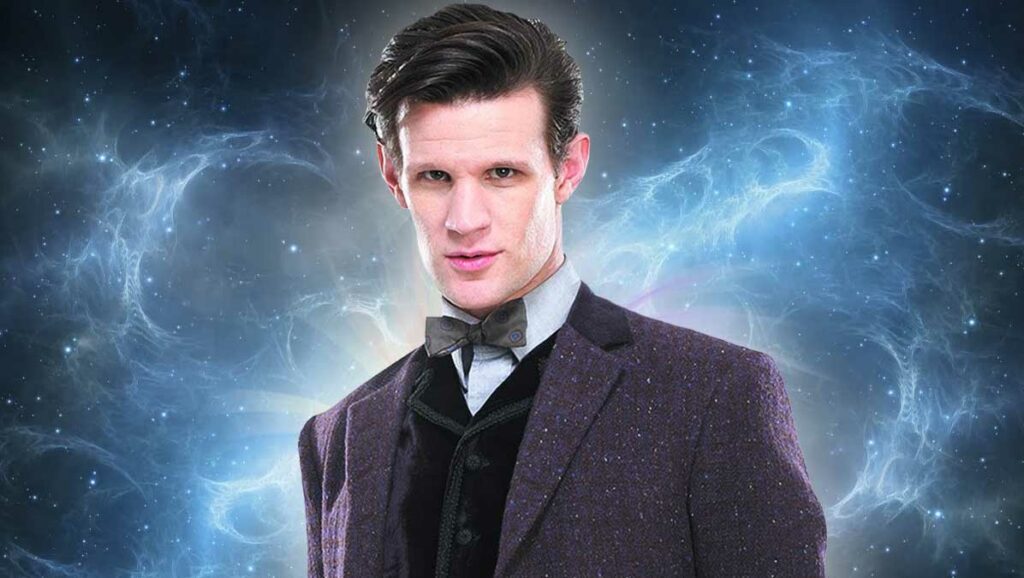 Matt Smith's time as The Doctor begins with the first episode of Season 5. Steven Moffat also enters as lead showrunner, ensuring the show's overreaching plot stays cohesive. Smith's Doctor is also accompanied by the new companion Amy Pond (Karen Gillen). And along with Amy comes Rory Williams (Arthur Darvill). River Song also returns for a major role. Then, after Amy and Rory's exit, Clara Oswald (Jenna Coleman) accompanies The Doctor.
Matt Smith's portrays The Doctor as eccentric, goofy (in the best way), and playful. He also has a veiled darkness and seems like an old soul in a young body; it's a fun contrast for The Doctor, considering he's about 1,000 years old at this point. He's partial to a bowtie, well-worn boots, suspenders/braces, and tweed. It's a professorial look that contrasts with his youthfulness.
After three seasons, Matt Smith's Doctor regenerated into Peter Capaldi's Doctor with Clara carrying over as the companion.
Purchase Seasons 5 – 7 of Doctor Who on Amazon HERE.
Own The Complete Matt Smith Collection on DVD HERE.
Matt Smith is an Emmy-nominated English actor from Northampton whose breakout role was The Doctor. Before this, he appeared in the Sally Lockhart mysteries alongside Billie Piper. He then appeared in major role in Party Animals, a political drama. Smith was also in the running to play Will in The Inbetweeners, but between him and Simon Bird, they chose Bird primarily because Smith was "too dashing" (according to showrunner Iain Morris).
Since Doctor Who, Matt Smith has starred in many different roles. His role as Prince Phillip in seasons 1 and 2 of The Crown (Netflix) likely being the most popular. Smith has also appeared in Official Secrets (with Keira Knightley, Ralph Fiennes, and Matthew Goode), His House (with Wunmi Mosaku and Ṣọpẹ Dìrísù), Womb (with Eva Green, Lesley Manville, and Natalia Tena), and Charlie Says (as Charles Manson).
Smith's upcoming roles include Edgar Wright's new film Last Night in Soho alongside Anya Tayl0r-Joy due out in October 2021, Daemon Targaryen in the Game of Thrones prequel series House of the Dragon (2022), and Marvel film Morbius alongside lead Jared Leto (2022).
12 – Peter Capaldi (Seasons 8 – 10)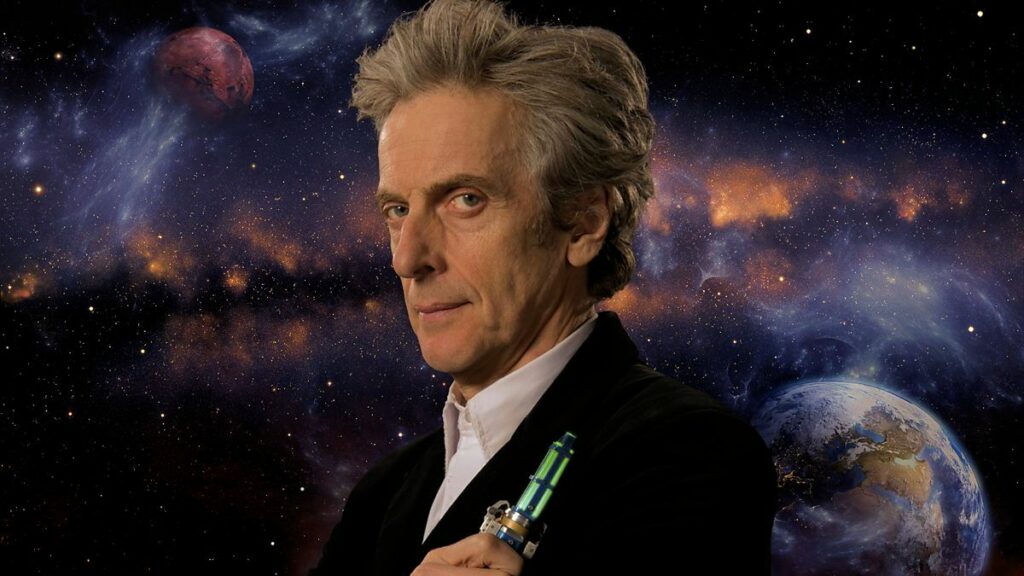 Peter Capaldi stepped in The Doctor's shoes in "Deep Breath" (Season 8, Episode 1) after regenerating during "The Time of the Doctor" and having a blink-and-you'll-miss-it appearance in the 50th Anniversary Special "The Day of the Doctor" in 2013. Steven Moffat continues in his role as lead showrunner for the Capaldi seasons.
Capaldi's Doctor is more alien and has a thicker exterior to his personality, tending to deflect with humor. He favours heavy Doc Marten shoes, dark clothes, and velvet. While Clara is uncertain about him at first, she quickly gets used to The Doctor's new face and continues to travel with him for two more seasons until Bill (Pearl Mackie) joins the show. Although Capaldi's Doctor is rough around the edges and guarded, he has a gooey interior and cares deeply.
Capaldi's regeneration was the end of another era in Doctor Who when Steven Moffat stepped down and Chris Chibnall took his place, along with the introduction of the first female Doctor.
Purchase Seasons 8 – 10 of Doctor Who on Amazon HERE.
Own The Complete Peter Capaldi Collection is available on DVD HERE.
Peter Capaldi is a Scottish Academy-Award-winning actor from Glasgow. Before Doctor Who, Capaldi already had a successful career and won an Oscar in 1995 for a short film he wrote and directed, Franz Kafka's It's a Wonderful Life. He starred as the hilarious and intensely vulgar Malcolm Tucker in The Thick of It – keen fans of The Thick of It will recognise Chris Addison, Rebecca Front, and notice a couple references to this show during Capaldi's time as The Doctor.
He also had prominent roles in The Hour (with Romola Garai, Ben Whishaw, Dominic West), The Musketeers (with Tom Burke), The Field of Blood (with David Morrissey), Getting On (with Joanna Scanlon and Jo Brand), and many more.
Capaldi also appeared as Caecilius in the Doctor Who episode "The Fires of Pompeii" when David Tennant was The Doctor. (You can also spot Karen Gillen in this episode years before she played Amy Pond). Capaldi then played the prominent role of John Frobisher in Torchwood: Children of Earth, the third season of the Doctor Who spin-off show.
Since Doctor Who, Capaldi has gone on to play Kehaar in Watership Down (with an astounding cast), Mr. Micawber in The Personal History of David Copperfield, and as Rabbit in Christopher Robin (with Ewan McGregor, Hayley Atwell, and Mark Gatiss).
His upcoming roles include English poet, writer, and soldier Siegfried Sassoon in Benediction (TBD, 2021) and as Thinker in The Suicide Squad (August 2021).
13 – Jodie Whittaker (Seasons 11 – 13)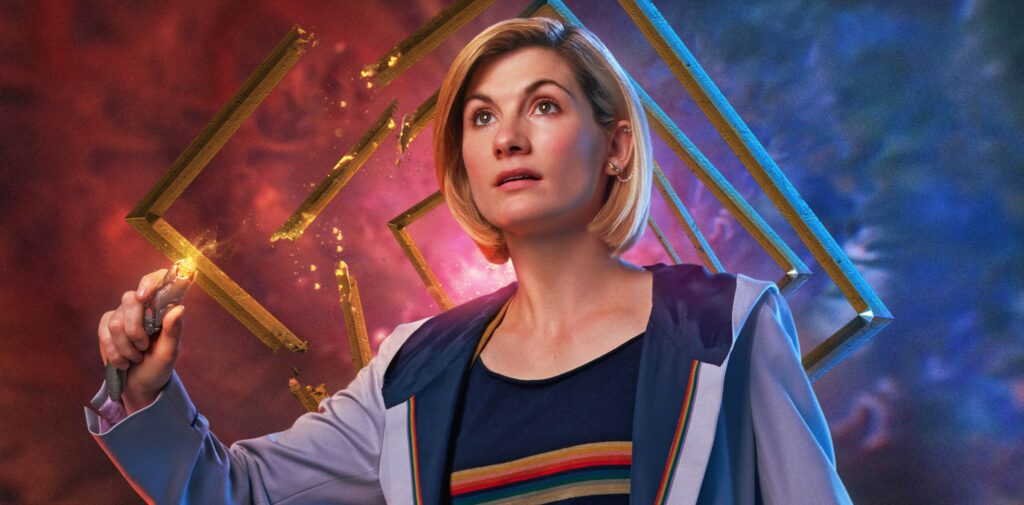 Jodie Whittaker is the first female Doctor, even if it takes her a little while to realise it. Whittaker is also the first Doctor under Chris Chibnall's reign as showrunner. She first appears in "The Doctor Falls" (Season 10, Episode 12) when Capaldi regenerates. Her first full episode is the premiere of Season 11 "The Woman Who Fell to Earth." She is also accompanied by three new companions: Yaz (Mandip Gill), Ryan (Tosin Cole), and Graham (Bradley Walsh). Comedian John Bishop recently joined the cast as Dan, another companion for season 13, which is airing later in 2021.
Whittaker's Doctor is energetic, friendly, and caring. And although she's the first female Doctor, she has primarily androgynous traits. She's still The Doctor, with an excitement for travel and a drive to save lives. She wears a vibrant collection of nods to previous Doctors, such as a long coat, braces/suspenders, and boots.
Own Seasons 11 & 12 of Doctor Who on Amazon HERE.
Jodie Whittaker is an English actor from Skelmanthorpe, West Yorkshire. Before Doctor Who, Jodie Whittaker had already appeared in many productions, including her breakout role in Venus starring Peter O'Toole.
You can also watch her in Cranford (as Peggie Bell), Marchlands (with Alex Kingston), Attack the Block (fun Sci-Fi movie with John Boyega), The Night Watch (with Claire Foy, JJ Feild, and Anna Maxwell Martin), Black Mirror (S1, E3 "The Entire History of You"), Get Santa (with Rafe Spall and Jim Broadbent), The Assets (with Harriet Walter), and Trust Me (with Emun Elliot). Chis Chibnall previously created and wrote Broadchurch, in which Whittaker stars alongside David Tennant, Olivia Colman, Arthur Darvill, and others.
Like Tennant, Smith, and Capaldi, Jodie Whittaker is expected to leave Doctor Who after three seasons. (Although, this has not been officially announced). She will likely star as The Doctor in one last season, airing later in 2021. Assuming the show follows its usual format, she is expected to regenerate during the Christmas/New Year's Special at the end of 2021 or early 2022. But since Season 13 was shortened due to the COVID-19 pandemic, maybe she will regenerate partway into the 14th season.
She will also reprise her role as The Doctor for the upcoming video game Doctor Who: The Edge of Reality for PlayStation VR, Xbox, Oculus, Nintendo Switch, and PC (Steam) due out in 2021.
The Fourteenth Doctor – Who Could it Be?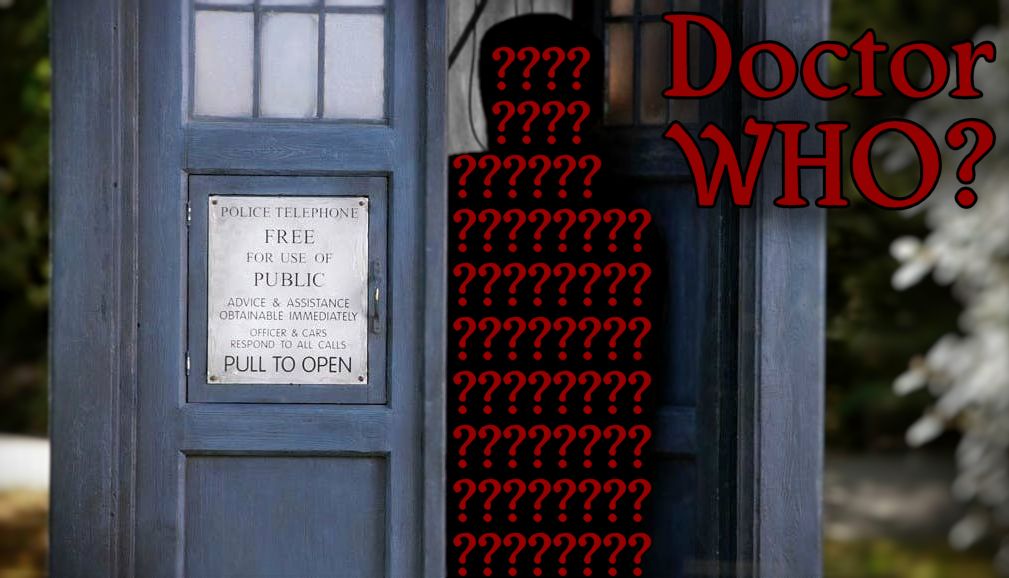 Since David Tennant's three-season run, it's been typical for The Doctor to regenerate after three seasons. If Doctor Who follows its typical pattern, we may have a new Doctor by the 2021 holiday season or early new year 2022. It's also possible, since Season 13 was shortened due to the COVID-19 pandemic, Whittaker could regenerate partway into the 14th season.
Who do you want to see in the TARDIS?
Let us know in the comments!
Save it to Pinterest!