14 of the Best New & Current British Comedies
In some cases, we earn commissions from affiliate links in our posts.
Last Updated on December 19, 2021 by Stefanie Hutson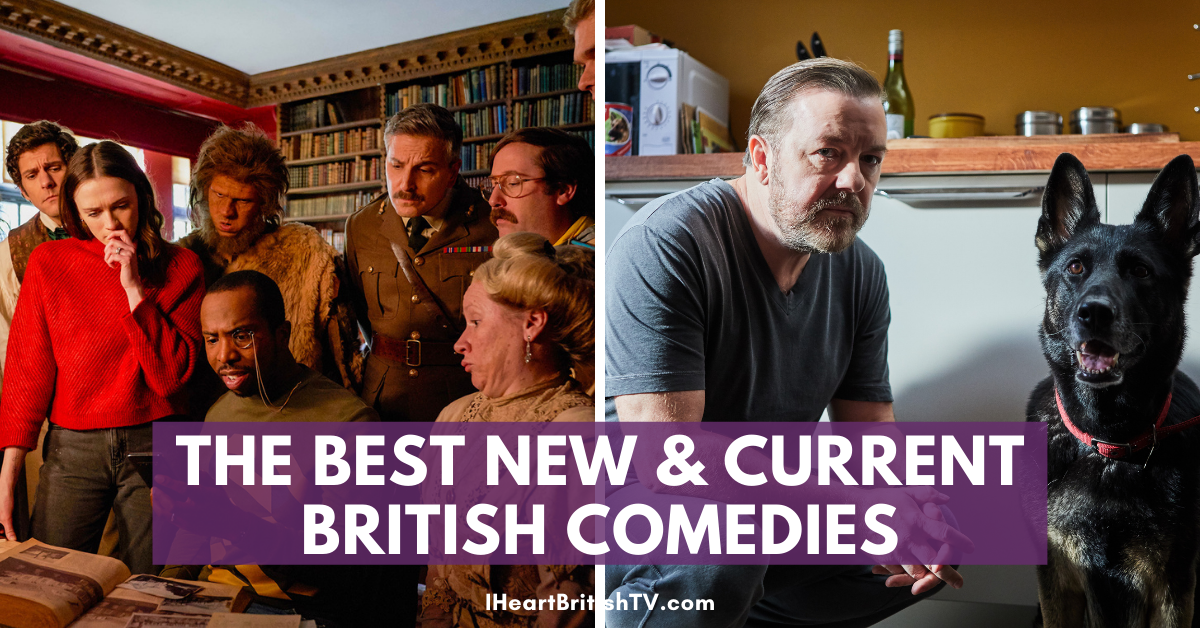 British comedies are so popular and beloved, they have their own name: Britcoms. Despite their enduring quality, Britcoms aren't as popular as dramas and mysteries, so finding a great new comedy is like finding hidden treasure….
(Speaking of hidden treasure, Mackenzie Crook suggested he is thinking about reviving Detectorists for a fourth season. You can read more about a possible season 4 HERE).
Want more recent British comedies? Check out: The 25 Best British Comedies of 2000 to 2019
The Best New & Current British Comedies
To aid your hunt for comedy gold, we've gathered a great list of the top Britcoms that are either new or still airing with new seasons expected. Where applicable, we've also included information about upcoming seasons. We hope you find a new one to enjoy!
After Life (2019 – Current)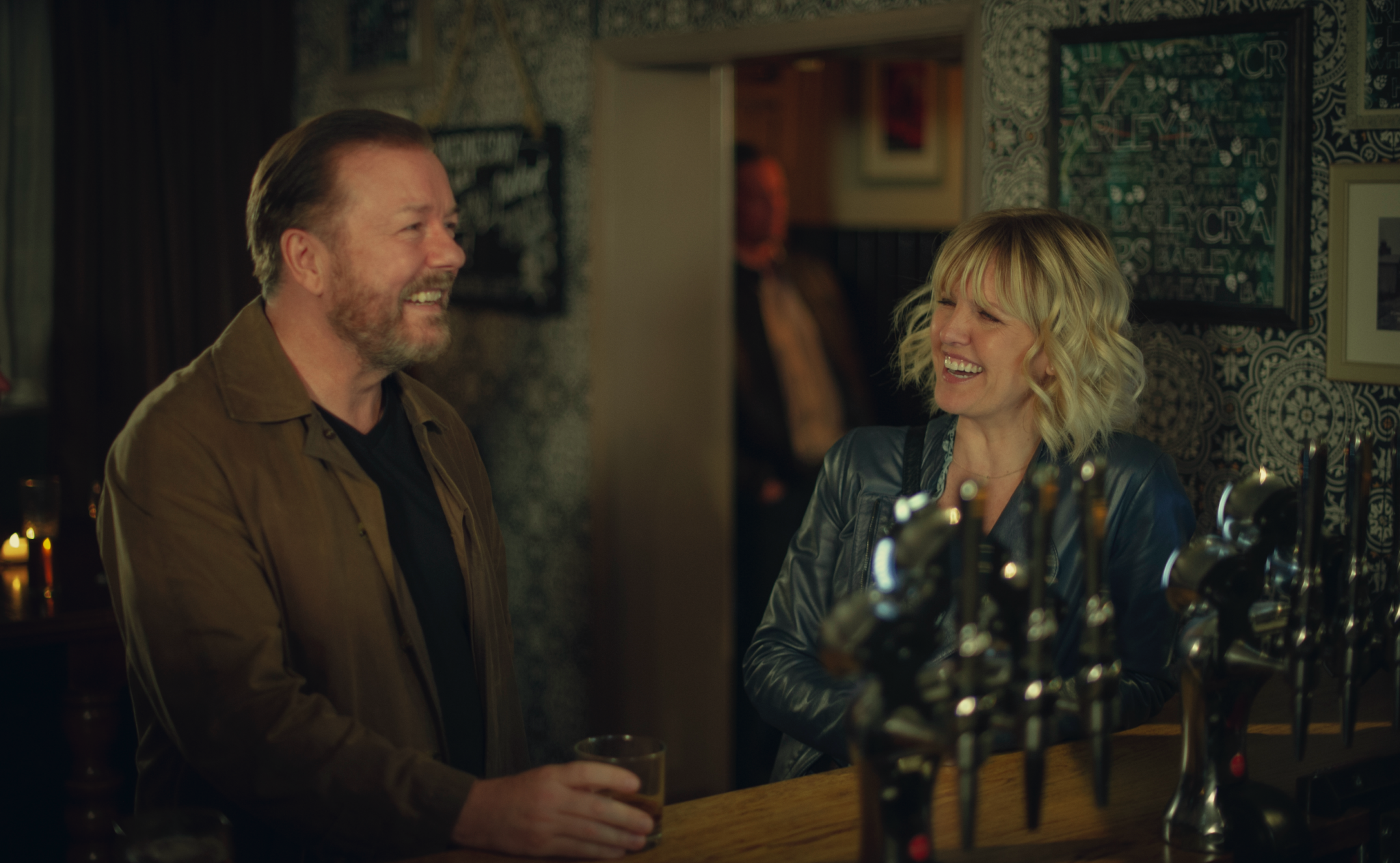 After Life follows the story of Tony, a widower who decides he's tired of playing nice. Ricky Gervais writes, directs, and stars. The style of humor is clever, dry, dark, and with plenty of drama thrown in.
It also stars Diane Morgan, Mandeep Dhillon, Paul Kaye, Ashley Jensen, Kerry Godliman, Roisin Conaty, Dame Penelope Wilton, David Bradley, Joe Wilkinson, and more.
After Life is streaming on Netflix. Season 3 of After Life releases on the 14th of January, 2022.
Avenue 5 (2020 – Current)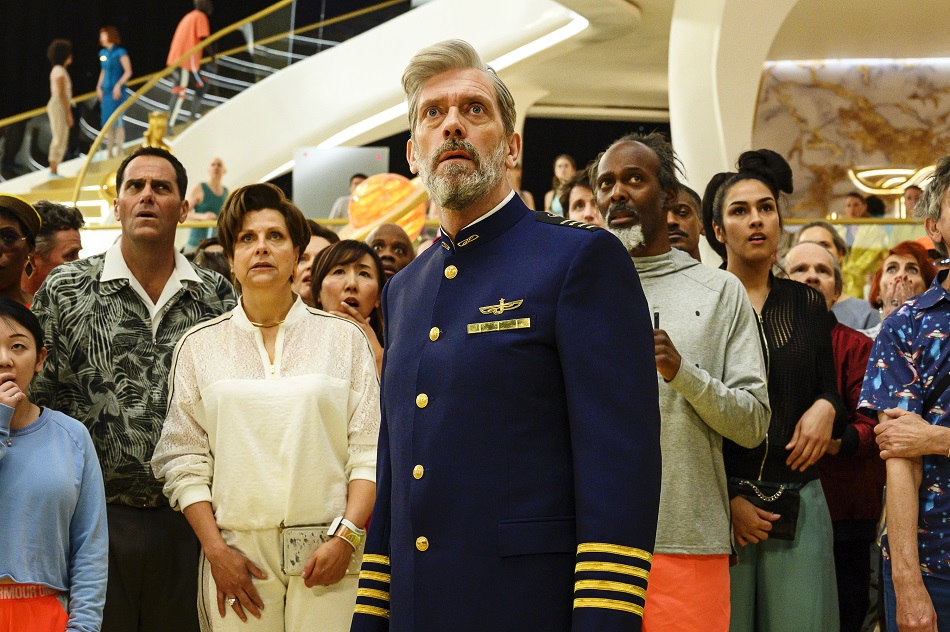 Avenue 5 follows the passengers on a cruise ship as they travel through space. After a catastrophe, the passengers grapple for control with the ship's crew. And it doesn't help that the captain (Hugh Laurie) is harbouring a secret.
Avenue 5 is a colorful, vibrant HBO production created by the Scottish writer and satirist Armando Iannucci best known for The Thick of It and Veep. The style of this sci-fi comedy is both over-the-top and dark with some gallows humor thrown in.
Also starring Rebecca Front, Lenora Crichlow, Nikki Amuka-Bird, and Himesh Patel.
Avenue 5 is exclusive to HBO Max in the US and has been renewed for season 2.
Back to Life (2019 – ?)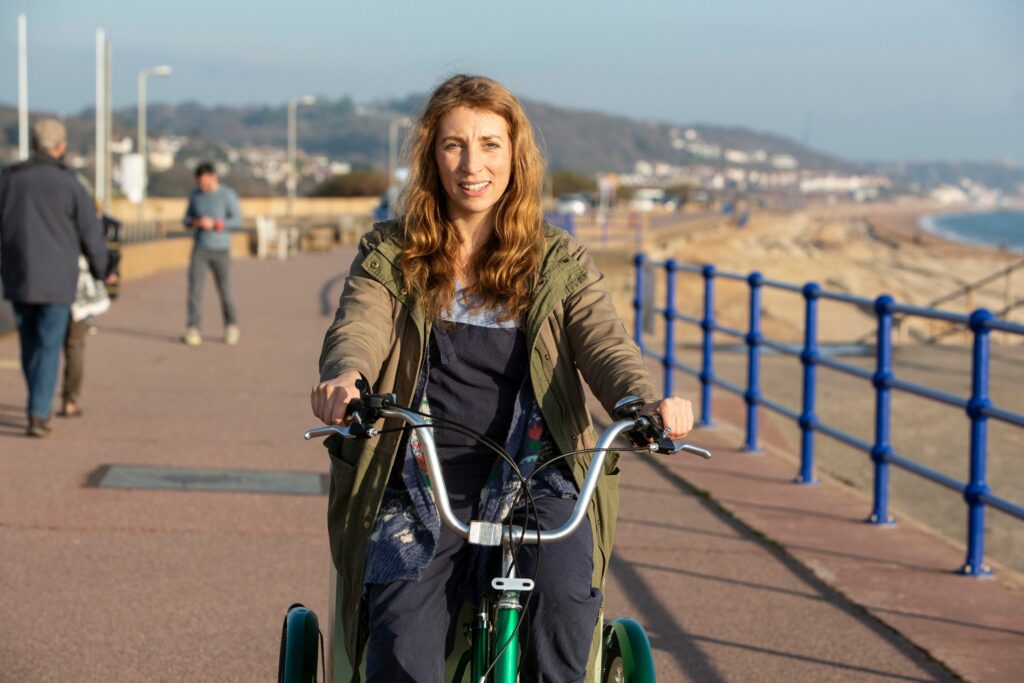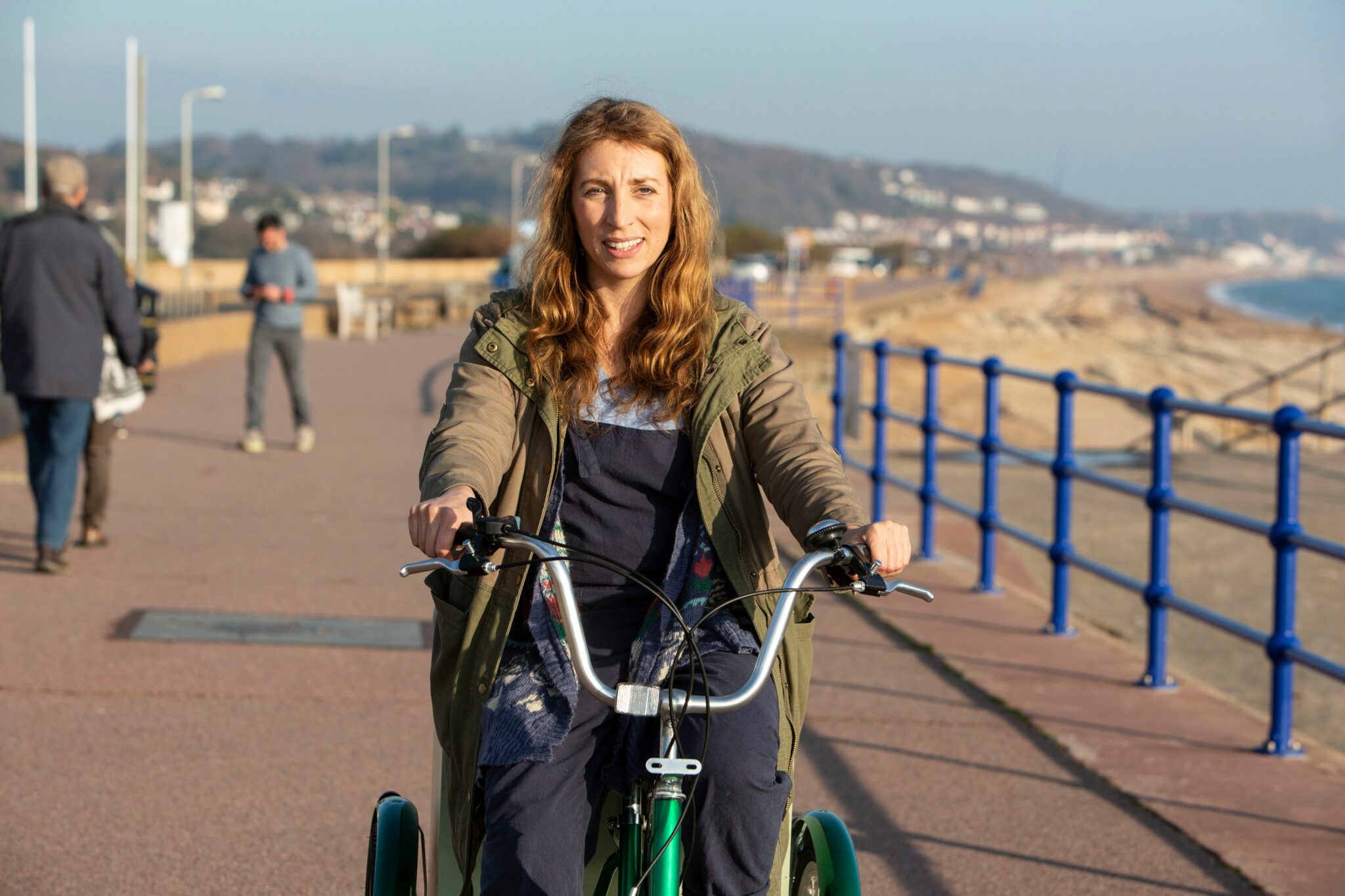 Mira has spent the last 18 years of her life in prison after committing a terrible crime in her teens. Returning home, she wants to move on and get her life started, but the community hasn't forgotten her crime. So, now she's free… but has no friends, no work, and no idea how to get her life back on track.
After Life and Fleabag fans will enjoy this dramady with a similar tone. The Guardian lists it as #18 of the top 50 shows of 2021.
Starring Daisy Haggard who also co-writes the show. No news on the commission of season 3, but Haggard has a plan for it so hopefully it will continue (Radio Times).
Back to Life is streaming on Showtime HERE.
Clarkson's Farm (2021 – Current)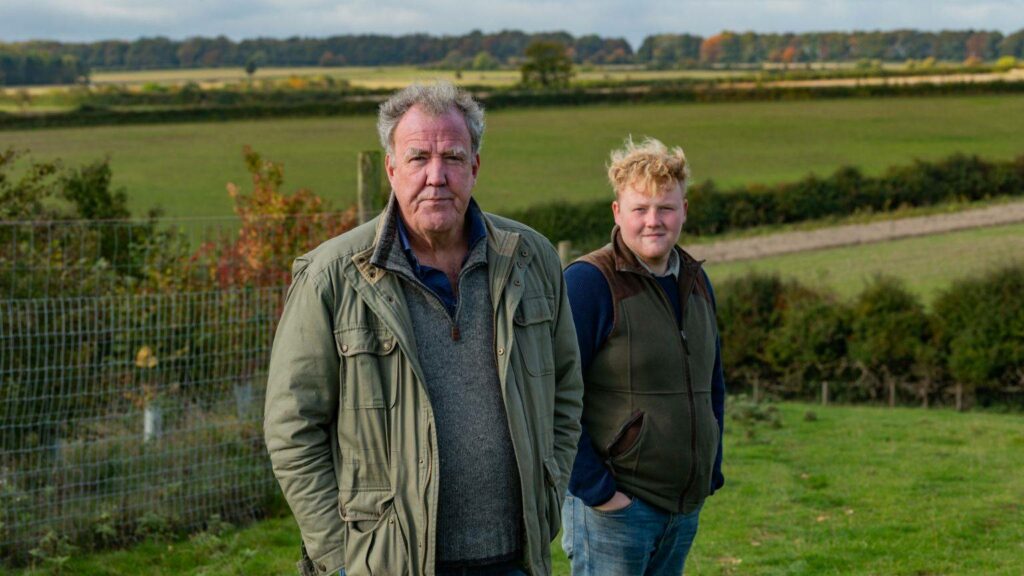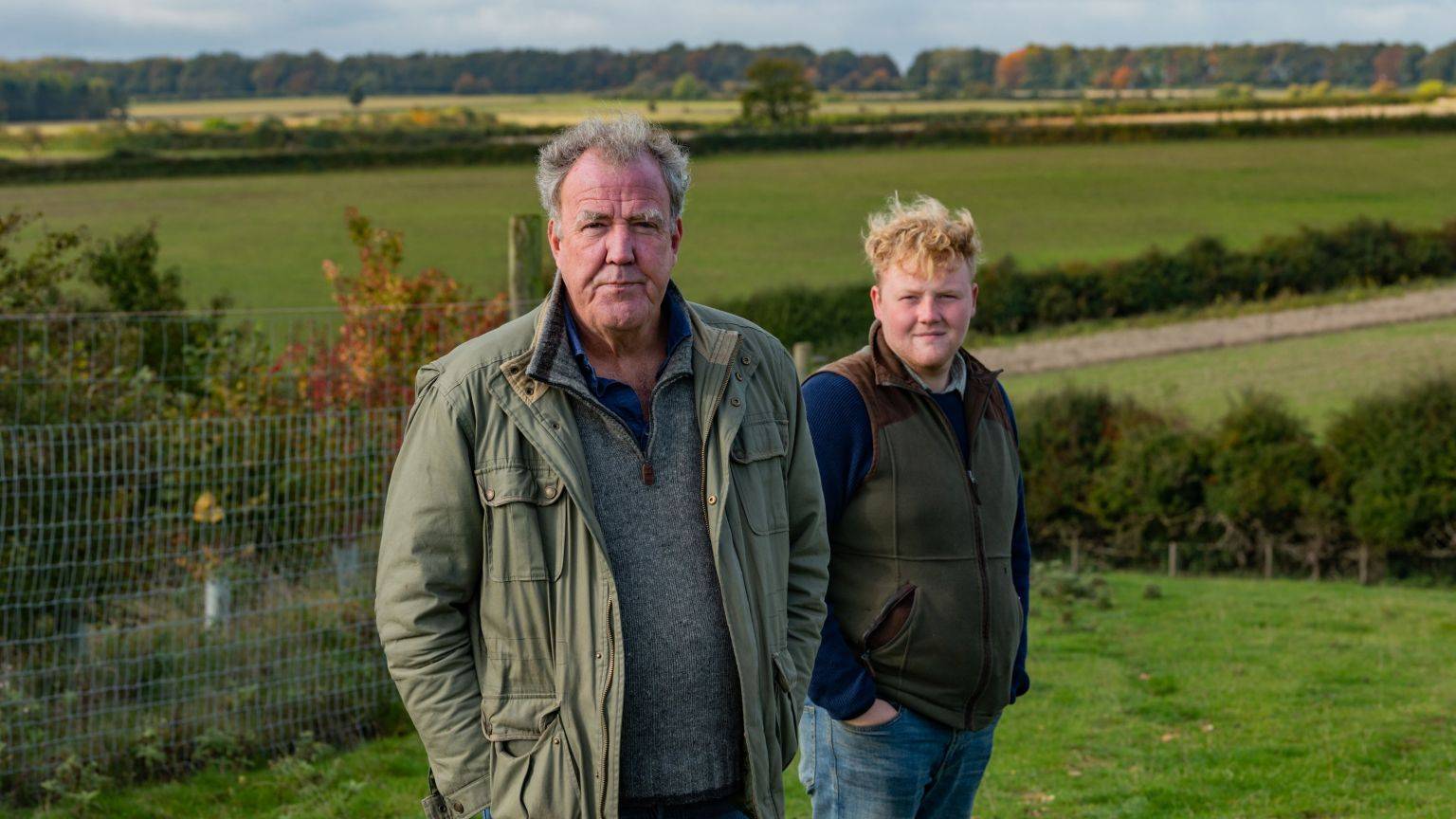 This Amazon Prime docuseries follows Jeremy Clarkson as he attempts to manage his 1,000 acre farm in the worst weather British farmers have seen in decades. The humor is riotous but also touching. If you thought Jeremy Clarkson was just a goofy gearhead on BBC's Top Gear and Amazon's The Grand Tour, wait until you see him delivering little baby lambs; it's precious. Also featuring a few funny locals, like the unintelligible Gerald and a young farmer named Kaleb who's never even been to London.
This show also features jaw-droppingly gorgeous 4K views of the Cotswolds through the seasons.
Filming of season two is underway.
Stream Clarkson's Farm HERE on Amazon Prime.
Clarkson's other show The Grand Tour is also still releasing specials, the most recent are hilarious trips to Scotland (29th July 2021) and France (17th December 2021) available HERE.
Want to see more of the Cotswolds? Check out our article about the Cotswolds HERE "Beautiful British Scenery in Pictures that Don't Move: The Cotswolds."
The Cleaner (2021 – ?)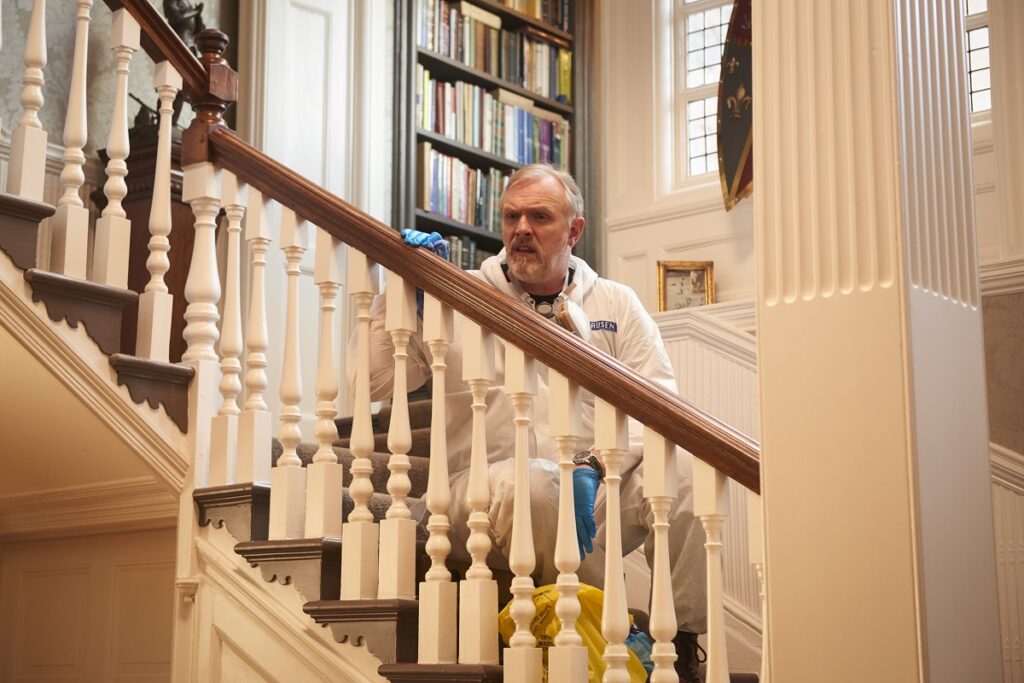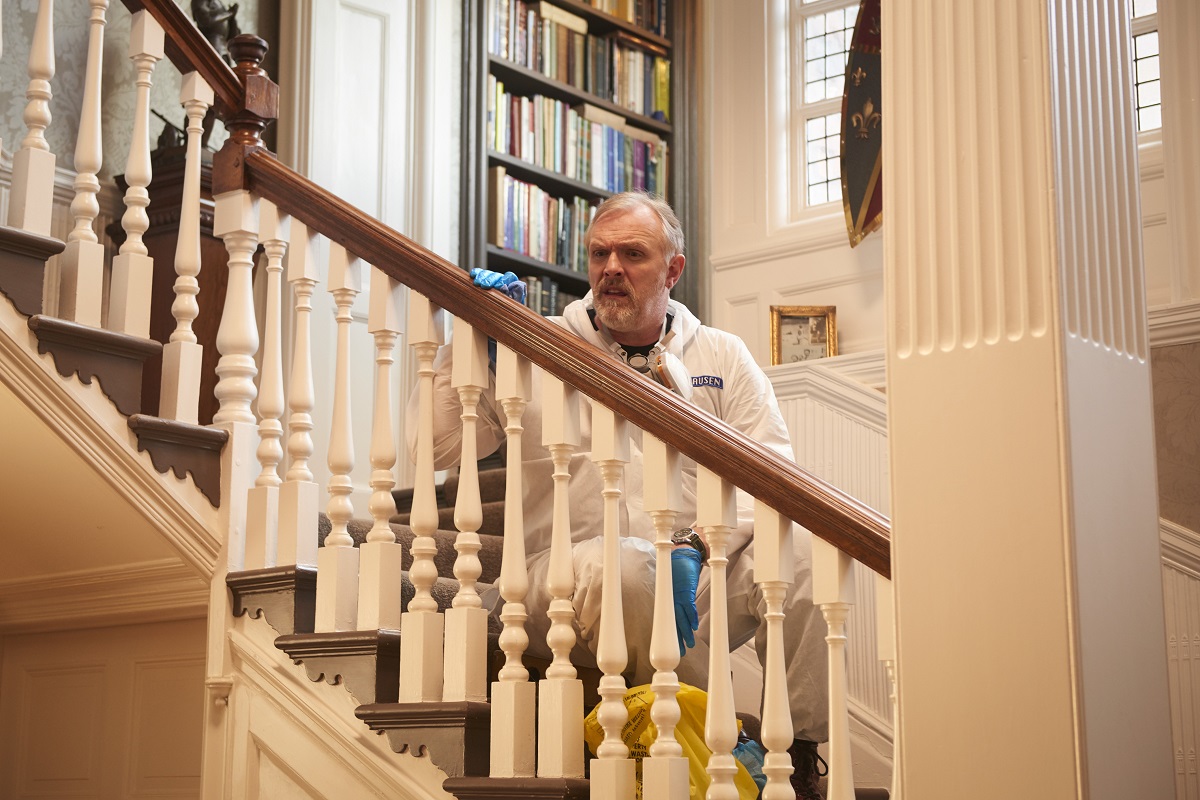 The Cleaner stars comedian Greg Davies as Paul "Wicky" Wickstead, a crime scene cleaner. Each episode follows him to a new scene with different guest characters. So, if episode one isn't your cup of tea, maybe episode two will be. The style of humor isn't completely over-the-top, but there is a little gallows humor. It's less about gore and more about the people he meets while cleaning.
This version of The Cleaner is written by Greg Davies and is an adaptation of a German show that ran for six seasons. Davies said he would love to do a second season, but there is no news as of yet (Radio Times).
Guest starring Helena Bonham Carter, Stephanie Cole, David Mitchell, and more.
The Cleaner is streaming on BritBox.
Derry Girls (2018 – Current)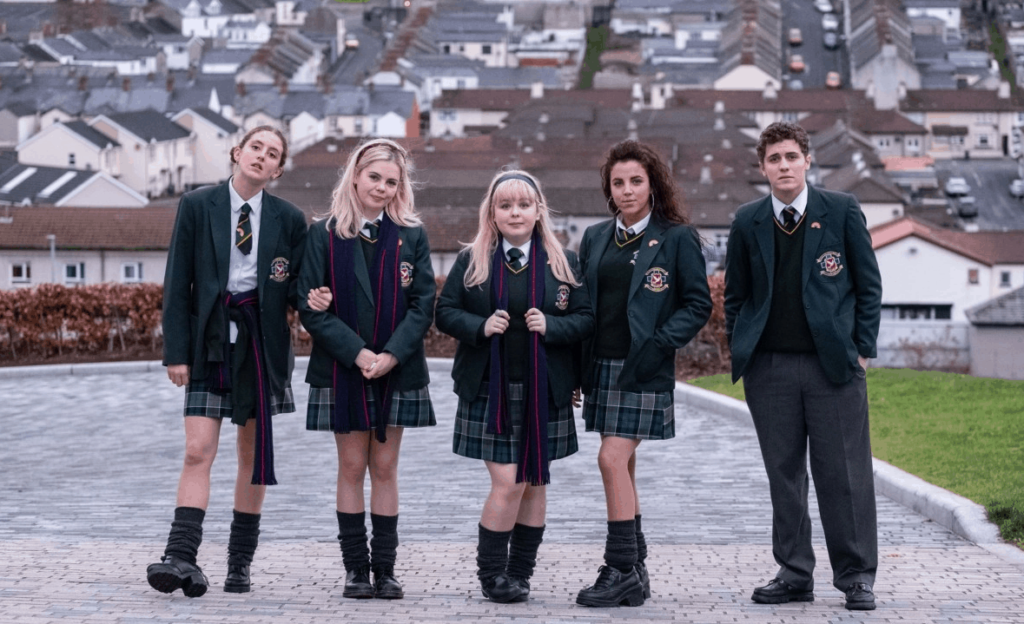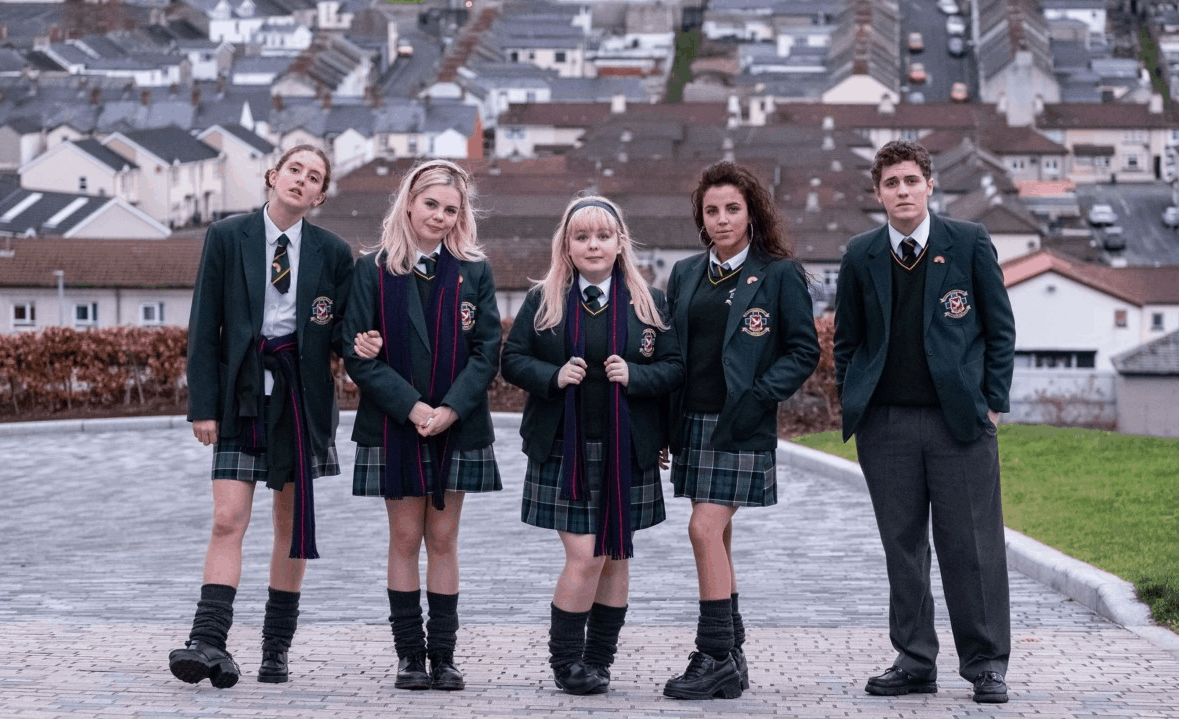 Derry Girls is an Irish coming-of-age comedy set in 1990s Derry during the political conflict known as the Troubles. Created and written by Derry-born Lisa McGee who has worked on London Irish, Being Human, The White Queen, and more.
The style of humor is irreverent, mischievous, and all-round good fun.
Starring Saoirse-Monica Jackson, Louisa Harland, Nicola Coughlan, Jamie-Lee O'Donnell, and Dylan Llewellyn.
Derry Girls is streaming on Netflix. Season 3 of Derry Girls is coming before too much longer.
Finding Alice (2021 – Current)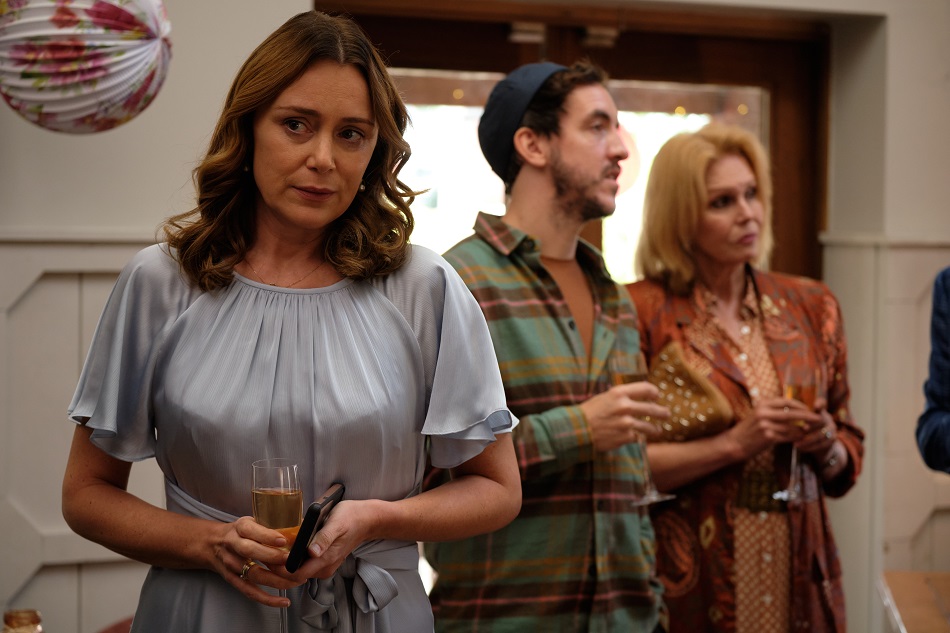 Alice, Harry, and their daughter Charlotte are moving into a new home. And anyone who has moved house knows how disorganized and stressful that can be. But that's just the start of Alice's problems when she finds Harry, her beloved partner of twenty years, dead at the bottom of the stairs.
This dramady is tender, darkly funny, and great for fans of After Life.
Starring Keeley Hawes, Nigel Havers, Joanna Lumley, Gemma Jones, and more. Keeley Hawes, as always, gives us a great performance. This series has been renewed for a second season.
Finding Alice is streaming on Acorn HERE.
Ghosts (2019 – Current)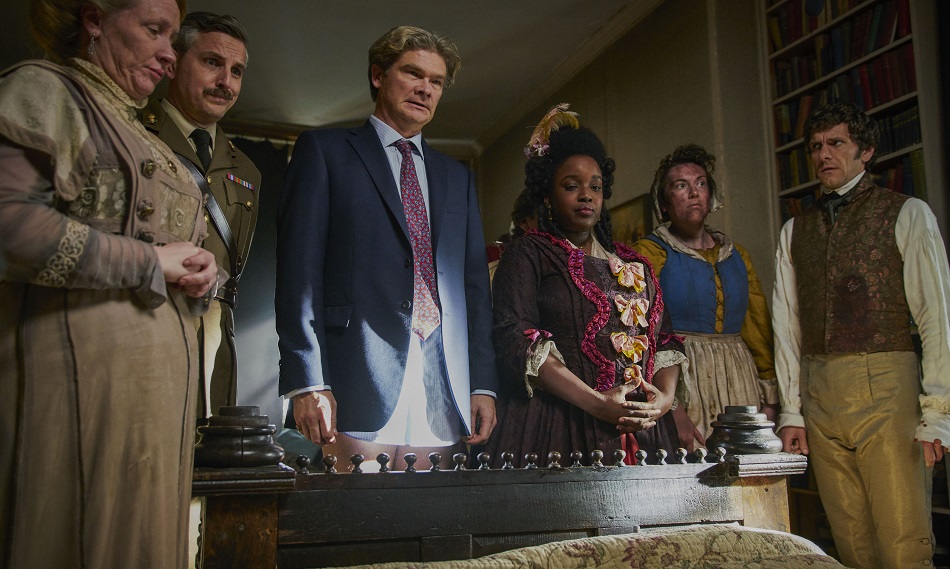 The ghosts haunting a stately home are upset when a young married couple, Alison and Mike, inherit the estate and plan to turn it into a hotel. After one of the ghosts pushes Alison out of a window, she wakes up from a coma with the ability to see them. And once she can communicate with them, the nagging begins.
There are at least nine regular ghosts, most of which are played by the Horrible Histories comedy troupe, and they're all from different eras… There's a caveman, a medieval woman burned at the stake, a headless Tudor-era man, a Romantic poet, a stuffy Edwardian woman, a WWII captain, a Scout leader, and a politician who died with his trousers down.
The style of comedy is clever, touching, and wickedly funny. You'll laugh, you'll cry, and then you'll laugh-cry.
Starring and created by Laurence Rickard, Ben Willbond, Martha Howe-Douglas, Mathew Baynton, Jim Howick, and Simon Farnaby. Also starring Charlotte Ritchie, Katy Wix, Lolly Adefope, Kiell Smith-Bynoe, and Jessica Knappett.
There are currently three seasons. Season 4 of Ghosts begins filming in January 2022, so we expect it later in 2022.
The original BBC show is streaming on HBO Max.
Jack Whitehall: Travels with My Father (2017 – 2021)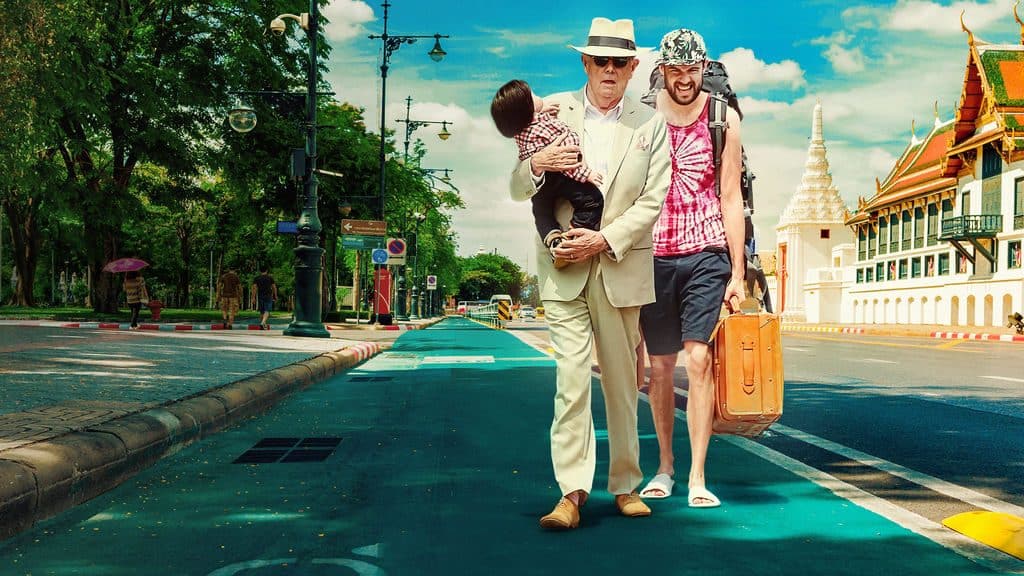 This docuseries follows British comedian/actor Jack Whitehall and his aging father across Asia, Europe, America, Australia, and more. It's the perfect combination for lots of laughs: Jack is wild, energetic, and ready for just about anything… but his father Michael is stoic, reserved, and not very adventurous. They do have one thing in common, though: a wicked sense of humour.
If you like travelogues but also want to die laughing, this is a great choice.
This docuseries has five seasons, some shorter than others at just two episodes. (There are a total of 18 episodes).
Jack Whitehall: Travels with my Father is streaming on Netflix.
Kate & Koji (2020 – Current)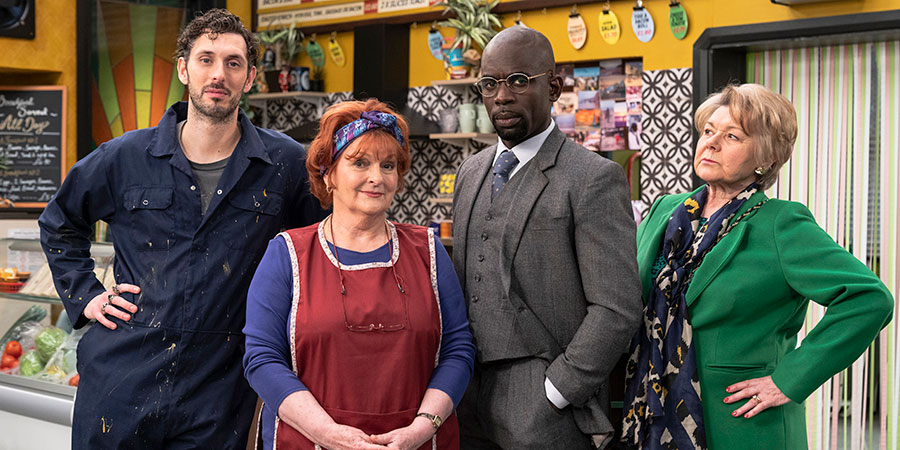 Kate & Koji follows working-class cafe owner Kate as she befriends an educated asylum-seeker called Koji. He helps her business by practicing in her cafe. To keep this arrangement up, he gets free food. This funny sitcom also features other humourous customers like council members and the postman.
Starring Brenda Blethyn, Barbara Flynn, Blake Harrison, and Meera Syal. It will return for a second season, but Okorie Chukwu will be taking over the role of Koji from Jimmy Akingbola.
Kate & Koji is streaming on BritBox HERE.
Motherland (2016 – ?)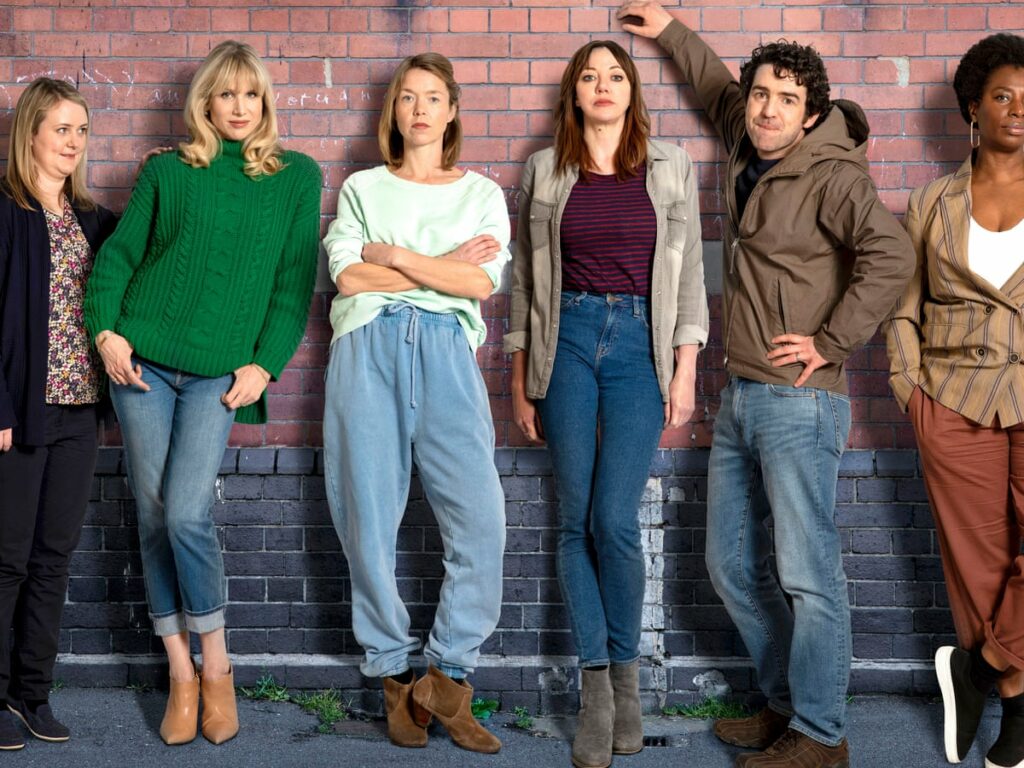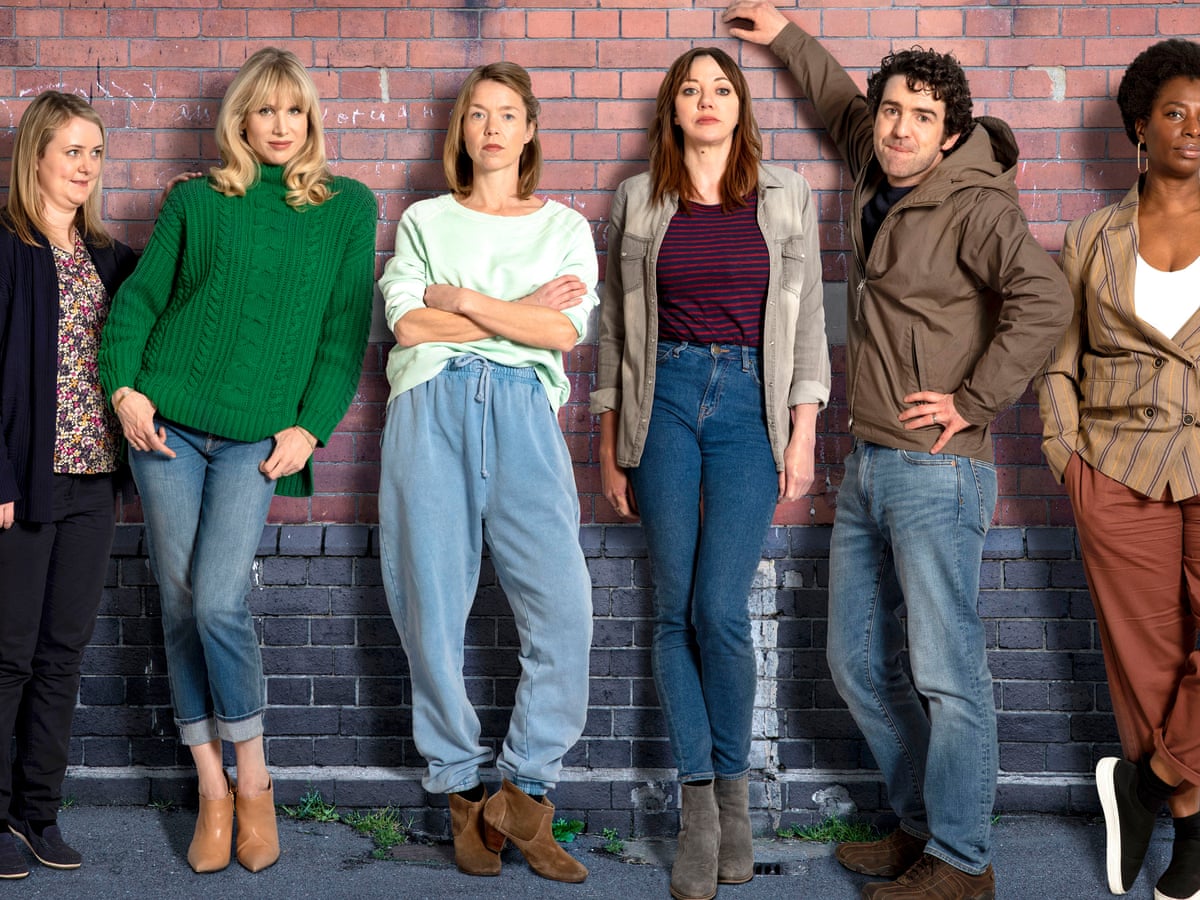 This series follows a group of middle-class mums and explores different types of parenting, from the organized alpha to the chaotic. Starring Anna Maxwell Martin, Lucy Punch, Diane Morgan, Paul Ready, Phillipa Dunne, and Tanya Moodie.
Written by Graham Linehan (Father Ted, Black Books, The IT Crowd), Sharon Hogan (Catastrophe, This Way Up), Helen Serafinowicz, and Holly Walsh (The Other One).
There are currently three seasons but no news yet on season 4.
Motherland is streaming on Sundance Now HERE.
The Other One (2017 – Current)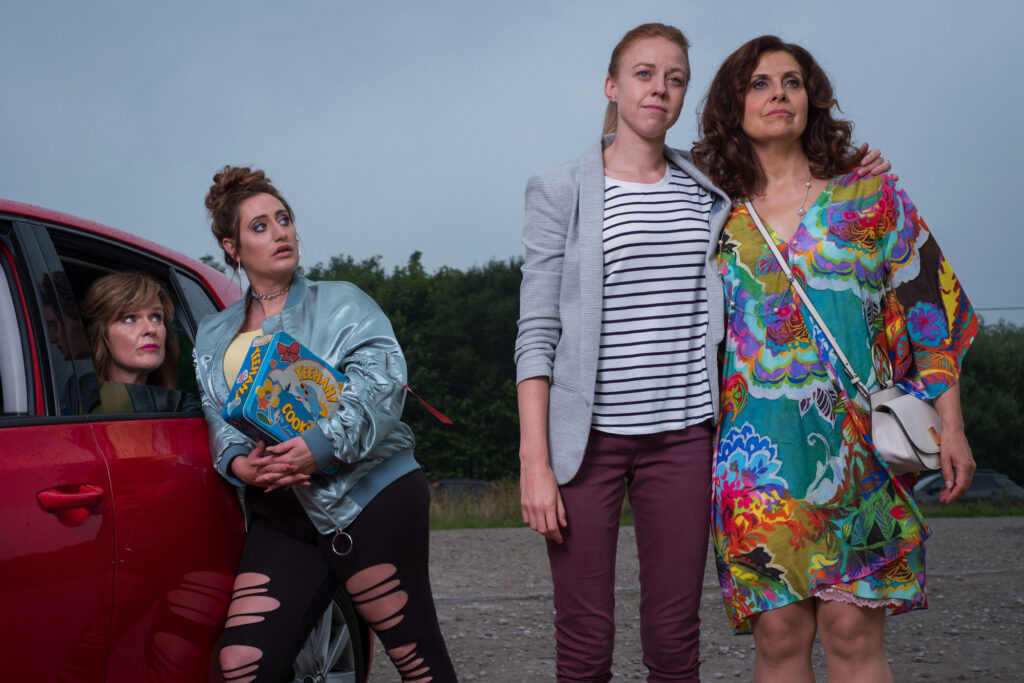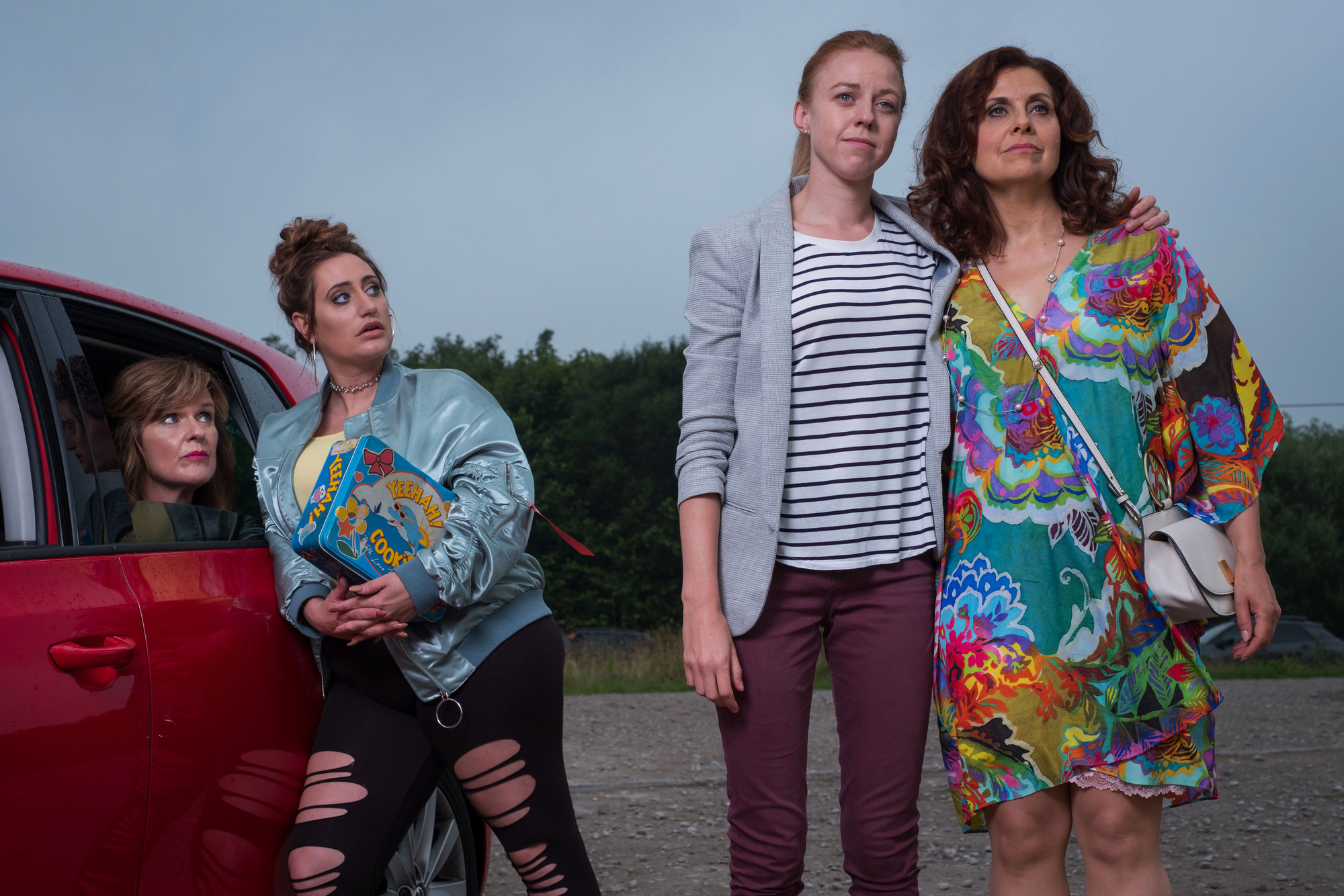 When Colin dies suddenly, his wife and their over-achieving daughter find out they weren't his only family. He had a secret lover and another daughter who couldn't be more different from her sister. This comedy follows their struggle to get to know one another and to grieve.
Starring Rebecca Front, Ellie White, Siobhan Finneran, Lauren Socha, Stephen Tompkinson, and Caroline Quentin. Written by comedian Holly Walsh (Motherland).
The Other One is over-the-top funny and not quite as dramatic as shows like After Life and Finding Alice. So if you want a laugh-out-loud irreverent comedy, this one's for you.
Season 2 filmed this summer, so we're expecting to hear a release date soon.
The Other One is streaming on Acorn HERE.
Stath Lets Flats (2018 – ?)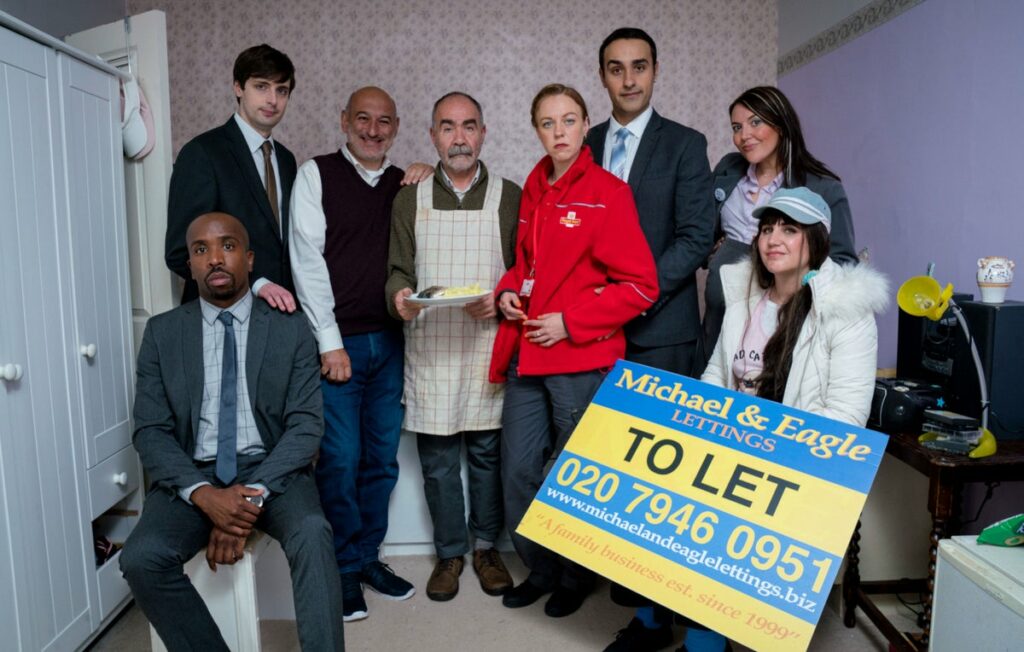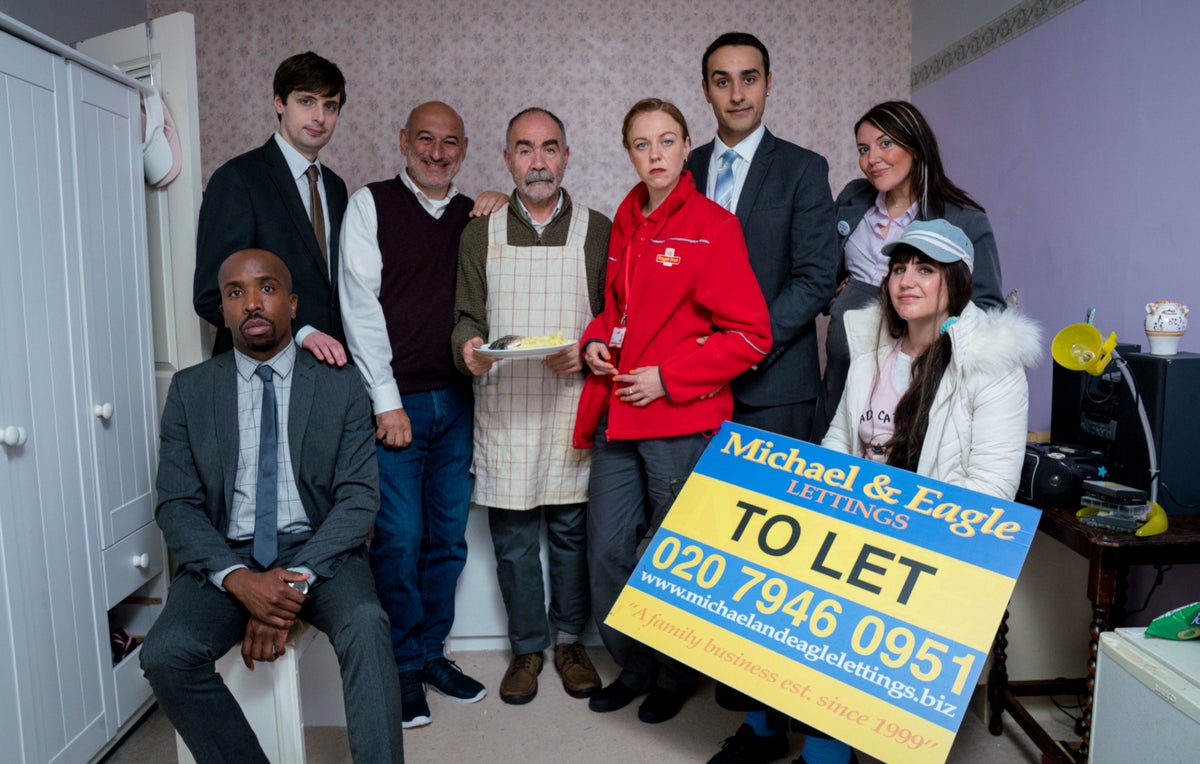 Stath is a Greek-Cypriot lettings agent who works for the family business Michael and Eagle Lettings. He's incompetent, chaotic, kind-hearted, and trying to prove himself capable to inherit the family business.
Starring co-writer Jamie Demetriou as Stath, Natasia Demetriou, Katy Wix, Christos Stergioglou, Kiell Smith-Bynoe, Ellie White, and Al Roberts. Also co-written with Friday Night Dinner creator Robert Popper.
Stath Lets Flats won two 2020 BAFTA awards: Best Scripted Comedy and Best Male Comedy Performance.
Three seasons of Stath Lets Flats are streaming on HBO Max. No news yet on season 4.
If you like Stath, you might also enjoy Home about a Syrian refugee who hides in the back of a British family's car on their way home to Surrey from France. It lasted for two seasons (2019 – 2020) and is also available on HBO Max.
This Way Up (2019 – ?)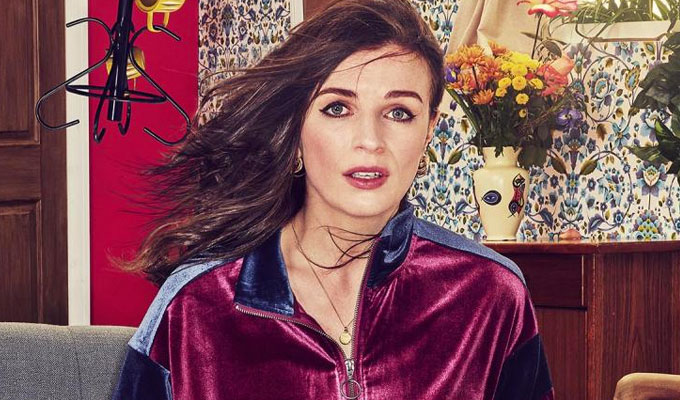 This dark-humoured series follows a young, single Irish woman (Aisling Bea) who teaches English as a second language in London. Her protective older sister (Sharon Hogan) is living with her male partner but attracted to a female co-worker. Featuring lots of dramady about personal and professional life.
Also starring Tobias Menzies and Aasif Mandvi.
The Guardian lists This Way Up as #16 in their top 50 shows of 2021 list. Fans of Catastrophe, Fleabag, and Back to Life will enjoy this show.
There are currently 2 seasons of This Way Up with no news yet on the commission of season 3.
This Way Up is streaming on Hulu HERE.
What's Your Favourite Recent British Comedy?
Let us know in the comments! We'd love to hear from you.
Save it to Pinterest!