The Top 10 Best British Comedy Sketch Shows
In some cases, we earn commissions from affiliate links in our posts.
Last Updated on March 13, 2021 by Stefanie Hutson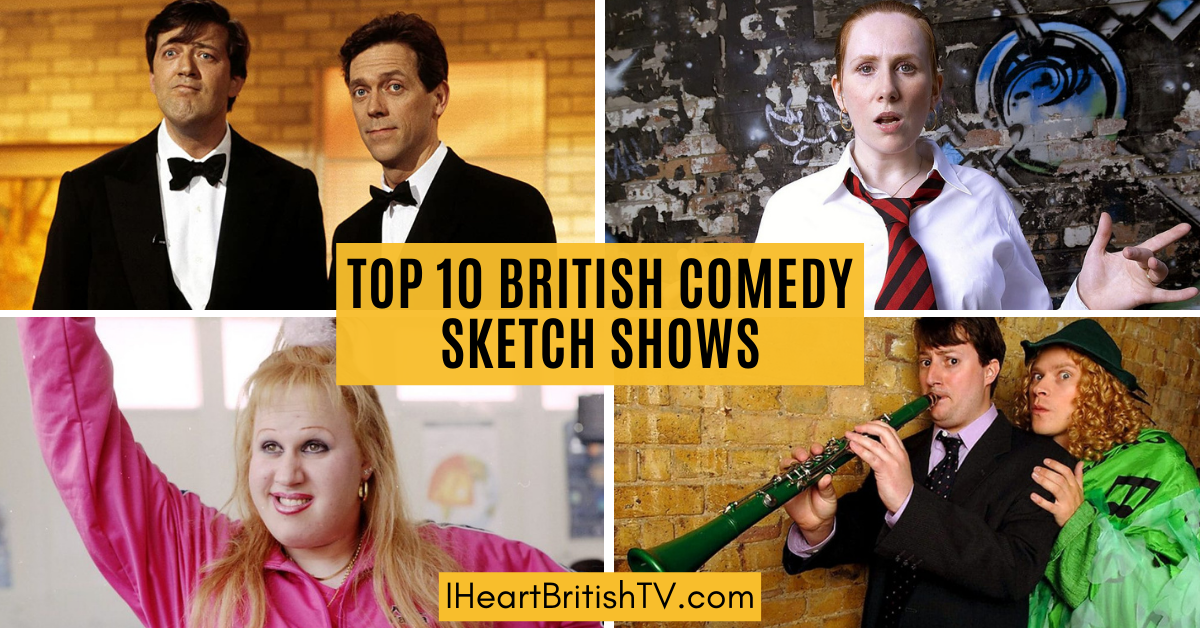 I don't know about you, but I've been enjoying a lot of escapism and comedy lately. Sketch comedy shows are prefect for days when we need to relax and laugh. Not everyone likes sketch comedy, but I think it is a great way for actors and comedians to demonstrate their wide range of abilities. It's especially fun to see them playing so many different characters.
The Top 10 British Comedy Sketch Shows
After publishing 17+ Great British Comedy Sketch Shows, we wanted to narrow it down to the Top 10. So, in this post we're highlighting the most popular and highest rated British comedy sketch shows.
As always, this Top 10 list is based on the number of ratings, reviews, and overall score from IMDb.com – they celebrated their thirtieth anniversary last year. Who knew the internet was over thirty years old, let alone IMDb? *shocked face*
NOTICE: The most recent sketch show on this list stopped airing in 2009. Some of these shows might contain content that may be considered racist, sexist, transphobic, homophobic, body-shaming, or appropriation of race and culture. Viewer discretion is advised.
Monty Python's Flying Circus
From the surreal and hilarious world of Monty Python comes their sketch comedy show Flying Circus. Starring all the regulars: John Cleese, Terry Gilliam, Terry Jones, Eric Idle, and Graham Chapman.
For a lot of people, the words "British comedy" and "Monty Python" are nearly synonymous. Their sketch comedy ran from 1969 to 1974. Fans of the surreal style of comedy are everywhere; even PBS's Mister [Fred] Rogers was a fan.
Fun fact: The term for "internet spam" was inspired by the Spam sketch where a restaurant offers complementary spam with each dish.
You can own the digital version on Amazon or watch it on Netflix.
The complete Blu-Ray collection restored to HD (with lots of bonus features) is available on Amazon.
The League of Gentlemen
If Monty Python is a little too light for you, check out the darkly humorous League of Gentlemen starring Steve Pemberton, Reece Shearsmith, Mark Gatiss, and Jeremy Dyson. This 1999 television show grew from a Radio 4 show they did called On the Town with The League of Gentlemen in 1997.
Horror fans will love to watch them spoof and make references to famous horror movies in each episode. This show was exported all over the world and is known as "Psycho Village" in Korea, if that gives you any indication about the set-up and style of comedy.
Steve Pemberton and Reece Shearsmith went on to star in the dark comedy Inside No. 9 which is an anthology series with individual episodes; it's similar to a sketch show. Fans of The League of Gentlemen will enjoy Inside No. 9 and vice versa.
The League of Gentlemen is streaming on BritBox.
And if you fall in love with this dark humor, be sure to check out Inside No. 9 next.
A Bit of Fry & Laurie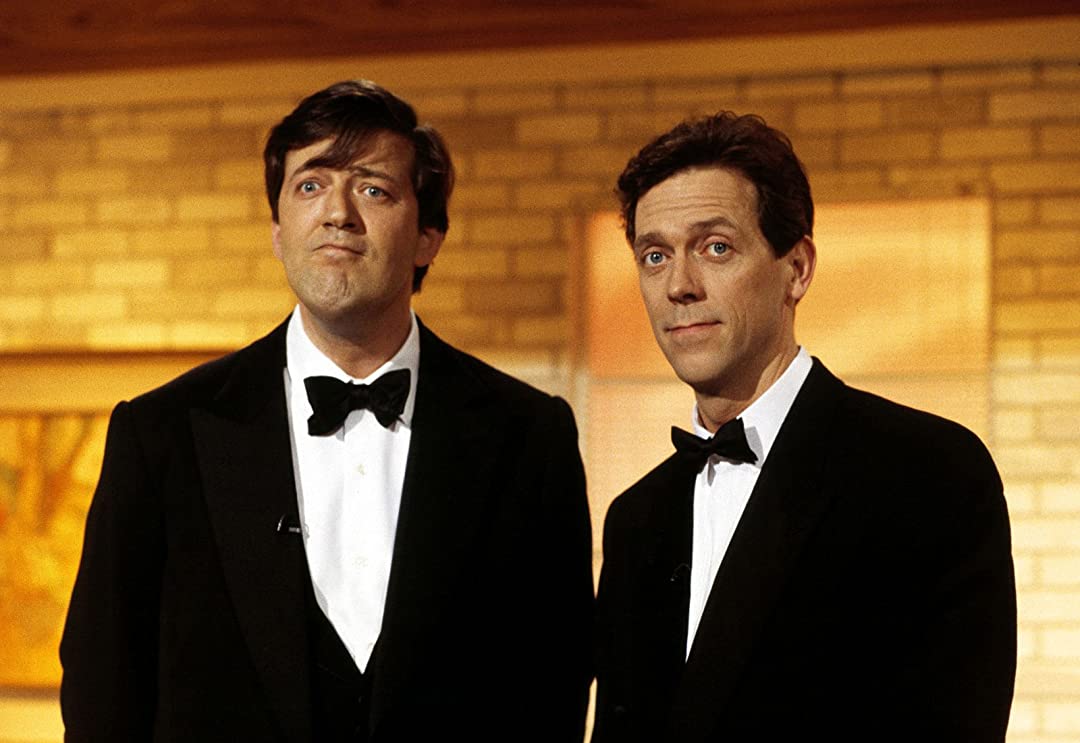 A Bit of Fry & Laurie stars Stephen Fry and Hugh Laurie as they explore a variety of "bits." They often use wordplay and funny costumes. The show is partly filmed in front of a live audiences and includes musical performances by Laurie. It ran for four seasons from 1987 to 1995.
Some elements of their show pay tribute to the long-running classic sketch comedy series The Two Ronnies which aired from 1971 to 1987. Fry and Laurie also appeared in Alfresco, an earlier sketch comedy series also starring Emma Thompson, Robbie Coltrane, Ben Elton, and Siobhan Redmond. Fry and Laurie later went on to star together in the sitcom Jeeves & Wooster.
All four seasons of A Bit of Fry & Laurie are streaming on Amazon Prime Video US.
BritBox has the pilot (a Christmas special) and first season.
That Mitchell & Webb Look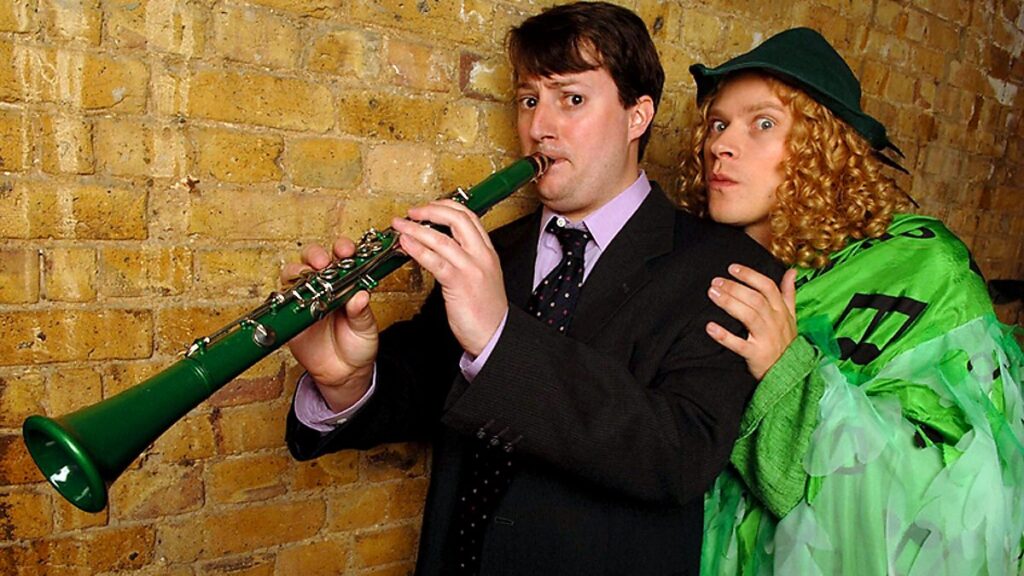 From the co-creators of Peep Show, David Mitchell and Robert Webb, comes a hilarious sketch show that also stars Olivia Colman and Sarah Hadland (Stevie from Miranda). David Mitchell went on to become a team captain on the comedy panel show Would I Lie to You?
Like The League of Gentlemen, this show also started as a radio program. This series is witty, intelligent, and not as crude as some shows. Mitchell and Webb have good balance as comedians. Mitchell is restrained and dry, while Webb is exuberant and energetic. Fans of Monty Python and A Bit of Fry & Laurie will enjoy this series. If there's one drawback, it's the seemingly non-stop live audience laughter. That's a difficult conundrum – it means they're super funny, but it can be a little distracting.
That Mitchell and Webb Look is available on Region 2 [PAL] DVDs from Amazon. So, you'll need a region-free DVD player to watch it if you're in the Americas.
Not Only… But Also…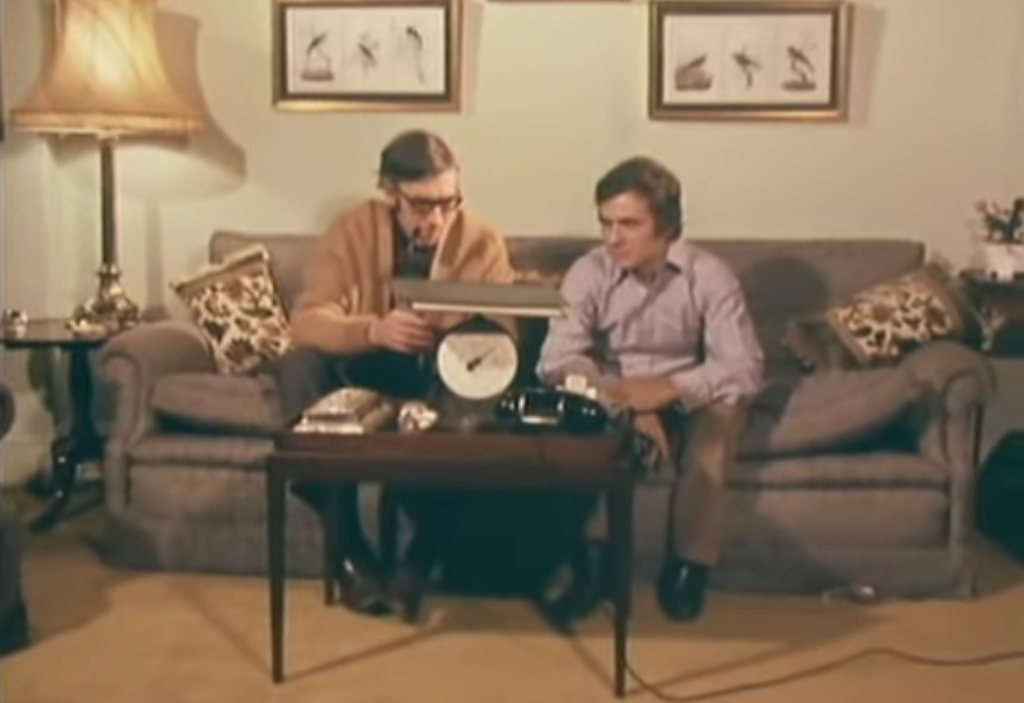 If you're interested in watching the "godfather of an entire branch of British comedy," you can safely start here. This 1964 comedy is often called the precursor to great sketch comedy, like Monty Python and Fry & Laurie. Not Only… But Also… stars comedy legends Peter Cook and Dudley Moore.
If you're hesitant because of your experience with their solo careers, try them together. Cook and Moore have great chemistry and a refreshing dynamic. If you were taking an academic class in sketch comedy and its history, or of the history of British humor altogether, this would easily be considered mandatory for an introductory course.
Peter Cook & Dudley Moore: The Best of… What's Left of… Not Only… But Also… is available on DVD [NTSC] from Amazon.
Big Train
Big Train is a sketch comedy show written by Arthur Mathews and Graham Linehan (who brought us Father Ted). It stars Simon Pegg, Mark Heap, Kevin Eldon, Rebecca Front, Amelia Bullmore, Julia Davis, Tracy-Ann Oberman, and Catherine Tate. It ran for two seasons from 1998 to 2002.
If you're a fan of sitcoms like Father Ted, Black Books, The IT Crowd, or Spaced, this is a must-watch. It also features a great cast of comedic actors who went on to have big careers. The style of comedy is a blend: it starts out seemingly ordinary, then descends into the surreal. Like in the sketch above, a normal family is having breakfast, then the father reads a telegram saying Billie Piper's music is lower on the music charts.
Big Train is available on DVD [NTSC] from Amazon.
Mark Heap, Kevin Eldon, and Julia Davis also starred in the "bleak, ambient" sketch show Jam in 2000.
Not the 9 O'Clock News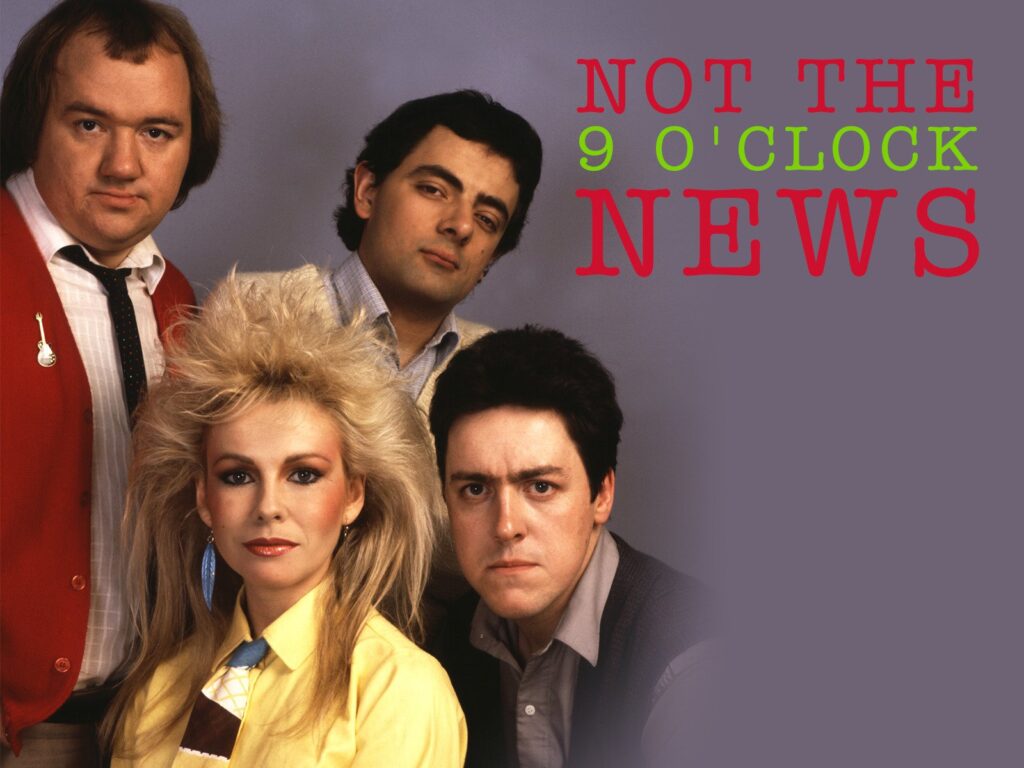 Not the Nine O'Clock News stars Rowan Atkinson, Pamela Stephenson, Mel Smith, and Griff Rhys Jones. Four seasons aired from 1979 to 1982. The show was created to be deliberately different from Monty Python's surreal comedy; rather, this show focuses on pop culture and satirizing news stories.
Of course, since it deals so much with culture in the late 70s and early 80s, it might be a little confusing for viewers who weren't alive at the time or who don't know much about those years. But even without this knowledge, it's still a bucketful of laughs. It primarily relies on satire and irony. Much of the humor may seem old-hat now, but keep in mind it was new at the time.
Fans of Rowan Atkinson's Blackadder will enjoy this show as well.
Not the Nine O'Clock News is available on BritBox.
Smack the Pony
This female-lead sketch show stars Fiona Allen, Doon Mackichan, Sally Phillips, and Sarah Alexander. Darren Boyd also makes appearances. Their comedy features rapid-fire lines, everyday life, and relationship dramady. Smack the Pony also features Miranda Hart's debut in a comedy series; she is in three episodes in the third season.
The humor is vibrant, unpredictable, and fans of Big Train will enjoy this (and vice versa). The sketches have good storylines as well. Like Big Train, it utilizes more realistic scenarios but with a twist.
The first episode is available on All 4's official YouTube channel.
Three seasons of Smack the Pony are streaming for free with ads on Tubi.
Little Britain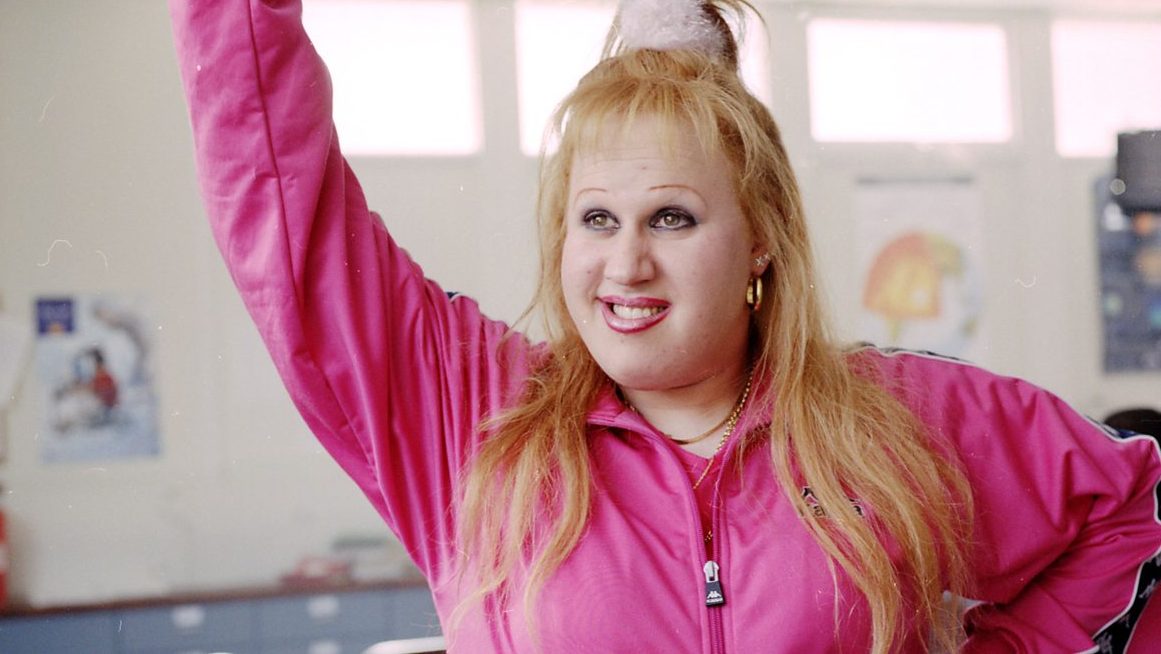 Little Britain stars David Walliams and Matt Lucas. It is known for satirizing all walks of British life. It's narrated by Tom Baker. It was so popular, they even went on to make Little Britain USA. It stars a variety of funny recurring sketches, including the Welsh character "the only gay in the village," along with sketches like "computer says no," a character called "Vicky" who is a moody teenager (played by Matt Lucas), and an assistant (David Walliams) who is in love with the fictional Prime Minister.
Little Britain was a phenomenon when it aired from 2003 – 2006. The humor can be crude at times, but sometimes that level of humor can be refreshing, even if it feels a little dirty.
Little Britain isn't streaming right now because a sketch contains racial appropriation, but it is available to own on DVD [NTSC – Americas region]. Hopefully they'll create a new edit of the show so it can be released on a streaming service soon.
The Catherine Tate Show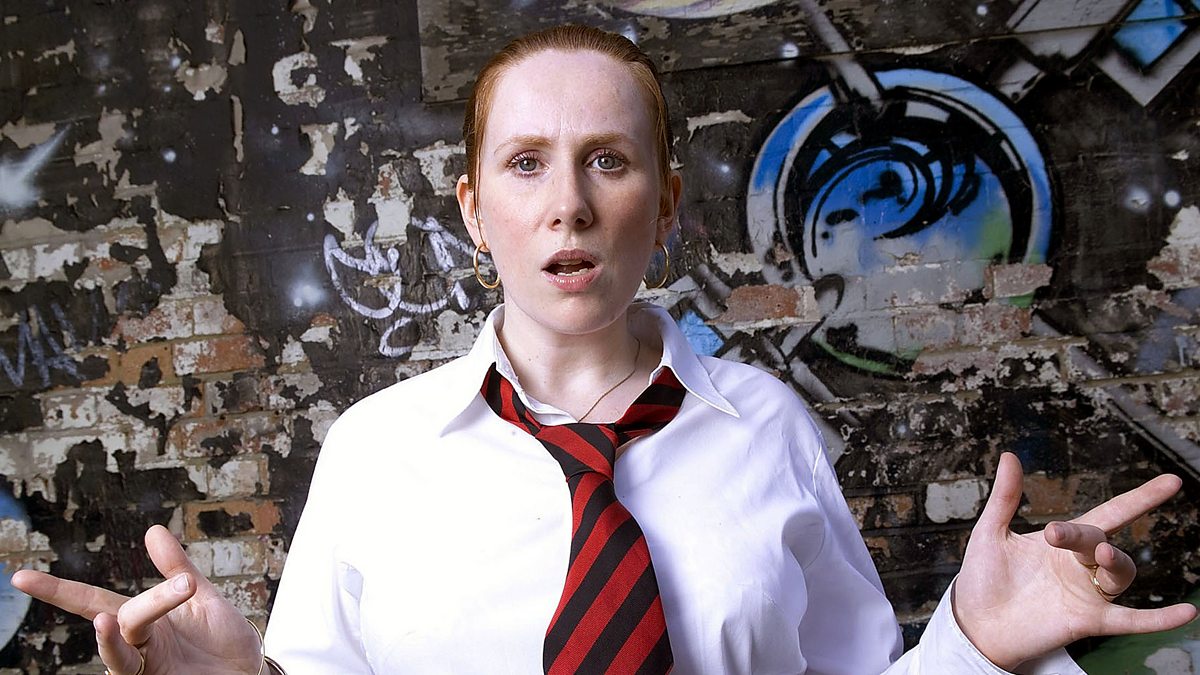 The Catherine Tate Show stars Catherine in a variety of roles, such as "Nan", "Lauren" (a mouthy schoolgirl), and for Comic Relief, she plays a woman trying online dating who ends up with Daniel Craig but doesn't know who he is.
This show uses plenty of realism and vibrant characters that reappear from episode to episode. It's also amazing to think how "Nan" and "Lauren" are played by the same actor. Catherine Tate is incredibly talented and the makeup department visually transforms her with so much detail. She brings to life so many different characters with hilarious quirks… like a housewife who jumps at the slightest noise, a new mother who does everything she can to keep from waking up her baby, an incessantly mouthy and sassy schoolgirl, and so on.
The Catherine Tate show (unfortunately, because it's one of my favorites) is not streaming right now.
The complete box set is available on DVD [PAL], but if you're in the Americas, you'll need a special region-free DVD player to watch it. They aren't a bad investment because you can see shows that weren't officially exported to the Americas; PAL format DVDs are often cheaper, too.
What Are Your Favourite British Comedy Sketch Shows?
Let us know in the comments!
(The Catherine Tate Show, A Bit of Fry & Laurie, Burnistoun, Horrible Histories, and The Mighty Boosh would be in my personal Top 10).
Save it to Pinterest!