Stephen Fry Movies & TV Shows + Where to Watch Them
In some cases, we earn commissions from affiliate links in our posts.
Last Updated on August 24, 2020 by Liberty White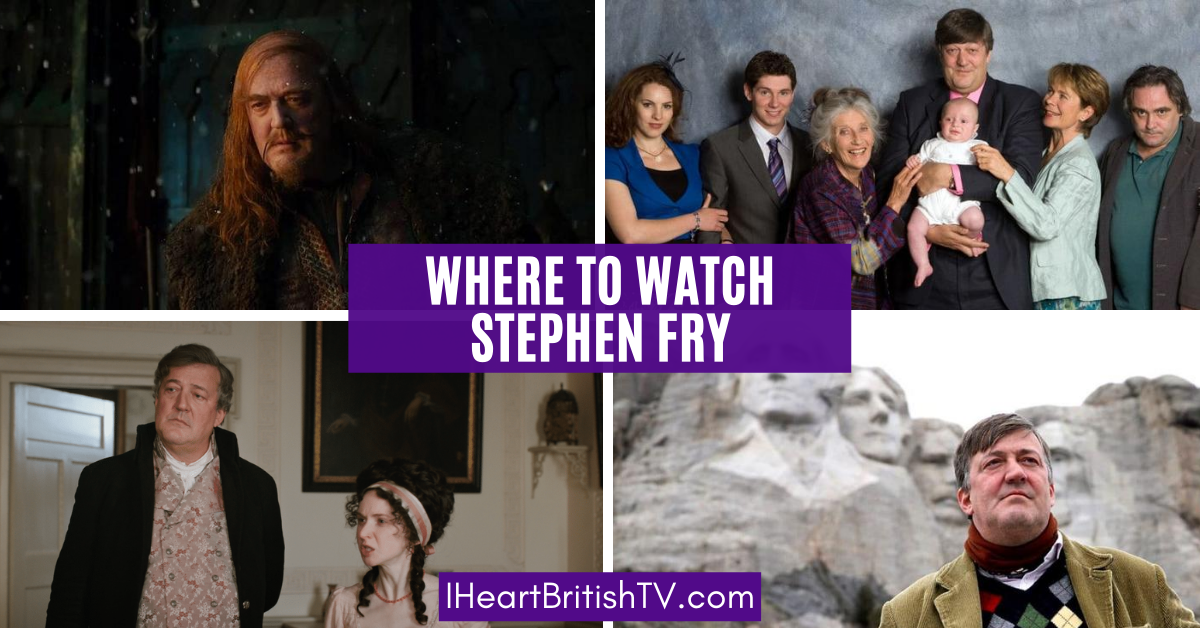 Stephen Fry is a comedian, actor, writer, and presenter from Hampstead. Fry often shows up in the best little roles and cameos. His filmography is extensive, from small roles in huge American shows, to starring in his own travelogues.
Fry got his start during his time with the Cambridge University Footlights Dramatic Club where he met Hugh Laurie, Emma Thompson, Tony Slattery, and even Grand Designs presenter Kevin McCloud, among others.
But first, an appeal: Why hasn't Stephen Fry been knighted yet? We think he's overdue for the honor. If you happen to have connections, put a good word in. 😉
Stephen Fry Movies & TV Shows + Where To Watch Them
In the absence of a knighthood, we're celebrating Stephen Fry by featuring some of his best work and his upcoming projects. We've divided them up by movies and television programmes.
Stephen Fry's Movies
Bright Young Things
Fry only shows up as the "chauffeur" in Bright Young Things, but he also directed it, so it's well worth the watch if you are a fan of his. Also, it has a big cast of familiar faces.
Bright Young Things is based on the book by Anna Godbersen; the story is set in the roaring twenties, now a hundred years ago. Fry also wrote the screenplay. It's about a group of socialites and their antics.
You can own or rent Fry's film Bright Young Things on Amazon.
Wilde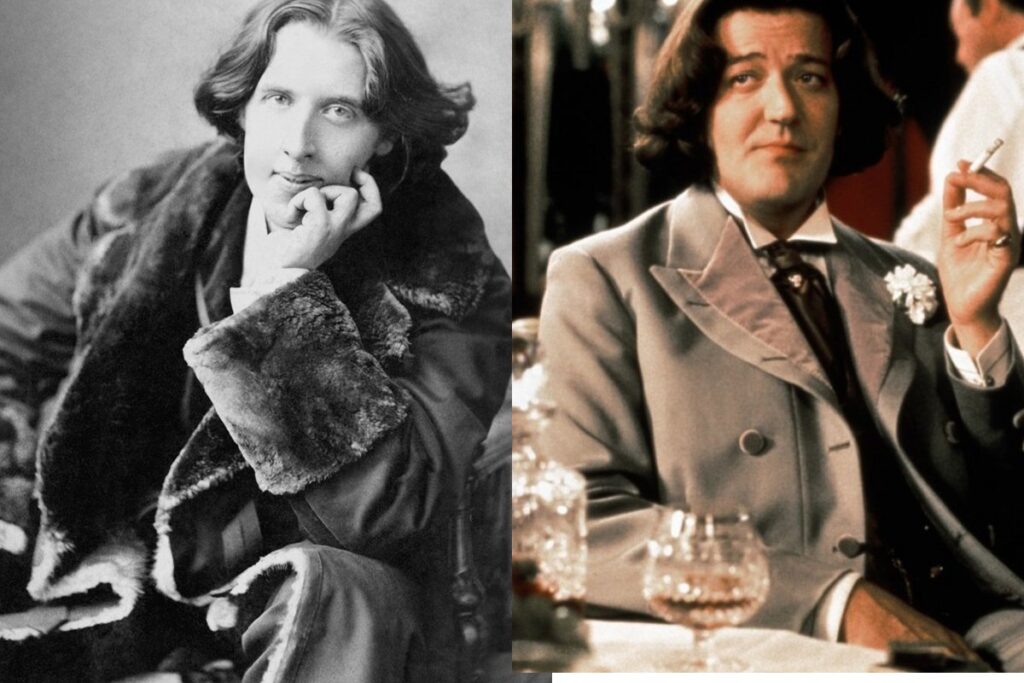 No list about Stephen Fry would be complete without his performance as Oscar Wilde.
This adaption of Oscar Wilde's life also stars Jude Law, Michael Sheen, Vanessa Redgrave, Ioan Gruffudd, and many more.
Unfortunately, Wilde isn't currently streaming but you can rent the DVD through Netflix or buy the Region 2 DVD on Amazon and watch it with a Region-Free DVD player. This movie is kind of hard to find, but it's worth watching once you get it.
Alice in Wonderland & Alice Through the Looking Glass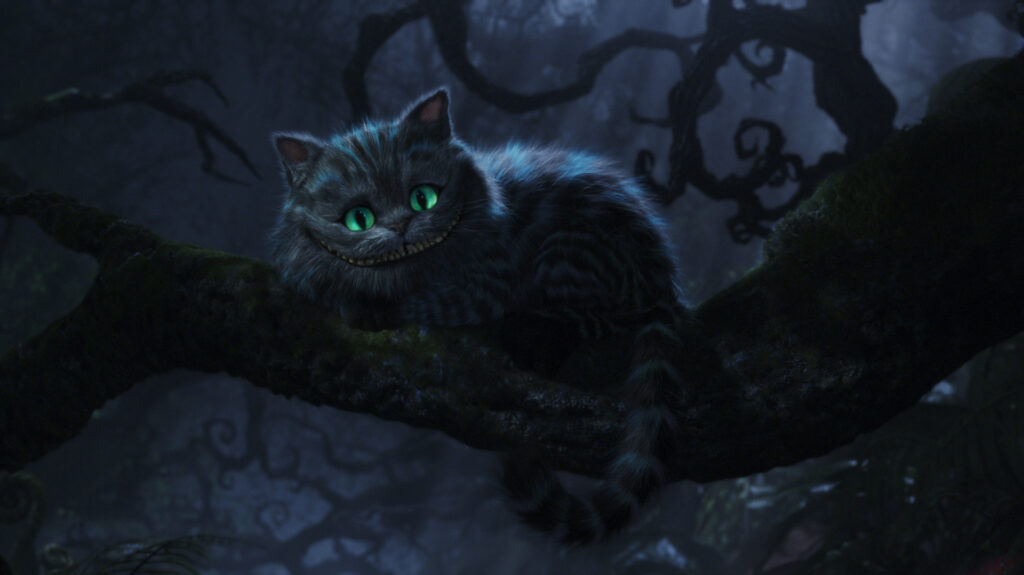 While we don't get to see his lovely face, you can hear Fry's performance of The Cheshire Cat in Tim Burton's Alice in Wonderland. (Although, Burton didn't direct the sequel).
These darkly quirky Alice in Wonderland films star Mia Wazikowska as Alice. Michael Sheen voices the White Rabbit and Alan Rickman plays the caterpillar.
The first one is streaming on Disney+. Both are available to own or rent on Amazon: Alice in Wonderland and Alice Through the Looking Glass.
Gosford Park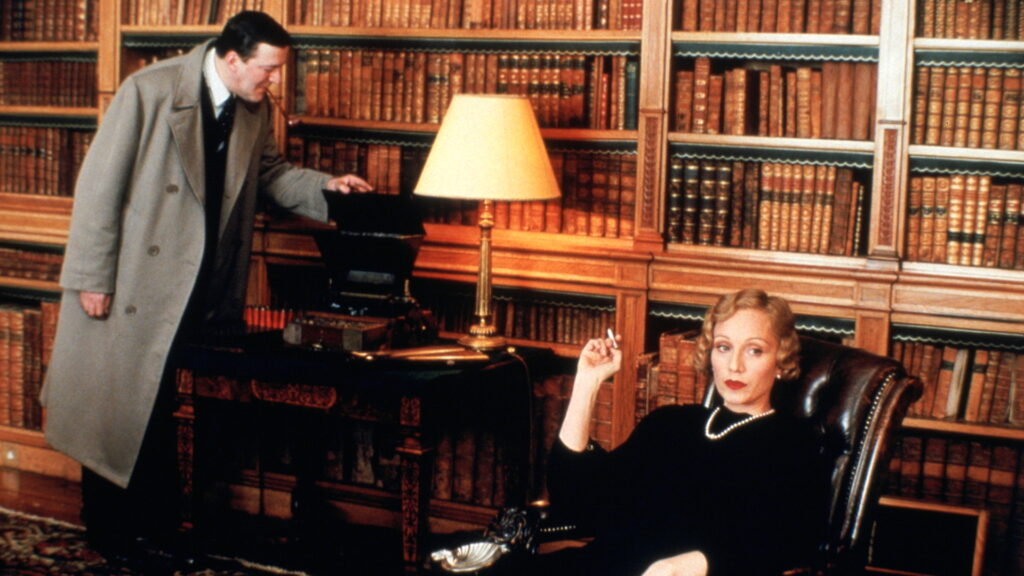 Fry also shows up as the inspector in Gosford Park, written by Downton Abbey's Julian Fellowes.
Gosford Park has a huge cast, too, like everything else we've mentioned so far. It stars Maggie Smith, Michael Gambon, Kristin Scott Thomas, Charles Dance, and more.
Gosford Park follows the story of a hunting party at a country estate where a murder takes place.
You can rent or own Gosford Park on Amazon or stream it on NBC's new service Peacock.
Love & Friendship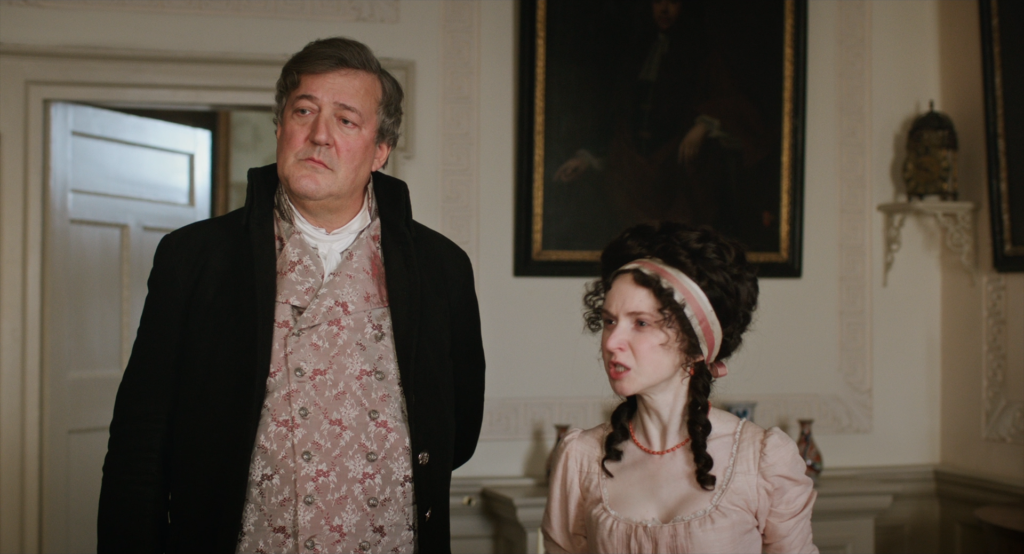 Love & Friendship is based on Jane Austen's early epistolary novel Lady Susan.
Love & Friendship stars Kate Beckinsale as Lady Susan Vernon, who tries to be a scheming matchmaker for her daughter.
You can stream Love & Friendship with an Amazon Prime membership.
Sherlock Holmes: A Game of Shadows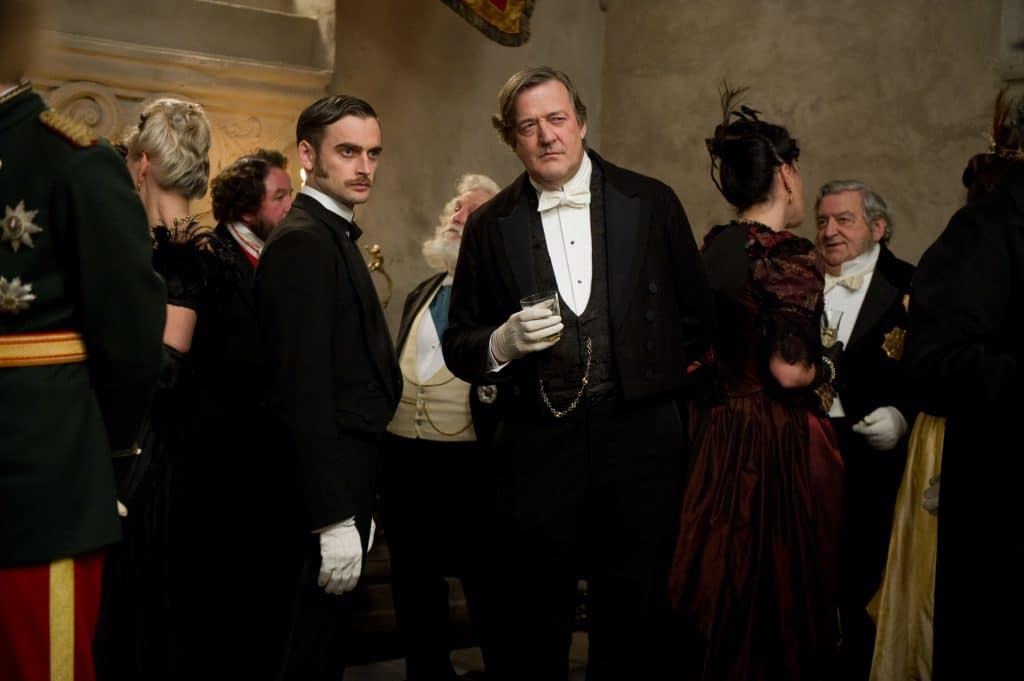 In the sequel to Guy Ritchie's Sherlock Holmes film starring Robert Downey Jr and Jude Law, Fry plays Sherlock's brother, Mycroft Holmes.
If you're looking for a fun action-adventure film about Sherlock Holmes, this fits the bill. When Austria's crown prince is murdered, Sherlock suspects his nemesis, Moriarty (Jared Harris) is behind it all.
They're good movies if you don't mind the Hollywood blockbuster format.
Sherlock Holmes: A Game of Shadows (the sequel) is streaming on HBO or available to own/rent on Amazon. The first film is free with ads on IMDbTV if you want to watch it first.
The Hobbit: The Desolation of Smaug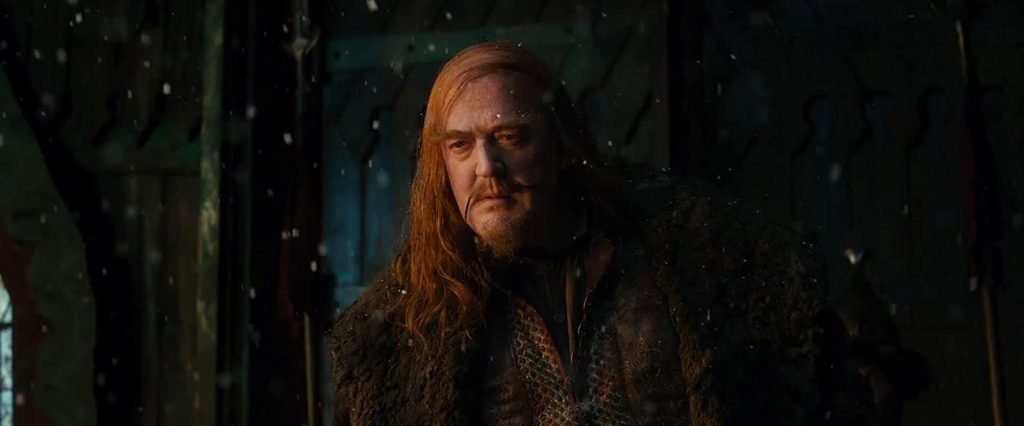 Fry had another small role in another Hollywood blockbuster sequel, the second installment of The Hobbit trilogy. He plays the greedy Master of Lake-town.
While these movies are hard to compare to the original Lord of the Rings trilogy because they're so different, they do hold up if you're a fan of Middle Earth. Martin Freeman does a wonderful job as Bilbo Baggins. Benedict Cumberbatch plays the dragon, Smaug. He didn't just voice the dragon, his whole physical performance was animated into a dragon. The cast also boasts Richard Armitage, Aidan Turner, James Nesbitt, Sylvester McCoy, and so many more.
You can own or rent the Hobbit trilogy on Amazon; here's the link for the Desolation of Smaug.
V for Vendetta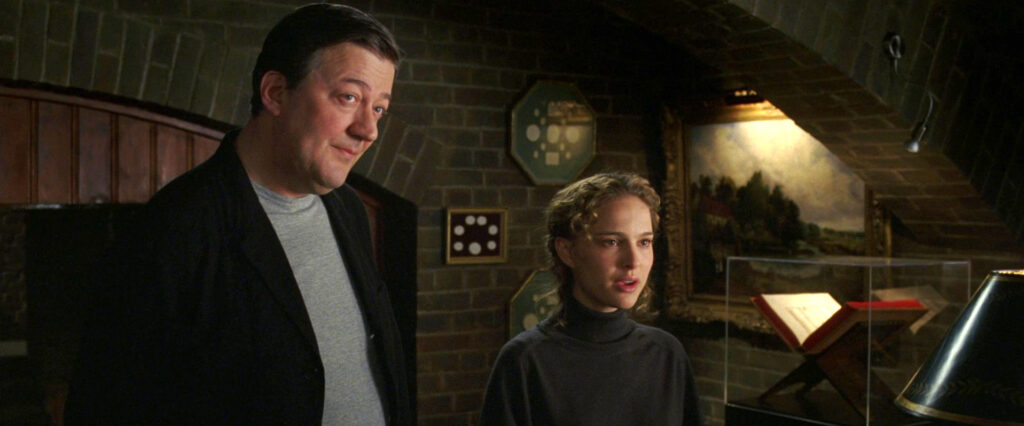 V for Vendetta is a dystopian political thriller starring Natalie Portman, Hugo Weaving, John Hurt, Rupert Graves, and Roger Allam.
V is a vigilante in dystopian London where a fascist police state rules. After saving a young woman, she becomes his unlikely ally. Fry plays Deitrich.
V for Vendetta is streaming on Netflix.
The Look of Love
In the comedy-drama film, The Look of Love, Fry plays a barrister – putting his way with words to use again. Steve Coogan stars as an infamous playboy who builds an empire of real estate and entertainment (including porn). He becomes the wealthiest man in Britain but we all know: more money, more problems.
The Look of Love also stars Anna Friel, Imogen Poots, Matt Lucas, David Walliams, Shirley Henderson, and more.
It's based on a true story and is available to own or rent on Amazon.
A Hitchhiker's Guide to the Galaxy
If you didn't catch it before, you'll be pleased to know Stephen Fry is the narrator (or guide) in A Hitchhiker's Guide to the Galaxy starring Martin Freeman, Zooey Dechanel, Sam Rockwell, Warwick Davis, Bill Bailey, and Alan Rickman.
It's based on the book by Douglas Adams about a man who gets whisked away across the galaxy.
You can watch A Hitchhiker's Guide the Galaxy free with ads on the Roku Channel or rent/own it on Amazon.
Stephen Fry in TV Shows
Kingdom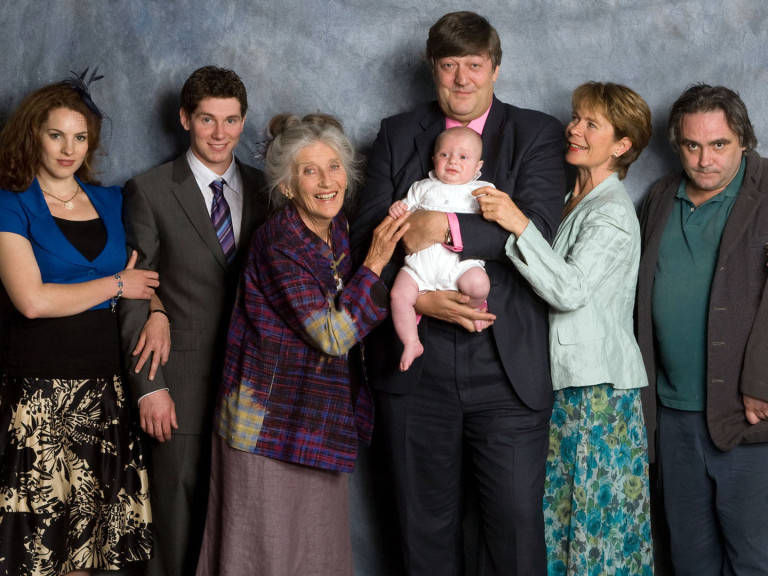 Since being added to Acorn's line-up, Kingdom has seen a resurgence in popularity. It stars Stephen Fry as Peter Kingdom, a solicitor in a quaint Norfolk town. Fans of shows like Doc Martin, Detectorists, and other shows with quirky local town characters will enjoy Kingdom.
It ended after three seasons. All three are streaming on Acorn as well as Hulu, Tubi, and The Roku Channel.
Alfresco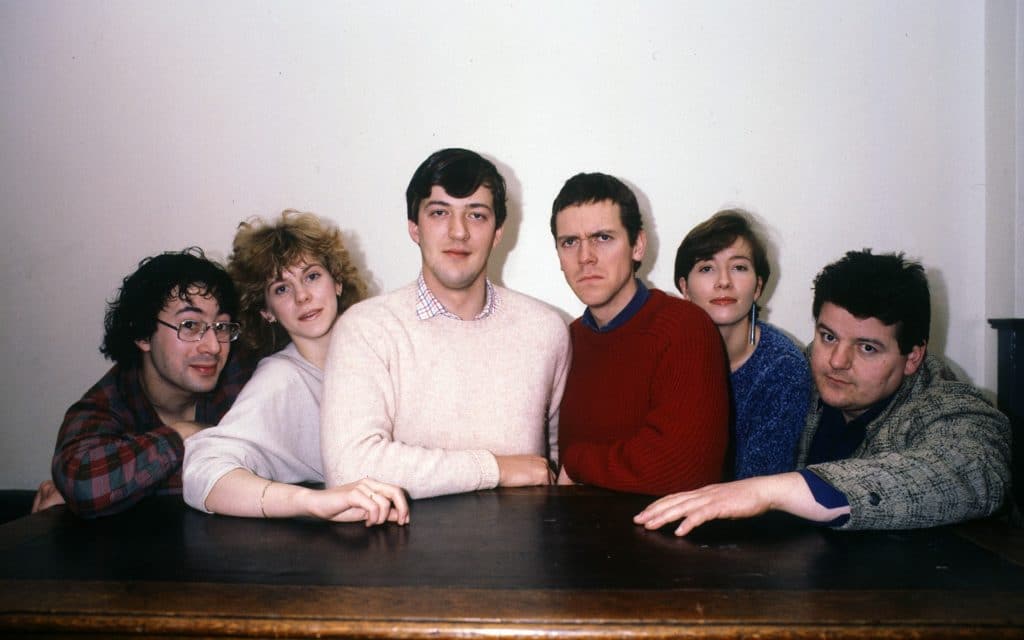 Although it wasn't his first TV performance, you could say Fry's television career started with 1983's Alfresco, along with Hugh Laurie, Robbie Coltrane, Emma Thompson, and more.
It's a sketch comedy show available on BritBox.
A Bit of Fry & Laurie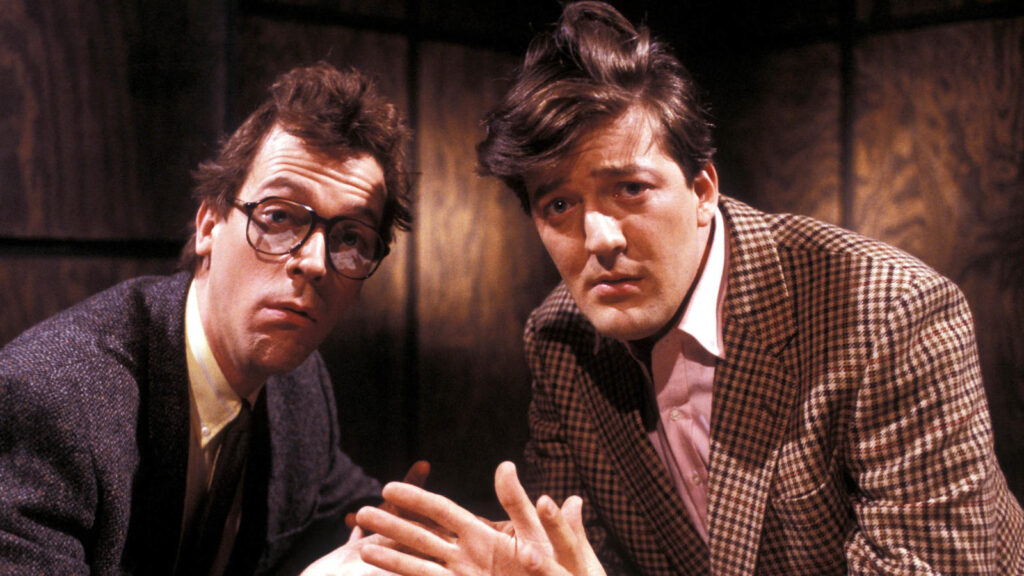 A Bit of Fry and Laurie; Hugh Laurie & Stephen Fry.
After Alfresco, Fry and Hugh Laurie went on to create their own sketch show, A Bit of Fry & Laurie.
A Bit of Fry & Laurie is streaming on Amazon Prime and BritBox.
They also went on to star in Jeeves and Wooster, but unfortunately it isn't streaming anywhere right now. What a shame! Hopefully it will be made available soon.
Black Adder II & More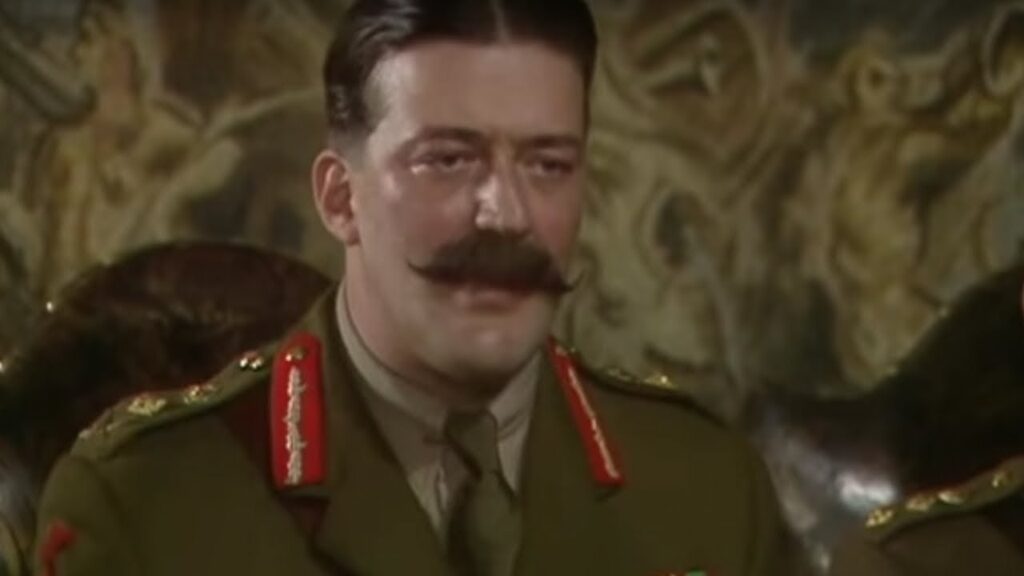 Stephen Fry also appeared in Black Adder, a historical sitcom starring Rowan Atkinson that begins in the late middle ages. Hugh Laurie is in this one as well.
Black Adder is streaming on Amazon Prime, Hulu, and BritBox.
Stephen Fry in America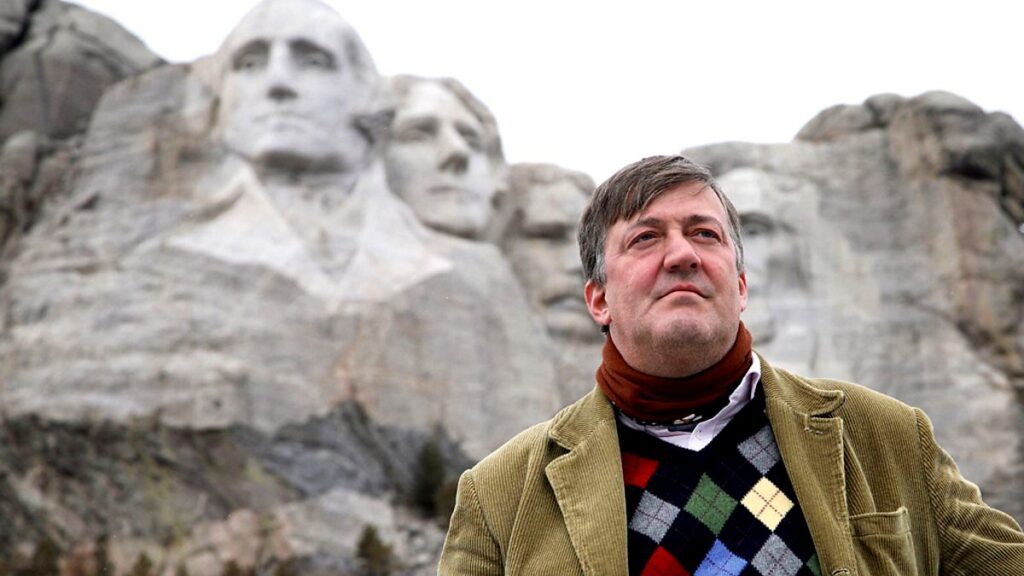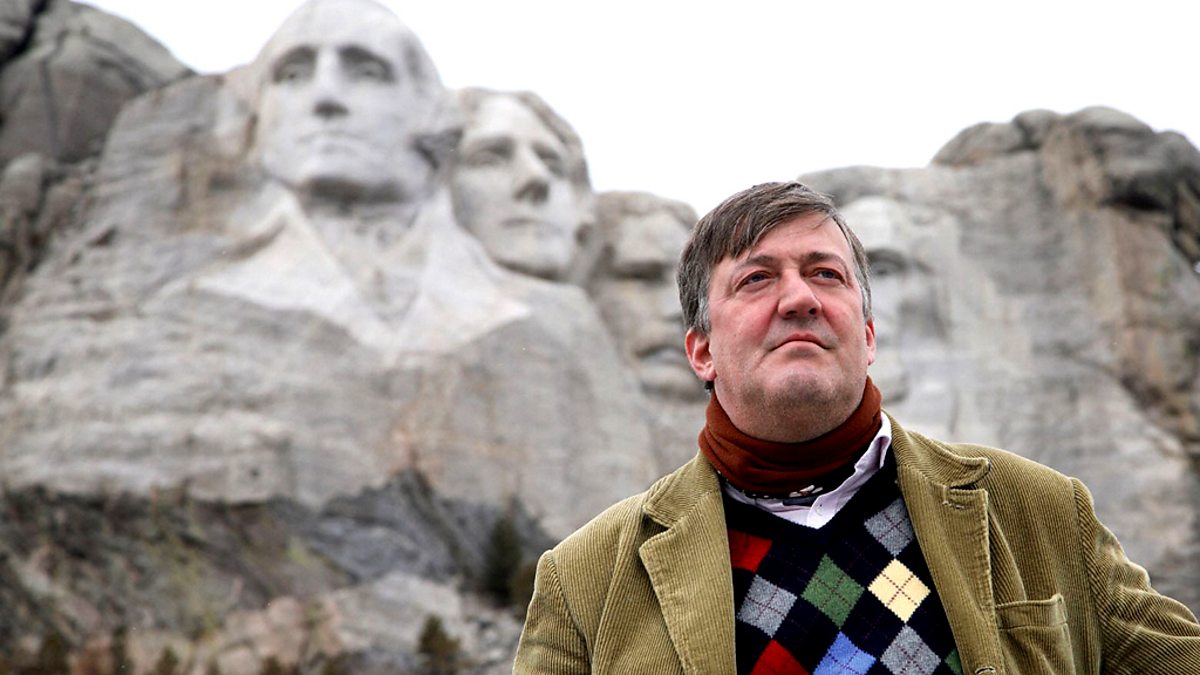 This is a travelogue where Fry drives a black London cab across the continental United States. His goal? Simple: get to know American life. Some states aren't featured as much as others, but it's all-round good fun. Fry has a wonderful sense of adventure and curiosity that is 100% contagious.
If I remember correctly, he drove through the very top of my home state of Ohio, mentioned Kent State, and then moved on. But we Ohioans do have the Rock & Roll Hall of Fame, if not much else. 🙂
You can own Stephen Fry in America on Amazon.
QI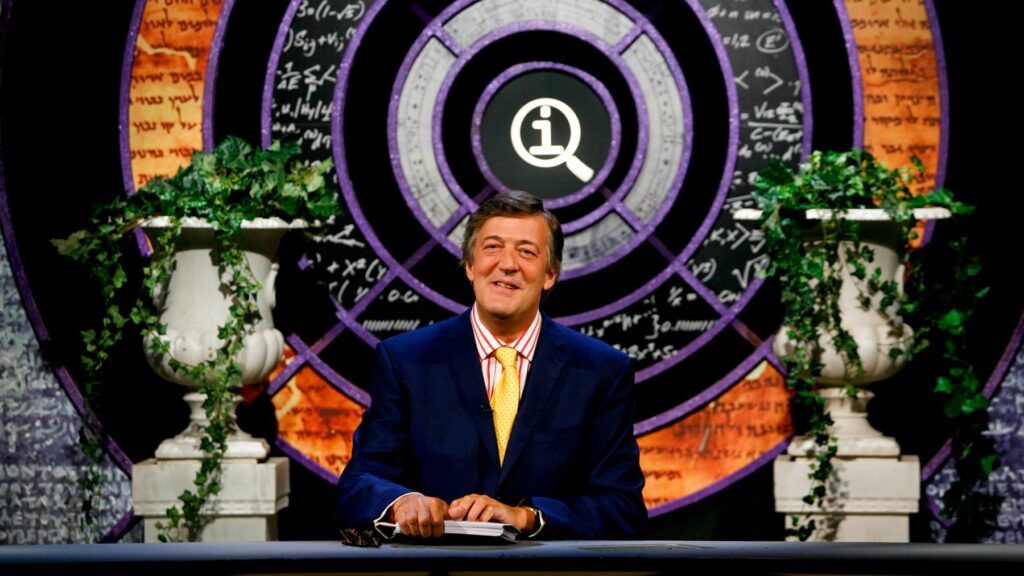 Stephen Fry is the original and long-time host of QI, also known as "Quite Interesting." It's a beloved "comedy panel show" starring many comedians, actors, and public figures as they test their knowledge on absurd topics and little known facts that almost no one would know.
Alan Davies has been on the panel since the first episode and is still there, although Sandi Toksvig now hosts. Fry left the show after 13 years and 180 episodes likely due to budget constraints where he was required to film three episodes a day, but he still ended his run with a positive note saying, "I will never cease to be grateful to John Lloyd for devising QI and for everyone else for making it such fun."
Fry's last four seasons (J – M) are streaming on BritBox, but the early seasons are no longer available to stream.
Seasons H (9) and I (10) are available for free with ads on Tubi.
Doctor Who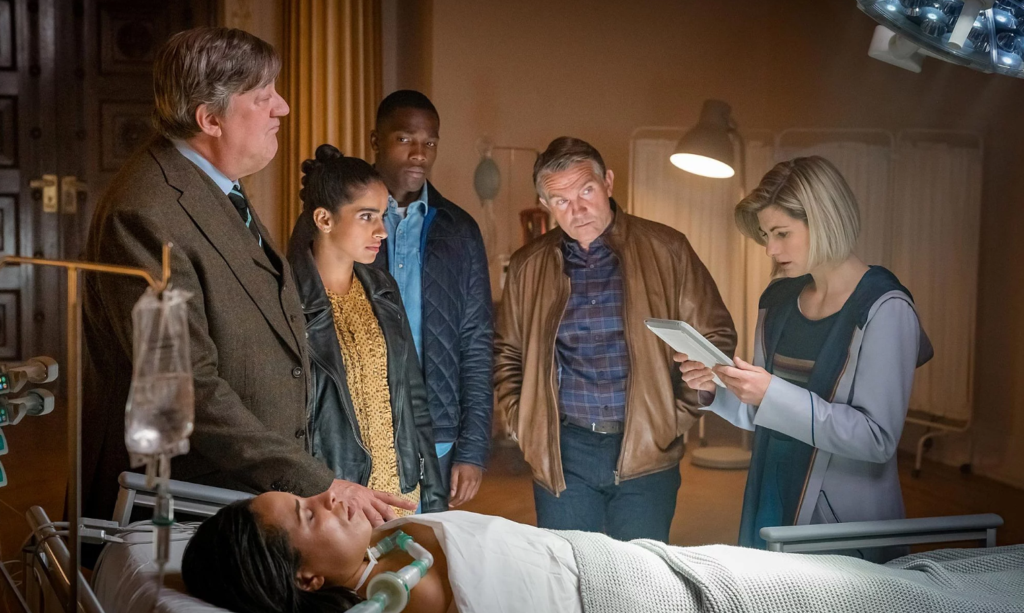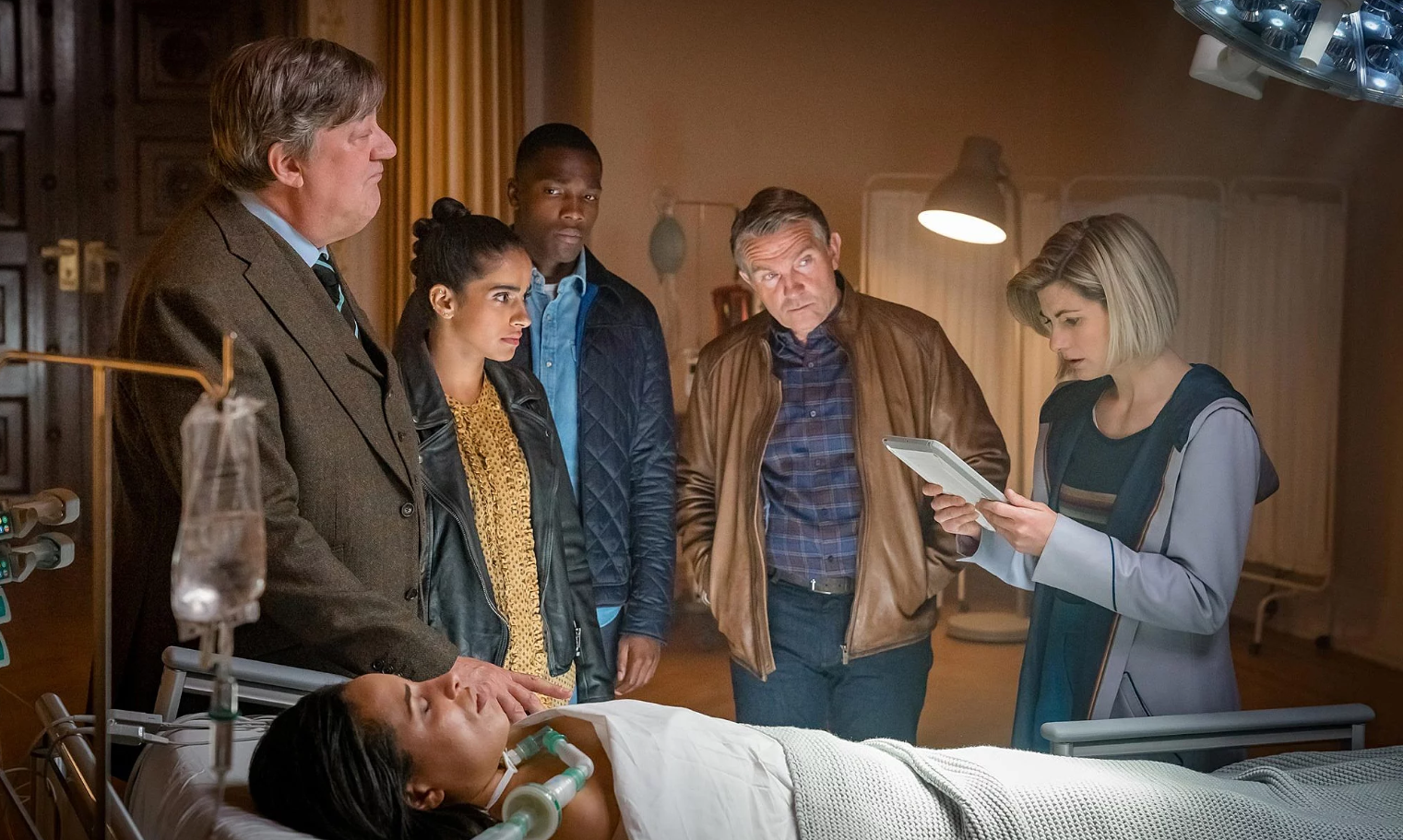 Although it's a small role, Stephen Fry appears in part one of "Spyfall" in the most recent season of Doctor Who starring Jodi Whittaker as The Doctor.
In this two-part story, intelligence agents around the world are dying mysteriously. When MI6 is out of options, they turn to The Doctor and her companions.
Season 12, Episode 1 "Spyfall Pt 1" is available to purchase on Amazon. HBO Max currently has the steaming rights for new Who (the 2005 reboot), but season 12 isn't available to stream on there yet.
24: Live Another Day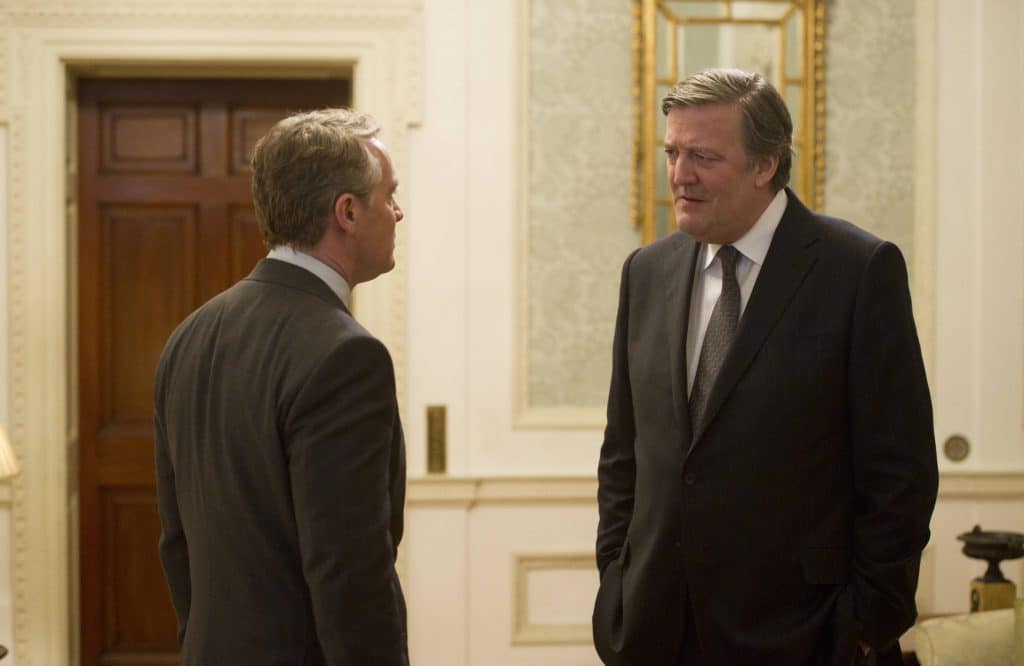 In this 12-part miniseries, Fry plays Prime Minister Alastair Davies. Jack Bauer (Kiefer Sutherland) comes out of hiding in London to prevent a massive terrorist attack while simultaneously being hunted down by forces inside the US government. It's an action-packed whirlwind that begs to be binged. But of course, it's not the quaint British shows some of us prefer, like Kingdom and QI.
24: Live Another Day is available to own on Amazon.
Bones & Veronica Mars
Along with 24, Stephen Fry had recurring roles in both Bones (FOX) and Veronica Mars (CW). If you don't mind American shows, keep an eye out for him! I was surprised to see him in both shows when I watched them a few years ago.
Other Work
If you thought 171 credited roles as an actor were a lot… wait until you see the list of 322 appearances where he's credited as himself! Everything from his Cambridge Footlights Revue in 1982… to Paddington Bear: The Early Years documentary (included with Amazon Prime)… and beyond.
Stephen Fry's Voice Performances
Stephen Fry is an accomplished (and well rounded) voice actor and narrator. Check out this visual list of characters he has voiced from Behind the Voice Actors.
Fry also narrated all seven books in the Harry Potter series of the UK audiobook versions. And if you search "Stephen Fry" on Audible, you're left with a seemingly endless list of titles he's involved with.
Fry doesn't just play Mycroft Holmes in Sherlock Holmes: A Game of Shadows… he is also a big fan of Sir Arthur Conan Doyle's Sherlock Holmes series, so naturally… Fry narrates the entire series and gives wonderful introductions. If you have 71 hours and 57 minutes to spare, give them a listen.
Stephen Fry's Books
Fry is also an author. He once said, "I get an urge, like a pregnant elephant, to go away and give birth to a book." Here's a list of the books he's worked on or "birthed," to use his terminology.
Stephen Fry's Upcoming Projects
Due to the COVID-19 crisis, it's hard to pinpoint when any of these will be released, but here are a few things Stephen Fry will be in next:
The Canterville Ghost – an animated film about Oscar Wilde's short story of the same name about an American family moving into a mansion haunted by the ghost Sir Simon De Canterville (Stephen Fry). It will also star Hugh Laurie as the Grim Reaper, along with Freddie Highmore, Imelda Staunton, Toby Jones, and Miranda Hart.
Margery Booth: The Spy in the Eagle's Nest – Fry will play Reichsmarschall Hermann Goering in this movie about an opera singer in MI6 who Hitler was obsessed with. Anna Friel will star.
The Inventor – Fry will voice Leonardo da Vinci as he invents and studies with French princess Marguerite de Nevarre by his side. Also starring Daisy Ridley.
Let My Country Be! – Fry plays the part of Cecil Rhodes in this 1895 story about an African King whose country is about to be stolen. Also starring John Cleese.
What are some of your favorite Stephen Fry roles?
Let us know in the comments or join our ever-growing Facebook group to chat with like-minded people. We do exist! British TV lovers rejoice. There are nearly 24,000 of us (as of August 2020). We look forward to discussing British TV with you.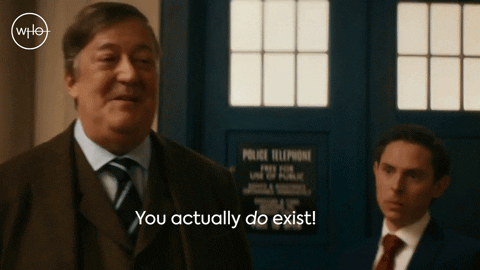 Save it to Pinterest!