17 Great British Comedy Sketch Shows
In some cases, we earn commissions from affiliate links in our posts.
Last Updated on November 20, 2020 by Stefanie Hutson
Sketch comedy shows are prefect for days when we need to relax and laugh… They're also a great way for actors and comedians to demonstrate their wide range of abilities. (That's my favorite thing about sketch shows: all the different characters played by just a few people – such talent!)
Sketch or Skit? Although these are close to being interchangeable, they're a little different. A sketch is a "a slight theatrical piece having a single scene, especially a comic variety act" while a skit is a "satirical or humorous story or sketch – a brief burlesque or comic sketch included in a dramatic performance (such as a revue)" [Mariam Webster].
They sound the same, right? However, a skit is more likely to be improvised and performed by amateurs, while a sketch is often scripted and delves deeper in characters and stories. So, they can be used interchangeably, but there are slight differences that comedians or actors might have strong opinions on.
NTSC vs PAL? Many of these shows are only available on DVD, so if you want to purchase any, be sure you can play them. DVDs are made for different regions. Region-Free DVD players will play both PAL (European) and NTSC (American) discs. We have a guide for that here if you need one. I noted whether the DVDs were PAL or NTSC in case you don't have a region-free player.
NOTICE: The most recent sketch show on this list began in 2009. Some of these shows might contain content that may be considered racist, sexist, transphobic, homophobic, body-shaming, or appropriation of race and culture. Viewer discretion is advised.
A Bit of Fry & Laurie
A Bit of Fry & Laurie stars Stephen Fry and Hugh Laurie as they explore a variety of "bits." They often use wordplay and funny costumes. The show is partly filmed in front of a live audiences and includes musical performances by Laurie. It ran for four seasons from 1987 to 1995.
All four seasons of A Bit of Fry & Laurie are streaming on Amazon Prime Video US.
BritBox has the pilot (a Christmas special) and first season.
Alfresco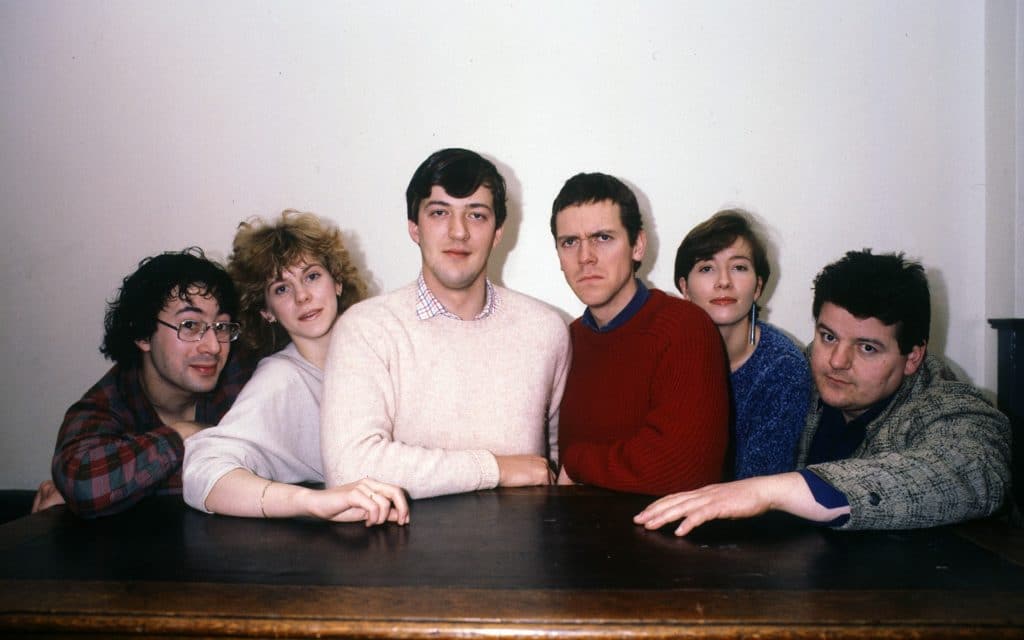 Stephen Fry and Hugh Laurie also star in this show, along with Emma Thompson, Robbie Coltrane, Ben Elton, and Siobhan Redmond. Unlike many sketch shows, it was filmed on location (hence the name Alfresco, which comes from the Italian al fresco, "in the fresh air").
It is the predecessor to A Bit of Fry & Laurie, but there are only two seasons. They're both streaming on BritBox.
Burnistoun
Burnistoun is set in a fictional town in the greater Glasgow area. It stars Scottish comedians Iain Connell and Robert Florence. Richard Rankin (Outlander) also has recurring roles.
Burnistoun was streaming on Netflix US, so hopefully BritBox or Acorn will get the rights to stream it next.
For now, it's only available on DVD [PAL], so you'll need a region-free DVD player to watch it.
Little Britain
*Clip contains sexual innuendo and is from Comic Relief, not the main show.
Little Britain stars David Walliams and Matt Lucas. It is known for satirizing all walks of British life. It's narrated by Tom Baker. It was so popular, they even went on to make Little Britain USA. It stars a variety of funny recurring sketches, including the Welsh character "the only gay in the village," along with sketches like "computer says no," a character called "Vicky" who is a moody teenager (played by Matt Lucas), and an assistant (David Walliams) who is in love with the fictional Prime Minister.
Little Britain isn't streaming right now because a sketch contains racial appropriation, but it is available to own on DVD [NTSC – Americas region]. Hopefully they'll create a new edit of the show so it can be released on a streaming service soon.
The League of Gentlemen
The League of Gentlemen began in 1999 and stars Steve Pemberton, Reece Shearsmith, Mark Gatiss, and Jeremy Dyson. Steve Pemberton and Reece Shearsmith went on to star in the dark comedy Inside No. 9.
The League of Gentlemen is streaming on BritBox.
And if you fall in love with this dark humor, be sure to check out Inside No. 9 next.
The Catherine Tate Show
The Catherine Tate Show stars Catherine in a variety of roles, such as "Nan" (above), "Lauren" (a mouthy schoolgirl), and for Comic Relief, she plays a woman trying online dating who ends up with Daniel Craig but doesn't know who he is.
The Catherine Tate show (unfortunately, because it's one of my favorites), is not streaming right now.
The complete box set is available on DVD [PAL], but if you're in the Americas, you'll need a special region-free DVD player to watch it. They aren't a bad investment because you can see shows that weren't officially exported to the Americas; PAL format DVDs are often cheaper, too.
French & Saunders
This sketch comedy series is written by and stars comedians Dawn French and Jennifer Saunders. They often parody pop culture, movies, and songs. Also starring Simon Brint, David Walliams, Kathy Burke, Rosie Cavaliero, Claudia Winkleman, and Rupert Penry-Jones.
French & Saunders seasons 1 – 6 are available on DVD [PAL] but you'll need a region-free DVD player to watch them. We have a helpful guide for DVD regions and players here.
A 30th Anniversary Special (from 2017) is available on BritBox.
Monty Python's Flying Circus
From the surreal and hilarious world of Monty Python comes their sketch comedy show Flying Circus. Starring all the regulars: John Cleese, Terry Gilliam, Terry Jones, Eric Idle, and Graham Chapman.
For a taste: when a family's cat is so apathetic it doesn't even more, they hire Confuse-A-Cat Limited, as seen in the above clip.
You can own the digital version on Amazon or watch it on Netflix.
The complete Blu-Ray collection restored to HD (with lots of bonus features) is available on Amazon.
That Mitchell and Webb Look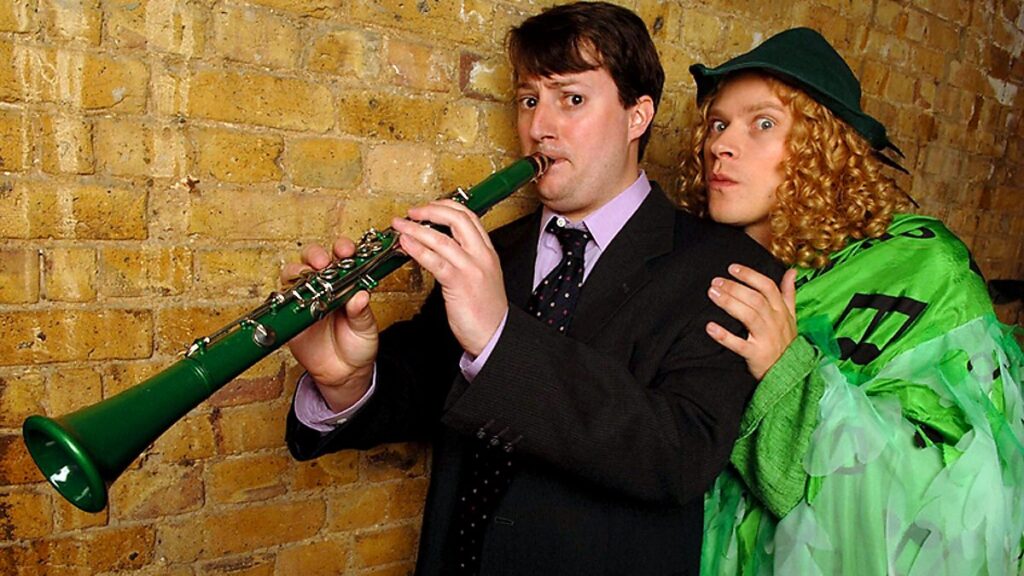 From the co-creators of Peep Show, David Mitchell and Robert Webb, comes a hilarious sketch show that also stars Olivia Colman and Sarah Hadland (Stevie from Miranda). David Mitchell went on to become a team captain on the comedy panel show Would I Lie to You?
That Mitchell and Webb Look is available on Region 2 [PAL] DVDs from Amazon. So, you'll need a region-free DVD player to watch it if you're in the Americas.
Big Train
Big Train is a sketch comedy show written by Father Ted writers Arthur Mathews and Graham Linehan. It stars Simon Pegg, Mark Heap, Kevin Eldon, Rebecca Front, Amelia Bullmore, Julia Davis, Tracy-Ann Oberman, and Catherine Tate. It ran for two seasons from 1998 to 2002.
Big Train is available on DVD [NTSC] from Amazon.
Mark Heap, Kevin Eldon, and Julia Davis also starred in the "bleak, ambient" sketch show Jam in 2000.
Not the Nine O'Clock News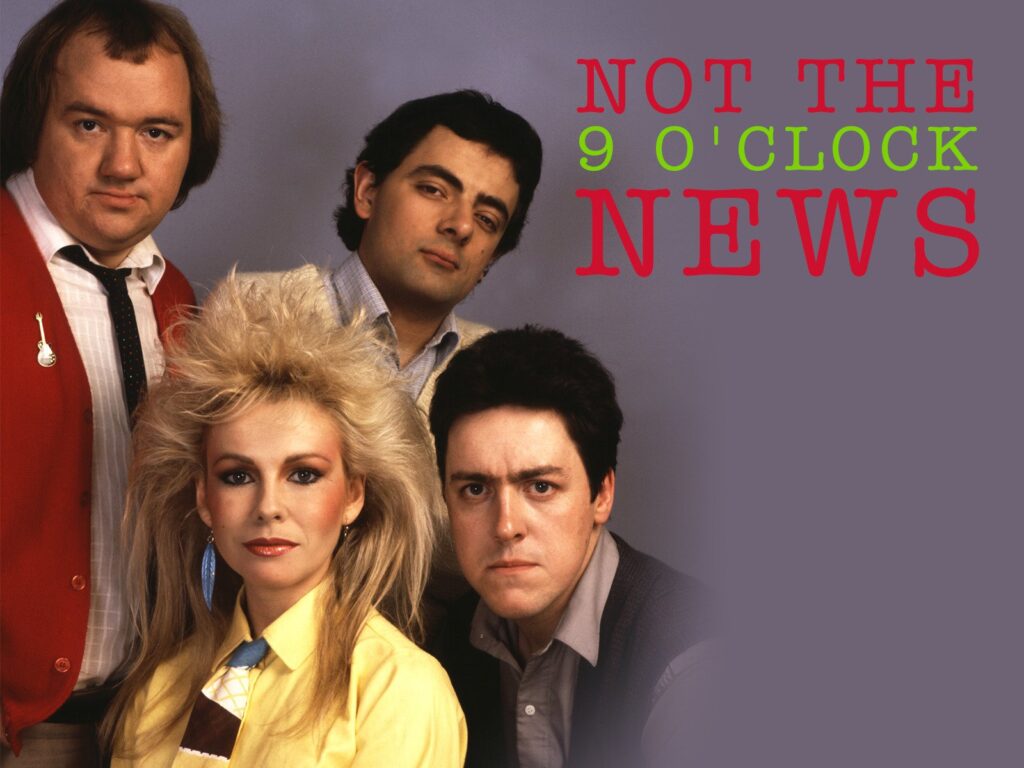 Not the Nine O'Clock News stars Rowan Atkinson, Pamela Stephenson, Mel Smith, and Griff Rhys Jones. Four seasons aired from 1979 to 1982. The show was created to be deliberately different from Monty Python's surreal comedy; rather, this show focuses more on pop culture and satirizing news stories.
Not the Nine O'Clock News is available on BritBox.
Not Only… But Also…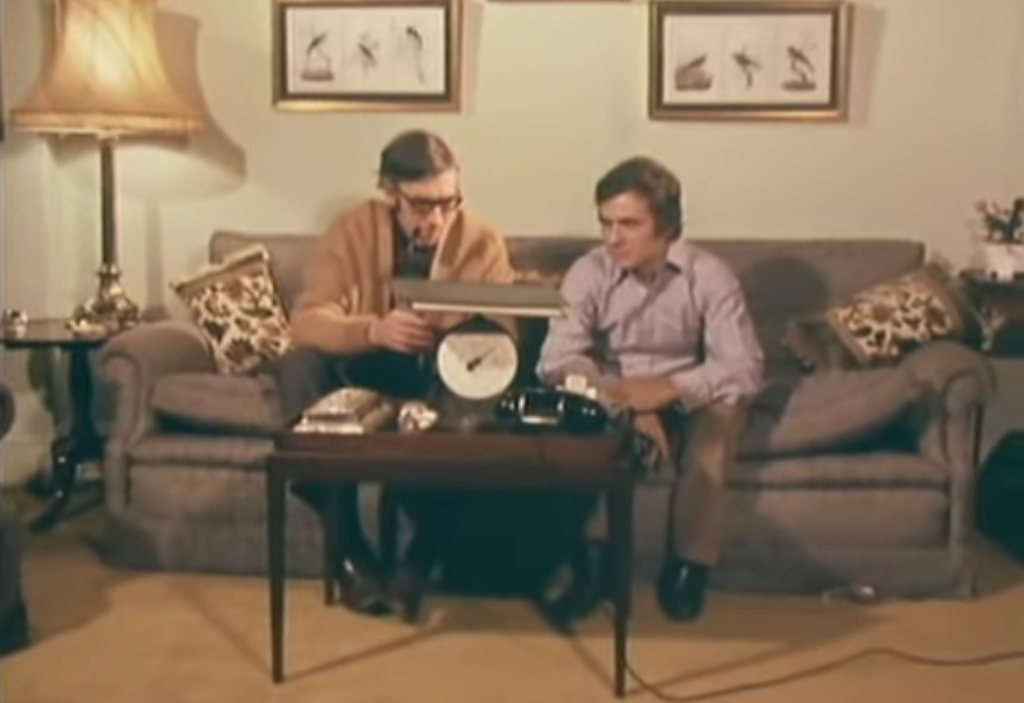 If you're interested in watching the "godfather of an entire branch of British comedy," you can safely start here. This 1964 comedy is often called the precursor to great sketch comedy, like Monty Python and Fry & Laurie. Not Only… But Also… stars comedy legends Peter Cook and Dudley Moore.
Peter Cook & Dudley Moore: The Best of… What's Left of… Not Only… But Also… is available on DVD [NTSC] from Amazon.
Horrible Histories
Although Horrible Histories is made for kids, tons of adults love it, too. Not only is it funny, but it is also educational. It stars Mathew Baynton, Simon Farnaby, Martha Howe-Douglas, Jim Howick, Laurence Rickard, Sarah Hadland, and Ben Willbond. They run with sketches about the Terrible Tudors, Angry Aztecs, Savage Stone Age, Vile Victorians, Measly Middle Ages, Rotten Romans, and so on.
Six seasons of Horrible Histories are streaming on Amazon Prime Video US.
The Mighty Boosh
This isn't strictly a sketch show. They're considered a "comedy troupe." But it features the same five (or so) actors in various roles with lots of fun costumes and accents. It follows Howard Moon (Julian Barratt) and Vince Noir (Noel Fielding), two friends who work in a zoo. Rather than being individual sketches, the different characters and situations exist in the same world. Each episode also features an original song. This show is so surreal and whimsical, it makes Monty Python look rational.
You can own the digital version on Amazon.
The Fast Show
The Fast Show is a sketch comedy starring Paul Whitehouse, Charlie Higson, Simon Day, Mark Williams, John Thomson, Arabella Weir, and Caroline Aherne. It's unique twist is by being completely predictable; the comedy is stereotypical and the punchlines are nearly all the same.
There are three seasons. The first season is available on DVD [PAL] from Amazon, but you'll need a Region-Free DVD player to watch it if you're in the Americas.
Smack the Pony
This female-lead sketch show stars Fiona Allen, Doon Mackichan, Sally Phillips, and Sarah Alexander. Darren Boyd also makes appearances. Their comedy features rapid-fire lines, modern everyday life, and relationship dramady.
The first episode is available on All 4's official YouTube channel.
Three seasons of Smack the Pony are streaming for free with ads on Tubi.
The Armando Iannucci Shows
This sketch show is devised by Armando Iannucci who went on to work on The Thick of It, In the Loop, Veep, and Avenue 5. It features observational comedy about normal life and stars Iannucci, Hugh Cecil, Karen Ascoe, Melanie Hudson, Tony Gardner, and Stephen Mangan. If you're a fan of The Thick of It, you'll recognize the style of humor.
All eight episodes of this 2001 series are available on DVD [PAL] so you'll need a Region-Free DVD player.
A Few Honorable Mentions
These sketch shows deserve mentioning, but we didn't include them in the above list because they don't appear to be streaming and the DVDs are out of production. Hopefully some of them will eventually be available to stream. You can always contact streaming services and request shows. We have an article about how to do that here.
What is your favourite sketch comedy show?
Let us know in the comments or join our Facebook group and chat with us!
Save it to Pinterest!