In the Mailbox #1: Spaced, Acorn Antiques, The Office, The IT Crowd
In some cases, we earn commissions from affiliate links in our posts.
Last Updated on February 23, 2018 by Stefanie Hutson
Given the sheer volume of British books and DVDs we get around here, we're going to start a new, semi-regular feature: In the Mailbox. In these posts, we'll tell you what's in our mailbox, what it's about, and where you can get your own copy, should you be so inclined. Our hope is that it will help readers learn about unfamiliar shows and rediscover old favorites. So, without further ado, on to our first volume…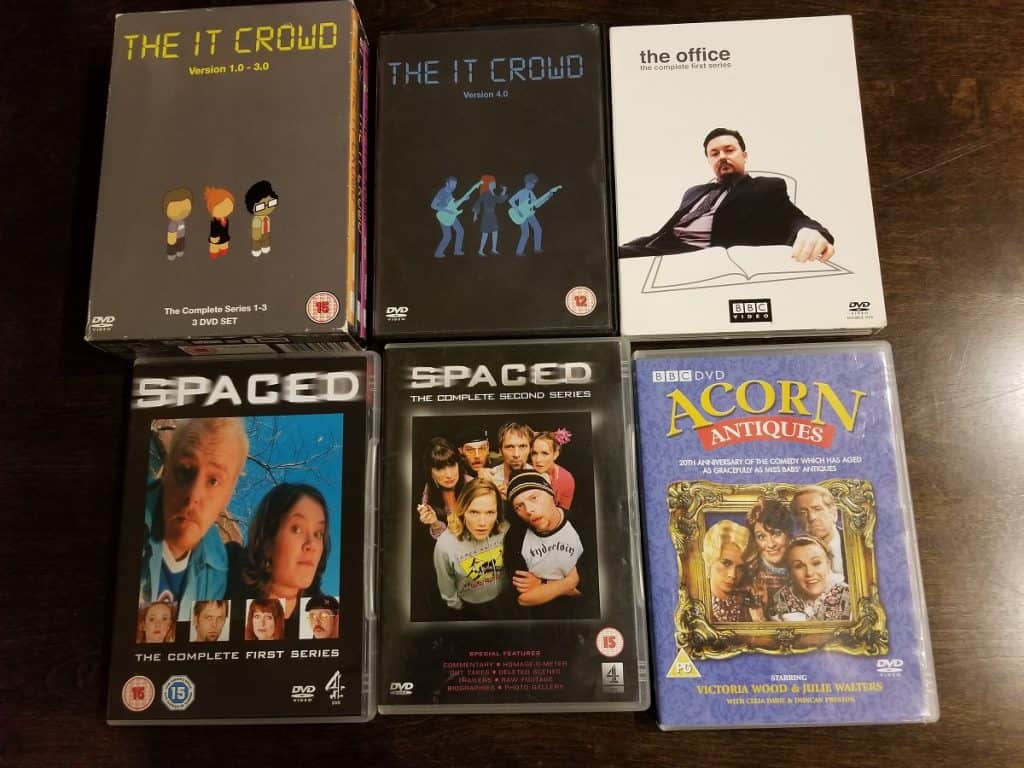 Today in the mailbox, we received 6 used DVDs, several of which will likely be very familiar, and a couple that are less common (at least on the streaming services in the US).
I want to mention in advance that all the DVDs I've included here are Region 2 DVDs, meaning you'll need a region-free DVD player to view them in the US and Canada. Wherever possible, I've included a link to a North America-compatible DVD, too. Buying British DVDs from Amazon or Amazon UK can often save you money, so I strongly advise anyone to get a region-free DVD player if they plan on purchasing many DVD ses.
The IT Crowd (Series 1-3 Box Set, Series 4 DVD) – The IT Crowd is a recent British comedy masterpiece that revolves around two computer geeks and the woefully incompetent woman sent downstairs to manage them. Though the series streams on Netflix (at time of writing), the DVDs contain deleted scenes and extra commentary a die-hard fan wouldn't want to miss. If you have any interest in screenwriting or TV production, you might also be interested to know the Series 4 DVD includes writer/director Graham Lineham's audio commentary on the process of making a comedy show.   Series 1-3 DVD | Series 4 DVD | Series 1-4 Complete Series DVD Set (USA Compatible)
Spaced (Series 1 DVD, Series 2 DVD) – Spaced tells the slightly contrived-feeling story of two North London twentysomethings forced to pretend to be a couple in order to get a flat they can actually afford. The show was originally aired for two series back in 1999 and 2001, but it's aged reasonably well. Of course, the price of a London flat has far outpaced inflation since then… Series 1 DVD | Series 2 DVD | Complete Collection (Series 1 & 2) USA compatible
The Office (Series 1 DVD) – Four years before Americans became acquainted with Michael Scott and the rest of the Dunder-Mifflin crew, Ricky Gervais and Mackenzie Crook were cracking people up as employees of the Wernham Hogg Paper Company. This is a British classic, well worth checking out if you haven't already. Series 1 DVD | Series 2 DVD | Christmas Special DVD | Complete Series DVD (USA compatible)

Acorn Antiques – Acorn Antiques is kind of an unusual show in that it's not really a show at all. Rather, it's a collection of mid-1980s skits from Victoria Wood As Seen on TV.  It was designed to parody the bad dialogue, dreadful acting, and cheap sets of traditional soap operas. Though it never became a full show in its own right, Victoria Wood did transform it into a musical in 2005. Each episode revolves around the lives of several employees at a fictional antique store in the fictional town of Manchesterford. Acorn Antiques DVD
Want to get more updates like this one? Follow us on Facebook here.