David Tennant Movies & TV Shows + Where to Watch Them
In some cases, we earn commissions from affiliate links in our posts.
Last Updated on July 16, 2020 by Liberty White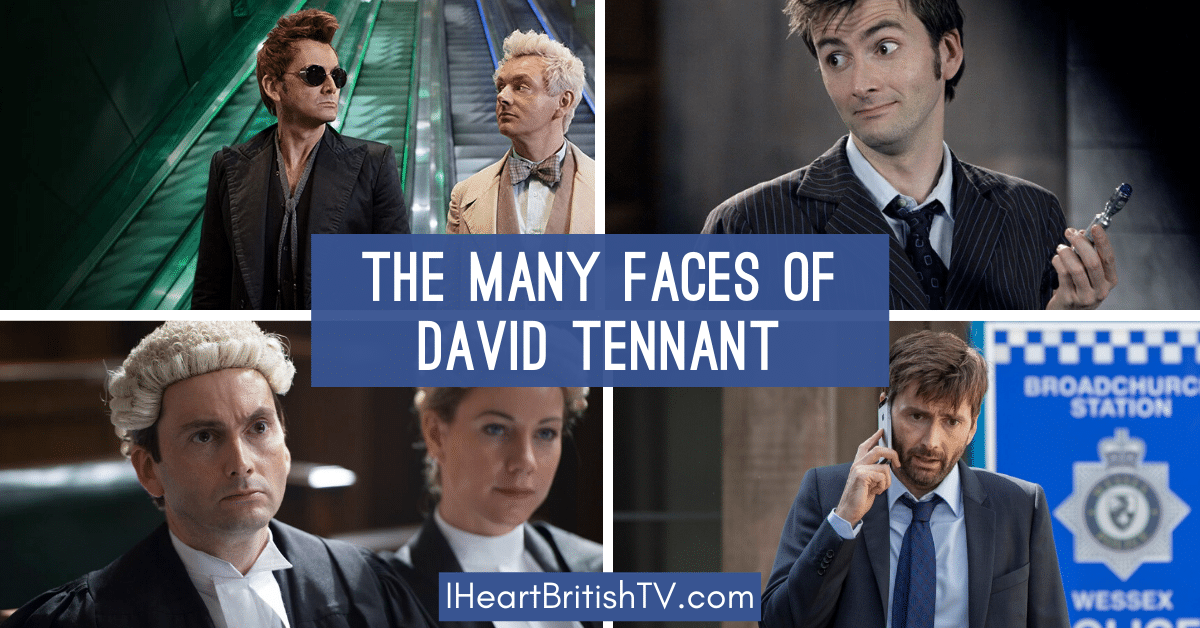 Whether you first saw him in Doctor Who, Harry Potter, Broadchurch, or only recently realized he's seemingly in everything… there is no doubt David Tennant is a talented actor with many diverse roles. He has at least 128 credited roles!
We're honoring his skill as an actor by compiling this short list of our favorite performances.
Who is David Tennant?
David Tennant is a Scottish actor. He began acting when he was just 16 but knew he wanted to be an actor from the age of three when he became a fan of Doctor Who. When he studied at the Royal Scottish Academy of Music and Drama between the ages of 17 and 20, he was one of their youngest students.
His original surname was McDonald, but there was already a David McDonald in the actor's union, Equity, so he had to choose another name. He decided on Tennant after Pet Shop Boys front man Neil Tennant.
His wife Georgia Moffett is an actor and is the daughter of Peter Davison, the fifth doctor in Doctor Who. Tennant and Moffett met when she played his on-screen daughter in the Doctor Who episode "The Doctor's Daughter" (s4, e6) in 2008. They married three years later and have five children, including Moffett's son, Ty, from a previous relationship. Tennant adopted Ty—he is now an actor in his own right. You can watch Ty Tennant play young Christopher Wiseman in Tolkien and Tom in all eight episodes of War of the Worlds.
Where to Watch David Tennant: TV Shows
There She Goes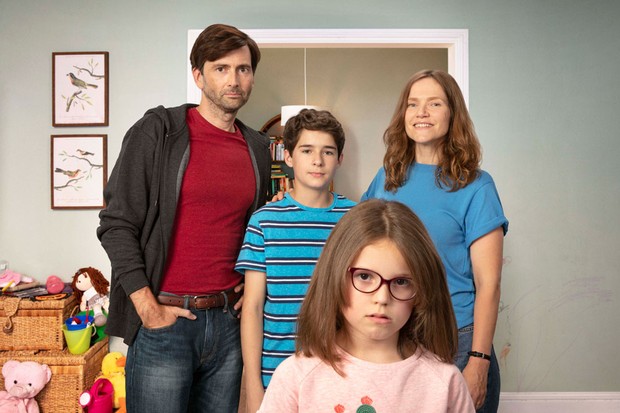 There She Goes is the story of a small family. Tennant plays the father of two: a neurotypical boy and an autistic girl. The mother is played by the talented Jessica Hynes. See what this family is getting up to on BritBox.
Single Father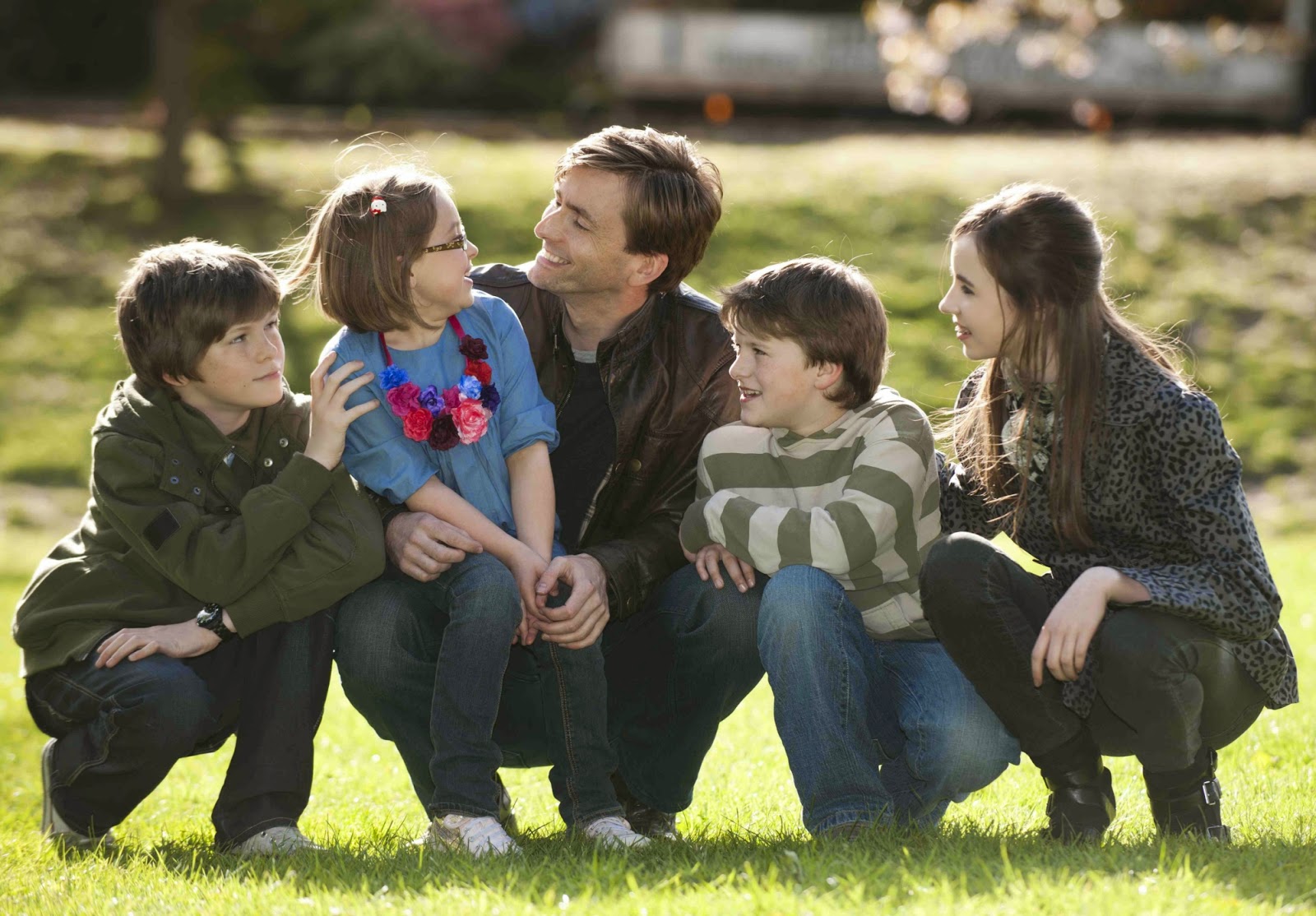 It's all in the title—in this mini-series, Tennant plays a grieving widow. Like There She Goes, it highlights the ups and downs of parenthood, family, and love. It also stars Suranne Jones. See it on BritBox.
Good Omens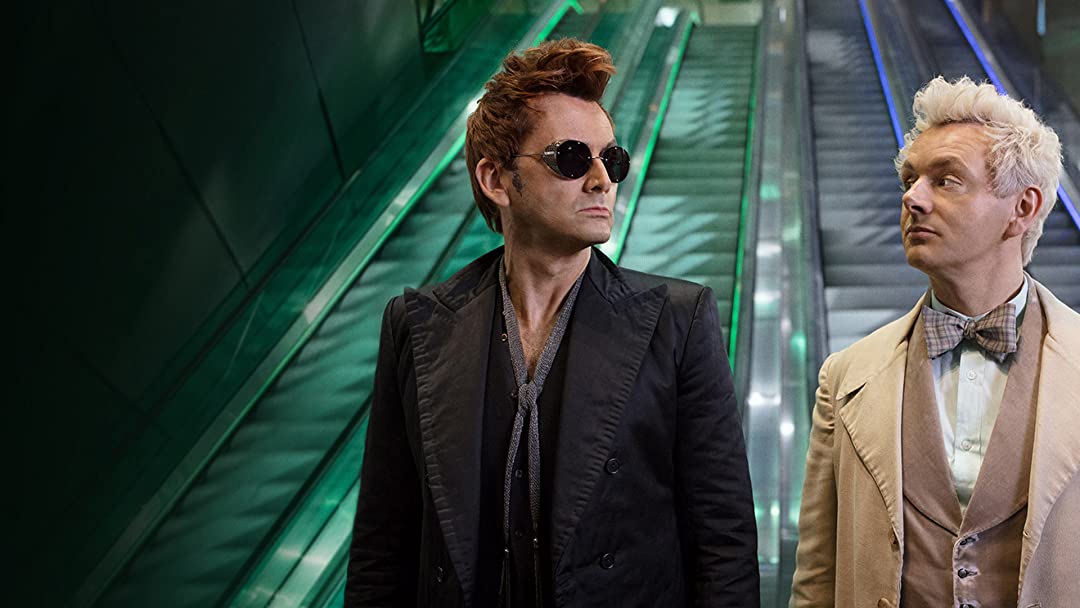 Based on the popular book by Neil Gaiman and Terry Pratchett, Good Omens is a whimsical supernatural story about the unlikely friendship between a demon and an angel who must stop the world from ending. Tennant plays a deliciously devious demon. It also stars Michael Sheen and Jack Whitehall. It's an Amazon Original and Prime members can stream it right now.
Secret Smile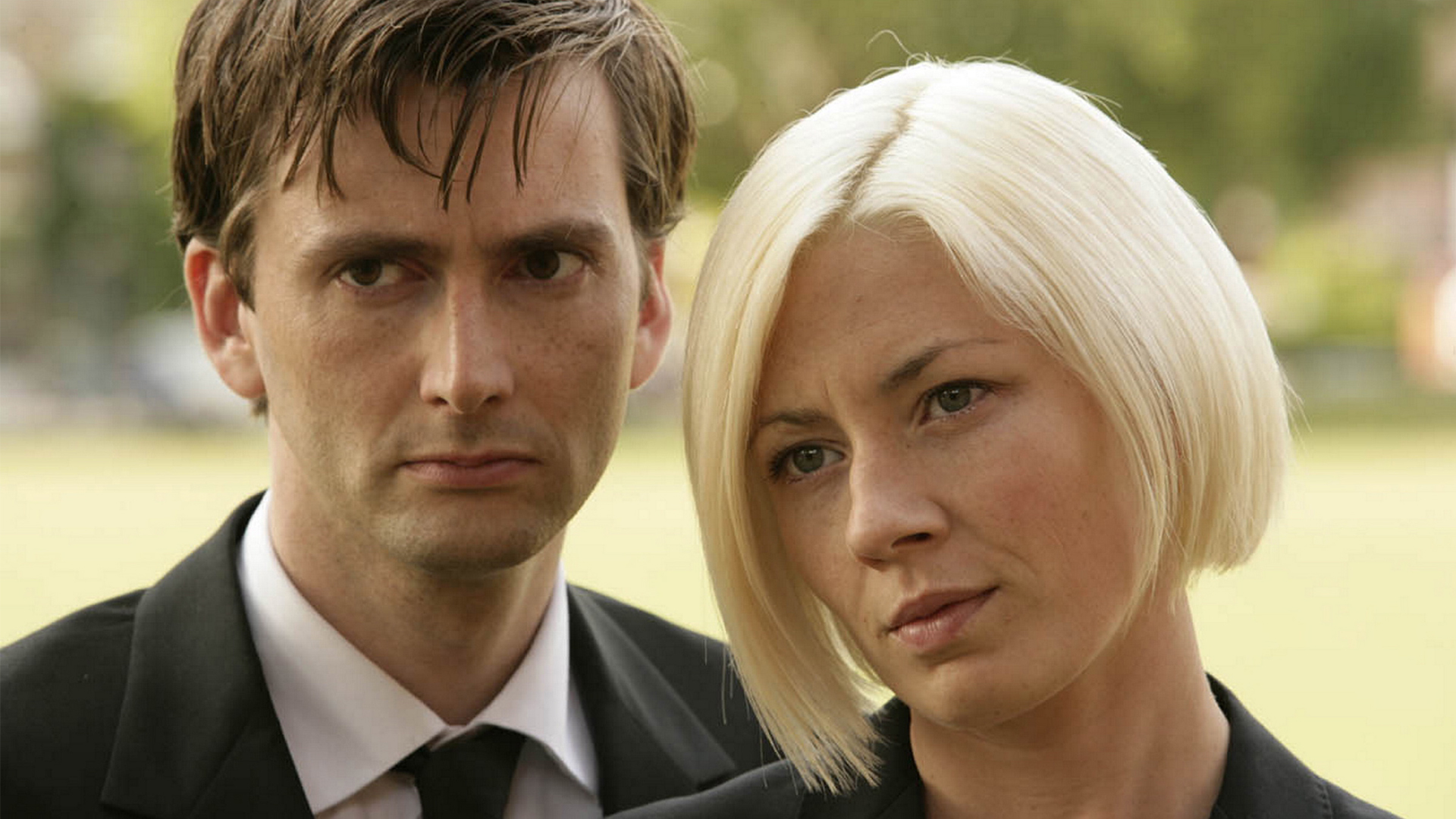 Is Tennant's range as an actor endless? It's possible. In the three-part mini-series, Secret Smile, he plays a manipulative lover hell-bent on revenge. The acting is impeccable, but it may be difficult to watch for some viewers who have experienced abusive relationships. It stars Kate Ashfield (pictured) and Claire Goose. It's streaming on Amazon Prime.
Jessica Jones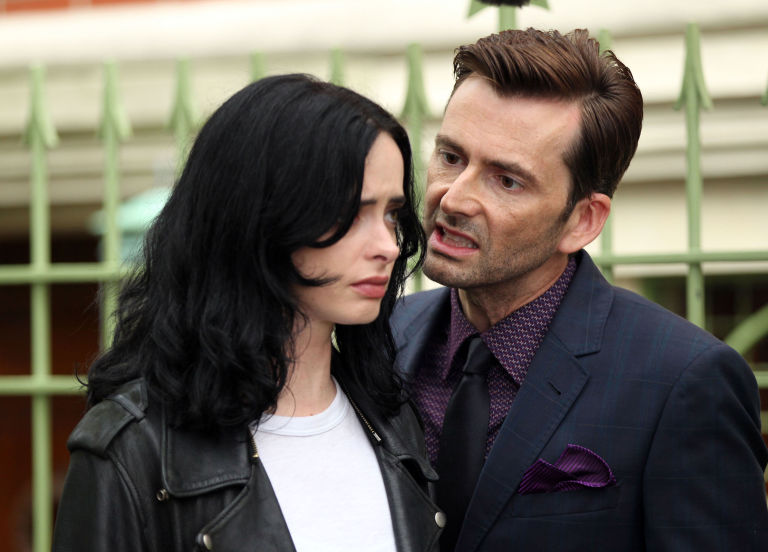 In this Netflix adaption of the Marvel comic, Tennant plays the captivating and chilling Kilgrave, an antagonist with mind-control capabilities. This compelling character is worth watching… we can't decide if we love him, hate him, or feel sorry for him. Maybe it's a mix of all three. It stars American actress Krysten Ritter and takes place in New York City, so it isn't strictly British, but Tennant does such an amazing job, we couldn't leave it off the list.
If you love drama, action, and damaged characters, you can watch Jessica Jones on Netflix.
The Escape Artist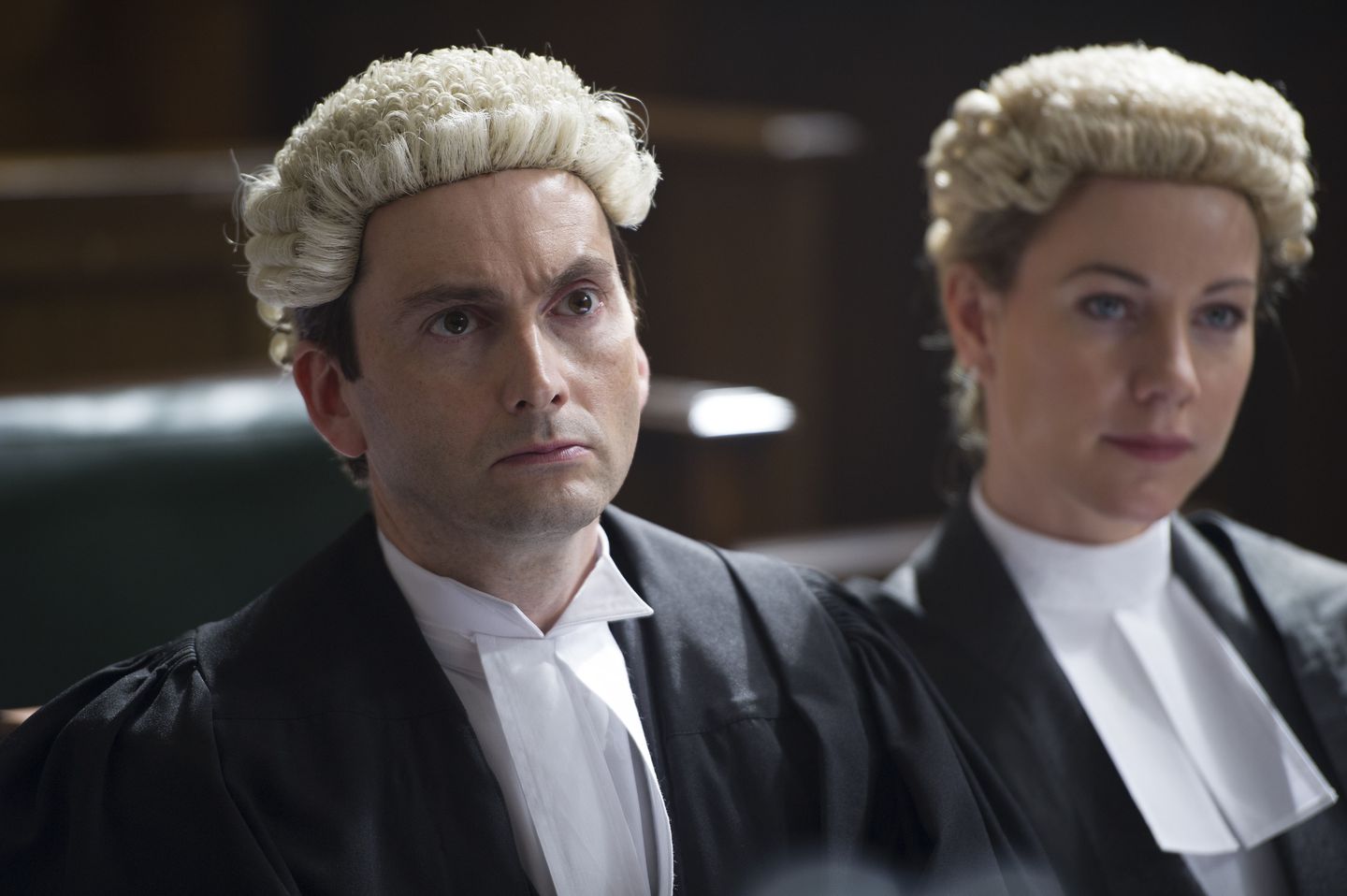 If you're looking for a twisting, thrilling drama, this is it. Tennant plays a junior barrister who has never lost a case. When his talents lead to the acquittal of a serial killer, his life begins to unravel. It may start a little slow, but you'll be sitting on the edge of your seat by the end. It's on Masterpiece.
The Politician's Husband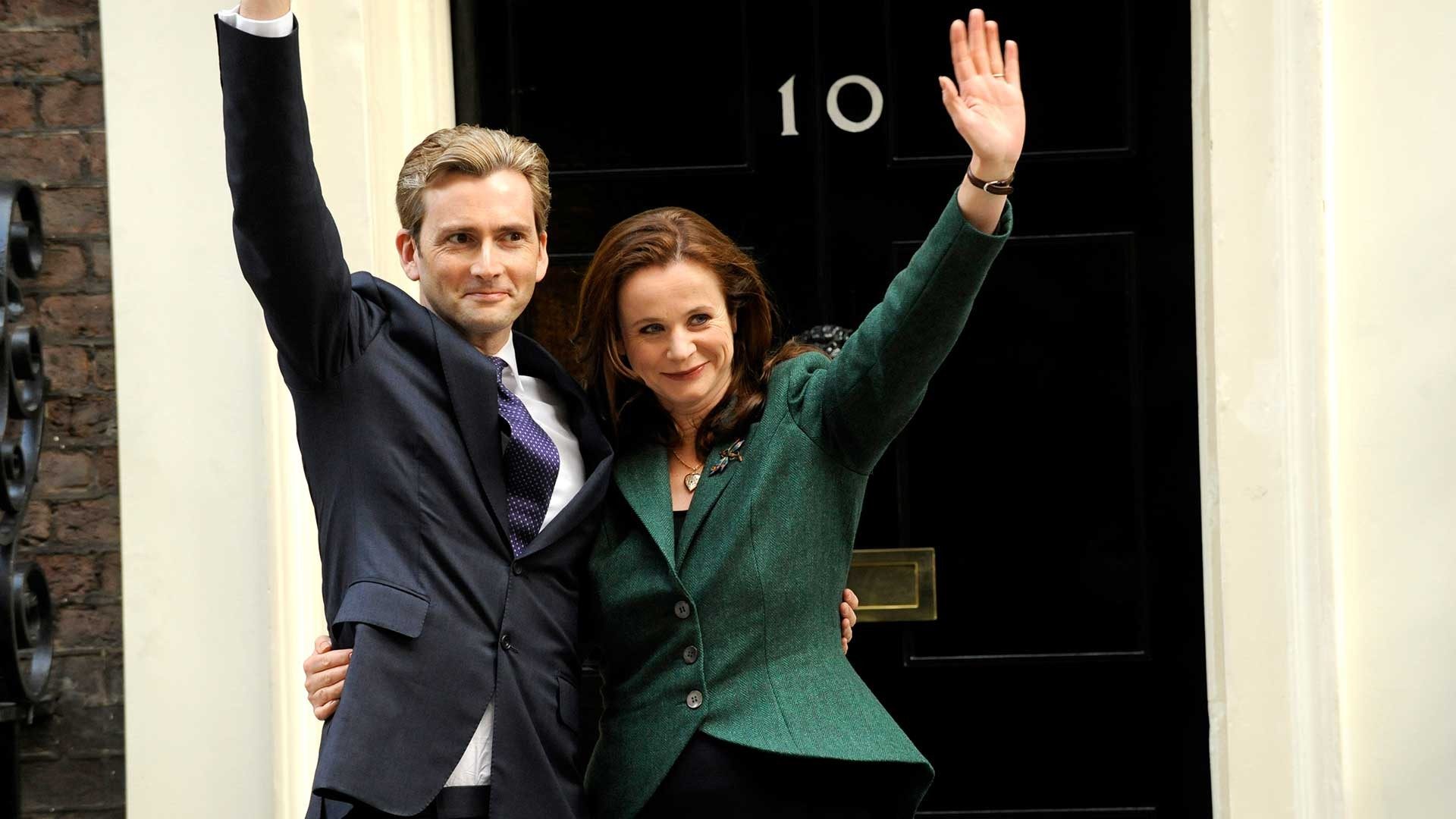 This is the dramatic story of a power struggle between husband (Tennant) and wife (Emily Watson). It's available on Region 2 DVD. If you're a massive British TV fan, a region-free DVD player is a great investment because it opens up a world of British content that isn't available to stream in the US.
Criminal UK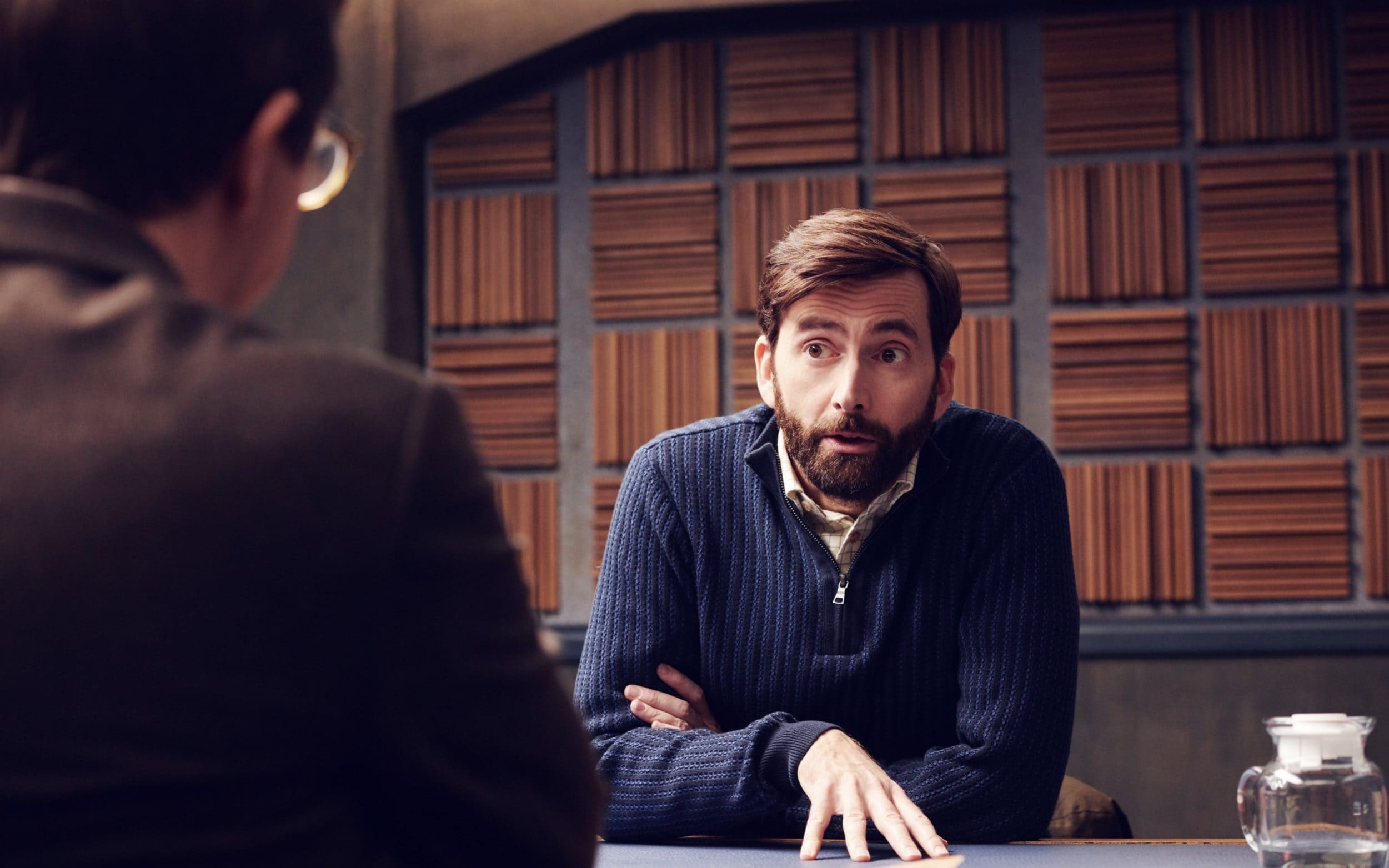 Criminal UK takes place in one room—an interrogation room. This series revolves around the interrogation of three suspects, of which Tennant plays one. Is Tennant's character guilty? No comment. It's streaming on Netflix.
Deadwater Fell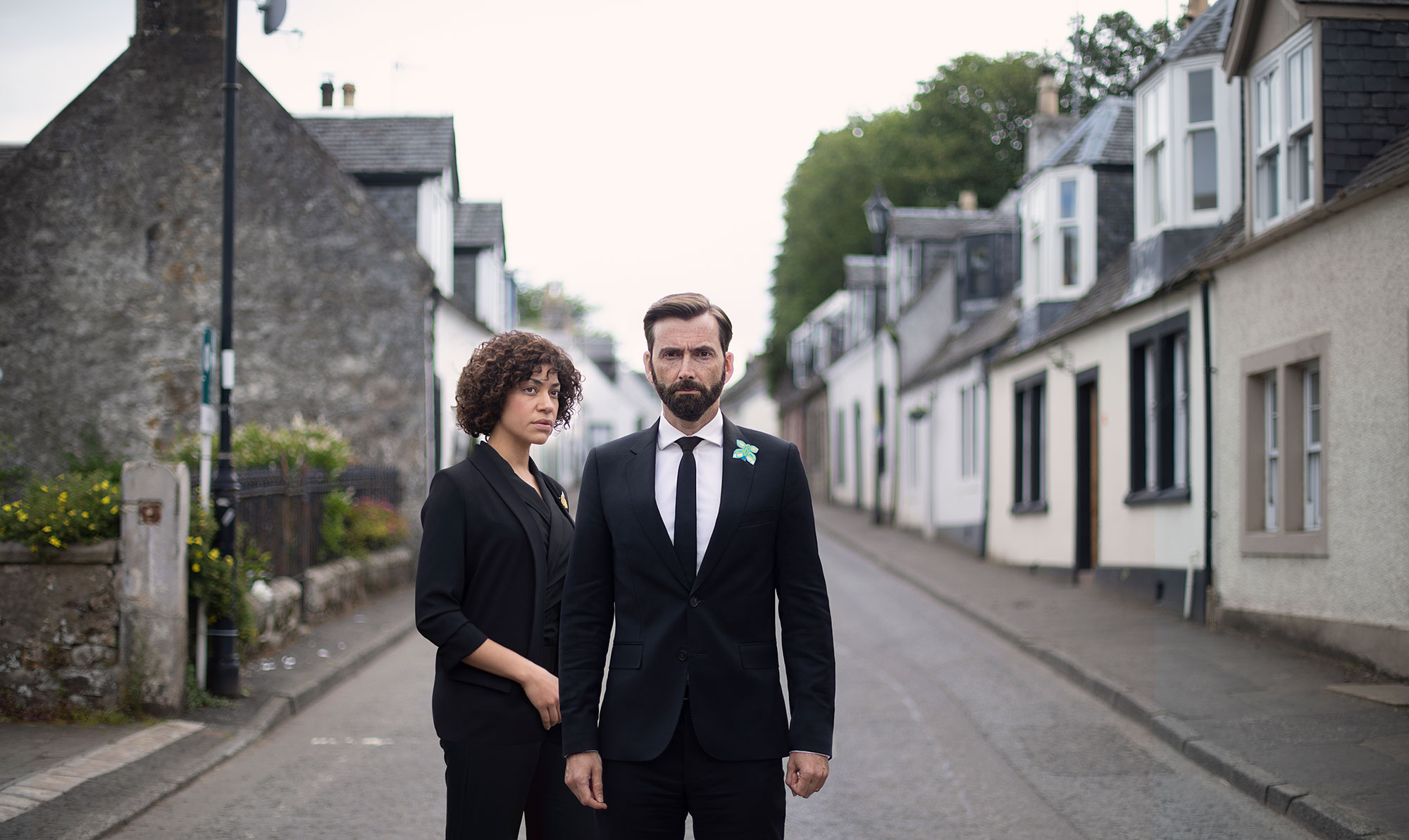 Tom (Tennant) is the only survivor of a brutal crime. Family friends dedicate themselves to uncovering the truth. With chilling, dramatic twists, Deadwater Fell reflects on female friendships, the danger of gender stereotypes, and secrecy. You'll also love the gorgeous Scottish scenery. It's a four-episode mini-series available on Acorn. Acorn is releasing it weekly, so if you don't see all four episodes right away, you'll have to wait just a little longer.
Broadchurch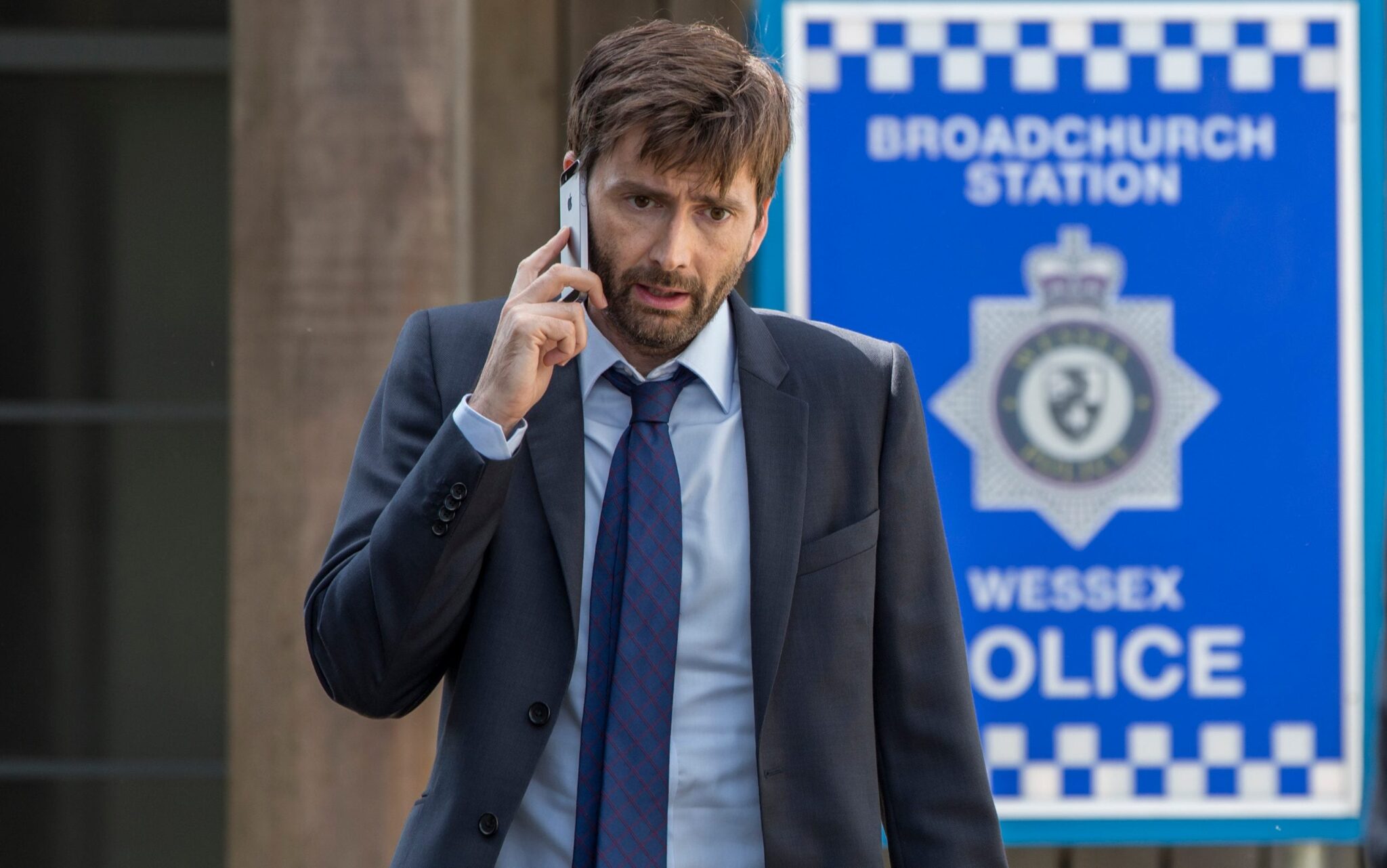 David Tennant and Olivia Colman star as investigators in a small, scenic town in Dorset. While Tennant's character has a grumpy demeanor, he's perfectly endearing. The stunning scenery contrasts with the tragic crimes they're investigating. Broadchruch ended after three incredible seasons and even went on to be remade for US audiences as Fox's "Gracepoint," also starring David Tennant. While Gracepoint is almost an exact retelling of Broadchurch in an American setting, it does have a different ending.
Broadchurch is streaming on Netflix, and Gracepoint is streaming on Amazon Prime.
Doctor Who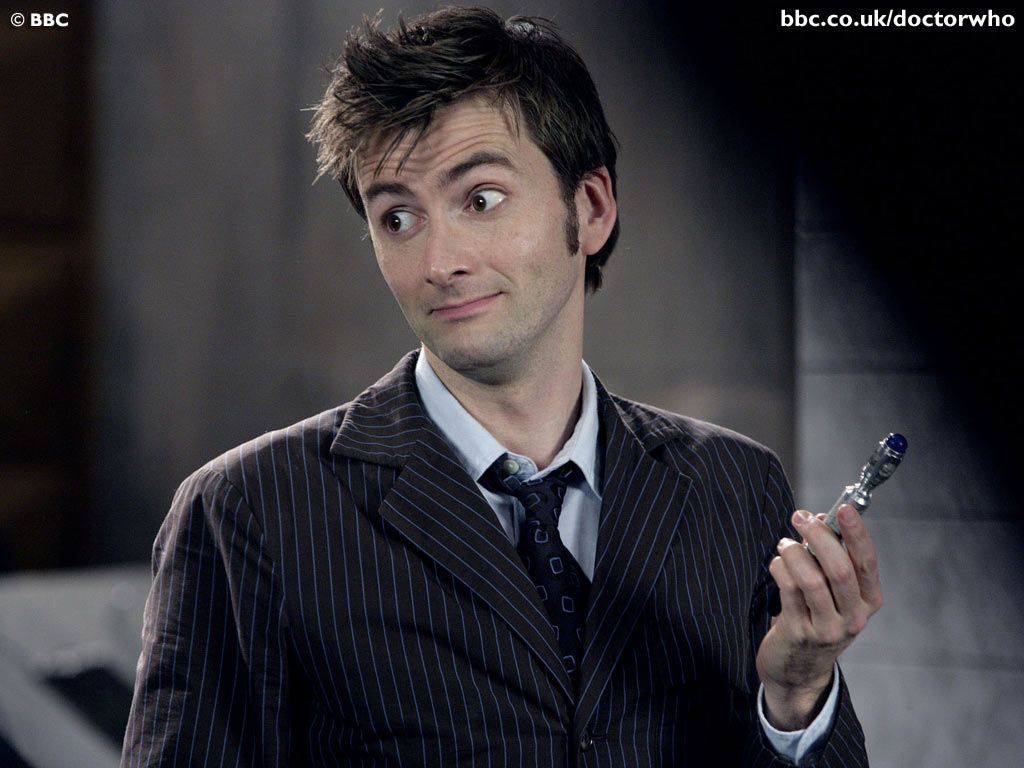 This list could not be complete without Doctor Who, right? While it began in 1963 and Tennant is the tenth doctor, we recommend starting with Season 1, Episode 1 of the 2005 reboot. It starts with Christopher Eccleston, the ninth-doctor. You'll have to wait a season before you get to David Tennant's Doctor. His companion's story starts with the first season, and we highly recommend watching her character evolve because she is a critical part of the tenth Doctor's story. Doctor Who, 2005.
Want to go on more adventures with the tenth Doctor? Check out the audiobooks, some are even narrated by David Tennant. Other narrators include Catherine Tate, Bernard Cribbins, Georgia Moffett, Freema Agyeman, and more. There are many, many Doctor Who audiobooks featuring different Doctors and narrators. We only linked to a few!
Casanova
Before he was the doctor, Tennant was Casanova. It's a fun, dramatic adaption of the infamous lover. This romantic romp across Europe is 174 minutes and, like Tennant's run on Doctor Who, is written by the wonderful Russell T Davies. Also starring Peter O'Toole. It's available on Acorn.
Camping
While it's an unlikely fantasy, if you've ever wanted to see David Tennant and Jennifer Garner in matching pajamas, here's your chance. HBO's Camping is a comedy about a bunch of people group-camping. It's not British, but if you're a hardcore David Tennant fan, you'll want to add it to the list. Watch Camping.
Spies of Warsaw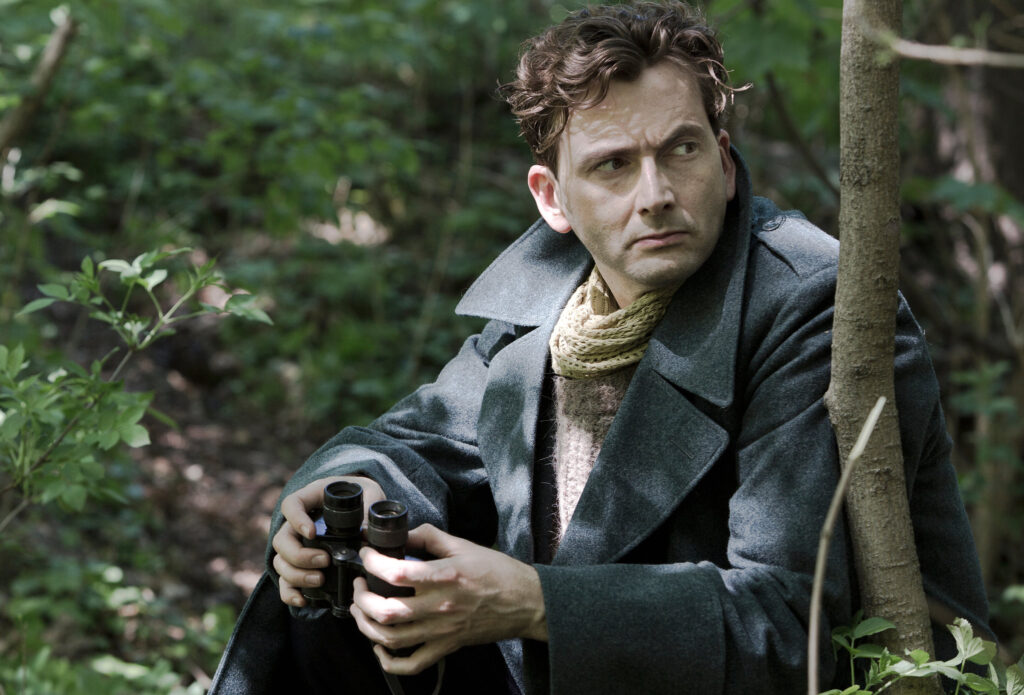 This thrilling adaption of Alan Furst's novel is set in Poland, Paris, and Berlin leading up to WWII. Tennant plays military attaché for the French embassy navigating the dark corners of Warsaw. This story deals with diplomatic complexities, abductions, and betrayal. Watch it here.
BONUS: Speaking of spies… did you know David Tennant narrates Spy in the Wild? He's not quite David Attenborough, but we still love him. It's streaming on CuriosityStream and is available through Amazon. Check out this adorable promotional BBC video of David Tennant narrating the hidden lives of otters:
Very British Problems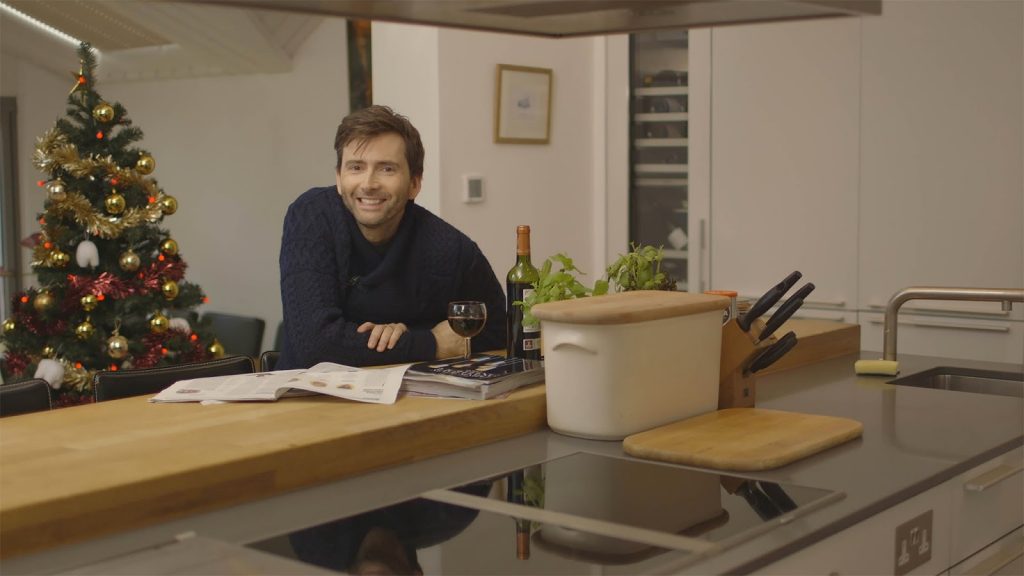 Among others, Tennant makes an appearance in this hilarious documentary about the unique problems British people face in their daily lives. Play "spot the star" as you watch and look for James Corden, Julie Walters, Catherine Tate, Stephen Mangan, Jonathan Ross, Johnny Vegas, Aisling Bea, Josh Widdicombe, Nigel Havers, Vic Reeves, and more. It's streaming on Amazon.
Honorable Mention: W1A
David Tennant narrates this hilarious mockumentary about a new Head of Values at the BBC (Hugh Bonneville) that must redefine the BBC's purpose. Watch W1A on Netflix. Amazon.
Where to Watch David Tennant: Movies

What We Did on Our Holiday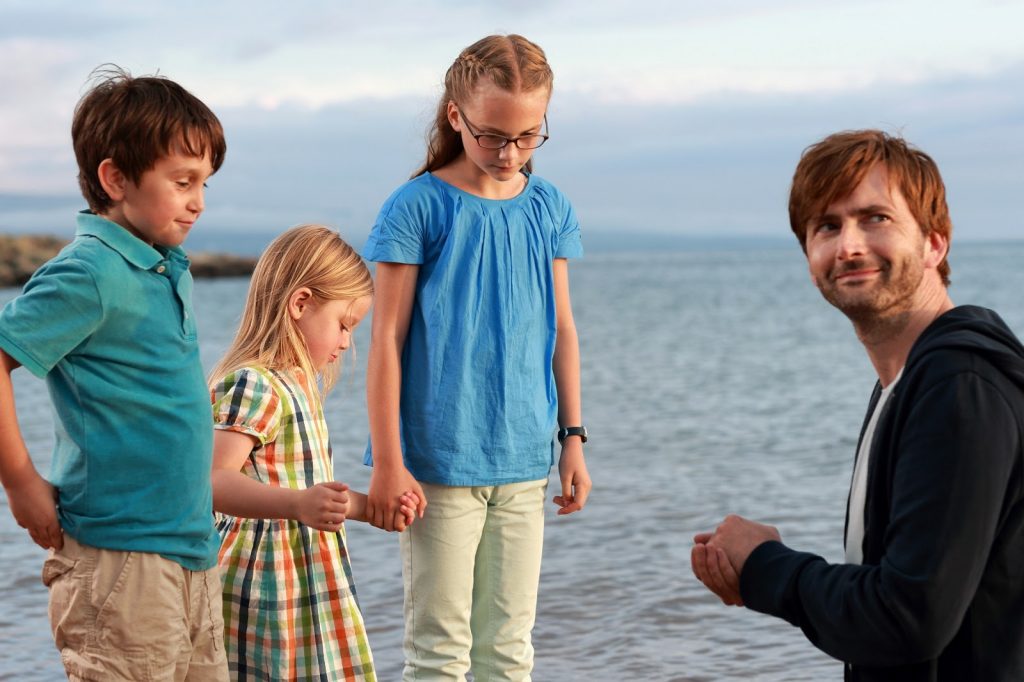 This wonderfully hilarious, unexpectedly heartfelt movie centers around a family on their vacation. Tennant plays a father of three. It also stars the legendary comedian Billy Connolly and talented Rosamund Pike.
It was written by Andy Hamilton and Guy Jenkin, the duo responsible for the show Outnumbered, a realistic portrayal of family life with lots of humor thrown in. What We Did on Our Holiday also excels at portraying real life with the perfect amount of humor.
Check out What We Did on Our Holiday on Amazon.
You can also look for it for free on sites like Tubi, Hoopla (through library), Vudu, and Pluto.
You, Me and Him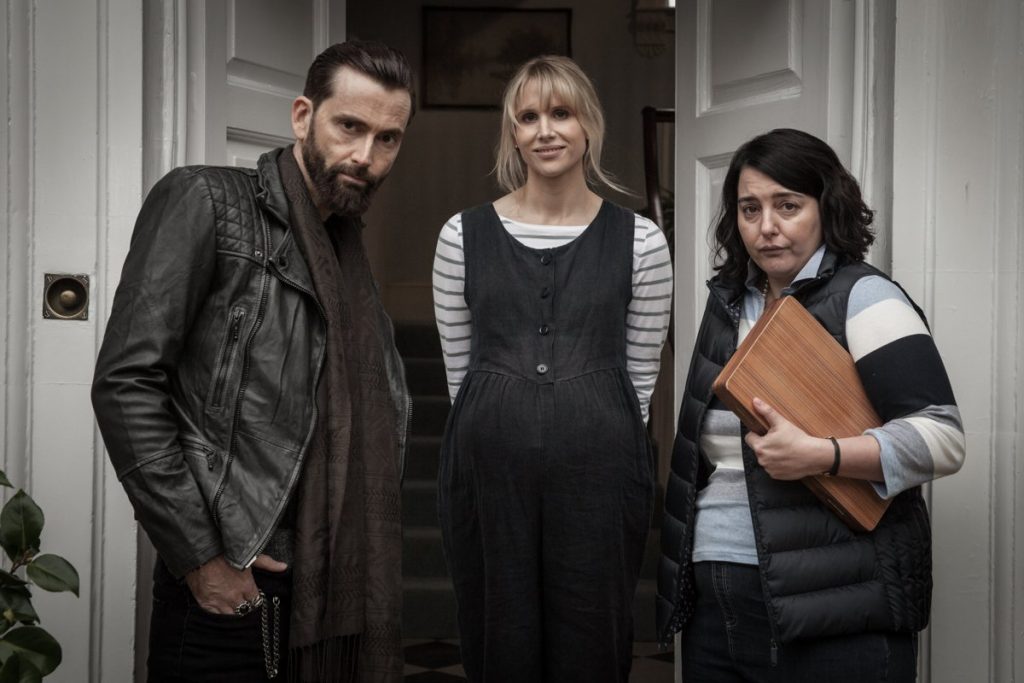 Olivia and Alex, played by Lucy Punch and Faye Marsay, are a lesbian couple. As they consider pregnancy and befriend their neighbor, John (Tennant), bad decisions lead to funny circumstances. This dramady is cute and surprisingly normal. It's streaming on Amazon.
Decoy Bride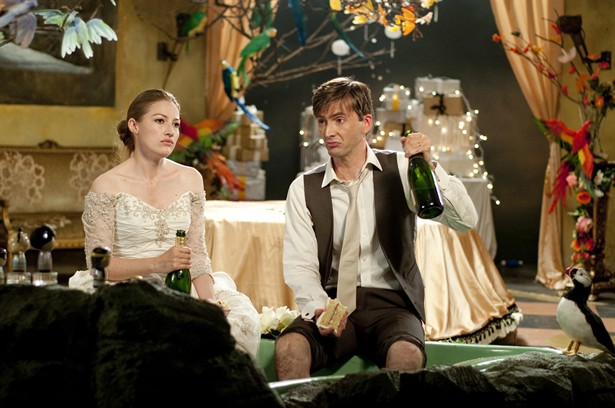 You'd think the remote Outer Hebrides of Scotland would be the best place to have a secret wedding, but apparently not. Alice Eve plays a Hollywood actress attempting to get married without the press intruding, but paparazzi still seem to find her. They hire Kelly Macdonald's character to be a decoy bride, hence the title. If you're in the mood for a wonderful rom-com, this is a must watch! David Tennant and Kelly Macdonald have excellent chemistry. Check it out on Amazon.
Mad to be Normal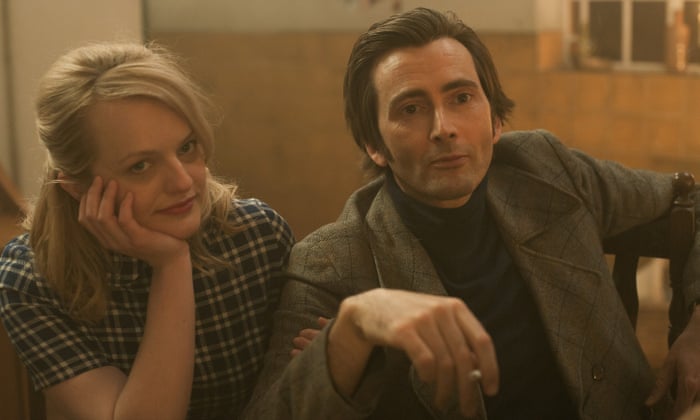 Tennant, Elizabeth Moss, and Michael Gambon star in this trippy 60s psychological movie. Tennant plays R.D. Land, an unorthodox psychiatrist performing experiments on patients who are apparently mentally disturbed. His unique community creates quite a stir. Check it out on Amazon or find it streaming on Hulu.
Bad Samaritan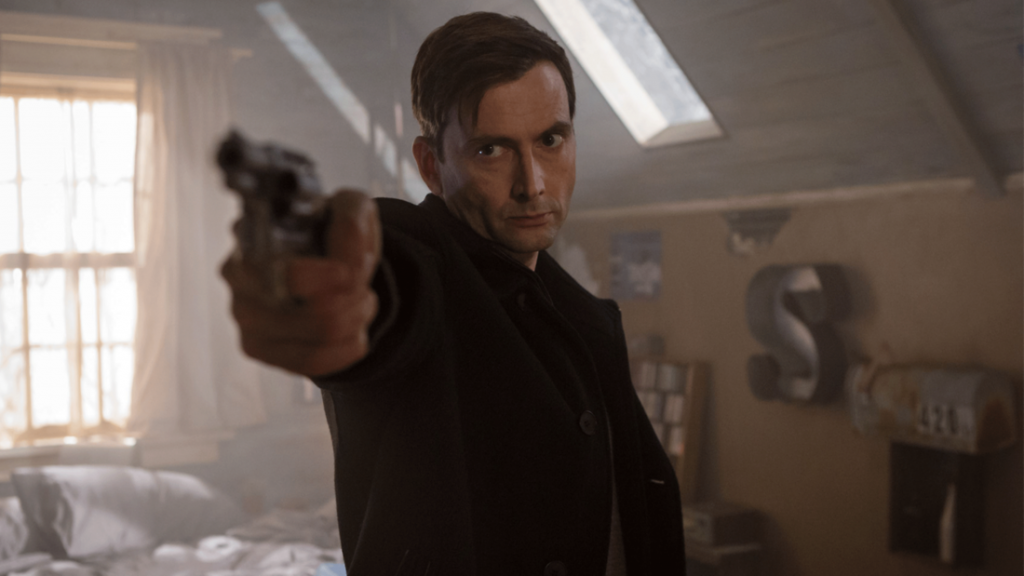 In this cat-and-mouse thriller, David Tennant plays a dangerous target for two small-time burglars. Irish actor Robert Sheehan plays the protagonist. If you're okay with being creeped out by David Tennant's incredible ability to play a baddie, you're in for a treat. He is terrifyingly good at being bad.
It's streaming on Amazon.
Fright Night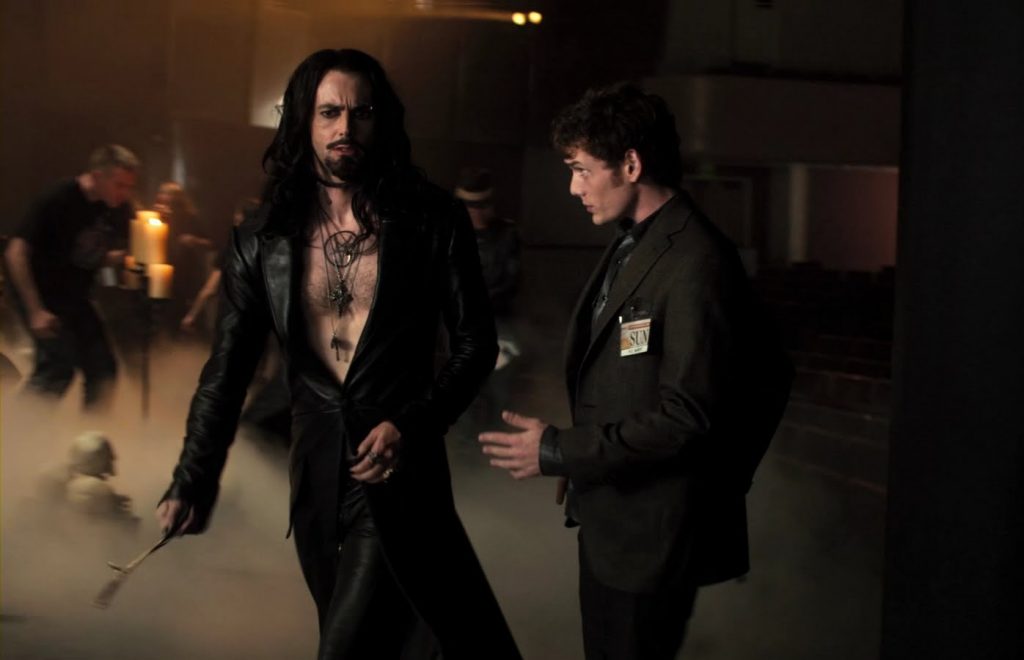 In this remake of the classic 80s movie of the same name, Tennant plays Peter Vincent, a quirky self-proclaimed vampire expert. Vincent is enlisted by the late Anton Yelchin's character. Together, they try to defeat Jerry, a dangerous vampire played by Colin Farrell. If you like horror-comedy movies, this remake holds up and is worth a watch if only for Tennant's performance. Check it out on Amazon.
Harry Potter and the Goblet of Fire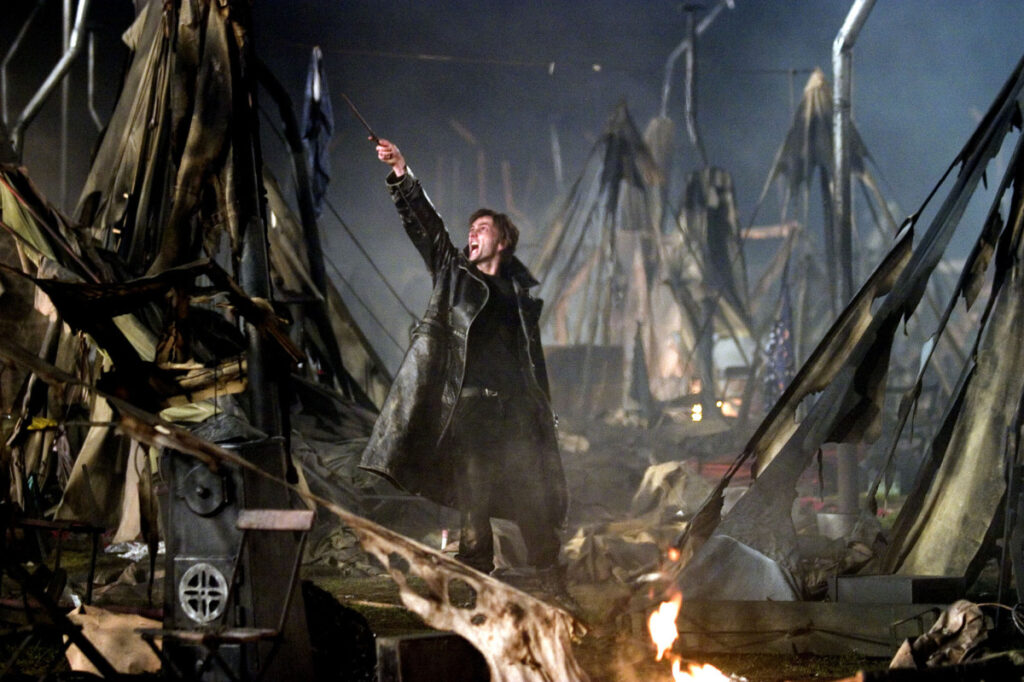 Tennant has a small but formidable role as Barty Crouch Jr. in the fourth installment of the Harry Potter series. If you didn't recognize him during your first watch, look for him when you watch it again. If you're new to Harry Potter, we highly recommend starting with the first film and watching them in order. Amazon. Your local library probably has the DVDs along with the books. They're worth a read, too. They introduced a whole generation to the British way of life, albeit through magic and wizardry.
United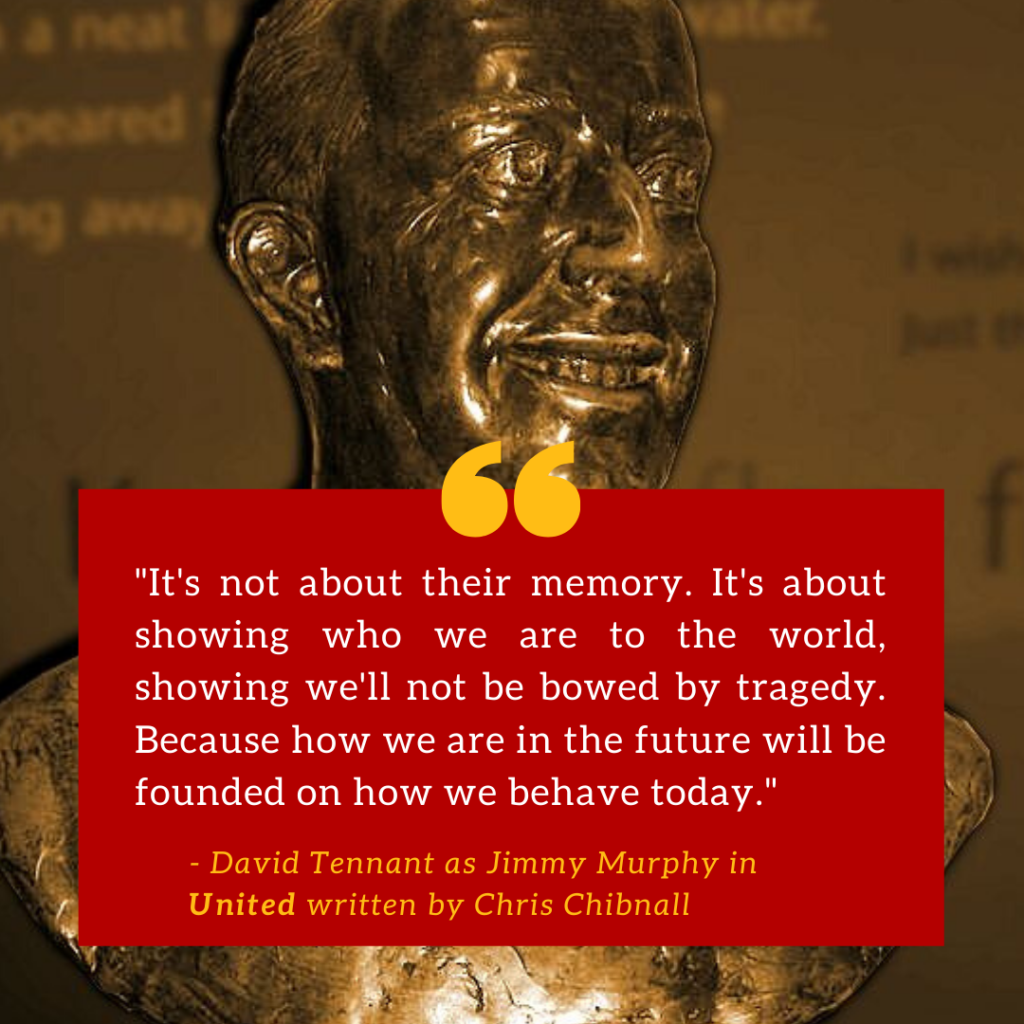 Like Julian Fellowes' mini-series The English Game, you do not need to be a fan of soccer to watch this movie. United is a true underdog story of tragedy and perseverance.
When British European Airways Flight 609 crashed on its third attempt to take off from a slush-covered runway on February 6th, 1958, eight Manchester United players and three team officials were killed. Two players were so severely injured, they would never play again.
In total, 23 people perished from the Munich air disaster of 1958.
In the aftermath, many young players had to quickly rise to their new roles.
United is the story of their perseverance in the face of devastation.
Tennant plays coach Jimmy Murphy; the events were adapted to screen by Broadchurch writer Chris Chibnall.
It's streaming on Acorn and Amazon.
Richard II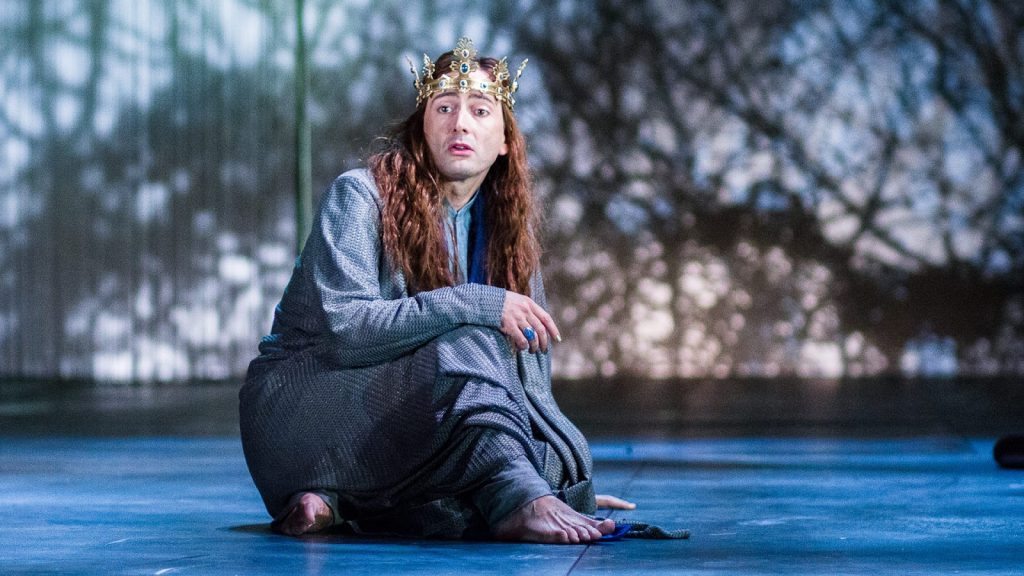 Yes, Tennant can do just about anything… He's also an accomplished stage actor and Shakespeare performer. His Richard II also stars Fiona Shaw and Julian Rhind-Tutt. Like Tennant's Hamlet, this is also a slightly different interpretation of Shakespeare's original play. It's streaming on Amazon.
Hamlet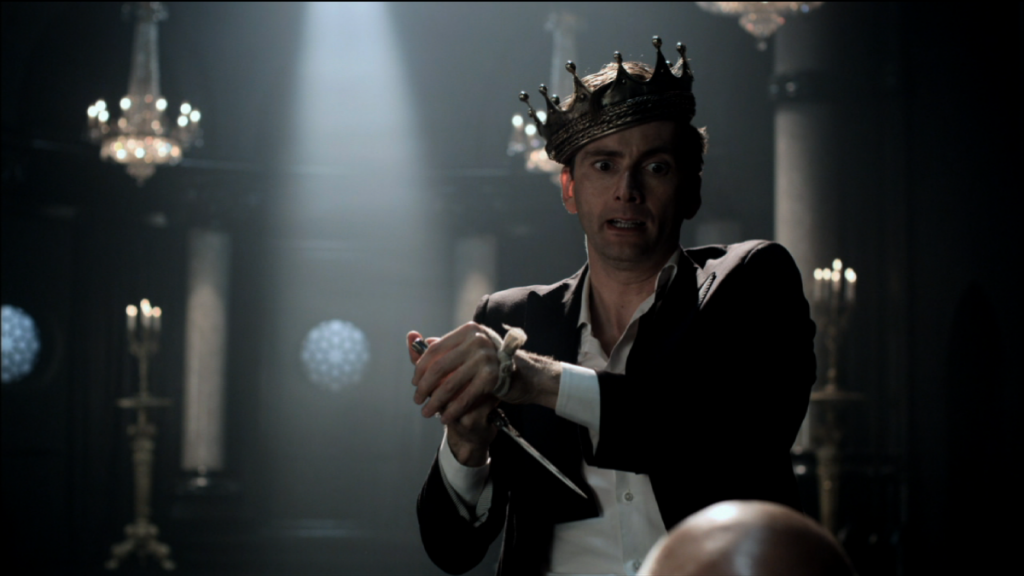 Shakespeare fans rejoice: If you've ever wanted to see Tennant say, "To be or not to be…" and "Alas, poor Yorick!" here's your chance. This is a commendable adaption any Tennant fan will enjoy. This version also stars the legendary Patrick Stewart. Check it out on Amazon.
What is David Tennant Doing Now? Upcoming David Tennant Projects:
Tennant is a busy guy and it seems like he's always hard at work.
Here's some of his upcoming projects…
Des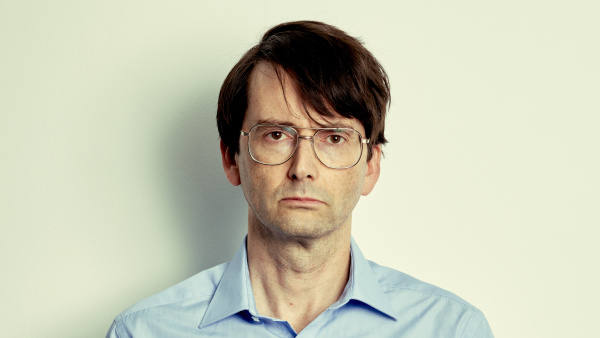 Des is an upcoming ITV drama about serial killer Dennis Nilsen, played by Tennant. It is set to air on ITV towards the end of 2020, but with the Coronavirus understandably disrupting productions around the world, we aren't going to get your hopes up by mentioning a specific date. We'll try to keep you up to date, though. Des will stream on Sundance Now in the States.
Americons
Tennant reunites with Catherine Tate in this comedy series about a British couple who move to America. It is written by none other than Catherine Tate and is in development for Sky One. The famous cast and British-American elements almost guarantees we'll get to see it in the States. Be sure to subscribe to our newsletter for updates on all things British TV, including David Tennant's new projects.
Around the World in 80 Days
In this eight-part adaption of Jules Verne's beloved novel, David Tennant is playing Phileas Fogg. Like many shows, production has been delayed due to Coronavirus concerns. They were shooting in South Africa when the production was postponed. Now's a great time to read the novel ahead of this new mini-series.
What's your favorite David Tennant performance?
Our fingers might fall off if we wrote about them all…
But, we tried to highlight some of his most popular and most unique roles!
Do you have a favorite? Did we miss a great one?
Let us know in the comments!
Save it to Pinterest!