20+ Gripping British TV Mysteries Like Broadchurch
In some cases, we earn commissions from affiliate links in our posts.
Last Updated on September 27, 2022 by Stefanie Hutson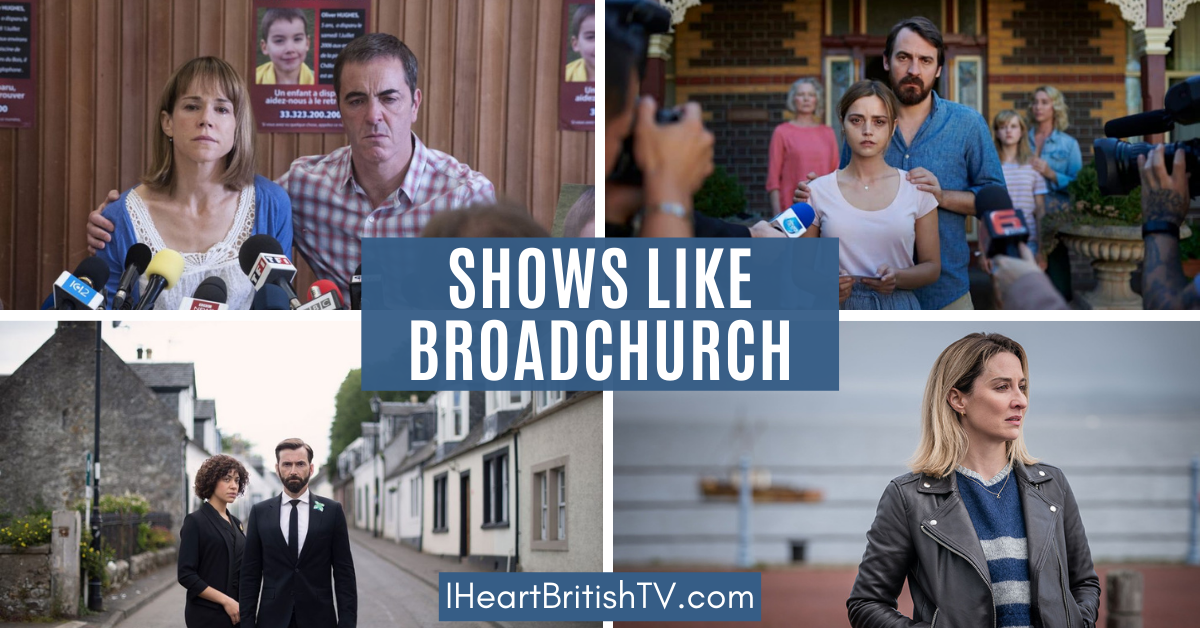 Editor's Note: This post has been edited since it was originally submitted. As a result, the list may contain some recommendations the original author may not agree with.
Broadchurch is an emotional roller coaster with a crime that's too close to home. It's also intensely raw and full of characters with secrets.
Sadly, the creators of Broadchurch brought it to an end after three seasons. They went out on a high note rather than driving it into the ground, but that means there are an awful lot of us trying to fill a Broadchurch-shaped void with similar TV shows.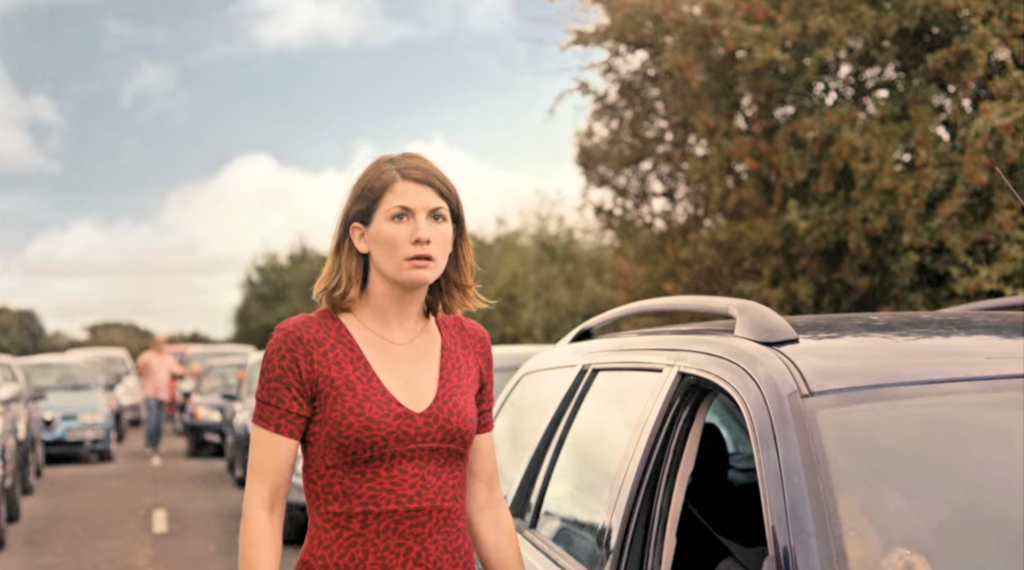 Not familiar with Broadchurch? It stars David Tennant and Olivia Colman as two detectives investigating the death of an 11-year-old boy who is found on an idyllic Dorset beach. The scenery contrasts with the horrific crime and it's difficult to watch a normal family's innocent, bustling morning before they learn their son is missing. What follows is the twisting, complex story of a town full of characters who could be the culprit. Season two continues to follow the events in season one, but the third season is a whole new case.
Time for a re-watch? Broadchurch is streaming HERE.
20+ British TV Shows Similar to Broadchurch
Although nothing is going to be exactly the same as Broadchurch, we've done our best to gather up shows that offer a similar viewing experience in one way or another.
The Missing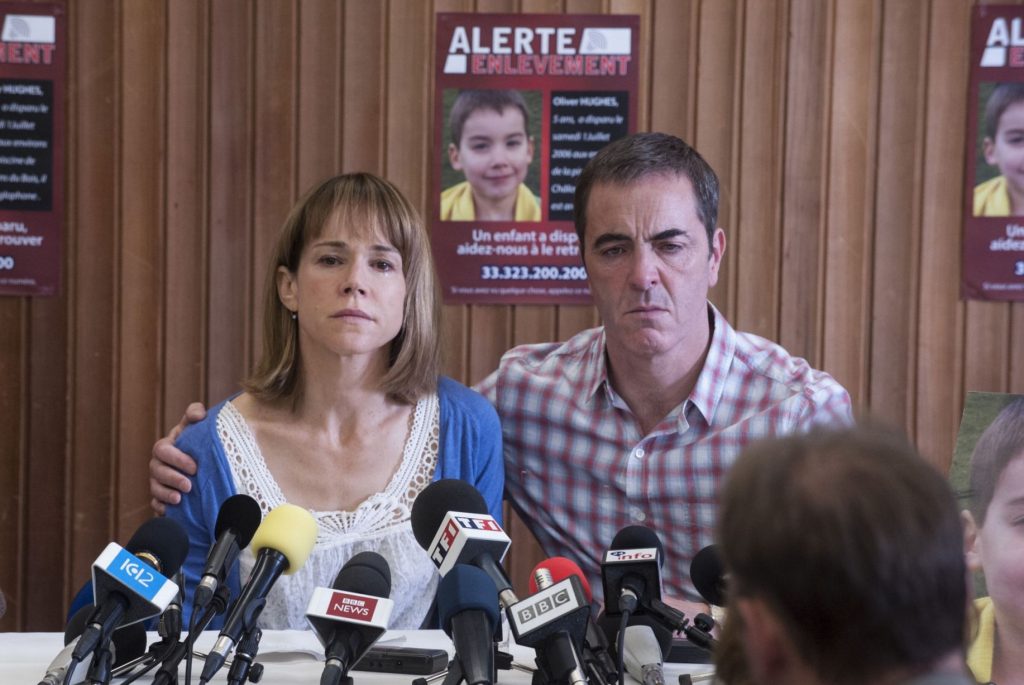 The Missing stars James Nesbitt and Frances O'Connor in season one as parents on holiday in the north of France with their five-year-old son. In a split second, their little boy goes missing. It's a parent's worst nightmare and both parents handle the tragedy in different ways.
The Missing is an anthology series, and season two stars David Morrissey, Keeley Hawes, Roger Allam, and Laura Fraser. At a British army garrison in Germany, parents (played by Morrissey and Hawes) learn that their daughter, who went missing eleven years ago, has reappeared.
Although it only lasted two seasons, the spin-off series Baptiste came out in 2019 and a second season is in the works. It stars Tchéky Karyo who plays retired detective Julien Baptiste in The Missing.
How does The Missing compare to Broadchurch?
Emotional. Missing child. Brooding atmosphere.
Happy Valley
Happy Valley is anything but happy. It primarily follows the story of Catherine Cawood (Sarah Lancashire) and her family. She is a police officer with a complicated family life, made more complicated by convict Tommy Lee Royce (James Norton) who is the father of her grandson. If you love complex characters and nail-biting drama, check out Happy Valley.
It also stars Siobhan Finneran, Karl Davies, Joe Armstrong, Shane Zaza, and Charlie Murphy, among many other familiar faces.
Stream Happy Valley on Amazon.
How does Happy Valley compare to Broadchurch?
Complex characters. Emotional. Gritty.
Deadwater Fell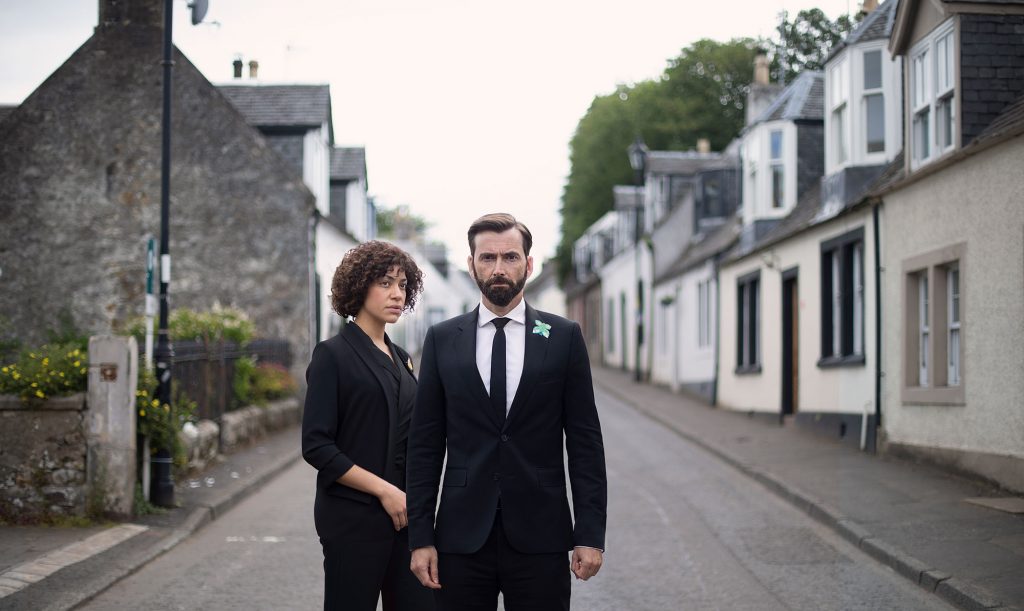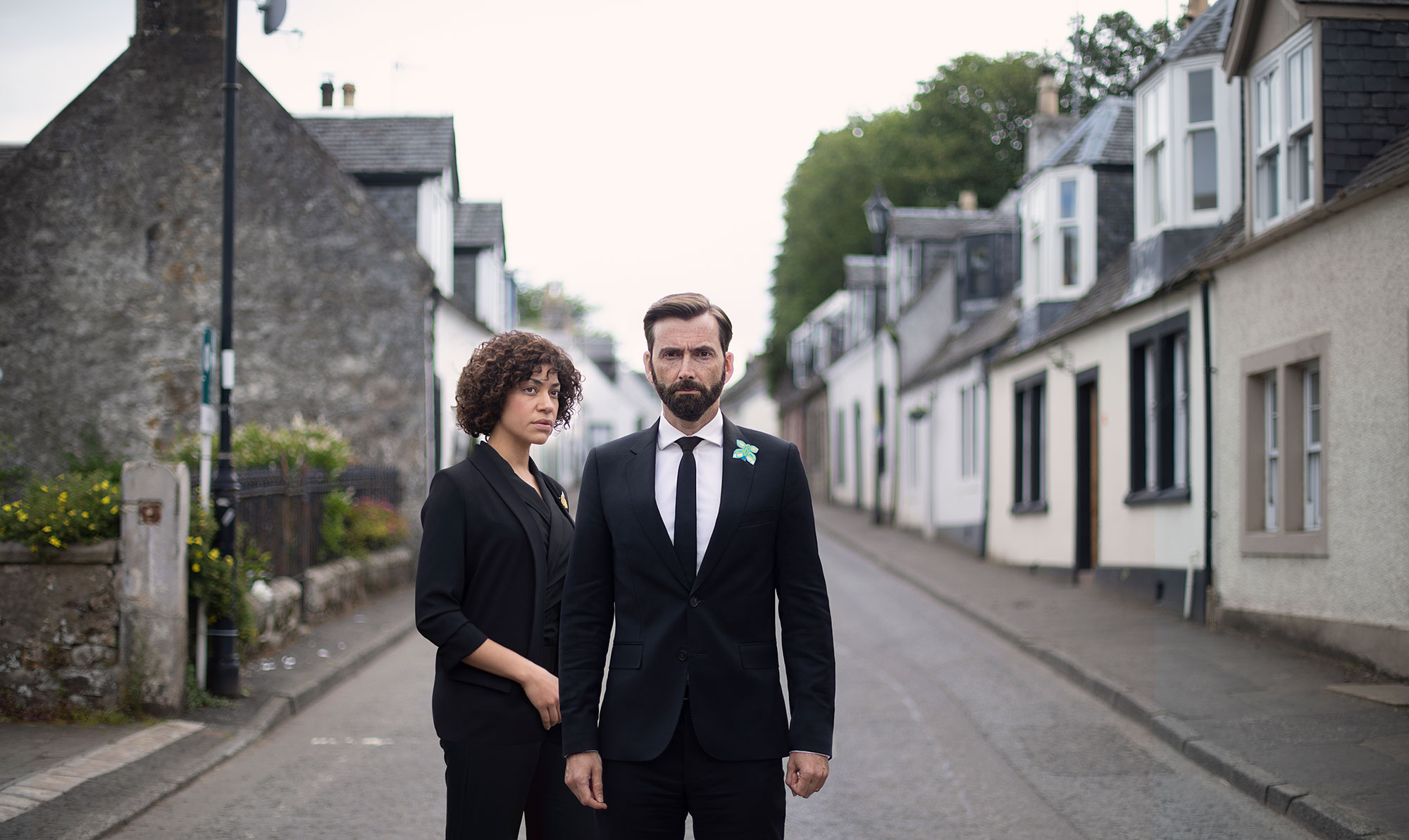 Tom (David Tennant) is the only survivor of a brutal crime. Family friends dedicate themselves to uncovering the truth. With chilling, dramatic twists, Deadwater Fell reflects on female friendships, the danger of gender stereotypes, and secrecy. You'll also love the gorgeous Scottish scenery.
Also starring Cush Jumbo, Matthew McNulty, and Anna Madeley.
It's a four-episode miniseries available on Acorn.
How does Deadwater Fell compare to Broadchurch?
David Tennant. Emotional. Mysterious.
Vera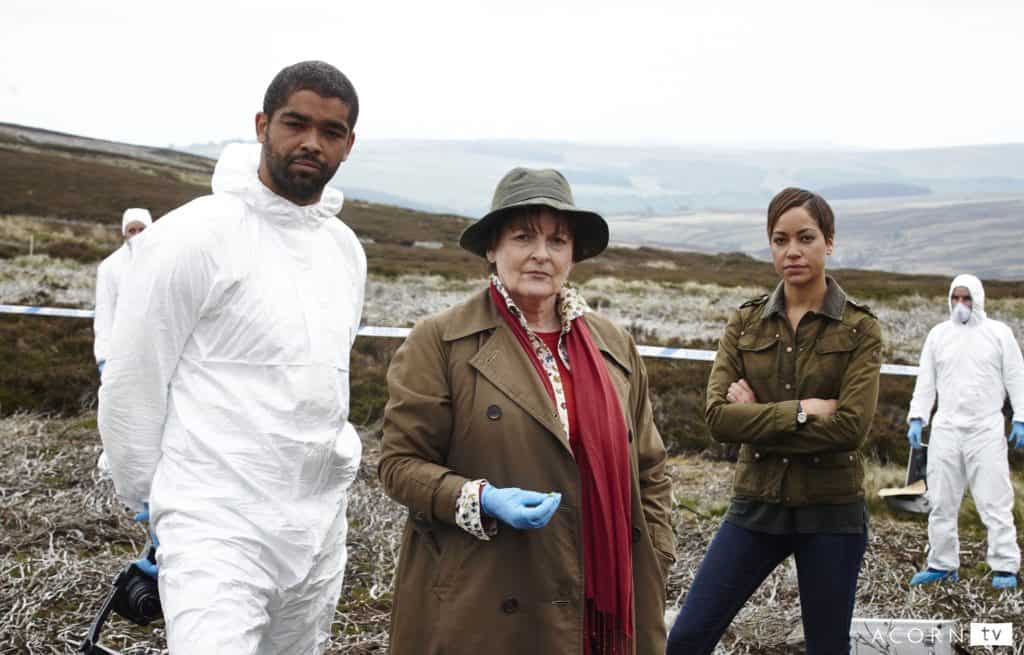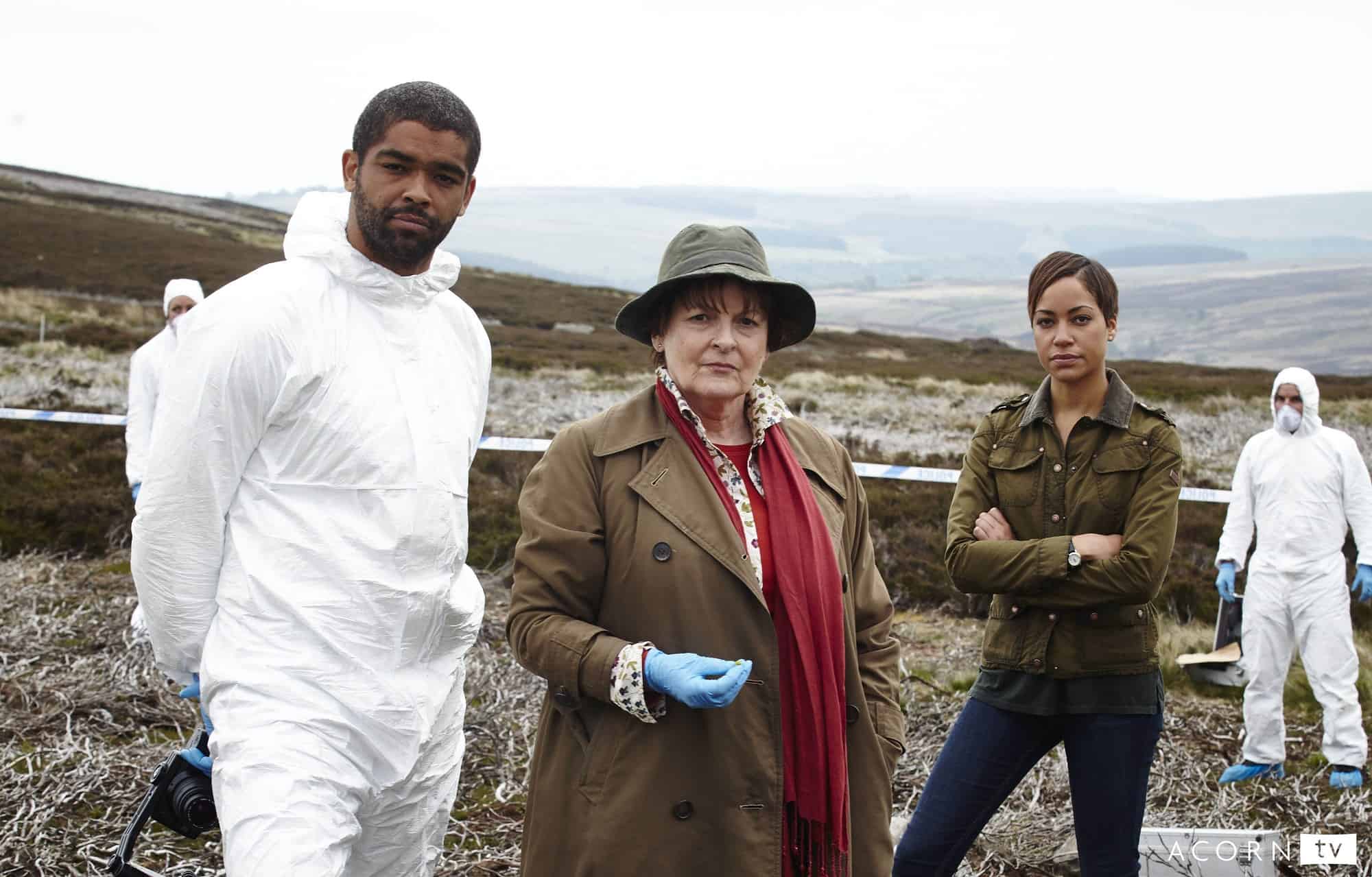 Based on Ann Cleeves Vera book series, Vera offers a moody atmosphere and gorgeous, windswept landscapes. Vera Stanhope is a lonely character but full of spunk and determination. Deep down, she cares and always does whatever it takes to catch the criminal. Fans of Broadchurch will fall in love with Vera and the Northumberland setting. Brenda Blethyn stars.
How does Vera compare to Broadchurch?
Brooding. Mystery. Gorgeous scenery. Moody detective.
Shetland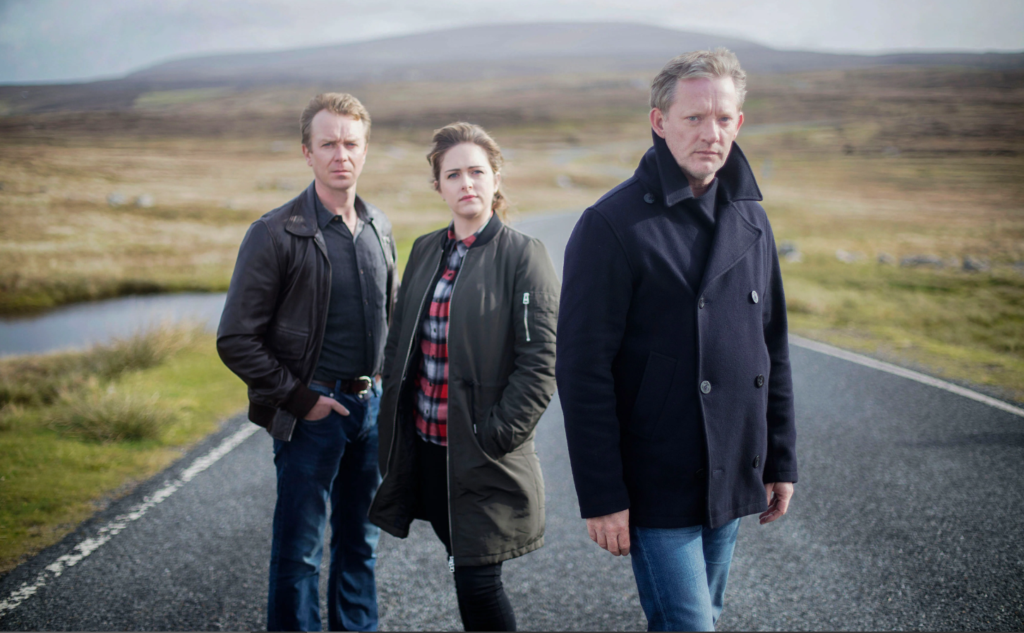 Shetland stars Douglas Henshall as DI Jimmy Perez, a widower detective and step-father of Cassie Perez (Erin Armstrong). He works with DS Alison "Tosh" McIntosh (Alison O'Donnell) and DC Sandy Wilson (Stephen Robertson). Mark Bonnar plays Cassie's real father, Duncan Hunter, who stepped up when her mother died.
Shetland is the perfect balance of all the best elements: bleak atmosphere, breathtaking windswept landscapes, a determined detective, and grisly crimes. Like Vera, Shetland is also based on books – the Shetland series by Ann Cleeves.
How does Shetland compare to Broadchurch?
Brooding. Mystery. Gorgeous scenery.
Suspect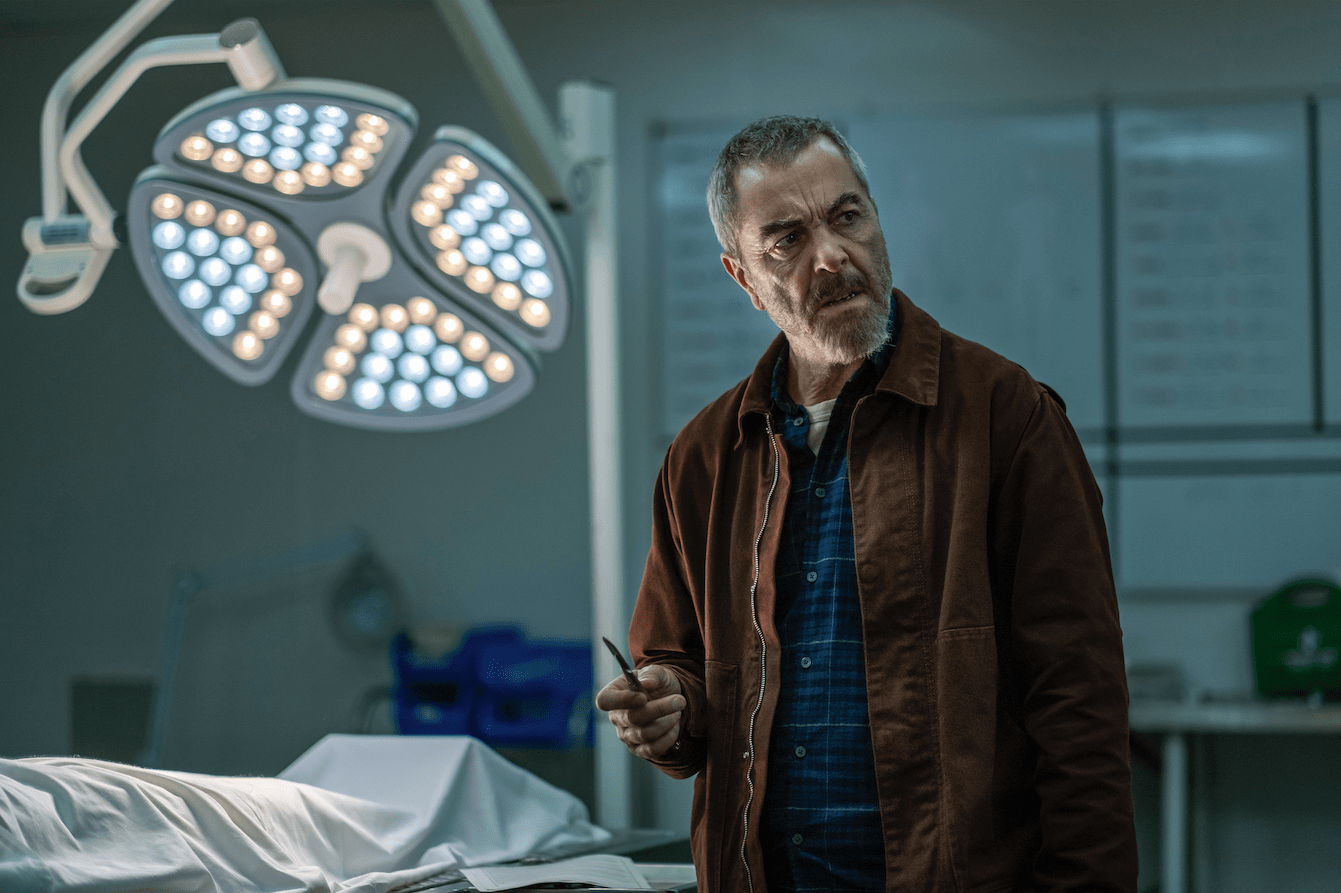 In Suspect, James Nesbitt plays detective Danny Frater, a man whose life changes after a routine trip to the morgue for an ID check. Instead of another anonymous body, he finds himself looking down into the face of his estranged daughter Christina (Imogen King). Initial findings point to suicide, leading him on a journey to find out what was going on in her life and how it could have ended so tragically.
As he takes himself on a trip through his late daughter's life, he begins to get suspicious. There may be more going on than he initially realised.
How is Suspect similar to Broadchurch?
Moody. Deals with the death of a child in suspicious circumstances.
Marcella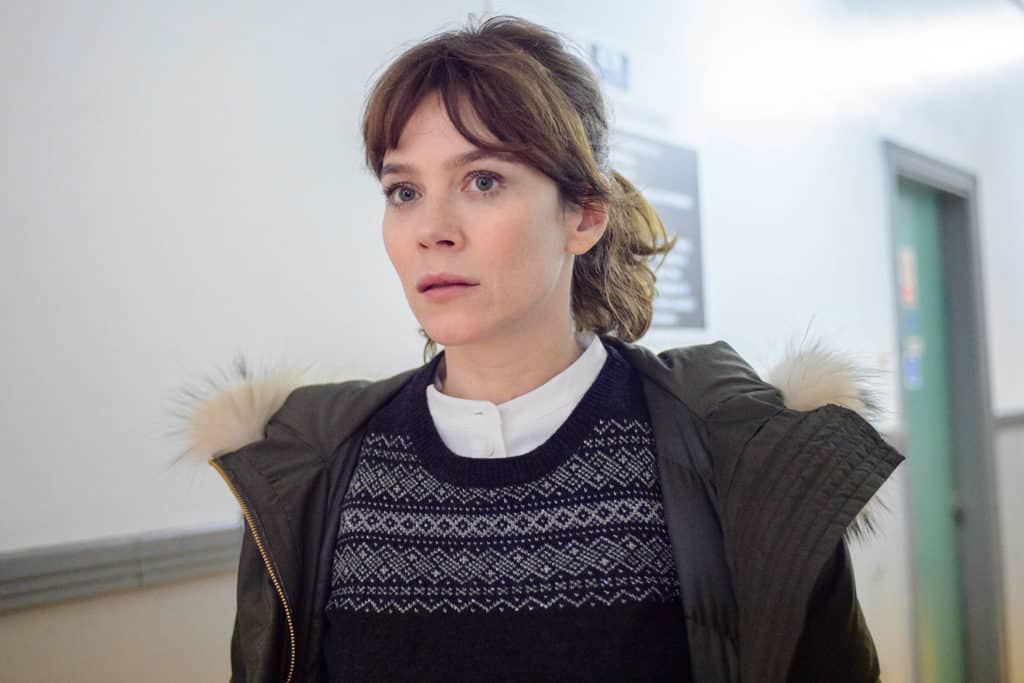 Anna Friel plays Marcella Backland, an investigator in the Metropolitan Police who quits her job to spend more time with her family. But it doesn't matter – her husband leaves anyway. So, she returns to the murder squad where she must investigate a crime that feels close-to-home.
In tone, Marcella is a blend between Broadchuch and Nordic noir genre. It also stars Ray Panthaki as DI Rav Sangha, Jack Doolan as DC Mark Travis, and Jamie Bamber as DCI Tim Williamson.
Marcella is streaming on Netflix.
How does Marcella compare to Broadchurch?
Emotional. Mystery. Crime. Dramatic.
Karen Pirie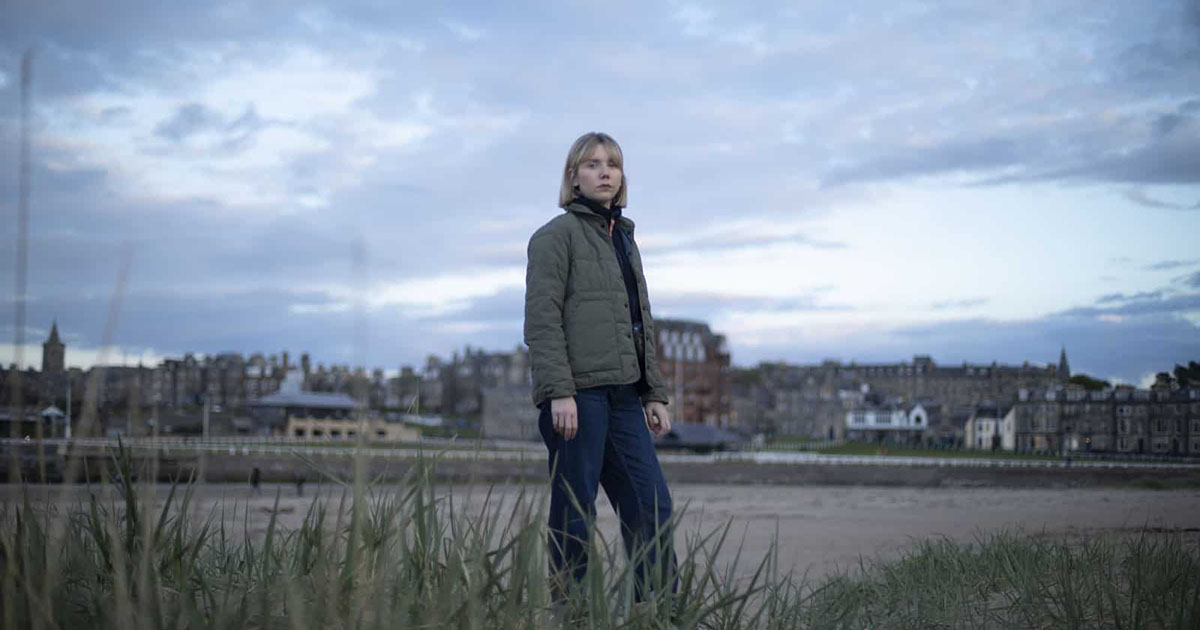 Based on Val McDermid's Karen Pirie book series, Karen Pirie follows the investigative work of twentysomething detective Karen Pirie, a young Scottish woman whose work focuses on cold cases. Pirie is a relatively plain young woman who's more interested in solving cases than buying designer shoes – and she's known not just for her competence, but for her quick wit and ease in talking back when the situation demands it.
Though this one has already begun in the UK at time of writing, American audiences will have to wait until late October 2022 to watch it on BritBox.
How's Karen Pirie similar to Broadchurch?
Overcast but gorgeous coastal scenery. No-nonsense detective.
Unforgotten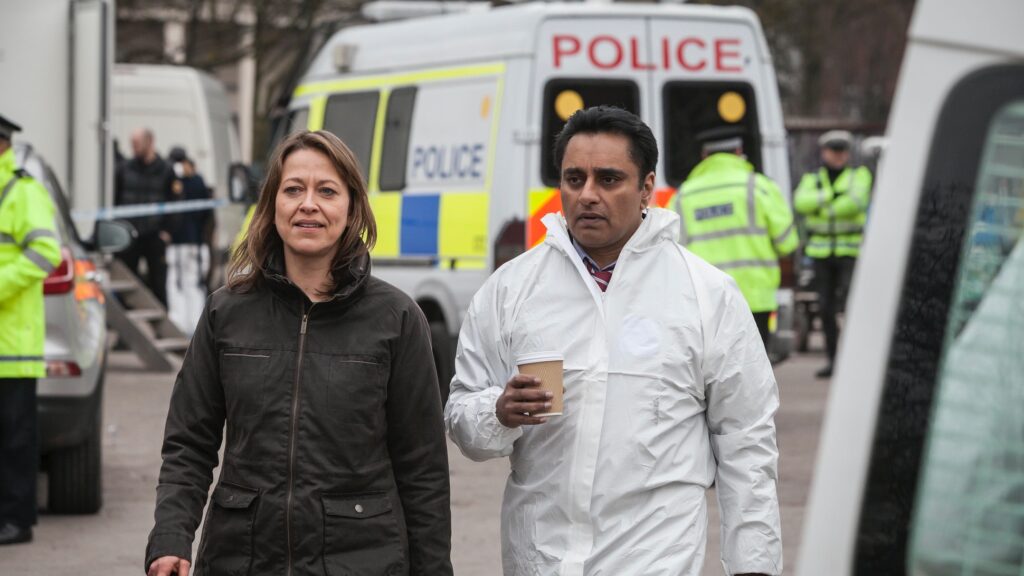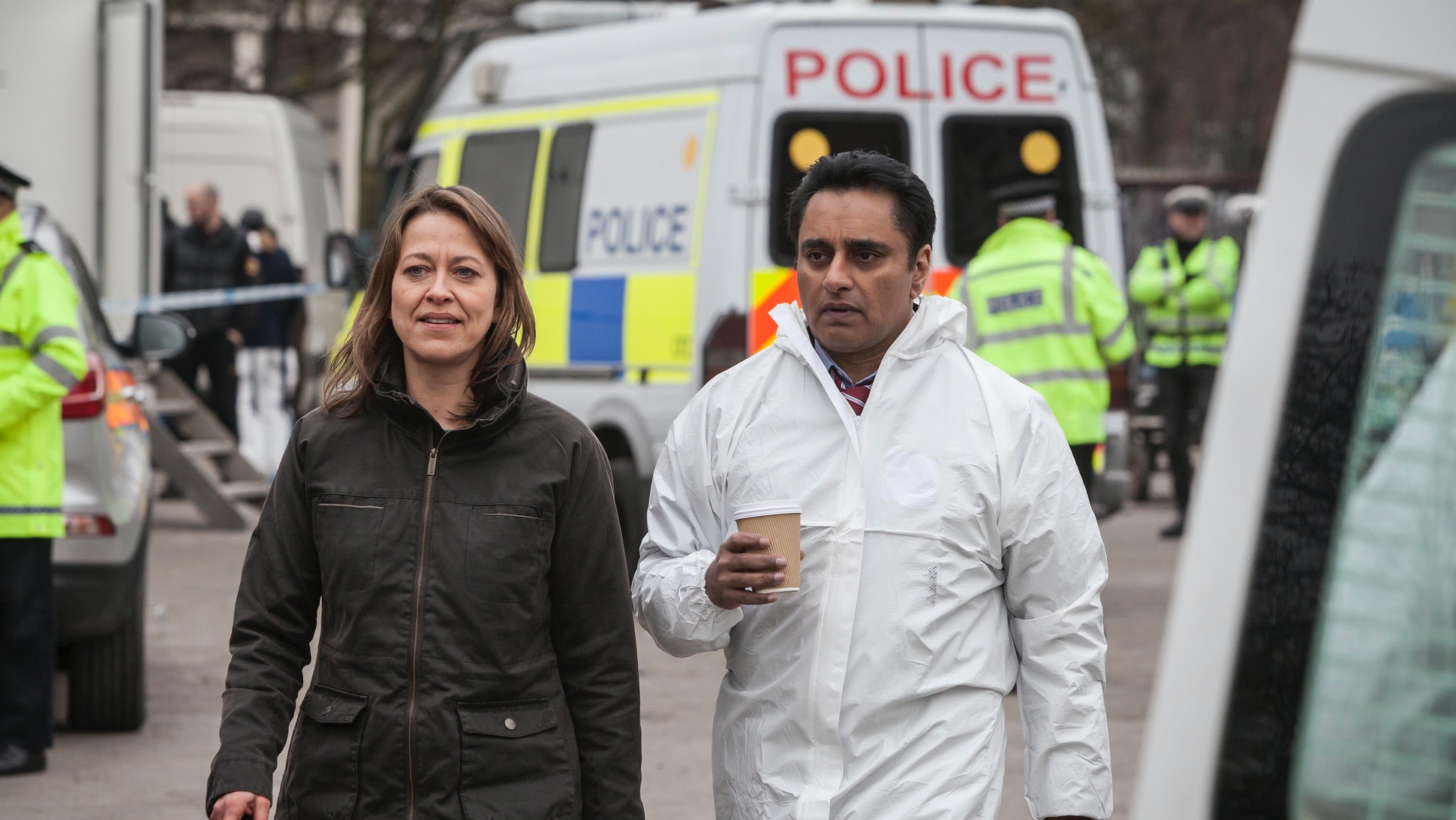 Season one of Unforgotten uncovers the story of a skeleton found in the cellar of a house. Nicola Walker and Sanjeev Bhaskar star as detectives using every ounce of grit they have to find the truth about cold cases. It also features realistic (by TV standards), modern forensic science.
Watch it on Amazon Prime.
How does Unforgotten compare to Broadchurch?
Mystery. Realistic atmosphere. High quality production.
DCI Banks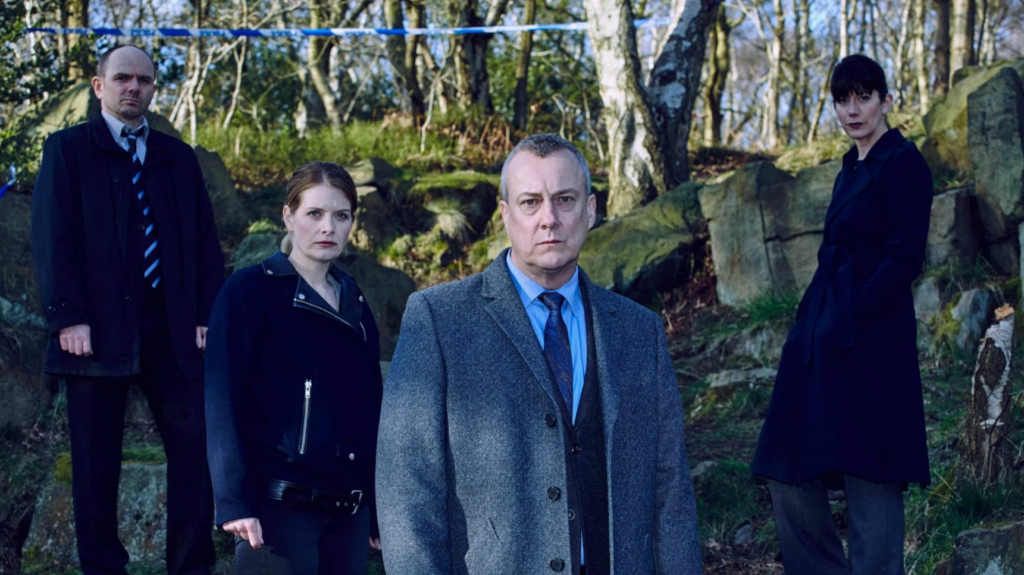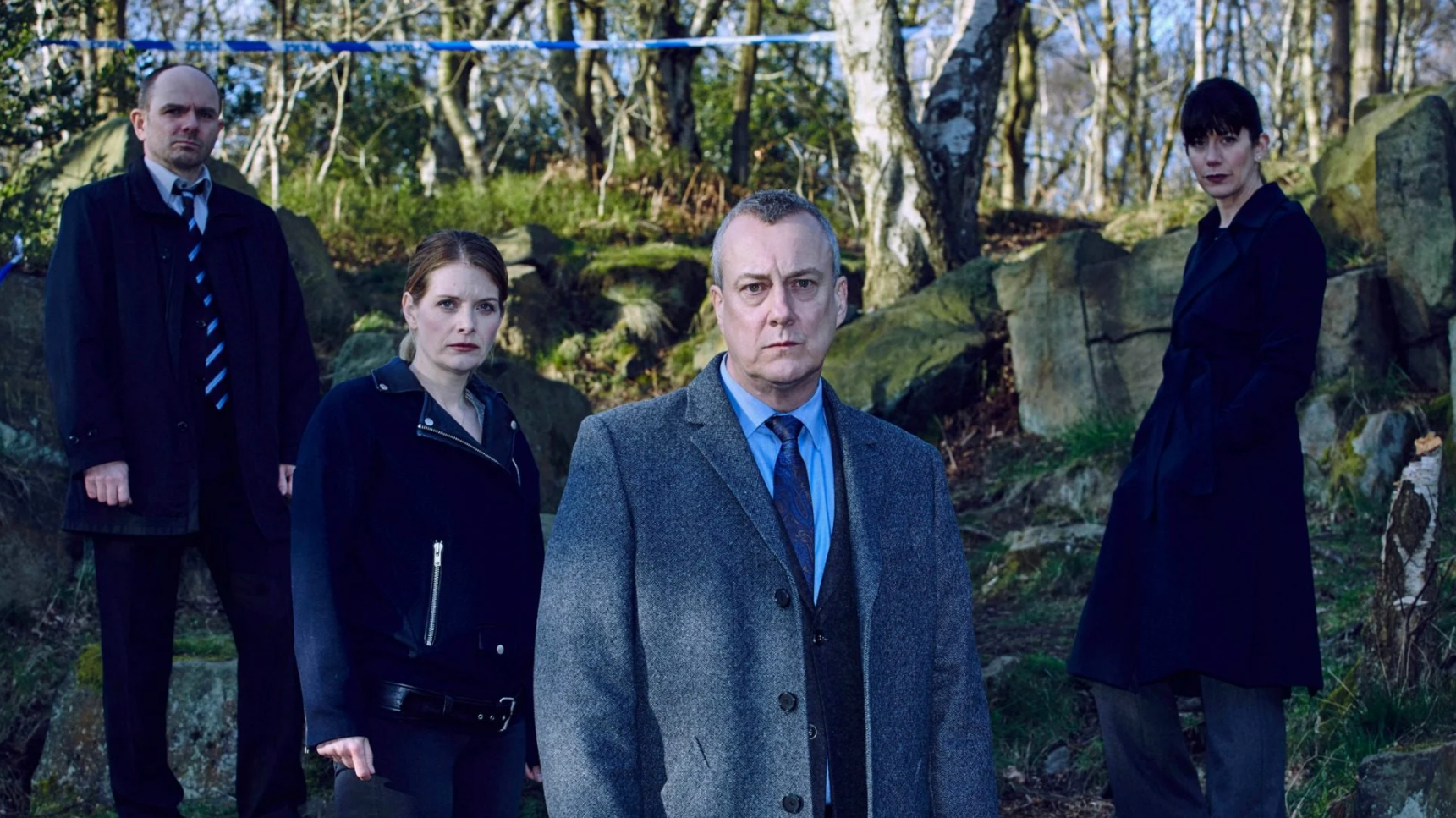 DCI Banks follows the life of Alan Banks, played by Stephen Tompkinson. Banks is persistent and stubborn. The show has a raw, bleak atmosphere and does show some nudity and gore. DCI Banks is an intelligent and dramatic production with lots of twists. It also stars Caroline Catz and Andrea Lowe.
How does DCI Banks compare to Broadchurch?
Moody. Emotional. Mystery.
Manhunt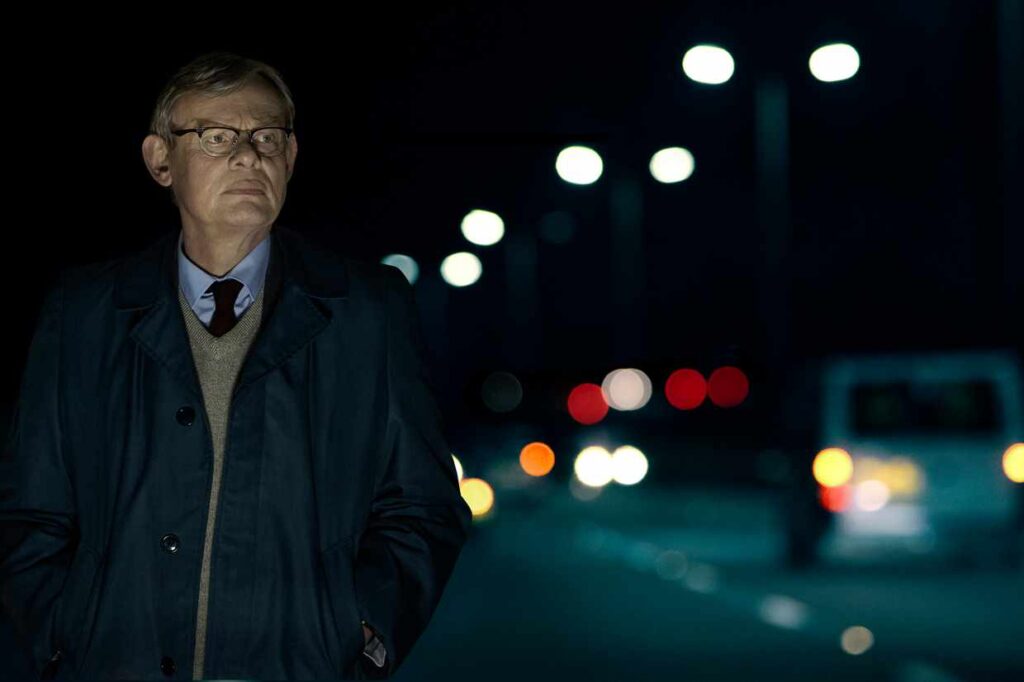 Manhunt, starring Martin Clunes, was the highest rated new drama on ITV since Broadchurch. It is only three episodes long, but well worth the watch for fans of Broadchurch. It's based on the true story of London Metropolitan police detective Colin Sutton as he works to track down a serial killer.
Stream it on Acorn.
How does Manhunt compare to Broadchurch?
Realistic atmosphere. Emotional. Mystery.
The Escape Artist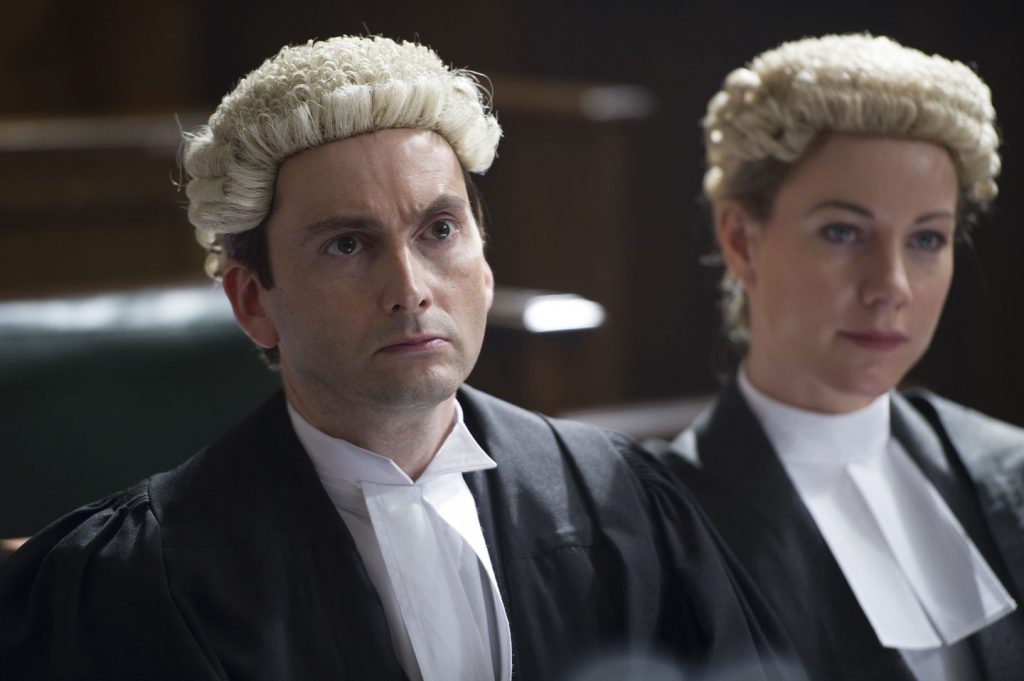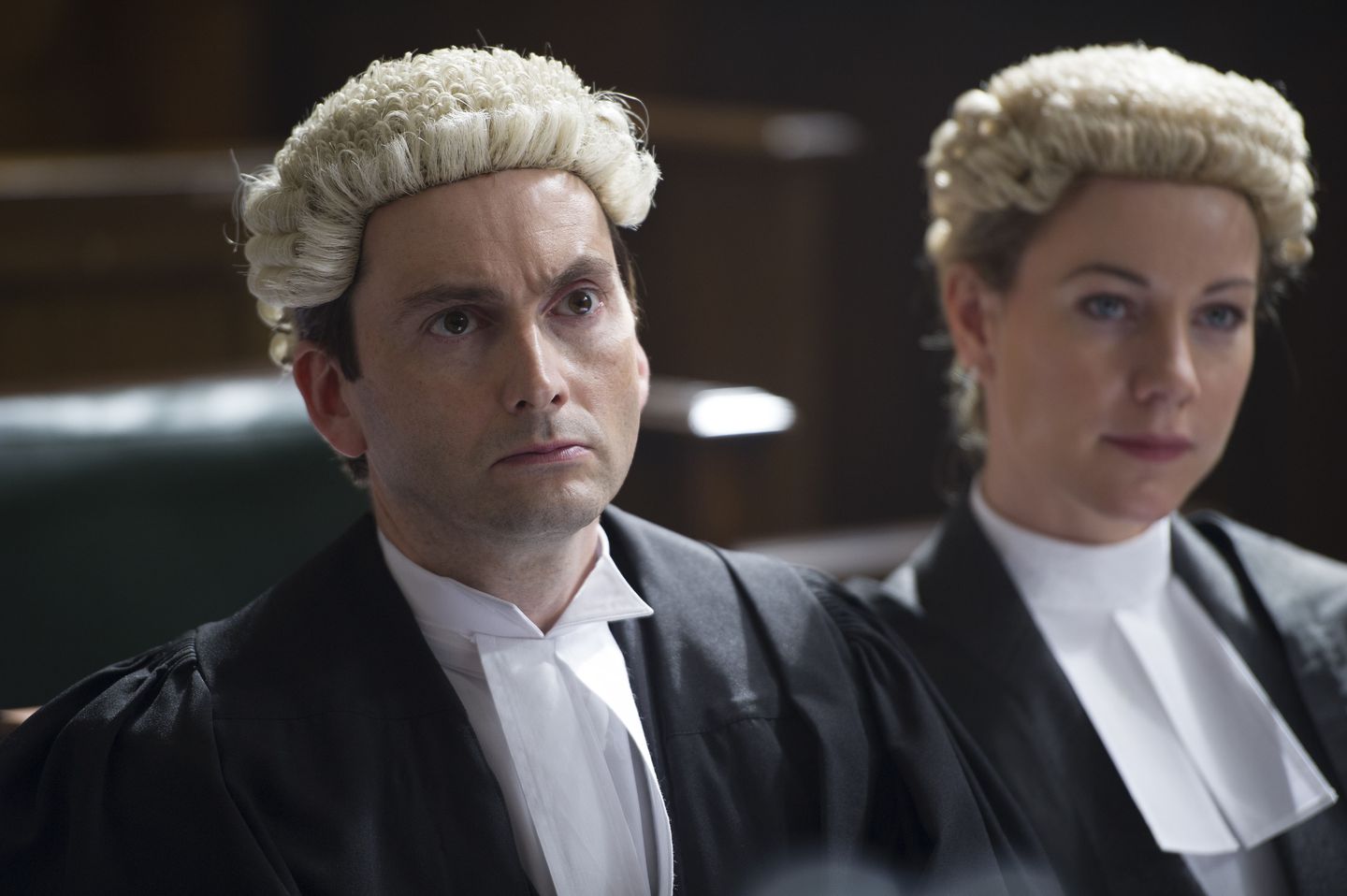 In 2013, Broadchurch wasn't the only exciting show airing starring David Tennant. The Escape Artist is a gripping miniseries about Will Burton (Tennant). He's never lost a case. When his talents lead to the acquittal of a serial killer, his life begins to unravel. It may start a little slow, but you'll be sitting on the edge of your seat by the end.
Also starring Toby Kebbell, Tony Gardner, Anton Lesser, Ashley Jensen, Sophie Okonedo, Stephen Wight, and Kate Dickie.
It's streaming on Masterpiece.
How does The Escape Artist compare to Broadchurch?
David Tennant. Emotional. Dramatic.
Prey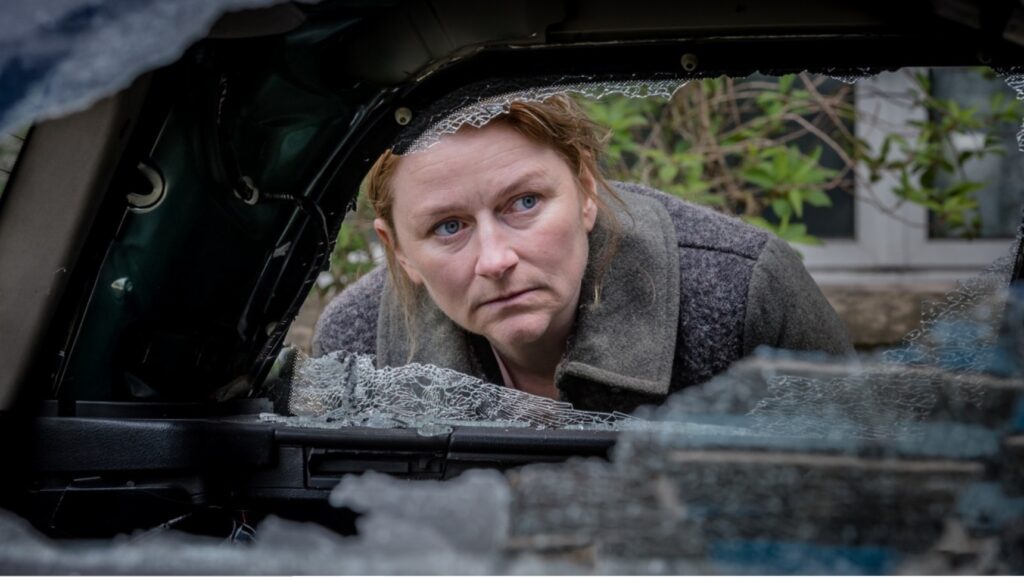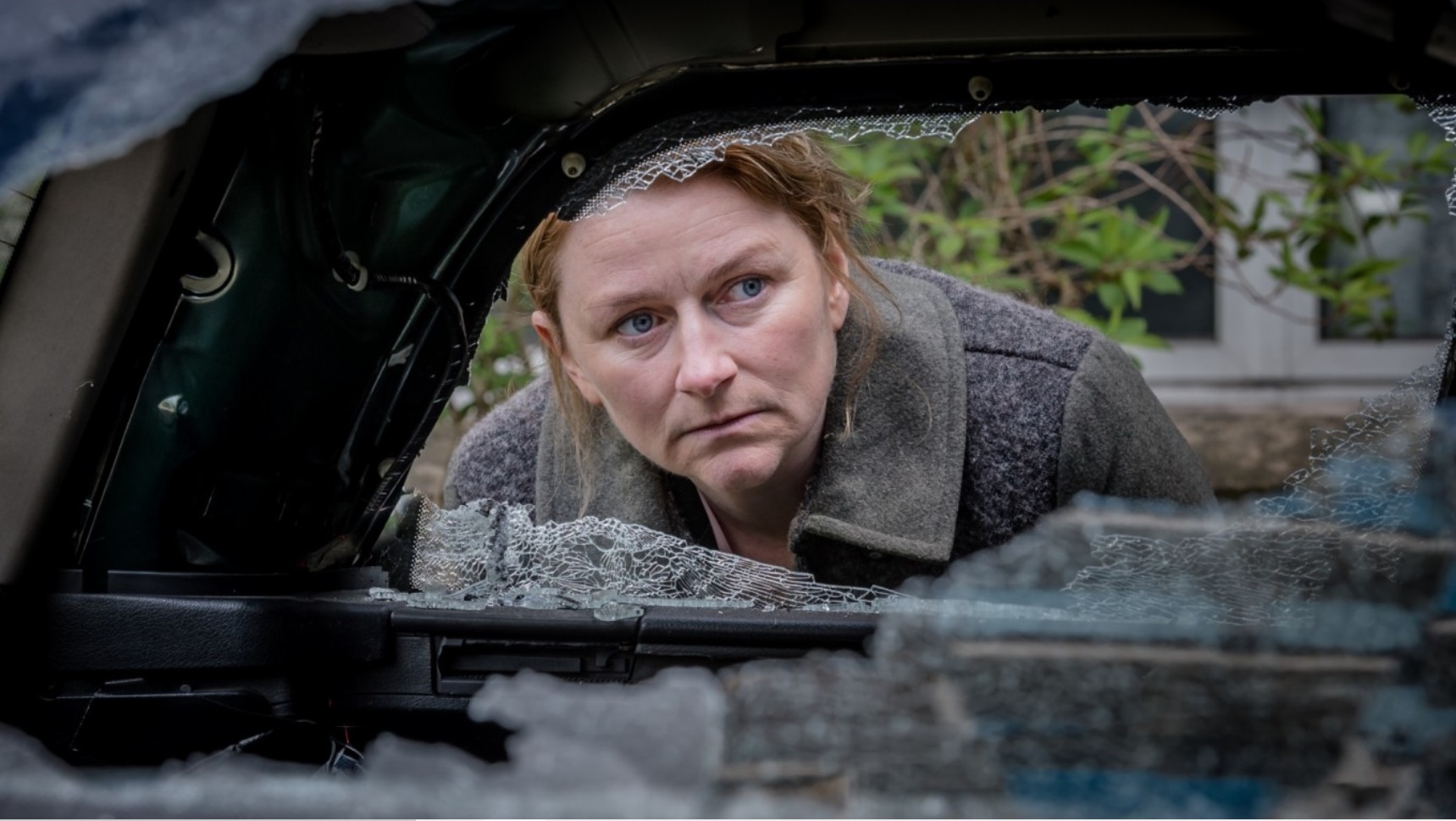 DS Susan Reinhardt (Rosie Cavaliero), whose marriage recently ended, is fully committed to her job and she must balance two cases that may be connected. For one, DC Marcus Farrow (John Simm), who is wanted for the murder of his wife and son, has escaped custody. For the other, a prison officer's daughter is kidnapped.
Also starring Philip Glenister, Craig Parkinson, Anastasia Hille, and more. There are two seasons, only three episodes each.
How does Prey compare to Broadchurch?
Emotional. Thrilling. Mystery.
Thirteen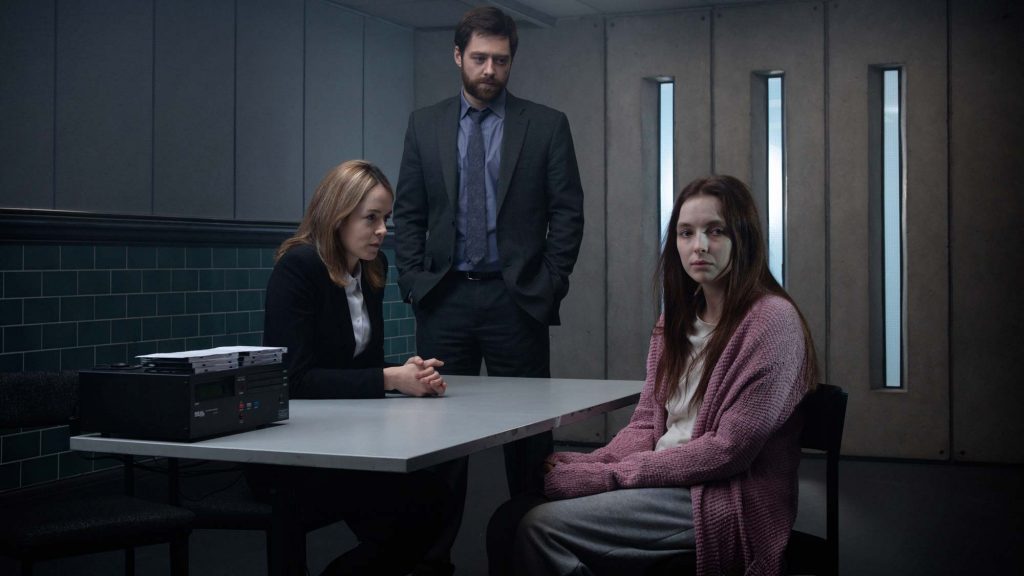 A young girl, kidnapped and held captive for thirteen years, finally returns to her family at the age of twenty-six. This miniseries focuses on the emotional fallout, how life moves on, and what she's willing to go through to help investigators save another young girl who's been taken.
This emotional drama stars Jodie Comer, Richard Rankin, Natasha Little, Stuart Graham, Valene Kane, and others.
How does Thirteen compare to Broadchurch?
Emotional. Dramatic. Moody. Young victim.
The Long Call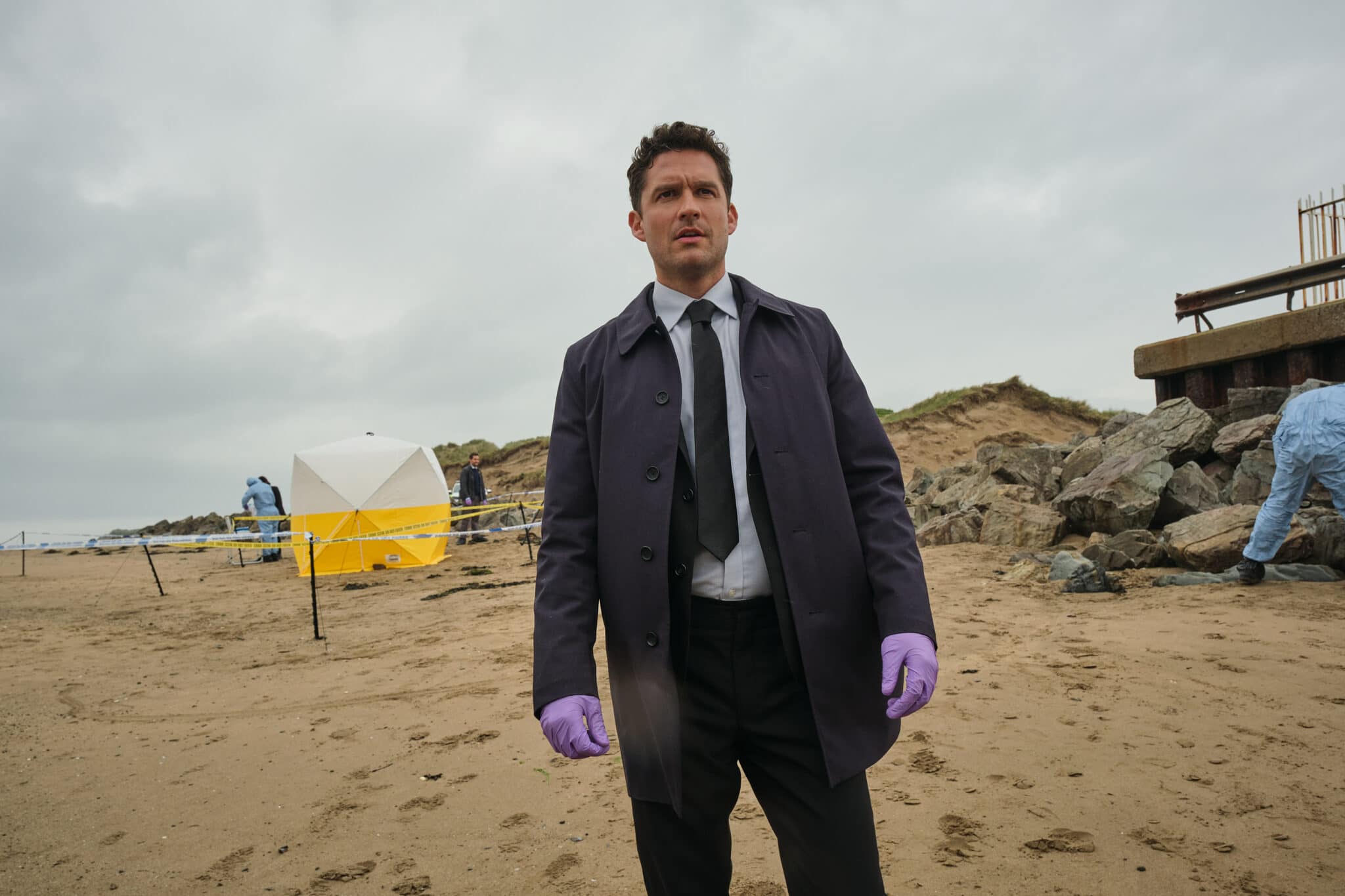 The Long Call follows Detective Matthew Venn, a troubled gay detective who's recently returned to live in North Devon with his husband Jonathan. Unlike the more brash, confident detectives, Venn is a man scarred by the cult that raised him, still grappling with guilt and self-doubt.
The series opens with Matthew at his father's funeral, hanging back since he's been ejected from the religious community his father was a part of. At the same time, he's also investigating a crime in the area with his new partner. A body has been found on the beach, the victim of a stabbing. The only major clue is the albatross tattoo on his neck.
Unfortunately for fans of this one, it was not renewed for a second season.
Stream The Long Call on BritBox.
How is The Long Call similar to Broadchurch?
Both are moody, atmospheric crime dramas set in small coastal communities in southwest England.
Keeping Faith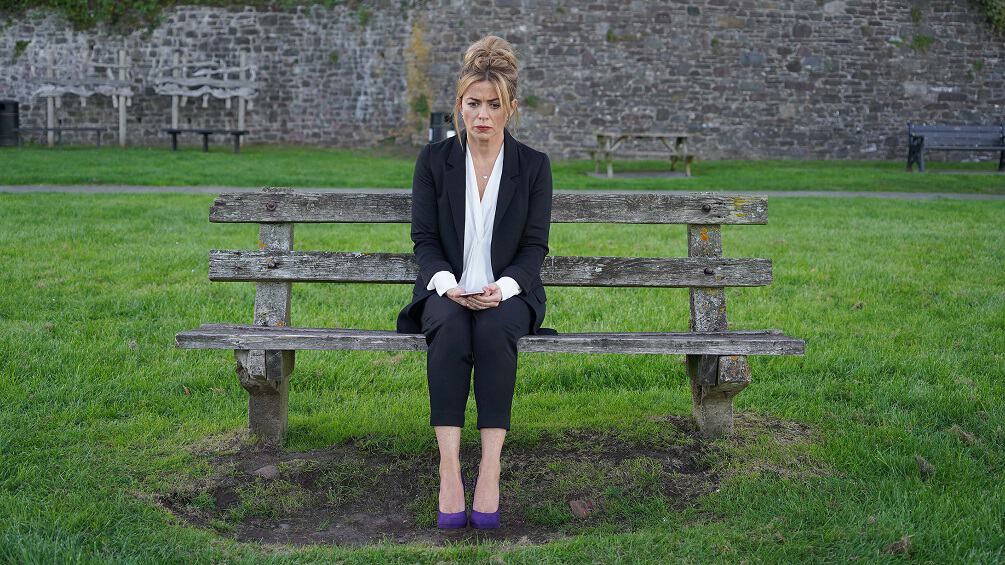 Keeping Faith stars Eve Myles as Faith Howells, a lawyer, mother, and wife. She has her flaws, but everything comes to the surface when her husband goes missing. Faith must balance keeping her family together while searching for her husband.
During her search, she uncovers secrets that force her to question everything she knows about her husband. To top it all off, she's the main suspect in his disappearance. Talk about overwhelming. Keeping Faith is set against gorgeous Welsh landscapes.
Stream Keeping Faith on Acorn.
How does Keeping Faith compare to Broadchurch?
Emotional. Dramatic. Mystery.
CB Strike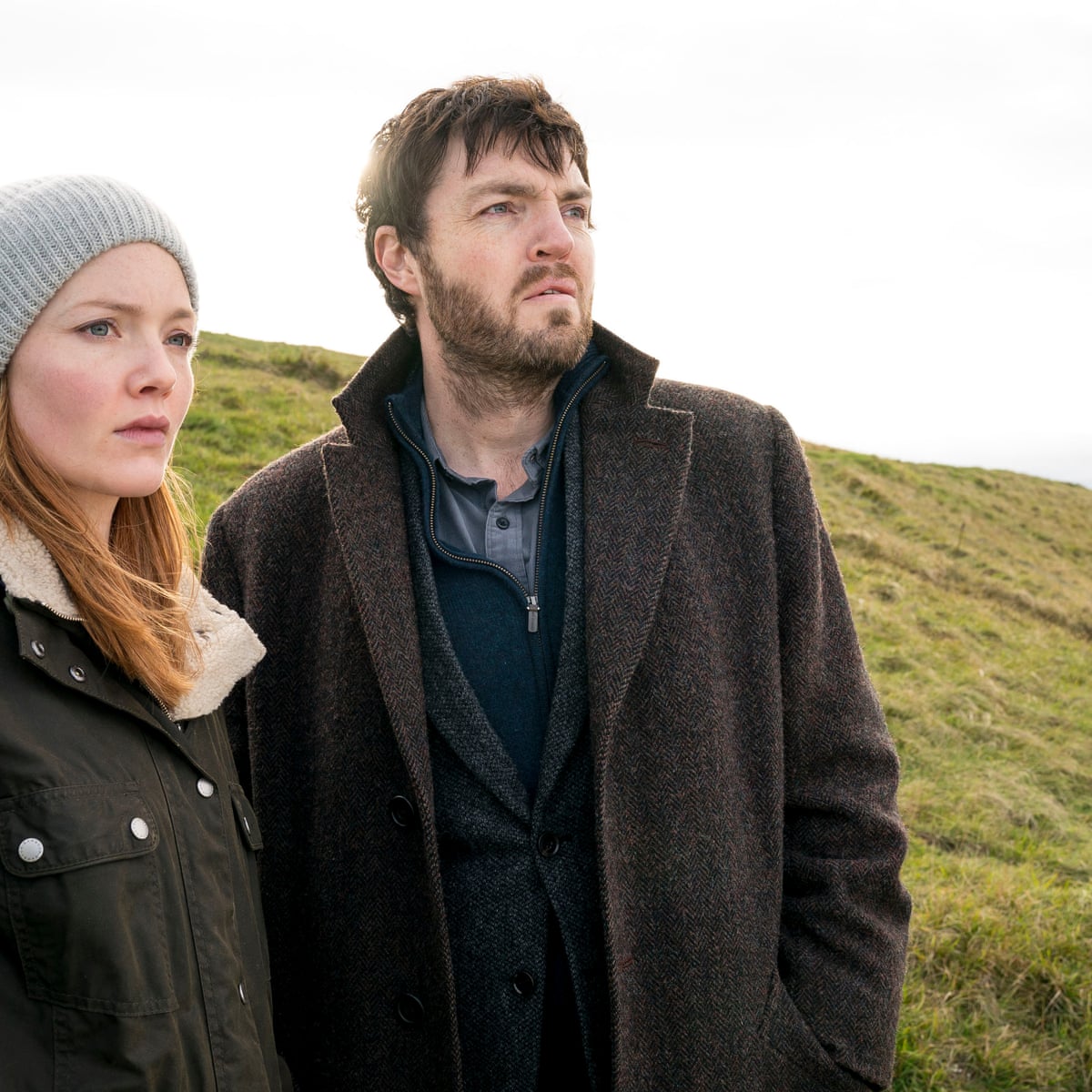 CB Strike (or just Strike, in the UK) is based on JK Rowling's Cormoran Strike novels (written as Robert Galbraith). The series follows two detectives, Cormoran Strike and Robin Ellacott, as they tackle a variety of high-profile cases in London.
Though every season is a little different, it's a great mystery series for those who enjoy the relationship between the detectives as much as the mystery itself.
Stream it on HBO Max.
How is CB Strike similar to Broadchurch?
Moody and intense. Interesting relationship between male and female detective partners.
The Cry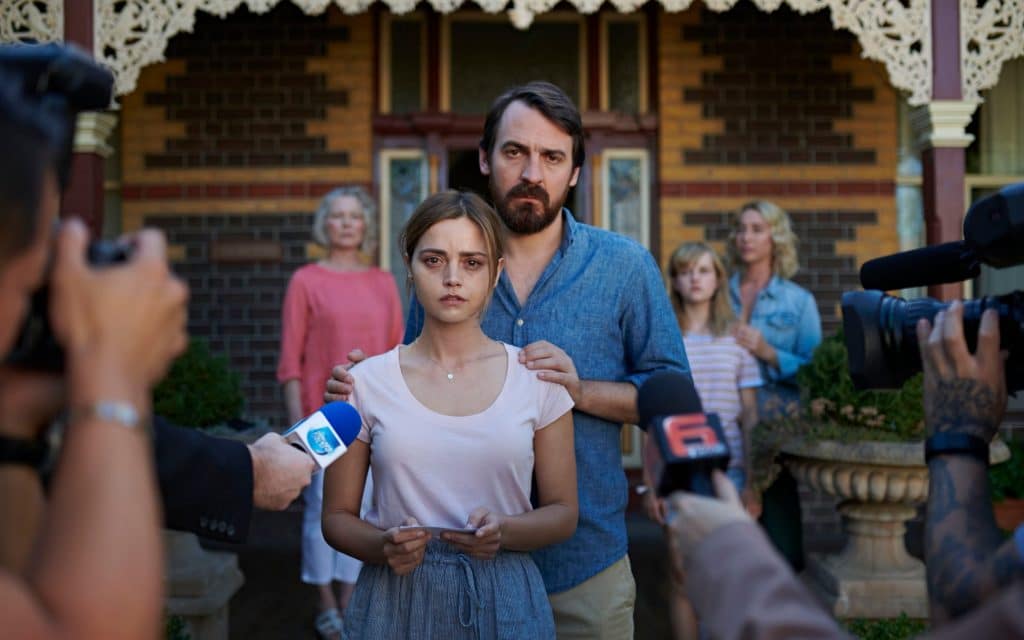 Joanna, Alistar, and their baby Noah live in Scotland but decide to travel to Alistar's home in Australia to see his mother and fight for the custody of his child from his previous marriage. In an unfortunate turn of events, their baby Noah goes missing. This is a twisting emotional drama that might get your blood pressure up. Starring Jenna Coleman and Ewen Leslie.
How is The Cry like Broadchurch?
Emotional. Child-related tragedy.
The Bay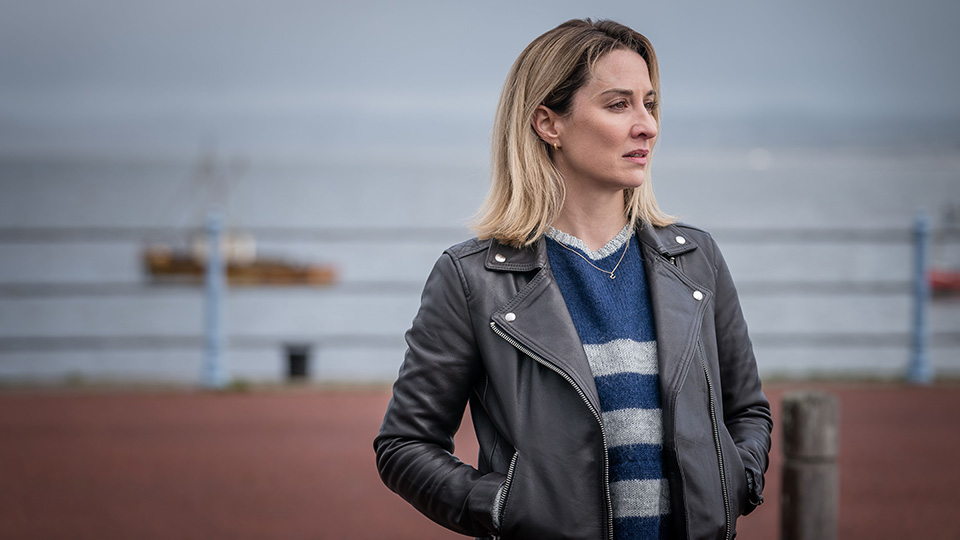 Morven Christie (Grantchester) stars in this coastal British mystery about an investigator looking into the disappearance of a pair of twins. Christie plays DS Lisa Armstrong, a Family Liaison Officer in charge of working with the family throughout the investigation.
Unfortunately, she immediately recognises the stepfather as a man she slept with on the night the twins disappeared – a matter that complicates the case and puts her professional reputation in jeopardy.
You can watch this one on BritBox.
How is The Bay Like Broadchurch?
Coastal setting. Crime against minors. Season-long mystery.
International Honorable Mentions
Gracepoint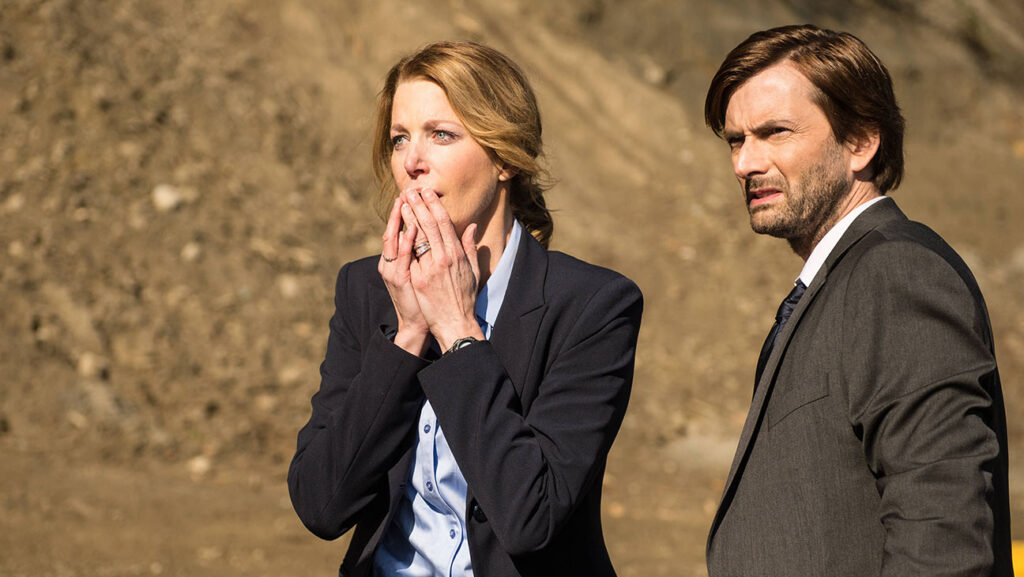 Gracepoint is a near-direct remake of Broadchruch for US audiences. It aired on FOX in 2014 and was not renewed for a second season. David Tennant reprised his role as the grumpy detective but with an American accent.
POSSIBLE SPOILER: the ending is different, so hardcore fans of Broadchurch may enjoy the alternate ending.
Gracepoint is streaming on Amazon Prime.
Disparue – "The Disappearance"
When it aired in 2015, The Disappearance was called France's answer to Britain's Broadchurch and there are many similarities; though, a teenage girl goes missing rather than a young boy.
If you don't mind reading subtitles, fans of Broadchurch looking for something eerily similar will enjoy The Disappearance.
The Disappearance is streaming on YouTube TV or available on DVD and Blu-ray.
More shows with the stars of Broadchurch
Check out our lists of the best TV Shows and Movies starring David Tennant and starring Olivia Colman.
What other shows would you recommend to fans of Broadchurch?
Let us know in the comments or join our Facebook group!
Save it to Pinterest!