British Crime Dramas & Mysteries on Netflix Right Now
In some cases, we earn commissions from affiliate links in our posts.
Last Updated on June 15, 2018 by Stefanie Hutson
In the past couple years, Netflix has greatly reduced the total number of titles available for streaming. Most avid Netflix users have noticed it, and Time magazine confirmed it last March in this article. Today, it appears they have about 4400 titles available on streaming, which is about two-thirds of what they used to have, and just a small fraction of what's available on Amazon Prime's "free" (with Prime membership) list. As they've shifted their focus to original content production, licensed content has decreased.
One area that doesn't seem to be suffering, though, is British programming. If anything, it feels like they've gotten more of that in the last year or two. Maybe it's because they've realized there is a huge demand for British content. Then again, the cynic in me says it could be because it's cheaper to get the rights to stream British programming. Either way, I'm thrilled to see the uptick in British programming. If you enjoy a good British mystery or thriller and you have Netflix, check out these:
Hinterland – Hinterland is a noir crime drama set in Aberystwyth, Wales – to the "left" of England, for those of you who aren't sure where Wales lies within the British Isles. DCI Tom Mathias solves murders while battling his personal demons.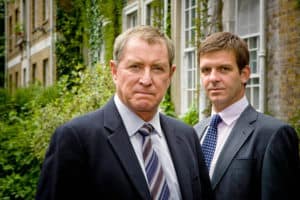 Midsomer Murders – One of the most-loved British mystery series of all time, Misdomer Murders has given us wonderful cozy Cotswold mysteries for the last couple decades. Netflix has series 1-19. If you've already devoured every episode, you might prefer to check out the original novels by Caroline Graham which were the basis for the series.
Foyle's War – Set in World War II, DCS Christopher Foyle battles problems on the homefront – facing challenges like profiteering, murder, and general black market corruption.
Agatha Christie's Poirot – This Agatha Christie classic features eccentric and refined Belgian detective Hercule Poirot as he solves mysteries in England and abroad. Netflix has all 13 seasons.
Wallander – Many people don't realize that there are actually two versions of this (originally Swedish) police drama. While the original is Swedish, the BBC made their own version in 2008.
Father Brown – Father Brown was originally filmed in the 1970s and based on the GK Chesterson stories about a crime-solving British Catholic priest. Netflix has the updated 2013 version of the show. Britbox has the original, should you wish to watch it. If you'd like to read the stories, click here.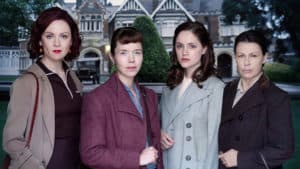 The Bletchley Circle – In the 1950s, four former WWII code-breaking women reunite to catch a serial killer.
River – A Swedish-born detective in London investigates the murder of his partner while occasionally receiving help of a supernatural nature.
Broadchurch – Seasons 1 and 2 of this riveting coastal crime drama are currently available on Netflix. The final series, Series 3, has only just aired in the UK so it may be a little while yet before we see it on Netflix. David Tennant stars in one of his most interesting roles yet.
Jack Taylor – Okay, so this one is technically Irish, but Ireland is still part of the British Isles so I say it counts. Set in Galway, Jack Taylor is an alcoholic ex-cop turned PI. The show is based on a series of novels by Ken Bruen, and you can see them by clicking here.
Death Comes to Pemberley – Three episodes pay homage to Jane Austen's Pride and Prejudice, bringing us into the home of Elizabeth and Darcy after six years of marriage. As they prepare for their annual ball, tragedy brings the festivities to a halt.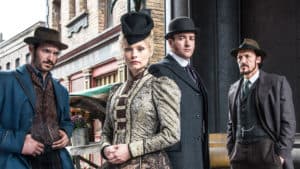 Ripper Street – This detective drama is set in the late 1800s during the aftermath of Jack the Ripper. Series 5 was the final series, though you'll only find 1-4 on Netflix for now.
Residue – This futuristic thriller features evidence of the paranormal and a large-scale government coverup. Netflix has all rights to Series 2 production, so if and when they decide to move forward, you can expect to see it on Netflix.
The Great Train Robbery – This two-part miniseries features the Great Train Robbery of 1963.
London Spy – After nightclub-loving Danny's lover Alex is killed, he seeks the truth about his death. He finds out that his deceased lover was a member of MI6, and learns he is woefully unprepared for the world he's about to be dragged into. This series is based on the novels of Tom Rob Smith, which you can see by clicking here.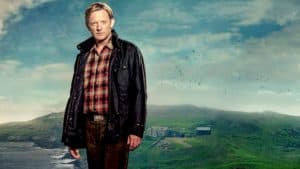 Shetland – Shetland is an atmospheric detective series set in the chilly and remote Shetland Islands region of Scotland. The show is wonderful, but even if it weren't, it would be worth a watch for just the scenery.
Sherlock – In recent years, Sherlock has been something of a gateway drug for many new British mystery fans. Featuring the much-adored Benedicct Cumberbatch, this is a modern re-imagining of the Sherlock stories. Fans of the originals can of course read them here.
Death in Paradise – A British inspector who hates sun and sand is transferred to the lovely tropical island of Saint-Marie,
Luther – This modern police drama features Luther, a sad but brilliant detective who pursues strange serial killers while battling his personal issues.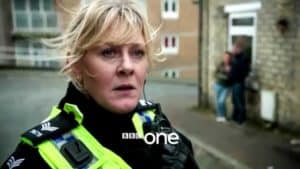 Happy Valley – If you're looking for a change from the usual London scenery of so many British police procedurals, the West Yorkshire-set story of detective Catherine Cawood's pursuit of a man who assaulted her daughter might be just what you're looking for.
The Fall – London-based DS Stella Gibson visits Belfast to review a cold murder case after noticing similarities to one of her own cases. This psychological thriller tells you "whodunit" from the start, creating incredible suspense as the killer hides in plain sight.
Spotless – Crime scene cleaner Jean is pulled into a criminal underworld when his no-good brother shows up in his life.
That should give you plenty to watch for a while – but if you need more, you can always check out our Big List of British Mysteries. If we've missed any, let us know in the comments!