Because Netflix and Hulu change their offerings regularly, we recommend checking them before paying for DVDs or paid Amazon streaming. Bear in mind, though, that most streaming sites do not include DVD extras.
All Acorn offerings can now be found on Amazon (and you can pay for and manage an Acorn subscription through Amazon).
A Note About DVDs: Remember that many British shows are only available on non-US DVDs. Learn more about what that means in our Region-Free DVD Viewing Guide.
2010s
Accused – 2010 to 2012 – This unconventional series follows individuals as they await the results of their trials, and explores how they came to be accused of crimes. Series 1 & 2 DVD | S1-2 Streaming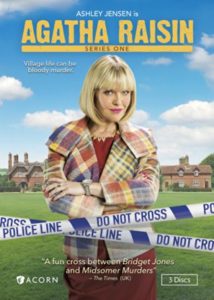 Agatha Raisin – 2016 to present – Ashley Jensen stars as Agatha Raisin in the Cotswolds-based murder mystery series based on author M.C. Beaton's popular novels. Series 1 DVD | Series 1 Streaming | M.C. Beaton's Books
And Then There Were None – 2015 – This miniseries retells the Agatha Christie story of 10 guests who were invited to an island by a mysterious host, only to be killed off one by one. Miniseries DVD | Miniseries Streaming
Black Work – 2015  – Police constable Jo Gillespie risks it all to find out who killed her husband while he was undercover. Series 1 DVD | Series 1 Streaming
Brokenwood Mysteries – 2014 to present – New Zealand – Detective Senior Sergeant Mike Shepard moves to small-town Brokenwood, where he's forced to learn to deal with a new, much younger partner and an insulated community. Series 1 DVD | Series 2 DVD | S1-2 Streaming
Chasing Shadows – 2014 to present – A socially-challenged but brilliant man is reassigned to the missing persons unit, where he helps to solve murders and find the most vulnerable victims. Series 1 DVD | Series 1 Streaming
Clean Break – 2015 to present – Irish – Car dealer Frank Mallon's life is in shambles, but he devises a plan to solve his money problems and get revenge on the people making his life miserable. Series 1 DVD | Series 1 Streaming
Father Brown – 2013 to present – Based on the mysteries of GK Chesterson, a Catholic priest solves mysteries in his small English village. Series 1 DVD | Series 2 DVD | Series 3, Part 1 DVD | Series 3, Part 2 DVD | S1-3 Streaming
Mr. and Mrs. Murder – 2013 to present – A married couple runs an industrial cleaning business while also solving murders. Series 1 DVD | Series 1 Streaming
Republic of Doyle – 2010 to present – Canadian – Jake Doyle and his father Malachy run a private investigations firm that often butts heads with the local Newfoundland police. Series 1 DVD | Complete Series (1-6) DVD | Complete Series Streaming
Sherlock – 2010 to present – Benedict Cumberbatch stars in a modern-day version of the classic Sherlock tales. Series 1 DVD | Series 2 DVD | Series 3 DVD | S1-3 Streaming | Sherlock: The Abominable Bride DVD | Sherlock: The Abominable Bride Streaming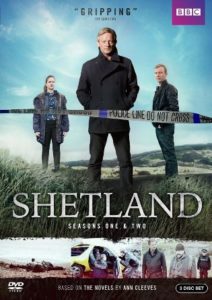 Shetland – 2013 to present – In the remote island community of Shetland, DI Jimmy Perez and his team investigate threats to the peace of their village. Series 1 & 2 DVD | Series 3 DVD | S1-2 Streaming
Winter – 2015 to present – Australian – Homicide detective Eve Winter solves some of Sydney's toughest, most high-profile cases. Series 1 DVD | Series 1 Streaming
2000s
Agatha Christie's Marple – 2004 to present – In the small village of St. Mary Mead, Miss Marple helps her community by solving murders. Series 1 DVD | Series 2 DVD | Series 3 DVD | Series 4 DVD | Series 5 DVD | Series 6 DVD | S1-6 Streaming
Amnesia – 2004 – This TV miniseries tells the story of DS MacKenzie Stone, his tireless search for his wife who disappeared 5 years prior, and an amnesiac who factors into the case. Miniseries DVD
Blue Murder – 2003 to 2009 – DCI Janine Lewis struggles with the challenge of being a single mom to 4 kids and leading a team of detectives through homicide investigations. Series 1 DVD | Complete Series DVD | Complete Series Streaming
DNA – 2005 – After a nervous breakdown, criminologist Joe Donovan returns to lead the Forensic Investigations Unit in Manchester. Series 1 DVD | Series 1 Streaming
Murder in Suburbia – 2004 to 2005 – Female detectives posh Ash and working class Scribbs solve murders in the fictional suburban town of Middleford. Complete Series DVD | Complete Series Streaming
Rebus – 2000 to 2004 – Based on the Ian Rankin novels, Detective John Rebus investigates cases that drag him through Edinburgh's most beautiful scenery and its grimy criminal underbelly. Series 1 DVD | S1-4 Streaming | Amazon's Ian Rankin Author Page
Rosemary & Thyme – 2003 to 2006 – Professional gardeners Rosemary Boxer and Laura Thyme solve crime with the help of their botanical expertise. Complete Series DVD
Whitechapel – 2009 to 2013 – In the Whitechapel district of East London, three experts investigate modern crimes that emulate historic homicides. Series 1 DVD | Series 2 DVD | Series 3 DVD | Series 4 DVD | Complete Series DVD |  S1-4 Streaming
1990s
Cadfael – 1994 to 1998 – In old Norman England, a crusader turned monk uses his knowledge of plants to solve crimes. Series 1 DVD | Complete Series DVD | Series 1 Streaming
Cracker – 1993 to 1996 – A rude forensic psychologist helps police solve challenging cases. Series 1 DVD | Complete Series DVD | Complete Series Streaming | Series 1 USA Adaptation Streaming
Dalziel and Pascoe – 1996 to 2007 – Vastly different in age and outlook, Supt. Dalziel and DI Pascoe learn to get along as they solve crimes. Series 1 DVD | Series 2 DVD | Series 3 DVD | Series 4 DVD | Series 5 DVD | Series 6 DVD | Series 7 DVD | Series 8 DVD | Series 9 DVD | Series 10 DVD | Series 11 DVD | Complete Series DVD | S1-2 Streaming | Reginald Hill Novels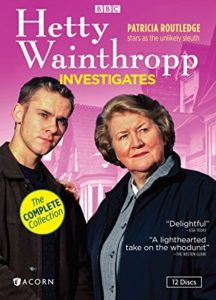 Hetty Wainthropp Investigates – 1996 to 1998 – 60-year-old pensioner Hetty Wainthropp solves crimes using the help of her husband, her young assistant, and her "little grey cells". Series 1 DVD | Complete Series DVD | Hetty Wainthropp Missing Persons Book
Jonathan Creek – 1997 to present – Jonathan Creek is a magician's consultant living in a converted windmill using his natural puzzle-solving talents to help unravel crimes. Series 1 DVD | Series 2 DVD | Series 3 DVD | Series 4 DVD | Series 5 DVD | Specials DVD | Christmas Specials DVD | Series 1-4 DVD
McCallum – 1995 to 1998 – In London's East End, a team of dedicated doctors and pathologists help the dead tell their tales. Complete Series DVD
Midsomer Murders – 1997 to present – In Midsomer County, England, a veteran DCI and his young partner solve murders.  Based on the novels by Caroline Graham. Series 1 DVD | Series 1-17 Collection DVD | Series 18 DVD | S1-18 Streaming | Caroline Graham's Author Page | Midsomer Murders: The Making of an English Crime Classic | Midsomer Murders On Location
Prime Suspect – 1991 to 2006 – Helen Mirren stars as Detective Jane Tennison, a tenacious and driven investigator trying to prove herself in a man's world. Complete Series DVD 
A Touch of Frost – 1992 to 2010 – DI Jack Frost is sloppy and unconventional, but his good instinct and hunger for justice always win out. Series 1 DVD | Complete Series DVD | Complete Series S1-15 Streaming
1980s
Inspector Morse – 1987 to 2000 – Along with his partner Sergeant Lewis, Inspector Morse solves murders in a way that isn't always 100% professional. Based on the novels of Colin Dexter. Streaming on Britbox | Series 1 DVD | Complete Series DVD | Colin Dexter's Author Page
1970s
Father Brown – 1974 – Based on the mysteries of GK Chesterson, a Catholic priest solves mysteries in his small 1950s English village. Complete Series DVD | S1-2 Streaming
The Snoop Sisters – 1972 to 1974 – American, but potentially of interest to the British mystery lover (Thanks for the heads up, Patty L!) – Two mystery writers, a spinster and her widowed sister, solve murders together. Complete Series DVD