13 of the Best British TV Shows Featuring Late(r) in Life Romance
In some cases, we earn commissions from affiliate links in our posts.
Last Updated on November 10, 2023 by Stefanie Hutson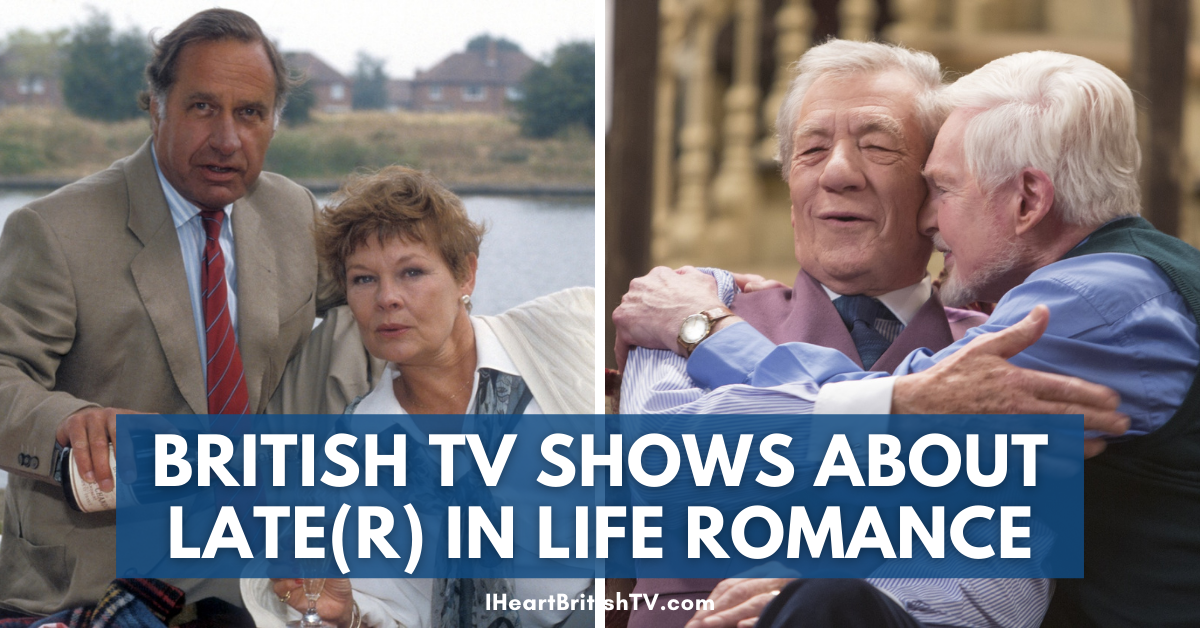 It's a well-known fact that the entertainment industry is heavily focused on young people. Nevermind that older adults spend more time consuming on-screen entertainment and have more money to spend with advertisers – the majority of the industry continues to cater to those young eyeballs.
In American TV, very few recent shows feature protagonists over 55-60, and when they do, those main characters are nearly always male. Older women are almost entirely relegated to roles like "supportive grandmother" and "senile old neighbour lady" and "dying relative" and "helpless senior". Is it any wonder so many people have negative beliefs about aging?
Older people on American screens almost never get to have adventures or romance or even a dedicated storyline of their own. We talked about this at length in a past post that you can read here: "Where are the Older Ladies, John Landgraf?"
With British TV, the situation is quite a bit better – but they still don't have enough to come close to matching the percentage of older people in the actual population.
Today, though, we're choosing to focus on the positive and highlight some of the shows that DO feature middle-aged or older characters in romantic scenarios.
13 of the Best British TV Shows Featuring Late(r) in Life Romance
For the purposes of this post, we'll include shows with genuine seniors/pensioners, but also those shows which feature middle-aged people. We're not calling anyone old, just acknowledging that when it comes to TV, older-than-average romances are relatively rare.
A lot of attention goes to racial diversity, and that's great progress – but it's about time people started holding companies responsible for age representation, too.
It's harder, of course, because older characters often have to written that way (whereas you can shove a person of any colour into most roles). It's a change that needs to happen, though. It's inexcusable that such a large group is so hopelessly underrepresented in the entertainment of most countries.
Mum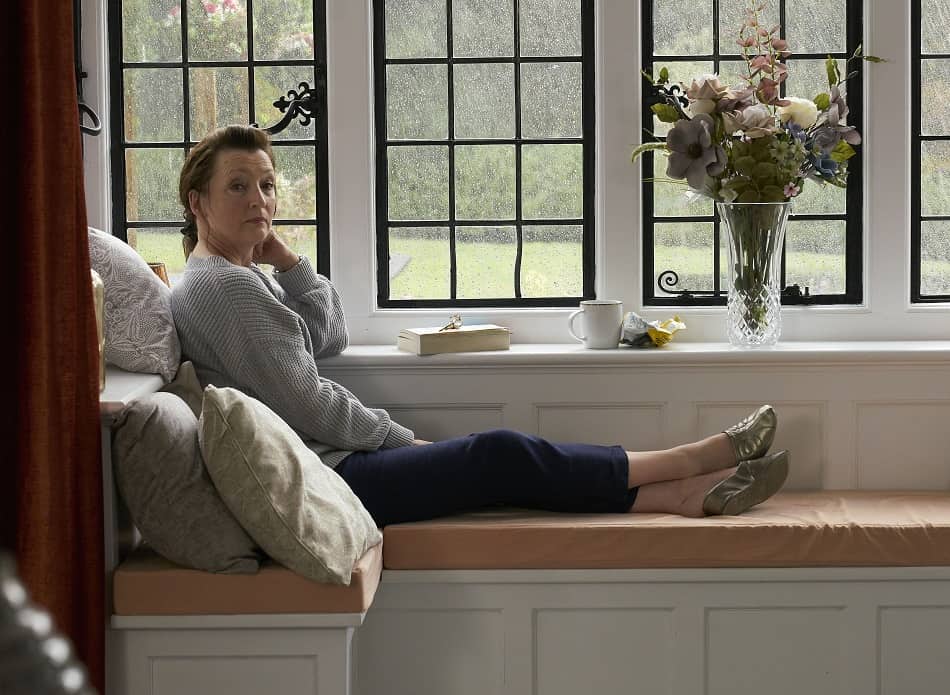 This British sitcom follows a recently-widowed 59-year-old woman named Cathy (Lesley Manville) as she begins to rebuild her life. In the first two seasons, each episode is named after a month of the year, allowing her story to unfold over a longer period of time. In the final season, each episode represents a single day within a family gathering.
As Cathy recovers from her initial shock and grief, we see her beginning to make room for someone new in her life – while dealing with the constant annoyances of family members who rely on her a little too much.
Murder in Provence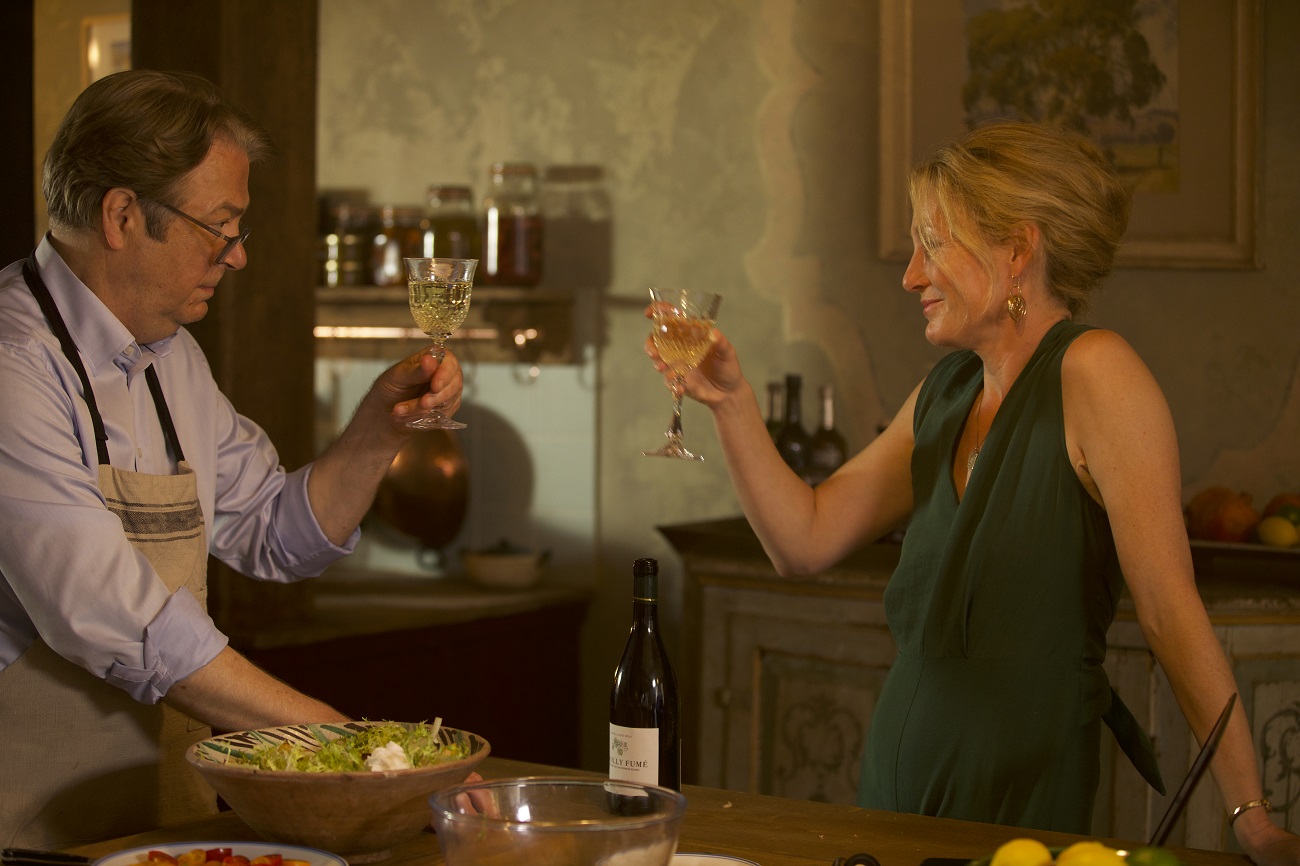 This new mystery is both a good and bad example because it does feature an older, very-much-in-love couple – but there's a 21-year age difference that reinforces that "as long as the woman's younger" belief. Then again, there ARE real age gap couples, and they do deserve their day on screen, too.
Set in southern France, it follows chief magistrate Antoine Verlaque (Roger Allam) and his intelligent partner, Marine Bonnet (Nancy Carroll). It's based on the cozy mysteries of ML Longworth and it follows the two as the investigate all sorts of seedy happenings around the lovely town of Aix.
Waiting for God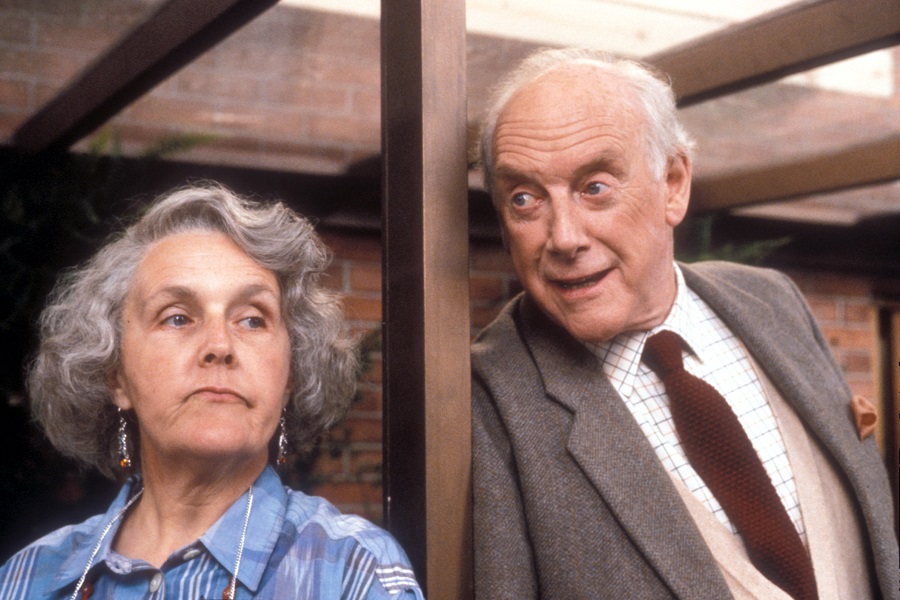 Waiting for God might be one of the most hilarious British sitcoms of all time – and most of the action revolves around a couple in a retirement community. Stephanie Cole stars as Diana Trent, a "prickly" ex-journalist who forms an unlikely alliance with retired accountant and perpetual dreamer Tom Ballard (Graham Crowden) when he moves into the community and starts a hunger strike to protest the bad food.
The series carries on for 5 seasons during which the two become friends, cause a great deal of trouble, and eventually realise they're meant to be together.
Last Tango in Halifax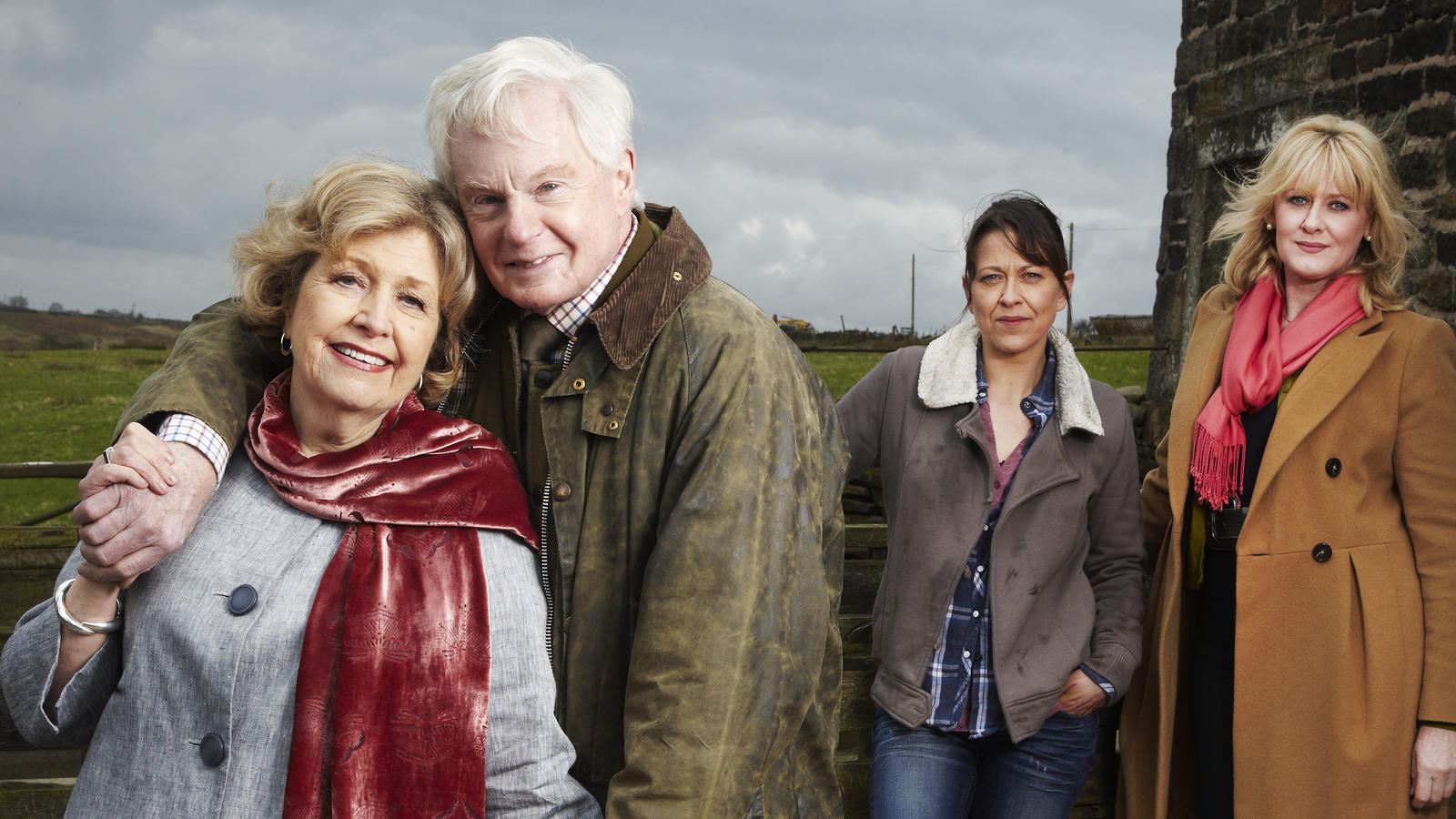 Loosely based on the story of writer Sally Wainwright's mother's second marriage, this series stars Sir Derek Jacobi and Anne Reid as Alan and Celia, a couple of widowed, once-attracted 70-somethings brought back together through Facebook. After their reunion, they discover they're as fond of one another as they ever were, and they embark on a new romance.
At the same time, we see the evolution of Celia's daughter's sexuality and romantic life. Middle-aged Caroline is the head of a nearby school, and it's only when she sees her mother's unconventional romance that she feels empowered to act on her feelings for women.
Stream it on Netflix or buy it HERE.
Vicious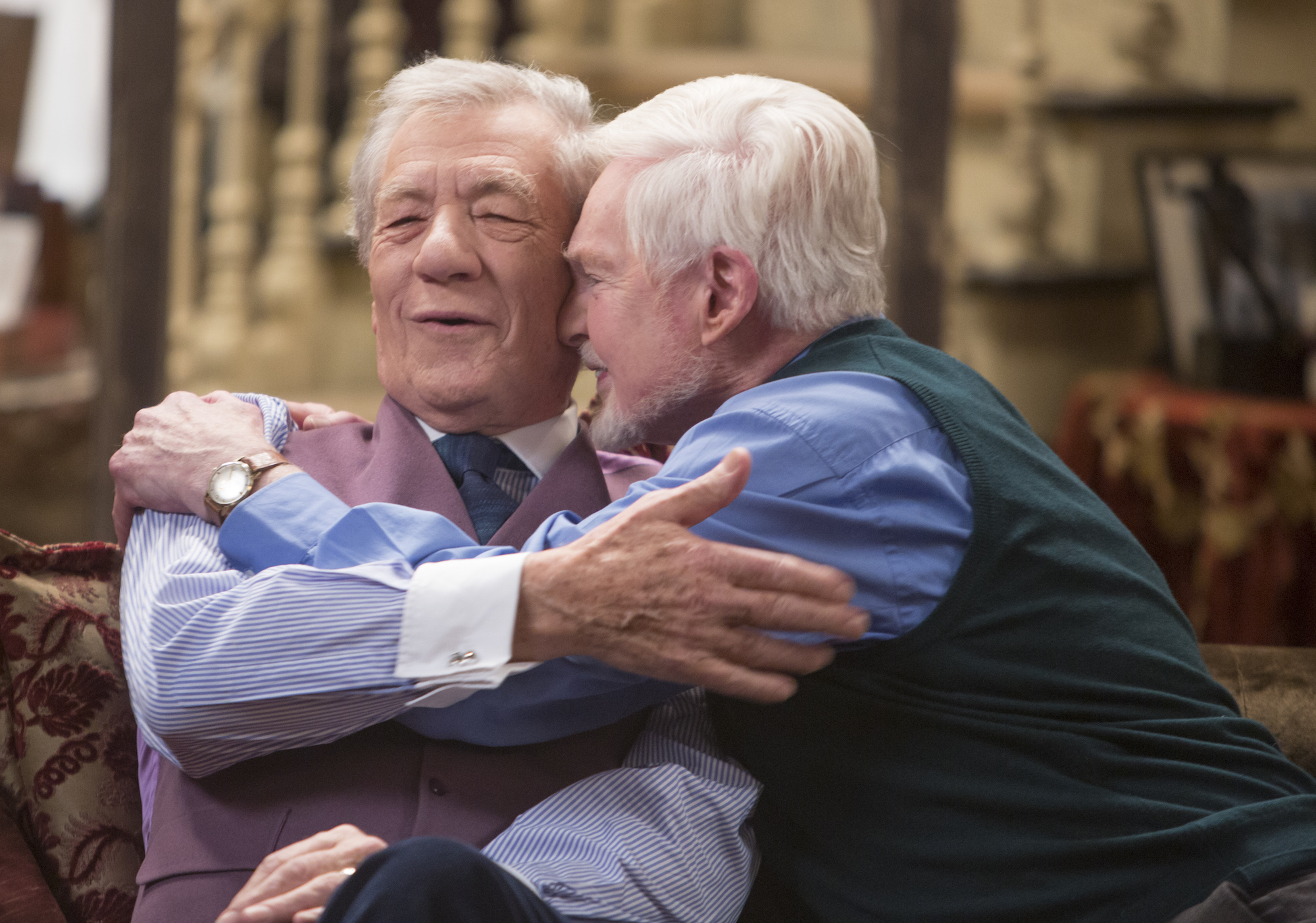 If you're a fan of sappy, lovey-dovey relationships and romance, this one might not be for you. If, however, you prefer shows featuring snarky, comfortable, long-term relationships…Vicious is the show for you.
The comedy follows Sir Ian McKellen and Sir Derek Jacobi as an older gay couple living together in London. Together, they make the most of their (now legal) time together – entertaining friends, enjoying the city, and making fun of one another at every opportunity.
Detectorists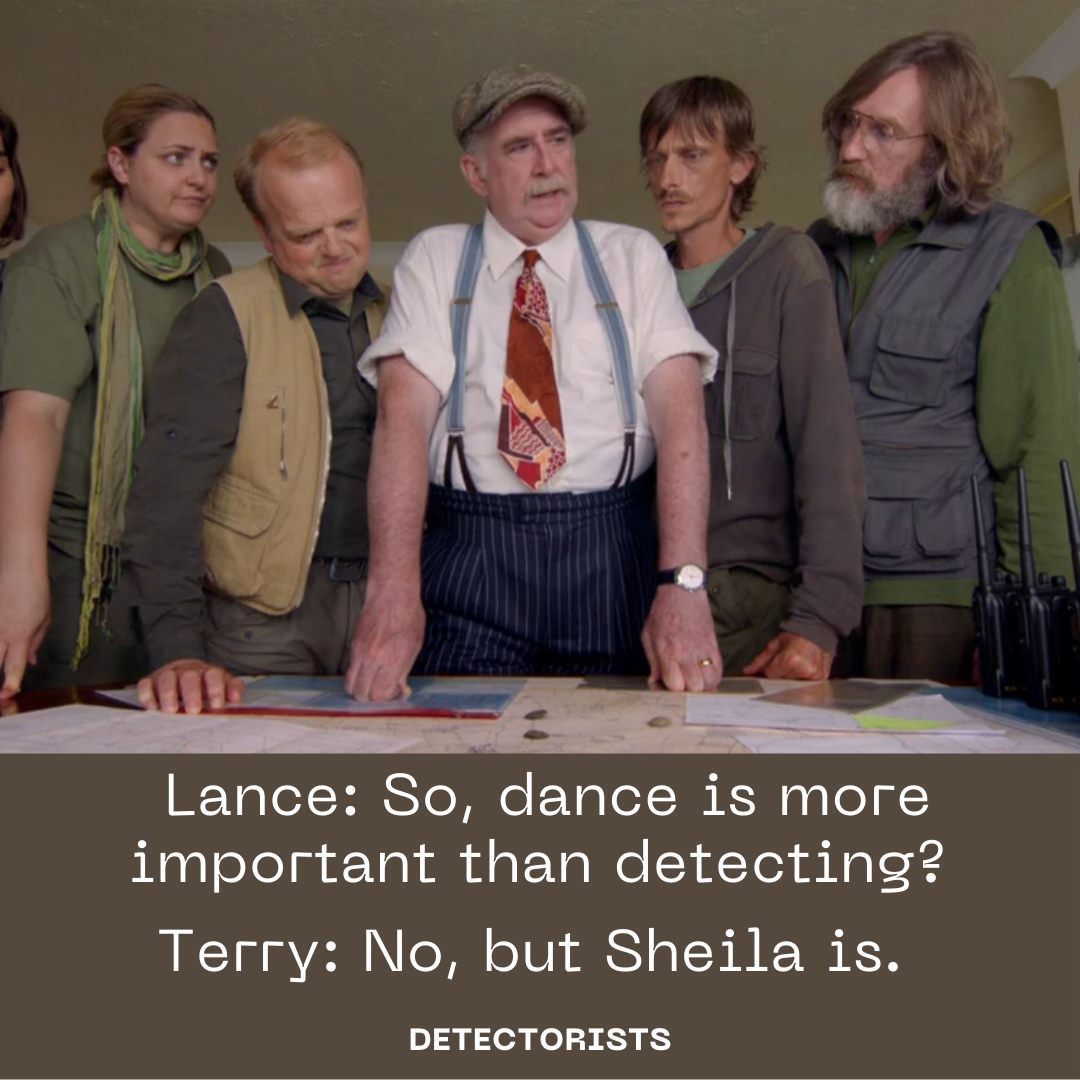 I've never heard Detectorists described as a romance or romantic comedy, but the show has it in spades (it also has loads of actual spades). Terry is beautifully devoted to Sheila. Andy and Becky are trying to balance the needs of the couple with the desires they each have independent of one another. Lance struggles to get over a bad relationship and trust someone new. Lance and Andy have a wonderful platonic relationship.
The whole thing is full of relationships between a mostly middle-aged and older cast. If you've tried it before and struggled to get into it, we highly recommend giving it 3-4 episodes to grow on you. Not everyone takes to it immediately, but once you get to know the characters and appreciate the slow pace, it's hard not to love it.
Watch it HERE on Acorn TV | Watch it free with ads on Freevee
A Fine Romance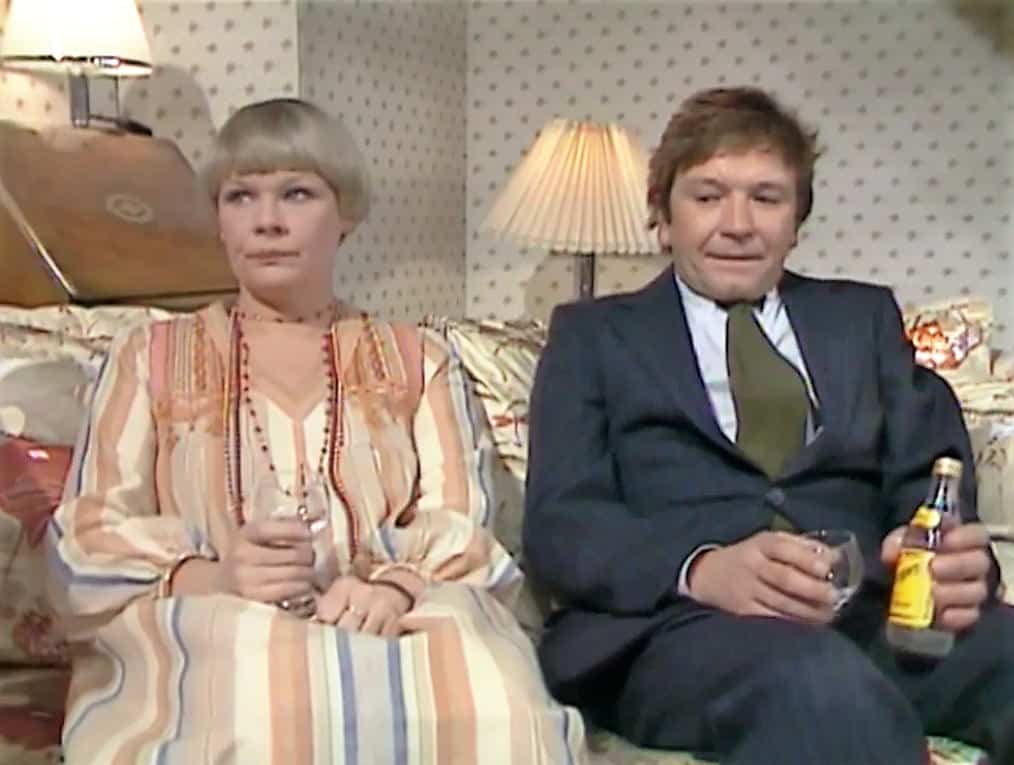 Average, non-British TV-loving Americans often know Dame Judi Dench from the Bond films or from some high-brow Academy Award sort of movie they've seen her in. In the UK, however, it was her performance alongside her real-life husband in A Fine Romance that put her on the map for many. The 1981 series earned 10 BAFTA nominations and 2 wins for Dench's performances.
The series followed the unlikely romance between translator Laura (Dench) and landscape gardener Mike (Michael Williams). It begins with them feigning interest in one another so they can get away from a party, but over time they come to like one another quite a bit. They're awkward and introverted and bad luck seems to follow them – but they learn pretty quickly that they can't live without each other.
Stream it HERE | Get the full set on DVD HERE
If you have a region-free DVD player, you can also order directly from the UK HERE (it's often cheaper, even if you pay to ship to the US).
RELATED: A Fine Romance – Where Are They Now?
As Time Goes By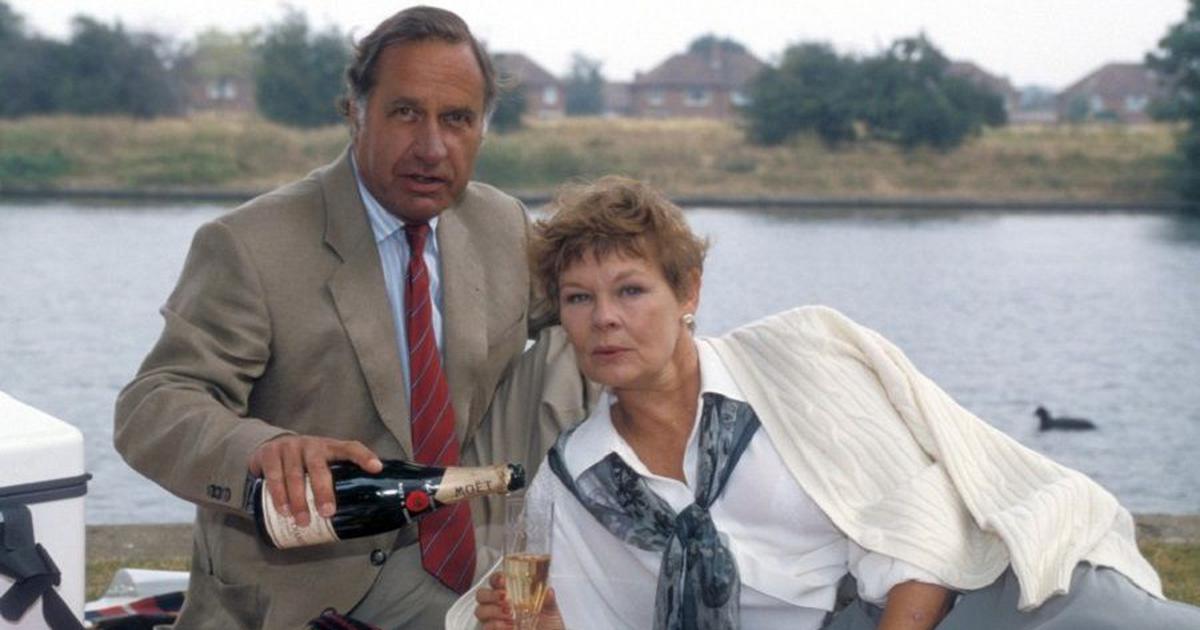 In the 90s, Dame Judi Dench appeared in another Bob Larbey-penned series, As Time Goes By. Easily one of the all-time British sitcom greats, the series saw Dench alongside Geoffrey Palmer for a wonderful nine season run.
The premise is simple. The two were head over heels in love in the summer of 1953, but Lionel (Palmer) was sent off to Korea. Though he wrote to her, the letter was never delivered and Jean (Dench) assumed he lost interest. Then, life happened.
While writing his memoirs, Lionel hired a typist from Type for You – Jean's secretarial agency. After a few missteps and misunderstandings, the two meet and eventually rekindle a relationship. Along the way, we get to know the couple and the charming, colourful characters who surround them. Though the footage is obviously a bit dated, it's a good one to watch over and over again.
RELATED: 19 Things You Might Not Know About Dame Judi Dench
Signora Volpe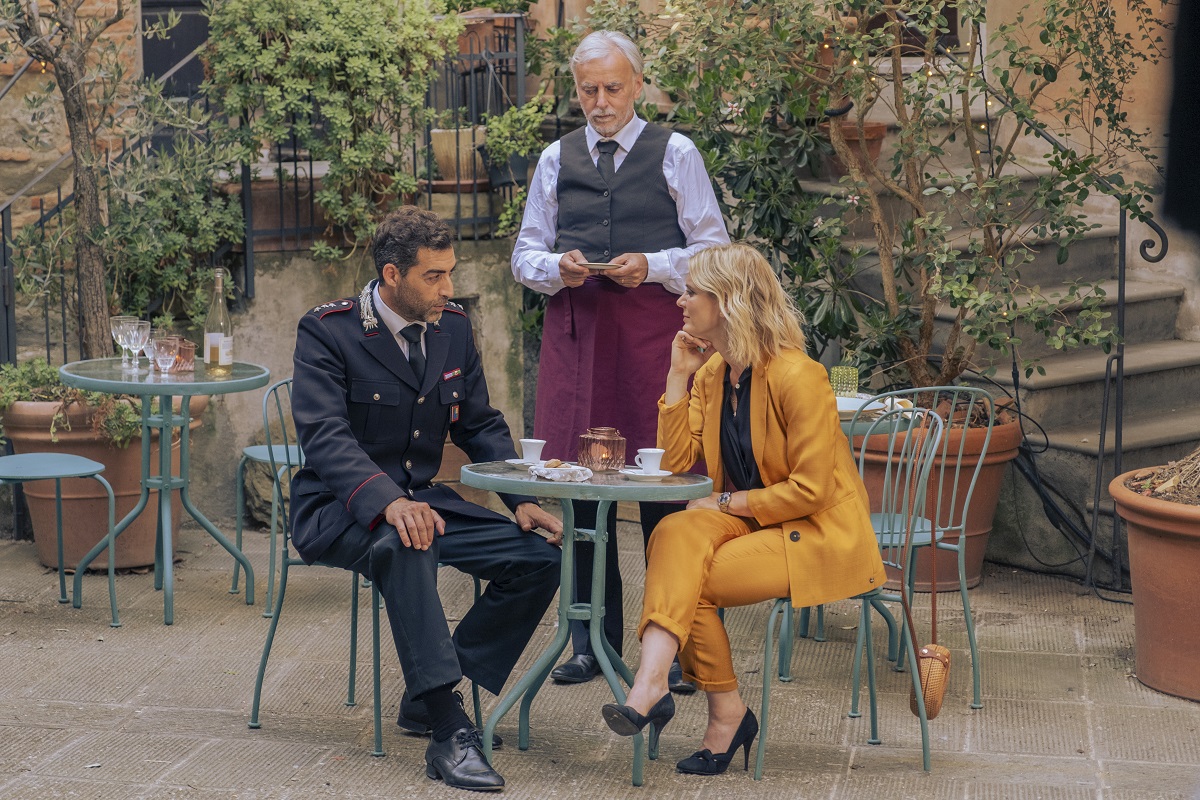 This brand-new mystery/thriller sees 47-year-old Emilia Fox enjoying romantic entanglements with not one, but two delicious, middle-aged men. While it may not present the most realistic portrayal of "normal" mid-life (she's brilliant, gorgeous, fit, fashionable, tough, financially secure, surrounded by handsome men who want her instead of 25-year-olds, AND she's able to randomly move to the Italian countryside on a whim)…it's still a fun bit of escapism that we highly recommend.
In the series, Emilia Fox plays Sylvia Fox – a former British spy who heads to Italy for her niece's wedding, then decides to stay. In each episode, a new mystery finds her. Along the way, she gets to know a handsome local police officer.
RELATED: Signora Volpe Review: A Delightful Exercise in Escapism
Hold the Sunset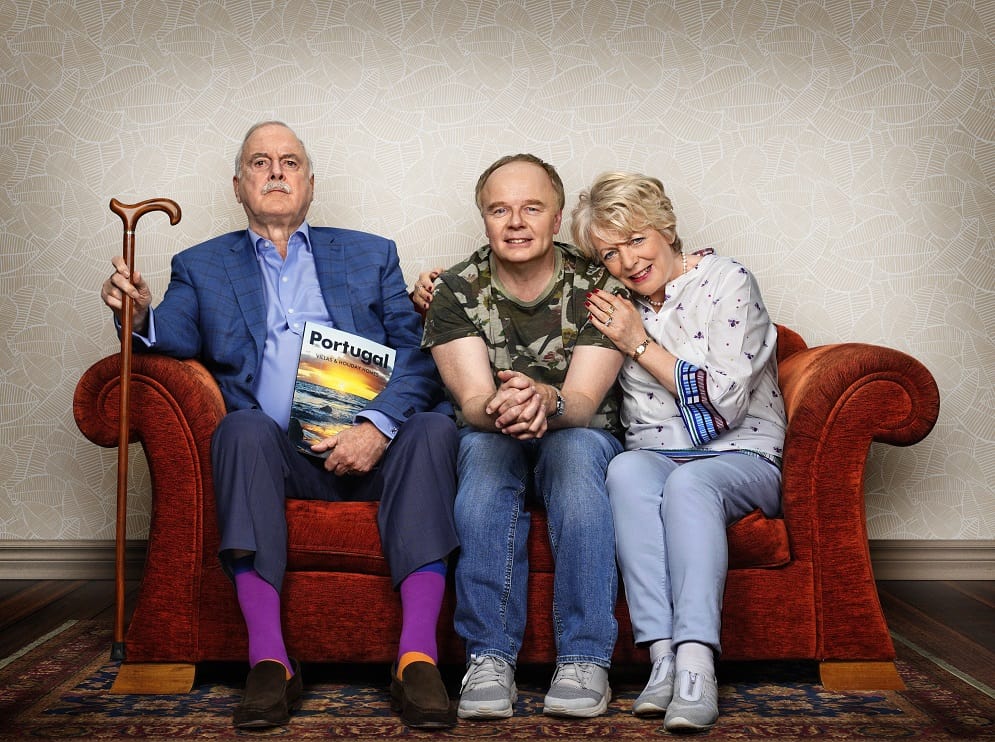 John Cleese, Alison Steadman, and Jason Watkins star in this fun, light comedy about a retired couple who are planning to move to Malta and start a new life together. Unfortunately, the plan is ruined when Edith's 49-year-old son Roger (Watkins) moves back home after abandoning his family.
Roger reverts to full man-child status, driving everyone else mad – and much of the series revolves around various plots to get Roger to grow up or find ways to enjoy life in spite of him. Though a bit silly, there are surely many who can relate to their dilemma.
The Labours of Erica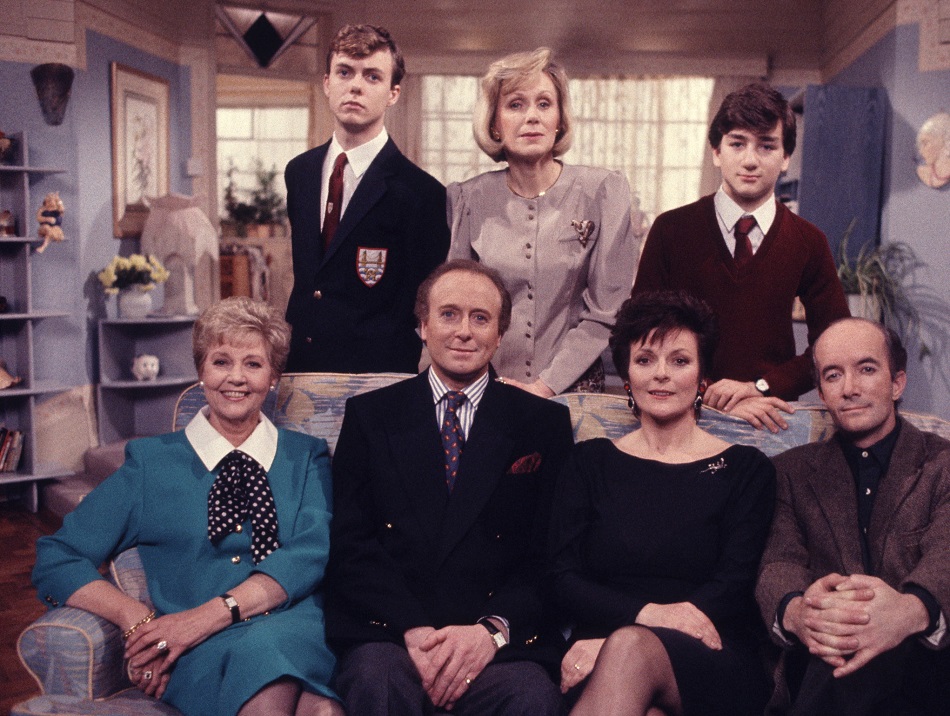 Though we wouldn't call Brenda Blethyn "old" in this one, we're including it on the list because it does a wonderful job of showing a 40-ish woman (one who isn't cosmetically altered to look 24) reevaluating everything at mid-life. She finds a list she once made of things she'd like to do before turning 18, then decides to tackle them before she turns 40.
Along the way, she finds herself questioning the life she leads and making real changes for the years going forward – including changes to her romantic life. Though it was made in the late 80s and some aspects are a little dated, it's still a wonderfully light and funny series that we highly recommend.
Sadly, this one has disappeared from streaming services – but you can still get the DVD HERE at Amazon UK (US/CAN shoppers can order most items on the UK site).
RELATED: 11 Hidden Gems on Acorn TV in 2022
Cold Feet: The New Years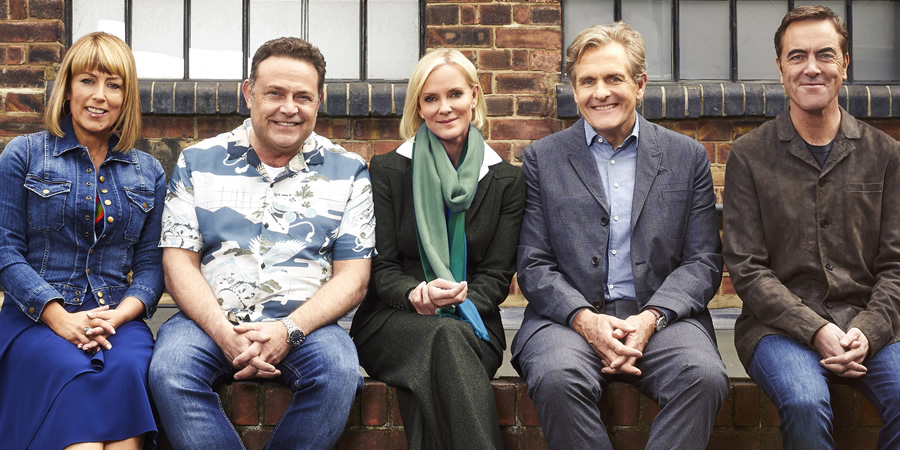 This dramedy started back in the 90s when the actors were in their thirties, following their struggles with dating, family life, and establishing careers. In 2016, the series was revived to pick up with the characters in their 50s and 60s.
In the new episodes, the kids are grown and characters are dealing with aging parents, health problems, and a world that's changed around them. Some are struggling with the weight of unfulfilled aspirations, and others are struggling with romance. As their kids head off to university, there's even a bit of "second adolescence" craziness.
The series doesn't focus entirely on romance, but it's worthy of a mention for its portrayal of mid-life struggles and changes (including romance). The show was put back into "prolonged hiatus" status in 2020, but there's been talk of a possible revival when the characters reach the next big phase of life.
To the Manor Born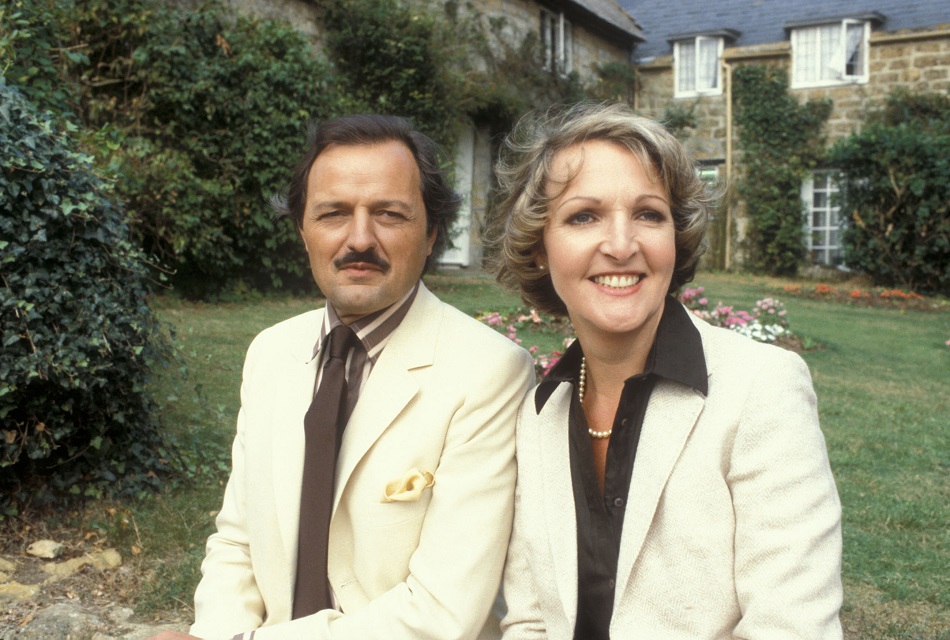 This is another one that barely qualifies for "older" romance, given that Penelope Keith was just 39 and Peter Bowles was only slightly older at 43. Still, that's older than the romantic leads in most shows – and it's just so good it's hard to leave out.
The series begins when the newly-widowed Audrey fforbes-Hamilton finds out her husband left her insolvent. She's forced to sell her family estate, but she moves into the nearby lodge house so she can keep an eye on things. Nouveau riche supermarket millionaire Richard DeVere moves in, and they spend the next few seasons in a hilarious love-hate relationship.
Honourable Mentions
The shows below all feature older characters who have some kind of romantic relationship. Some don't feature the relationship as much as the shows above (in terms of screen-time), and others feature unhealthy or problematic relationships. A few showcase older couples, but not necessarily in a romantic way. They're all great watches, we just didn't feel they didn't match the topic quite as well as the ones above.
After Life (Netflix)
The Murder, They Hope series
Save it to Pinterest!