A Tribute to Robert Hardy, 1925-2017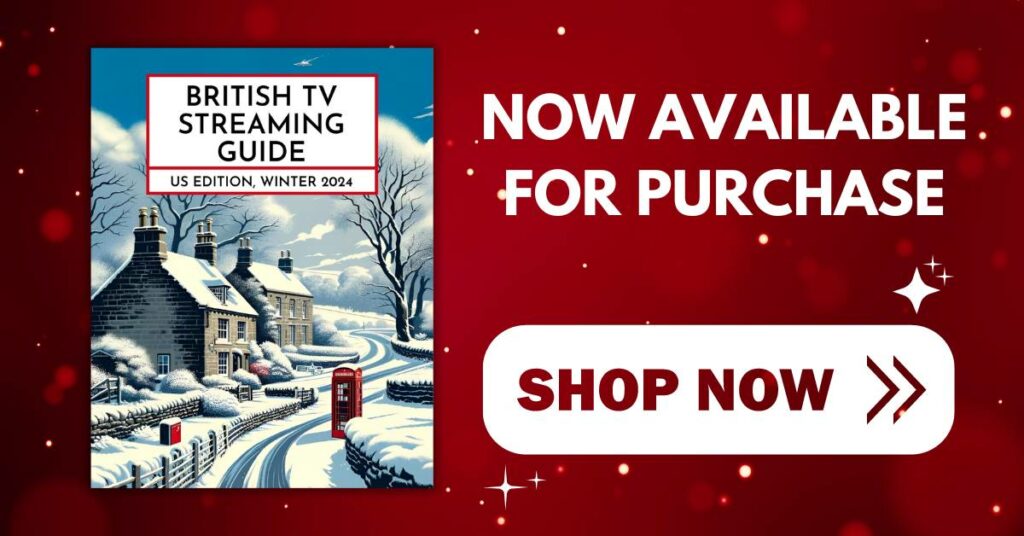 The British TV Streaming Guide: US Edition, Winter 2024 is now available. Get yours HERE.
In some cases, we earn commissions from affiliate links in our posts.
Last Updated on August 3, 2020 by Stefanie Hutson
Sadly, England lost one of its great theatrical treasures this week when Robert Hardy passed on at the age of 91. Unlike many British actors, he didn't venture into Hollywood, sticking to roles in British productions. For that reason, many Americans are only aware of him as Cornelius Fudge in Harry Potter. He had a long and distinguished career, though, and we'd like to highlight that career, share some fun facts, and let you know where you can enjoy more of his work. May he rest in peace and live on through his work.
Editor's Note: We've updated some of the links below since this post was originally published in 2017.
Robert Hardy the Man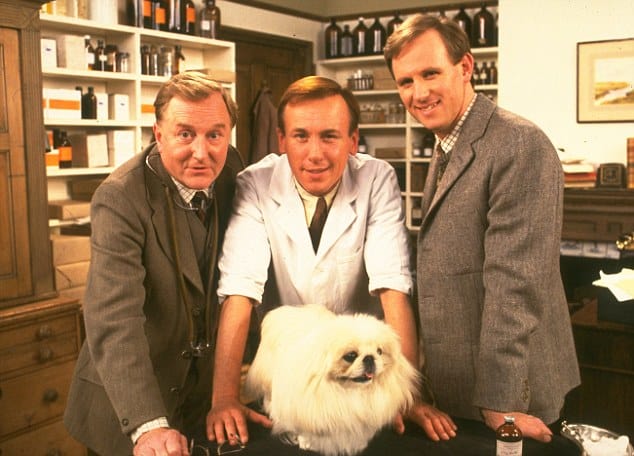 Robert Hardy began life in Cheltenham (a name that's surely familiar to anyone who loves the Cotswolds). Though interrupted briefly by a stint in the Royal Air Force, he completed his studies in English at Oxford University before moving on to stage acting in the area, where he worked alongside Laurence Olivier in Stratford-upon-Avon. Amusingly, he would later describe his Oxford education (where he studied with C.S. Lewis and J.R.R. Tolkien) as "shabby".
As an older adult, Hardy was known for a gruff but kind demeanor and a gentlemanly way of "telling it like it is". Of Daniel Craig, he said, "I don't think he's a good actor, but he's very good at jumping."
Of his good friend and Oxford classmate Richard Burton, he said, "He died aged 59. And here I am, 90. It's a tragedy. It's his fault. Drinking too much, and spending too much time with Elizabeth Taylor. She was trouble." In another interview on the subject, he acknowledged that Burton had plenty of self-destructive tendencies, and noted that Taylor merely sped up the process.
Hardy was also known for a good sense of humor that extended well into his later years. For a delightfully candid (and slightly off-color) demonstration of that, check out the interview below.
Robert Hardy: A Gentleman & a Scholar (Really)
Along with his interests in linguistics (he spoke fluent French and Tolkien taught him to speak flawless Anglo Saxon), Hardy was also a historian and expert on medieval weaponry, especially the longbow.
When the Mary Rose was pulled out of the Solent (a strait between the Isle of Wight and mainland England), Hardy was charged with the restoration of all 139 longbows rescued from the sunken ship. He slowly dried them in his cellar and researched them to ensure a true and proper restoration. For those interested in history and antiquities, this story about the downsizing of his personal collection of antiques and old weaponry will surely be of interest.
Where to Watch Robert Hardy
Sadly, many of Hardy's early roles are not available (either lost in the archives or just lost), but we'll focus on what you CAN see. As nearly everyone knows, Hardy played the role of Cornelius Fudge in Harry Potter, and you can watch the films on Amazon (link goes to the first in the series, Harry Potter and the Sorceror's Stone).
British television fans are most likely to know Hardy from his 12-year stint as Siegfried Farnon in All Creatures Great and Small. In ACGAS, he played James Herriot's eccentric, grumpy partner in their rural Yorkshire clinic. You can watch it HERE on BritBox.
For a rather unusual role, you can check out Mr. Hardy in the short film Goodbye Mr. Snuggles, shown below. The film begins as one of the most British days ever, but the ending is a bit of a head scratcher.
Inspector Morse fans may remember Hardy's role in Series 7, Episode 3 of Inspector Morse, where he pronounced the word "Knobhead," in the classiest way possible. You can find it on Britbox, or pick up the DVDs at Amazon. He later "returned" in a different role for Inspector Lewis Series 4, Episode 2: Dark Matter. You can stream Inspector Lewis on Amazon, and some people may also be able to stream it through their PBS Passport membership (it varies somewhat by region).
Other Robert Hardy Appearances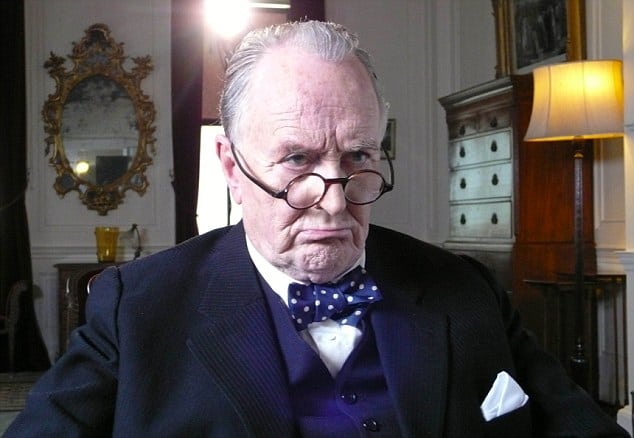 War and Remembrance – When it comes to playing Winston Churchill, I'm not sure that anyone did it better than Robert Hardy. This epic 25-hour miniseries is only available on DVD (at the time of this post), and you can get it here.
Winston Churchill: The Wilderness Years – This 1981 miniseries is not easy to find, and it covers the most challenging years of Churchill's life (according to him) between 1929 and 1939. On DVD at Amazon.
Manhunt – This 1969 series takes place in 1942 in Nazi-occupied France, and Hardy plays Sgt. Gratz. You can buy it on DVD here, and if you're REALLY into British TV history, you might enjoy this article with examples of how the show was promoted at the time.
Mogul – This oil company drama ran from 1965-1972, and Robert Hardy played the role of Alex Stewart from roughly 1966-1970. If you get lucky, you can find a copy here at Amazon, but if they're sold out they have it on Amazon.co.uk. Either way, you'll need a region-free DVD player due to regional encoding since it's an import DVD and not one designed for North American playback.
Death of the Heart – A young girl sent to live with her aunt and uncle struggles with a confusing love affair. Hardy plays Major Brutt, but also keep an eye out for Patricia Hodge (who would later play Penny on Miranda), Miranda Richardson (of Mapp & Lucia, also earned 2 Oscar nominations), and Sophie Thompson (Sheila from Detectorists).
Shakespeare's An Age of Kings – This star-studded 1960 production brings us the pairing of Robert Hardy and Judi Dench. The series links together a number of Shakespeare's historic plays to cover the years between Richard II and Richard III. You can get it on DVD here.
Joseph's Reel
In what may be his final appearance (or a close tie with Churchill: 100 Days that Saved Britain), Hardy portrayed an elderly man given the opportunity to relive one day of his life. Though it's just 14 minutes long, it's a powerful short that received numerous awards at film festivals. I've embedded it below, but I highly recommend adding the Vimeo app to your Roku and watching it in full size on your television for a better viewing experience.
One has to wonder – which day would Robert Hardy himself have selected from his own long and distinguished life?
Joseph's Reel from Forty Foot Pictures on Vimeo.