Interview with Sally Lindsay of The Madame Blanc Mysteries
In some cases, we earn commissions from affiliate links in our posts.
Last Updated on December 11, 2021 by Stefanie Hutson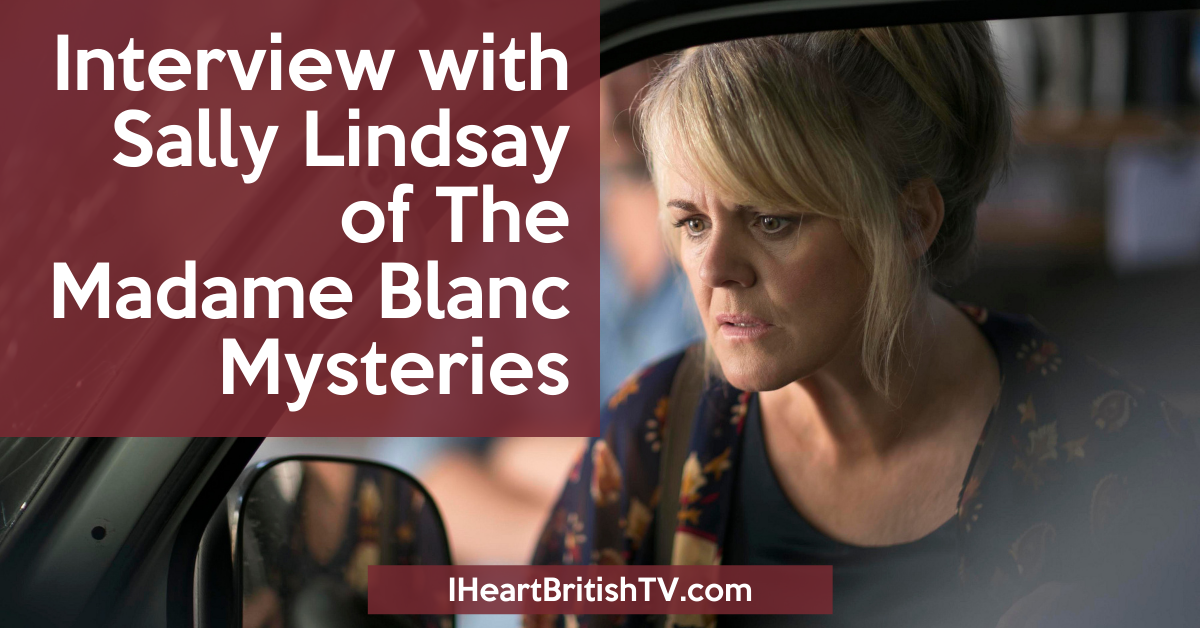 On November 15th, the Acorn TV original series The Madame Blanc Mysteries premiered. The light mystery was an instant hit with many, and it was relatively unique in that its star was also its writer and creator.
Recently, we had a chance to put a few questions to series creator Sally Lindsay. We've included the full transcript of the interview below.
What is The Madame Blanc Mysteries About?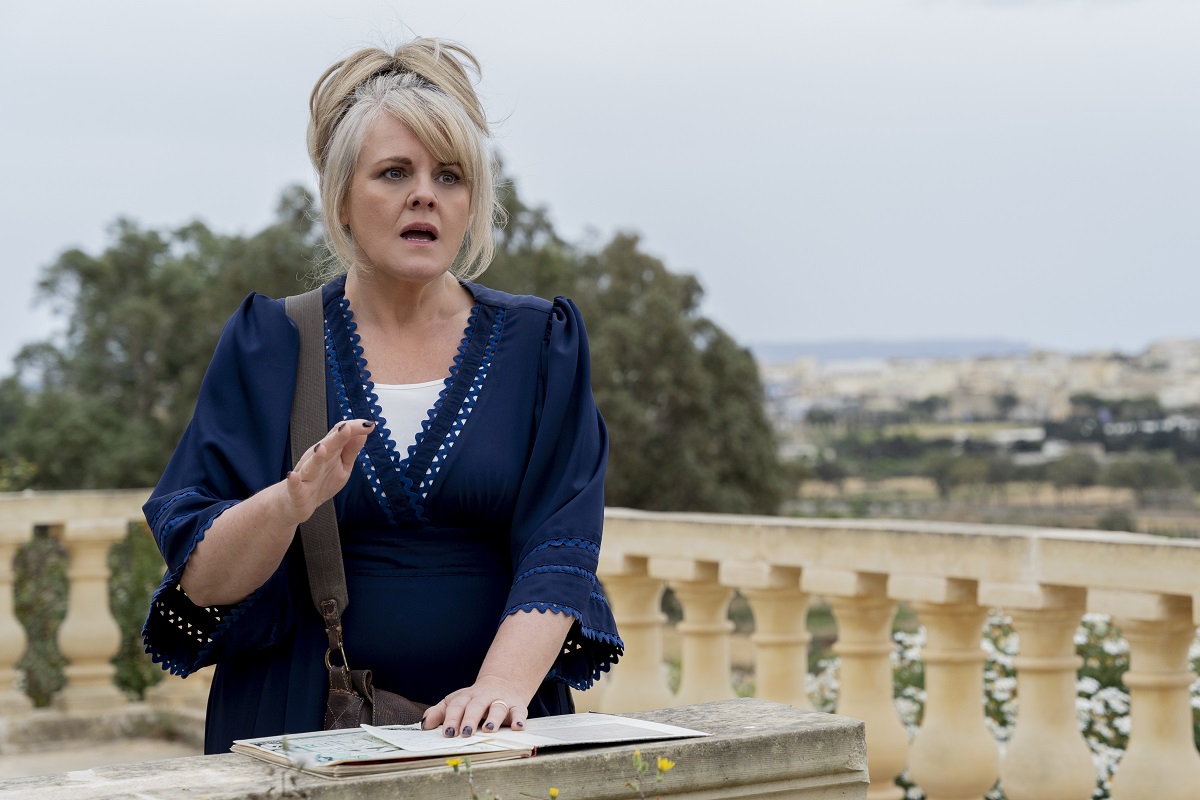 The Madame Blanc Mysteries is a light mystery that follows Jean White, a respected antiques dealer who runs a successful business in northern England. Unfortunately, it opens as Mrs. White finds out that not only is her husband dead, but all their money is gone – aside from their home in France where they liked to source antiques.
Shocked and grieving, she heads to their home in France to try to get some answers. What she finds leads her into an even bigger mystery…
If you haven't already watched The Madame Blanc Mysteries, you can check it out on Acorn TV at their website or on Amazon. The final episode of season 1 premieres on December 13th, so for those who hold out until all episodes are available, it's a perfect time to get started.
Interview with Sally Lindsay of The Madame Blanc Mysteries
Editor's note: What follows is a full transcription of our interview with Sally Lindsay. Please bear in mind that with any long distance, recorded interview, there may be minor errors. These are our fault, not hers.
What inspired you to create Madame Blanc Mysteries?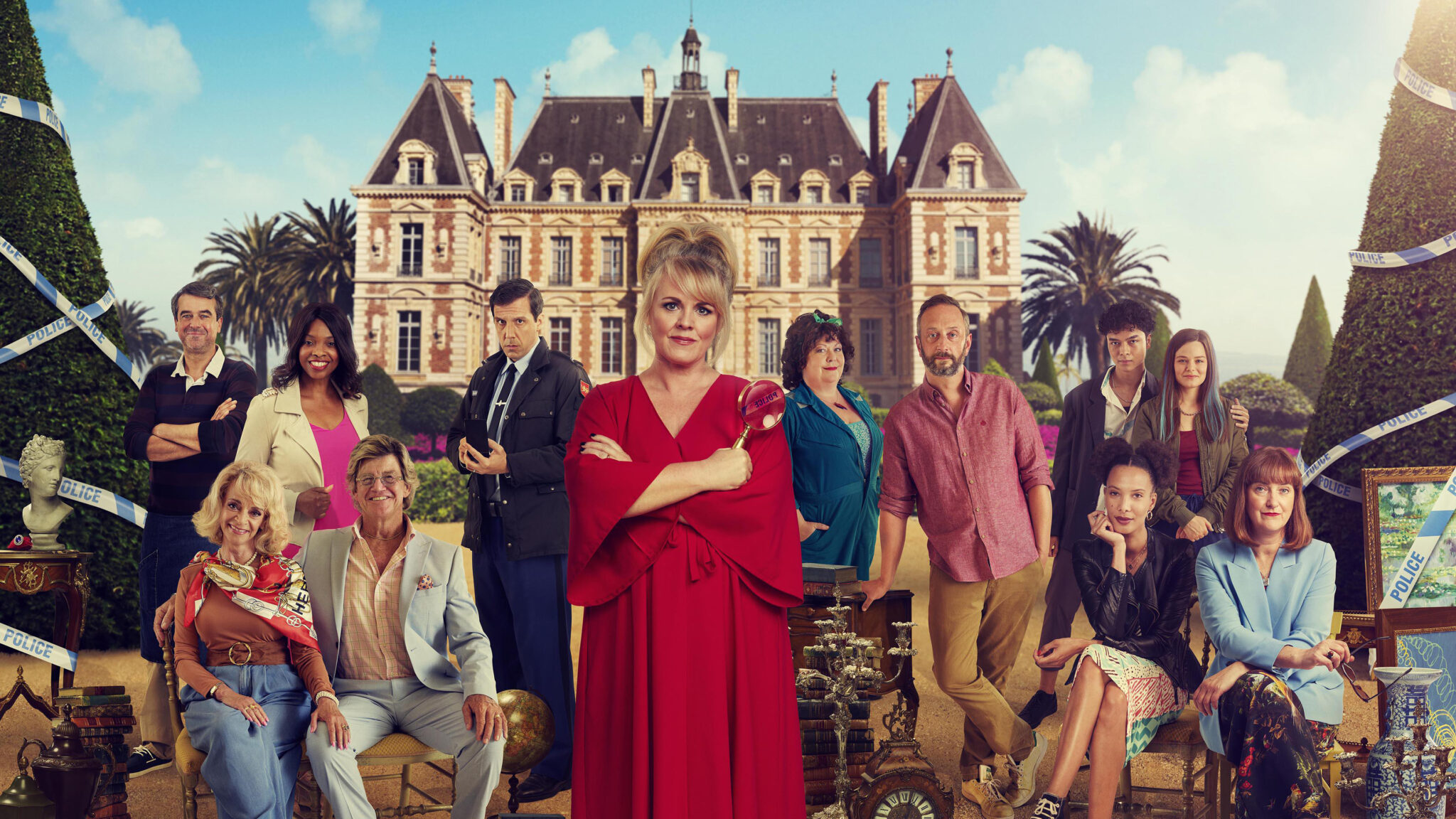 So I've always wanted to create a returning drama that the whole family could watch. I think that's sort of the zenith of television – and I met an antiques dealer when I was on holiday about five years ago, and I always had this obsession with antiques anyway. Not that I'm very good at it, but -not like Jean. And this antiques dealer was so wonderful, and she was so knowledgeable, and I thought, "That's interesting."
And then I always thought, "Wouldn't it be wonderful – or what a great idea, if someone had their life had turned upside down so everything they thought was their life wasn't their life?"
So, for example, when Jean goes to find out when Rory dies, that actually everything he's had, she's had is nothing. She's got rid of everything – and I thought that was really fascinating.
So I put those two areas together and created Saint Victoire, the village, the world. The world can go anywhere and create this sort of sunshine-y, happy, wonderful place full of eccentric characters that Jean finds herself in – whether she likes it or not – but with a really sturdy friend there called Dom, who is not the most unattractive man in the world.
That was that really that was the first, really – that's where Saint Victoire came from. And I really wanted to film in the sunshine. That was another major thing.
Is it the first show you've dreamt up, or were there other ideas along the way to this series?
Well, I suppose the first show I created was Scott and Bailey with my dear friend Suranne Jones, and I helped develop Mount Pleasant, which I think is on Acorn as well now, which is lovely. But obviously I didn't write that.
So this is the first show I'd say that I've written – co-written – and starred in and co-produced. So this is a big deal for me because it's practically everything that I've loved and wanted on television in one programme. So it's a big deal.
And I can't be – I'm eternally grateful for Acorn for getting it and understanding it and putting it out there on the channel. I really feel it's found a home there with Acorn's viewers. So I'm ecstatic about that.
To create and star in a show – that must be an enormous amount of work and pressure. How's that been for you? And would you do it again?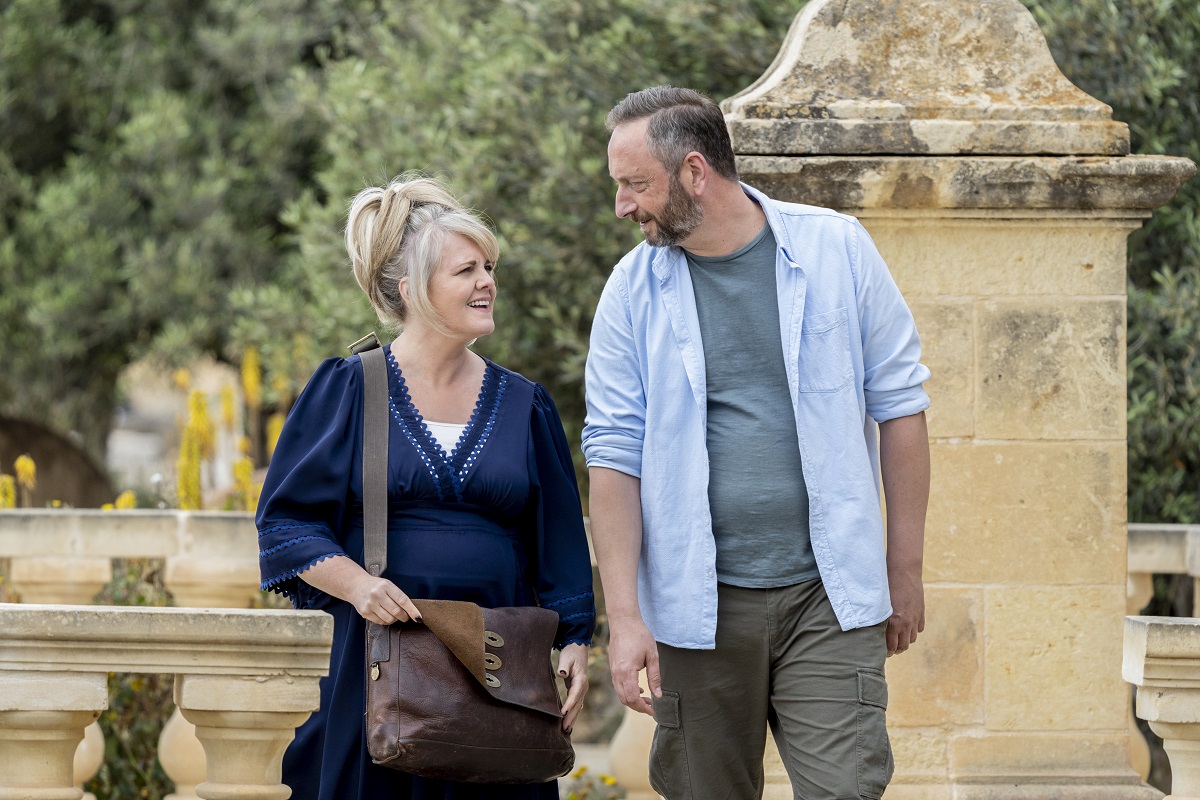 Yes, it was an enormous amount of pressure. Don't get me wrong. And it was a roller coaster, especially filming through COVID, because we didn't know whether it was going to go ahead or we could do it, or if we could get everything together to do it.
And Dermot and I – Dermot Boyd is our director – and we can't to this day believe that it went so well, but I would do it again in a heartbeat.
It is a really bizarre thing to be on set where you're the executive producer as well as being the lead and you're also co-writer – so you're wearing a lot of hats at the same time. But for some reason, I think it's probably because it's my idea and it's so much my world that I found it quite easy to slip into those roles.
So on this particular project, yes, I would do it in a heartbeat, even though you never really switch off.
What's your favourite thing about the series?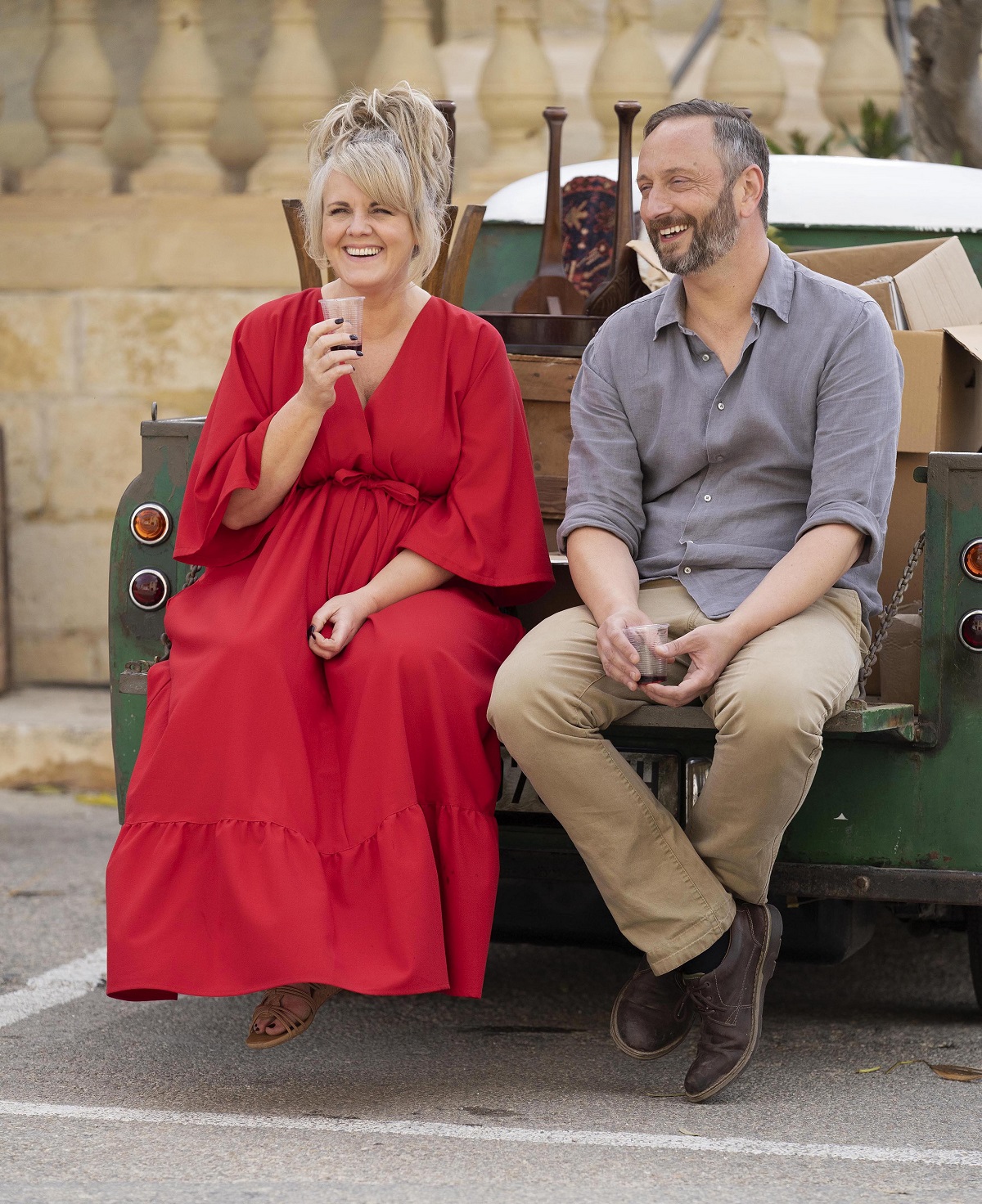 My favourite thing about this series – I think it's the joy of it, actually. I think it's come across as something really warm and joyous, even though it's murder mystery.
My biggest wish for it – it was for people to be sat there with a glass of wine or a cup of tea or whatever, and just want to escape in a world of Saint Victoire for an hour. That's all I wanted. Just sort of escapism, sunshine…and I think that's one of my favourite things about this series. That's what we've achieved.
And the people, the feedback I've got has been just nothing less than glorious and lovely about how they want to go and live in Saint Victoire and how they want the series to go on forever, and they want – it's almost like it's become an instant home for some people, which is just beyond belief. I'm just thrilled.
What was it like filming in Gozo compared to the usual productions set in England?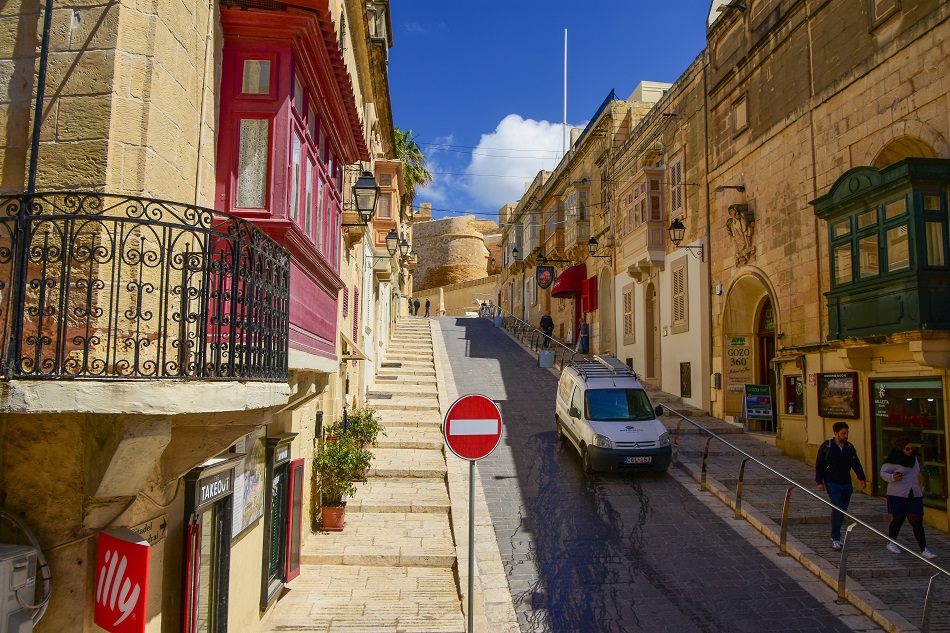 Filming in Gozo was magical. I mean, it had its disadvantages in the fact that there's a lot of stuff we had to be shipped from England, which because of the situation we're in at the moment – the transient between Brexit and COVID and stuff – it was quite difficult getting our usual suppliers over there.
But that was on the ground level. It was very practical, but actually filming there was divine. And we had the most on a Saturday, your day off or Sunday, you could go swimming off the rocks. I mean, what's that all about? It was just amazing.
And one day off, we went on a boat trip. It was crazy. I didn't have many days off to be fair, but it was the most magical place, and it's such an amazing place, Gozo, because it's like a chameleon island, a geographical chameleon, because it can look like anywhere in the Mediterranean because the light's Mediterranean.
So you get away with that. And the stone is Mediterranean. So anywhere in South Mediterranean, it looks like, and our amazing art Department dressed it such that you think you're in deep South France, and that's just magical, isn't it?
So, yeah, I loved it. The people were gorgeous and we had those really horrible British advantages, like you drive on the left-hand side and there's English plugs, which is really bad British plugs, but it doesn't half make life easier. So it's great. We loved it.
What's next for you? More Madame Blanc? Any bucket list goals or projects you want to tackle?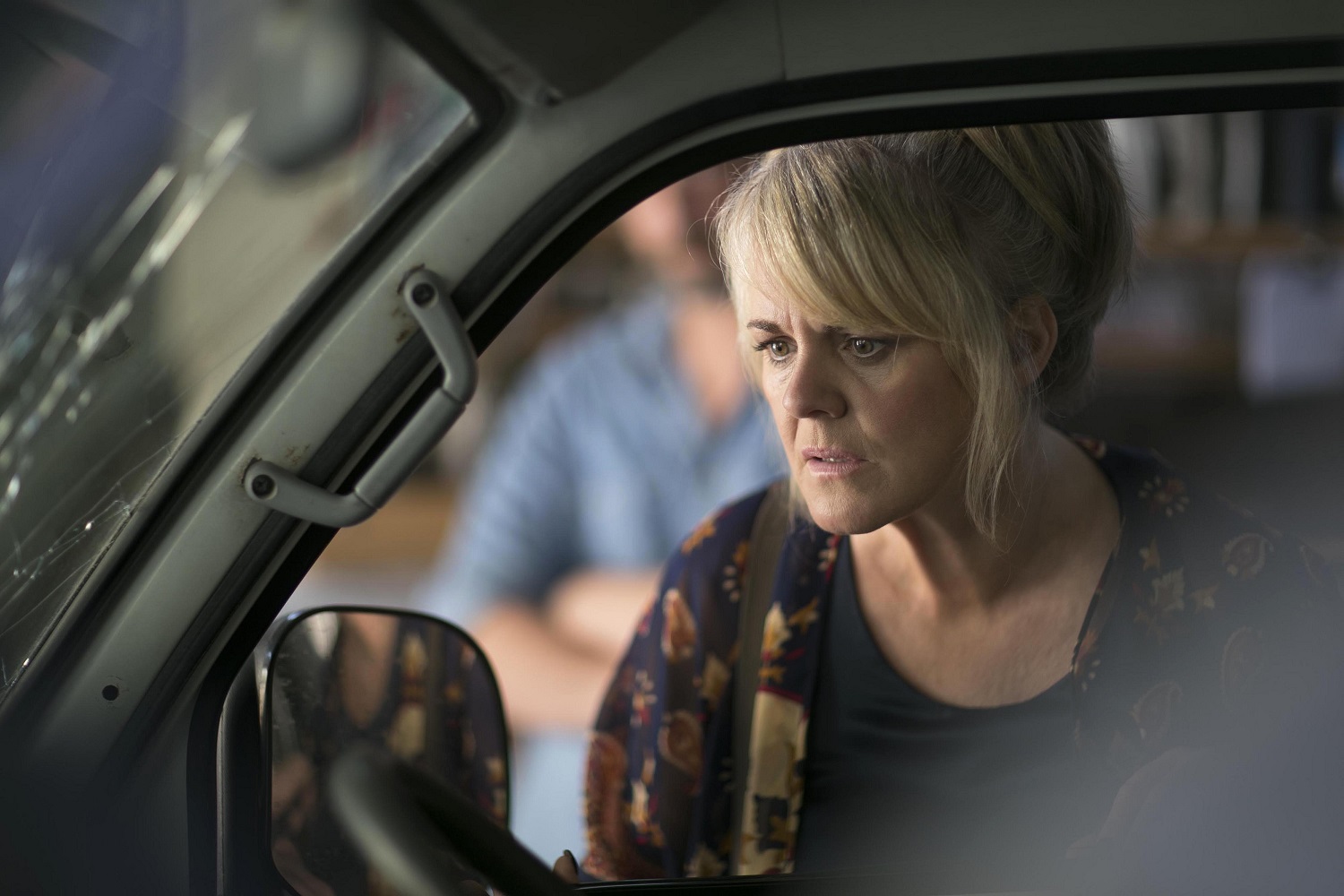 What's next for me? I mean, at the moment, I'm filming a documentary, at this minute. We have a company, Saffron Cherry, that obviously co-produces this show. I think more projects are the same kind of ilk. But at the moment, I'm totally in the overwhelmed by Madame Blanc and I really would like to do it forever because we've just formed this amazing team.
Even in the first series, everybody wants to be on the ship and everybody wants to be in the show, and there's so many people have watched it, and my friends are going, "Oh, if you get a part for me, it's be amazing," or, "I love your show." So I think more Madame Blanc, please. I'd love to do this forever. I really would. I just absolutely love it.
But anything – more projects, more writing. Like I said, we've got a lot of things on our slate that we're trying to get together and more of that, really. And just to keep working and to keep happy and find that balance between family life and work life, really.
I think that's the ultimate goal. I never really feel I achieve it, but then I must be because my kids are happy and everybody seems to be happy at home. So, I don't know. That's a big thing to keep my family happy, but also keep me happy.
That's the ultimate goal, isn't it?
Watch The Madame Blanc Mysteries on Acorn TV

If you haven't already checked out The Madame Blanc Mysteries on Acorn TV, we strongly recommend giving it a try. It may not appeal to those who stick with the dark and gritty mysteries, but if you like something light-hearted on occasion, it may be just what you're looking for.
Have you watched? Will you? Feel free to share your thoughts in the comments!