10 Things You Might Not Know About Dame Diana Rigg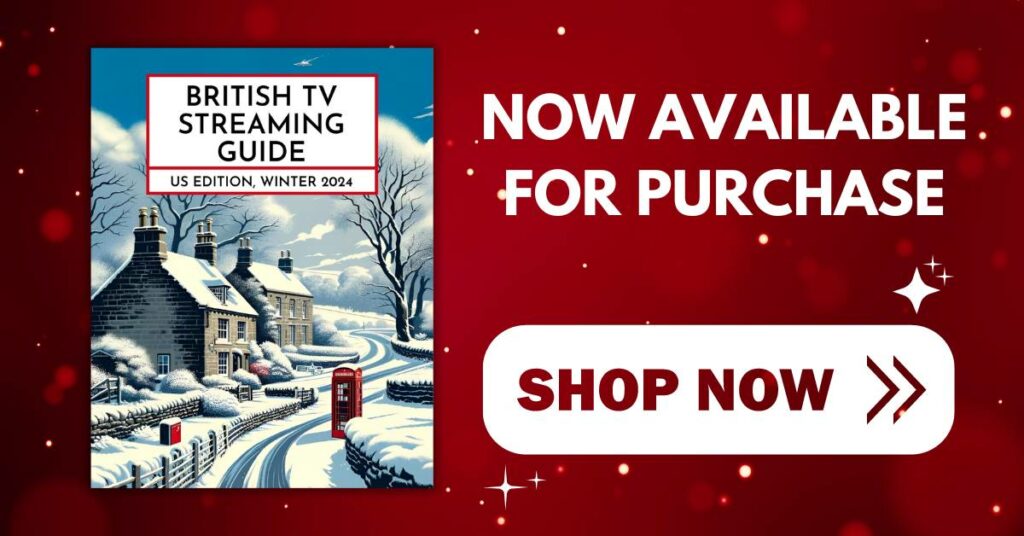 The British TV Streaming Guide: US Edition, Winter 2024 is now available. Get yours HERE.
In some cases, we earn commissions from affiliate links in our posts.
Last Updated on July 25, 2022 by Stefanie Hutson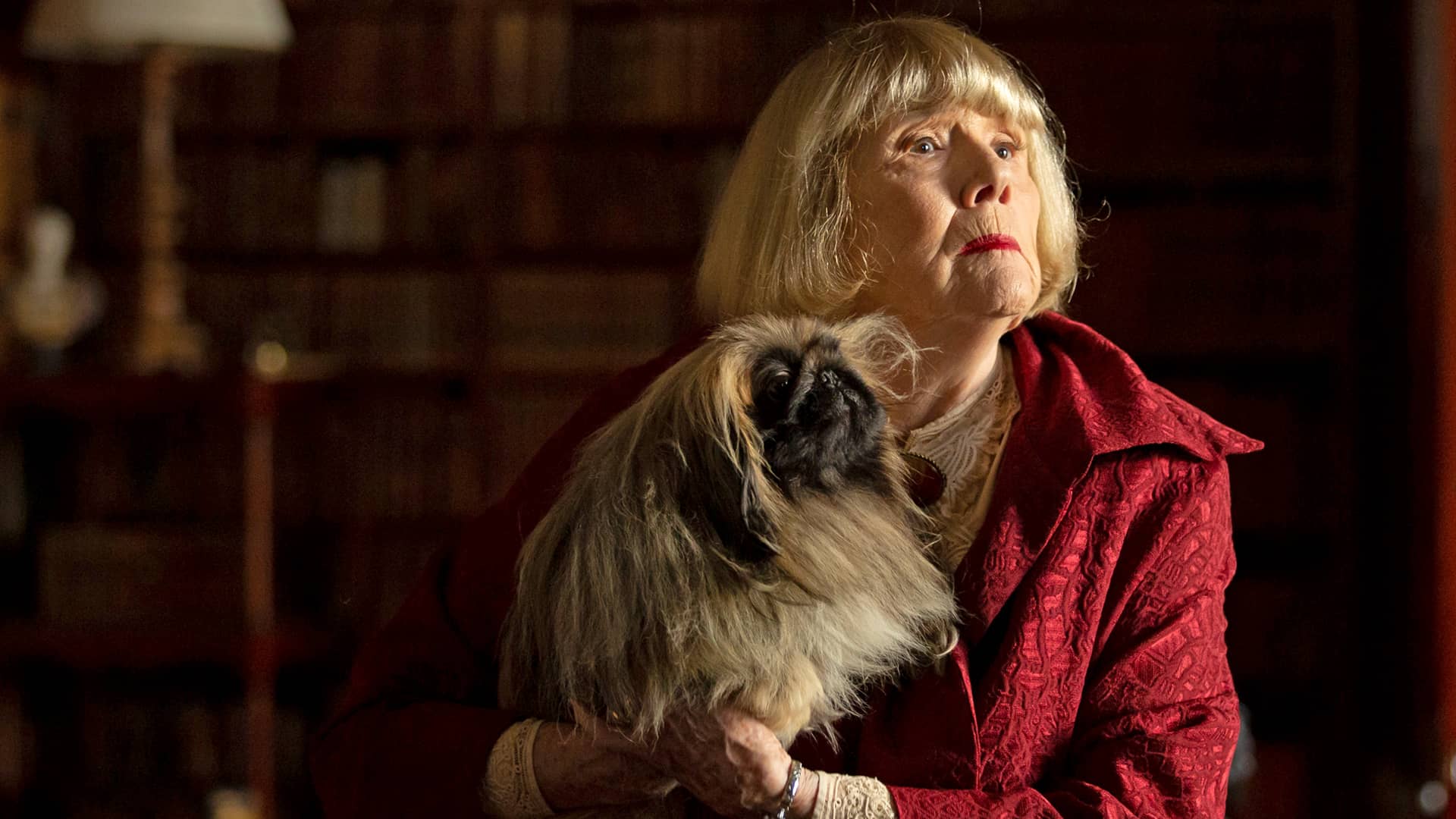 Dame Diana Rigg was an English actress whose first professional stage performance was in The Caucasian Chalk Circle in 1957. She then joined the Royal Shakespeare Company in 1959. Her Broadway debut was Abelard & Heloise in 1971. Rigg is probably best known for her role as Emma Peel in seasons 4 – 6 of The Avengers in the 1960s.
She was made CBE in 1988 and then DBE (Dame) in 1994. Most recently, she appeared in Black Narcissus (2020) and All Creatures Great and Small (2020). Her final performance in Last Night in Soho (2021) was released posthumously and dedicated to her.
The Avengers is available to own on Amazon HERE.
Rigg lived from 20th July 1938 to 10th September 2020, leaving behind an enduring legacy of masterclass acting. In On Her Majesty's Secret Service (1969), her character Tracy was the only Bond Girl to get James Bond to the altar and that was something she was quite proud of.
She loved acting and never bothered to retire. Rigg was a force to be reckoned with, thoughtful, mischievous, and a virtuoso actor. Thinking of Dame Diana Rigg and her career, the term "absolute legend" comes to mind, but that would probably be an understatement.
1 | She spent her childhood in India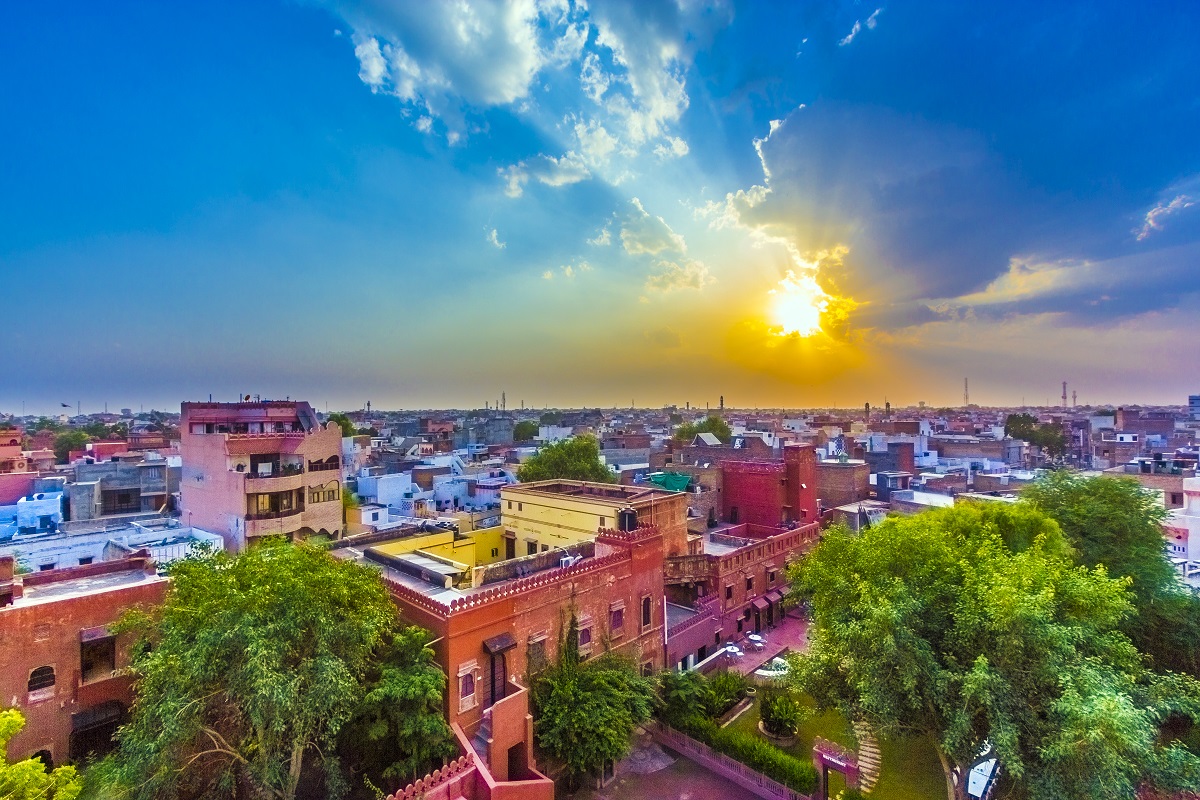 Born in Doncaster, Diana Rigg spent the first two months of her life in Yorkshire. Then, she moved to Bikaner, India where her father worked as a railway engineer. She learned to speak Hindi while living there. Diana returned to Yorkshire when she was eight years old.
Her early connection to Yorkshire also made her the perfect choice to play Mrs. Pumphrey in the 2020 remake of All Creatures Great and Small which is set in the gorgeous Yorkshire Dales.
2 | Dame Diana's mother used to reply to The Avengers fan mail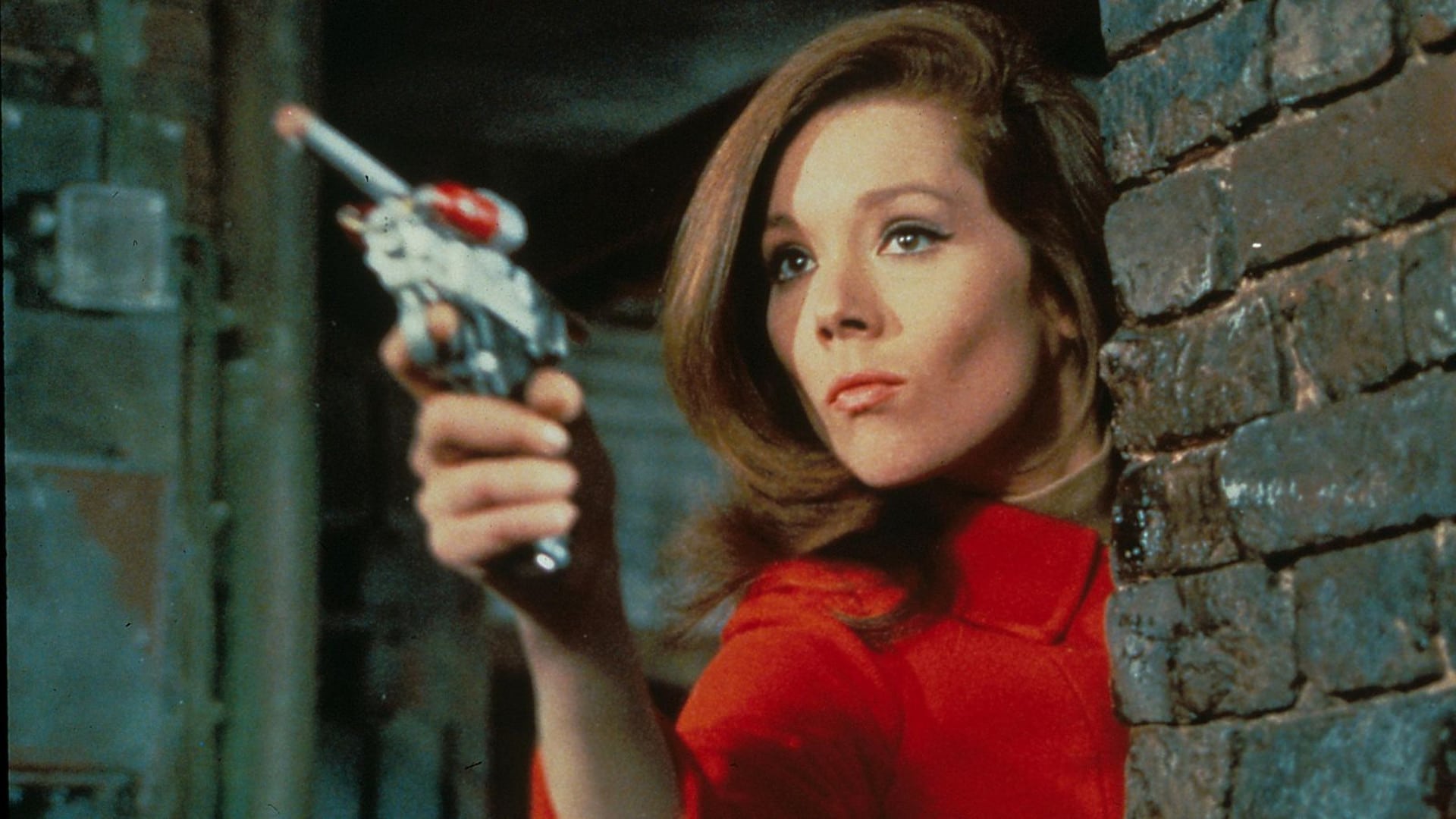 Rigg was made enduringly popular by playing the role of Emma Peel in The Avengers (1961). She once said, "I got a lot of very odd fan mail while I was in that show, but my mum used to enjoy replying to it. Some of the men who wrote to me must have been a bit startled because she would offer really motherly advice. I would get a letter from a teenage boy, say, who was over-excited and my mother would write back saying: "My daughter is far too old for you and what you really need is a good run around the block."
How awkward would it be to send fan mail to Diana Rigg and get a reply back from her mum! At least it's safe to say the mischievous sense of humour runs in the family.
3 | She starred in her own NBC Sitcom: Diana
Although it was short lived, Rigg starred in an NBC sitcom called Diana back in 1973-74. Her character is a Londoner named Diana Smythe beginning a new life in New York City after divorcing her husband. She's a fashion coordinator living in her brother's apartment which comes with a few quirky neighbors. There are some laughs along the way as she navigates the American way of life, her new job, and the women who still have keys to her brother's apartment.
This was NBC's attempt at capturing the popularity of The Mary Tyler Moore Show. Woefully, Diana aired on Mondays opposite popular shows Gunsmoke and The Rookies, which made it difficult to succeed. So, it was cancelled after just fifteen episodes.
Unfortunately, most of the episodes don't seem to be digitized, so it isn't streaming and we can't find it anywhere on DVD.
4 | She wrote a compilation book
Rigg's only publication was the 1982 book No Turn Unstoned: The Worst Ever Theatrical Reviews. After a cruel review said Rigg was "built like a brick mausoleum with insufficient flying buttresses," she decided to contact as many actors as she could, asking them to send in their worst reviews. Rigg then compiled these into this book. It's great for light-reading, having a laugh, and enjoying the self-deprecating humour Brits are so well known for.
It's out of print now, so it's worth grabbing a copy while they're still circulating. Some used and collectable copies, both hardcover and paperback, may be found on Amazon HERE.
5 | She wasn't afraid to push boundaries and defy convention
"I think I was quite daring," she said, "I was once escorted out of a restaurant because I was wearing a trouser suit. It wasn't considered good breeding for a woman to go around in trousers after 6:00 pm, especially in smart restaurants and bars such as the Connaught Hotel, which served the best cocktails" (IMDb).
If you want a clear image of what her personality was like, you'll enjoy this Guardian article written by her daughter Rachael Stirling: "Diana Rigg remembered: 'Ma didn't suffer fools: she exploded them at 50 paces'." Available to read HERE for free.
One of the many highlights of the article reads:
"I [Rachael Stirling] recently found another file with her notes on the history of the American theatre and its criticism, which she had started in New York a few years ago while doing 187 performances of My Fair Lady on Broadway. For her 80th birthday during the run she took over a bookstore in Lower Manhattan, invented a cocktail called Dame Diana's Dynamite and boogied til dawn with all the hot young dancers. She was disgusted when she heard that the actress playing Eliza had decided to have Sundays off to be with her family. She made it known to a journalist and became persona non grata backstage. She didn't give a hoot. If your name is on the billboard, you show up for every show."
Doesn't she sound amazing? The only drawback of this fabulous article is that the recipe for Dame Diana's Dynamite isn't included.
6 | She never watched Game of Thrones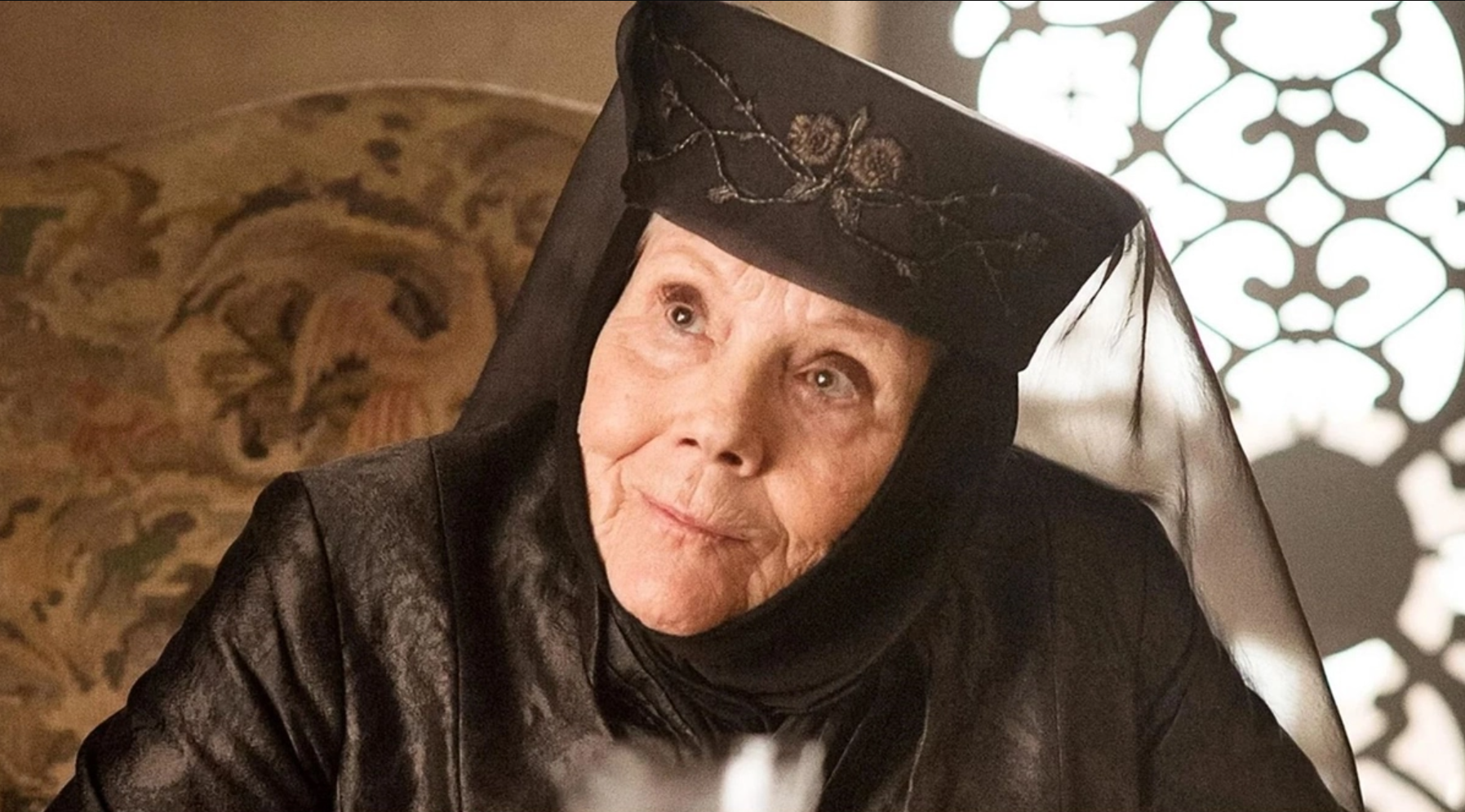 But she loved her character Olenna Tyrell. She had also never even heard of Game of Thrones before she got the script.
(Much like Dame Maggie Smith never having watched an episode of Downton Abbey, we don't blame Dame Diana one bit).
Still, despite being oblivious to the popularity of Game of Thrones, she did an amazing job in her role and always had her lines memorized. (Always the professional).
Of her character, Rigg said, "There are some actors who don't like to play bad. They like to be liked. I love to be disliked. Olenna had the best lines. They were very kind with their scripts." You can read the full Independent article HERE.
All eight seasons of Game of Thrones are streaming on HBO Max. Rigg appears in 18 episodes between seasons 3 and 7.
7 | Acting runs in the family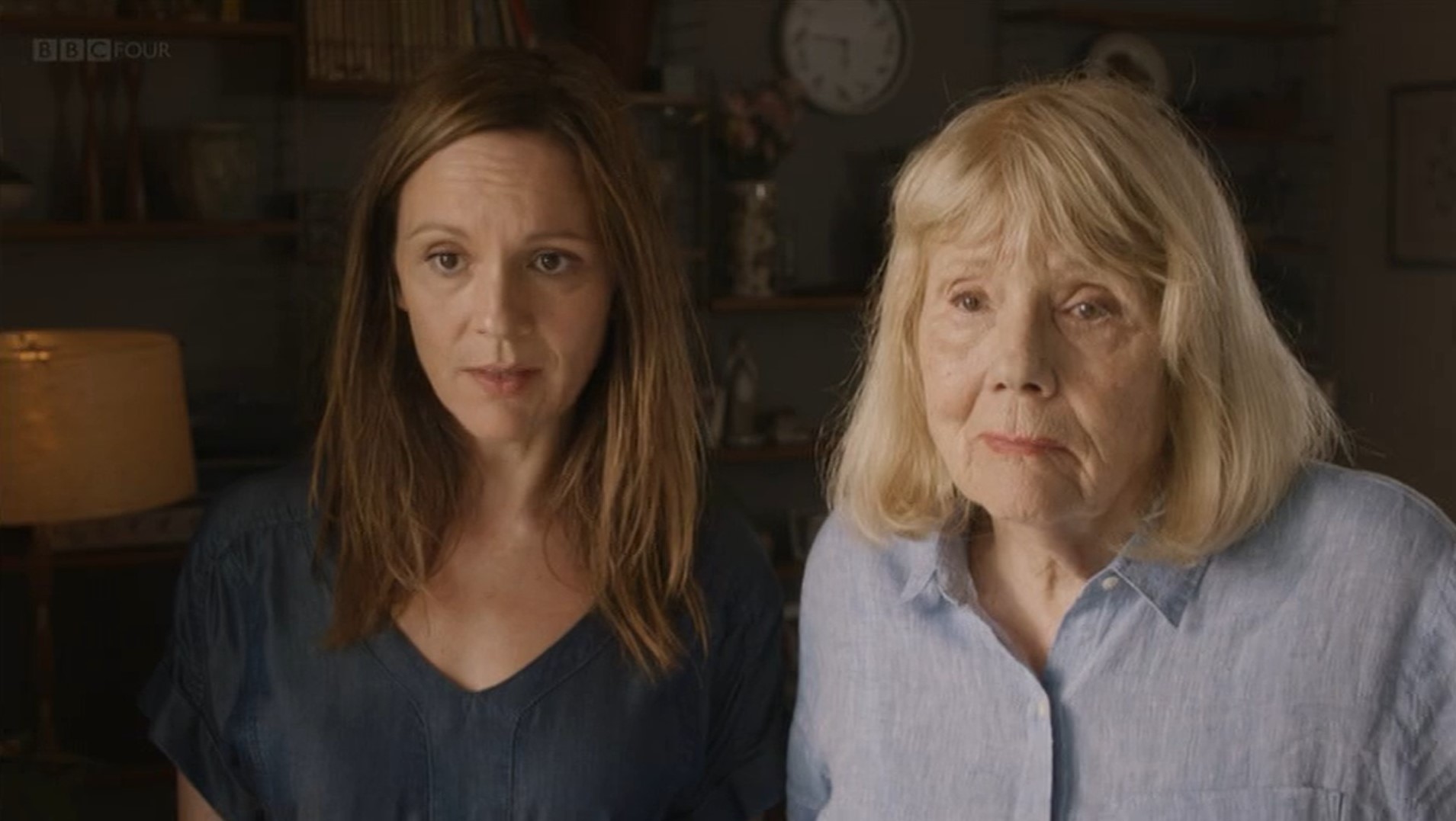 Dame Diana Rigg's daughter Rachael Stirling (born 1977) is a wonderful actor in her own right. Her first big stage role was Desdemona in a National Youth Theatre production of Othello starring Chiwetel Ejiofor in 1996. Rachael started her screen career in 1998. One of her most popular roles to date was in The Bletchley Circle (2012). And one of her most recent performances was in Hollington Drive (2021).
Doctor Who fans will recognise both mother and daughter in "The Crimson Horror" (S 7, E 12). They've appeared in the same productions more than once, too…
8 | She was a big fan of the TV show Detectorists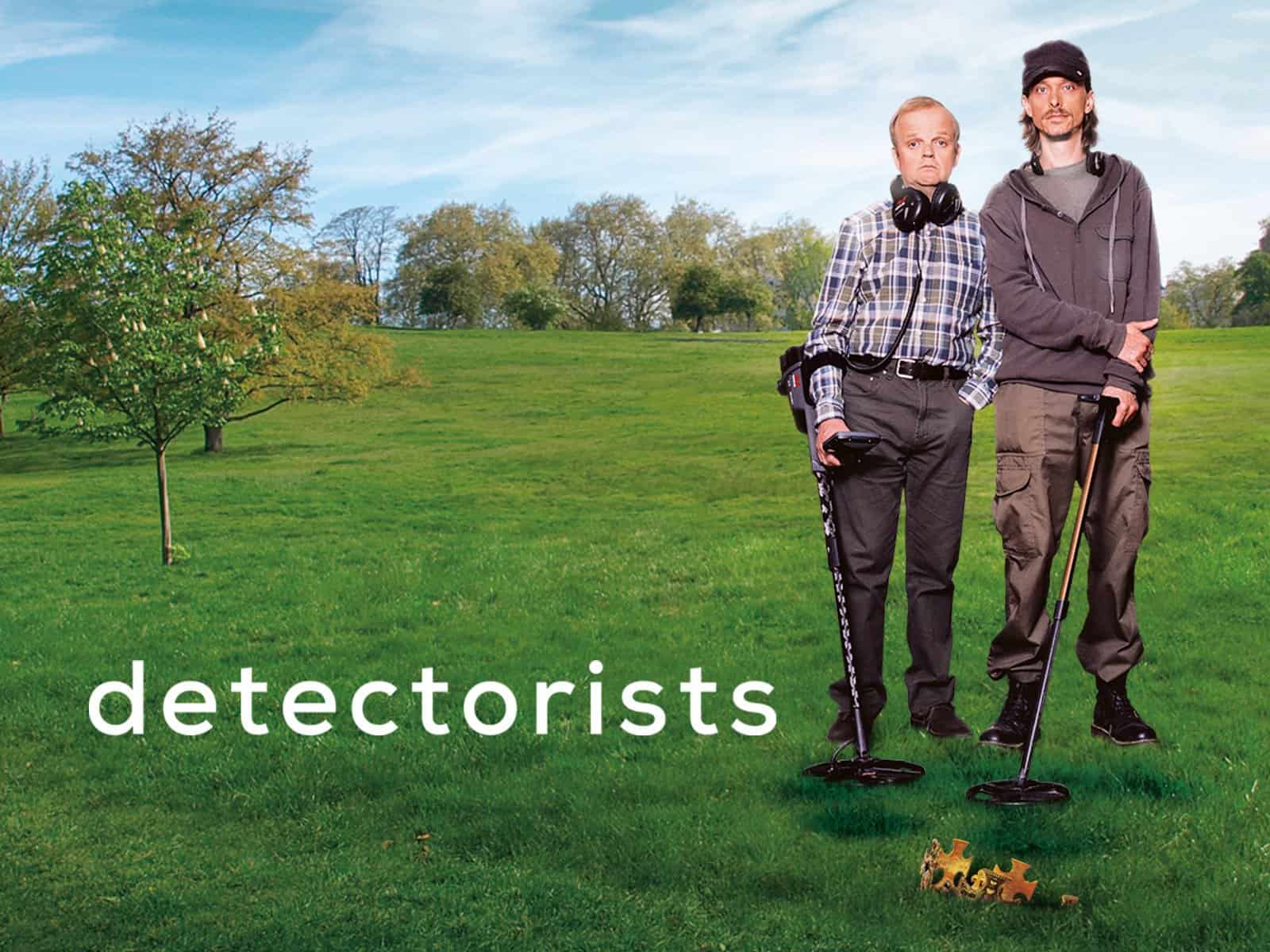 Dame Diana Rigg loved Detectorists. Her daughter Rachael Stirling plays Becky, the partner of detectorist Andy (Mackenzie Crook's character). So, in season 2, Rigg shows up as Becky's mum! So fitting. She appears in 6 episodes between seasons 2 and 3.
In the bonus features, Rachael Stirling mentioned, "My ma absolutely loved Detectorists. She watched the episodes more than once, I think."
Of Rigg, Mackenzie Crook said, "She's just brilliant. So easy to work with 'cause she's such a professional and she's been doing it for so long."
Three seasons of Detectorists are widely available on streaming services like Prime, Acorn, and many free ad-supported services.
9 | She never wanted to retire, so she never did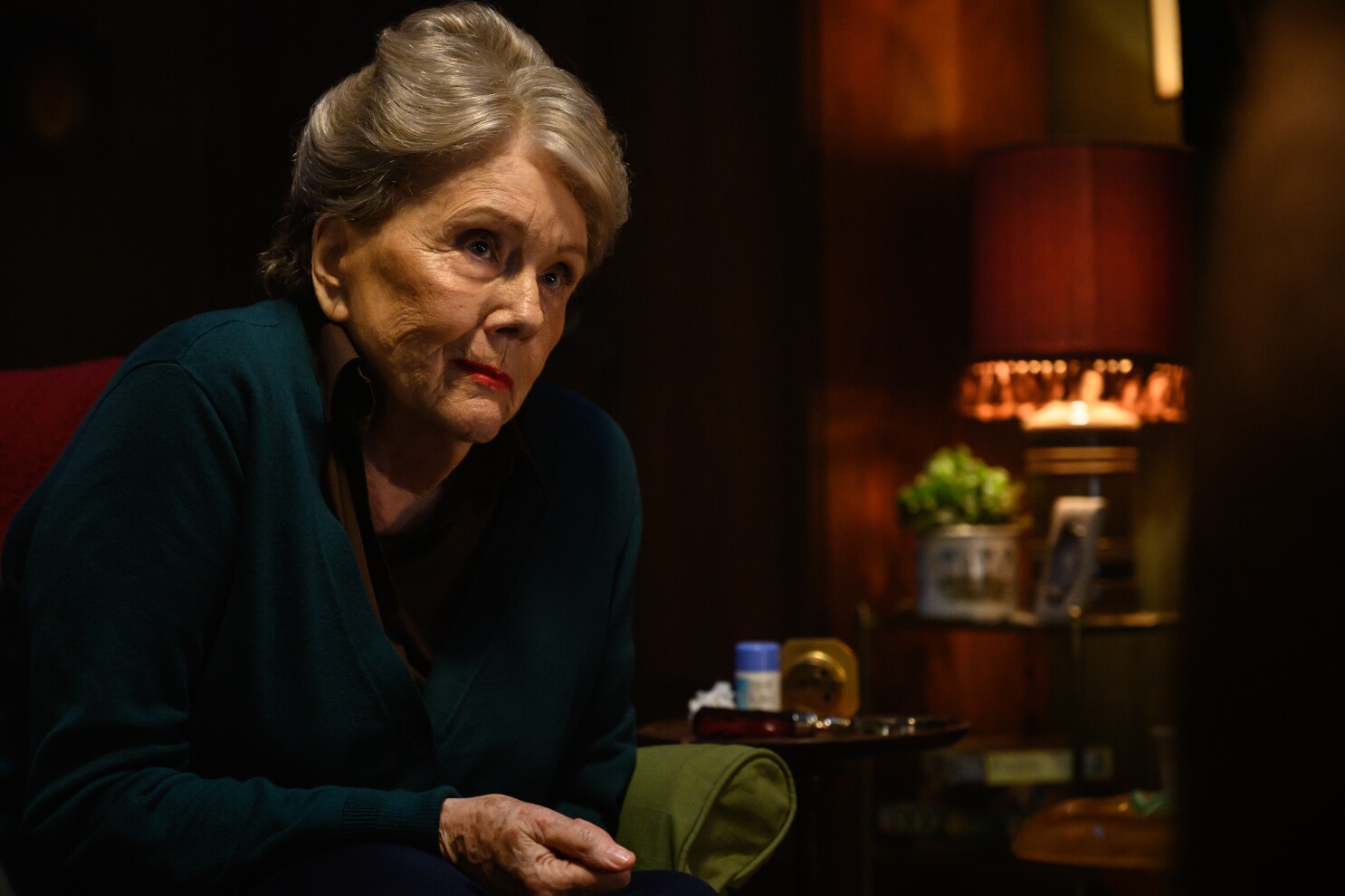 When she was in her late 70s and working on Detectorists (c. 2015), Rigg said, "I just love working. And I'm dead lucky to be working as much as I am."
She continued to work up until two weeks before her death in 2020. Her final film was director Edgar Wright's psychological horror Last Night in Soho. For The Guardian, Wright wrote the touching article, "Cinema, Campari and a carrier bag of Quality Street: Edgar Wright remembers Diana Rigg" available to read HERE.
Among many heartwarming anecdotes, Wright writes,
"Diana's daughter, Rachael, called to say she wanted to do her final ADR for the movie but we would need to come to her and have to do it soon. I didn't want to admit it, but I knew what that meant.

This led to a quickly-arranged trip to her bedside the following week where myself and my dialogue editor Dan were to record her final lines. Rachael mentioned that Diana may, if she had the energy, want to have a drink and talk after. I asked if it would be weird to bring a bottle of Campari. "No," Rachael replied. "She'd love it."
Rigg clearly had a great work ethic and loved acting. She also knew how to treat the cast and crew, Edgar Wright remembers,
"She was such a formidable performer that she raised everyone's game as soon as she stepped on set. And so funny and wry too, often bringing a carrier bag full of Quality Street for the crew – which, frankly, all actors should do. Since she'd lived most of her life on a film set or stage, she knew exactly how to enter, be note perfect and utterly incandescent for the cameras and also, crucially, be out of her make-up and in her car 15 minutes or less after wrapping."
Craving Quality Street wrapped chocolates and toffees? You can stock up on Amazon HERE.
10 | She was an expert Scrabble player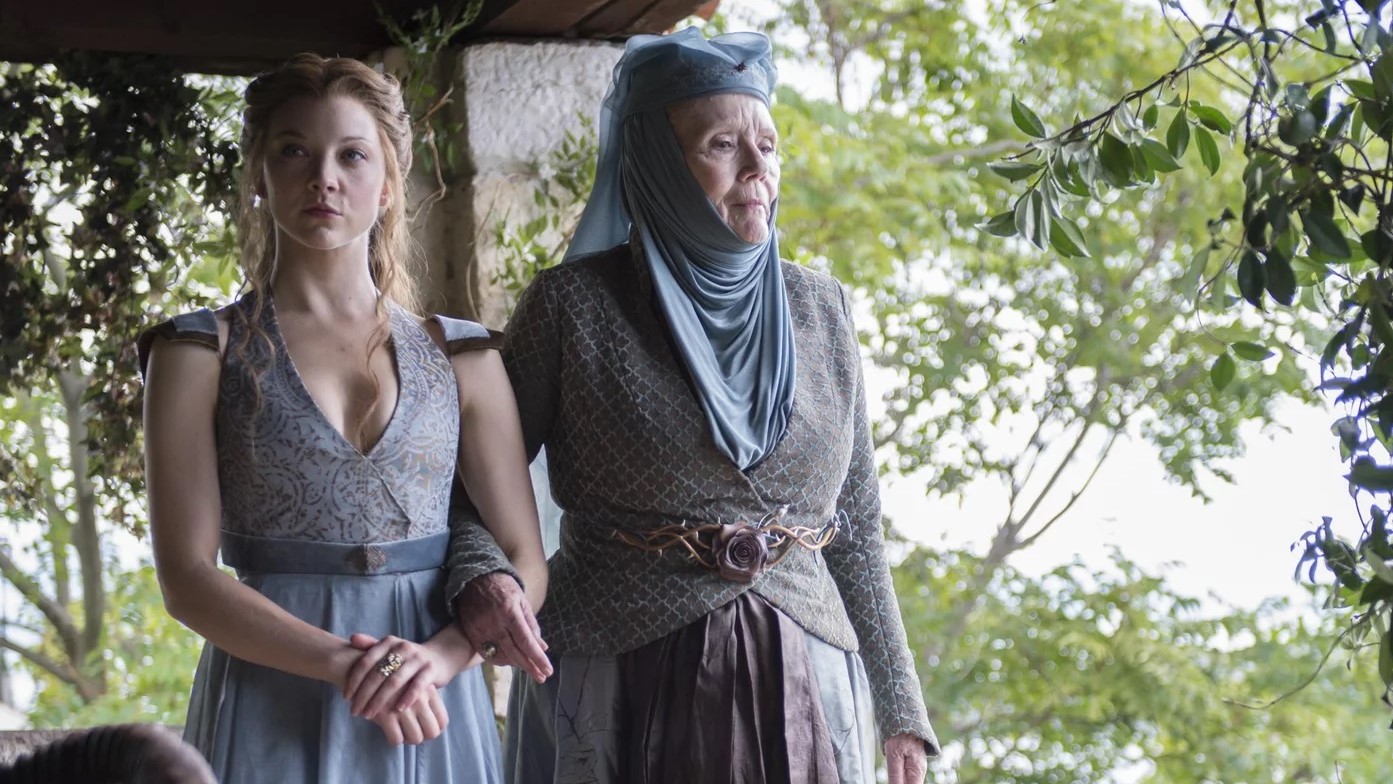 "Don't play Scrabble or Words With Friends with Diana Rigg, she'll beat you every time," Natalie Dormer said. "The cast [of Game of Thrones] went crazy for Words with Friends. I stopped playing because I was bored of losing." (People).
So, if you're yearning for a way to honour the great Dame Diana Rigg, mix yourself a Campari and soda, pull up Words With Friends, and kick a bit of arse.
Watch Dame Diana Rigg in Some of Her Best Performances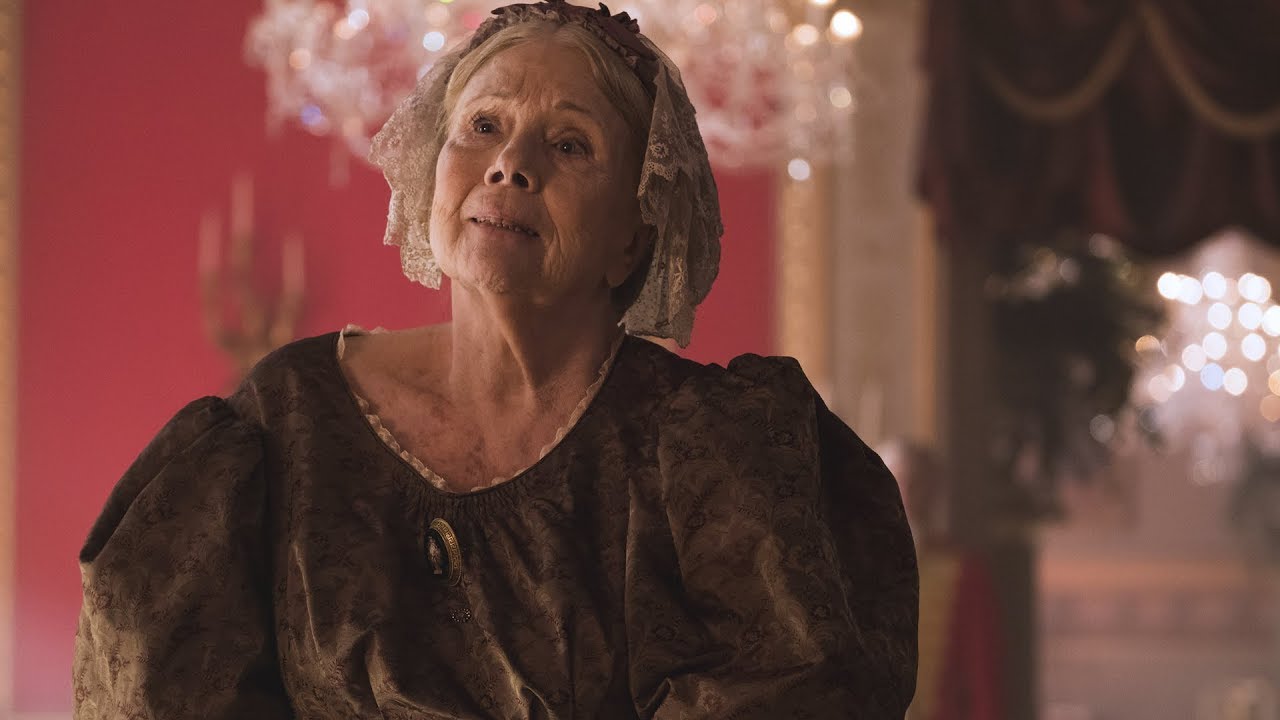 With such a long and distinguished career, there's no shortage of performances to choose from – though not all are available to stream. Below, we've gathered up some of the highlights, along with links to where you can watch them.