David Tennant in Deadwater Fell: Trailer & US Premiere Details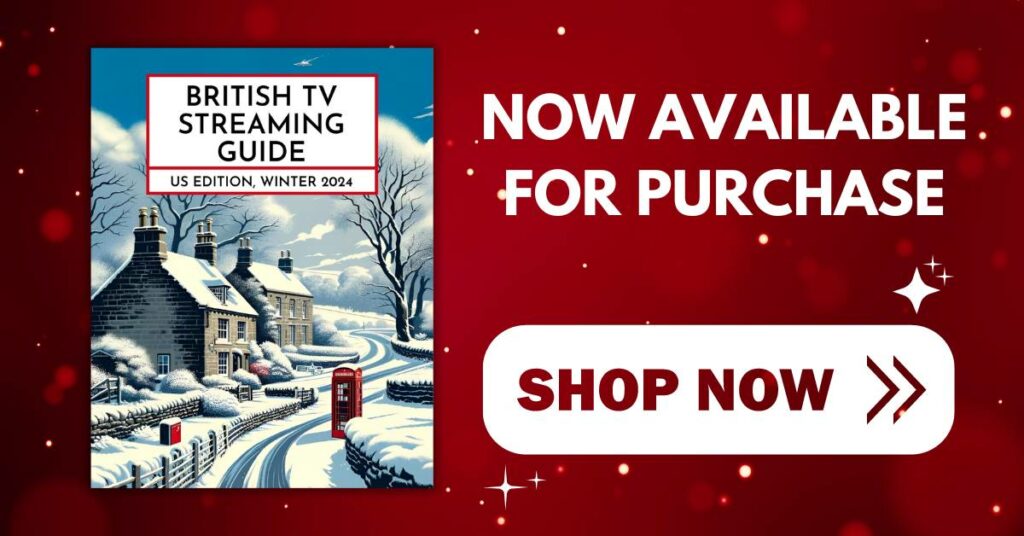 The British TV Streaming Guide: US Edition, Winter 2024 is now available. Get yours HERE.
In some cases, we earn commissions from affiliate links in our posts.
Last Updated on April 5, 2020 by Stefanie Hutson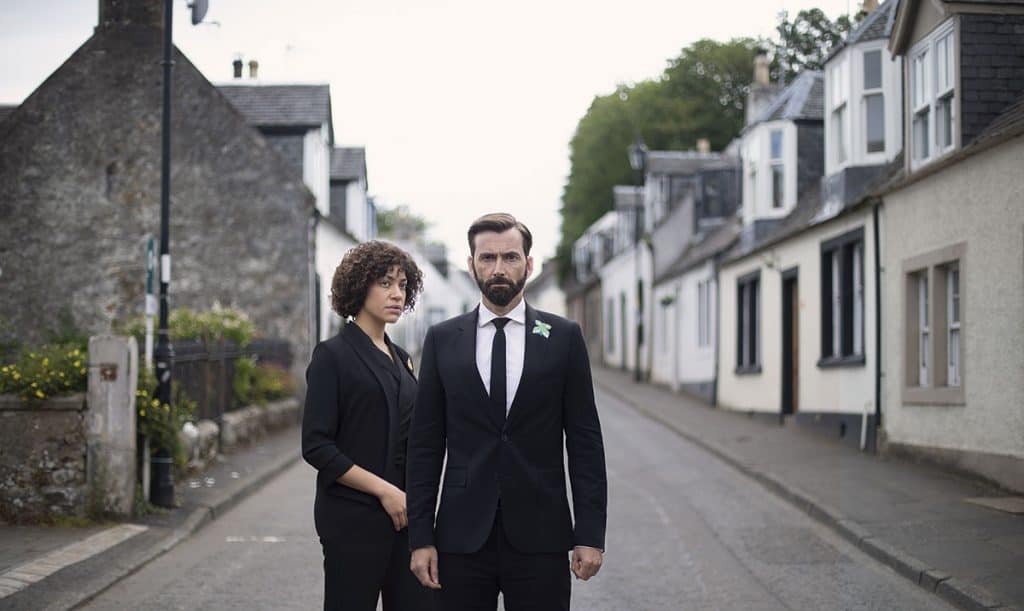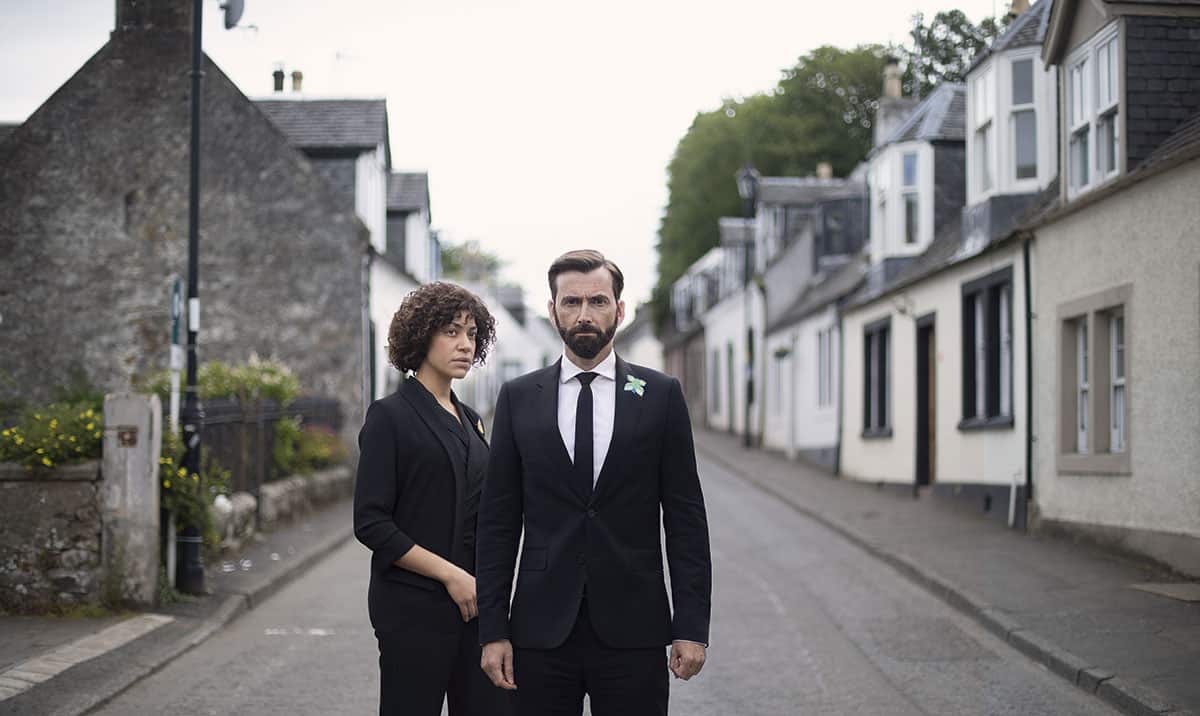 David Tennant fans, rejoice! If you miss him as DI Alec Hardy in Broadchurch, you'll be pleased to know he's returning to screens in another secretly-evil-small-town murder mystery, Deadwater Fell.
What is Deadwater Fell About?
Deadwater Fell is a four-part Scottish crime drama produced by Kudos for Channel 4. It tells the story of a small community ripped apart by a horrifying unexplained crime, and the ripple effects it has within the community.
At the heart of the story, there are two local couples: Jess and Steve, and Kate and Tom. Jess and Kate are as close as sisters, working together at the local school and spending a great deal of their free time bringing their families together. Kate and Tom (played by David Tennant) have an idyllic marriage and three young daughters. Though Jess was an outsider, she married Steve and quickly became part of the community.
That all ends when members of the community are drawn to Kate and Tom's forest home by the smell of smoke and sight of flames. Kate and the three children are found dead, and Tom is rushed to the hospital. Before long, though, investigators realize that Kate and the kids weren't killed by the fire – they were already dead.
Tom quickly becomes suspect number one, putting a strain on his relationships and the small community in general. Kate's friend Jess isn't sure what to believe, but she's not afraid to put everything on the line to get at the truth.
Caroline Hollick, Head of Drama at Channel 4 said:
I'm so proud that Deadwater Fell is my first commission at C4. Daisy's writing is warm and full of heart, while boldly tackling epic themes of extreme violence with psychological acuity. She is turning the norms of family drama on its head, with a story that's deeply shocking yet always relatable.

With Deadwater Fell, I wanted to look at the notion of evil. We're very quick to call something evil – to dismiss it out of hand as something inhuman or monstrous. But it is humans who commit these acts. Deadwater Fell is an unflinching look at a community we might live in, families we might know and what happens when tragedy befalls them.
You can check out the official trailer from Channel 4 below:
Who's in Deadwater Fell (Aside from David Tennant)?
https://www.instagram.com/p/B0Egp3FAim2/
In the Instagram post above, you can see three of David Tennant's Deadwater Fell co-stars – the talented young kiddos playing his daughters. Given that Tennant has 5 children of his own with wife Georgia, we're betting he's REALLY good at working with the little ones.
They're joined by Matthew McNulty as Steve, Cush Jumbo as Jess, and Anna Madeley as Tennant's wife Kate.
Deadwater Fell is written by Humans and Grantchester screenwriter Daisy Coulam. It is directed by Lynsey Miller, and Executive Producers are Emma Kingsman-Lloyd, Karen Wilson, David Tennant and Daisy Coulam with Caroline Levy producing.
Where is Deadwater Fell Filmed?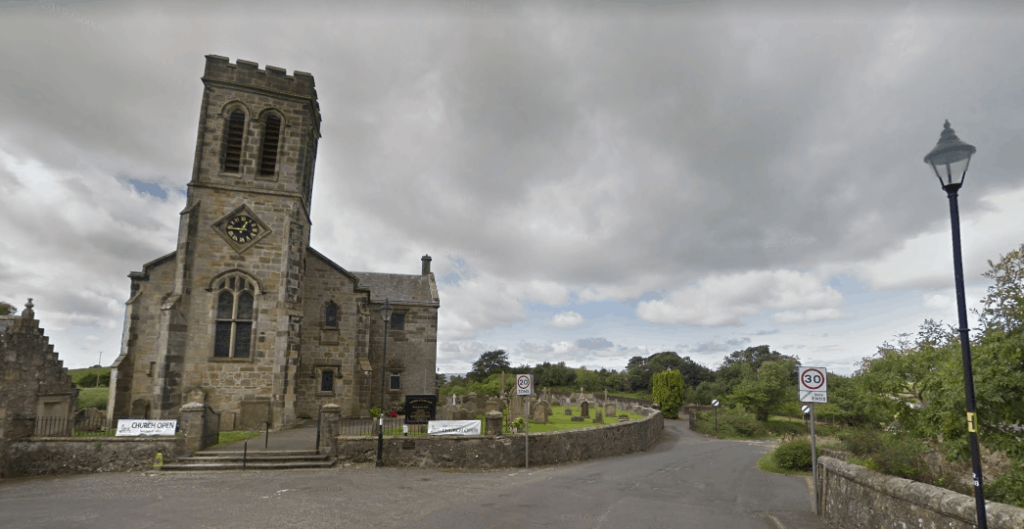 Many of the scenes in Deadwater Fell were filmed in Dunlop, a village in East Ayrshire, Scotland (a bit southwest of Glasgow). That includes the publicity photo above – and you can even take a walk around the village, starting from that exact spot, by clicking HERE and visiting Google StreetView. It works a bit better on desktop, but it should also work with most mobile devices.
Other filming locations for the series include Culzean Country Park and Kilbarchan, Renfrewshire.
When Does Deadwater Fell Premiere?
https://www.instagram.com/p/B1QsHYJAz5W/
In the UK, Deadwater Fell begins at 9pm on January 10. There will be four 60-minute episodes, each spaced a week apart.
In North America, Acorn TV has picked up the rights for this one, and it will air in April, one episode at a time:
Episode 1 – April 6
Episode 2 – April 13
Episode 3 – April 20
Episode 4 (FINALE) – April 27
If you prefer to binge, you'll likely want to wait until closer to April 27th to get started.
Will You be Watching Deadwater Fell?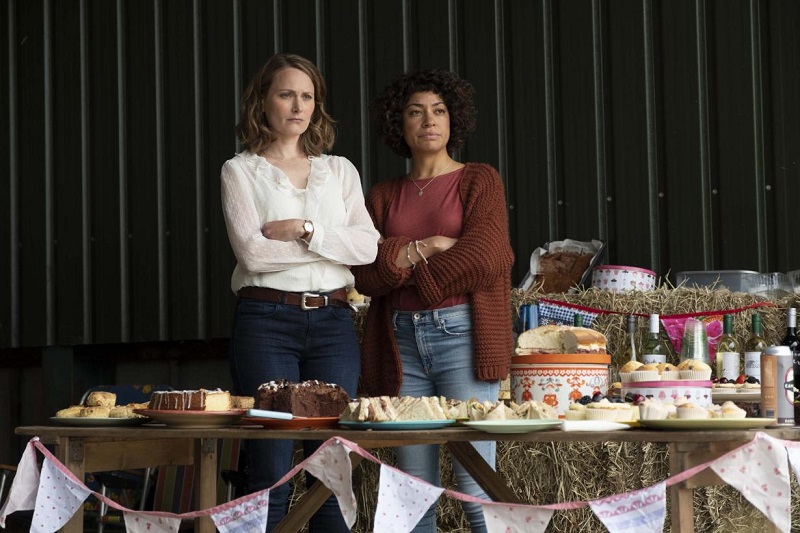 Are you looking forward to the premiere of Deadwater Fell? I've always felt there aren't NEARLY enough series set in Scotland (though we do have a list of 60 Scottish TV Shows here). It's great to see one more we'll be able to add to the list – though it also reminds me that I don't spend nearly enough time in Scotland.