Acorn TV & Sundance Now Owner AMC Plans Large-Scale Layoffs
In some cases, we earn commissions from affiliate links in our posts.
Last Updated on December 7, 2022 by Stefanie Hutson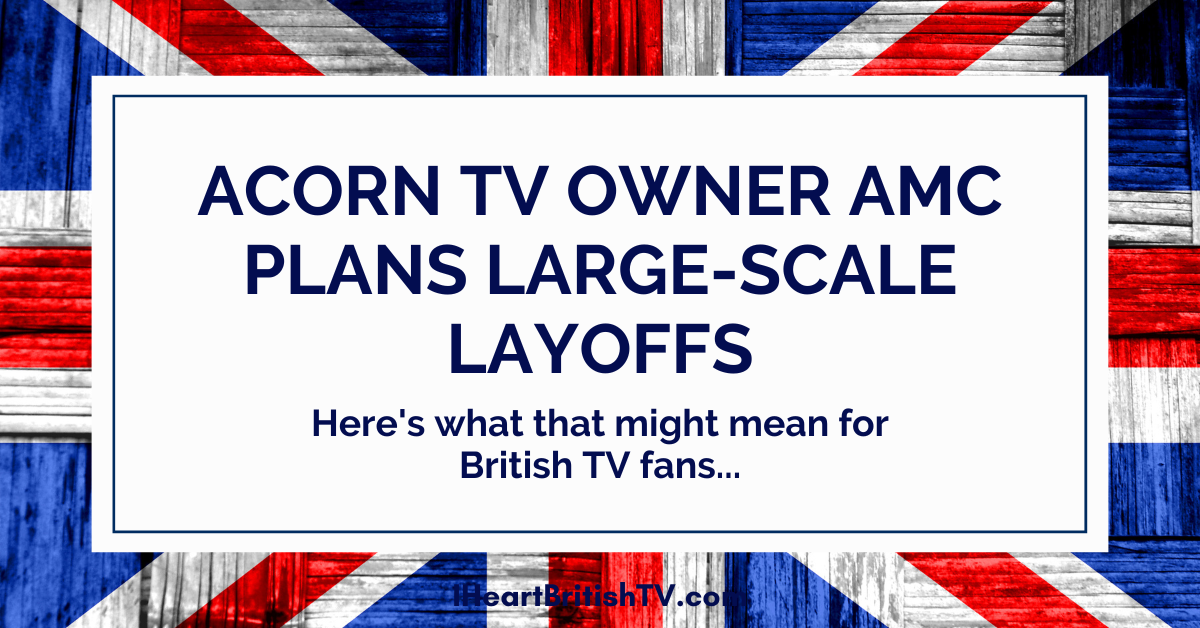 The world of TV streaming is a competitive one – more now than ever. Unfortunately, that has led to some tough times over at AMC, the company that owns Acorn TV, Sundance Now, and AMC+.
Last week, the chairman James Dolan sent a memo to staff letting everyone know there would be a "large-scale layoff as well as cuts to every operating area."
He went on to say that it was their hope and belief that lost revenue from cord cutting might be offset by gains in streaming subscription income – but that hasn't been the case. This, combined with the general economic climate, means cuts had to be made.
Indiewire published the memo HERE. This comes with the news that CEO Christina Spade has stepped down after less than three months on the job. A replacement has not been named.
Streaming is a Tough Business
First off, it's important to note that these problems aren't unique to AMC. In recent months, a lot has been said about Netflix's efforts to become more profitable and crack down on password sharing. Many other companies, including Disney and Warner Bros. Discovery, have been operating at a loss.
There's a general feeling that you have to invest heavily in content and technology and simply accept that things won't be profitable right away – but unfortunately, Wall Street is getting increasingly impatient about seeing that profit and many shows simply don't bring in (or keep) the subscribers companies hope for.
That's especially true now, in what's been called the "Golden Age of Television". More content is being produced now than ever before, and that means more competition for eyeballs. With dozens of new shows coming out every week, it can be hard to decide what to watch in your limited free time.
At the same time, however, the proliferation of streaming services also means more competition for existing content. Ten years ago, there were far fewer streaming services, and it was relatively easy for companies to get the rights to new shows. There just weren't as many companies bidding.
These days, competition is fierce and many established TV companies have "clawed back" their content to fill the libraries of their own streaming services. To stay competitive and build good content libraries, streamers have had to start getting involved in production. Think of Netflix creating shows like After Life and Bridgerton, or Acorn TV Originals like Agatha Raisin, Signora Volpe, Dalgliesh, and Darby & Joan.
Unfortunately, building a content library is not easy. Production is expensive and time-consuming, and there's no guarantee the finished product will be any good. Great scripts can still turn into bad shows, and public tastes can shift quickly.
What Do Streaming Company Cuts Mean for British TV Fans?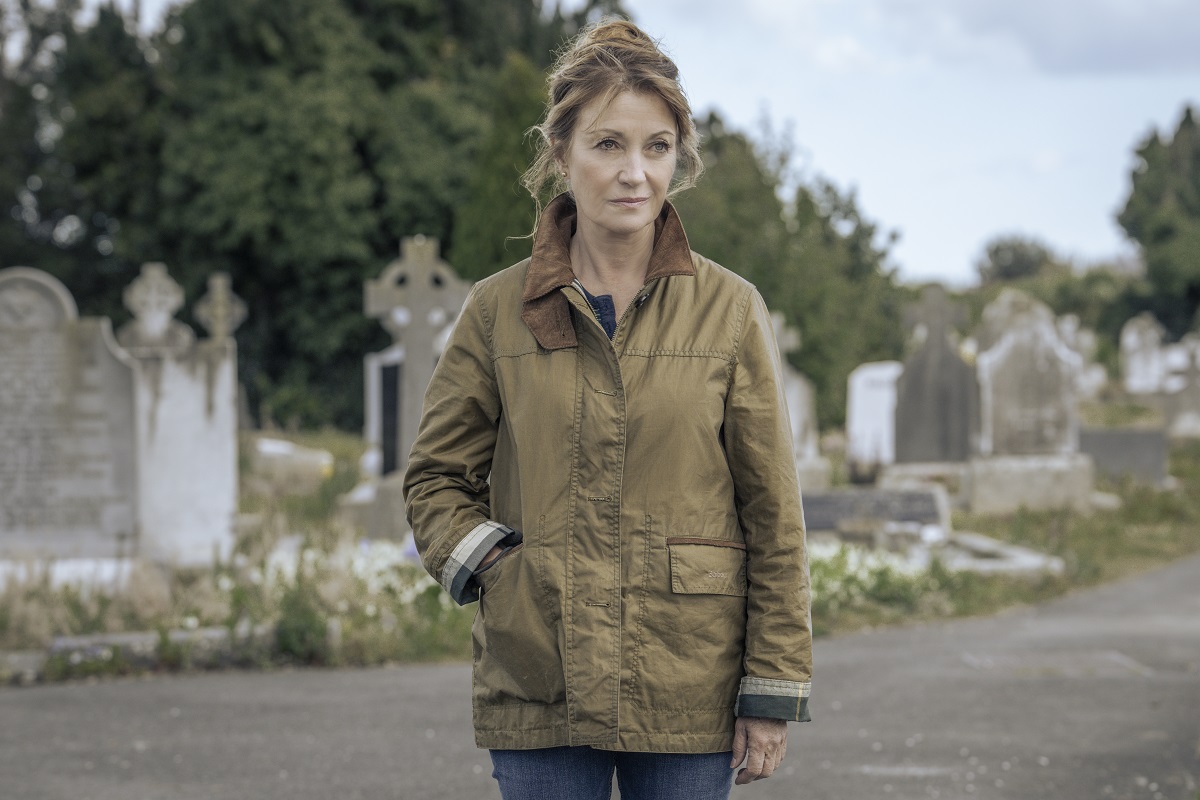 If you're an Acorn TV or Sundance Now/AMC+ subscriber, you're probably wondering what these larger industry and economic problems mean for you as a TV viewer. After all, when times are tough, many of us like to spend more time home watching TV instead of going out and spending more money.
Unfortunately, there's no way to be sure HOW companies like AMC will respond to the increasing pressure to be profitable. Some of the things we might see include:
More cancelled shows – When money's tight, only the shows that bring in the most eyeballs (especially NEW eyeballs) are going to get renewed. Harry Wild (above) was one of Acorn TV's most popular new shows in 2022, getting an order for a second season almost immediately. Will less popular shows fare as well? If they're cutting costs, there's a good chance some Acorn TV Originals won't be as lucky.
Smaller back catalogues – Increasingly, streaming services are producing more of their own shows – but services like Acorn TV and Sundance Now still have quite a lot of shows they didn't produce. If a company doesn't own the rights for something, they have to pay to make those shows available to their members. It's very likely that companies will shrink their content libraries to help keep costs down. It may be entirely unrelated, but we did see an abnormally large set of shows leaving Acorn TV in December – 33 in total.
Increased prices – Virtually all streaming services increased their prices in 2022 – but given the rampant inflation across most consumer spending categories, it wouldn't be surprising to see more price increases in 2023. Sadly, that could make the problem even worse, since it could push many subscribers to cancel.
Segmentation by service level – Some services, like Netflix, offer different prices for different types of plans. You can pay extra for higher video quality, for ad-free viewing, or for the ability to watch on multiple screens at once. Though it seems less likely we'd see this sort of thing for a service like Acorn TV, we certainly wouldn't rule it out as an impossibility.
Less/lower-quality customer support – Some companies cut back on customer support when times are tough. We've no idea if AMC or other streaming services will take this approach, but it's certainly a possibility.
More filler content – We all want to see monthly premiere schedules packed with new, high-quality, scripted content – but unfortunately, those shows are expensive. Adding older shows or history and travel and cooking shows can be a more affordable way to fluff up the catalogue and make the menus look full.
While all these methods are unpleasant, there's another, more positive way some companies might approach the need to cut costs – and that's to better highlight less popular content. Almost daily, we hear someone say, "I've watched EVERYTHING on Acorn TV and BritBox."
But guess what?
Unless you're watching MANY hours/day and methodically going through an A-to-Z listing of all the shows, you really haven't. At last count, Acorn TV had more than 300 titles and BritBox had more than 500. Add in all the British shows on Netflix, Peacock, HBO Max, Netflix, Sundance Now, Tubi, Crackle, Roku Channel, Freevee, Topic, Epix, Showtime, Apple TV+, and so on…and you're talking about roughly 2500 British TV shows (we know this because we've personally gathered them up in the course of writing the British TV Streaming Guide).
There are many wonderful shows that get overlooked – or shows just aren't ready for the first time they try watching. When you begin watching British TV, you may not "get" the humour or know as many of the actors. As you watch more, however, you become more able to appreciate a variety of British shows.
By showcasing clips and images from lesser-known shows in the back catalogue, services can help new audiences discover much of what's lurking beyond the main menu options.
How British TV Fans Can Help
It sounds a bit silly to think about helping big corporations, but British TV is still kind of a niche interest. Sure, there are shows like Outlander or Peaky Blinders that have reached massive audiences – but services like Acorn TV are still very, very small compared to Netflix or HBO Max or Disney+. In 2016, Acorn TV reached 250,000 subscribers – and by 2019, they were at "more than 1 million". In Q2 of 2022, AMC Networks indicated that they had 10.8 million subscribers across all their streaming offerings (which includes Acorn TV, Sundance, AMC+, Shudder, AllBlk, etc.).
Netflix, by comparison, had 222 million subscribers in 2022. HBO Max hit 70 million in Q4 of 2021. Disney+ hit 164 million in 2022.
Whether we're talking about bookstores or concert venues or our favourite streaming services, we have to remember that they're only able to exist because we support them. Obviously, not everyone can afford to pay for streaming services – we understand that. For those who can, though, please do consider maintaining subscriptions to the services that make and/or host the shows you love (as opposed to subscribing occasionally or stealing pirated content).
To take it a step further, you may even wish to gift subscriptions to friends and family. If you can't do that, try spreading the word about your favourite shows. When more people discover the wonders of British TV, companies are able to benefit from economics of scale. There's plenty of room for services like Acorn TV to grow, especially as the population ages and people realise British TV serves older audiences FAR better than most American shows and services.
And in the meantime, we'll just try to remember that hard times don't last – and British TV is here to stay.