10 of the Best British TV Shows Set in London, England
In some cases, we earn commissions from affiliate links in our posts.
Last Updated on May 30, 2022 by Stefanie Hutson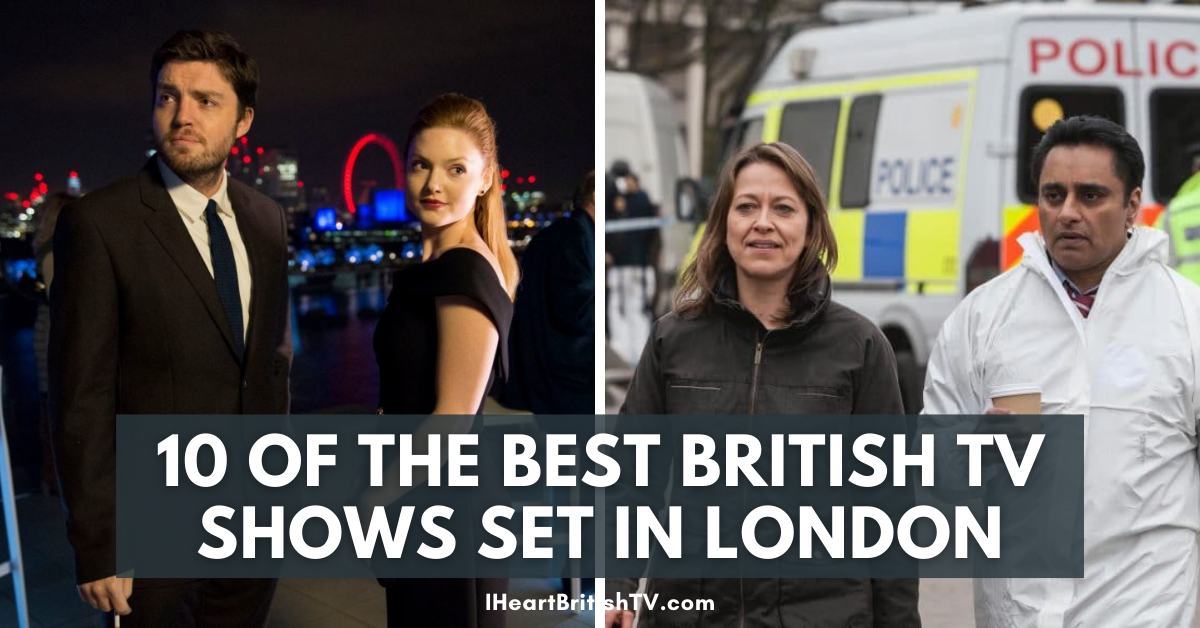 Not only is the list of British TV shows set in London seemingly endless…but the list of great London-set shows is at least as long as the King's Road. This is possibly one of the most difficult topics to cover…
The 10 Best British TV Shows Set in London, England
The criteria for this list are:
highly-rated on Internet Movie Database
very popular
21st century London is an integral part of the show
We definitely did not attempt to rank them. Instead, they're in alphabetical order. We also mention a couple similar shows in the descriptions since there are so many great shows. Enjoy!
Bodyguard
This intense Westminster-set series stars Keeley Hawes as Rt Hon Julia Montague MP and Richard Madden as her personal bodyguard, David Budd. Budd is a war veteran working as a police sergeant with the Metropolitan Police Service in London (Royalty and Specialist Protection branch). To make matters more thrilling, Budd doesn't agree with her politics, so he's pulled between personal ideology and duty.
Bodyguard has high production values, great cinematography, and intense action sequences. It had the highest viewing figures for a BBC Drama of the past ten years (2008-2018). It was filmed on location all across London with at least fourteen different locations accounted for. Bodyguard is rated 8.1/10 of 117k ratings on IMDb. If you're a London-lover and enjoy thrillers, this is a must-watch.
Bodyguard is streaming on Netflix.
C. B. Strike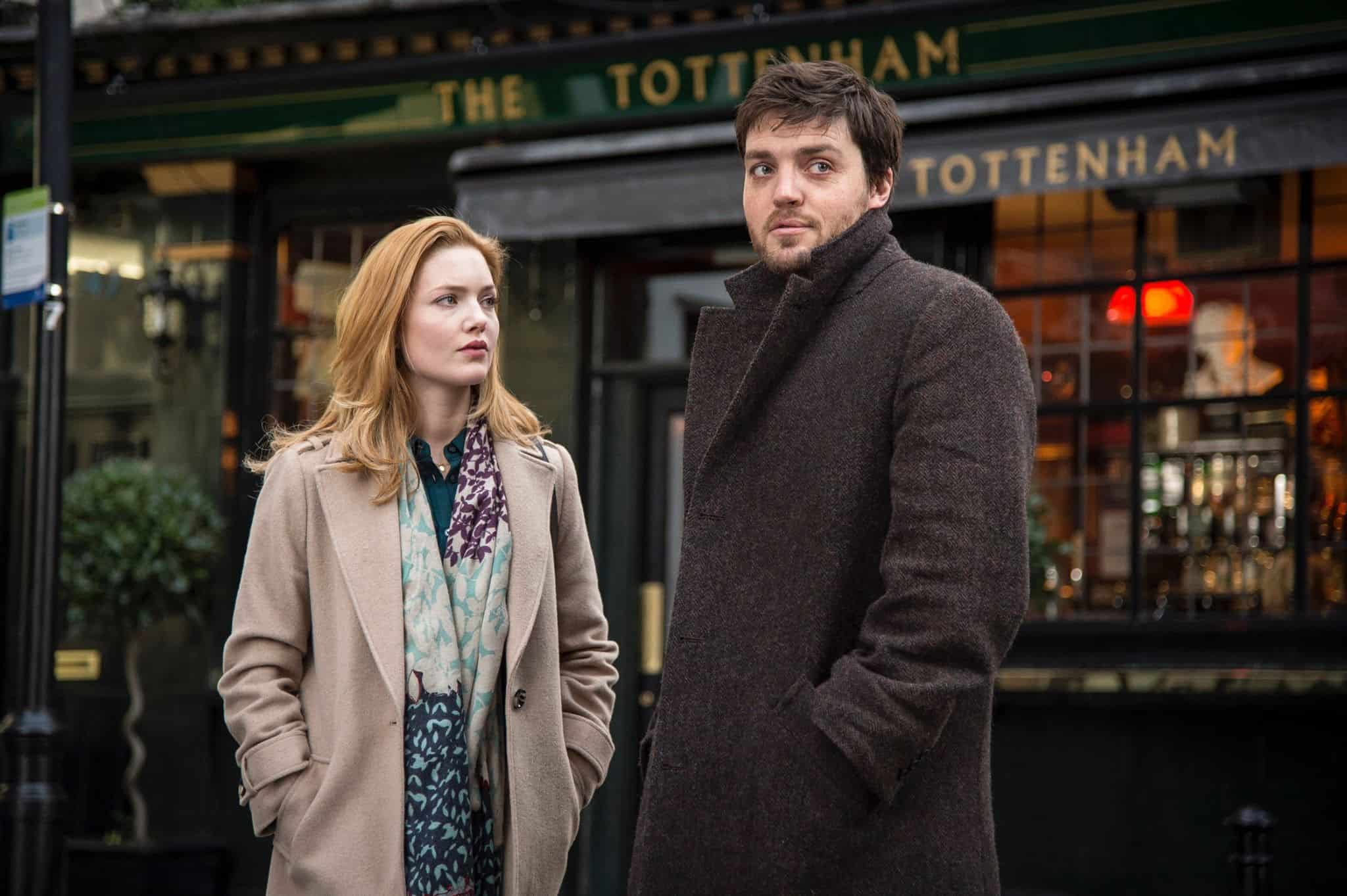 C. B. Strike (or just Strike on some sites) follows private investigator Cormoran Strike and his eager assistant Robin Ellacott from their office in Denmark Street, London.
The street is located in Central London between Charing Cross Road to St Giles High Street. It's nicknamed Tin Pan Alley for its association with popular British music, which is a fitting location since Cormoran Strike is the estranged son of a rock star. This mystery series is filmed in various areas across London as well as having some scenes set in Cumbria, Kent, North Yorkshire, and Oxfordshire.
C. B. Strike consists of multi-part stories beginning with The Cuckoo's Calling, then The Silkworm, Career of Evil, Lethal White, and then Troubled Blood will release in late 2022 or early 2023. IMDb users give it an average of 7.9/10.
C. B. Strike is streaming on HBO Max.
RELATED: Guide to JK Rowling's Cormoran Strike Books in Order (JK Rowling, aka Robert Galbraith)
Fleabag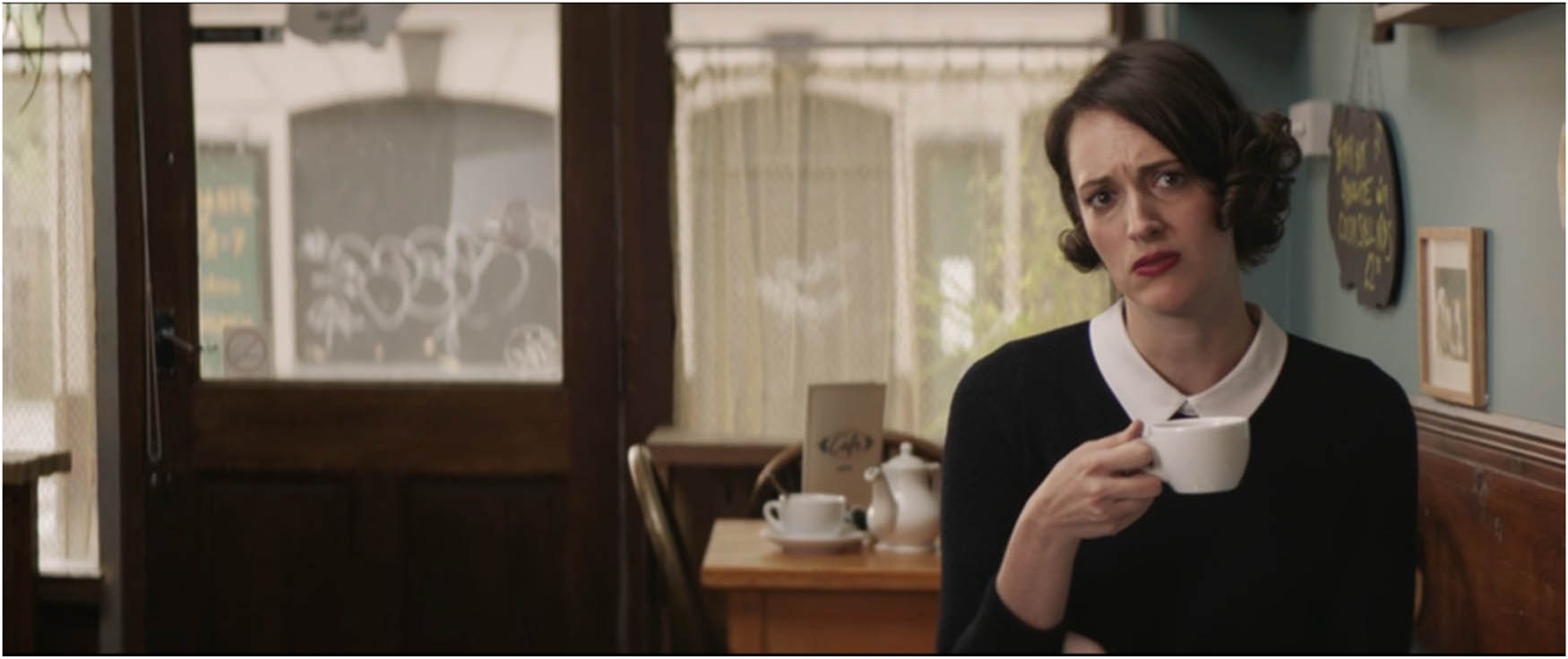 Fleabag is a grieving cafe owner and sex addict. It's a dramedy full of raunchy humour, but just as much poignant honesty. Season 2 isn't as raunchy as season 1, but even while recovering and celibate, she sets her sights on a handsome Catholic priest (Andrew Scott). Olivia Colman plays Fleabag's step-mother, a role that was written for her. Phoebe Waller-Bridge, creator and star, decided to end the series after two seasons.
Sad, complex, and painfully hilarious, this series was 8th in The Guardian list of the 100 best shows of the 21st century. High praise. It's rated 8.7/10 from an average of 141k ratings.
The two-season series is set and filmed in Dartmouth Park in Camden, north-west London. Because so many comedies set in London are sitcoms filmed inside, not many feature the streets and public sights. Fleabag is one of the few comedies that shows off London.
If you want to see the streets of London without as much raunchy humour as Fleabag, try Rev. starring Tom Hollander and Olivia Colman as a Reverend and his wife. It's a touching sitcom about an unban inner-city parish.
Fleabag is streaming on Amazon Prime.
The IT Crowd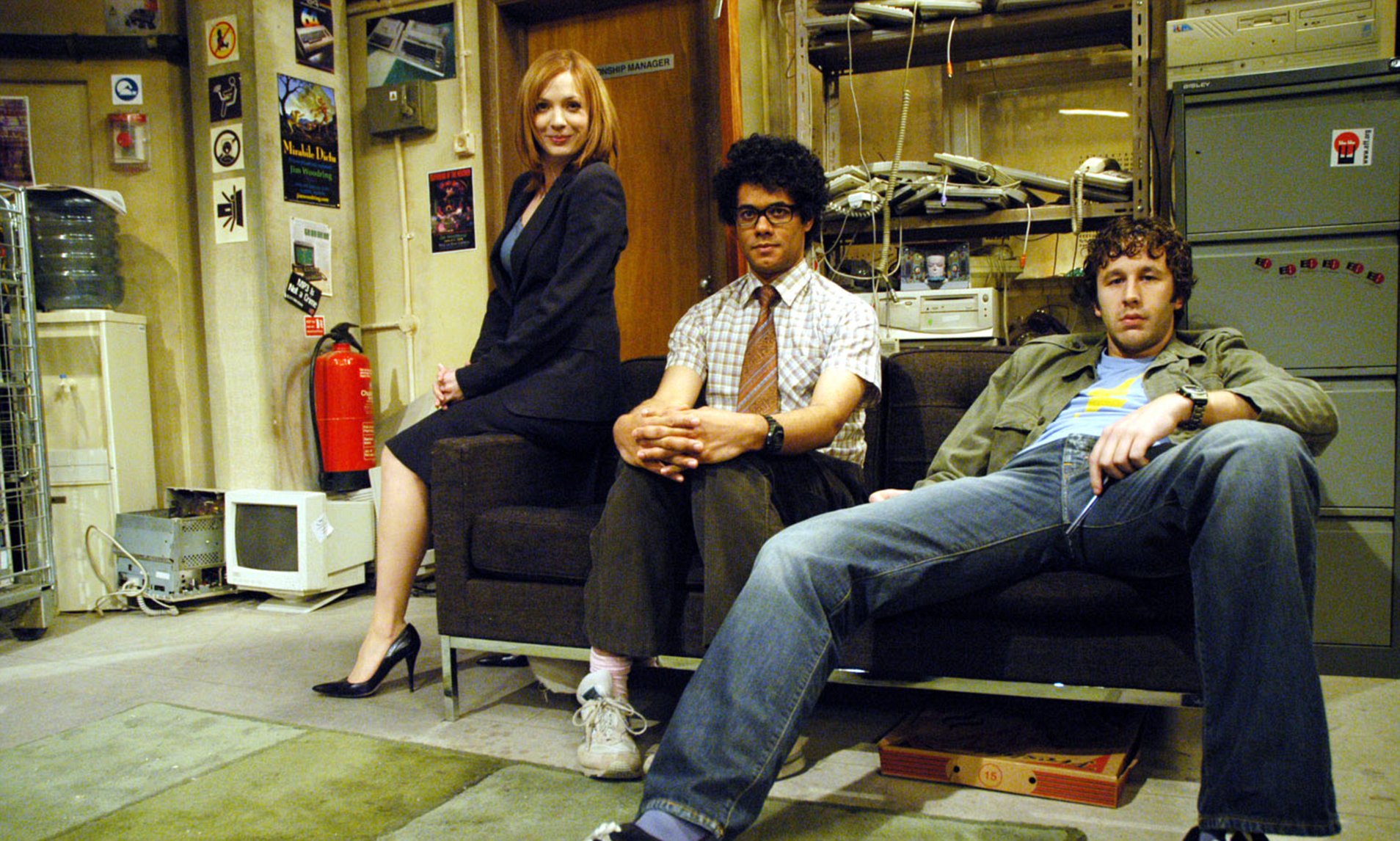 The IT Crowd follows the IT department at a company called Reynholm Industries. The IT department consisted of two nerds until a new woman is hired as the Head of IT. Here's the catch: she knows absolutely nothing about computers. And you certainly don't have to know anything about computers to enjoy this show, either. It's full of laughs whether you're a nerd or not.
It's set in central London, but there aren't a ton of London sights in this comedy since it mostly takes place in a basement, but you'll catch a few urban scenes here and there, like when Maurice Moss meets a bomb disposal robot.
It stars Chris O'Dowd, Katherine Parkinson, Richard Ayoade, Noel Fielding, and Matt Berry.
Fans of The IT Crowd will also enjoy the London-set sitcoms Only Fools and Horses and Black Books. Only Fools and Horses is a highly rated Peckham-set sitcom at 8.3/10, but it had a few less ratings than the comedy Black Books with an 8.5/10 average which was set at 13 Leigh Street, Bloomsbury. The IT Crowd beats them both out at 8.5/10 with more than double the amount of reviews.
Stream The IT Crowd on Netflix or own it on Amazon.
RELATED: 20 Hilarious British TV Workplace Comedies
Luther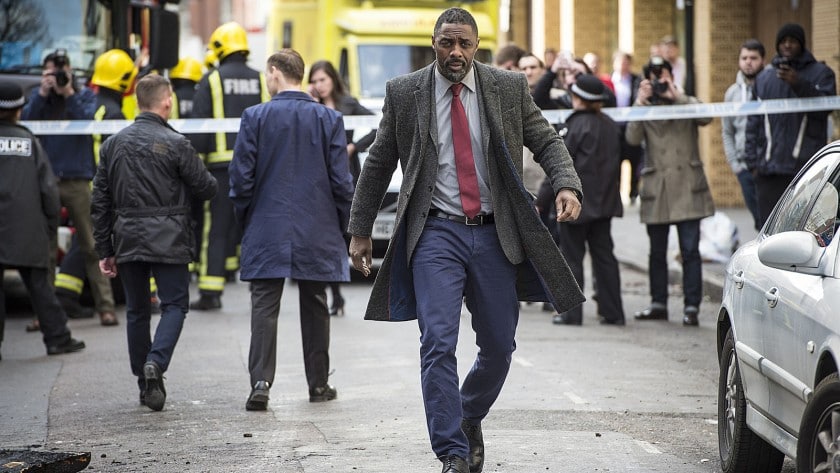 Luther, starring Idris Elba and Ruth Wilson, is a popular detective show with a crime noir atmosphere. Set in gritty urban London, Luther follows the cases of DCI John Luther. Luther is is filmed in Westfield and Shepherds Bush, London, among other areas. After five seasons, the last episode aired in 2019 but there will be a feature-film in the near future; filming began in November of 2021.
This dark crime series has an overall rating of 8.4/10 from 134k people. Luther fans will also love the London-set crime thriller Marcella which is also rated an impressive 7.4/10.
All five seasons of Luther are streaming on Hulu, HBO Max, and more. Also available to own on Amazon.
Peep Show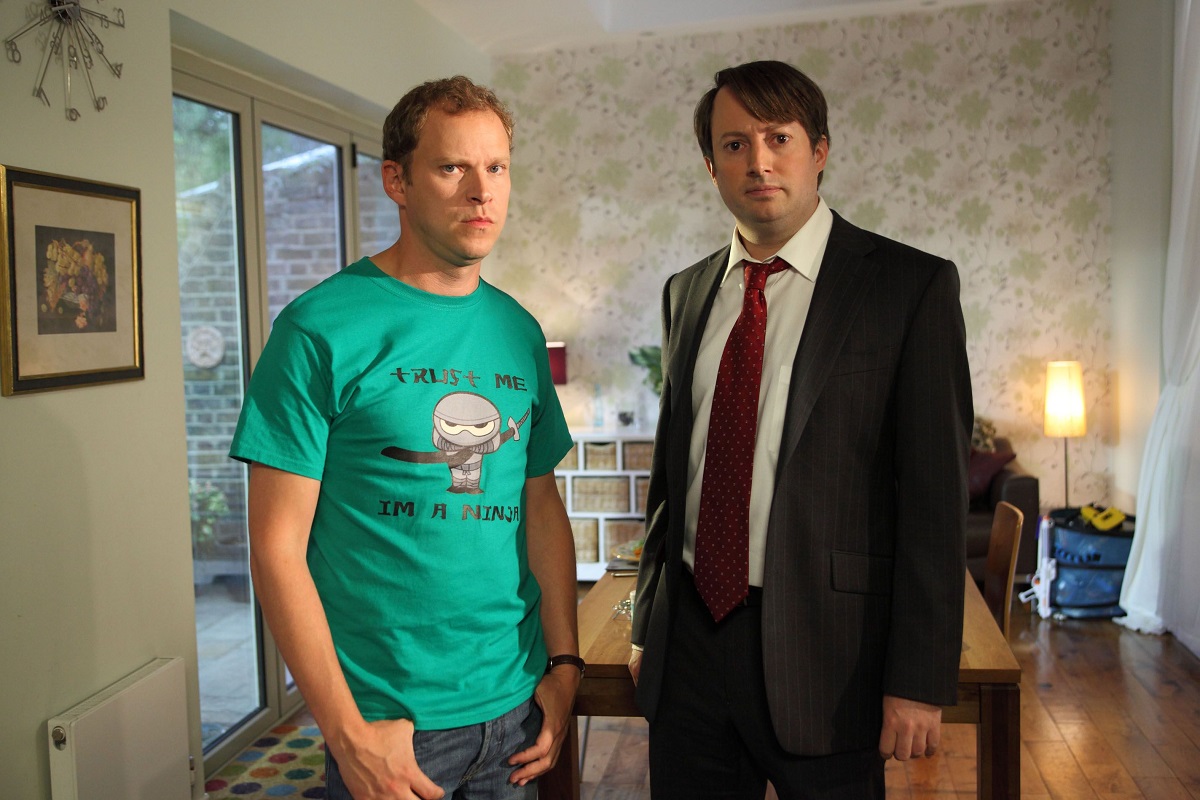 This comedy series tends to fly under the radar, so the fact that it has nearly 60 thousand ratings averaging 8.7/10 is certainly a surprise. Peep Show stars David Mitchell, Robert Webb, and Olivia Colman. Filmed in Croydon, South London, you'll get to peep at plenty of the city as long as you don't mind the handheld camera style filming.
It features some dark comedy, awkward comedy, and sex comedy. Fans of Peep Show might also enjoy the very popular and highly-rated comedy series The Inbetweeners (8.4/10, set in the suburbs of North West London).
Peep Show is streaming on FreeVee via Amazon.
River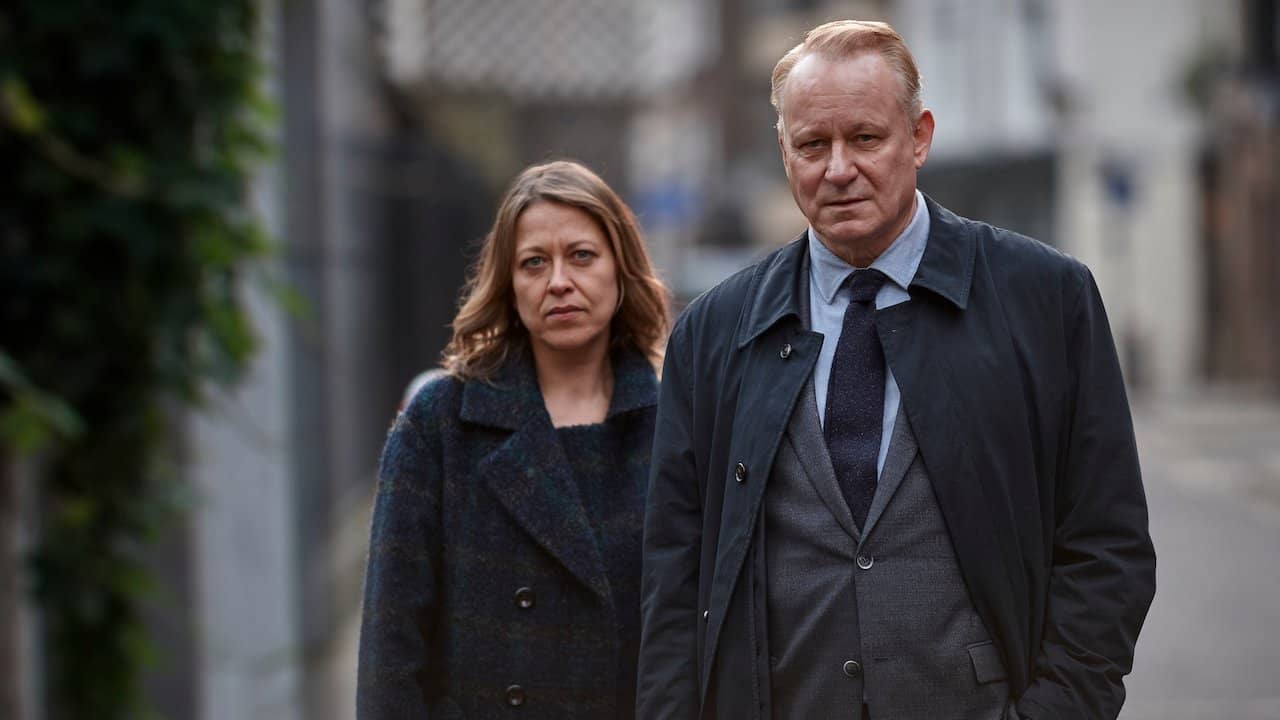 This 6-part miniseries deals with the fragility of a burdened mind. John River is an intelligent police officer haunted by the people who were murdered in the cases he's trying to solve. If you're a fan of psychological dramas and mysteries, but you haven't seen River yet, you definitely have something to look forward to. Stellan Skarsgard stars along with Nicola Walker and Lesley Manville. It's rated a wonderful 8.0/10.
Filmed in at least eight London Boroughs – Lambeth, Islington, Camden, Hackney, Southwark, Redbridge, Newham, Tower Hamlets and Lewisham. Landmarks include Clerkenwell Road in Islington, Southwark Park, Globe Theatre and Millennium Bridge in Southwark, and Stratford International in Newham.
River is streaming on FreeVee HERE.
Sherlock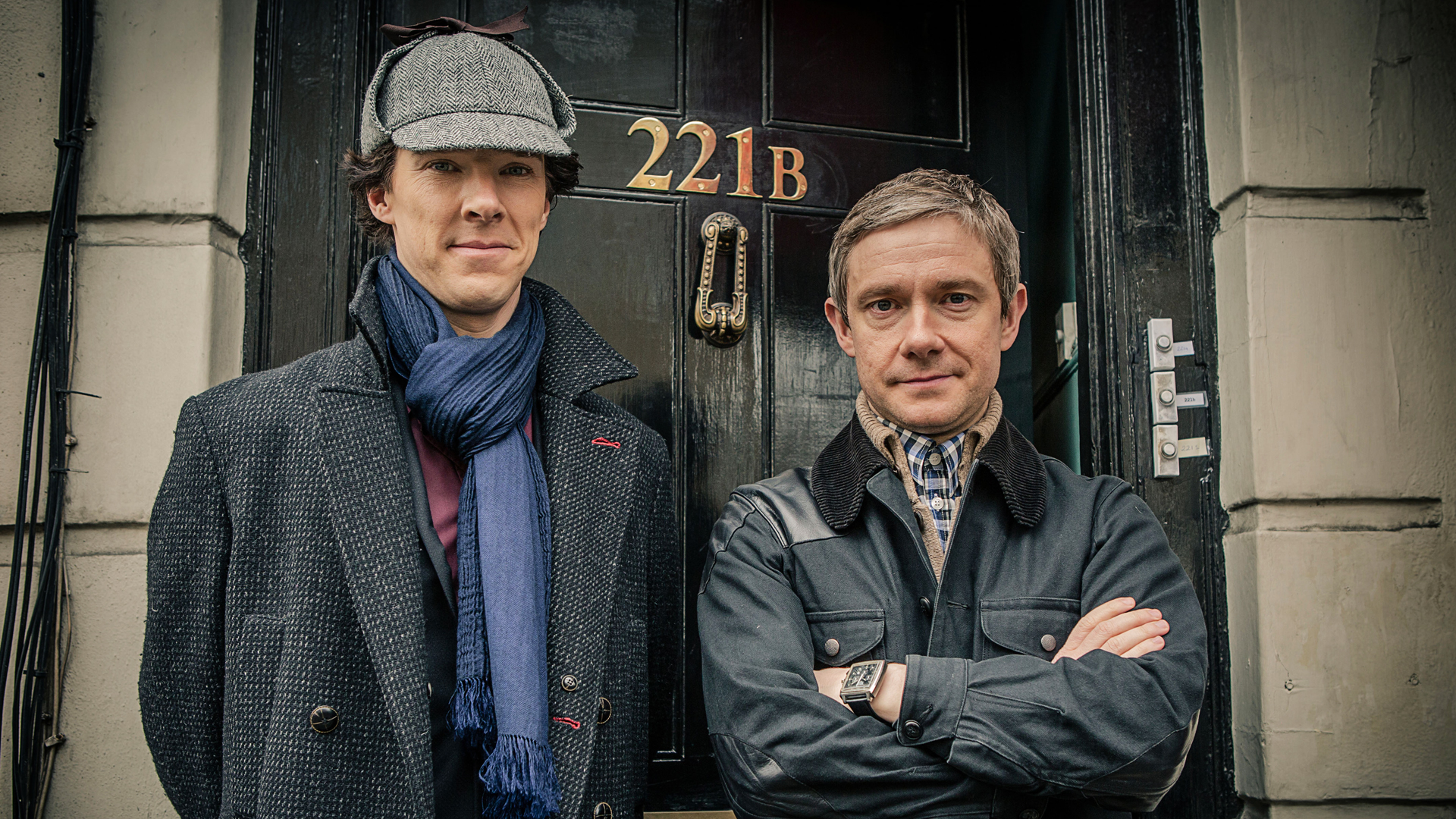 At 9.1/10, the highest-rated show on our London list is the modern adaptation of Sherlock starring Benedict Cumberbatch and Martin Freeman. Like the original stories by Arthur Conan Doyle, Sherlock is synonymous with London. He knows every street. Sherlock Holmes could never have been based anywhere but London. The concept of detective stories having a strong sense of place begins with Sherlock's deep connection to London.
Baker Street is in the Marylebone district of the City of Westminster in London. Fun Fact: When Arthur Conan Doyle wrote his fictional stories, the address numbers did not go up as high as 221.
You can own this modern take on Holmes's London on Amazon.
RELATED: A Guide to Sherlock Holmes TV & Film Adaptations
Spooks a.k.a MI-5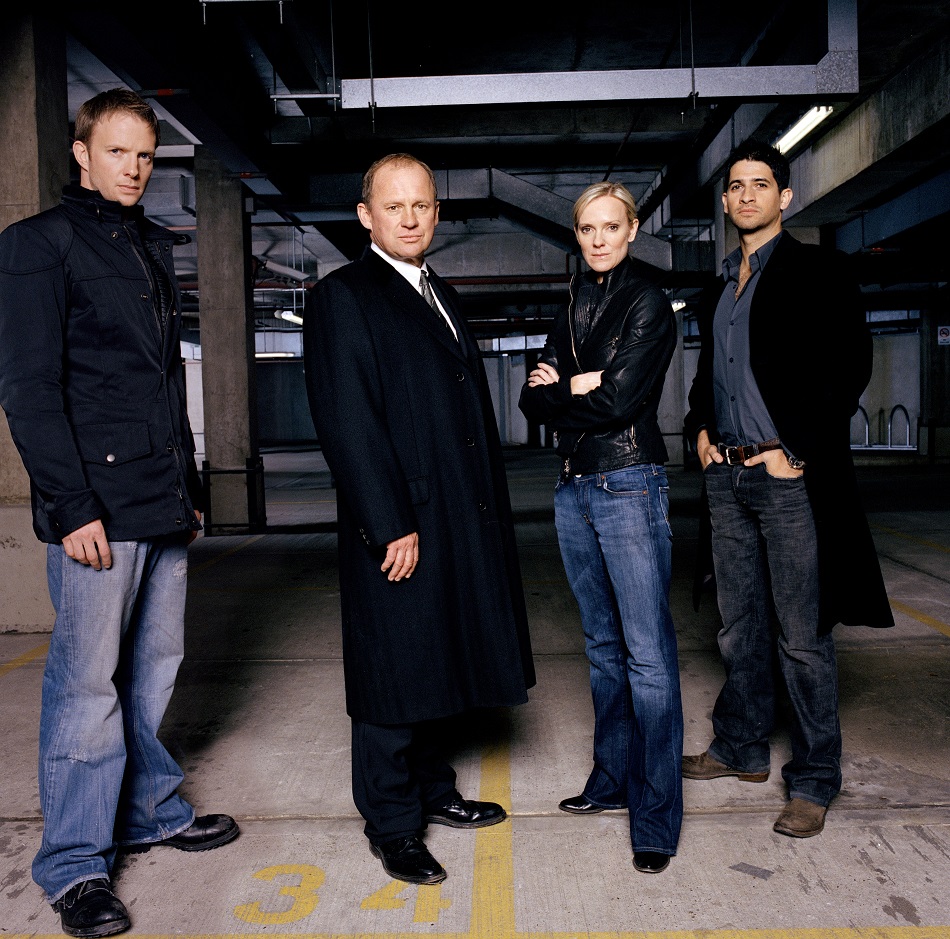 Known in the U.S. market as MI-5 but originally titled Spooks, this long-running binge-worthy series gives viewers some great scenes of London. Predominantly filmed on location in London, their head offices are set at Thames House. Thames House is an office building in Millbank, London. It's on the north bank of the River Thames near Lambeth Bridge.
MI-5 follows a changing cast of agents fighting for the greater good, but not all the agents are good. It's a thrilling, pulse-elevating ride. Starring Peter Firth, Nicola Walker, Matthew Macfadyen, Rupert Penry-Jones, Richard Armitage, Keeley Hawes, Hermione Norris, and many, many more. No wonder it's rated an impressive 8.3/10.
All 10 seasons of MI-5 / Spooks are streaming on BritBox.
Ted Lasso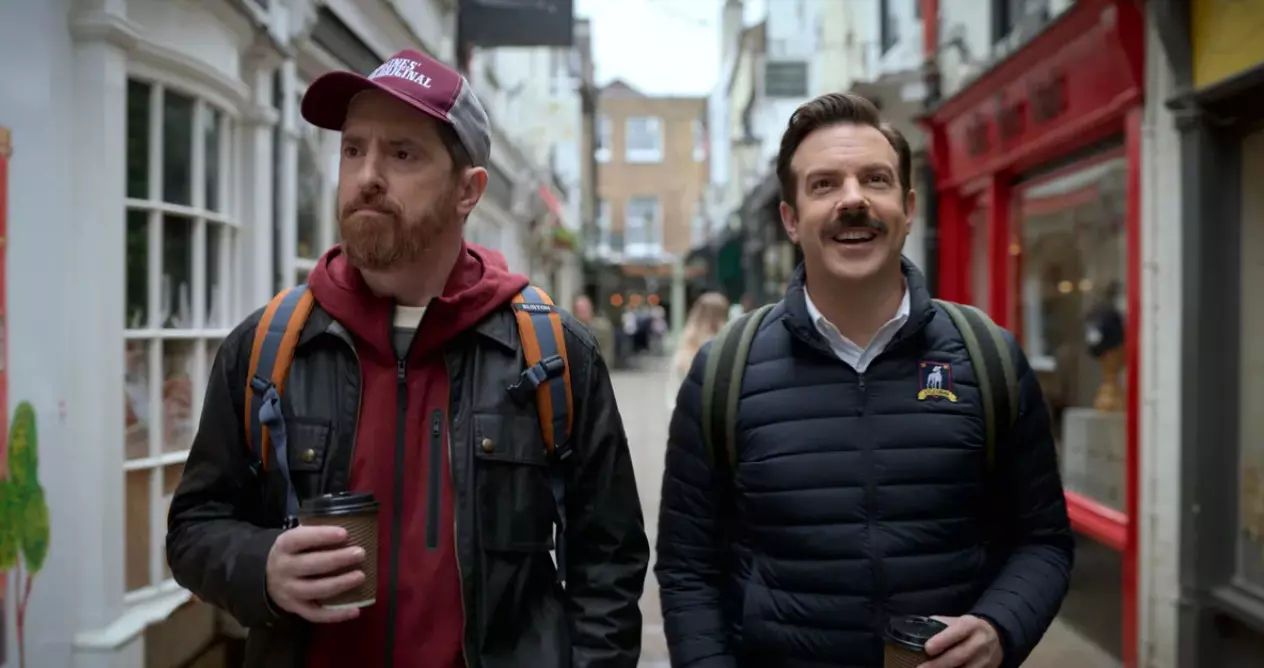 The newest show on our list, Ted Lasso, stars American comedic actor Jason Sudeikis as an out-of-his-element American football coach sent to manage a struggling English Premier league team, AFC Richmond.
Richmond is in the SW of Greater London. Just over eight miles west-southwest of Charing Cross, Richmond is on a meander of the River Thames. The stadium used in the show is Selhurst Park Stadium in the Croydon district of South London (where the Crystal Palace Football Club plays in real life). You'll also see Wembley Stadium, Rivoli Ballroom in Brockley, Tower Bridge, and more.
This comedy is both goofy and sentimental. Although it has some strong language, it's definitely a feel-good experience that viewers are raving about. Out of the gate, this beloved series is rated a whopping 8.8/10 by 181k people.
With two seasons streaming on Apple TV+, a third is on the way and likely to release late in 2022.
Save it to Pinterest!