15+ British TV Shows Like Bridgerton You Can Stream Now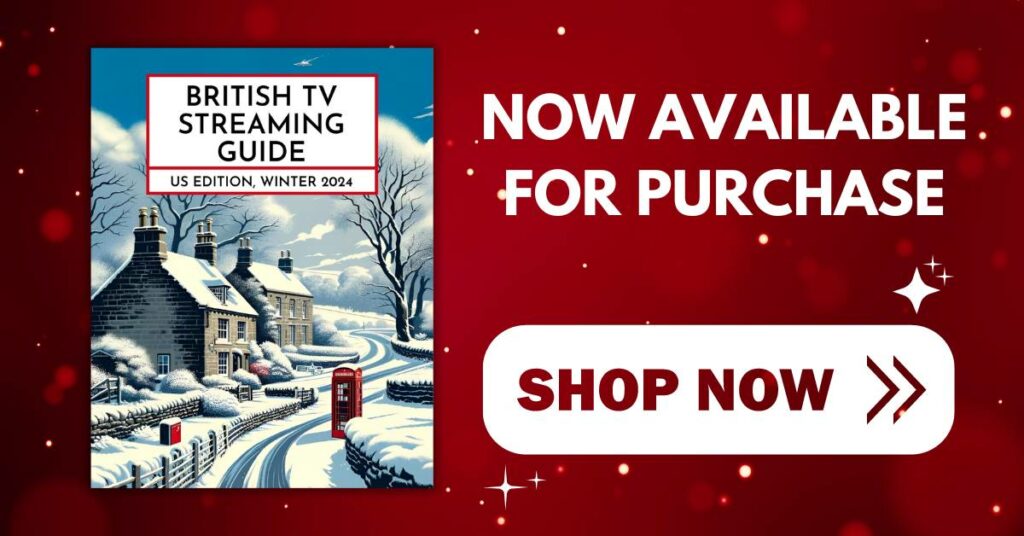 The British TV Streaming Guide: US Edition, Winter 2024 is now available. Get yours HERE.
In some cases, we earn commissions from affiliate links in our posts.
Last Updated on June 6, 2022 by Stefanie Hutson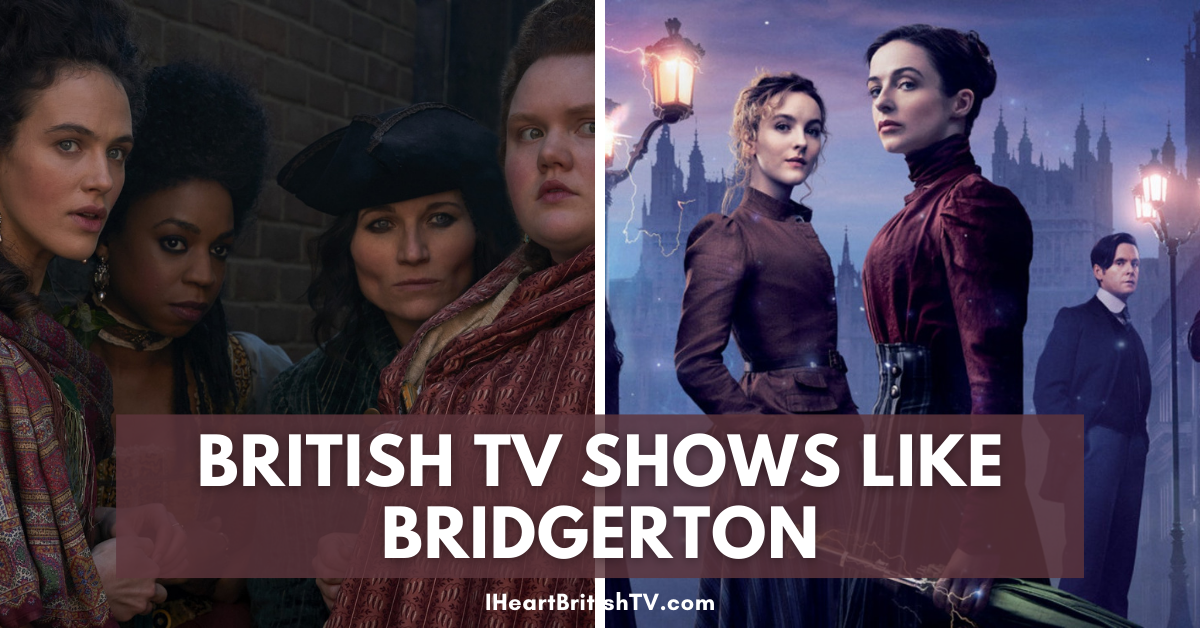 The hit Netflix series Bridgerton follows the eight Bridgerton siblings through Regency England. The series is based on an 8-book series by Julia Quinn, and it's one of the most popular shows on Netflix worldwide. Season 2 was the most watched English-language series on Netflix, with viewers watching nearly 252 million hours in its first seven days on the streaming service.
British TV Shows Similar to Bridgerton
As fans await season 3, we've gathered a list of great shows fans of Bridgerton may enjoy in the meantime. Although it's difficult to compete with the zesty romance, drama, and costumes… The following shows all feature plenty of romance, high production values, period settings, and great costumes.
A Discovery of Witches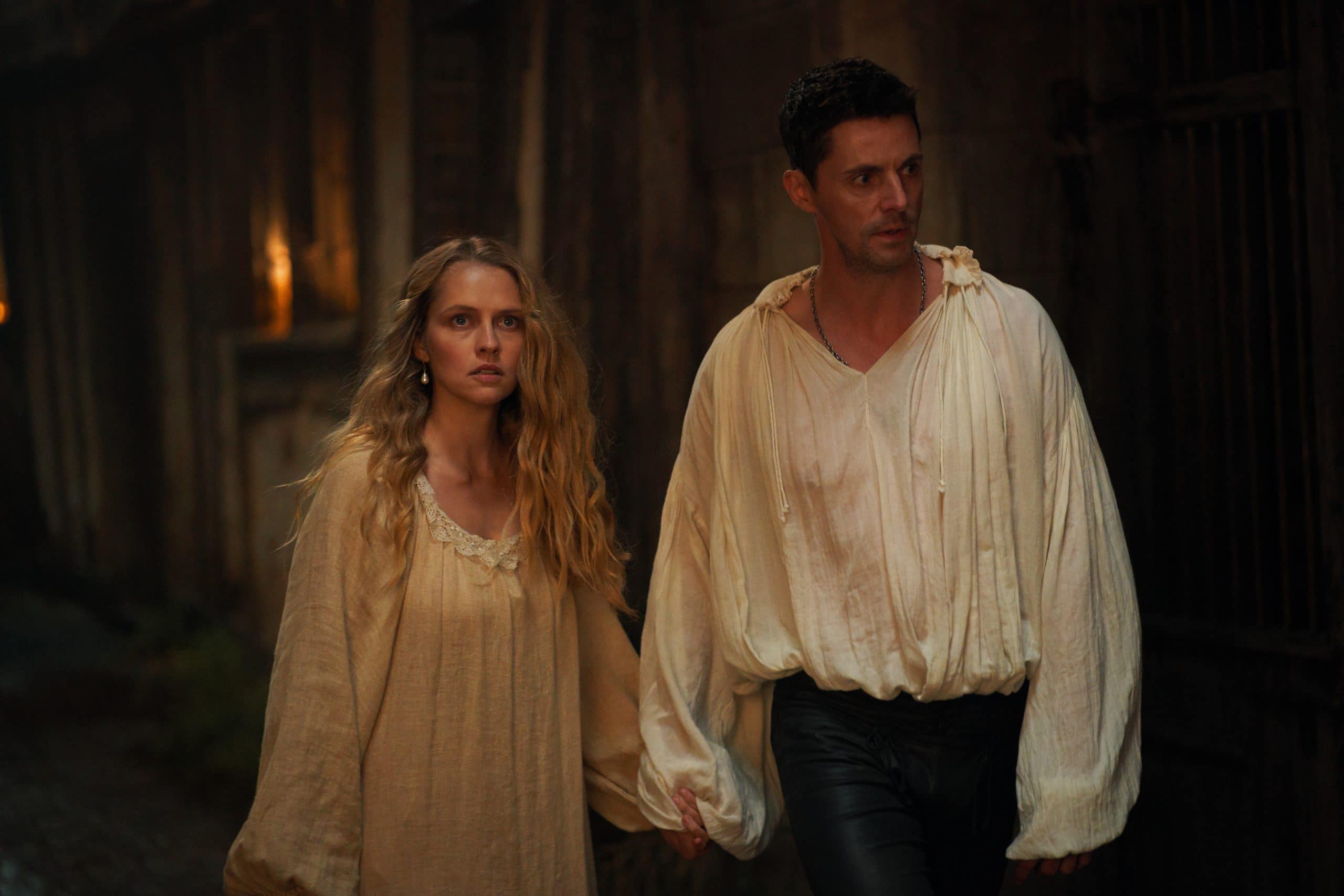 A Discovery of Witches, like Bridgerton, is based on a book series. It follows Diana as she develops her magical powers, falls in love with Matthew (a dreamy vampire), and fights for what she loves. Fans of Bridgerton who don't mind a little fantasy will enjoy this series for its exciting pace and electric romance.
How does A Discovery of Witches compare to Bridgerton? Romantic with a few steamy scenes. Dramatic and mysterious. Powerful female lead. How does it differ? Features some different periods, but is primarily set in the present day. Fantasy characters of witches, vampires, and more.
All three seasons of A Discovery of Witches are streaming HERE on Sundance Now and AMC Plus.
Downton Abbey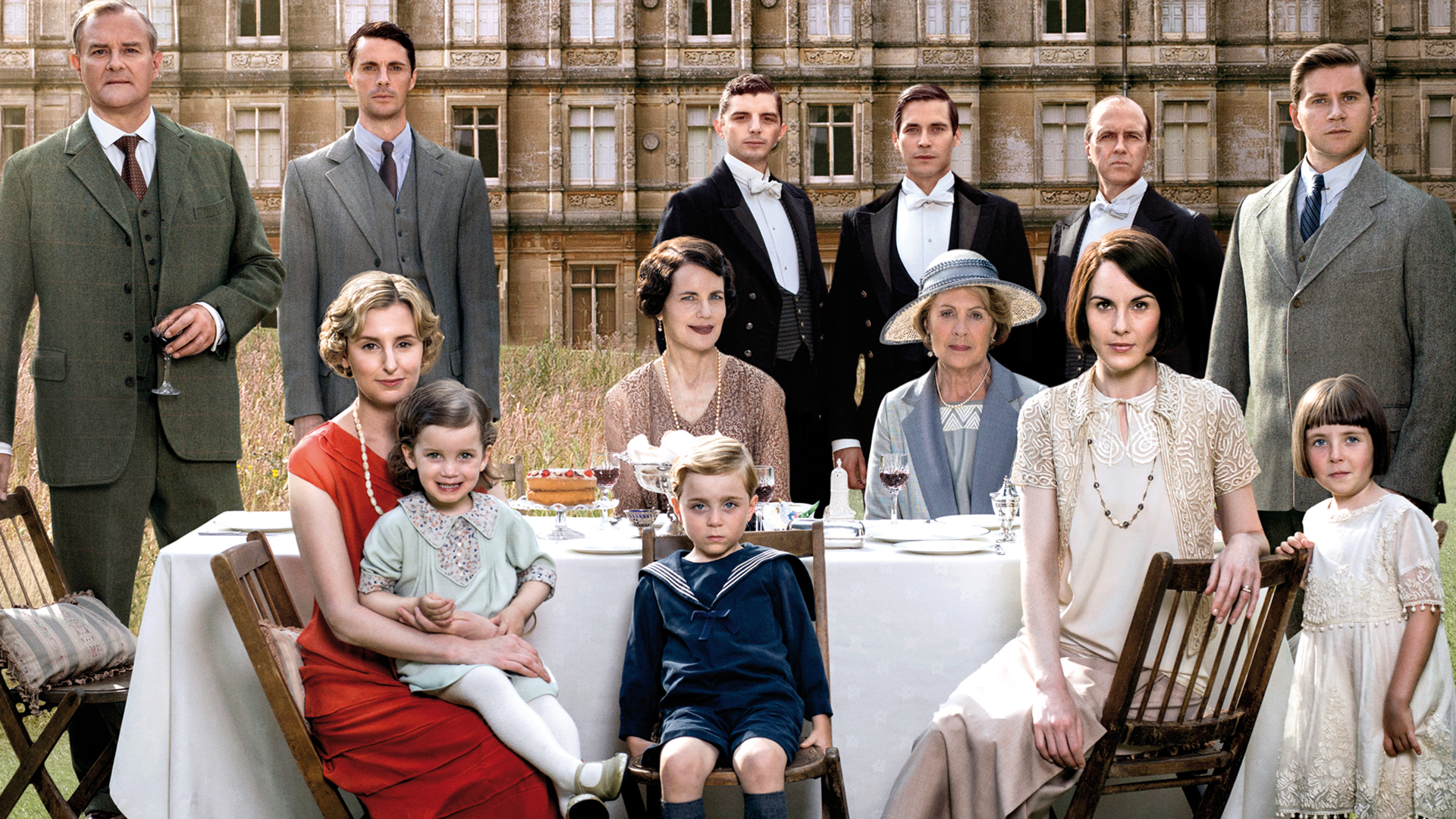 It wouldn't be right to leave the unmissable phenomenon Downton Abbey off the list. If you haven't watched it yet, it is an epic tale beginning with the sinking of the Titanic in 1912 and ending in the roaring 1920s ('26, to be exact). But the popularity of the show allowed the franchise to expand onto the big screen: a movie came out in 2019 and a sequel, Downton Abbey: A New Era, hit cinemas in May, 2022, bringing the story up to 1929.
Downton Abbey features diverse social classes, family drama, and a historical atmosphere. It also has gorgeous cinematography, intricate costumes, and an outstanding cast. So, it's no wonder how popular it is.
How does Downton Abbey compare to Bridgerton? Romantic. Period drama. Great costumes. Strong female leads. Not as steamy, but still plenty of drama and some scandal.
All six seasons of Downton Abbey are streaming on Amazon Prime HERE.
If you enjoy Downton Abbey, you may enjoy other Julian Fellowes shows like Belgravia, The English Game, and The Gilded Age.
Gentleman Jack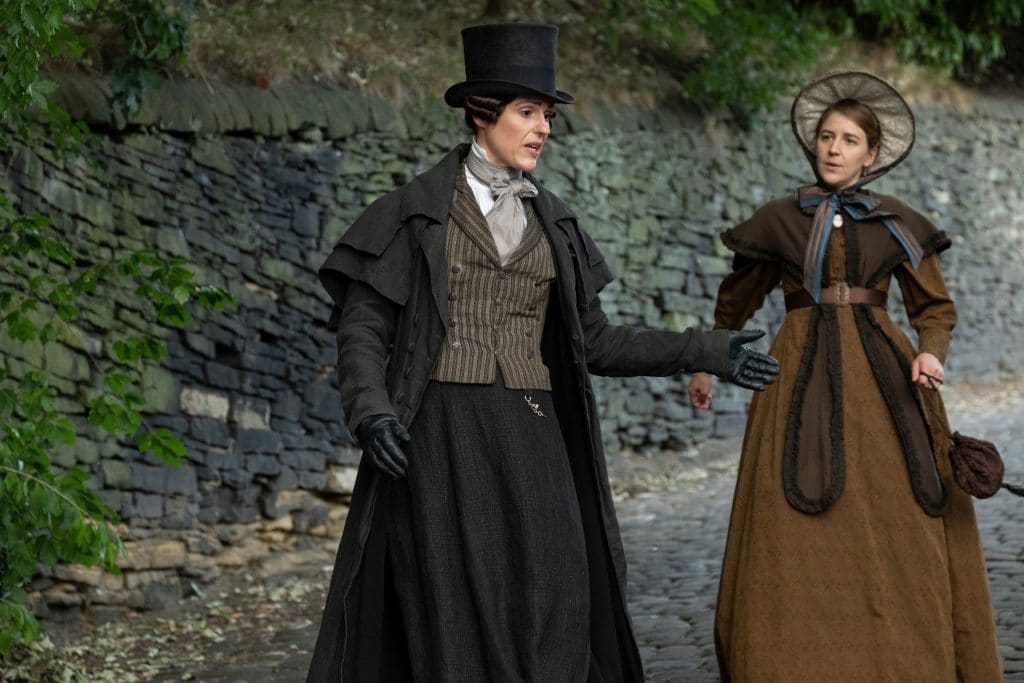 Gentleman Jack follows the story of 19th century landowner Anne Lister (Suranne Jones). She intends to save her ancestral home, Shibden Hall, in West Yorkshire and marry a woman. This miniseries is based on the true diaries of Anne Lister.
Also starring Sophie Rundle, Gemma Whelan, Gemma Jones, Joe Armstrong, Peter Davison, Stephanie Cole, Jodhi May, Shaun Dooley, Katherine Kelly, Timothy West, and more.
How does Gentleman Jack compare to Bridgerton? Period drama. Historical social issues. Romance. Strong female leads.
Gentleman Jack is streaming on HBO Max HERE.
Harlots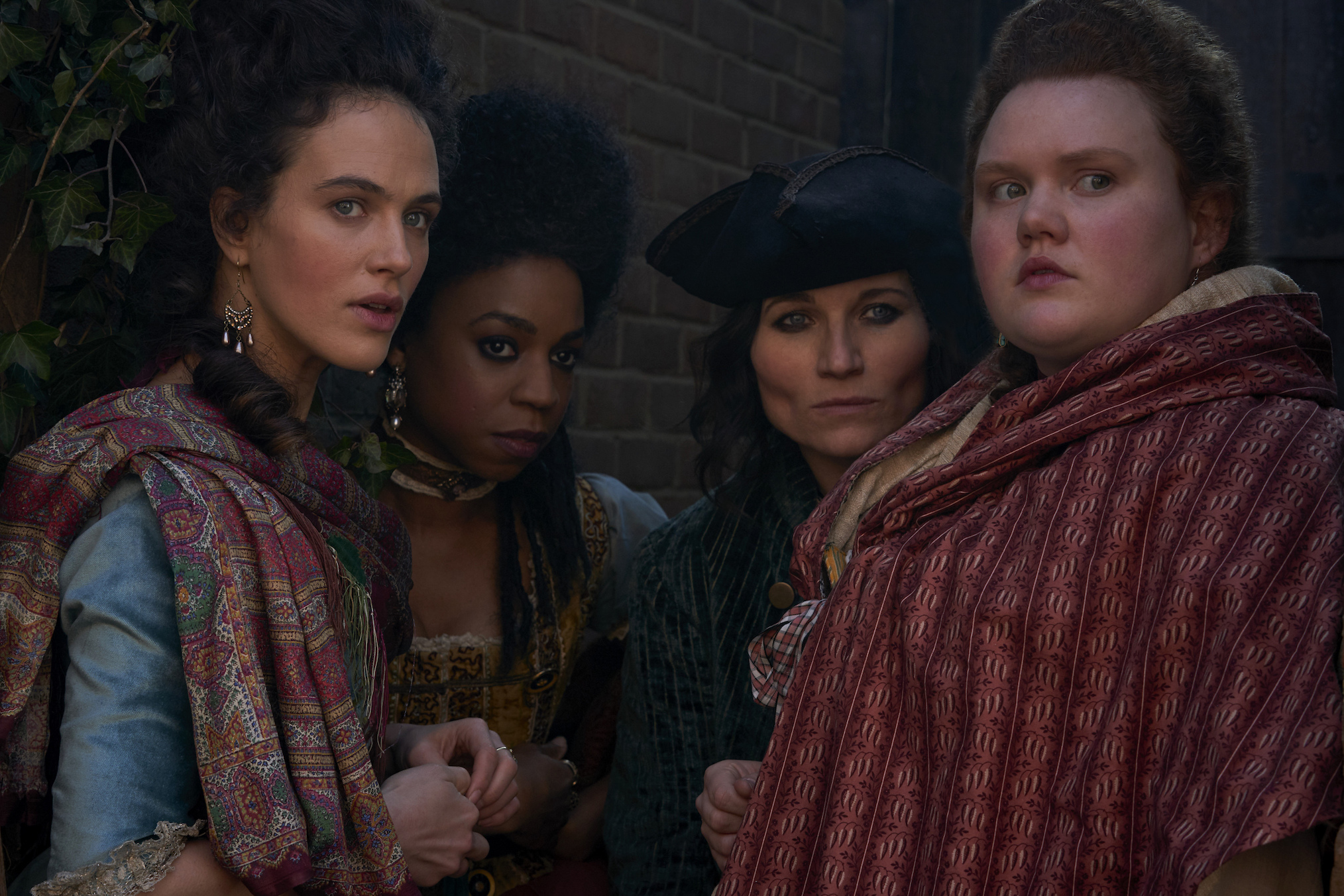 Harlots follows a group of sex workers in 18th century London. The story primarily follows Margaret Wells, a brothel owner and mother of two young women. Competition is fierce and old rivals threaten their livelihoods. This show is both fun and emotional with themes of female struggle and empowerment.
Starring Jessica Brown Findlay, Samantha Morton, Lesley Manville, Kate Fleetwood, and Bridgerton star Nicola Coughlan!
How is Harlots like Bridgerton? Dramatic. Steamy. Period-setting. Costumes galore. Strong women. Fans of Bridgerton who don't mind a little extra sex will enjoy this series, which has a bit less explicit intercourse than you'd expect given the title.
All 3 seasons of Harlots are streaming on Hulu.
The Nevers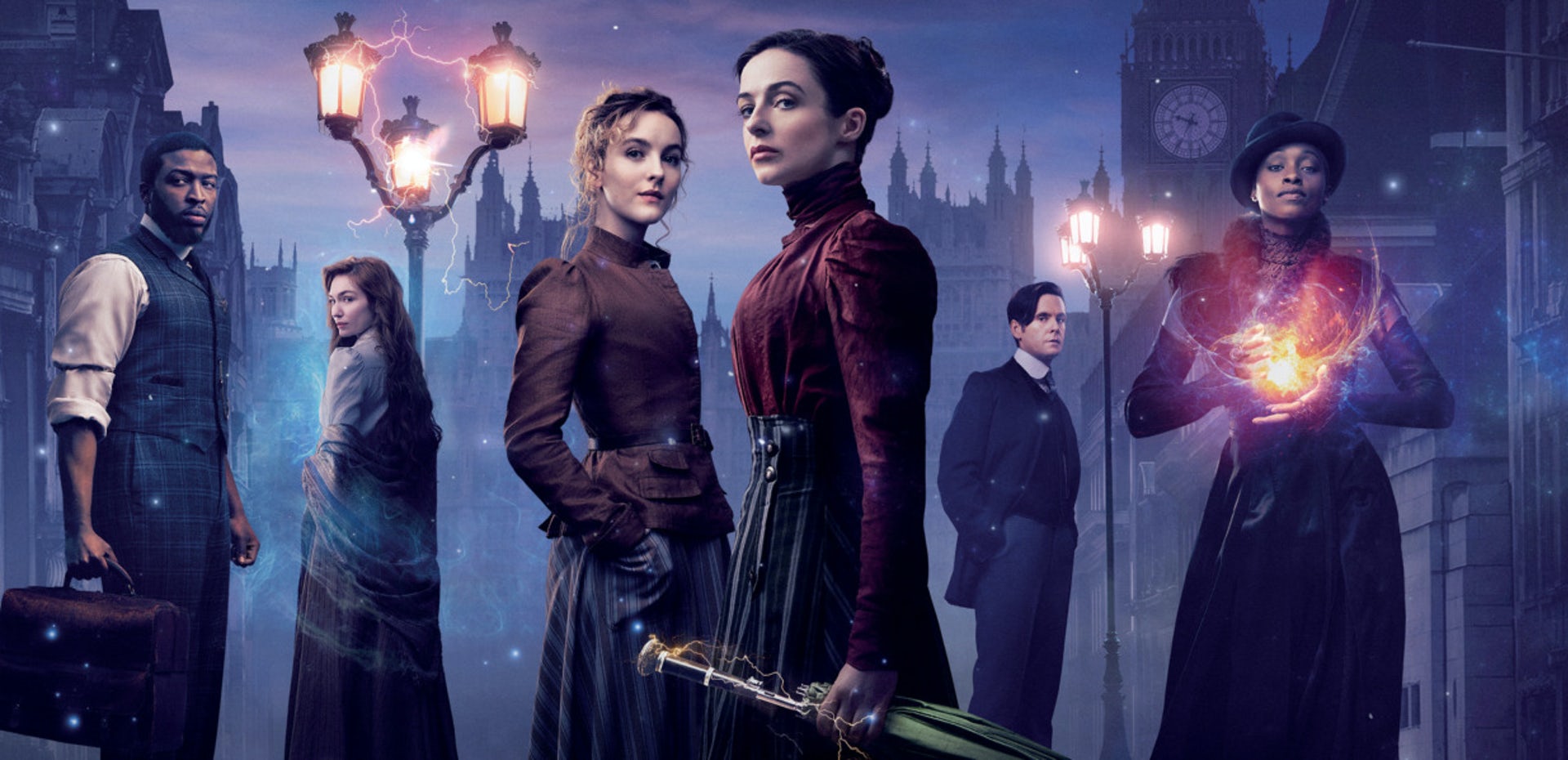 Like A Discovery of Witches, fans of fantasy themes will enjoy The Nevers. It's an energetic Victorian story following a group of outcasts with magical powers. This genre-bending series combines period drama, sci-fi, fantasy, romance, and action. While some elements might seem out of place at first, the story resolves them with a twist you definitely won't see coming.
Starring Laura Donnelly, Ann Skelly, Eleanor Tomlinson, Tom Riley, James Norton, and Olivia Williams.
How is The Nevers similar to Bridgerton? Awesome female leads. Period-setting. Some romance. Drama. How does it differ? Features sci-fi and fantasy elements. Not as much romance, but still enough to flutter the heart. (Plus, James Norton gets naked. You're welcome, Grantchester fans).
The Nevers is streaming on HBO Max. News has not yet arrived on a second season.
North & South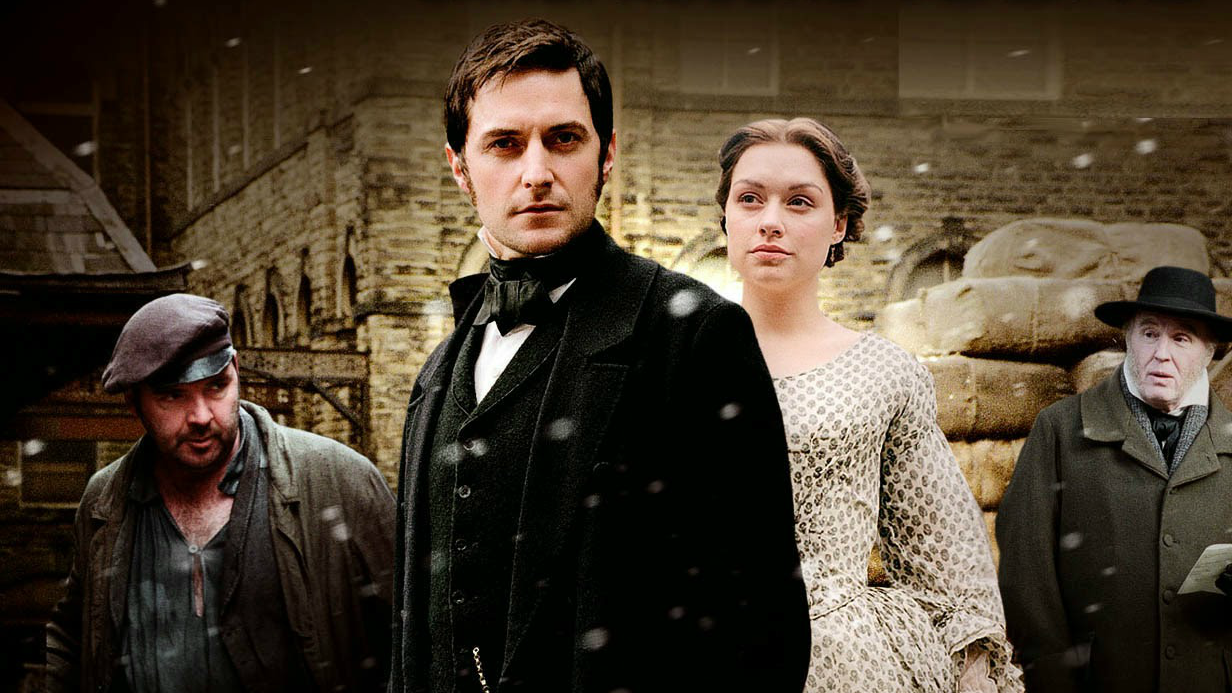 If you're a fan of costume dramas but you haven't seen North & South yet, you're in for an outstanding experience. This gorgeous production is based on the 1854 book by Elizabeth Gaskell. The story begins when Margaret Hale, a middle-class southerner, moves to a northern industrial town. North & South considers social divides and the consequences of hasty judgments.
North & South stars Daniela Denby-Ashe, Richard Armitage, Sinéad Cusack, Tim Pigott-Smith, Brendan Coyle, Jo Joyner, and Lesley Manville.
How is North & South like Bridgerton? Historical period drama. Romance. Social divides. Drama. Not steamy, but has plenty of romantic will-they-won't-they tension.
North & South is streaming on BritBox HERE.
Outlander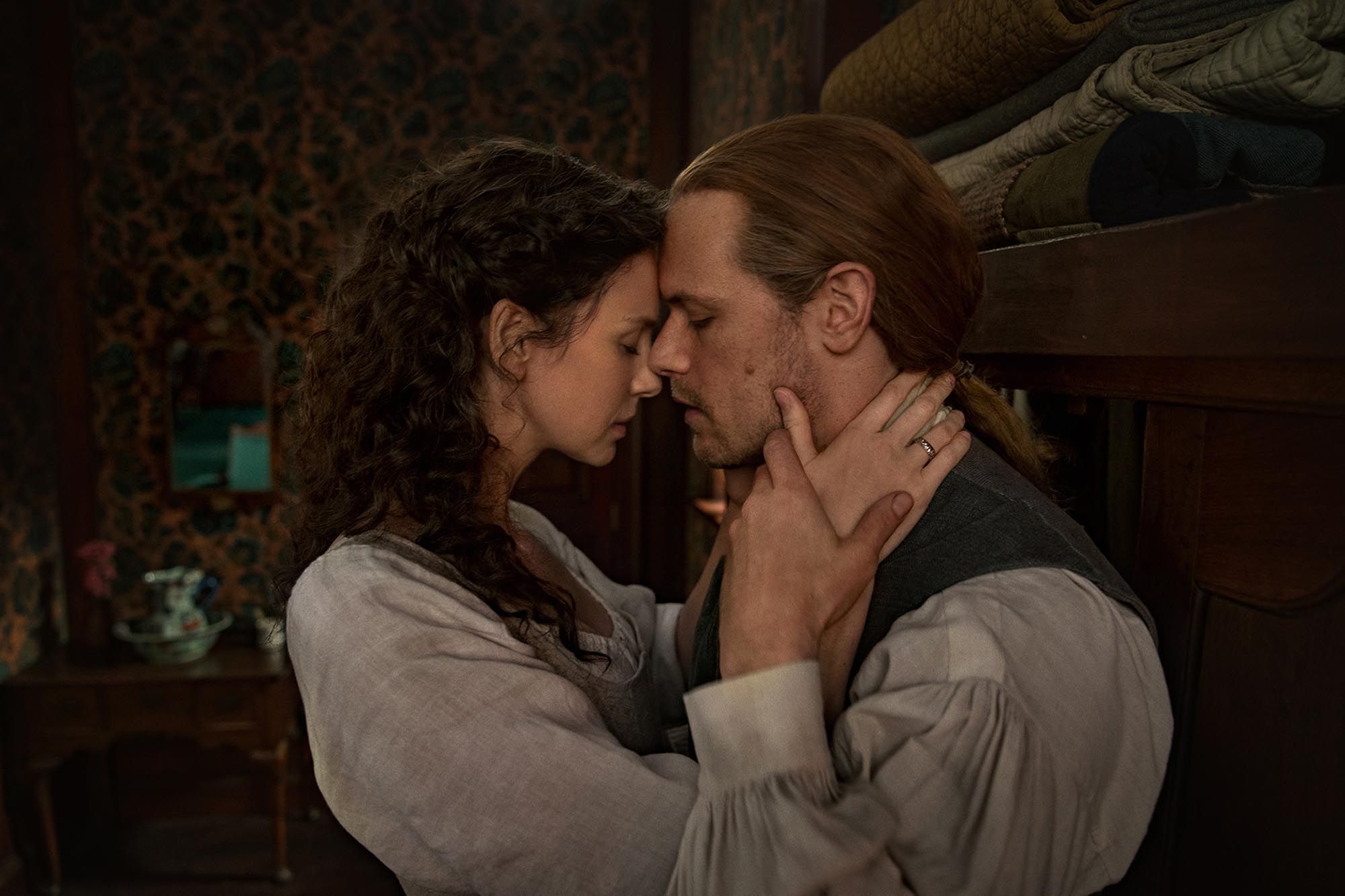 Outlander is part historical drama, part fantasy. It begins in 1945 in post-war England when a stone circle mysteriously transports Claire Randall, a married WWII nurse, to 1743 where she's thrown into the Jacobite rebellions and into the arms of Jamie Fraser. Fans of action, romance, and historical dramas will enjoy Outlander. It's based on a series of books by Diana Gabaldon.
It stars Caitriona Balfe, Sam Heughan, Tobias Menzies, and countless veteran Scottish actors, like Graham McTavish, Richard Rankin, and Douglas Henshall.
How does Outlander compare to Bridgerton? Steamy romance. Dramatic twists. Earlier period setting. How does it differ? Outlander has a time-travel twist.
Outlander is streaming on Starz.
Pride & Prejudice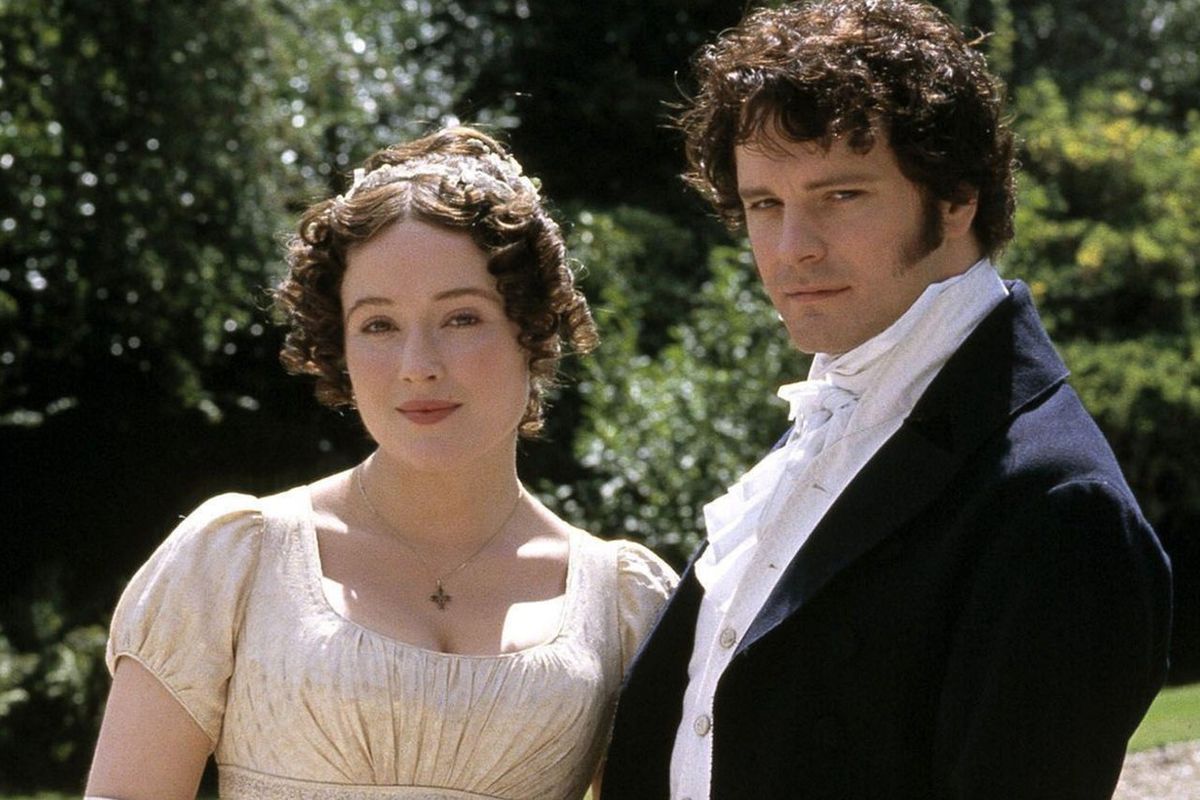 Recently remastered in 4K resolution for BritBox, we must mention this version of Pride & Prejudice with Colin Firth and Jennifer Ehle. This miniseries follows the prejudicial class system that guides the lives of Elizabeth Bennet and the brooding, mysterious Mr. Darcy.
This classic may be getting close to thirty years old now, but it's still well-worth enjoying today and frequently regarded as the best adaptation of this gorgeous romance.
How does Pride & Prejudice compare to Bridgerton? Regency setting. Courtship romance. Social classes. Not steamy, but still full of romance.
You can stream Pride & Prejudice (1995) in stunning 4K on BritBox HERE.
… And any other Jane Austen adaptation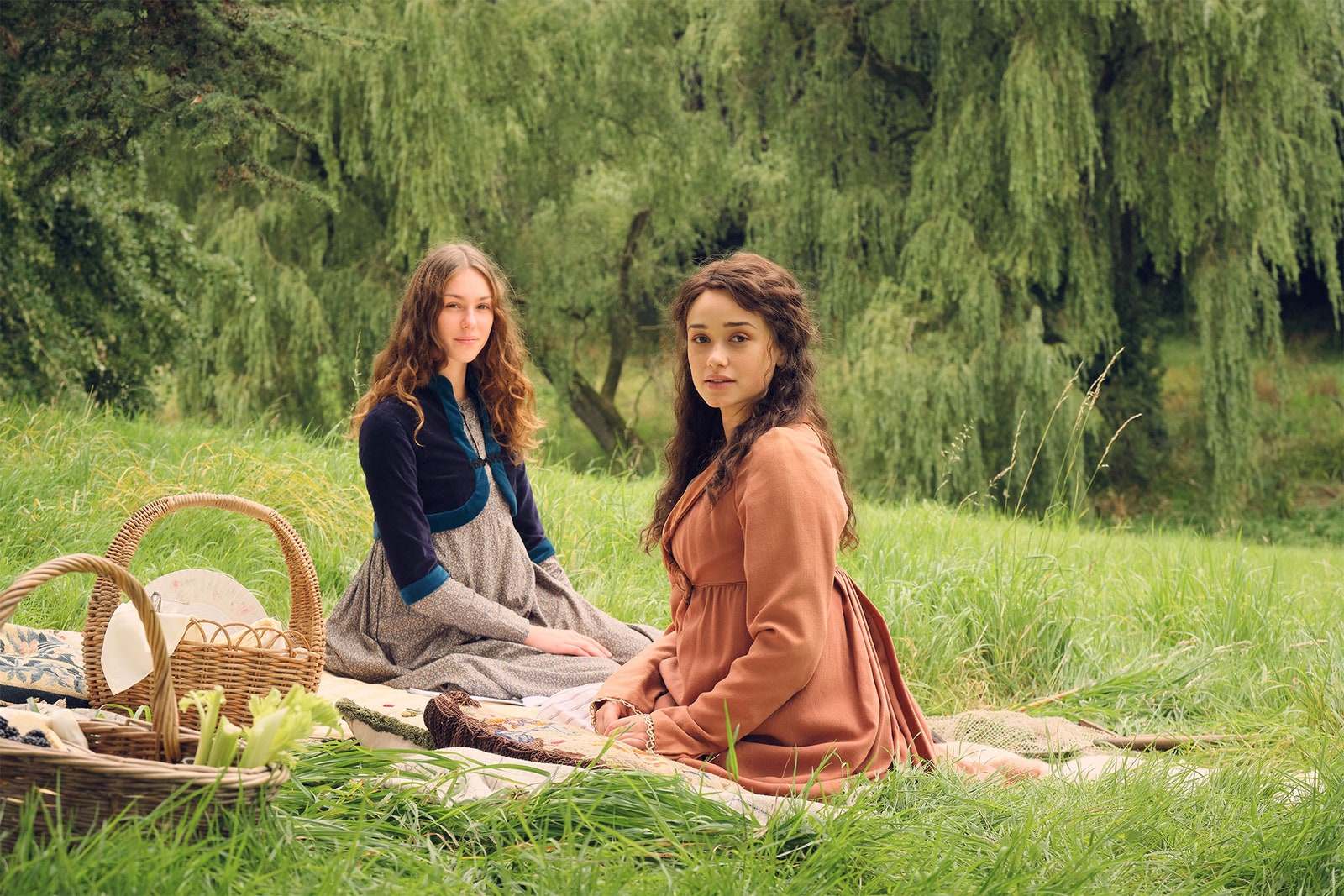 Apart from her wit, Jane Austen is best known for writing Regency romance. No doubt, the enduring popularity of Jane Austen's work inspired Bridgerton. We have a list of the best Jane Austen adaptations HERE but you'll also want to check out the newest adaptation: Sanditon.
Sanditon follows Charlotte Heywood, a young woman who is lively, a little unconventional, and even a little tactless at times. She's caught up in new experiences in the seaside town of Sanditon and its people.
You can stream Sanditon on PBS Masterpiece HERE. A third season is on the way.
How do Jane Austen's Regency-set stories compare to Bridgerton? They tend to be less steamy and focus more on social status and era-appropriate courtship, but they all heavily feature romantic relationships.
Poldark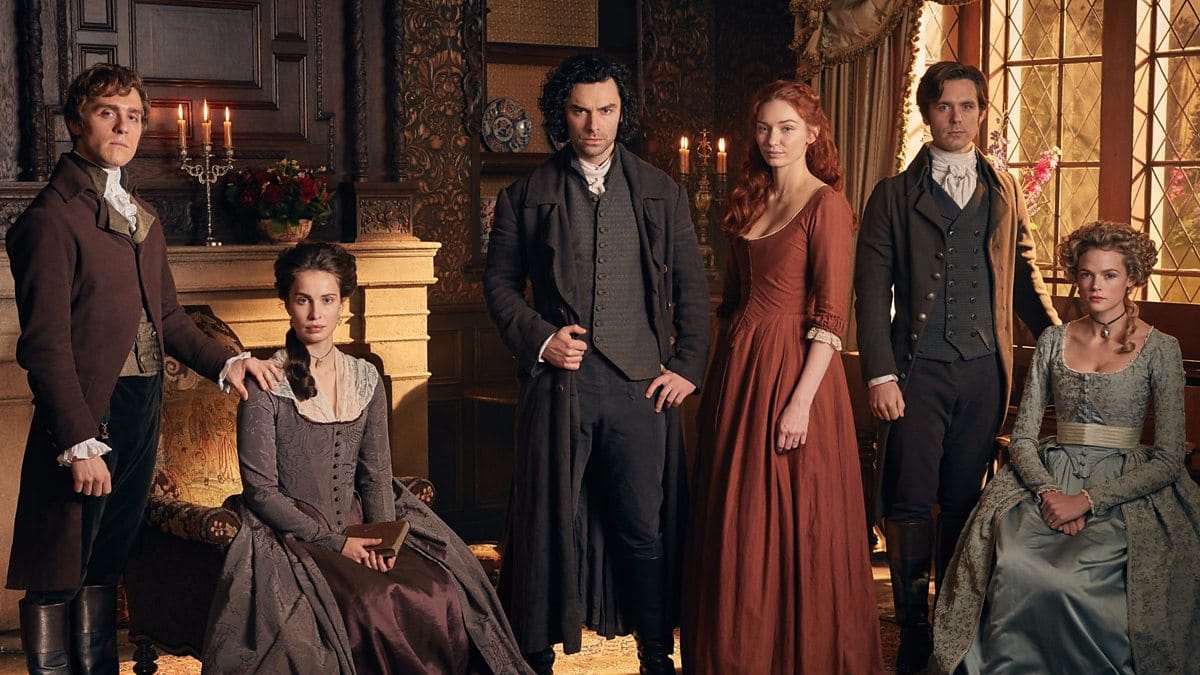 The series opens when Ross Poldark comes home to Cornwall after fighting for the British in the American War of Independence. And life will never be the same. His father is dead, his family's mine is closed, and the love of his life is engaged to his cousin. It couldn't get much worse and the only way to go is up. Bridgerton fans will enjoy following Poldark as he tries to establish a new life.
It stars Aidan Turner, Eleanor Tomlinson, Phil Davis, and more.
How is Poldark like Bridgerton? Lots of romance. Love triangle. Not as steamy, but there are some shirtless scenes. Earlier period setting.
You can stream all five seasons on Amazon Prime. It was a popular show with a massive following when it aired from 2015 – 2019.
Servants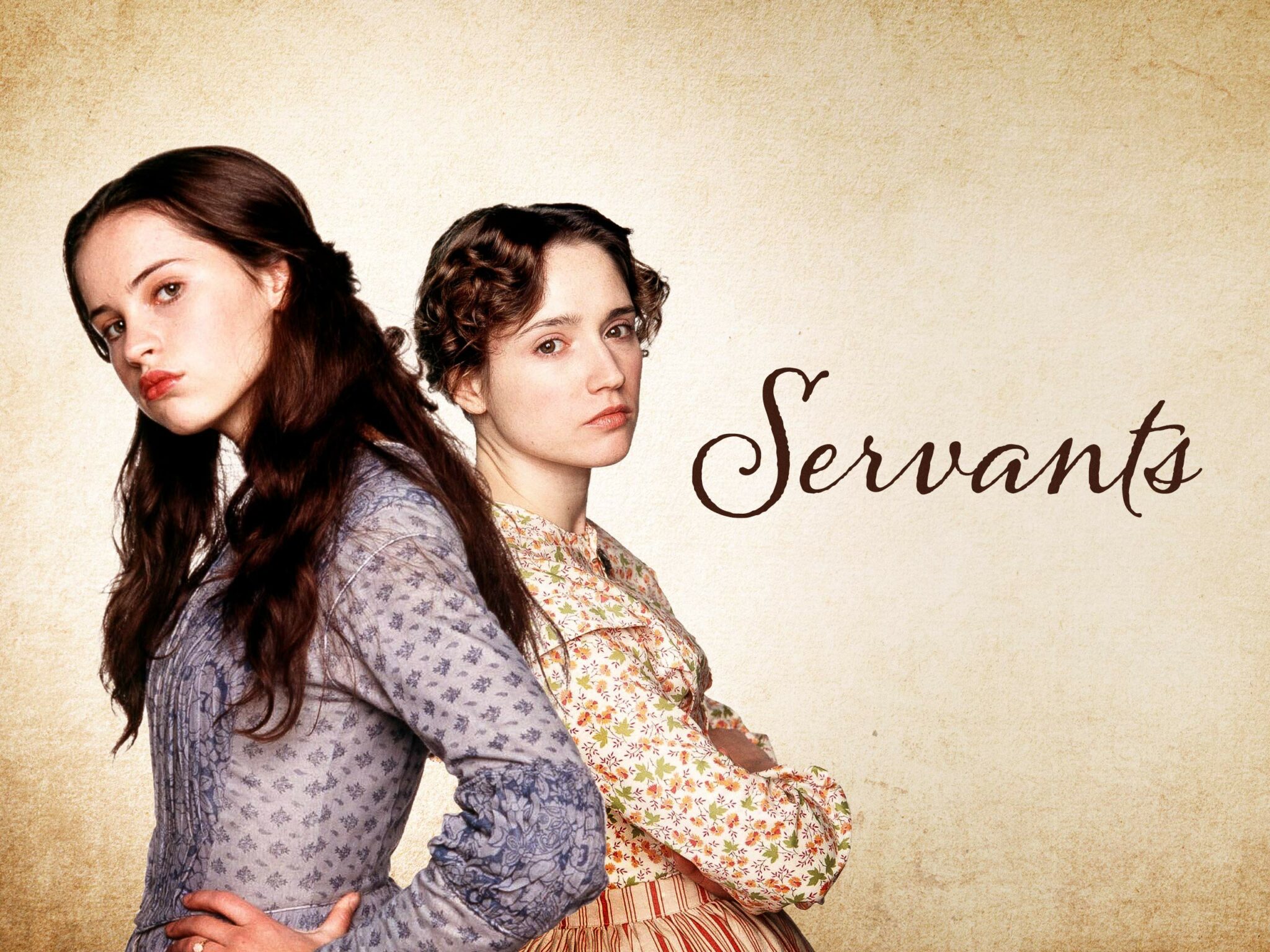 This 2003 series is one of the earliest on our list and doesn't feature the big production value, but it does star Felicity Jones, Kenny Doughty, Joe Absolom, Jon Morrison, and Shaun Parkes. It follows the downstairs staff of an 1850s English country house.
Like Bridgerton, Servants takes a more modern approach, with steamy romance, jaunty music, some profanity, and plenty of drama. The characters are realistic, flawed human beings but fans of traditional period dramas might not like how modern this feels, even if it is nearly 20 years old.
How is Servants similar to Bridgerton? Some steamy romance. Upbeat but still with plenty of drama. Period setting. How does it differ? Mostly features service and lower classes and is a lower budget production.
Servants is streaming HERE on BritBox.
Shadow & Bone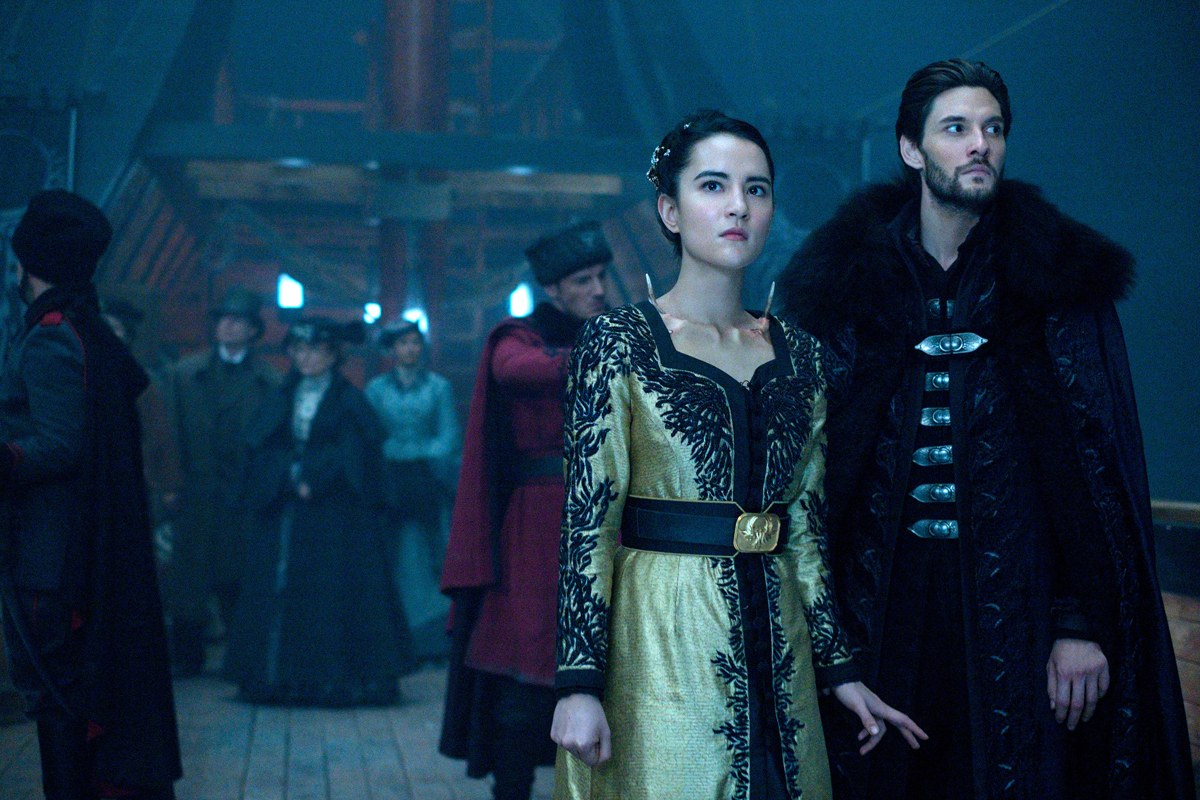 English actress Jessie Mei Li stars as Alina Starkov, a young soldier and cartographer who gets swept away by a powerful general (Ben Barnes) to fight the dark forces dividing their world.
Shadow & Bone may feature a lot of fantasy tropes, but they're all done right and dressed up with unique, refreshing world-building. If you're craving well-done YA fantasy with magic and drama, this is a top pick.
How does Shadow & Bone compare to Bridgerton? Powerful female lead. Romance. Drama. Fancy costumes. How does it differ? While this has a period drama feel, it is set in a fantasy world and some character have powers. Highly recommended to fans of fantasy and the aforementioned A Discovery of Witches and The Nevers (and vice versa).
Bridgerton fans will be delighted to know this is also a Netflix Original Series and is streaming on Netflix. Good news: a second season is currently in production.
The Tudors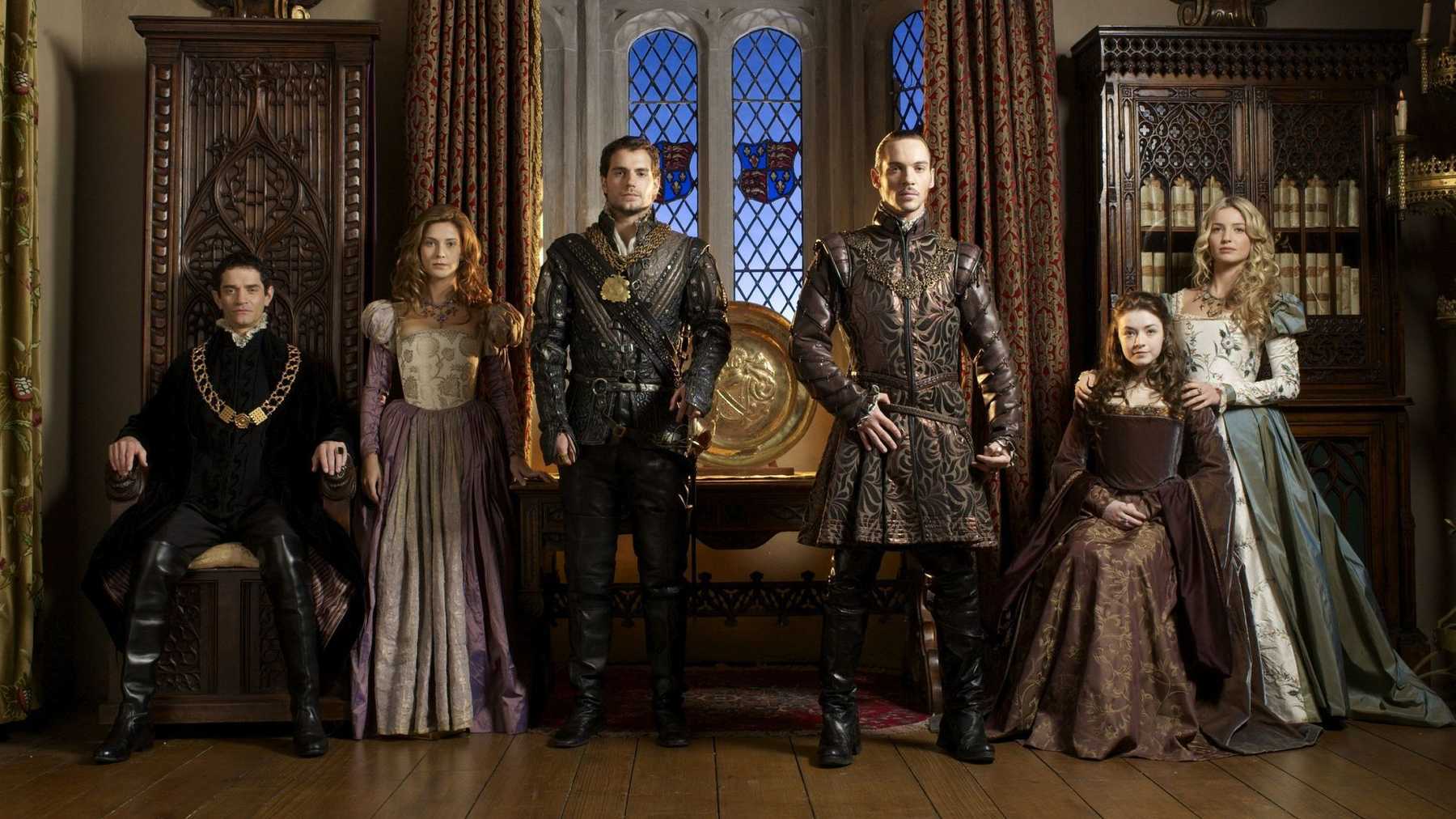 The Tudors follows the early years of King Henry the VIII's reign. Fans of Bridgerton will enjoy the pacing, energy, and steamy romance this show offers. It stars Jonathan Rhys Meyers as Henry, Maria Doyle Kennedy, Natalie Dormer, James Frain, Anthony Brophy, and Henry Cavill.
How does The Tudors compare to Bridgerton? Period drama. Steamy romance. High drama. How does it differ? Set during an earlier period and features the monarchy. As The Tudors tagline suggests, there's a bit more "Sex. Intrigue. Excess. Treachery. Power. Obsession. Murder."
All 4 seasons of The Tudors are streaming on Showtime HERE.
Vanity Fair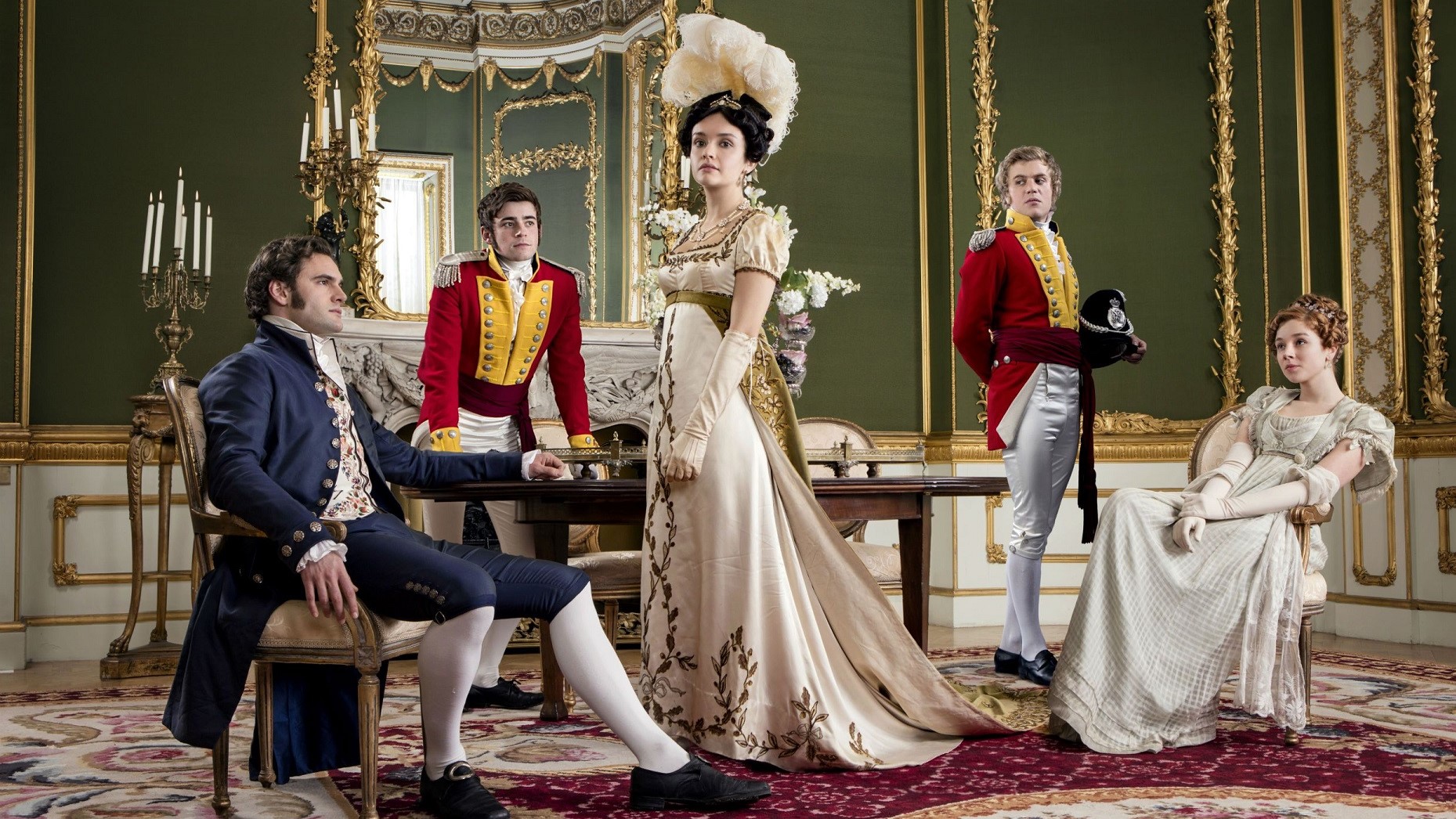 Olivia Cooke stars in this seven-part miniseries adaptation of the novel by William Makepeace Thackeray about an ambitious young woman determined to climb the social ladder.
This fun romp through the classes is an emotional story with many characters to both love and hate. Whether you like the story's protagonist or not, there is no denying Becky Sharpe is as sharp as a tack and willing to do whatever it takes to get what she wants. You have to admire her ambition.
How does Vanity Fair compare to Bridgerton? Romantic. Upbeat and fun with plenty of drama. Not steamy but is bold and lively.
Vanity Fair (2018) is streaming on Amazon Prime.
The White Queen, The White Princess, and The Spanish Princess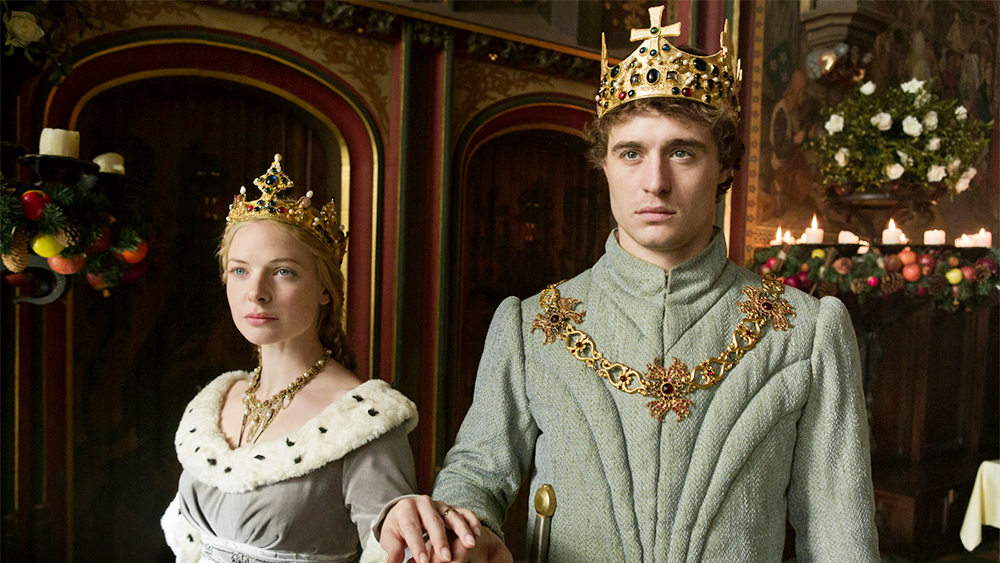 Because these three productions are connected, we're grouping them as one four-season series. They're all based on books by Phillipa Gregory. For this reason, we recommend you watch them in order. There are so many characters played by different actors in later seasons, it can get a little difficult to remember who's who. (Think of it a bit like The Crown where different actors play older versions of the same characters – for example, Margaret Beaufort is played by Amanda Hale, then Michelle Fairley, and finally Harriet Walter).
How do the Phillipa Gregory adaptations compare to Bridgerton? Romance. Drama. Scandal. Steamy romance. Follows strong female leads. How does it differ? Set earlier in history and features more monarchy.
In order, they are:
The White Queen (2013) follows three women as they fight for the crown. The story begins in 1464 during a feud between the House of York and the House of Lancaster over who will rule the country. Edward IV, heir to the House of York, is coronated. But when Edward falls in love with commoner Elizabeth Woodville, she finds Margaret Beaufort and Anne Neville to be her adversaries.

Starring Max Irons, Aneurin Barnard, and Rebecca Ferguson as The White Queen. The White Queen is streaming HERE on Starz.


The White Princess (2017) follows Elizabeth 'Lizzie' of York (the daughter of Elizabeth Woodville and Edward IV). Margaret Beaufort finally gets her way and her son is crowned king, but in order to maintain his seat on the throne, he must marry a York to keep his commoners from rebelling. Lizzie begrudgingly marries Henry VII after having a passionate affair with her uncle, King Richard III. Lizzie goes on to become the mother of Arthur and Henry VIII.

Jodie Comer stars as Elizabeth 'Lizzie' of York. The White Princess is streaming HERE on Starz.


The Spanish Princess (2019 – 2020) revolves around Catherine of Aragon as she sails to her betrothed, Arthur Prince of Wales, heir to the throne. Although she's like a fish out of water, Catherine insists on being treated like a queen and fights to become one after Arthur tragically dies.

Charlotte Hope stars as Catherine of Aragon. The Spanish Princess is streaming HERE on Starz.
Still need more shows like Bridgerton?
Check out our long lists of great British period dramas by scrolling down to "British TV Shows by Time Period" HERE. That should keep you busy during the break between seasons of Bridgerton.
Save it to Pinterest!