20 Hilarious British TV Workplace Comedies
In some cases, we earn commissions from affiliate links in our posts.
Last Updated on October 14, 2021 by Stefanie Hutson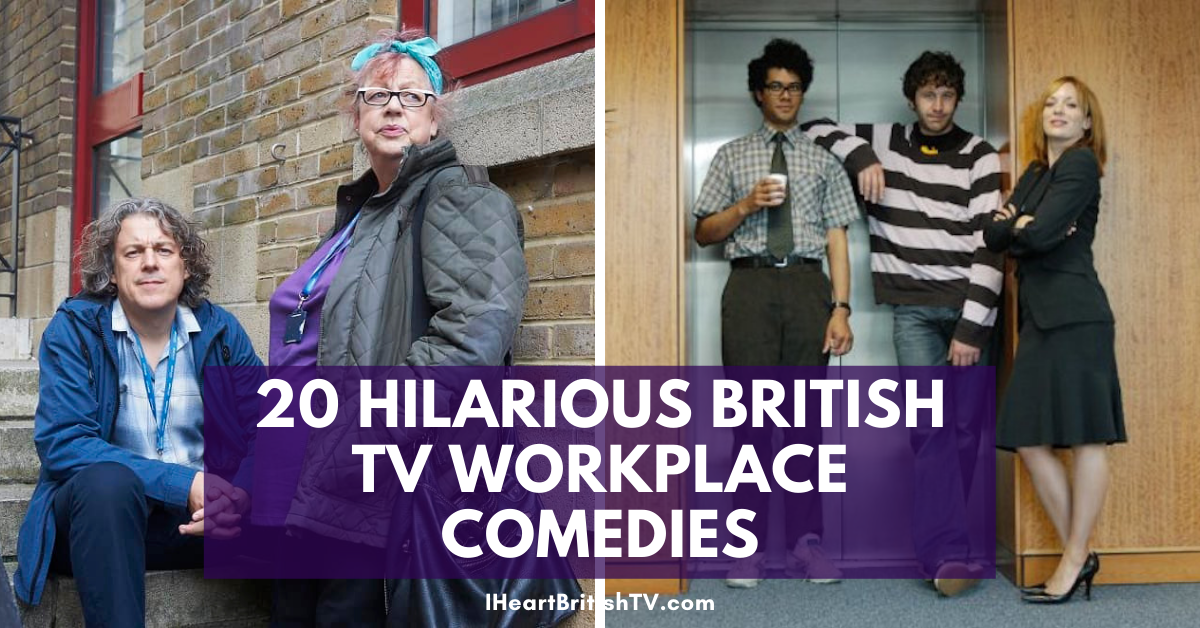 If you've ever worked in an office, you've probably experienced all the camaraderie, humor, and drama that goes along with it. But specializing in the same career or working in the same office isn't a guarantee people will get along, either.
Workplace comedies have so many fun character dynamics, too. They often feature different types of people who wouldn't normally socialize with one another, creating some laugh-out-loud situations. Whether you're a fan of Fawlty Towers or The Office, this list will hopefully give you a few more laughs to enjoy!
20 Hilarious British TV Workplace Comedies
Please note that all listed streaming options were accurate at the time of writing – but these things do change frequently, so we apologise if any go out of date before the next update to this post.
The Office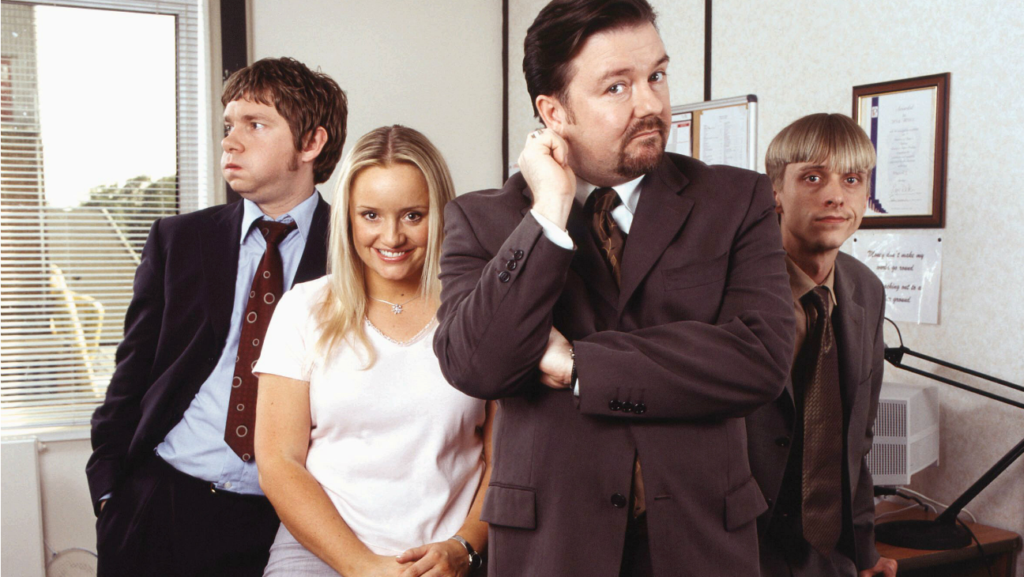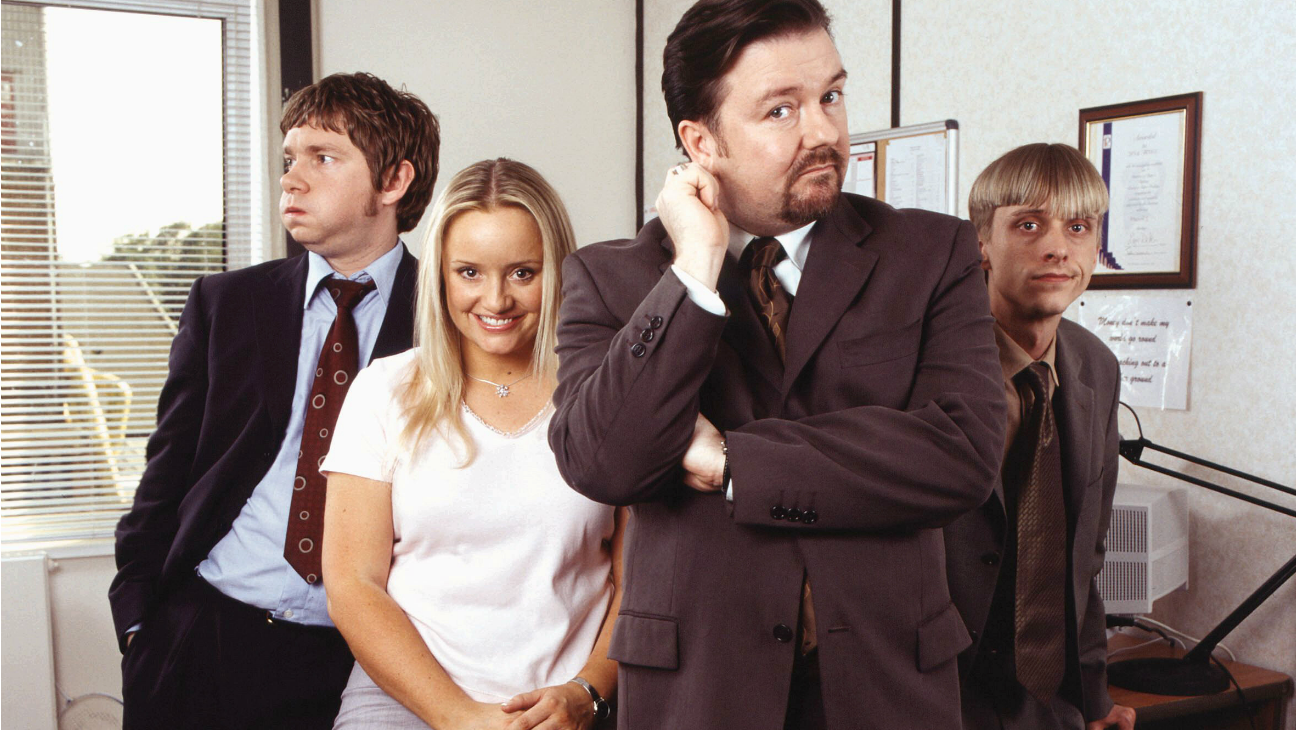 Did you know? The format for the hit American comedy The Office was originally based on an earlier British show of the same name. It follows people working in an office in a mockumentary style where they speak to the camera as if they are being filmed for a documentary.
The British version aired in 2001 and starred many familiar faces who went on to become incredibly popular: Ricky Gervais, Martin Freeman, Mackenzie Crook, and Olivia Colman. It also starred Stephen Merchant, Lucy Davis, Oliver Chris, Vincent Franklin, Elizabeth Barrington, and Tom Goodman-Hill.
The Office UK streaming on BritBox, Topic, and Hulu.
The IT Crowd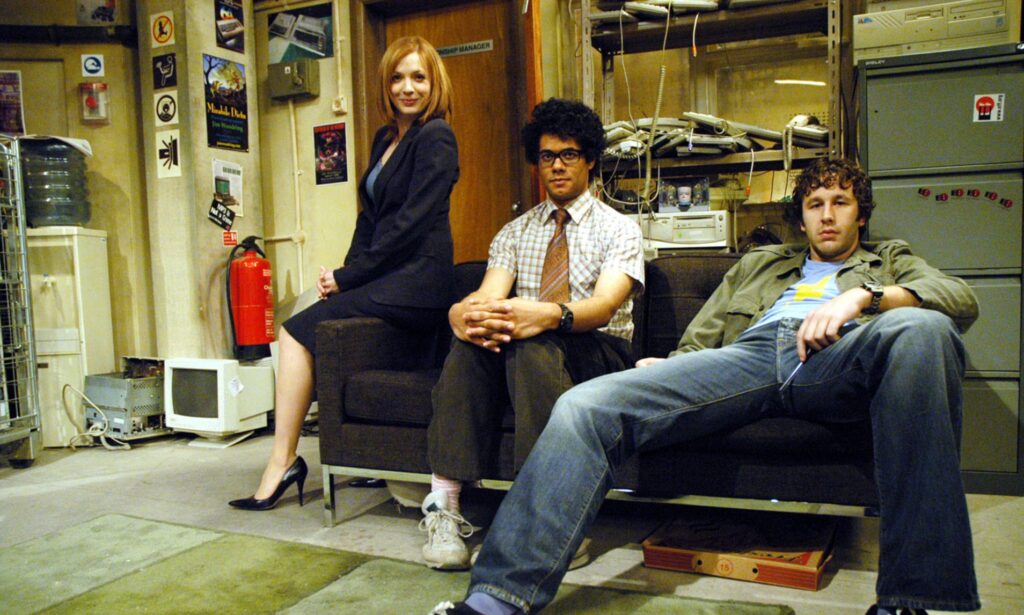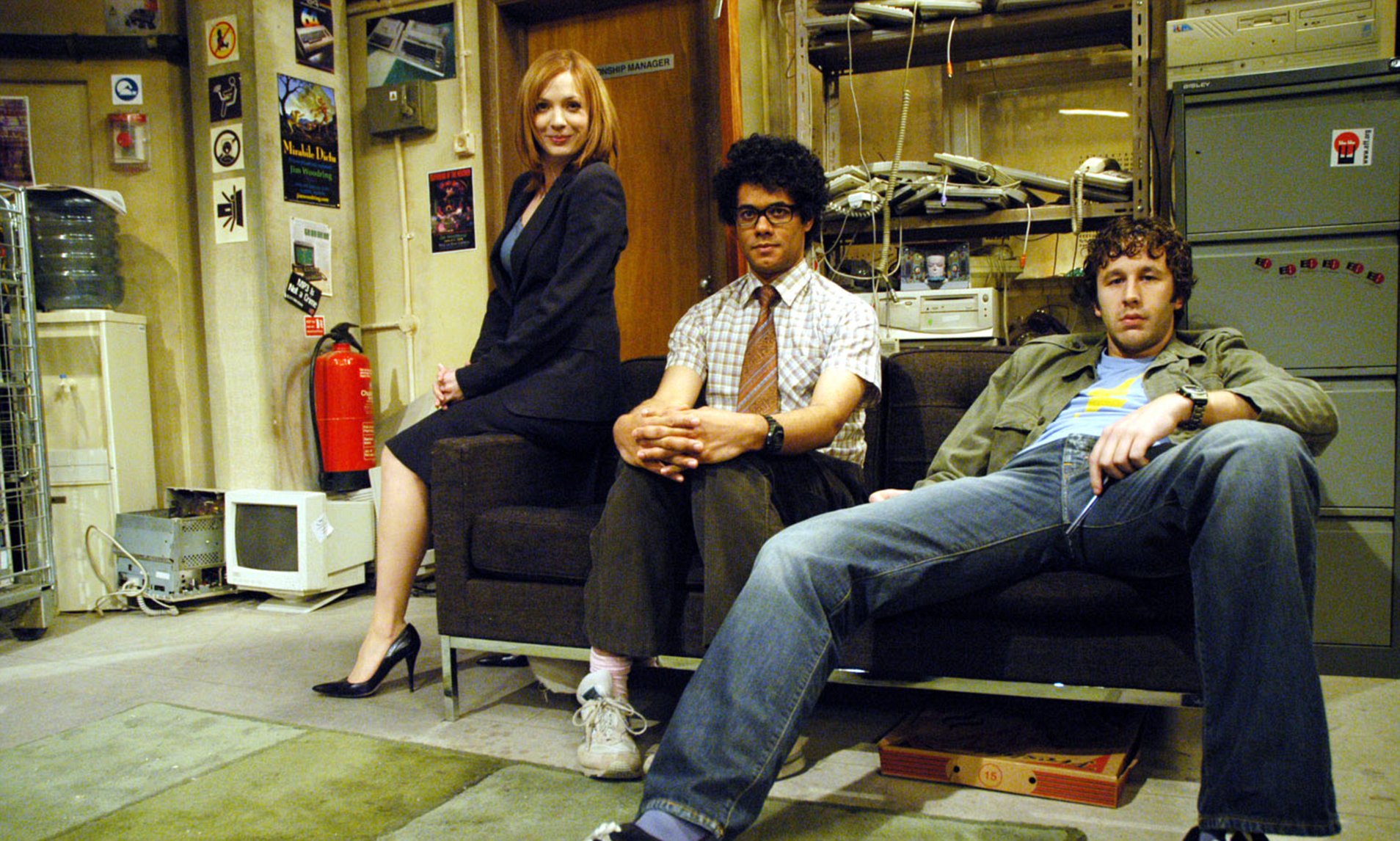 The IT Crowd originally aired back in 2006 and follows the IT department at a company called Reynholm Industries. The IT department consisted of two nerds until a new woman is hired as the Head of IT. Here's the catch: she knows absolutely nothing about computers. And you certainly don't have to know anything about computers to enjoy this show, either. It's full of laughs whether you're a nerd or not.
It stars Chris O'Dowd, Katherine Parkinson, Richard Ayoade, Noel Fielding, and Matt Berry.
Stream it on Netflix or own it on Amazon.
Already a fan of The IT Crowd? Check out our article "The IT Crowd Cast – Where Are They Now?"

Black Books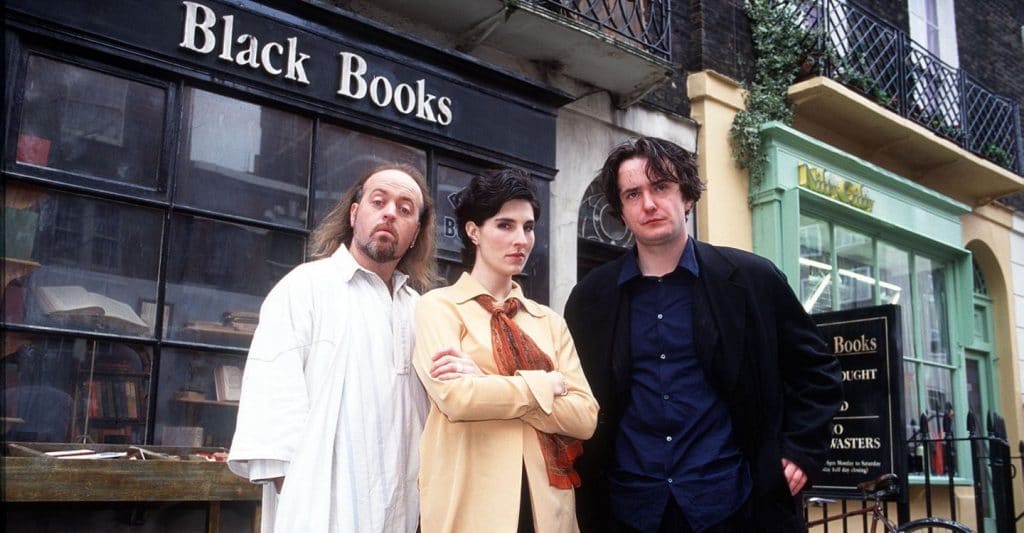 Black Books was co-created by Graham Linehan who also went on to create The IT Crowd (and had previously worked on the classic 90s sitcom Father Ted).
Black Books follows Bernard Black an Irish existentialist drunk who owns a bookstore (Bernard is played by co-creator Dylan Moran). Bernard doesn't like people in his shop, so naturally his business isn't very successful. He reluctantly hires an accountant Manny (Bill Bailey) and their neighbor Fran (Tamsin Greig) pops in on a regular basis.
This hilarious bookstore comedy ran for three seasons beginning in 2000.
Stream Black Books for free on IMDb TV.
Green Wing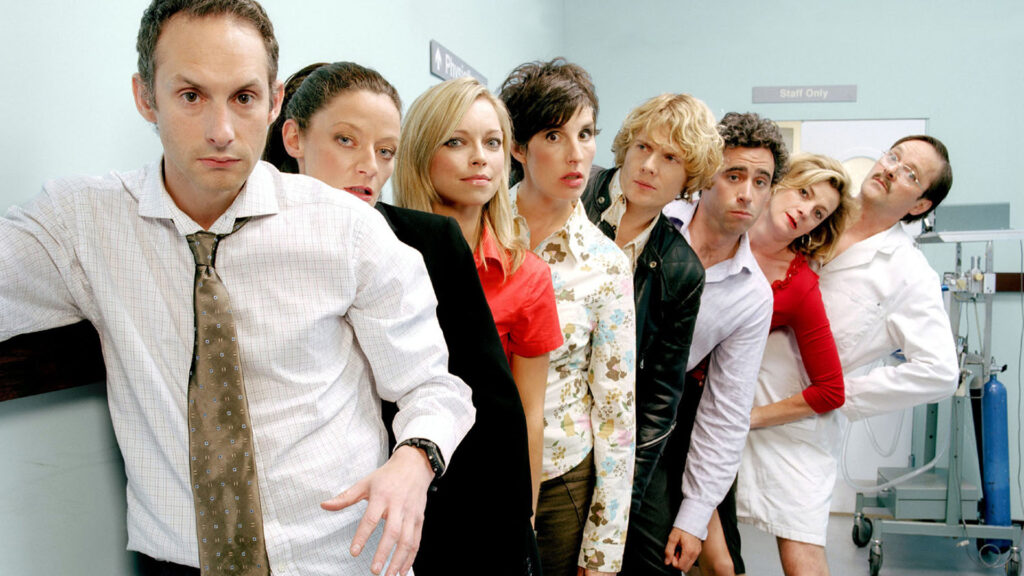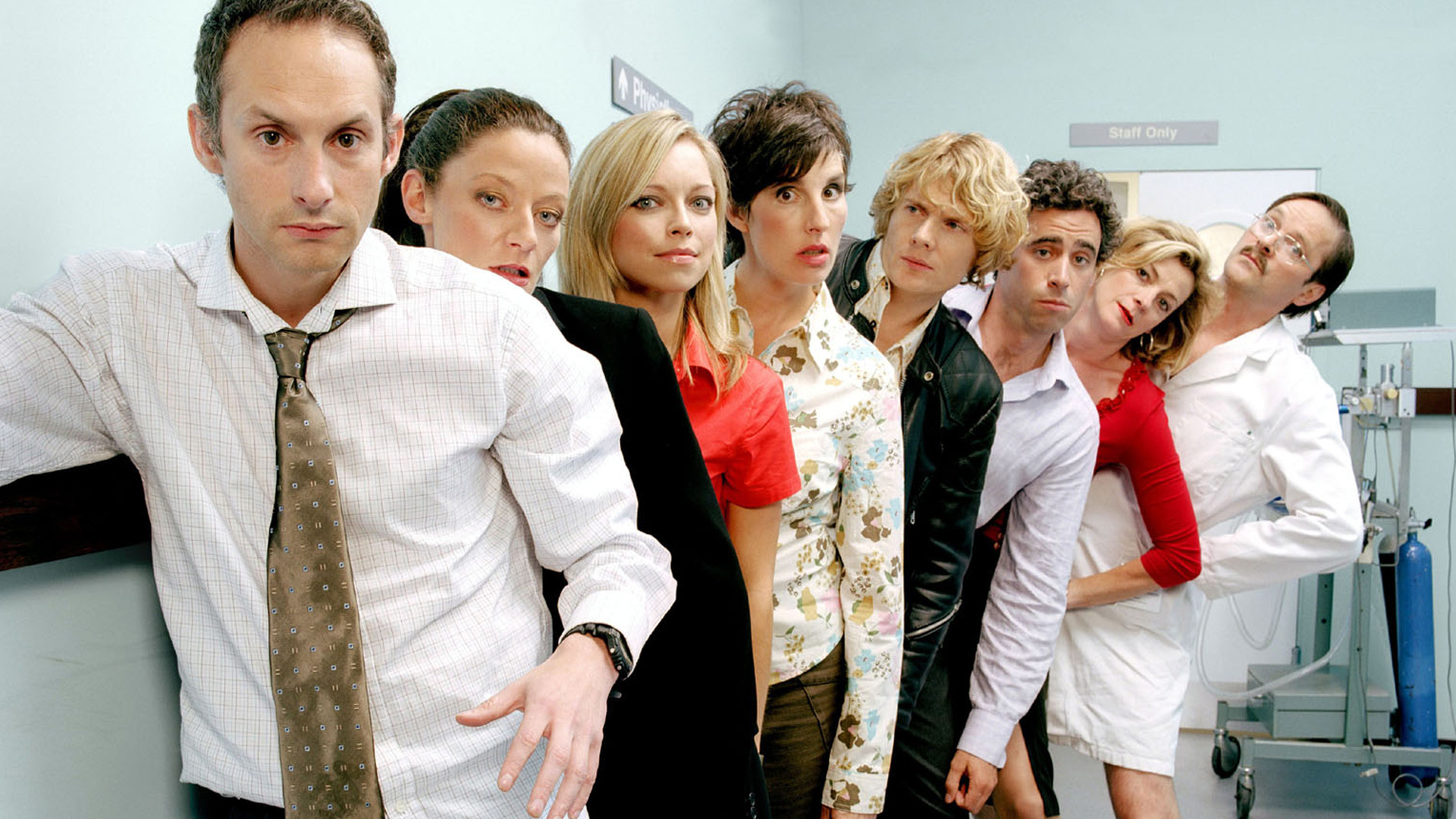 Green Wing is an irreverent, almost surrealist, comedy about hospital workers in different departments. It stars Tamsin Greig, Julian Rhind-Tutt, and Stephen Mangan. Green Wing is absolutely full of familiar faces including Mark Heap, Michelle Gomez, Olivia Colman, Darren Boyd, Stephen Merchant, Nick Frost, Pippa Haywood, Sally Phillips, and more (if you can believe it).
It's a bit weird and a bit raunchy, but full of laughs and character drama. Green Wing was created by the same team who created the female-led sketch show Smack the Pony. Fun Fact: Green Wing was filmed in a working hospital, so the busy buzz you feel when watching the show is real work going on in the background.
Green Wing is streaming on IMDb TV and Tubi. Both are free but ad-supported.
The Delivery Man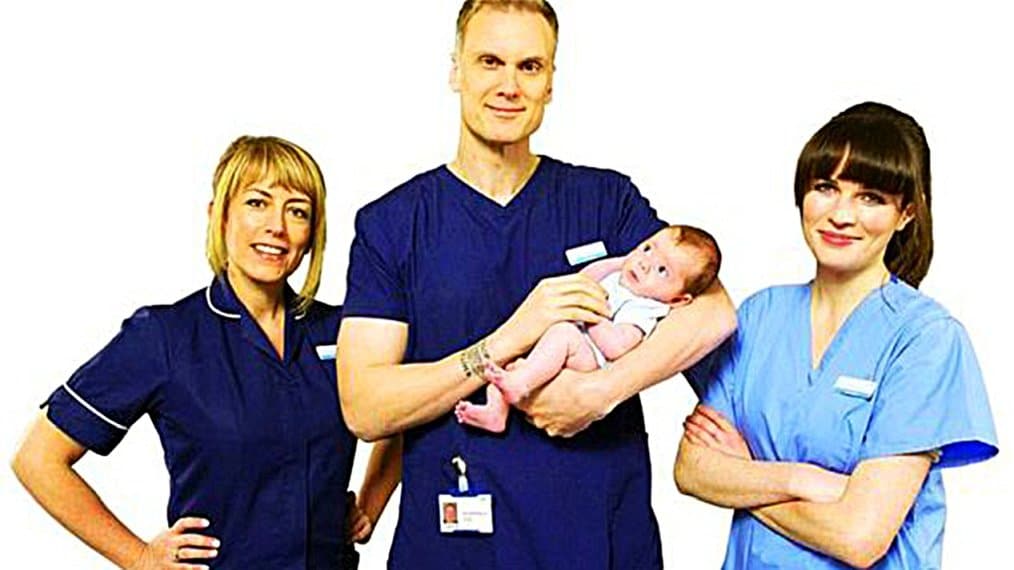 The Delivery Man stars Darren Boyd as an ex-policeman turned midwife. Although it only ran for one season, it's well worth watching. It also stars Aisling Bea, Fay Ripley, Paddy McGuiness, and Alex McQueen. This workplace comedy takes place in a small maternity ward.
The Delivery Man is streaming for free with ads on IMDb TV or without ads with an Acorn subscription.
Getting On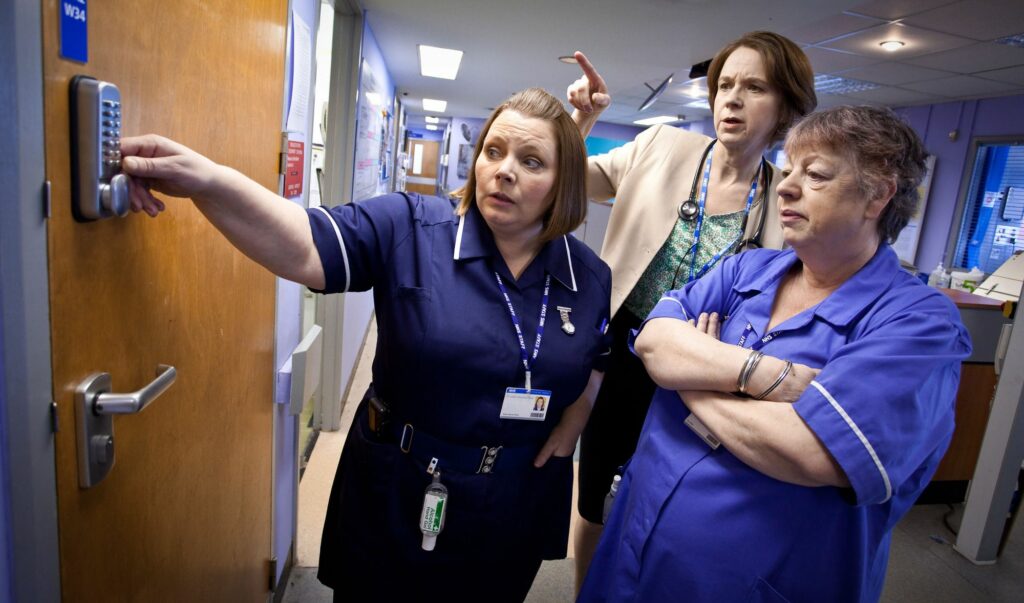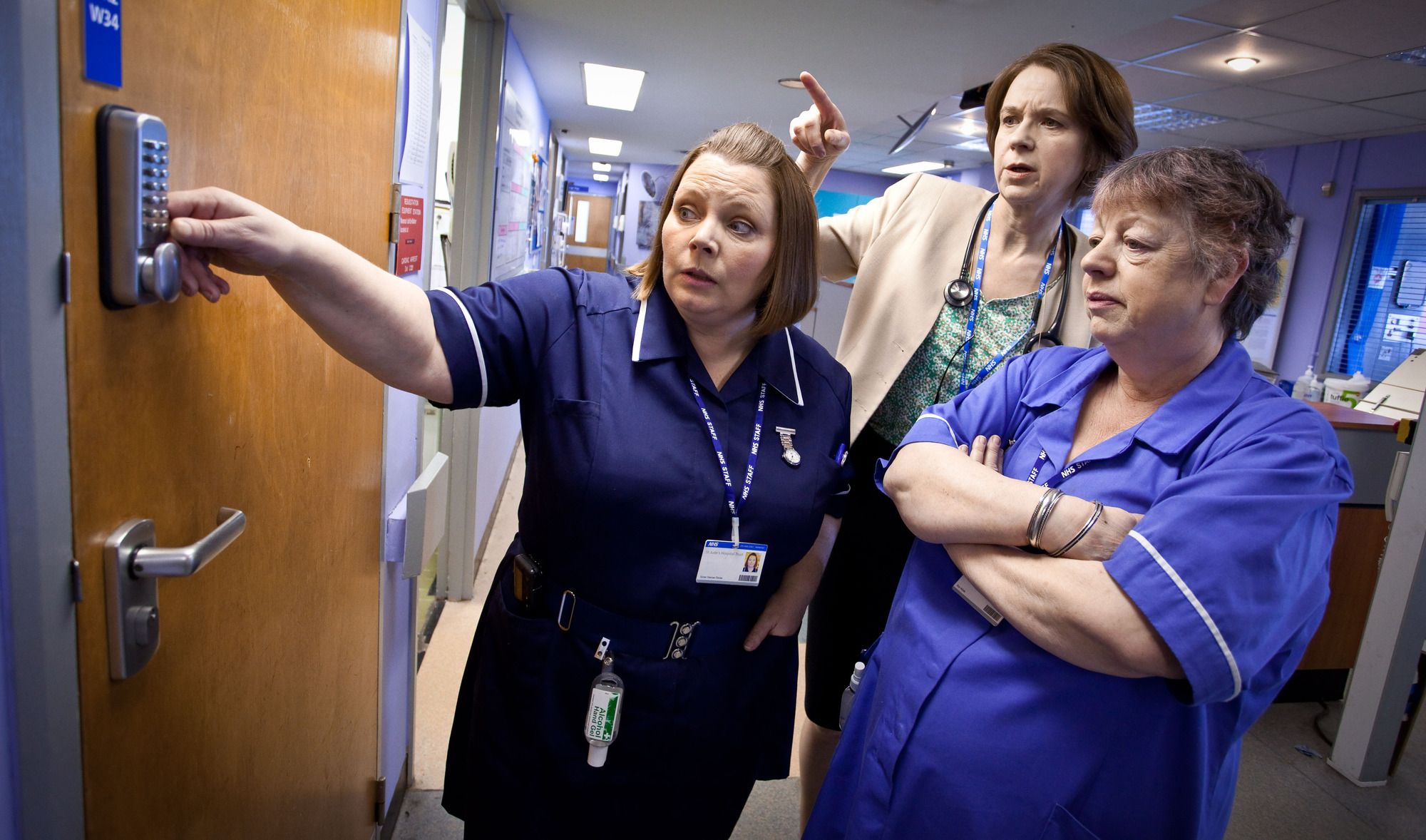 Written by the three leads (Jo Brand, Joanna Scanlon, Vicki Pepperdine) and partly improvised, this show offers a quirky take on an overlooked geriatric department in the National Health Service. These workers are just "getting on with it." Peter Capaldi, who plays Dr. Healy, directed the first two series. Getting On ran from 2009 to 2012.
A spin-off Going Forward aired in 2016 on BBC 4. A US version of Getting On was made for HBO in 2013.
All three seasons are streaming on Amazon Prime.
Damned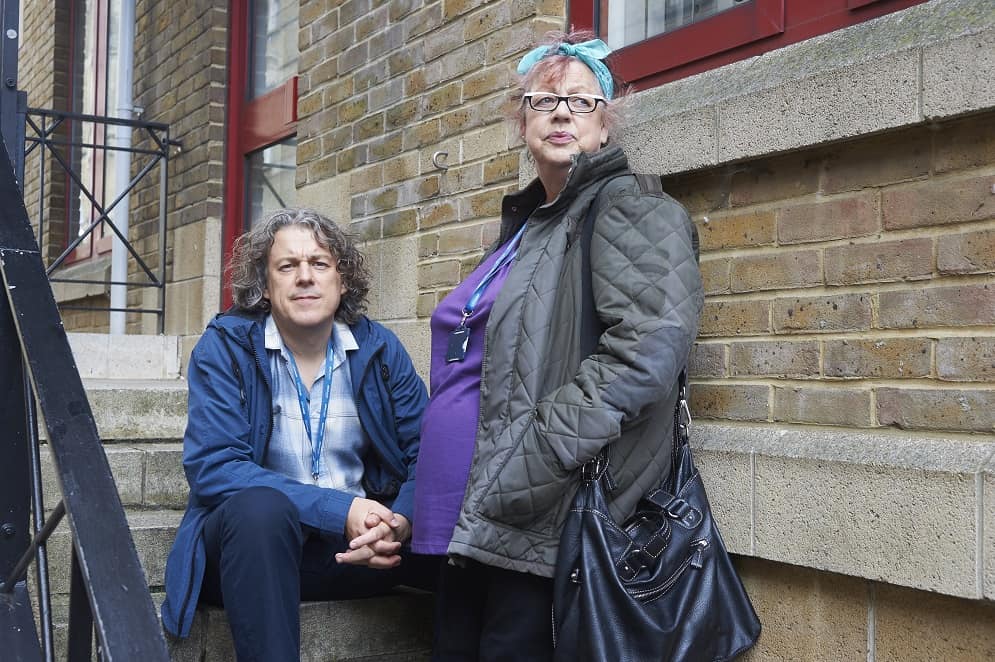 Damned stars Jo Brand, Alan Davies, and Hamish Patel. This sitcom follows social workers through their daily tasks. This show has a little of everything; it's poignant and shows the thankless nature of their work, the bureaucracy they face, their funding issues, and more… all with a sense of humor.
Damned is streaming on BritBox.
Not Safe For Work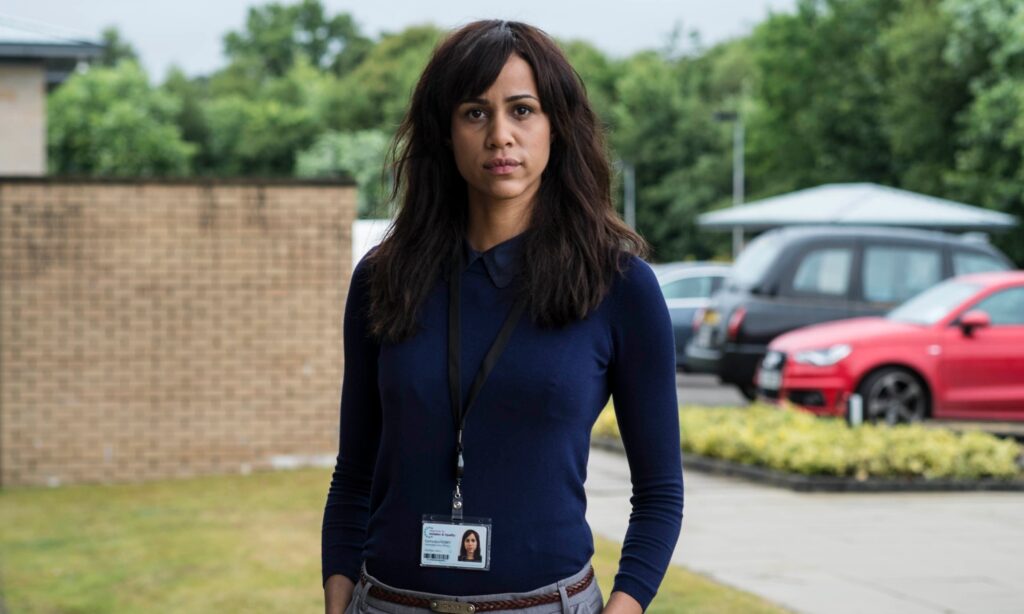 The title of Not Safe For Work is a play on the internet term "NSFW" (often meaning the following link or image is graphic in some way and not safe to open at work or on a work computer).
This show follows Katherine (Zawe Ashton) who relocates to Northampton for work. It also stars Sophie Rundle, Anastasia Hille, and Sacha Dhawan. This office of civil servants working in immigration is highly dysfunctional. Lots of comedy and drama.
Not Safe For Work is streaming on BritBox.
White Gold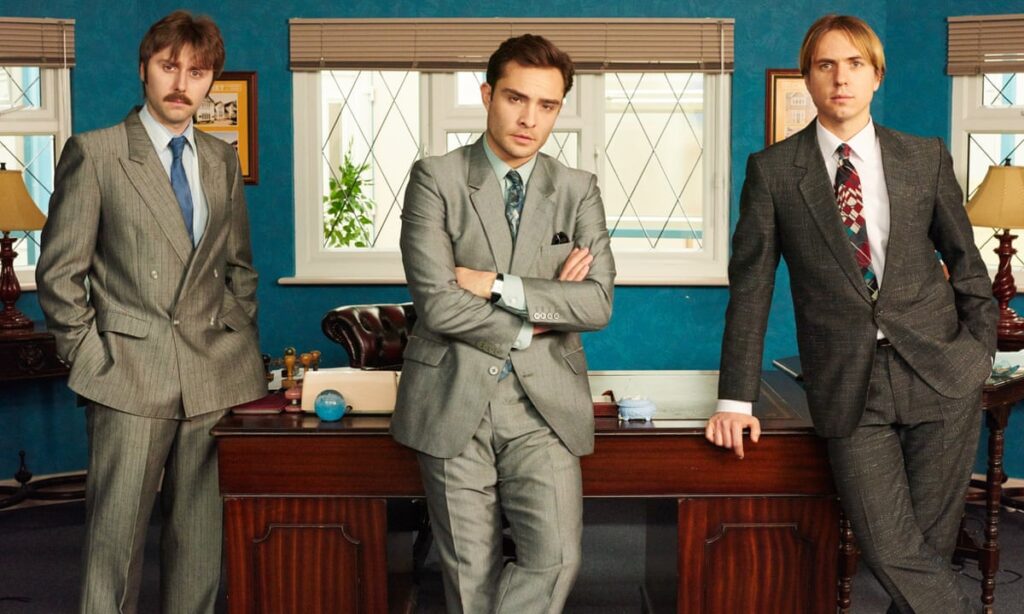 White Gold is an irreverent comedy following a few slimy salesmen characters as they try to sell windows in Essex, circa mid-1980s. It aired for two seasons from 2017 to 2019 and stars Ed Westwick as the head salesman at Cachet Windows, James Buckley, and Joe Thomas (The Inbetweeners).
White Gold is streaming on Netflix.
The Cafe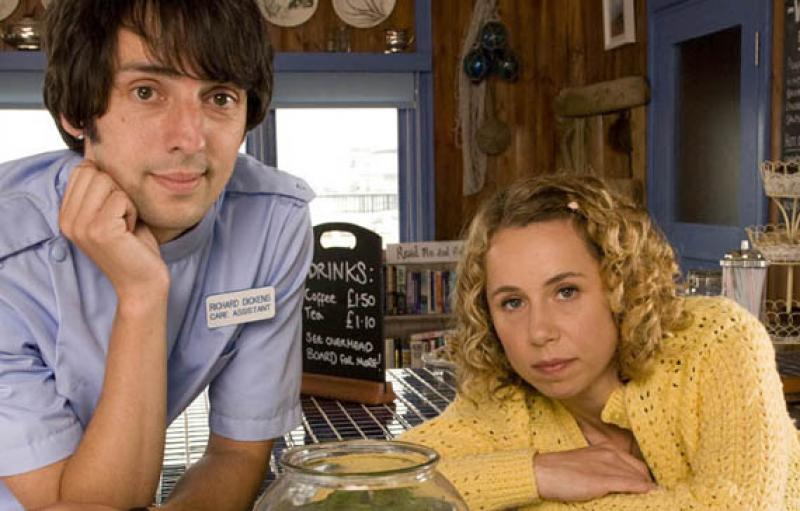 The Cafe stars Ralf Little, Michelle Terry, Ellie Hadlington, and Phoebe Waller-Bridge.
It takes place in a cafe in the seaside town of Weston-super-Mare, Somerset. Three generations manage the business. This quaint, comforting comedy is great for fans of Doc Martin and Whitstable Pearl.
The Cafe ran for two seasons and both are streaming on BritBox.
The Thick of It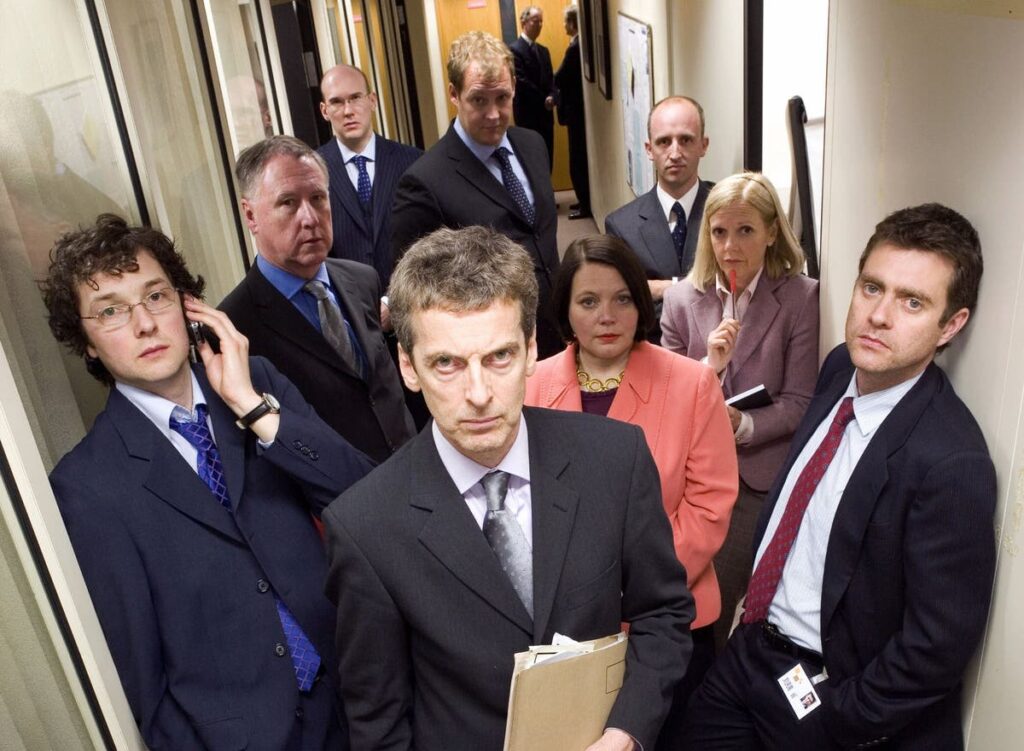 The Thick of It is a day-in-the-life look at the public relations in government departments, from the Department of Social Affairs all the way to Downing Street. Peter Capaldi stars as the Head of Public Relations for his currently-in-power political party. It's fast-paced and full of profanity, so it's great for those who love colorful language. Peter Capaldi even compared his expletive-filled rants on the show to performing poetry. A lot of the show is improvised, which shows off just how skilled the actors are.
It ran for five seasons and a film In The Loop was released in 2009. The HBO series Veep is an American adaptation of Armando Iannucci's format.
Starring Peter Capaldi, Roger Allam, Joanna Scanlan, Chris Addison, Rebecca Front, and more. Directed by Armando Iannucci.
This political satire is streaming on BritBox and Hulu.
Twenty Twelve and W1A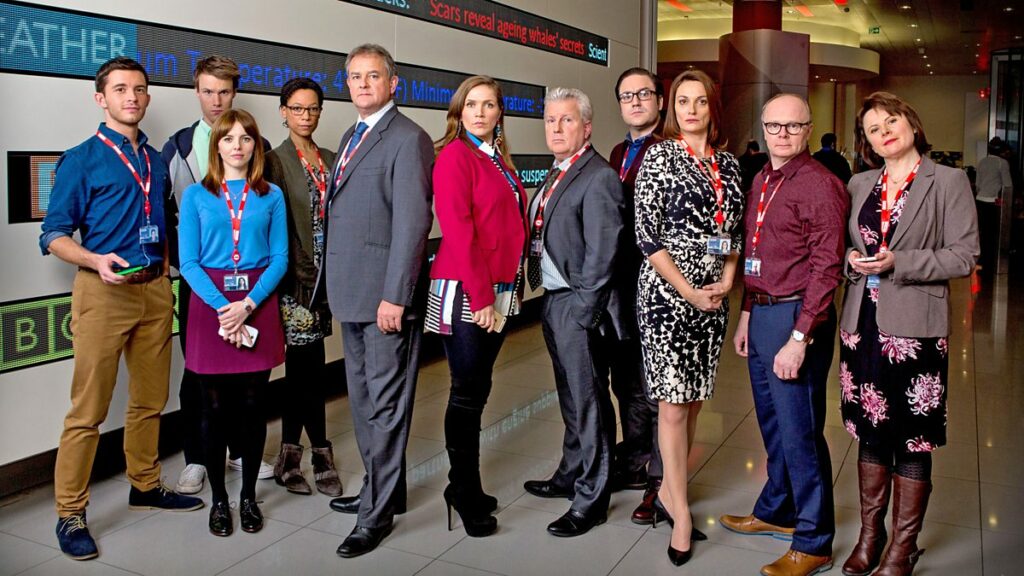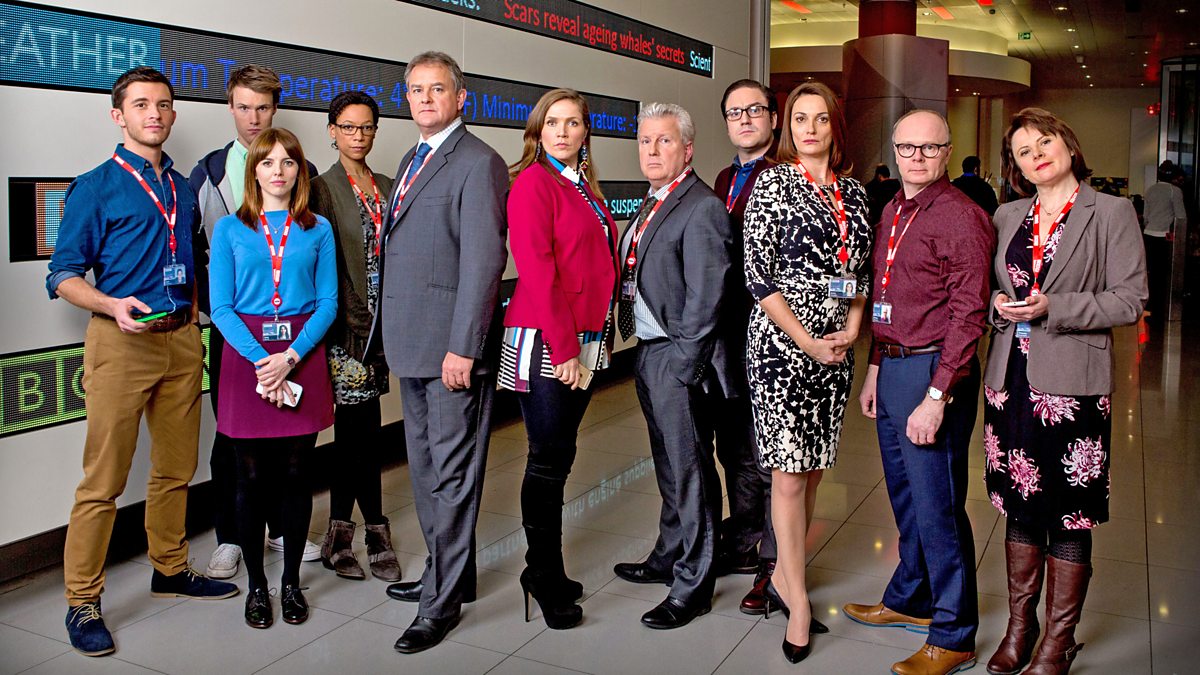 Twenty Twelve is a mockumentary-style spoof following the organisation of the 2012 Olympics starring Hugh Bonneville. The show's sequel W1A is a self-deprecating sitcom about the fictional Head of Values at the BBC. The name W1A is from the postal code for the BBC headquarters, Broadcasting House (W1A 1AA).
Both shows share many of the same actors. For example, Olivia Colman has a prominent role in Twenty Twelve but only a cameo in W1A.
Cast also includes: Morven Christie, Sara Pascoe, Vincent Franklin, Jessica Hynes, Monica Dolan, Sarah Parish, Jason Watkins, Ophelia Lovibond, Nina Sosanya, and Joel Fry, among many others.
Oh, and do you recognise the narrator? It's David Tennant!
Twenty Twelve is available to own on Amazon.
The Job Lot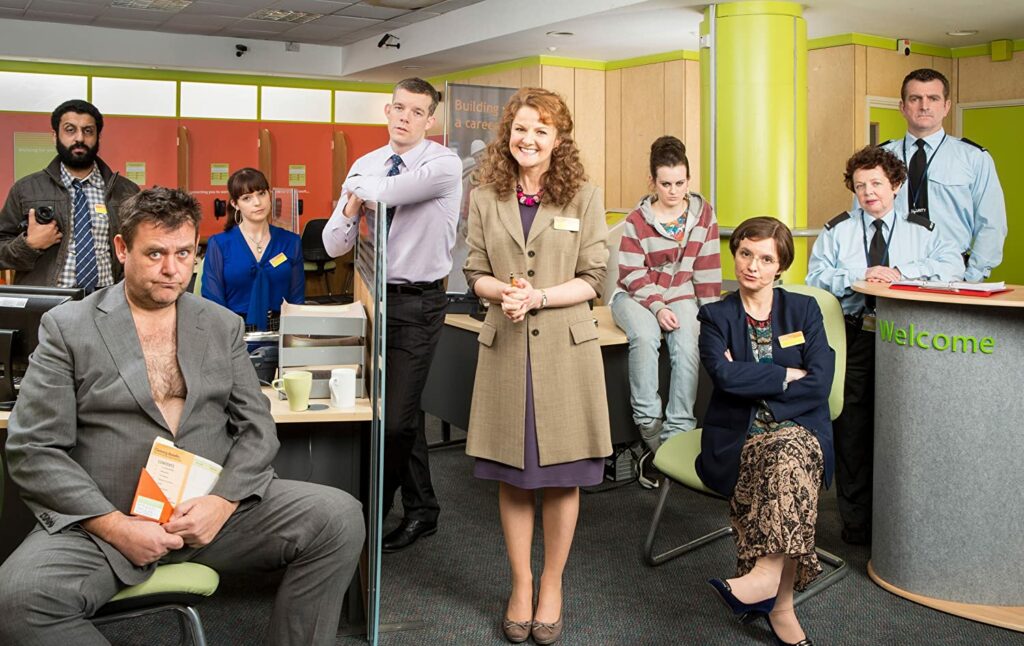 Miranda co-star Sarah Hadland stars as Trish Collingwood, a West Midlands job centre manager. It focuses on the hilarious relationships between co-workers and job seekers.
Also starring Russell Tovey, Sophie McShera, Jo Enright, Meera Syal, and more.
The Job Lot is streaming on BritBox.
Hang Ups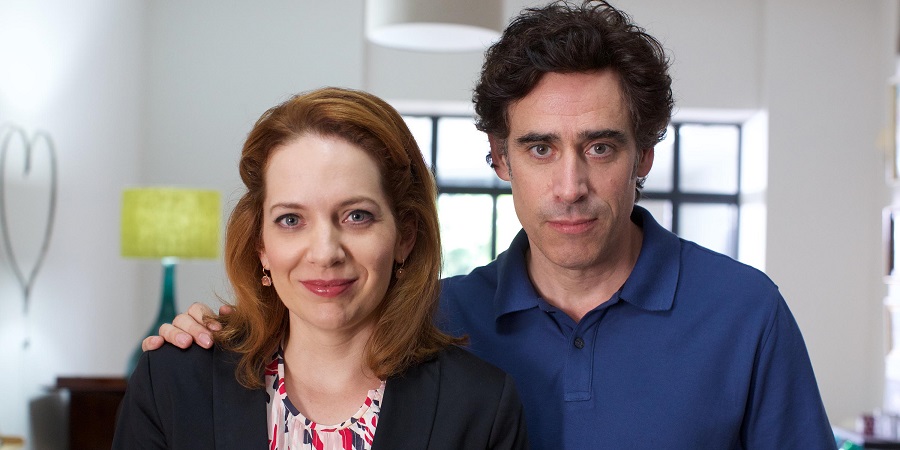 This isn't exactly a workplace comedy, but with so many people having to work from home during the pandemic, we're including this hilarious comedy about a therapist who works from home.
Hang Ups stars Stephen Mangan as a therapist struggling to give quick-fire therapy sessions via video meetings. Katherine Parkinson stars as his wife and a ton of familiar faces cameo as patients.
You'll see Karl Theobald, Richard E. Grant, Charles Dance, Hugh Dennis, Celia Imrie, and Alice Lowe.
Hang Ups is streaming on Hulu.
Are You Being Served?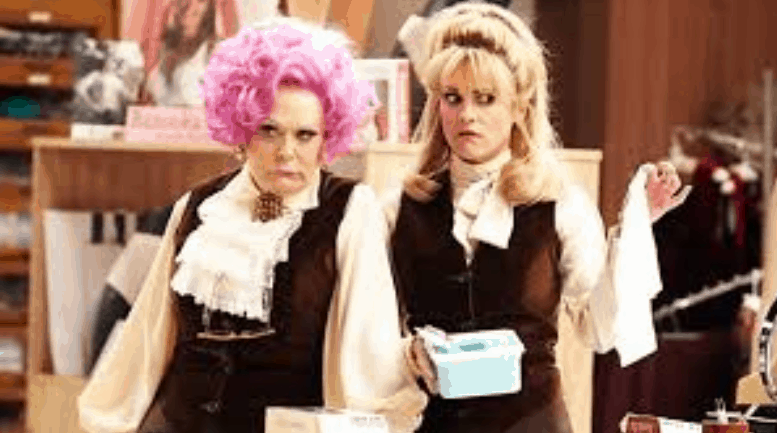 This classic sitcom follows a group of workers in a department store. Are You Being Served? originally aired in 1972 until 1985. If sexual innuendo, slapstick humor, and double entendres are your cup of tea, you'll love Are You Being Served?
This classic stars Mollie Sugden, Trevor Bannister, Frank Thornton, John Inman, Wendy Richard, Arthur Brough, Nicholas Smith, and more.
Are You Being Served? is streaming on BritBox.
Fawlty Towers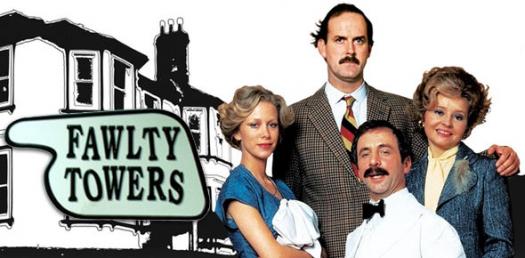 In this series, John Cleese stars as a short-fused hotel owner named Basil Fawlty. He's exactly the type of person who shouldn't be a hotelier, making for all sorts of hilarious situations. Fawlty Towers ran for two seasons, from 1975 to 1979.
Also starring Andrew Sachs, Prunella Scales, Connie Booth, Ballard Berkeley, Gilly Flower, and Renee Roberts. Bernard Cribbins even appears in an episode.
Although it only ran for two seasons, this show is certainly considered classic British comedy.
Fawlty Towers is streaming on BritBox.
Open All Hours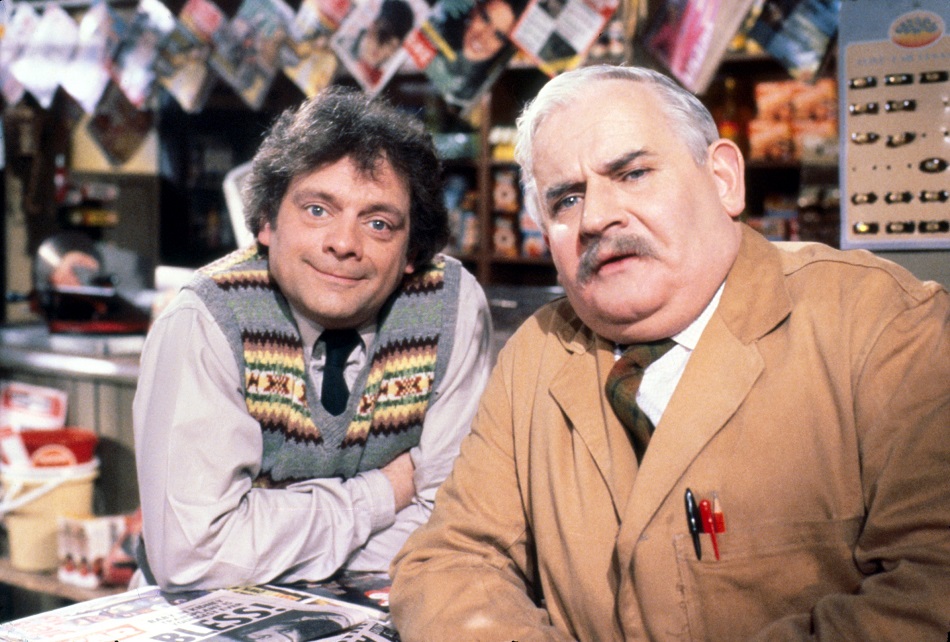 Like Are You Being Served? and Fawlty Towers, Open All Hours is a classic. It ran from 1976 to 1985. The story follows an eccentric shopkeeper with a speech disorder. Along with trying to squeeze every last pence from his customers and keep his nephew in line, he's longing for his lifelong love, Nurse Gladys.
Open All Hours stars Ronnie Barker, David Jason, Lynda Baron, Stephanie Cole, Barbara Flynn, and Kathy Staff.
Stream Open All Hours on BritBox.
Lunch Monkeys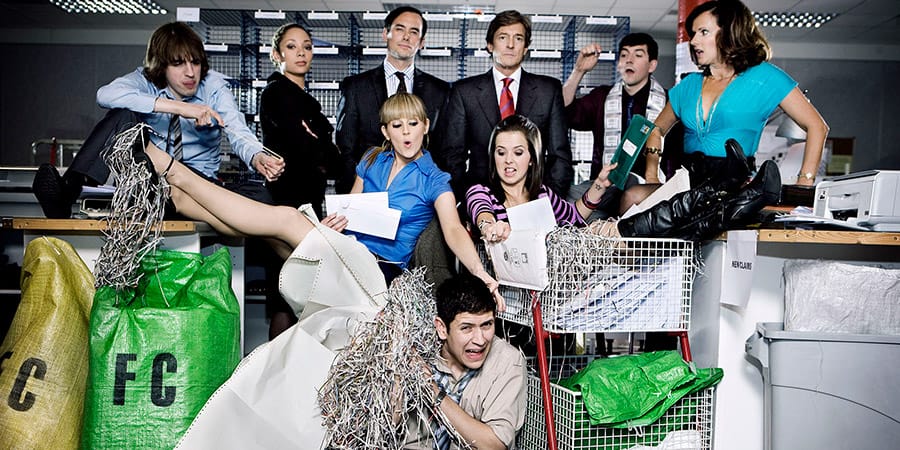 These slackers work in the mailroom of a personal injury law firm. This show follows their exploits as they take two-hour lunches, gambling, and other non-work activities.
Starring Nigel Havers, Abdullah Afzal, Chris Hannon, and more.
Lunch Monkeys is streaming for free on IMDb TV.
Teachers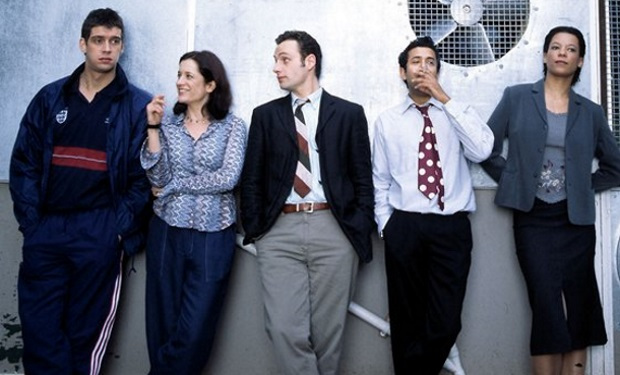 Teachers follows a group of young teachers as they drink beer, try to be romantic, and generally just fumble around. This fun comedy ran for four seasons. It deals with their lives both in and out of the classroom.
Starring Andrew Lincoln, Ursula Holden Gill, Gillian Bevan, Lloyd McGuire, and Nina Sosanya.
Shaun Evans (Endeavour) also appears in ten episodes.
Teachers is streaming on Amazon Prime.
Monday Monday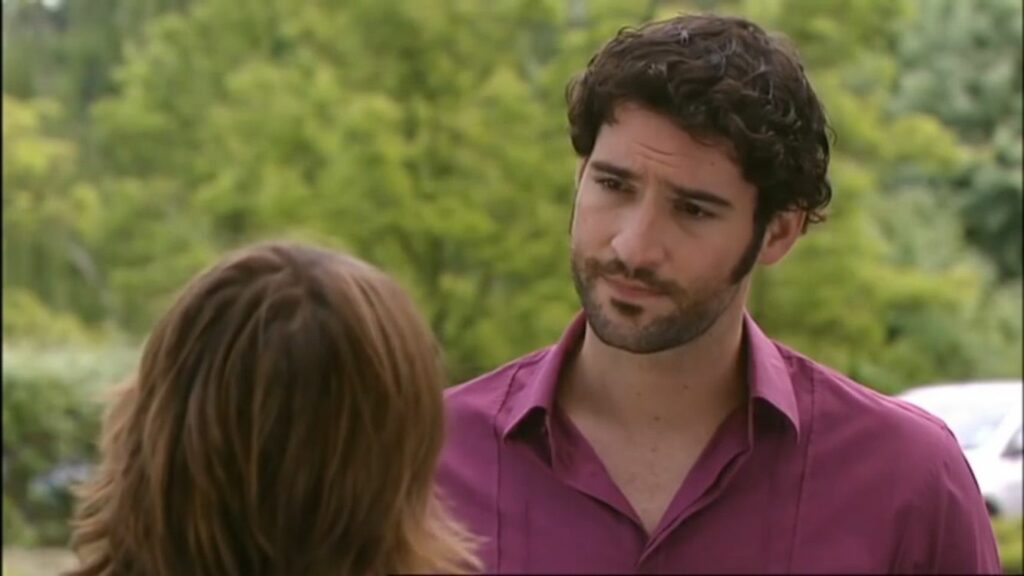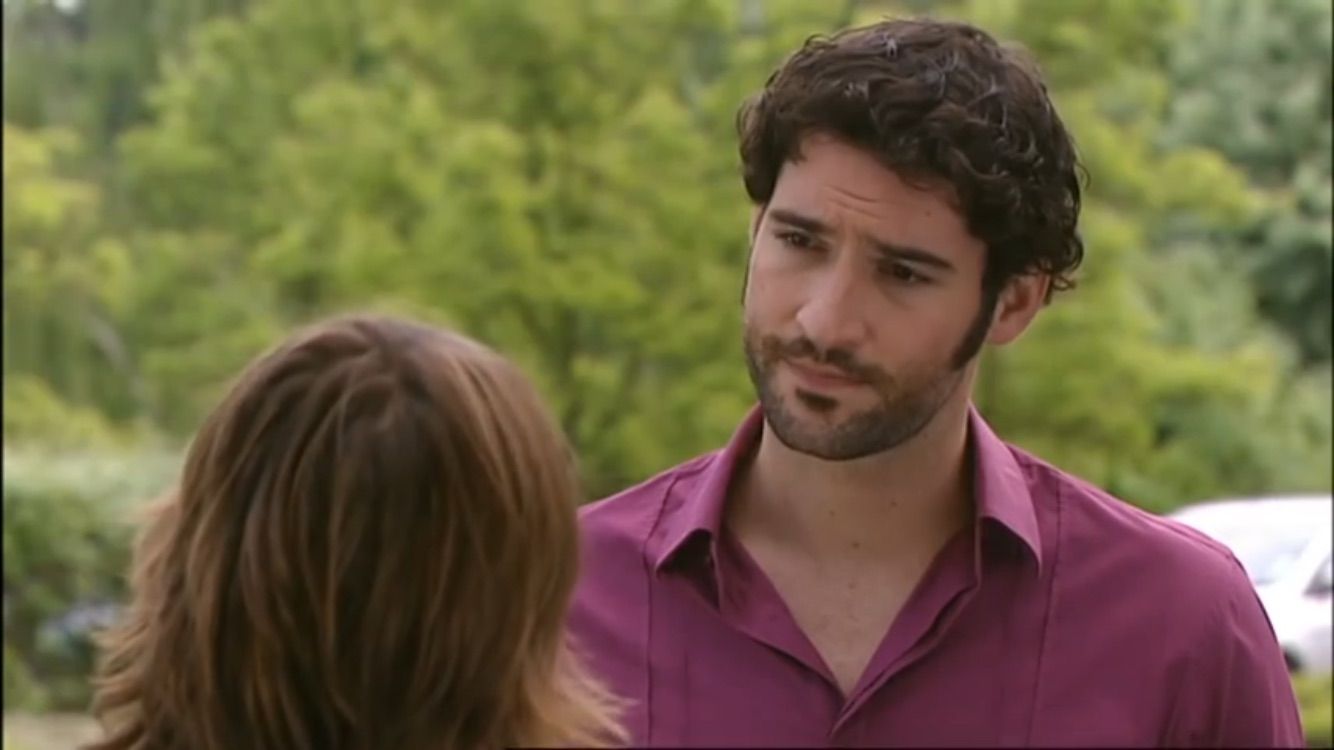 Finally on our list, we're going with the short-lived office comedy Monday Monday starring Morven Christie, Fay Ripley, Tom Ellis (of Miranda and Lucifer fame), Peter Wright, Jenny Agutter, and Miranda Hart.
Fans of Miranda will definitely want to see this one. This comedy takes place at the headquarters of a supermarket that is not as successful as it once was.
Stream Monday Monday on Acorn.
What's Your Favourite British TV Workplace Comedy?
Did we miss a couple of your favourites? Let us know in the comments!
Save it to Pinterest!