48 Lovely British TV Shows Set by the Sea
In some cases, we earn commissions from affiliate links in our posts.
Last Updated on November 17, 2021 by Stefanie Hutson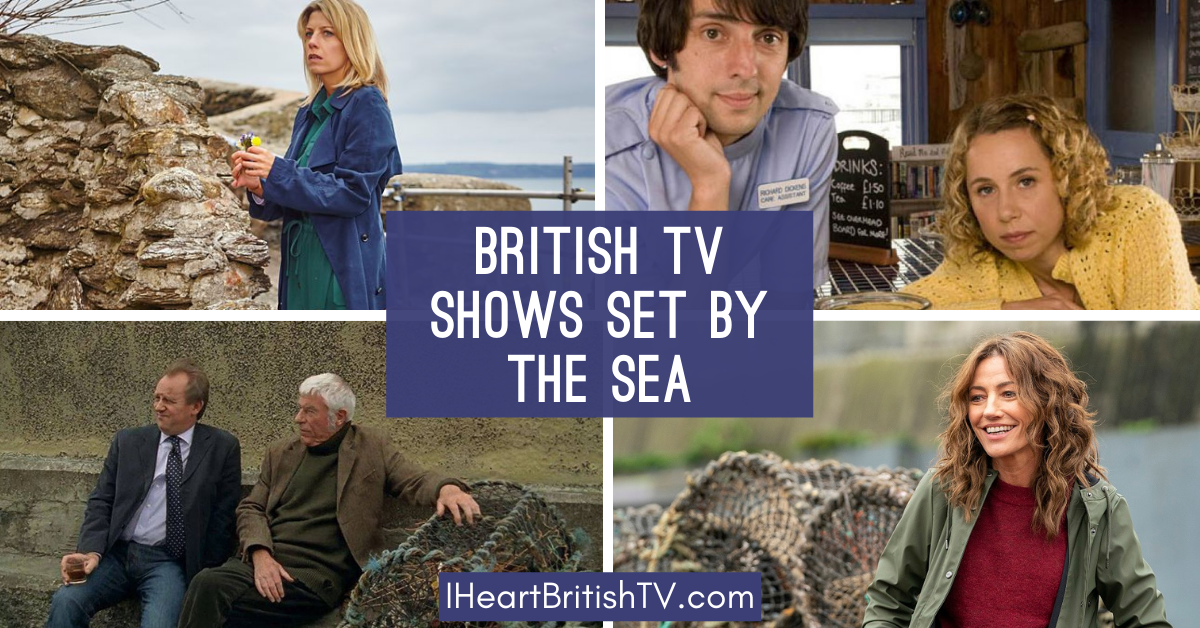 The UK may be small, but it has nearly 20,000 miles of coastline (though exact totals vary based on how you measure it). Given the small, dense nature of the country and its abundance of coastline, it's no surprise that quite a few British television shows are set by the sea.
In this post, we take a look at 47 different British (and a few Irish) shows set by the coast.
48 Lovely British TV Shows Set by the Sea
While some of the shows on this list are quite obvious (like Doc Martin), we've tried to include a good mix of shows – period dramas, comedies, mysteries, and even some British shows set abroad. If you can think of others, feel free to share them in the comments and we can add them in on a later revision of this post.
2000 Acres of Sky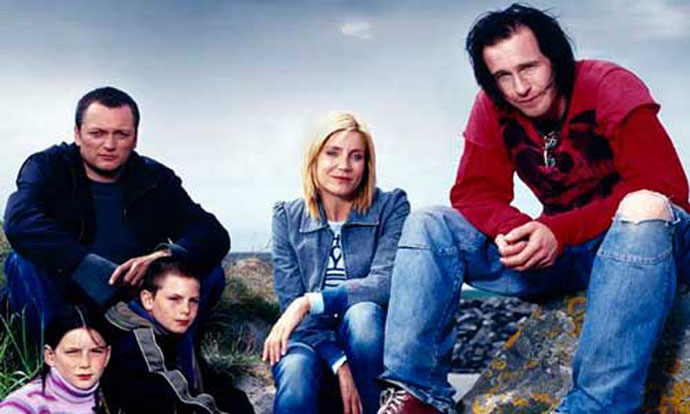 Filmed in the seaside village of Port Logan, this early-2000s series follows a single mother in London who sees an advert about a Scottish island that needs someone to run a local B&B, along with a plea for two children so they can keep their local school open. She persuades a friend to pretend to be her husband, and together they leave London behind for island life.
Only Season 1 is available to stream right now, but you can enjoy all of it on DVD if you have a region-free DVD player.
The Aphrodite Inheritance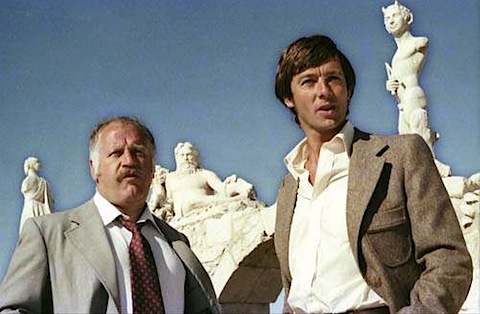 This eight-part series was created by Michael J. Bird in 1978 as a follow-up to two other Mediterranean-based shows, The Lotus Eaters and Who Pays the Ferryman? (both further down on this list). Peter McEnery (The Collectors) starred as a man travelling to Cyprus to look into the death of his brother – only to find himself drawn into a mysterious conspiracy.
Watch it: DVD
The Bay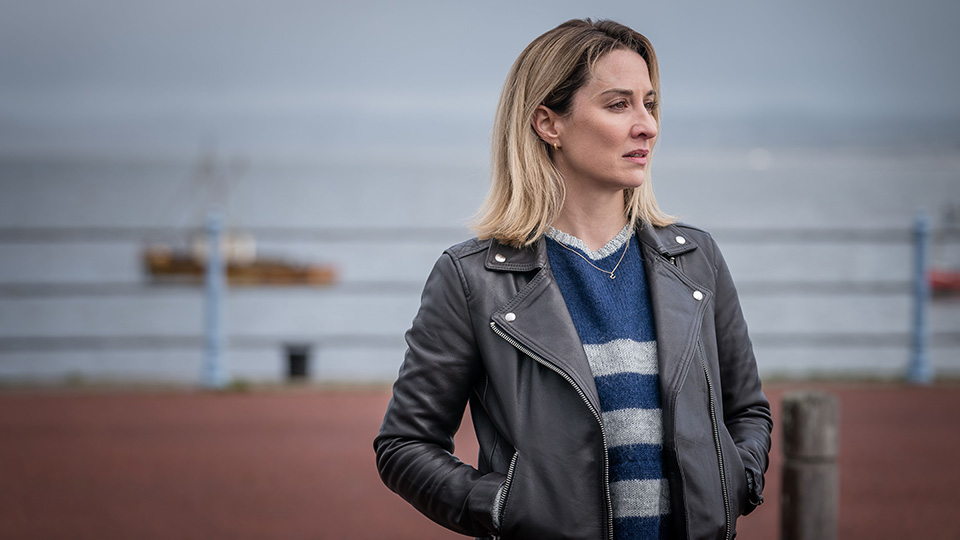 Morven Christie (Grantchester) plays DS Lisa Armstrong, a family liaison officer who discovers she has a personal connection to a missing persons case. This 2019 mystery is set around Morecambe Bay, and it's been renewed for a third series (though Morven Christie won't be returning).
Benidorm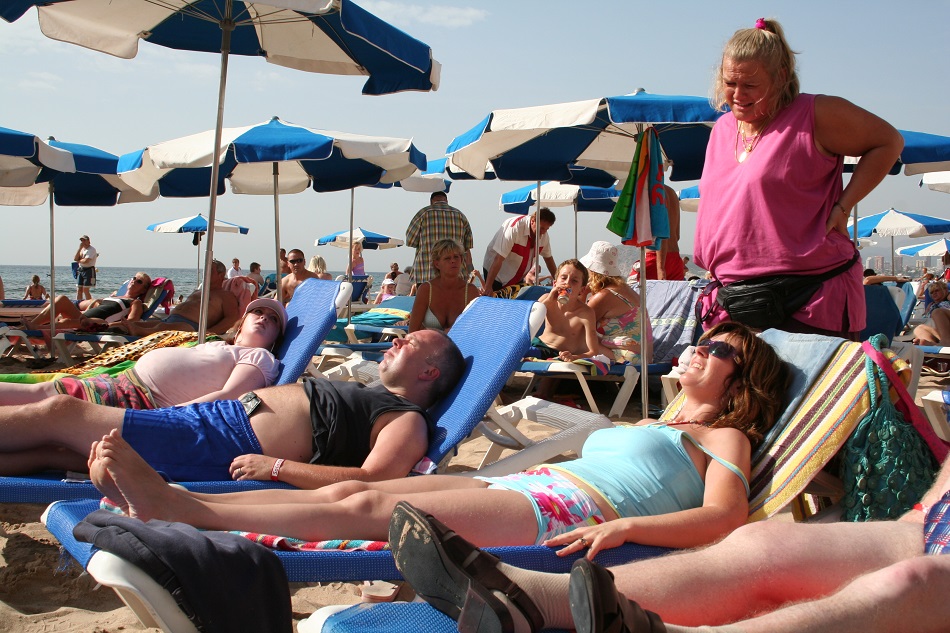 Benidorm follows an ensemble cast of British holidaymakers and staff at an a resort in Benidorm, Spain. For those not familiar with the real location of Benidorm, it's a bit like Cancun for North Americans – a coastal holiday destination working class people can afford, with a lot of all-inclusive hotels.
The US network FOX has actually commissioned an American adaptation of the sitcom, to be called The Big Package. The series will feature a Boston family on holiday at a Mexican resort with cheap package deals.
The sitcom lasted for 10 seasons before being cancelled in 2018, though many of the cast members showed up later in creator Derren Litten's Scarborough (also on this list).
Blackpool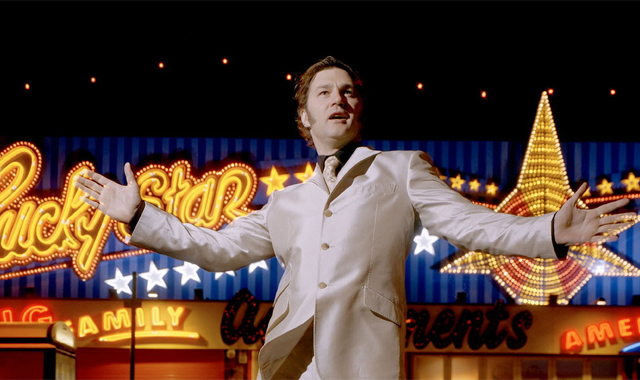 Not surprisingly, Blackpool is set in the English seaside resort town of Blackpool. This BBC production is a bit unusual in that it's a musical drama. It stars David Morrissey (The Walking Dead). Sarah Parish (Bancroft), and David Tennant (Doctor Who, Broadchurch), focusing on the events after a young man is murdered in a Blackpool arcade.
Watch it: Streaming | DVD US | DVD UK (non-UK buyers may find the price is sometimes better on Amazon UK)
Booze Cruise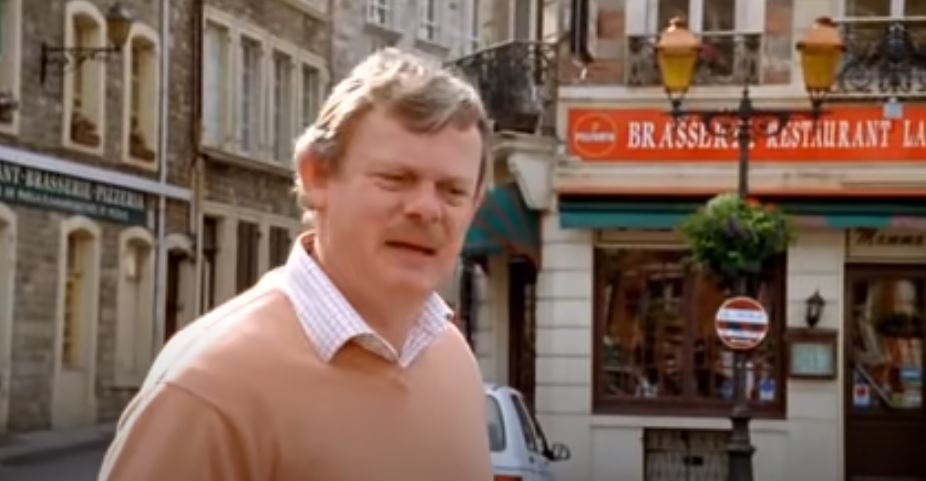 This series of three feature-length episodes stars Martin Clunes (Doc Martin), Neil Pearson (Drop the Dead Donkey), and Mark Benton (Shakespeare & Hathaway) as the odd trio of neighbours travel abroad to buy alcohol. Wildly underrated, this one doesn't appear to be streaming anywhere legal – but you CAN buy a DVD copy if you have a region-free DVD player to watch it on.
Along with a channel crossing, one episode involves a car being washed out to sea.
Watch it: DVD
Brighton Belles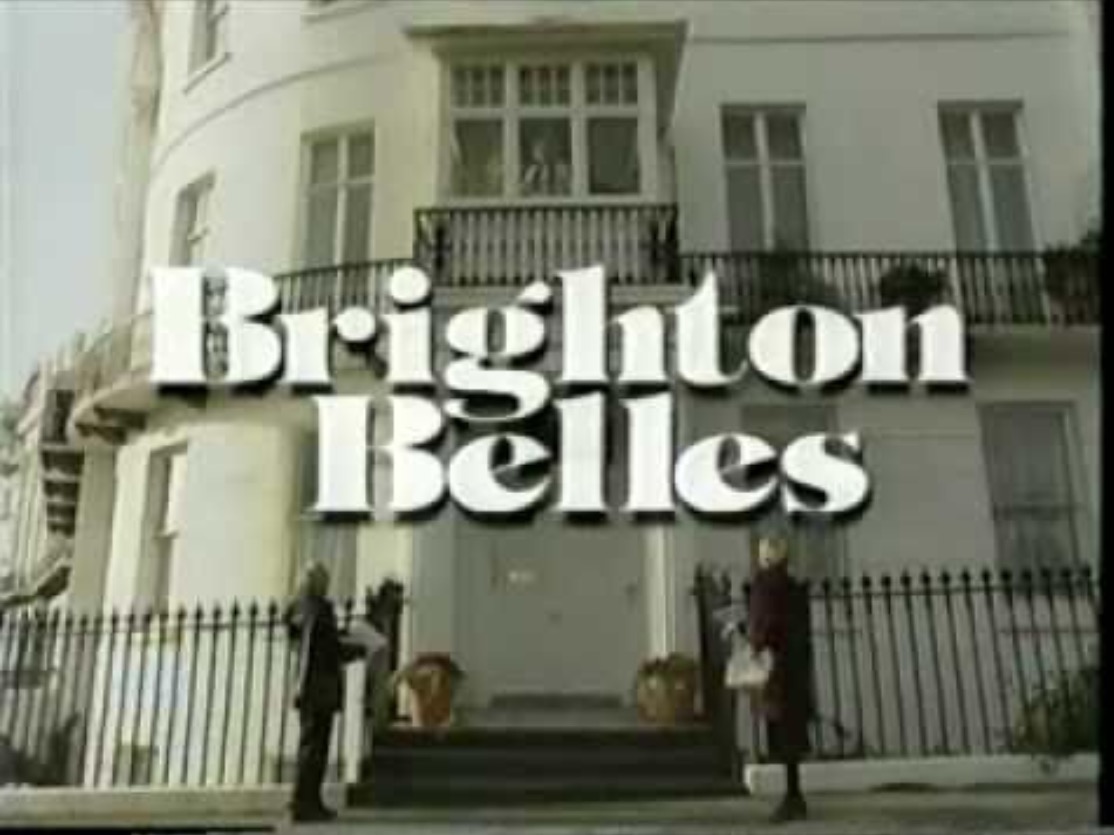 This early 90s British Golden Girls adaptation was set in the coastal town of Brighton (south of London) and it had 11 episodes over 2 seasons. The series starred Sheila Hancock (Delicious, Kavanagh QC – also known for being John Thaw's wife), Wendy Craig (Butterflies), Sheila Gish (Pie in the Sky), and Jean Boht (Bread).
Sadly, it's not available to watch – not on streaming services OR DVD. It was produced by Carlton, which was later bought by Granada, now known as ITV Granada. If you want to see this one released, let them know so they realise there's demand for it.
Broadchurch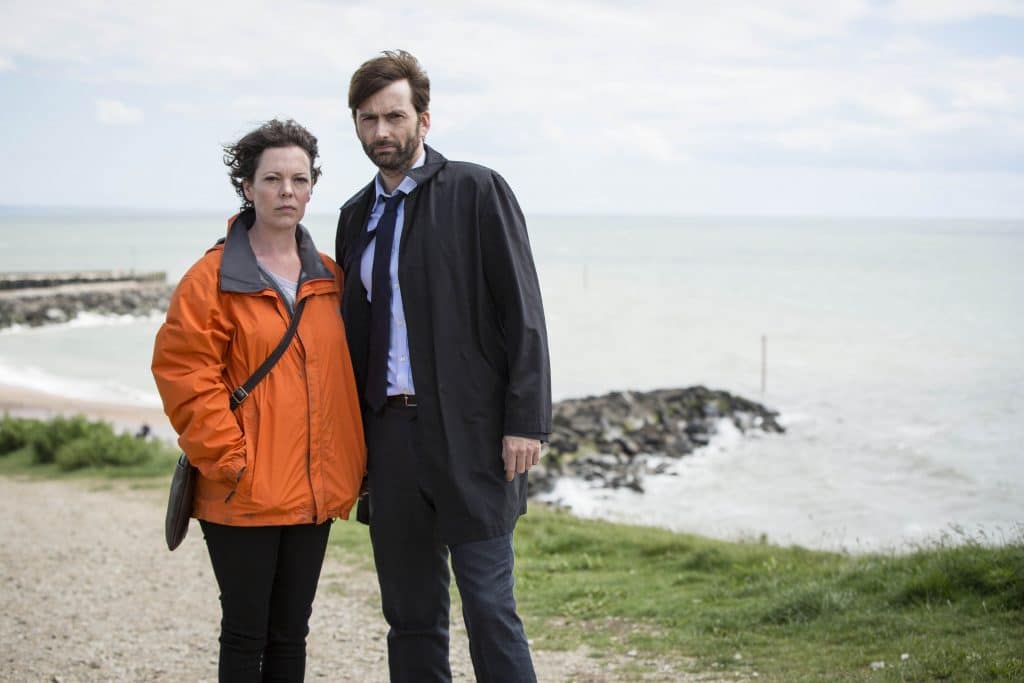 David Tennant (Doctor Who) and Olivia Colman (Rev) star in this small-town coastal mystery about the investigation into the murder of a young local boy. The series was filmed along the Dorset coast, and you can read more about Broadchurch filming locations here.
Watch it: Amazon | DVD | Coming Soon to PBS Masterpiece
The Cafe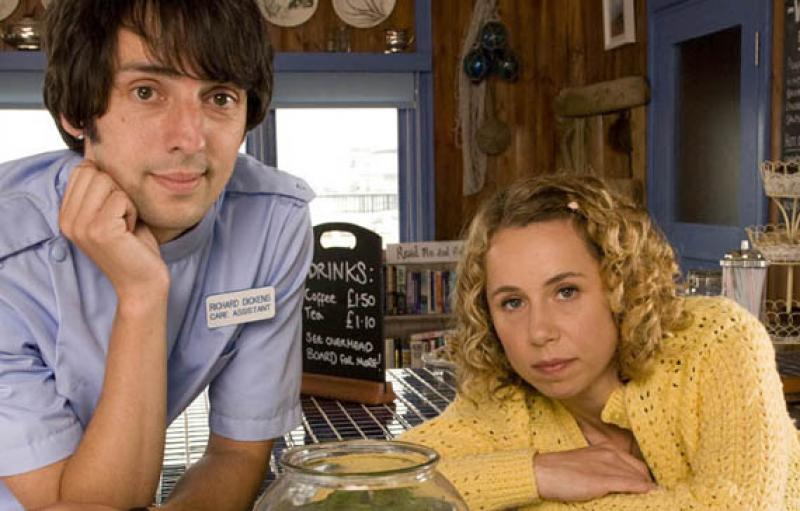 Set in the coastal Somerset town Weston-super-Mare, this light comedy starred Ralf Little (Death in Paradise) and Michelle Terry (Marcella) and revolved around a cafe owned and operated by a grandmother, her daughter, and her granddaughter. The series also featured Phoebe Waller-Bridge (Fleabag), then largely unknown.
Watch it: Streaming
The Coroner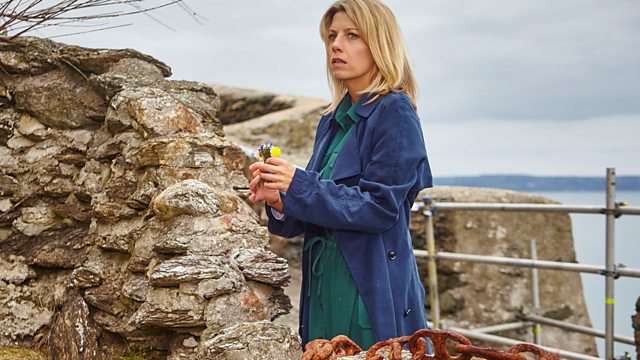 This daytime drama follows a coroner working alongside her one-time childhood sweetheart in a coastal town in south Devon. Claire Goose (Casualty) and Matt Bardock (Casualty) star.
Cuffs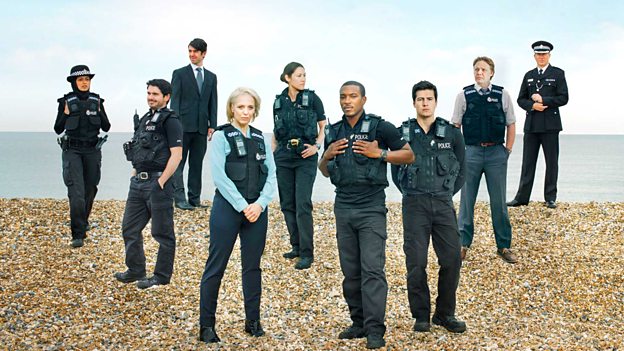 This quirky, often comedic series takes a look at the lives of front-line police officers in the colorful seaside city of Brighton. Sadly, it only got one series of 8 episodes – but it's a fun watch.
Dad's Army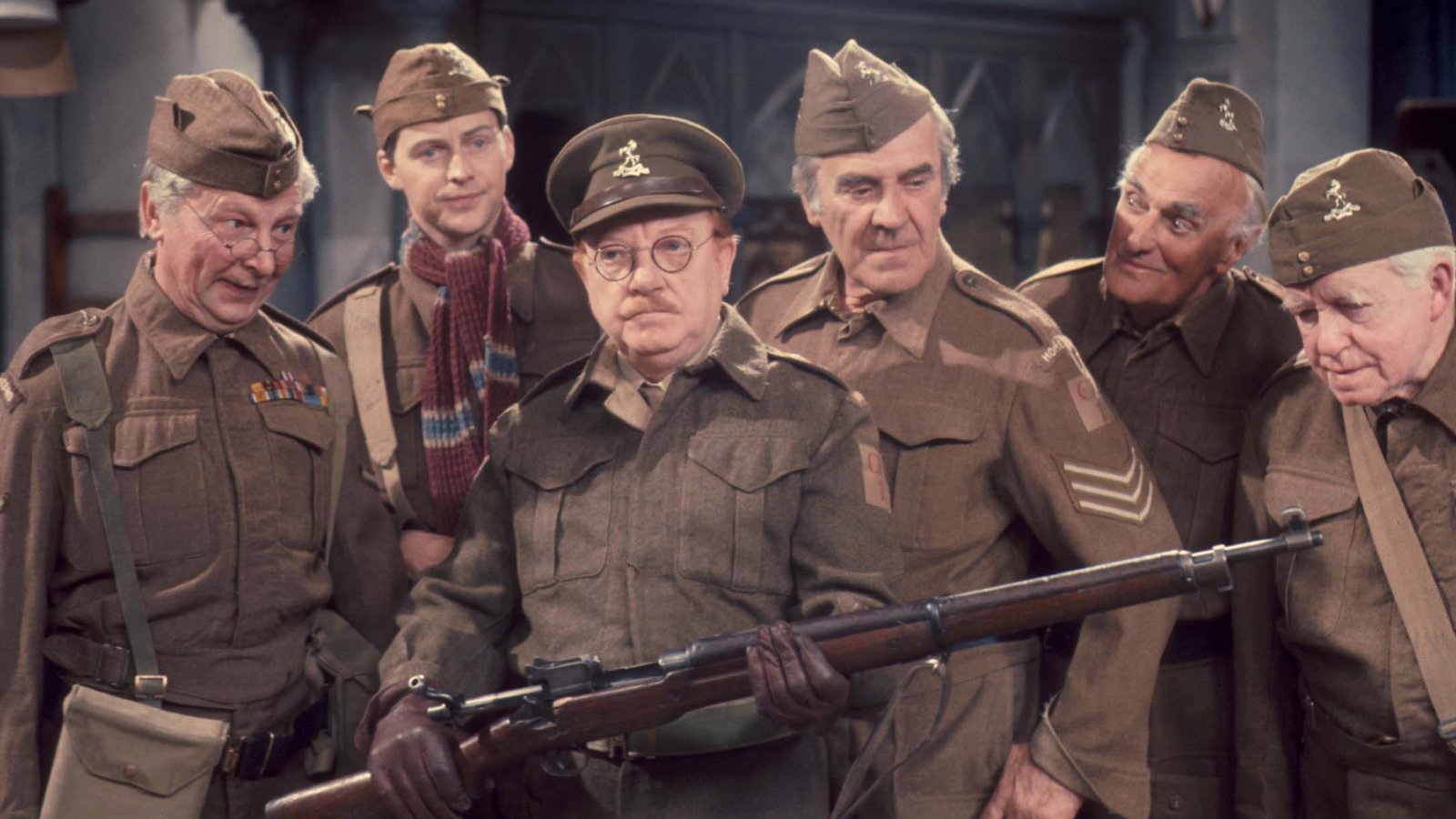 Dad's Army is a 1960s and 70s series set during WW2. One of the great British comedy classics, this one was set in the fictional seaside town of Walmington-on-Sea where a group of men worked together in the Home Guard (an armed citizen militia for those not otherwise suited for active military duty).
Death in Paradise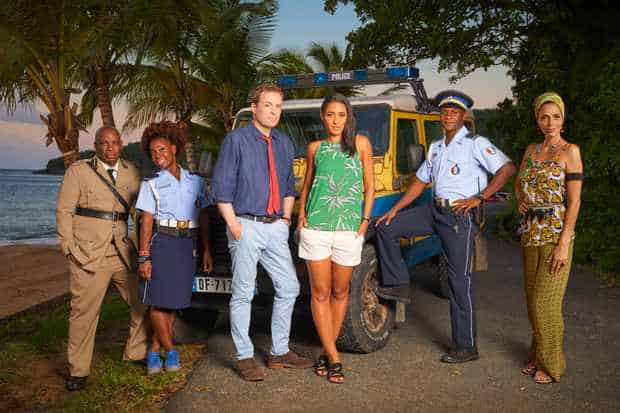 This popular tropical murder mystery is filmed in Guadeloupe, and it's now on its 9th season and 4th DI. Though the flavour changes a bit with each new DI, it's a fish-out-of-water series in which an awkward British inspector leads a team of local islanders as they solve murders around the area.
Distant Shores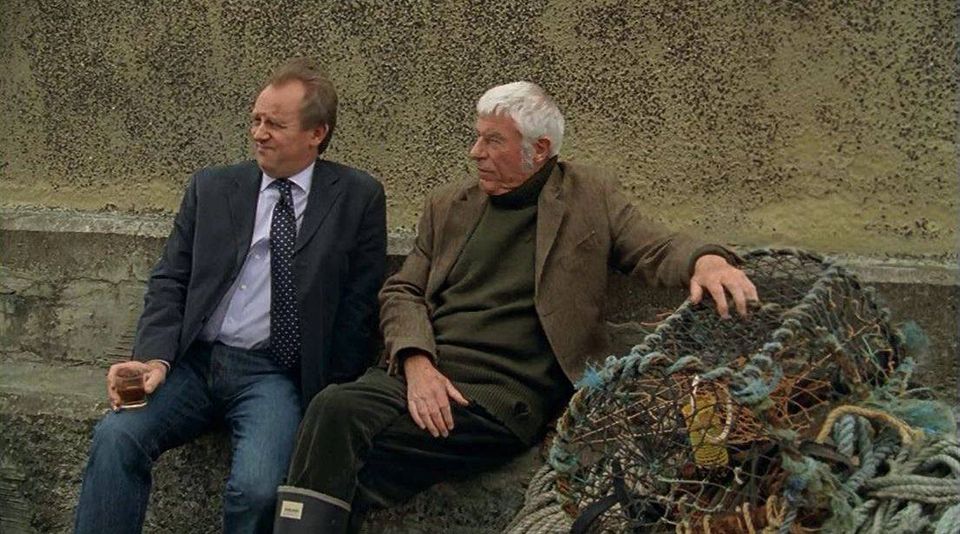 Peter Davison (All Creatures Great and Small) and Samantha Bond (Downton Abbey) star in this series about a London plastic surgeon whose wife gets a six-month veterinary job on the Northumbrian island of Hildasay. Though initially unhappy with the slower pace of life and quirky inhabitants, their family eventually adjusts.
Oddly, this one doesn't stream in the US – and even in the UK, the second series was never aired. It's a quiet, pleasant show, though, and you can enjoy both seasons on DVD if you have a region-free DVD player.
Watch it: DVD
Doc Martin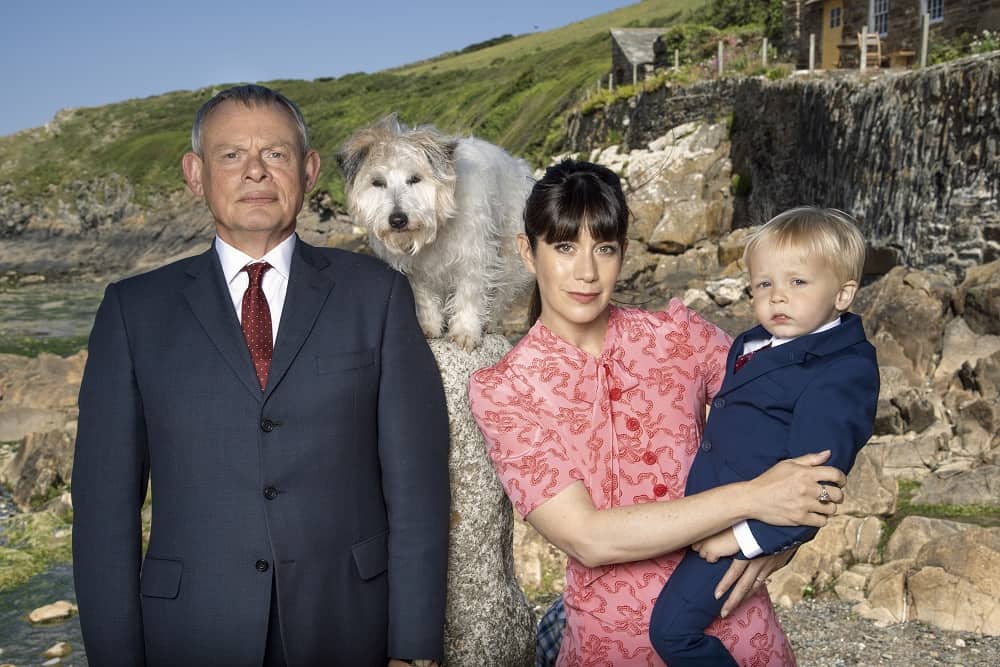 In Doc Martin, Martin Clunes stars as an ex-surgeon whose sudden fear of blood led him to a new career as local GP in the seaside village of Portwenn. He's grumpy and hard to get to know, but eventually, he finds his place in the village.
Cornwall's Port Isaac serves as the location for the fictional Portwenn.
Don't Forget the Driver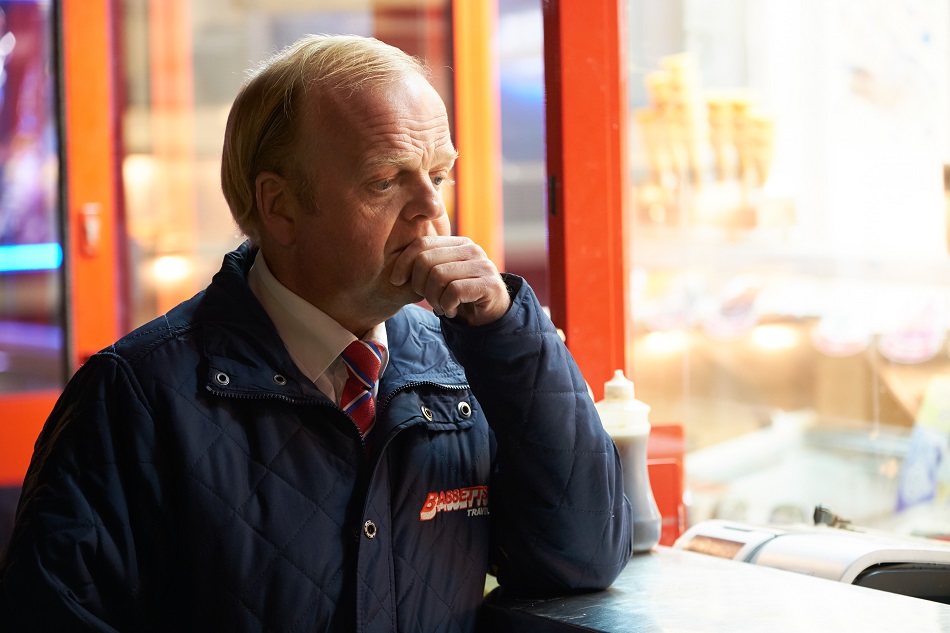 Toby Jones (Detectorists) not only stars in this dark comedy, he co-wrote it. The series follows coach driver Peter Green as his quite, shabby life is disrupted when he stumbles upon a dead body on the local beach.
The series was filmed and set in Bognor Regis, a seaside town on the south coast of England.
Watch it: Streaming
The Durrells (aka The Durrells in Corfu)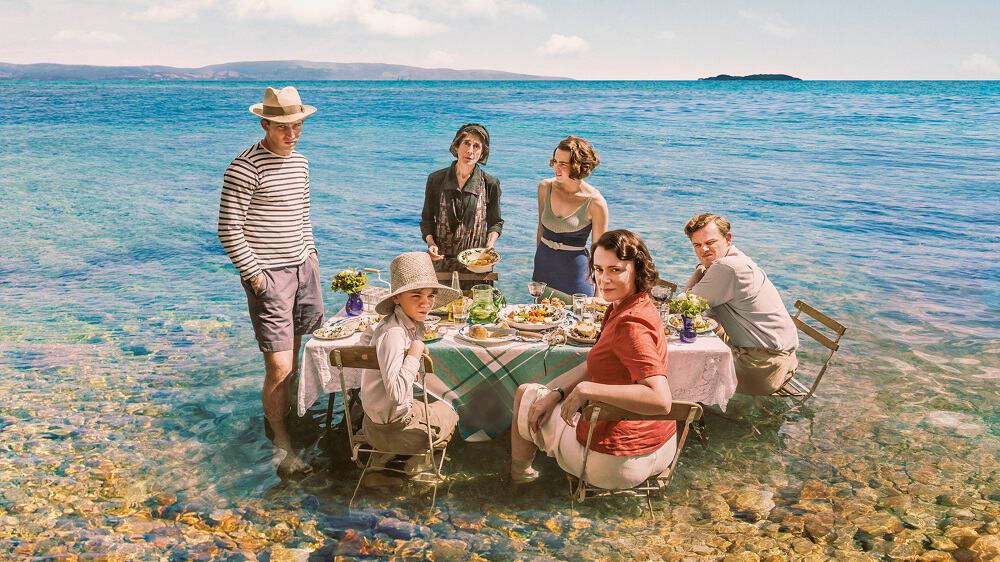 This popular British series tells the story of a widow who moves her family out of 1930s England in search of a better life. The series was filmed in the quaint Corfu village of Danilia.
Echo Beach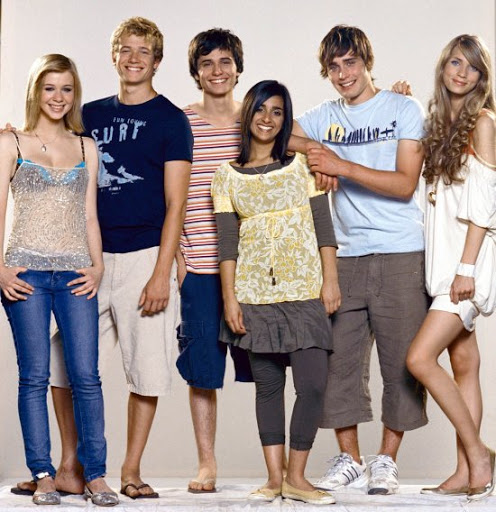 This 2008 soap opera was set in the fictional Cornish town of Poinarren, and Martine McCutcheon (Natalie from Love Actually) and Hugo Speer (London Kills) were among its stars. The series was interlinked with another, Moving Wallpaper, with both set in the same town.
Outdoor scenes were filmed around Looe and Polperro and Watergate Bay, but the series was criticised for its inconsistencies with props, locations, dialect, and regional accents.
Watch it: DVD
Edge of Heaven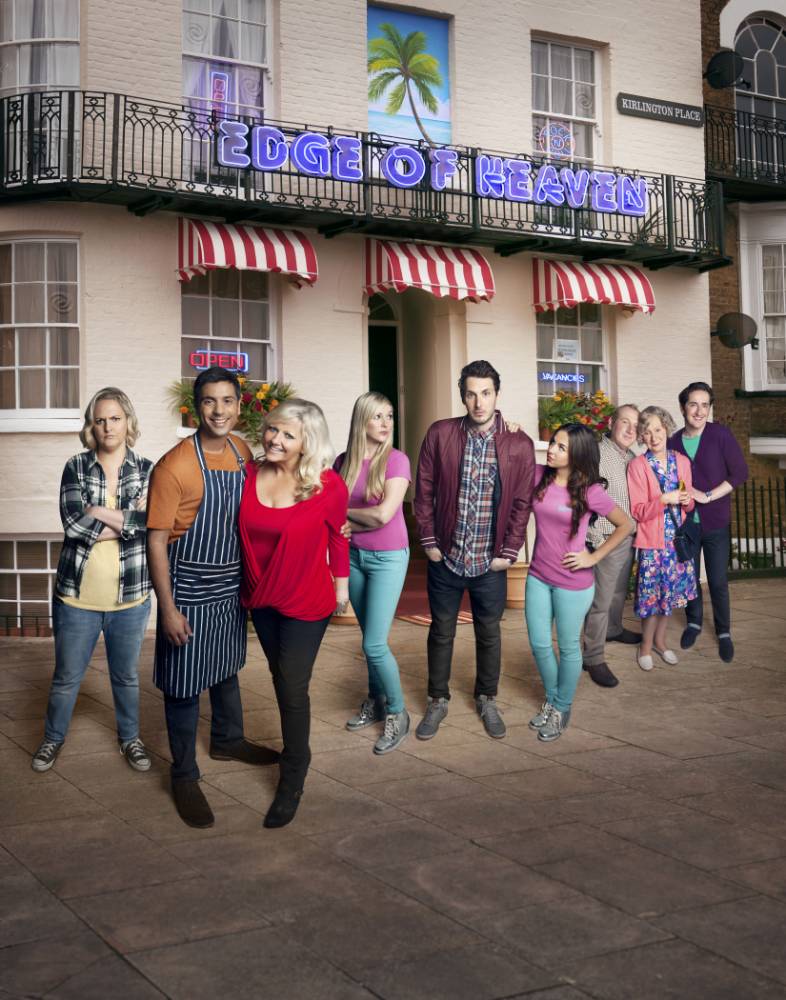 This short-lived sitcom focused on the lives of a family running a 1980s-themed guest house in the seaside town of Margate in Kent. While not a wildly memorable show, it's a fun, light series you can binge in a day or two. There's just one season of six episodes.
Watch it: Streaming
Father Ted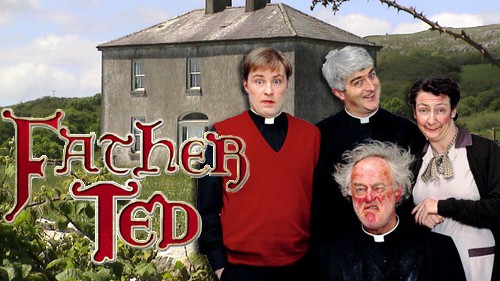 Father Ted is a British-Irish comedy classic, and it's set on the fictional Craggy Island – a remote spot off the west coast of Ireland. It sees three priests living together with a housekeeper after being banished to the island by Bishop Len Brennan.
Sadly, star Dermot Morgan died of a heart attack just one day after filming wrapped for Series 3 of the comedy.
Fawlty Towers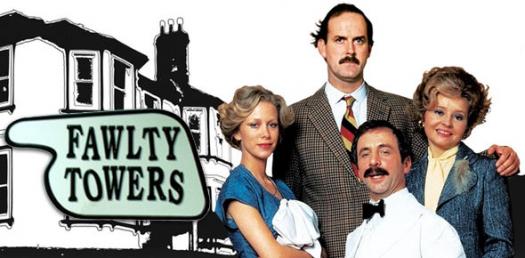 Though we don't really SEE the sea in Fawlty Towers, "Communication Problems" (Series 2, Episode 1) assures us it's out there. When one particularly troublesome guest, Mrs. Richards, complains that her "room with a view" lacks a sea view, she and Basil have the following exchange:
Basil Fawlty: You CAN see the sea. It's over there, between the land and the sky.

Mrs. Richards: I'd need a telescope to see that!

Basil Fawlty: Well, may I suggest that you move to a hotel closer to the sea…or preferably in it?
Though not actually filmed there, the series was set in Torquay, a South Devon town in the "English Riviera". So – while this one IS set by the sea, it's definitely not the show to watch if you're looking for calming sea views.
Finding Joy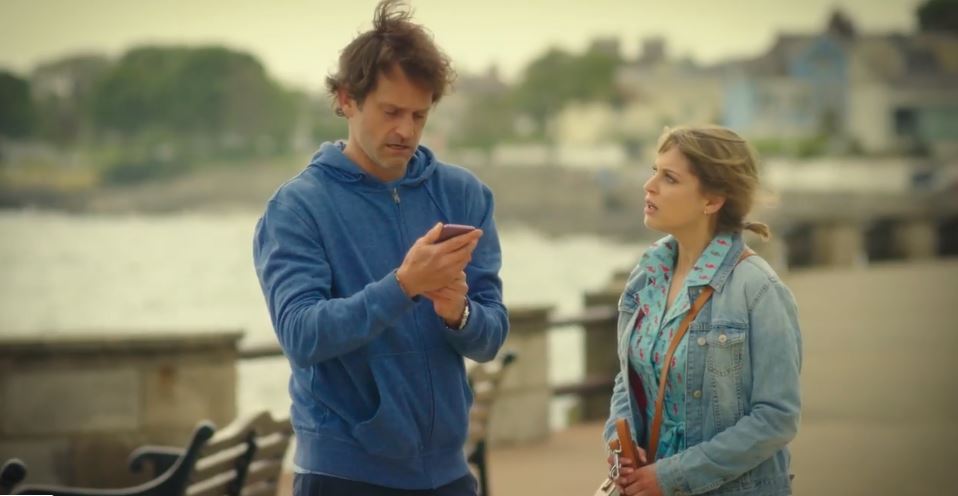 Though technically Irish rather than British, that's still part of the British Isles and it's good enough for us. The series follows a young Irish woman whose life is shaken up by a breakup and new job. Fair warning: it can be a bit crass at times, so if that's not your sort of comedy, this one won't be for you.
Watch it: Streaming
Flesh & Blood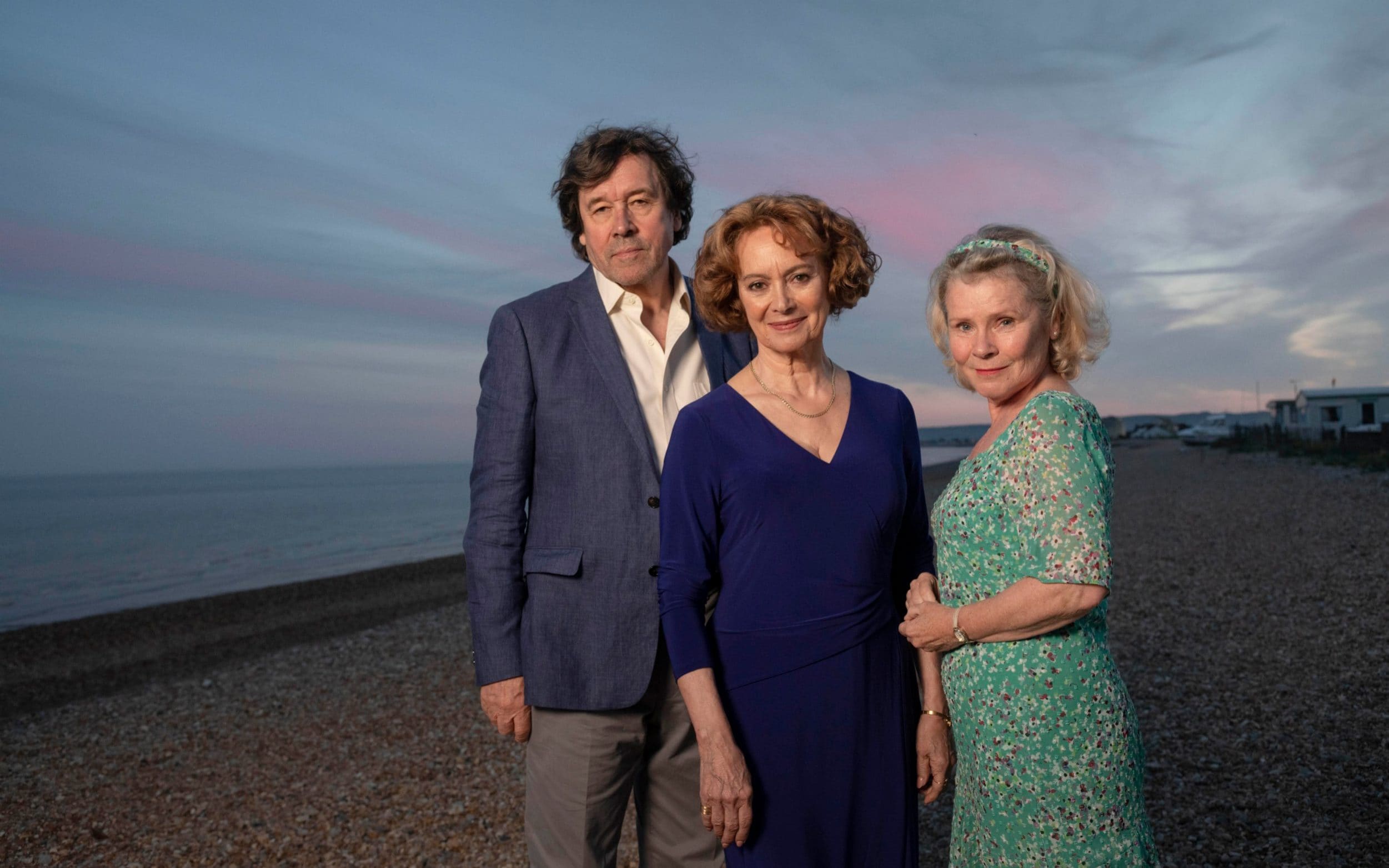 This 2020 series follows a family whose lives are disrupted after their father dies and their mother soon takes up with a new man they don't entirely trust. It's full of secrets, lies, snooping neighbours, and danger – with a beautiful coastal backdrop. There are four episodes in total.
Watch it: Streaming
Foyle's War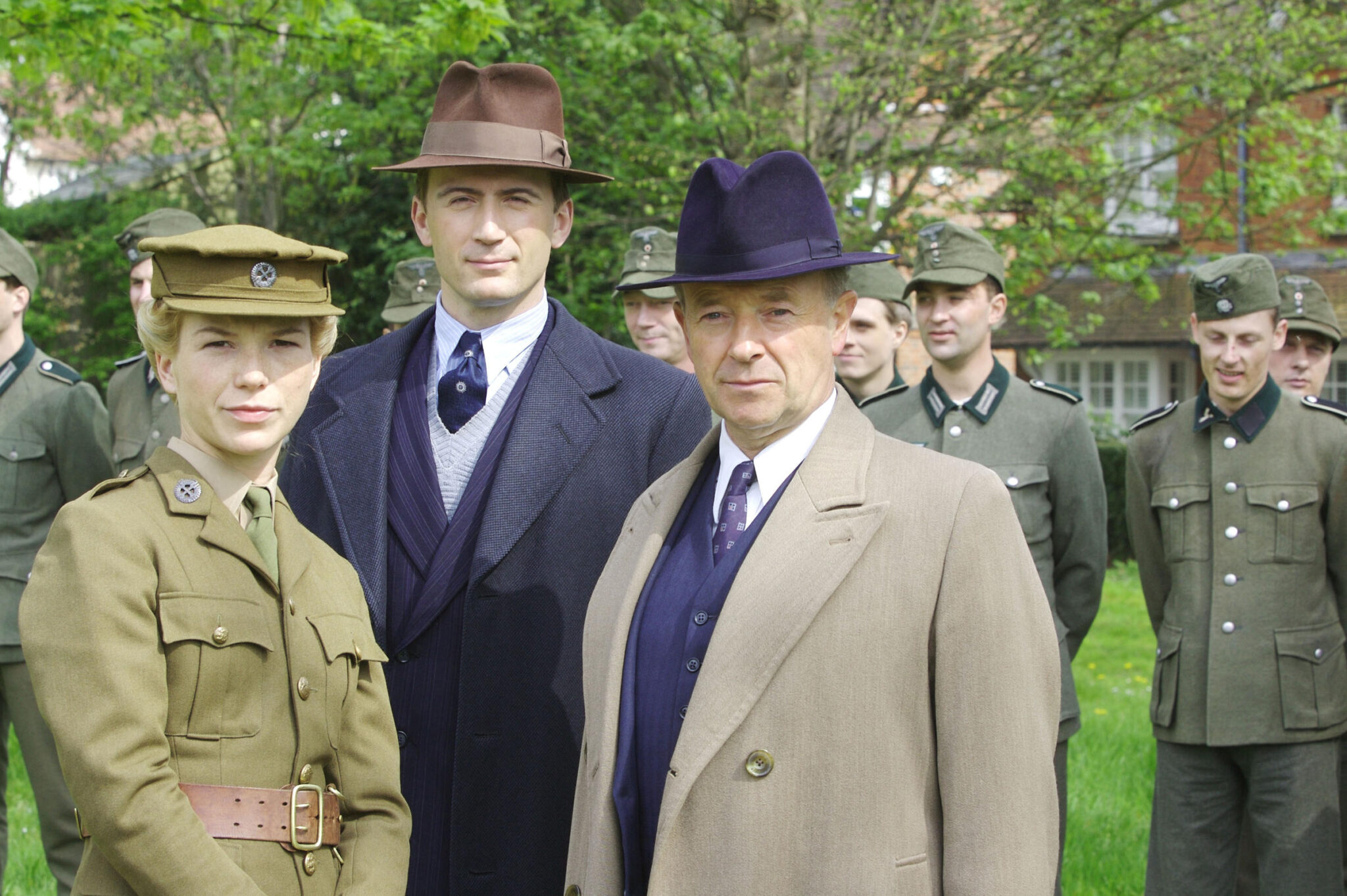 In this one, Michael Kitchen stars as DCI Christopher Foyle, an officer fighting crime along the south coast during WWII. He may not be on the front line, but he DOES deal with many cases that are related to the war efforts – smuggling, fuel theft, refugees, and so on.
The series is set in Hastings, though many parts were actually filmed in Rye. Both are located on the southern coast of England.
Gavin & Stacey
Gavin and Stacey follows two young people as they fall in love and combine their friends and families. Though roughly half of the series is set in inland Essex (Billericay, to be precise), the "Stacey" half of the show takes place in the Welsh coastal town of Wales.
If you've never watched it, this is a British comedy classic and definitely worth a viewing. It's the show that made James Corden and Ruth Jones famous, and the ensemble cast is delightful.
Watch it: Streaming | 2019 Christmas Special | DVD
Hamish Macbeth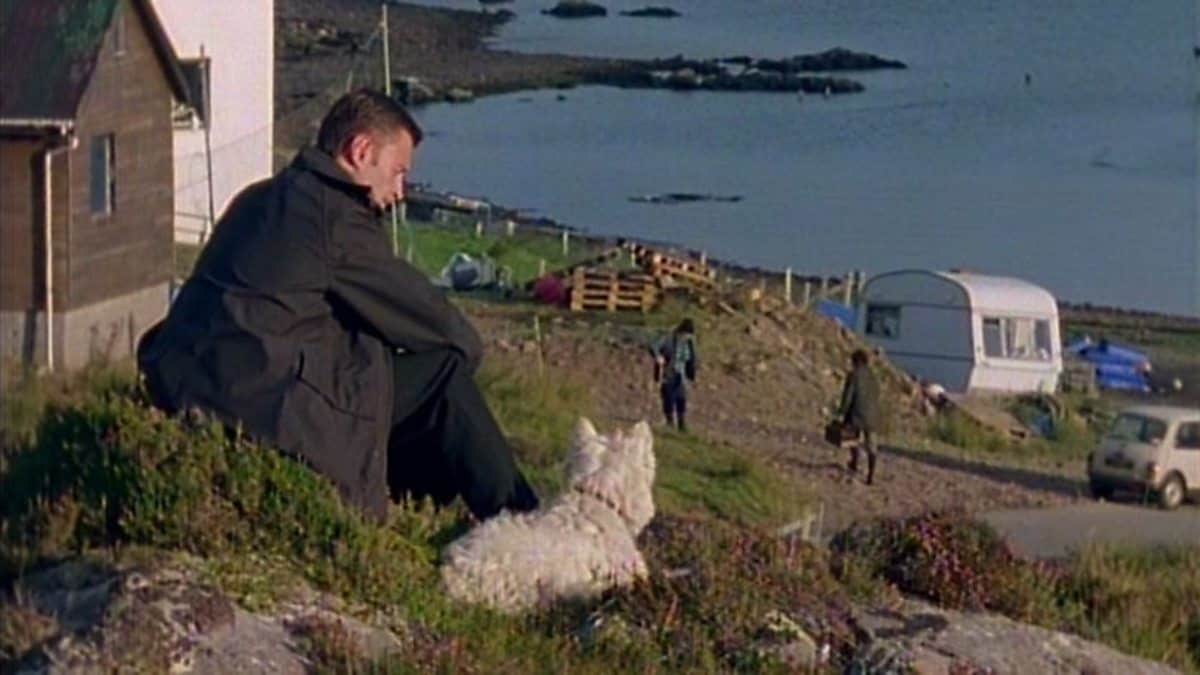 Based on the novels of M.C. Beaton, this series takes us into the world of underachieving (but clever) police constable Hamish Macbeth (played by Robert Carlyle). It's set in the absolutely lovely fictional Scottish village of Lochdubh – otherwise known as the real village of Plockton on the west coast of Scotland.
Harbour Lights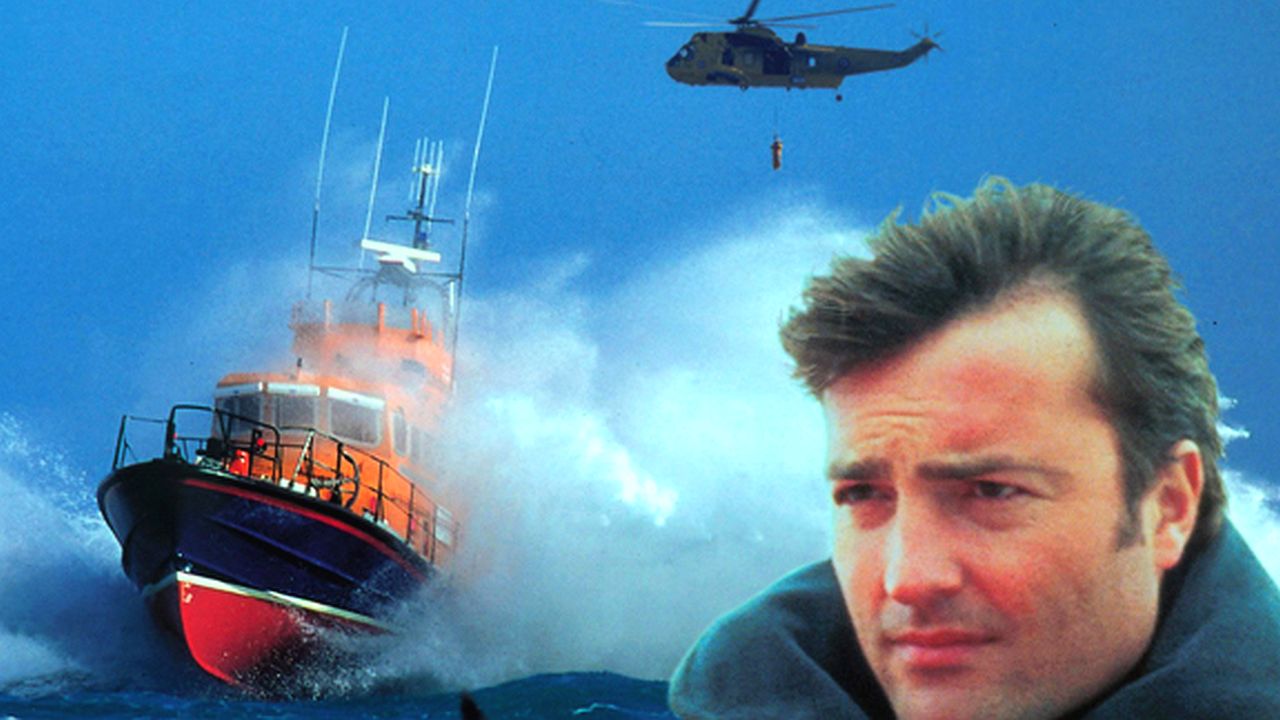 This drama ran from 1999 to 2000, with Nick Berry (Heartbeat) starring as Mike Nicholls, a former Royal Navy officer who becomes harbourmaster in his childhood hometown of Bridehaven.
Strangely, this one was only released on Region 4 (Australia) DVD, meaning most people would need a region-free DVD player to play it.
Watch it: DVD
Hinterland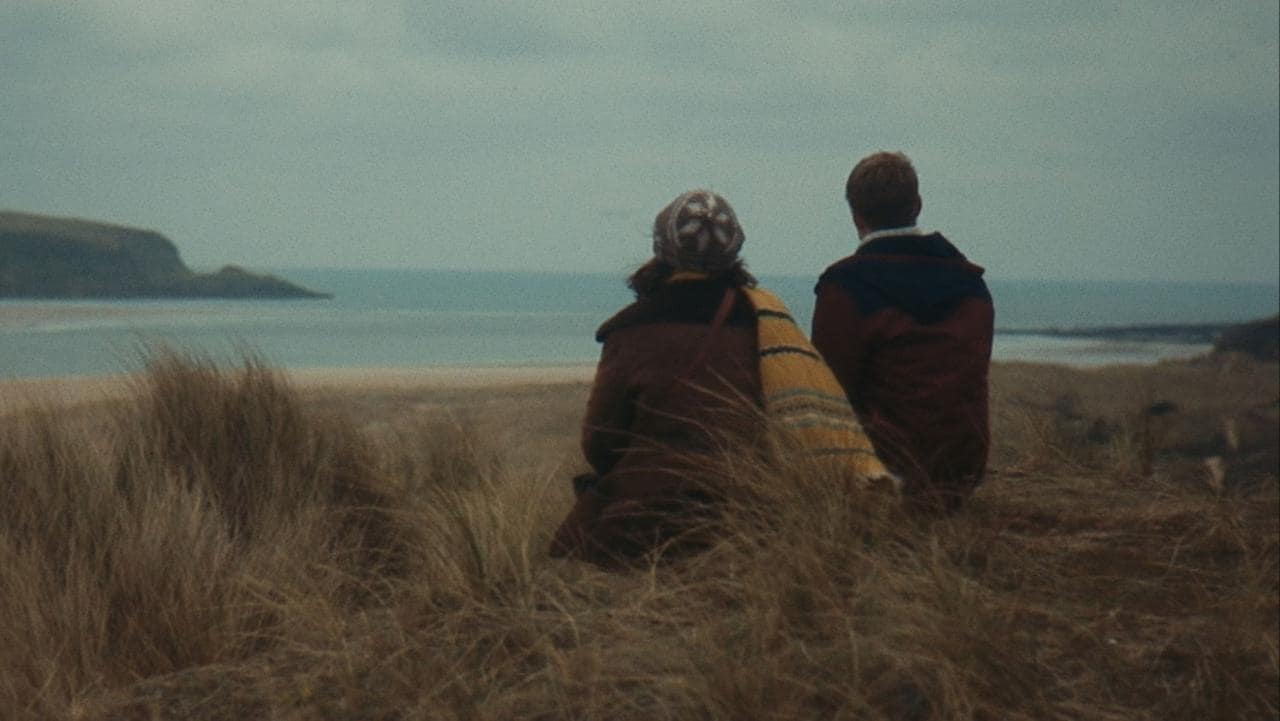 Set in the Welsh coastal town of Aberystwyth, this series is unique because it was filmed in both Welsh and English. It sees DCI Tom Mathias (Richard Harrington) beginning a new job in Aberystwyth, only to be called out for a suspicious disappearance almost immediately.
This one falls quite squarely into the "bleak and atmospheric" category of British mysteries, so if you like those and you haven't seen this one yet, be sure to check it out.
Hope it Rains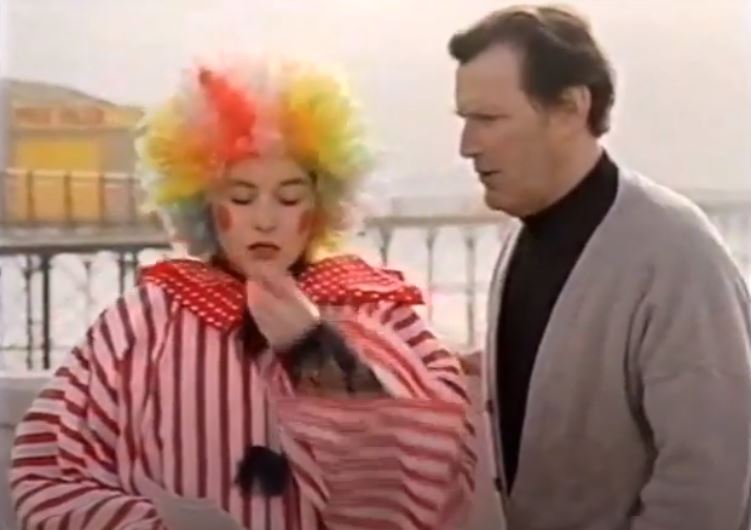 This early 90s British comedy follows a young woman who goes to live with her grumpy godfather, owner of an old wax museum in a run-down resort town. The ITV series ran for two seasons, and it was written by the famed comedy writing duo of Esmonde and Larbey (The Good Life).
Sadly, this is another one of those shows that hasn't been released commercially.
Jamaica Inn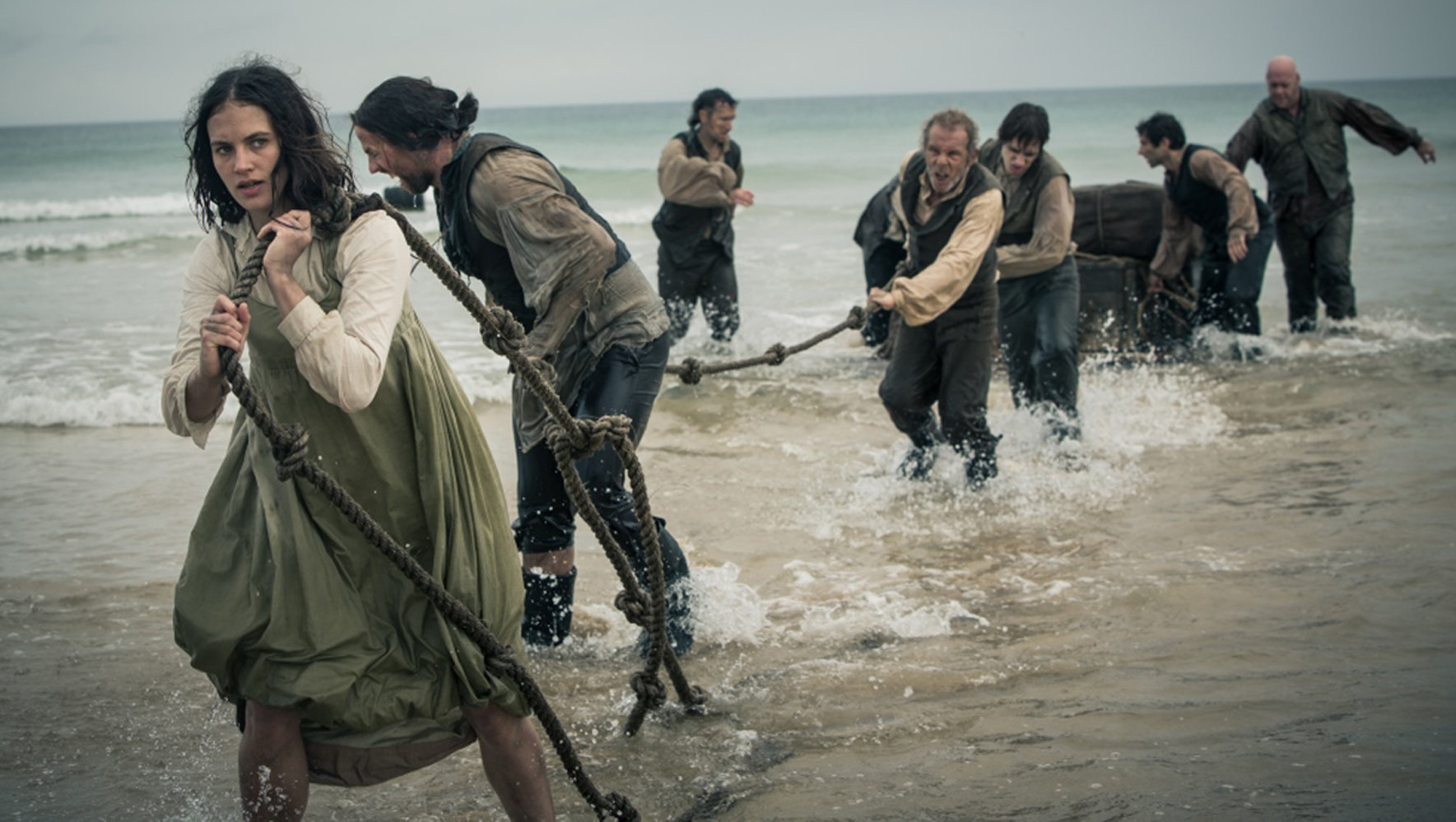 This Cornwall-based period drama is based on Daphne du Maurier's novel of the same name, and it tells the story of Mary Yellan, a young woman who goes to live with her aunt after her mother dies. It's not an ideal situation, and she quickly finds herself tangled up in her dodgy uncle's business.
Fun fact: The Jamaica Inn is a real smuggling inn, and it still exists. You can stay overnight, check out the Smuggling and Daphne du Maurier museums, participate in their murder mystery events, or just grab a meal and a pint. They even have options for vegans, vegetarians, and the gluten-free. Check out their website HERE.
Kate & Koji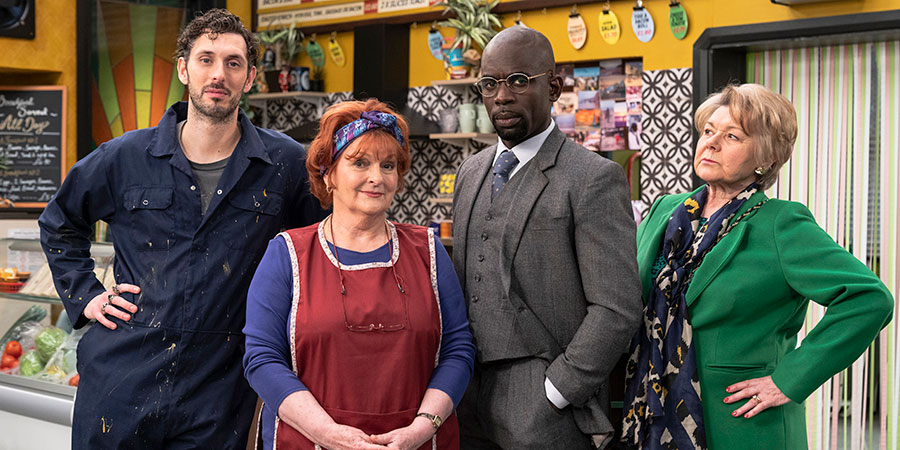 Breanda Blethyn (Vera) goes back to her sitcom roots in this sitcom about a cafe owner in the rundown coastal resort of Seagate in south Essex. She's a bit cantankerous at the best of times, but as the series goes on, she forms a friendship with Koji, an African asylum seeker who was a doctor before coming to the UK.
Though the town is called "Seagate", the series was actually filmed in Herne Bay in Kent. Frasiers Pie & Mash Shop is the real cafe that served as the exterior.
Watch it: Streaming
Kingdom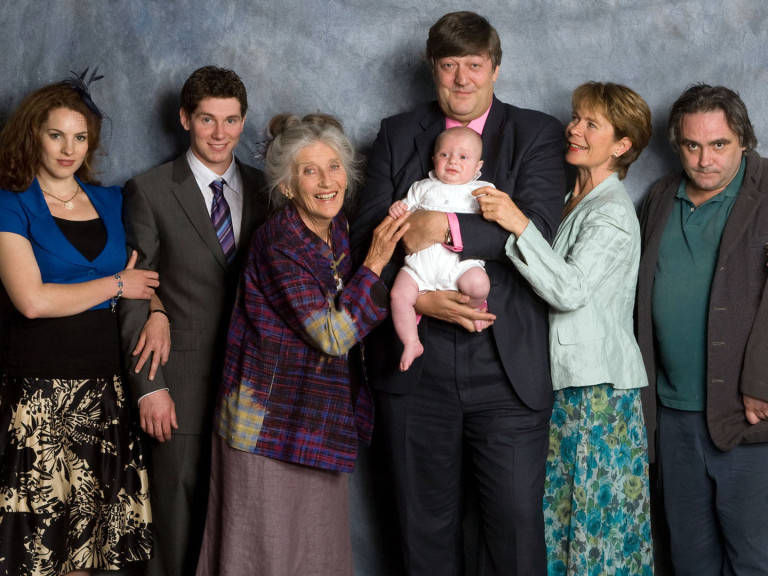 This 2007 drama-comedy stars Stephen Fry as Peter Kingdom, a small town solicitor in Norfolk. Though filmed in the Norfolk market town of Swaffham, it's relatively near the coast (10-15 miles) and a number of scenes venture out to the seaside.
The Lotus Eaters
This 1970s series follows British expats living on the island of Crete. The main characters are Erik and Ann, a couple who run a local tavern – but Ann has a secret. She's also a British intelligence sleeper agent. Starring Ian Hendry (Get Carter) and Wanda Ventham (Only Fools and Horses – and she's Benedict Cumberbatch's mum), it's a fun series with great scenery and a fair bit of intrigue.
Watch it: DVD
The Mallorca Files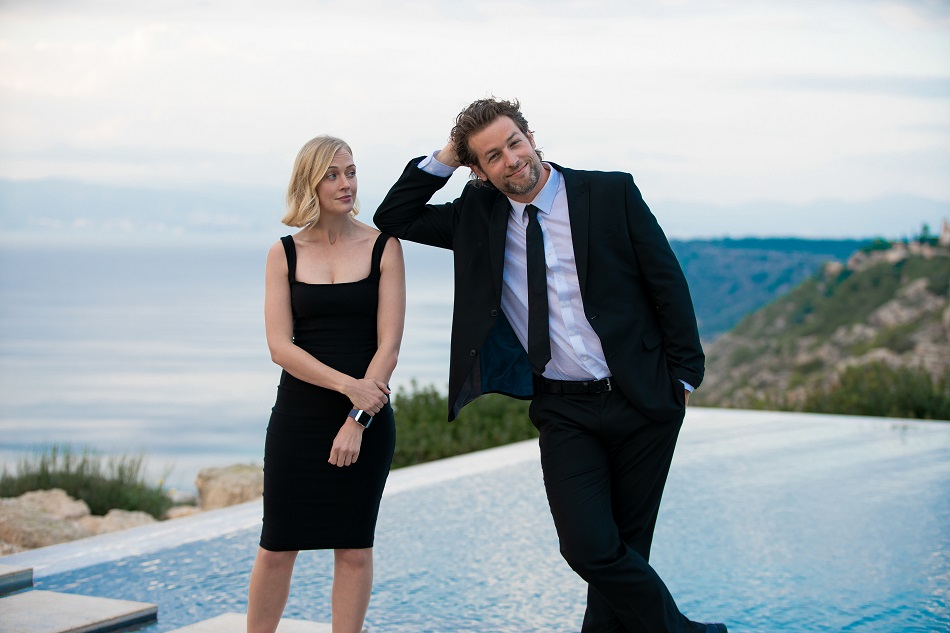 This light mystery is a bit like Death in Paradise in that it plants an awkward British detective in a laidback island setting. Miranda Blake (Elen Rhys) teams up with German detective Max Winter (Julian Looman) to solve crimes on the island of Mallorca.
Though perhaps not the most brilliant, memorable detective series ever made, it's a nice light mystery with a bit of action and some great scenery.
Mapp & Lucia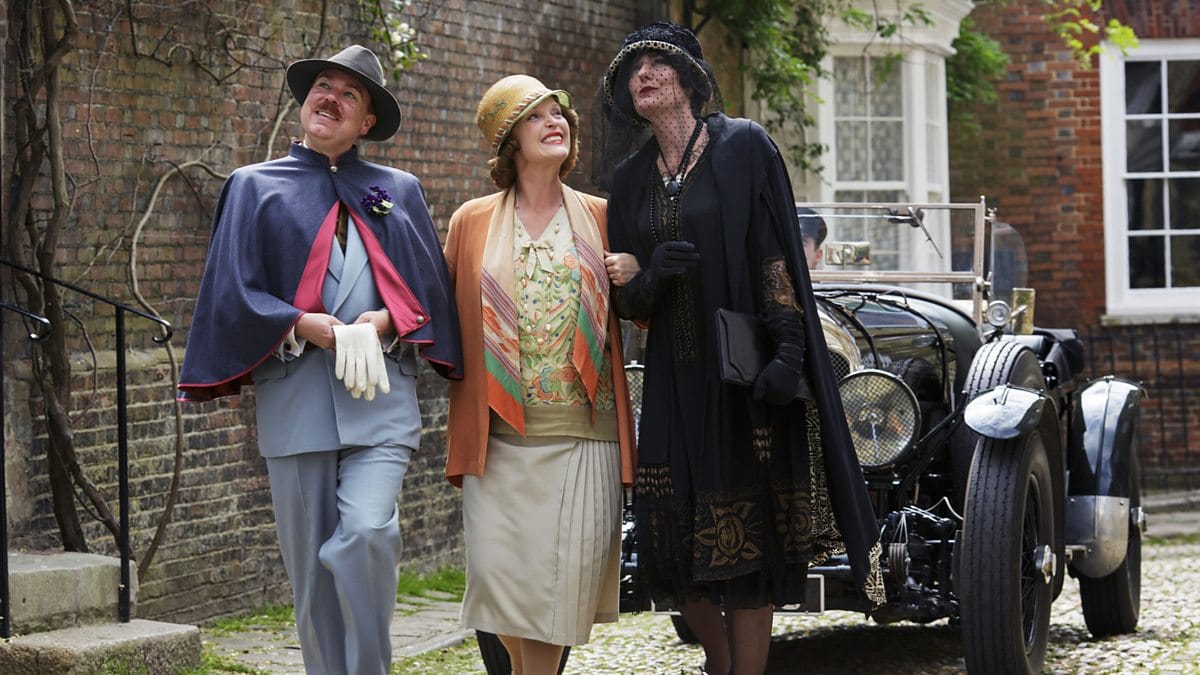 This one's been done twice: once in the mid-80s with Geraldine McEwan (Marple) and Prunella Scales (Fawlty Towers) and again in 2014 with Miranda Richardson (Girlfriends) and Anna Chancellor (The Split). Though it feels a bit dated, I still think the older adaptation is better.
The series is based on the novels of EF Benson, and it follows two rival women in a small Sussex town. Both adaptations were filmed in and around the town of Rye.
Watch it (2014): Streaming | DVD
Watch it (1985): Streaming | DVD
Moving Wallpaper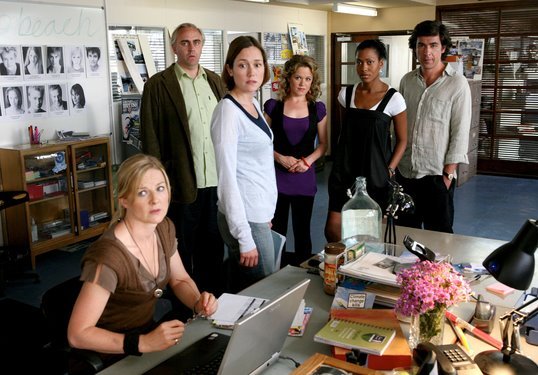 This comedy-drama series was interlinked with the British soap Echo Beach, with this series focusing on a fictional TV production company making the show (which was real, and appears above on this list). Echo Beach was cancelled after just one series, but Moving Wallpaper continued on for one more season.
In the second series, they focused on the production of a zombie show called Renaissance. Unlike Echo Beach, which was a real show with a full series, Renaissance was never anything more than a half hour pilot.
Stars of Moving Wallpaper included Ben Miller (Death in Paradise) and Sarah Hadland (Miranda).
Watch it: DVD
Poldark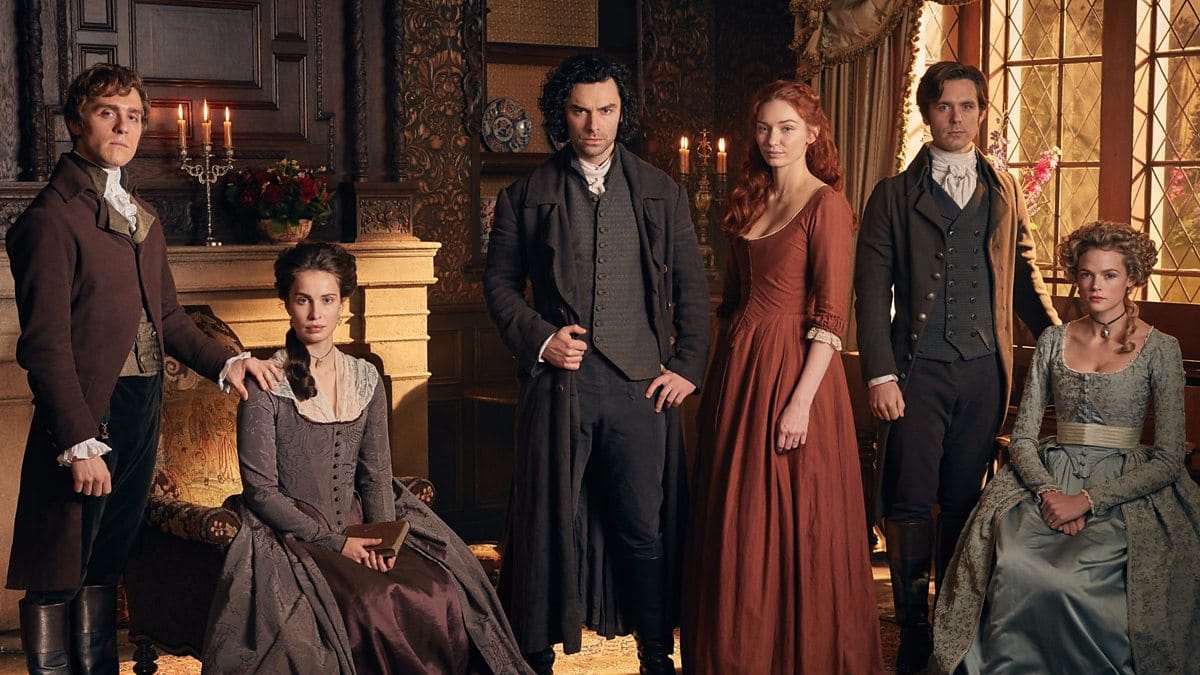 Though many indoor scenes were filmed in studio sets in Bristol, the outdoor scenes for Poldark were filmed in Cornwall, Wiltshire, and Somerset – many along the coast.
The series begins when Captain Ross Poldark returns from fighting in the American War of Independence, only to find his father has died, his estate is in ruins, and the woman he loves is set to marry another. Its five seasons follow him as he rebuilds.
The Rebel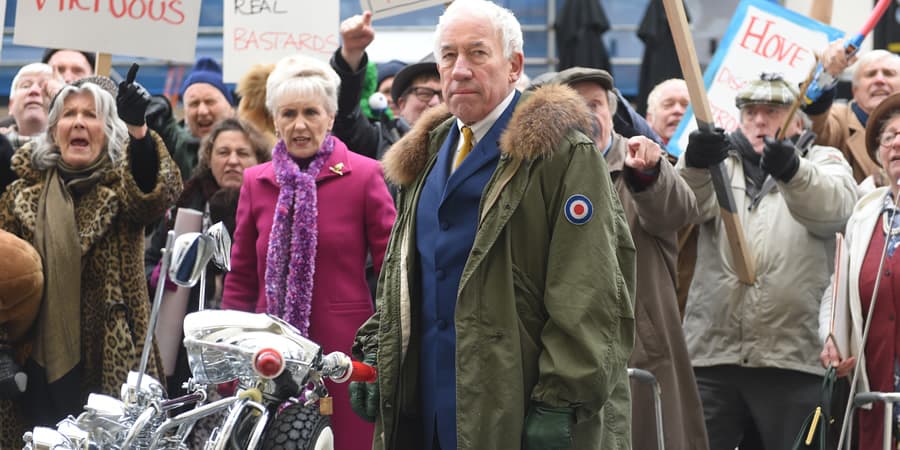 Simon Callow stars as 70-year-old Henry Palmer, a troublesome widower living in the coastal city of Brighton. Over the course of nine episodes, the series explores the intersection of aging and topics like sex, drugs, health, and love. Though initially quite abrasive, the characters do grow on you and it eventually settles into a fun series with a bit more depth than your average sitcom.
Watch it: Streaming
The Royal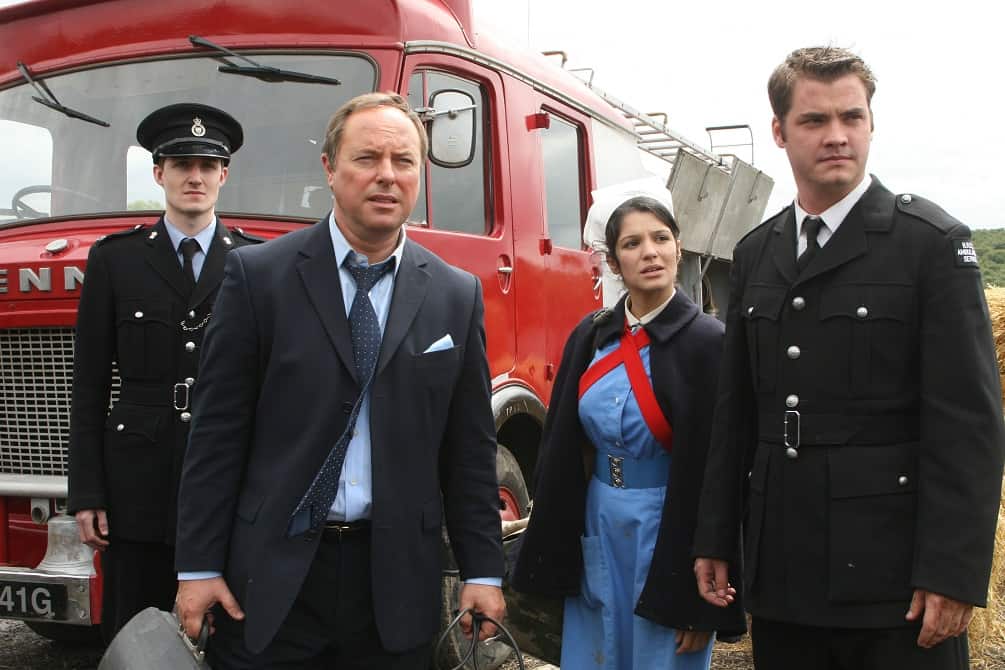 Parts of this period medical drama were filmed in the North Yorkshire coastal towns of Whitby and Scarborough. It started as a spinoff to Heartbeat, but within a few seasons it had taken on a life of its own.
It ran from 2003 to 2011, and there are 87 episodes in total.
Sanditon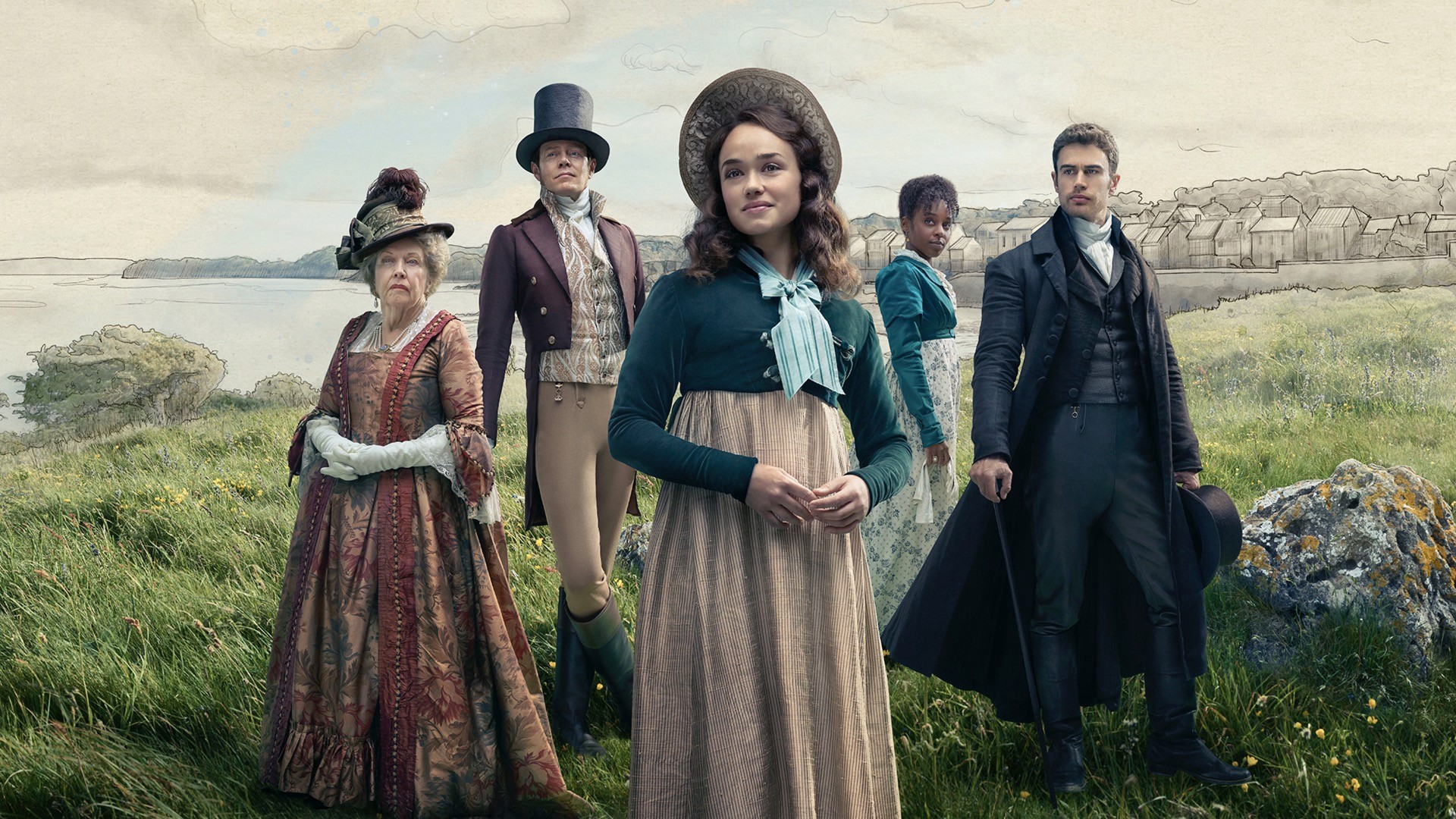 British literature fans will know Sanditon as Jane Austen's last, unfinished novel. In this series, acclaimed UK screenwriter Andrew Davies picks up where Austen left off, using her characters to complete the story in his own way.
The story follows a young woman as she navigates an up-and-coming seaside resort called Sanditon. It's set during a time of major social change, and those changes bring both excitement and danger.
After the success of recent period dramas like Bridgerton, this one was brought back to life for a second season (coming in early 2022), and it's already been renewed for Series 3.
Scarborough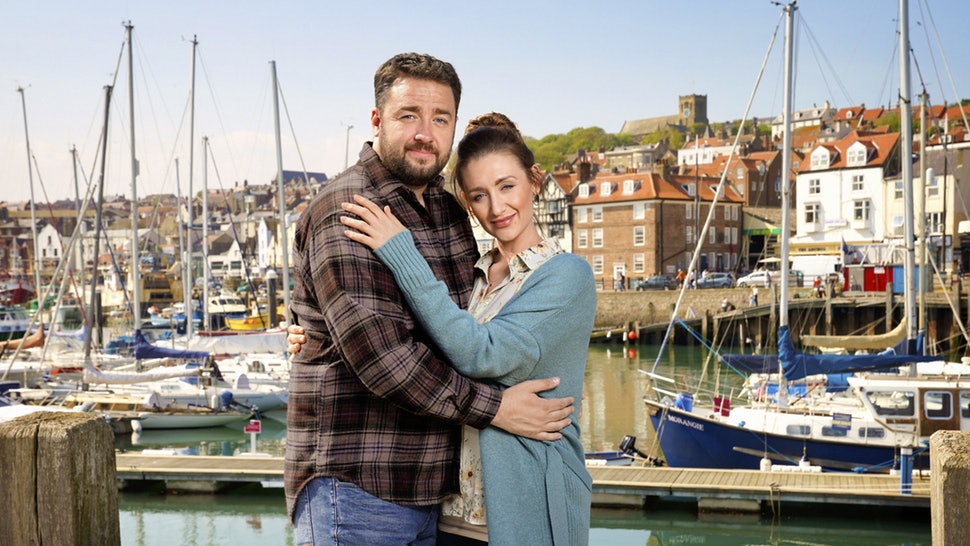 After Benidorm, Derren Litten created Scarborough. As the name might imply, the series is set in the seaside town of Scarborough in North Yorkshire, and it revolves around the lives of a group of early middle-age adults as they go about their daily business and occasionally meet up at the local pub for karaoke.
Not a lot actually happens in the series, but it's a fun slice of working class life in a coastal tourist town. It wasn't renewed for a second season.
Watch it: Streaming
Shetland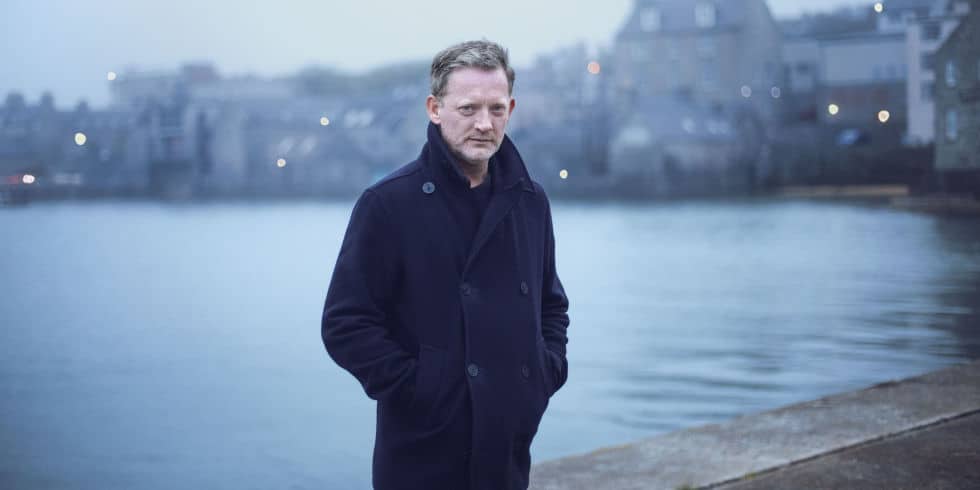 North of mainland Scotland, you'll find the remote Shetland Islands – and that's where Shetland takes place. This atmospheric mystery series stars Douglas Henshall as DI Jimmy Perez, and in spite of the incredibly small population of the islands (a bit over 20,000 as of 2019), he has his hands full with a steady stream of murders.
The series is based on the Shetland novels by Ann Cleeves, but not all storylines are derived from the books.
The South Westerlies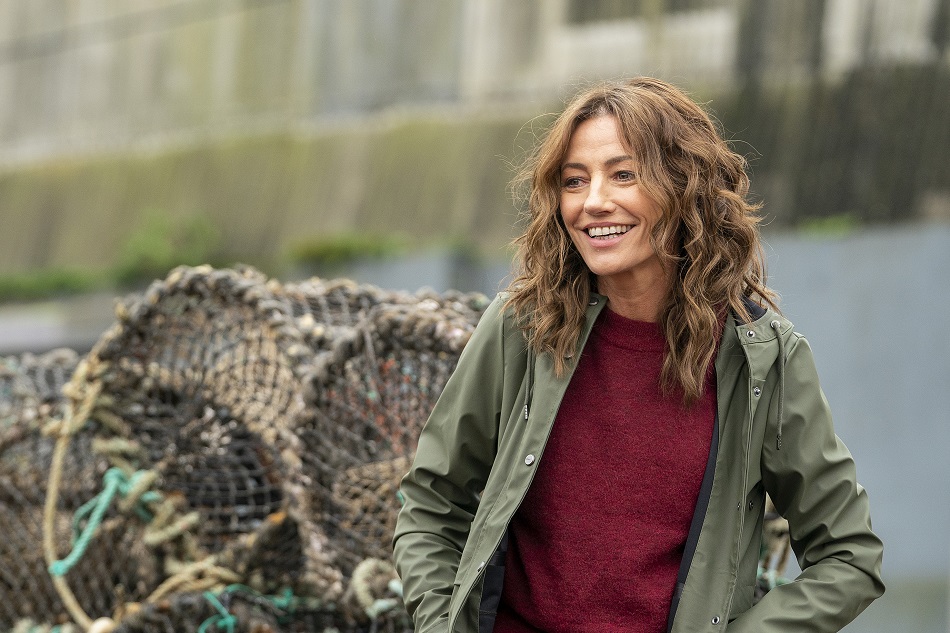 Another Irish entry, The South Westerlies premieres on Acorn TV in November. It follows follows Kate Ryan (Orla Brady, Eternal Law), a single mother with a promising career at Noreg Oil. She's an environmental consultant working out of Dublin, but she has her eye on a promotion that would move her to the company's headquarters in Oslo – until they add one final condition.
To get the promotion, she'll have to go undercover in a small Irish town to help squash opposition to her company's offshore wind farm. Unfortunately, she and the town have a complicated past.
Between the career challenges, her personal ethics, and the return of an old boyfriend who looks an awful lot like her son, she has a tough road ahead.
Watch it: Streaming
Stonemouth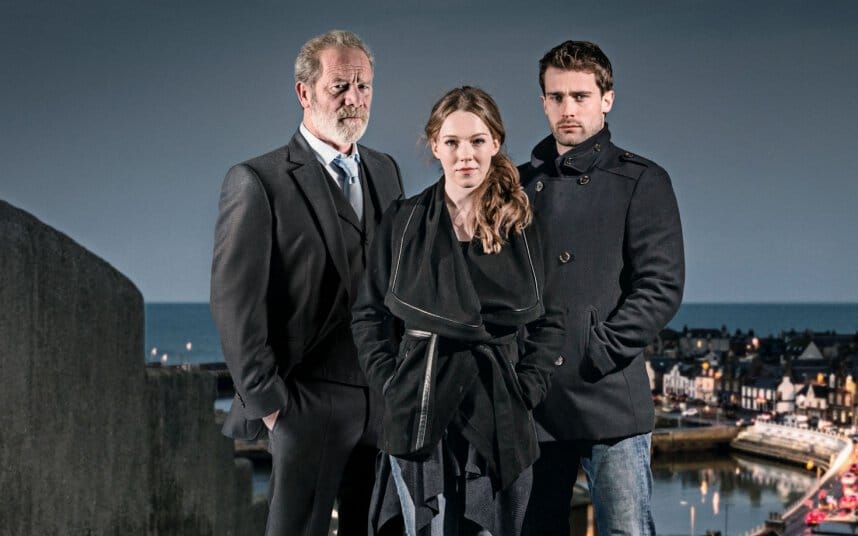 Based on the novel of the same name by Iain Banks, this series follows a man who returns to his coastal Scottish hometown to attend a funeral. We learn that five years prior, he had left the town due to a sexual indiscretion – and that the little town is controlled by a couple of nasty rival gangs.
Tales of Para Handy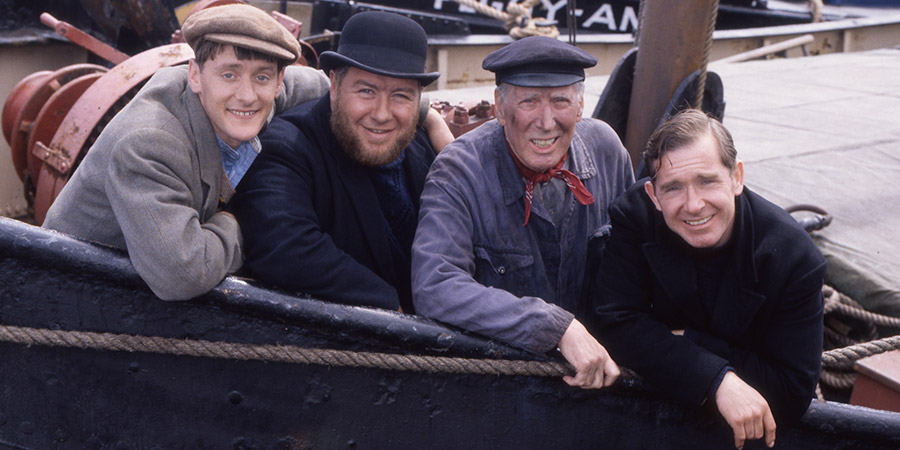 This mid-90s Scottish period drama is set in the Western Isles of Scotland during the 1930s, and it's based on the Para Handy books by Neil Munro. It's a fun, old-fashioned sort of show that follows the adventures of a group of men who operate a shipping boat called the Vital Spark.
If you watch it, pay attention during the episode "Para Handy's Piper". It features a young David Tennant in one of his earliest roles.
Watch it: DVD
The Trouble With Maggie Cole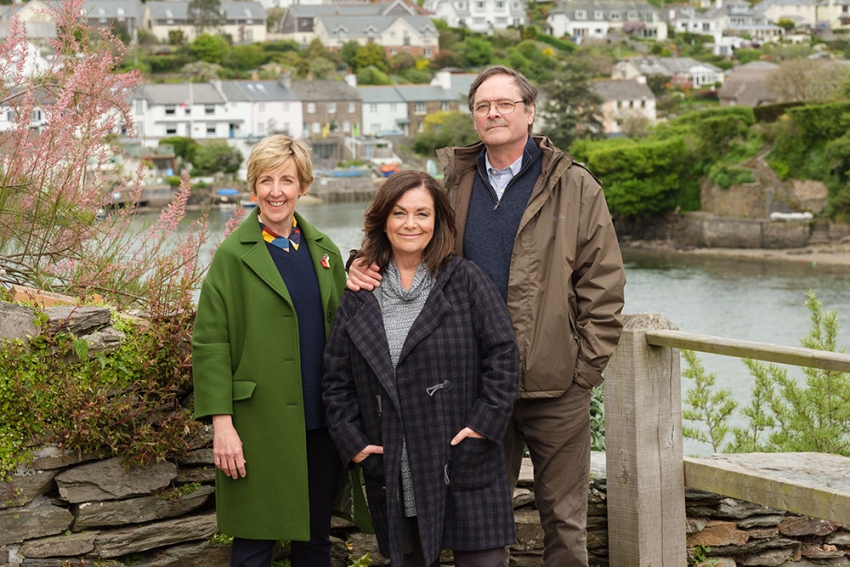 This gorgeous coastal drama stars Dawn French (Vicar of Dibley) and Mark Heap (Friday Night Dinner) as a married couple whose lives are turned upside down when French's character (the titular Maggie Cole) has a bit too much to drink during an interview about their village's upcoming celebration. She spills a number of local secrets, instantly becoming an outcast in the close-knit community.
Watch it: Streaming
Watching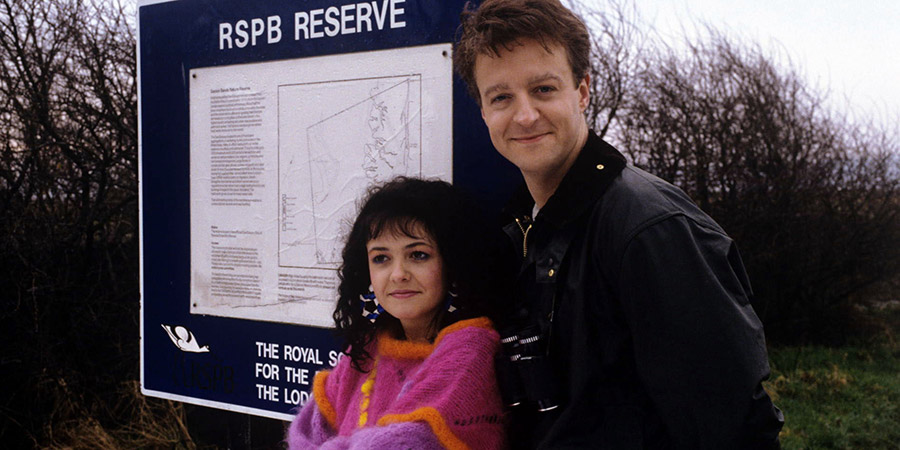 This sitcom ran from 1987 to 1993, and followed an oddly-matched couple from Liverpool and nearby Meols (a posh village on the northern coast of the Wirral peninsula). Female lead Brenda (Emma Wray) is a people watcher, and Malcolm (Paul Bown) is a bird watcher – and together, they eventually learn how to get along.
Though delightful, it's not one we recommend if you're hard of hearing or your ear isn't great with thicker regional accents. The DVDs don't include subtitles.
Watch it: DVD
Who Pays the Ferryman?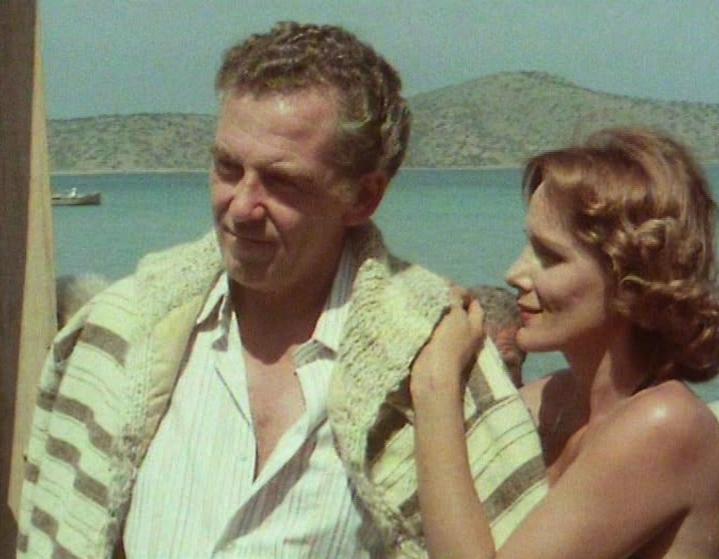 This Michael J. Bird series sees an ex-soldier returning to Crete after his boat building-business is bought out. Expecting a peaceful trip with time for reflection, he soon finds his past catching up to him.
If you like this one, also check out The Lotus Eaters and The Aphrodite Inheritance (both elsewhere on this list).
Watch it: DVD | DVD UK (Sometimes less expensive from the UK)
What's Your Favourite Coastal British TV Show?
Even though this is quite a long list, we've no doubt missed plenty of good series. What's your favourite British show set by the sea? Let us know in the comments!
Save it to Pinterest!