British TV Streaming Guide: US Edition, Autumn 2020 >>Printable Updates<<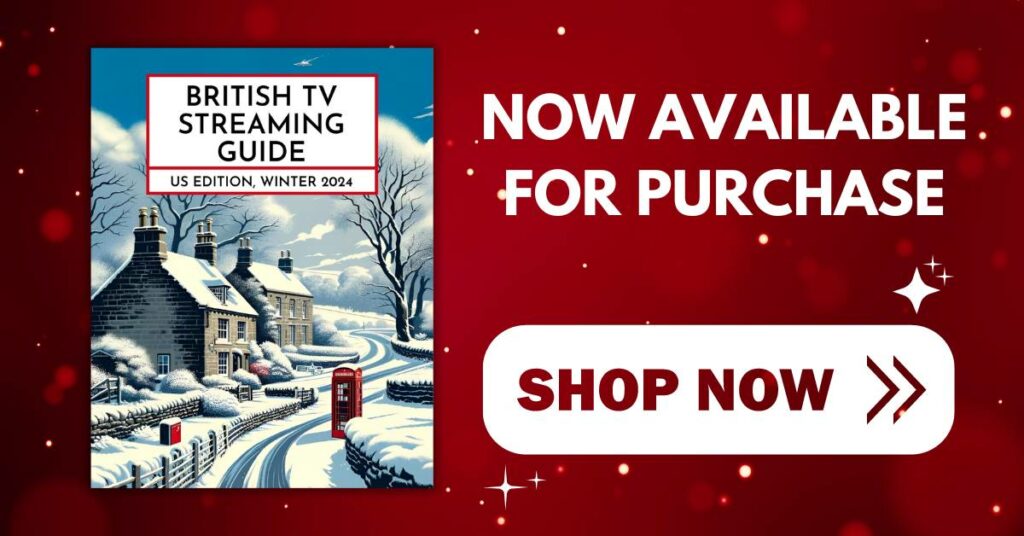 The British TV Streaming Guide: US Edition, Winter 2024 is now available. Get yours HERE.
In some cases, we earn commissions from affiliate links in our posts.
Last Updated on September 3, 2020 by Stefanie Hutson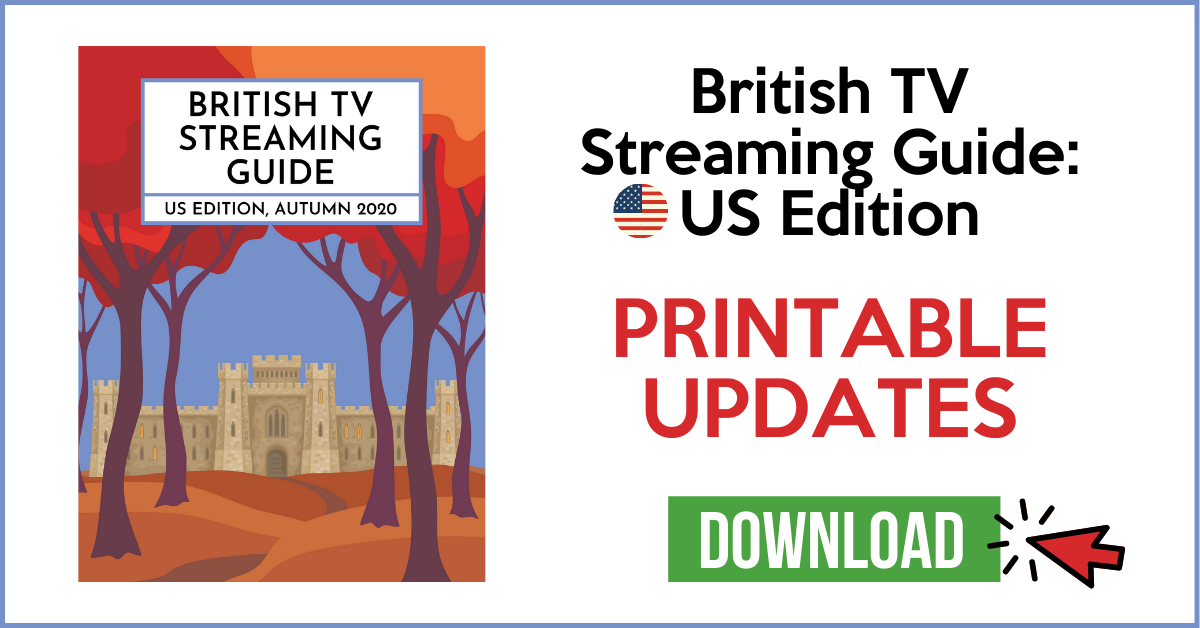 When we first decided to create a printable British TV streaming guide (click HERE to check it out), we knew with 100% certainty that it would be impossible to create a professionally-bound and printed guide that was completely accurate by the time it shipped. Mostly accurate, certainly – but not perfect.
Many new show announcements are made with very little notice. There was even one case where a season of Midsomer Murders was made available to a couple of US streaming services with almost no notice at all. Often, there are strict rules about when information can be released to the press and/or public.
And of course, some streaming services are just not very good at keeping media outlets updated – even when we ask repeatedly.
There's also the matter of removals, which almost never give more than 30 days' notice – and often, it's less.
Enter: The British TV Streaming Guide (US Edition, Autumn 2020) Update Page
Since printing and shipping takes time, especially in a pandemic – and we want to deliver the best and most up-to-date product possible – we've created a printable update page for those announcements that came to us AFTER we sent the book off to print.
If you've already placed an order for the British TV Streaming Guide, you'll be getting an update page in the mail with your copy. However, since loose pages don't always travel well, we wanted to give you the option print a fresh one yourself if you're so inclined.
To get your copy of the update page, click HERE.
British TV Streaming Guides are Beginning to Ship Now
Unfortunately, part of our initial shipment was fulfilled at a secondary printer due to pandemic/staffing issues at the original location. They ended up getting shipped via USPS, and there are a number of boxes that haven't arrived on time.
We're shipping copies out in the order that orders were received, and we have an extra set of copies due to arrive early next week – so even if those delayed boxes end up floating around in the USPS chaos for a while, the other copies are arriving via UPS and they'll be sufficient to get any remaining orders filled (we're expecting them Tuesday the 8th). You'll get an email confirmation when your guide ships.
Given the current situation with the pandemic and USPS and wildfires and hurricanes causing delays all over the country, it's been a crazy month – but we appreciate your patience and we can't wait for you to have your guides in hand. Some are already on their way out, and we hope you love them!