What is the British TV Streaming Guide: US Edition, Spring 2021? A Closer Look…
In some cases, we earn commissions from affiliate links in our posts.
Last Updated on March 28, 2021 by Stefanie Hutson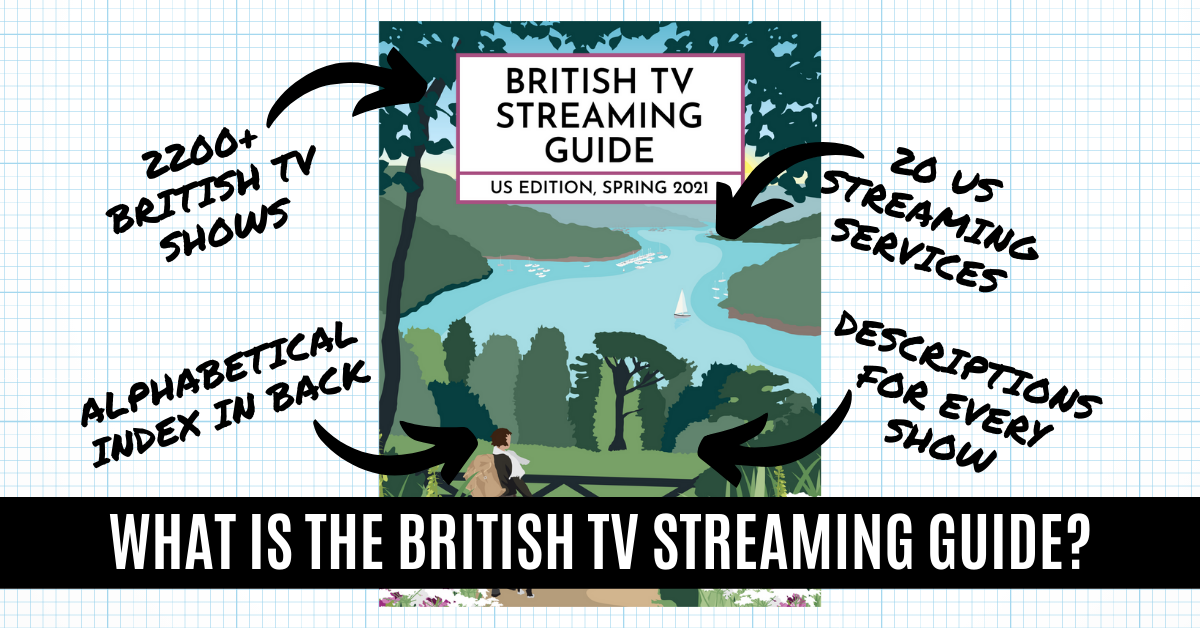 It's been about 6 months since we released the first British TV Streaming Guide, and we're expecting the latest edition back from the printer this week. A lot of people who've ordered the guide in the past have expressed pleasant surprise at what they get for their $9.99 + shipping, so we thought it might be helpful to write a post and share a little more about what's included with the British TV Streaming Guide.
For the purposes of this post, we'll talk about the US Edition for Spring 2021 (a Canadian edition is in the works for this summer).
What is the British TV Streaming Guide?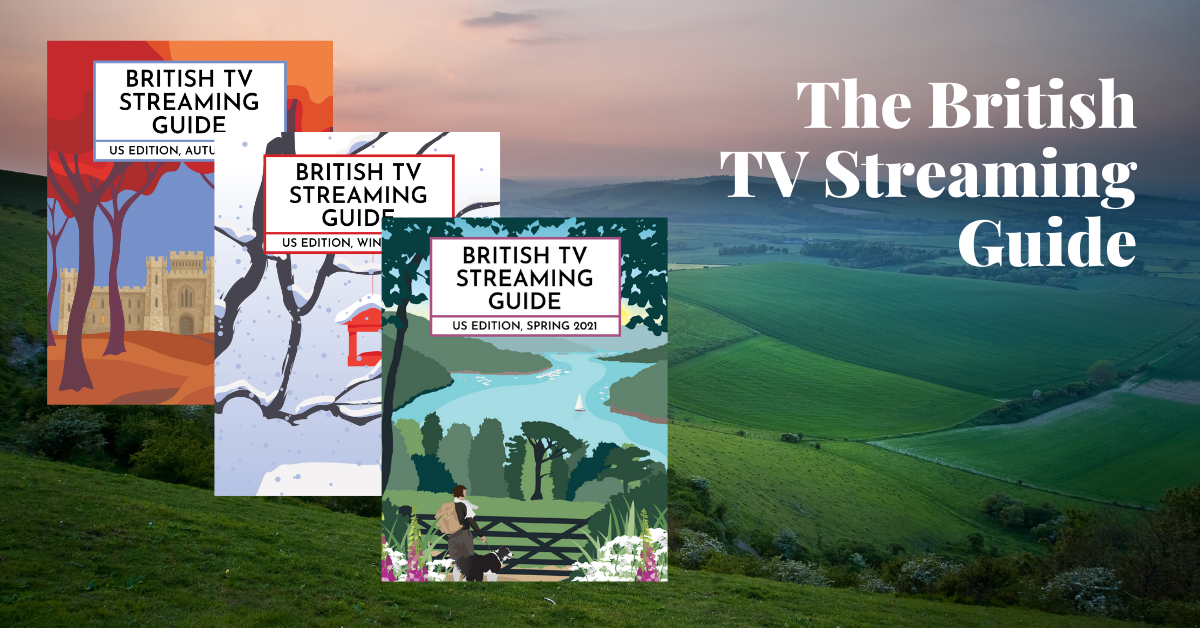 The British TV Streaming Guide is sort of like an old-fashioned television guide, but it's for Americans who want to know which British TV shows are streaming – and where.
First, we spend hours upon hours going through the offerings of 20 different streaming services and grabbing the British shows from their listings.
Then, we gather up the original air dates for those shows and write descriptions. Sometimes, the default descriptions aren't very good summaries of what the shows are about, but we've watched at least one episode of most the shows in the guide and we try to give the best short description we can. For many, we'll throw in a bit of trivia or some details on the cast (especially when they're well-known).
Each streaming service has a section, so it's easy to browse the ones you have (or use it to figure out which services you might like to try). We also include some basic details about each one in case you're not familiar with them. We've included a screenshot from the first page of the Acorn TV section below: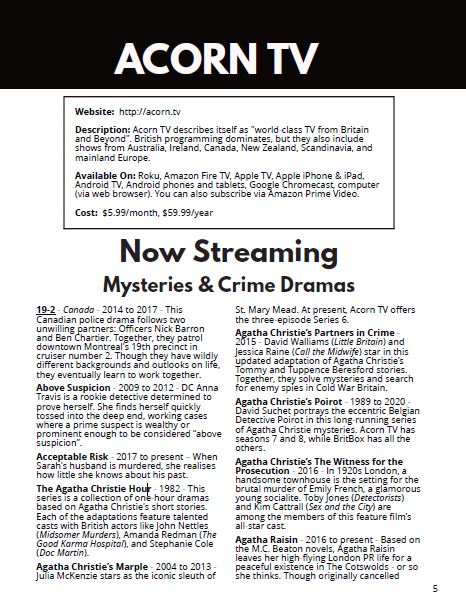 You'll notice "19-2" has been underlined. That's new in the Spring Edition – we've started underlining the titles that were added since the last edition.
Once you get past the first page of each section, you'll also notice little tabs along the edges (see image below). We added those to make it easier to flip through and find the section you need. Given that the latest edition is nearly 200 pages long, we've personally found it very helpful!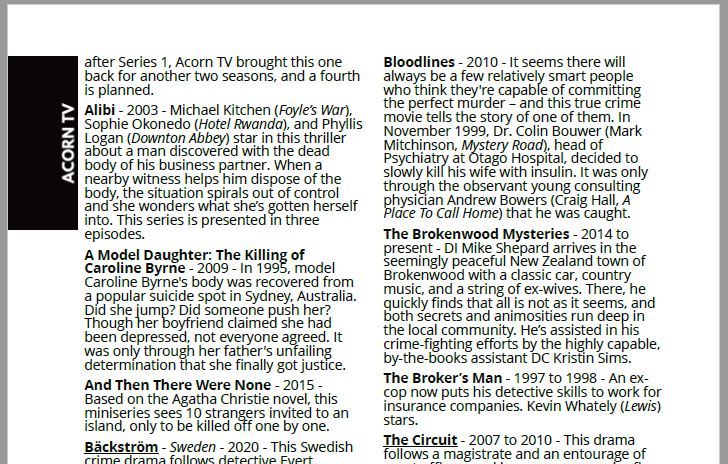 Before we go any further, we should probably also mention the table of contents. We group streaming services based on how much British content they have (and what percentage of their content is British). You can see the table of contents below.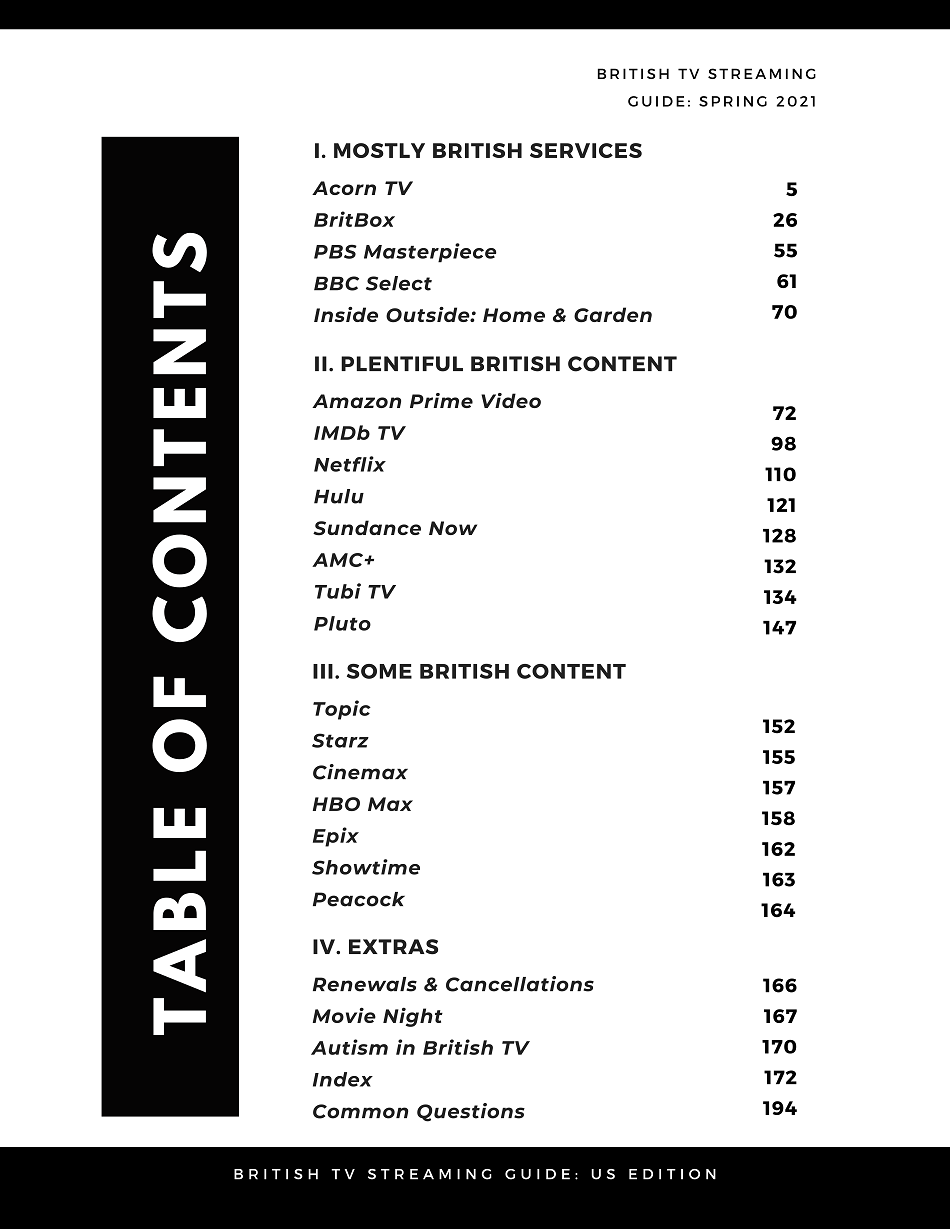 Streaming services included in the British TV Streaming Guide are:
Acorn TV
BritBox
PBS Masterpiece
Inside Outside: Home & Garden
Amazon Prime Video
Netflix
Sundance Now
AMC+
Tubi TV
Pluto
HBO Max
IMDb TV
BBC Select
Starz
Topic
Showtime
Peacock
Epix
Before accounting for duplicates, our total list contained roughly 2700 shows – which came to around 2200 unique shows in the index after we removed the duplicates.
What's the Index Like?
For the index, we grabbed all the titles and services, did a bit of Excel work, and created an alphabetical look at where everything is streaming. If you've heard people talking about Bloodlands but you don't know where to stream it, no worries. Just flip back to the index and it will tell you which service(s) it's on (and if you're wondering, that one's exclusive to Acorn TV).
Below, we've included a screenshot from the first page of the index section: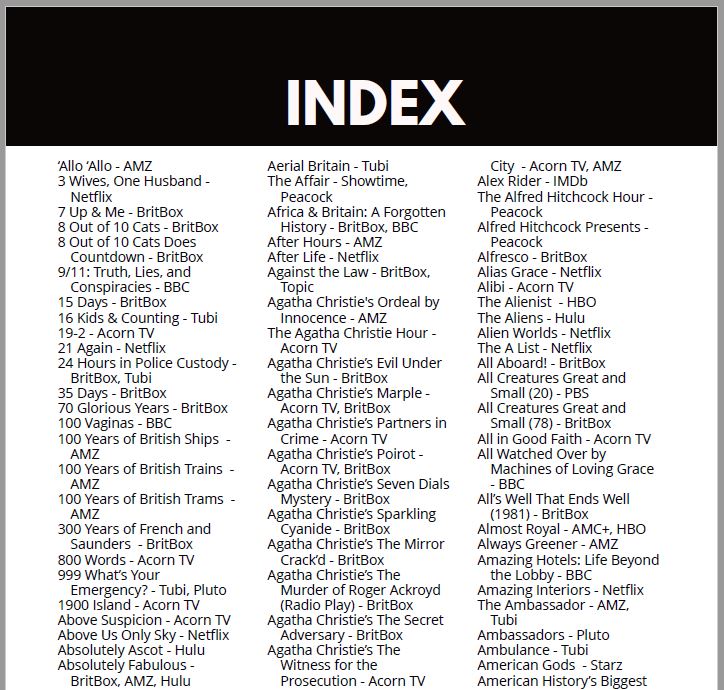 How Big is the British TV Streaming Guide?
Some people have been a bit surprised to see that the guide is fairly hefty. As of the Spring 2021 edition, it's 8.5″ x 11″ (standard copy paper size), 198 pages long, and it weighs in at more than a pound.
We could have made it smaller by dropping the side tabs and shrinking the text, but frankly, that seemed a bit rude. Though it's not a true "large print" book, we opted for a comfortable 12-point font. Quite a few people have reached out to say they were thrilled not to have to squint or grab stronger reading glasses.
Anything Else We Should Know About the British TV Streaming Guide?
Actually, yes! In each edition, we include a "Renewals & Cancellations" section where we throw in details about recent shows that have been cancelled, confirmed for renewal, or just not announced yet. That section continues to grow with each edition.
We also include a few note pages so you can jot down updates or notes about what you'd like to watch: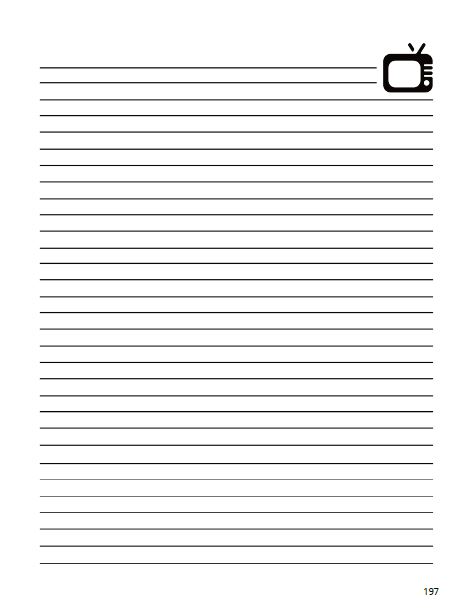 In the winter edition, we decided to add in a bit of seasonal content, so that one had a list of British TV Christmas specials and where you could stream them. In the spring edition, we've added a "Movie Night" section and a special feature for World Autism Month in April (featuring British TV shows that include autistic characters/presenters).
We plan to continue offering bonus sections in each edition to help highlight things you might otherwise miss.
Does the British TV Streaming Guide Include Non-British Shows? What About Movies?
For the two main British TV streaming services, Acorn TV and BritBox, we've included ALL listings. Acorn TV has quite a bit of content from Europe and the Commonwealth, and both services have a number of movies.
For other streaming services, we've focused on shows from the British Isles (UK + Ireland + a handful of nearby islands), but we do include a few AU/CAN/NZ/EU shows here and there. They're more of a bonus than a feature. If a show is NOT from the British Isles, we note that in the description (as you can see in the sample page below):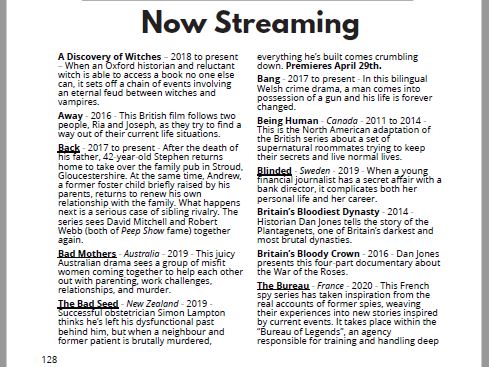 We don't attempt to include movies in the listings, and the main reason for that is that on average, they move around a lot more than television shows – so the guide would become outdated a lot faster. It would also greatly increase the size and printing cost of the guide.
On average, we've found that roughly 2-5% of the TV show listings change for any given service in a given month. That means that even after 3-4 months, your guide is likely to be at least 80% accurate. If we threw movies into the mix, that wouldn't be the case.
In the latest edition, we introduced a "Movie Night" feature where we highlight 25 British films – a mix of old and new – that you can find across the different subscription services. If we get good feedback, we'll continue to offer that in future editions.
How Can I Order the British TV Streaming Guide?
You can get your copy from our shop by clicking HERE. A Canadian edition is on the way this summer.
We're working on an ebook version, but because of the way it's laid out, it's taking some extra work to get something that looks good on an e-reader. We hope to have more news on that front soon.
Have any questions we haven't covered here? Let us know in the comments, or reach out by email at areyoufree@iheartbritishtv.com.
Save it to Pinterest!