Free Printable Guide to British TV Shows on Netflix
In some cases, we earn commissions from affiliate links in our posts.
Last Updated on September 3, 2020 by Stefanie Hutson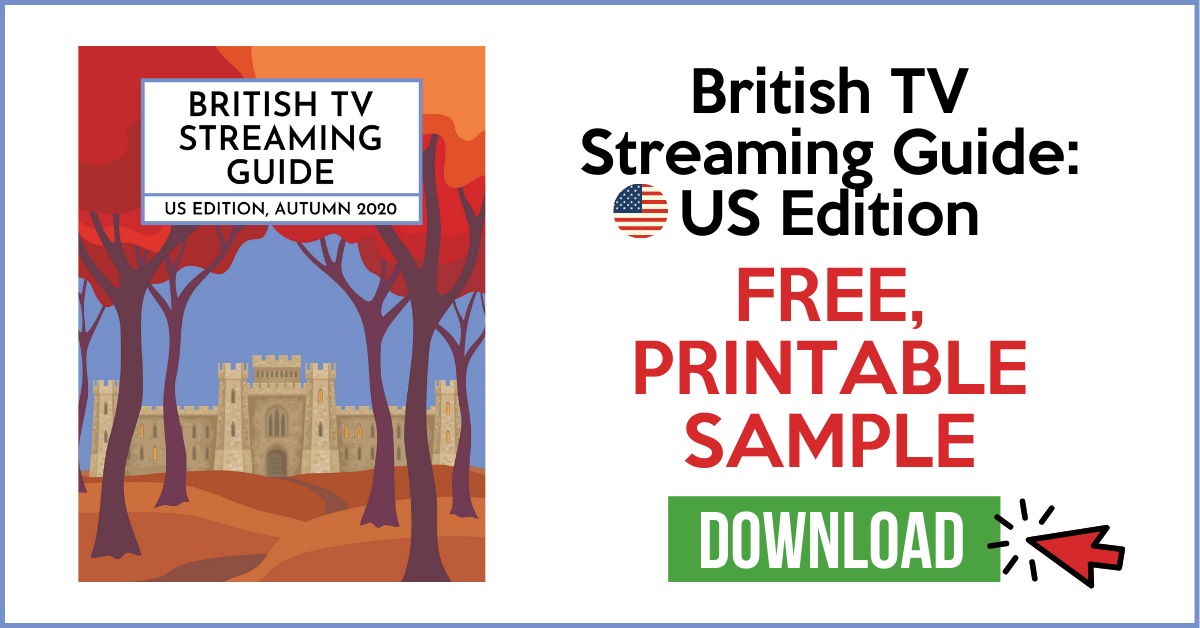 To correspond with the release of the British TV Streaming Guide: US Edition, Autumn 2020, we wanted to offer a free sample chapter you can download to see what it's like (or to read while you wait for your copy to arrive).
What is the British TV Streaming Guide?
The British TV Streaming Guide is a 164-page printed guide to the British TV shows streaming on 18 different US-based services. Each service has a section, and the titles they offer are organised alphabetically. Streaming services with a large number of British TV titles are further broken down into genre sections.
At the end, there's an alphabetical index of ALL the shows + their associated streaming services so you can quickly locate shows you're wondering about. You can see a small excerpt below: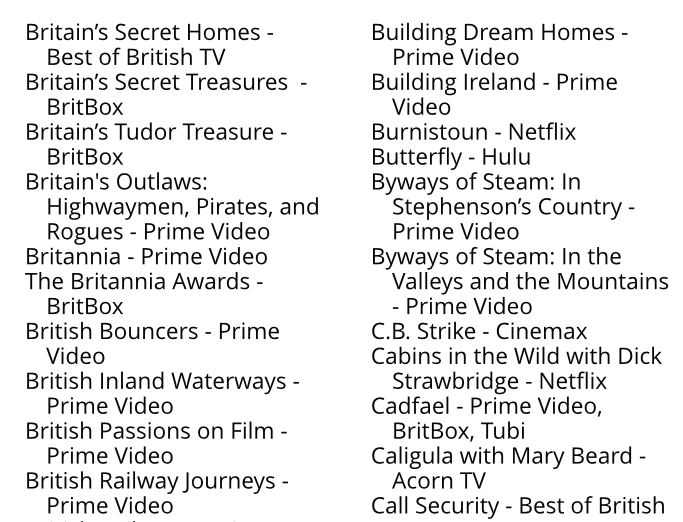 British TV Shows on Netflix Sample Chapter
As promised above, here's the free sample chapter: CLICK HERE TO DOWNLOAD
It's a PDF file, so if you're on a phone, it may go straight to a "download" folder (depending on your device). If you have trouble with it on a phone, we recommend trying again with a laptop or desktop computer.
You can also get the free, printable update page HERE. We wanted to offer the most up-to-date information possible, so we compiled an extra couple of pages with the new releases/announcements made after the guide headed to the printer.
When Will I Get My British TV Streaming Guide?
After some delays with the printer and shipping, part of our initial print run has arrived and copies are starting to go out in the order we received orders. Unfortunately, some are still floating around in shipping purgatory – but since we had a second print run already in the works, we should have all the copies on hand to ship out by early next week at the latest.
Between pandemic staffing issues at printers, USPS trouble, and natural disasters all over the place, it's been a crazy time trying to get these copies here quickly – but we greatly appreciate your patience.
If you've been affected by any of the major issues going on right now and you need to make a change to your order, don't hesitate to reach out to us at stefanie@iheartbritishtv.com – we're happy to cancel, hold, or adjust your shipping address as needed.
If you haven't ordered a copy and you'd like to, you can check it out HERE.
What About Canada?
We completely understand the frustration our Canadian readers are feeling right now. This guide is not designed for Canada and it won't be entirely accurate for Canadian versions of the streaming services included.
This guide was our very first guide of this type, designed to test the waters and see if there was adequate demand for such a thing. We're currently exploring the possibility of adding a Canadian version, but we're a small team here so we just ask for your patience. It's very expensive in terms of both time and money to make something like this, and we can't roll out every edition at once. We hope to have an update on this in the next month or two.