30 of the Best British Christmas Adverts (Commercials) of 2021
In some cases, we earn commissions from affiliate links in our posts.
Last Updated on December 5, 2021 by Stefanie Hutson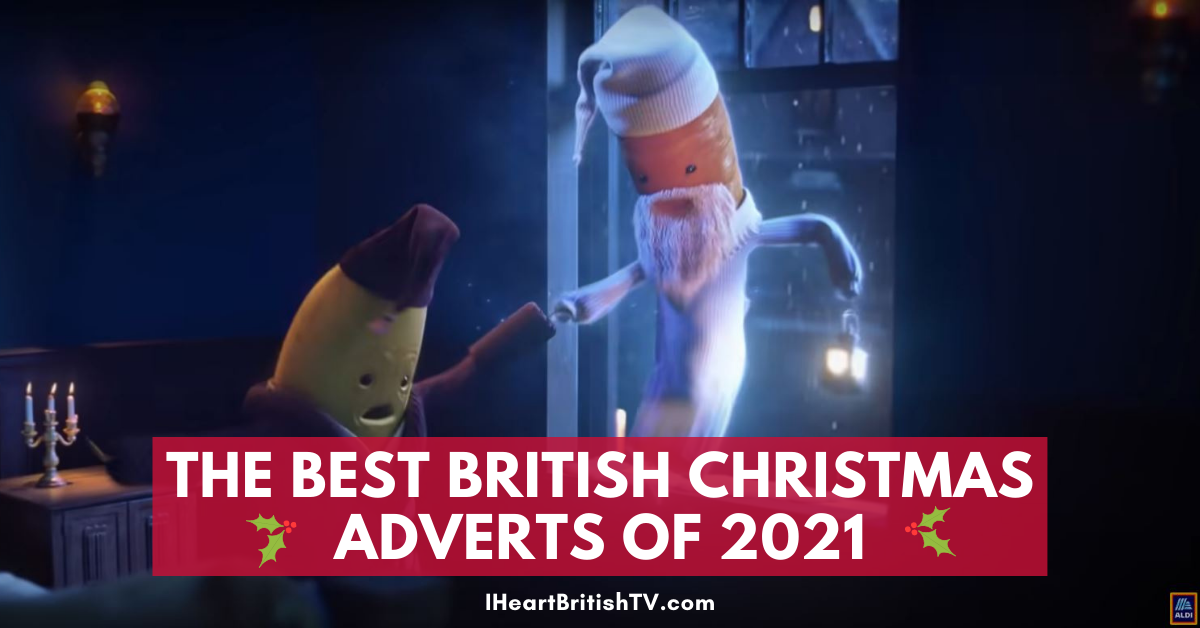 Dedicated British TV fans will know that nobody does Christmas adverts quite like the British. While there are definitely exceptions, most of the really good British Christmas ones are less about products and more about telling stories and evoking "Christmas-y feelings" in the viewer.
Below, we've highlighted some of this year's best British Christmas adverts – and while many are not as traditional this year, there are a few good ones (especially from some of the smaller entities). We'd love to see Heathrow bring back the bears, though we can understand why it might not make as much sense to do so in the midst of the pandemic.
Want to check out the adverts from previous years? You can view them below:
The Best British Christmas Adverts (Commercials) of 2021
There's no firm order here, but we've placed some of the better ones near the front of the list, and the less exciting ones near the end.
Aldi: A Christmas Carrot by Charles Chickens
This year, Aldi leaned into British Christmas nostalgia in a big way, and they managed to create an ad that's sweet and seasonal without being political or divisive (unless you happen to be a mean banana who needs a lesson in kindness).
Kevin the Carrot returns for another appearance in this Dickens-inspired story, and The Pogues "Fairytale of New York" (a popular British Christmas tune) plays in the background.
"The moral of the story? The answer, you'll find…for you to be happy, you need to be kind."
There's one additional bit of fun in the advert this year – and unless you're up on your UK supermarket news, you'll probably miss it. You see, every major UK supermarket has its own caterpillar cake.
Yes, you read that correctly.
They're cakes shaped like caterpillars, and they're every bit as delightful as they sound. M&S is the best known, and theirs is called Colin the Caterpillar. Tesco has Curly, ASDA has Clyde, Waitrose has Cecil, Sainsbury's has Wiggles, and Aldi has one called Cuthbert.
For some unknown reason, M&S decided to get litigious with Aldi and the bargain-priced Cuthbert, claiming customers will buy Cuthbert the Caterpillar thinking they're getting something of equal quality and sophistication to Colin the Caterpillar.
Watch closely as the advert begins and you'll see poor Cuthbert the Caterpillar getting carted off in handcuffs.
2021 M&S Food Christmas Advert: Percy Pig Comes to Life
Instead of Colin the Caterpillar, the M&S Food Christmas advert this year focuses on Percy Pig as he comes to life for the first time ever. Tom Holland stars as the voice of Percy, while Dawn French (the Vicar of Dibley) plays the fairy who brings him to life.
Though it could have turned incredibly dark with Percy ending up in the meat department, it didn't. Need your own Percy Pig? If you're in the UK, you can obviously get all manner of Percy items at your local M&S – but elsewhere, you can get them delivered via the links below:
NimbusBeds.co.uk: Stop Loneliness at Christmas
Suggested as an alternative to the nontraditional John Lewis advert (which appears further down this list), Nimbus Beds improves senior representation with an advert featuring an older, apparently widowed man and his dog as they face a Christmas without his wife.
It's a lovely, traditional advert with an important message for the season.
Coop Christmas 2021: Community Fridges
This low-budget advert manages to put the focus on something a little more meaningful than most – highlighting their efforts to help community fridge projects. There's no song or dance, just a guy taking us inside a community fridge in London, where people can take and leave food as needed.
Alnwick Garden Christmas 2021
If I could step into any of the Christmas adverts on this list, this is the one I'd choose. This Northumberland garden and tourist attraction is probably best known for their deadly poison garden – but they have so much more than just that.
Below, enjoy the holiday lights and sights.
Barbour Christmas 2021: Paddington, Please Look After This Bear
In one of the sweetest ads this season, Paddington makes a special gift to thank Mr. Brown…and of course, he runs into a bit of trouble. It's everything a Christmas advert should be.
https://www.youtube.com/watch?v=W5oseavlqbE
Very.co.uk Christmas 2021: It's the Very Best Excuse
This one pokes a bit of fun at modern Christmas, but it does have some great advice for British TV fans:
"Mix gin and pyjamas, binge period dramas – there's no judgement here."
Merry Christmas from the Tank Museum 2021
You may not have started the day thinking you'd watch a Christmas advert from a tank museum, but we're all about delivering surprises here. This one's fun, quirky, and full of old guys who look like they'd tell great stories.
Morrisons Christmas 2021: Make Good Things Happen
This year, supermarket chain Morrisons gives a nod to the British farmers and workers who put food on everyone's Christmas table – telling the story of "Farmer Christmas" and all his helpers.
Erste Christmas 2021: Believe in Tomorrow
This animated advert follows a man as his daughter helps to remind him of simple, eco-friendly changes he can make to help ensure a better future for the next generation.
Michael Spiers Christmas 2021 Advert
If you prefer adverts that tell a story, you'll enjoy this one about a couple of childhood sweethearts who grow into adults together.
Argos Christmas 2021: Baubles to Last Year
This simple but effective Christmas advert sees a variety of people receiving fun packages from Argos.
Alpha Heating Christmas 2021: Feels Like Home
This advert follows a couple of kids who just want to see the whole family together at Christmas.
Littlewoods Ireland Christmas Advert 2021
Littlewoods is an online department store in Ireland (still within the British Isles, so we consider it fair game). Their advert this year features a variety of simple moments between a mum and daughter in the days leading up to Christmas.
Boots Christmas 2021: Bags of Joy
For those who've not been inside one, Boots is a popular UK chemist – similar to a CVS or Walgreens in the US. Their 3-minute Christmas advert follows a young woman who finds a magical bag that dispenses an endless supply of Boots products. She then proceeds to spread joy everywhere she goes.
Bounty Christmas 2021: The Lonely Bounty
For those not familiar with the Bounty bar, it's a coconut-filled milk or dark chocolate bar that's similar to a Mounds or Almond Joy bar (but without the almonds). American readers will likely be familiar with an American mix of chocolate bars called "Hershey's Miniatures", in which you get a milk chocolate bar, a dark chocolate bar, a Krackel bar (with crisped rice), and a Mr. Goodbar (with peanuts).
In the UK, there's a similar concept called Celebrations, and it generally includes (as of 2021) Maltesers Teasers, Mars, Bounty, Milky Way, Snickers, Galaxy/Dove, Galaxy Caramel, and Twix. If you'd like to try a box, you can get them HERE if you're outside the UK.
Anyway, all of this is to give a little context to the next Christmas advert. In recent polls that surprised virtually no one, Bounty was voted the least-popular chocolate in the Celebrations mix – by a wide margin.
This advert is a response to that – but don't worry, there's a happy ending. A lone Brussels sprout also appears (the poor sprout being an often divisive British Christmas tradition).
McDonald's UK Christmas 2021: Imaginary Iggy
This year's McDonald's advert follows a young girl and her imaginary friend. As she gets older, she eventually stuffs the poor thing in the closet – but no worries, there's a happy ending.
Homebase Christmas 2021: It's Showtime
Homebase is a British DIY store, and their advert takes a traditional approach, showing magical preparations for an in-store display that will surprise the employees in the morning.
Matalan Christmas 2021 Advert
Matalan is a UK retailer that sells clothing and homeware for the average working class person. This year, they've opted for a very traditional advert in which a young boy tells his version of the Christmas story.
Papa John's UK: Christmas is Better Shared
This year's Papa John's Christmas advert follows a group of creatures living in a North Pole-like wintry wonderland, all brought together by the aroma of pizza.
Guide Dogs Christmas 2021: Sponsor a Puppy
This Christmas appeal encourages people to sponsor guide dogs for those who need them. It's a worthy message and it features a family whose lives have been changed by the presence of a trained guide dog.
LIDL Ireland Christmas 2021: More for Everyone this Christmas
Ireland may not be British, but they're still part of the British Isles – and their 2021 advert seemed to have a lot more Christmas cheer than the British version, so we've included this one here, too.
Tesco Christmas 2021: Nothing's Stopping Us
This year's Tesco ad managed to trigger more than a few anti-vaxxers, what with Santa travelling with a vaccine passport. Some furious shoppers even plotted to fill trolleys to the brim, then leave them at checkouts (because we all know it's the low-wage front-line employees who pick the adverts).
Smyths Toys Christmas 2021: If I Were a Toy
This one's sure to make every kid want to head to Smyth's Toy Superstores. It's an explosion of colour and sound and toys, and while there's no real story or message, it's still a lot of fun.
Debenhams Christmas Advert 2021: A Christmas Like Never Before
This year's Debenhams advert features a poem and a happy family celebrating around the tree.
Disney Christmas 2021: The Stepdad
After years of making stepparents some of the most vilified figures on the planet, Disney did an about-face this year to celebrate blended families (maybe it's only the step-mums who are evil).
Selfridges Christmas 2021
I'm not entirely sure what's going on in this one, but it's a bit retro, a bit strange, and really, really in-your-face.
TK Maxx Christmas 2021: Christmas to the Maxx
This year's TK Maxx advert sees a Christmas school programme derailed by a pair of shiny boots.
https://www.youtube.com/watch?v=S7W7w-eO-aE
LIDL GB Christmas 2021: A Christmas You Can Always Believe In
This is the second LIDL entry on the list (the first being LIDL Ireland), and it follows a present-day family's Christmas dinner before flashing forward to an intergalactic future version of the family.
Sainsburys Christmas 2021: A Christmas to Savour
This year's entry offers a slow-motion view of different things that might happen at a "normal" family Christmas.
Joules Christmas 2021: Live Merry and Bright
This year, Joules wins the award for most bottom cheeks in a Christmas advert. As a result, their ad is age-restricted and you'll have to actually click over to YouTube to watch it.
M&S Christmas Advert 2021: Make the season Anything but Ordinary
Yes, there was another M&S advert above – but that's because M&S has both a food hall and a department store. Their "main" ad this year is fairly standard Christmas stuff, with a woman jumping into a puddle and finding herself in the midst of holiday celebrations.
2021 Waitrose Advert: Best Bit of Christmas
Agatha Raisin fans will quickly recognise Ashley Jensen in this pleasant, albeit a bit boring, Christmas advert for posh supermarket chain Waitrose. Like Agatha, Ashley's Waitrose "character" is also quick to pass store-bought food off as her own.
Hopefully, the upcoming Agatha Raisin Season 4/Christmas special "Kissing Christmas Goodbye" gives us a bit more to chew on. And as a side note, now that Jensen is 52, she's nearly the same age as Agatha Raisin in the first book (53).
Booths Supermarket: The Snow Globe
This Christmas advert follows a family and their magical snow globe on Christmas.
House of Fraser Christmas 2021 Advert
High fashion meets Christmas in this very modern, very glossy celebration of Christmas.
Vodafone Christmas 2021: Give the Gift of Connection
This fairly basic ad is one of the few to feature an actual Christmas song, and it highlights Vodafone's efforts to get people to donate their old phones so they can give connectivity to those who are less fortunate.
Sports Direct Christmas 2021 Advert: Go All Out
Appropriately, this year's Sports Direct advert includes appearances by a number of professional athletes, including the latest US Open champion Emma Radacanu.
John Lewis 2021 Christmas Advert: Unexpected Guest
In one of the strangest entries this year, John Lewis sees a child teaching an alien about Christmas.
What's Your Favourite 2021 British Christmas Advert?
For us, Kevin the Carrot came out on top again this year – but Paddington was also wonderful, and many smaller brands did great work this year.
What was your favourite? Share your thoughts in the comments!
Feel like checking out years past? You can view them below:
Save it to Pinterest!