19 Wonderful & Hilarious British Commercials (Adverts)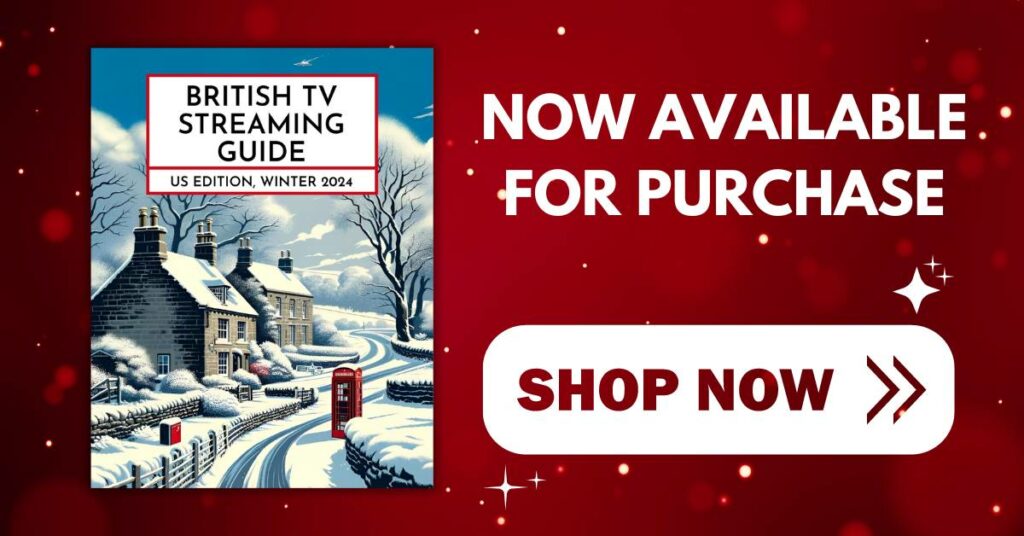 The British TV Streaming Guide: US Edition, Winter 2024 is now available. Get yours HERE.
In some cases, we earn commissions from affiliate links in our posts.
Last Updated on August 14, 2021 by Stefanie Hutson
If you get most of your British TV from services like Acorn TV, BritBox, and PBS Masterpiece, you're missing out one of the best parts of British television – the quirky, often hilarious adverts. Luckily, most of them are freely available to watch online – after all, what company would argue with more free exposure?
We've gathered some of our favorite British adverts here for your viewing pleasure. Feel free to share those you've enjoyed in the comments!
The Iconic Hovis Advert
Before we get into the funny adverts, we wanted to share what's probably the most famous British advert of all time. The video below comes from the British Film Institute, and it offers a bit of context and information about how it was made and restored. If you JUST want to view the advert (in all its remastered glory), skip ahead to the 6:13 mark.
Three.co.uk Adverts
Three.co.uk is a phone and internet provider in the UK, and they've done a great job milking cuteness for all it's worth. Exhibit A: The sad puppets of "When Stuff Sucks".
And of course, there's the "Sing it Kitty" advert featuring a young girl and her cat.
https://www.youtube.com/watch?v=kDJHGN0vOGc
And of course, we can't forget the "Borrow My Corgi" campaign to coincide with the new season of The Crown…
Or the delightful "Life Needs a Big Network" advert…
Money Supermarket
No discussion of funny British commercials would be complete without Money Supermarket. In the last few years, their dancing men ads have gone viral around the world and attracted thousands of complaints to the Advertising Standards Authority. The adverts were the creation of the UK's largest independent ad agency, Mother, which has offices in London, New York, and Buenos Aires.
More recent ads for Money Supermarket have been a bit less racy but no less over-the-top. In 2017, they debuted a He-man and Skeletor Dirty Dancing parody, shown below.
Their most recent ad features a little army man abandoning his post and dancing around to celebrate saving at Money Supermarket.
Cravendale Milk
These days, most of us know better than to give a cat a giant bowl of cat's milk. That doesn't make Cravendale's "Cats with Thumbs" advert any less amusing or adorable, though.
Sun Bingo Are You Gonna Bingo?
There are actually two versions of this amusing ad – a 30 second spot and an extended 2:00 version that includes a rapping horse. Somehow this one manages to be both tacky and totally catchy.
Yeo Valley Advert
If you enjoy attractive young farmers, these adverts will put a smile on your face…
Crusha Milkshake Mix
Crusha's milkshake ads are…surreal. I won't even try to describe them beyond that.
And another, this time with cows…
Young Director Award
This one's a few years old now, but it's still every bit as amusing. I won't say any more so as not to spoil it.
Virgin Media Tivo
This one manages to combine David Tennant with a pile of adorable cats – so I'm not sure how it's managed to get just 2 million or so views.
WKD's Missus Alert
It may be playing on tired old stereotypes, but it's still kind of funny how all the guys band together to protect a little after work downtime.
Mog's Christmas Calamity by Sainsbury's
Even though it's a Christmas advert and we normally cover those in their own post during the holiday season, we're including this one because it's just so funny and sweet. With 5 cats here at the IHBTV headquarters, we can definitely relate to some of the catastrophes.
What's Your Favorite Funny British Commercial?
Have a favorite we haven't listed here? Let us know – and if you enjoy British Christmas commercials, check out the posts we did the last two years:
Save it to Pinterest!