The Best British Christmas Adverts of 2019
In some cases, we earn commissions from affiliate links in our posts.
Last Updated on November 26, 2021 by Stefanie Hutson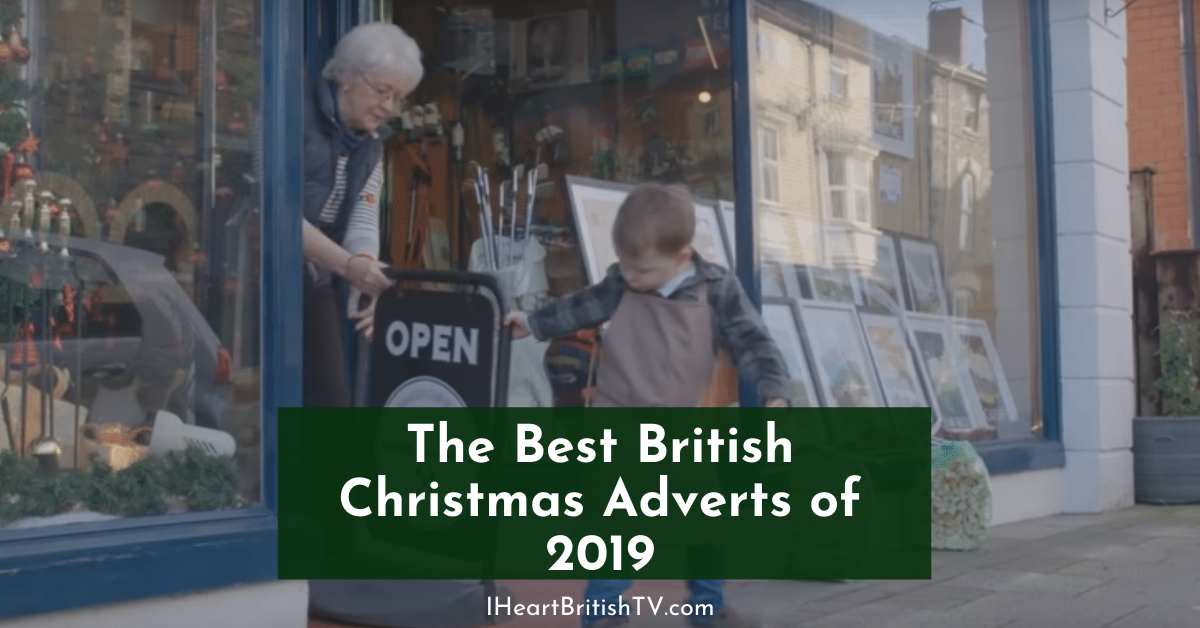 Most dedicated British TV fans know that nobody does Christmas adverts quite like the British. A lot of time and money goes into creating creative ads that do more than sell – they tell a story.
Below, we've highlighted some of this year's best and most popular British Christmas adverts. Which one is your favorite?
Hafod Hardware Christmas Advert
This marks the first non-chain Christmas advert we've ever featured in our annual lists, and it's a worthy entry. Hafod Hardware, a small shop in Wales, created this advert with a budget of less than 100 GBP. If you watch just one Christmas advert, make it this one.
John Lewis & Waitrose 2019 Christmas Advert: Edgar the Dragon
In this ad for John Lewis and Waitrose, an adorable little dragon named Edgar struggles to fit into the Christmas festivities, what with his fire-breath ruining everything. But of course, this is a Christmas ad, so we know it'll all work out in the end..
Sainsbury's 2019 Christmas Advert: Nicholas the Sweep
Sainsbury's 2019 advert celebrates their 150th anniversary, taking us back to 1869 with a short story that feels fairly Dickensian. Clocking in at two and a half minutes, it has everything – kids working as chimney sweeps, a villain, wrongful accusations, and a kind-hearted woman to save the day.
Marks & Spencer 2019 Christmas Advert
In this very upbeat, multicultural advert, M&S features loads of young Brits dancing to an American oldies song.
ASDA 2019 Christmas Advert: Capturing Christmas Magic
In an ad that definitely captures the spirit of the season, this year's ASDA advert shows us an inventive little girl trying to capture a big of Northern Lights magic in a jar. Upon realising she's been successful, she doesn't hoard it – she runs around the neighbourhood spreading cheer to all.
ALDI 2019 Christmas Adverts: The Return of Kevin the Carrot
Everybody's favourite Christmas carrot is back for another great ALDI advert – and this time Kevin the Carrot is channeling Robbie Williams with a slightly modified version of his classic, "Let Me Entertain You". There's also a bit of Peaky Blinders action throughout.
I particularly liked this one because it included flying trapeze – one of my favourite things to do.
Argos 2019 Christmas Advert: The Book of Dreams
Many of our readers won't have shopped there before, but Argos is known thoughout the UK for its unusual shopping experience (unusual in 2019, anyway). In each store, you'll find a truly enormous catalog, and you shop directly from the catalog, then wait for them to gather your order. This advert celebrates their Christmas Gift Guide, and it may have parents all over the UK cursing them if their children suddenly want drum sets…
Tesco 2019 Christmas Advert: Delivering Christmas
Tesco, time travel, and a "What the Dickens!" that would make Grantchester's Mrs. Maguire proud – this Tesco advert delivers. They turn 100 this year, and the commercial features stops in several time periods over the company's history.
Boots 2019 Christmas Advert: Bootiques by Boots
The latest Boots Christmas advert laments the difficulty of buying gifts for all sorts of different people, and it's incredibly relatable. Who among us doesn't have at least one person for whom you have absolutely no idea what to buy (short of an online wishlist). I'm not sure Bootiques are actually the answer, but it's a cute commercial.
Morrisons 2019 Christmas Advert
While this advert is nothing fancy or flashy, it highlights the way Morrisons stores donate their nearly expired food to local food kitchens – not just at Christmas, but all year round. Everyone wants to help at Christmas, but this advert serves as a much-needed reminder that hunger isn't limited to the holidays, and people need help every day of the year.
Erste Group 2019 Christmas Advert
If you like bumblebees, this one will surely melt your heart. Erste Group isn't strictly British (the company is Austrian), but they do have a branch in London.
Iceland's 2019 Christmas Advert
This year's Iceland ad is far less controversial than horrifyingly sad (but also very important) 2018 advert, channeling Frozen 2 to share a more traditional message of Christmas cheer.
Lidl 2019 Christmas Advert
Lidl's 2019 advert offers your standard wholesome family at Christmas, along with some animated elves. It's not particularly exciting or theatrical, but it's not bad, either.
What's Your Favourite British Christmas Advert of 2019?
Do you have a favourite? A least favourite? Let us know in the comments!
Save it to Pinterest!