September British TV Premieres: What's New on Acorn TV for September 2021?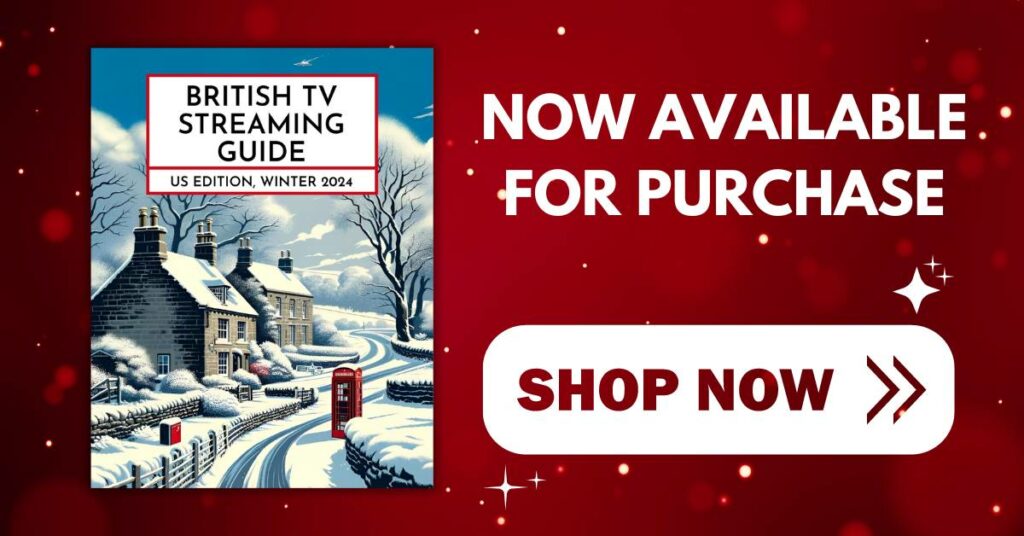 The British TV Streaming Guide: US Edition, Winter 2024 is now available. Get yours HERE.
In some cases, we earn commissions from affiliate links in our posts.
Last Updated on August 20, 2021 by Stefanie Hutson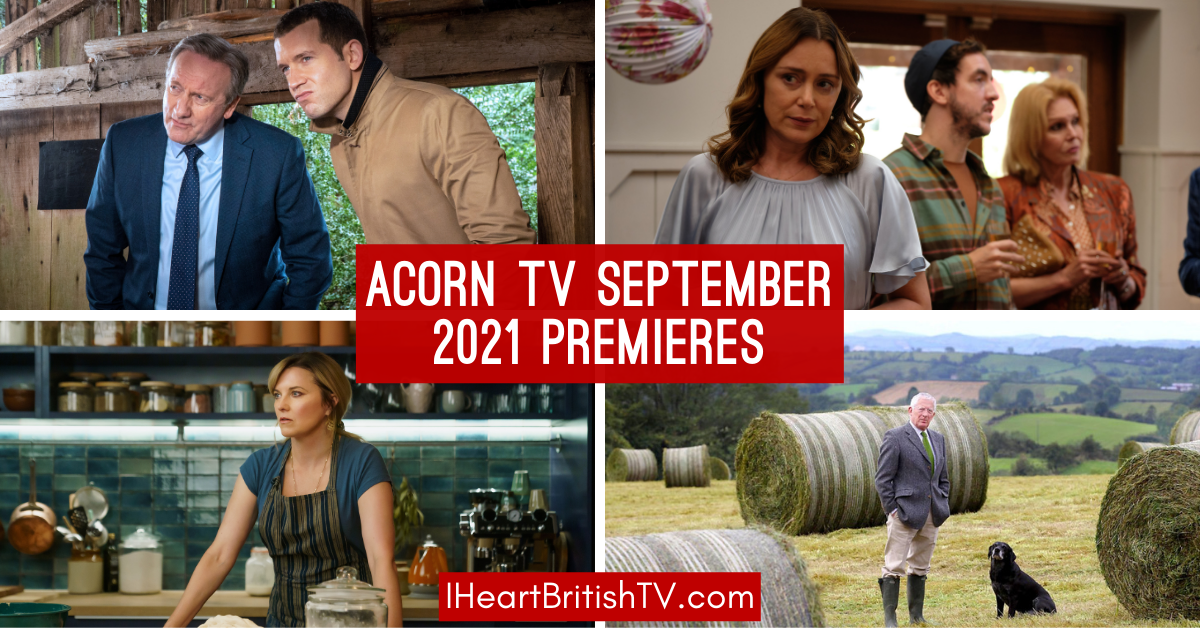 As the weather starts to cool in many parts of the country (and as wildfire season continues in the west), indoor TV time becomes all the more important. The good news is that Acorn TV has a solid lineup of programming as we move into September – so there should be no shortage of good things to watch.
If you don't currently have an Acorn TV subscription, you can sign up on their website HERE. If you have a smart TV that isn't compatible with their own app (like a Samsung) or if you prefer to subscribe through Amazon's Prime Video service, you can sign up HERE instead.
Either way, you get a free 7-day trial, and both offer easy online cancellation if you decide it's not for you. Both options have the same programming, though some people on slower internet connections have reported slightly smoother streaming on Amazon (and occasionally, a delay of a few hours for new programming to appear).
Acorn TV September 2021 Schedule of New Shows…

Continuing British TV Shows on Acorn TV in September 2021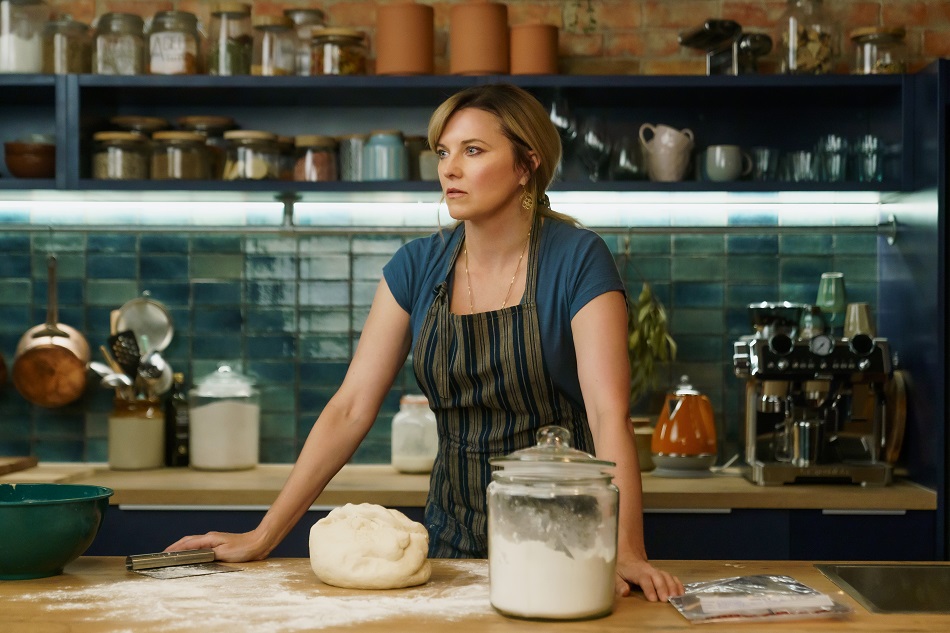 My Life is Murder, Season 2
After spending Season 1 in Melbourne, detective Alexa Crowe moves over to Auckland, New Zealand for another 10-episode season. As before, she finds herself helping out a handsome local detective with particularly puzzling cases. Her computer expert partner Madison (Ebony Vagulans) returns, but she finds herself with a new cat (this time, a handsome Maine Coon).
William Shatner and Bill Bailey are among the season's guest stars.
Season 2 has 10 episodes in total, and they continue as follows:
September 6th – Episode 3 of 10 – Alexa's personal and professional lives collide when she investigates the death of a rising star in the drag queen world.
September 13th – Episode 4 of 10 – The death of a museum curator brings up old memories for Alexa.
September 20th – Episode 5 of 10 – Alexa will need to use all her senses when an ambitious young winemaker is murdered.
September 27th – Episode 6 of 10 – Alexa investigates the death of a chef found dead in his own walk-in freezer.
New British TV Shows on Acorn TV in September 2021
Acorn TV September 6th Premieres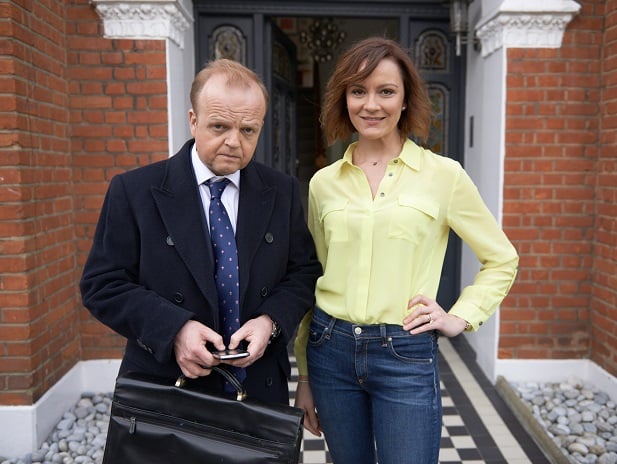 Capital
If you've been an Acorn TV subscriber for a few years, this one might have you thinking you've lost your mind. Yes, Capital *was* available on the service some time ago. It's coming back in September, so if you missed it the first time around, you'll get another chance.
Toby Jones and Rachael Stirling (both of Detectorists) star in this drama about residents on a fictional street who receive strange postcards that read: "We want what you have." As the mystery unfolds, their interweaving stories will also play out.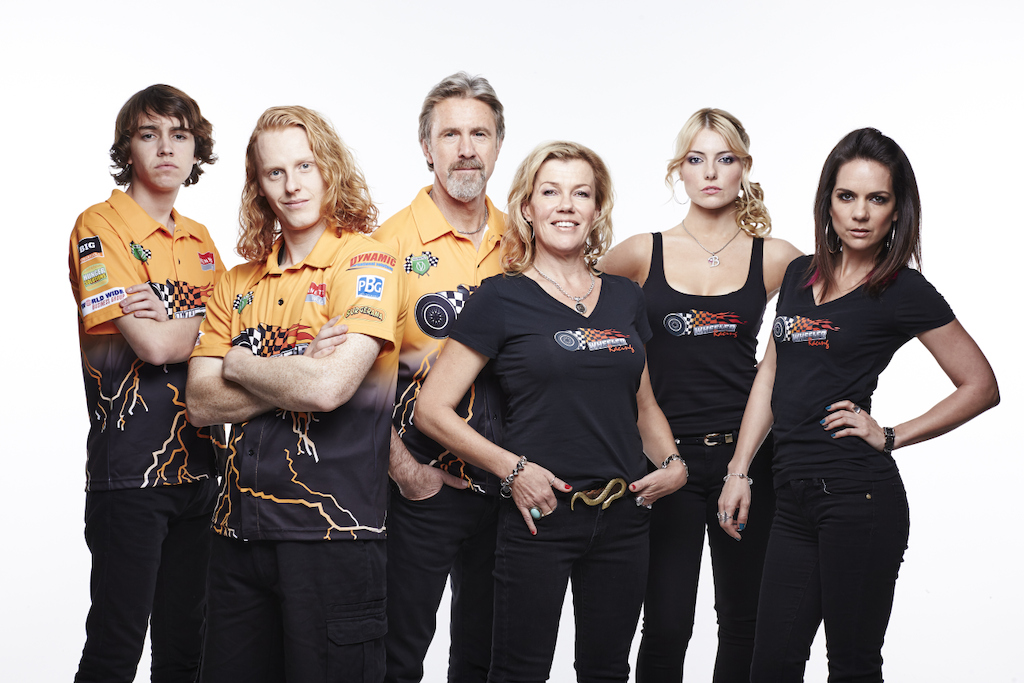 Upper Middle Bogan, Series 2 (2013 to 2016)
This Australian family comedy follows Bess Denyar, a wealthy doctor who learns she's adopted and actually comes from a family of suburban drag racers. As she explores her new family identity, she finds herself positioned as the "Upper Middle Bogan", a woman forever caught between two tribes. Though her snooty architect husband, private school-educated kids, and adoptive mother disagree, she's determined to unite the two sides of her life.
Season 3 arrives on September 13th.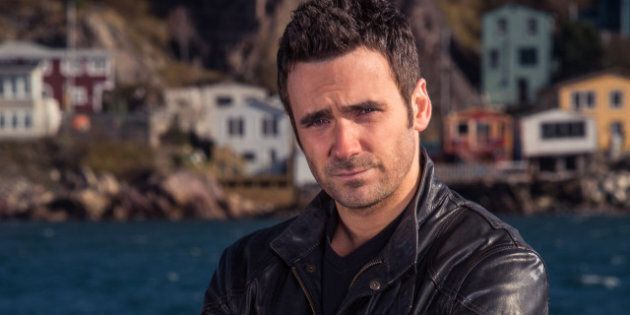 Republic of Doyle, Season 2
This delightful crime dramedy follows a father and son investigative agency in lovely Newfoundland. Allan Hawco stars as the rough-around-the-edges PI Jake Doyle, while Sean McGinley (Bleak House) plays his father and partner Malachy Doyle.
Season 3 arrives on September 20th.
Acorn TV September 13th Premieres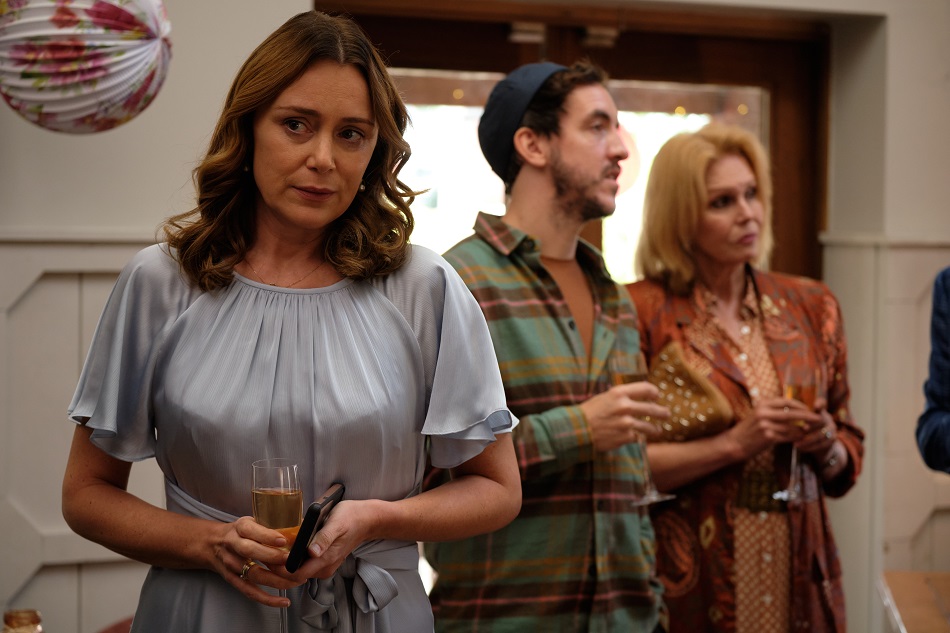 Finding Alice (2021)
Keeley Hawes (Bodyguard, Line of Duty) stars in this ensemble drama about a woman's emotional journey after the death of her partner. After moving into her dream home with her family, Alice's life is torn apart when she finds her husband dead at the bottom of the stairs.
The series also stars Joanna Lumley (Absolutely Fabulous), Nigel Havers (Benidorm, Coronation Street), Jason Merrells (Agatha Raisin) and Gemma Jones (Gentleman Jack).
Acorn TV September 20th Premieres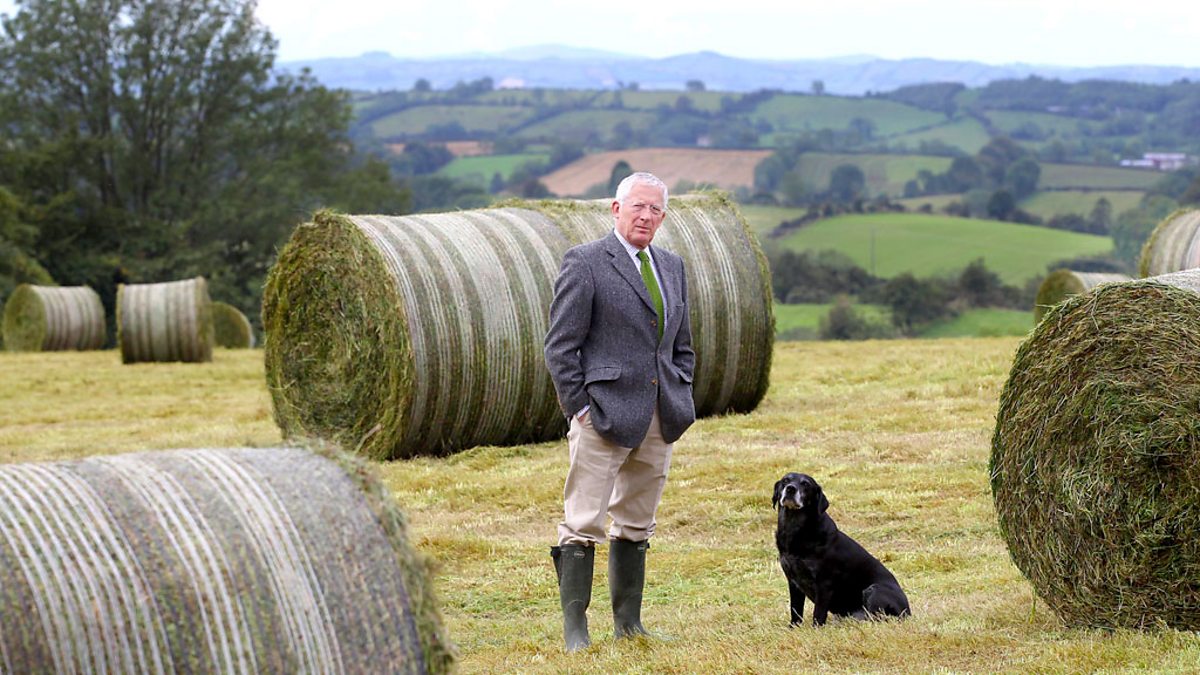 Farm Fixer, Season 1
If you liked the recent Amazon Prime Video hit Clarkson's Farm, you may also enjoy this farm-based series.
This reality series sees The Apprentice's Nick Hewer returning to his Northern Irish roots to help struggling farmers improve their businesses. Though the farmers are desperately in need of help, many struggle with the idea of changing their old ways.
Prefer not to wait? You can watch both seasons free with ads HERE (accurate as of August 20th, 2021).
Acorn TV September 27th Premieres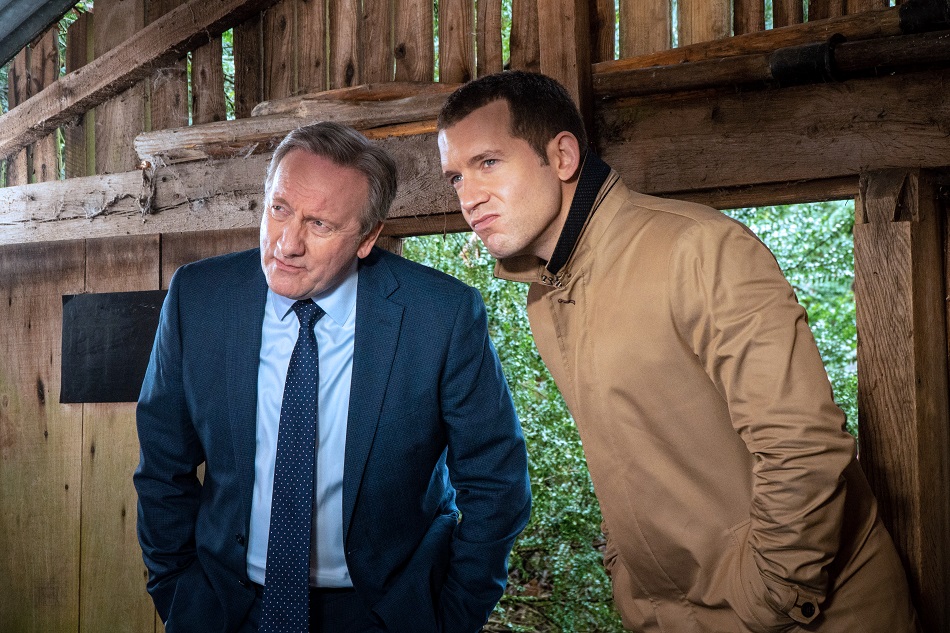 Midsomer Murders, Series 22: Part 2
When the first two episodes of Series 22 premiered back in spring, we were assured the other four episodes were coming this autumn – and in September, they finally arrive. The episodes will premiere weekly, with September 27th marking the premiere of episode 3:
Episode 3, "Happy Families" – In this episode, the owners of a handmade board game will gather for a murder mystery weekend – and in a twist that will surprise no one (this is Midsomer, after all), play murder quickly becomes real murder. Guest stars include Caroline Quentin (Blue Murder, Doc Martin, Jonathan Creek) and Rachael Stirling (Detectorists, The Bletchley Circle).
Watch Episodes 1 & 2 of Series 22 HERE – or read more about Season 22 of Midsomer Murders HERE.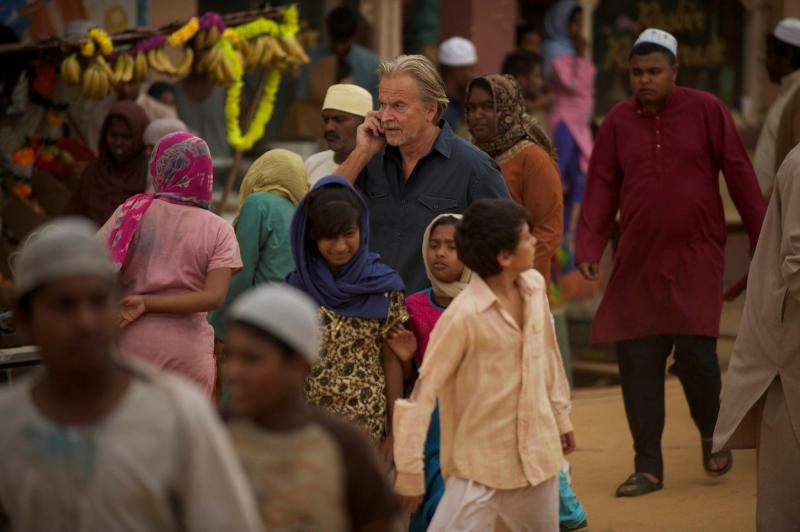 Kidnap & Ransom, Series 1 & 2 (2011 to 2012)
Trevor Eve (Waking the Dead) stars as Dominic King, a skilled hostage negotiator about to embark on some of the most difficult cases in his career. In Season 1, he'll negotiate for the release of a businesswoman who's been snatched in South Africa. In Series 2, we'll see him dealing with a tour bus that's been taken hostage in India.
What Do You Think of the September 2021 Acorn TV Premieres?
What will you be watching next month on Acorn TV? We're excited to see continued episodes of My Life is Murder and Midsomer Murders. Autumn is a wonderful time for murder mysteries, and with so many activities cancelled this year, we expect we'll be logging a bit more TV time than usual.
Save it to Pinterest!