Interview With Martin Clunes of the Acorn TV Original Manhunt
In some cases, we earn commissions from affiliate links in our posts.
Last Updated on March 15, 2019 by Stefanie Hutson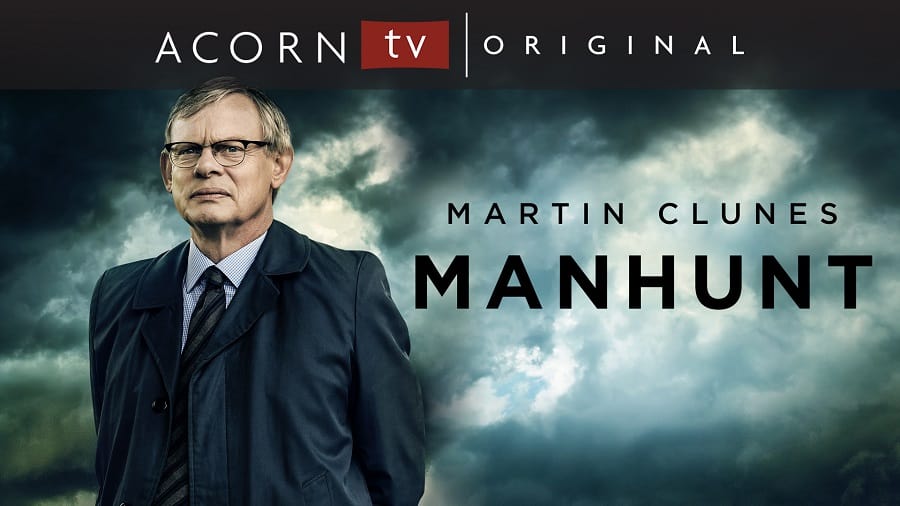 On March 11th, Acorn TV will be premiering the new ITV true crime miniseries Manhunt, starring Martin Clunes (more commonly known as the curmudgeonly Doc Martin). The series is based on the investigation following the murder of French student Amélie Delagrange, and Clunes plays the role of DCI Colin Sutton, lead investigator on the case.
Katie Lyons stars alongside Clunes as DS Jo Brunt, Sutton's assistant on the case, and Claudie Blakley played Louise, Sutton's wife.
Manhunt aired in January 2019 in the UK, with an average of nearly 10 million viewers per episode – making it ITV's top new series since Broadchurch. We were lucky enough to preview the series and talk briefly with Martin Clunes, and we found them both to be wonderful. It's a very different sort of true crime series, but since we talk about that in the interview, we'll let you hear about it from Martin instead.
Special thanks to Acorn TV for setting this up!
Interview with Martin Clunes of Manhunt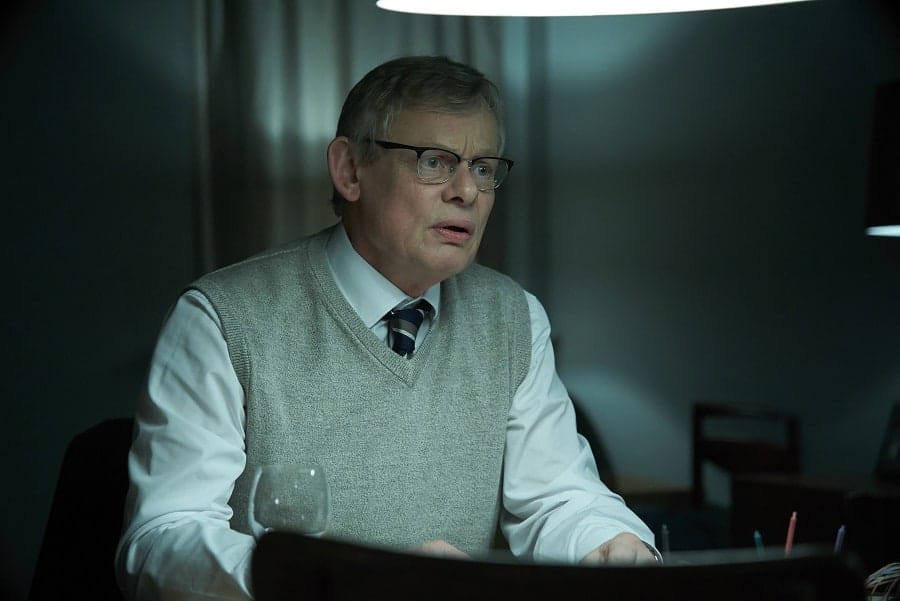 Editor's Note: There were a few echoes and delays here and there during the call, so there's a chance we may have missed a couple words in places. If something sounds a bit funny, blame that on us and/or technology, not Mr. Clunes. He was fantastic.
For those who aren't familiar with Manhunt, can you tell us what it's about?
Ah yes, it's based on the memoir of an English detective called Colin Sutton who was charged with dealing with the murder of a young French girl in a kind of well-to-do suburb of London. And, about how he set about solving this crime, and two others as well who were committed by the same guy.
And these were crimes that, because they were all young girls in their teens who were murdered, kind of, there was no robbery, there were no sexual crimes, they were just murdered. And, for some reason, the British press seized on these stories and couldn't resist putting the photographs of the girls on their front pages and writing details of the crimes and they sort of became cause célèbre and it would kind of resonate with anyone of a certain age. The crimes were committed in 2004.
And it's just about how this decent, honest man and his team set about doggedly trawling through evidence in an unglamorous and hardworking, dreary, looking at hours and hours of CCTV and scanning vehicle details, how they set about capturing this monster.
That was one of the things we really appreciated about the show, the fact that true crime shows frequently rely upon violence and suffering of the victims and family, but this one was unique in that it was more of an homage to the sheer determination of the people who brought the killer to justice. Was that really intentional in making the show that way?
Extremely, yes – and I'm very grateful to you for, it's very gratifying when people notice that. So yeah, we were at pains to not do, you know, the violence and things because the families of the victims are alive, and we reached out to them before we started making it. Apart from that, we just weren't interested in doing that. There's plenty of shows that do that.
We wanted to show exactly what you said – that it's unglamorous, it's dogged, it's shoe leather. They quite frequently, when a murder starts, everything is dropped. Hotels rooms get booked, people are sent out to buy underwear and toothbrushes for the detectives because they just lock on. And thank God they do.
We just felt it would be good to show that, and because it was written based on the memoir of a policeman and just describing his working day, it felt like it ought to honor everybody involved. The truth was our greatest ally in, so long as we were telling a truthful story and we weren't fetishizing brutality that would we would be okay and we feel vindicated by the results.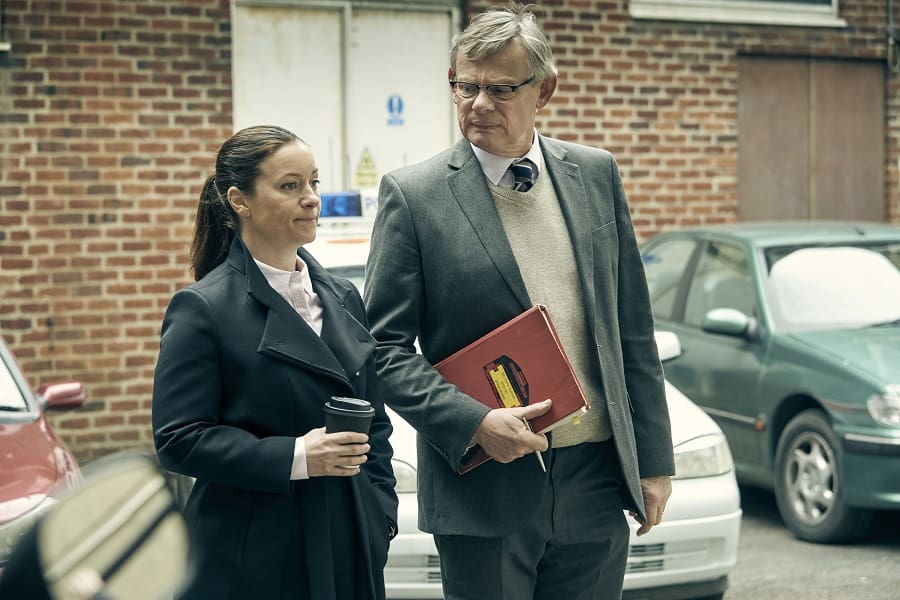 How did you prepare for the role?
I spent time, I hung out with Colin and kind of scanned him. And, uh, I spent time with Hampshire Series Crimes Squad. When they said that we could come and hang out with them, then they called and said, "Okay, we've had a murder," and I went down and spent some time with them and saw how the team worked and saw how the hierarchy worked and how the different ranks responded to one another and saw just how hard and how focused and how dogged they are, and that that's really how crimes get solved, deerstalkers and pipes aside.
So was that the most surprising thing about working with real-life detectives, just the sheer determination and focus that they have?
Yeah, it was actually. Just totally applied. And I suppose we all think we know about these things because (inaudible) on TV. It was a real surprise. You know, people should run up and hug these guys, or thank them, or give them a cookie or something because no one else is gonna do it.
Yeah, I'd imagine it's very challenging work, and not for everyone.
Yeah, no. It's very humbling, though, to see these guys when they're focused.
I'm sure! So, I know you and your wife frequently work together, including this project, so I just wanted to give you a little chance to brag on her given that she's more behind the scenes. What was her involvement as a producer, and how is it working together?
It's fine working together. We've done it for years. It's how we met. She was involved with this long before I was, because my feelings on TV detectives were, I don't enjoy watching them, and I've been asked to play them a few times and I just wasn't interested because I don't subscribe to that, they just, they don't do it for me.
But she was working away on the compliance, the legal side, dealing with the families, you know we're representing real people in it, even the police. You know, it was quite a minefield to get everyone to sign off. But yeah, she was working on it four years in total, and I just swan in at the last minute and try to swoop up the glory.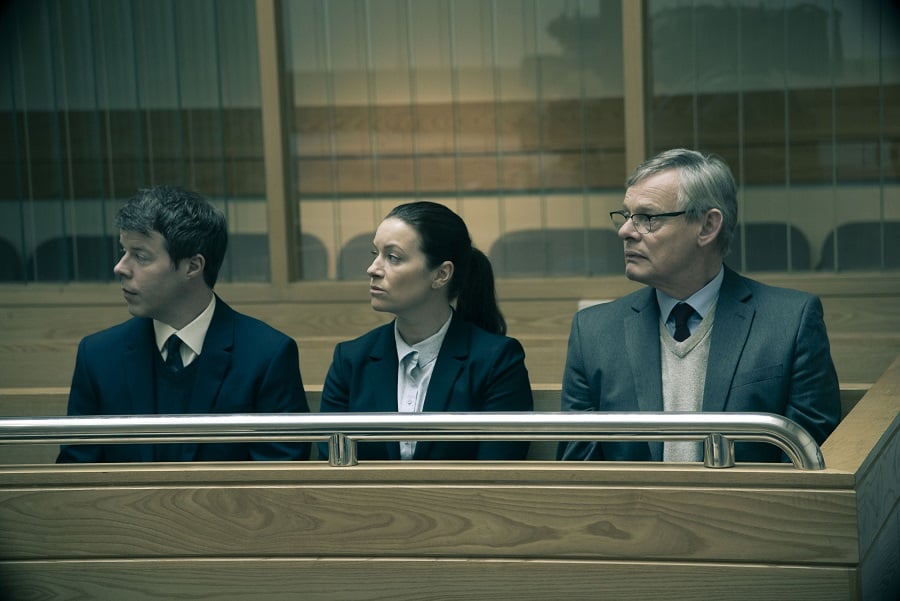 Has Manhunt awakened any desire to do more detective roles now?
Ah, no – but I might play Colin again, on another case. But no, no.
So would that potentially be another season of Manhunt, or would it be a completely different show.
Yes, it might be. We'll see. It's just as tricky legally, so I couldn't tell you, hand on my heart, that we were about to do because we only just, it's only just broadcast in England in January – but our network, ITV in England, has expressed an interest, well they commissioned it, really, but there's a long – probably another four years to go.
Did any of your past roles or performances inspire how you portrayed Colin Sutton?
Ah, no. Every job's different. They all have different requirements, I even had a different way of learning my lines, strangely. It was a real departure in every sense. I'm grateful for the opportunity.
You know, it's nice to work – in a workforce where 98% of actors are out of work at any one time, and I'm really lucky, and really happy doing Doc Martin every other year. To have something like this alongside it, is, yeah, I'm even luckier.
So now you've got me curious, what was your new method for learning lines in this series?
I had a lot of very long speeches, and it's not like doing a play in the theatre where you rehearse for weeks and weeks. You don't really get a whole lot of rehearsal. I knew that the schedule was tight, there was no time for me bluffing and muffing my lines, so I set about just getting the things under, these long, long speeches under my belt a few days ahead because some days you get a boring day where you're just driving around in cars and not speaking much or doing much else.
I just got ahead of the game, and that became a sort of rhythm, so I was getting my lines under my belt two days before. Usually on Doc Martin, I do it the night before, unless I've got a big medical word to say. But it just seems (inaudible) I don't think I dropped the ball once. I didn't fluff or (inaudible) or forget my lines. It seemed to suit the job well. I mean, I hope I don't do that much in anything, but I have, in the past. But I didn't as Colin.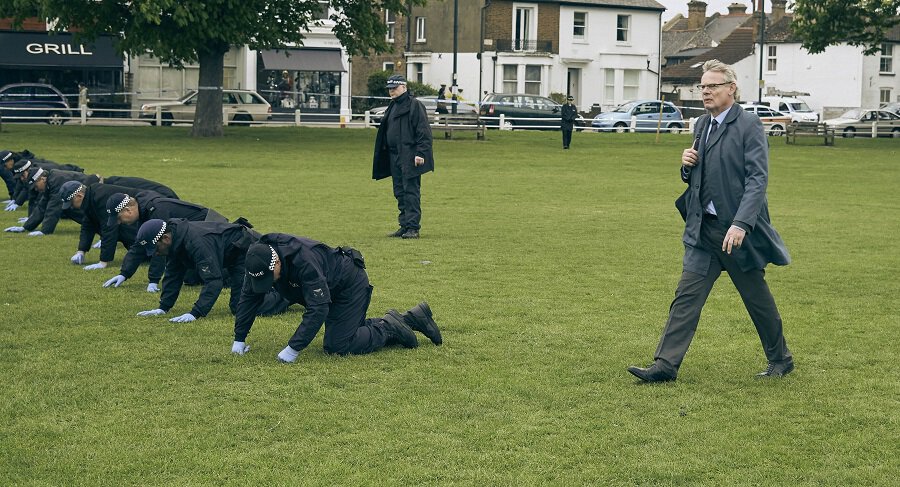 Was there a particular scene that was most challenging to film?
Challenging, hmm. No, my best scene was the scene where we charged him, because that just felt like everything that had gone before was aimed at that – and if any good can come from a television program, it was showing people that that man was taken off the street. When it came to the scene of charging him, I just sort of felt Colin's triumph in a way – but more than Colin's triumph, I felt that that man was off the street and that that was a very, very good thing.
Yeah, I completely agree with that. I know we're almost out of time and you've had a long day, so just one more question. What's next for you after Manhunt?
I'm going back down to – well I've got a sitcom that I did at the end of last year that's about to come out on the BBC this month, and then at the end of March I go back down to Cornwall to do Doc Martin, season 9, for Acorn.
Great, well we'll definitely look forward to watching that. Thank you for the time.
Thank you, it's nice to talk with you.
Where to Watch Manhunt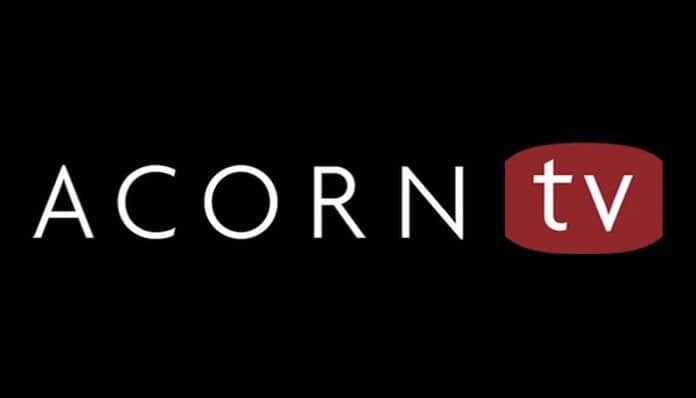 Manhunt is an Acorn TV Original, meaning you'll need an Acorn TV subscription to watch it. The premiere date is March 11th, 2019.
You can sign up for a free one-week trial HERE, or perhaps check out the trailer below to get a better idea of what it's all about. There's a lot of other great stuff coming up in the next couple months on Acorn, including Queens of Mystery with Julie Graham, Line of Duty Series 5, and Miss Fisher's Modern Mysteries. And of course – Doc Martin will be back for Series 9 this fall.