Interview With Martin Clunes of Doc Martin
In some cases, we earn commissions from affiliate links in our posts.
Last Updated on April 11, 2020 by Stefanie Hutson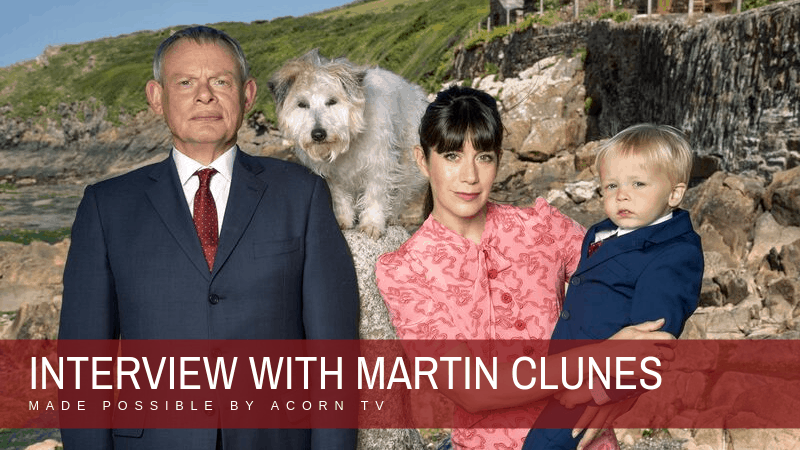 The long wait is nearly over. Today, Series 9 of Doc Martin premieres in the UK – and tomorrow, it will reach the US via Acorn TV.
In Season 9, Doc Martin's career is threatened by complaints made to the General Medical Council about his harsh approach to patients. At the same time, his wife (played by Caroline Catz of DCI Banks) is pursuing a new career as a child counselor and worrying her son has a few too many of his father's traits.
Aside from Clunes and Catz, other returning cast members include Dame Eileen Atkins (The Crown, Upstairs, Downstairs, Cranford) as the Doc's Aunt Ruth, Ian McNeice (Doctor Who, Rome) as Bert Large, and Joe Absolom (Hatfields & McCoys) as his son Al.
New guest stars for Season 9 include Danny Huston (Yellowstone, American Horror Story, Succession), Conleth Hill (Lord Varys in Game of Thrones), Tom Conti (Reuben, Reuben) and the return of Martin Clunes' Men Behaving Badly co-star Caroline Quentin (Jonathan Creek).
Special thanks to Acorn TV for setting this up! Don't forget to catch Season 9 of Doc Martin on Acorn TV, with a new episode airing each week on Thursday from September 26th to November 14th. If you haven't watched all the seasons prior to that, no worries – they've got those, too.
Interview with Martin Clunes of Doc Martin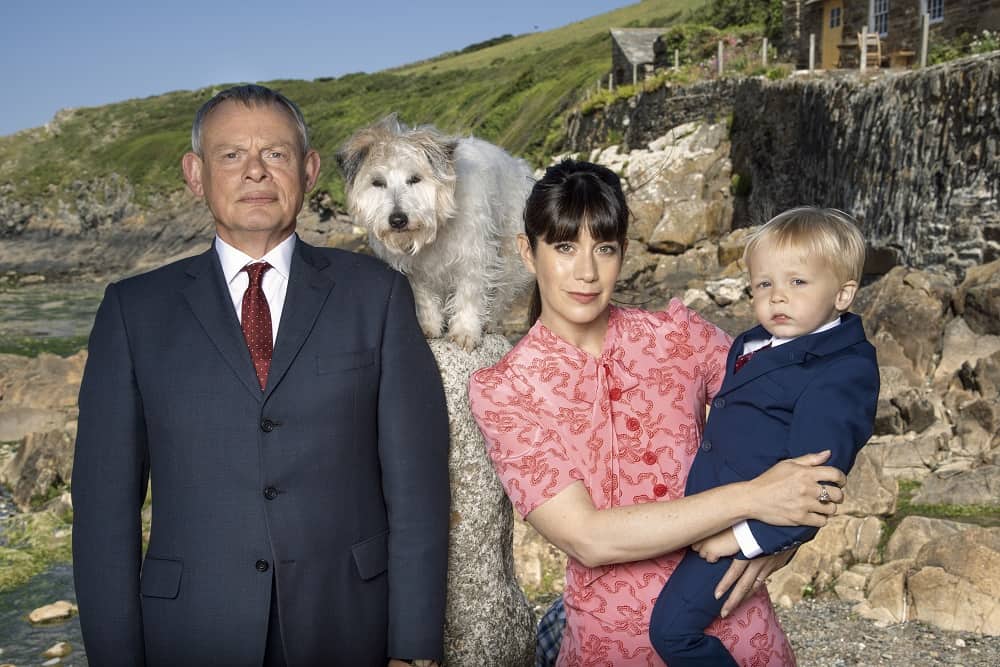 Editor's Note: There were a few echoes and delays here and there during the call, so there's a chance we may have missed a couple words in places. If something sounds a bit funny, blame that on us and/or technology, not Mr. Clunes. He was fantastic as always.
It's been almost 20 years since the first Doc Martin movie, and that's a really long time to hold a role. Who do you think has changed more in that time – you, or your character?
Well, the movie character is actually a completely different character –
True, yeah.
The TV character is actually only about, well I don't know-
Fifteen-ish?
Is it 15? Yeah. Well, I think he's sort of gotten a bit more uptight, possibly. He's a little, if I looked – I haven't for a while – in the past, I've seen those early episodes and he seemed almost kind of chilled by comparison. But I'm not quite sure why that's happened. When we first made it, you don't know what people are going to like, so you sort of lay everything out there and kind of learn from what people tell you. I mean, it was very quickly apparent that people were very interested in the love story between Martin and Louisa so we sort of followed that, you know.
Yeah, that's funny. Even with the therapy, he gets more uptight.
Yeah (laughing).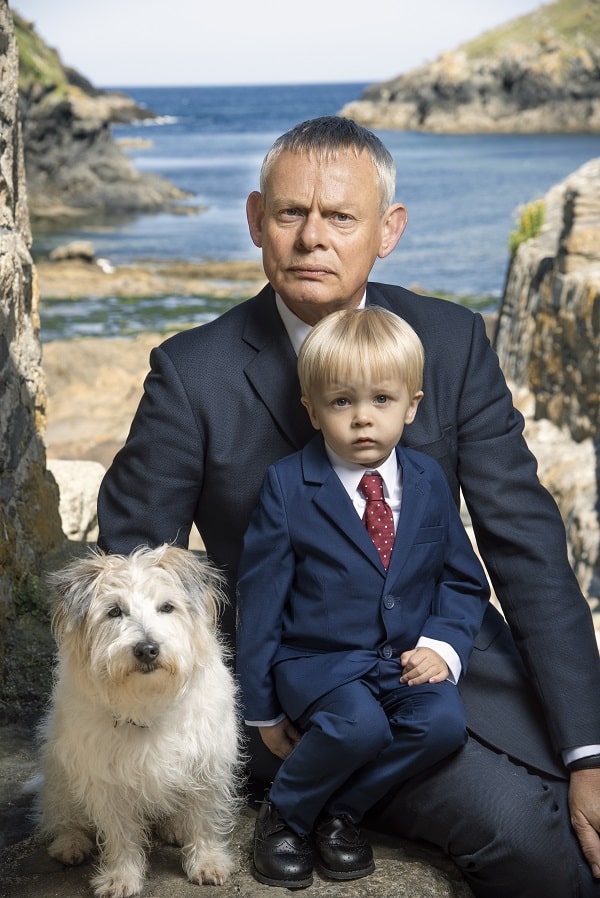 So there's been a lot of talk that this could be the last series of the show. What would you miss most if the show doesn't come back?
Ohhhh, that's a good question. I'd miss the chance to, you know, it's quite a silly job, being an actor anyway, so the chance to play that silly game in such a nice place with such a great bunch of talented people across the crew and the cast. Just kind of provides you with a very safe playground to do what we do if you know what I mean. We're all quite cool with each other and I think that means that in essence, it's a rare chance to try and celebrate something in a day, to have some fun with it and make something that's good rather than just achieve another day of filming and get through the schedule, if you know what I mean. So I'd miss that, because I think it's possibly the last good job in British TV (laughing).
Are there any guest stars or storylines you might have liked to see on the show, but they just never happened?
Oh, Lord! I don't know, you're asking the wrong person. (laughing) Well, erm, I've always quite fancied…I've directed a bit in the past and I've always quite fancied directing an episode – but for that, my character would have to be in a coma, because I wouldn't want to direct myself doing anything other than lying down. I don't think that's going to happen. My wife's made it quite clear that's not going to happen.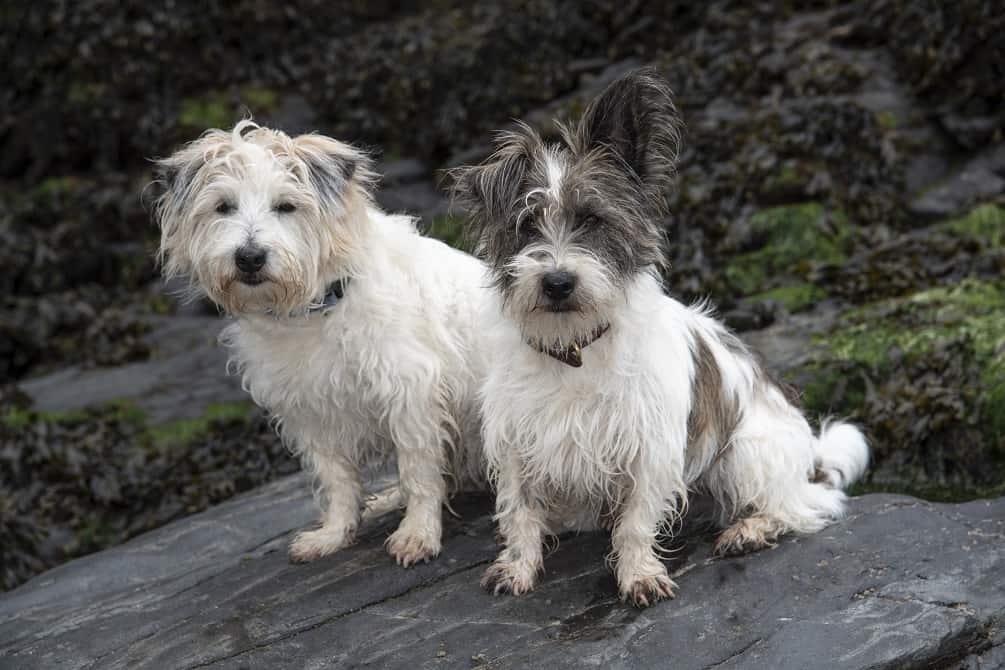 Sure, understandable. So we asked our readers for some questions and after we filtered through all the marriage proposals, I saw somebody had asked, "Have any of your dogs ever appeared on the series, perhaps as canine extras?"
Erm…once. In, I think either the first or the second series. Our old cocker spaniel Mary appeared as herself. She wasn't very good. She wasn't terribly good, but yeah, she was lovely looking. She was that sort of an actress. Very beautiful, but not not very good.
Poor girl.
But my Jack Russell Jim was in Arthur and George, which was a thing we did about Arthur Conan Doyle, and Jim was really good – except he wanted to attack the wind gag on the microphone.
That's understandable.
Yeah, fair enough.
Do you have any kind of special preparation for your roles or any funny actor superstitions?
Erm, no, not really. It's all sort of, pretty much, you know, once that suit goes on and the tie slips up and the top button's done up, it's all pretty much a uniform really – and those glossy shoes. That set, which is weird – I've spent so much time on that set and I know exactly when to duck my head, because every doorway on the set was designed to be 2 inches shorter than me. I think I've spent more time in those sets than many of the rooms in my own house over the last however many years.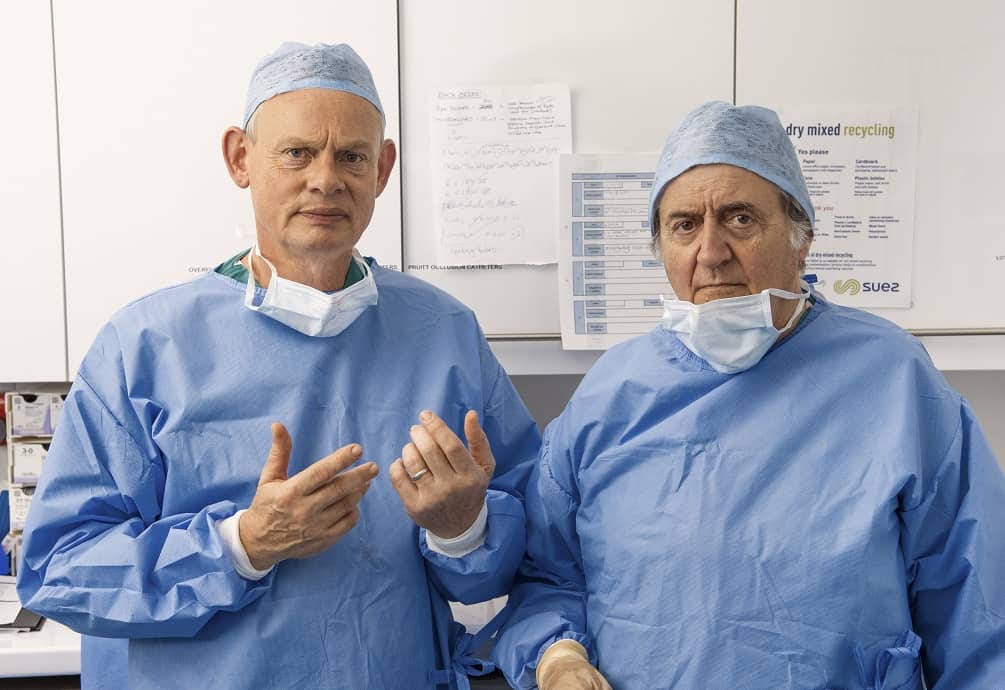 Wow. We always like to throw in kind of a silly question, so let's suppose a crazy network executive comes in and they say, "We're going to do a crossover with another show – something like Doc Martin goes in the TARDIS or Inspector Barnaby Holidays in Cornwall." What would be your choice for a fun crossover for Doc Martin?
Ahhh, Modern Family.
I could see that.
Yeah, that could go well. Yeah, I love that show.
One thing I've noticed across your different roles over the years – things like Doc Martin and Men Behaving Badly – is that you vary your posture and body language and gait a lot more than a lot of actors.
Do I?
You do, yeah. How did you develop such a physical style of acting?
I don't know, I've just always sort of, erm, I guess I've always thought about how a particular type of person would move. Yes, I suppose I do. I don't know why. Sometimes I see myself doing it and I think, "Oh, I wish somebody would have told me to stop doing that." I don't sort of practice in my studio with mirrors or anything. Well maybe I should…sometimes it's a bit much.
I think it brings a lot of life to the character. I especially noticed it watching Warren recently. He was very different from Doc Martin.
(laughing) Haha, oh yeah, right. Warren.
Do you prefer to play characters who are very different from your real personality, or do the grumpy ones every bleed over into your real life?
Ahh…no. (laughing) I wish. Acting out Gestalt therapy when I'm angry >inaudible bit< had the confidence like most people.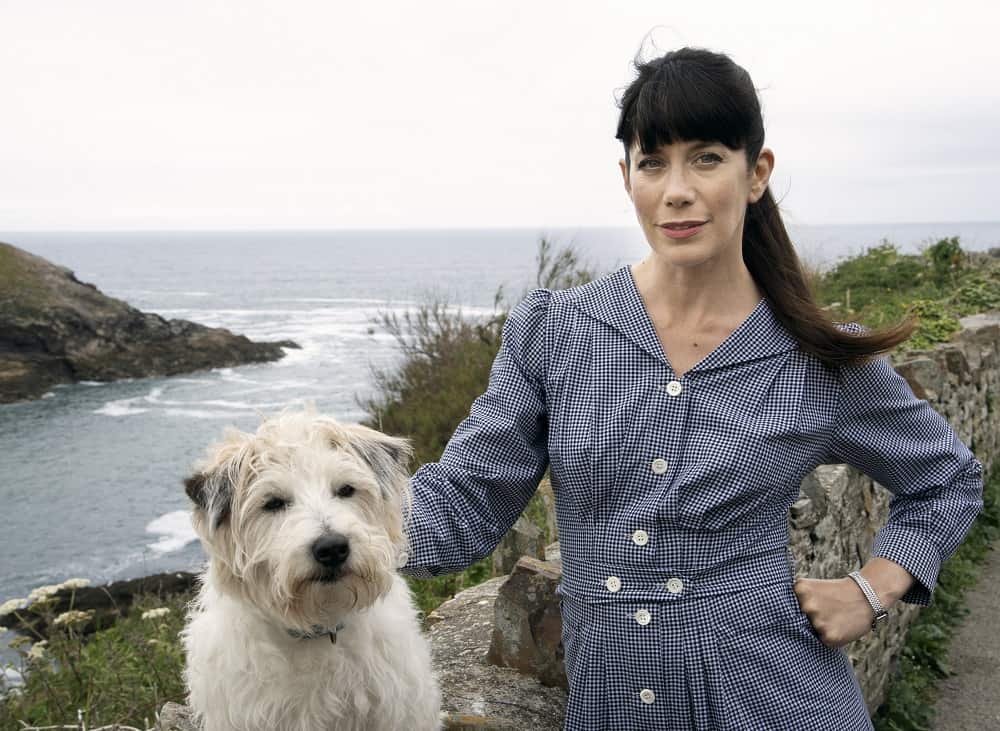 Are there any projects you're dying to do that you haven't yet tackled?
Hmm, no I'm pretty complacent actually. I think we're doing another Manhunt next year. And, you know, I'll be happy when Doc Martin is launched, or given birth to, whenever that's out there. And…no, I'm okay. I'm doing pretty well and I'm at home at the moment which I'm loving. It's a beautiful time of year here, all the trees are beginning to turn. So yeah, I'm good.
Do you plan to do any more travel series? We had a lot of readers who mentioned Islands of Britain, and I know Scotland has at least 700 more islands you could visit…
Yes! In November, I'm off to do the Islands of the Pacific, starting with Galapagos. It's really great, yes. I'm looking forward to that.
Especially for an animal lover.
Yes! And I think I'm going to do some diving out there as well. That's an amazing privilege.
Yeah, let's hope that one's on Acorn!
Yes, I'm sure it will be.
Just a couple more quick questions. I'm sure you've gotten to know Cornwall pretty well. Is there anywhere else in particular you'd love to film an ongoing series – somewhere you just really enjoy?
Erm, funnily enough, I don't know Cornwall that well actually. I know that tiny little bit, but I never get any time off. You know, for me actually, Cornwall is perfect. It's not so close that I feel like I'm doing it on my doorstep, and the drive down from where I live in Dorset is only a couple of hours to Cornwall, and you drive through Devon and Dartmoor. It's actually quite a beautiful drive. I only have to do a series every other year, so it works out pretty well. So actually, I don't think I can think of anywhere I'd rather work – for all those reasons, which are all pretty selfish, but there it is.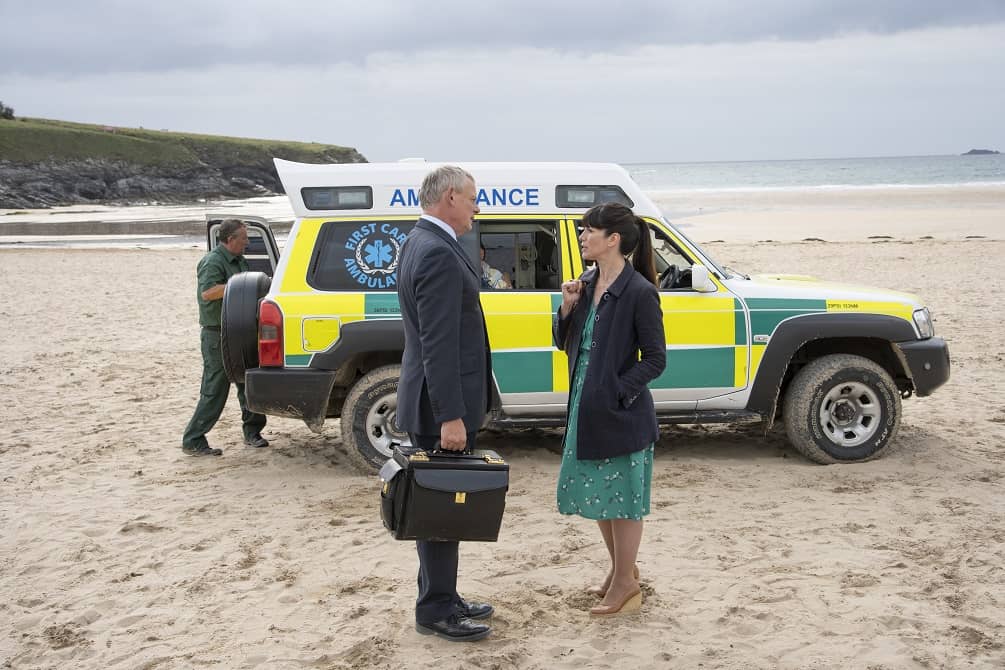 What can we expect from you in the future. I know you mentioned Manhunt and the Islands of the Pacific, but is there anything else?
Well if we're lucky, we'll get to do a tenth Doc Martin – and then I'll probably retire.
Wow. I've always heard actors don't really retire.
No. They ought to. But yeah, I'll see what happens. I've reached an age where I'm just as happy not working. I do spend a lot of time in the garden and hanging out with my dogs and riding my horses and what have you. I'm just as happy not working.
That's really good to hear.
But I do like what I do.
Where to Watch Doc Martin (Including Series 9)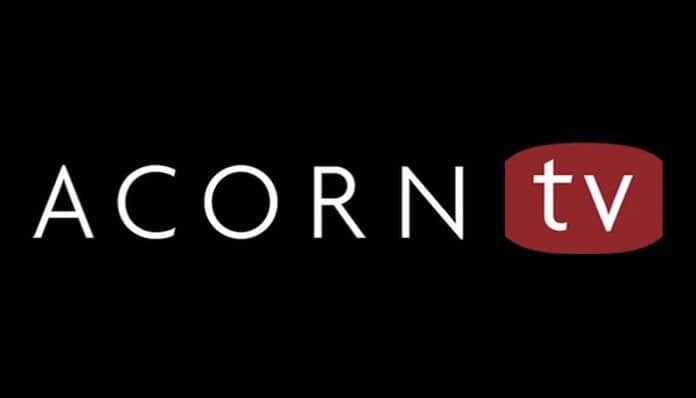 Season 9 of Doc Martin premieres exclusively in the US, Canada, and Mexico on Acorn TV just hours after the UK premiere. All the previous seasons are available to stream there, too. If you haven't already, you can watch the Season 9 trailer below.
To give Acorn TV a try, you can sign up for a free one-week trial HERE. There's a lot of other great stuff coming up in the next couple months on Acorn, including a brand new feature-length Agatha Raisin episode in late October.
Save it to Pinterest!