Doc Martin Filming Location: Where is Portwenn?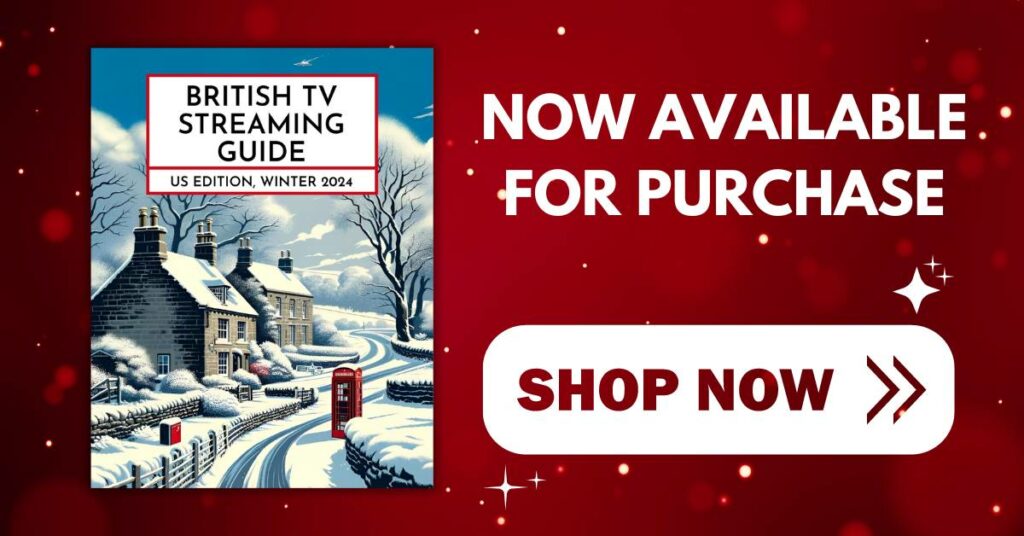 The British TV Streaming Guide: US Edition, Winter 2024 is now available. Get yours HERE.
In some cases, we earn commissions from affiliate links in our posts.
Last Updated on February 6, 2021 by Stefanie Hutson
Editor's Note: We added a few more images and notes to the original post – because you can never have enough images of pretty villages. We include this disclaimer here in case we end up saying something the original author might not agree with.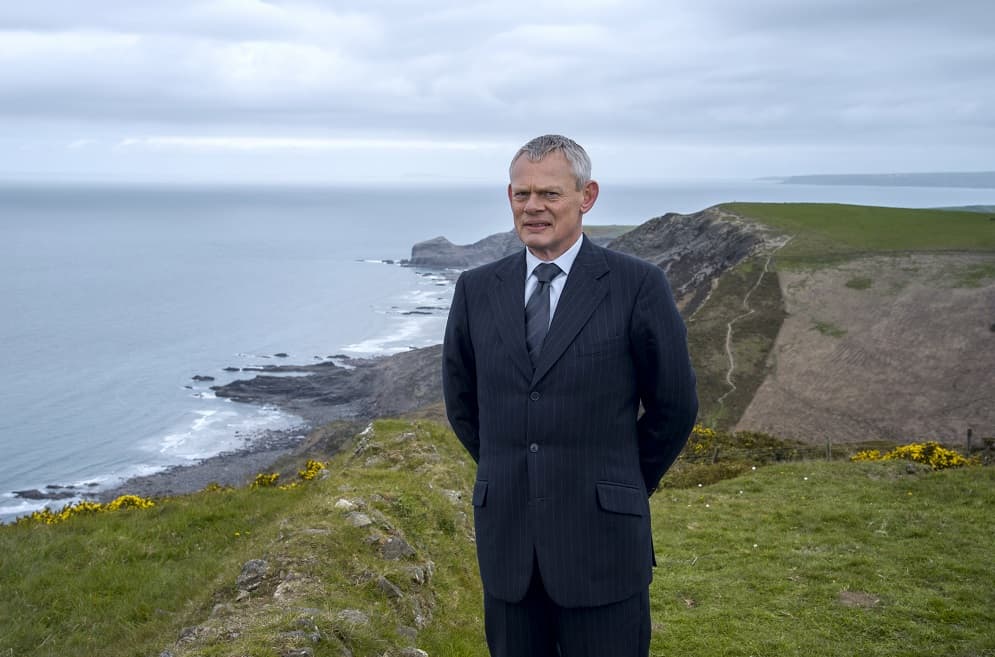 Doc Martin stars Martin Clunes as an eccentric, small-town doctor with a fear of blood. And he isn't the only one with eccentricities – the whole town is full of vibrant characters with plenty of quirks to keep the show interesting.
As someone from a small town, I feel safe saying this dramedy is an accurate portrayal of village life. But my small town is missing a few of Portwenn's charms… a coastal atmosphere, historical landmarks, great seafood, and breathtaking views of the sea.
Part of the charm of Doc Martin is its setting. Portwenn could even be called its own character for how prominent it is in the show.
Haven't seen Doc Martin or Want to Re-Watch?

Doc Martin is streaming in a ton of places, but the main hub is Acorn – they currently have all nine seasons. Watch Doc Martin on Acorn.
Other streamers, like Hulu, Roku Channel, Tubi, Crackle, and Pluto TV have only 5 or 6 seasons and may have ad breaks.
Doc Martin Filming Location: Where is Portwenn?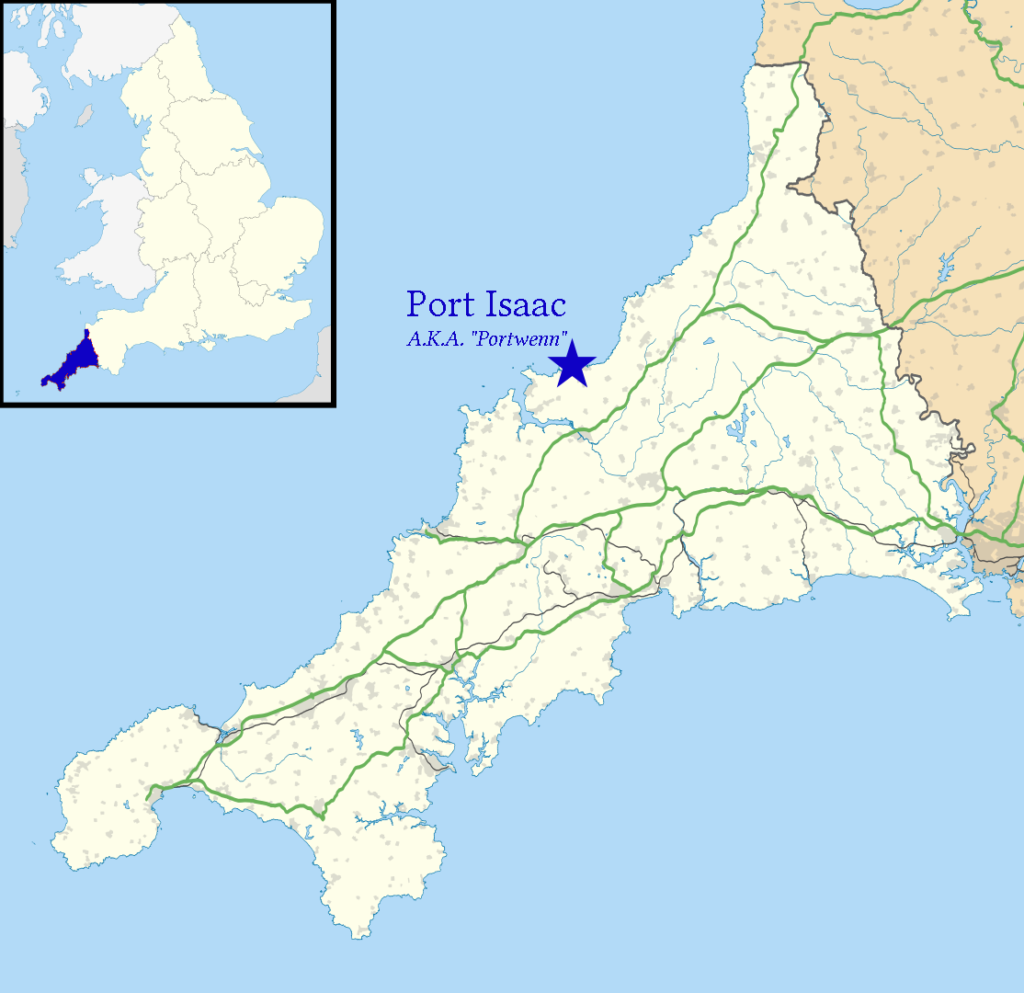 Doc Martin is filmed in Port Isaac, a gorgeous coastal village in Cornwall. Doc's practice and home is Fern Cottage on Roscarrock Hill. Filming of Doc Martin's aunt Joan's house takes place on the local Bodmin Moor at Dinnabroad Farm.
Port Isaac is primarily a small fishing village with a healthy dose of tourism. It has a population of just 721 residents. Its rich history dates back to the middle ages with its prominent pier dating back to the Tudor era (Henry VIII, to be exact). The origins of the port's name come from the Cornish for "corn port" because it served as a port of transport for corn, along with slate and lumber.
Most of the homes you see nestled near the harbour date back to the 18th and 19th centuries. They are now protected by conservation and new homes cannot be built down in the heart of the village.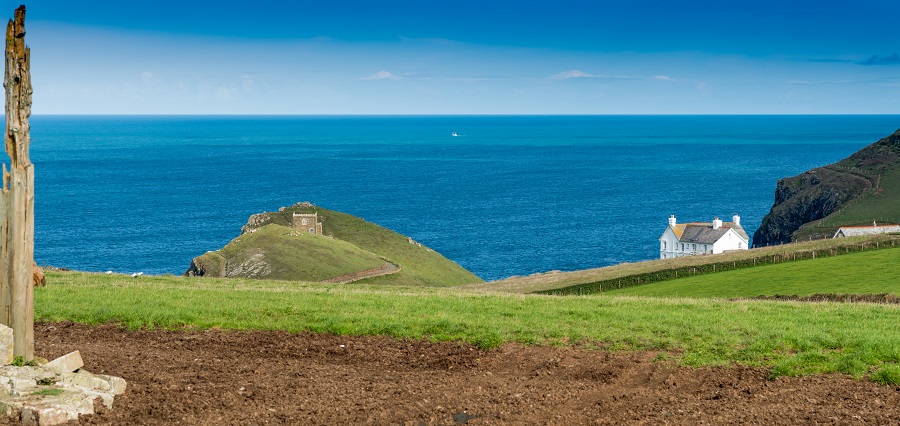 Nearby Port Quin is a cove and hamlet – it is home to Doyden Castle, which is featured in season five of Doc Martin as Pentire Castle.
Bert & Al Large's restaurant, Miss Tishell's store, and other places are all real buildings within walking distance in Port Isaac.
If you want to find out the filming locations of your other favorite shows, check out IMDb.com – Just search the show title, pull up its page, and scroll down to the Details section (it's near the bottom under Reviews and FAQ).
Travel to Portwenn / Port Isaac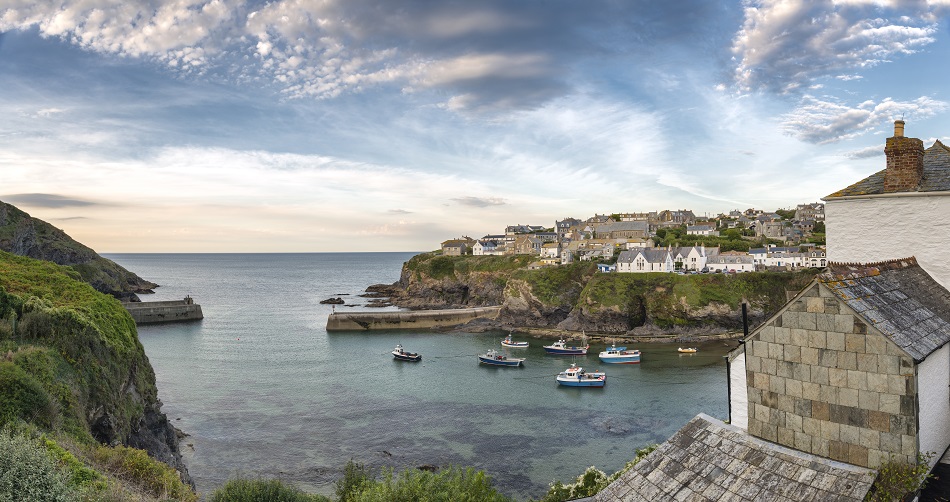 Thanks to the popularity of Doc Martin, Port Isaac is a popular tourist destination with plenty of places to stay in the area, lots of things to do, great places to eat, and many scenic walks to go on.
Because Port Isaac has some of the narrowest roads in the UK, tourists are highly encouraged to use the car park at the top of the village and walk down to the village; in fact, many suggest you should not even consider driving down the hill into the village.
Most of these tiny winding streets were built long before the advent of the automobile and aren't suited to much more than foot traffic or bicycles. Plus, what's better than taking in the sights as you stroll down into the village?
Browse these helpful sites to get started planning your trip: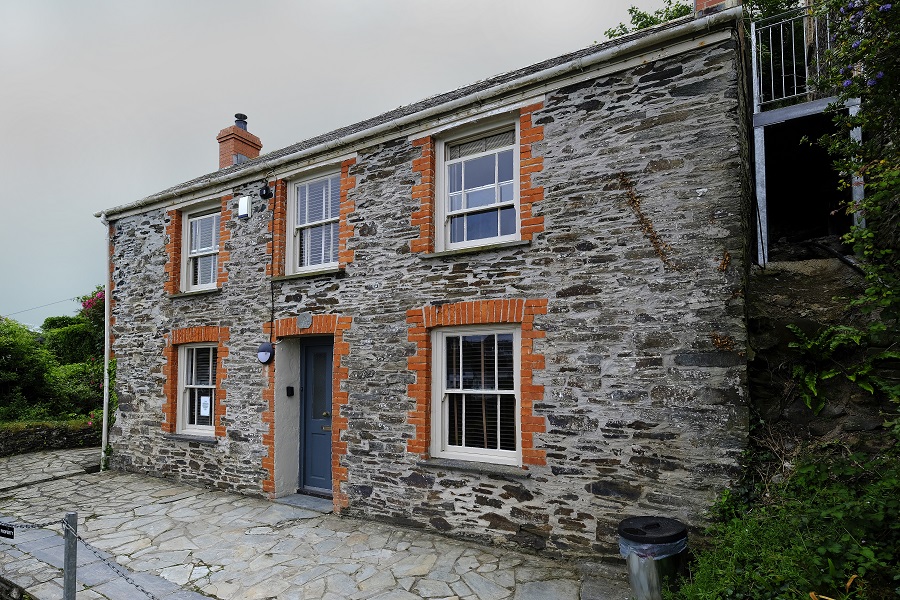 Fern Cottage, Doc Martin's practice and home, is available for extended stays (minimum stay, 3 -5 nights). It has two bedrooms and can host four people. It averages $393 USD / £290 per night but price may vary. Perfect for the hardcore Doc Martin fan who wants an unforgettable vacation.
If you'd rather stay at a more rural location, there is a Holiday Cottage at Dinnabroad Farm on Bodmin Moor (near the filming locations of farm scenes and Doc's Aunt Joan's farm). It's perfect for a whole family's extended stay if you enjoy exploring in nature. It's also dog friendly.
Just around the headlands from Port Isaac is Port Quin, home to Doyden Castle, (which is called Pentire Castle in the show and is featured in season five). It's also available to stay in and is managed by the National Trust. Just look at the interior – it's just as gorgeous as the outside.
Wherever you decide to stay in the area, a visit to Port Isaac is an absolute must-see for Doc Martin fans.
More Photos of Port Isaac, Cornwall
If you're like us and you can't get enough of this lovely village, check out the photos below. You can also click HERE to take your own "Google walk" if you're unable to travel (and that's most of us, these days). It works best on a laptop or desktop computer, though you can definitely do it on a phone or tablet. You can click and drag your mouse to rotate your view, or click down the roads to walk around. The link we've provided will drop you in front of Fern Cottage (aka Doc Martin's house).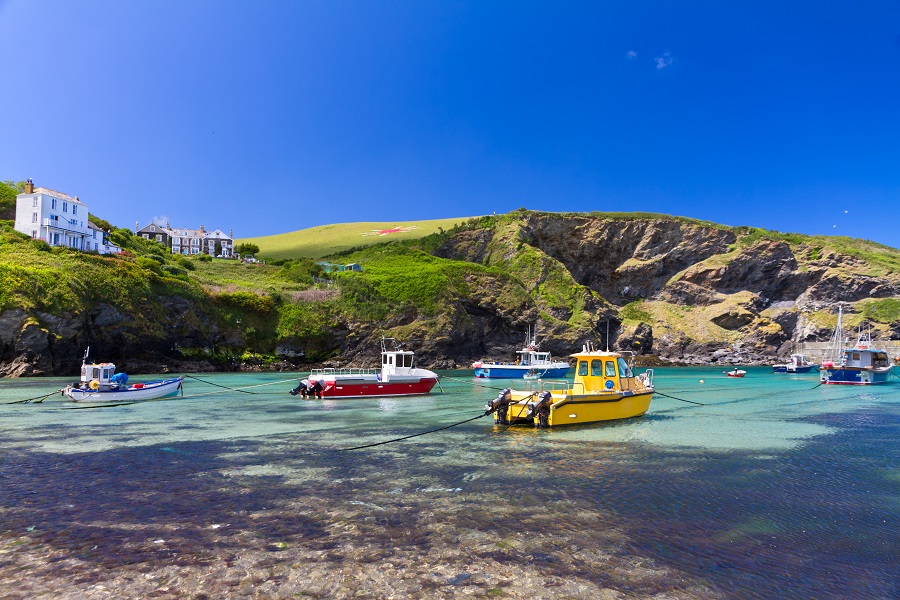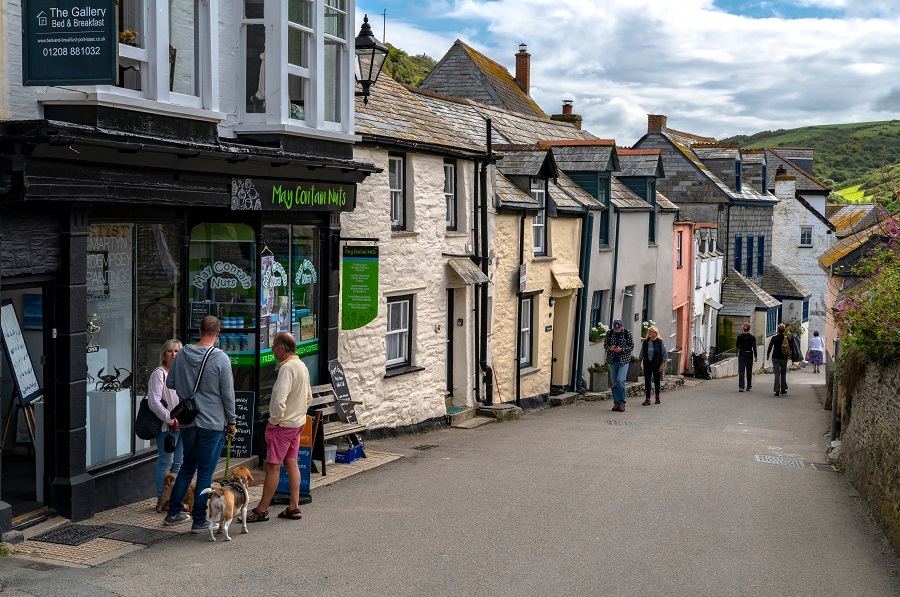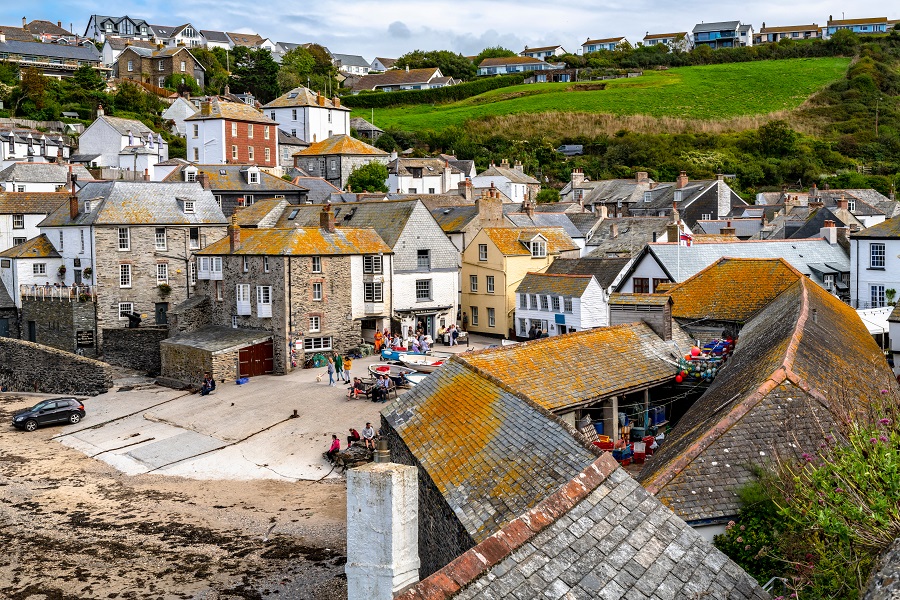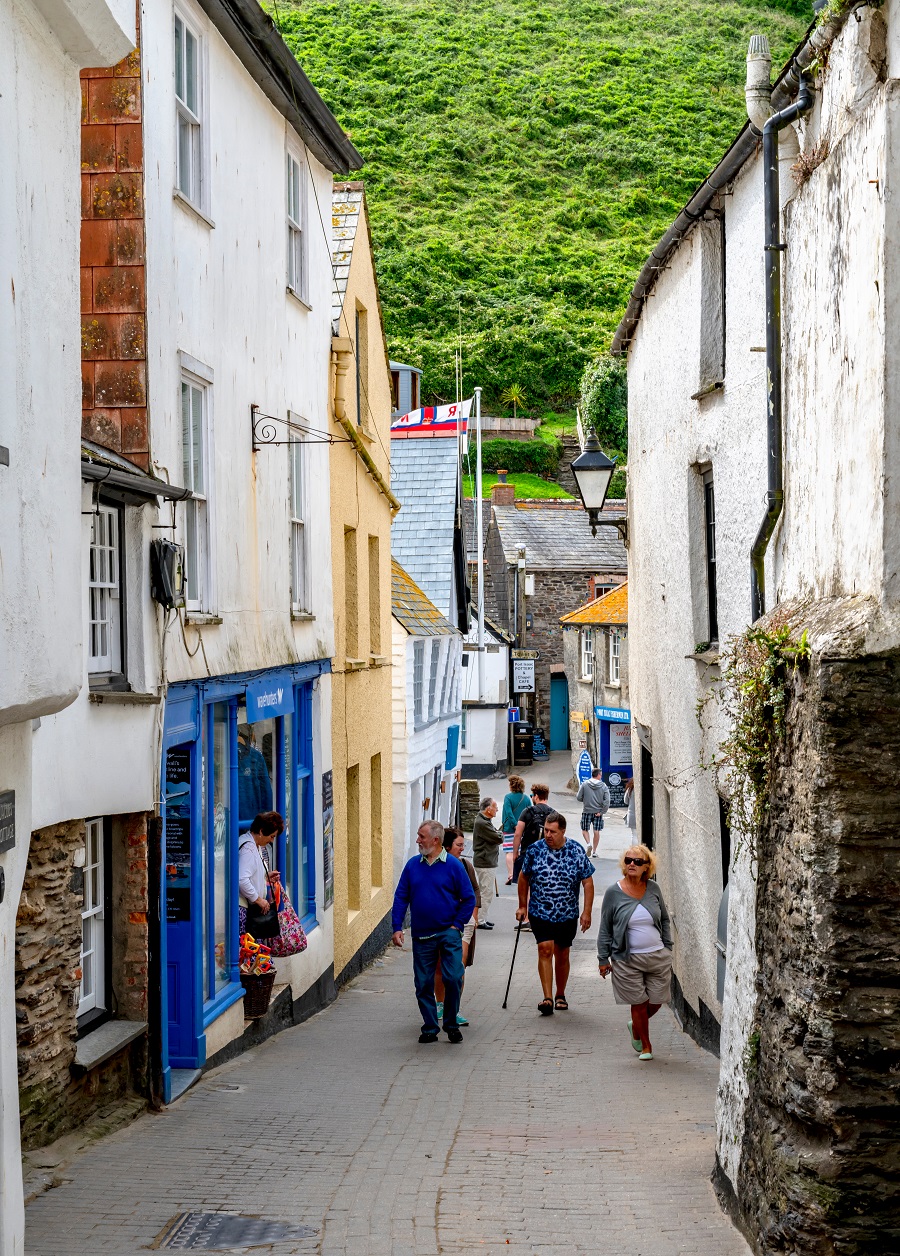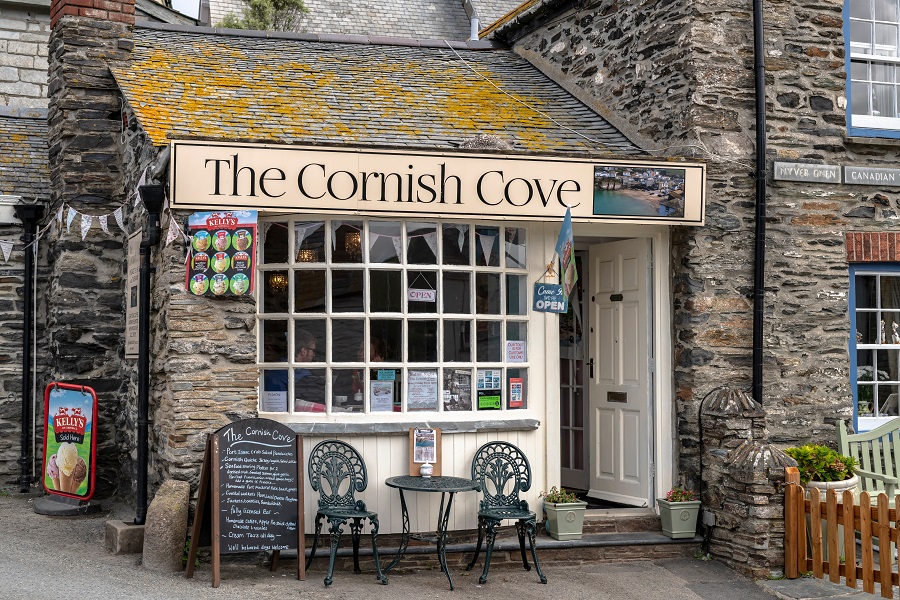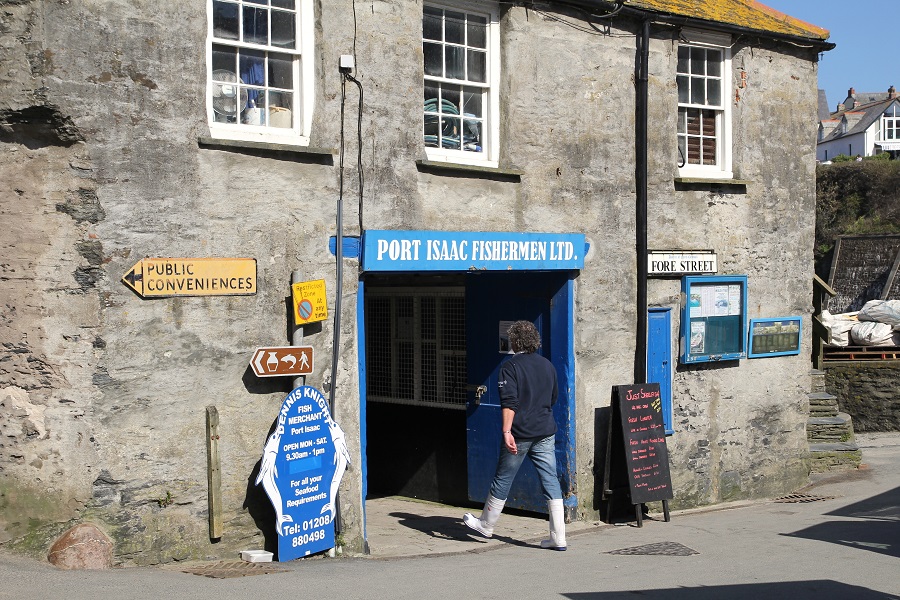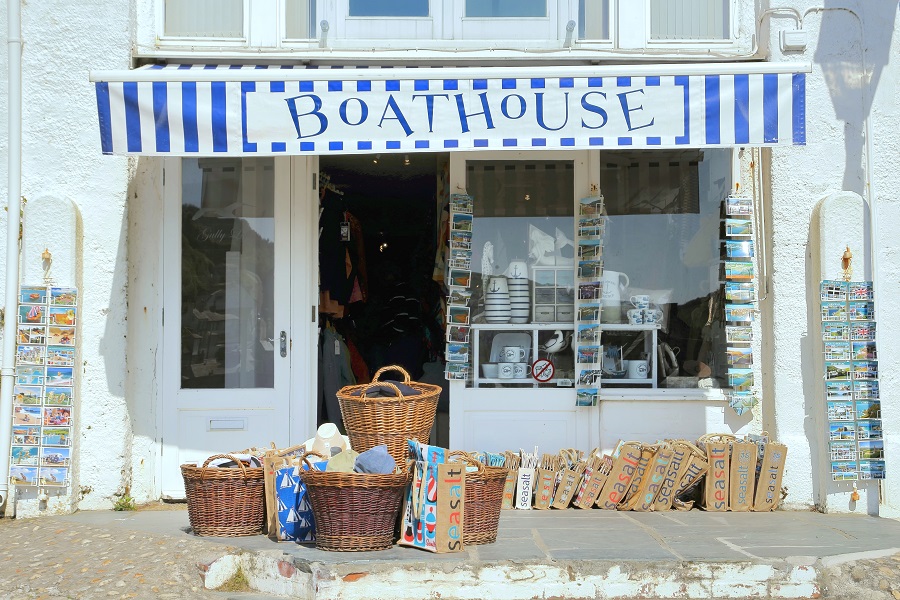 Other British Productions Featuring Port Isaac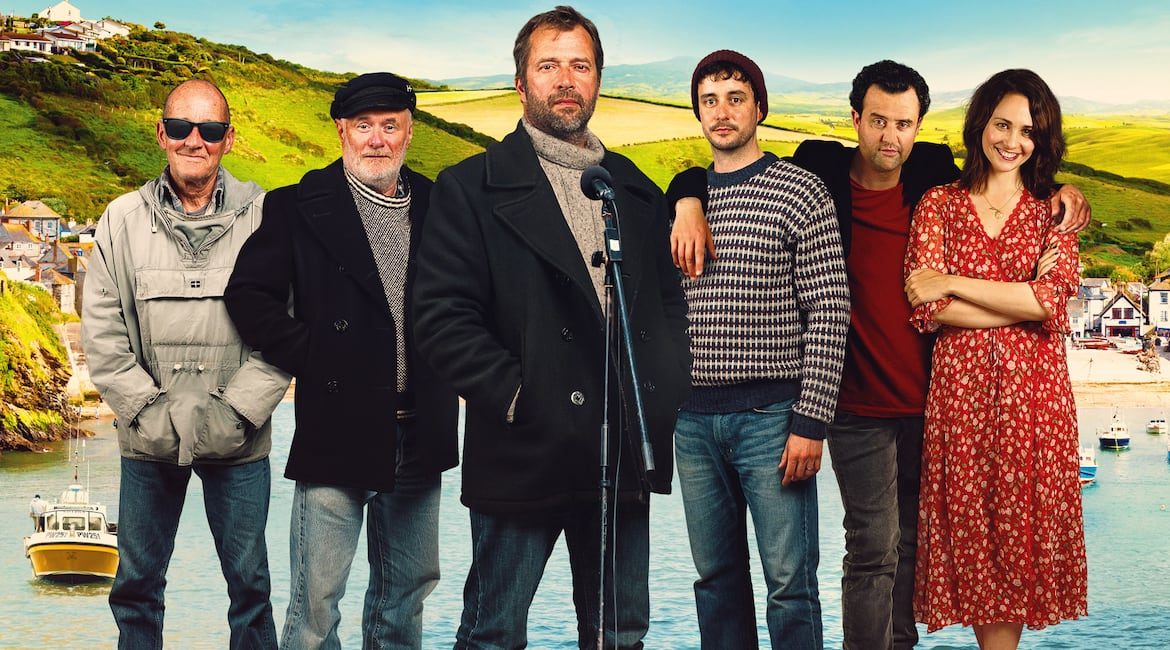 It isn't always possible to travel to the UK or Port Isaac, whether due to a lack of funds, an expired passport, or COVID-19 restrictions. So, if you want to "travel" to Port Isaac without leaving your favourite comfy spot, here are a few other options:
Fisherman's Friends
This movie is super popular among our Facebook group members; they can't stop talking about it. It came out in 2019 and tells the true story of ten fishermen who receive a Top 10 hit after signing a music deal and putting out a debut album of sea shanties.
It stars James Purefoy, David Hayman, Daninel Mays, Sam Swainsbury, Maggie Steed, Noel Clarke, and Tuppence Middleton.
Watch Fisherman's Friends on Netflix.
Poldark 1975-77
Based on the novels by Winston Graham, this series follows the life of Ross Poldark (Robin Ellis). While this adaptation filmed all over Cornwall, they visit Port Isaac often. It features Roscarrock Manor Farm, Lundy Bay and Doyden Castle in nearby Port Quin, and Port Isaac Harbour.
Saving Grace
When a widow (Brenda Blethyn) falls on hard times, she and her gardener (Craig Ferguson) struggle to grow something that isn't quite legal: cannabis.
This charming comedy from 2000 was part of the inspiration for Doc Martin. Martin Clunes even plays a doctor in the movie. Also starring comedian Bill Bailey.
Watch Saving Grace on Starz or rent it on Amazon.
Have You Visited Doc Martin Filming Locations in Port Isaac?
Have you been to Port Isaac? Have advice for new travelers? Let us know in the comments! We'd love to hear about your trip.
Save it to Pinterest!